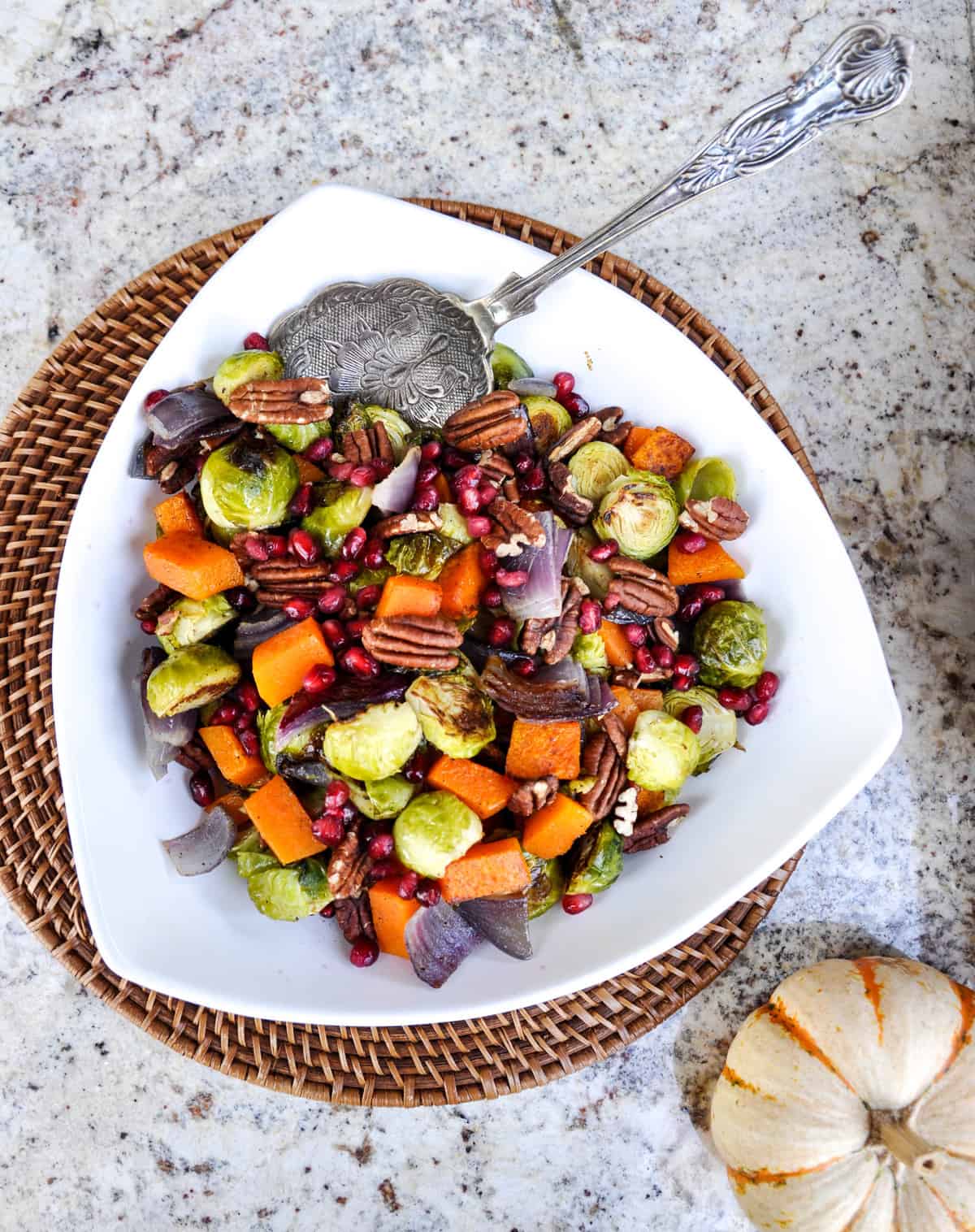 CA GROWN Blog
Discover. Learn. Connect.
Roasted Brussels Sprouts & Butternut Squash Medley with Pecans and Pomegranate
November 16, 2016
Eat the Season!
Sign Up For Weekly Recipes
« Back to Recipes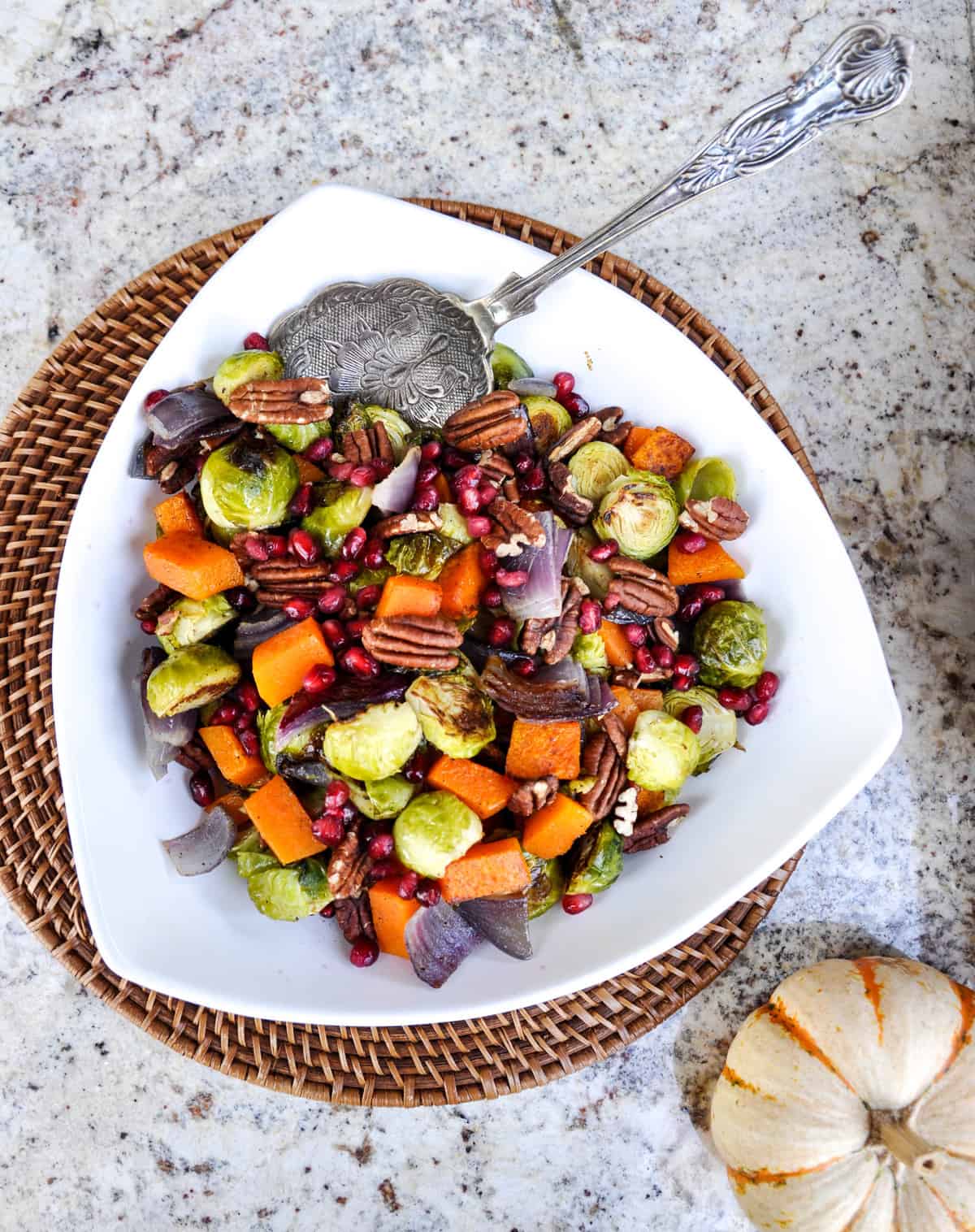 Roasted Brussels Sprouts & Butternut Squash Medley with Pecans and Pomegranate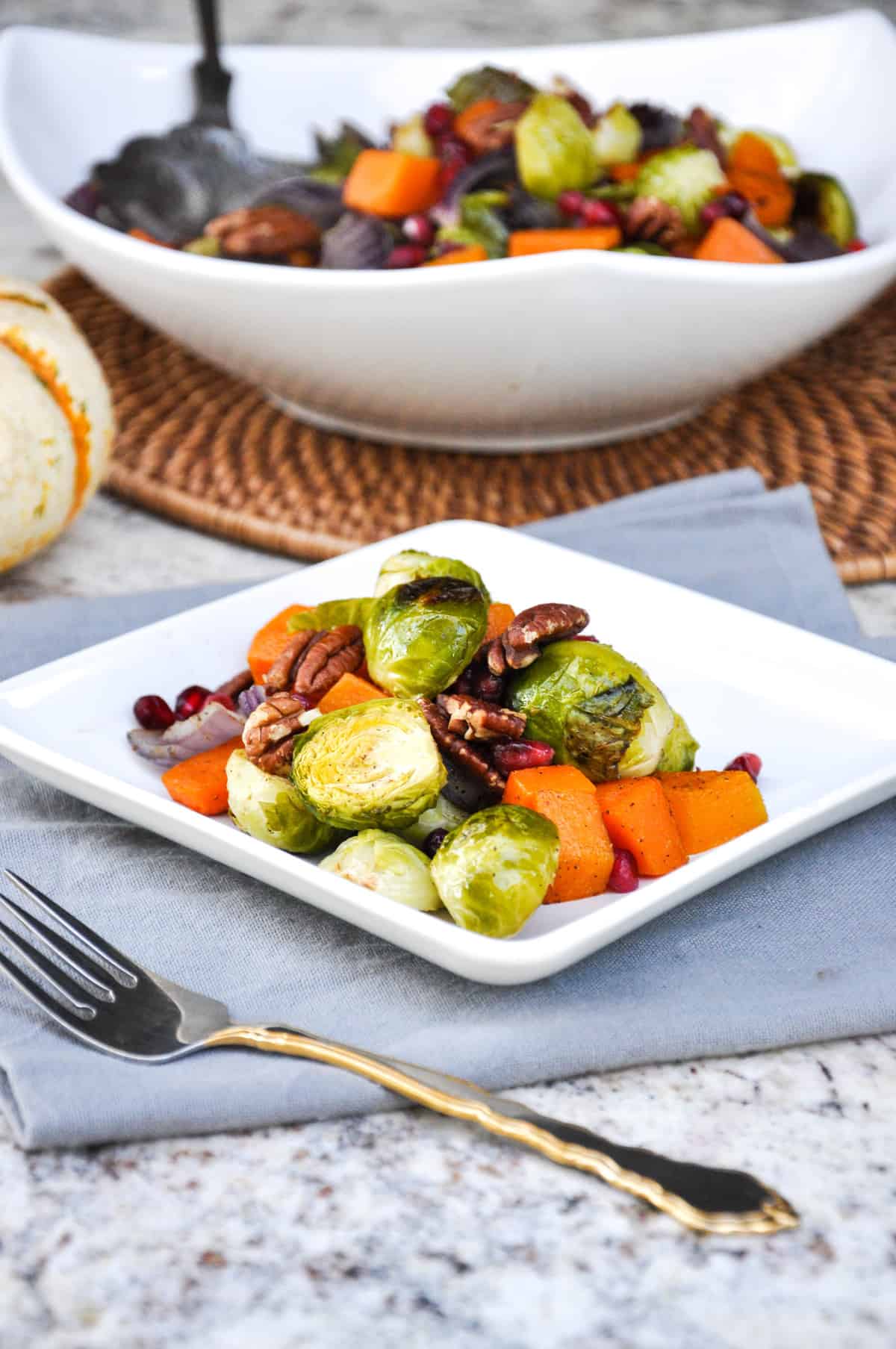 If you're looking for a simple dish to add to your Thanksgiving lineup this year, then look no further! This fantastically easy recipe boasts a beautiful, earthy flavor that is the perfect compliment to any bird or red meat on the table. And, it showcases the best of what our Golden State has to offer this month.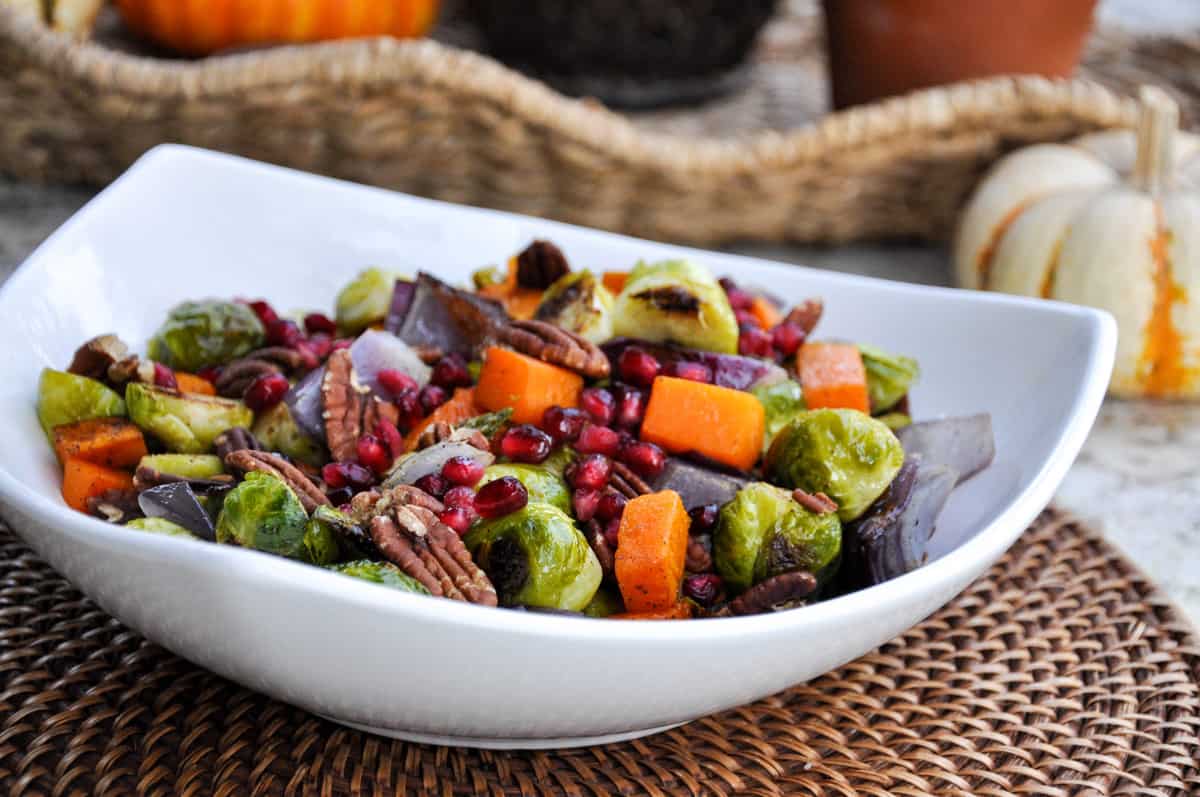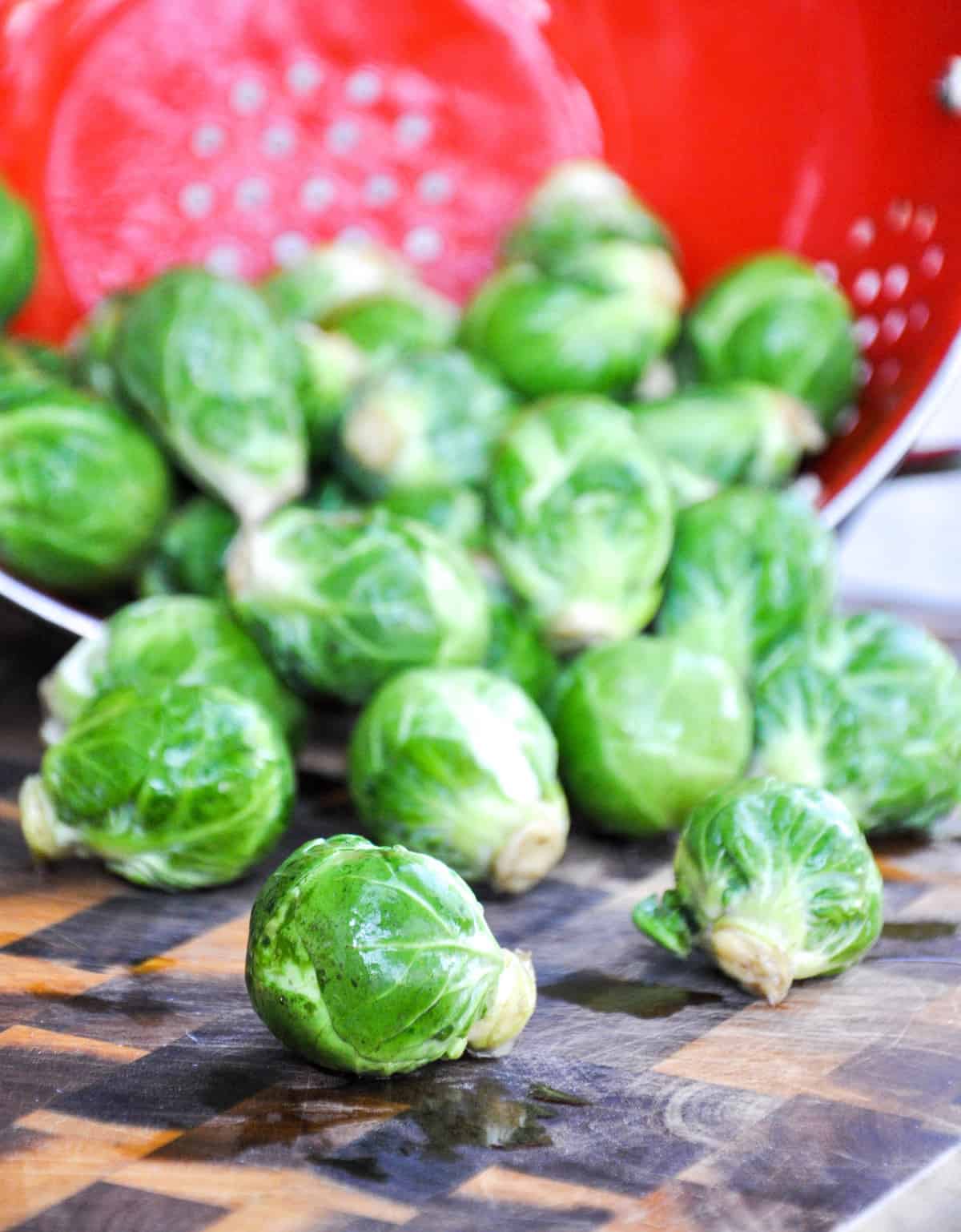 Brussels sprouts are a funny looking veggie, have you seen how they grow? Large stalks are dotted with miniature "heads" until they are full grown and consuming the entire stalk. Some stores and farmer's markets have started to sell them that way, too! It's a great conversation starter with your family and friends while preparing this dish.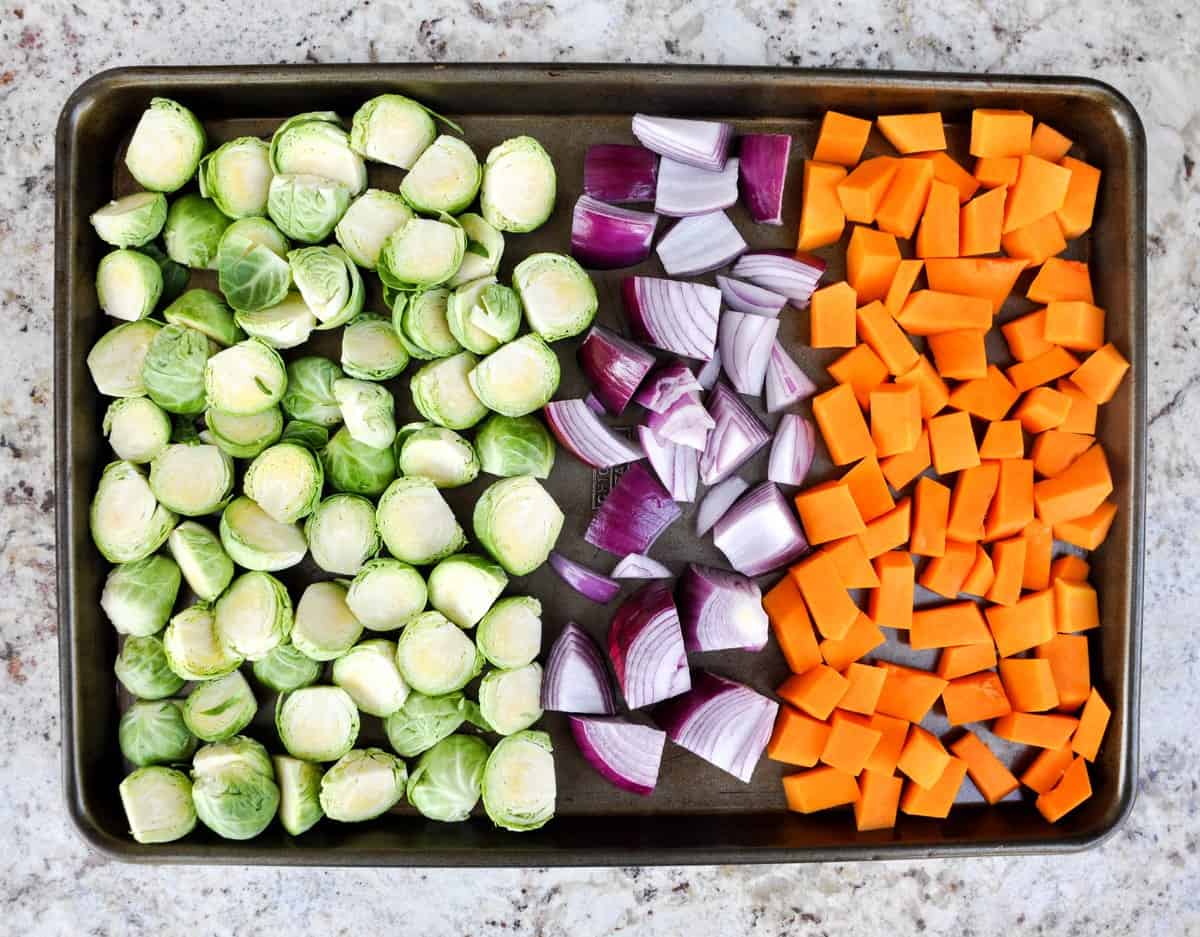 We halve each brussels sprout and also cube up a whole butternut squash, along with a red onion (which is actually purple) to create a feast for the eyes.
Talk about a colorful recipe!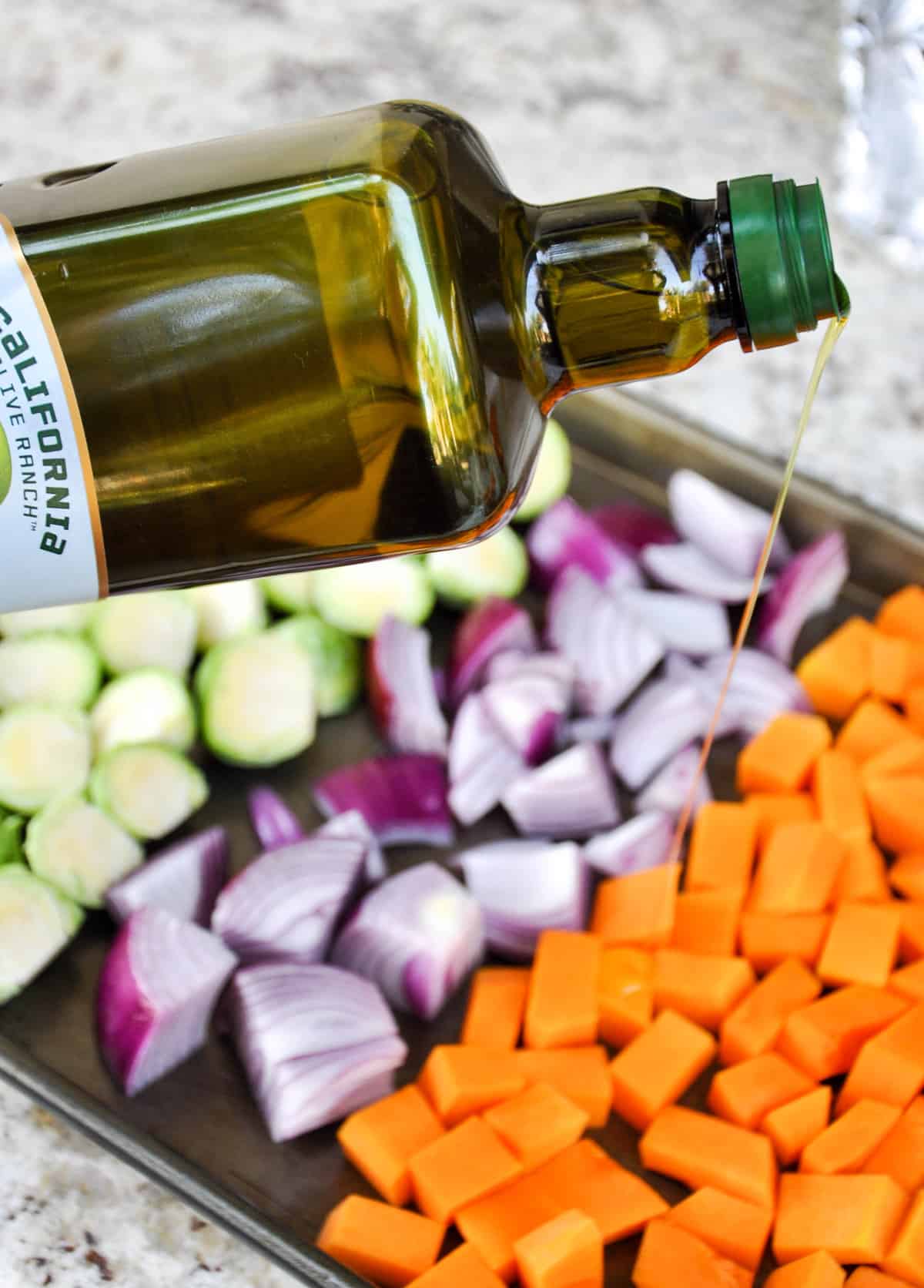 The entire tray is drizzled in California olive oil and dusted with salt and pepper.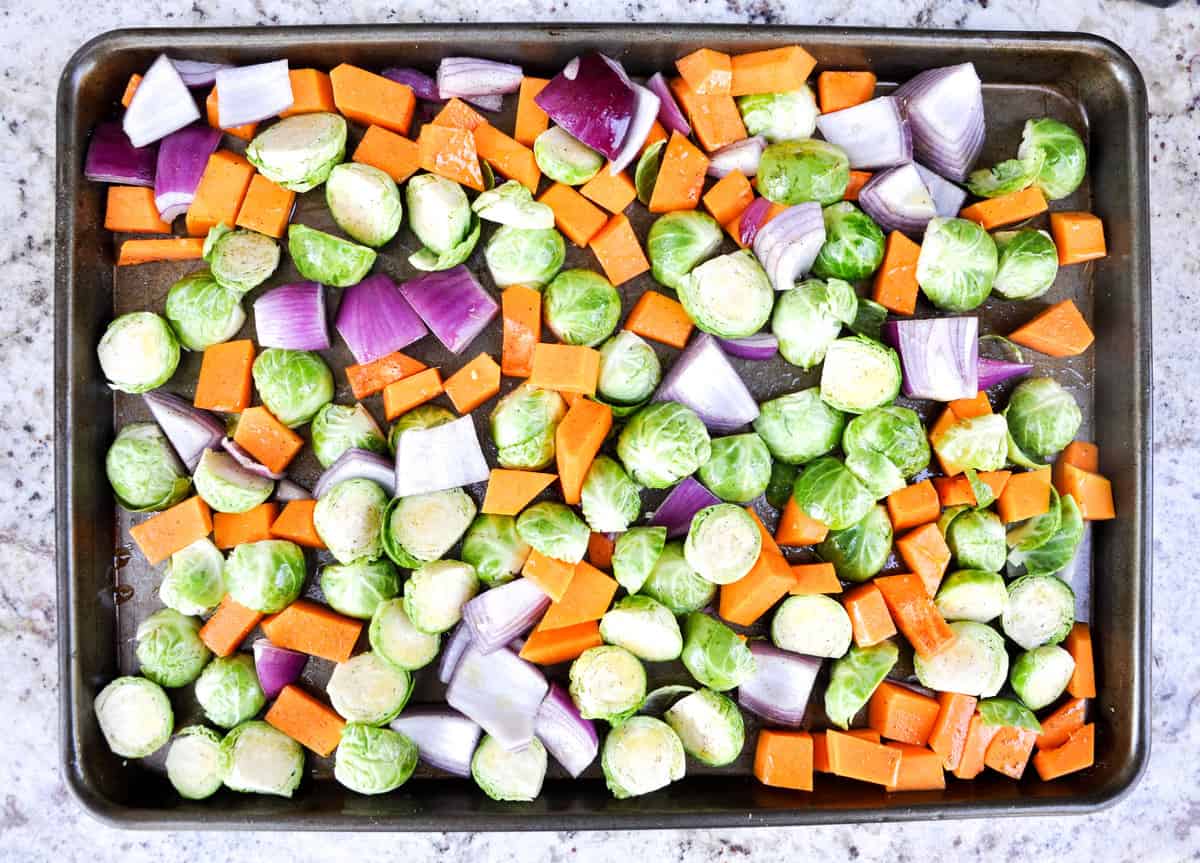 Tossed gently and baked at 425 degrees for about 23 minutes.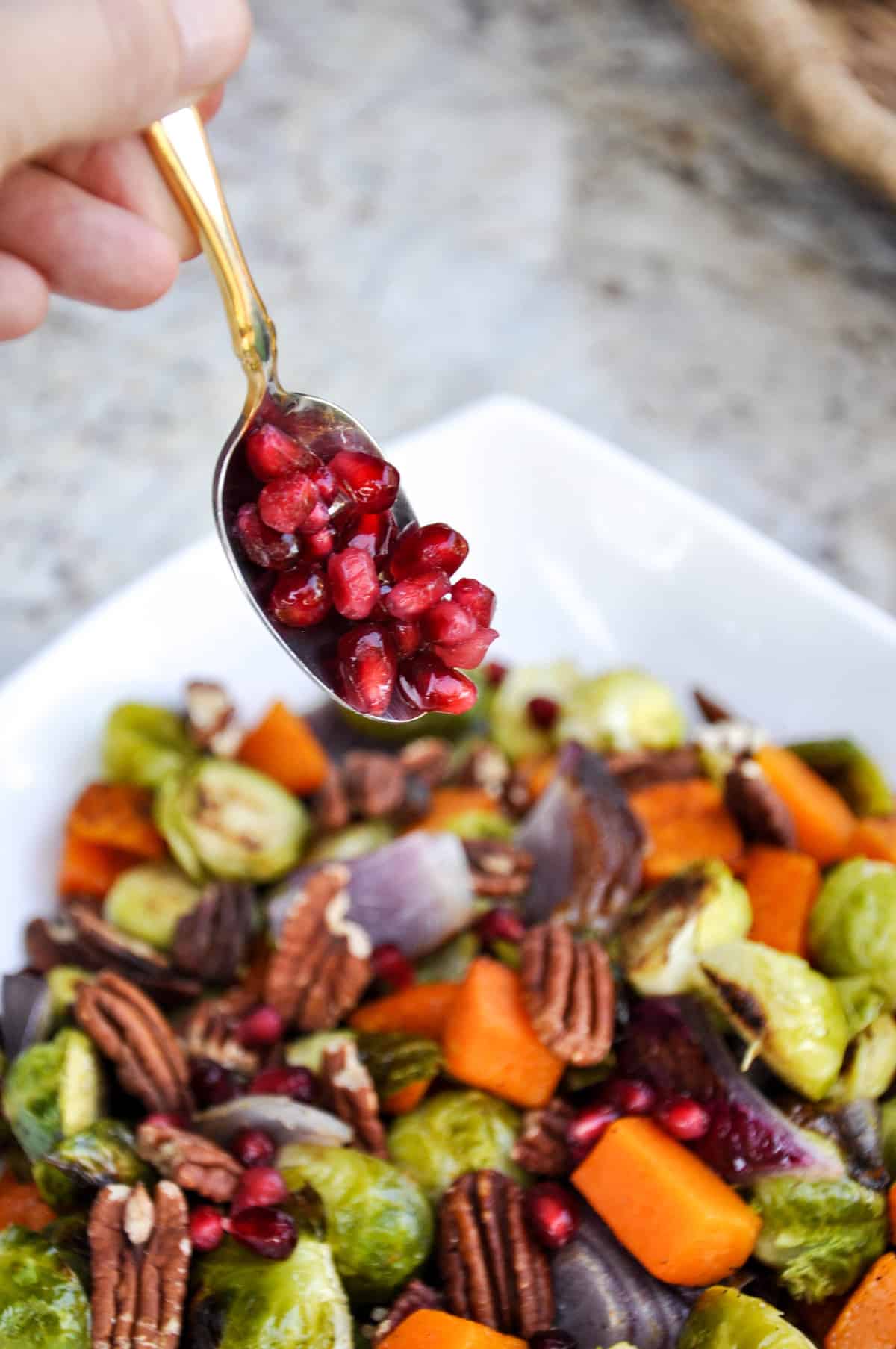 Once out of the oven, toss with roasted pecans and a bit of pomegranate arils. Oh, the fresh crunch and zing of the pomegranate is something you won't want to miss.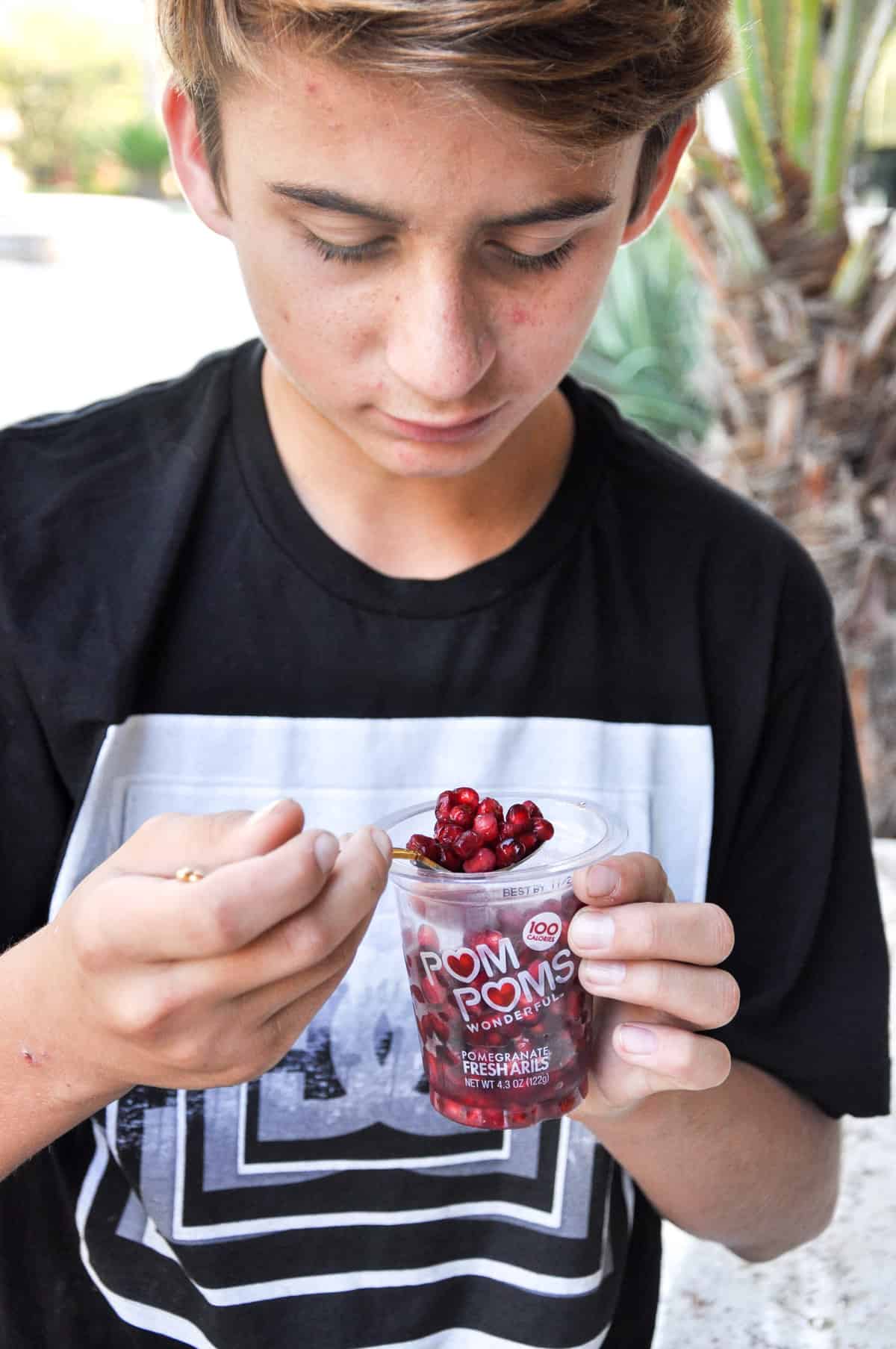 As you can see, my son couldn't wait to take over my fresh cup of pomegranate arils. What a convenient and nutritious snack for kids (or you) for only 100 calories!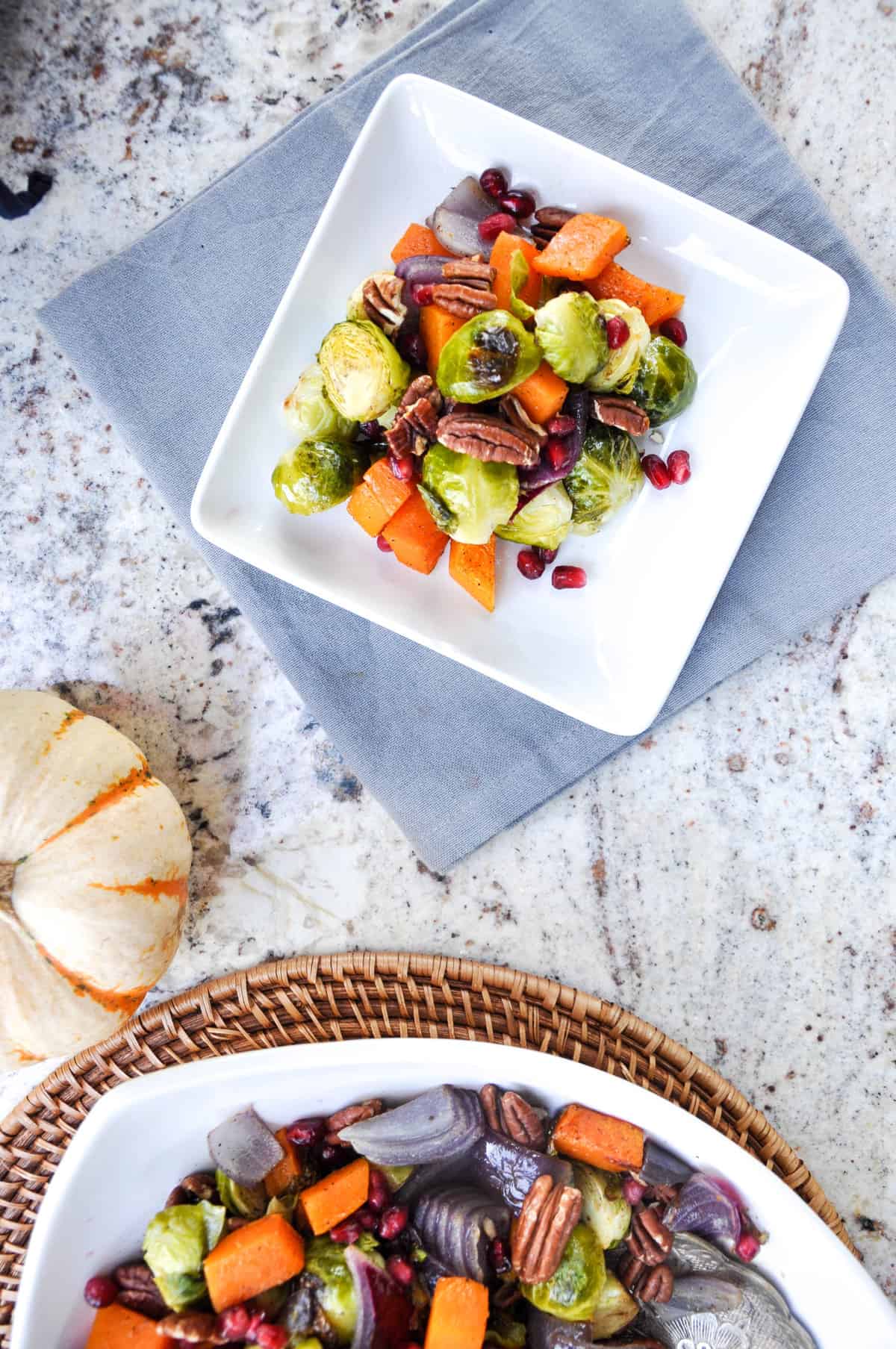 I can't stand how beautiful this dish is. It's total perfection for your Thanksgiving table this year!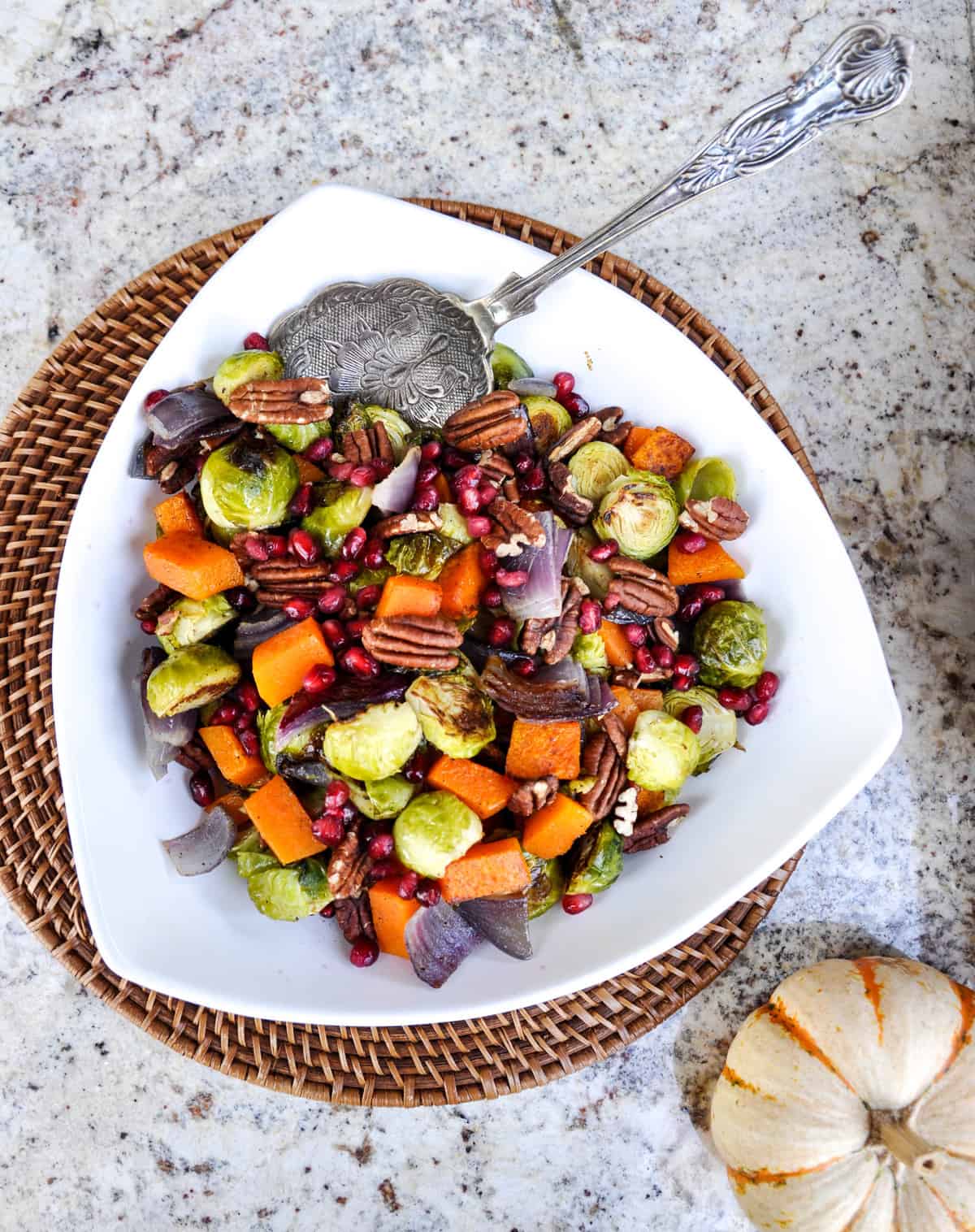 Here's the recipe for ya…
Roasted Brussels Sprouts and Butternut Squash with Pecans and Pomegranate
2016-11-15 18:31:43
Serves 8
Ingredients
2 lbs. brussels sprouts, halved
1 medium butternut squash, peeled and cubed
1 red onion, peeled and halved and sliced into chunks
Olive oil
Salt and Pepper
1 cup pecans, toasted
1/4 cup pomegranate arils
Instructions
Preheat oven to 425
Place all the cut veggies onto a roasting pan and drizzle with olive oil to cast
Dust with salt and pepper and toss to coat evenly
Roast for 20-25 minutes, until tender
Place in a serving dish and toss in the pecans and pomegranate arils
Notes
Save leftovers for our day after Thanksgiving Turkey Salad!
California Grown https://californiagrown.org/