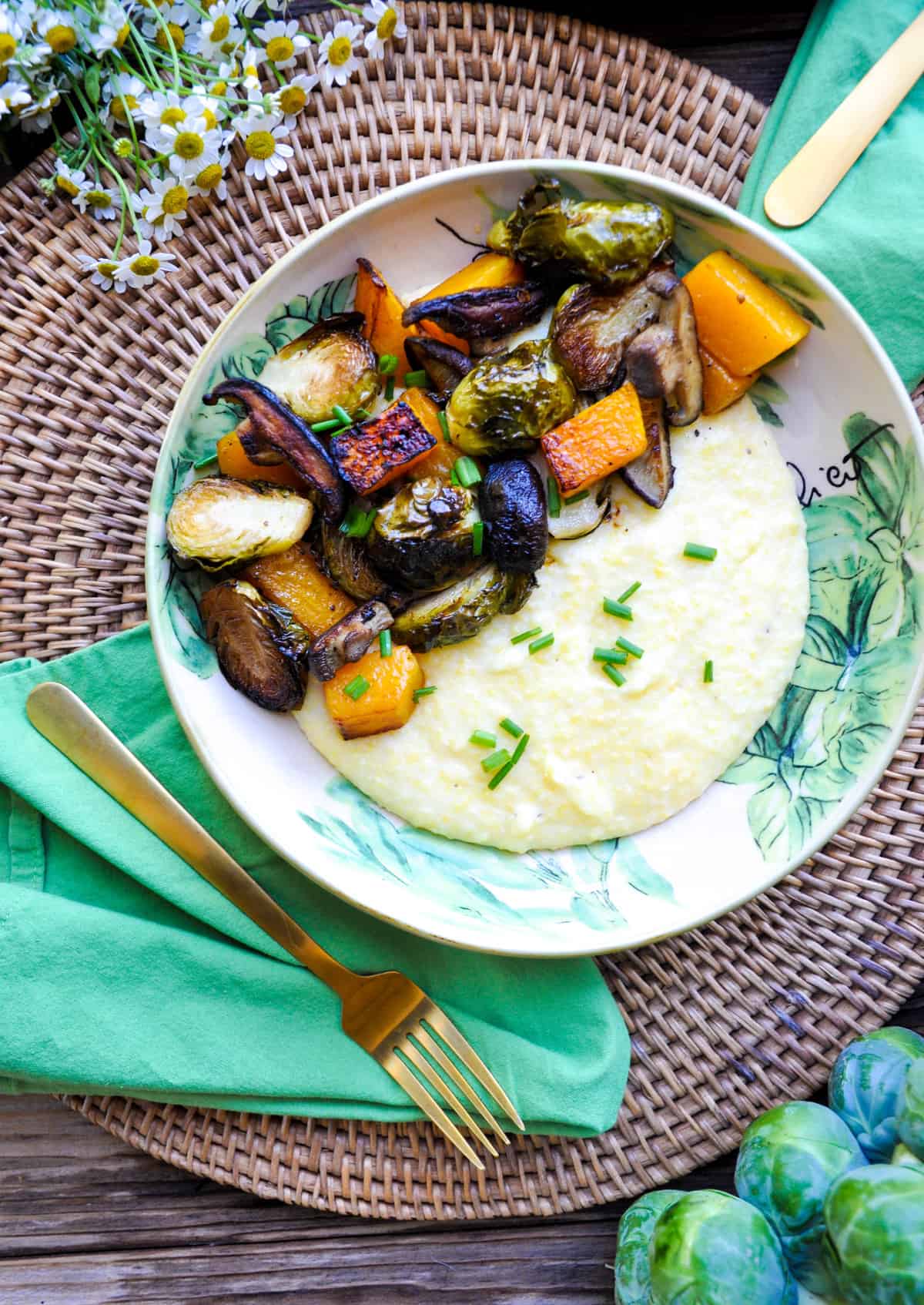 CA GROWN Blog
Discover. Learn. Connect.
Roasted Winter Vegetables over Creamy Polenta
November 8, 2017
Eat the Season!
Sign Up For Weekly Recipes
« Back to Recipes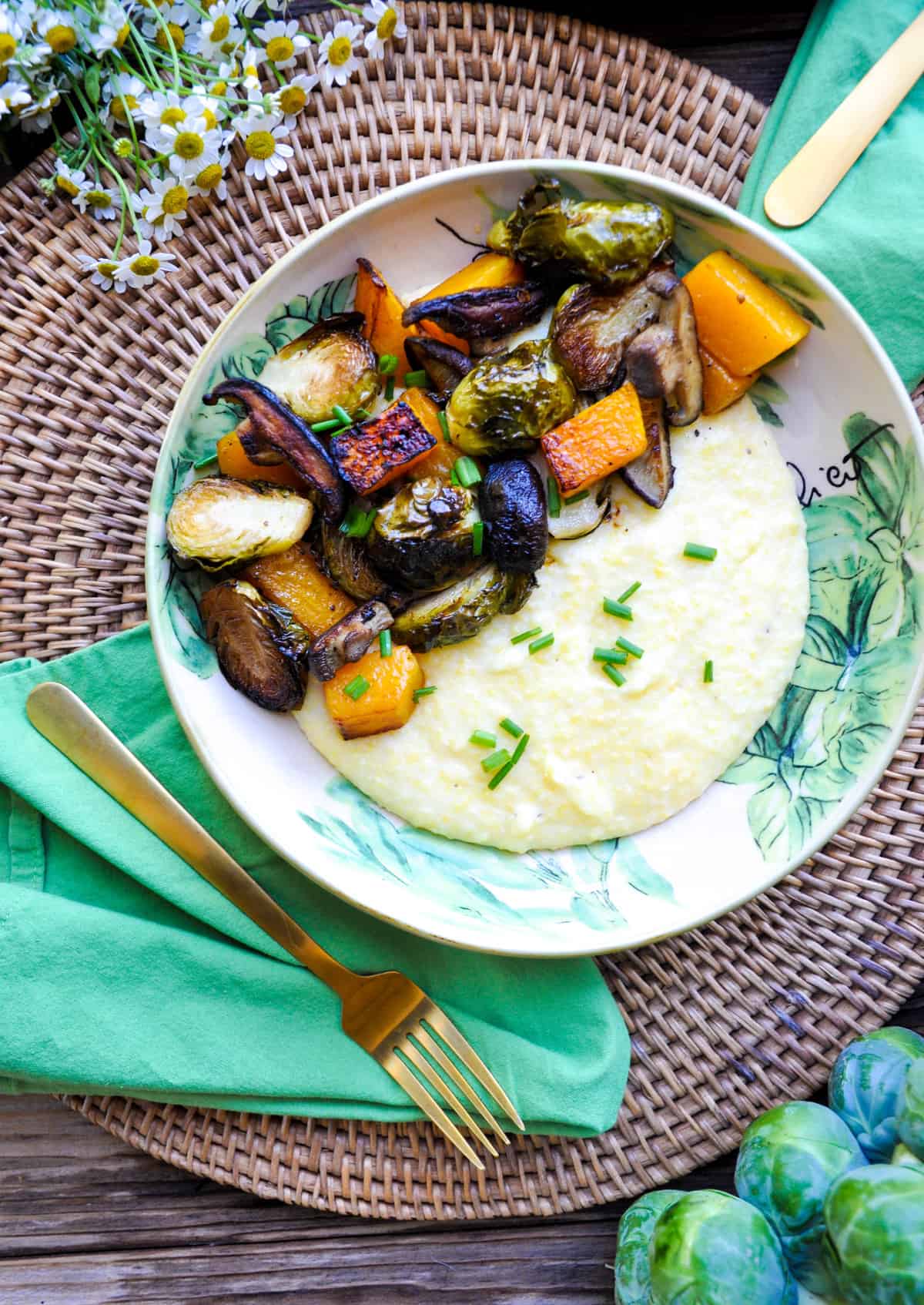 Roasted Winter Vegetables over Creamy Polenta
Creamy polenta is a perfect match for roasted winter vegetables – this is a recipe you're sure to make again & again!
This makes a delicious main dish or a fabulous side too. The creamy polenta is also great with chicken caccitore or chicken marbella.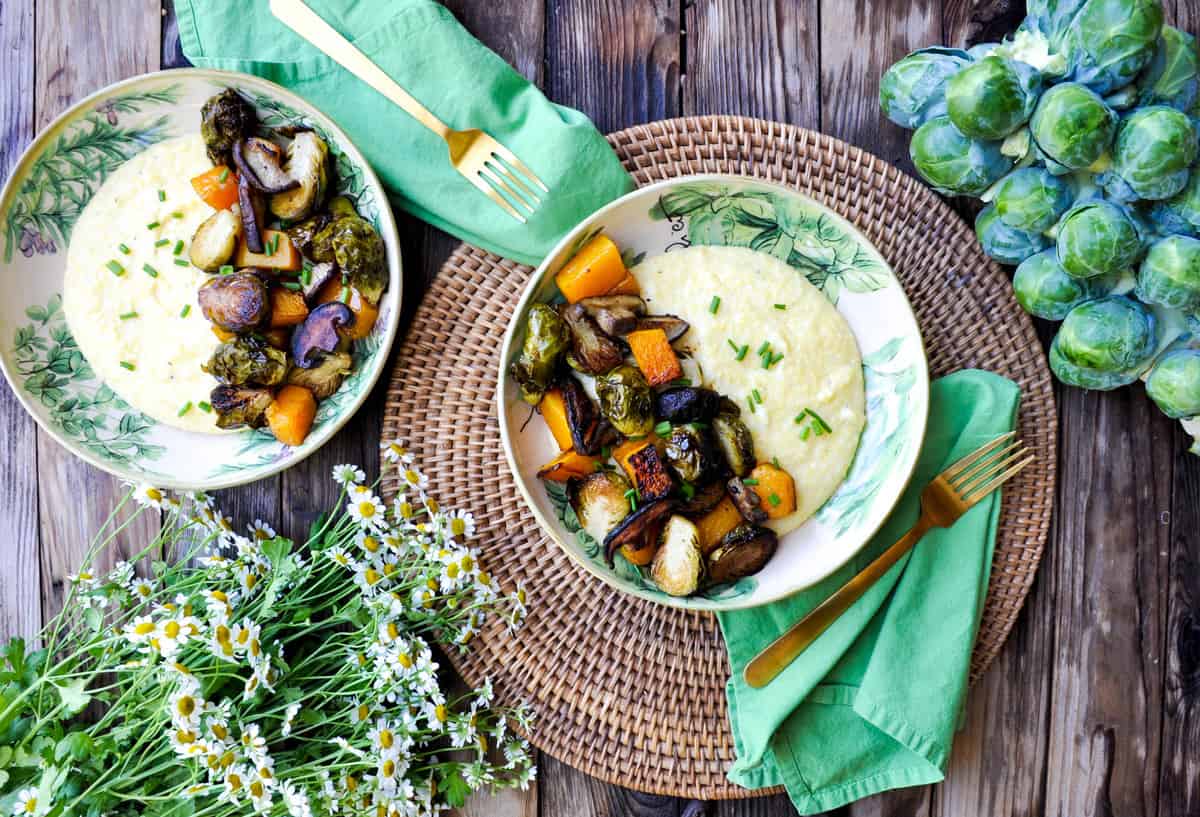 It's brussels sprout season!
I have to admit, our family has grown to be huge brussels sprouts fans over the last few years. We love separating the leaves and roasting them in the oven until they are crisped up and crunchy. We eat them like chips in the evening, sitting by the fire watching television.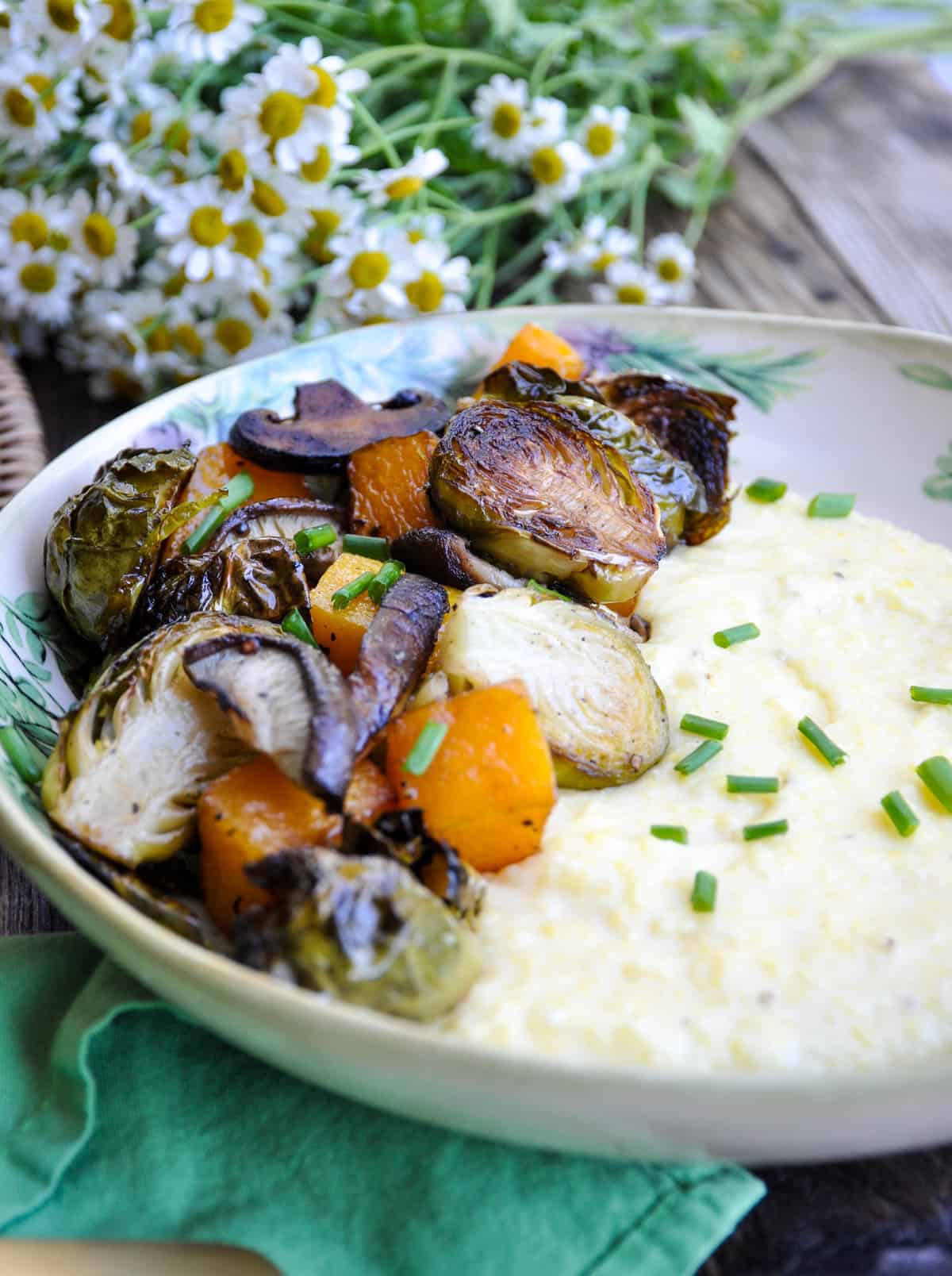 This time, I kept them halved and included in-season butternut squash and dense, earthy mushrooms. The combination is heavenly and the perfect comfort food for this time of year.
Roasting brussels sprouts in a super high oven allows the heat to caramelize on the surface of each piece, creating a crisp edge of flavor and texture.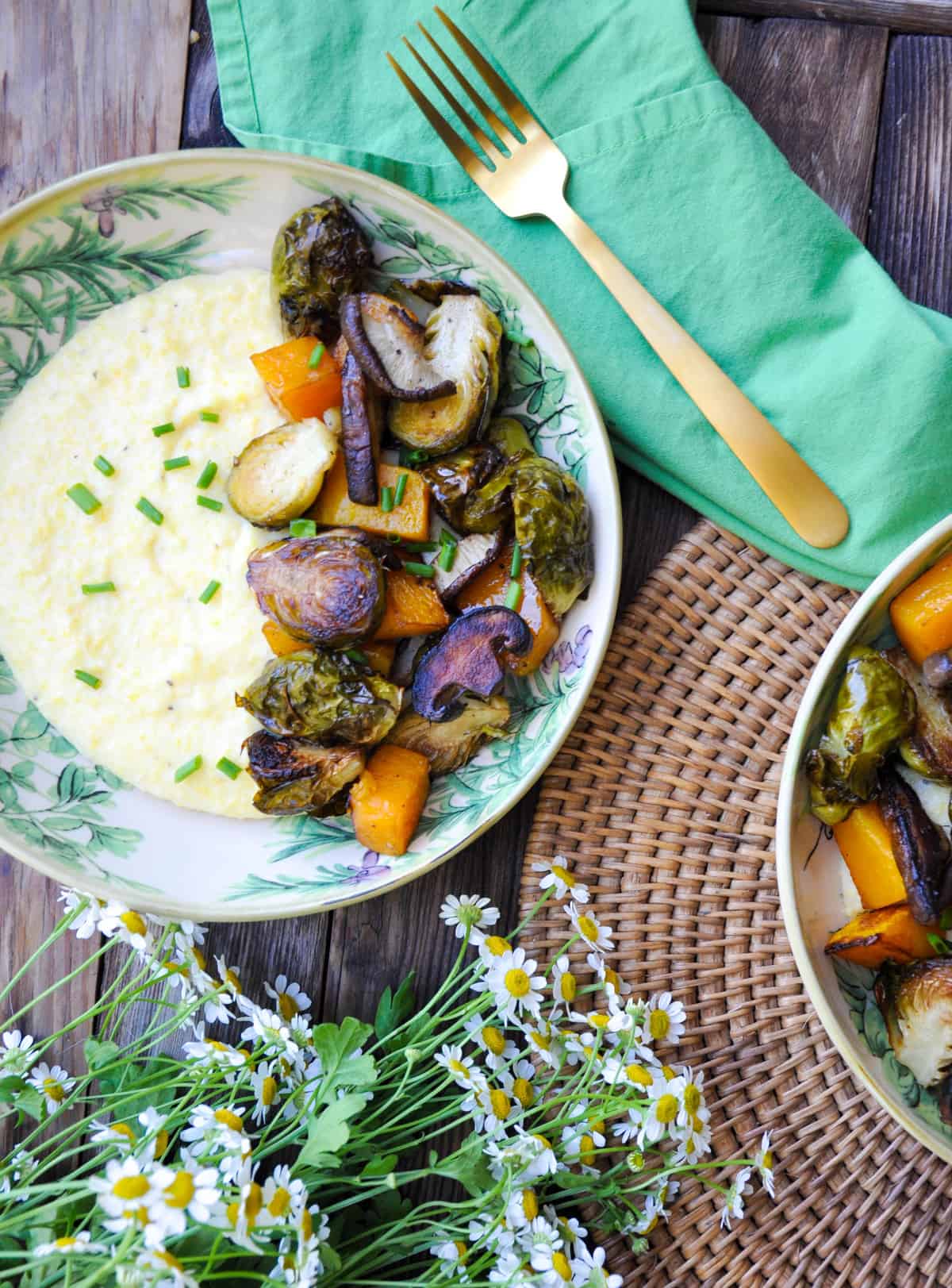 This creamy polenta recipe will be your new favorite.
The creamy bed of cheesy polenta is the perfect foundation for this roasted vegetable medley!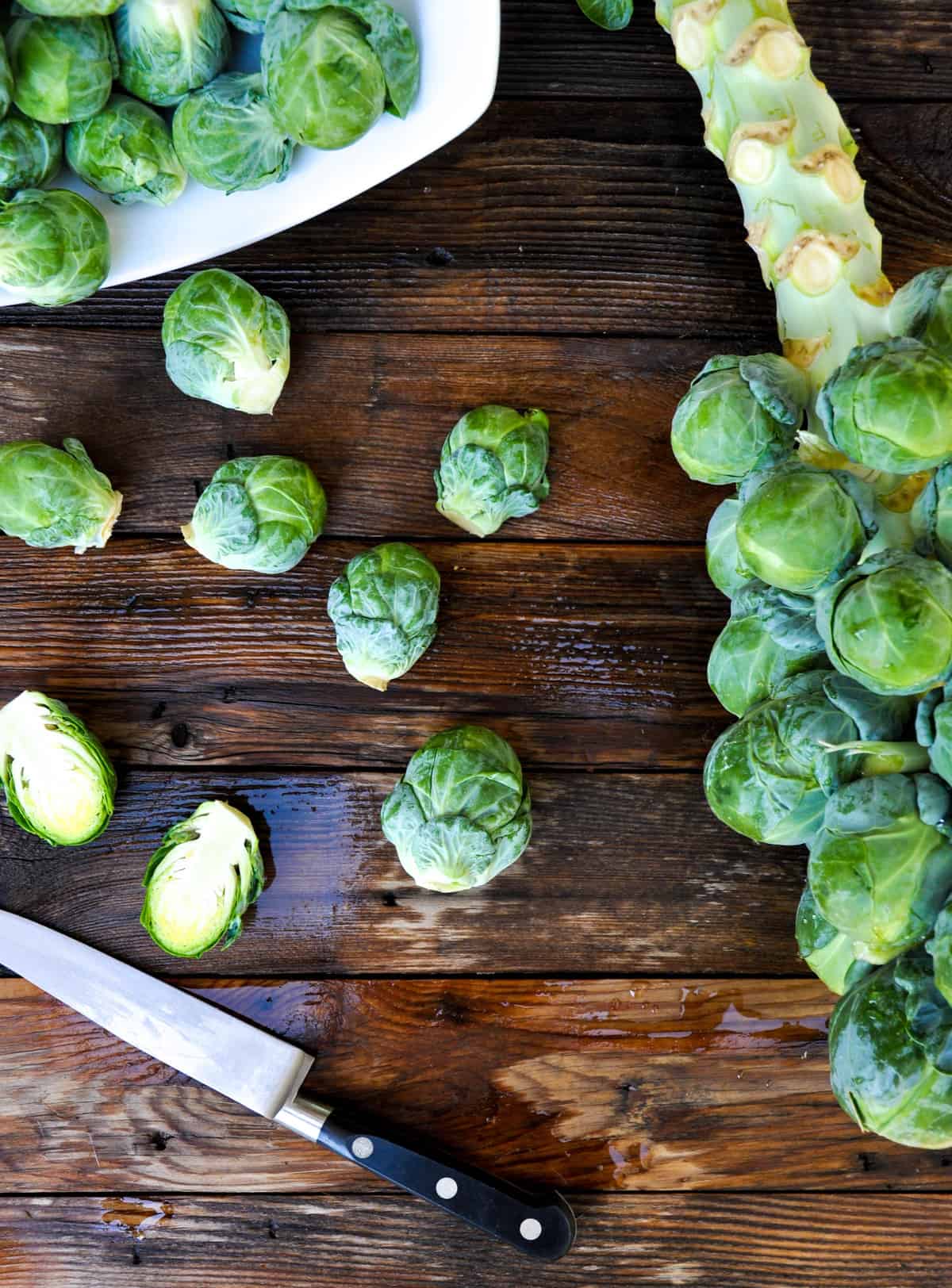 I love buying my brussels sprouts on the stalk so I know they are super-fresh. They are easy to cut from the large stem and stores easily in the fridge.
Here's the ingredients you need to make creamy polenta:
water
milk
golden polenta
butter
Parmesan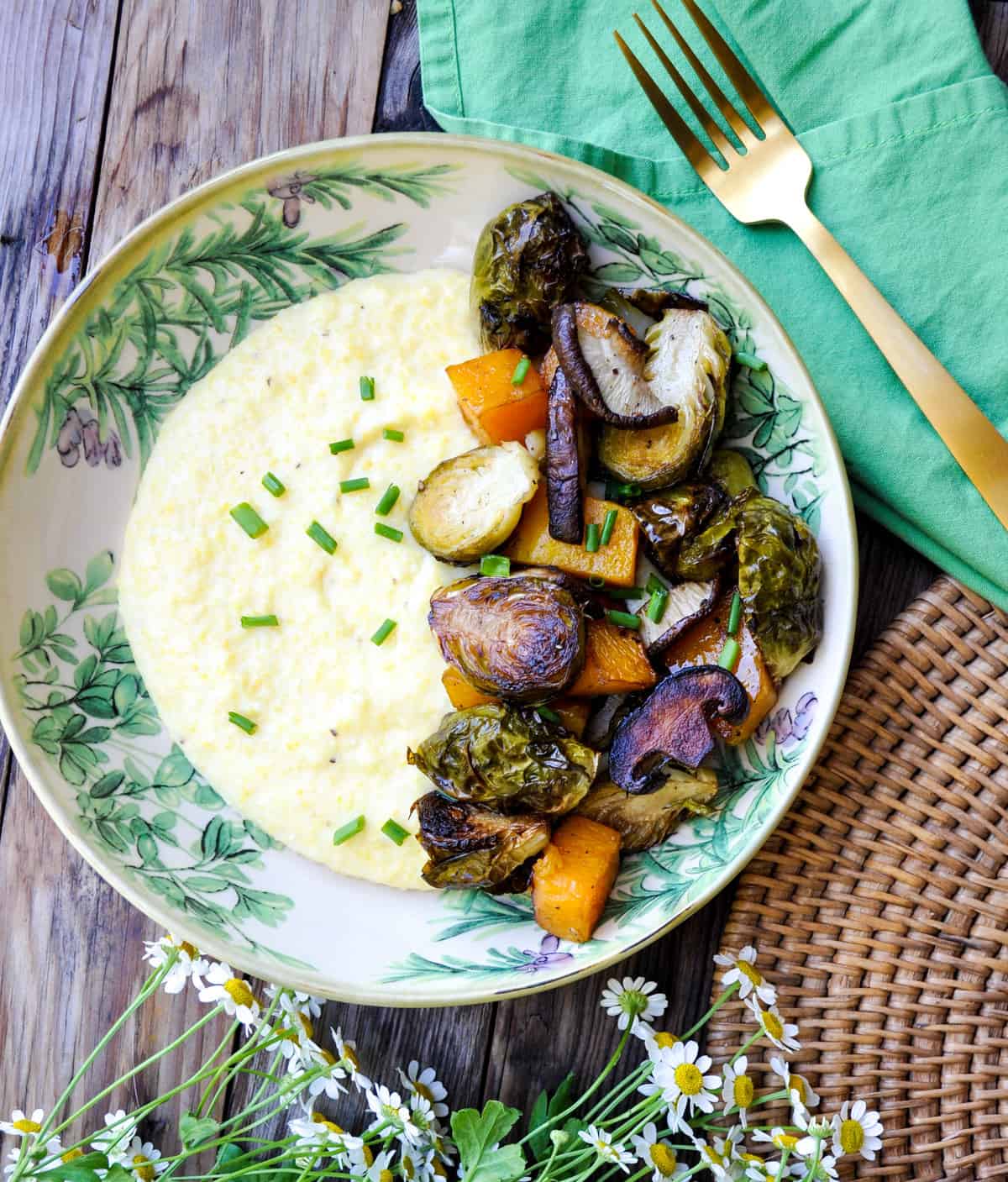 Let's make the roasted winter vegetables, step by step: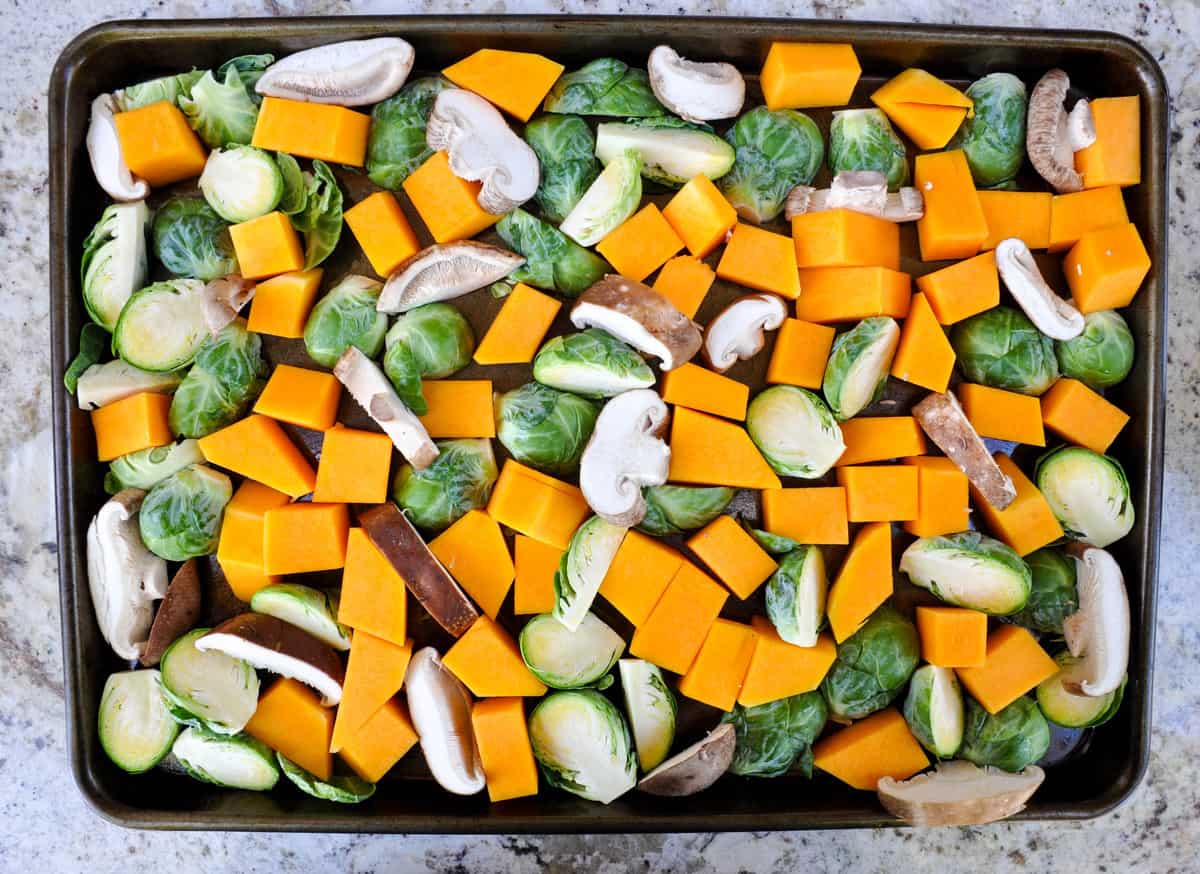 Add all the veggies to a baking pan in a single layer.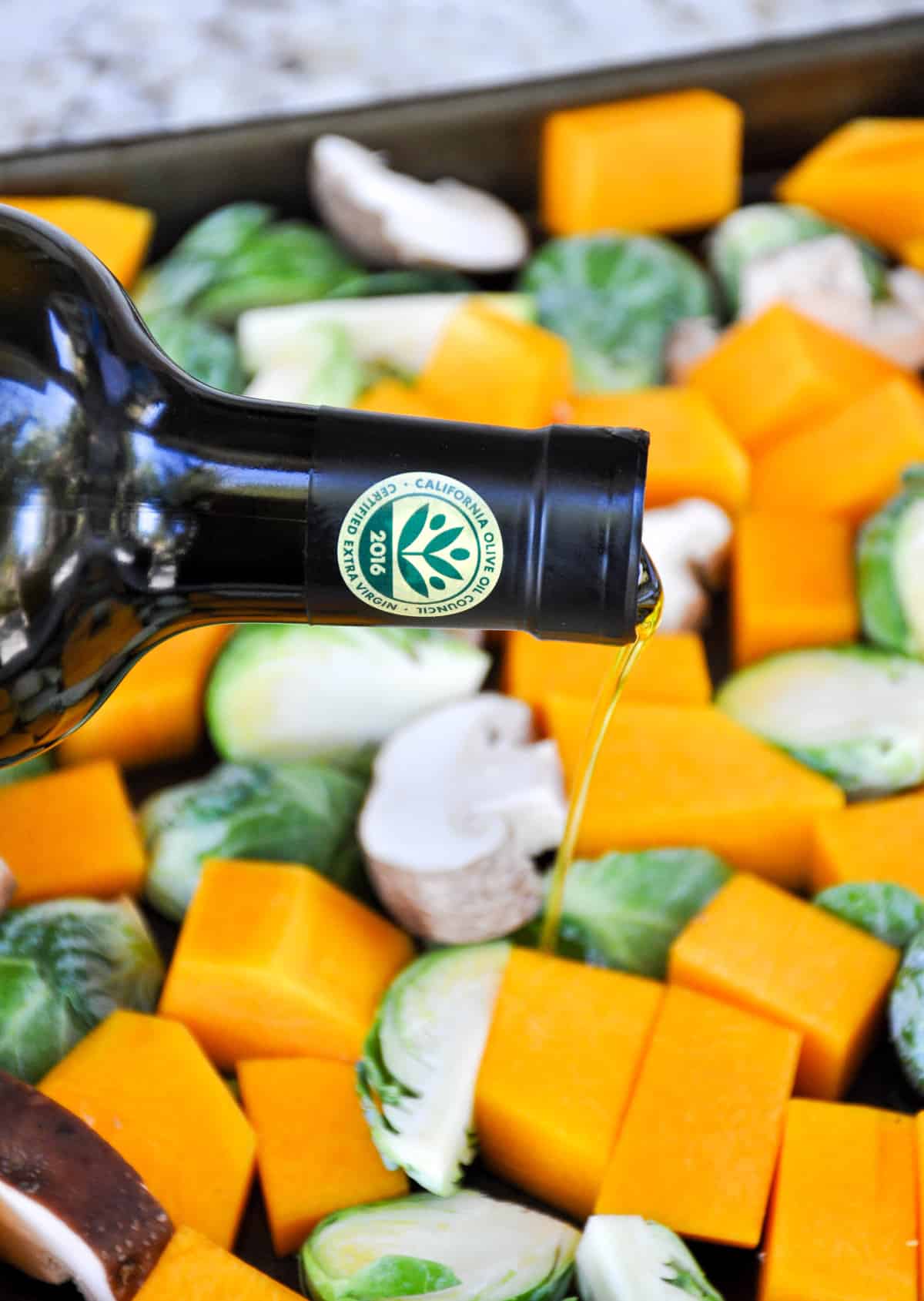 Drizzle with California Olive Oil, along with a bit of balsamic vinegar and spices.
Look for the COOC seal so you know you're getting 100% fresh California EVOO.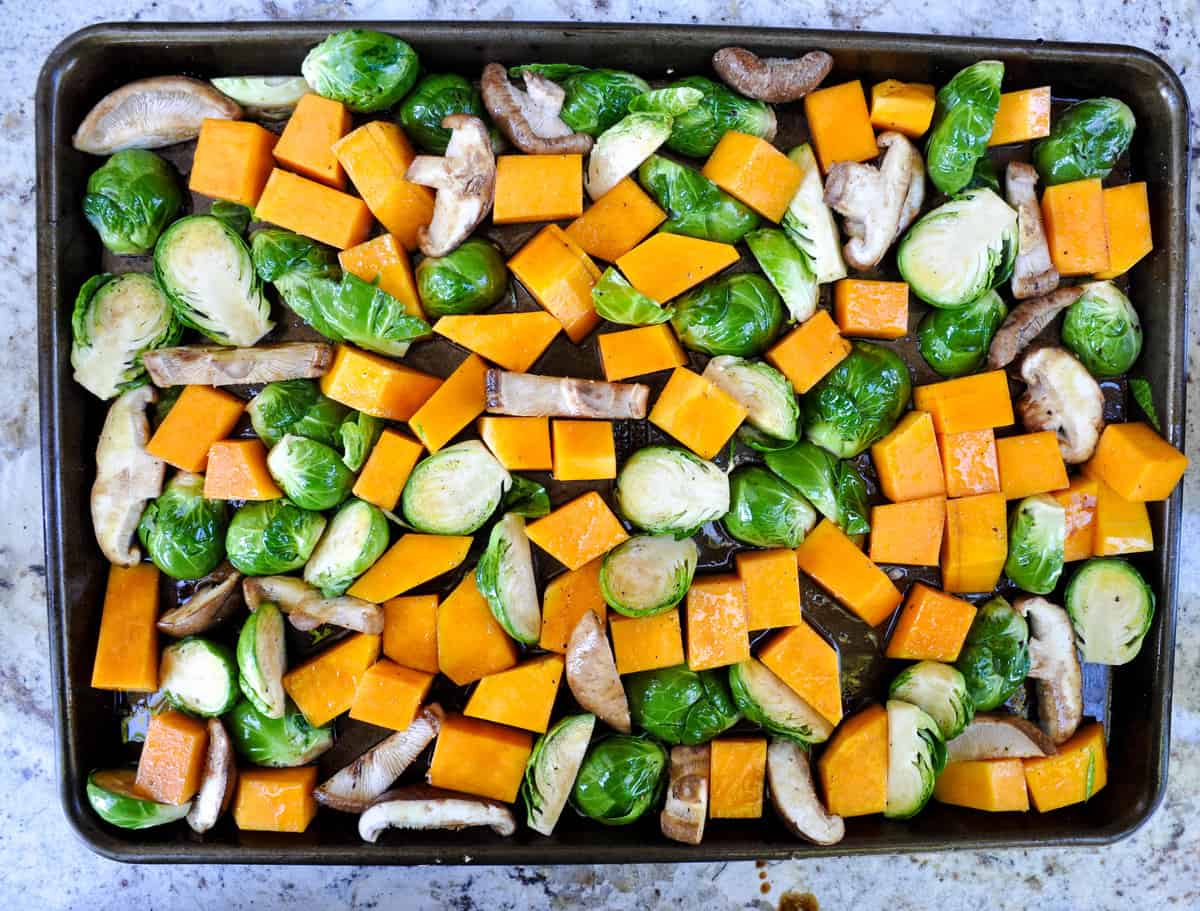 Toss all the veggies to coat and pop in the oven for 30 minutes, turning halfway through.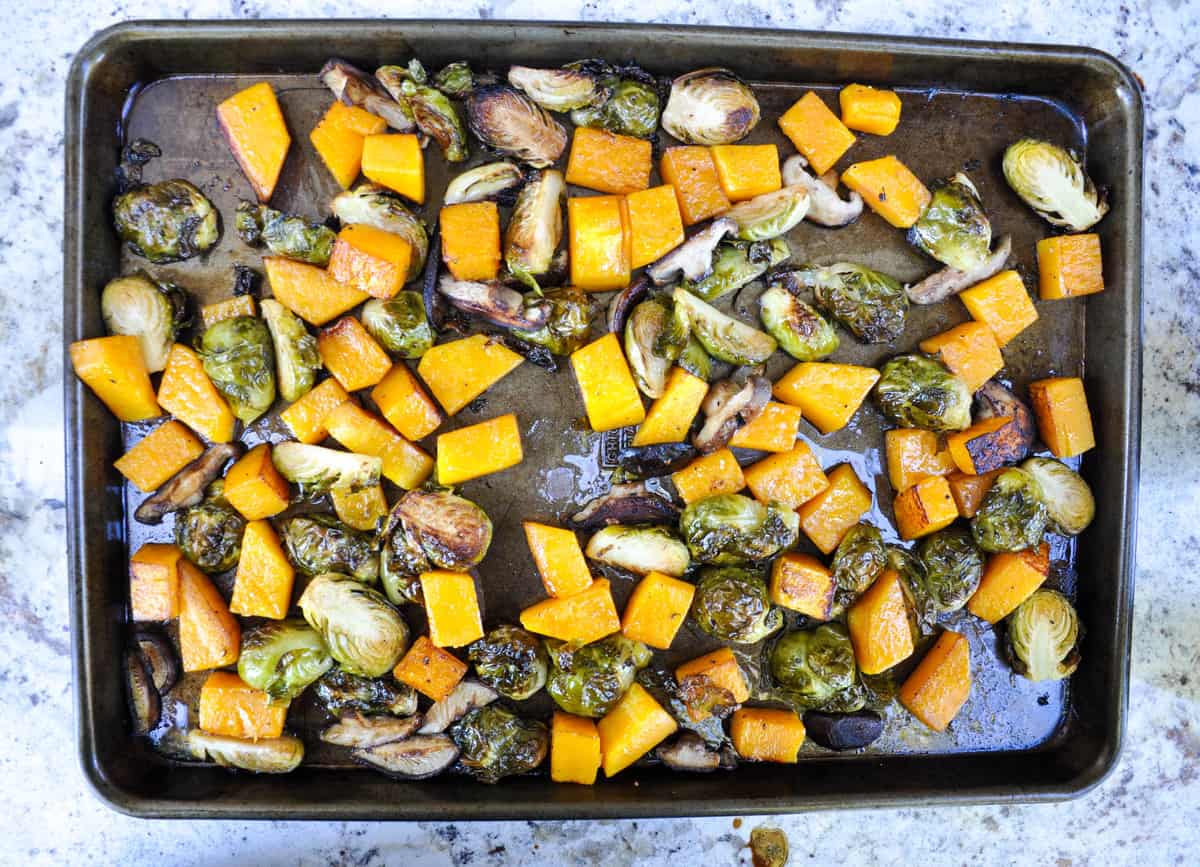 30 minutes later, you've got beautiful roasted winter vegetables, ready to be devoured!
To serve the creamy polenta and vegetables:
Spoon the polenta into a shallow bowl and top with a healthy portion of the veggies. Sprinkle fresh chopped chives and serve.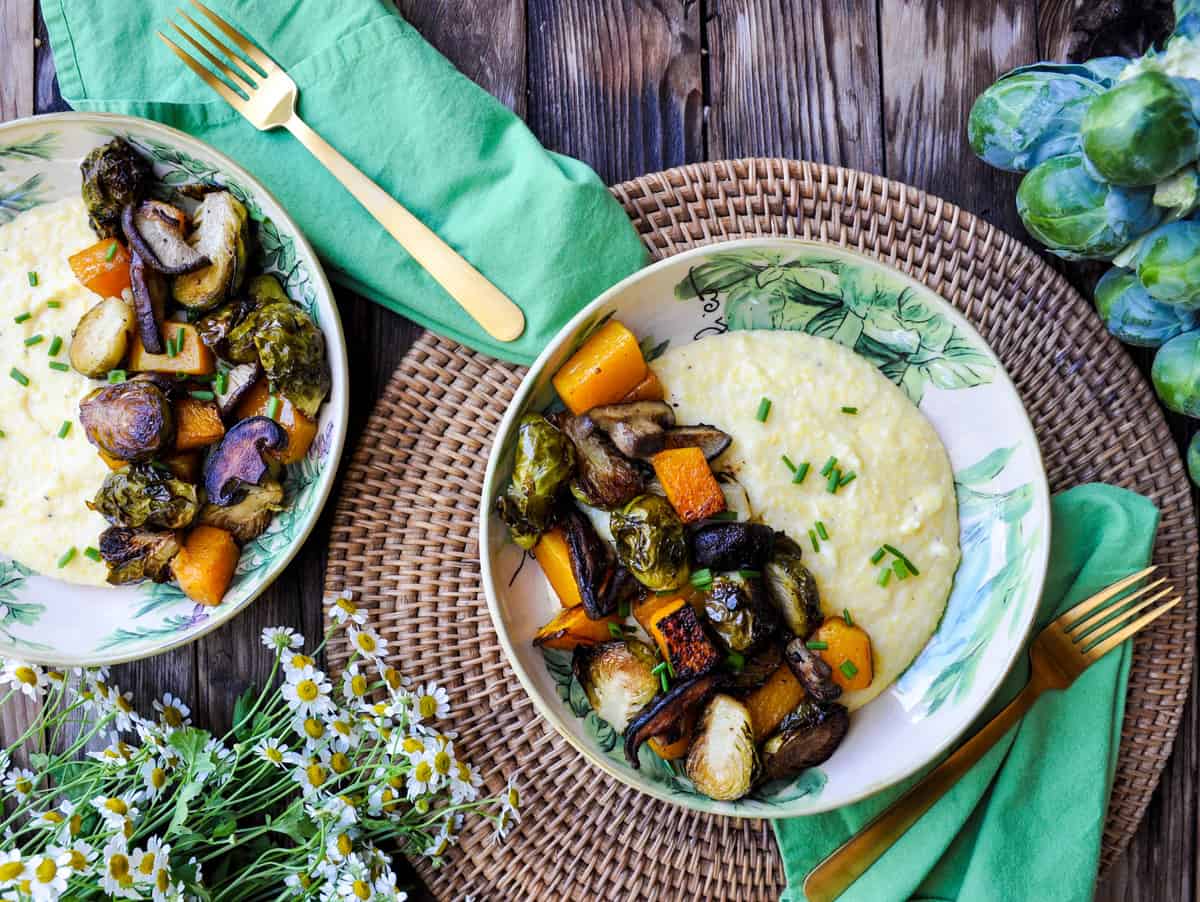 An easy, lovely weeknight meal is less than an hour away and all the ingredients are ripe and in season at your local market.
Get goin'!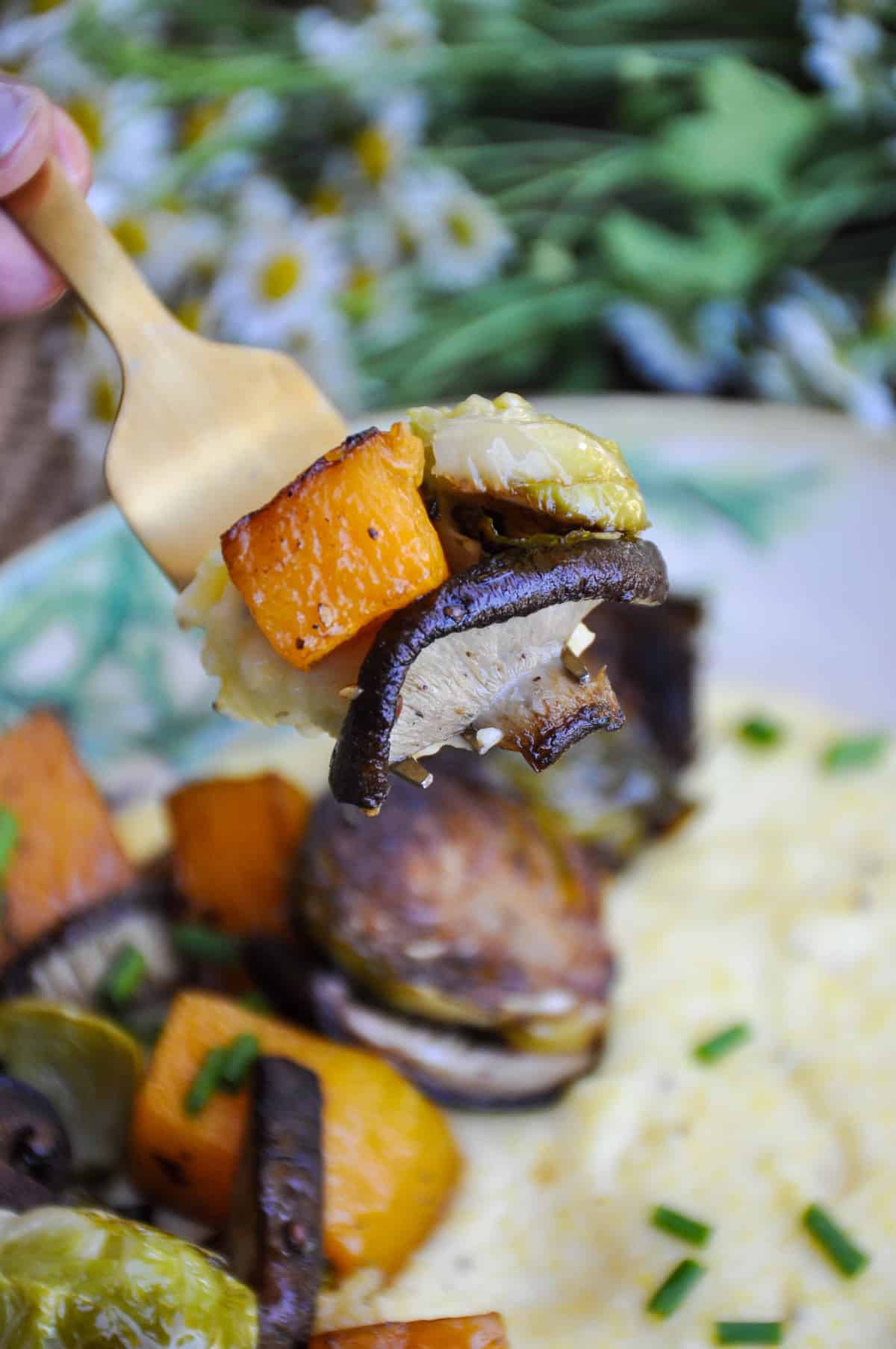 For the roasted winter vegetables:
we chose:
brussels sprouts
butternut squash
mushrooms
you could also add:
peppers
broccoli
delicata squash
beets
carrots
wedge of cabbages
onions
Dig in and enjoy!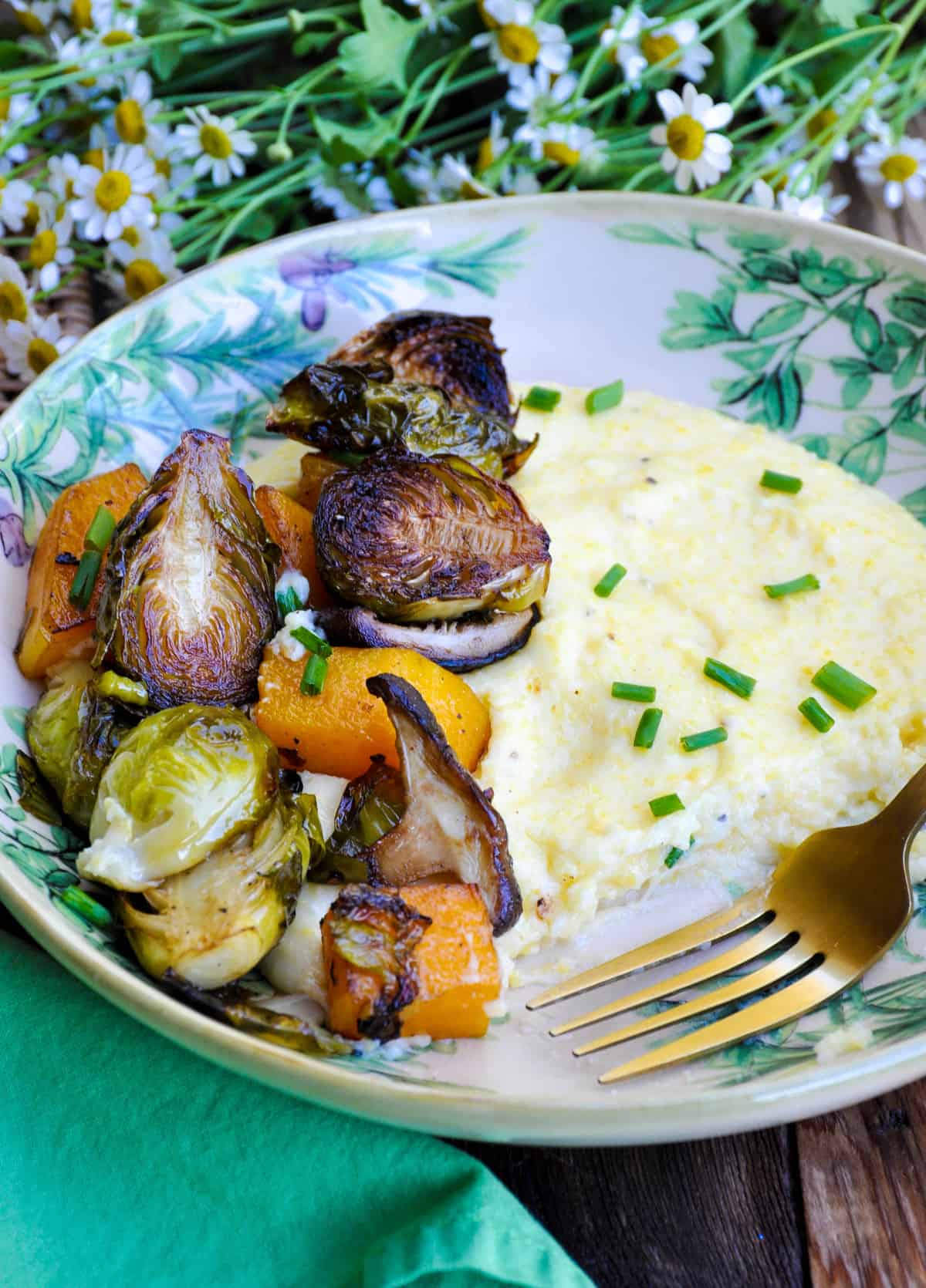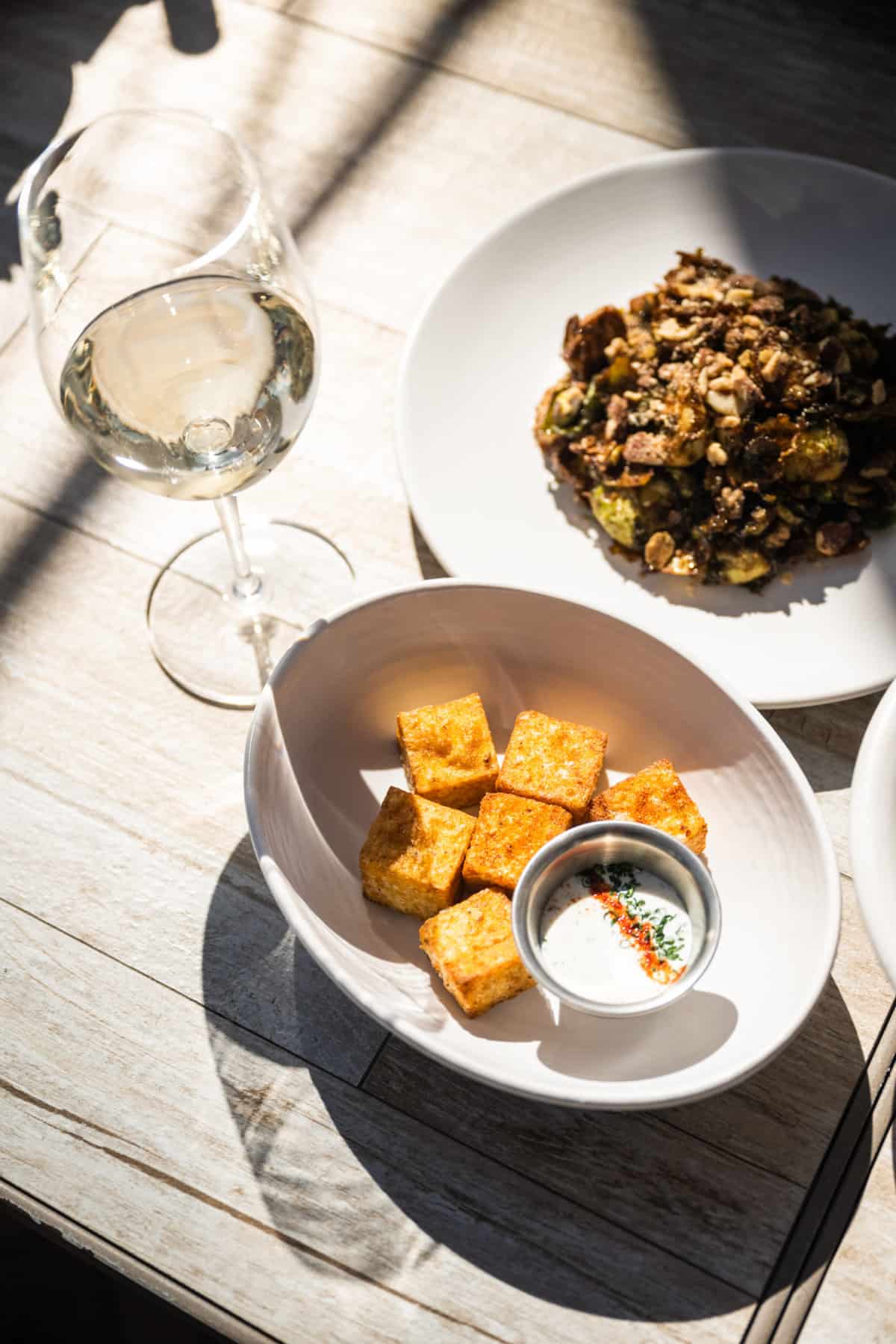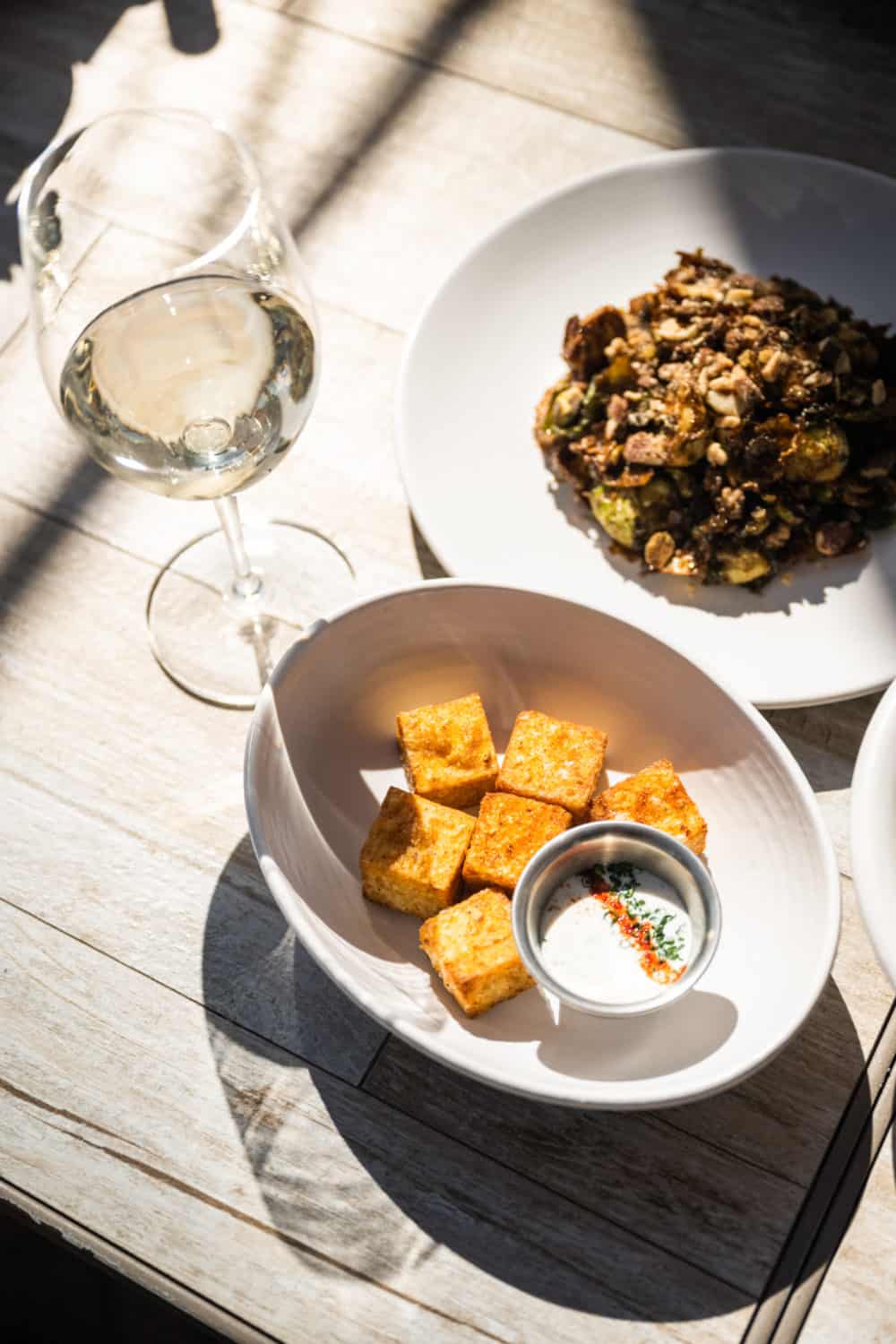 Love polenta? We do too. The best thing to do with leftover creamy polenta is to fry it!
These addictively delicious Polenta Tots are from the food truck at Clif Family Winery in Napa, California. They are a fun snackable bite perfect for sharing. If you've never had polenta cooked this way, you're in for a treat!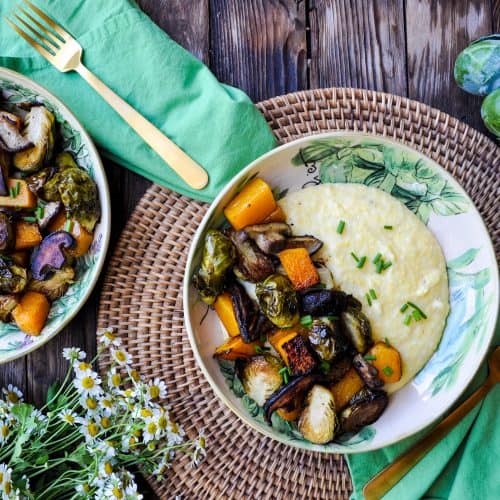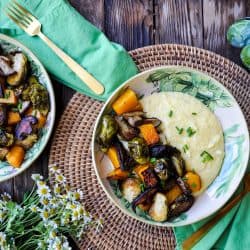 Roasted Winter Vegetable Medley over Creamy Polenta
Creamy polenta is a perfect match for roasted winter vegetables – this is a recipe you're sure to make again & again!
Ingredients
10-15 brussels sprouts halved
1 butternut squash skin removed and cubed
6-8 large mushrooms thickly sliced
2 TBSP olive oil
1 TBSP balsamic vinegar
Salt and pepper
5-7 chives chopped
For the Polenta
4 cups water
1 cup milk
1 cup polenta
1 TBSP butter
1/4 cup shredded Parmesan
Instructions
Preheat oven to 450 F

In a saucepan, add the water and milk and bring to a boil. Add the polenta and stir. Lower heat to low and continue stirring occasionally until the polenta is creamy, about 40 minutes.

Add the chopped veggies onto a baking sheet. Drizzle with olive oil, balsamic and salt & pepper. Toss to coat and place in oven for 30 minutes, turning hallway through

Once the polenta is done, add in the butter and cheese. Stir to mix well.

Spoon polenta into bowl and top with the roasted veggies. Top with chopped chives
Notes
Enjoy with a glass of wine. Cheers!
Nutrition
Calories: 411kcalCarbohydrates: 63gProtein: 12gFat: 14gSaturated Fat: 5gPolyunsaturated Fat: 1gMonounsaturated Fat: 7gTrans Fat: 0.1gCholesterol: 19mgSodium: 180mgPotassium: 1140mgFiber: 6gSugar: 10gVitamin A: 20664IUVitamin C: 80mgCalcium: 275mgIron: 3mg
This recipe adpated from Cheesy Polenta with Roasted Vegetables by Williams-Sonoma.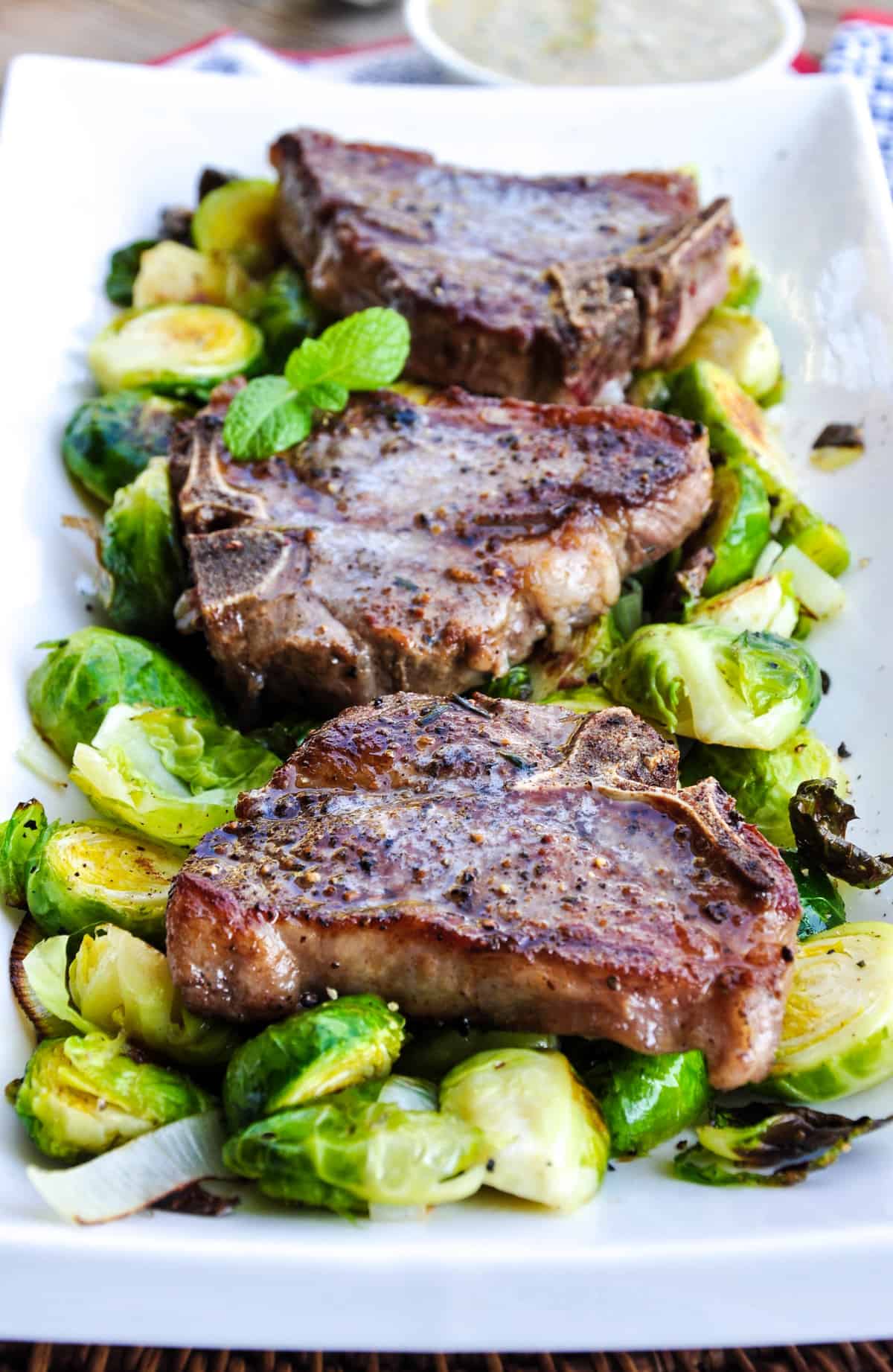 This Roasted Brussels Sprouts and Butternut Squash with Pecans and Pomegranates is loaded with fabulous fall flavor – and California grown goodness!