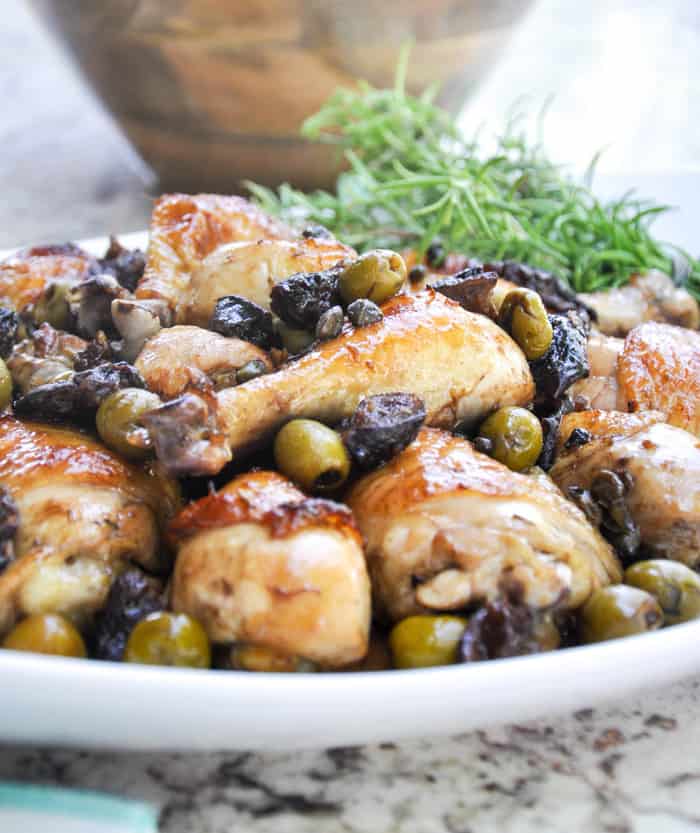 CA GROWN Blog
Discover. Learn. Connect.
How to Make Roasted Chicken Legs in the Oven, Marbella Style
August 12, 2015
Eat the Season!
Sign Up For Weekly Recipes
« Back to Recipes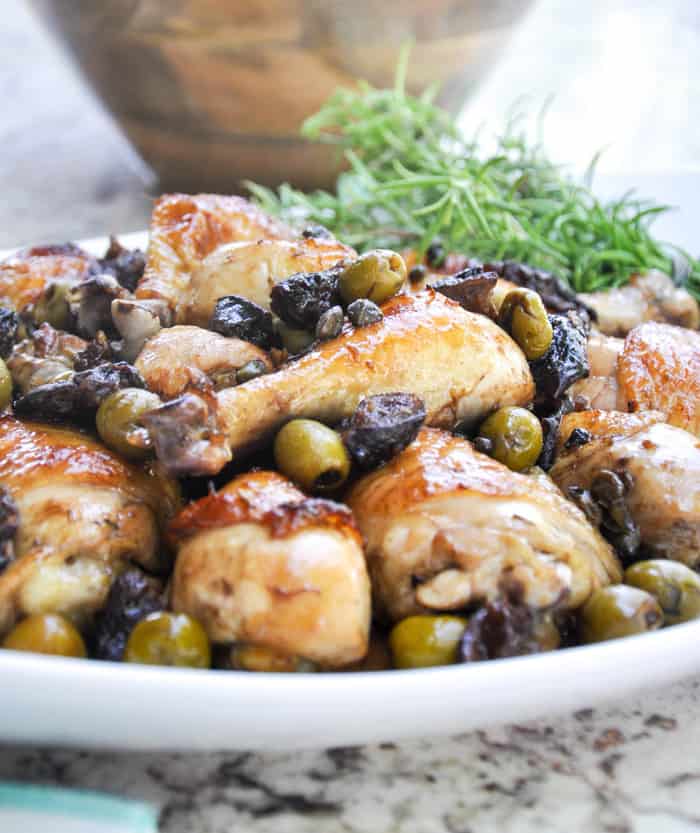 How to Make Roasted Chicken Legs in the Oven, Marbella Style
This simple, recipe for roasted chicken legs in the oven, Marbella style will soon rise to the top of your favorites list! Despite its clever and unusual flavor combination, the end result is quite mild and very kid-friendly. Briny capers and olives make a perfect companion for sweet prunes and brown sugar in this succulent chicken dish that will have you and your kids coming back for more!
We started with this classic Spanish chicken recipe as inspiration and put a California-inspired spin on it, using fresh California ingredients and of course, Foster Farms California Grown chicken, ensuring a juicy and tender dish.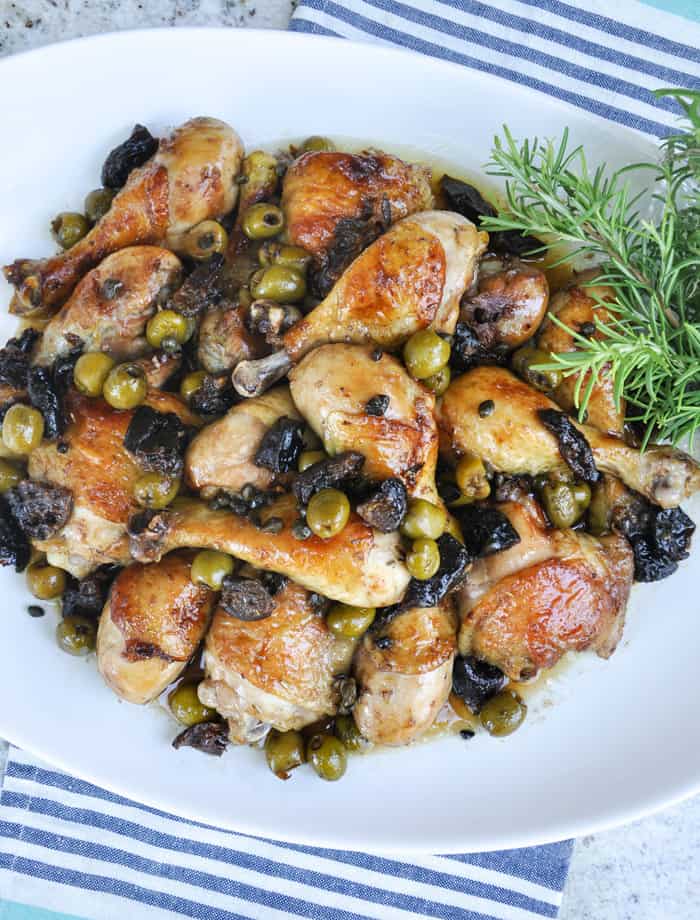 This recipe for roasted chicken legs is so incredibly easy! W actually suggest making a double batch and saving the leftovers to pack in lunches. It is seriously that delicious. We also like to shred up the leftovers and use them for quesadillas or as an unexpected taco filling.
Let's make Roasted Chicken Legs in the Oven, Marbella Style step-by-step!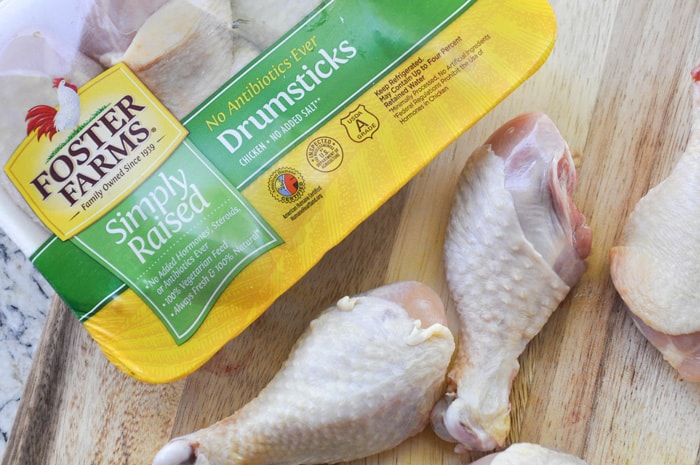 Picking the right chicken is essential!
We recommend using Simply Raised chicken from Foster Farms. The packaging is super easy to spot with its green label!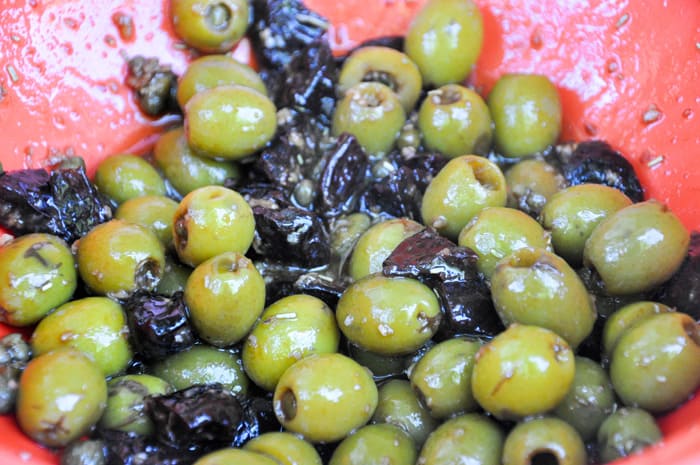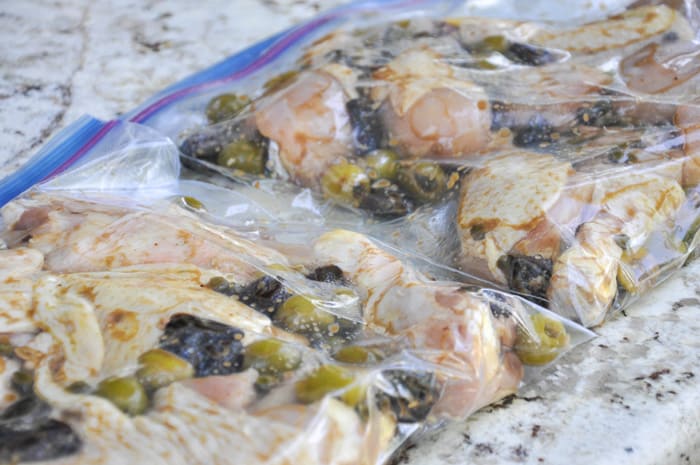 Marinate the chicken legs overnight.
This chicken marinates overnight in the fridge, and that is part of the beauty of this recipe!
Easy prep the night before so almost all you have to do the next evening is pop it in the oven. In just under an hour, voila – dinner will be done!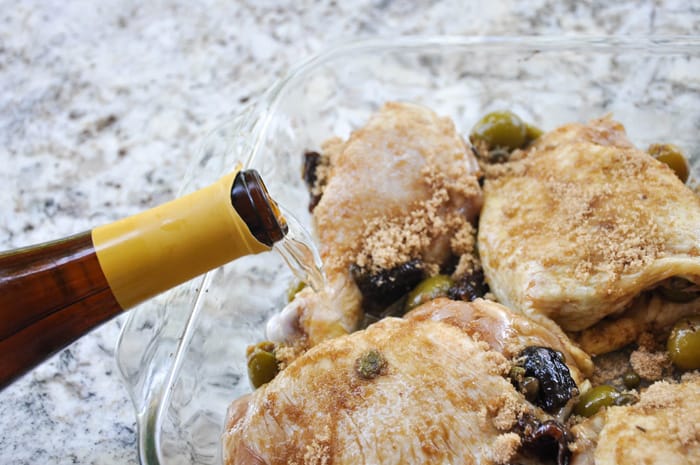 Don't forget the brown sugar and wine!!!
The final step is to add a brown sugar rub just before baking. This gives the chicken a nice golden crust. Then right before popping it in the oven, drizzle a bit of white wine in the bottom of the roasting dish.
Now all that is left is to roast those chicken legs to perfection in a 375°F oven for just under an hour until the internal temperature is 165°F. Then dinner is served!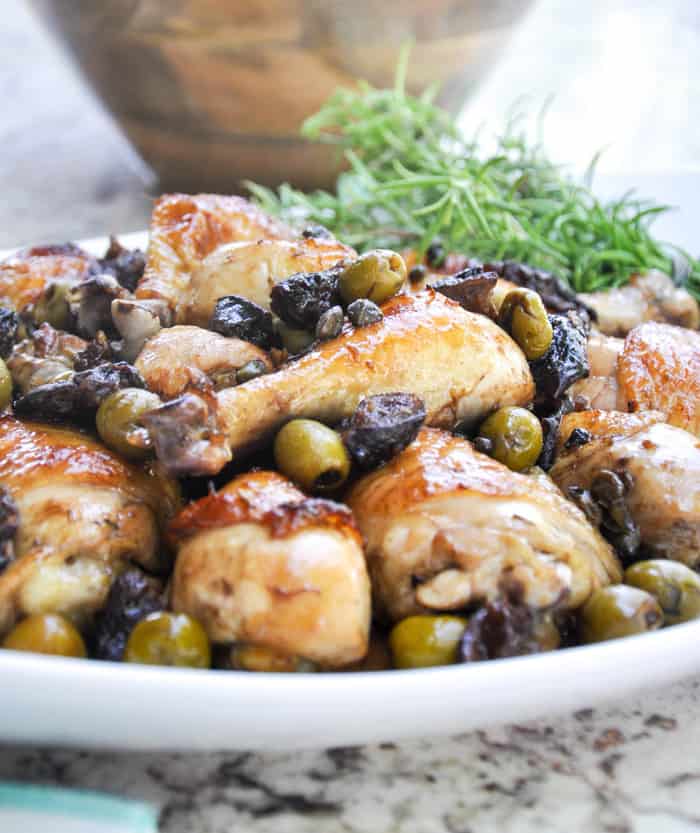 Here are a few recipes that pair well with these Oven Roasted Chicken Legs, Marbella Style
Now that you have a main course picked out that requires little effort you can focus your attention on a side. We often pair this with a simple side of California Grown wild rice. White rice is nice too, but sometimes we throw in a fancy drink or a salad for balance.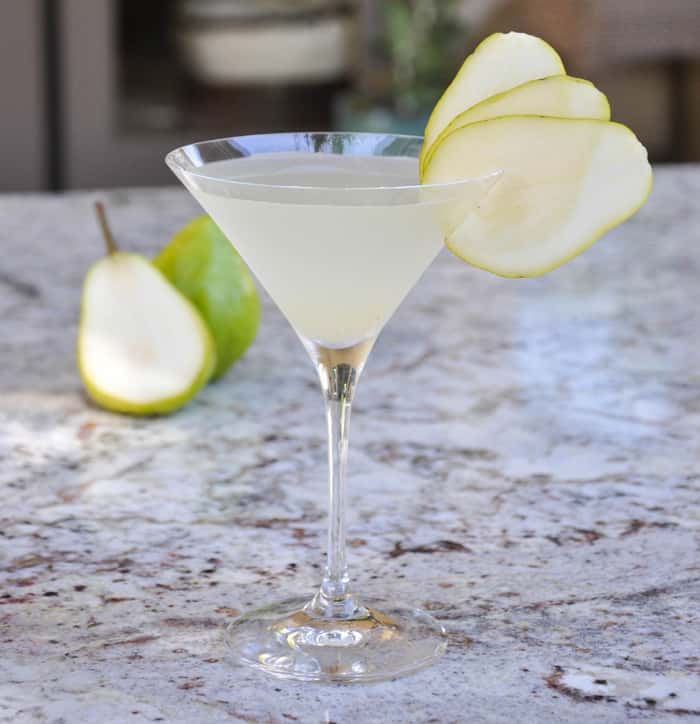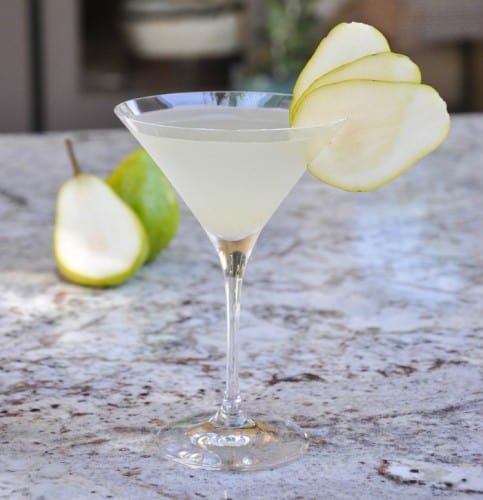 This martini recipe calls for Riesling Wine which is also a great choice for the white wine called for in this recipe!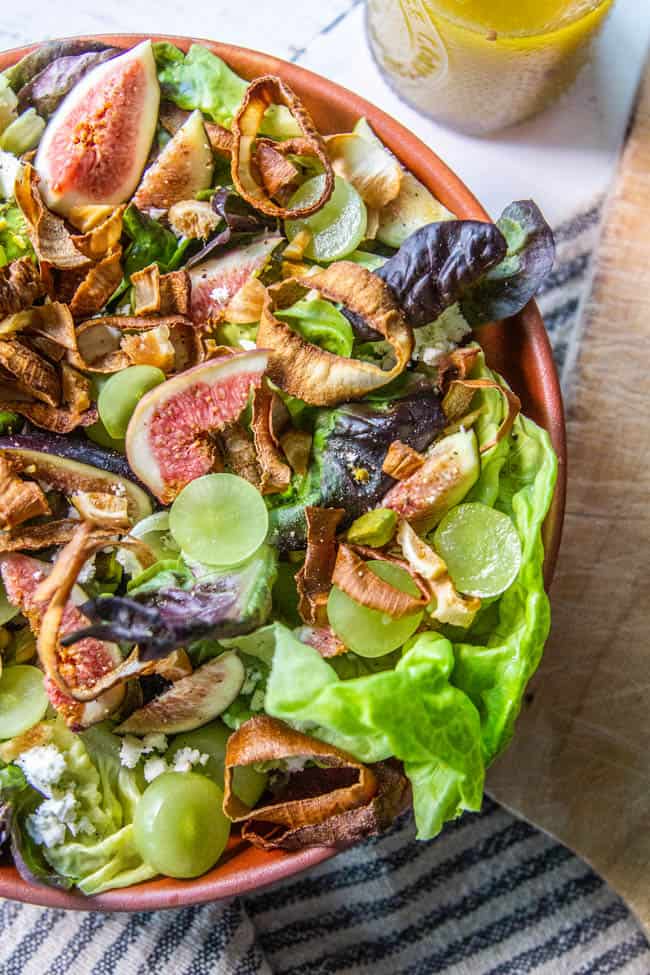 Just like the Marbella Style Oven Roasted Chicken Legs this salad is full of unexpected but delightful flavor combinations.
This salad is chock-full of leafy greens that are lightly dressed in an irresistibly bright California honey + mustard vinaigrette. Then it is topped with crisp grapes, fresh and dried figs, crispy shallots, pistachios, and briny feta. It's a symphony of flavor for your taste buds!
If you make this recipe, be sure to share your Marbella Style Oven Roasted Chicken Legs with us by snapping a pic and tagging us on social using #CAGROWN.
Craving more CA Grown goodness? Follow us on Pinterest for fresh and fabulous recipe inspiration!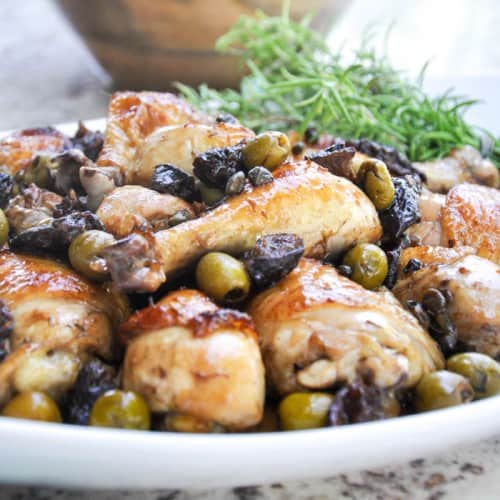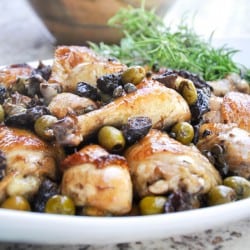 Roasted Chicken Legs in the Oven, Marbella Style
Chicken Marbella Roasted Chicken Legs – a California-style take on the classic Marbella recipe. It's an amazingly easy, delicious meal everyone will love!
Ingredients
4 lbs California chicken drumsticks or thighs
1 14oz. can California ripe green olives
1 cup California prunes quartered
2 tbsp capers with brine
4 cloves garlic pressed
1 tbsp dried rosemary or 2 Ttbsp. fresh chopped
4 tbsp olive oil
2 tbsp balsamic vinegar
1/3 cup brown sugar
1/2 cup California dry white wine
Instructions
To marinade the Chicken Marbella style Roasted Chicken Legs
Add chicken pieces to a large plastic bag or bowl.

Add the olives, prunes, garlic, rosemary, olive oil, and balsamic vinegar to the container with the chicken legs.

Make sure that all teh chicken is coated, seal or cover well, and refrigerate overnight.
To cook the Chicken Marbella style Roasted Chicken Legs
Preheat the oven to 375°F.

Place the chicken in a baking dish and pour any remaining marinade in the bag over the top.

Rub each chicken piece with a spoonful of brown sugar.

Add the white wine to the bottom of the dish.

Bake for 50 minutes or until done.
Are you hungry for more Marbella inspired recipes?! Here are a few of our favorites!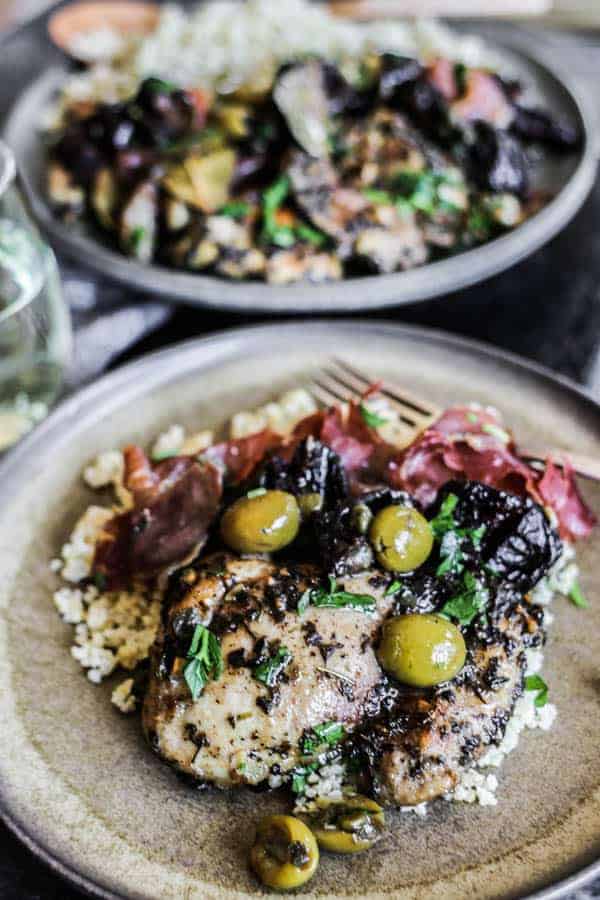 This retro redo from This Mess is Ours is a simple chicken dinner idea that packs BIG, BOLD flavor! Plus it requires minimal effort. WINNING!
Whether you plan ahead to marinate overnight for maximum Marbella flavor. Or you just need to get dinner on the table with only a few minutes of prep time to spare. This Sheet Pan Chicken Marbella tastes great with almost zero hassle.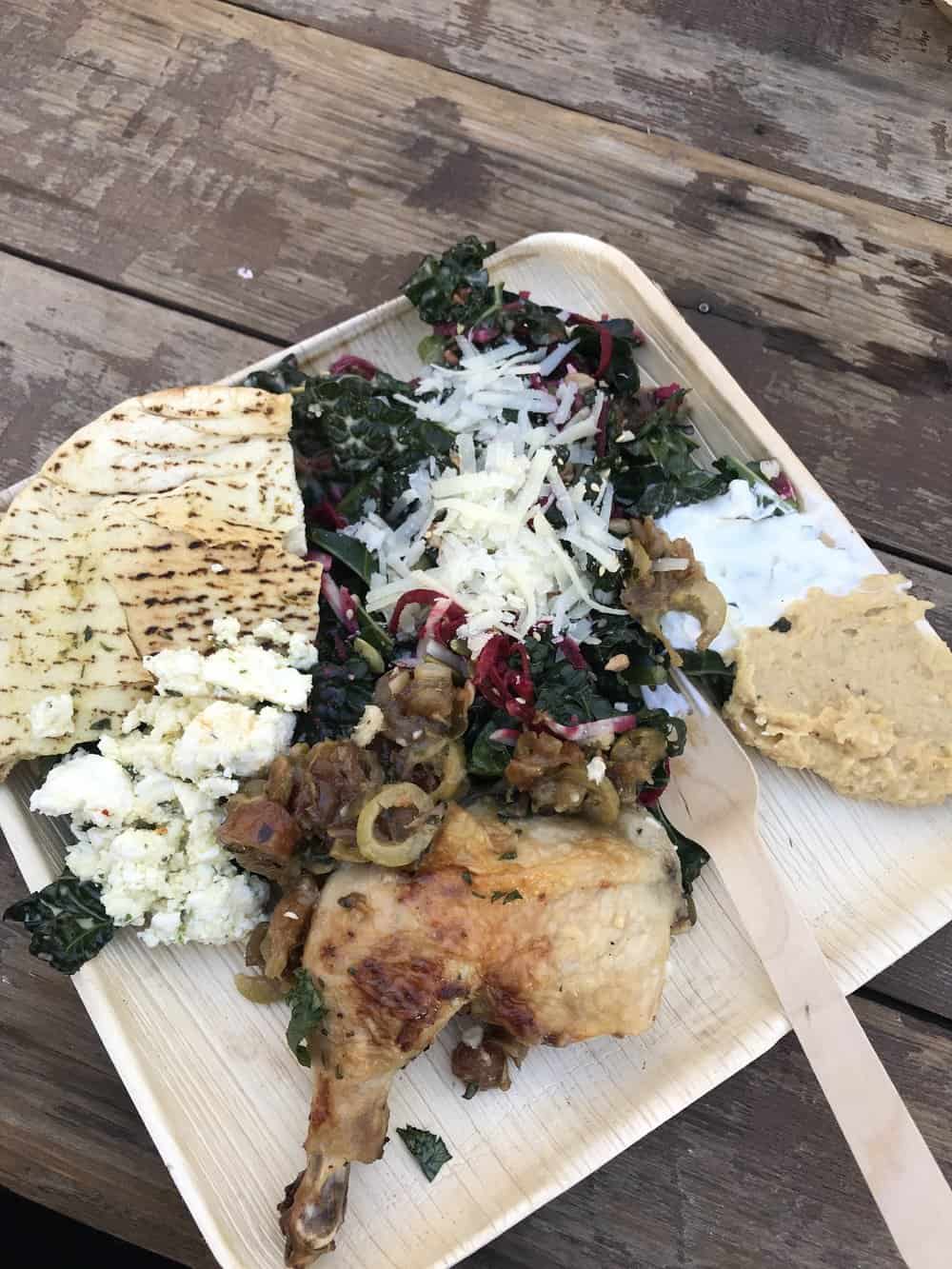 If you can't make it to a Mediterranean Oasis on your next traveling adventure, bring a Mediterranean oasis to your kitchen! At least, that is Chef Shayna's advice and we dig it!!