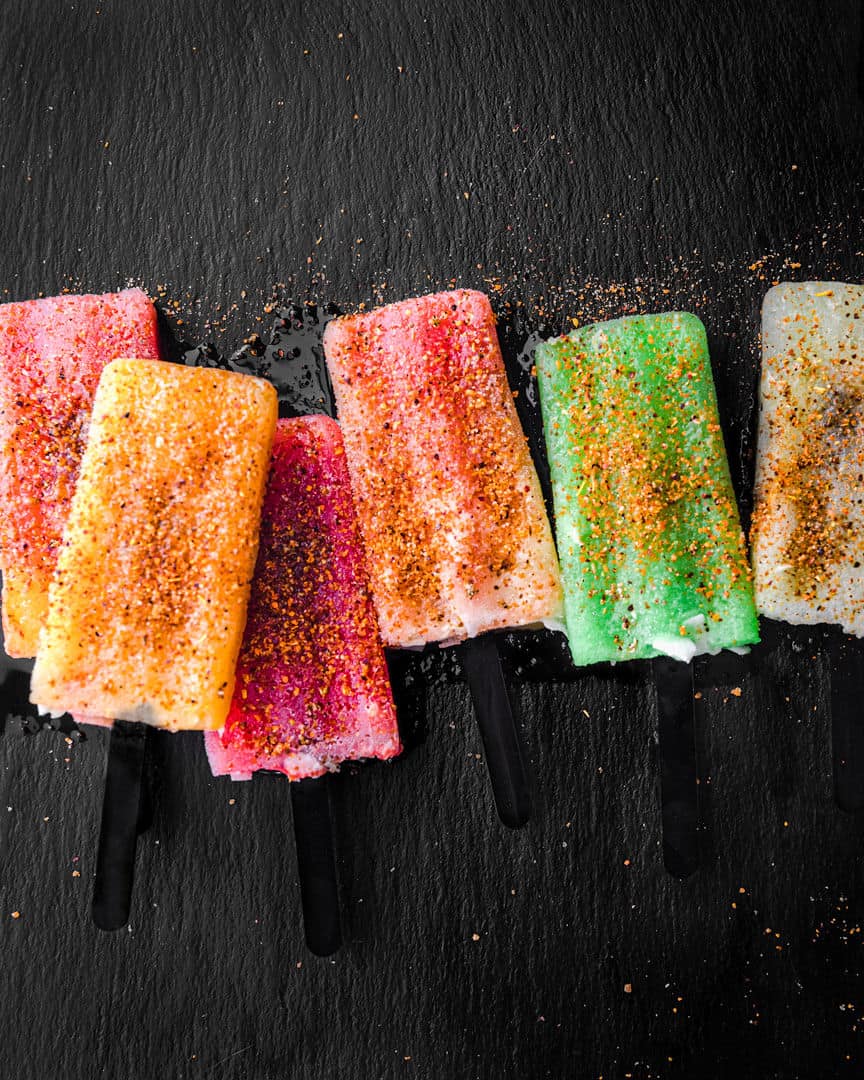 CA GROWN Blog
Discover. Learn. Connect.
Melon Tajin Paletas – Daniela Gerson, Waves in the Kitchen
August 1, 2022
Eat the Season!
Sign Up For Weekly Recipes
« Back to Recipes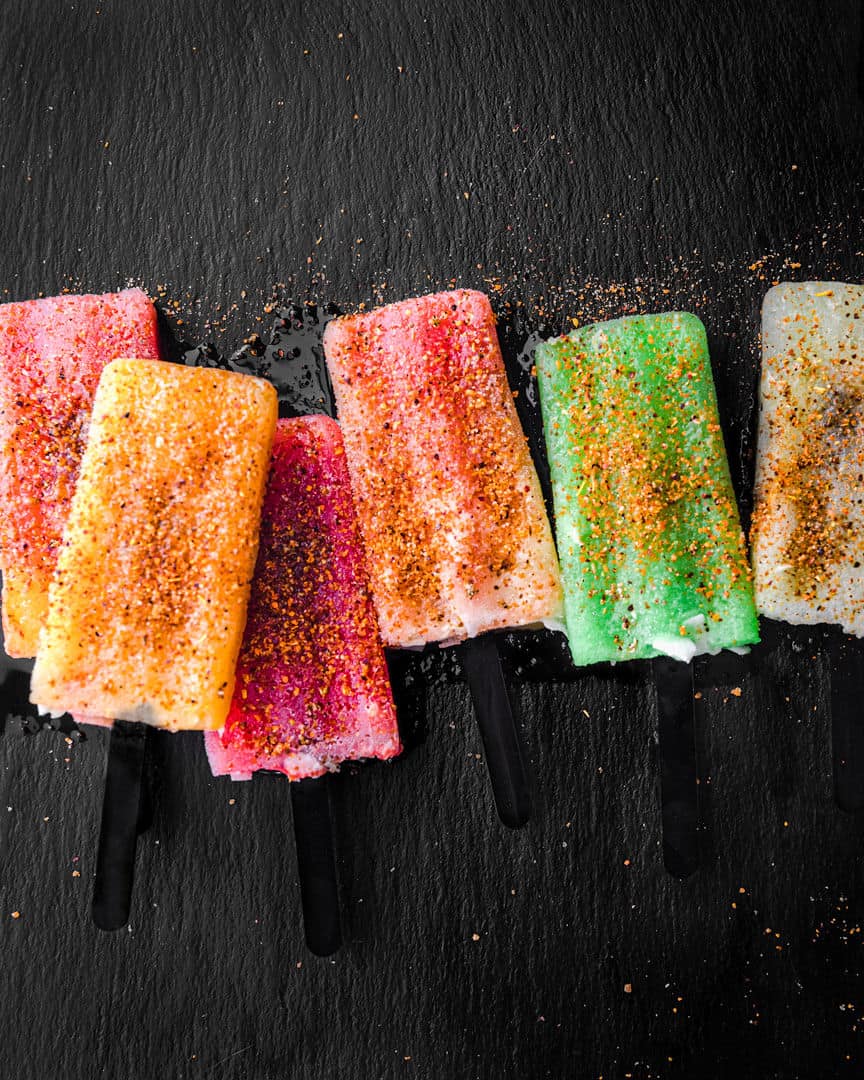 Melon Tajin Paletas – Daniela Gerson, Waves in the Kitchen
These refreshing and very easy-to-make Melon and Tajin Paletas by our friend Daniela Gerson of Waves in the Kitchen are studded with coconut chunks and topped with a hint of spice!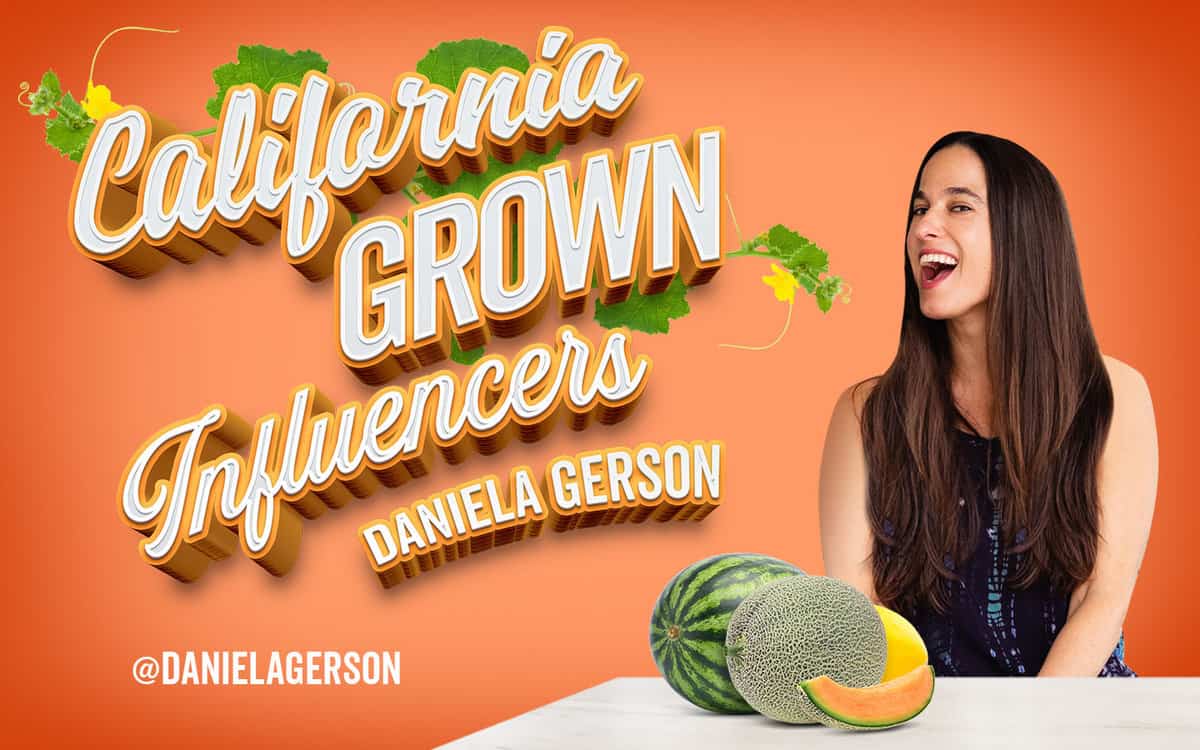 From Daniela –
I love California for its produce and summer's my favorite season of them all! Our Golden State grows one-third of the veggies, two-thirds of the fruits and nuts, and over 80% of the wine. We're the leading agricultural state in the nation. Summer's prime time for produce, with the most impressive harvest in terms of variety.
Food tastes best grown in its own season and eaten locally; it's better for the environment and ourselves. Locally grown food supports the local farming community and conserves energy, the food doesn't have to travel as far to arrive on your plate. We vote for what kind of world we want to live in by what we choose to eat.
The over 700 farmers' markets in the state are overflowing with an abundance of juicy produce, at the peak of its season, and bursting with flavor. And the farmer's market is where you are most likely to find the incredible varieties of melons you can use to make these paletas!
These frozen summer treats can be made with any melon and heirloom melon variety. With just five ingredients (melon, sugar, lime, salt, and tajin) these frozen treats are deliciously refreshing and endlessly customizable and can be made in 20 minutes or less.
Squeezing lime and sprinkling tajin over fruits and veggies is a classic Mexican pairing found on street carts all over the country and inspired this recipe. The seasoning, made of a blend of chili peppers, lime, and salt, makes the paletas pop with vibrant flavor.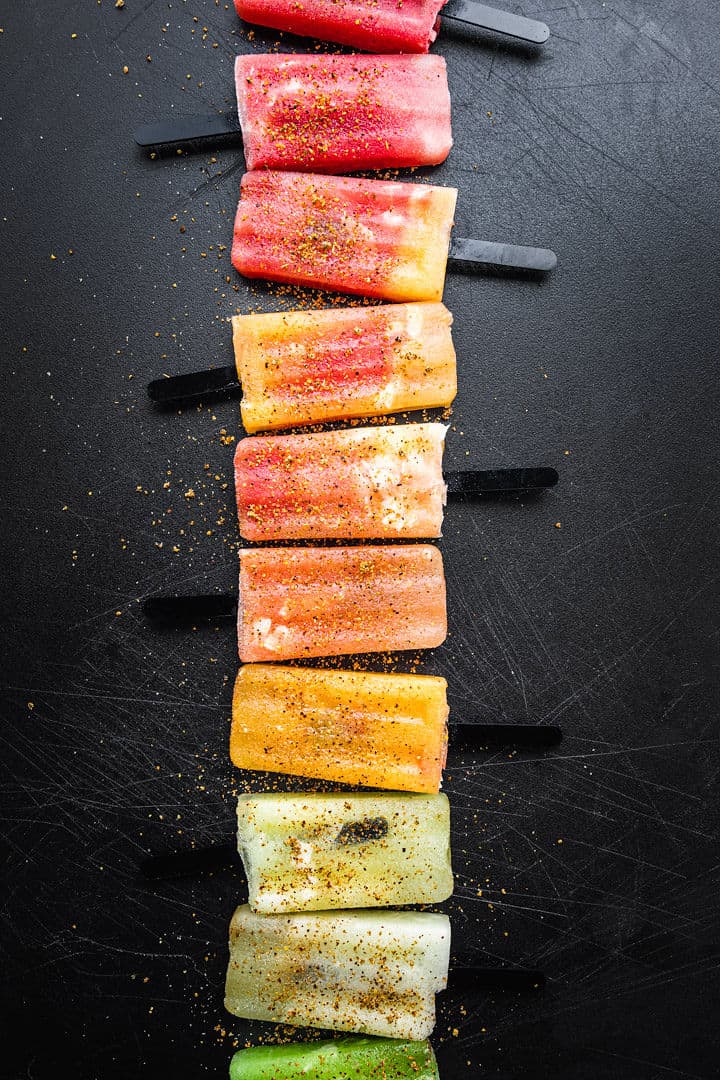 Melons are in peak season in California July through September.
The arrival of summer brings a bounty of melon varieties in all sorts of colors and sizes. Native to central Asia, the melon plan has been around for over 4,000 years. There are nearly 40 varieties including Watermelon, Cantaloupe, Honeydew, Crenshaw, Canary, Casaba, Sugar Melon, Piel de Sapo, and many more.
California leads the nation in the production of melons.
Although melons are grown throughout the state, most of our crop hails from the San Joaquin and Imperial Valleys. There are two main families of melons: those with rough netted or reticulated rinds (Muskmelons, Cantaloupes, etc.) and those whose rinds are baby-smooth (such as Honeydew). The most grown varieties are Cantaloupes and Honeydews, with the state ranking first in the nation in the production of both. California grows about 60-90% of the country's Cantaloupe melons every year and 80% of Honeydew. Although culinarily a fruit, melons are botanically a veggie. They're in the cucurbit family related to cucumbers, squash, zucchini, and pumpkins.
Food tastes best grown in its own season
Sweet and juicy melons are the quintessential summer fruit. It's the popsicle recipe that celebrates every color of the melon rainbow.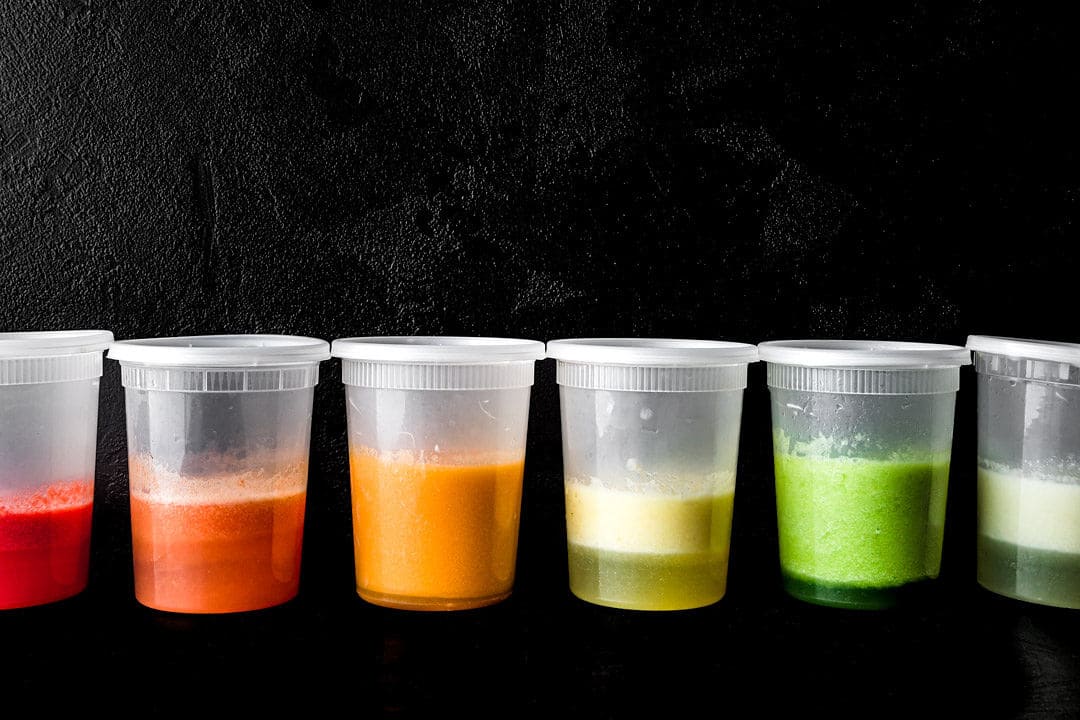 The recipe is a "rough" ratio of melon to sugar and lime juice.
Melon varieties vary on the sweet-tart spectrum. In general, I recommend that for every cup 1 cup of melon puree, add about 1 tablespoon of sugar, ½ tablespoon of lime juice, and a pinch of tajin and salt. The exact amounts will depend on melon variety, but sweet melons will need less sugar than tart ones.
The key is to season the fruit juice to taste, but it's important to keep in mind: purée will taste slightly less sweet once frozen. The lime juice enhances the melon flavor, basically making it taste more like itself and the pinch of salt accentuates its sweetness. The result is a bright and intensely flavored fresh melon puree. Adding coconut chunks and Tajin for a kick of spice makes for a more interesting texture bursting with a refreshingly vibrant flavor.
The beauty of this colorful and healthy sweet treat is in its simplicity. It's what summer cooking is all about – highlighting fresh and local produce at the peak of its season in an easy way with minimal prep.
Here are a few more of Daniela's beautiful recipes to try!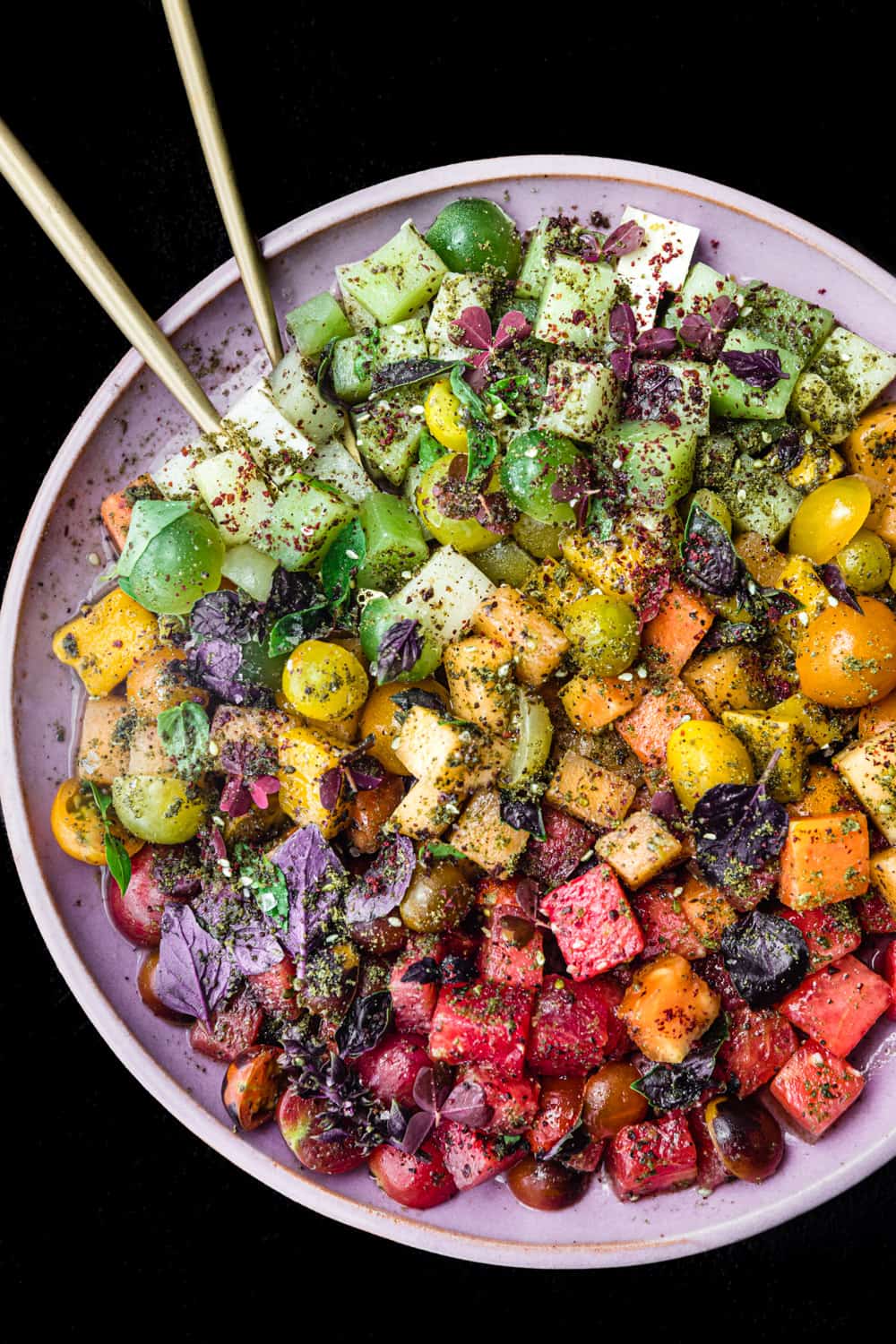 This sweet, juicy, crunchy, salty, briny, and tangy seasonal salad celebrates the very best of California's summer fresh fruit and veggie bounty! Eat the rainbow with this bright, colorful, and healthy salad filled with seasonal California produce.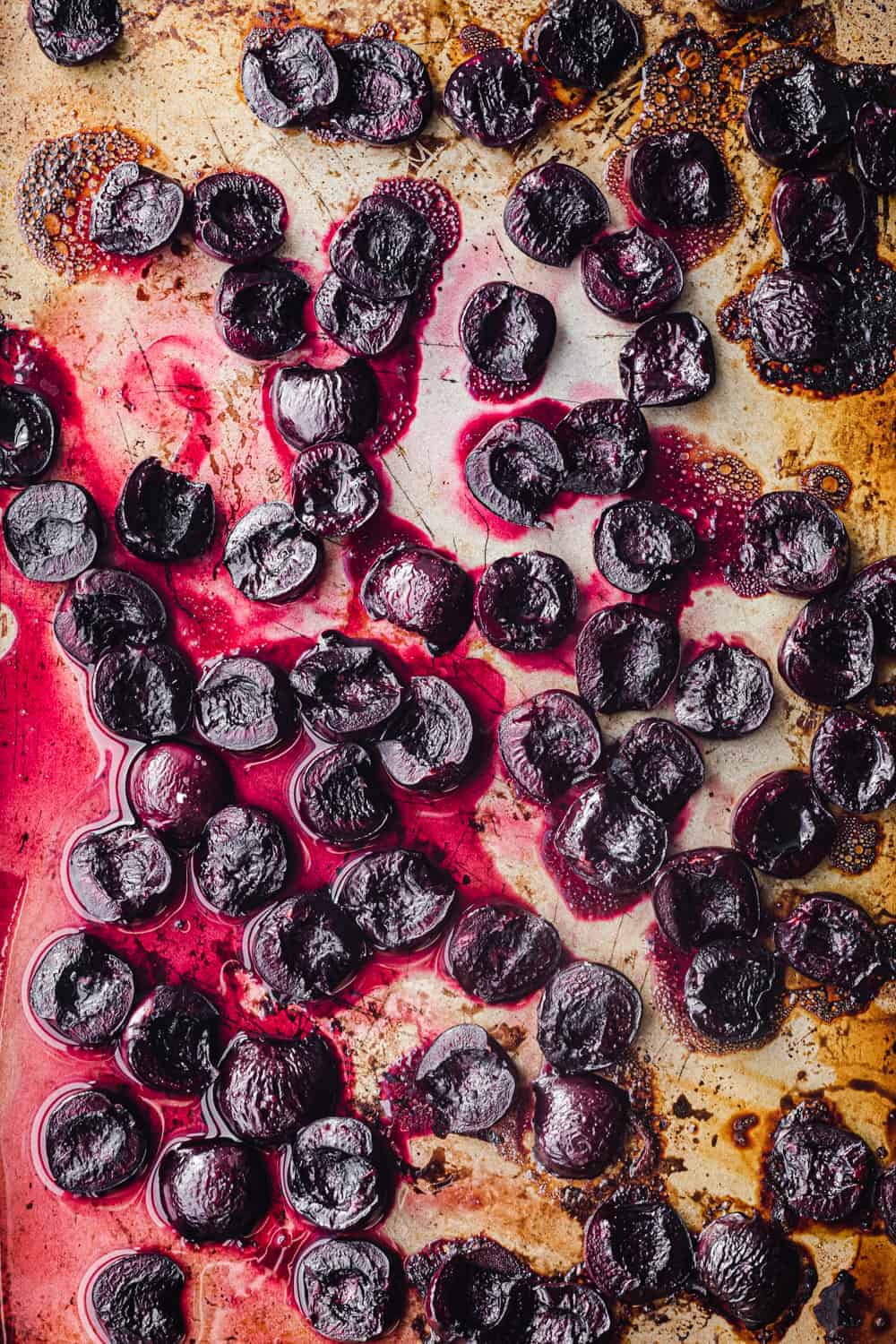 Roasting cherries caramelizes their sugar and intensifies their flavor. This quick and easy recipe pairs with both sweet and savory dishes. They come out of the oven glisteningly shiny and gorgeously plump. Their juices combine with the sugar into a thick syrupy sauce.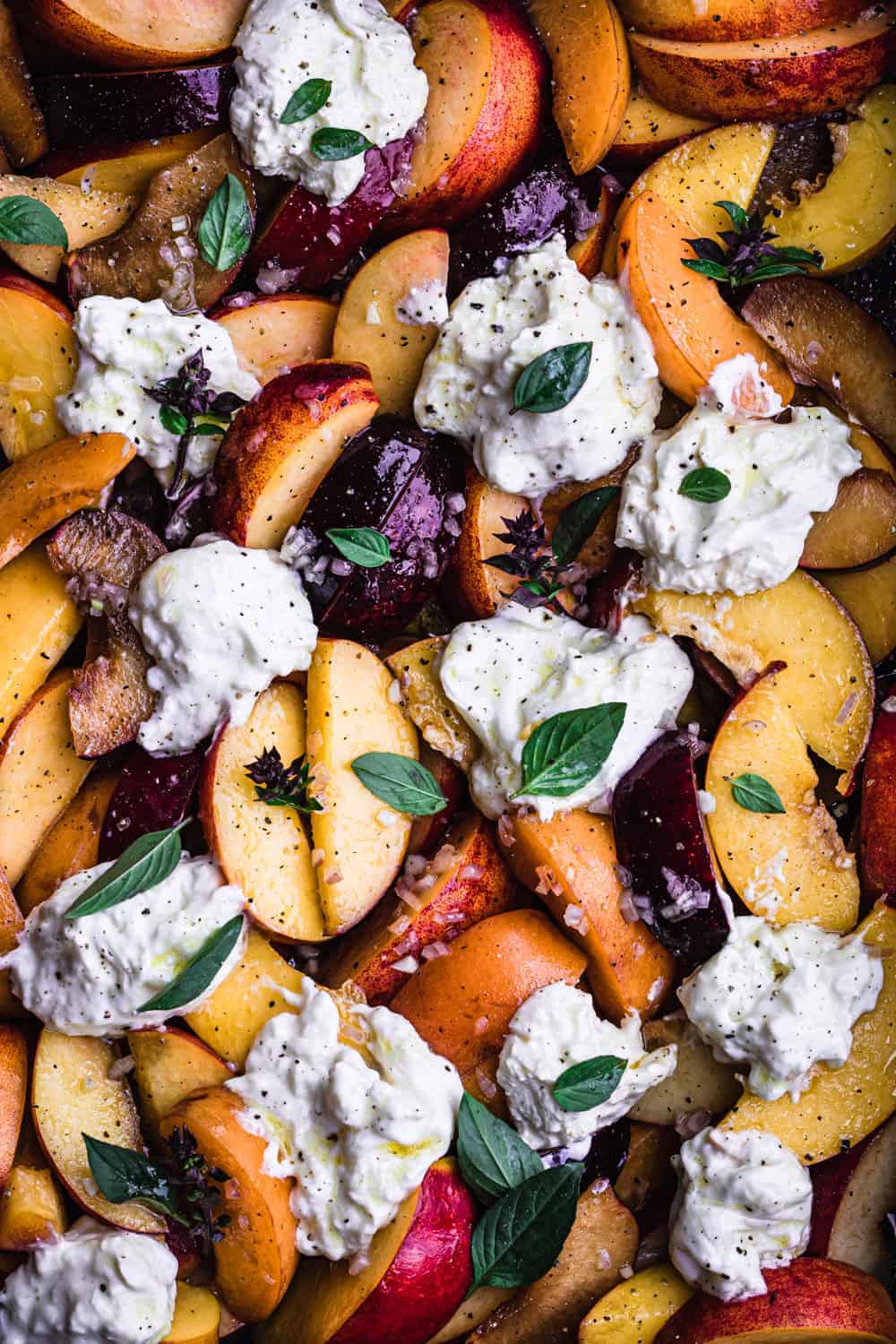 Sweet, juicy, and crunchy peaches pair with rich and creamy burrata for a colorful summer salad that easily comes together in under 20 minutes! Nectarines, apricots, plums, cherries, pluots, and all other stone fruits are welcome too! It's an equal stone fruit opportunity recipe.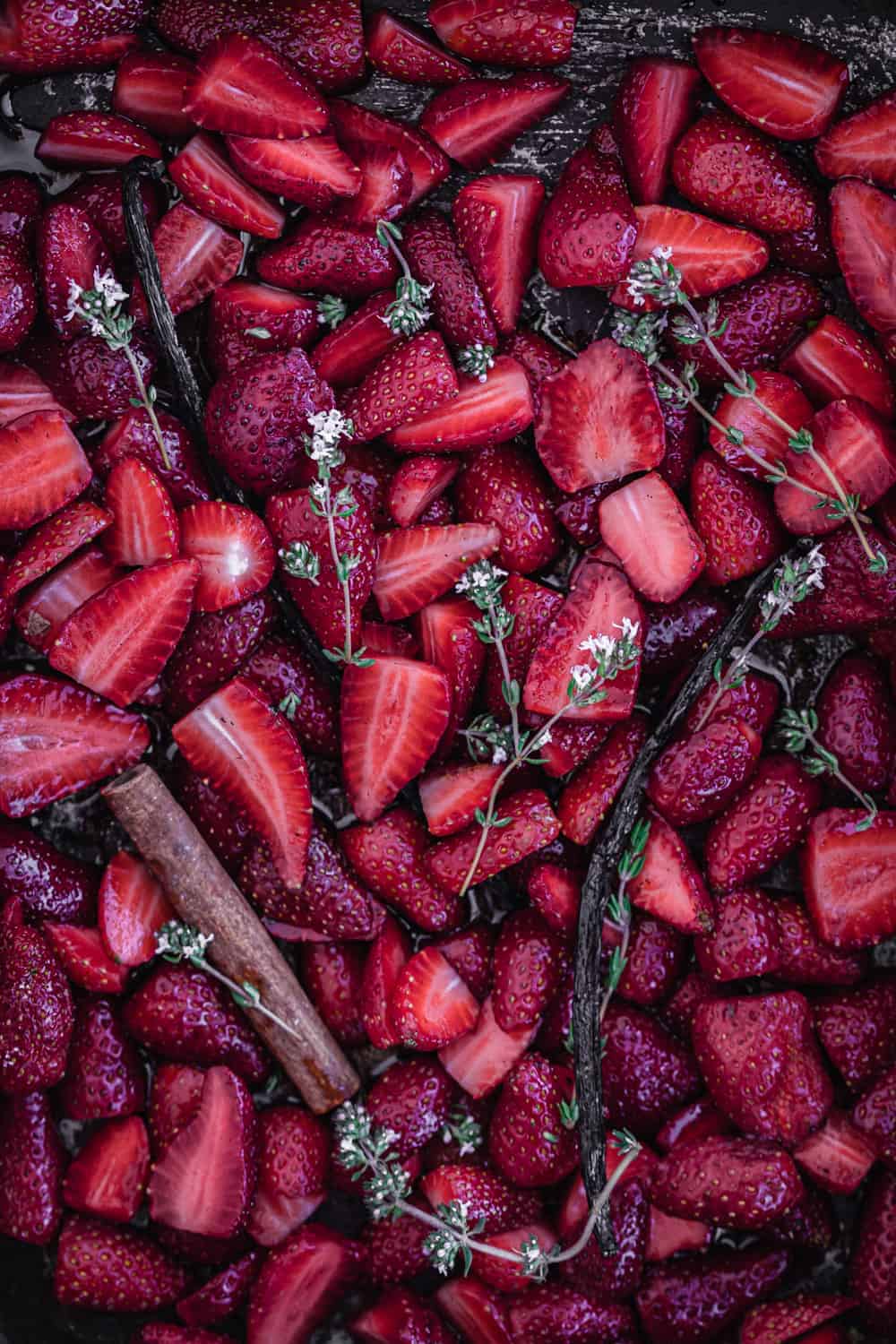 Quick and easy fresh roasted strawberries! The heat intensifies that sweet strawberry flavor! Eat 'em straight with a spoon or use 'em to add some deliciously juicy strawberry flair to your favorite summer dishes!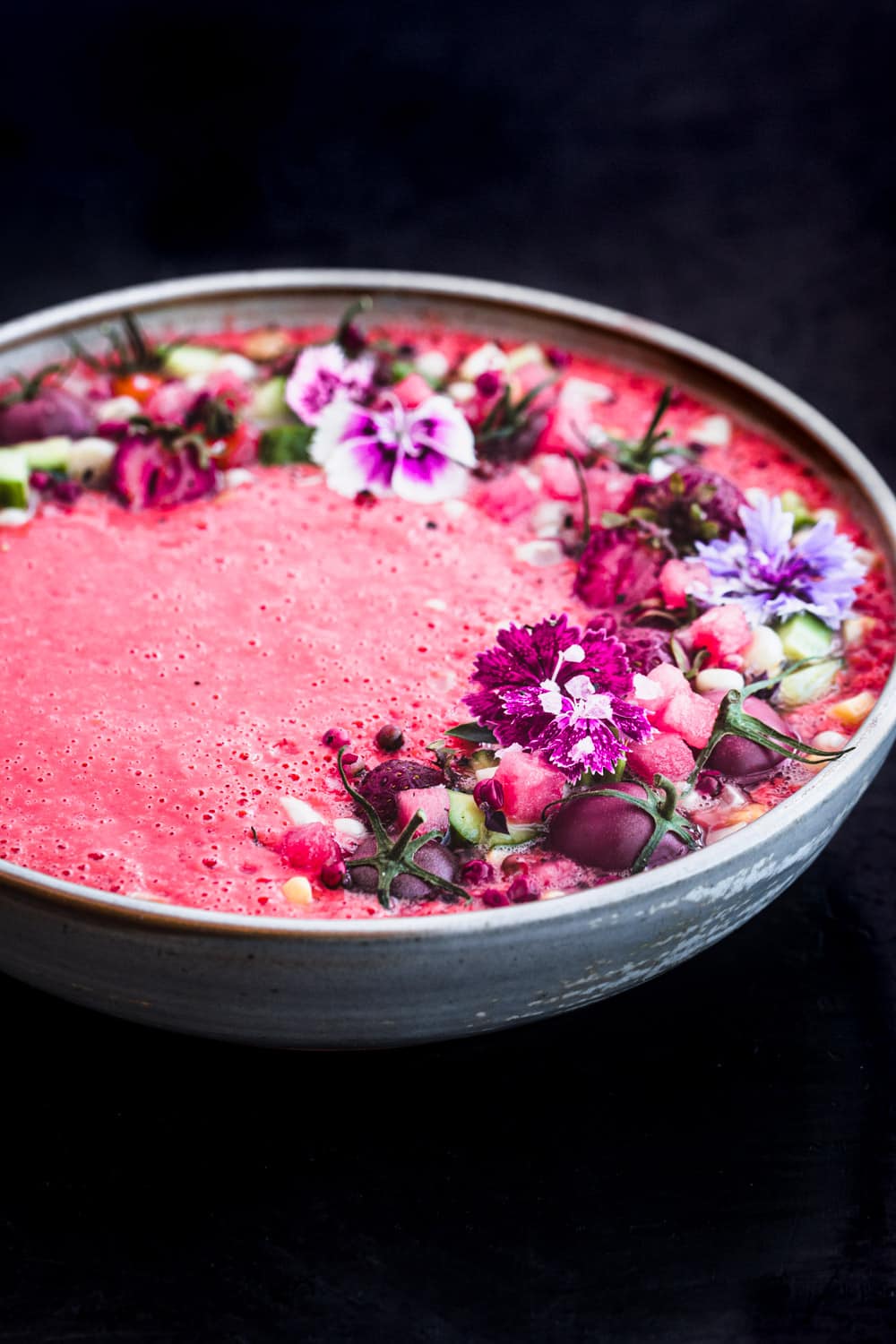 This vibrantly pink watermelon, strawberry, and tomato gazpacho taste like summer in a bowl! It's the perfect cold soup for a hot summer day.
Daniela Gerson is a photographer, creative director, chef, stylist, and recipe developer with a gorgeous prop-filled studio in Venice, California. She began her career as a chef and loved sourcing colorful produce from local markets, emphasizing the beauty of real food. She now considers herself an artist with food as her medium. You can find more of her delicious (and beautiful) recipes on her website, Waves in the Kitchen.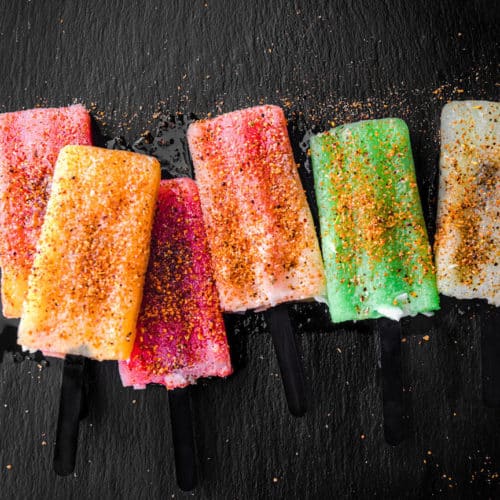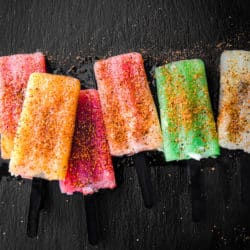 Melon Tajin Paletas
These Melon Tajin Paletas are refreshing and very easy to make. Sweet melon and tangy lime paletas are studded with coconut chunks and topped with a hint of spice!
Ingredients
1 ½ pounds peeled and diced melon 4 cups of melon* chunks seedless or seeds removed, divided
4 tablespoons sugar divided + more to taste
2 tablespoons lime juice + more to taste
1/2 teaspoon kosher salt divided
¼ – ½ cup coconut flakes
1 tablespoon tajin
Instructions
Add the melon, lime juice, 3 tablespoons of sugar, and salt to a blender and blend until very smooth.

Add a splash of water at a time, if necessary, so that the mixture liquefies. Add more lime and sugar to taste. (Note: purée will taste slightly less sweet once frozen).

Sprinkle the tajin and divide the coconut evenly between popsicle molds and top with the melon juice. Leave about 1/2 – 3/4-inch empty for expansion.

Add popsicle mold lid, insert sticks, and freeze until fully frozen and solid, 4-8 hours depending on your freezer but preferably, overnight.

Sprinkle additional Tajin on the unmolded pops and enjoy.
Notes
Pro-Tip: For the tastiest results, use freshly squeezed lime juice. (Not that stuff in the squeezy bottle)! Pro-Tip: When using different varieties of melon, remember tart ones need more sugar than very sweet ones. Season to taste! Pro Tip: When filling the popsicle molds, remember to leave room at the top to allow for expansion!
Nutrition
Serving: 1paletaCalories: 45kcalCarbohydrates: 10gProtein: 0.4gFat: 1gSaturated Fat: 0.5gPolyunsaturated Fat: 0.03gMonounsaturated Fat: 0.05gSodium: 103mgPotassium: 73mgFiber: 0.4gSugar: 9gVitamin A: 324IUVitamin C: 5mgCalcium: 5mgIron: 0.2mg