Odonata Winery; A Great Place to Taste Wine in Salinas
Are you planning a trip to taste wine in Monterey County? We suggest adding a visit to Odonata wines in Salinas to your agenda! This unique winery blends old-world winemaking methods and attitudes with new-world techniques to make nouveau-style wines.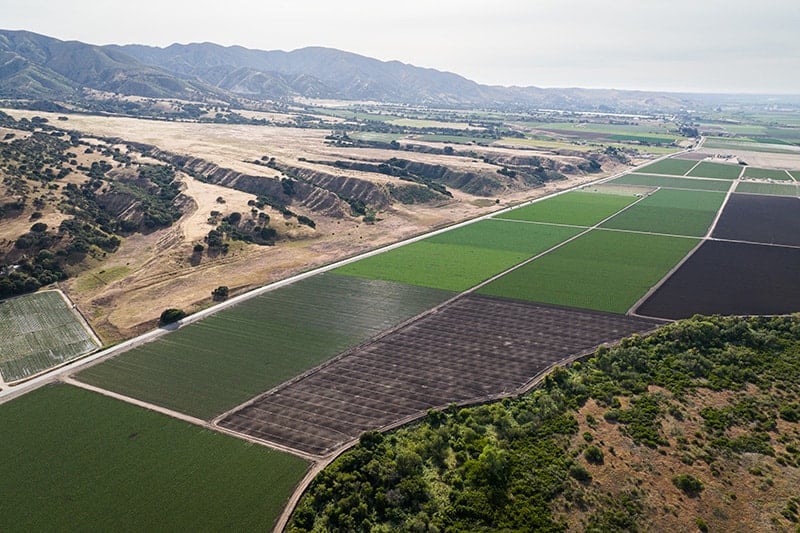 Where is the Odonata Winery located in Monterey County?
The winery and tasting room is nestled at the northern edge of the Santa Lucia Highlands AVA, right at the beginning of the River Road Wine Trail in the city of Salinas. The Santa Lucia Highlands is on the east-facing terraces of the Santa Lucia mountain range south of Monterey Bay.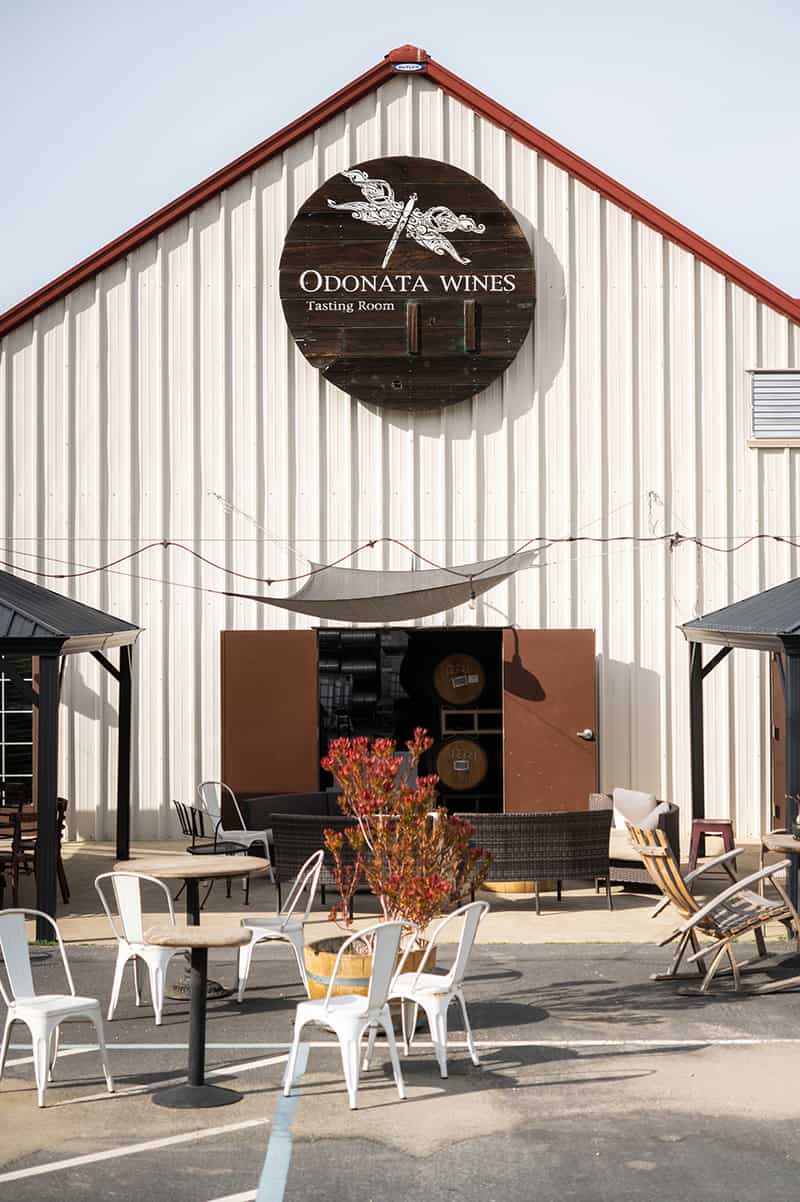 What to do when you visit Odonata Wines?
Of course, you will want to sit down on the sun-filled patio or in their tasting room for a guided tasting. You can also explore their 2-acre vineyard and production facility.
We suggest taking a snack – cheese & crackers perhaps – and spending the afternoon in the area.
What does Odonata stand for?
The term odonata stands for an order of insects that includes dragonflies and damselflies. That's why you see a dragonfly on the Odonata wine label!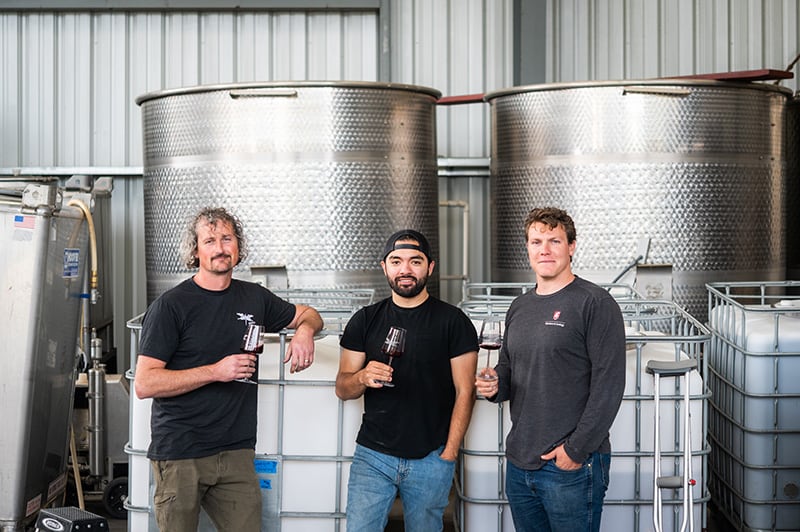 Odonata Wines is a small family winery owned and operated by winemaker, Denis Hoey. This unique winery focuses on small lot wines that are locally and sustainably grown.
Part of Denis' work at Odonata is mentoring the next generation of winemakers in Monterey County. Two such success stories are Chad Silacci of Rustique Wines and Junior Bañuelos of Sling | Stone.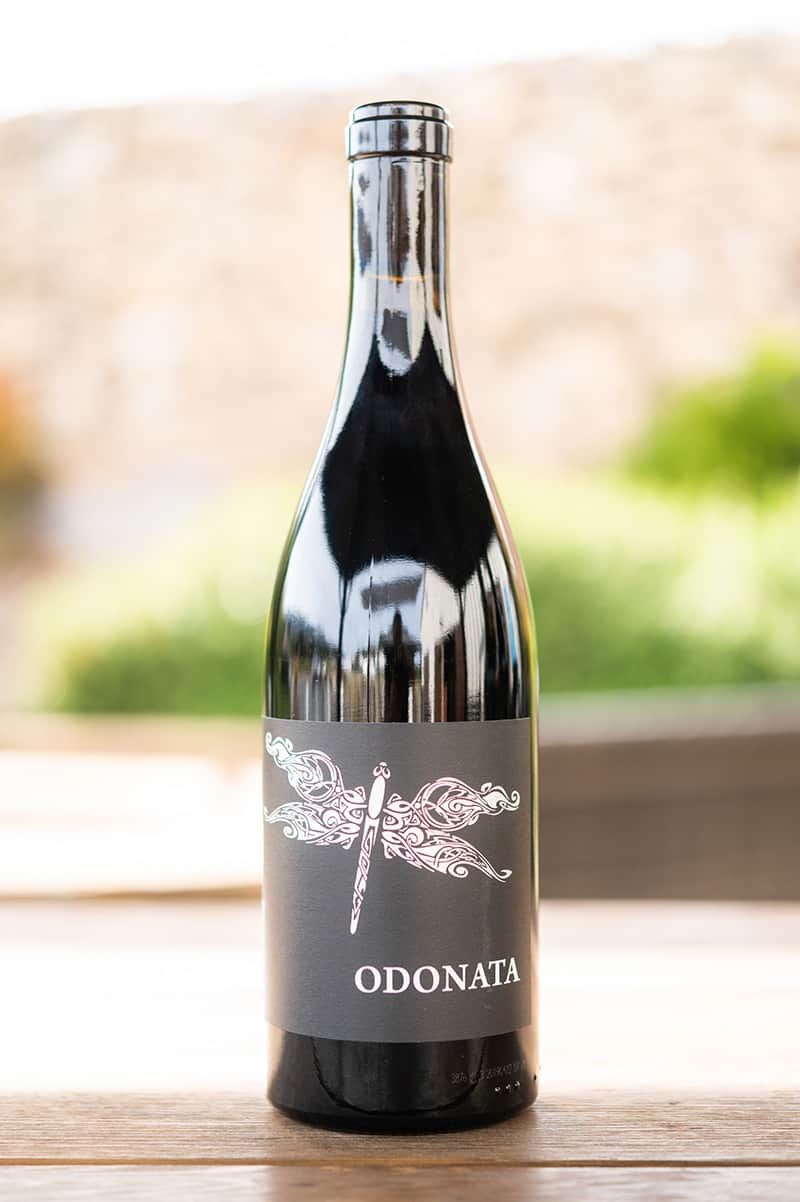 Meet the winemakers at Odonata Winery
There is a feeling of camaraderie amongst winemakers in the region. That's certainly the case at Odonata wines with Hoey, Silacci, and Bañuelos. The three are passionate winemakers that often taste one another's wines, offer input, and collaborate. Spending time with three of them, you realize their relationship extends past the winery – they see each other as family.
These winemakers celebrate their wins together, grieve their losses with one another, and always lend a helping to one another without a question asked. That isn't something they tell you – it is a vibe you just pick up when talking with them. Honestly, with the state of today's complex world and with the nature of business being more competitive than collaborative, I was side swiped by their genuine connection. It was refreshing to witness their bond firsthand.
I found myself not only hooked on their wines after our visit, but also wanting to linger a bit longer after our interview just to hear a few more stories and to share a few more laughs.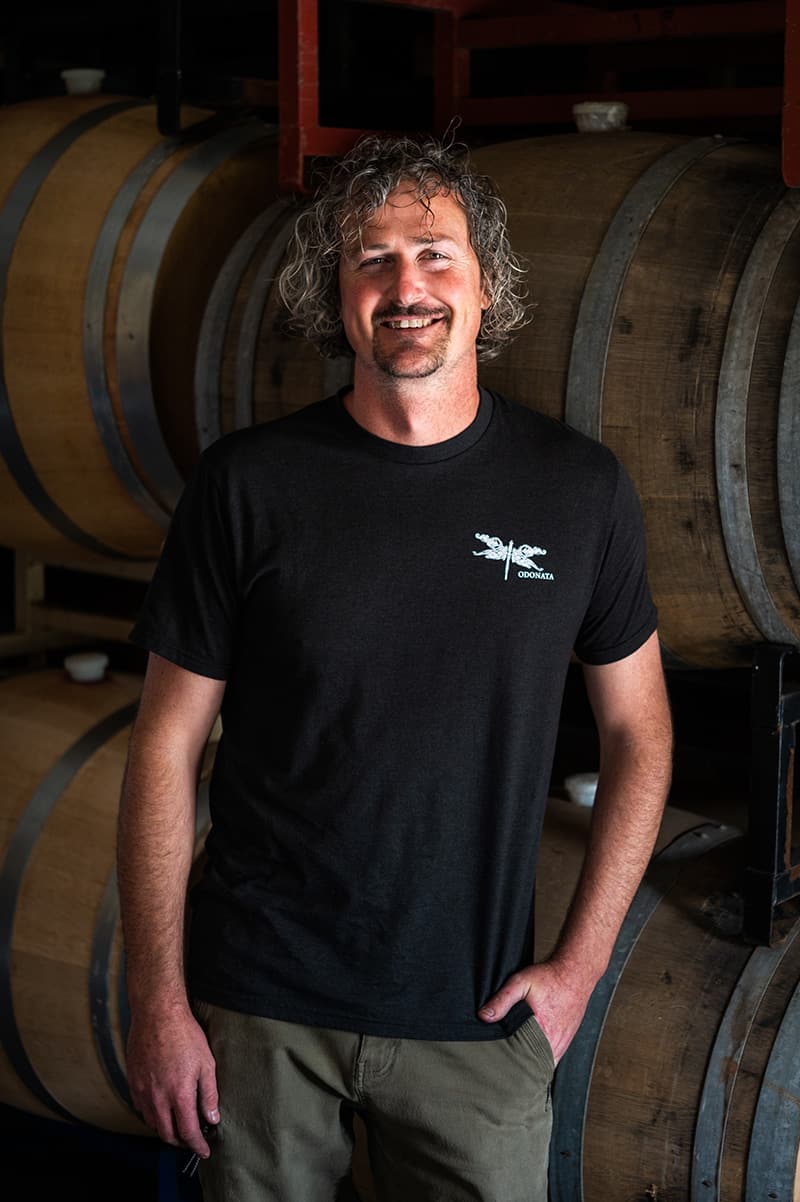 Denis Hoey of Odonata Wines
In 2004 Denis Hoey graduated from the University of California, Santa Cruz with a degree in Business Management and soon after met Jeff Emery, owner and winemaker at Santa Cruz Mountain Vineyard. Their relationship quickly turned into an Old World apprenticeship for Denis, and he became the production manager for SCMV before starting Odonata Wines in Santa Cruz 2005.
From 2005-2008 Odonata's production grew from about 65 cases to 150 cases. In 2014, Denis and his wife bought the property in Monterey County that Odonata Wines sits on today and they operate the winery and raise their family there together.
We asked Denis how he feels about being a mentor for his employees and future winemakers: "Odanata is bigger than me. Odanata is here to be a supportive role to take people where they need to go. I would love very much to have three or four really successful wineries be born from Odonata in Monterey County by the time I am ready to retire. I think that would be amazing! "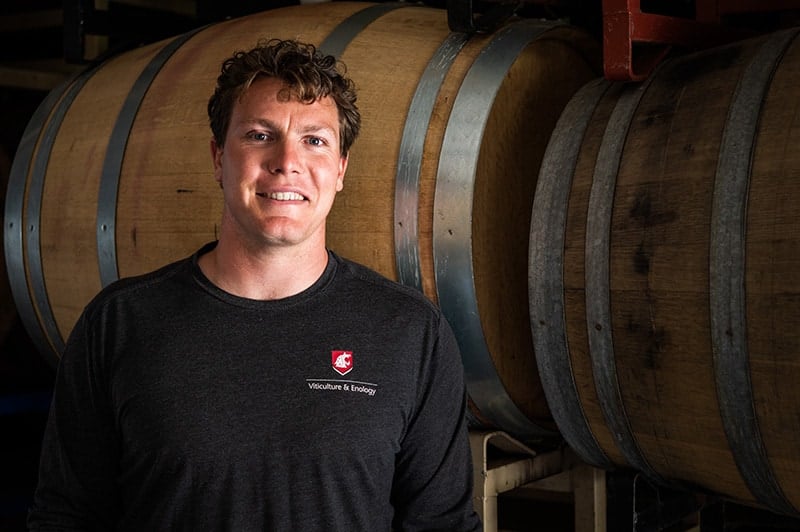 Chad Silacci of Rustiqué Wines
Denis Hoey and Chad Silacci have quite the relationship. Denis became the winemaker for Chad's family label Rustiqué Wines in 2014-2020, Chad took over production in 2021.
Chad and his sister, Sara Silacci, are co-owners of Rustiqué Wines, named after his mother Rusti, and Rustiqué Wines is a family owned and operated estate winery established in 2006.
In 2021, Chad took over the production of Rustique Wines and is now the winemaker for his family label where he creates their high-quality Pinot Noir and Chardonnay wines with grapes from Silacci Vineyards.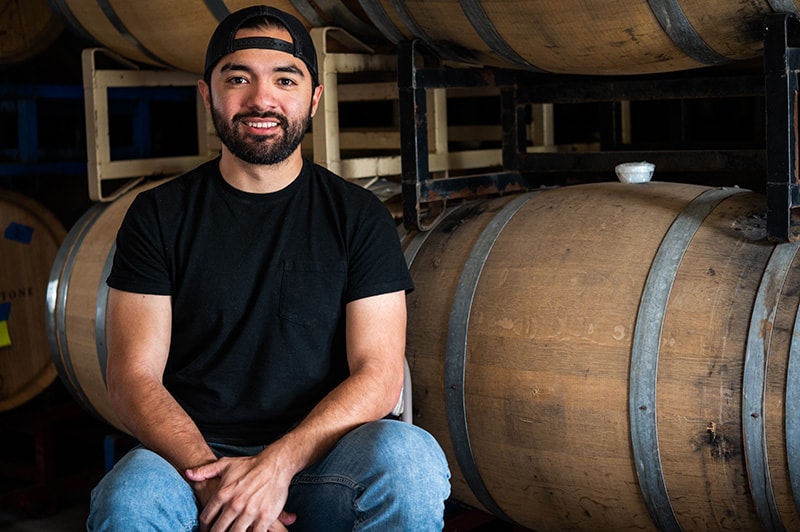 Junior Bañuelos
During the 2014 harvest, Denis Hoey was on his way to pick up grapes from a vineyard in the foothills of Gonzales when he noticed he was running low on gas.
Fate intervened when he stopped at a small family gas station where Junior was working. The two struck up a conversation that led to Junior expressing his desires to learn about winemaking, to which Denis responded, "Come on by, I'll teach you as much as you want to learn".
The rest is history, and now not only does Junior make wine with Denis for Odonata, he has his own label, Sling | Stone which happens to also be vinted on-site at the Odonata Winery.
Planning a trip to the Central Coast? Add these stops to your itinerary.
Planning a trip can be overwhelming, so let the team here at California Grown be of service! Below you will find lots of our favorite ideas for places to visit in and around Monterey County.
We have a few suggestions if you are looking for more places to taste wine in Monterey County.
There are some really wonderful places to taste wine in Monterey. A few other wineries in the area that are always on our list to visit are Manzoni Estate Winery and Scheid Vineyards.
When tasting wine in Monterey County it's inevitable that you will need to plan for a few delicious meals and snacks along the way. Read on for a few of our must-stop destinations when we are in the area.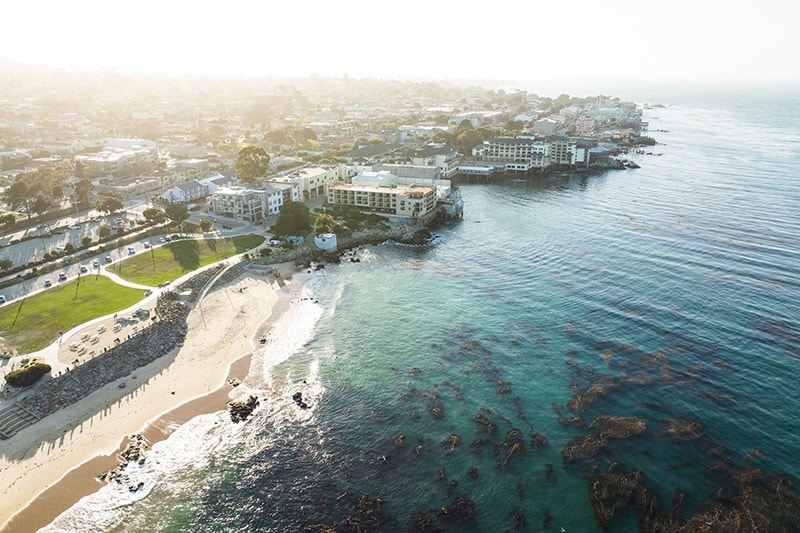 The historic seaside town of Monterey, California is most famous for its Cannery Row, Old Fisherman's Wharf, and world-class Monterey Bay Aquarium. But you may not realize that farms in and around Monterey County supply a large amount of our nation's food!
The region's mild climate and rich soils provide the perfect growing conditions for over 150 different crops! When you're ready to take a break from the more typical tourist attractions, you'll discover that the area is a foodie paradise.
Not only is The Penny Ice Creamery in Santa Cruz, California, home to the most delightful artisanal ice cream we've ever tried, but it is also a full-fledged dairy! Plus, they use produce from local farms to flavor all of their sweet treats, from the ice cream to the toppings.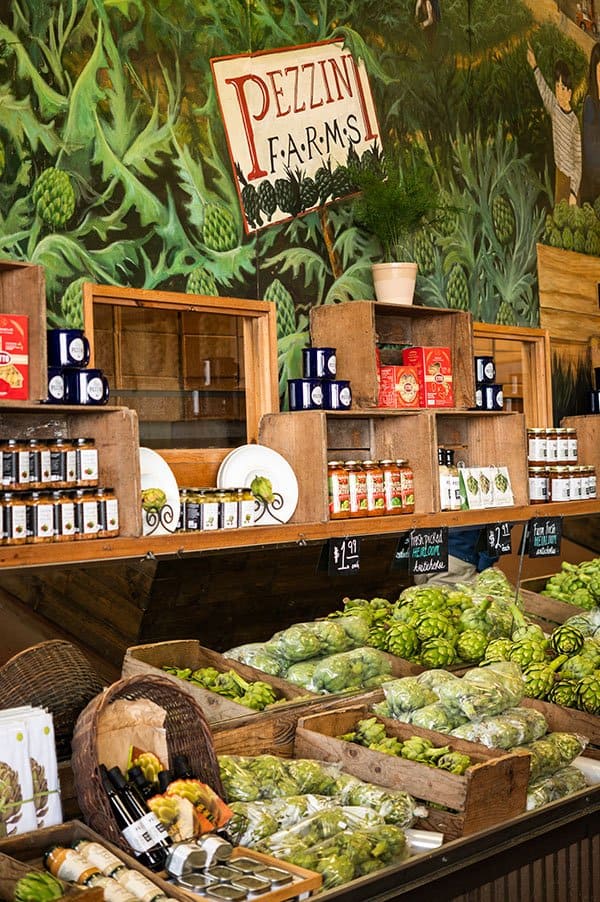 Firmly rooted in California for almost a century now, Pezzini Farms and the roadside market is a historic landmark in Monterey county. It is located in the "Artichoke Capital of the World!" – Castroville, California. This town is known for its artichoke crop and the annual Castroville Artichoke Festival.
After tasting wine in Monterey County you should plan a stop to smell the roses!
Literally. Only a short distance away in Santa Cruz, you can find a once in a lifetime experience that is pretty magical for all of your senses!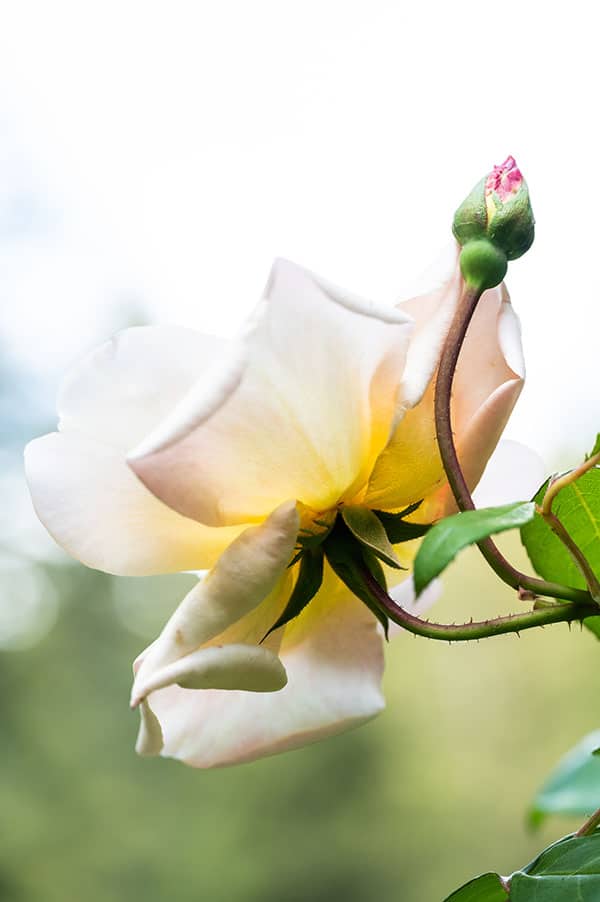 Living museum or epic rose garden? You be the judge. Roses of Yesterday and Today is preserving ancient horticultural history, petal by petal. Quite literally.
This historic Santa Cruz rose garden is a horticulture icon! It offers over 230 varieties of old, rare, unusual, and selected modern roses to explore and has a celebrity fan club that is as impressive as it gets. We're looking at you, Martha Stewart!
This article was written by Meg van der Kruik. Photo credit James Collier for California Grown.