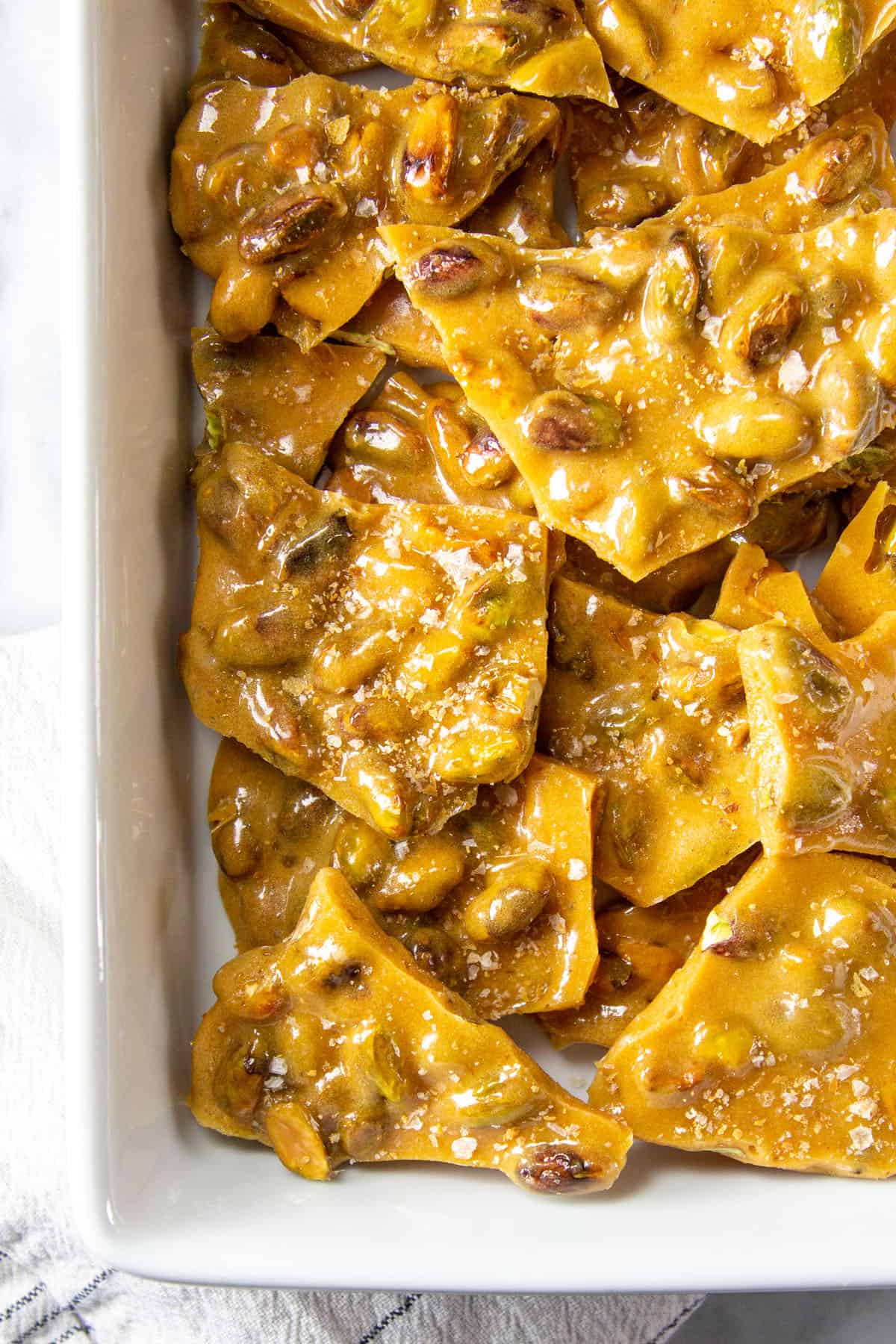 CA GROWN Blog
Discover. Learn. Connect.
Things You Didn't Know You Can Make With Pistachios + Pistachio Brittle Recipe
November 7, 2023
Eat the Season!
Sign Up For Weekly Recipes
« Back to Recipes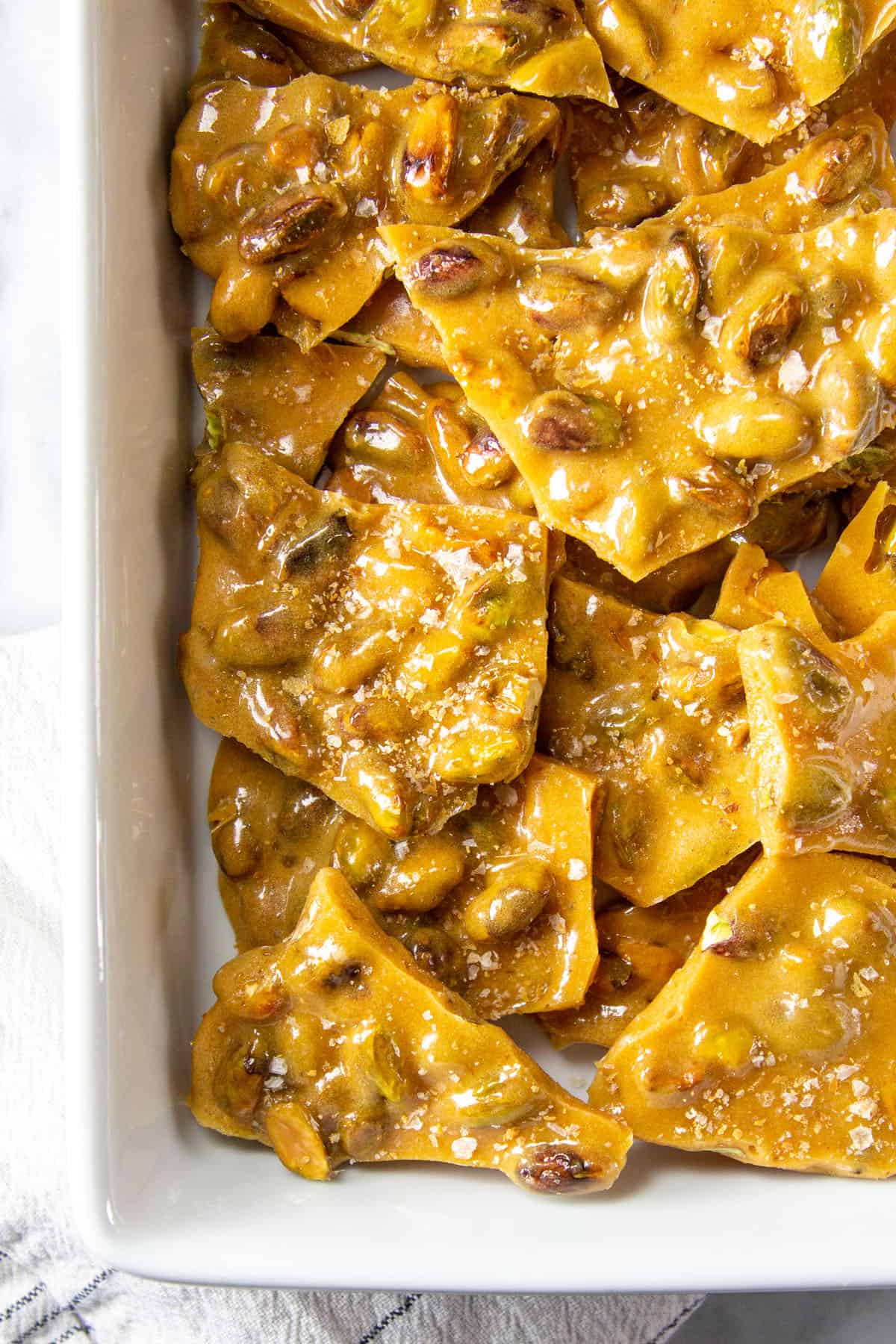 Things You Didn't Know You Can Make With Pistachios + Pistachio Brittle Recipe
News flash: pistachios aren't just a sidekick for ice cream or a casual snack. Pistachios have literally burst out of their shells in the culinary world, and we're here to crack open their full potential. Since more than 98% of all pistachios produced in the U.S. are grown in California, we consider ourselves experts on the topic. So pull up a chair as we dive deep into the topic and share our California Grown Pistachio Brittle recipe that's great for the holiday season ahead.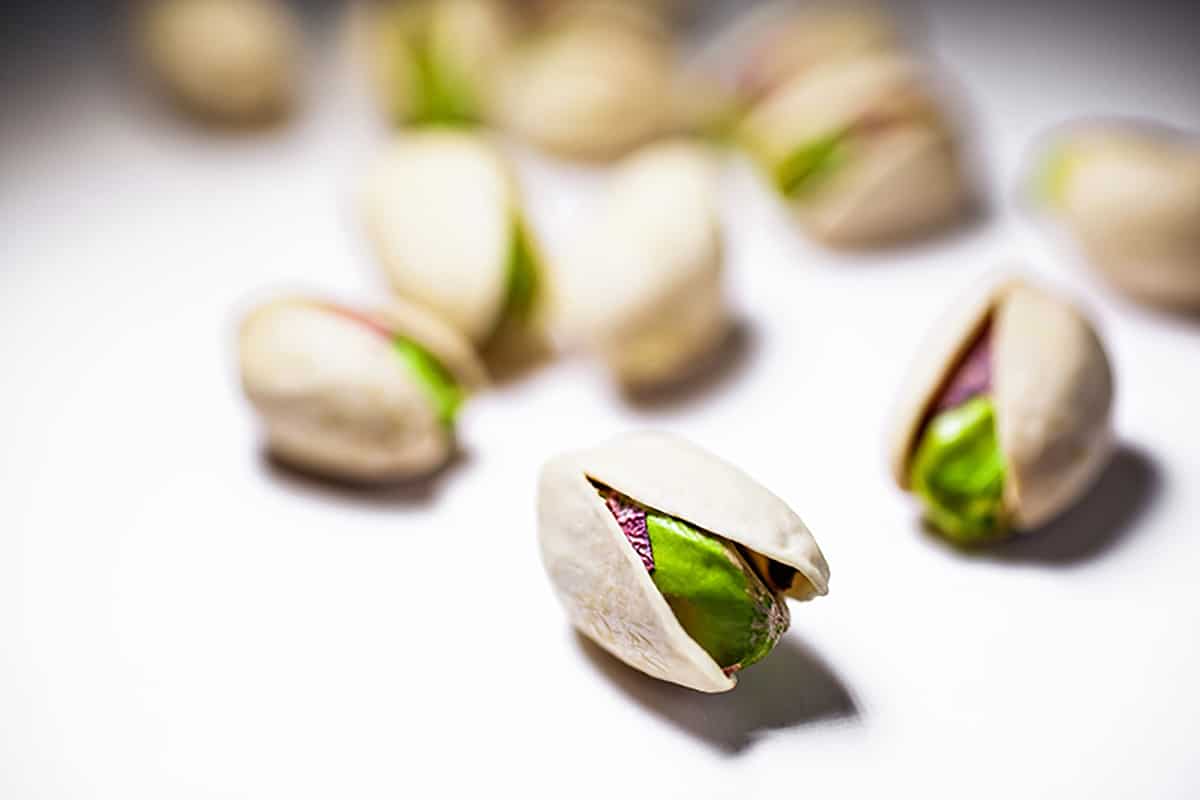 The Nutty Facts: Are Pistachios Good for You?
Absolutely! These little green nuts are power-packed with nutrients. They're heart-healthy, waist-friendly, and loaded with antioxidants. Pistachios are a complete protein – meaning they provide all of the nine amino acids that our bodies don't naturally produce.
Cracking the Code: How California Grows Pistachios
Experts believe pistachios trees were first planted in California in the early 1880s. The Golden State's sun-kissed orchards are a pistachio paradise. It's here that the perfect combination of soil, sun, and science come together to create the ideal growing conditions for these nuts. The dedication of the California farmers is as deep-rooted as the trees they tend, and every pistachio is a testament to their tireless work.
Pistachios Beyond the Shell: Creative Uses For Your Favorite Nut
Sure, you can sprinkle them on salads, but why stop there? From Pistachio-Crusted Chicken Milanese to velvety pistachio sauces, these nuts are made for much more than munching.
Step-by-step How To Make Our California-grown Pistachio Brittle Recipe
Our California Grown Pistachio Brittle Recipe is both salty and sweet, with just a touch of heat. Plus, it's easy to make and gift too! Just follow the directions below to make this brittle recipe for yourself.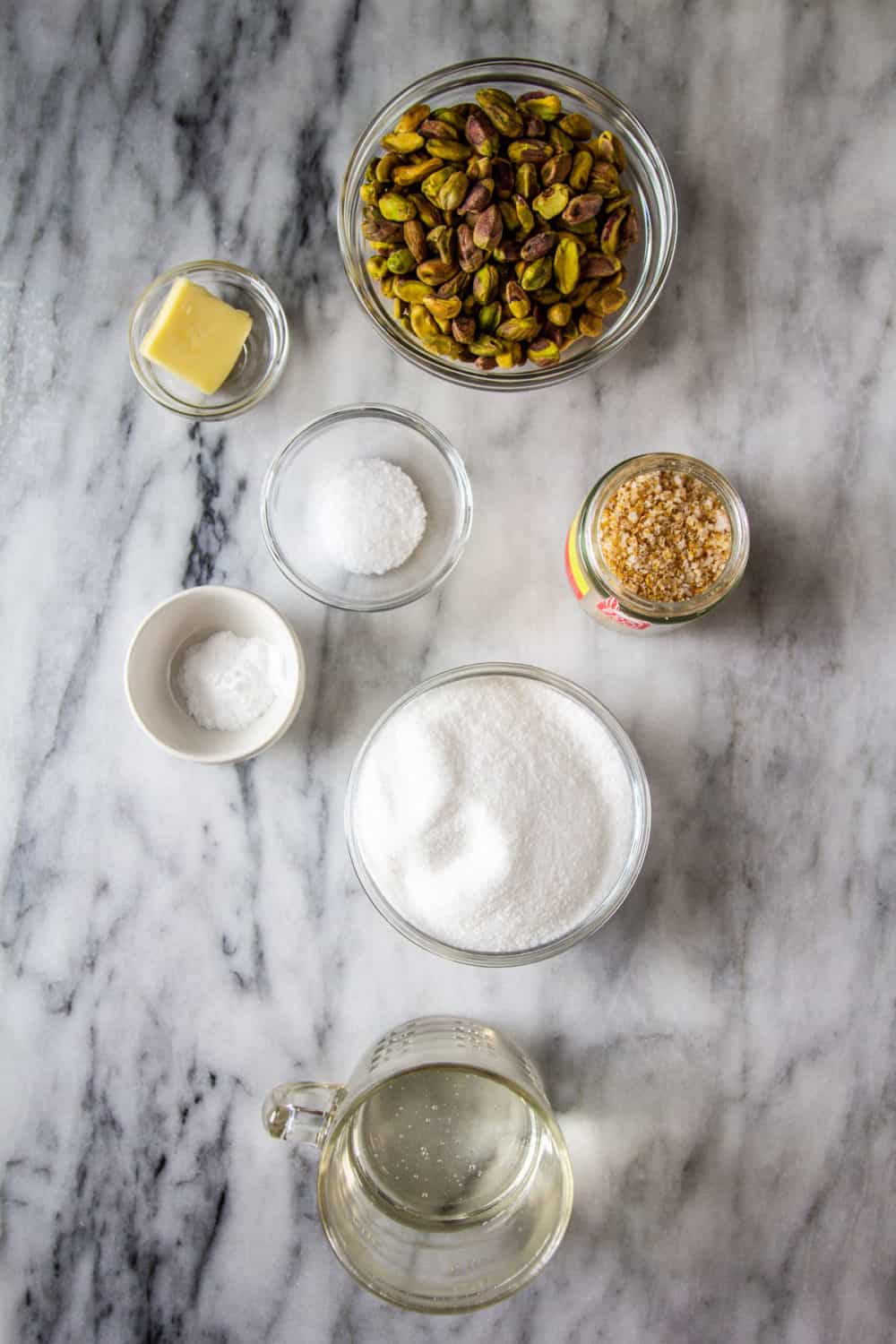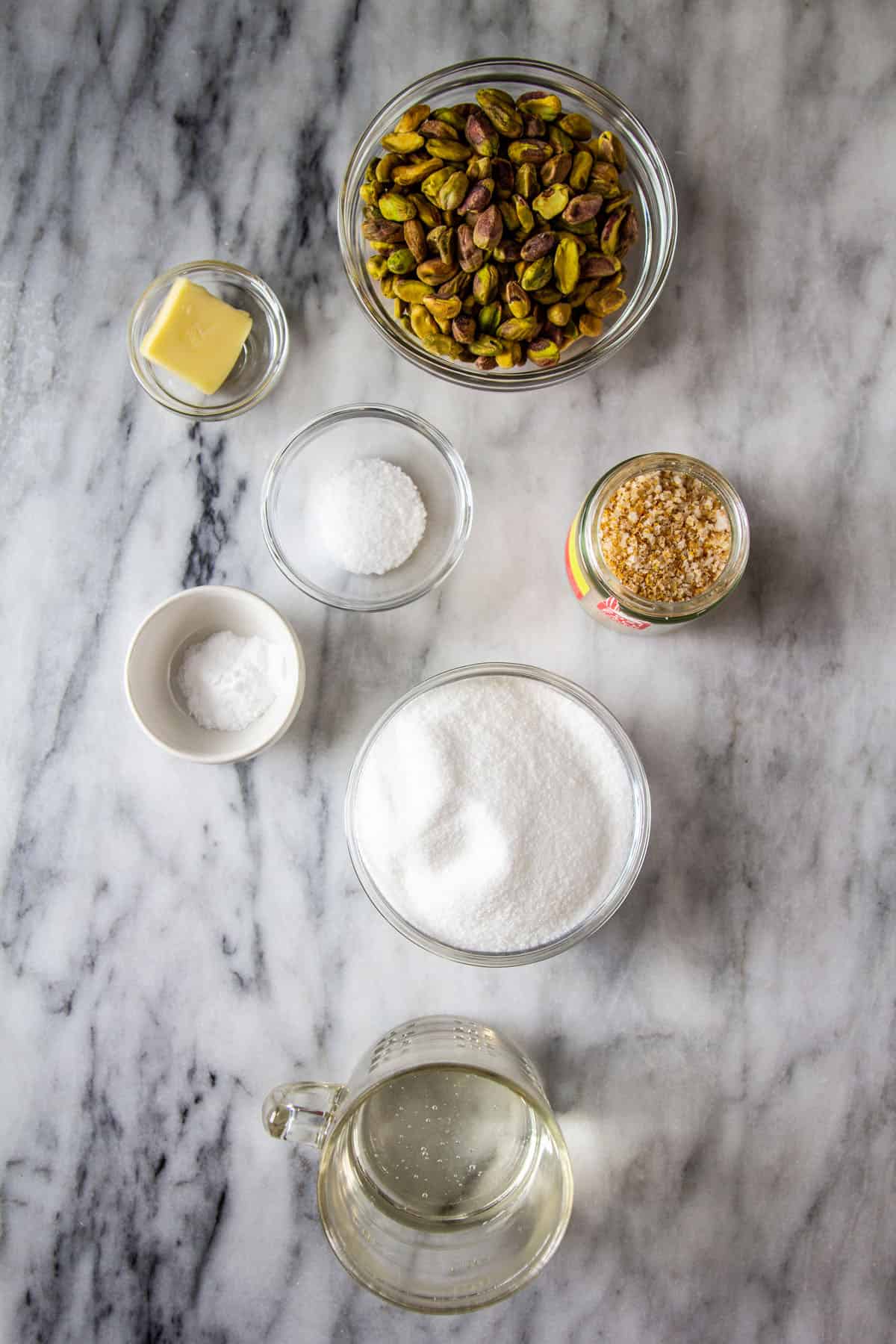 Prepare a baking sheet by lining it with parchment paper or a silicone mat. Spray with non-stick spray or brush with oil or butter. Set it aside.
In a medium saucepan, combine the sugar, corn syrup, and water. Stir together over medium heat. Put a candy thermometer into the saucepan. Continue stirring and bring the mixture to a boil. Cook it until it reaches 290°F (140°C).
Add pistachios, butter, and salt to the pan. Stir everything together. At first, the mixture might become stiff, but it will loosen up again. Keep cooking until the caramel turns a pale amber brown (about 300°F/148°C) and the nuts have a toasty smell.
Remove from heat and quickly stir in the baking soda (it will bubble up a bit).
Immediately pour the brittle onto the prepared baking sheet. Use an offset spatula or a heatproof rubber spatula (greased with a little cooking spray or butter) to spread it out as thinly as possible.
Sprinkle the chile-flecked flaky sea salt to your liking on top of the caramel. Let it cool completely.
How to Store Pistachio Brittle
Store pistachio brittle (once it's completely cooled) in an airtight container at room temperature for 6-8 weeks. Do not refrigerate as the moisture from the fridge will cause the brittle to soften.
Share your pistachio brittle recipe creations with us by snapping a pic and tagging us on social using #CAGROWN.
Craving more CA Grown goodness? Follow us on Pinterest for fresh and fabulous recipe inspiration!