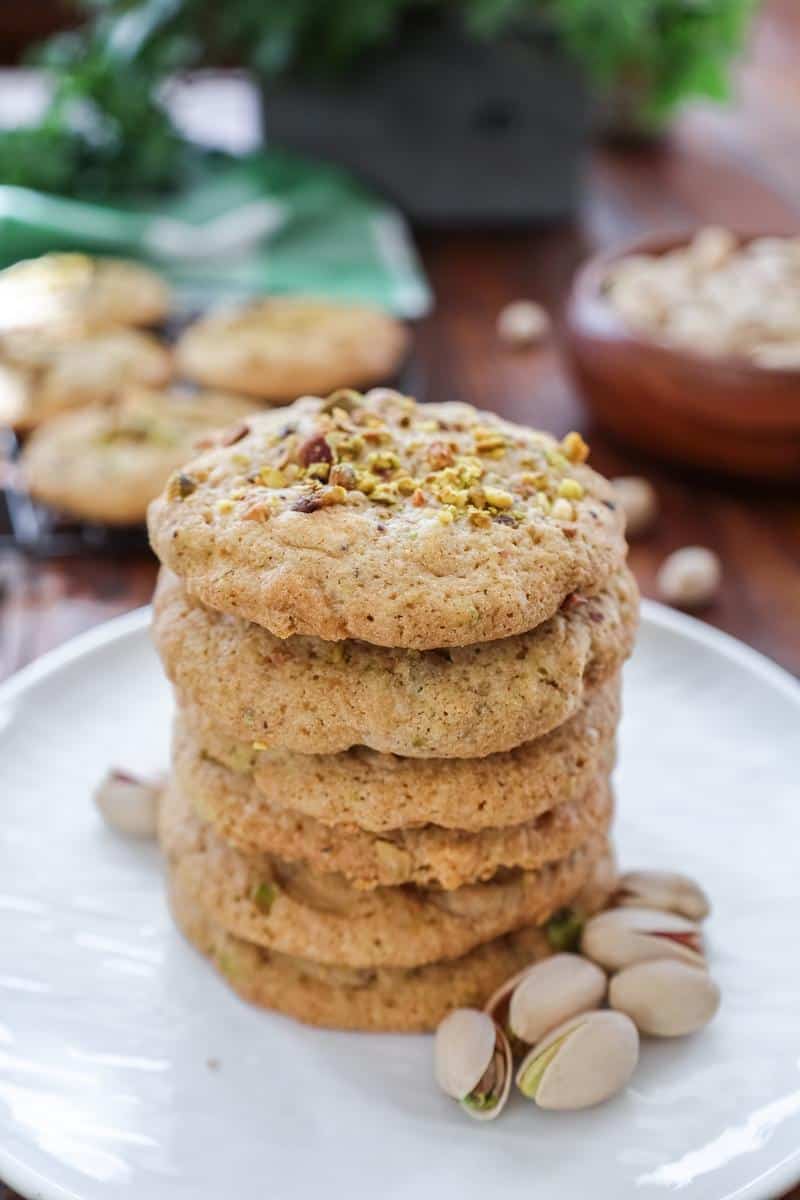 CA GROWN Blog
Discover. Learn. Connect.
Pistachio + White Chocolate Chip Cookies from Keenan Farms
September 19, 2023
Eat the Season!
Sign Up For Weekly Recipes
« Back to Recipes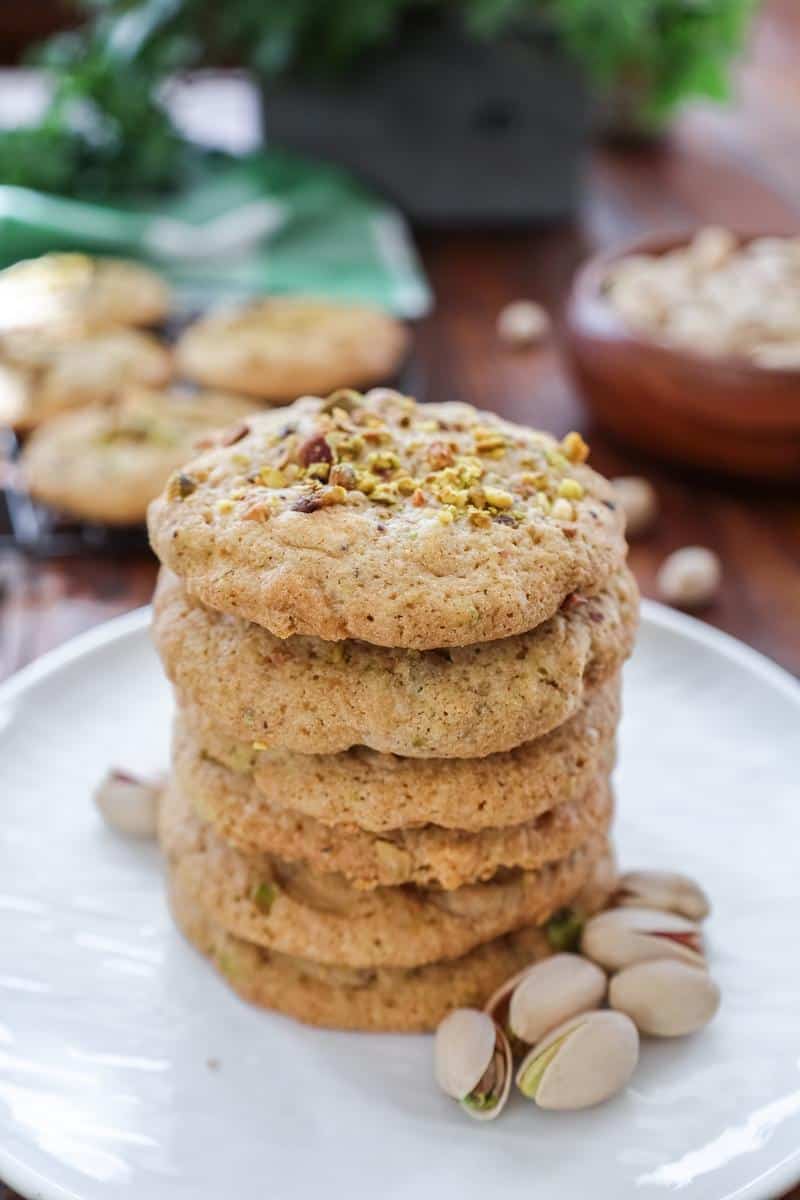 Pistachio + White Chocolate Chip Cookies from Keenan Farms
Keenan Farms is family owned pistachio grower in Kettleman City, California. They've been in business since 1972 and today, they are the oldest and one of the largest pistachio processors in the United States. So you can be sure that they know a thing or two about pistachios — both growing them and cooking with them. They were kind enough to share their famous recipe for Pistachio White Chocolate Chip Cookies. The cookies are crisp on the edges, tender in the middle, and have plenty of crunch from the (2 cups!) of pistachios. The California Grown team thinks they are so delicious and we think you will too.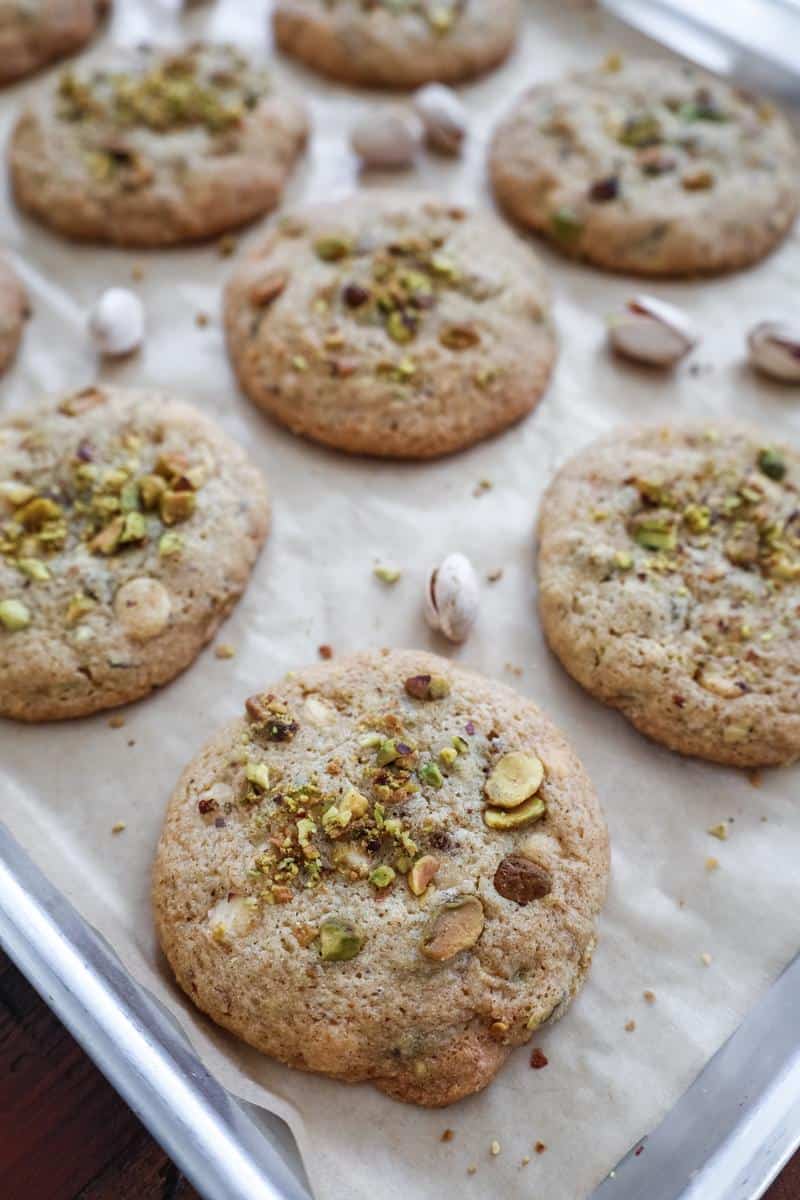 The Nutty Nutshell
First things first, let's talk about the star of the show – pistachios! Did you know that about 99% of the pistachios produced in the United States come from California? These tiny green gems are great for snacking and so much more. When they make their way into your cookie dough, magic happens. Pistachios bring a delightful crunch and a subtle nutty flavor that pairs beautifully with the creamy sweetness of white chocolate chips.
Can pistachios be used in baking?
Absolutely! Pistachios are a delicious addition to cookies, cakes, and truffles. You can also use pistachios to make a nutty crust for tarts or as a topping for pavlovas and other desserts like crumbles.
Can I use salted pistachios in baking?
If you can't find unsalted pistachios for your baking adventures, it's perfectly fine to use salted ones. But be sure to reduce the amount of salt that you add to the batter by at least half.
What do Pistachio White Chocolate Chip Cookies taste like?
These cookies are so incredibly delicious. They have 2 cup of roasted pistachios both in the cookie itself and also on top, adding great flavor and a lot of toasty crunch. And they are buttery with crisp edges and a soft middle. We think they are pretty much the perfect cookie.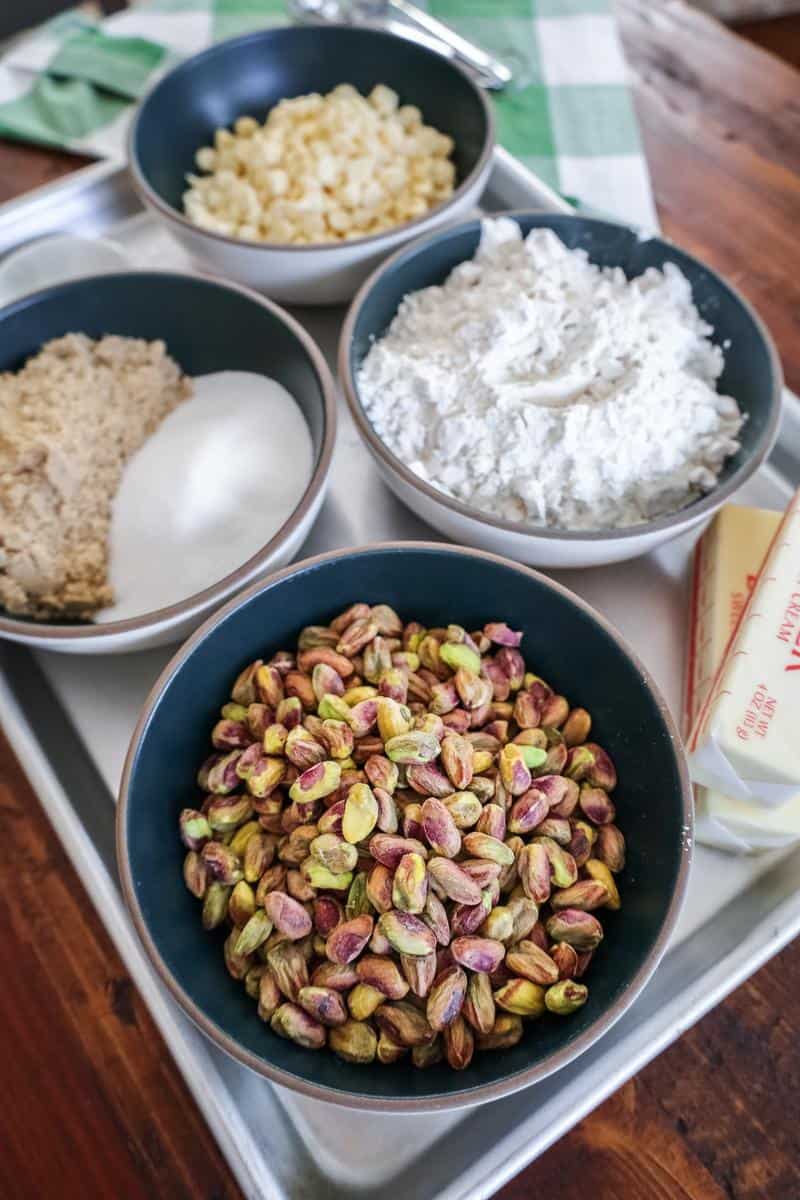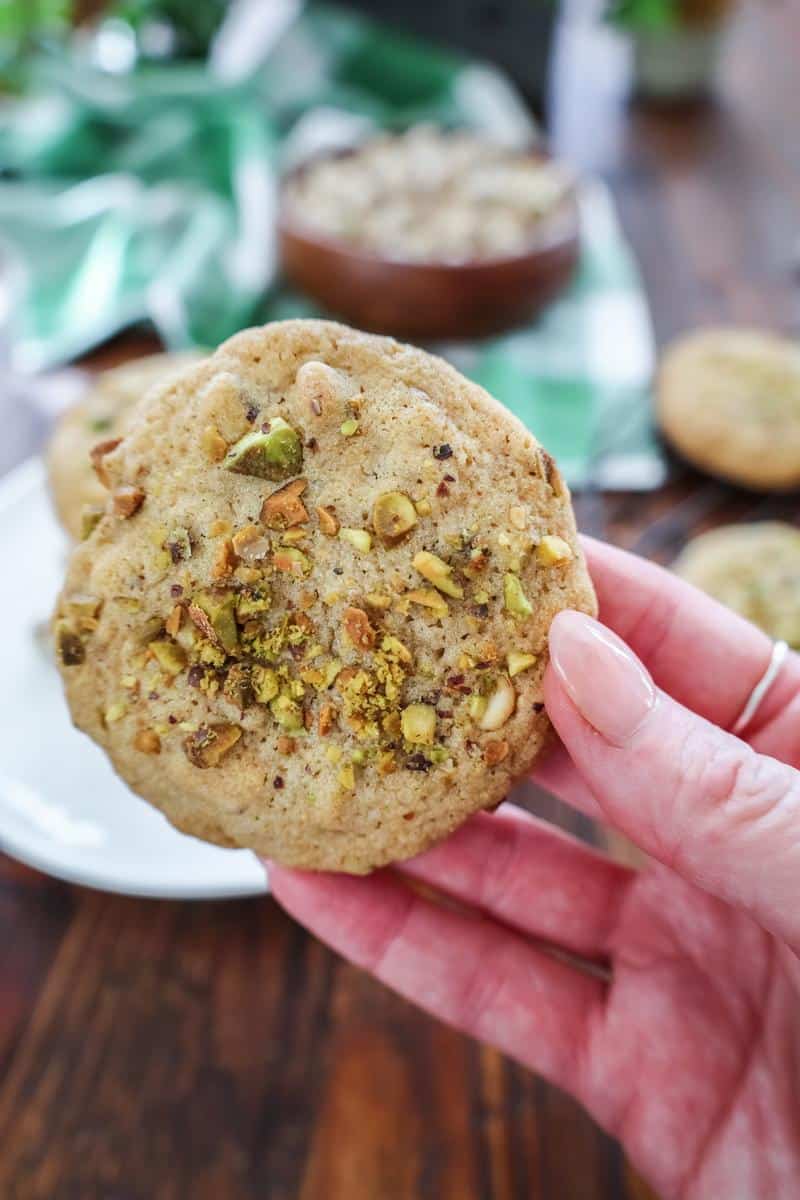 Making Pistachio White Chocolate Chip Cookies is easy!
This cookie batter can be whipped up in just a few minutes. You can bake all the cookies all at once, or only bake a few, then roll the extra dough into a log and wrap in plastic to bake the next time you need a cookie fix.
Here's what you'll need to make them:
Roasted pistachios – this recipe calls for a lot of pistachios, but they are pistachio cookies after all. It's okay to use salted pistachios, but be sure to reduce the salt in the recipe
Butter – use regular butter or your favorite non-dairy butter to make these dairy free
Brown sugar and white sugar – this combination of sugars ensures they have plenty of flavor and a nice tender middle with crisp edges
Eggs – use large eggs at room temperature
Flour – use regular all-purpose flour or a gluten free flour blend to make these pistachio white chocolate chip cookies gluten free
Baking soda
Salt
White chocolate chips
Once you make the cookie dough, space them evenly on a lined cookie sheet, press them down slightly and sprinkle with even more chopped pistachios.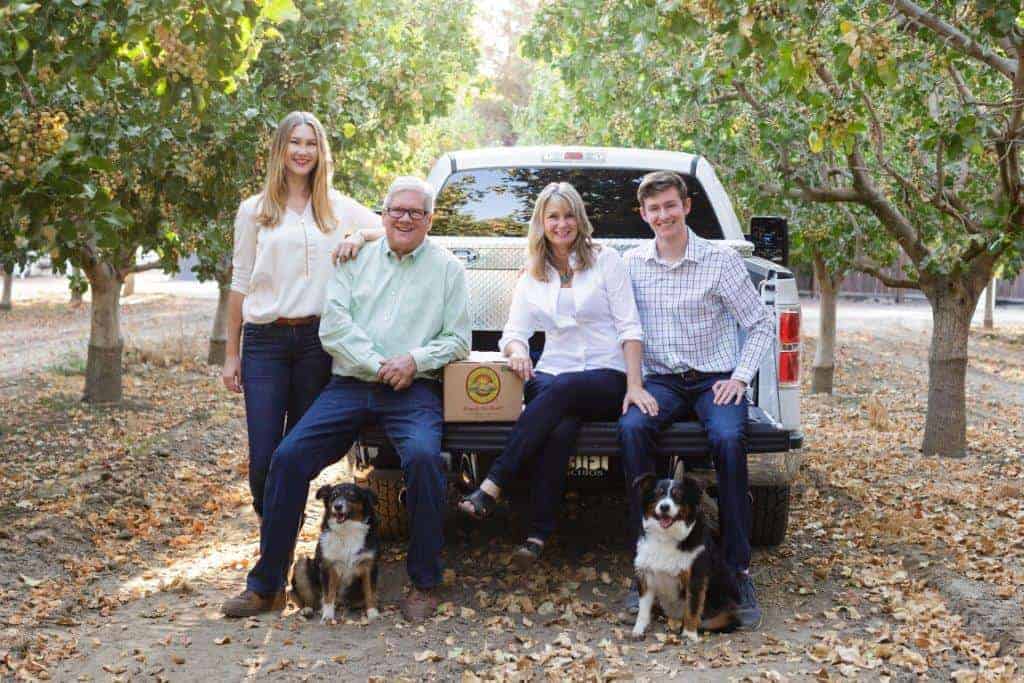 Meet a Farmer: Teresa Keenan of Keenan Farms
Meet Teresa Keenan, Marketing Manager of Keenan Farms in Kettleman City, CA. Born into the industry and married to a second-generation farmer, she knows how much hard work and dedication goes into farming. Learn more about Teresa and how Keenan Farms grew with the pistachio industry.
A Delicious Denouement
As the warm aroma of freshly baked Pistachio White Chocolate Chip Cookies wafts through your kitchen, you know you're in for a treat. These cookies offer a delightful blend of textures and flavors that will leave you craving more. The creamy, sweet white chocolate chips compliment the earthy pistachios, creating a perfect balance of sweet and savory in each bite.
So, there you have it, folks – a fun and nutty twist on the classic chocolate chip cookie that's sure to become a family favorite. Whether you're sharing them with friends or enjoying them with a glass of milk all to yourself, Pistachio White Chocolate Chip Cookies are bound to bring a smile to your face. Happy baking and indulging!
SNAP A PIC OF YOUR PISTACHIO WHITE CHOCOLATE CHIP COOKIES AND TAG US WITH #CAGROWN. FOR MORE PISTACHIO RECIPES AND OTHER CULINARY INSPIRATIONS, FOLLOW US ON PINTEREST.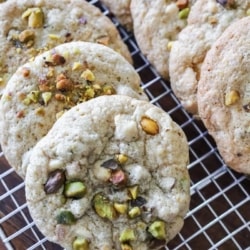 Keenan Farms Pistachio White Chocolate Chip Cookies
Hey there, cookie connoisseurs and dessert enthusiasts! Have you ever felt the need to break free from the monotony of traditional chocolate chip cookies? It's time to embark on a nutty adventure with these Pistachio White Chocolate Chip Cookies! Get ready to tantalize your taste buds and add a delightful twist to your cookie repertoire.
Equipment
Stand or Hand Mixer

Baking Sheets
Ingredients
3/4 cup light brown sugar
½ cup granulated sugar
1 cup butter softened
1 teaspoon vanilla extract
2 eggs room temperature
2 1/4 cups flour
1 teaspoon baking soda
1 teaspoon salt
2 cups roasted unsalted pistachios coarsely chopped (if using roasted and salted pistachios only use ¼ tsp of salt). Quick tip, open the bag slightly and beat the pistachios with a meat tenderizer or rolling pin to coarsely chop.
1 1/2 cups white chocolate chips or chopped chunks of white chocolate
Instructions
Finely chop ¼ of the cup of pistachios for topping the cookies before baking.

In a mixing bowl, cream sugars with soft butter (NOT melted), add vanilla extract and 2 eggs. Mix on low or by hand until creamy. In a second bowl, mix flour with baking soda and salt. Add flour mixture to sugar mixture slowly, or about a ¼ of it at a time. Do not over-mix. Add 1 ¾ cups of coarsely chopped pistachios, mix in, then add the white chocolate and mix until all is combined.

Spoon out cookies into 1 ½ inch balls, slightly flatten and add a sprinkle of pistachios on top. Bake 350°F for about 11 minutes. Let cool about 3 – 5 minutes and enjoy warm and gooey.
Notes
Shape any extra raw dough into either logs or individual balls and keep in freezer. Then take out and bake as needed.
Nutrition
Serving: 2cookiesCalories: 184kcalCarbohydrates: 20gProtein: 3gFat: 11gSaturated Fat: 5gPolyunsaturated Fat: 1gMonounsaturated Fat: 4gTrans Fat: 0.2gCholesterol: 24mgSodium: 147mgPotassium: 111mgFiber: 1gSugar: 12gVitamin A: 201IUVitamin C: 0.4mgCalcium: 30mgIron: 1mg
Here Are Even More Recipes Featuring California Pistachios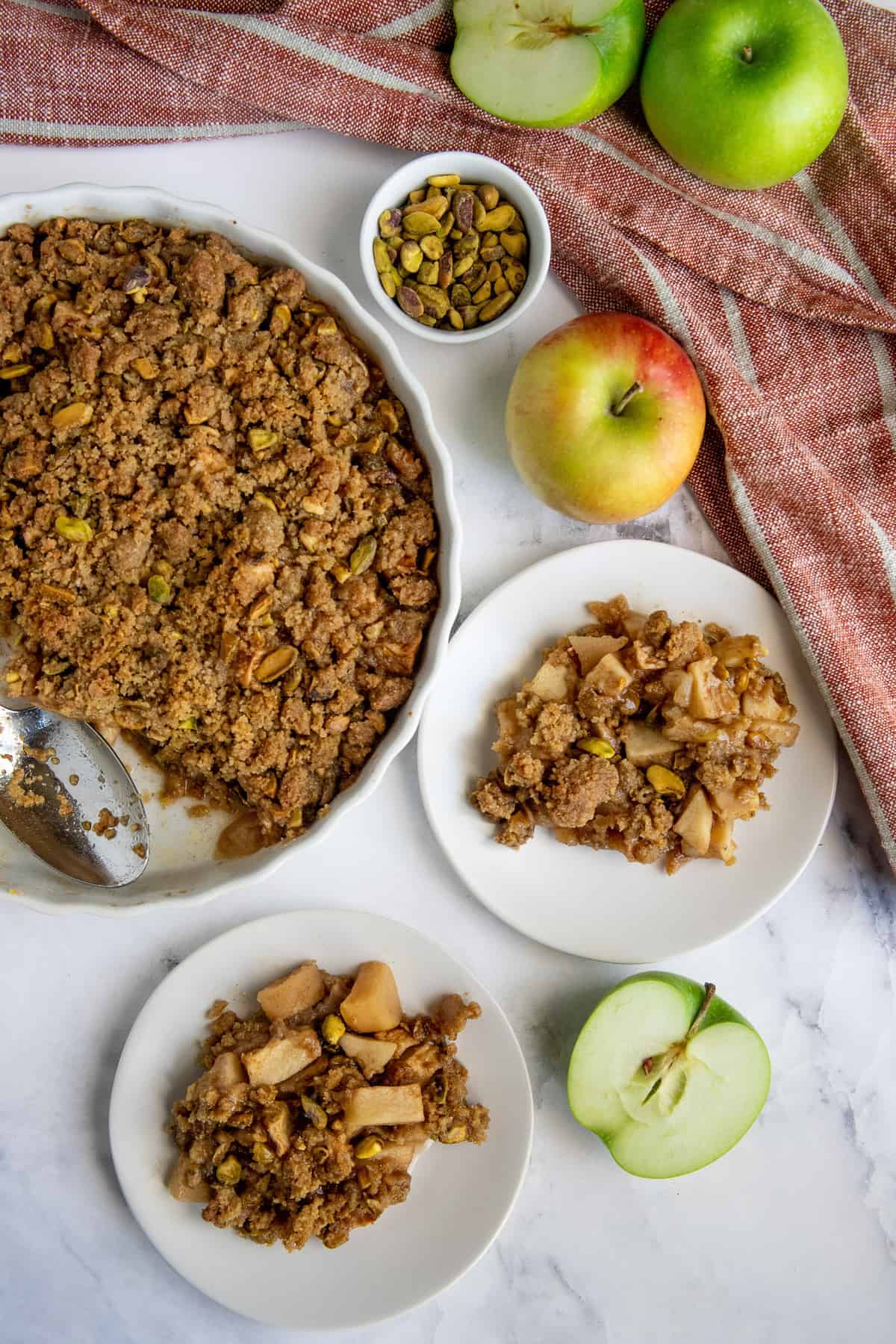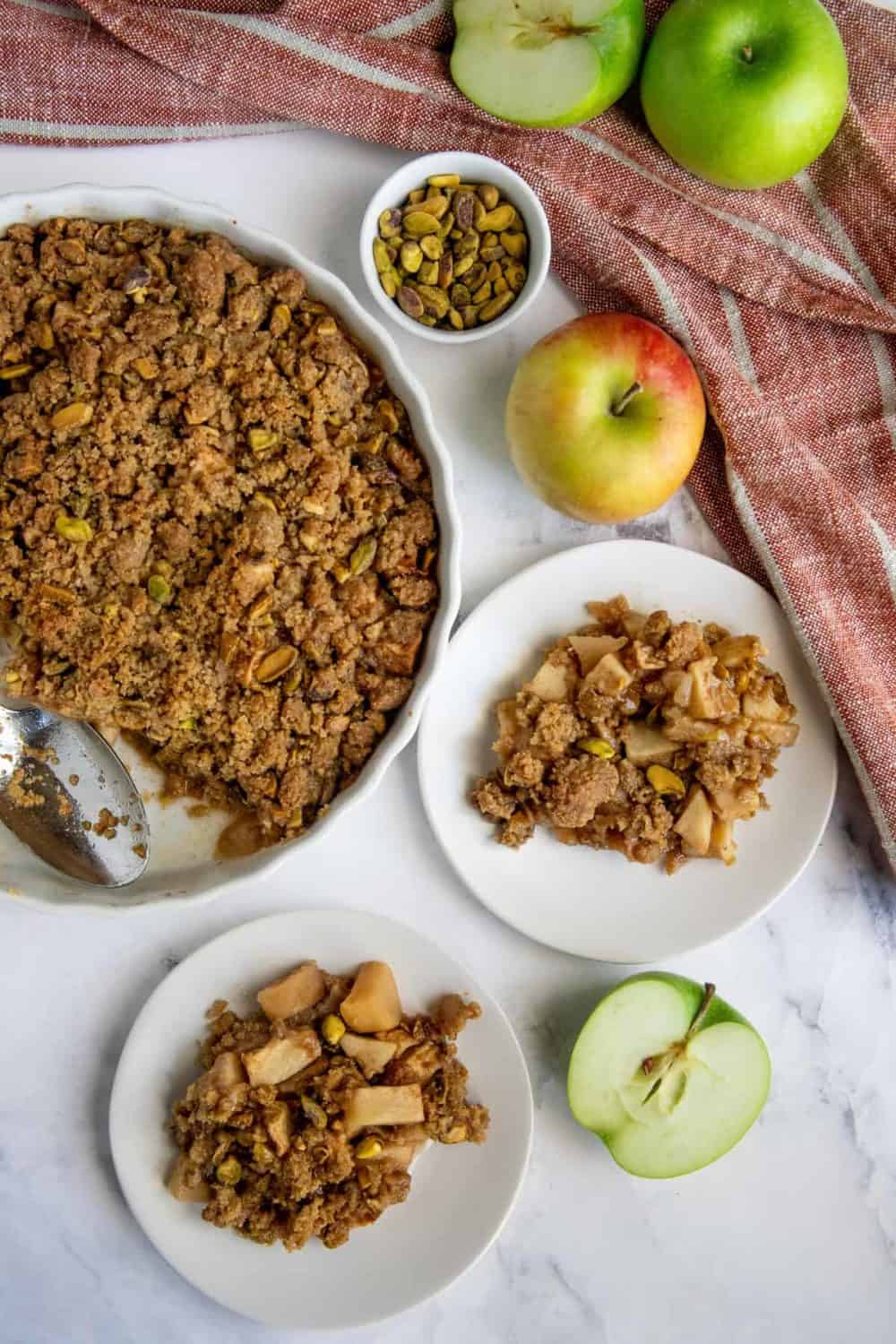 This Apple Pistachio Crisp by our friend Chery Norris from Bakes by Brown Sugar is everything you want in a fall dessert – sweet/tart California apples, warm spices, and and a buttery, crunchy pistachio topping.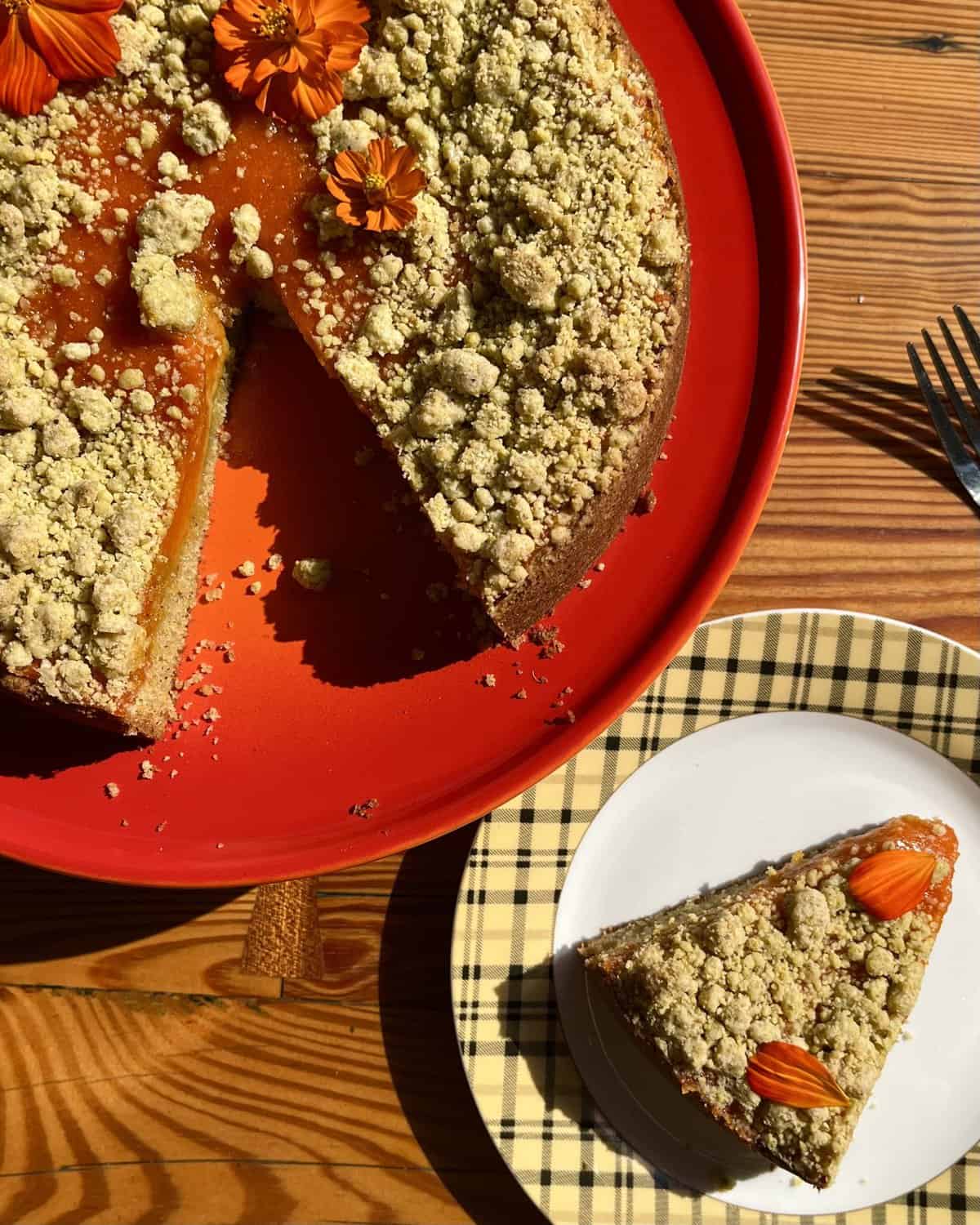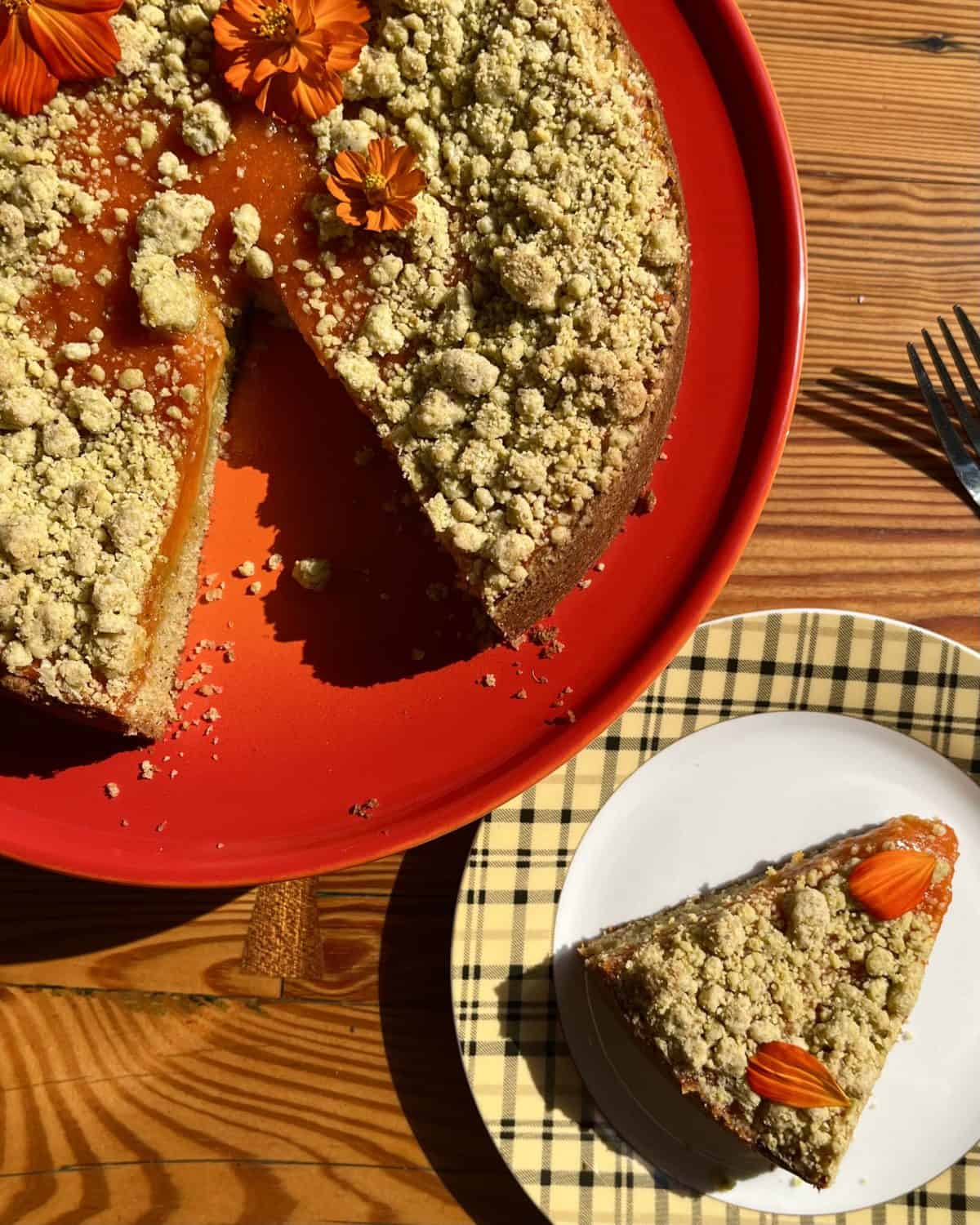 This olive oil cake from our friend Bronwen Wyatt boasts a layer of tender, flavorful pistachio cake that's topped with a bright, rich layer of apricot butter and finished with the most addictive pistachio and olive oil streusel.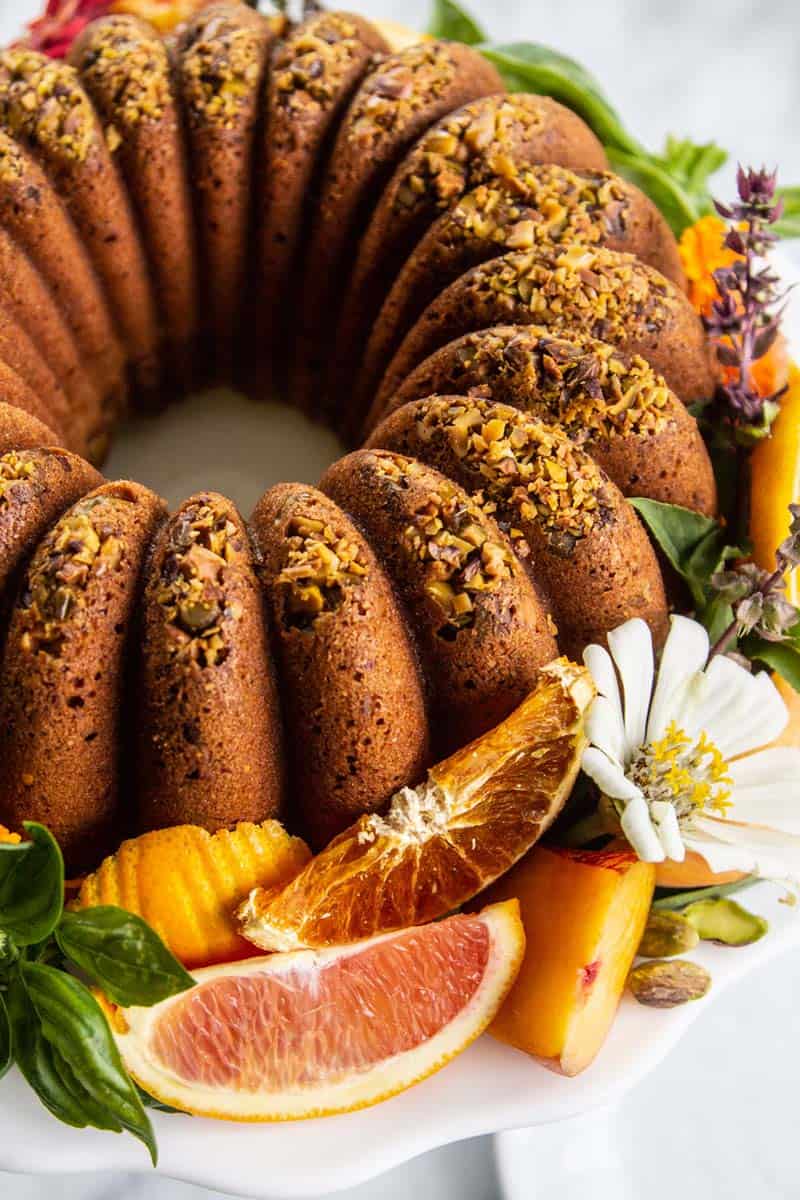 This just might be the easiest cake recipe ever! Just chop, mix, and bake. No need to ice this cake either. You can decorate this Pistachio and Moscato Bundt Cake with your favorite seasonal fruits and cut flowers.