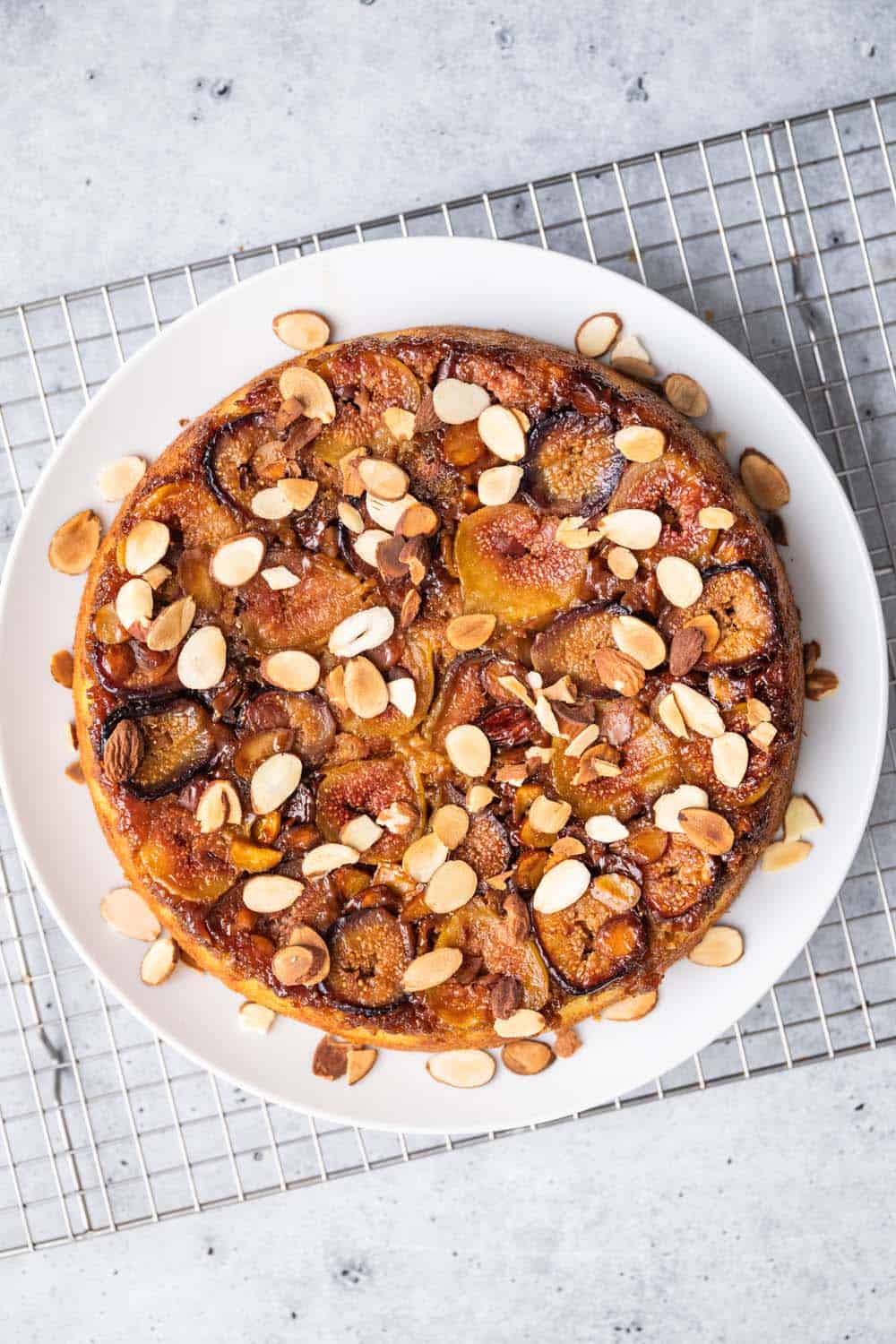 CA GROWN Blog
Discover. Learn. Connect.
A Sensational Fresh Fig Cake With Almond And Olive Oil
September 19, 2023
Eat the Season!
Sign Up For Weekly Recipes
« Back to Recipes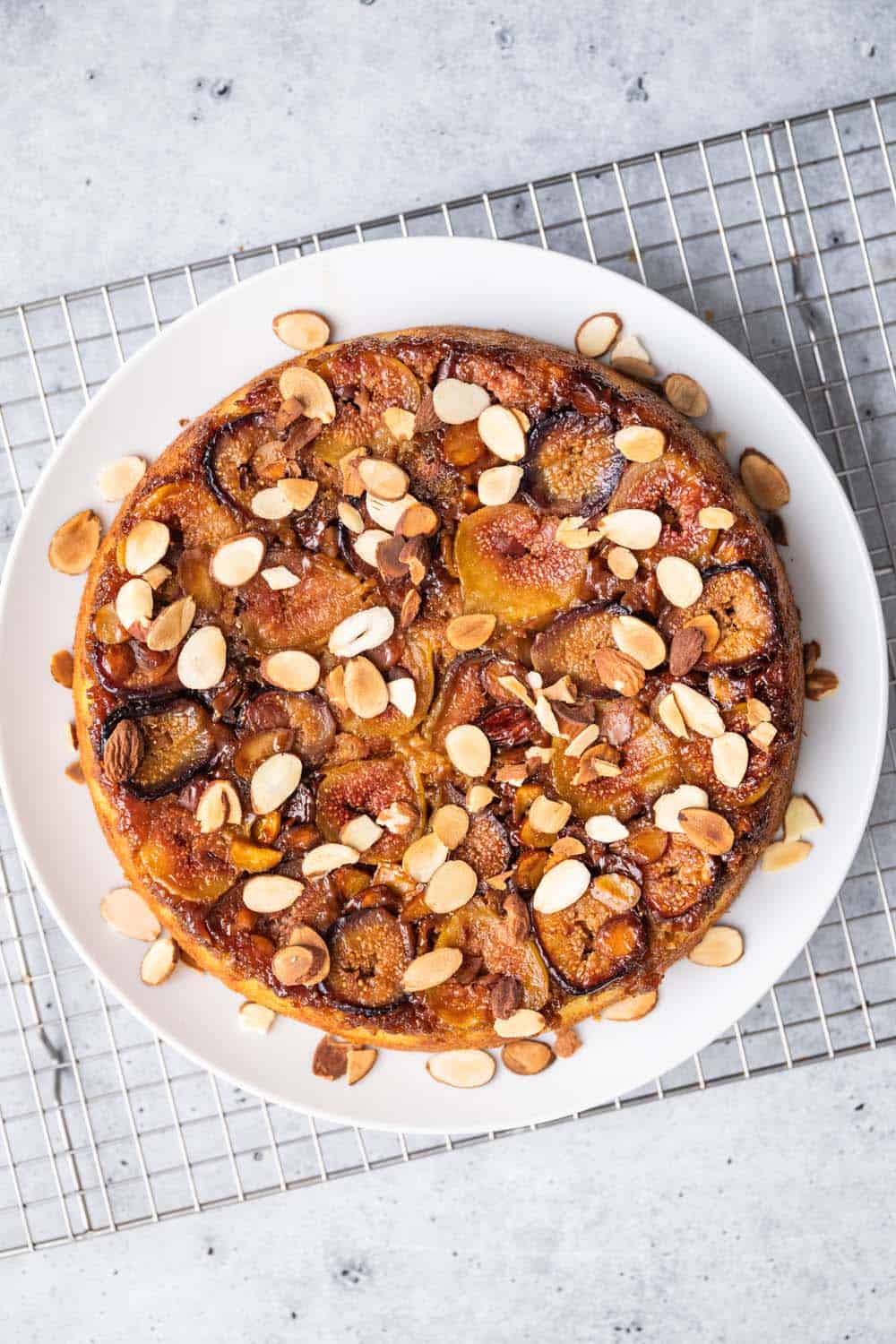 A Sensational Fresh Fig Cake With Almond And Olive Oil
Look, there are cakes, and then there's this fig cake—a no-nonsense tribute to California's delicate flower of the fruit world. Today, we're digging deep into how to make this sensational fresh fig cake that's both a feast for the eyes and a treat for the tastebuds.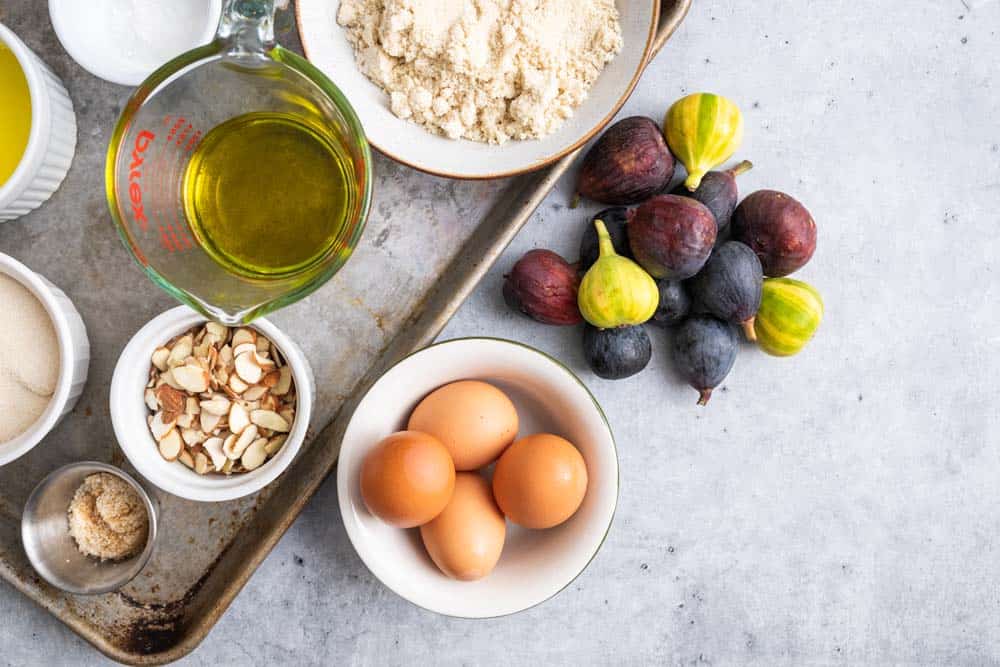 California Figs: The Botanical Beauties Behind Our Fresh Fig Cake With Almond And Olive Oil.
Fig cake begins and ends with, well, figs. And when it comes to figs, California is the veritable orchard of America. With six main types of fresh figs and two types of dried ones, the choice is vast. Mission, Brown Turkey, Kadota, Calmyrna, Tiger, and Sierra—each fig has a story to tell, a flavor to impart, and a role to play in your fig cake.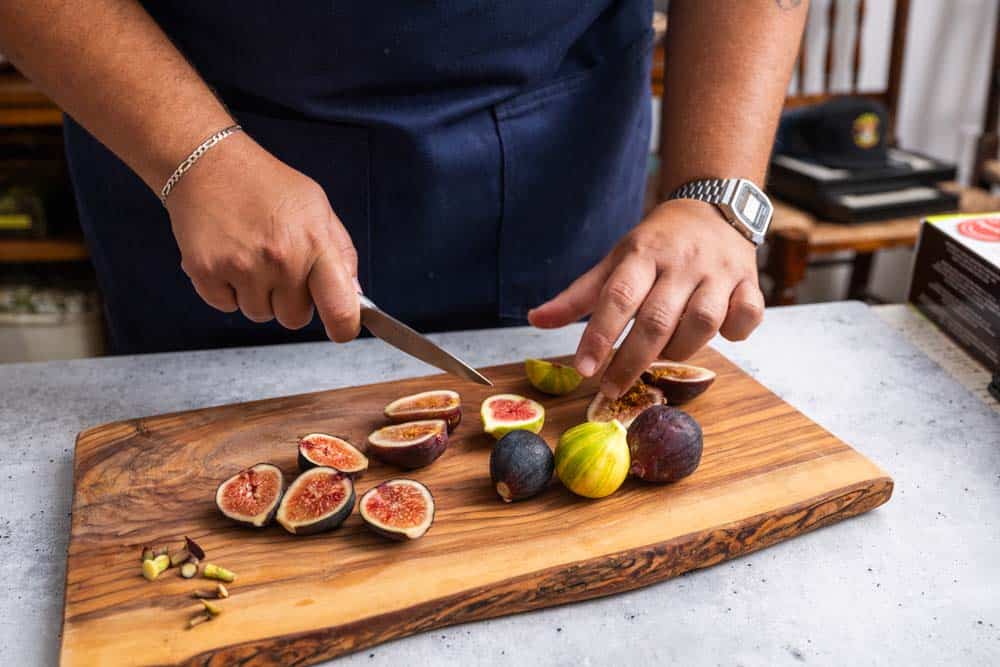 When it comes to figs, especially those that make an epic fig cake, all roads lead to California. It's the homeland of 100% of the nation's dried figs and a whopping 98% of fresh figs. When you are devouring fresh or dried figs, you can take pride in knowing they came from the Golden State and that you are supporting domestic agriculture at its finest.
Discover the subtle nuances of fig varieties here!
Fig FAQ: Are Figs Fruit or Flowers?
Figs are fascinating botanical wonders, more akin to inverted flowers than traditional fruits. Want to learn more about figs from California? Check out the article below.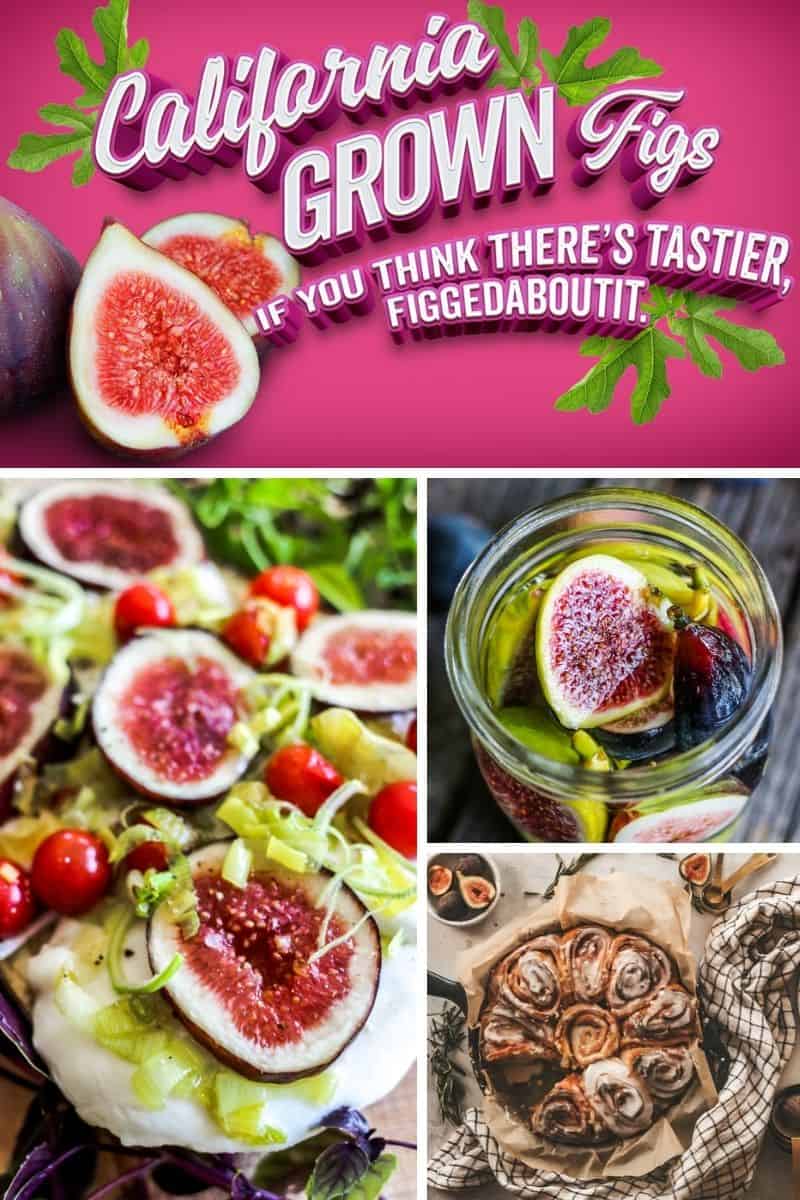 Figs are considered one of the first domesticated crops and are mentioned in texts from every major religion as symbols of prosperity, fertility, and peace. Some biblical scholars even believe Eve was tempted by a fig rather than an apple! If you think about it, it sure makes a lot of sense. Their smooth, graceful curves and seductive sweetness make them pretty hard to resist.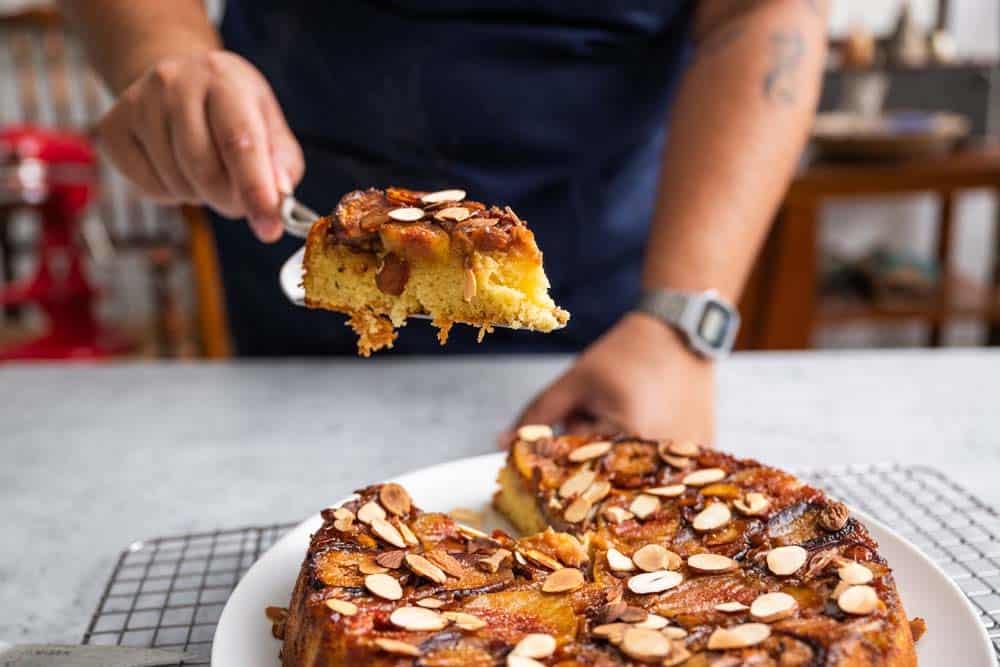 Crafting A Sensational Fig Cake: A Step-by-Step Guide
Time to roll up your sleeves. We're diving into the step-by-step process of making this easy cake recipe with all the visual aids you could ever want. Follow along closely to see just how easy it is to make this perfect fig cake.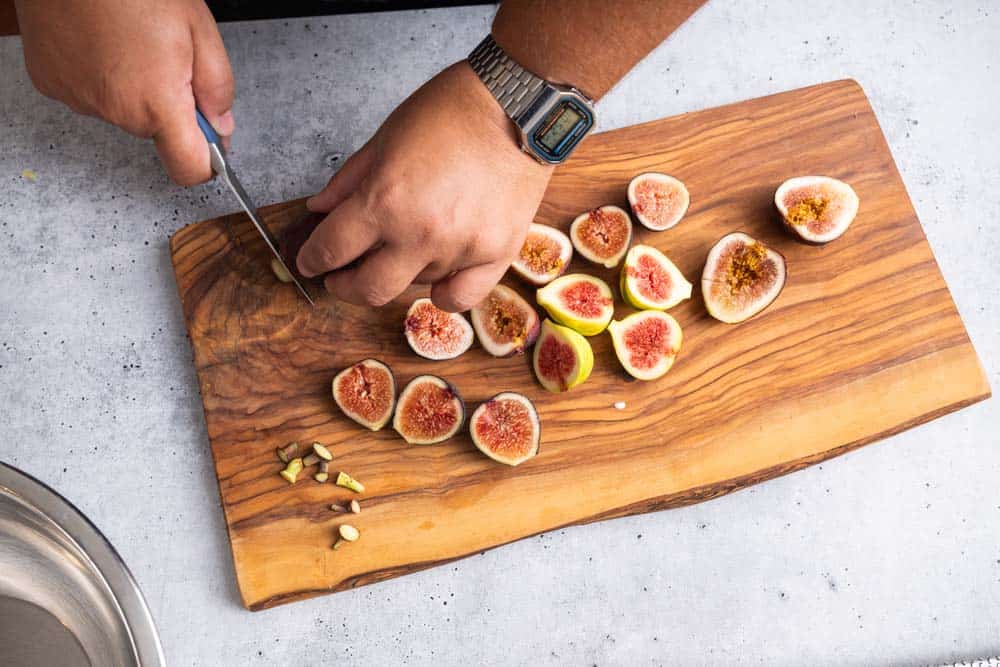 The Fine Print: The Recipe Notes for This Easy Cake Recipe
Pairing: A white wine from California with crisp acidity will make the flavors of this cake pop.
Storage: Fresh figs come with a shelf-life. Remember, cold storage is your friend, which is also true for any leftover cake.
Nutrition: Just three to five figs provide 20% of your daily fiber. This cake isn't just dessert; it's a great nutritional choice too.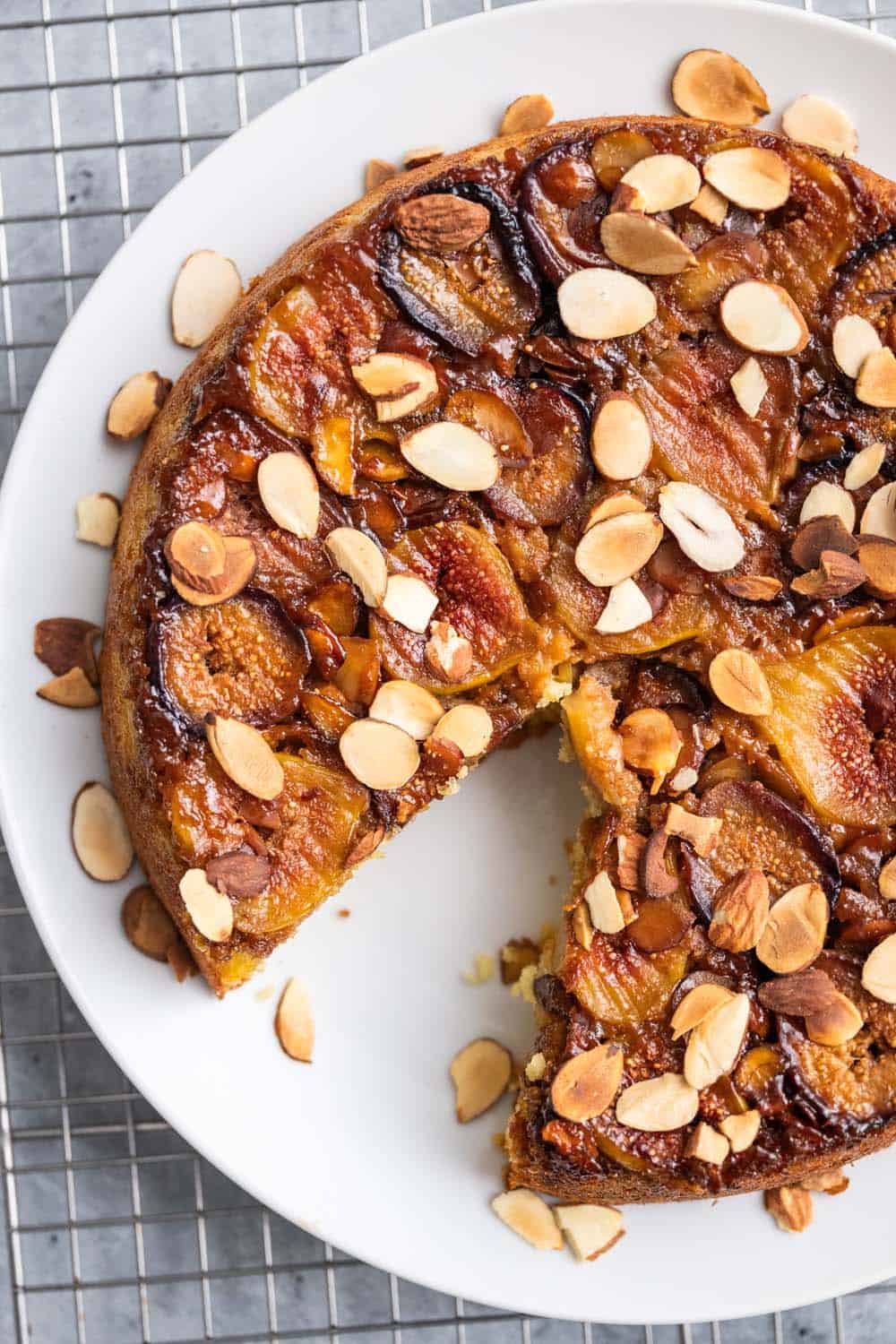 In the grand scheme of fruits, California figs are the unsung heroes—little flavorful powerhouses of nutrients that pack a punch.
SNAP A PIC OF YOUR GORGEOUS FIG CAKE AND TAG US WITH #CAGROWN. For more fig cake and other culinary inspirations, follow us on Pinterest.
For even more delicious fig recipes head over to California Figs.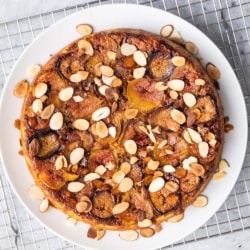 Almond-Fig Upside Down Lemon-Olive Oil Cake
Look, there are cakes, and then there's this fig cake—a no-nonsense tribute to California's delicate flower of the fruit world.
Ingredients
4 eggs
½ cup sugar
1 lemon zested
¼ cup lemon juice
½ cup California olive oil
½ teaspoon vanilla extract
1 cup almond flour
½ cup all purpose flour
1 teaspoon baking powder
½ teaspoon baking soda
12 ripe California figs halved, stems removed
½ cup sliced almonds toasted, divided
2 tablespoons butter melted
1 tablespoon brown sugar
1 teaspoon Temecula Olive Oil Company's Vanilla & Date Balsamic Vinegar or substitute regular balsamic vinegar
Instructions
Preheat the oven to 350°F. Grease a 9-inch round cake pan or spring form pan and line the bottom with parchment paper, then grease the paper. Set aside.

In a mixing bowl, toss the sliced figs with melted butter, brown sugar, ¼ cup almonds, and balsamic vinegar until evenly coated. Then arrange the figs and almonds, cut side down, in the bottom of the prepared cake pan.

In a separate small bowl, mix the almond flour, all-purpose flour, baking powder, and baking soda. Set aside.

Using a stand mixer or hand mixer, whip eggs and sugar until pale yellow and fluffy. Then mix in lemon zest, lemon juice, olive oil, and vanilla until incorporated. With a spatula or wooden spoon, gently fold in the dry ingredients. Pour the batter over the figs and bake for 45 minutes.

Allow the cake to cool and invert it onto a plate. You may need to cut some of the top of the cake off before flipping it so that it sits level on the serving plate.

Evenly sprinkle remaining almonds over the top of the cake.
Video
Nutrition
Calories: 433kcalCarbohydrates: 41gProtein: 9gFat: 29gSaturated Fat: 5gPolyunsaturated Fat: 3gMonounsaturated Fat: 13gTrans Fat: 0.1gCholesterol: 89mgSodium: 177mgPotassium: 286mgFiber: 5gSugar: 28gVitamin A: 316IUVitamin C: 12mgCalcium: 120mgIron: 2mg
This article and recipe were written by Meg van der Kruik. Photo credit James Collier for California Grown.