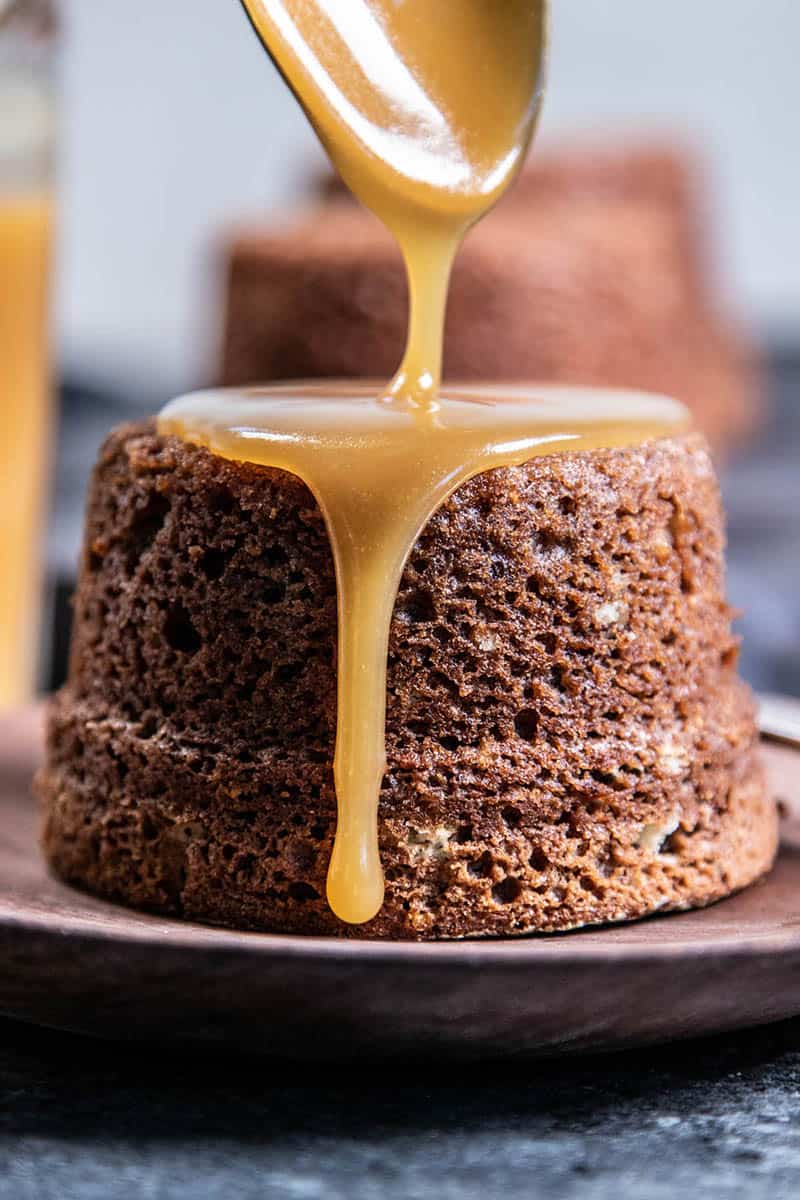 CA GROWN Blog
Discover. Learn. Connect.
A Sensational Red Wine-Laced Recipe For Figgy Pudding
October 18, 2022
Eat the Season!
Sign Up For Weekly Recipes
« Back to Recipes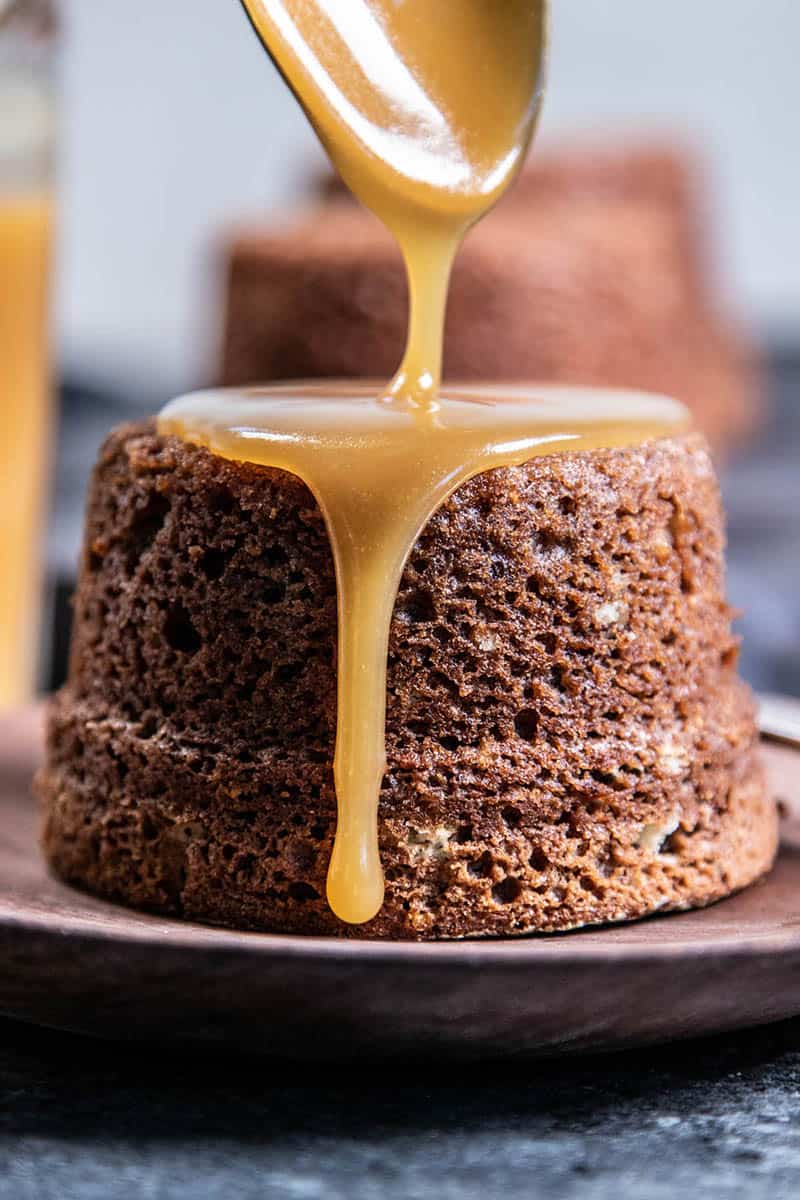 A Sensational Red Wine-Laced Recipe For Figgy Pudding
Our recipe for figgy pudding is a real showstopper! From the devishly easy to make batter that has a medley of dried California figs, prunes, and dates. To its trifecta of dessert flavor combinations; red wine, dark chocolate, and warm caramel sauce. This sensational dessert hits every desired note from start to finish!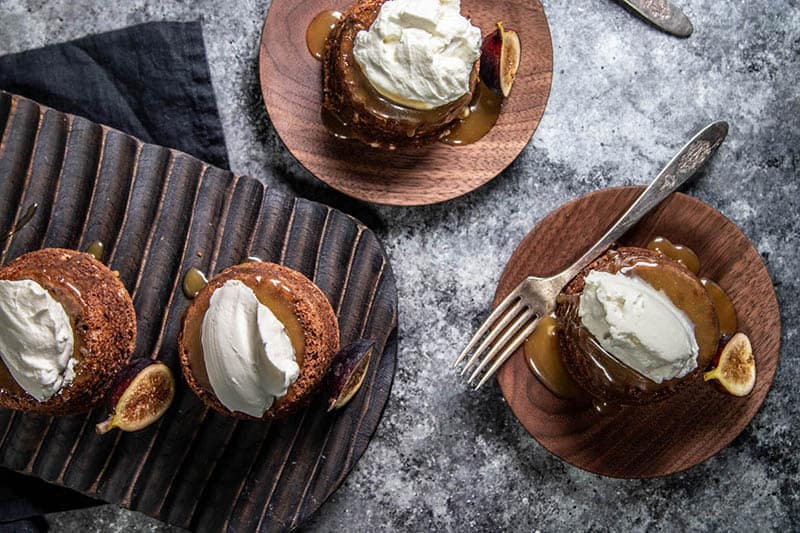 What is figgy pudding?
Figgy pudding is a centuries-old holiday tradition that is also sometimes referred to as "Christmas pudding" or 'Plum Pudding." Despite its name, figgy pudding is comparable to bread pudding.
If you have never tasted figgy pudding before, prepare yourself for a delicious treat! If I were to describe it I would say it is a delicious, moist spice cake made with dried fruit. Often figgy puddings contain ingredients like chocolate, and sometimes types of alcohol like red wine or brandy, and nuts.
Is figgy pudding fruit cake?
No, a figgy pudding isn't a fruitcake. This dessert does start with a batter that is made up of a variety of dried fruits like a fruitcake. But this dessert actually tastes nothing like a fruitcake at all!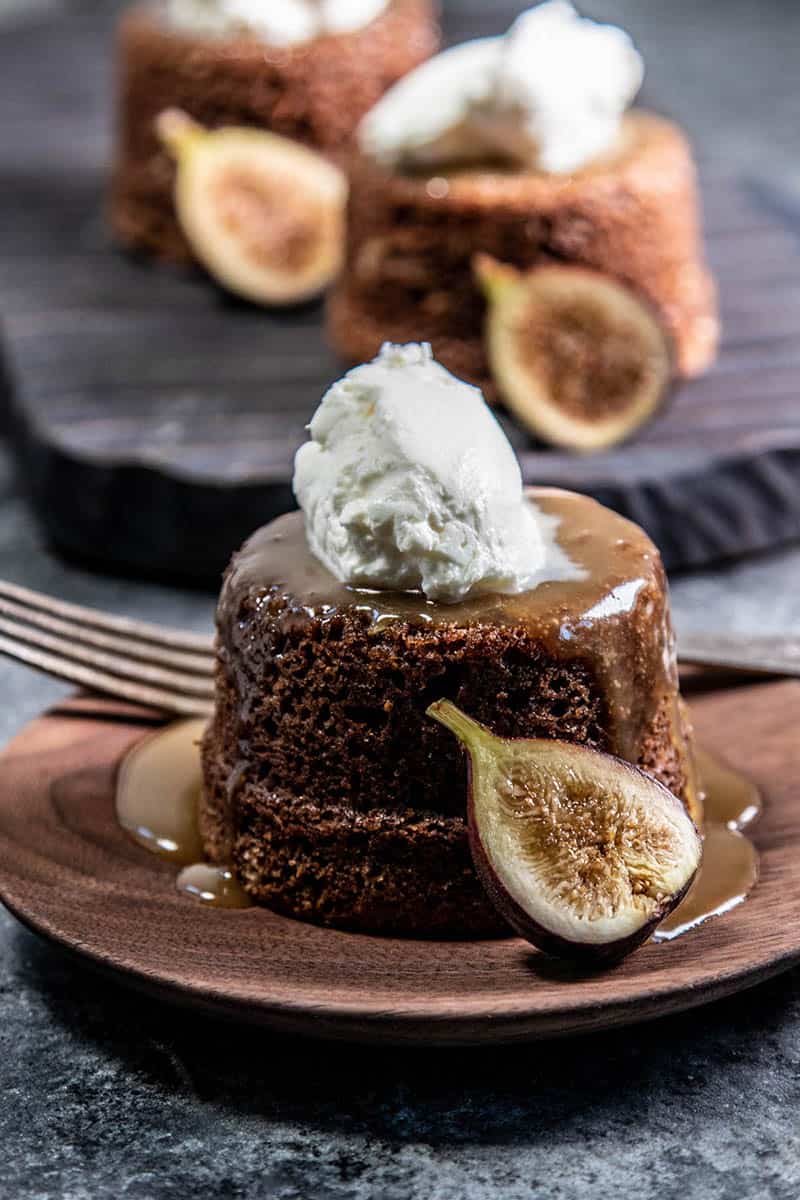 What ingredients do you need to make this recipe for figgy pudding?
This recipe calls for only a few basic pantry ingredients. You probbaly have most of them on hand; dark chocolate, self-rising flour, baking soda, sugar, eggs, and butter. Honestly, it's all of the California Grown ingredients that really bring the wow factor to this recipe for me!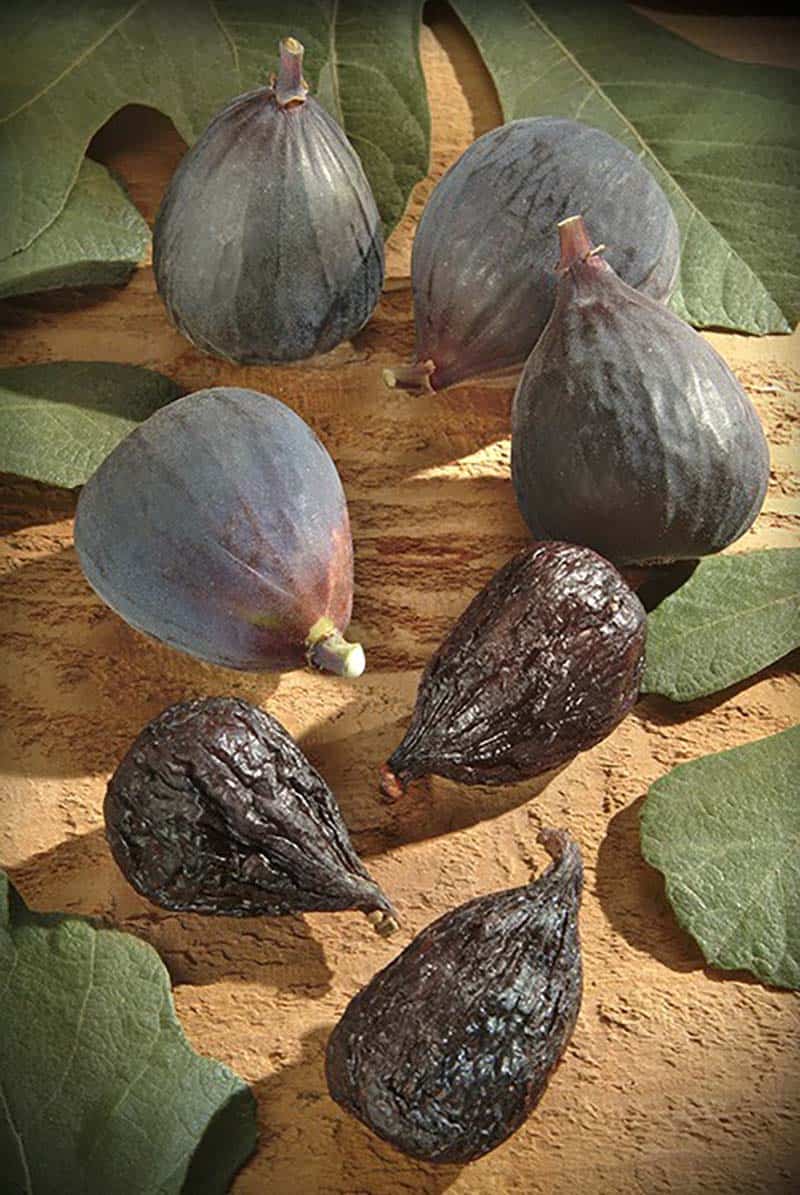 Figs add sweetness and flavor to recipes without added sugars.
Did you know figs are technically an inverted flower, not a fruit? It's true.
In fact you may have heard that there can be wasps inside of figs, but that isn't true of the figs you purchase from California.
Pollination is needed for figs to survive and thrive, but 99% of California Grown Figs are self-pollinating which means there are no wasps inside any of the commercially grown California figs that make their way to your table.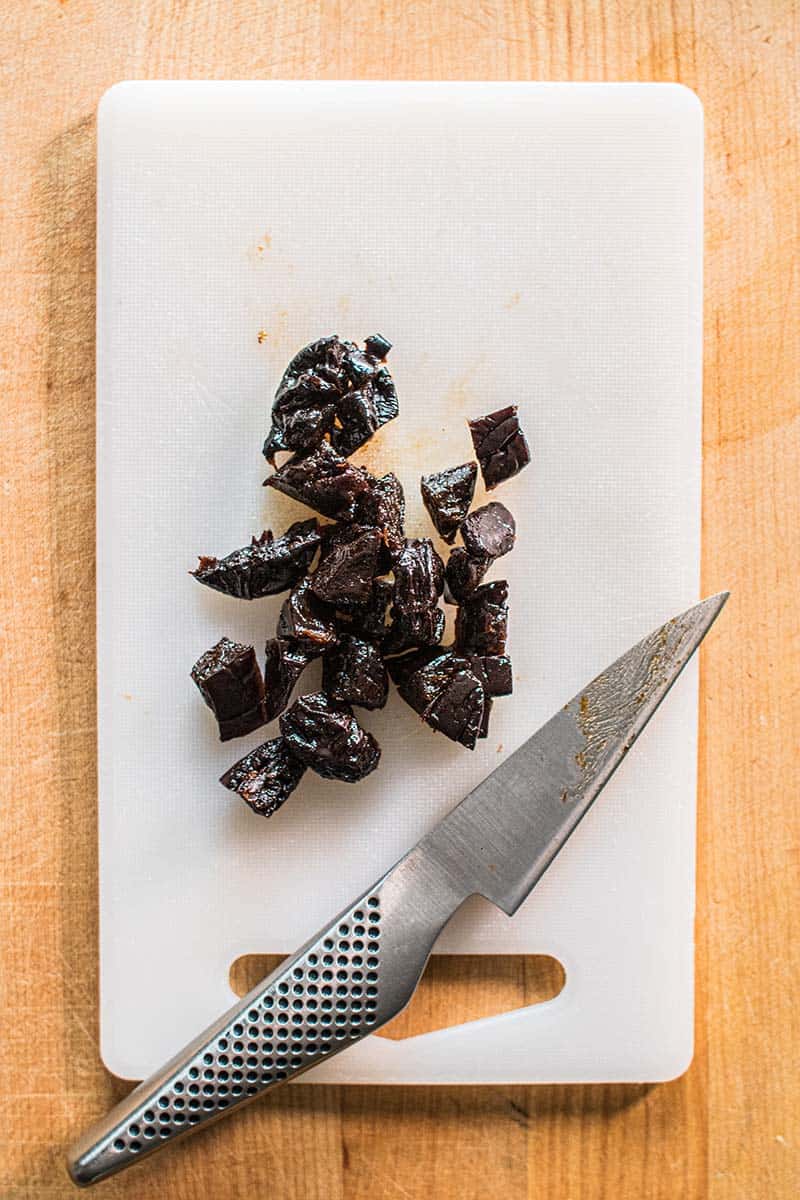 Every wondered, can I cook with prunes?
Whole, diced, or pureed, California prunes go with proteins and grains, on salads and cereals, and in sauces and baked goods.
Prunes are surprisingly versatile as an ingredient in savory and sweet dishes. And, because of their natural sweetness and moisture content, you can reduce sugar and even oil in recipes made with prunes and prune puree.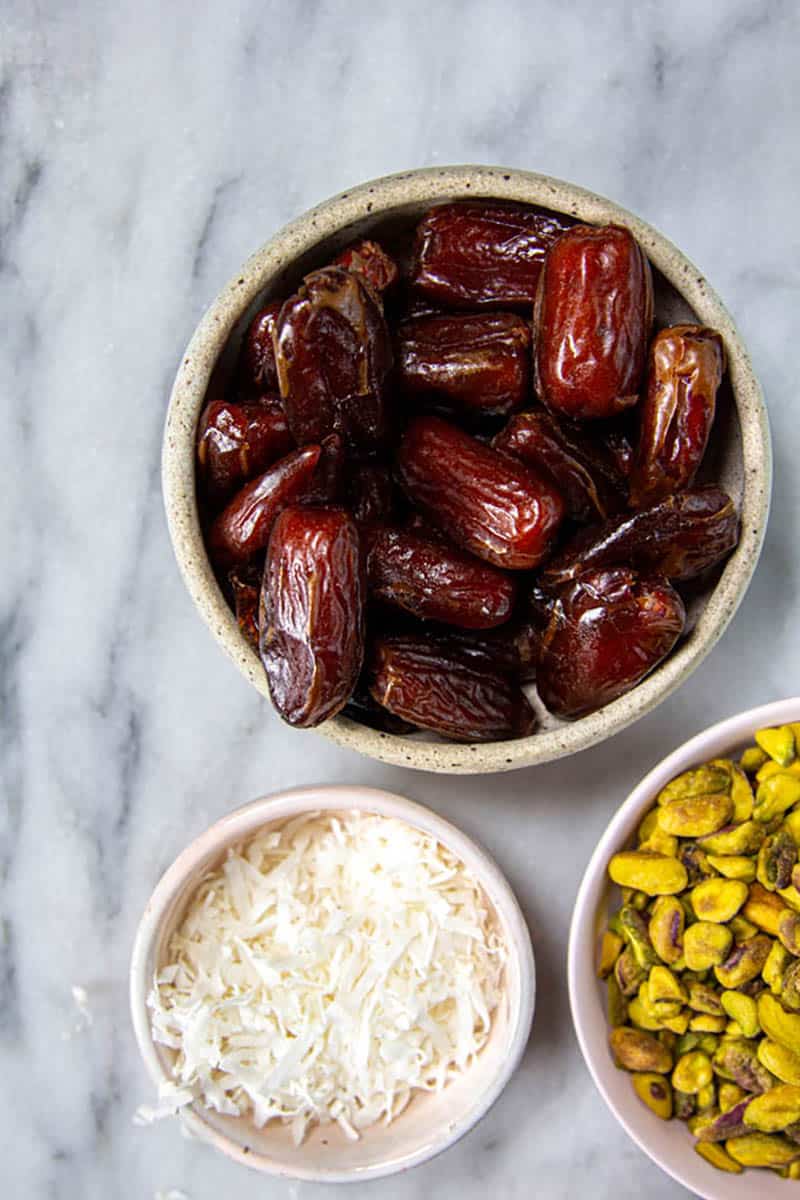 California Dates
Dates from California are a healthy substitute for granulated sugar in all sorts of recipes due to their sweet caramel-like taste, nutrients, fiber, and antioxidants.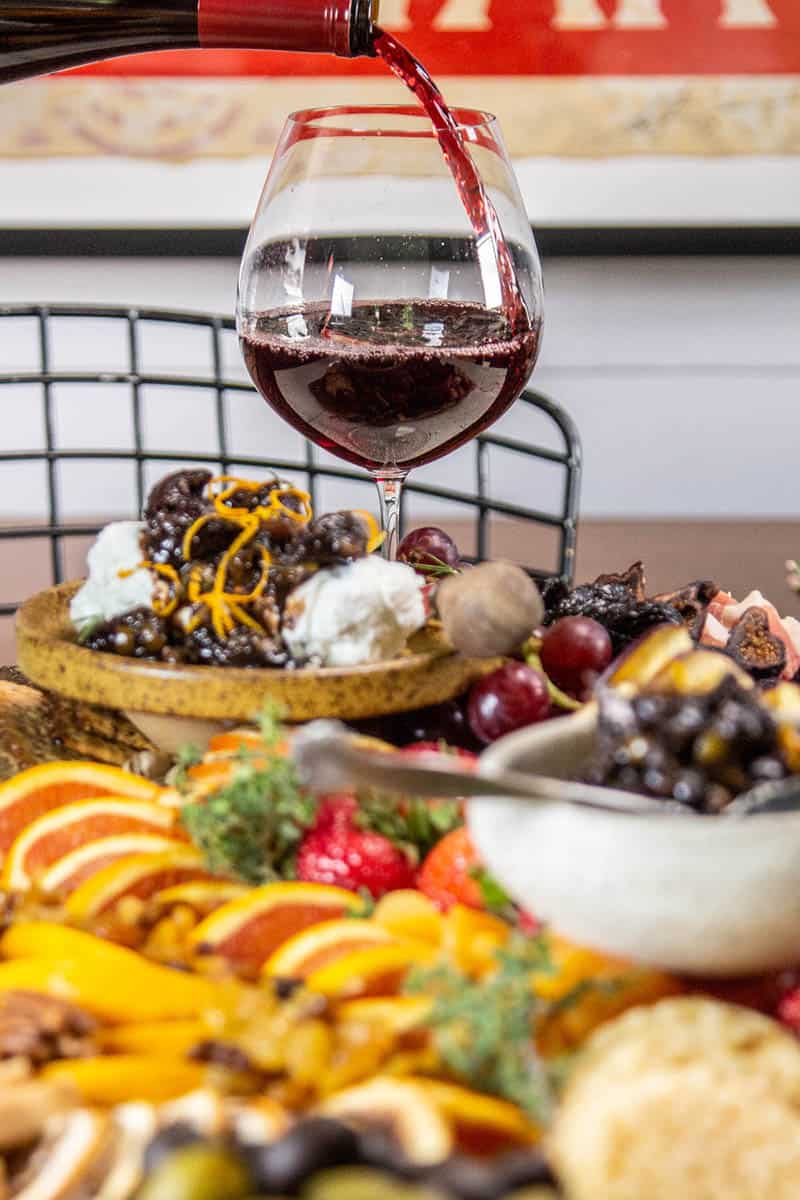 Red wine from California
We love using red wine in fruity Sangria and warm Mulled Wine, or as a marinade for a perfectly juicy grilled steak—but that's only scratching the surface of what red wine can do.
Baking with red wine intensifies the flavors of ingredinets like chocolate, figs, and prunes while keeping baked goods ultra-moist and tender.
Looking for more desserts inspired by the holidays? Keep scrolling!
The holiday season is full of opportunities to make lasting memories. We can't think of a better way than with delicious nostalgic treats from the kitchens of our California Grown Creators.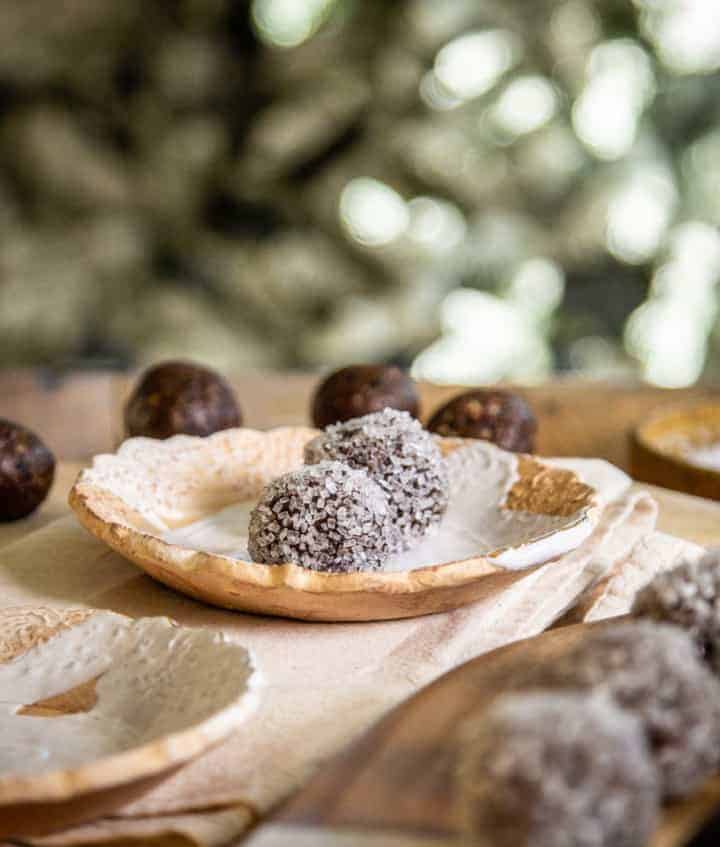 Here's the scoop: sugar plums are a traditional holiday candy made of dried fruit, toasted nuts and crunchy sugar. They are completely delicious and incredibly easy to make. Taste one of these Sugar Plums from G Free Foodie and you'll find most of the holiday flavors you love are wrapped up in one bite!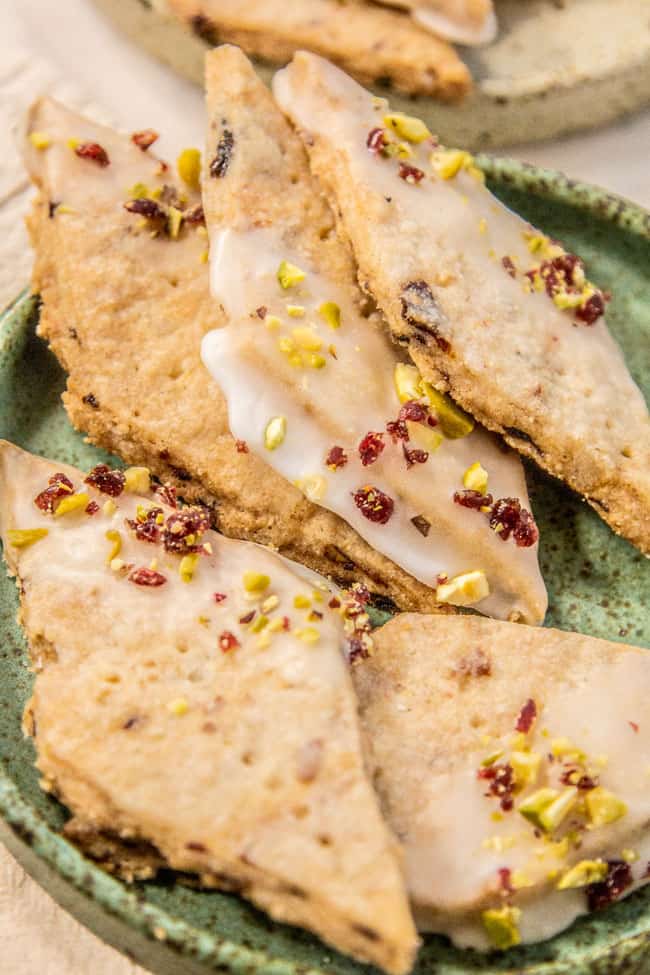 This tender buttery cookie from This Mess is Ours is laced with all the makings of traditional sugar plums folded into the batter like finely diced California prunes, cranberries, dates, and almonds.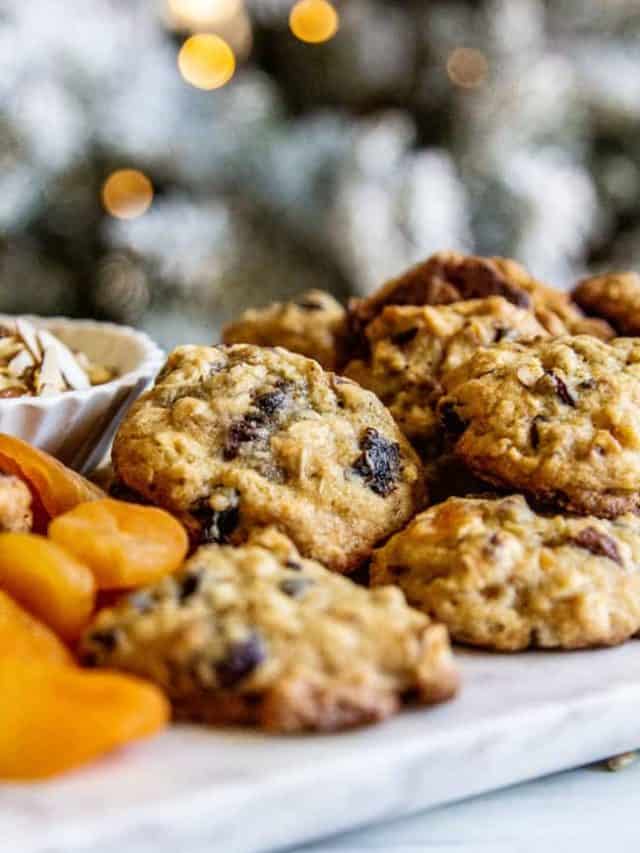 If you are asking yourself, "Should I have an Oatmeal Breakfast Cookie for breakfast?" The answer is a resounding yes! With whole grain oatmeal, four types of dried fruit including California prunes, two types of nuts, and one hearty seed rounding out the ingredient list, these cookies are actually a better breakfast choice than your sugar-laced bowl of cereal!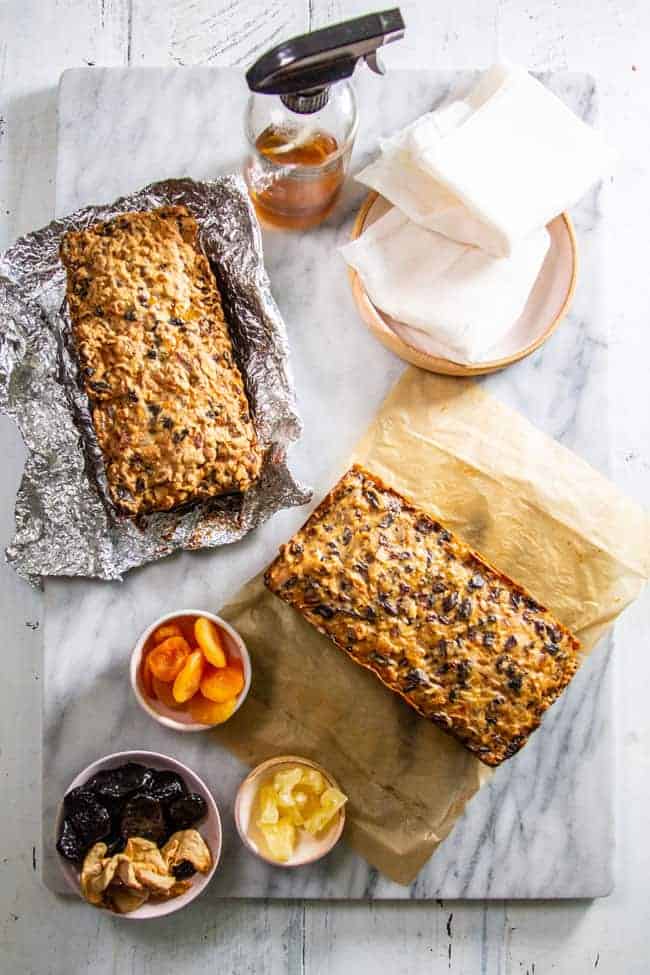 Ahhhh fruitcake, it's been the butt of holiday jokes for some, but for others, this dense, fruit-filled loaf is the stuff that holiday dreams are made of!
This Mess is Ours set out on a mission, to embrace her inner fruitcake fan last holiday season and to develop the BEST gluten-free fruitcake recipe on the internet. We think she did!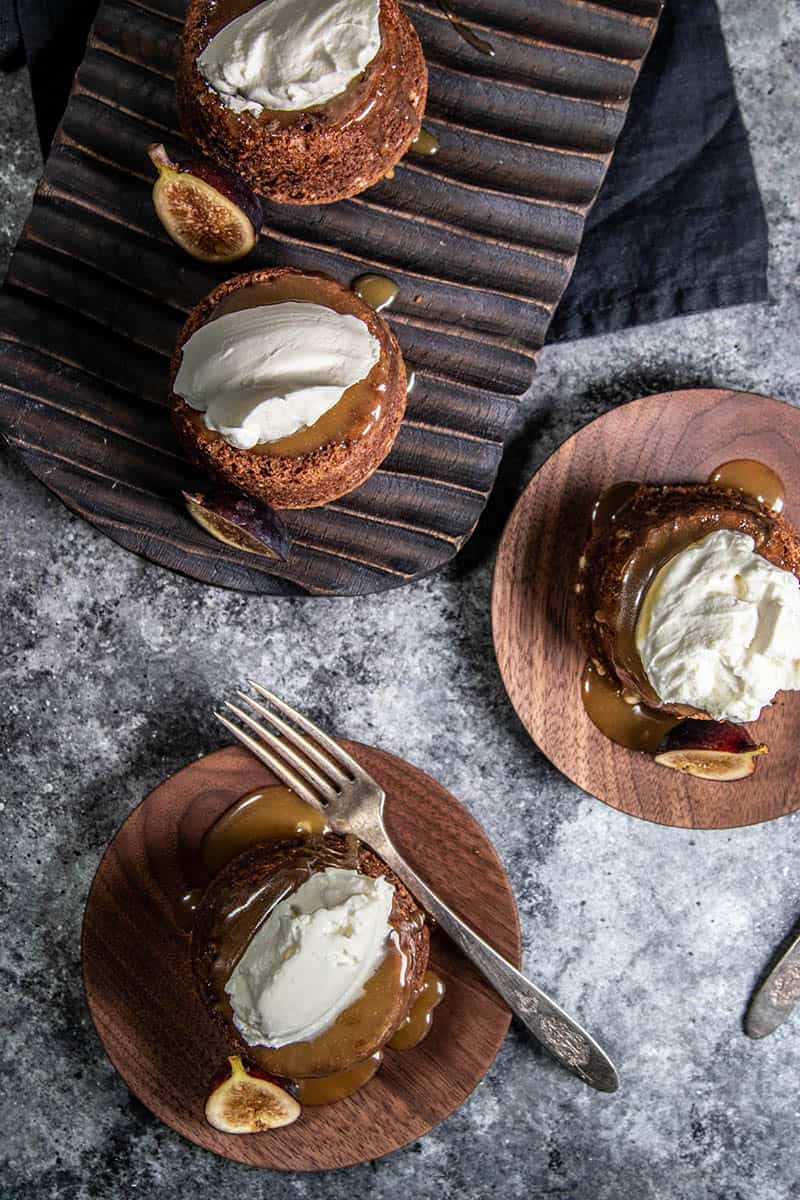 Be sure to share your favorite recipe for figgy pudding with us by snapping a pic and tagging us on social using #CAGROWN.
Craving more CA Grown goodness? Follow us on Pinterest for fresh and fabulous recipe inspiration!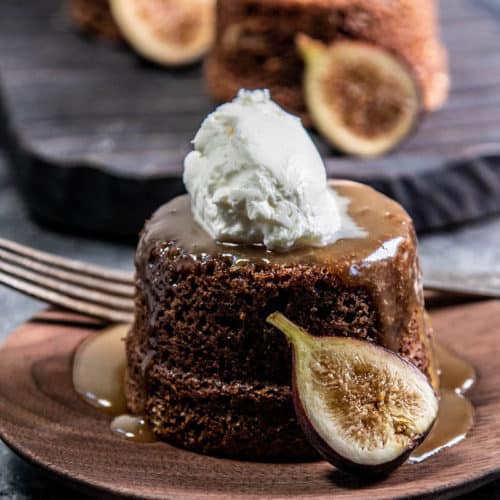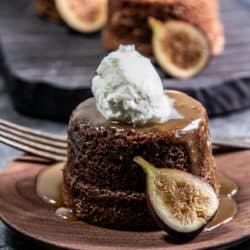 Red Wine-Laced Figgy Pudding Recipe
A sensational red wine-laced recipe for Figgy Pudding. Chock-full of California Grown ingredients like red wine, dried figs, prunes & dates!
Ingredients
For the figgy pudding:
1 cup chopped dried pitted dates
½ cup chopped prunes
½ cup chopped dried figs
1 cup water
1 cup red wine
1 teaspoon baking soda
7 tablespoons salted butter softened, plus more for buttering ramekins
1 cup caster sugar superfine sugar, see note
2 eggs
2 ½ cups self-rising flour see note
75 grams small dark chocolate pieces either grated chocolate or mini dark chocolate chips will work.
For the Caramel sauce:
1 cup brown sugar
1 cup heavy cream
7 tablespoons salted butter
To serve:
Fresh figs halved, optional
Whipped cream or vanilla ice cream optional
Instructions
Preheat the oven to 350°F (175°C). Butter the ramekins and set aside.

First, bake the figgy puddings. Add the dates, prunes, dried figs, water, and red wine to a medium saucepan and bring to boil over medium heat. Remove the pan from the heat and stir in the baking soda. The mixture will fizz and expand. Let cool for about 5 minutes, then add to a blender and puree.

Using a hand mixer, cream the butter and sugar in a large bowl. Add the eggs and beat well. Fold in the flour, the pureed dried fruit mixture and the chocolate.

Put the mixture into 8 buttered, ½ -cup individual ramekins, filling halfway or slightly under. Bake in the preheated oven for 20 to 25 minutes.

Prepare the caramel sauce by stirring the sugar and cream in a medium saucepan over low heat. Simmer until the sugar dissolves. Raise the heat and bring to a boil, then reduce the heat and simmer for 5 minutes. Add the butter and stir until incorporated.

Remove the ramekins from the oven and let stand for 10 minutes.

Figgy Puddings can be served in the ramekin or unmolded onto a small serving plate like in the images.

Right before serving, use a paring knife to cut a X in the top of the puddings for the sauce.

Pour the sauce into the X in the center of each pudding, then pour more sauce over the puddings and it allow to soak in slightly. Serve warm with fresh figs and heavily whipped cream.
Notes
This recipe calls for self-rising flour which is a flour that contains baking powder. If you only have regular all-purpose flour you can make your own by using the following ratio:
2 teaspoons of baking powder to every 1 cup / 150g / 6 oz of plain flour
To make a gluten free self-rising flour visit:
https://gfreefoodie.com/gluten-free-self-rising-flour/
Caster sugar or superfine sugar can be replaced with regular granulated sugar. The texture of the final product will be slightly
different
but
is still delicious.
Nutrition
Calories: 817kcalCarbohydrates: 113gProtein: 9gFat: 37gSaturated Fat: 22gPolyunsaturated Fat: 2gMonounsaturated Fat: 10gTrans Fat: 1gCholesterol: 127mgSodium: 333mgPotassium: 494mgFiber: 5gSugar: 75gVitamin A: 1202IUVitamin C: 0.4mgCalcium: 98mgIron: 3mg