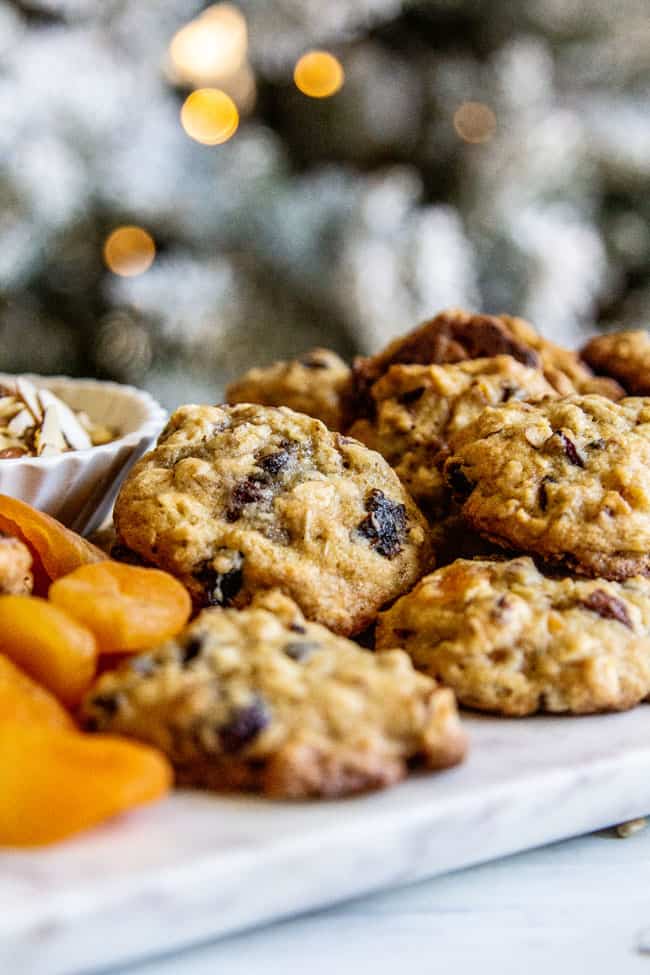 CA GROWN Blog
Discover. Learn. Connect.
The No-Guilt Holiday Cookie You Really Need, Oatmeal Breakfast Cookie Recipe
November 30, 2021
Eat the Season!
Sign Up For Weekly Recipes
« Back to Recipes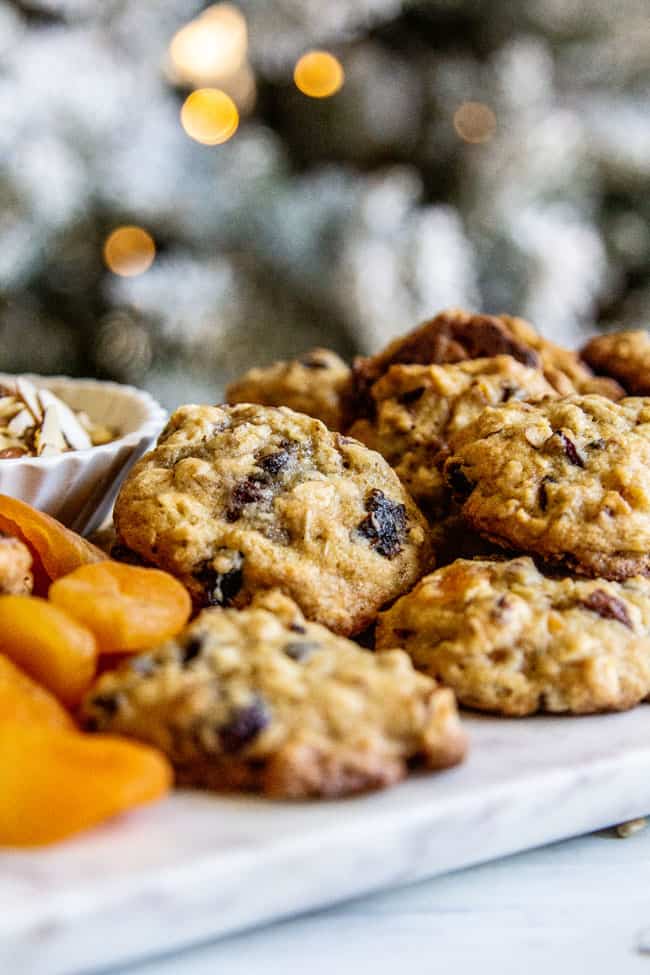 The No-Guilt Holiday Cookie You Really Need, Oatmeal Breakfast Cookie Recipe
If you are asking yourself, "Should I have an Oatmeal Breakfast Cookie for breakfast?" The answer is a resounding yes! With whole grain oatmeal, four types of dried fruit including California prunes, two types of nuts, and one hearty seed rounding out the ingredient list, these cookies are actually a better breakfast choice than your sugar-laced bowl of cereal!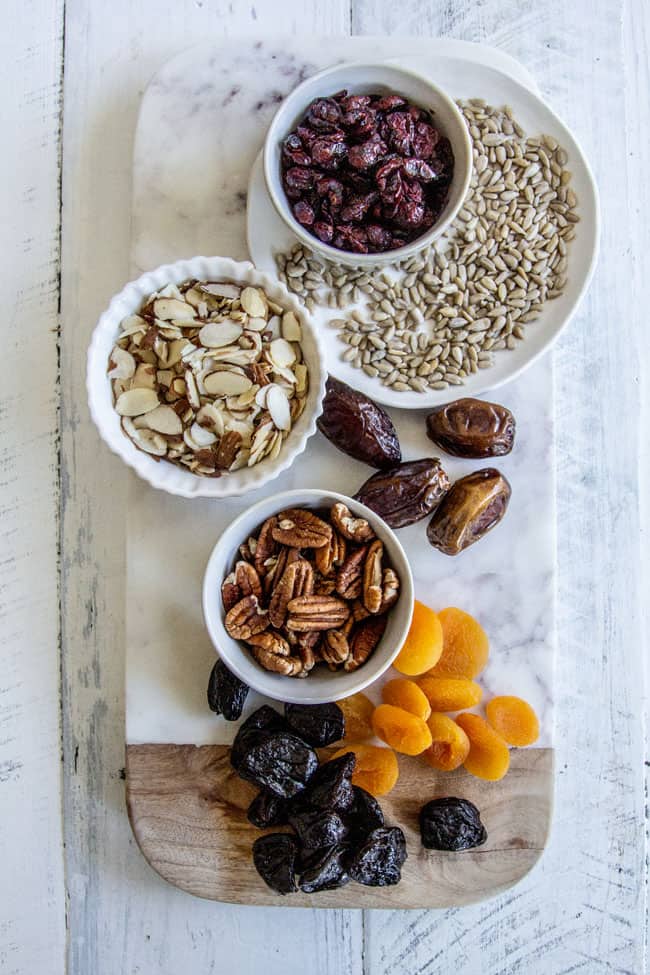 What is a breakfast cookie?
Traditionally cookies have been sequestered to the dessert category of mealtime, maybe a sweet snack if they are lucky, but cookies for breakfast?
These breakfast cookies are loaded with heart-healthy ingredients like oats, almonds, and California prunes while containing less refined sugar than cookies that are intended for dessert.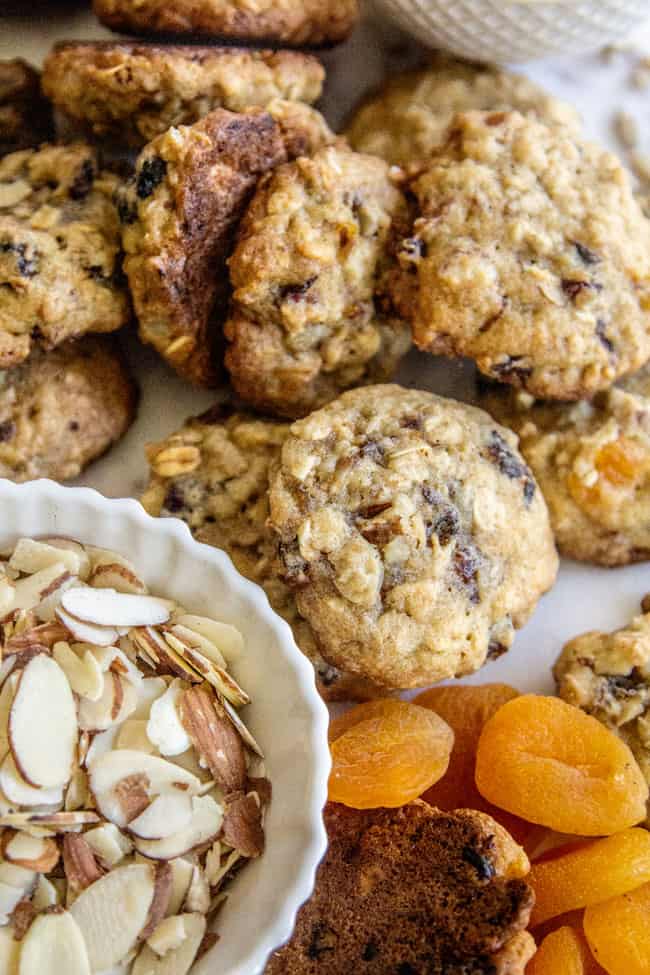 What ingredients are in this oatmeal breakfast cookie?
Our Oatmeal Breakfast Cookie recipe is LOADED with the good stuff! Let's go over the ingredients you will need to make a batch for yourself.
Butter
Oatmeal
Gluten-free all-purpose flour or whole wheat flour
Rolled oats, certified gluten free if necessary
Brown sugar – just a wee little bit, they are still cookies ya know!
Eggs
Vanilla
Baking powder and baking soda
1 1/4 cups of mixed dried fruit pieces: prunes, dates, cranberries, dried apple, apricots. Any type of dried fruit you like will work for these cookies. You could even use all one type of dried fruit if that is your perogative.
1/2 cup chopped mixed nuts: We are partial to almonds and pecans here, but pistachios, pine nuts, walnuts, and hazelnuts are all also delcious choices!
1/4 cup seeds: We seem to always have sunflower seeds on hand so I went for those in this batch of cookies – however you could use flax seeds if you like or replace the 1/4 cup seeds with more nuts instead.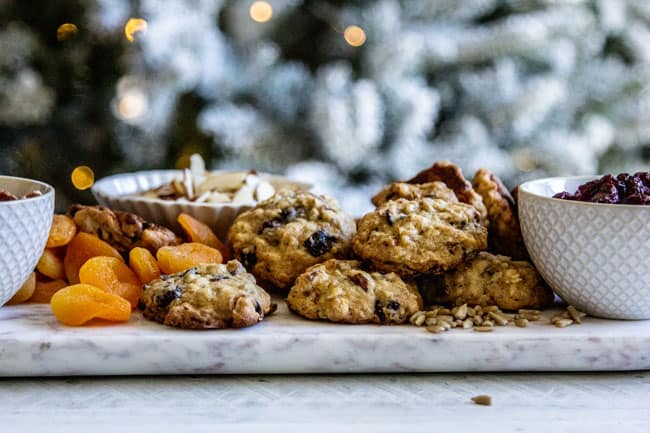 How to freeze oatmeal breakfast cookies for later.
While we named these breakfast cookies, they're actually great all day, every day! We eat them as an afternoon snack, for breakfast on the go, pack them in lunch boxes, and yes we even eat them for actual dessert. Each batch yields roughly 2 dozen cookies depending on how large you make them and they stay fresh at room temperature for up to 5 days!
Have more Oatmeal Breakfast Cookies than you need? Freeze some for later! To freeze, let the baked cookies cool completely. Place them in an airtight container or plastic bag and freeze them for up to 3 months. Thaw before serving, or microwave for a few seconds for a nice warm cookie!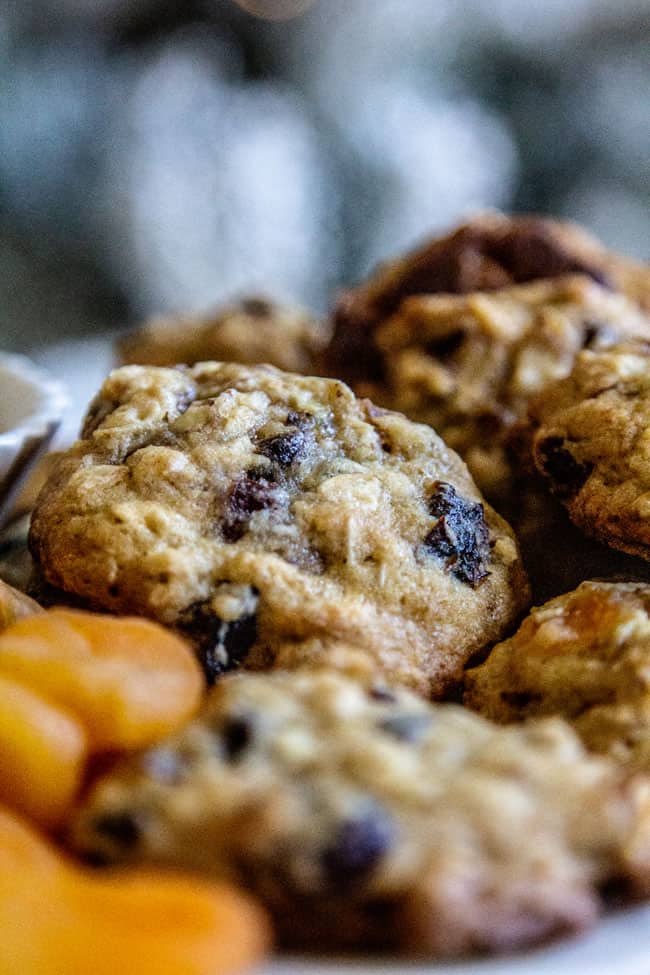 Looking for more holiday cookie recipes? We've got you covered!
We love Oatmeal Breakfast Cookies at all times of the day, but they also make for an incredible homemade gift if you are into gifting cookies during the holiday season.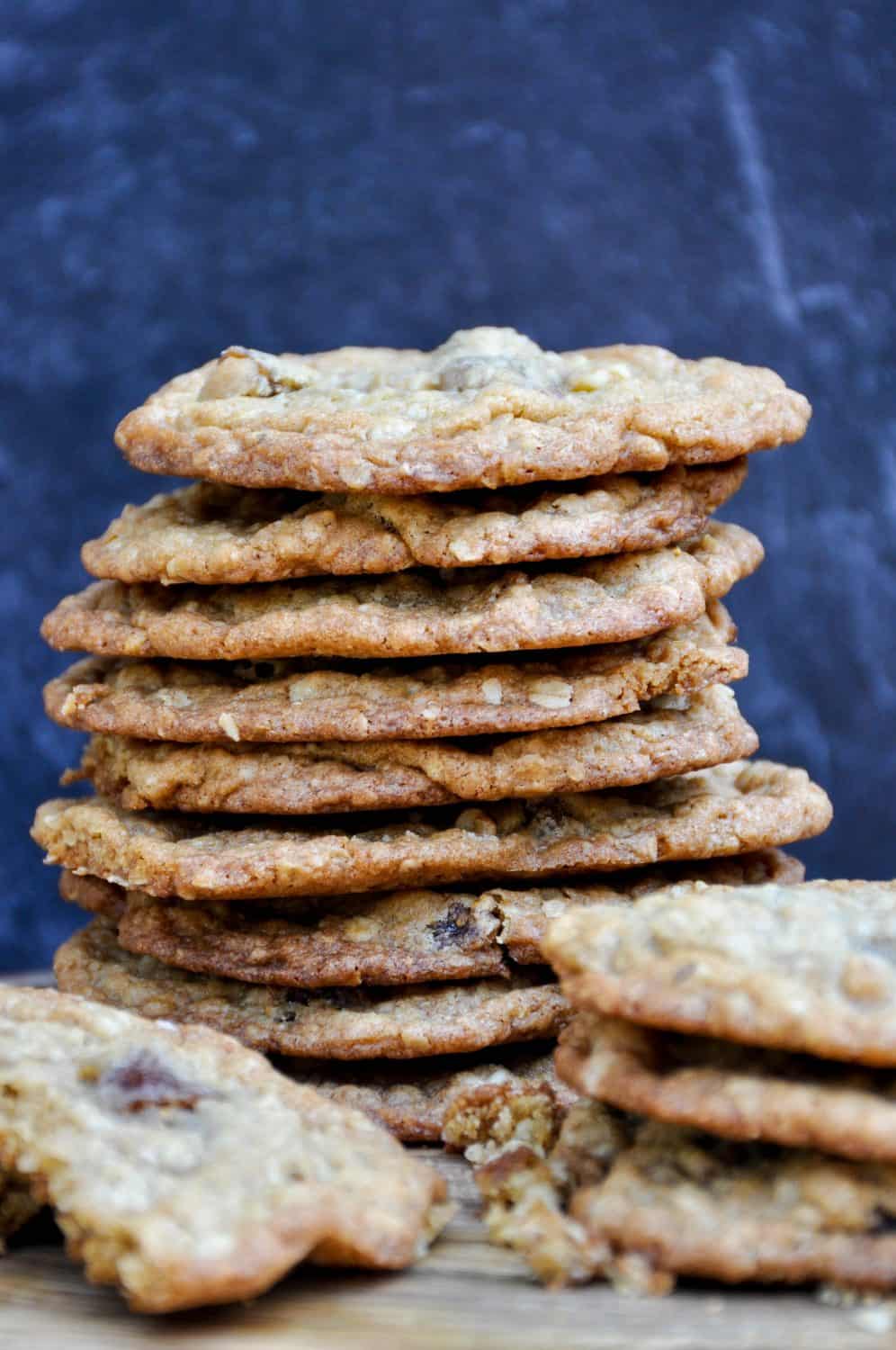 Loaded with golden dried figs and crunchy walnuts, this cookie is chewy, moist, and perfect for the upcoming holidays.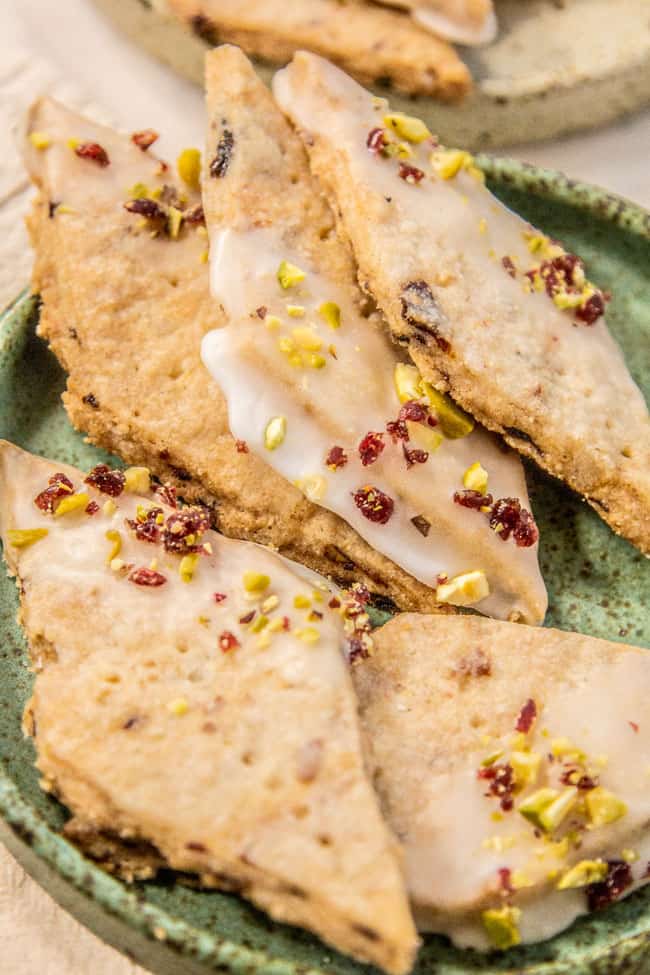 This tender buttery cookie from This Mess is Ours is laced with all the makings of traditional sugar plums folded into the batter like finely diced California prunes, cranberries, dates, and almonds.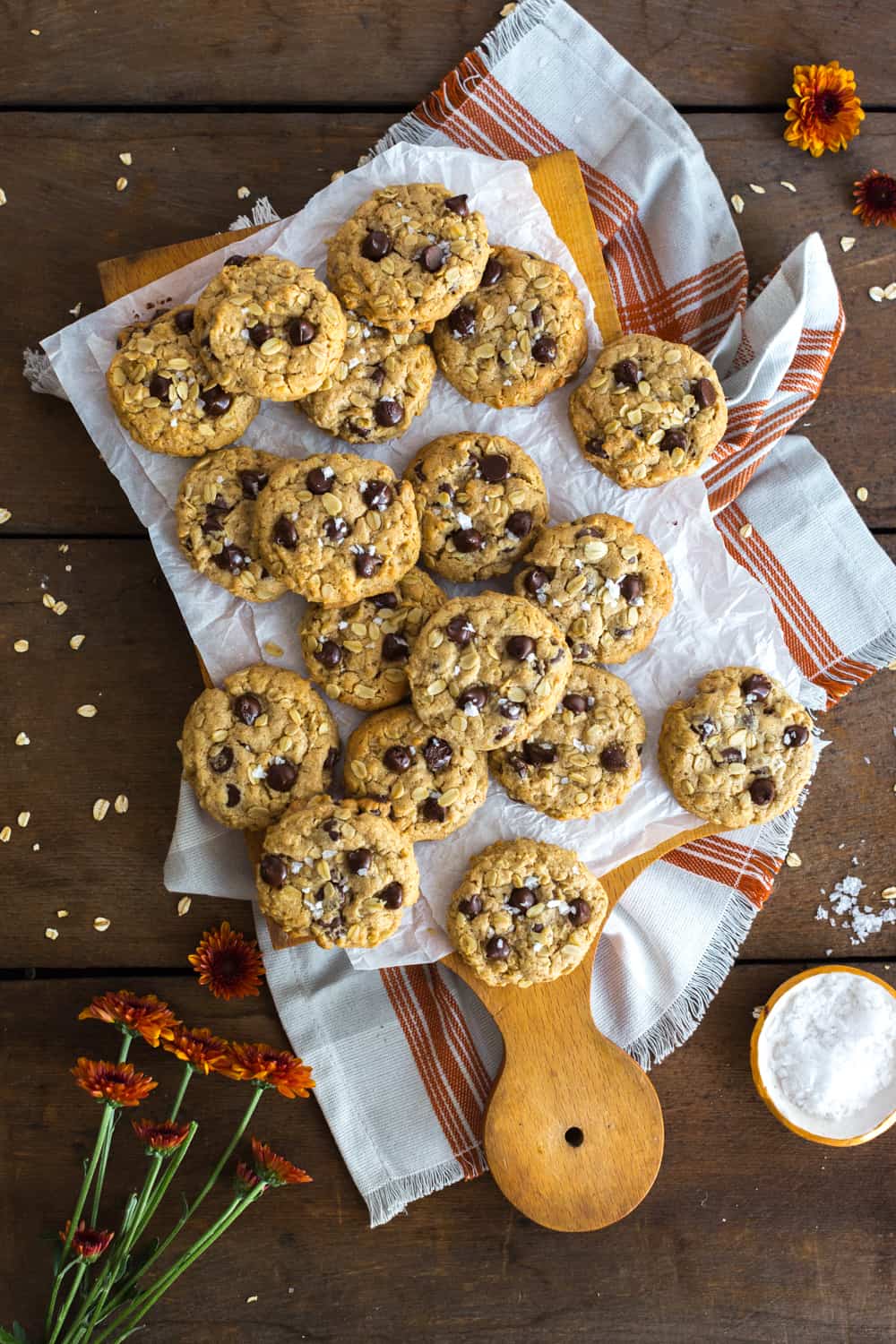 These hearty cookies from Baking the Goods combines a hearty mix of chewy thick rolled oats, warm cinnamon, toasty almond butter & dark chocolate chips, finished with flaky sea salt.
Be sure to share your holiday cookie creations with us by snapping a pic and tagging us on social using #CAGROWN.
Craving more CA Grown goodness? Follow us on Pinterest for fresh and fabulous recipe inspiration!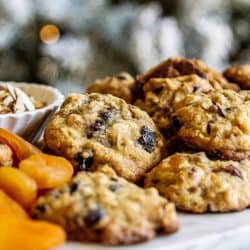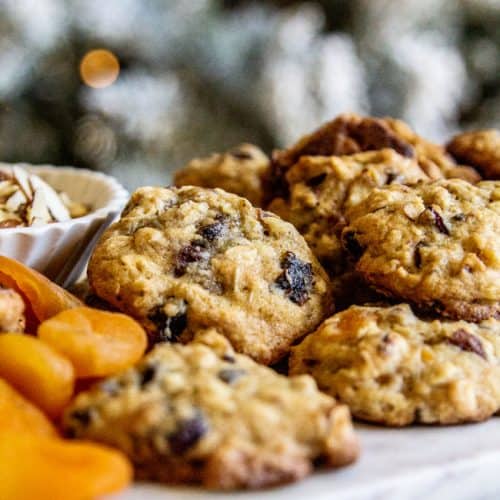 Oatmeal Breakfast Cookie
With whole-grain oatmeal, 4 types of dried fruit, 2 types of nuts, & 1 hearty seed these Oatmeal Breakfast Cookies are perfect any time of the day!
Ingredients
coconut or olive oil for greasing baking sheet.
1/2 cup butter softened
2/3 cup dark brown sugar tightly packed
1/2 teaspoon baking powder
1/4 teaspoon baking soda
1/4 teaspoon coarse kosher salt
2 eggs
1/2 teaspoon vanilla extract
1 cup gluten-free all-purpose flour or whole wheat flour
1 cup rolled oats
1/3 cup dried cranberries
1/3 cup finely diced California prunes
1/3 cup pitted, finely diced dates
1/4 cup finely diced, dried apricots
1/4 cup slivered almonds
1/4 cup finely diced, pecans
1/4 cup sunflower seeds
Instructions
Preheat the oven to 350°F and lightly grease a baking sheet. Set aside.

In a stand mixer fitted with the paddle attachment, beat the butter on medium to high speed for 30 seconds. Add the brown sugar, baking powder, baking soda, and salt. Beat on medium speed until combined.Add the eggs and vanilla. Mix until incorporated.

In 2 additions add the flour on medium-low speed until just incorportaed.

Add the oats to the mixing bowl and mix on low until just incorporated.

Add the dried fruit and nuts to the mixing bowl and mix on low until the fruit and nuts are spread throughout the cookie dough.

Drop the dough by rounded tablespoons full onto the prepared baking sheet.

Bake for 10-12 minutes or until the edges are lightly browned.

Allow the cookies to stand on the baking sheet for a few minutes then transfer to a wire rack to cool completely.