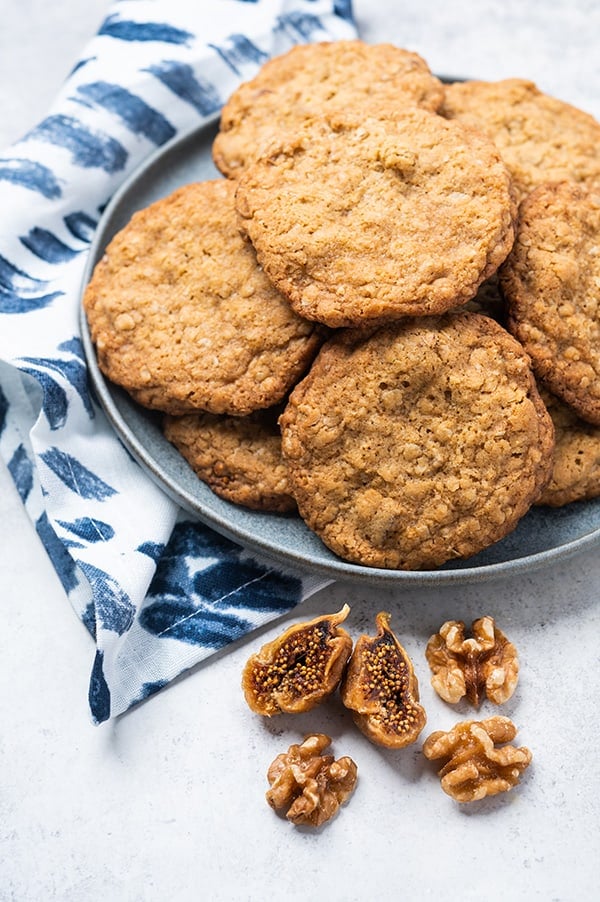 CA GROWN Blog
Discover. Learn. Connect.
The best healthy oatmeal cookie recipe with figs & nuts
November 4, 2020
Eat the Season!
Sign Up For Weekly Recipes
« Back to Recipes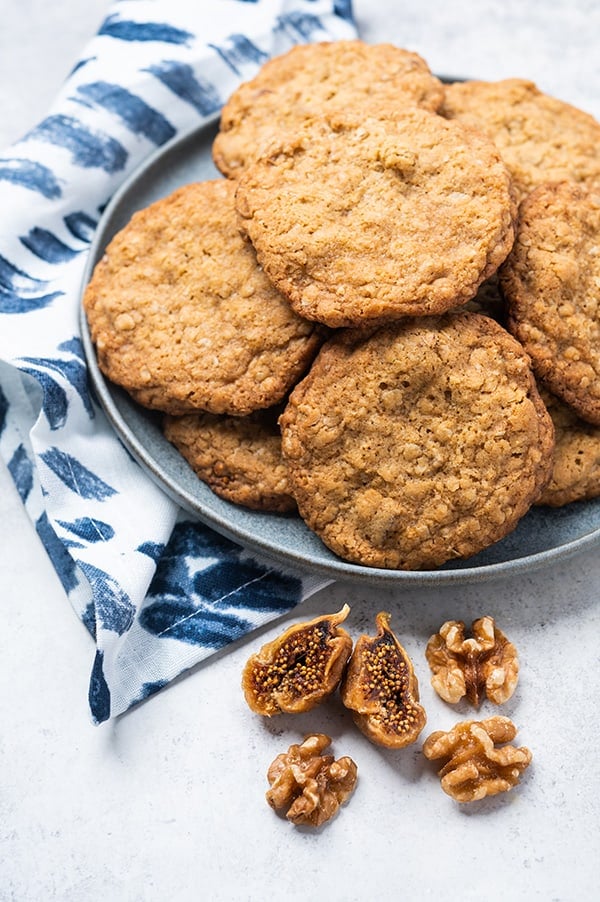 The best healthy oatmeal cookie recipe with figs & nuts
Are you looking for a healthy oatmeal cookie recipe? While I am not sure cookies will ever actually classify as a health food, I can attest that adding golden dried figs and crunchy walnuts into your oatmeal cookies is a great place to start.
**This recipe updated 6/2022 with new images, video, and nutritional information. New images from James Collier.**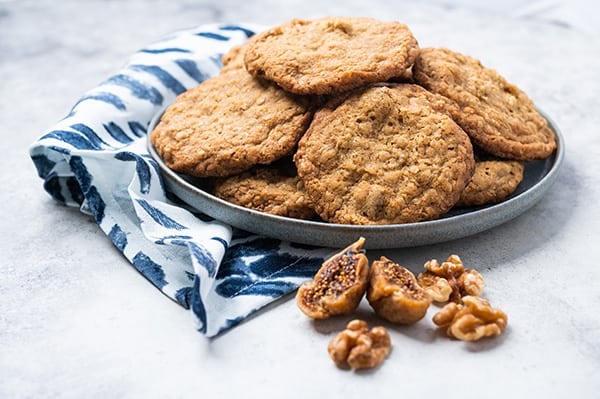 When you add dried golden figs into the oatmeal cookie batter, something spectacular happens! They add a pleasant mild, nutty flavor and as the figs melts into the batter, they create a cookie that is both flavorful and moist, never dry.
And because the figs we used in this Oatmeal Cookie with Figs and Nuts are the golden dried variety, you can make this cookie any time of the year.  
Always in season cookies? Yes, please!
How to make Oatmeal Cookies with Figs and Nuts.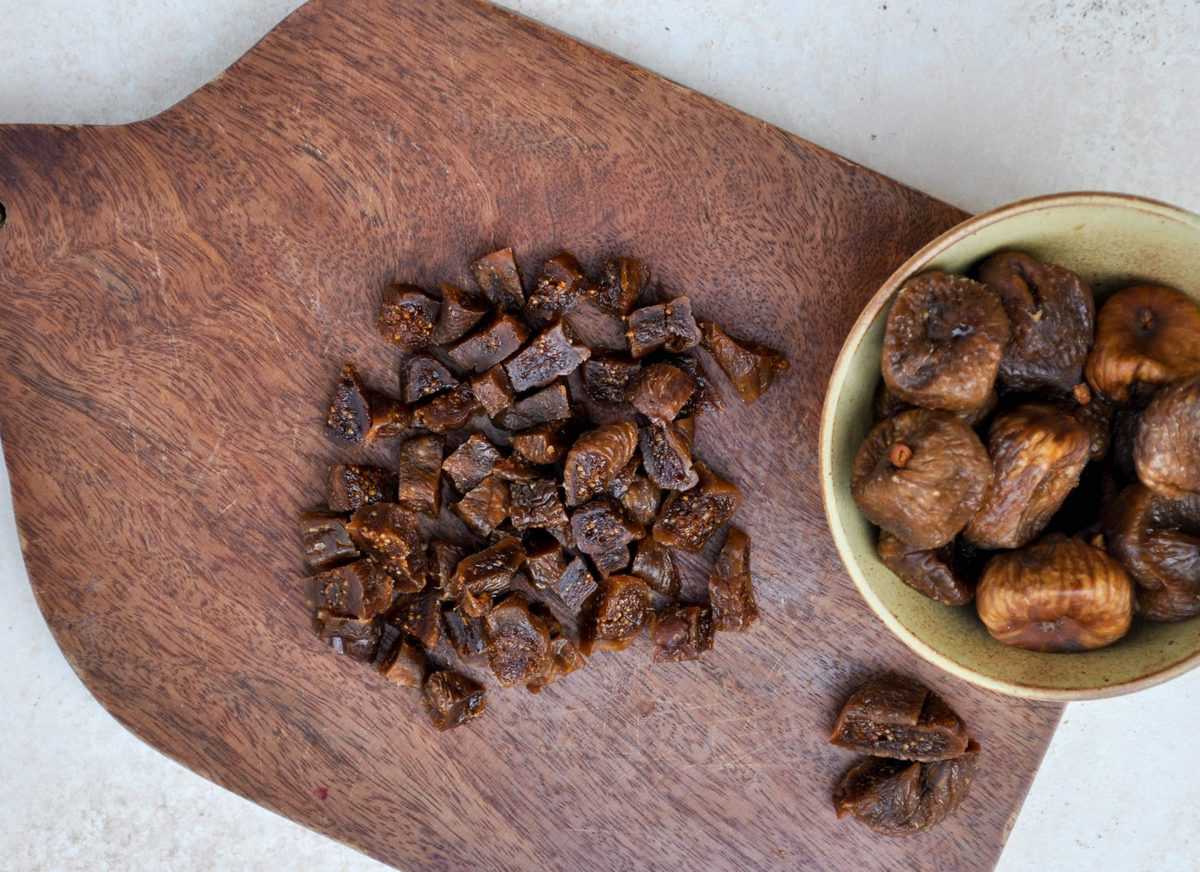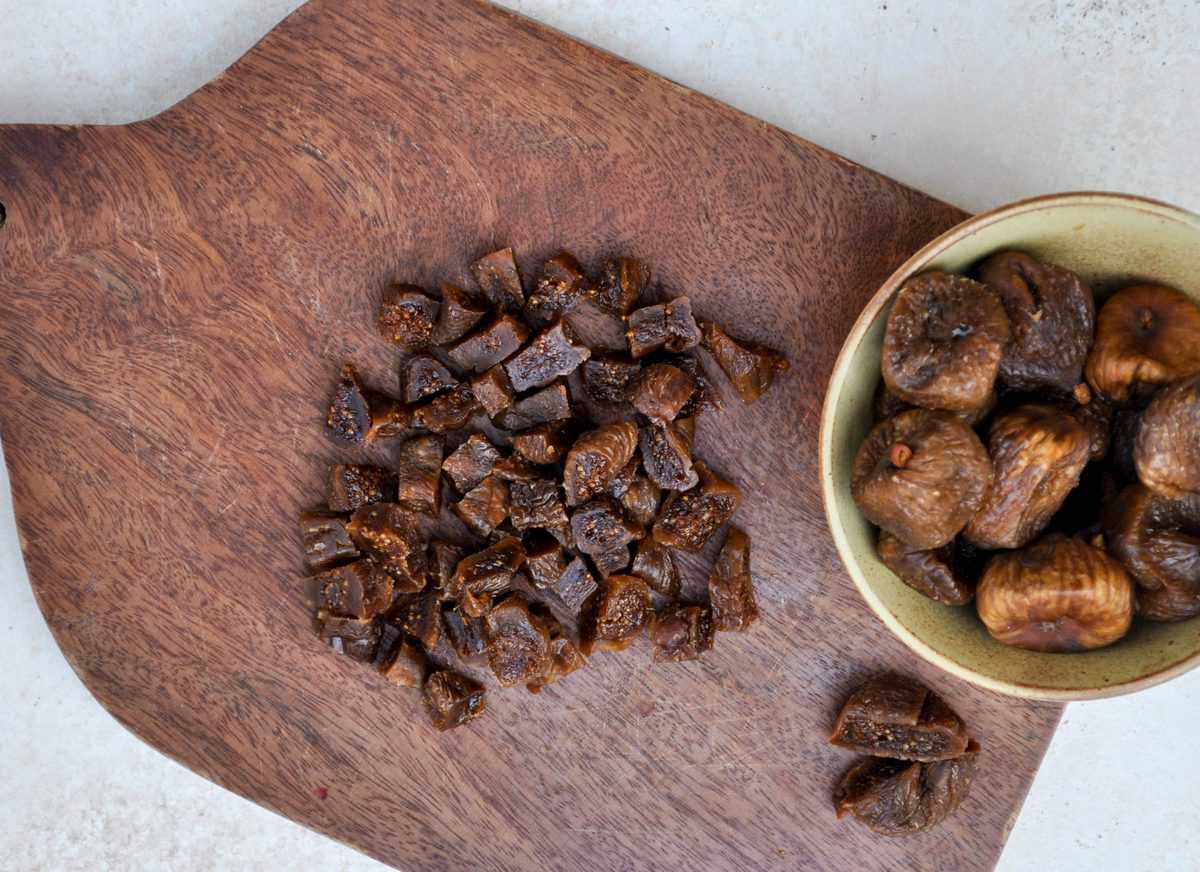 All you have to do to prepare the dried golden figs to go into the cookie batter is to chop them into bite-sized pieces.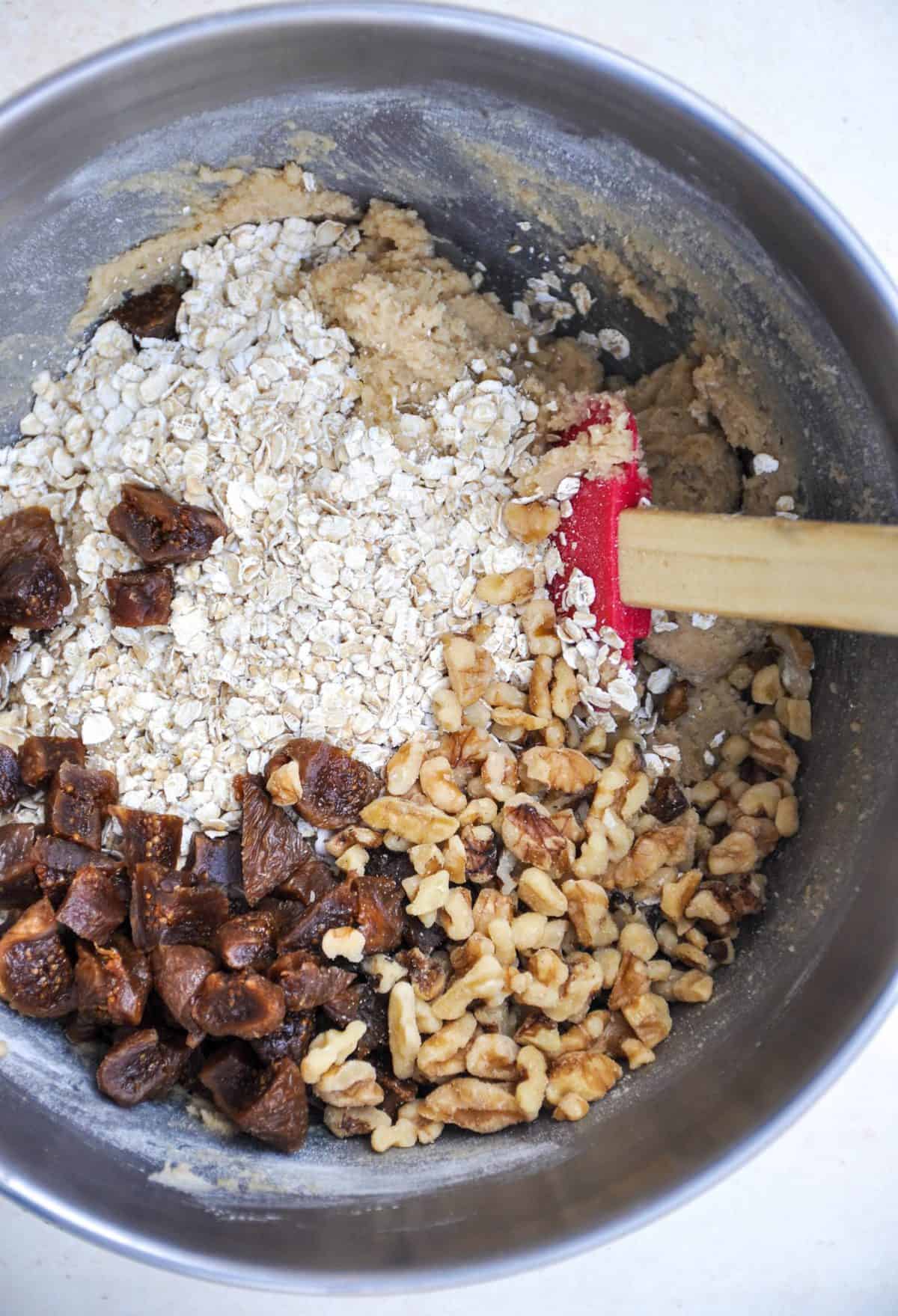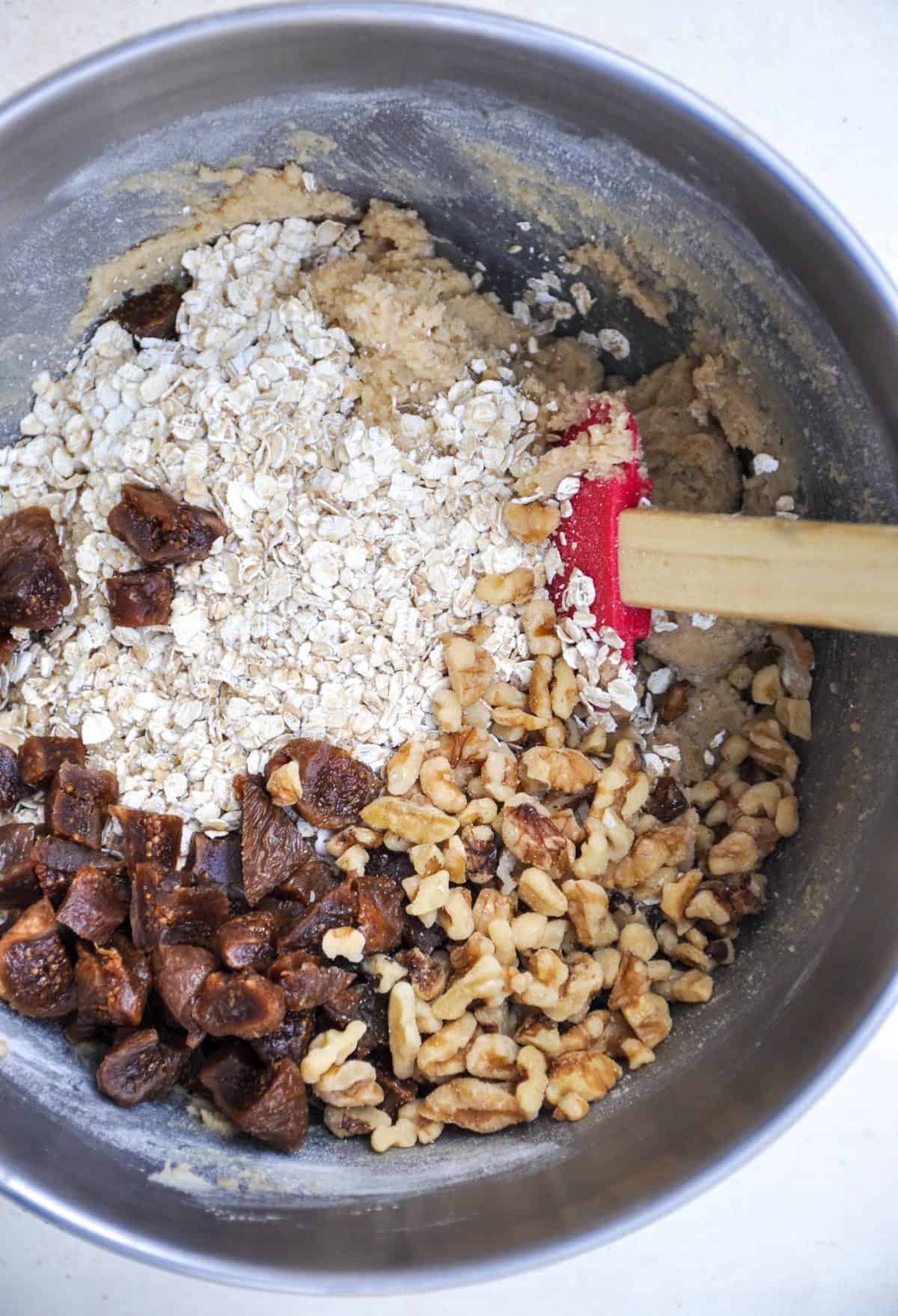 Make the cookie batter.
Prepare the batter as directed in the recipe card below.
Then, in a mixing bowl, combine the chopped golden figs, walnuts, oats and other ingredients with the prepared batter.
Stir until mixed well.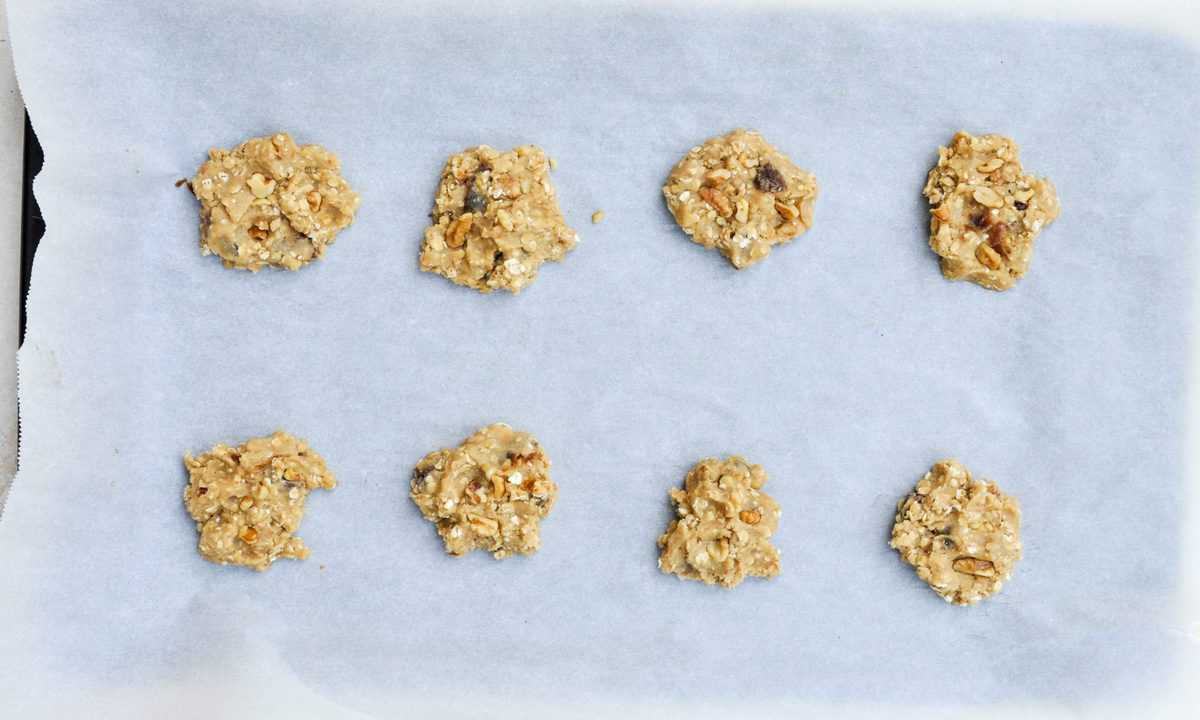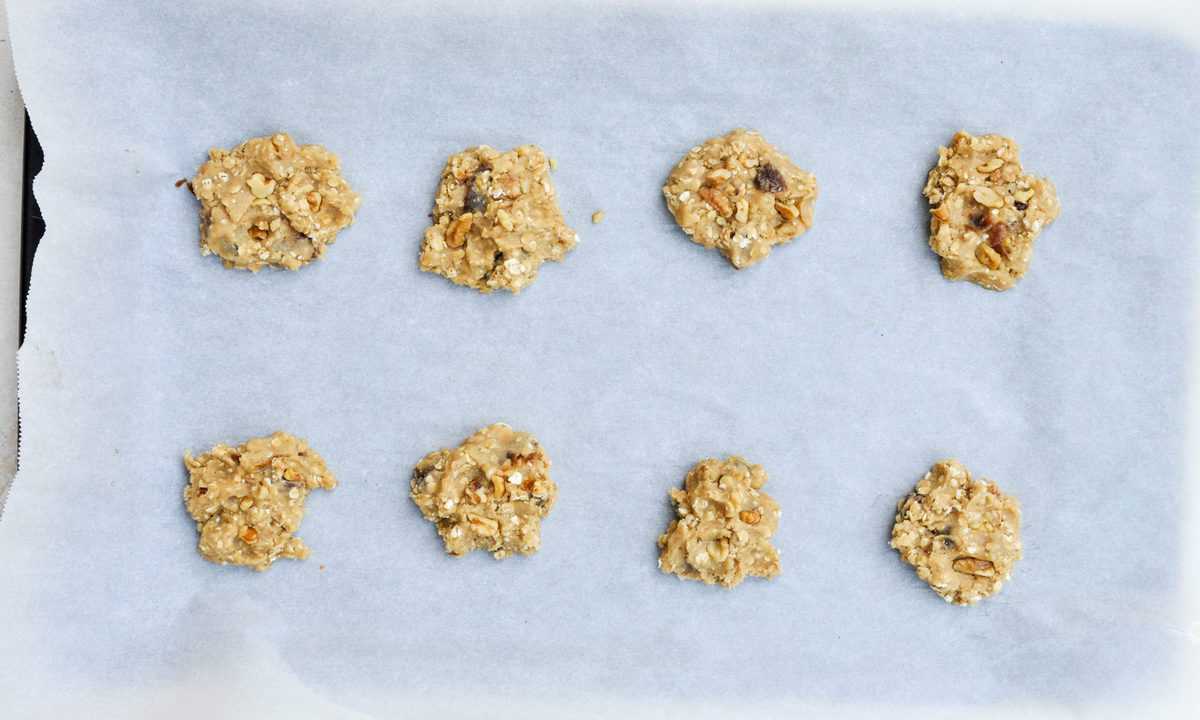 Now we bake!
Scoop equal-sized dollops of dough onto a parchment lined cookie sheet and bake for about 12 minutes.
Hungry for more healthy oatmeal cookie recipes?
We happen to think you can never have enough oatmeal cookie recipes to choose from, so here are a few more from our California Grown Creators that we love and keep in our oatmeal cookie recipe rotation.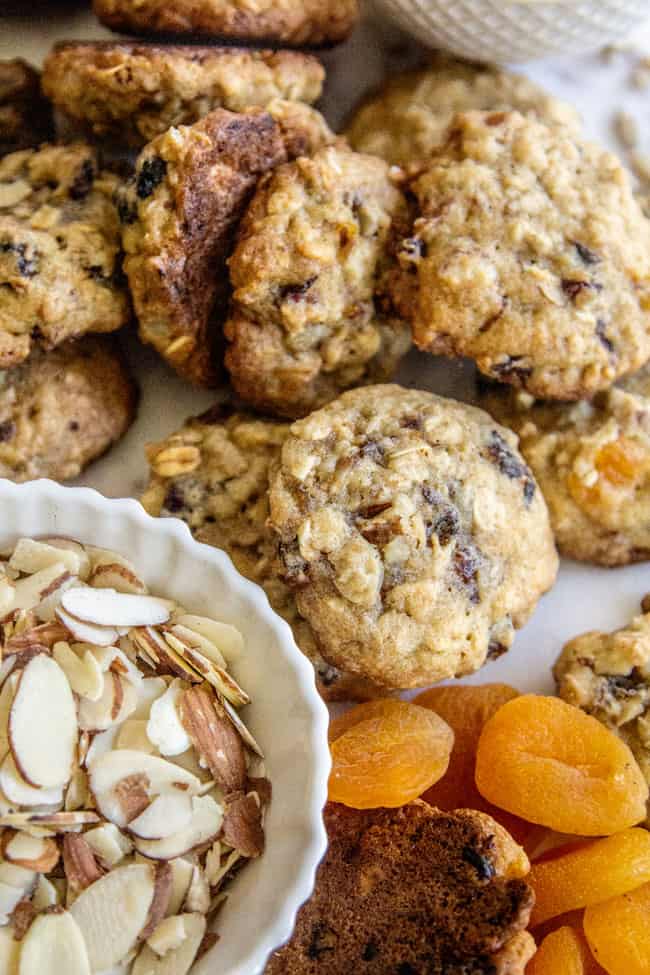 If you are asking yourself, "Should I have an Oatmeal Breakfast Cookie for breakfast?" The answer is a resounding yes! With whole grain oatmeal, four types of dried fruit including California prunes, two types of nuts, and one hearty seed rounding out the ingredient list, these cookies are actually a better breakfast choice than your sugar-laced bowl of cereal!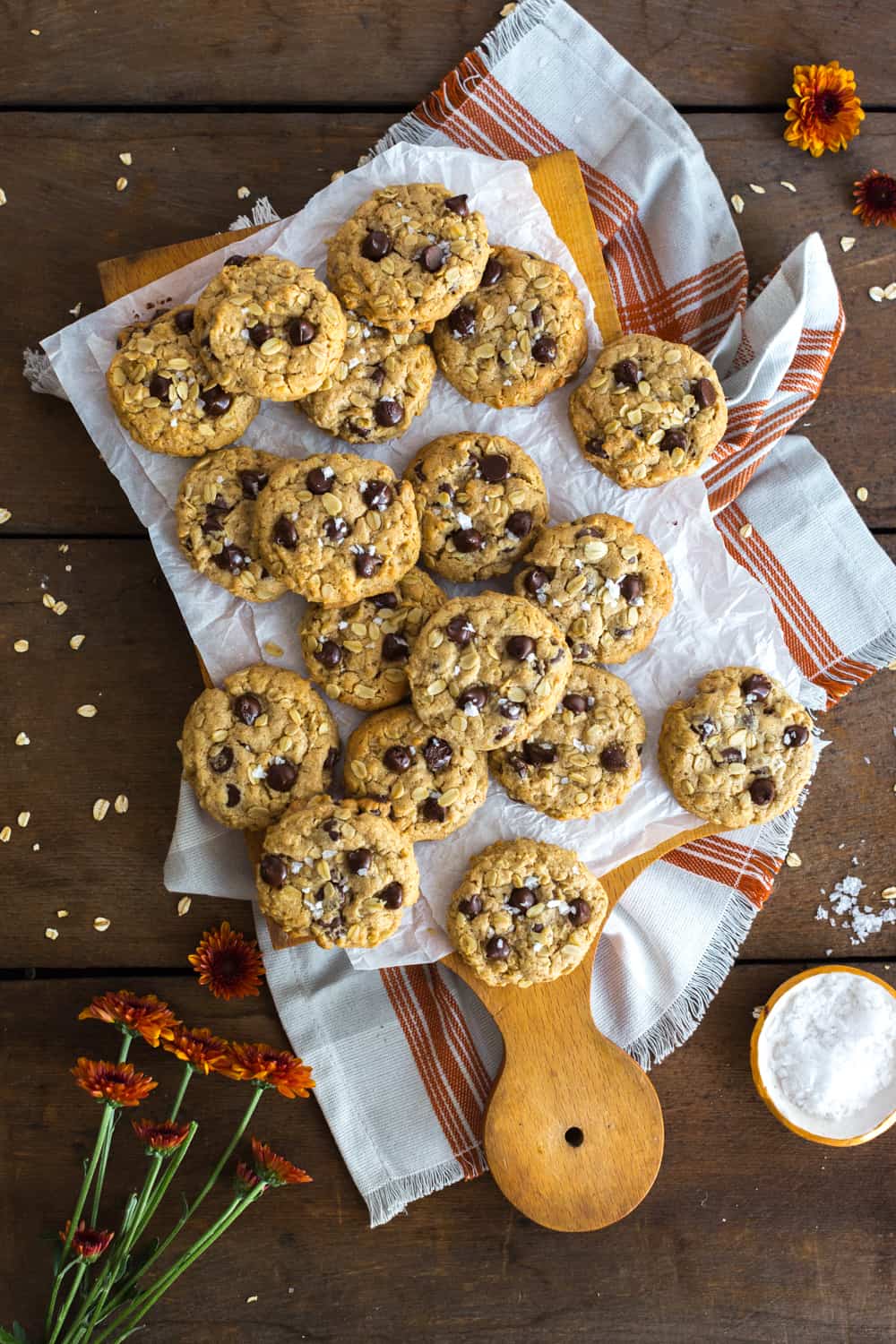 These hearty cookies from Baking the Goods combines a hearty mix of chewy thick rolled oats, warm cinnamon, toasty almond butter & dark chocolate chips, finished with flaky sea salt.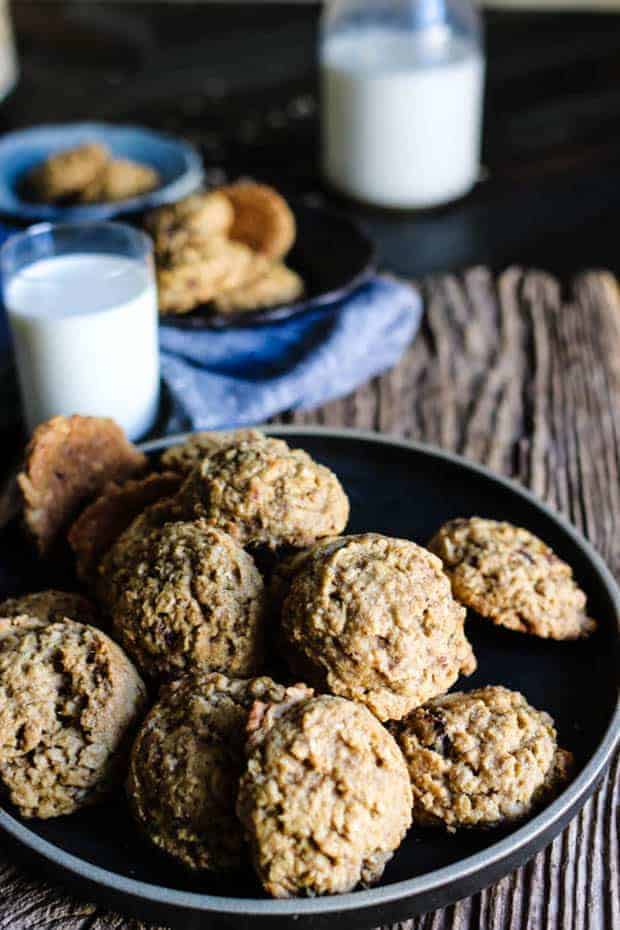 Buttery, brown sugar laced oatmeal cookies that are studded with chewy dates, vanilla beans, and cinnamon?! Yes please! This Mess is Ours swears by these oatmeal cookies and we can see why.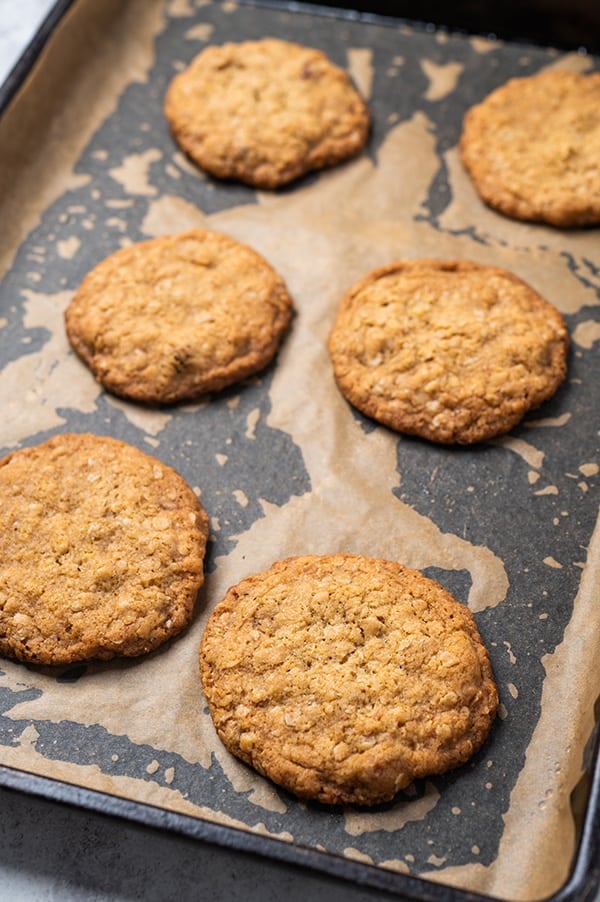 Craving more CA Grown goodness? Follow us on Pinterest for fresh and fabulous recipe inspiration!
BE SURE TO SHARE YOUR HEALTHY OATMEAL COOKIE RECIPES WITH US BY SNAPPING A PIC AND TAGGING US ON SOCIAL USING #CAGROWN.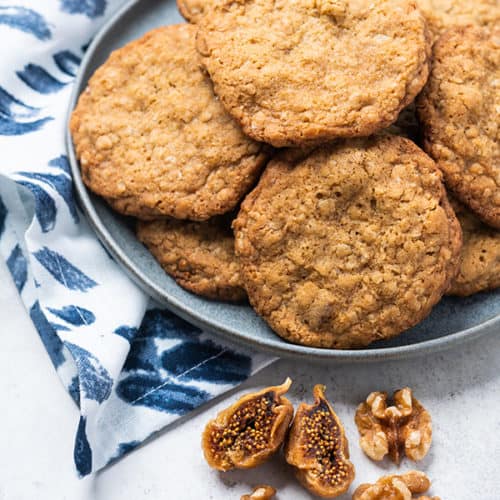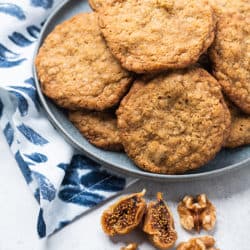 Oatmeal Cookie with Figs and Nuts
This healthy oatmeal cookie is loaded with golden dried figs and crunchy walnuts, which make it incredibly chewy and moist.
Ingredients
1 cup butter, softened
1/2 cup granulated sugar
1 cup brown sugar
1 egg
1 teaspoon vanilla
1 2/3 cup flour
3/4 teaspoon baking soda
1/4 teaspoon baking powder
1/4 teaspoon salt
1/8 teaspoon ground nutmeg
1 1/2 cup quick cooking oats
1/2 cup dried golden figs
1/2 cup walnuts, chopped
Instructions
Preheat oven to 350°F. Line a baking sheet with parchment paper.

Using a mixer, mix together the butter and sugars until fluffy.

Add in the egg and vanilla and mix until combined well.

In another bowl, add the flour, soda, powder, salt and nutmeg and stir well. Add in batches to the butter mixture, mixing well after each addition.

Fold in the oats, figs and walnuts until evenly distributed.

Scoop 2 tablespoons of dough onto the parchment paper, making sure to keep at least 3 inches between scoops.

Bake for 12-14 minutes or until done. Cookie may not look all the way done in the middle but it will continue to cook for a few minutes after removed. Allow to cool on the pan for a few minutes and then transfer cookies to a cooling rack.
Video
Notes
Store in an airtight container for up to 1 week.
Nutrition
Calories: 196kcalCarbohydrates: 26gProtein: 2gFat: 10gSaturated Fat: 5gPolyunsaturated Fat: 2gMonounsaturated Fat: 2gTrans Fat: 1gCholesterol: 27mgSodium: 130mgPotassium: 76mgFiber: 1gSugar: 15gVitamin A: 247IUVitamin C: 1mgCalcium: 25mgIron: 1mg
Frequently asked questions about California figs.
When can I find California Fresh Figs?
California Fresh Figs are available mid-May through November. The season can vary slightly from year to year due to the weather. The availability is also different for each variety. For example, Black Mission are available mid-May through November while Tiger Figs are available mid-July through November. Click here to view varieties and click here to find and order fresh figs.
How can I tell if my figs are California Figs?
Look for California Grown or Product of USA. 100% of dried figs and 98% of fresh figs grown commercially in the U.S. are from California.
Where can I find California Figs?
California Figs are available at most major grocery retailers. Fresh figs are available May – November and can be found in the produce section. Dried figs are available year-round and can be found in the produce section or snacking aisle with other dried fruits.
How long will dried figs last?
Dried figs can be stored at room temperature for up to 1 month. When stored in the refrigerator, the figs will last from 6 months to 1 year.

How do I store dried figs?
Dried figs should be stored in airtight containers in a cool, dry place. They can also be stored in the refrigerator to increase their shelf life.