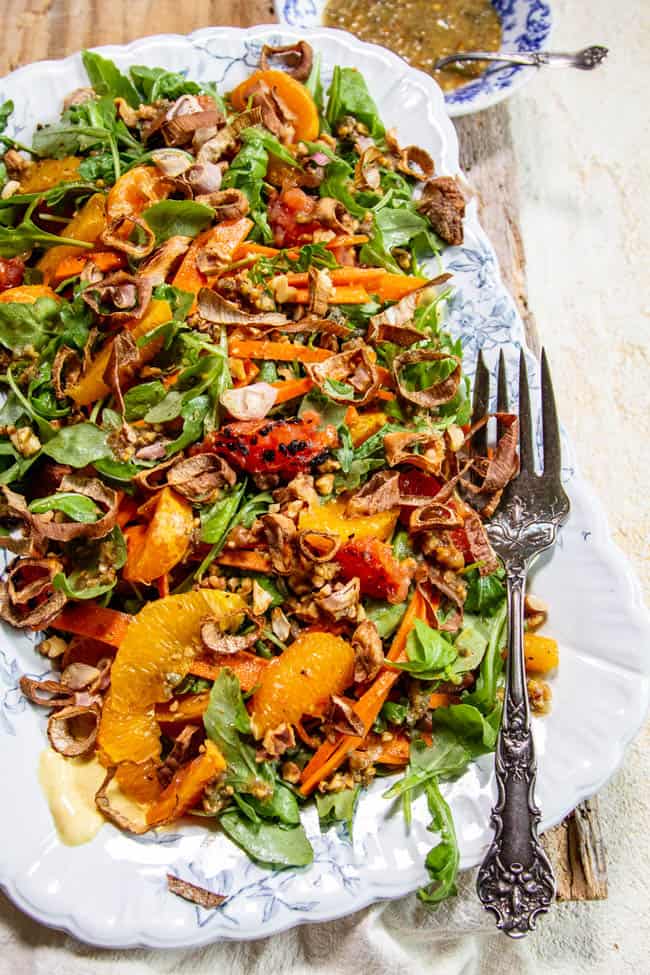 CA GROWN Blog
Discover. Learn. Connect.
A Simple Holiday Salad with Citrus and Toasted Walnut Vinaigrette
November 9, 2021
Eat the Season!
Sign Up For Weekly Recipes
« Back to Recipes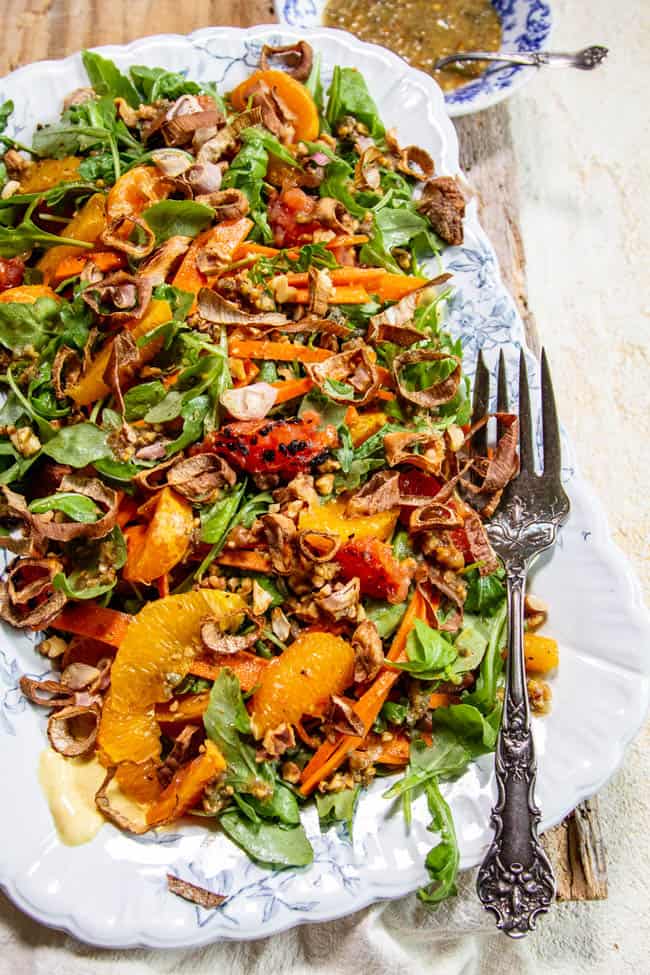 A Simple Holiday Salad with Citrus and Toasted Walnut Vinaigrette
This holiday Salad with Citrus and Toasted Walnut Vinaigrette is a bright and vibrant side dish that is sure to be a hit at any holiday gathering. Every single bite of this holiday salad is loaded with flavor and lots of texture too! With three types of broiled and fresh citrus, a luscious turmeric yogurt base, and crispy shallots this salad is as colorful as it is flavorful.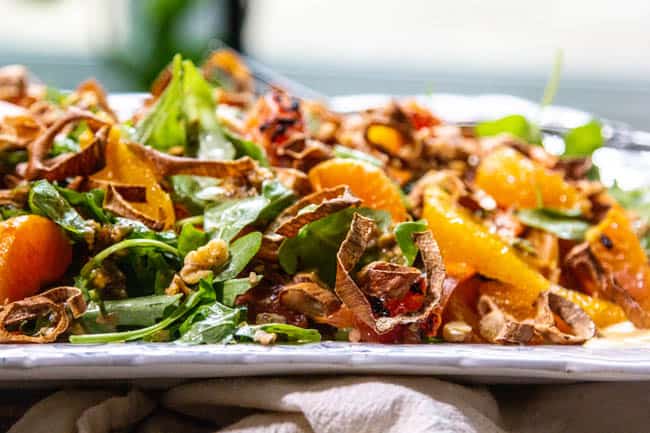 Ingredients needed to make this Holiday Salad with Citrus and Toasted Walnut Vinaigrette.
Citrus:
This recipe is loaded with broiled and fresh citrus. The mix of the tangy broiled grapefruit along with sweet fresh Navel and mandarin oranges is spectacular. You could use any combination of your favorite citrus or varieties that you have access to at your local market.
Here are a few citrus combinations that are on our list to try in this salad next:
Broiled Blood Orange with fresh Cara Cara and Mandarin
Broiled Navel Orange with fresh Blood Orange and Tangerine
Arugula:
Did you know that it's always lettuce season in California? The alternating climates in Southern & Northern California are optimal and allow leafy greens to be grown here year-round. We love the spicy bite of arugula in this holiday salad. Do you like leafy greens that are milder in flavor? You can make this salad with baby spinach instead!
Carrots:
California is actually the carrot capital of our country, producing about 80 percent of the nation's crop! Pretty cool, huh? We love how the slightly marinated carrot ribbons in this salad give each bite texture and a subtle earthy sweetness.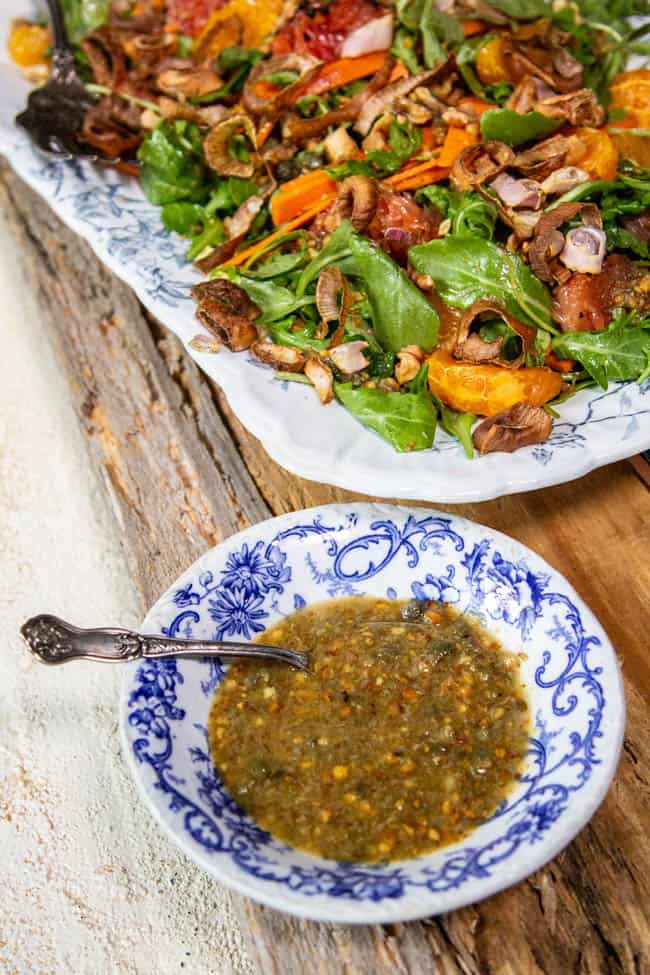 Walnuts:
This salad has a double dose of walnuts and we are here for it! We scattered chopped toasted walnuts throughout the layers of this salad. This ensures every bite has the sweet, nutty flavor and aroma of walnuts. The toasted walnut vinaigrette for this salad is a savory meets sweet flavor bomb of a situation with lots of briny capers, honey, and garlic. It's fantastic on all sorts of dishes beyond just this salad too.
Turmeric Yogurt:
I personally like to add a touch of dairy to our salads. Whether it be cheese, a tangy yogurt smear on the serving platter, or a creamy dressing. I love dairy-laced greens!
For this holiday salad, we opted for a base of creamy yogurt tinted yellow with turmeric. The yogurt gives this otherwise juicy salad a bit of heft and adds a luscious creaminess to each and every bite.
Crispy Shallots:
Do those crispy shallots look familiar? We have been eating them on repeat since we made our Fresh Fig & Grape Salad with Crispy Shallots. We have been making them in the air fryer with just a smidge of olive oil almost weekly.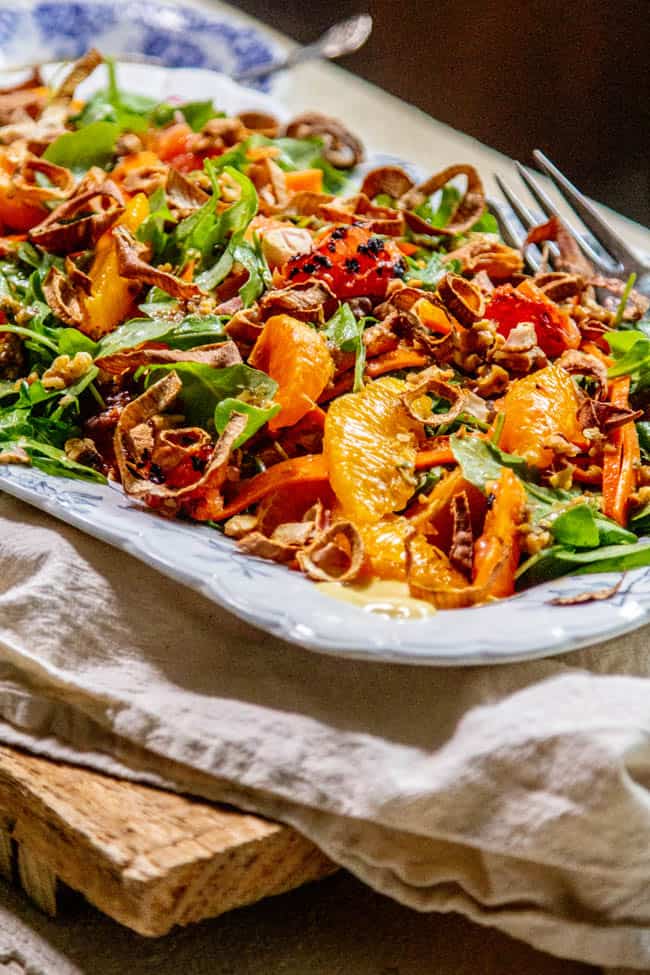 This holiday salad is a welcome bright spot on the holiday table which is typically known for its heavier dishes.
Looking for more recipes for salad with citrus? Keep scrolling for more recipes!
We are super fans of California Grown citrus, clearly. But, we think you just might be too! The recipes below are some of our favorite ways to explore creating salads with citrus. Whether the citrus is a key component or just a heavy influence from the salad dressing doesn't matter to us. We think all salads can benefit from the vibrant flavor boost that fresh citrus offers.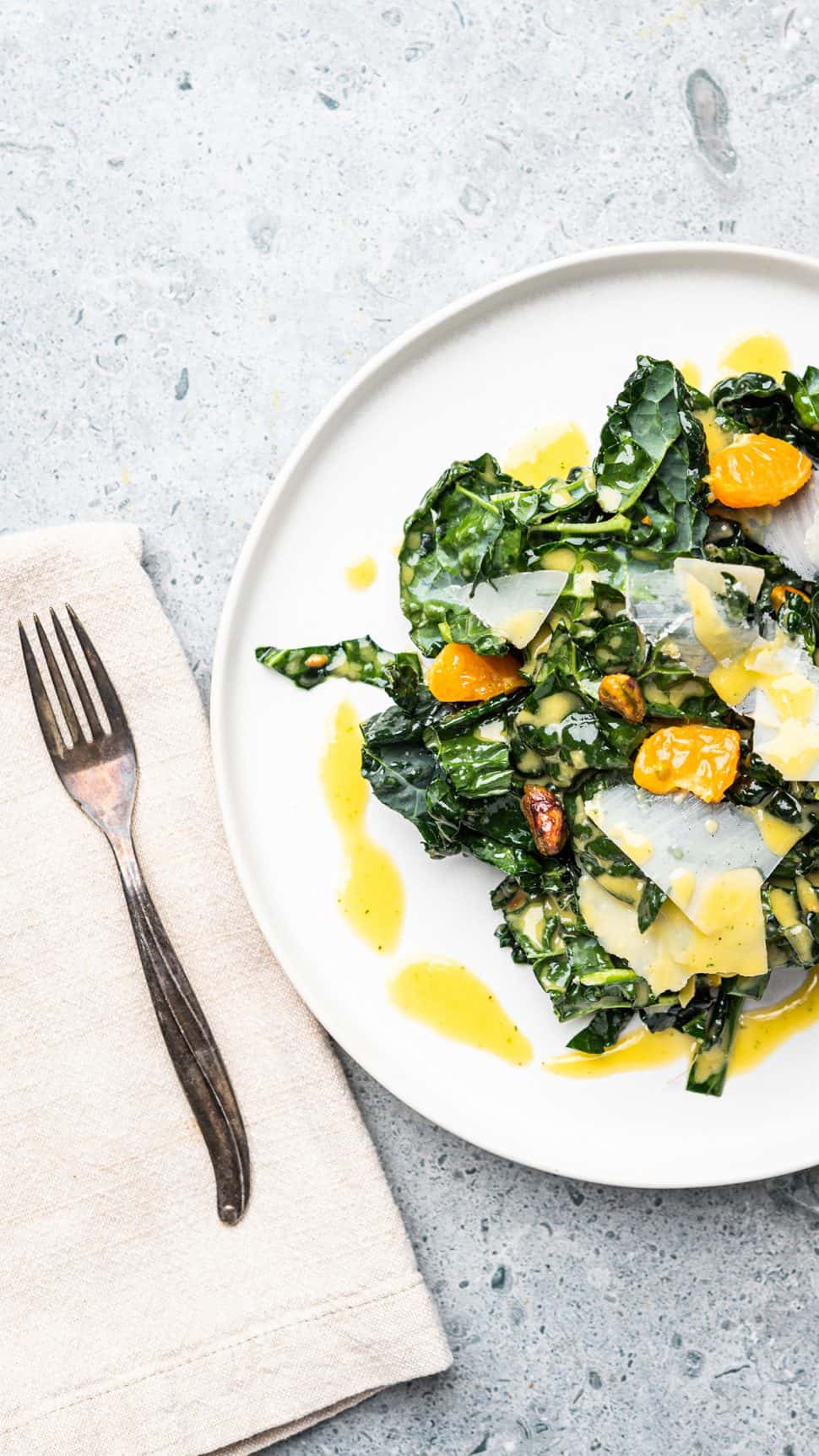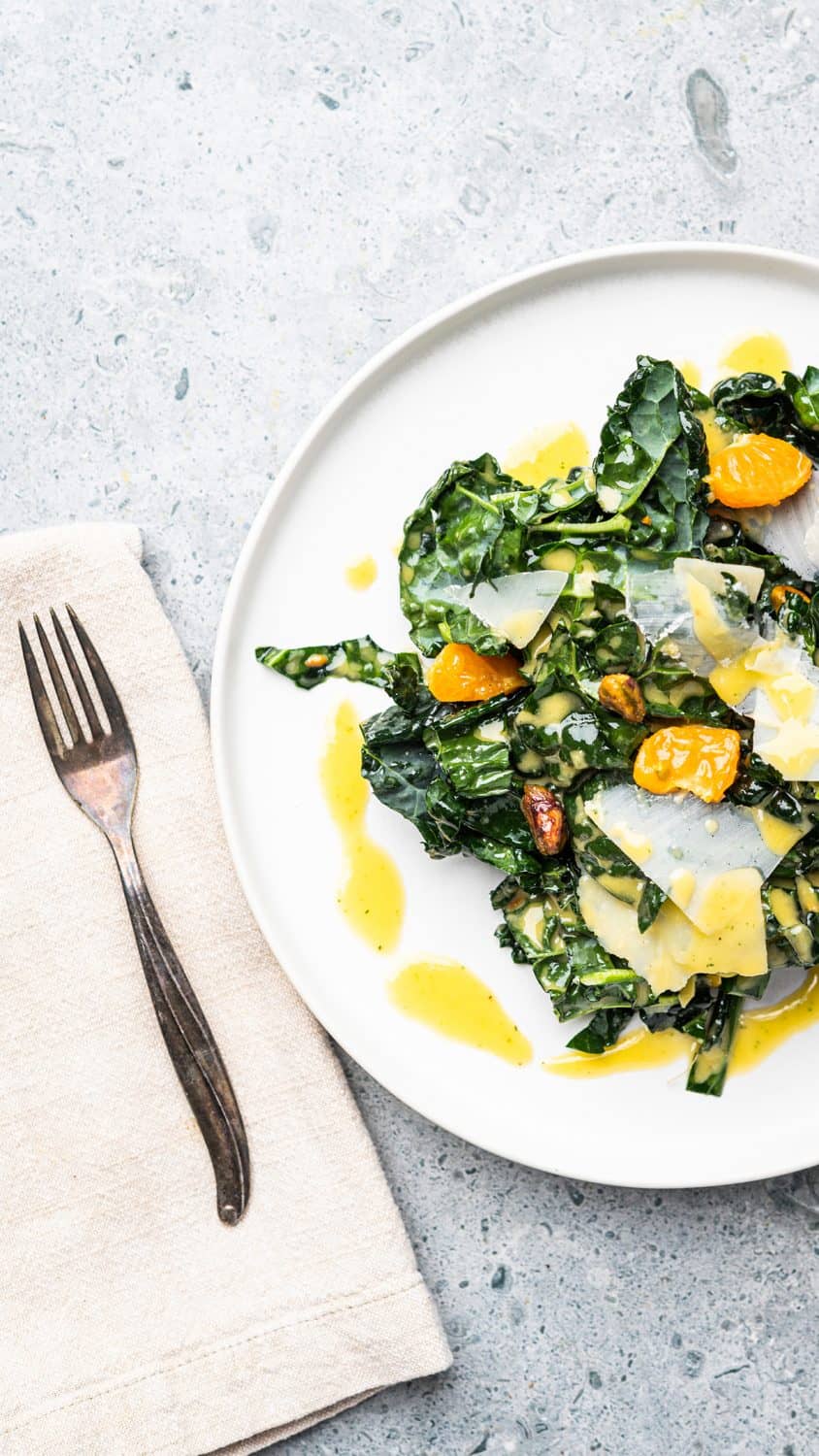 This vibrant salad with citrus marries one of our favorite hearty leafy greens, Lacinato or Tuscan kale with sweet tangerines, and crunchy pistachios. This is the perfect salad to brighten a dreary day!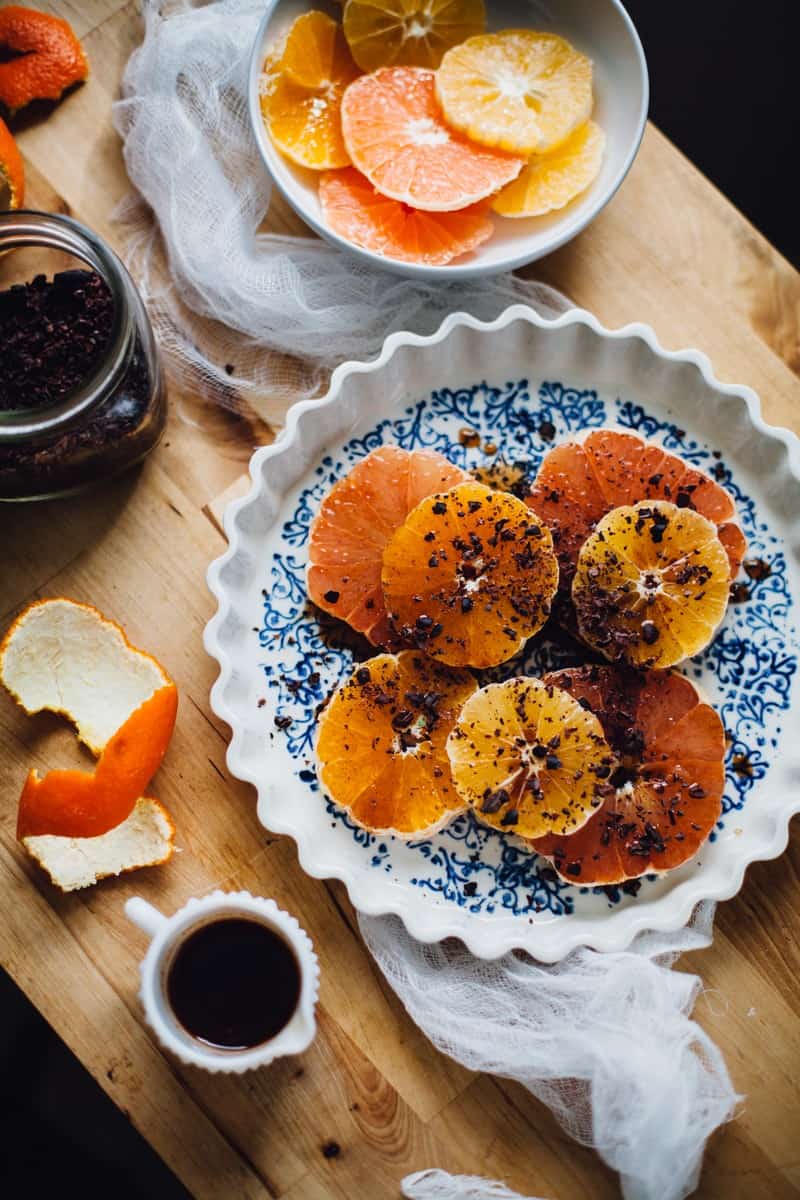 Bright, warm, tangy, and sweet, this citrus salad from Salt & Wind is for those who sought out Warhead candies as children.
It's an elegant play between tartness and sweetness that we absolutely love paired with crunchy cacao nibs.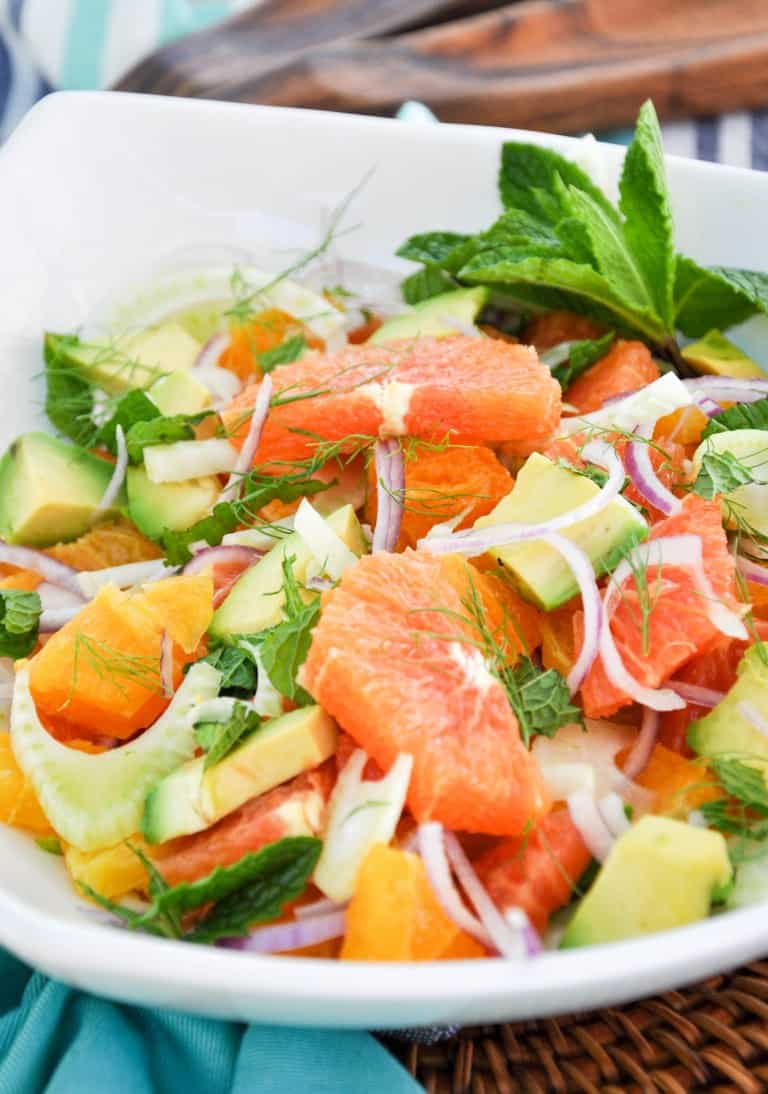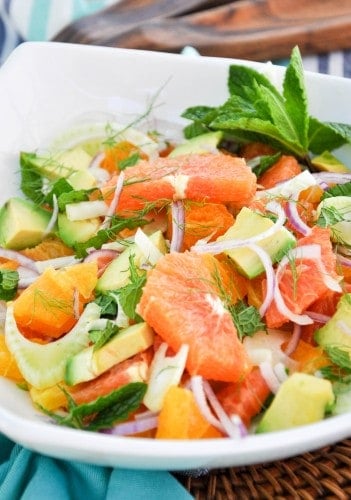 This is the perfect salad with citrus for when your tastebuds need a pick me up! This recipe pairs the bright flavors of three different types of citrus with fennel, red onion, and avocado.
Do yourself a favor and make a double batch of the poppyseed dressing – it's worth having on hand in the fridge!
Be sure to share your holiday salad creations with us by snapping a pic and tagging us on social using #CAGROWN.
Craving more CA Grown goodness? Follow us on Pinterest for fresh and fabulous recipe inspiration!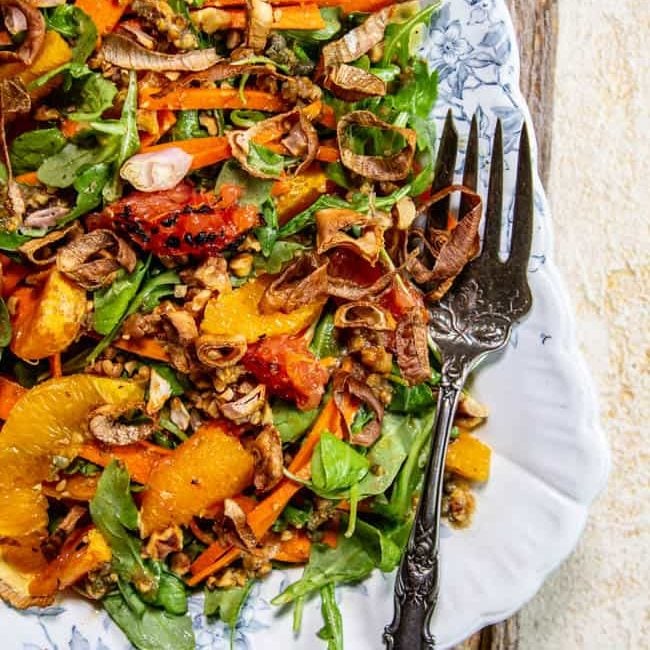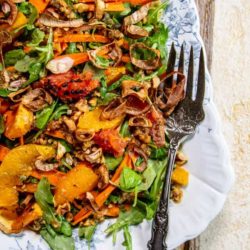 Simple Holiday Salad with Citrus and Toasted Walnut Vinaigrette
This Holiday salad with citrus has 3 types of broiled & fresh citrus, creamy turmeric yogurt, a toasted walnut vinaigrette, & crispy shallots!
Ingredients
For the Turmeric Yogurt
1/2 cup Greek yogurt
1/2 teaspoon ground turmeric
1/8 teaspoon coarse kosher salt
1/8 teaspoon coarsley ground black pepper
For the Toasted Walnut Vinaigrette
3/4 cup chopped toasted walnuts divided, see recipe notes
1 clove garlic finely grated
1/4 cup extra virgin olive oil
1 tablespoon capers drained
1/2 tablespoon honey
2 tablespoons apple cider vinegar
coarse kosher salt and black pepper to taste
For the holiday salad with citrus
2 medium carrots shaved with a mandoline or vegetable peeler
1 grapefruit rind and pith removed
2 Navel orange rind and pith removed, segmented
2 mandarin oranges peeled and separated
5 ounces arugula
1/2 cup fresh flat-leaf parsley leaves
1 cup crispy shallots homemade or store bought
Instructions
Make the Turmeric Yogurt
Stir together all of the ingredients and set them aside.
Make the Toasted Walnut Vinaigrette
In a food processor, pulse 1/2 cup of the toasted walnuts, garlic, olive oil, capers, and honey together until the nuts are in small pieces. Transfer to a bowl and stir in the vinegar; season with salt and pepper.
To assemble the Holiday Salad with Citrus
Preheat the broiler to high and move one rack to the top position closest to the broiler. Place the prepared grapefruit on an aluminum foil-lined baking sheet and char for 7-12 minutes, turning occasionally. Cool to room temperature.

Toss the shaved carrots with 2 tablespoons of the prepared Toasted Walnut Vinaigrette, set aside to marinate.

When the citrus is cool enough to handle, segment the grapefruit into supremes over a bowl so that all of the juices are collected. Add the fresh orange and mandarin segments to the bowl and toss to combine with the juice of the broiled grapefruit.

In a separate bowl, toss the arugula and parsley with a few tablespoons of dressing. Chop the remaining 1/4 walnuts.

To serve, smear the prepared yogurt across the bottom of the serving platter. In alternating layers, pile on the carrots, arugula, chopped toasted walnuts, and citrus segments.

Repeat layering ingredients thinly on top of each other until all of the ingredients have been used the sprinkle the top of the salad with crispy shallots to serve.
Notes
To toast walnuts:
Preheat the oven to 350°F. Toast walnuts on a rimmed baking sheet, tossing halfway through, until slightly golden and fragrant, about 8-10 minutes. Let cool.
Click here to view the Google Web Story for this post!
Frequently asked questions about California Grown.
How many crops are grown in California?
California grows more than 400 different commodities, growing more than a third of the country's vegetables and two-thirds of the country's fruits and nuts​.​ California is the leading agricultural state in the nation​.​
In the United States, which crops are only grown in California?
California is the sole United States producer of almonds, artichokes, dates, raisin grapes, kiwifruit, olives, clingstone peaches, pomegranates, sweet rice, clover seed, and walnuts.