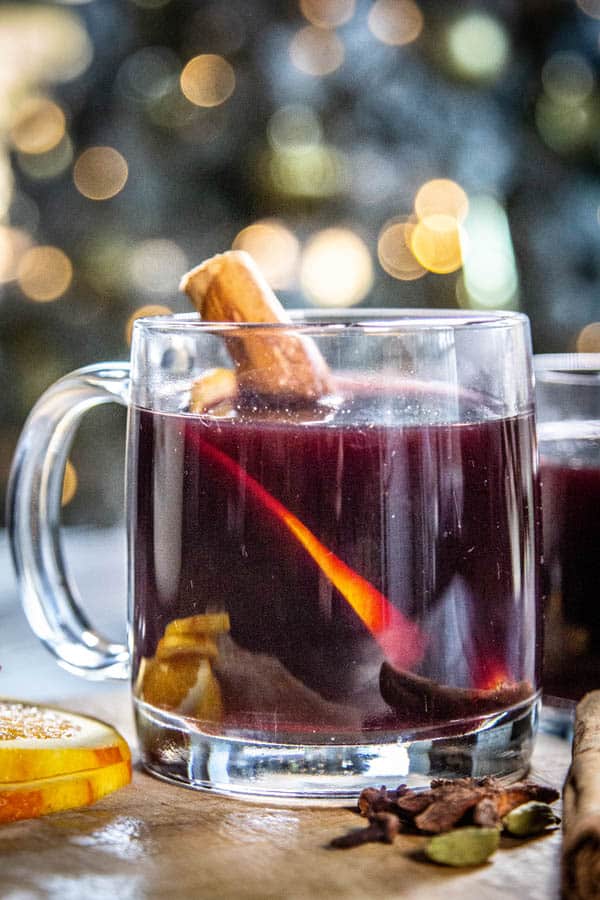 CA GROWN Blog
Discover. Learn. Connect.
What is Mulled Wine? How to Make it and 5 Easy Recipes.
December 7, 2021
Eat the Season!
Sign Up For Weekly Recipes
« Back to Recipes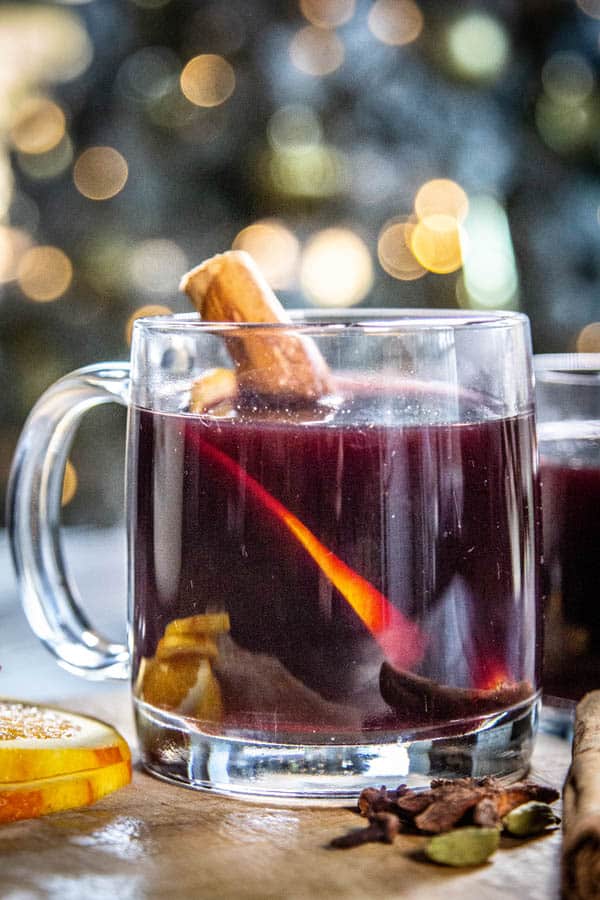 What is Mulled Wine? How to Make it and 5 Easy Recipes.
Ever wonder, what is Mulled wine? For some, mulled wine is a familiar holiday tradition; for others, mulling spices with red wine is an experience yet to be discovered. But what exactly is mulled wine? How do you make it? And what does mulled wine taste like? Keep scrolling to find out how to serve up our favorite glasses of holiday cheer.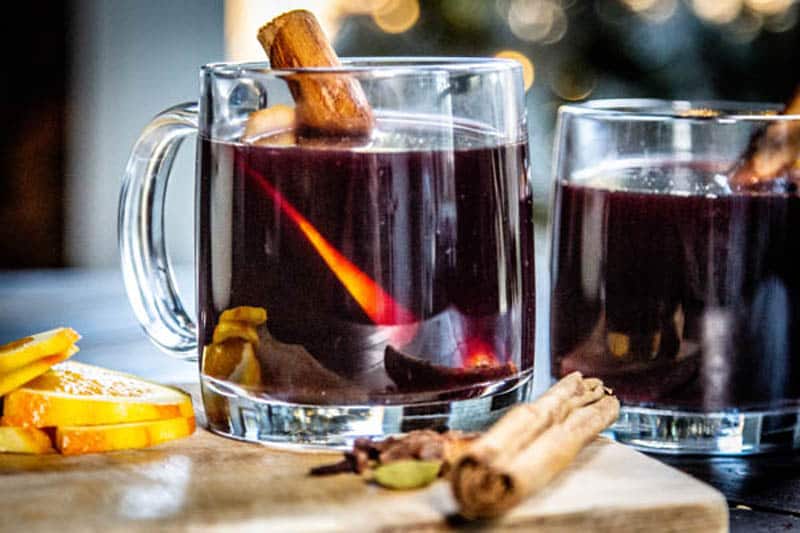 What is Mulled Wine?
Mulled Wine, sometimes referred to as Spiced Wine, refers to wine, most often of a red variety, infused with various fruits and spices then served warm. This traditional European drink is quite popular around the holidays and is synonymous with Christmas markets all around the world.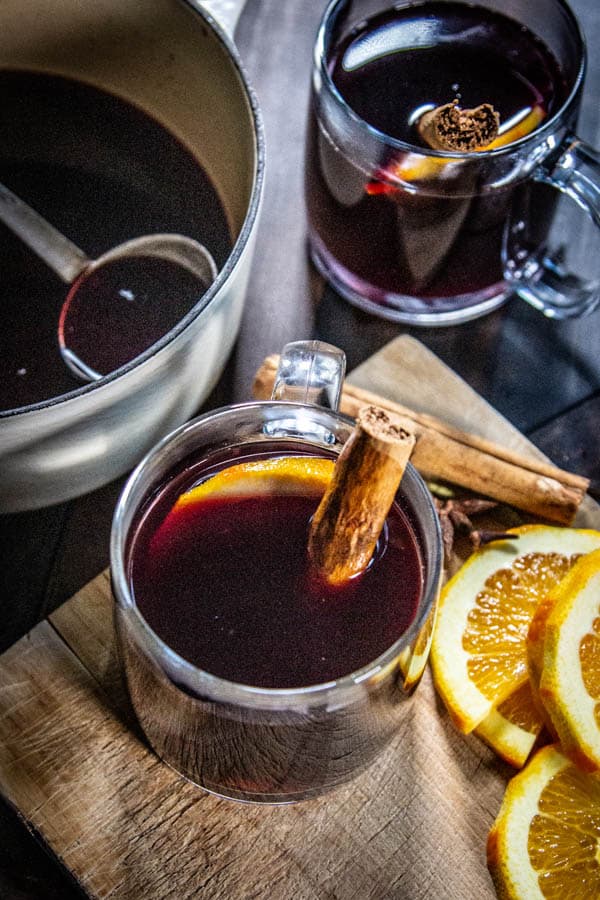 Where is the origin of Mulled Wine?
Now that you know the answer to the burning question, what is mulled wine? You are probably wondering where it came from.
Spiced wine is very popular in Europe and has been served during the winter months for centuries.
Depending on the country of origin, mulled or spiced wine may go by a slew of different names such as Vin Brule (Italy), Vin Chaud (France), Krasomelo (Greece), Glogg (Sweden), Glühwein (Germany), and more!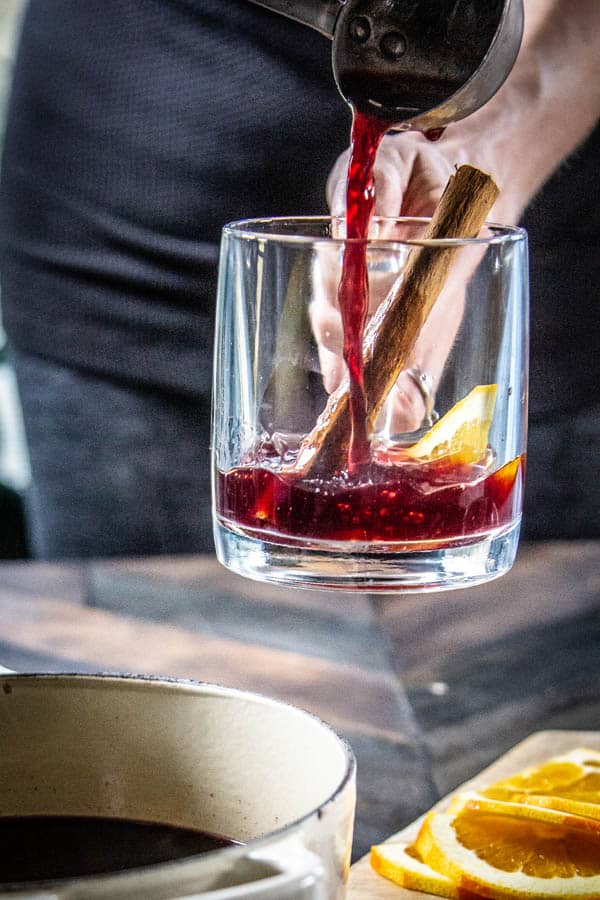 What does Mulled Wine taste like?
Many wines contain similar flavor notes to spiced wine, so it isn't hard to imagine the flavor if you haven't had it before.
Spiced wine can have fruity, tart, sweet and smoky notes; however, the warm flavors of this cocktail are more robust due to the added ingredients. Spiced wine is almost always sweeter and fruitier in flavor than red wine due to the added sugar and fruit used to flavor the cocktail.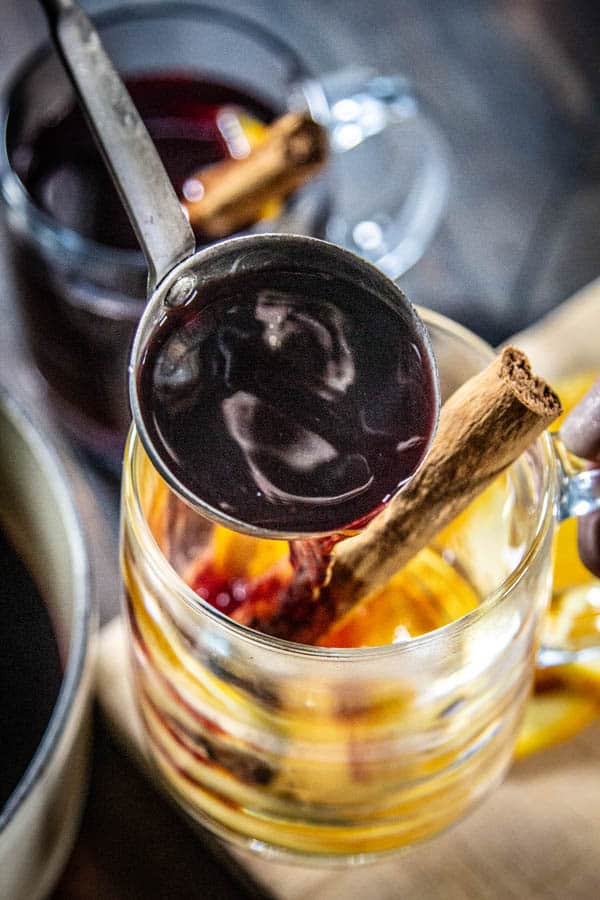 Can you buy Mulled Wine premade?
Yes, you can purchase premade spiced wine during the holiday season at most well-stocked liquor stores or grocery chains. There are lots of great options available for purchasing spiced wine from wineries right here in California too!
However, it's very easy (and often cheaper) to make your own mulled wine at home. Honestly, if you have any semblance of a spice cabinet you probably have most of the ingredients you need on hand.
Spiced wine often calls for whole spices. This is another great reason to make your own because most whole spices have a shelf-life of only about a year. So, this recipe is clearly a great way to make use of whole spices before they expire!
Plus, when you make spiced wine at home you can customize the ingredients to your liking!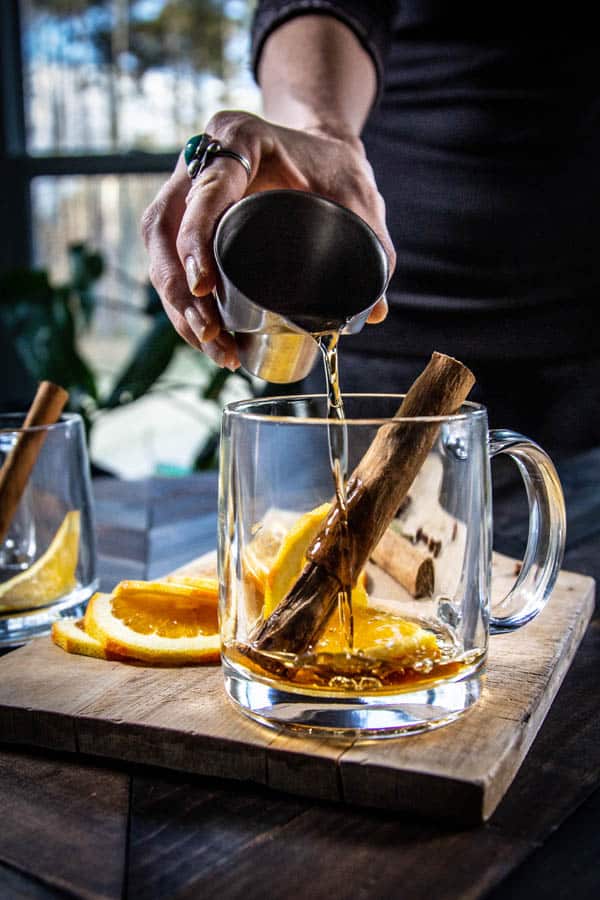 What ingredients are needed to make Mulled wine at home?
There are lots of variations of mulled wine recipes around the internet, but the basic composition is the same.
Wine: Traditionally red wine is used, but we have recently seen a pretty delicious white wine-based version hit the internet and we are here for it!
Some type of sweetener: This could be granulated or caster sugar, a sugar syrup like in our recipe below, apple cider, or even a natural sweetener like honey.
Whole mulling spices: The basics are cinnamon, star anise, cloves, ginger, and cardamom pods. Some people, myself included, even like to add vanilla
Fruit: Typically recipes call for citrus fruits like oranges, lemons, and limes. However, seasonal fruits like apples and pears are sometimes used to make spiced wine as well.
Other liquors: Sometimes variations of spiced wines, like ours, have other liquors added to them like brandy, orange liqueur, or bourbon.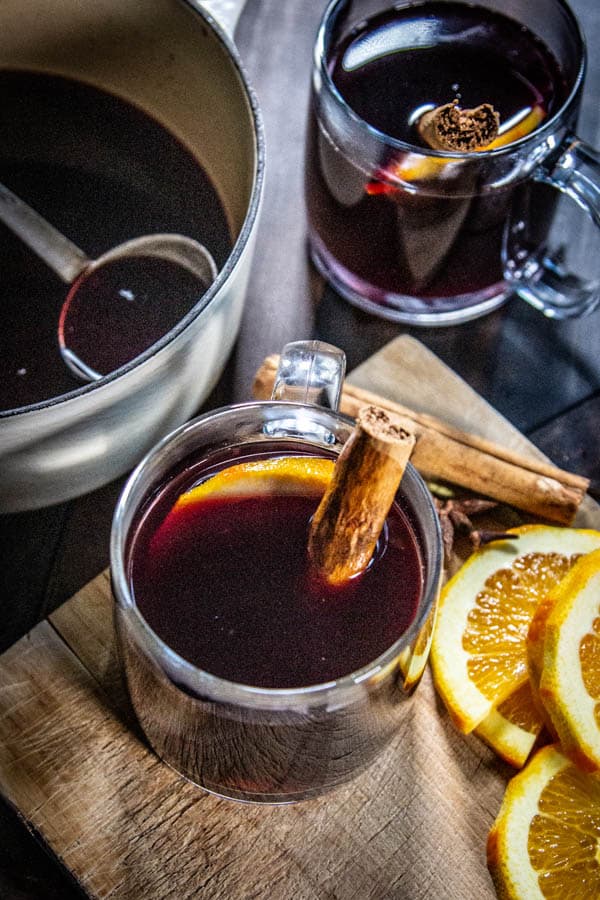 What is the best wine for making Mulled wine?
Well, that is honestly up to you and your flavor preferences.
Some popular red wine varieties are Merlot, Zinfandel, Sangiovese, and Grenache. Typically, you are looking for wines that are described as dark, fruit-forward, and full-bodied with flavor notes that are often characterized as "jammy".
Homemade spiced wine is also a great way to repurpose a sub-par bottle of wine into something delicious! Have a wine ya can't stand drinking solo? This is where you want to use it!
In other countries, other types of red wine are more traditionally used for making warm wine cocktails. Like in Italy, a version of Vin Brulé called Bisò, is made in the Emilia-Romagna region with Sangiovese wine.
Whatever you do when making spiced wine, just don't mix varietals, like one bottle of Cabernet and one bottle of Pinot Noir together. That is a straight-up no-no!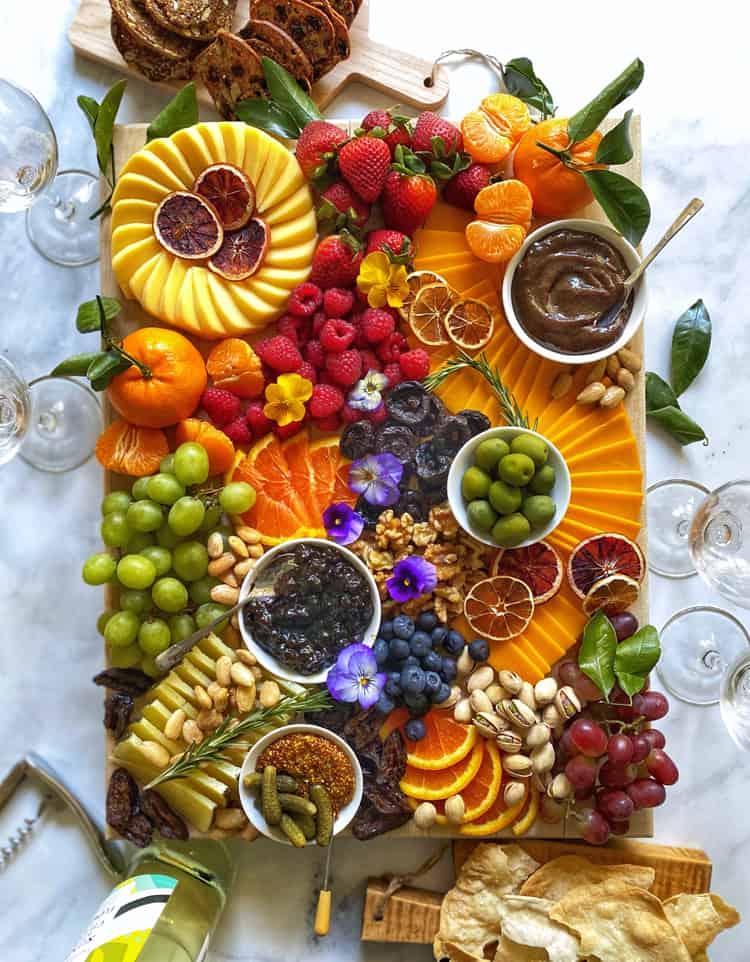 What foods pair with mulled wine?
Cheese: Warm spiced wine pairs well with creamy and salty cheese such as Blue cheese, aged Cheddar, Roquefort, Wensleydale, Comté cheese, and Camembert.
Nuts: Roasted nuts go amazingly well with spiced wine.
Dessert: Oh yea babe, serving warm wine cocktails with dessert is something special! Try pairing it with a slice of chocolate cake or even a mulled wine-inspired pear tart!
Looking for more mulled wine inspiration? Keep on scrolling!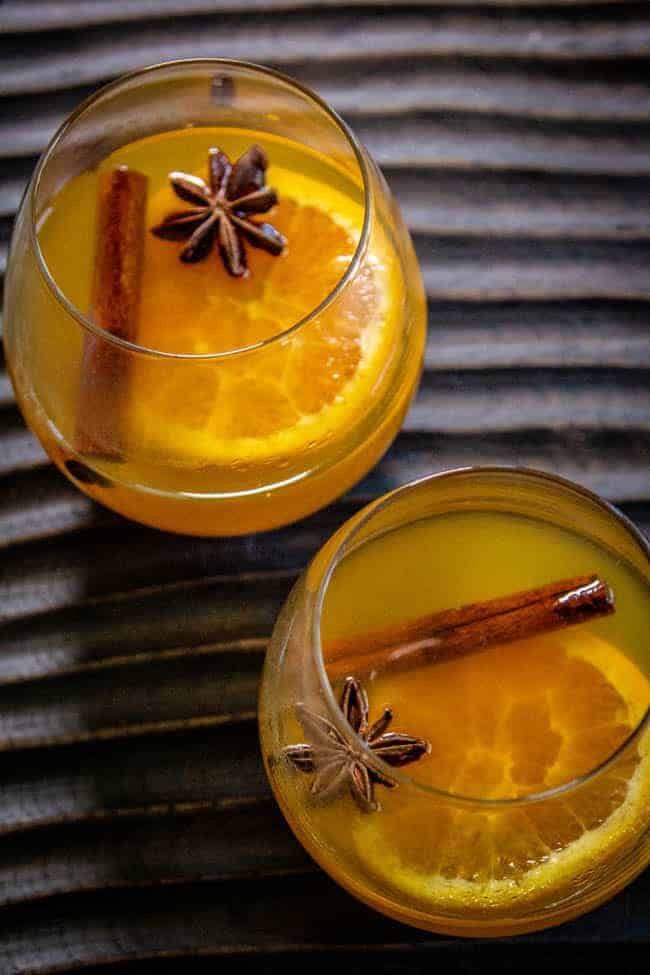 Aromatic white wines such as Riesling, Muscat (Moscato), or Chenin Blanc are all great choices for making mulled white wine.
For this pumpkin spice-inspired version from This Mess is Ours, she opted for a nice buttery Chardonnay.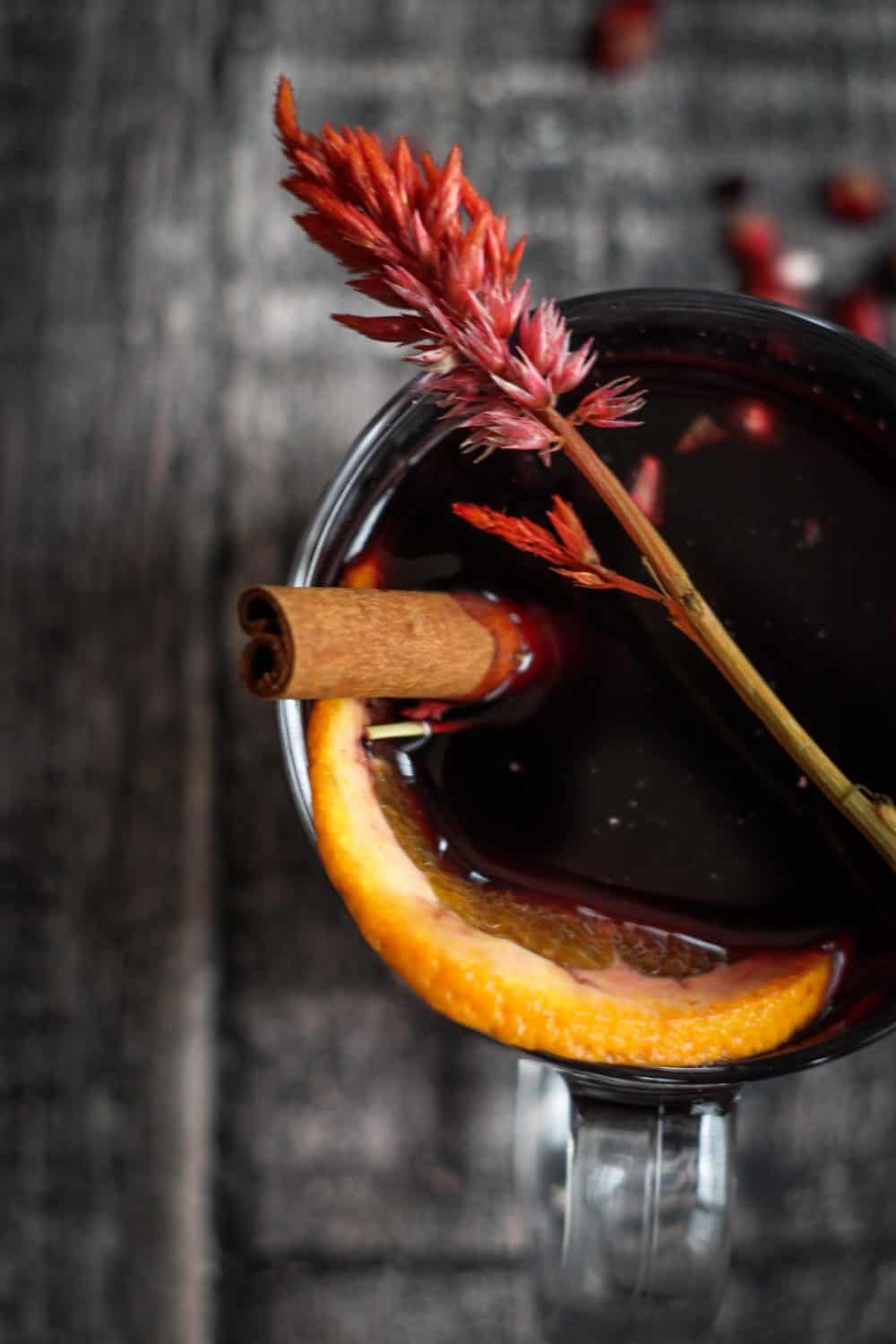 Grab this Warm Winter Mulled Wine recipe from our friend KC the G-Free Foodie & get ready to impress!
Our friends at Salt & Wind featured this warm winter sipper from the California Wines FREE eBook in their holiday wine cocktails round up too. We're in love with it!
This version of spiced wine is as festive as it gets and fills the whole house with classic holiday smells!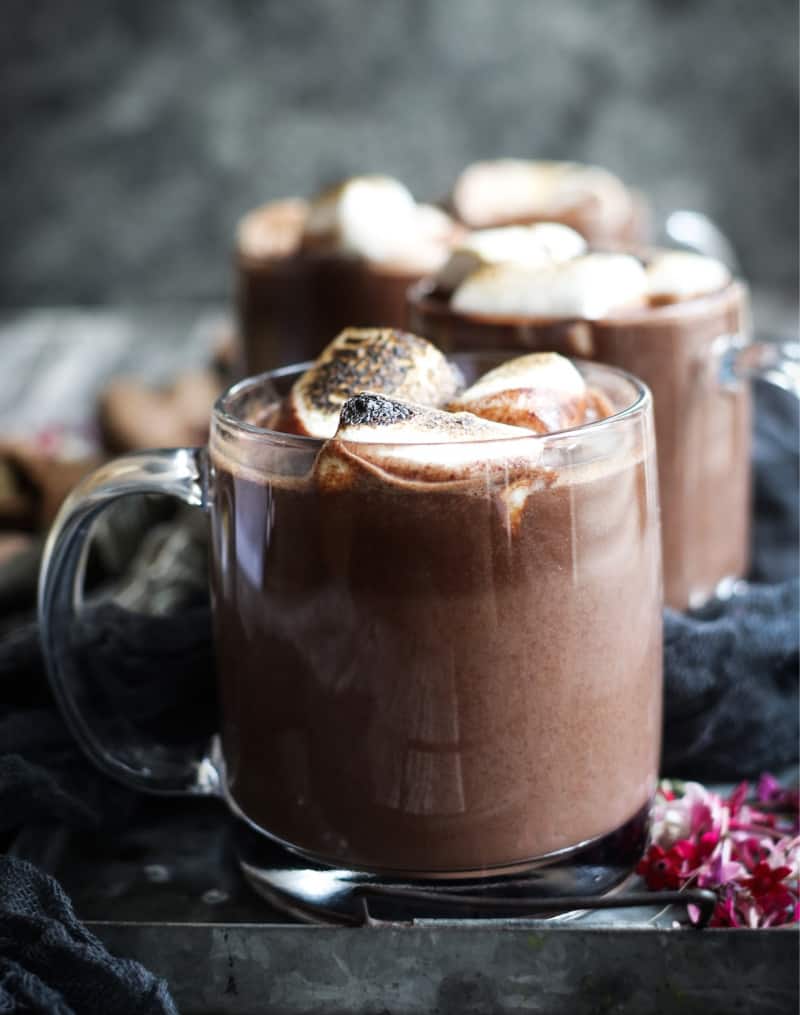 Ok, while technically not spiced wine – we couldn't resist sharing this warm wine cocktail!
This inviting, toasty adults-only cocoa is made with a bottle of fruit-forward California red wine, like Merlot or Zinfandel. It can be prepared in a slow cooker or on the stovetop, so you can choose the wine and the method that suits you best.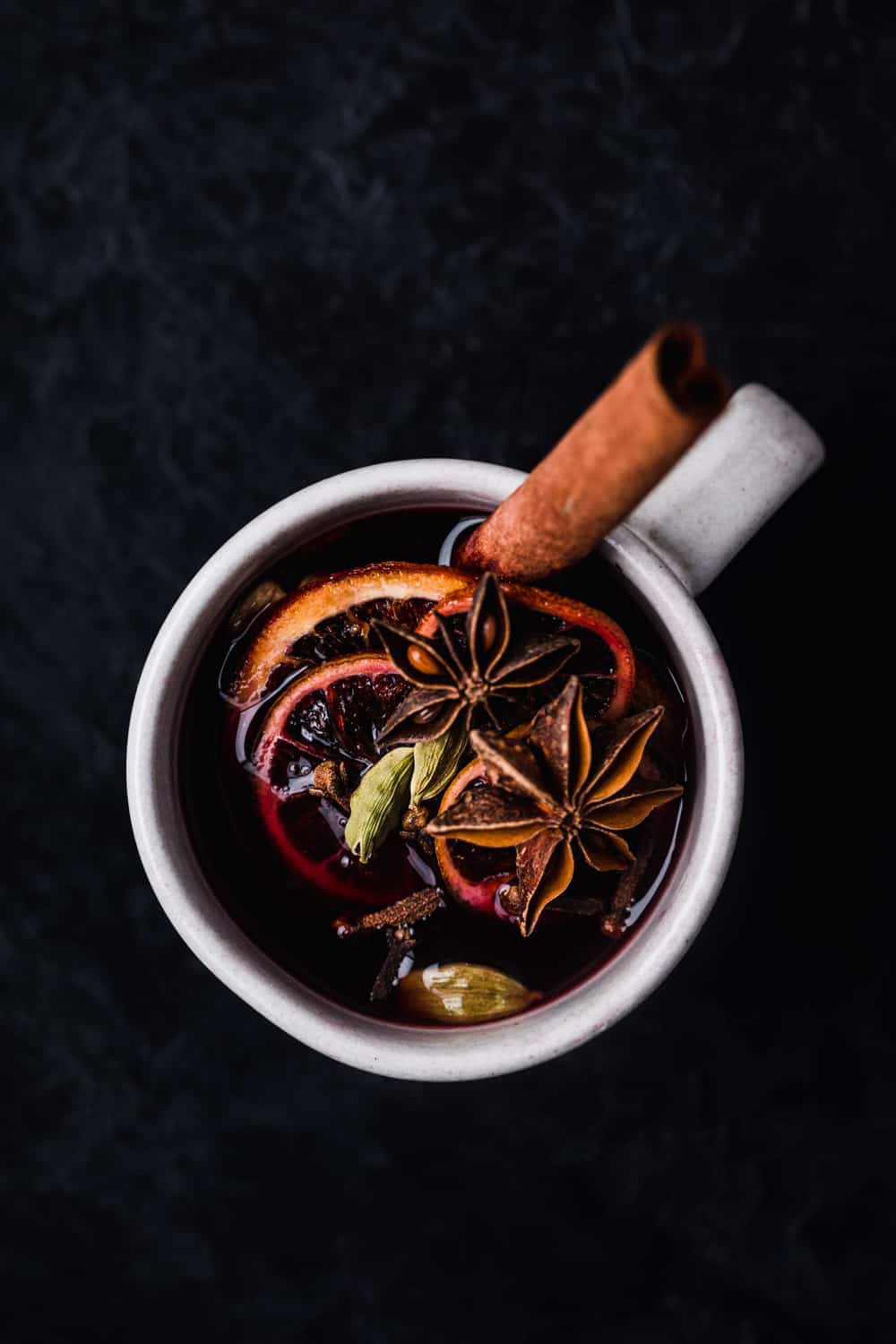 Waves in the Kitchen takes us down a completely customizable rabbit hole with her spiced wine manifesto!
Trade up the fruit, sweeteners, spices, and wine based on what you like, and create your own spiced wine recipe this holiday season!
If you love all of these spiced wine-inspired cocktails you should check out the FREE Holiday EBook from California Wines! It is packed with delicious and festive recipes for the entire season!
Be sure to share your holiday cocktails creations with us by snapping a pic and tagging us on social using #CAGROWN.
Craving more CA Grown goodness? Follow us on Pinterest for fresh and fabulous recipe inspiration!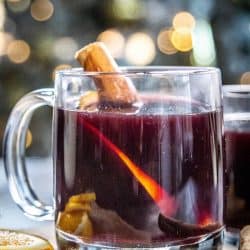 Mulled Wine recipe
This recipe for mulled wine was inspired by Vin Brulé a popular spiced wine recipe served in Italy.
Ingredients
3/4 cup water
1/4 cup granulated sugar
1/2 vanilla bean seeds scraped from the pod
2 cinnamon sticks
2 green cardamom pods cracked open with the back of a knife
12 whole cloves
2 whole star anise
strips of peel from 1 orange no pith, see note
juice of 1/2 an orange
strips of peel from 1/2 a lemon no pith, see note
1 750ml bottle red wine we used Zinfandel, but a more traditional choice would be a Sangiovese.
Optional garnishes
3-4 shots brandy optional, divided, to serve
slices of orange optional, to serve
whole cinnamon sticks optional, to serve
Instructions
Combine the water and sugar in a medium-sized pot over medium heat. Stir periodically until the sugar dissolves.

Lower the heat and add all of the ingredients except for the wine to the pot. Bring back to a simmer and simmer for 1-2 minutes.

Add the wine and stir to combine. Heat over very low heat for 10-15 minutes. Make sure not to boil or even allow this to bubble once the wine has been added. You are just looking for a nice warm heat where you can see the steam rising from the pan, but there is no disruption to the liquid. Allowing the wine to heat too high will cook out the alcohol.

To serve, drop a slice of orange and a cinnamon stick into each mug. Add 1 ounce of brandy to the bottom of the mug if desired then fill the cup the rest of the way with mulled wine.

The mulled wine will be fine kept over the very low heat for a few hours, but never allow it to bubble.
Notes
When peeling citrus for making mulled wine be sure to use a very sharp vegetable peeler to peel the fruit. You want only the zest of the citrus, none of the bitter white pith beneath. The pith will alter the taste of your beverage completely – so take your time when peeling the citrus.
Click here to view the Google Web Story for this post!
Frequently Asked Questions about Mulled Wine.
Does Mulled wine make you sleepy?
Wine is alcohol; alcohol is a depressant, and one of alcohol's effects on the human body is called "somnolence" — the strong desire for sleep. Yes, drinking mulled wine will make you sleepy.