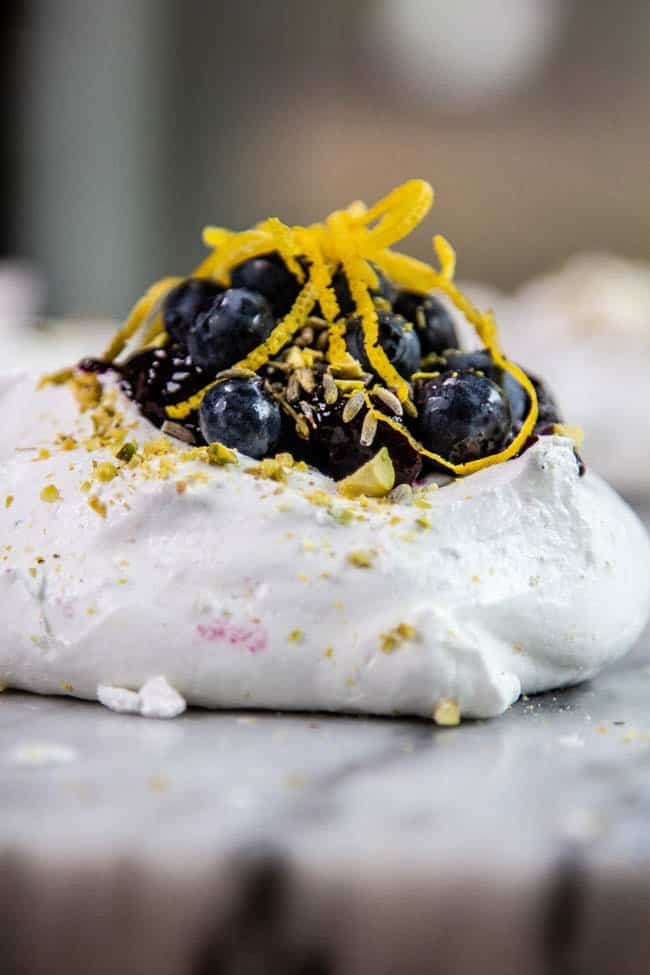 CA GROWN Blog
Discover. Learn. Connect.
An Easy Recipe for Pavlova with Pistachios and Blueberry Lavender Jam
April 5, 2022
Eat the Season!
Sign Up For Weekly Recipes
« Back to Recipes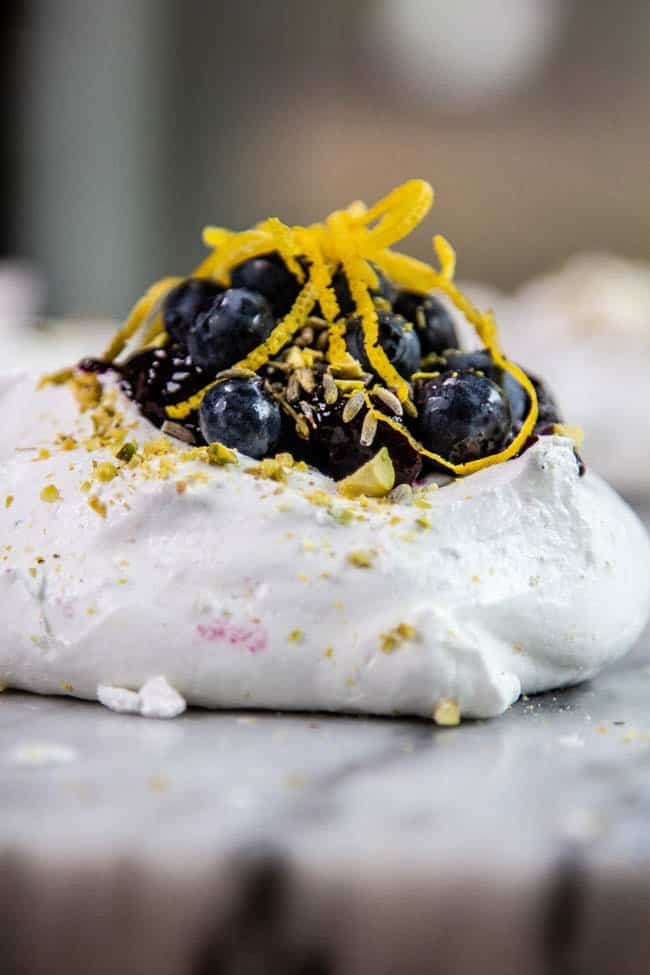 An Easy Recipe for Pavlova with Pistachios and Blueberry Lavender Jam
A classic recipe for pavlova feeds a big crowd all at once, but our Individual Pistachio Pavlovas with Small Batch Blueberry Lavender Jam can do that or become a cook once, indulge multiple times situation that you can keep all to yourself.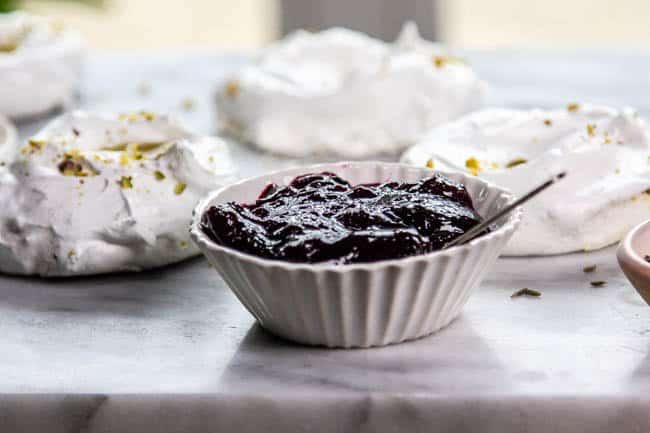 Ingredients needed to make this easy recipe for pavlova.
Pavlovas are one of those desserts that require very minimal ingredients, but the end result is nothing short of pure magic! Sure there is a slight hands-off time investment on your part, but you won't even think twice about that after you bite into one of these delightfully crisp confections.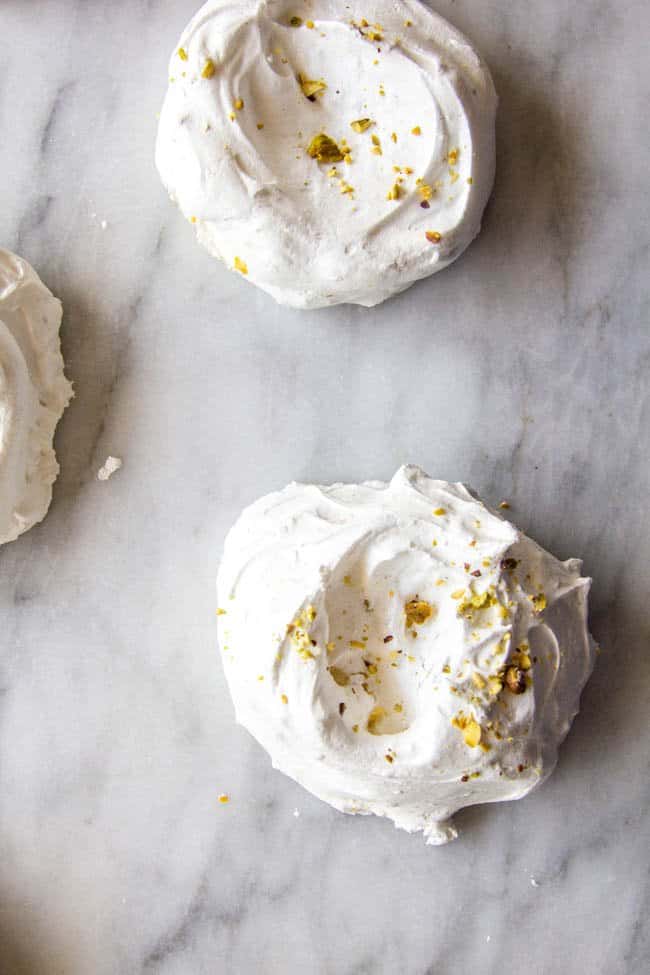 Ingredients needed to make Individual Pistachio Pavlova
Egg whites
Freshly squeezed lemon juice
Fine sugar
Raw California pistachios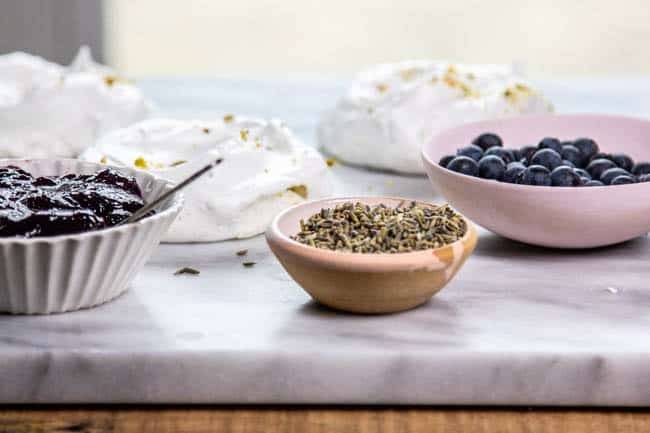 Ingredients needed to make Blueberry Lavender Jam
Fresh California blueberries
Dried lavender buds
White grape juice concentrate
What makes our recipe for pavlova unique?
While we love the traditional presentation of a classic pavlova like Salt & Wind's Mixed Berry Pavlova With Lemon Curd and Mascarpone Whipped Cream (pictured below) we find it frustrating that pavlova is a dessert experience that is over so quickly after it's served.
We prefer to break it up and portion our meringues out into individual-size servings that we can stretch out and serve multiple times.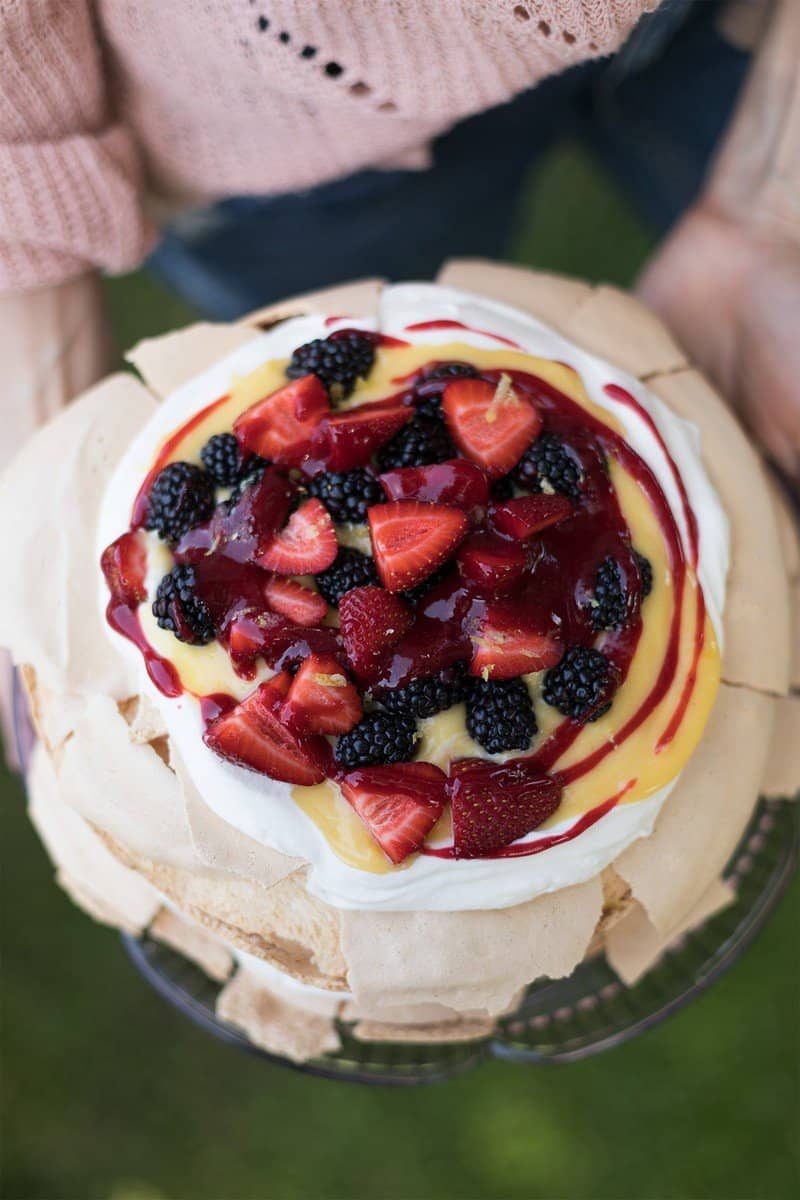 Tips for serving Individual Pistachio Pavlovas at a party.
It is important to remember that pavlovas are extremely delicate and moisture of any kind is not ideal. So in transport or when storing cooked pavlovas for serving at a later time be sure to keep them dry and far away from any sources of moisture.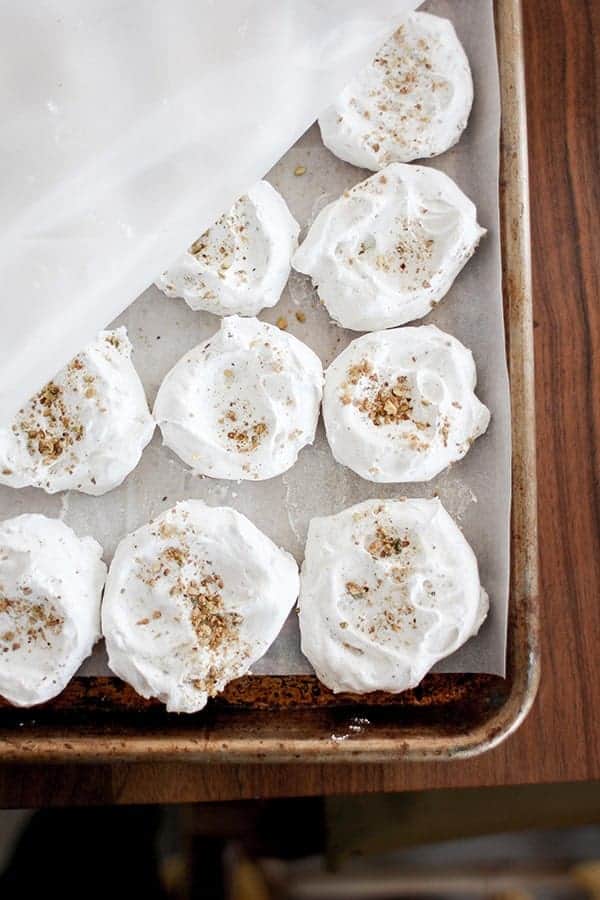 Tips for transporting & storing Individual Pistachio Pavlova.
Place cooked and completely cooled pavlova on a parchment-lined baking sheet tightly wrapped with plastic wrap.
This is also an ideal way to store pavlovas until you are ready to serve them.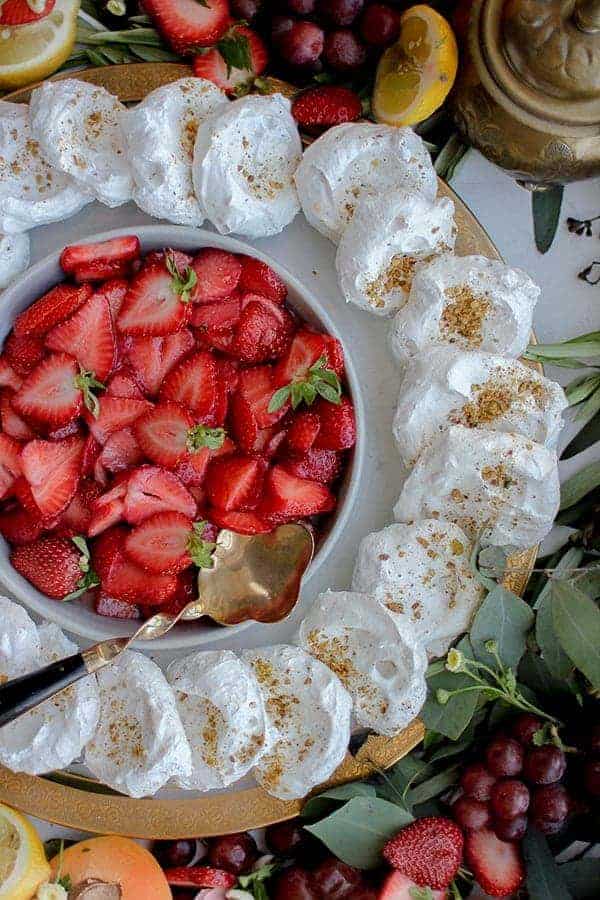 Styling tips for serving Individual Pistachio Pavlova.
Our single-serving, help yourself type of pavlovas are party-perfect when served artfully arranged on a platter.
See how This Mess is Ours served them with fresh rose-scented California strawberries by clicking here!
If you love the flavors in this recipe for pavlova keep scrolling for more recipes to try!
Pistachio, blueberry, and lavender go together like a match made in California sunshine! While we love them all paired together they are also all really delicious on their own. Check out the round-ups below for more delicious recipe ideas, tutorials, and DIYs with these California-grown ingredients.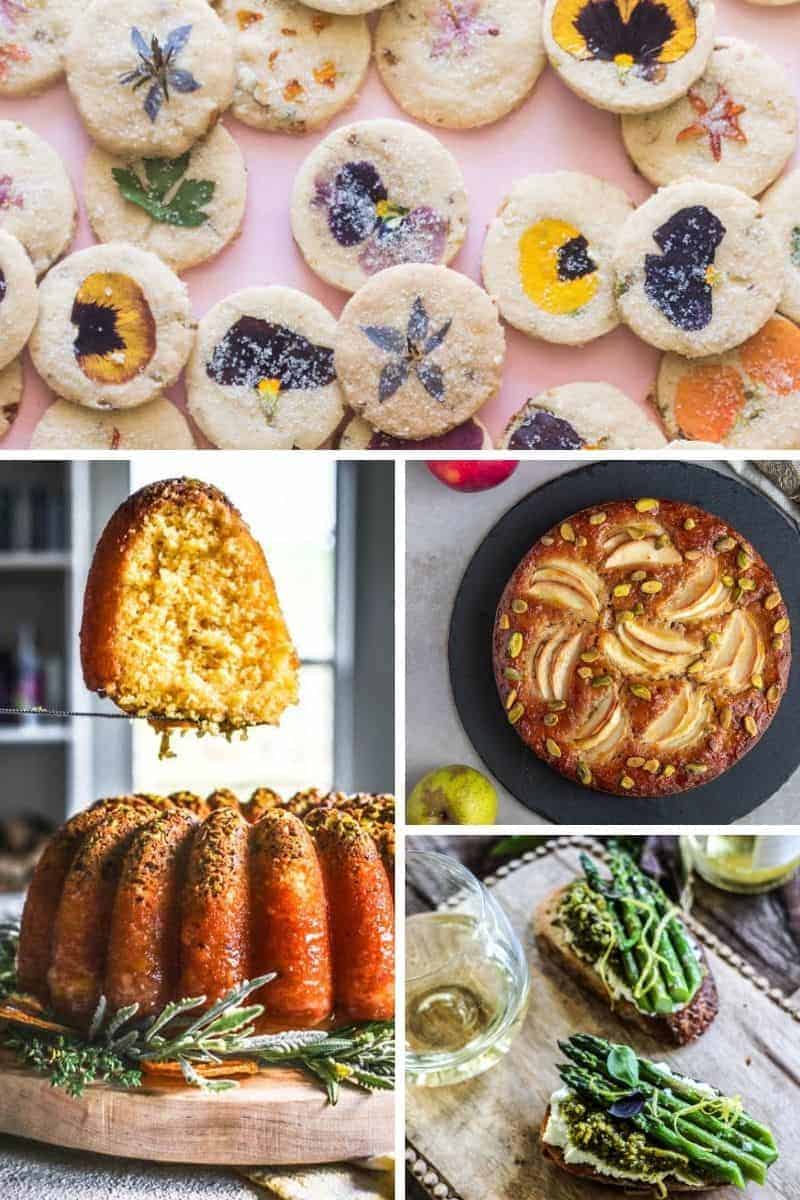 Good things come in small packages and pistachios are no exception!
This small but mighty nut adds flavor, texture, a pop of color, and lots of nutritional benefits to whatever dish you add them to.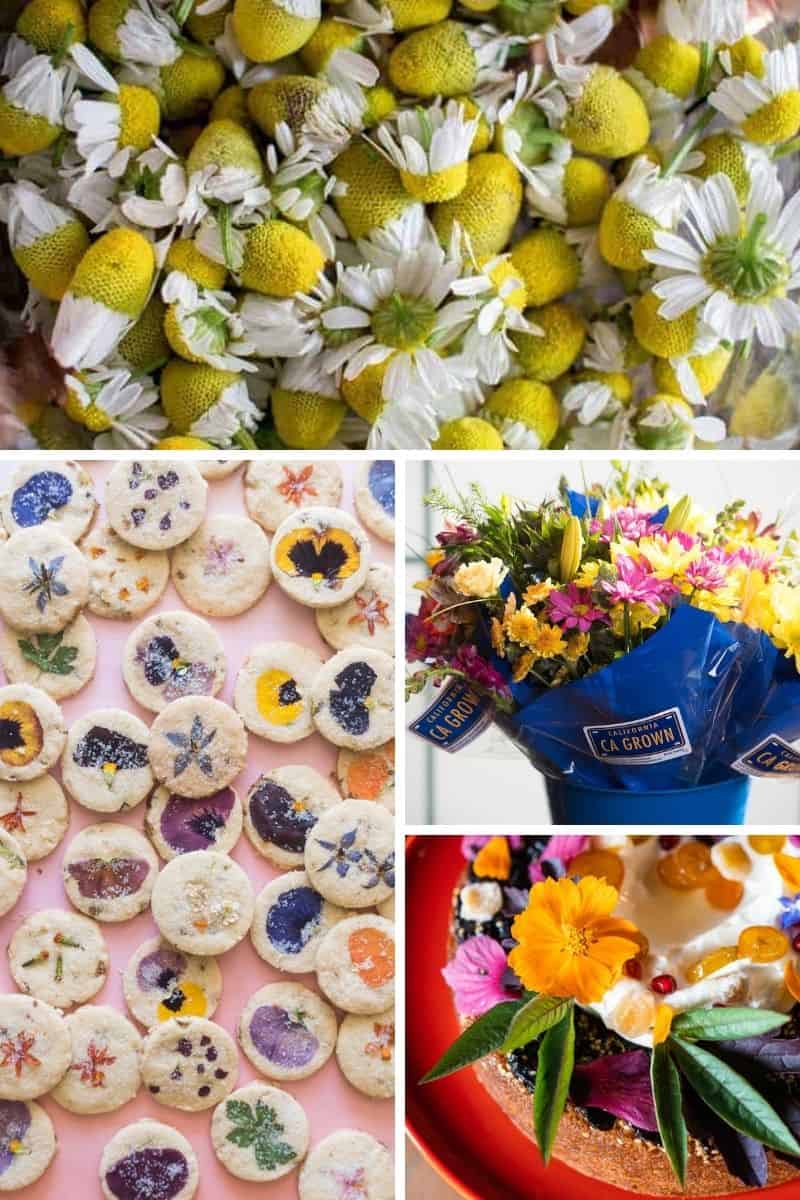 Did you know that California is America's leading producer of high-quality cut flowers and greens? Our state supplies over 75% of all domestically grown cut flowers in the United States. We just happen to know a thing or two about how to cook and decorate with cut flowers too!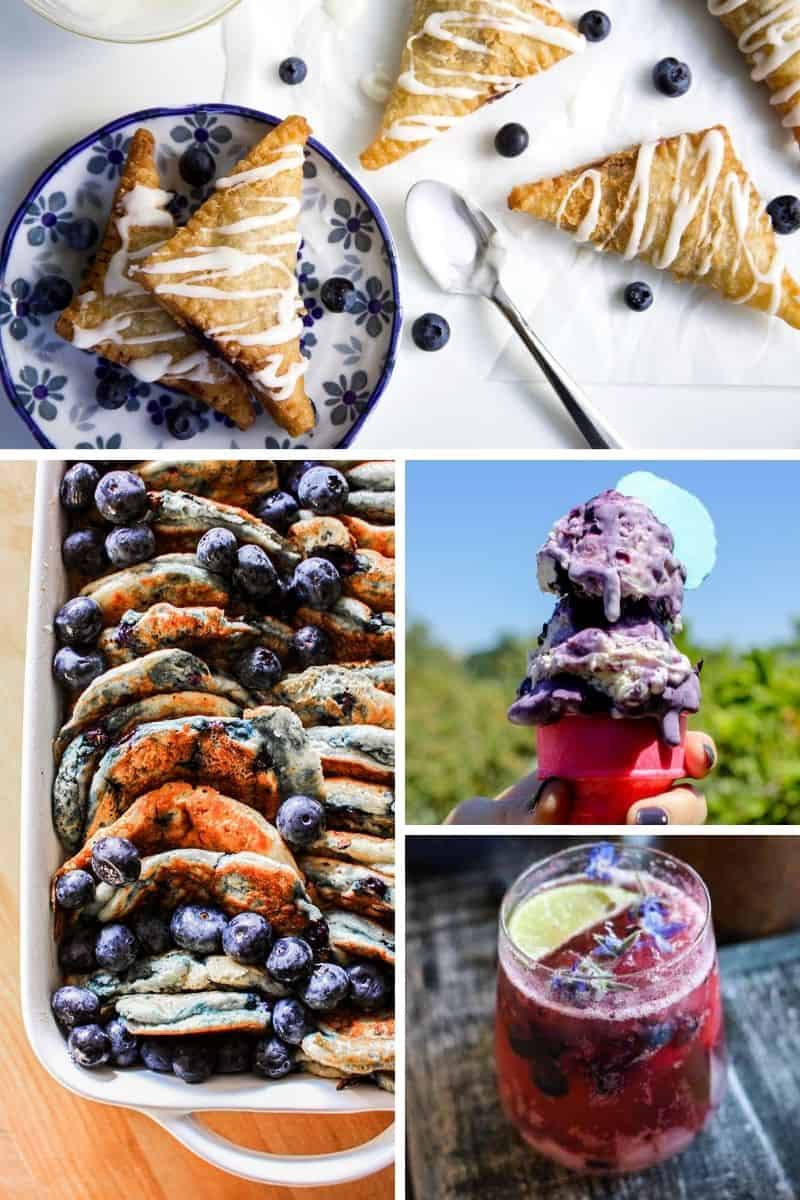 California blueberries are harvested from May through July which means you have just about enough time to try some, or all, of the 40+ delicious recipes with blueberry that we have gathered from our California Grown Creators!
Craving more CA Grown goodness? Follow us on Pinterest for fresh and fabulous recipe inspiration!
BE SURE TO SHARE YOUR PAVLOVA-INSPIRED CREATIONS WITH US BY SNAPPING A PIC AND TAGGING US ON SOCIAL USING #CAGROWN.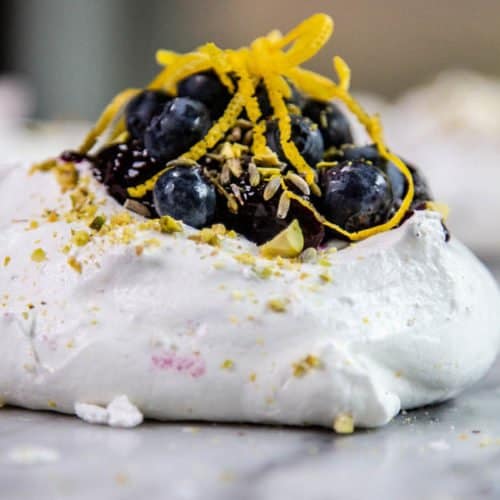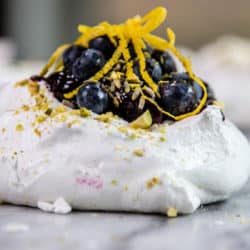 Individual Pistachio Pavlovas with Blueberry Lavender Jam
This recipe has 2 parts. The delightfully nutty pistachio pavlovas and the small batch blueberry lavender jam. You can serve these beauties DIY style for a party or enjoy a delightful dessert for yourself a few times in a row with only having to cook once.
Equipment
1 Stand mixer or electric hand mixer

cheesecloth
Ingredients
Individual Pistachio Pavlovas
4 large egg whites at room temperature
2 teaspoons freshly squeezed lemon juice or champagne vinegar
1 teaspoon cornstarch
1 cup granulated sugar
3/4 cup raw pistachios chopped fine, divided
Small Batch Blueberry Lavender Jam
4 cups fresh blueberries
2 1/2 tablespoons dried lavender buds
1 can frozen white grape juice concentrate
To serve
1 cup fresh blueberries
1 lemon zested for garnish
Instructions
To make Individual Pistachio Pavlovas
Preheat the oven to 200°F with a rack in the lower third. Line 1 large or 2 small baking sheets with parchment paper and set aside.

In the bowl of an electric mixer fitted with the whisk attachment, beat the egg whites on low speed until foamy. Add the salt, lemon juice, or champagne vinegar if using, and cornstarch. Beat at medium speed for about 3 minutes until soft peaks form.

Add the sugar slowly. Streaming directly into the mixing bowl in 4 additions while beating at medium-high speed until the meringue is stiff and glossy, about 5 minutes.

Gently fold in 1/2 – 3/4 cup of the pistachios with a spatula depending on how nutty you would like the final result to be.

Using an ice cream scoop or small cookie scoop measure out the meringue onto the prepared baking sheets 1-inch apart. Use the back of a spoon to create a small well in the center of each pavlova.

Sprinkle 1-2 more tablespoons of the finely chopped pistachios across the tops of the pavlovas.

Bake until the meringue is glossy and hard to the touch, approximately 1 hour and 40 minutes, if the meringue begins to turn darker in color at all during the bake time reduce the temperature of the oven slightly.

When the meringue has reached the end of its cook time turn the oven off and leave the door shut. Allow the meringues and the oven to cool for at least two hours, preferrably over night. At this point, the meringues will easily lift off of the parchment.
To make Small Batch Blueberry Lavender Jam
While the pavlovas are cooking make the jam. First, create a sachet for the lavender by cutting a 6-inch square out of cheesecloth. Then place the lavender buds in the center of the square, gather the corners into a bundle, and tie it off with kitchen twine.

Place a large saucepan over medium heat and add the blueberries, lavender sachet, and grape juice concentrate. Bring to a boil, stirring frequently to prevent scorching, until the mixture jells, about 30-35 minutes.

To see if the jam has jelled yet or not place a tablespoon full of jam onto a plate. Allow for it to cool to room temperature. Touch the jam with your finger, if it has the consistency of jelly it's done if its still a bit runny cook for 5 more minutes and test again. Once cooked through cool the jam completely then remove the lavender sachet and transfer the jam to jars. Cover and store in the refrigerator until ready to use or for up to 1 month.
To assemble and serve Individual Pistachio Pavlovas with Blueberry Lavender Jam
Right before serving, spoon a small amount of the prepared jam into the well in the center of each pavlova. Top with a dusting of crushed pistachios, strips of lemon zest, and fresh blueberries.

Serve immediately as the delicate pavlova will begin to deteriorate and melt away from the addition of the jam and toppings.
Notes
If serving this recipe for a large gathering:
Place the prepared pavlovas on a serving platter next to bowls of the jam and other toppings so that your guests can serve themselves.
This jam recipe is also delicious on toast, nut butter sandwiches, or served with crackers and ricotta cheese from California.