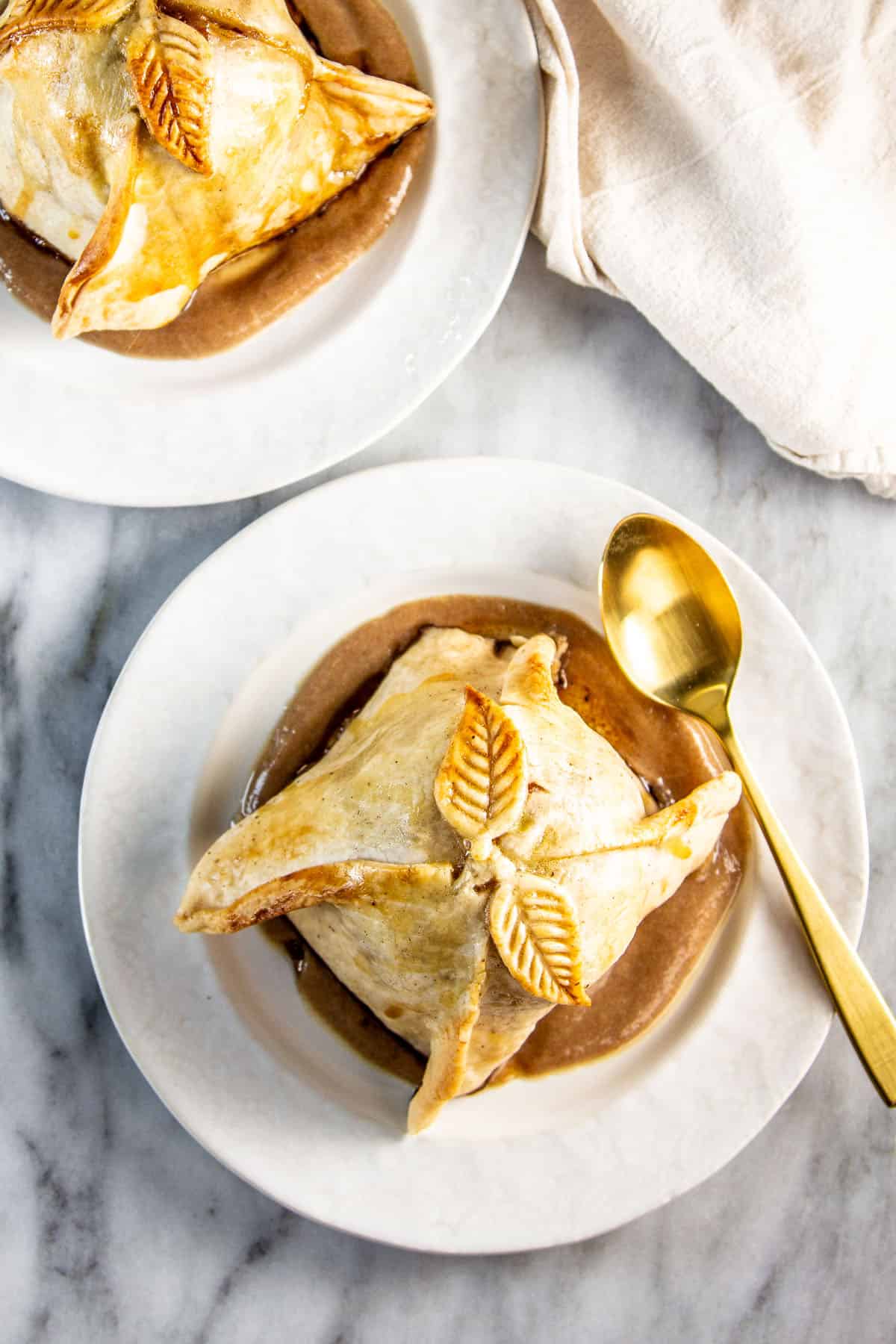 CA GROWN Blog
Discover. Learn. Connect.
How to Make Apple Dumplings (and How to Fail)
October 24, 2023
Eat the Season!
Sign Up For Weekly Recipes
« Back to Recipes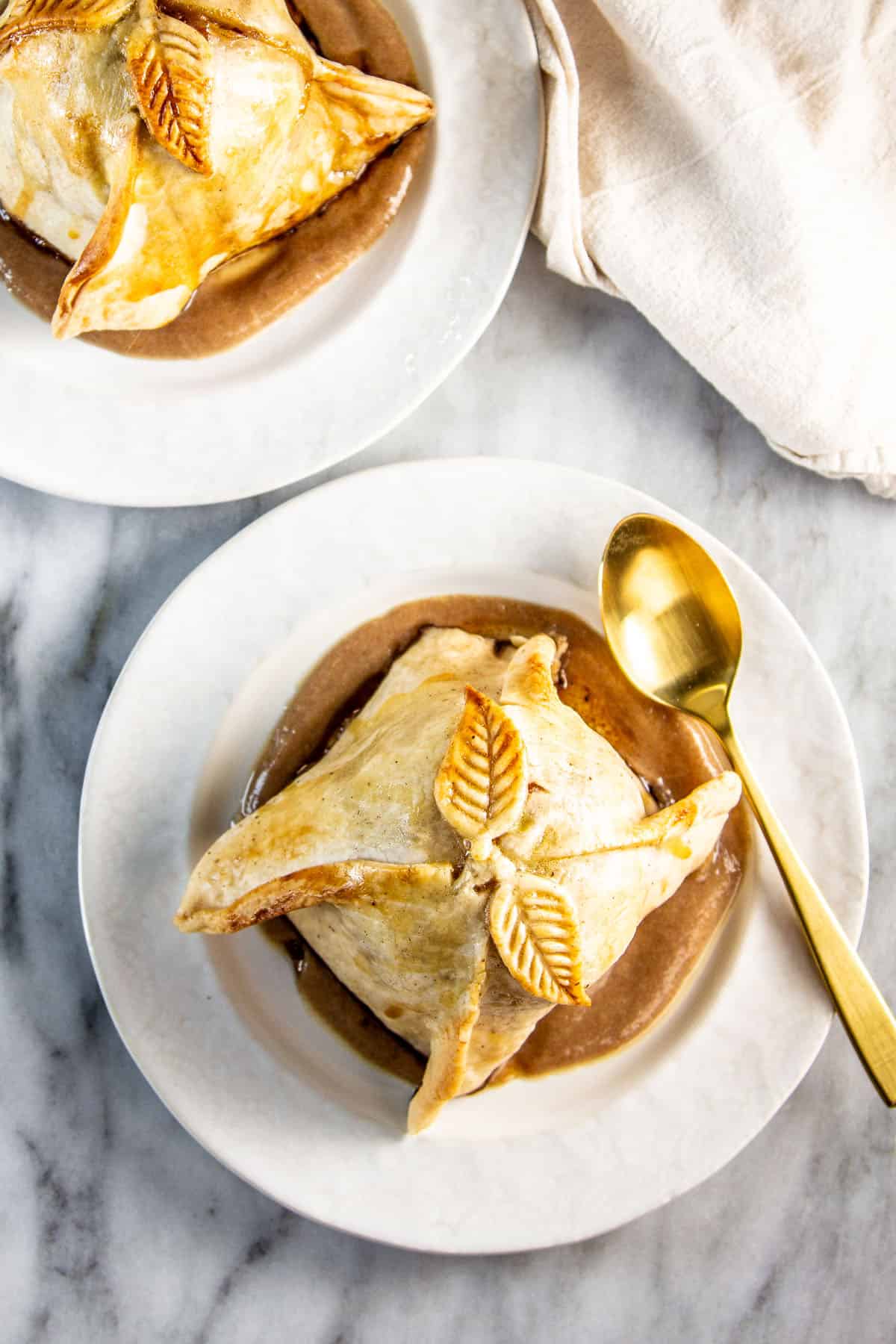 How to Make Apple Dumplings (and How to Fail)
Trust me when I say that everyone's culinary background is sprinkled with a delicious mix of triumphs and kitchen catastrophes. Today, we're diving into a dish that offers room for both: apple dumplings. Whether you're a pastry aficionado or a baking novice ready for a challenge, this adventure is full of sweet rewards and learning curves. And at the end, whether your apple dumplings are the picture of perfection or literally bursting at the seams, they'll still be incredibly delicious thanks to the California-grown apples nestled inside.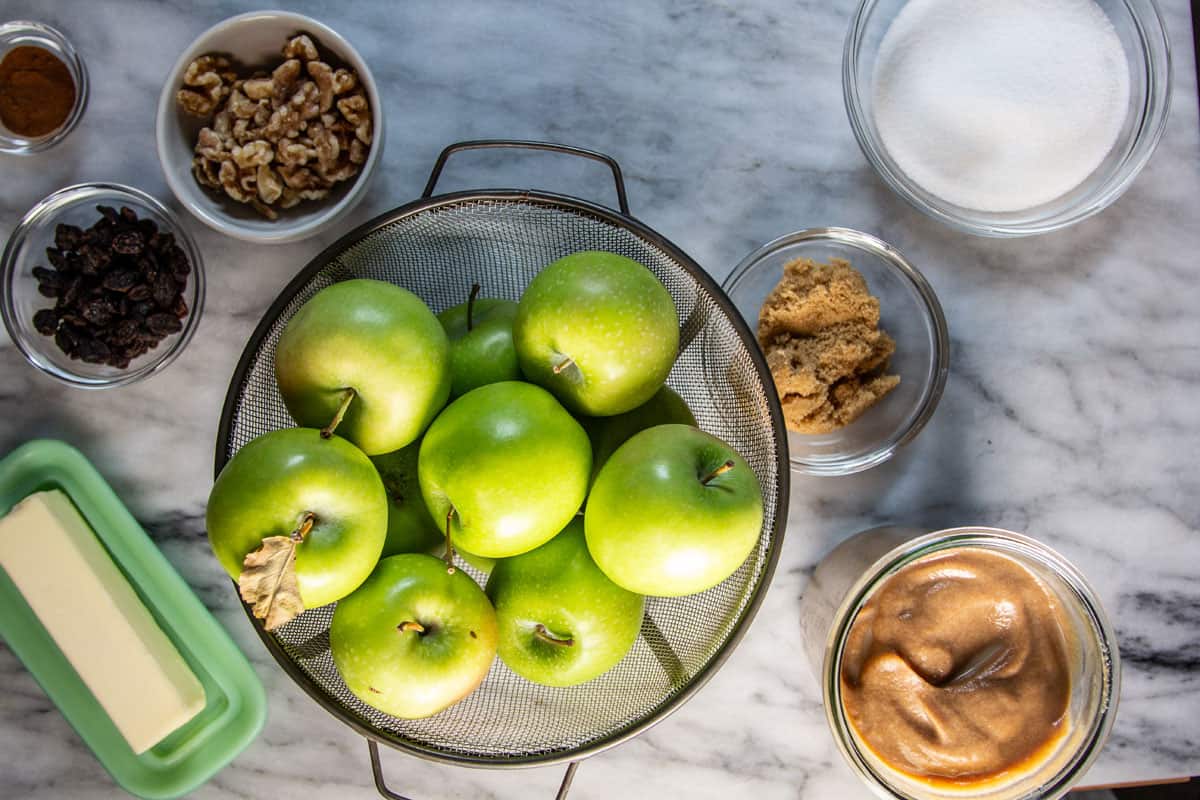 Unwrapping the Mystery: What Are Apple Dumplings?
Let's start with the basics: What exactly are apple dumplings? A pastry crust enveloping a whole, spice-infused apple and baked to perfection until the crust is tender and flaky and the apple hiding inside practically melts in your mouth.
Originating from the northeastern United States, this traditional dessert has found a home here in sunny California, especially with our state's affinity for producing some of the country's finest apples.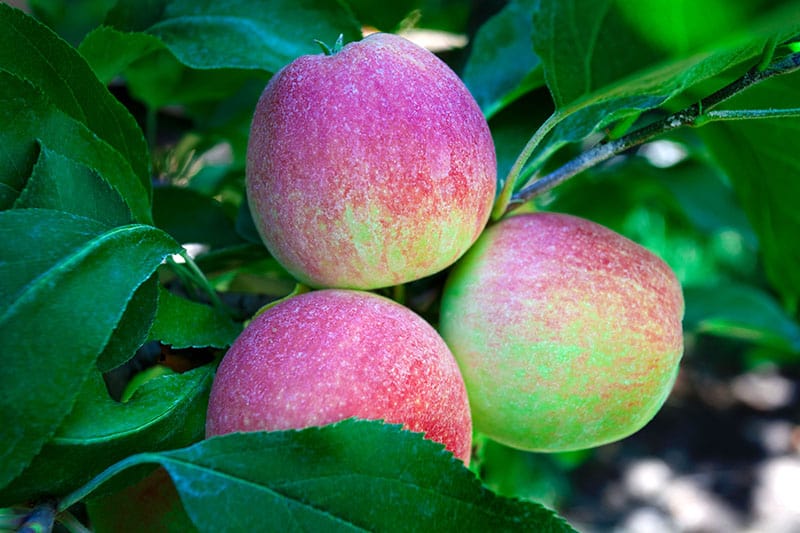 Right to the Golden State's Core: California's Apple History
While the Pacific Northwest might be known for its vast apple orchards, upper Northern California has carved out its own niche in the apple world. The climate here favors certain apple varieties, giving us exactly what is needed for cultivation and a delicious harvest season from July to October.
Did you know that despite all 50 states dabbling in apple growing, only 36 engage in it commercially? California proudly stands as the 5th largest producer of apples in the United States. Our orchards spoil us with four main varieties: Gala, Fuji, Granny Smith, and the crisp Cripps Pink, ensuring that every apple lover can find their fave.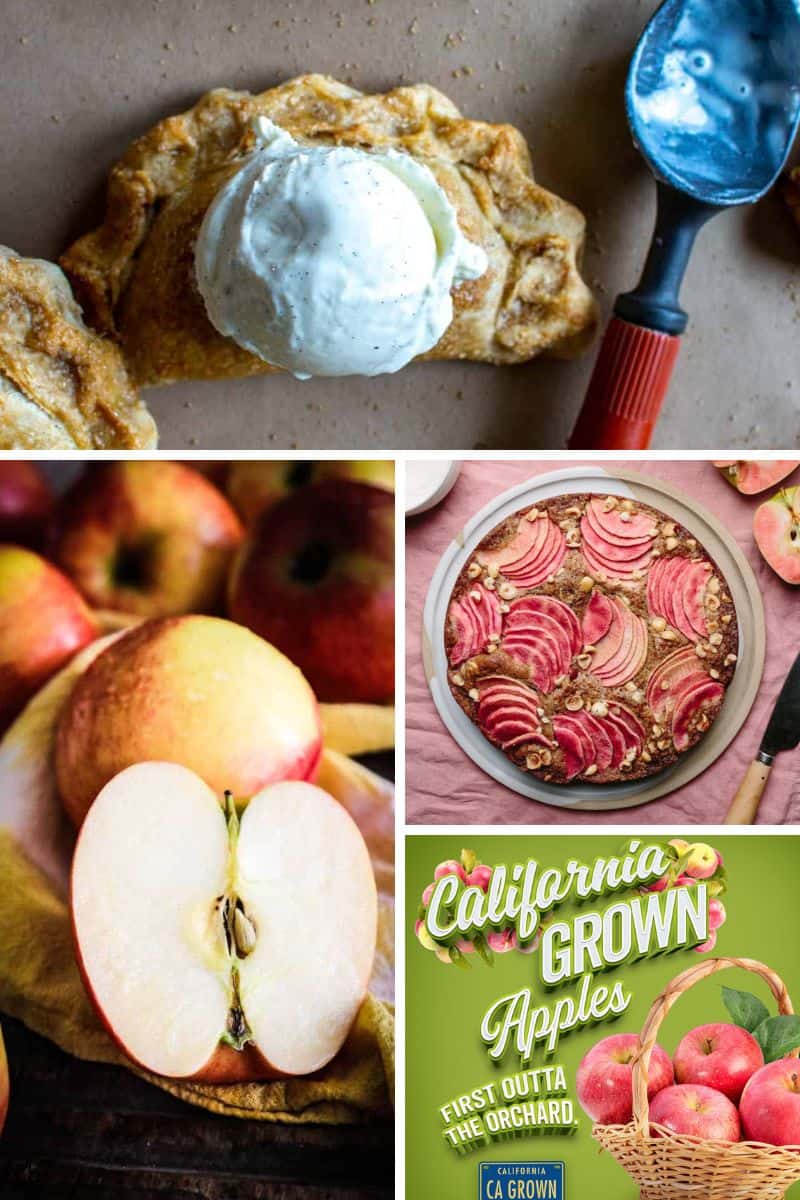 There are literally hundreds of thousands of apple recipes on the internet, so how do you know which ones are actually worth trying?! There is nothing worse than when a recipe fails, especially when you've invested lots of time and money on groceries. That's why we've teamed up with some of our most trusted California Grown Creators to bring you over 20 no-fail, delicious apple recipes that you will make again and again!
What's the best way to store fresh apples?
We get asked this question quite a bit. Storing apples is relatively straightforward, but the length of time you can store them and their freshness hinges significantly on their storage conditions. Here are a few things to consider to ensure your apples stay crisp and delightful in storage: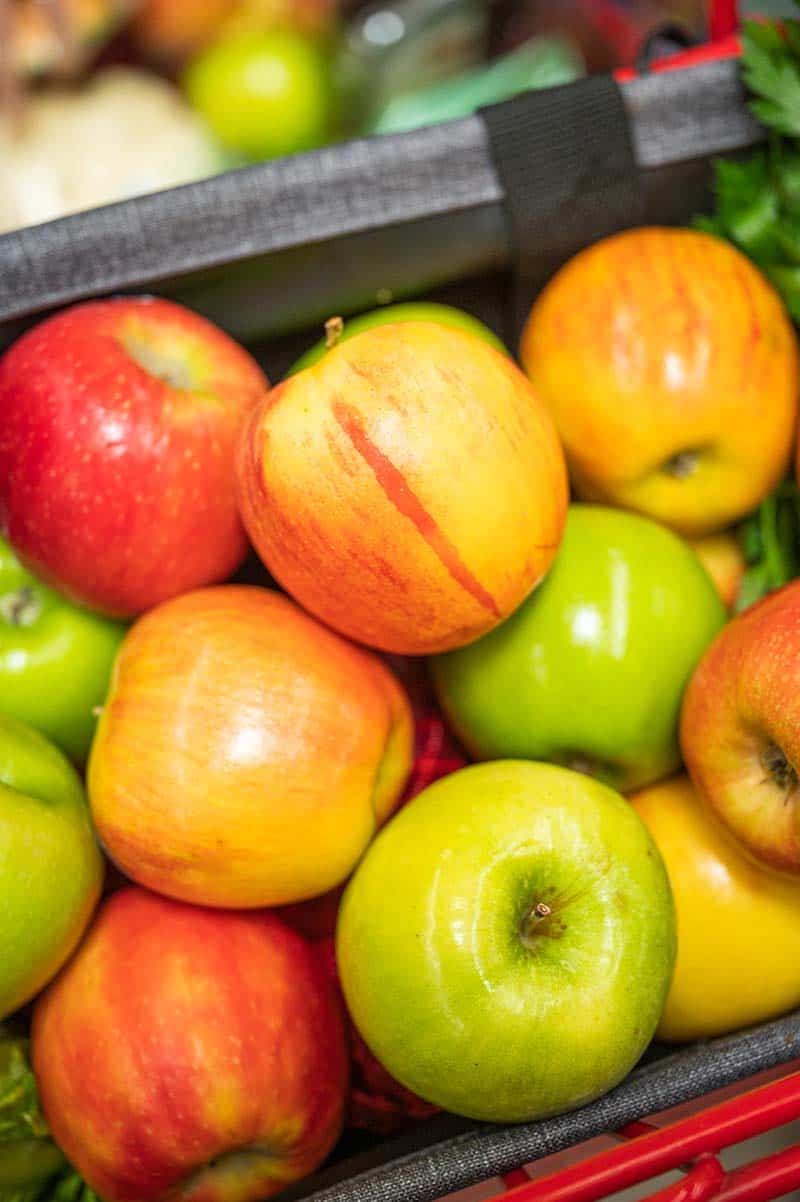 Chill Factor
Unlike some of us who prefer the warmer side of things, apples are enthusiasts of the cold—a chilly 30 degrees F ( -1.11 degrees C), to be precise.
This affinity for low temperatures makes your refrigerator their ideal hangout spot. While a bowl of apples might enhance your room's aesthetic appeal, room temperature is far from what these fruits desire for a prolonged, fresh existence.
Humidity and Hydration
Oddly enough, apples are fans of a humid environment. It's best to store them in a bag to maintain an optimal moisture level around them. However, don't seal the deal completely; leaving the bag open ensures necessary airflow. This precaution helps let moisture and ethylene gas escape, preventing premature spoilage.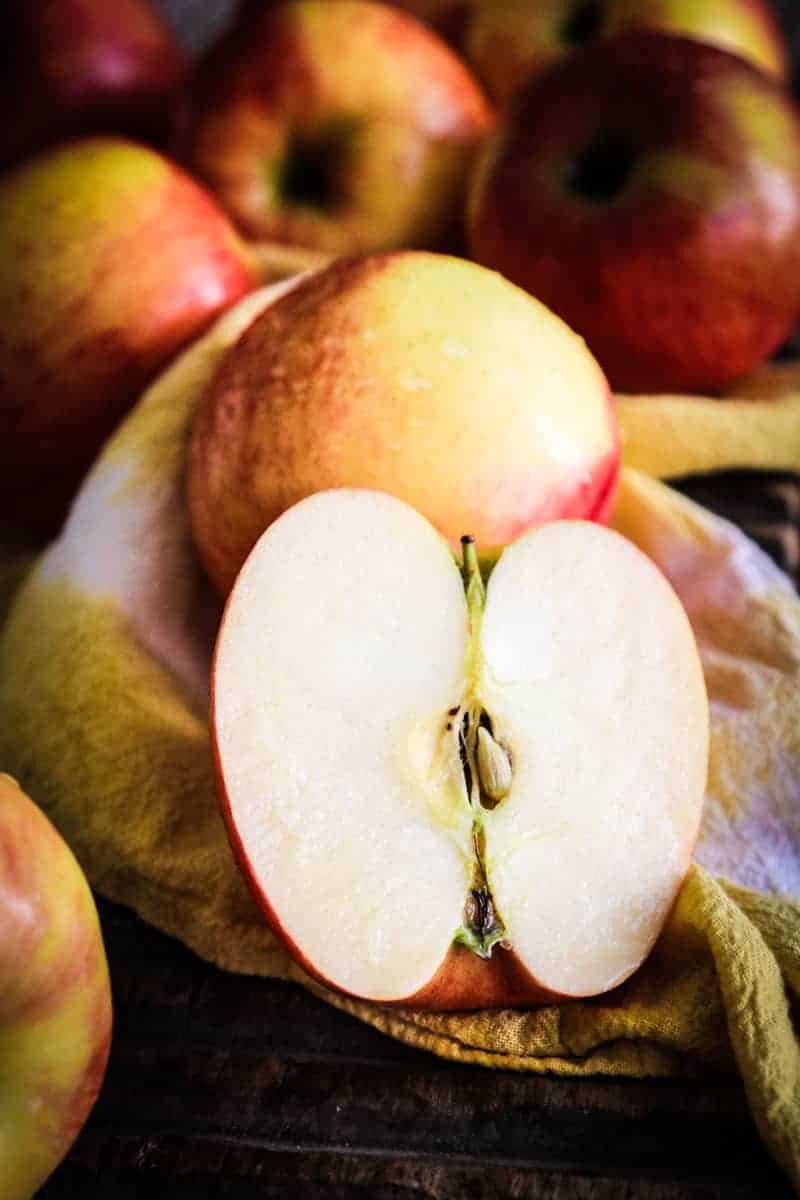 For more tips about how to store apples, click to visit our friend Jerry James Stone's blog post about the topic.
Or you can watch his YouTube video below.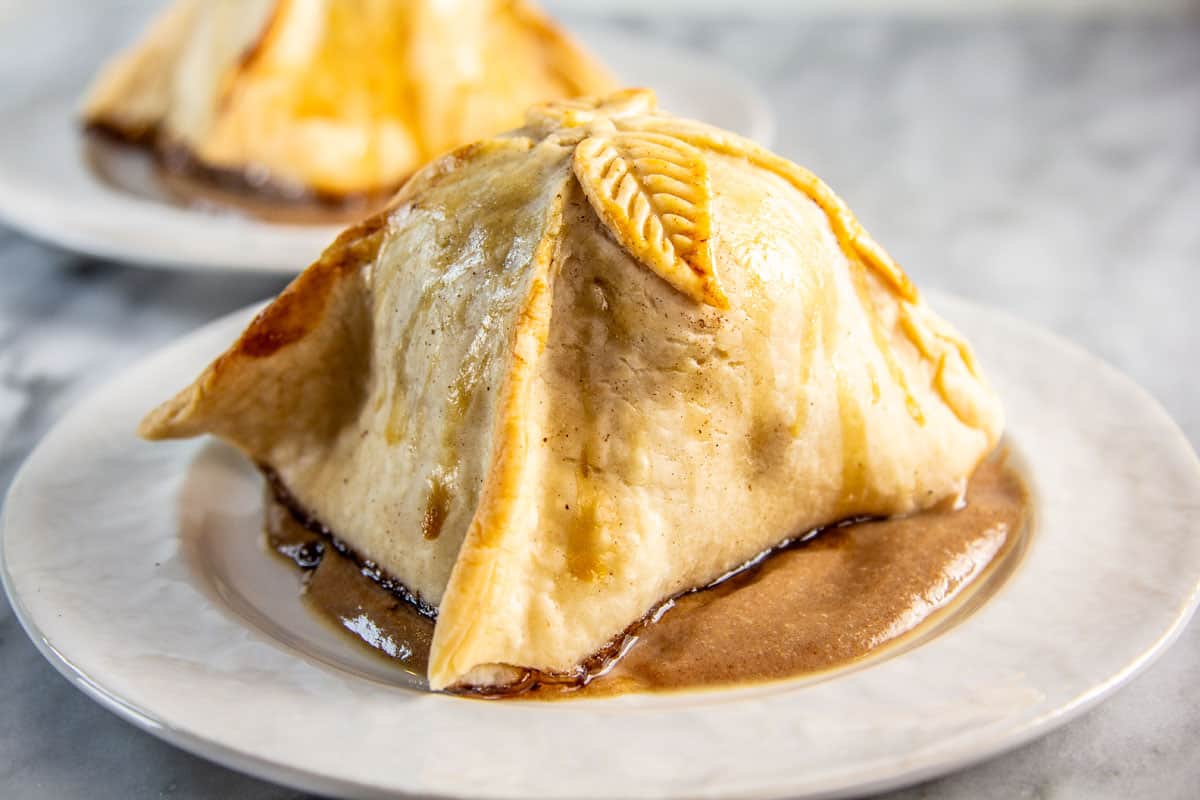 From Orchard to Oven: Step by Step How to Make Apple Dumplings
This journey from a blossoming orchard to your warm, inviting oven is a magical one, filled with the anticipation of the fresh baked flavors of fall. Making apple dumplings involves tender pastry work, a symphony of spices, and, of course, the star of the show, California-grown apples.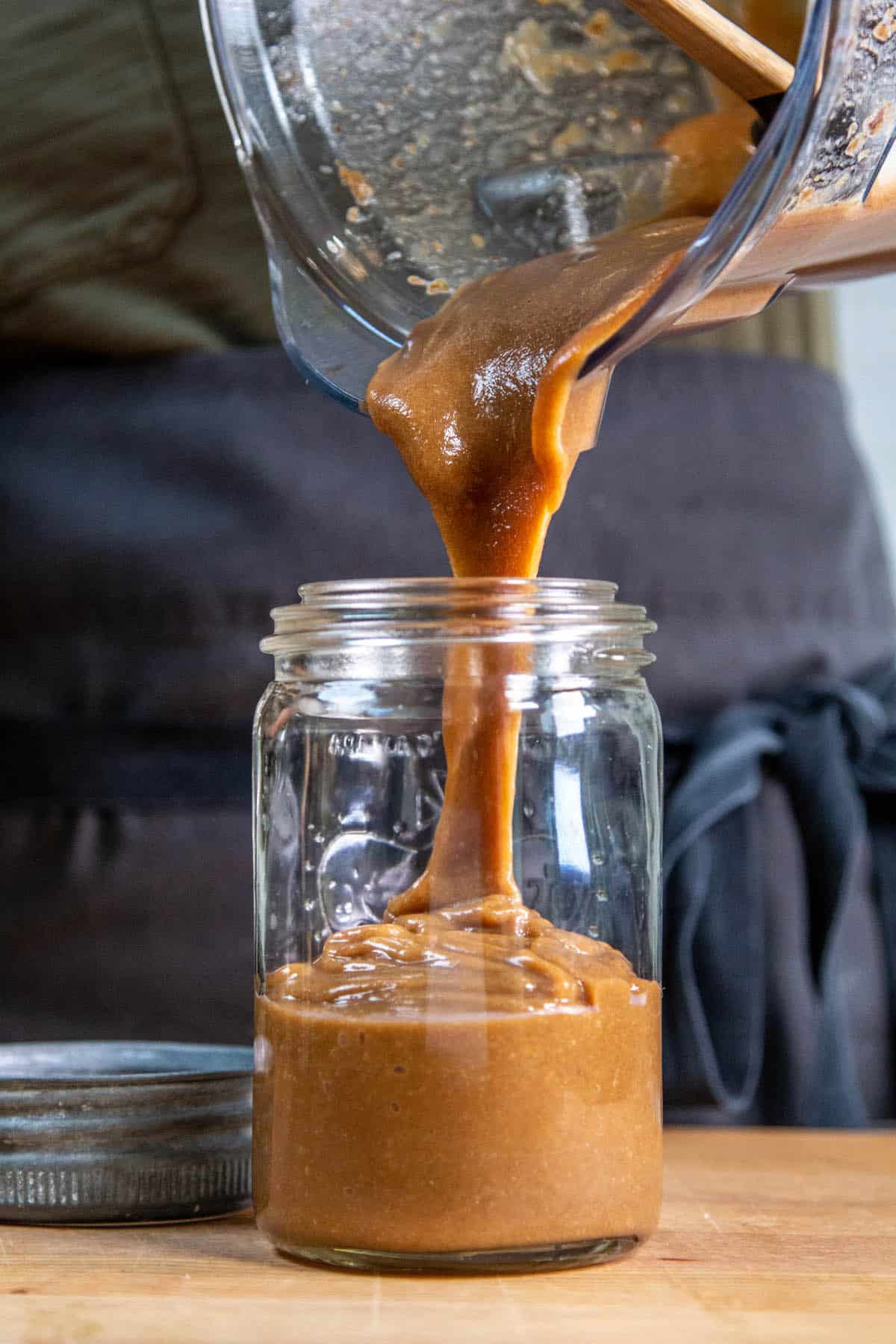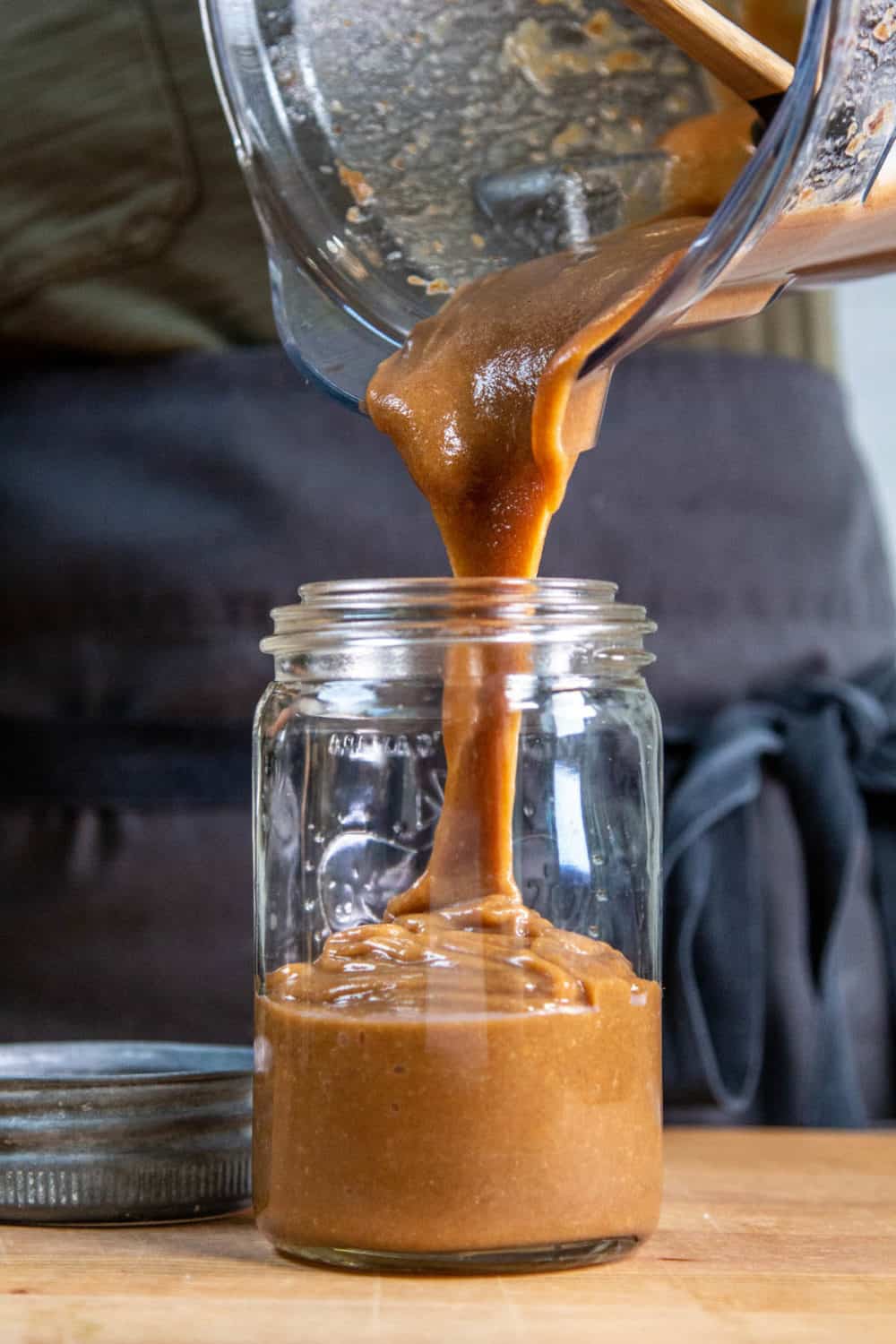 What are the Essential California-grown Ingredients Needed to Make Apple Dumplings?
California Granny Smith Apples: When purchasing apples for making apple dumplings, opt for ones that are firm, with no bruising, soft spots, or insect holes. The apples should feel slightly heavy for their size. Also, apples on the larger side work better in this recipe; we found approximately 222 grams to be the perfect sized apple for making apple dumplings.
California Walnuts: When storing walnuts, it's best to not store them in the pantry. Instead, keep them in the refrigerator for up to a few weeks, or the freezer for longer periods of time.
California Raisins: While any type of California raisin will work in this recipe, we used dried-on-vine raisins. Forget everything you thought you knew about California raisins, because dried-on-vine raisins are shaking up the industry, literally! Click here to learn all about them.
Date Caramel: You'll need to make a batch of date caramel prior to baking these apple dumplings, and you will have a bit left over. I highly suggest making a few date shakes with the remaining caramel.
Temecula Olive Oil Company's Date Vanilla Balsamic: While we love the flavor of this particular balsamic vinegar, you can substitute 2 tablespoons of balsamic vinegar plus 1 teaspoon of vanilla extract in this recipe.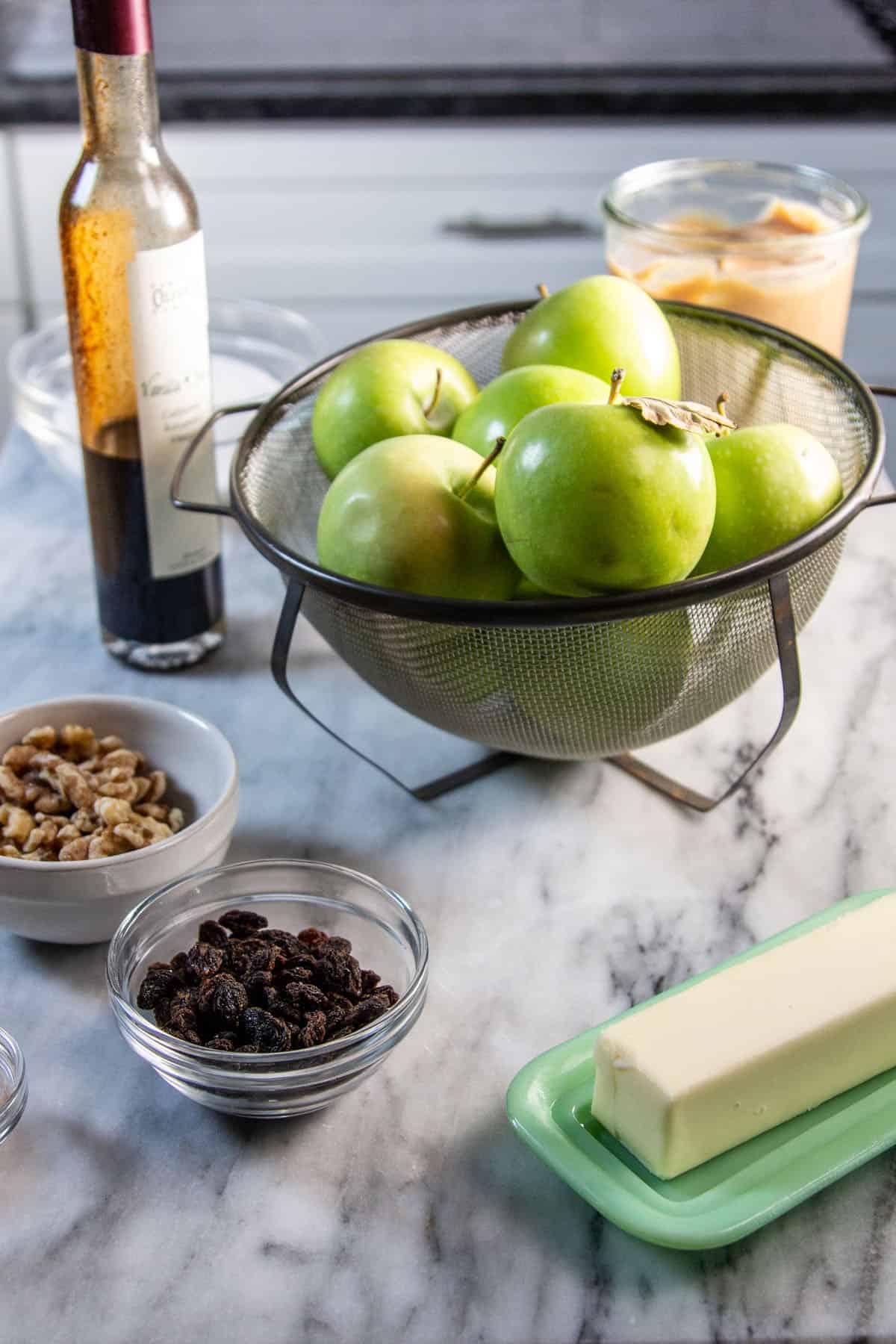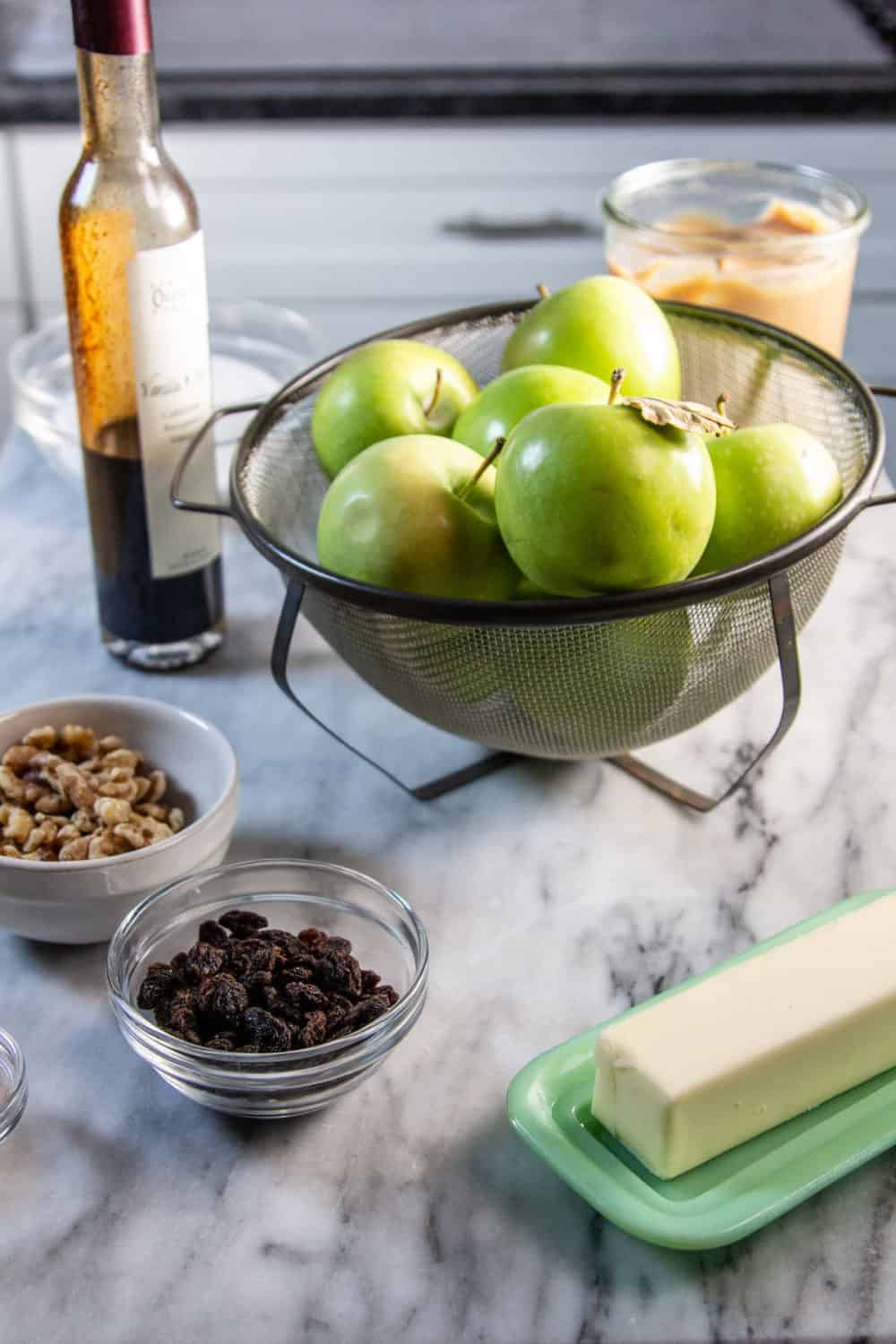 Delicious Mistakes: How to Fail at Apple Dumplings
The kitchen blunders make the successes taste that much sweeter, don't they? Apple dumplings are an art, which means you should find the humor in any failed attempts at culinary perfection. Perhaps it's the dough that decided today's not the day, refusing to roll out smoothly. Maybe the apples were playing hide-and-seek when you needed them. Maybe the filling staged a rebellion, oozing out in your oven rather than staying snug inside the pastry.
Whatever your story of not-so-successful baking, these moments ground us, remind us of the human touch in every homemade dish, and more often than not, leave us with a funny tale to tell around the dinner table.
Here are a few of our team's best tips for success when it comes to baking apple dumplings: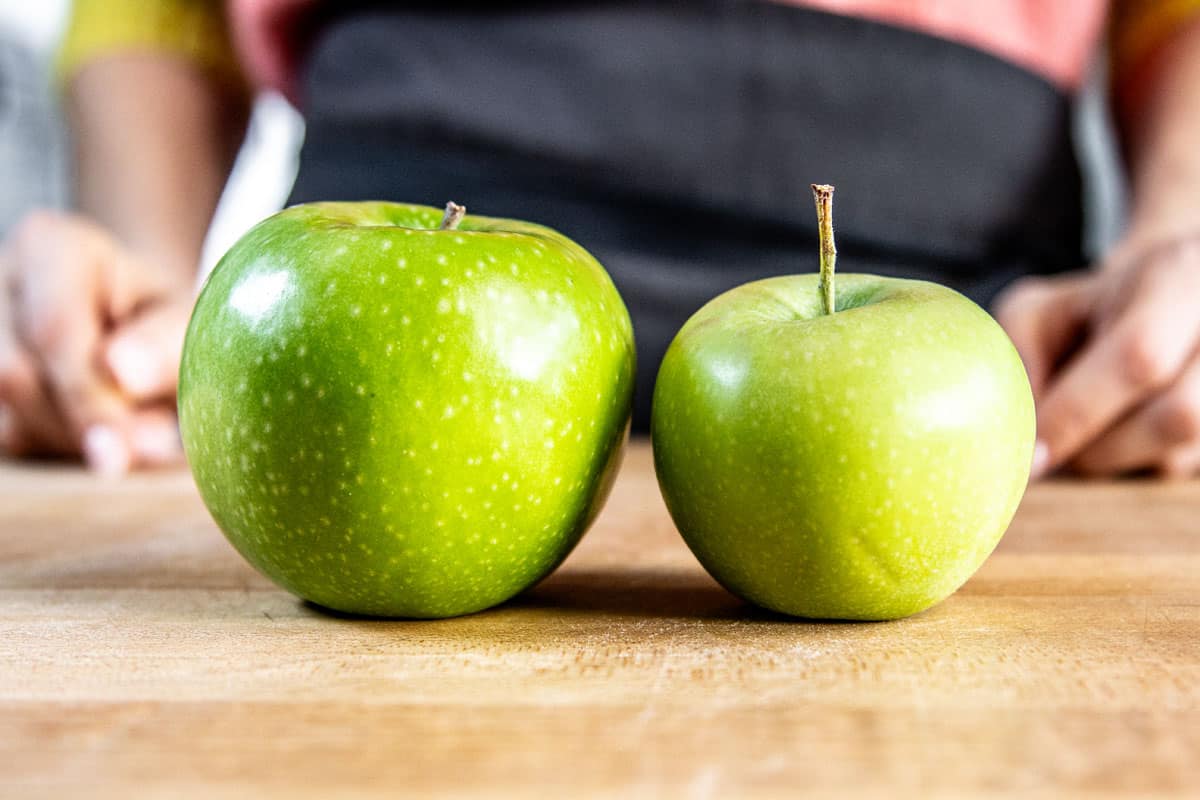 Size Does Matter.
When it comes to enjoying a fresh California apple, size doesn't really matter. But, in the case of apple dumplings, it's very important!
We found that the best apples for making apple dumplings are roughly 222 grams in weight with nice, rounded shoulders.
In our recipe tests, smaller apples were prone to having the dough slip off in the oven.
A Word About Walnuts…
This is another instance of size mattering in this recipe; how finely you mince the toasted walnuts can make or break your dumpling efforts.
If the walnut pieces are too large, you risk tearing the tender pie dough when wrapping the apples.
Mince them very fine with a sharp knife or pulse them down to crumbs with a food processor.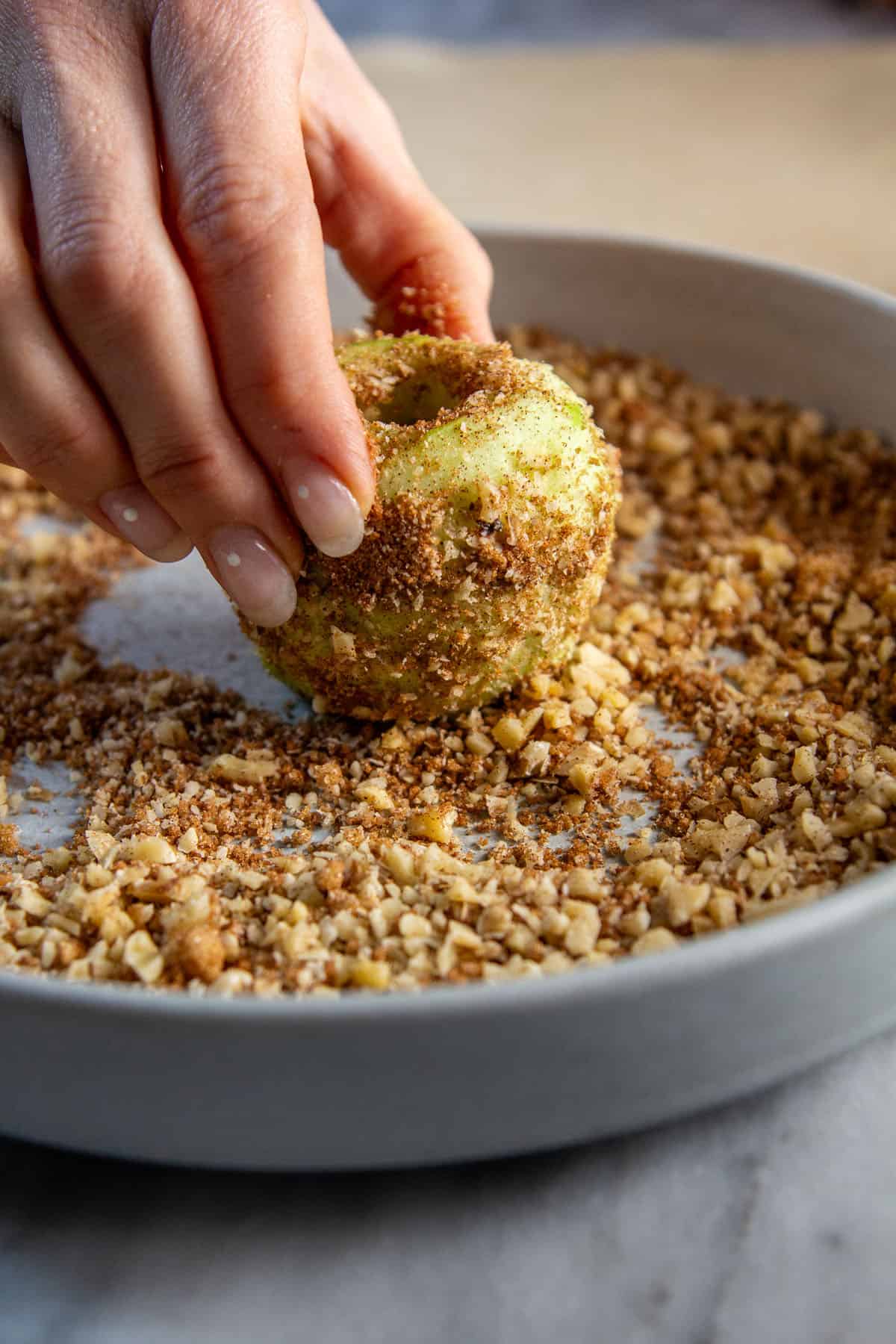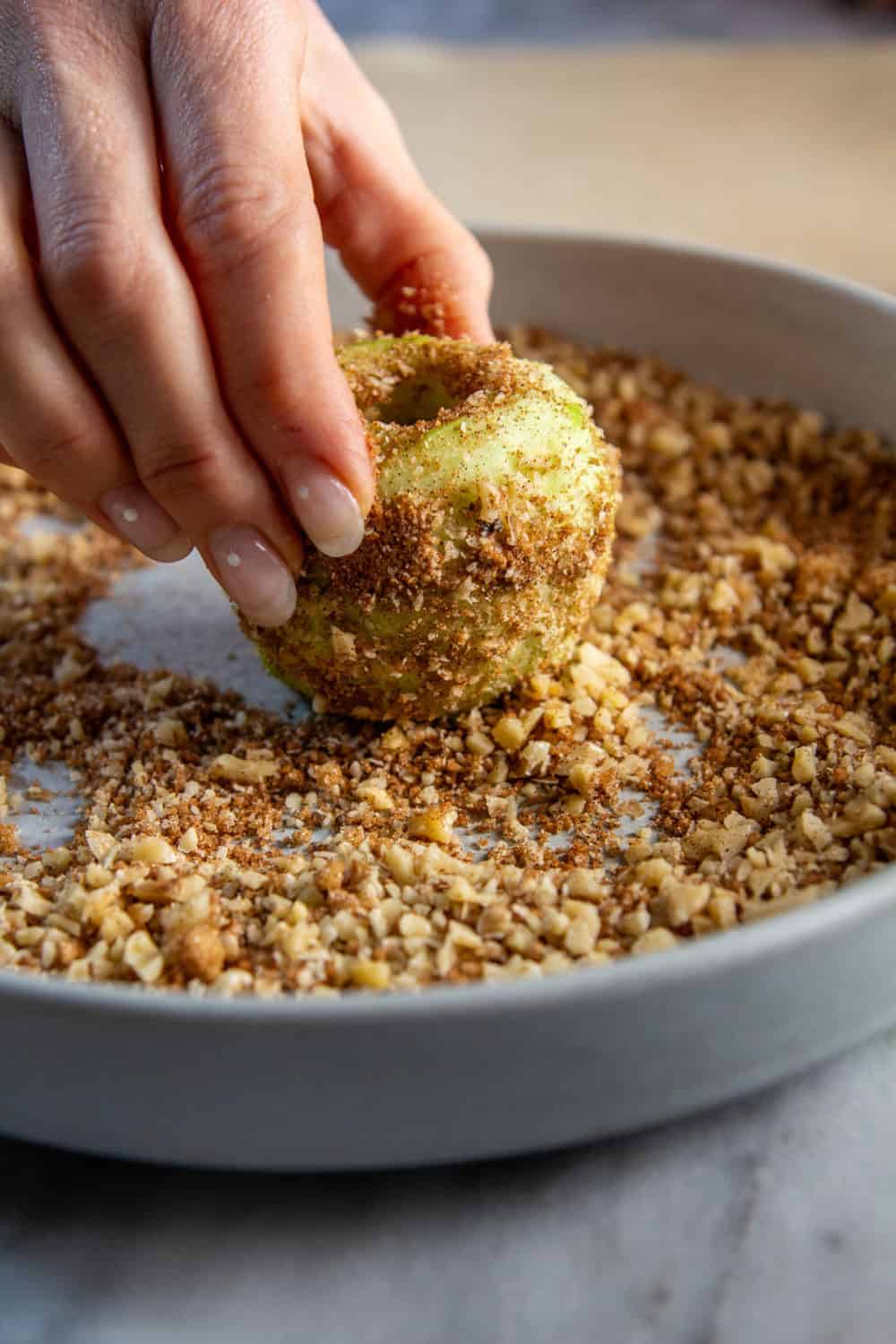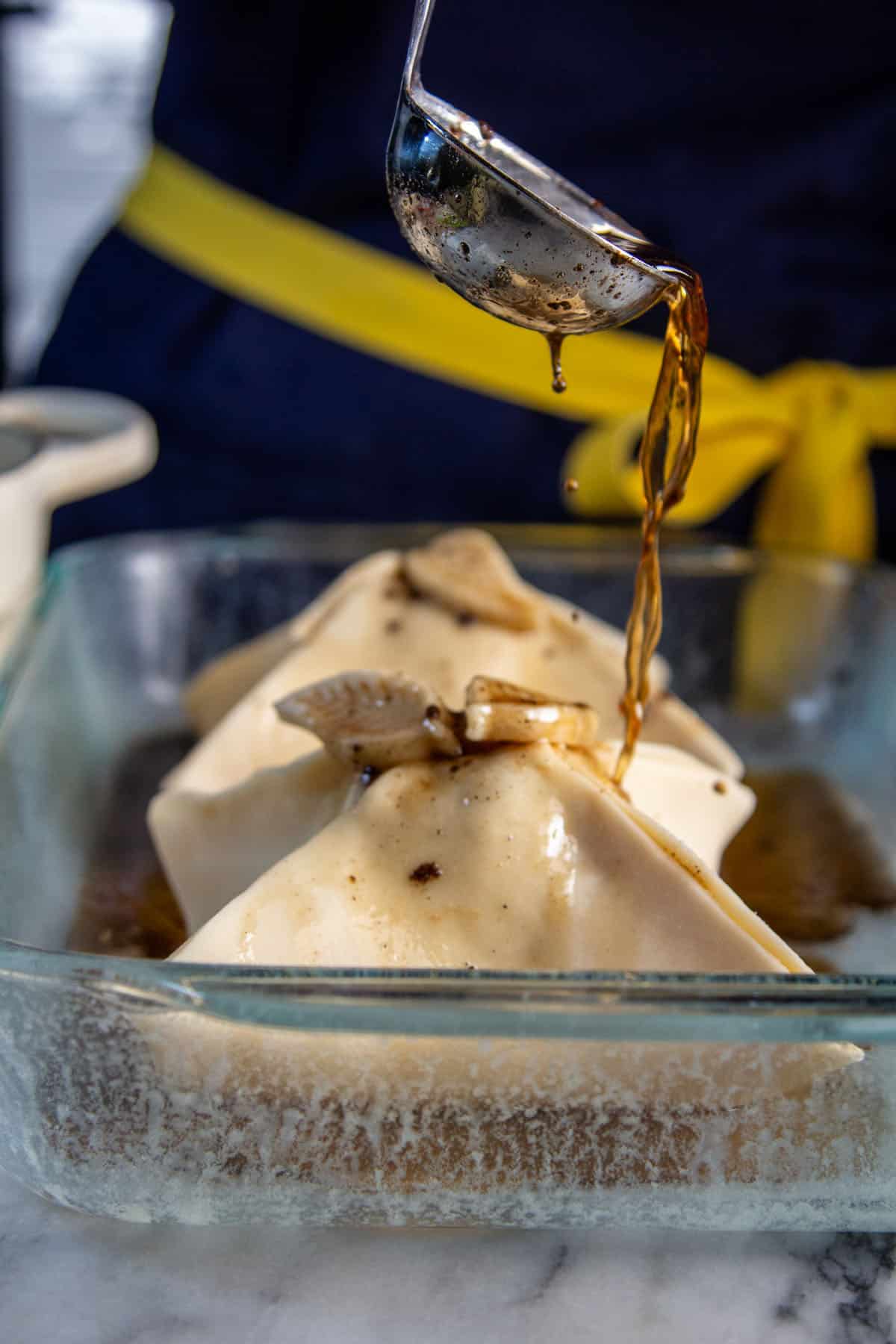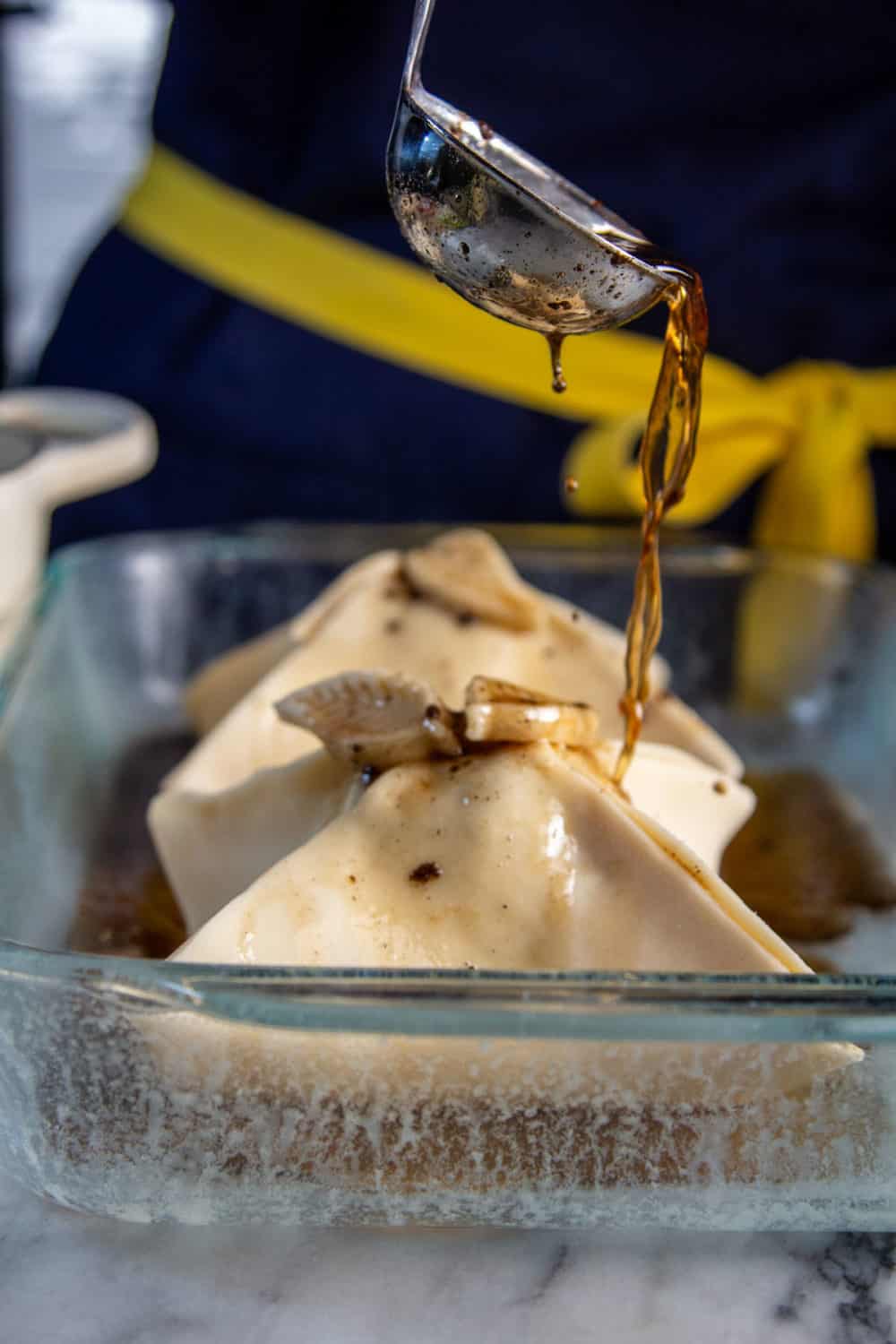 Are Glass Dishes or Metal Baking Pans Best?
Honestly, this comes down to preference. We tested both ways, and both versions turned out amazing.
I personally prefer a larger baking sheet with a rimmed edge so that I can fit more dumplings onto the pan at once.
I found my glass baking dishes too small, resulting in having to bake the dumplings in a mix of glass and metal pans, or even worse, in batches. Who even has time for that?!
Do You Have Apple Dumpling Stories to Share?
Your foray into the realm of apple dumplings doesn't end when you take them out of the oven, successful or otherwise. We at California Grown love to hear the stories that come from kitchen endeavors. Did your apple dumplings puff up like a dream, or did they remind you of the Leaning Tower of Pisa? No story is too small, and no result is too imperfect!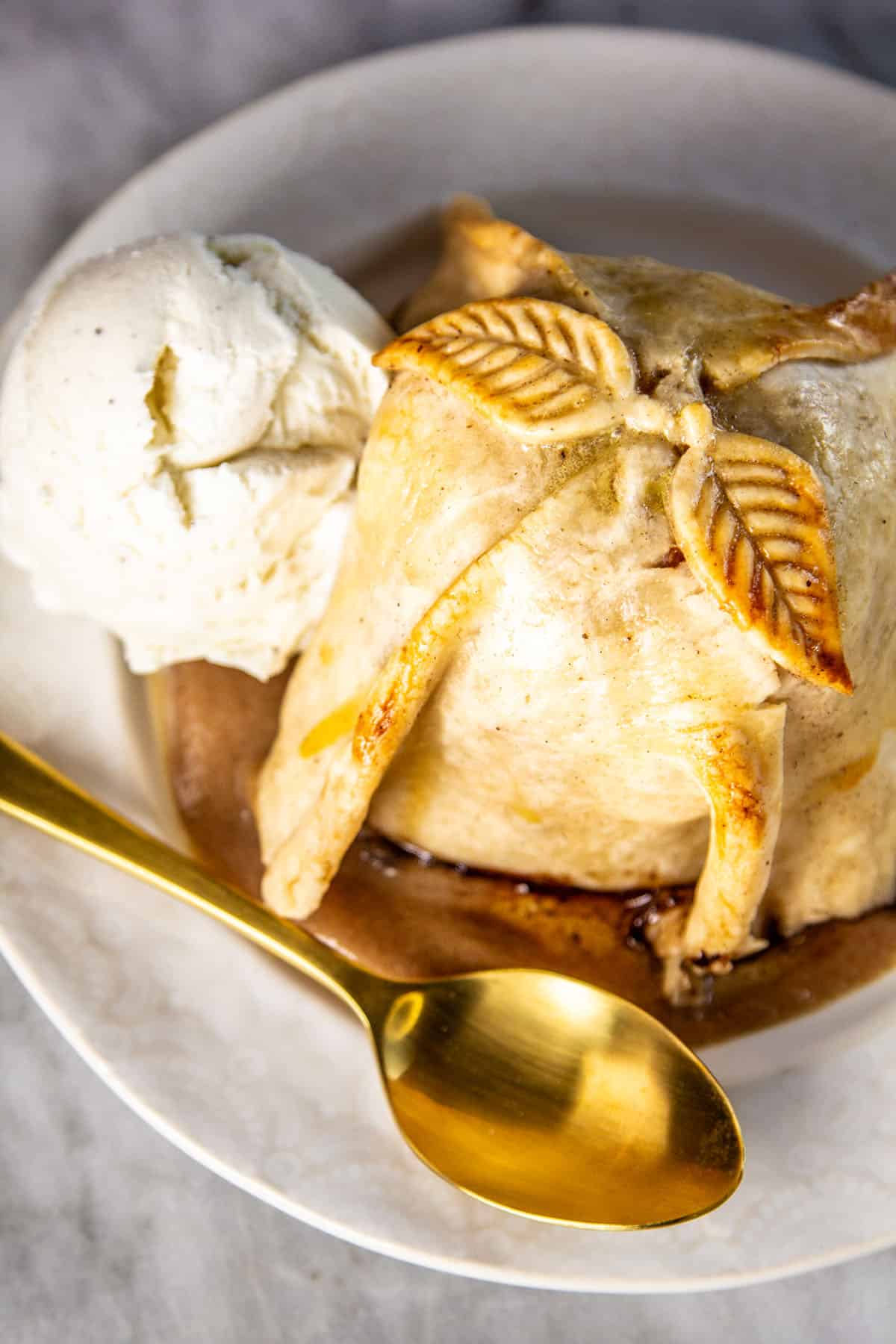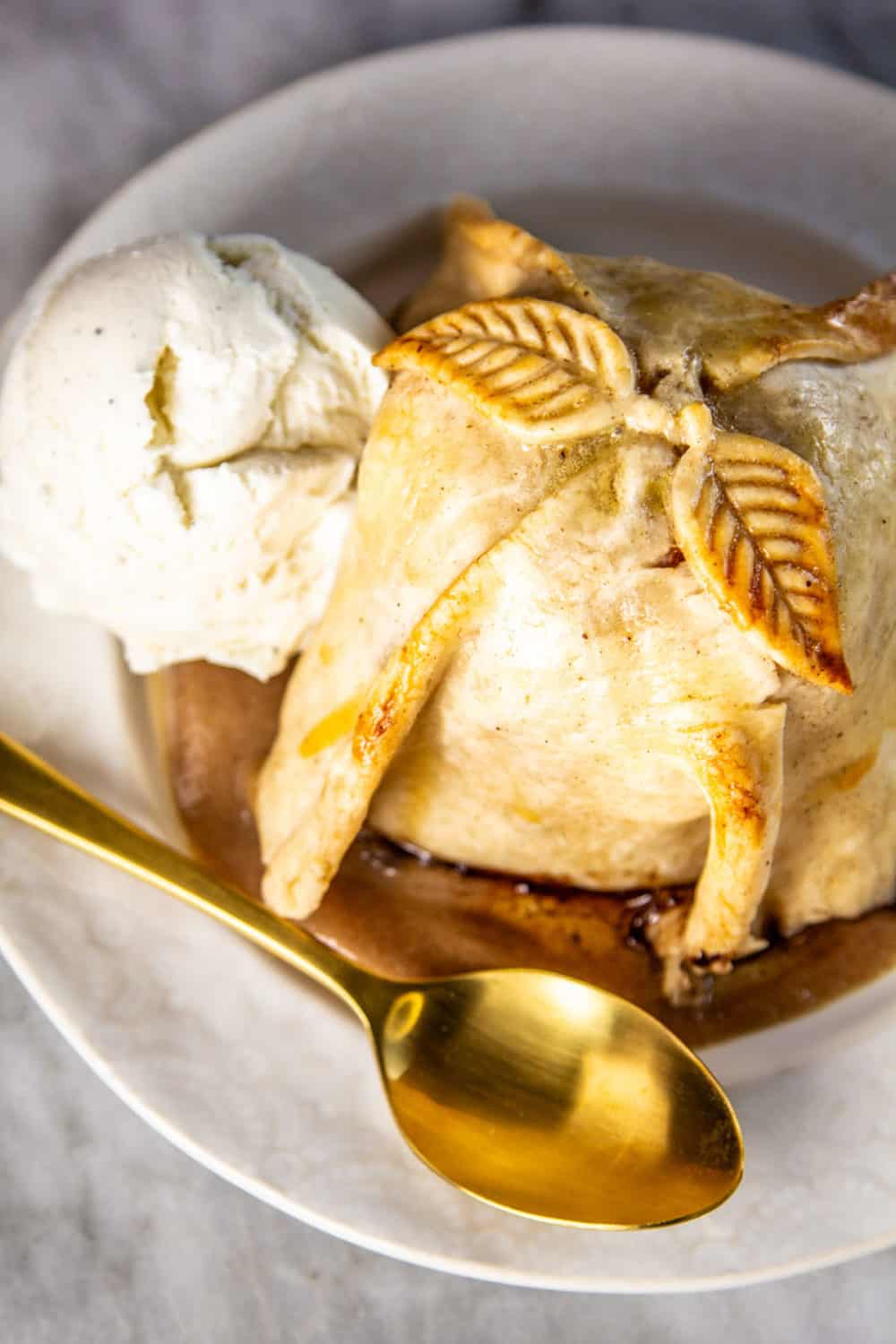 As we wrap up our apple-filled journey, it's clear that the process of making—and sometimes failing at—apple dumplings is an adventure worth joining. One that begins in the soil of the Golden State and ends in shared laughter, communing with loved ones, and the last bite of a dessert that, whether perfectly made or hilariously imperfect, was made entirely by you.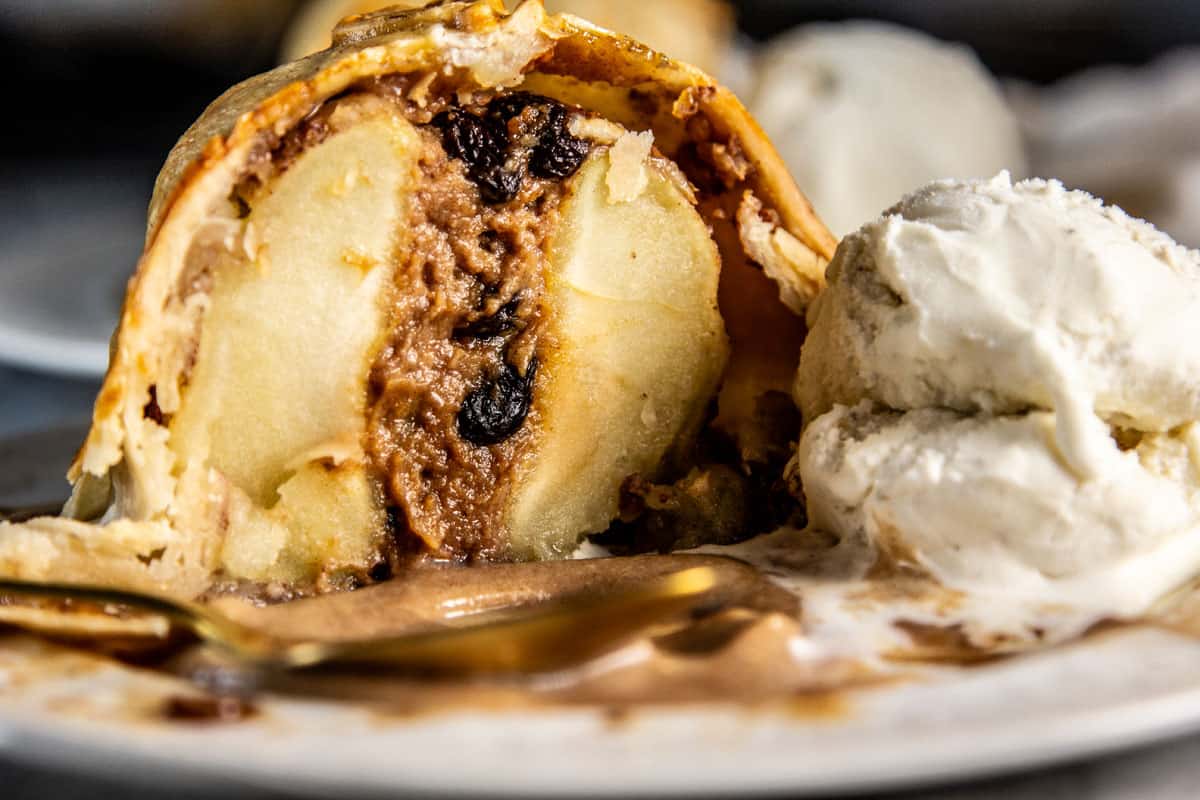 SNAP A PIC OF YOUR APPLE DUMPLINGS AND TAG US WITH #CAGROWN. FOR MORE FIG CAKE AND OTHER CULINARY INSPIRATIONS, FOLLOW US ON PINTEREST.
To learn more about how apples are grown in the Golden State head over to the California Apple Commission website.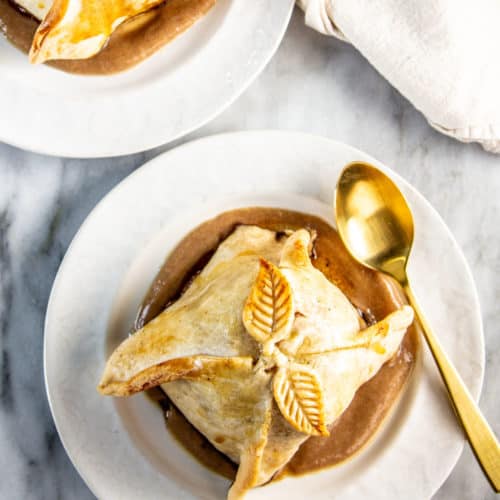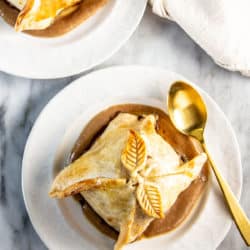 Apple Dumplings
Our apple dumplings are made with Granny Smith apples filled with date-caramel & raisins, nestled in flaky pie crusts, then baked to a golden finish.
Ingredients
4 premade 9" pie crusts, from 2 boxes (thawed) or 16"x16" rolled out pie dough, cut into 8"x8" squares
4 large Granny Smith apples, peeled and cored, approximately 222 grams
1 cup date caramel, divided. Click here for the recipe.
¼ cup California raisins, packed and heaping
¼ cup brown sugar, packed
1 teaspoon cinnamon
½ cup walnuts, toasted
1 cup apple cider vinegar
1 cup sugar
6 tablespoons salted butter
2 tablespoons Temecula Olive Oil Co. Vanilla & Date Balsamic Vinegar or substitute 2 tablespoons balsamic vinegar + 1 teaspoon vanilla extract
1 egg, beaten
1 tablespoon water
To serve:
1/2 cup date caramel
vanilla ice cream or whipped cream (optional)
Instructions
Grease a 13 x 18-inch sheet pan (with 1-inch or higher sides) and set aside.

With a knife or a food processor, chop the toasted walnuts until very fine and no large chunks remain.

In a shallow dish, mix finely chopped walnuts, brown sugar, and cinnamon until fully incorporated. Set aside.

In a separate small bowl, mix together 1/2 cup of the date caramel and raisins. Set aside.

On a lightly floured surface, roll out pie dough and cut into 8 x 8 inch squares. Cut the remaining dough into decorative pieces, like leaves, using cookie cutters if desired. Set aside.

Peel and core apples.

Working one at a time, roll the outside of each apple in the brown sugar-cinnamon walnut mixture until evenly coated. Set the apple in the middle of a pie dough square, on a lightly floured work surface, with the cored hole facing up. Use a small spoon to fill the hole in each apple with the date/caramel/raisin mixture.

Working with slightly wet fingers, pull each corner of the pie dough to the top of the apple and gently press them together. Then gently fold the dough to the right, down the seams and press it into itself. Repeat this around the whole apple to make a sort of beggar's purse. Pinch each seam with slightly damp fingers to fully enclose the pastry around the sides of the apple. Add any decorative pie dough elements to the dumpling.

Place each dumpling on the greased sheet pan. Place in the refrigerator for at least 1 hour, or overnight, to chill.

When ready to bake, preheat the oven to 400℉ (204℃).

Meanwhile, in a small pot combine the apple cider vinegar, sugar, butter, and vanilla/date balsamic vinegar over medium-high heat and stir until sugar is dissolved (about 5 minutes). Carefully pour this liquid over the chilled dumplings and onto the pan.

Bake in a preheated oven until golden brown and crispy, about 50-60 minutes. When there are 20 minutes of cook time remaining, combine the beaten egg and water in a small bowl and whisk well to combine. Brush the top of each dumpling with egg wash, then finish baking.

Using a spatula or large spoon, spread a few tablespoons of date caramel on a dessert plate or in a shallow bowl. Place a baked dumpling on top of the caramel and serve with a tablespoon or so of the pan sauce drizzled over the top – and vanilla ice cream!
Nutrition
Calories: 1530kcalCarbohydrates: 210gProtein: 16gFat: 73gSaturated Fat: 26gPolyunsaturated Fat: 13gMonounsaturated Fat: 27gTrans Fat: 1gCholesterol: 86mgSodium: 861mgPotassium: 834mgFiber: 13gSugar: 107gVitamin A: 692IUVitamin C: 9mgCalcium: 109mgIron: 6mg