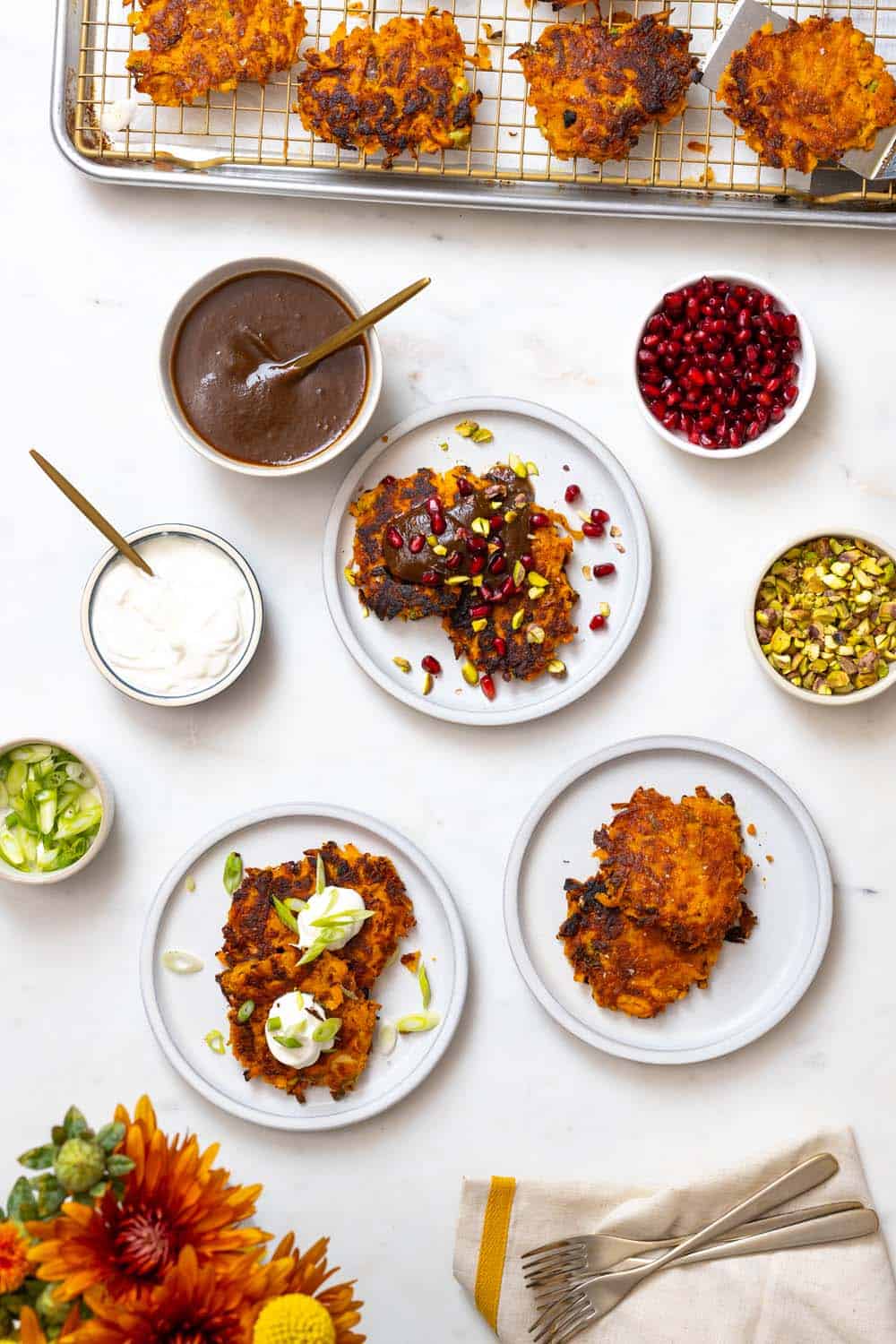 CA GROWN Blog
Discover. Learn. Connect.
Easy Latke-Inspired Sweet Potato Pancakes: A Delicious Spin On The Classic
October 17, 2023
Eat the Season!
Sign Up For Weekly Recipes
« Back to Recipes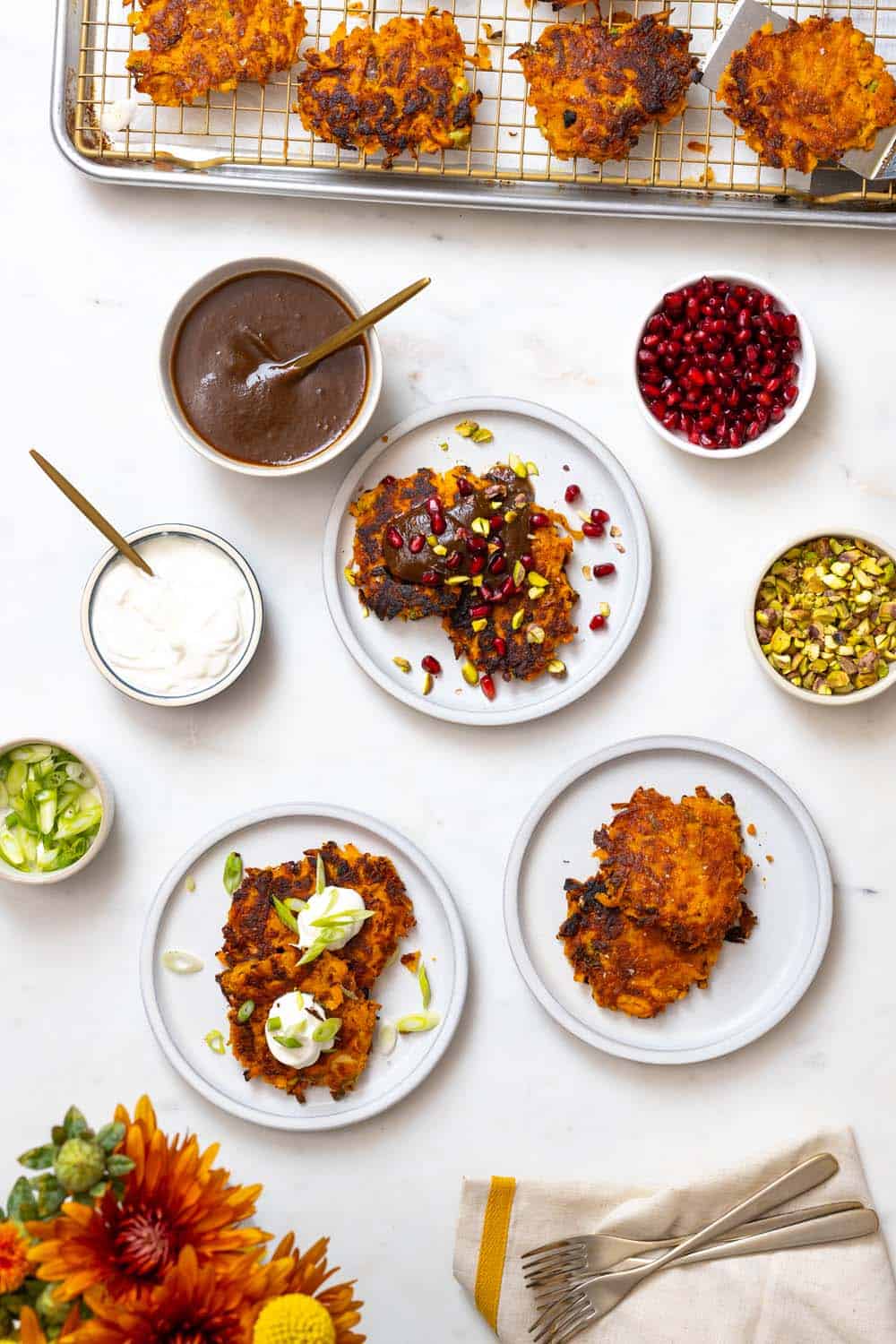 Easy Latke-Inspired Sweet Potato Pancakes: A Delicious Spin On The Classic
You've probably enjoyed the crispy, golden goodness of traditional latkes. But have you ever thought about giving them a unique, California twist? Dig in as we discover a delectable take on this classic dish, infusing it with the rich flavors of California sweet potatoes in our recipe for easy Latke-inspired Sweet Potato Pancakes.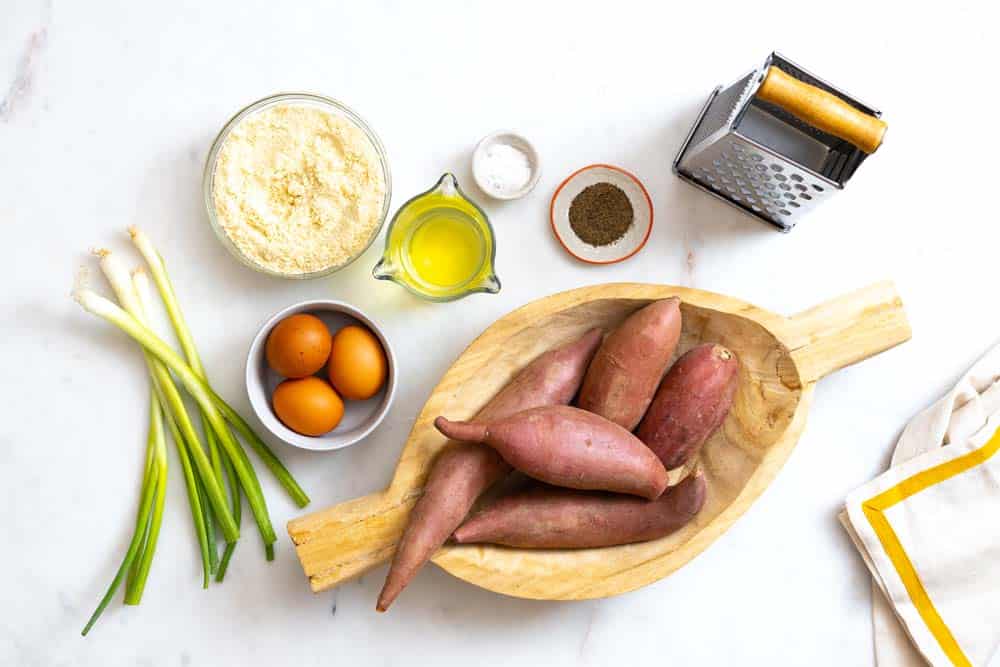 What are latkes?
Latkes are traditional Jewish potato pancakes, most commonly associated with the celebration of Hanukkah. Made from grated potatoes, eggs, and onions, these fried delights are crispy on the outside and tender inside. They are brilliant on their own, but also a delicious slate for piling on various toppings!
What are Latke-Inspired Sweet Potato Pancakes?
While our recipe is very much a latke we also added almond flour to the mix which gives these latkes a bit of a pancake vibe. It's a mish-mash of flavors and textures that marry together perfectly.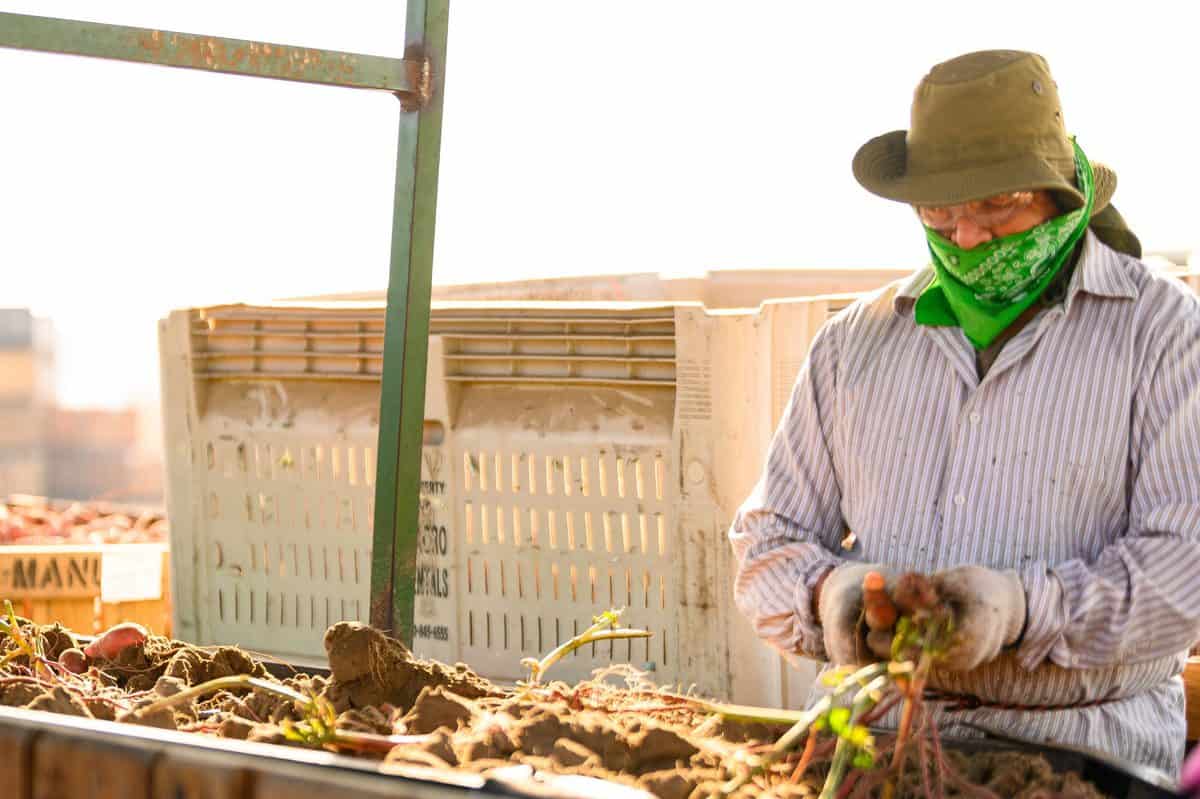 The California Sweet Potato Twist
California's golden rays and temperate climate provide the perfect setting for our sweetpotato crops to thrive, boasting vibrant, rapid growth. This ideal environment extends the growing season, ensuring a consistent supply throughout the year.
Our unique approach involves curing sweet potatoes directly in the earth while they're still connected to their vines, as opposed to the conventional method of post-harvest curing in storage facilities. This vine-curing method is completely natural, devoid of chemicals, and enhances the longevity of their shelf life.
Recognizing the meticulous care that goes into each California sweet potato is essential.
Every single one is chosen, planted, sorted, measured, and packaged manually. This hands-on approach from our dedicated farmers and workers guarantees each sweetpotato meets rigorous quality standards.
Moreover, the reduced reliance on machinery means fewer blemishes and abrasions, resulting in not just more visually appealing sweetpotatoes, but ones that maintain their freshness for longer periods.
Is "sweetpotato" one word or two?
According to our friends at California Sweetpotatoes, "sweetpotato" is correct because their product is not, in fact, a sweet potato.
A sweetpotato is not a potato at all, but botanically an entirely different vegetable, gifted with a totally different set of better-for-you nutrients, amazing taste, and incredible versatility. So sweetpotatoes—one word—is in fact grammatically correct.
Are you curious about the specifics of how sweet potatoes are cultivated in California's unique conditions? We pulled on our sturdy mud boots and dove into the harvest experience to give you a firsthand account of the journey! You can click here to learn more about California sweet potatoes.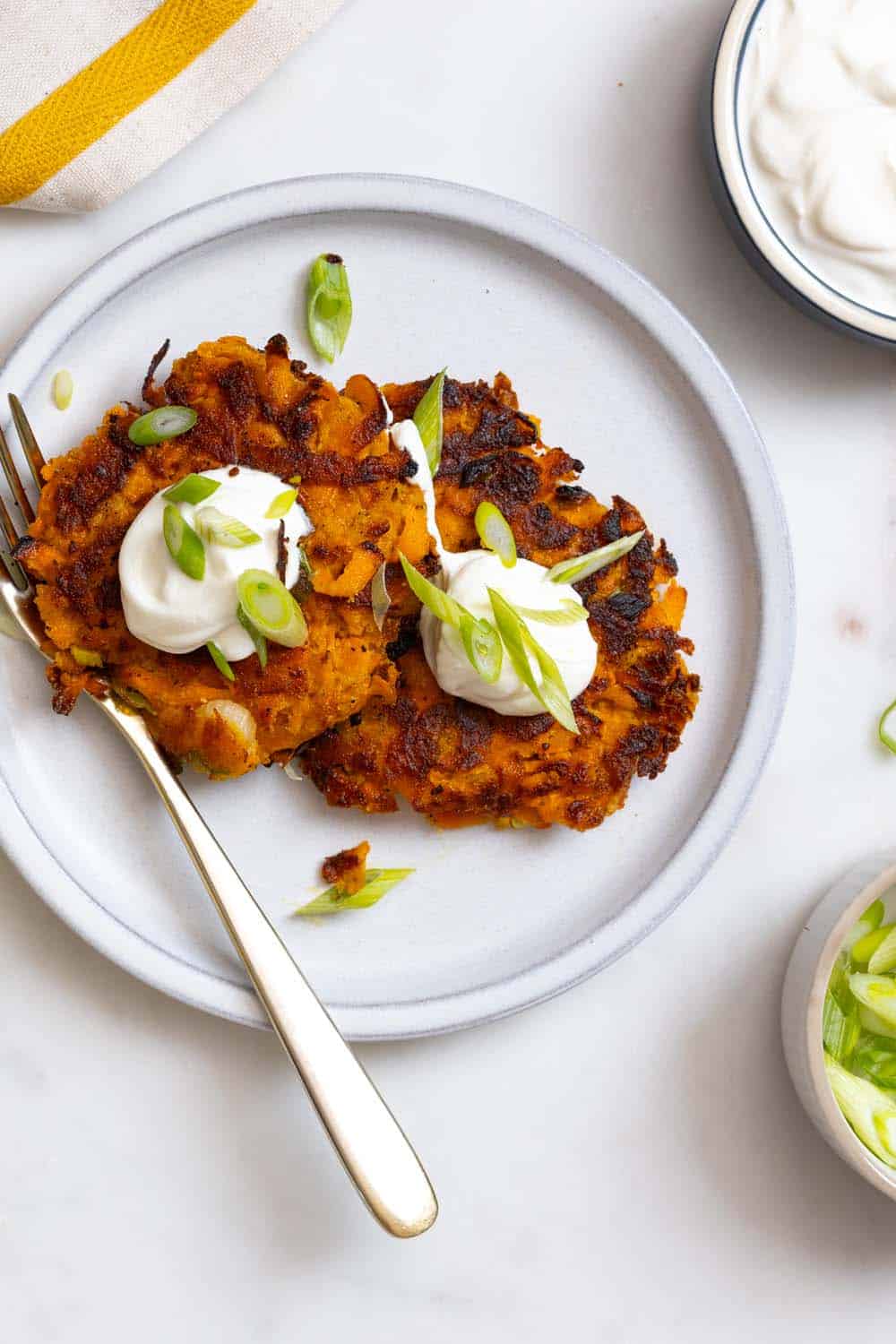 Step-by-Step How To Make Latke-Inspired Sweet Potato Pancakes
While making our Latke-Inspired Sweet Potato Pancakes is a pretty straightforward process that most anyone could master there is one step that you really shouldn't overlook.
Squeezing the excess water from the grated sweet potatoes is an important step to help the Latke-Inspired Sweet Potato Pancakes bind to the egg and flour. This also helps prevent the latkes from falling apart as you flip them during cooking.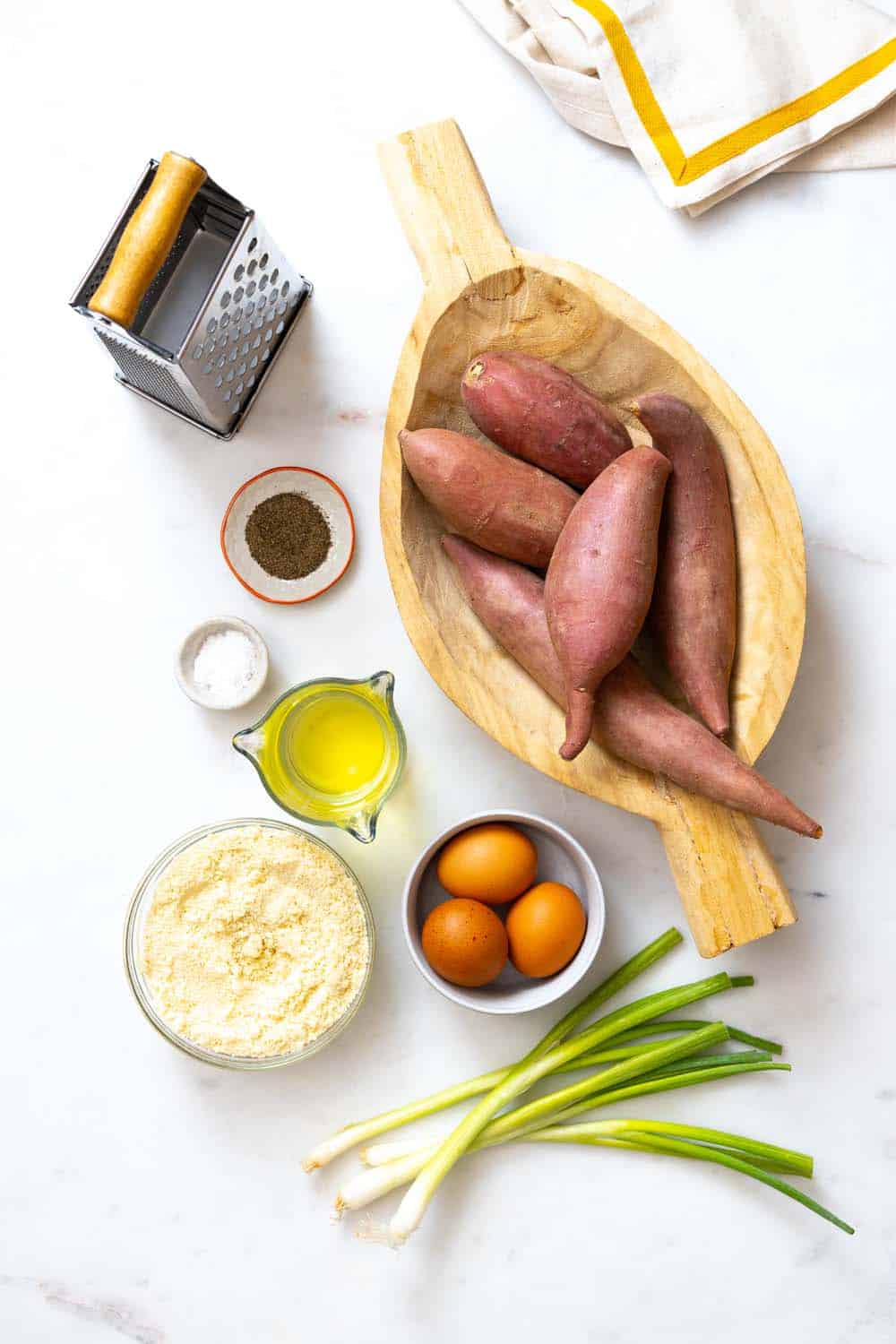 Pairing Your Latke-Inspired Sweet Potato Pancakes With Toppings.
Our Latke-Inspired Sweet Potato Pancakes are versatile, pairing wonderfully with a range of toppings and side dishes. Whether you're a classic sour cream and chive fan or you are seeking something new, our delicious latkes are the perfect vessel for a variety of toppings.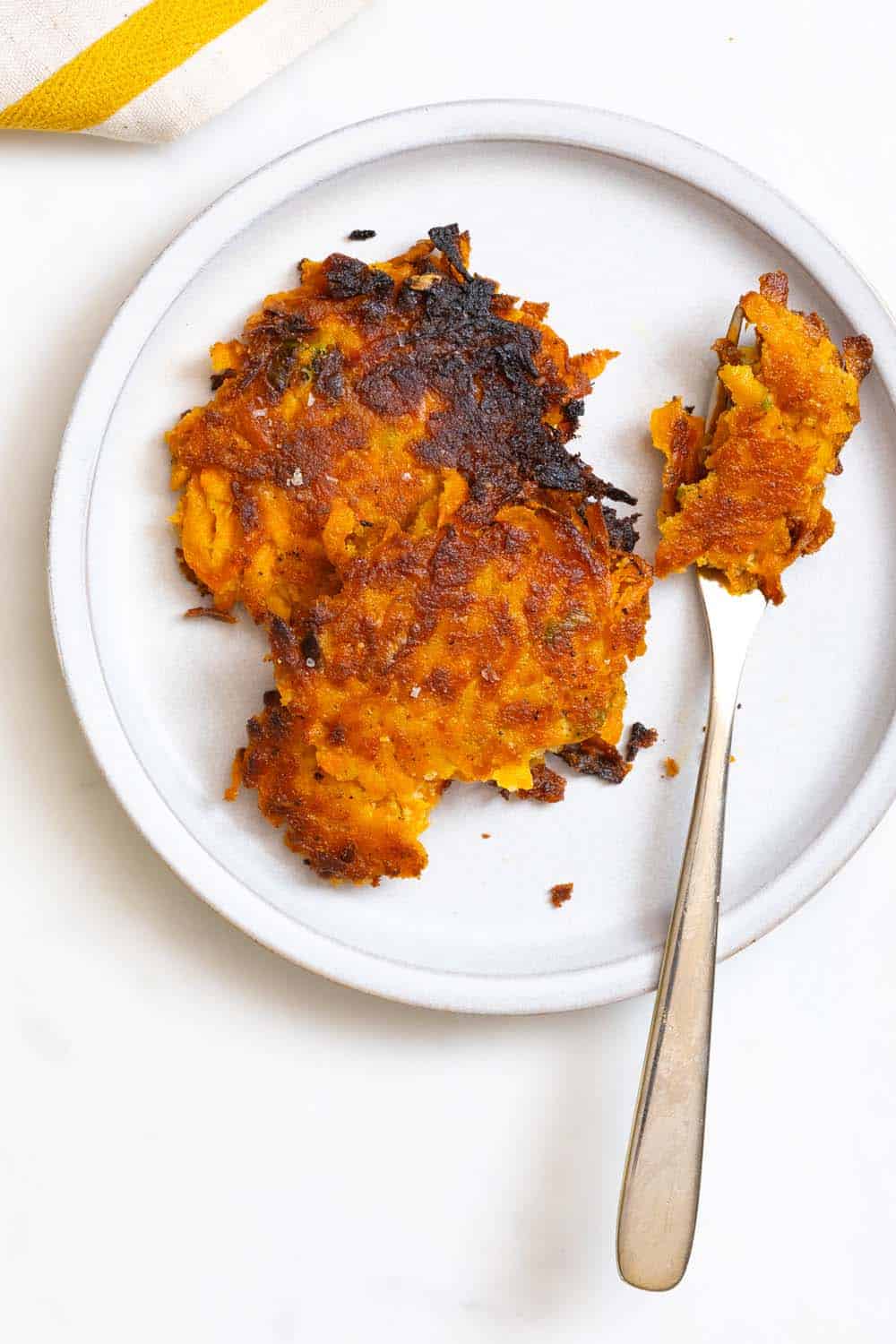 Here are our favorite variations on toppings for our Latke-inspired Sweet Potato Pancakes:
Spiced Apple Butter, fresh pomegranate, and pistachio.
Real California Milk sour cream, and chives.
More Delicious Recipes With California Grown Sweet Potatoes
Clearly, we are all BIG fans of sweet potatoes here at California Grown which means we have some really strong opinions about how to devour them. Below you'll find a few more of the recipes we think you should try next!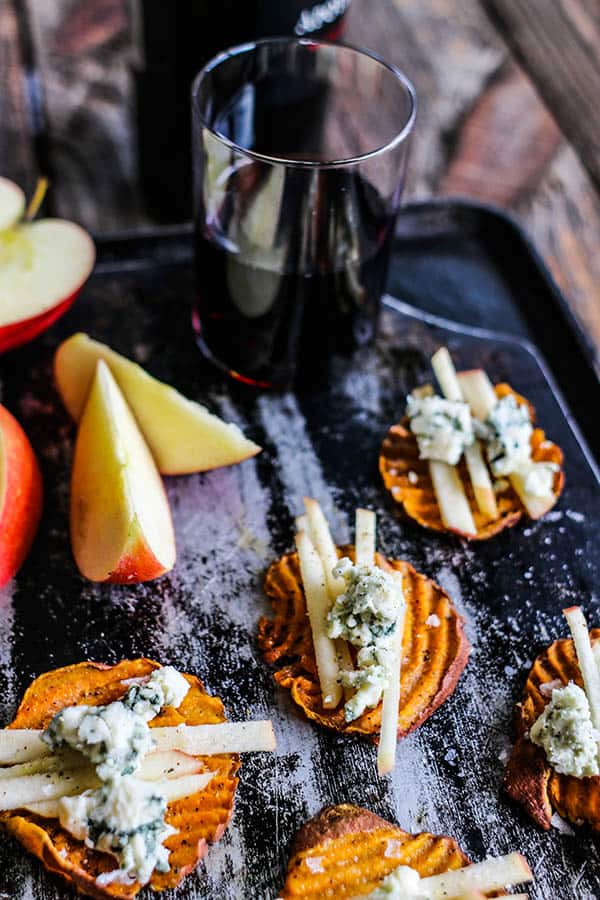 Perfectly roasted sweet potato rounds are the most delicious vessel for crisp fresh apples and creamy blue cheese that we can possibly think of. Go ahead, dig in!
There are a handful of dishes that are synonymous with Thanksgiving – and sweet potato casserole is one of them. While there are lots of opinions about how to prepare this celebratory side dish we think our version of sweet potato casserole with pecans, rosemary, and brown butter is superior to others.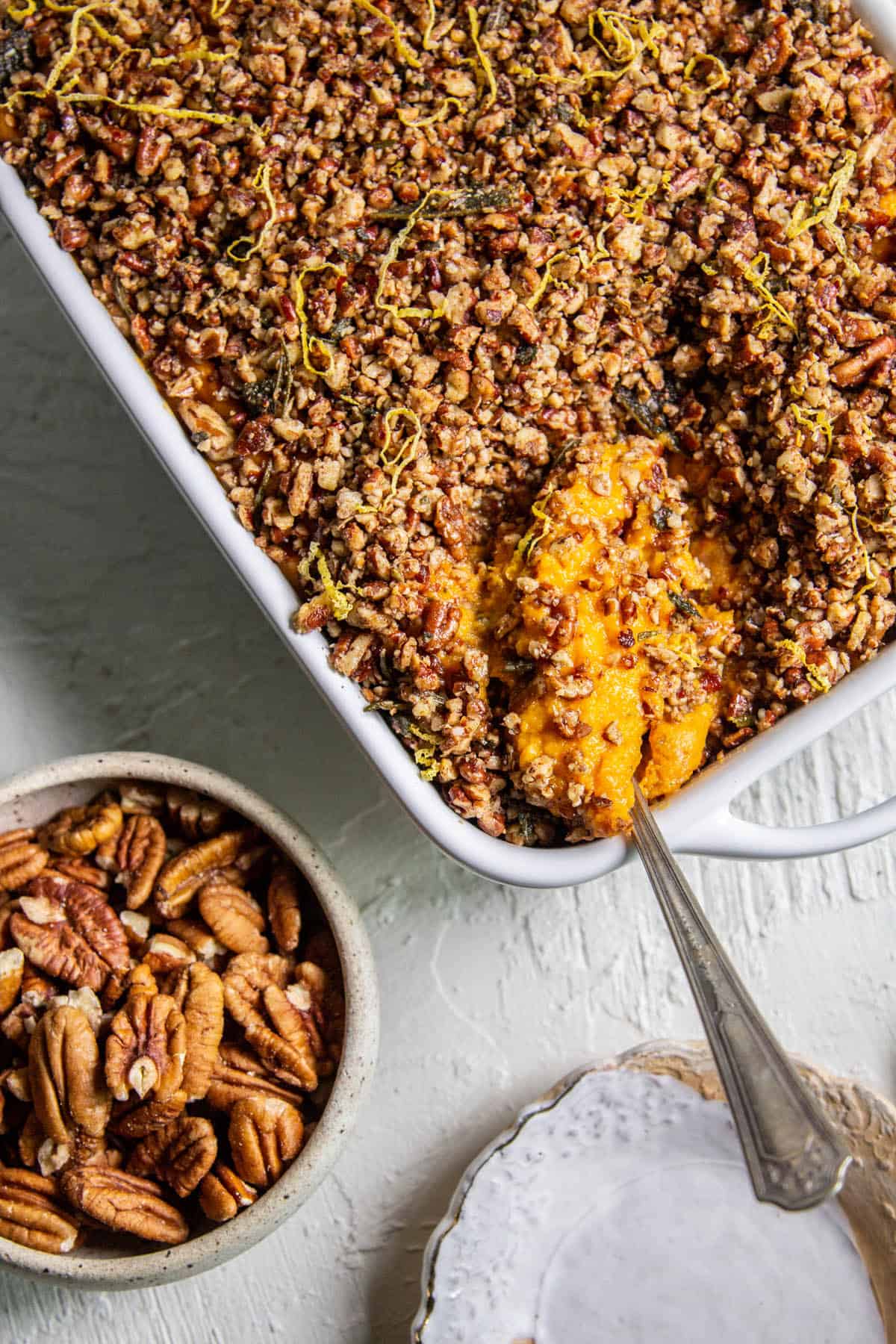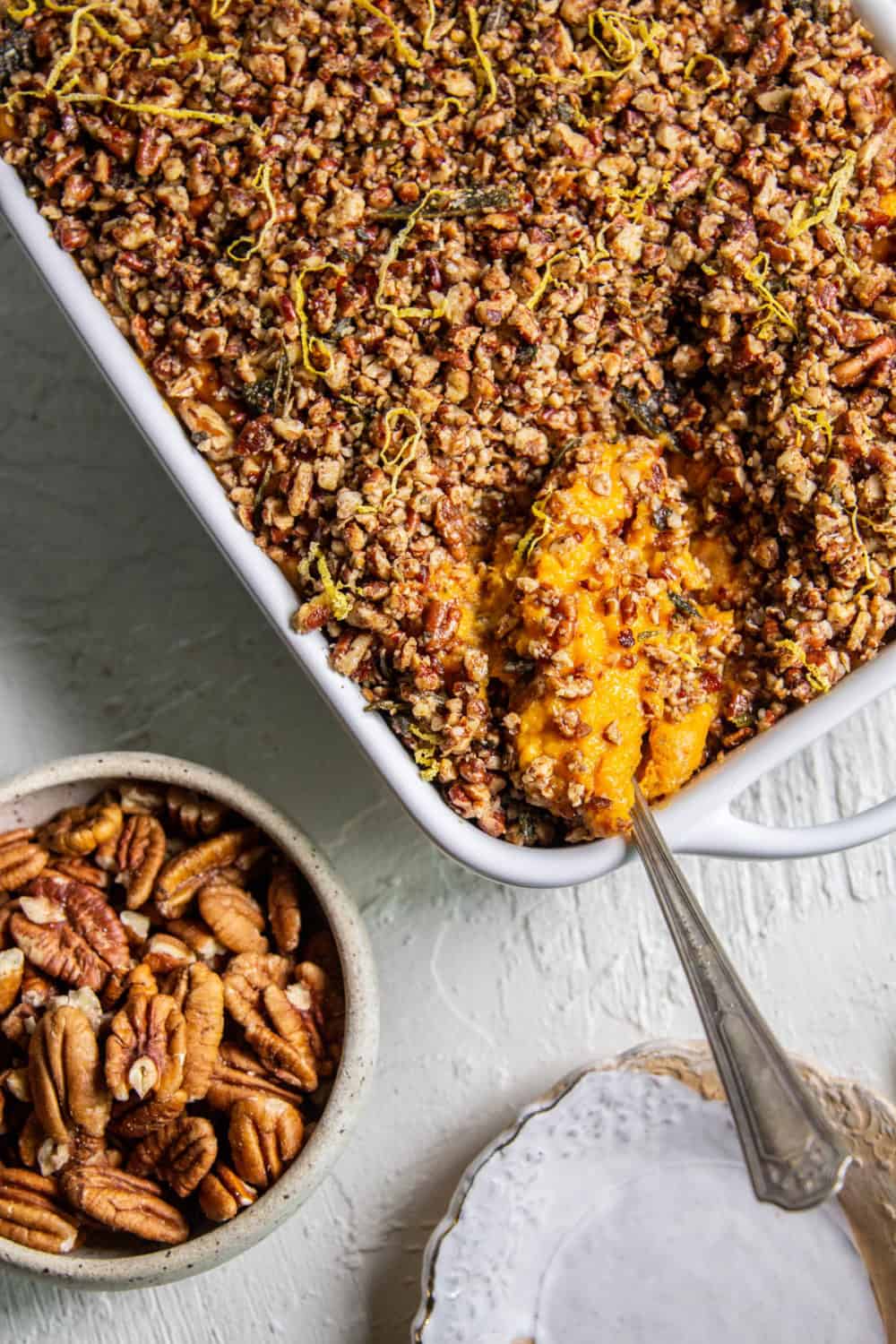 BE SURE TO SHARE YOUR LATKE-INSPIRED SWEET POTATO PANCAKE CREATIONS WITH US BY SNAPPING A PIC AND TAGGING US ON SOCIAL USING #CAGROWN.
Craving more CA Grown goodness? Follow us on Pinterest for fresh and fabulous recipe inspiration!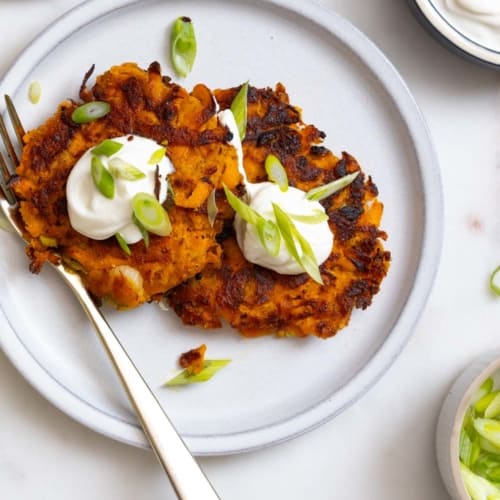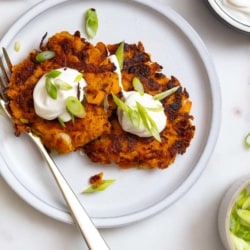 Latke-Inspired Sweet Potato Pancakes
Indulge with a modern twist on tradition with our California Grown Latke-Inspired Sweet Potato Pancakes. These golden pancakes, crafted from coarsely grated sweet potatoes, are a fusion of earthy flavors and crisp textures. Enhanced with almond flour and scallions, they're a wholesome take on a classic favorite. 
Ingredients
2 pounds California sweet potatoes peeled and grated coarsely
1 ⅔ cup almond flour
3 eggs slightly beaten
3 green onions green stalk and white bulb thinly sliced
2 teaspoons kosher salt plus more for finishing
1 teaspoon black pepper
¾ cup vegetable oil
Optional toppings for Latke-Inspired Sweet Potato Pancakes
Instructions
Peel and grate sweet potatoes either with a box grater or food processor. Working in batches, wrap sweet potatoes in a clean kitchen towel and squeeze out as much water as you can, then transfer to a mixing bowl.

Add almond flour, eggs, scallion, salt, and pepper, and mix until fully incorporated.

In a medium skillet or saute pan, heat oil on medium-high just until you can see smoke.

Using a ¼ cup to measure, spoon the latke mixture into oil in batches of 3 or 4. Press mixture with a spatula to flatten out and form pancake shapes.

Let cook for about two minutes or until golden brown and crispy, then gently flip and allow to cook another two minutes.

Transfer to a plate or baking sheet lined with paper towels to absorb excess oil and season with a pinch of kosher salt.

Latkes are best served immediately, but may be made ahead and warmed in a preheated 400 degree oven.
Notes
Squeezing excess water from the sweet potatoes is an important step to help the latke pancakes bind to the egg and flour. This also helps them from falling apart as you flip them.
Nutrition
Serving: 3latkesCalories: 179kcalCarbohydrates: 15gProtein: 6gFat: 12gSaturated Fat: 1gPolyunsaturated Fat: 0.1gMonounsaturated Fat: 0.3gTrans Fat: 0.003gCholesterol: 27mgSodium: 297mgPotassium: 187mgFiber: 4gSugar: 3gVitamin A: 7210IUVitamin C: 2mgCalcium: 67mgIron: 1mg
Click here to view the Google web story for this post!
This article and recipe were written by Meg van der Kruik. Photo credit Becky Sue Wilberding for California Grown.