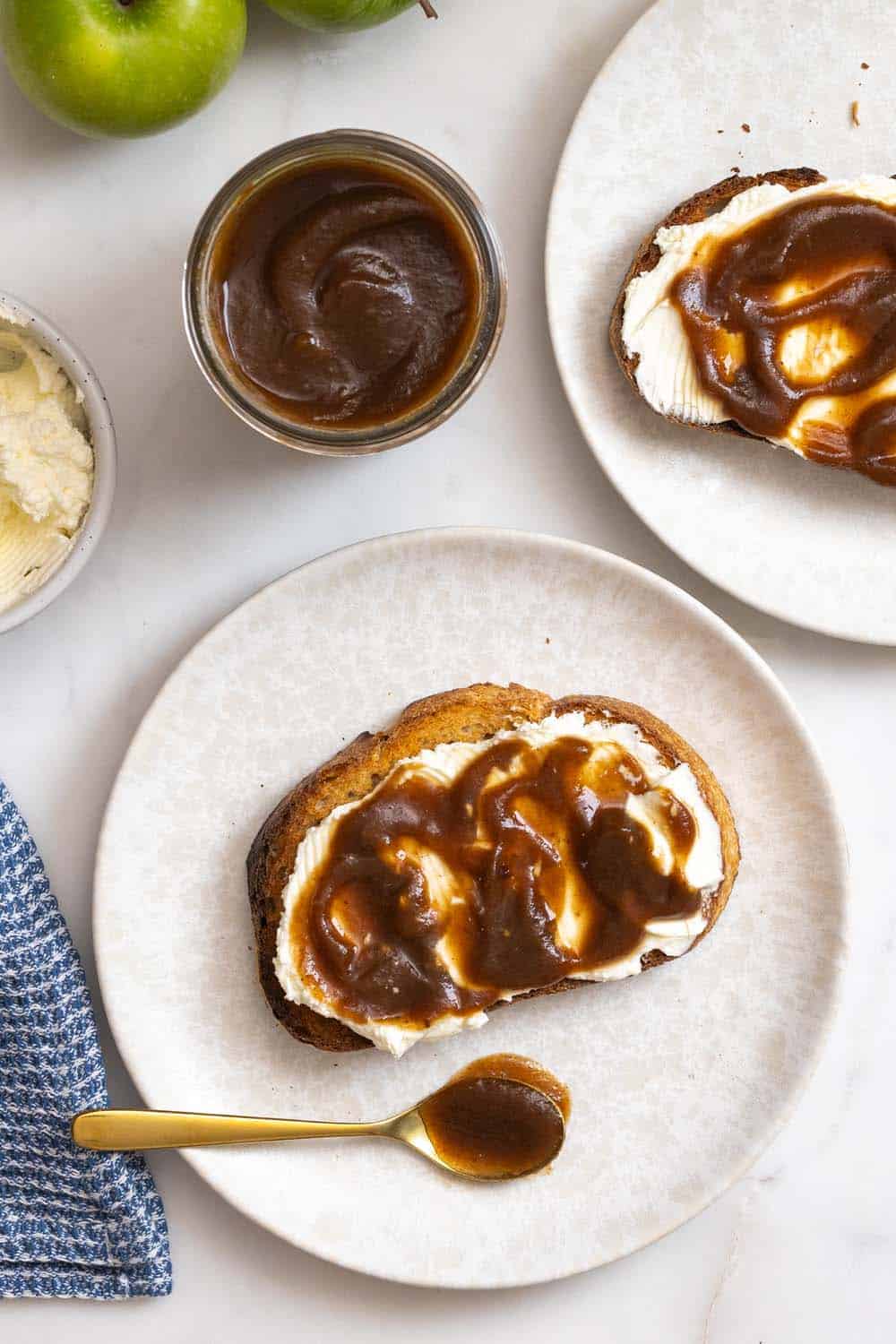 CA GROWN Blog
Discover. Learn. Connect.
Apple Butter; How To Make It And Ways To Devour It
October 10, 2023
Eat the Season!
Sign Up For Weekly Recipes
« Back to Recipes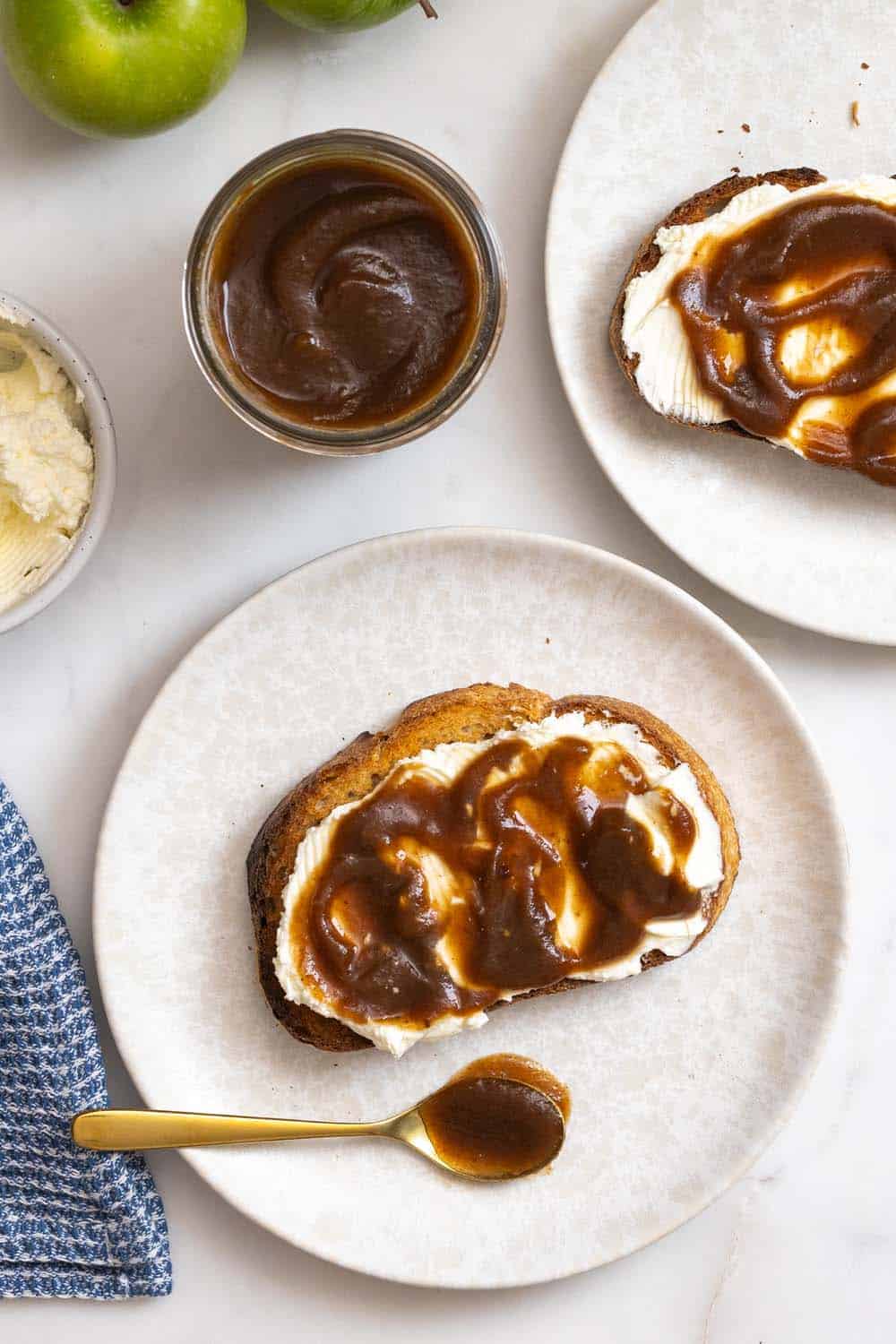 Apple Butter; How To Make It And Ways To Devour It
There's something truly captivating about the rich, caramelized flavor of spiced apple butter. It's a quintessential condiment for fall that has truly stood the test of time. So we thought it was about time we shared all things apple butter; how to make it, and the delicious ways we like to serve it.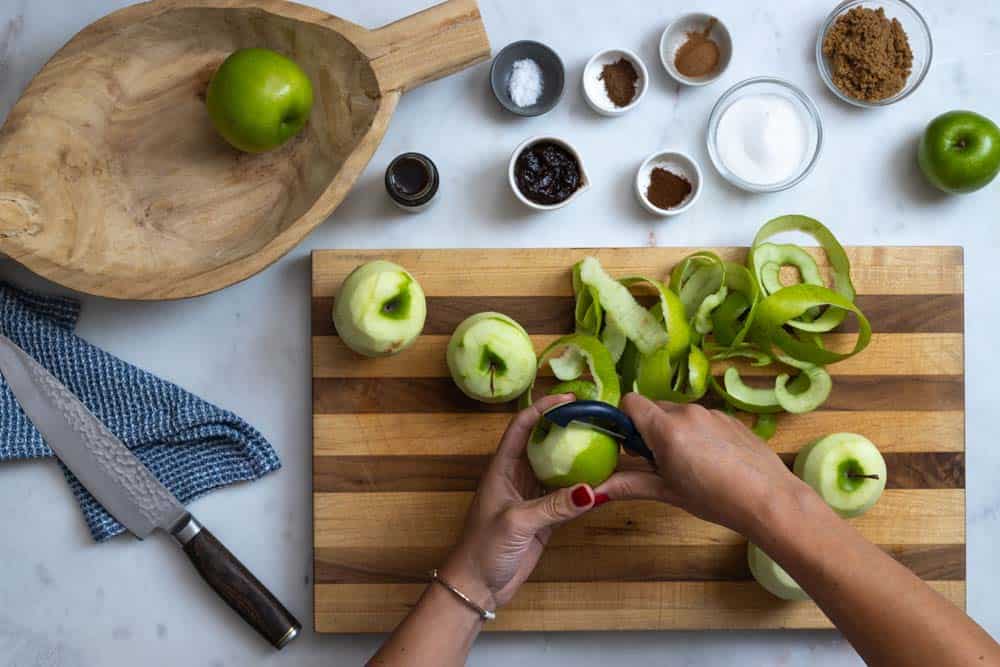 Apples have a storied history in the United States, grown in all 50 states but commercially prospering in just 36. With California as the 5th largest producer of apples nationwide, it's no surprise that apple-related recipes are a hit among locals. Out of the many apple recipes that have made their mark, one stands out in particular: Apple Butter.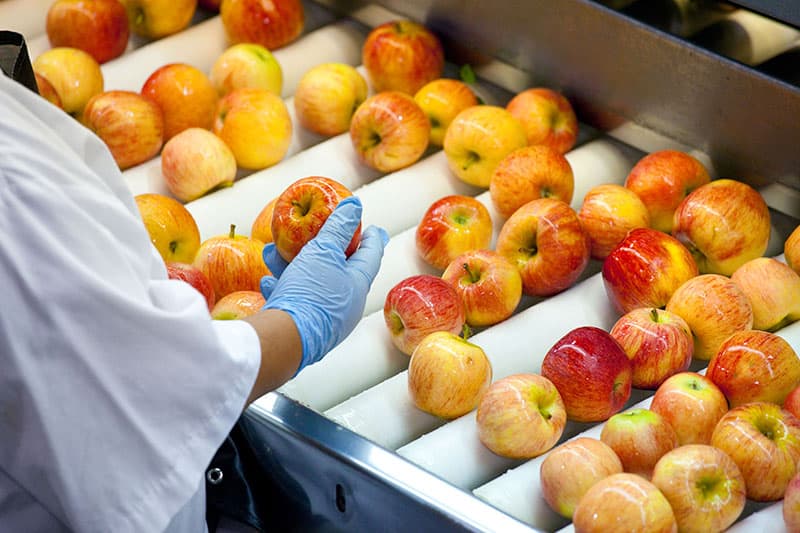 A Brief Dive Into the Golden State's Apple Orchards
Before we dive into the heart (or should I say core?) of the matter, let's take a moment to appreciate the beauty of California apples. While places like the Pacific Northwest may get the limelight for their apple production, upper Northern California isn't far behind. Perfectly suited for Gala, Fuji, Granny Smith, and Cripps Pink, the region comes alive with apple orchards during the harvest season, which spans from July to October.
We love apples so much that we gathered all our favorite apple recipes in one place. Click on the link below to read more about California apples and apple recipes.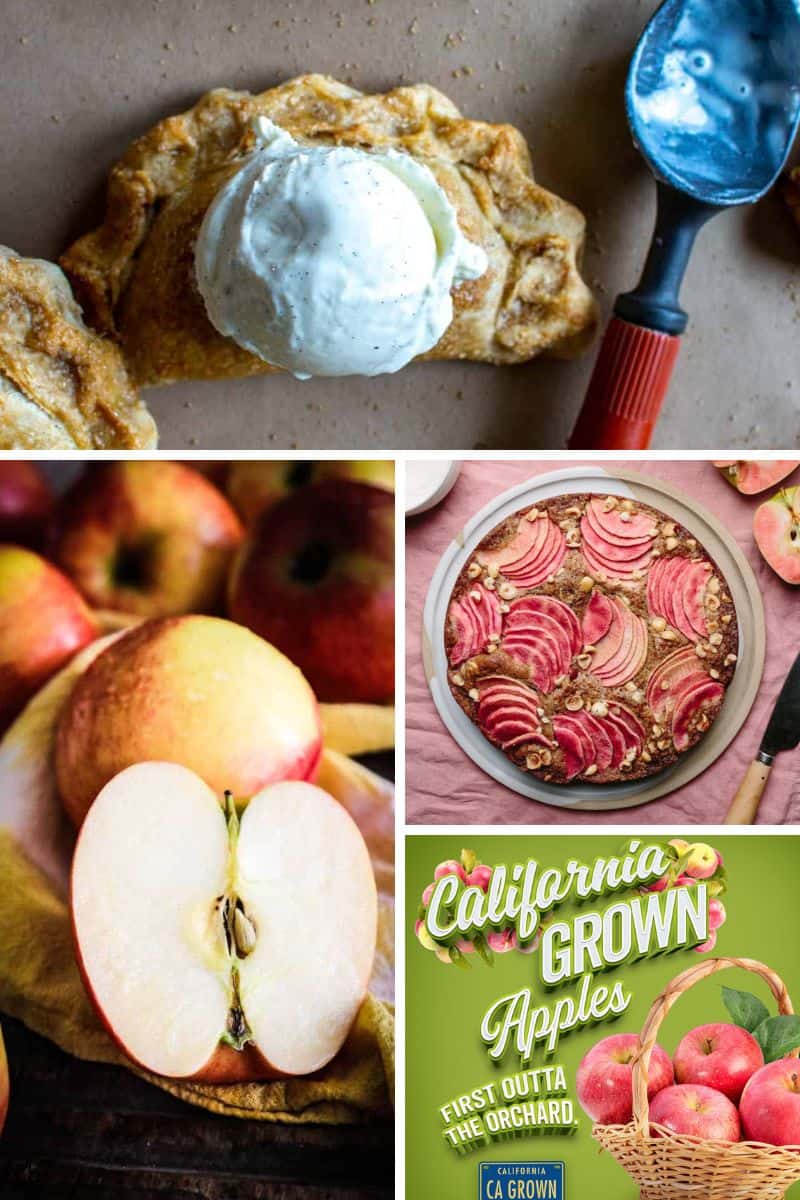 There are literally hundreds of thousands of apple recipes on the internet, so how do you know which ones are actually worth trying?! There is nothing worse than when a recipe fails, especially when you've invested lots of time and money on groceries. That's why we've teamed up with some of our most trusted California Grown Creators to bring you over 20 no-fail, delicious apple recipes that you will make again and again!
Is Making Apple Butter From Scratch Hard?
The answer might surprise you: No, it's not. But the magic lies in choosing the right ingredients and having a tad bit of patience. With a slow cooker and some fresh California apples, the process becomes incredibly straightforward. In essence, it's about letting the slow cooker do the heavy lifting.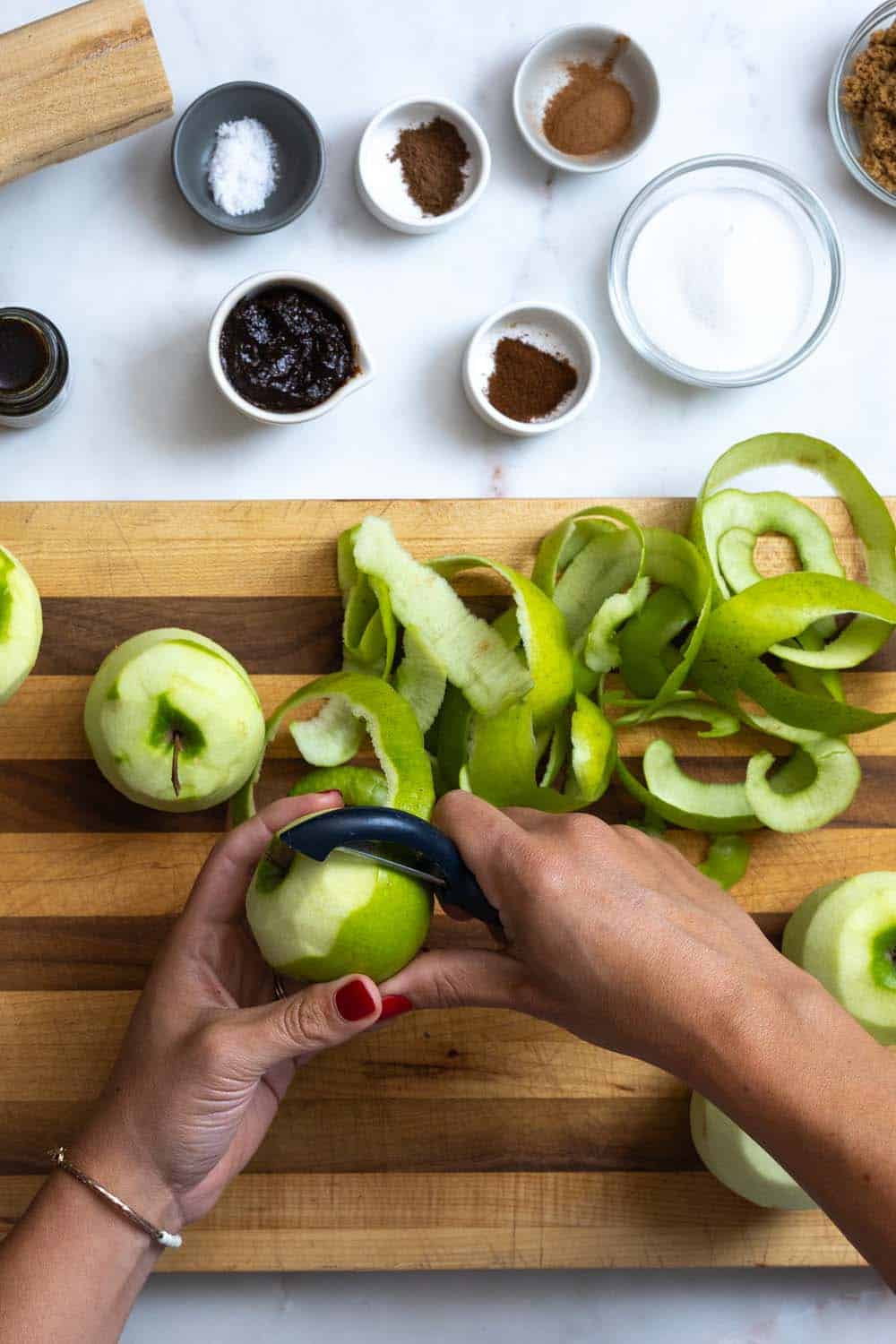 Dress Up Your Meals: Devouring Your Apple Butter
Apple butter isn't just for toast. Here are a few ways to incorporate this delectable spread into your meals:
Breakfast Pancake Topping: Swap out the maple syrup for apple butter.
Yogurt Parfait: Layer with granola, yogurt, and a generous dollop of apple butter.
Sandwich Spread: Add a layer to your PB&J or turkey sandwich.
Cocktails: Apple butter and sauces make for great cocktails that are super easy to make and always a huge hit!
BE SURE TO SHARE YOUR FAVORITE APPLE BUTTER CREATIONS WITH US BY SNAPPING A PIC AND TAGGING US ON SOCIAL USING #CAGROWN.
Craving more CA Grown goodness? Follow us on Pinterest for fresh and fabulous recipe inspiration!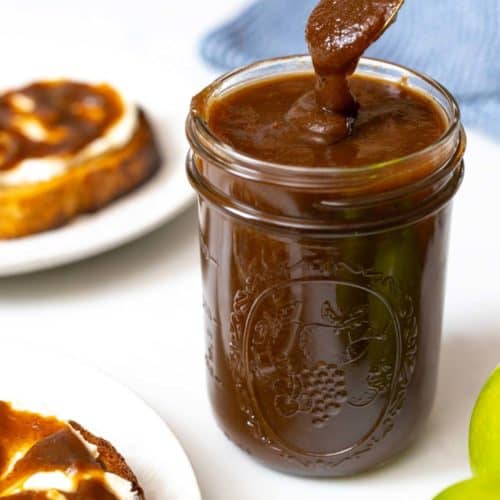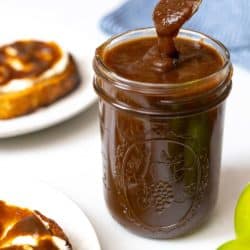 Spiced Apple Butter
Savor the essence of fall with our luscious Apple Butter—a blend of tart Granny Smith apples, warm spices, and a touch of sweetness, with the unique addition of prune puree as a natural sugar substitute.
Ingredients
2 pounds Granny Smith Apples
¼ cup brown sugar
¼ cup sugar
¼ cup prune puree
½ teaspoon cinnamon
¼ teaspoon clove
¼ teaspoon allspice
½ teaspoon vanilla paste
1 teaspoon salt
Instructions
Peel, core, and dice apples. Place in slow cooker with remaining ingredients and stir well. Cook for 10 hours on low.

Puree in a blender or food processor until smooth.

Apple butter can be stored refrigerated for up to five days in an airtight container.
Video
Notes
Any variety of apples will work for this recipe. I used Granny Smith apples because the tartness balances well with the prune puree and their firm texture gives the final product a silky smooth texture.
Nutrition
Calories: 992kcalCarbohydrates: 260gProtein: 3gFat: 2gSaturated Fat: 0.3gPolyunsaturated Fat: 1gMonounsaturated Fat: 0.1gSodium: 2352mgPotassium: 1376mgFiber: 26gSugar: 216gVitamin A: 836IUVitamin C: 42mgCalcium: 136mgIron: 2mg
This article and recipe were written by Meg van der Kruik. Photo credit Becky Sue Wilberding for California Grown.
Click here to view the Google Web Story for this post!