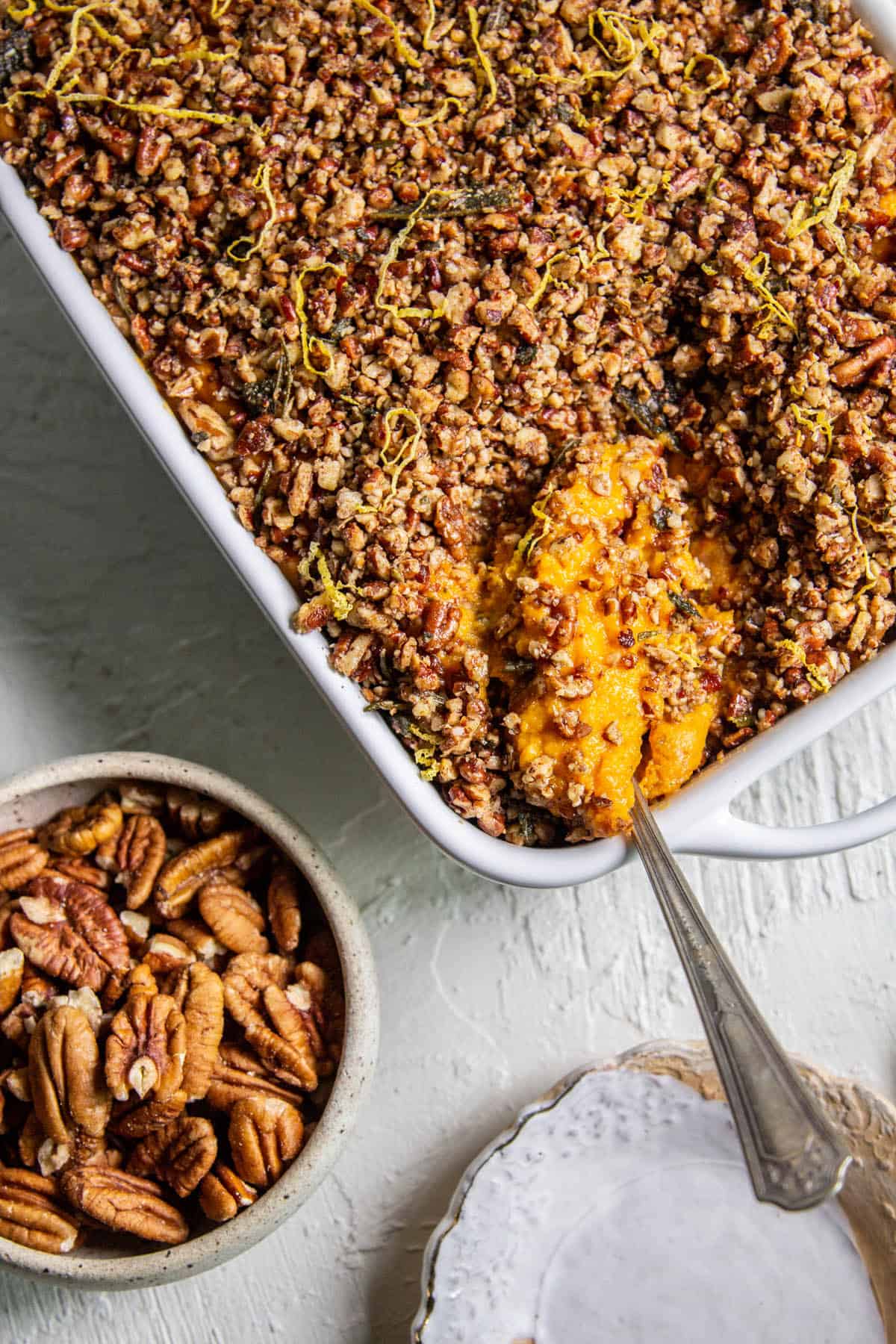 CA GROWN Blog
Discover. Learn. Connect.
How To Make The Best Sweet Potato Casserole with Pecans
November 15, 2022
Eat the Season!
Sign Up For Weekly Recipes
« Back to Recipes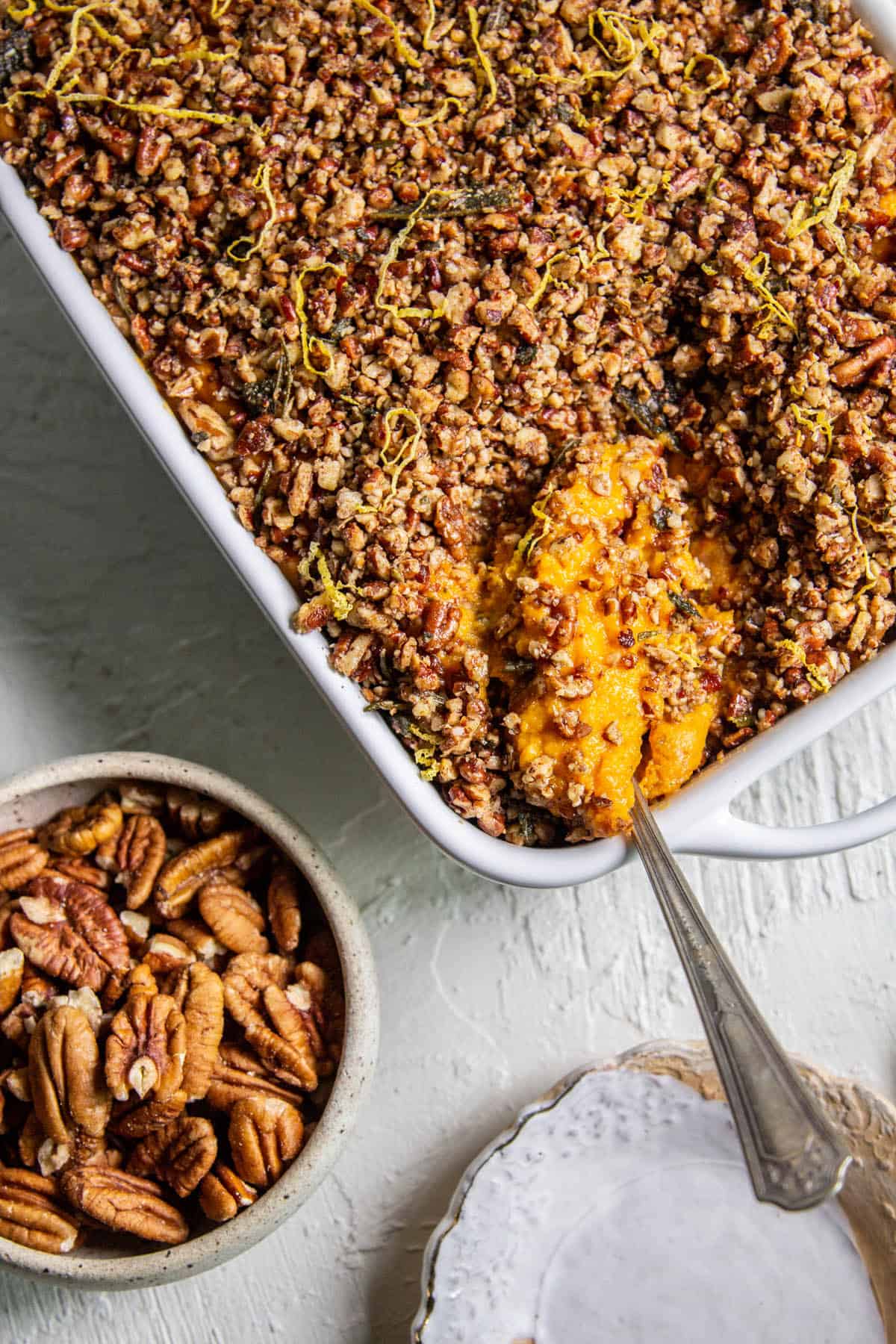 How To Make The Best Sweet Potato Casserole with Pecans
There are a handful of dishes that are synonymous with Thanksgiving – and sweet potato casserole is one of them. While there are lots of opinions about how to prepare this celebratory side dish we think our version of sweet potato casserole with pecans, rosemary, and brown butter is superior to others.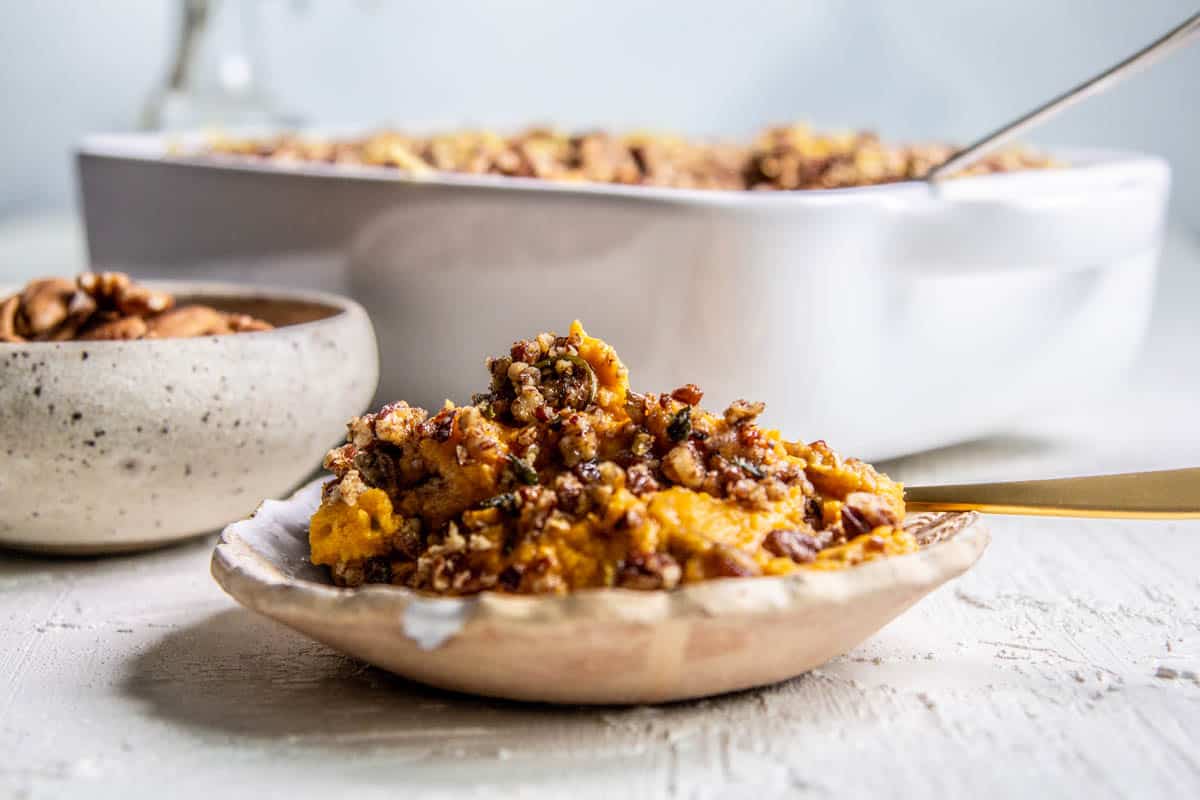 First thing first, what is the correct way to spell sweetpotato?
According to our friends at California Sweetpotatoes, "sweetpotato" is the correct way because a sweet potato is not a potato at all, but botanically an entirely different vegetable gifted with a totally different set of better-for-you nutrients, amazing taste, and incredible versatility.
So sweetpotatoes—one word—is not only grammatically correct, but it helps make the distinction.
Are sweetpotatoes and yams the same thing?
Sweetpotatoes are sometimes referred to as yams, especially orange-fleshed sweetpotatoes. But technically, none are actually yams—they're all sweetpotatoes. There is such a thing as a yam, but it's botanically unrelated to a sweetpotato. True yams are a starchy, dry root vegetable with a tough, bumpy, dark brown skin and they are pretty impossible to find in most parts of the U.S.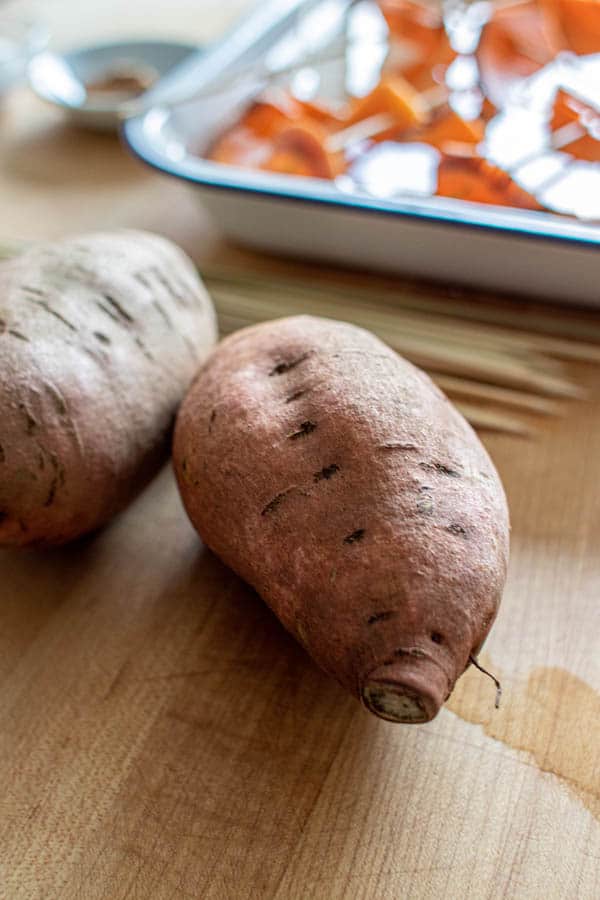 What type of sweetpotatoes are best for Sweet Potato Casserole?
There are 4 main types of sweetpotatoes grown in California, but the best sweetpotato to use in this sweet potato casserole with pecans is an orange-fleshed sweetpotato. Below are the two varieties of sweetpotato that you should be looking for when shopping at the store.
Jewell: An orange-skinned, orange-fleshed sweetpotato, the Jewell is a classic. When cooked, the meat is super-sweet and very moist.
Garnet: A red-skinned, orange-fleshed sweetpotato. Like the Jewell, when cooked, the meat is very sweet and moist.
An orange-fleshed sweetpotato will add a little more sweetness to whatever you're cooking. They're a little moister than their yellow/white/purple-fleshed counterparts, so they are better for mashing.
How to make Brown Butter and Herb Sweet Potato Casserole with Pecans.
Making sweet potato casserole isn't a task that is hard at all. It just takes time and valuable real estate in the oven. To make things easier when prepping this side dish for Thanksgiving, I like to roast the sweet potatoes and toast the pecan topping the day before I intend to serve it. Doing this means that all that is left on the day of is to brown the butter, assemble the casserole components, and warm through in the oven.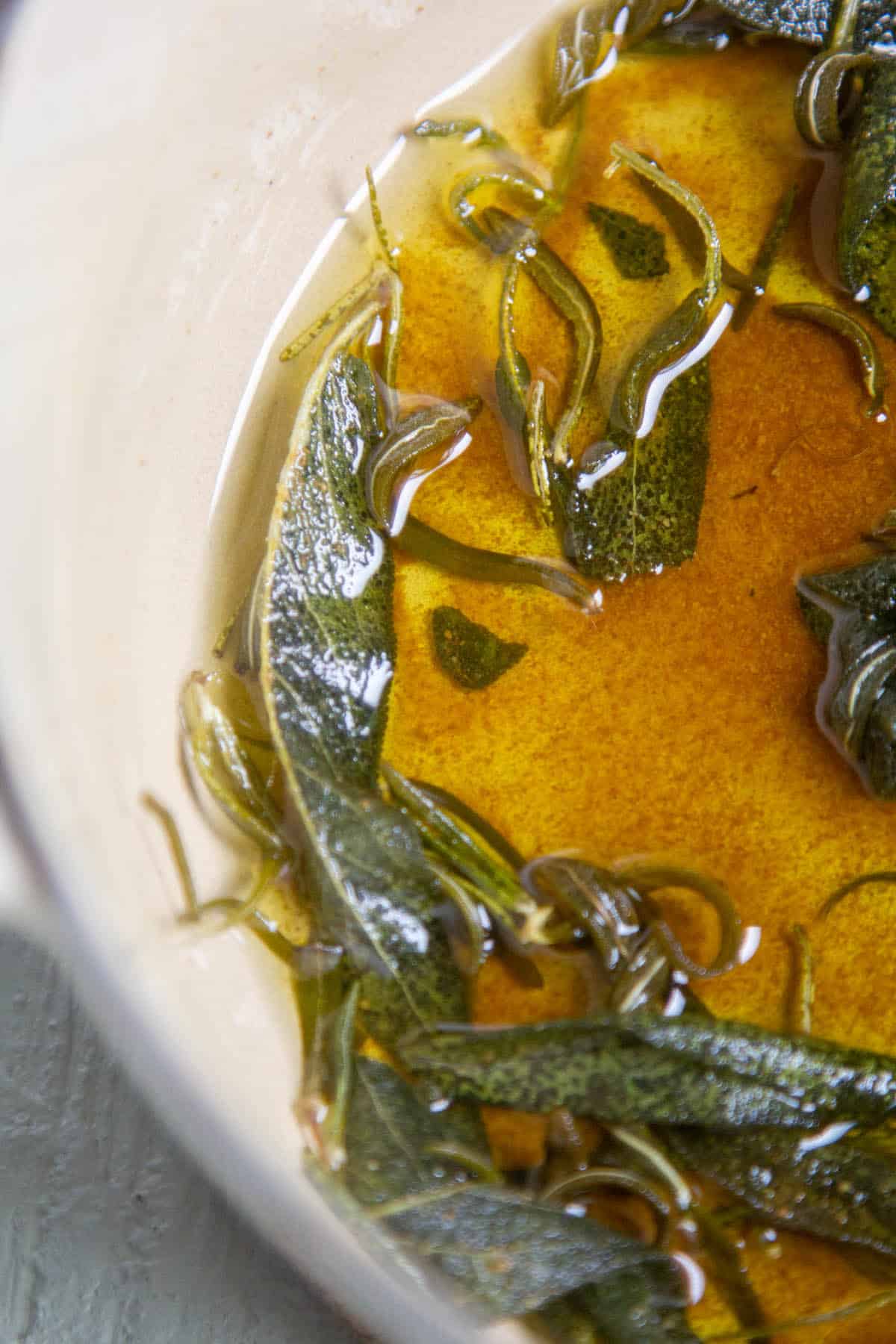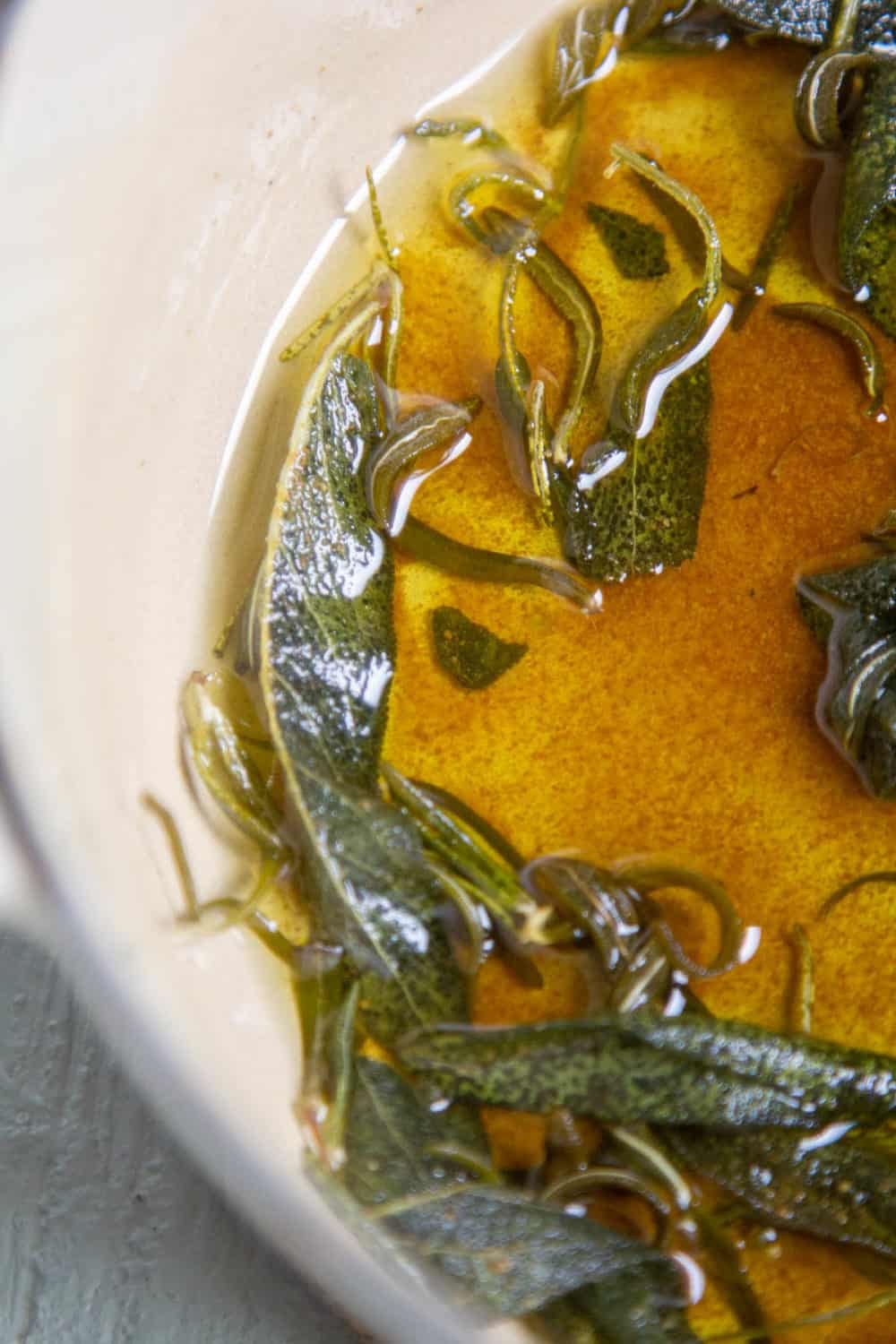 Rosemary & Sage Brown Butter
Brown butter is made by cooking unsalted butter long enough to turn the milk solids brown while cooking out any water present in the butter.
Often described as tasting nutty or toasty, it has a deeper, richer, more intense flavor than melted or clarified butter.
For this Brown Butter Sweet Potato Casserole with Pecans, and Rosemary recipe the brow butter shows up not only in the toasted pecan topping, but also in the sweetpotato mash.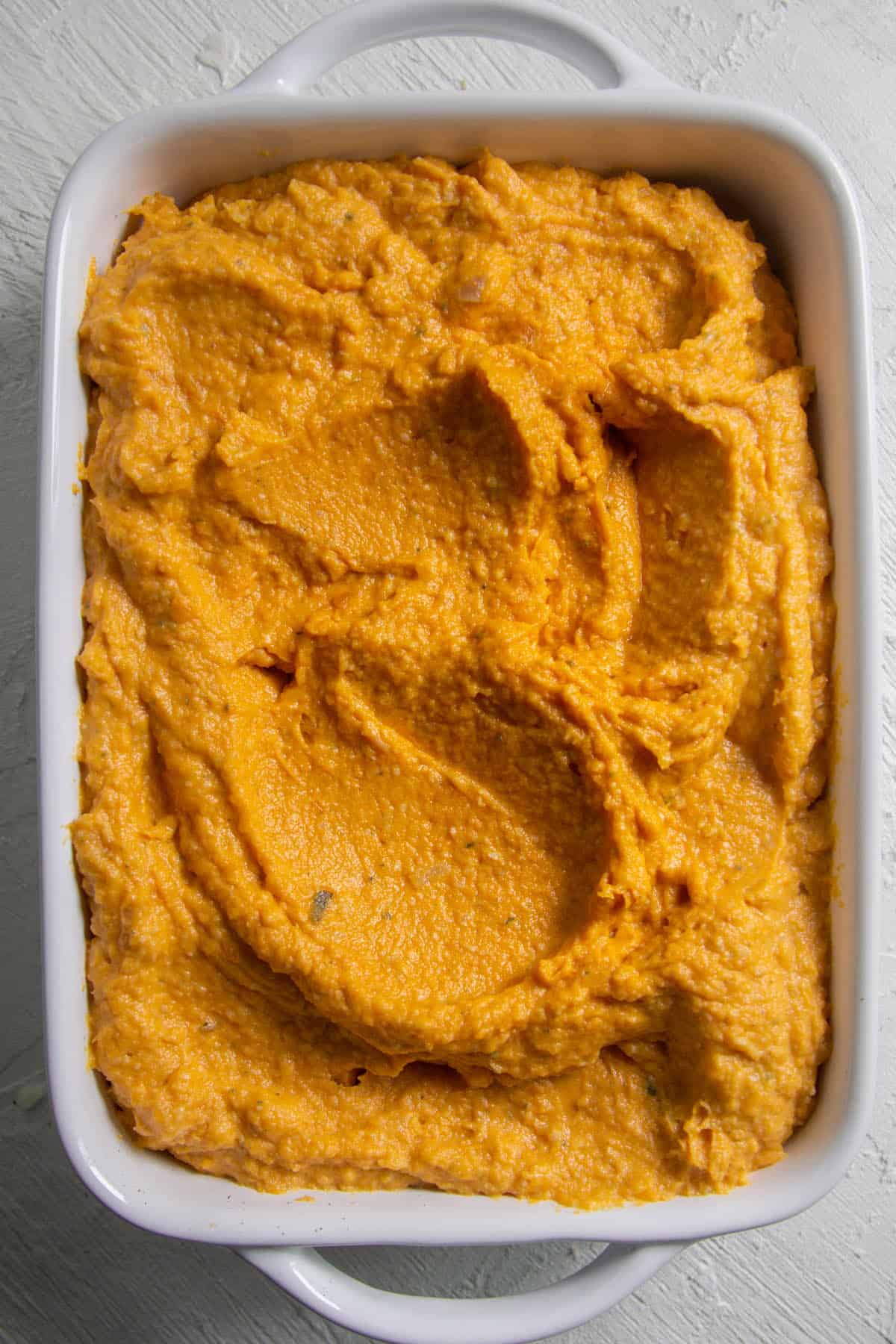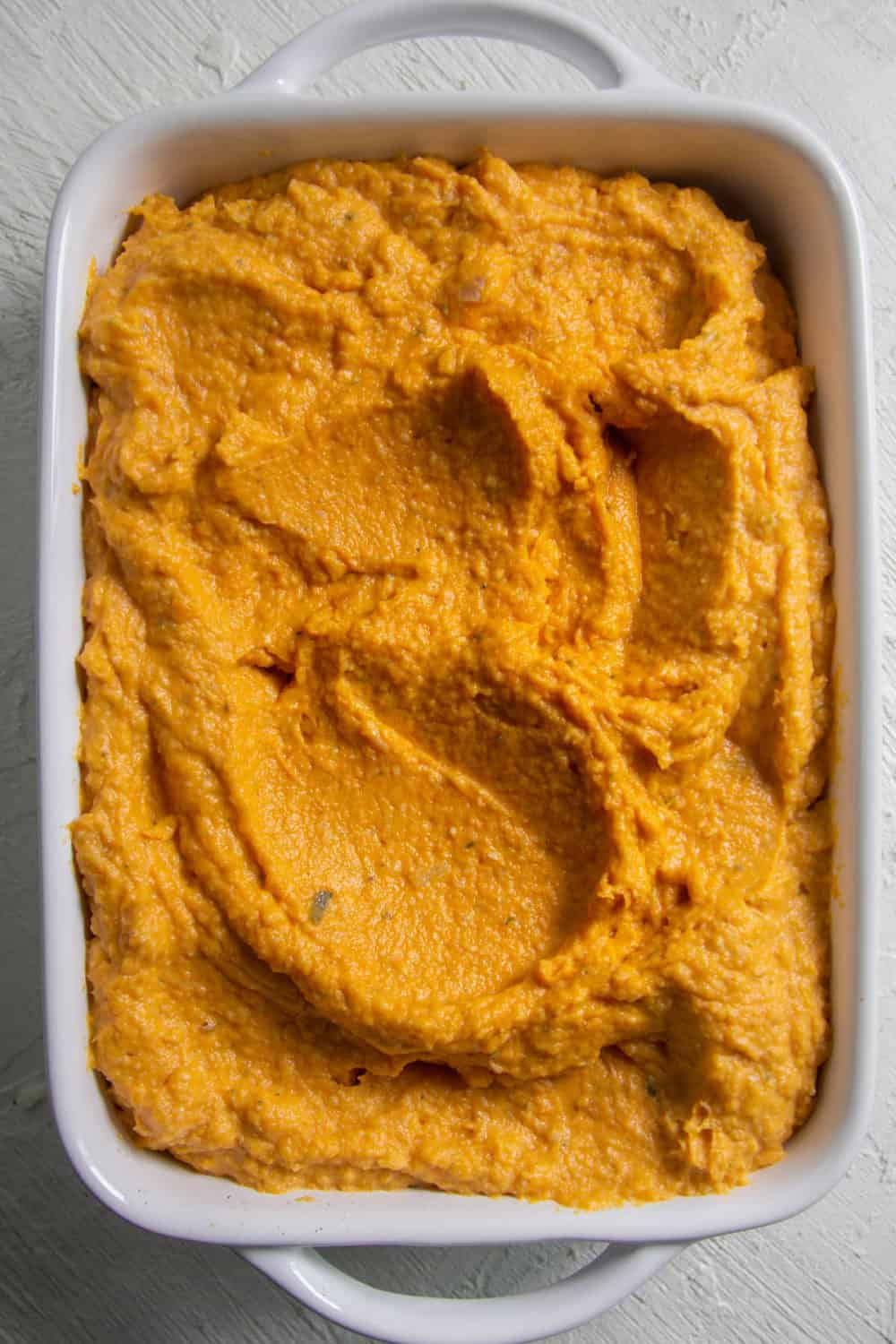 Roasted Sweet Potato & Brown Butter Base
This recipe requires roasting the sweetpotatoes which intensify their sweet flavor.
Then, the roasted sweetpotato flesh is scooped from the skin and blended with shallots, cream, eggs, the herbed brown butter, and Roano cheese.
When I say this is decadent – I mean it!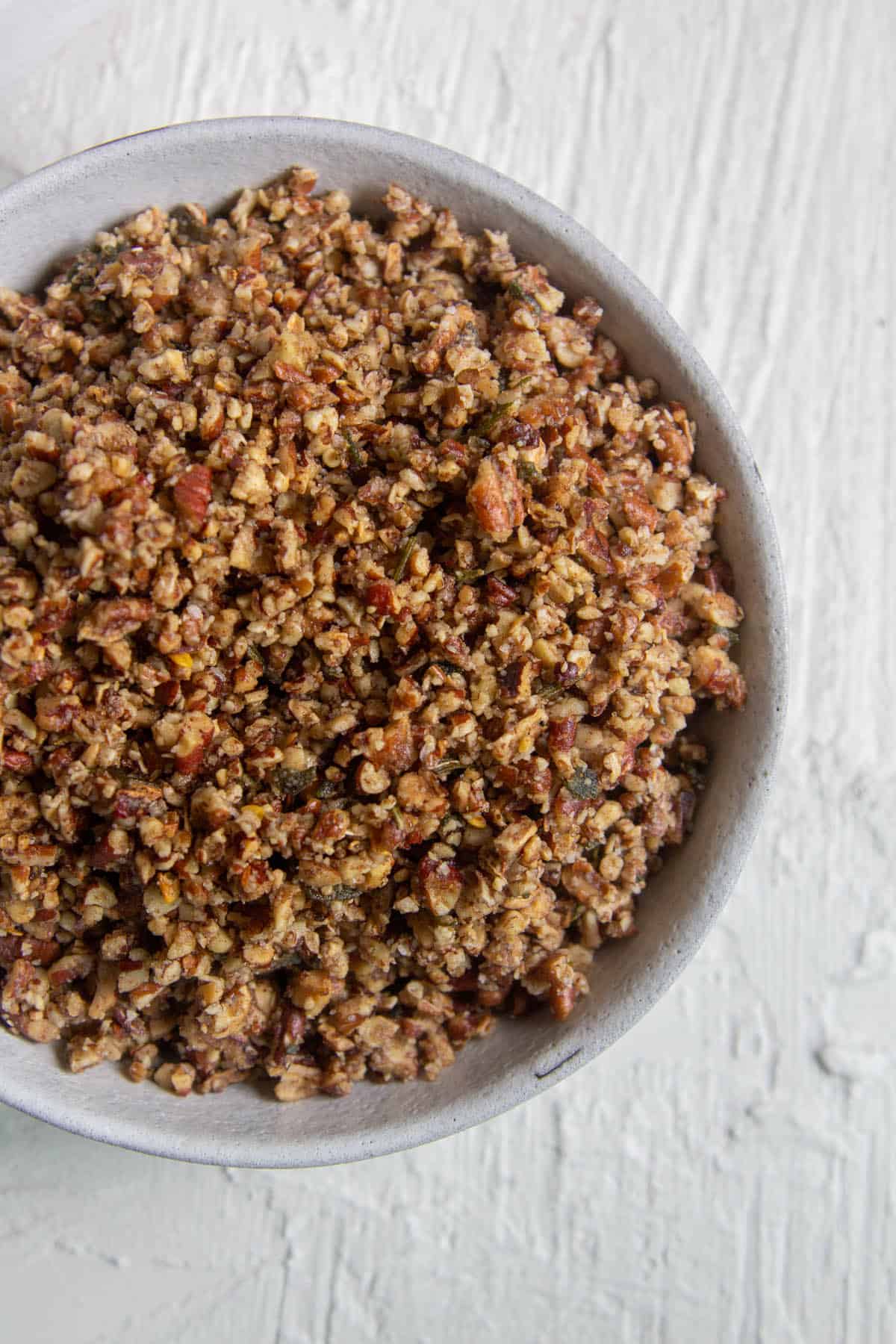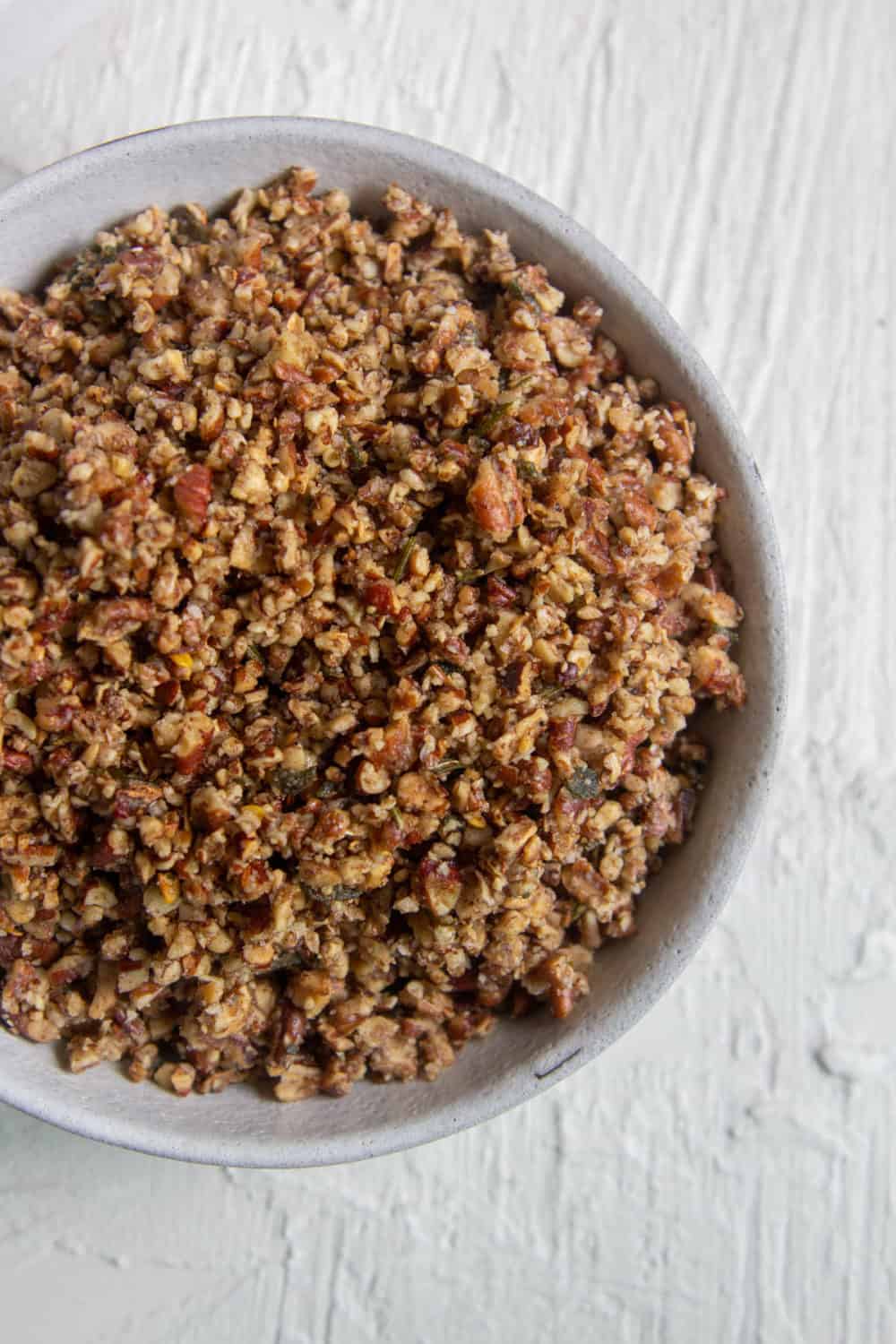 Crumbled Pecan Topping
Sweet and rich, the distinct flavor and texture of the pecan are perfect for this sweet potato casserole with pecans.
Prepping the topping is a cinch too! Simply toast the pecans, stir in the brown butter and crispy herbs, then pulse everything in a food processor to combine.
While you can leave your topping in larger pieces if you like, I prefer to process to a crumble stage so that the pecan topping becomes intertwined with every bite of the casserole.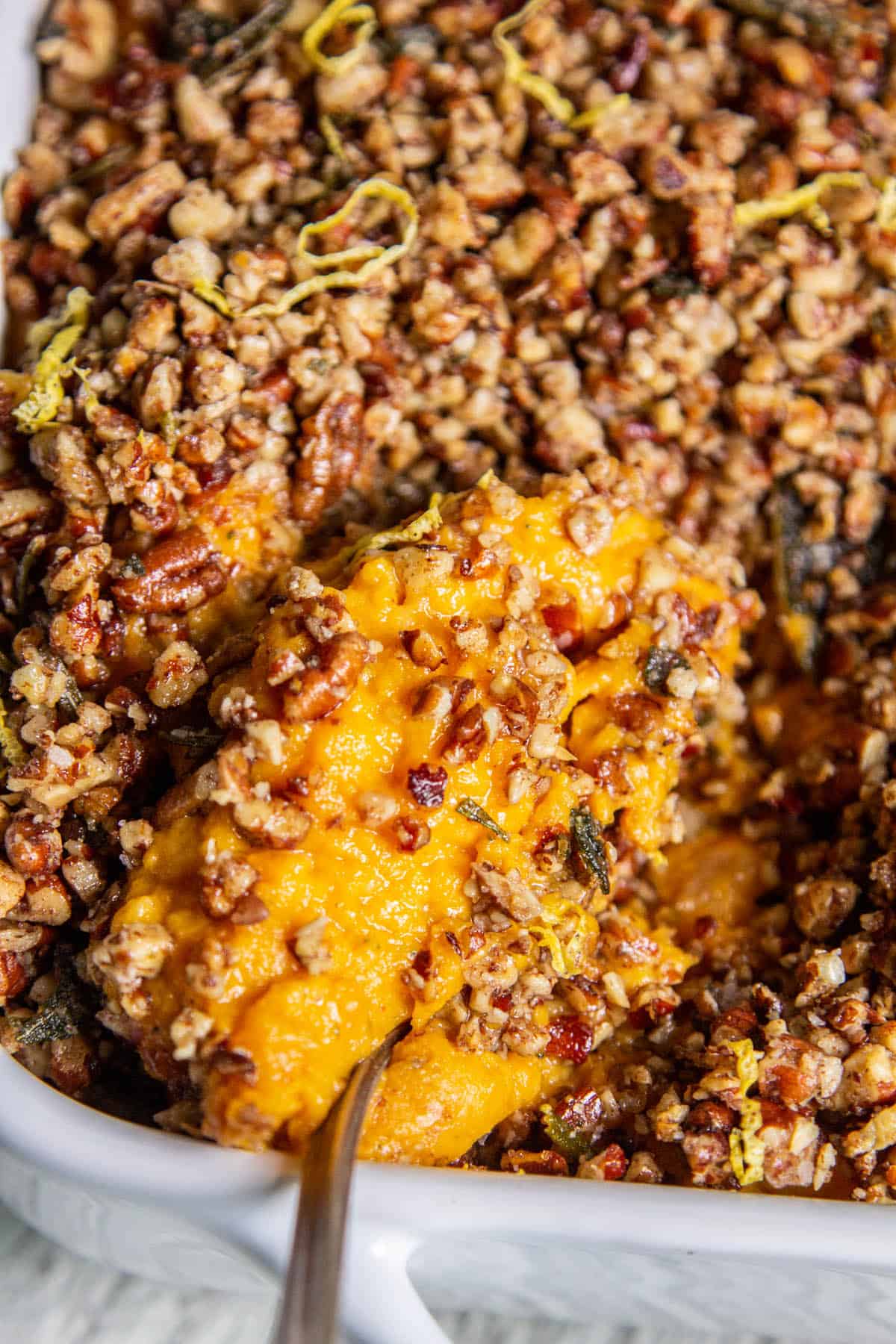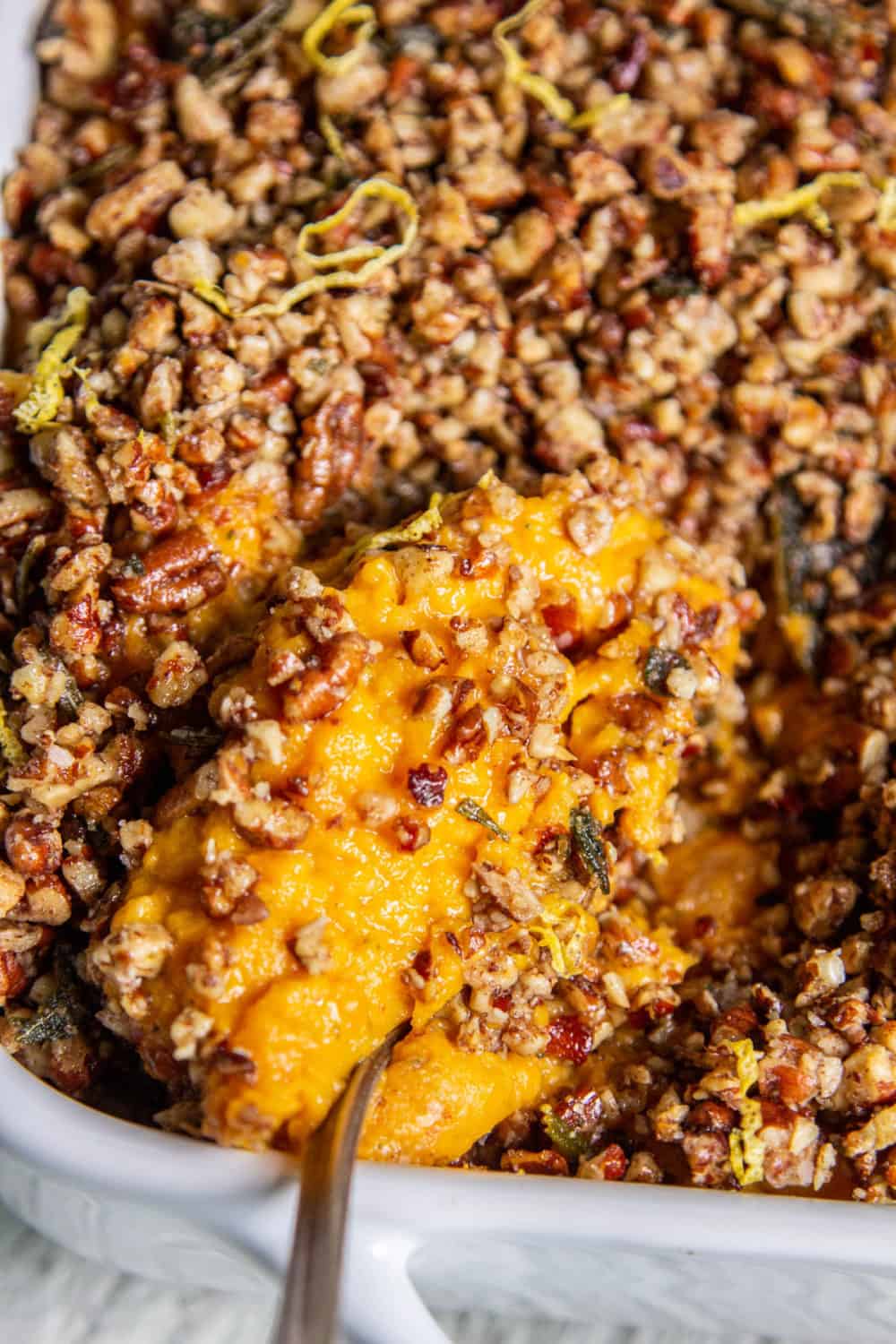 Strips of lemon zest are added right before serving. The zest adds a little pop of color to what is a primarily brown dish when placed on the table. Plus, it adds a bright citrus flavor that cuts through the decadent richness of this sweet potato casserole.
Want more delicious, easy recipes for holiday side dishes?!
Planning the menu for our annual holiday feast is one of my favorite parts of the whole meal! Although I admit that with so many recipes online to choose from these days, it can be a bit daunting.
Luckily, our team of California Grown Creators have been hard at work prepping and planning for the holiday season already! Below you will find some of their most treasured no-fail holiday eats to add to your menu this year.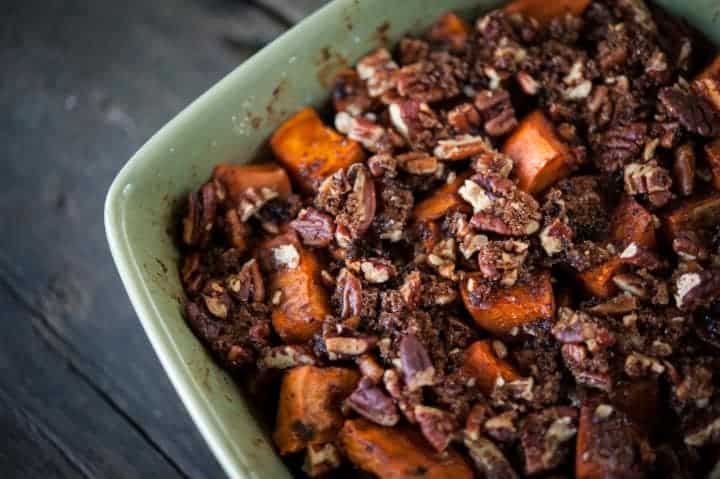 The G Free Foodie created this delicious Butter Pecan Sweet Potatoes recipe as part of a show called "Outrageous Thanksgiving" on the Food Network. While her final version weighed in at half-ton, was 10-feet long, and fed 2000 people, she's paired down the recipe so you can make just enough for you and your family.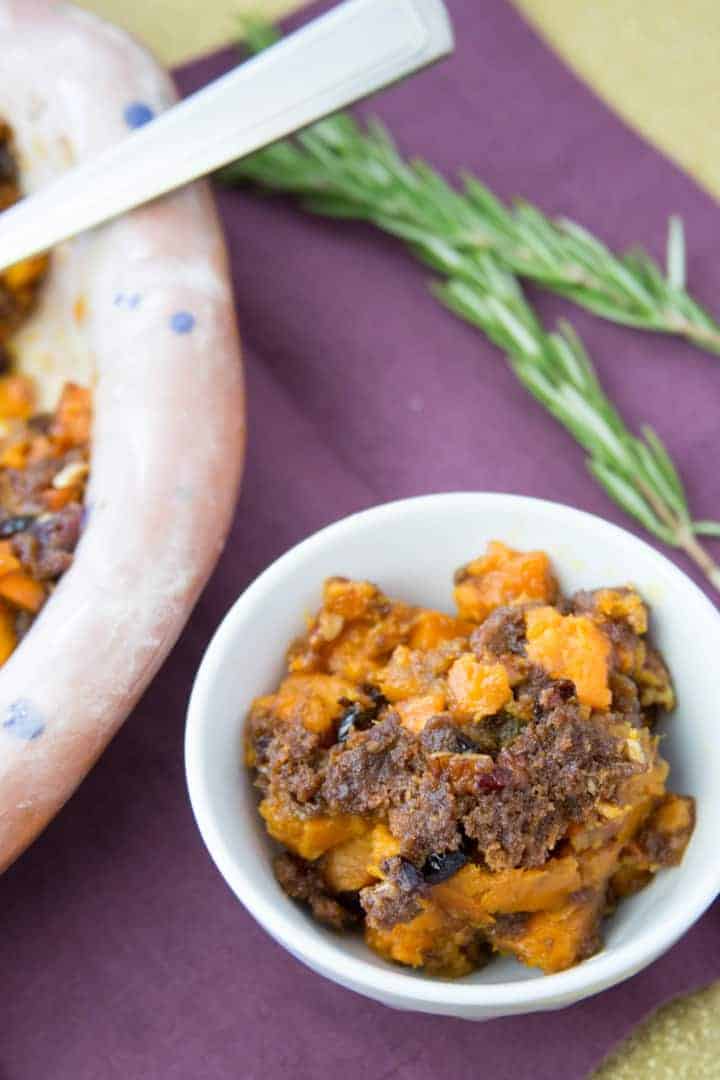 This recipe for sweet potatoes from G Free Foodie adds in yummy textures of gingersnaps and cranberries, and it also doubles (or triples) easily to feed a crowd.
Now that you have LOTS of sweet potato casserole inspiration to choose from keep scrolling down for more delicious recipes to add to your Thanksgiving menu this year.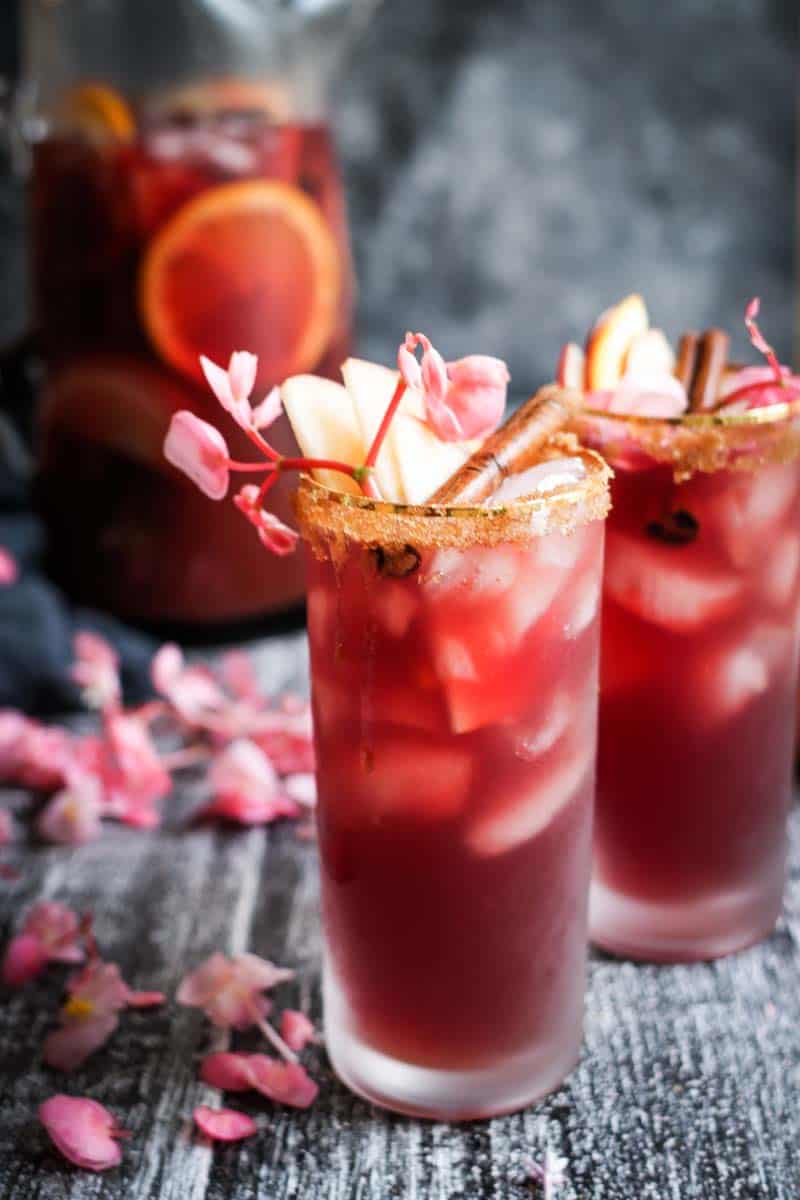 BE SURE TO SHARE YOUR FAVORITE SWEET POTATO CASSEROLE RECIPES WITH US BY SNAPPING A PIC AND TAGGING US ON SOCIAL USING #CAGROWN.
Craving more CA Grown goodness? Follow us on Pinterest for fresh and fabulous recipe inspiration!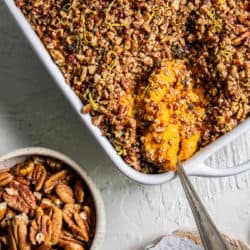 Brown Butter Sweet Potato Casserole with Pecans & Rosemary
Our version of sweet potato casserole with pecans, rosemary, brown butter, and herbs is a perfect side dish for Thanksgiving.
Ingredients
5 pounds California sweetpotatoes halved lengthwise
1/4 cup rosemary leaves
1/4 cup whole fresh sage leaves
1/2 cup unsalted butter,  divided
2 large shallots peeled and roughly chopped
2 cups pecan pieces, toasted
1 tablespoon dark brown sugar
1 1/2 cups heavy cream
2 large eggs beaten
1 2/3 cup finely grated Pecorino Romano cheese
zest of 1 lemon
Instructions
Arrange the racks in upper and lower thirds of oven; preheat to 350°.

Prick the sweetpotato skins with a fork and place cut side down on 2 foil-lined rimmed baking sheets. Roast the sweetpotatoes, rotating sheets halfway through, until very tender when squeezed, 70–90 minutes. Let cool on sheets. 

While the sweetpotatoes roast, cook the rosemary, sage, and 6 tablespoons of the butter in a small saucepan over medium heat, stirring occasionally until butter foams, then browns, and the herbs are golden and crisp, – about 5 minutes; let cool.

Scoop out flesh from the sweetpotato halves and transfer to a large mixing bowl, discarding the skins.

Spoon half of the brown butter and fried herbs into the bowl with the sweetpotatoes.

Add the toasted pecan pieces to the bowl of a food processor fitted with the 'S' blade. Add the remaining brown butter-herb mixture and the dark brown sugar then pulse to break down the larger pieces; season with salt and pepper. Transfer to a small bowl.

Heat the remaining 2 tablespoons of butter in a saucepan over medium heat. Add the shallots and cook, stirring often, until translucent and golden around the edges – about 5 minutes.

Add the cream and bring to a simmer. Remove from the heat and, using an immersion blender, blend the cream mixture until smooth.

Transfer to the mixing bowl with potatoes. Add the eggs and Romano cheese. Blend with an immersion blender until light and smooth. Season with salt and pepper to taste.

Transfer the sweetpotato mixture to a shallow 2-qt. baking dish. Use a spatula or the back of a large spoon, to push the mashed sweetpotatoes to the edges of the baking dish then use it to create some peaks and valleys in the top.

Top with the pecan mixture. Cover with foil and bake the sweetpotato casserole for 30 minutes. Remove from the oven to a cooling rack, remove the foil then sprinkle the lemon zest over the top. Let cool 10 minutes before serving.
Notes
How to toast pecans:
Bake in a 350-degree oven for 5 to 10 minutes. Stir or shake the pan occasionally so the nuts brown evenly without burning. Once cooled, toasted pecans can be stored in an air-tight container in the refrigerator for up to two weeks.
To make ahead:
The fully assembled casserole can be made 1 day ahead of serving; cover with foil and chill. Let come to room temperature before baking as directed.
This casserole is good for 4-5 days covered in the refrigerator.
Nutrition
Calories: 528kcalCarbohydrates: 43gProtein: 11gFat: 36gSaturated Fat: 16gPolyunsaturated Fat: 5gMonounsaturated Fat: 14gTrans Fat: 0.3gCholesterol: 99mgSodium: 292mgPotassium: 785mgFiber: 8gSugar: 10gVitamin A: 27615IUVitamin C: 6mgCalcium: 253mgIron: 2mg