How Dried On The Vine Raisins Are Grown And Harvested
Forget everything you thought you knew about California raisins, because dried-on-vine raisins are shaking up the industry, literally!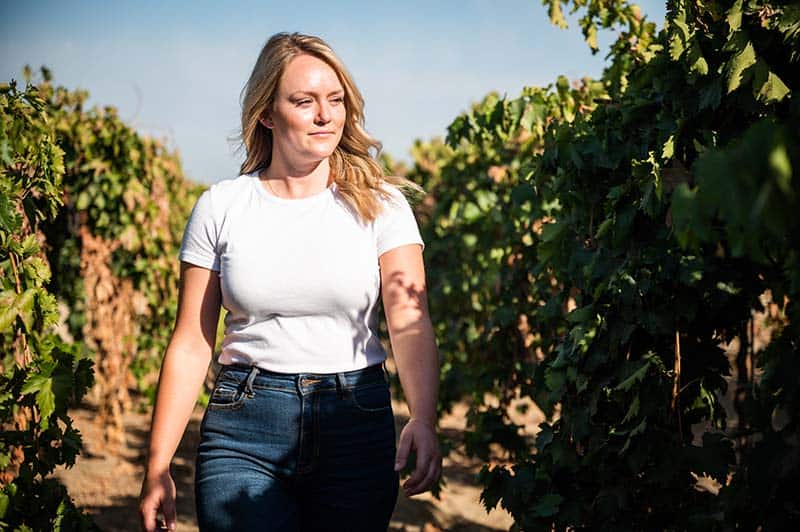 Are vine-dried raisins and vine-dried grapes the same thing?
It's true, all dried grapes are raisins, but vine-dried grapes are very different from other raisins you have tried!
Traditional California raisins are created by drying Thompson Seedless grapes on paper "trays". These trays sit on top of the ground, in the vineyard, under direct sunlight. This drying process creates the caramelized raisin we are all familiar with.
But, dried-on-vine Selma Pete grapes are gently sun-dried on the vine under the shade of the canopy. This signature, all-natural drying process produces a more plump and juicy raisin as an end result.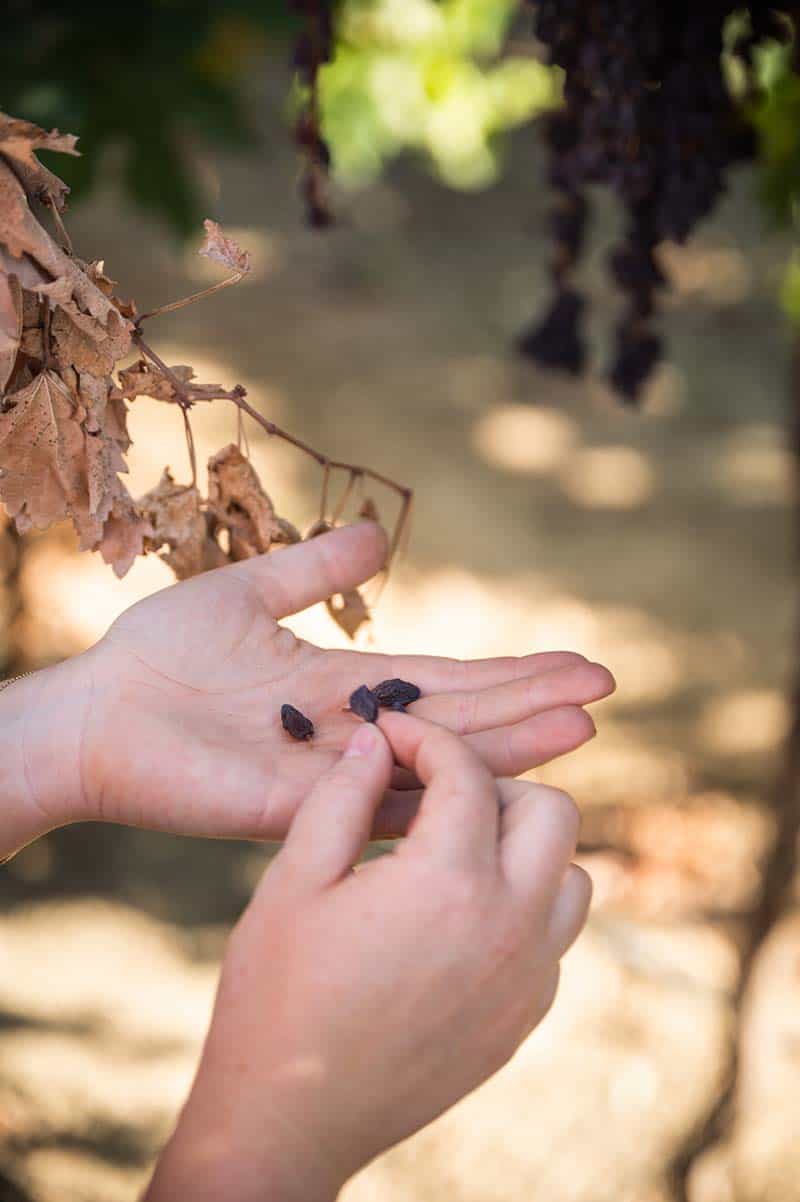 What is a vine-dried grape?
A vine-dried grape is a raisin that has been left hanging on the vine to dry. This process allows the grapes to retain their flavor without taking on any unwanted flavors from sunburn. The resulting vine-dried grape is plump, meaty, juicy, and delicious.
What is a Selma Pete grape and what makes it different from other varieties?
By combining Thompson Seedless, Fiesta Seedless, and Muscat varieties of grapes, researchers at UC Davis cultivated the Selma Pete grape. This one single variety of grape has all the best qualities of the original three. Plus, it tastes great and is also much easier to grow.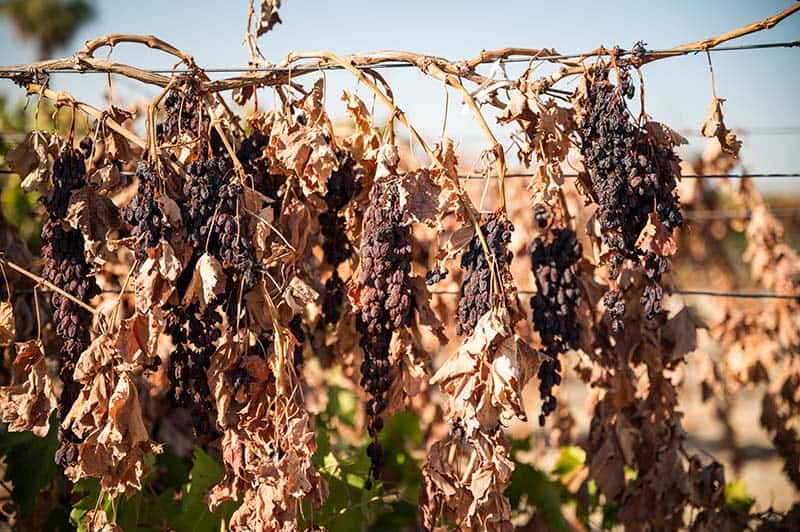 As you can see from the image above, the leaves around drying clusters of raisins are brown and wilted. This is because shortly before harvest, farmworkers make their way through the vineyard clipping the canes that will soon be ready to harvest from the trunks of the grapevine.
As the raisins dry, so do the leaves and canes, providing just enough shade and sun for the raisins to do their thing. Pretty cool, huh?
How are dried-on-vine raisins harvested?
Harvesting dried-on-vine raisins is a process that requires a lot of training, skill, and precision. Watching a harvest like this is sort of like watching a finely choreographed ballet that is timed down to the millisecond.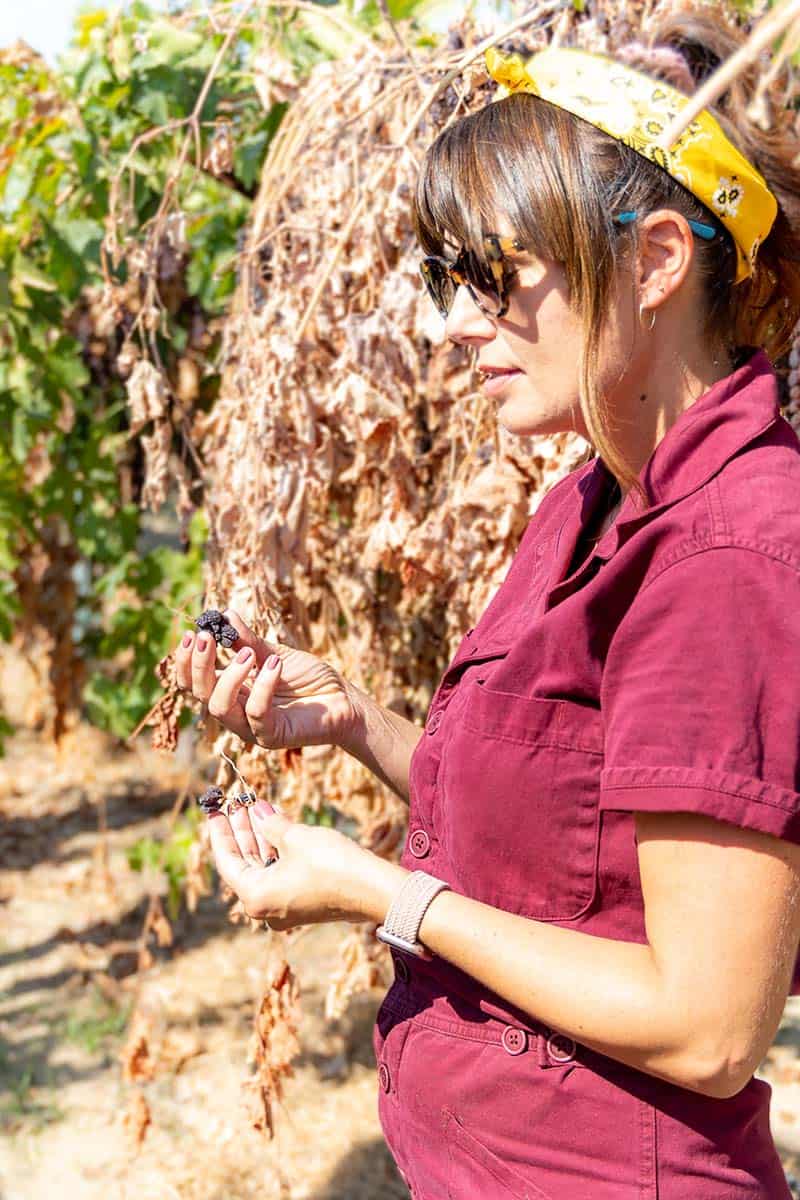 California raisins are permanent crops that are planted in vineyards similar to how California table grapes and winegrapes are planted.
Becky Sue of Baking the Goods says, "I picked these sun-soaked Selma Pete DOV Raisins straight from the vine. They were plump, sweet and the best raisins I've ever had in my life."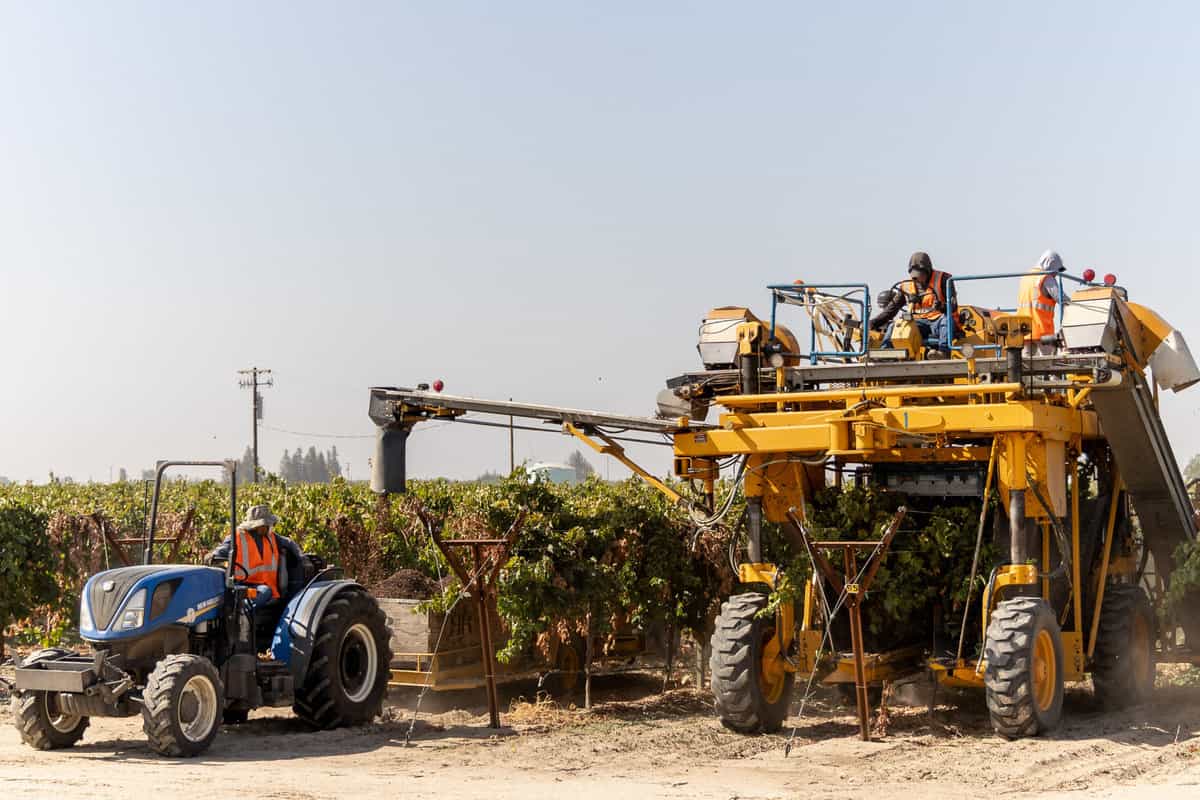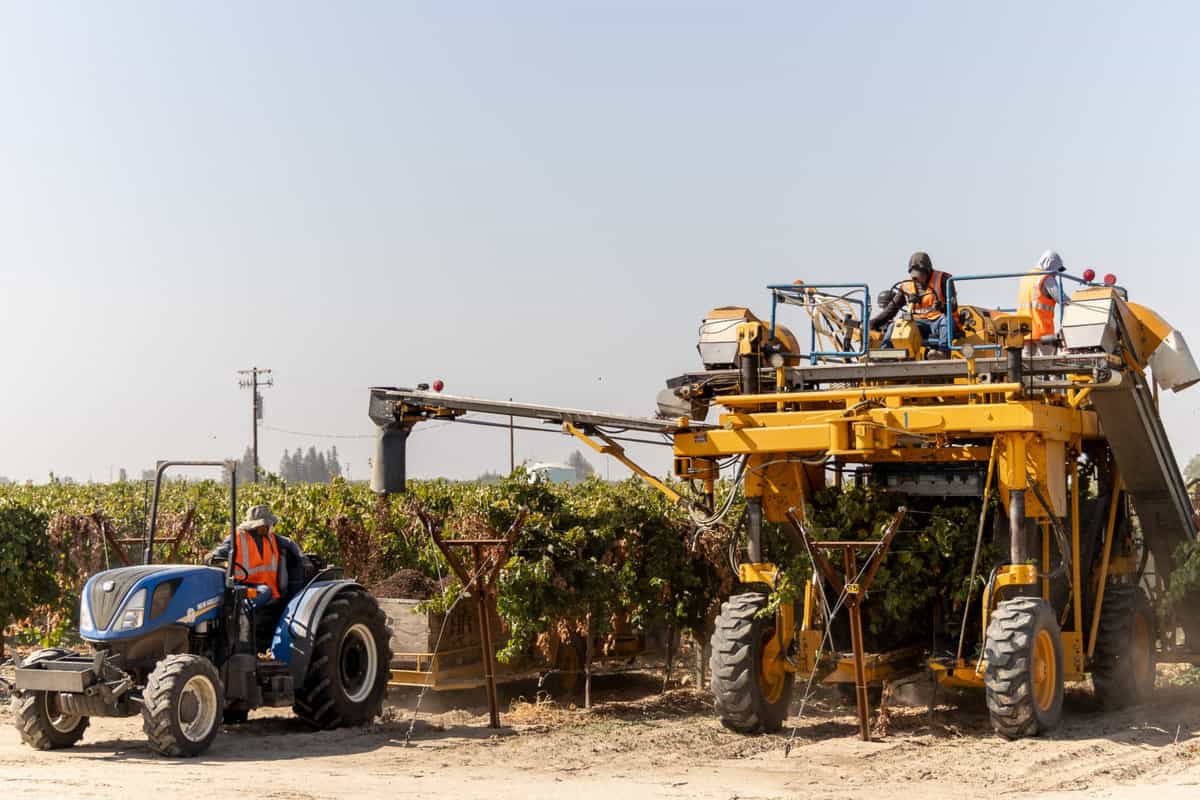 When the dried-on-vine raisins have dried to perfection and are ready to be harvested it requires really BIG farm equipment to do the job!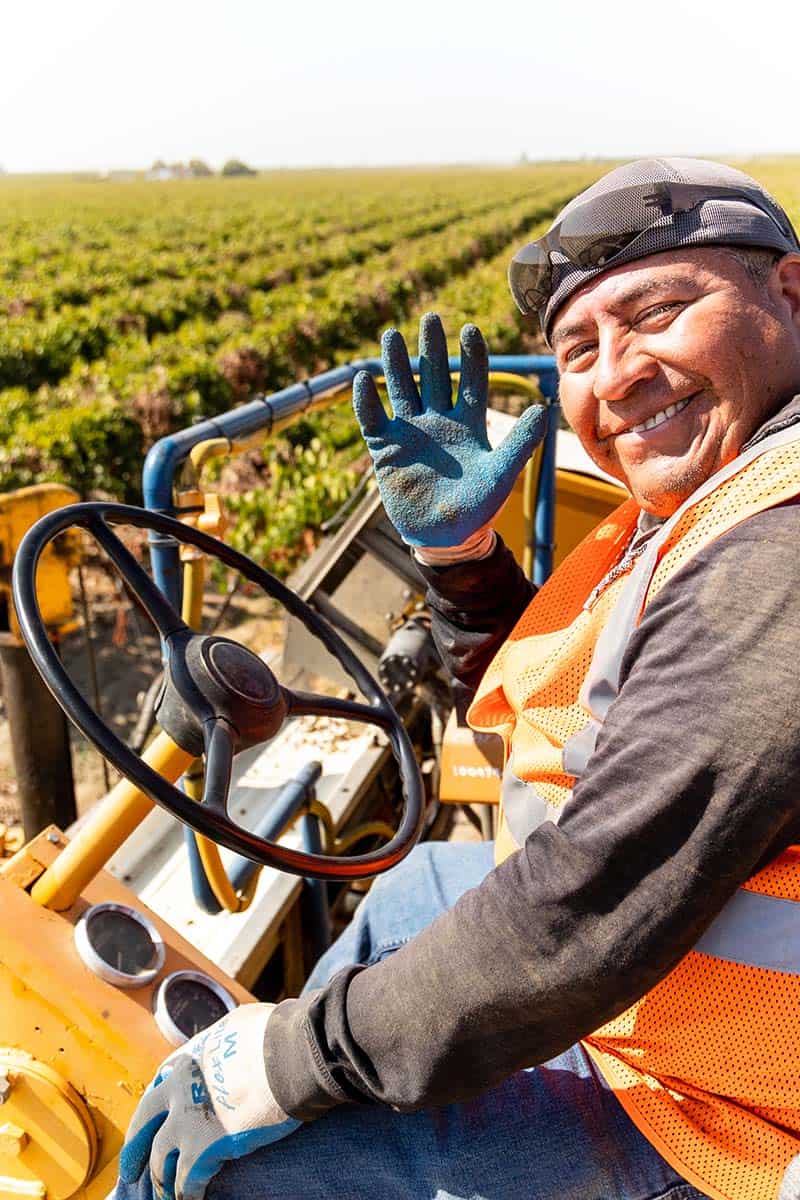 Each piece of farm equipment is operated by a team of highly-skilled farmworkers.
The dried-on-vine grapes, or raisins, are harvested with large machines called harvesters that straddle each row of grapevines.
The machine vigorously moves the vines back and forth shaking them with plastic, hook-shaped rods that break loose the raisins.
The raisins then fall and are collected on a conveyor belt underneath that is attached to the harvester.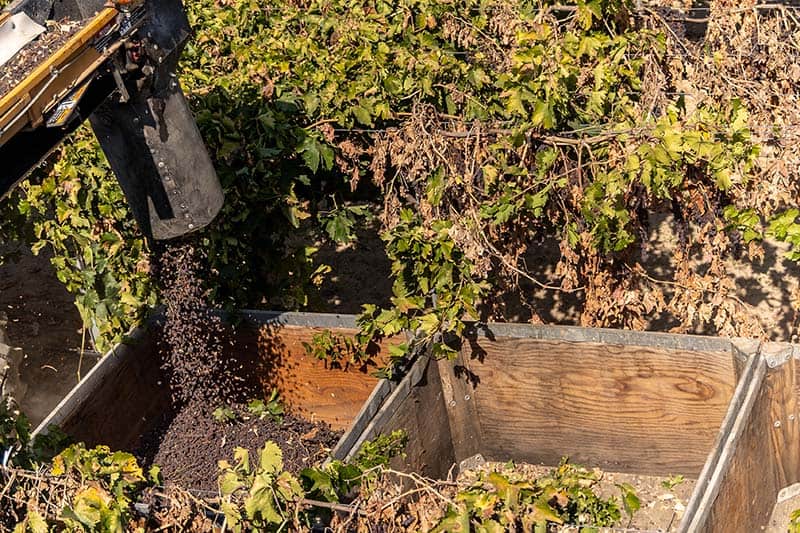 The conveyor belt transports the harvested dried-on-vine raisins all the way up from the vineyard, across the top of the harvester, and through a shoot into a series of four bins, waiting below in the next row of grapevines.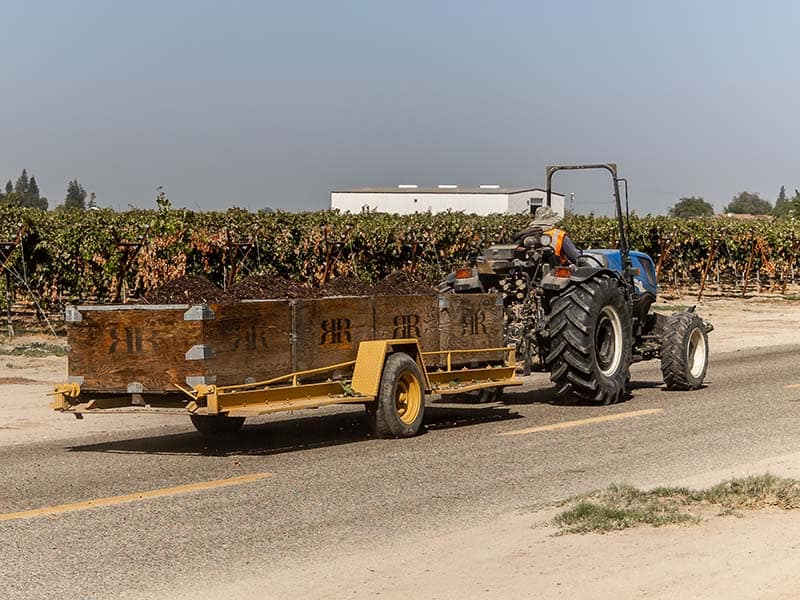 As the bins are filled, the harvester slows the shaking, and the tractor drives away to take the harvest for processing.
Meanwhile, another tractor pulls into place and is filled. This process is repeated over and over until the entire vineyard is harvested.
Recipes made with dried-on-vine raisins from California you should try!
You could absolutely make the recipes below with any type of California raisin your heart desires! However, they are all created with dried-on-vine raisins.
When we recently toured the San Joaquin Valley with a group of California Grown Creators, they were so inspired by the experience of visiting a dried-on-vine raisin vineyard and experiencing harvest first-hand that they developed the recipes below.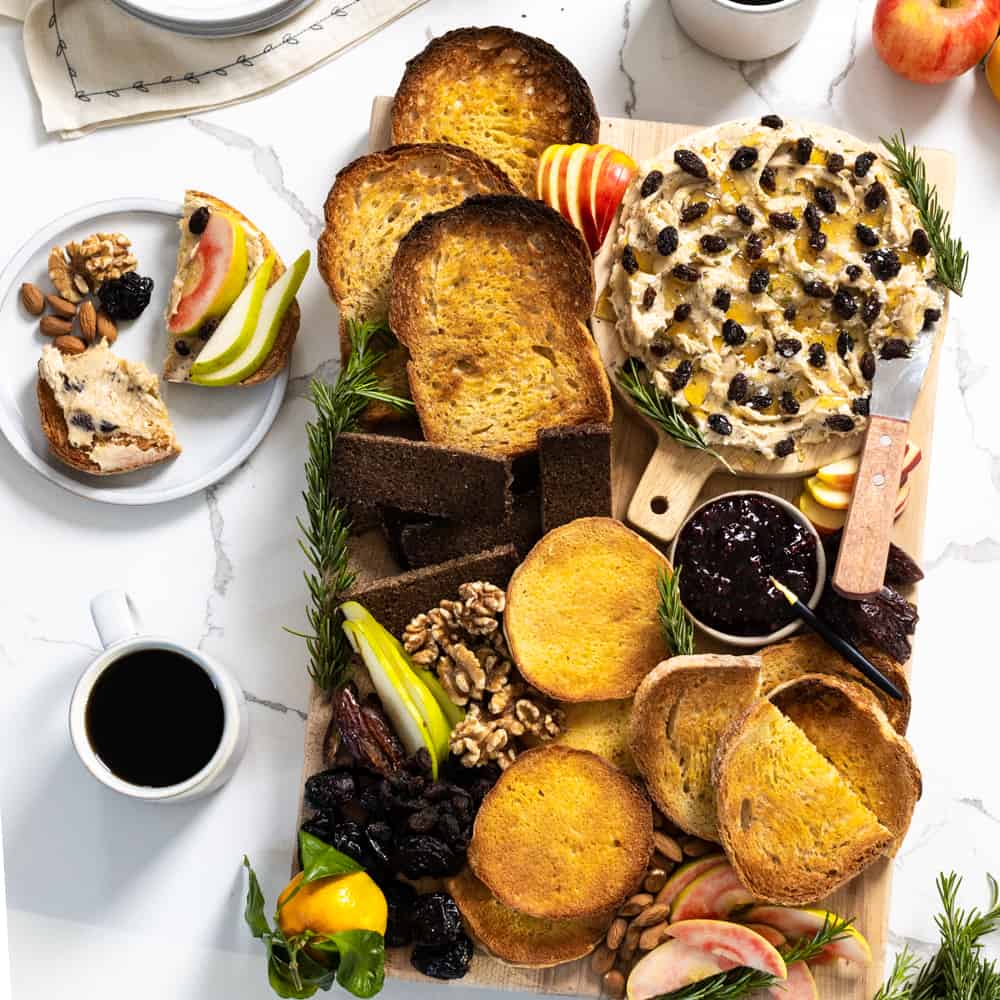 This butter board recipe from Baking the Goods is the epitome of easy elegance with a creamy dreamy blend of whipped butter, honey, cinnamon, and rosemary, topped with plump raisins and a sprinkle of sea salt flakes. Serve it as a beautiful breakfast or an elegant snacking board.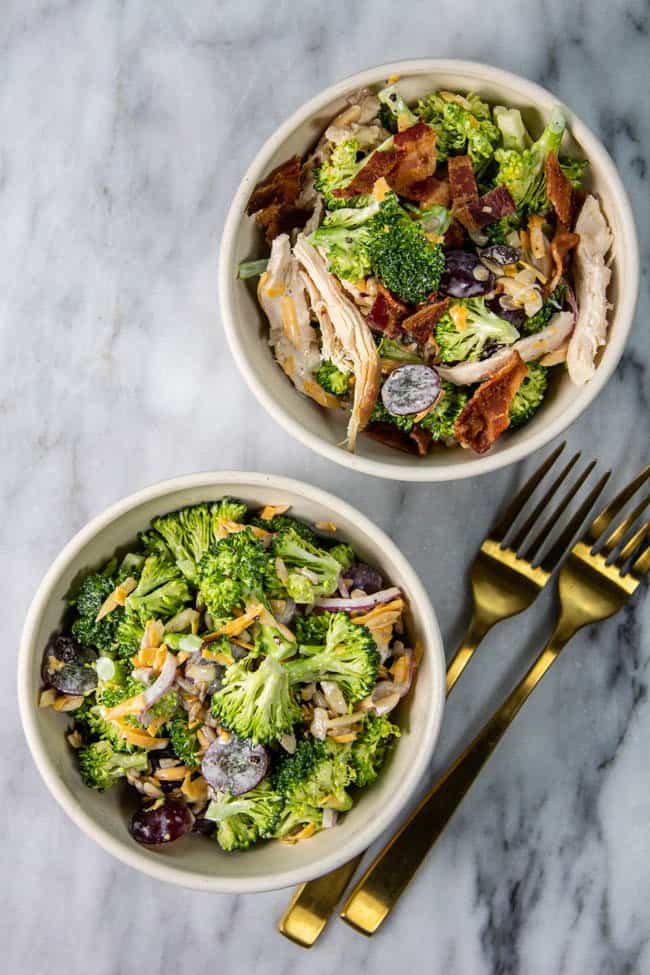 This broccoli salad recipe is a hearty one-bowl recipe that is a perfect side dish, but with chicken, bacon, or both this side salad becomes a hearty dinner salad!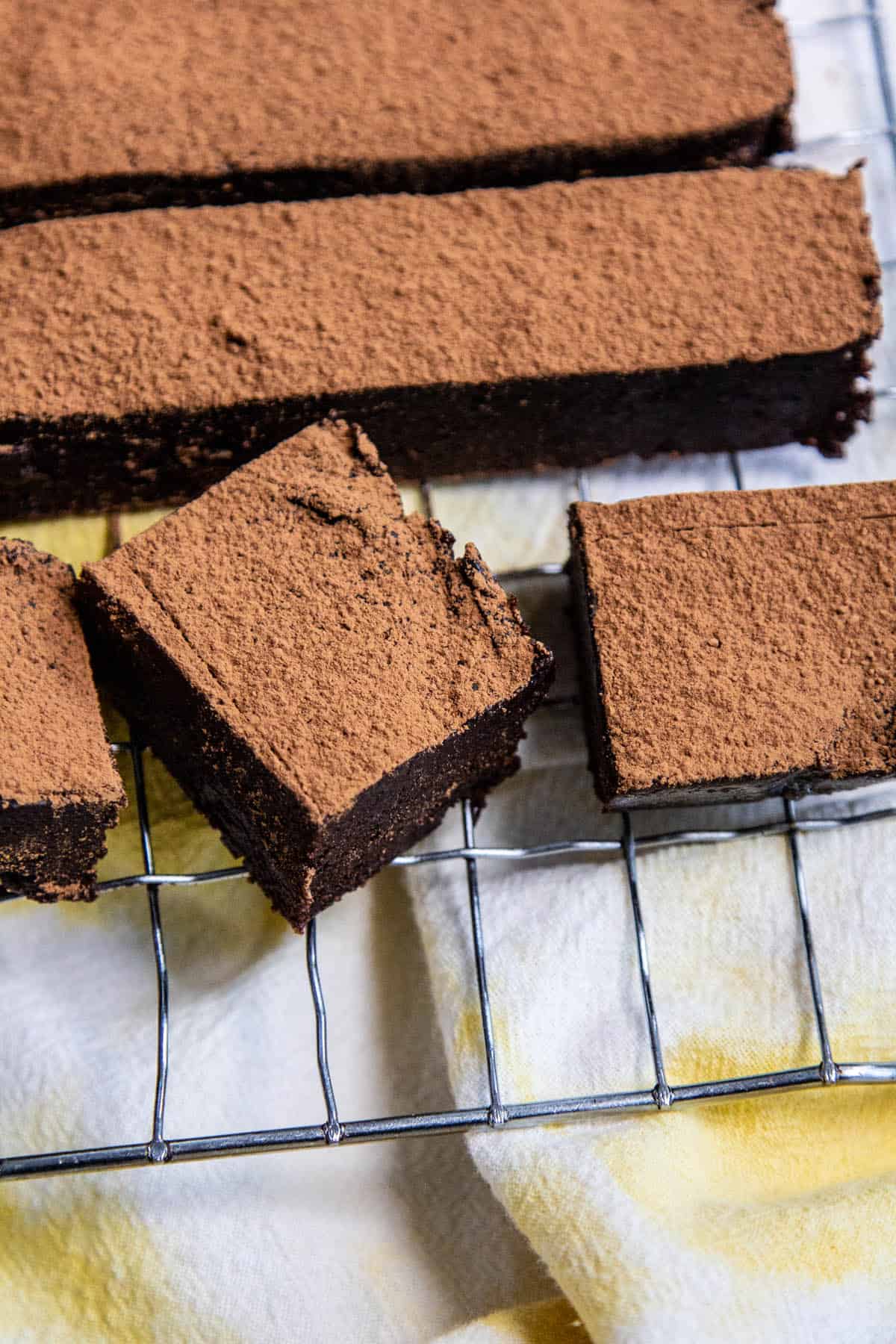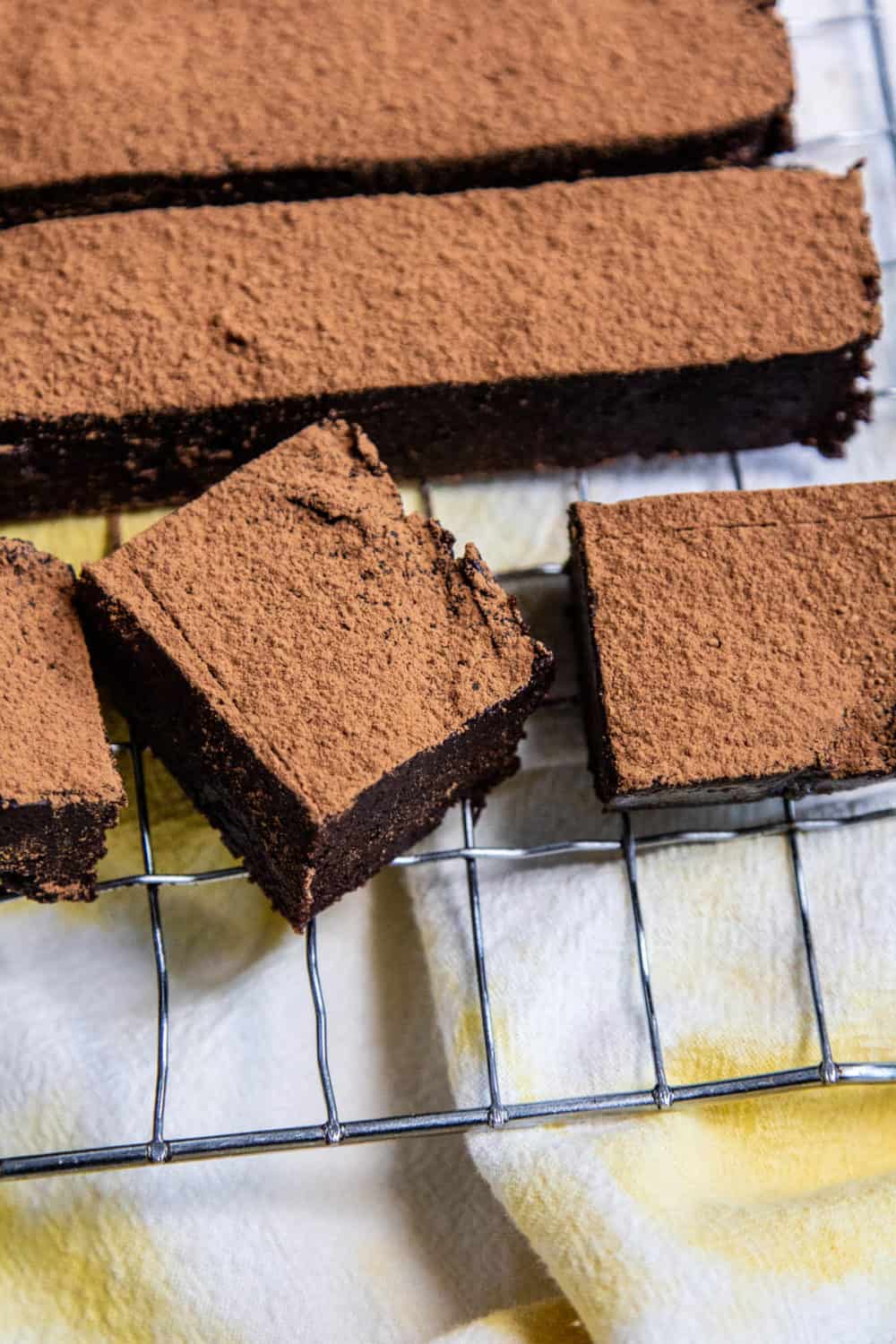 This recipe for ultra-fudgy, fruit-filled, no-bake brownies from This Mess is Ours is both decadent and good for you while also being easy to make.
It's one of those kitchen equations that boggles the mind and satisfies the most intense chocolate cravings!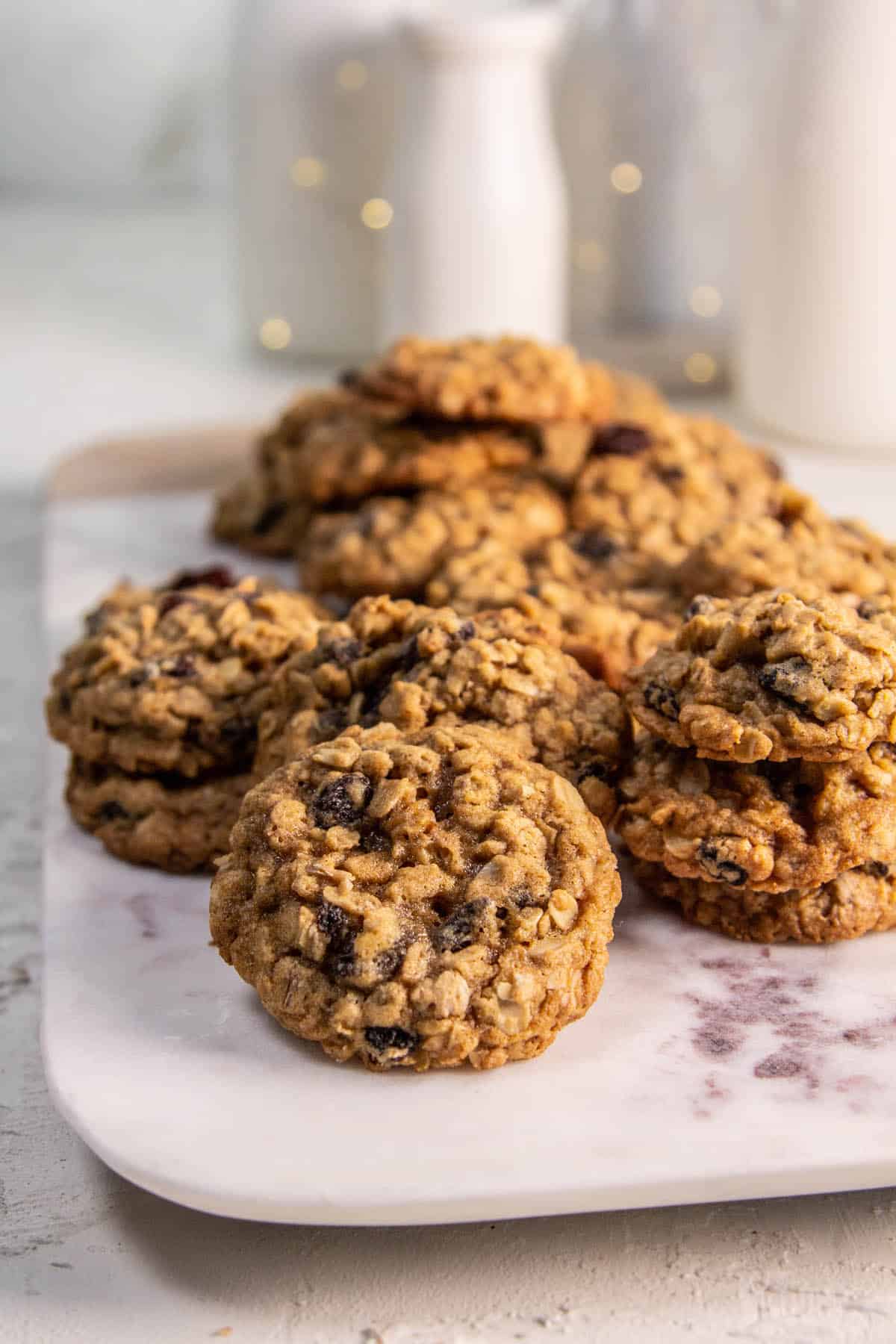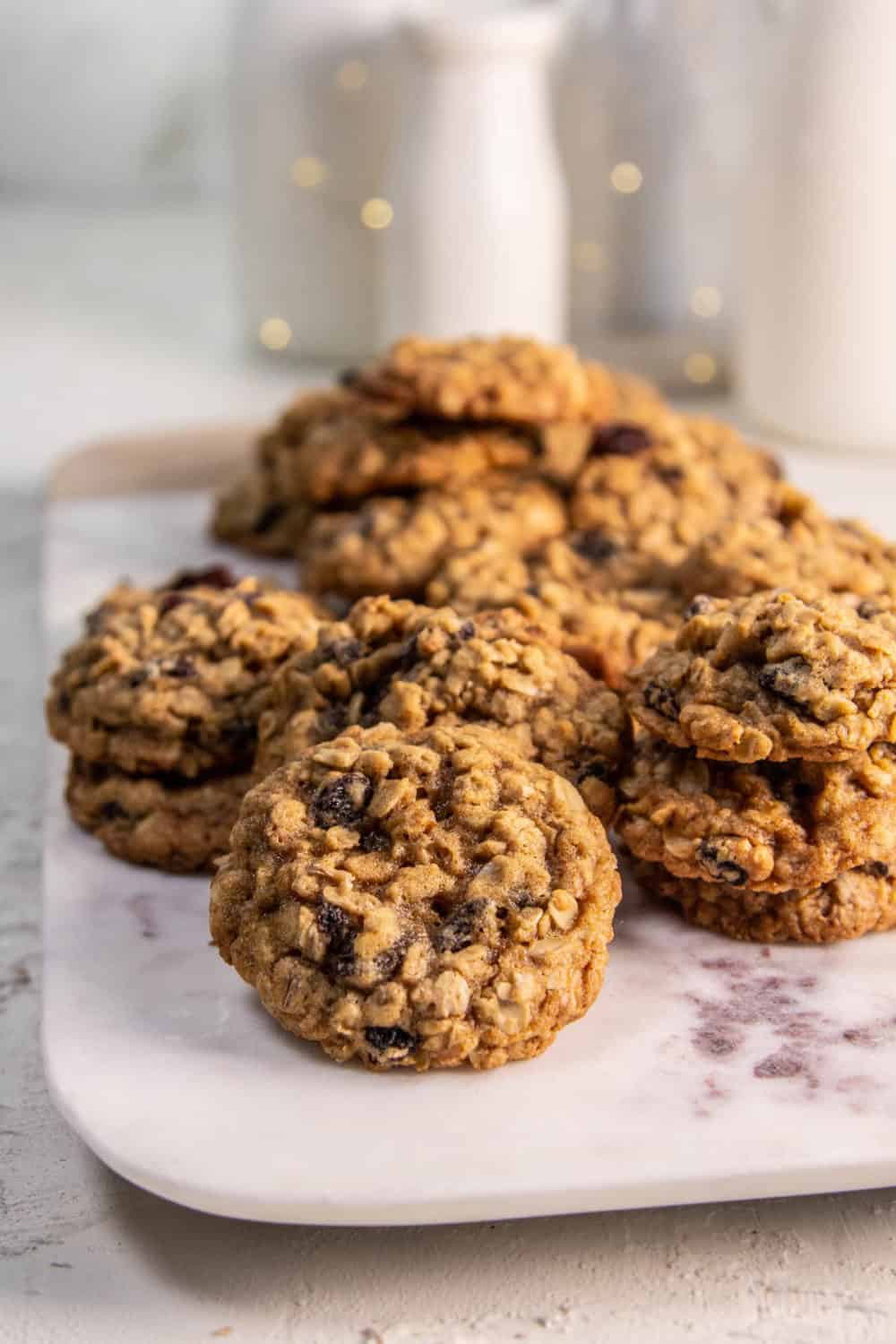 Hands down, this is the best recipe for Raisin Oatmeal Cookies we have ever eaten! Toasted oatmeal and brown sugar cookies studded with red wine-soaked, dried-on-vine raisins, and vanilla beans; each bite is a literal flavor bomb for your tastebuds.
This article was written by Meg van der Kruik. Photo credit James Collier for California Grown.