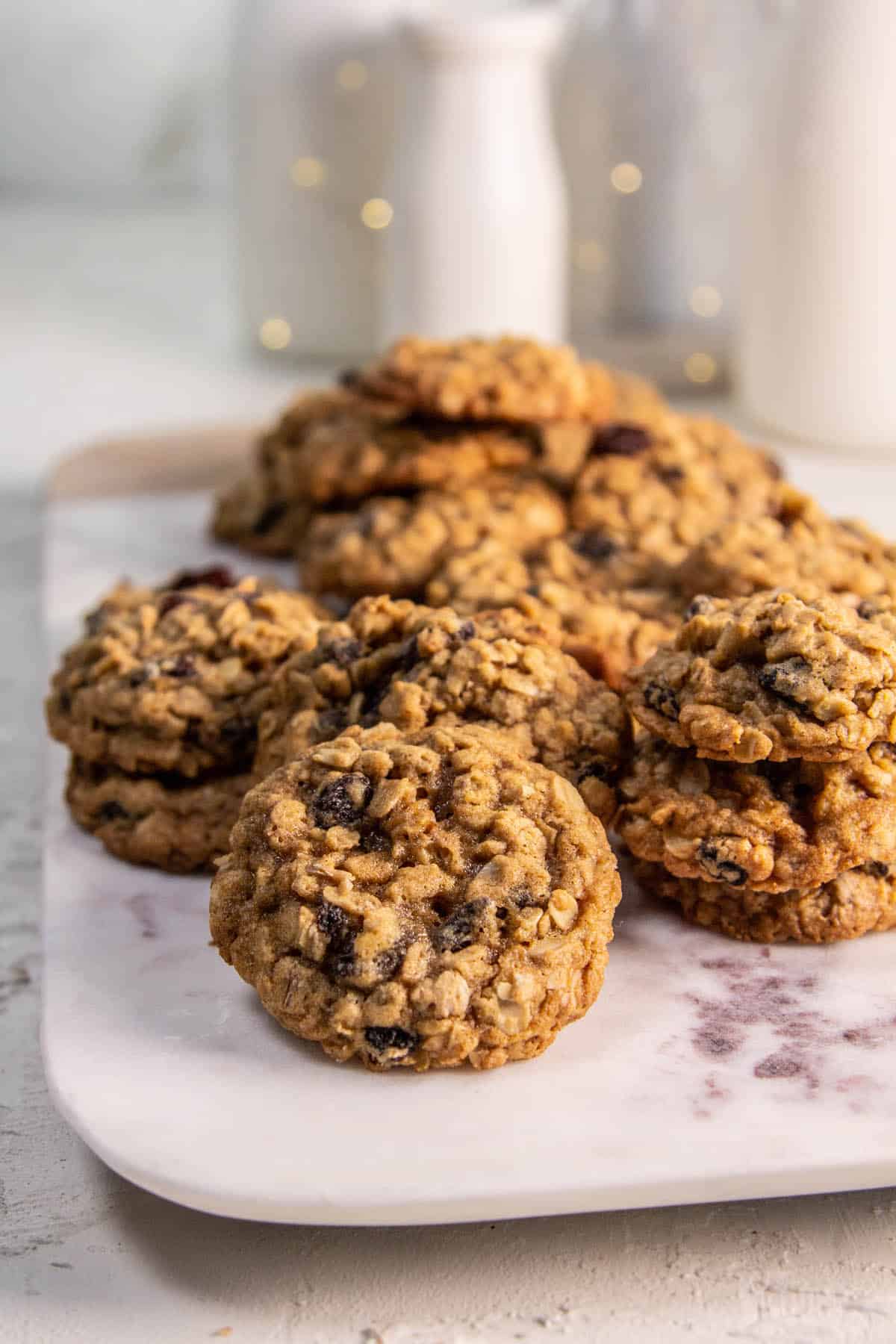 CA GROWN Blog
Discover. Learn. Connect.
The Best Recipe For Raisin Oatmeal Cookies
December 6, 2022
Eat the Season!
Sign Up For Weekly Recipes
« Back to Recipes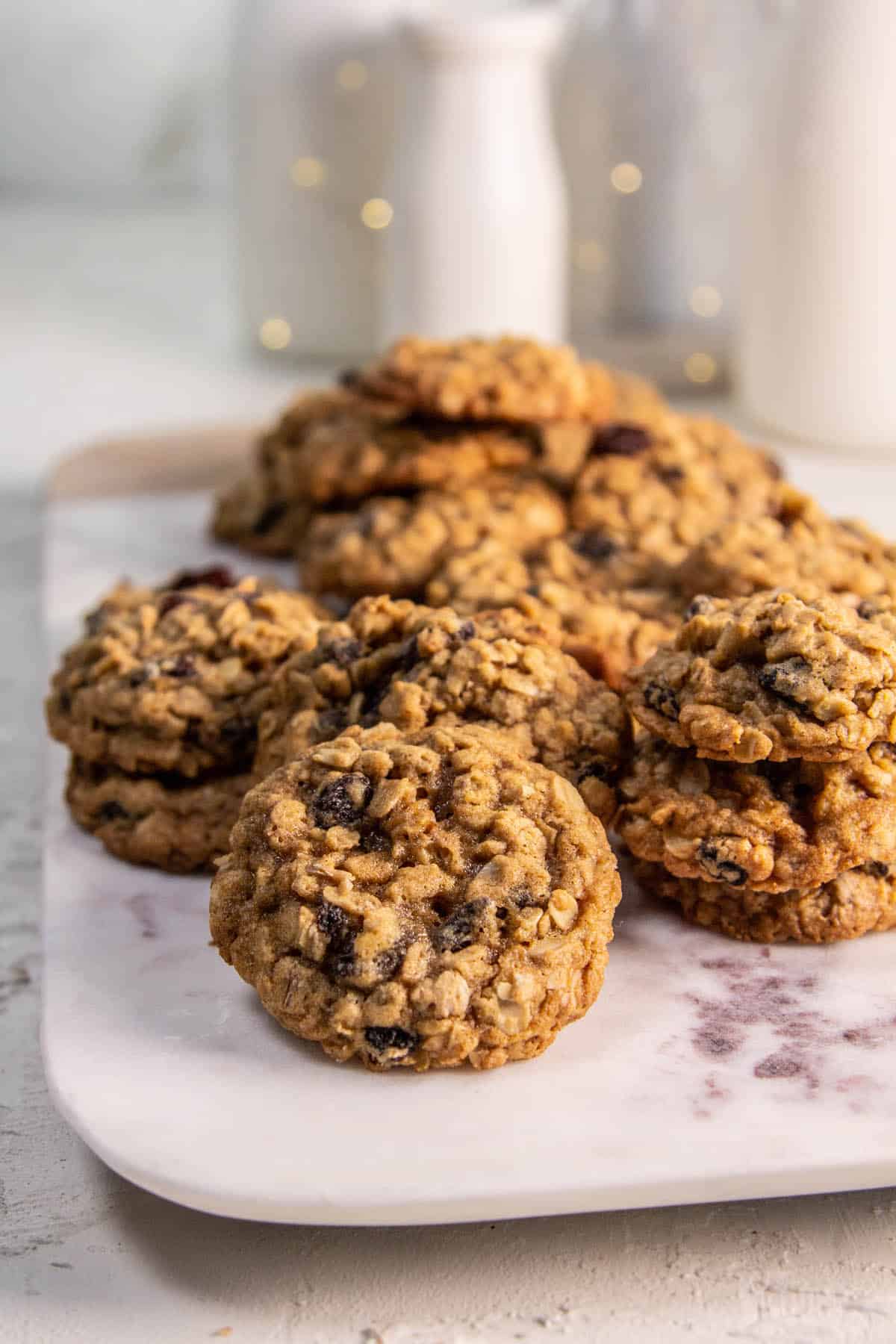 The Best Recipe For Raisin Oatmeal Cookies
Hands down, this is the best recipe for Raisin Oatmeal Cookies we have ever eaten! Toasted oatmeal and brown sugar cookies studded with red wine-soaked raisins and vanilla beans – each bite is a literal flavor bomb for your tastebuds.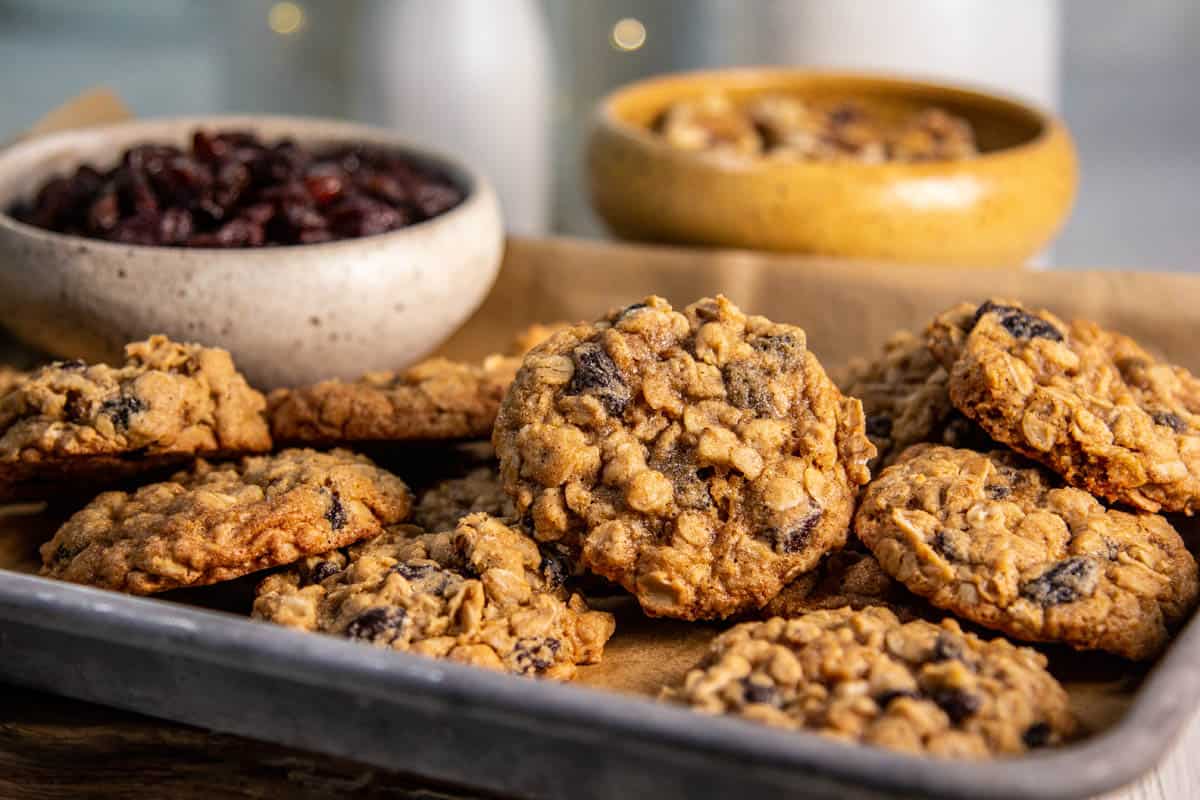 Confession: I'm a previous hater of Oatmeal Raisin Cookies. However, I like a challenge. When the team at California Grown asked me to create the best version of and oatmeal raisin cookie that the internet has to offer, I jumped at the chance.
Turns out that after much testing and trying other popular recipes for this type of cookie, I realized something – I didn't actually NOT like them. I'm just super particular about which spices and other flavor notes I want coming to the forefront of each bite.
Turns out that lovingly steeping raisins in warmed red wine then combining them with ground cinnamon, ginger, and nutmeg makes for a flavor combination that I just cannot get enough of. Honestly, in my entire life, I've never eaten as many Raisin Oatmeal Cookies as I have the past few weeks. They're irresistible!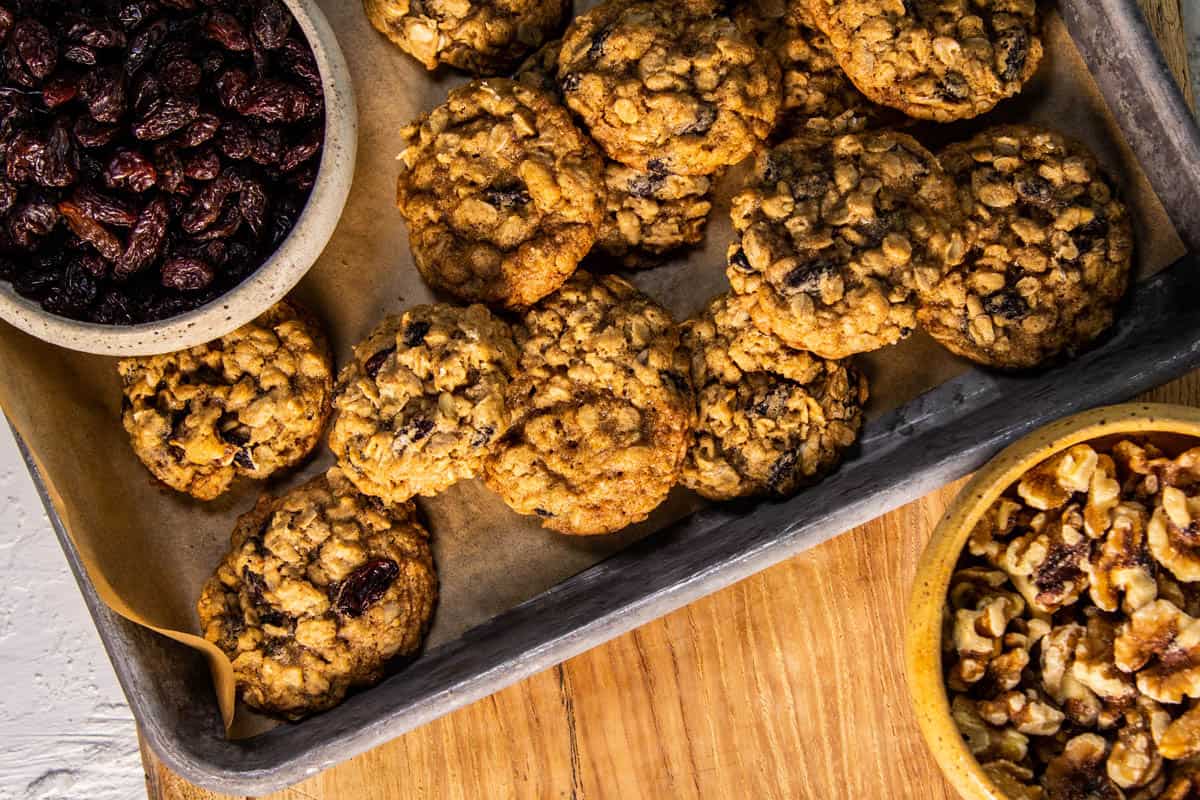 Ingredients you need to make this recipe for Raisin Oatmeal Cookies.
This recipe is a real gem that calls for ingredients with pantry power! Ingredients like red wine, California raisins, oats, and spices stay fresh for quite some time in the pantry. This means you can whip up a batch of Raisin Oatmeal Cookies whenever your heart desires, all year long!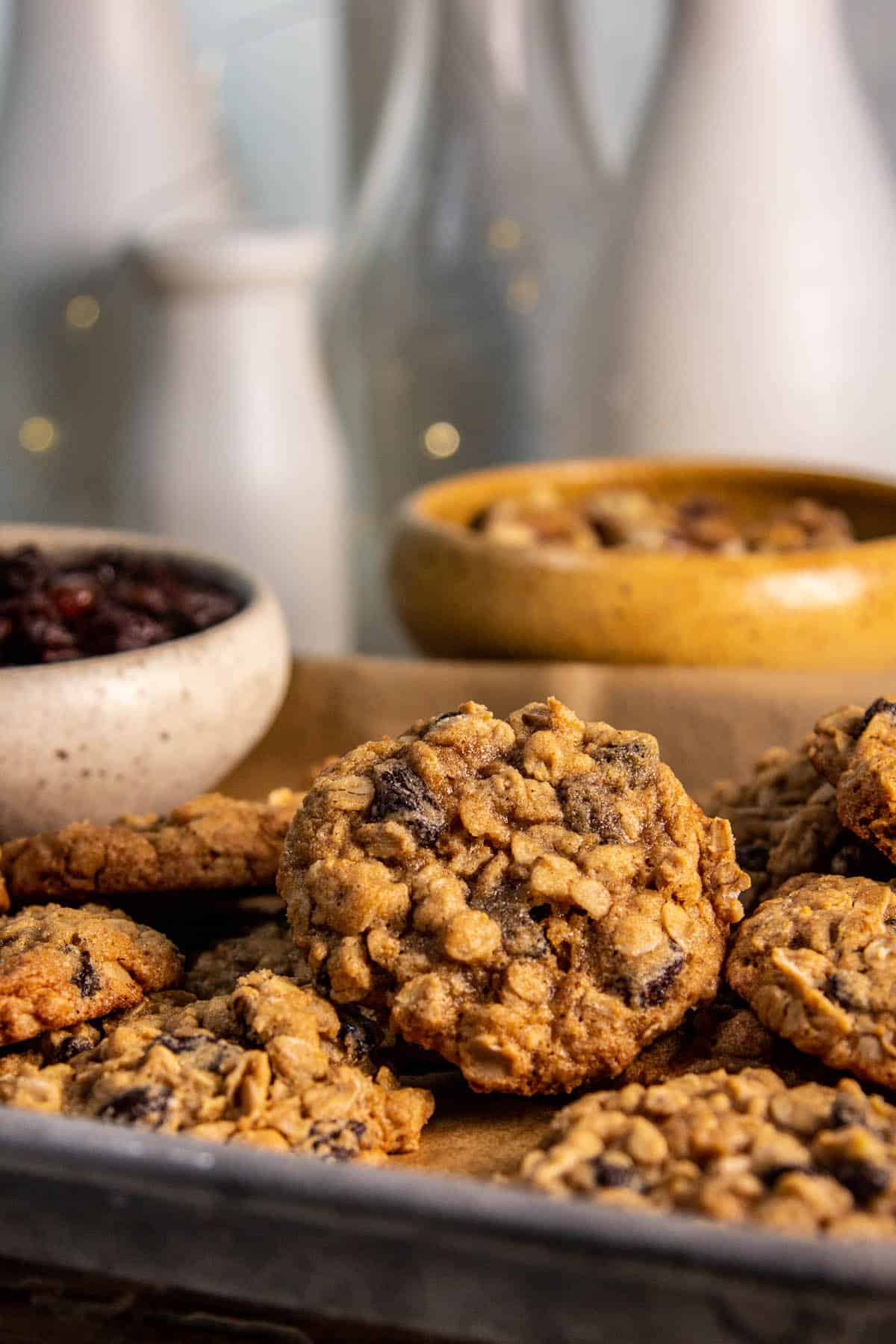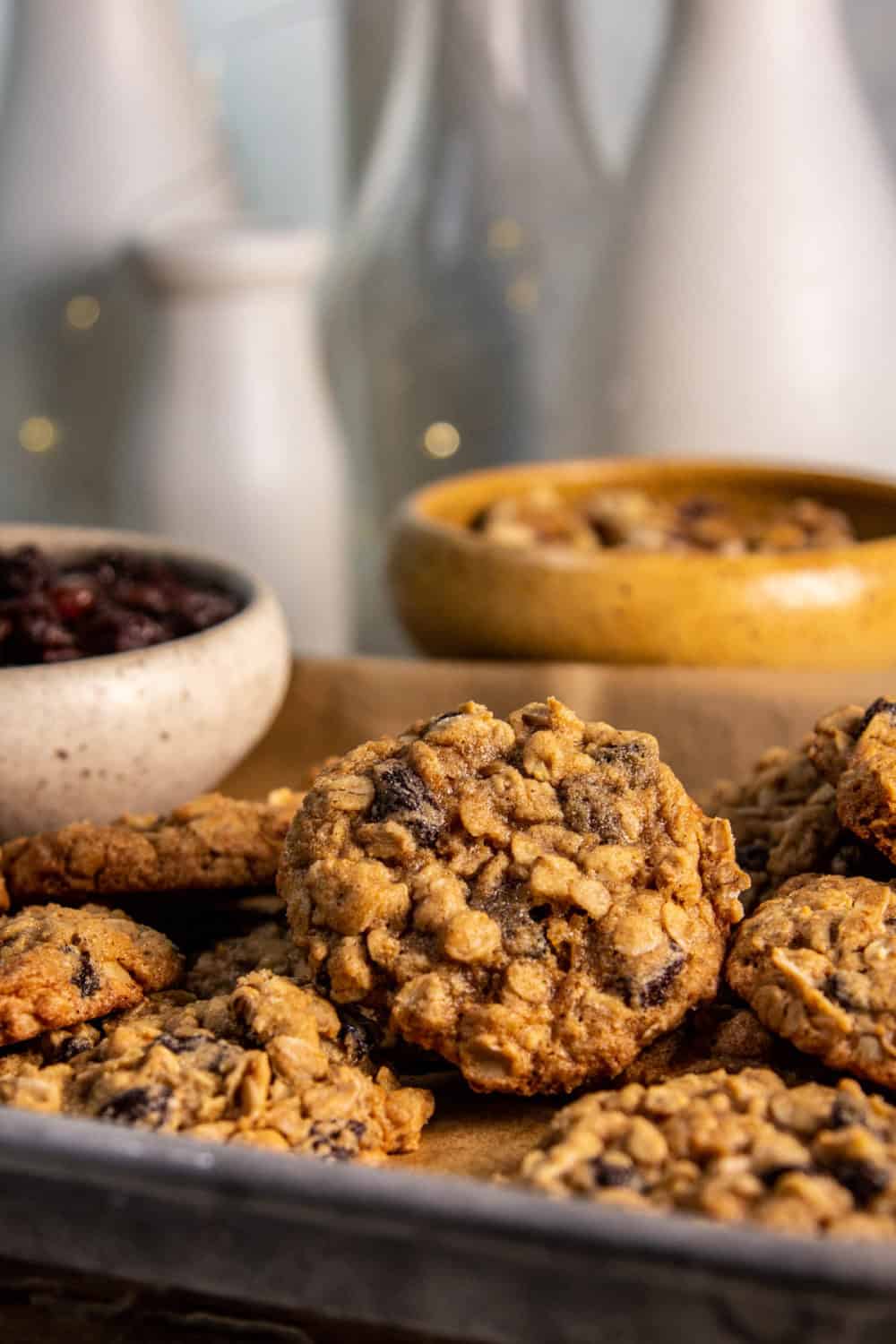 The ingredient list for Raisin Oatmeal Cookies.
Oatmeal
Vanilla bean powder or extract
Ground ginger, cinnamon, and nutmeg
Softened Butter
A combination of sugars
Baking soda
Salt
What are Dried on Vine Grapes?
Yes, dried-on-vine grapes are California raisins, but these specific raisins are unique in a lot of ways.
Traditional raisins are created by drying Thompson Seedless grapes on the ground in direct sunlight, which results in the caramelized raisin that you know.
Dried-on-vine grapes are gently sun-dried on the vine under the shade of the canopy. This signature, all-natural drying process results in a more plump and juicy raisin.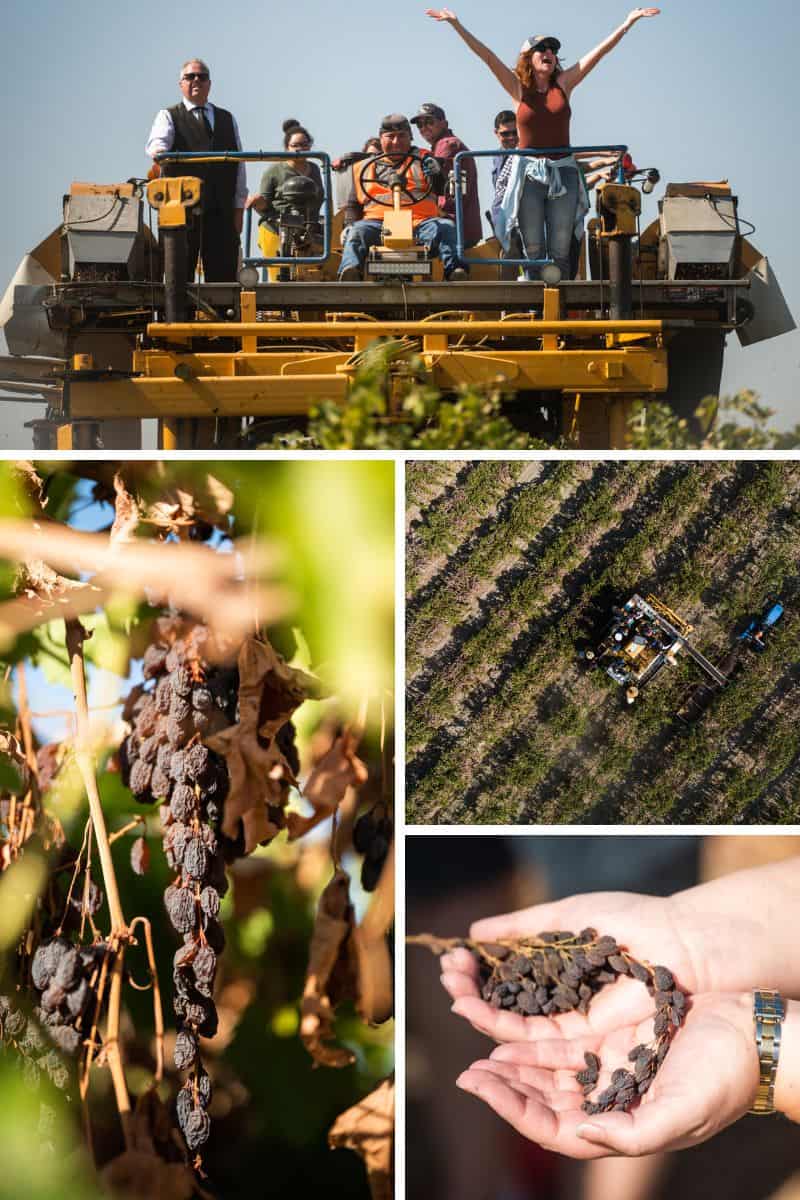 Recently, on a gloriously sunny afternoon in Madera, California we had the opportunity to meet up with Courtney Gillespie, President of Life's Grape, Vine-Dried Grapes to learn about the new, innovative ways that they grow and harvest vine-dried grapes.
What happens to raisins when they are soaked in red wine?
While you could skip the soaking step all together and still have one gloriously delicious Raisin Oatmeal Cookie, we suggest giving it a try at least once. We often have a leftover bottle in the fridge that needs to be consumed in a timely fashion and baking with red wine is one of my favorite ways to use it, besides pouring myself a glass!
In this particular recipe, the additional step of soaking the raisins in warm red wine for a half hour or so allows the raisins to draw in a bit of moisture and flavor from the wine. This process simply magnifies their own soft, chewy, sweetness and ensures that they are perfectly plumped for their starring role in this recipe for Raisin Oatmeal Cookies.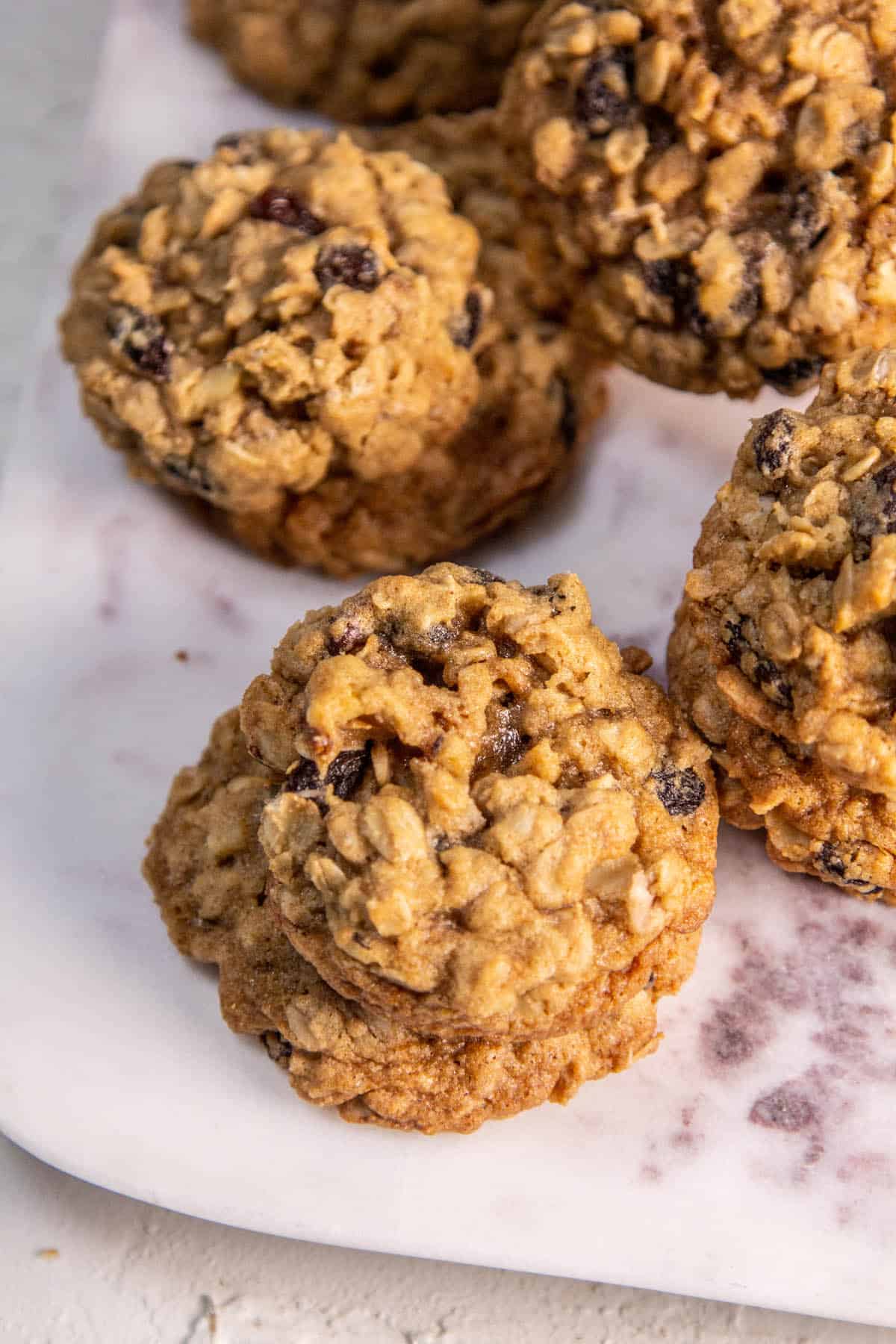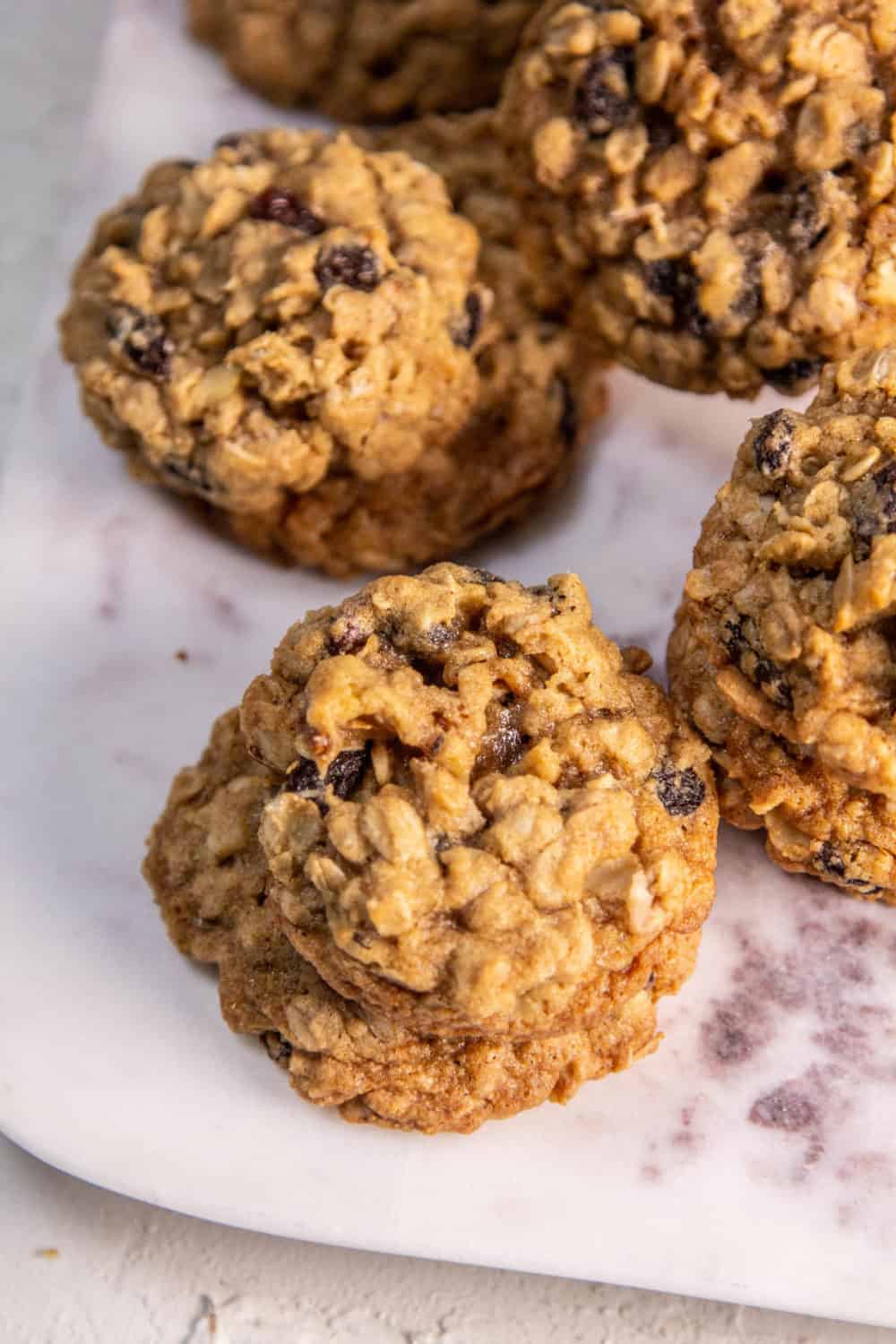 Did you make this recipe for Raisin Oatmeal Cookies? Be sure to share your cookies with us by snapping a pic and tagging us on social using #CAGROWN.
Craving more CA Grown goodness? Follow us on Pinterest for fresh and fabulous recipe inspiration!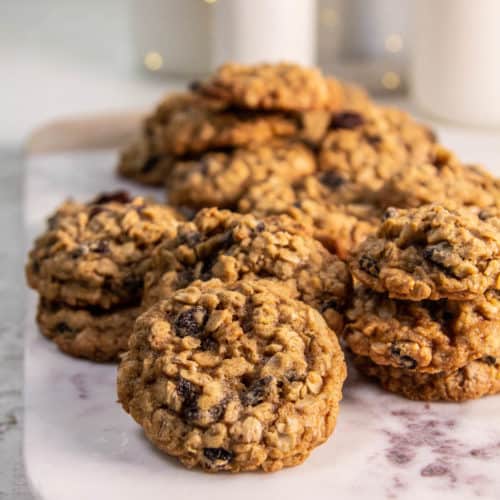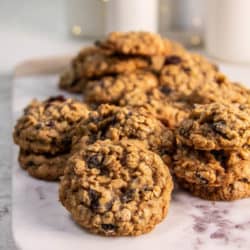 Raisin Oatmeal Cookies
The best recipe for Raisin Oatmeal Cookies combines toasted oatmeal & brown sugar with California red wine-soaked raisins and vanilla beans.
Equipment
sheet pans

small cookie scoop
Ingredients
1 3/4 cups red wine from California
1 1/2 cups California raisins
1 cup salted butter softened
1 cup dark brown sugar packed
1/3 cup granulated sugar
2 large eggs
1 tablespoon vanilla bean powder or extract
1 1/2 cups gluten-free all-purpose flour
3/4 teaspoon coarse kosher salt
1 teaspoon baking soda
1 teaspoon ground cinnamon
1/4 teaspoon ground ginger
1/4 teaspoon freshly grated nutmeg
3 cups rolled oats
1/2 cup walnut halves chopped small
Instructions
Warm the red wine slightly in the microwave or the stovetop until just starting to steam. Pour over the rasisins. Set aside to soak for 30 minutes. Drain and reserve the wine for another use.

Heat the oven to 350°F and line two large baking sheets with parchment paper. Set aside.

Place the softened butter into the bowl of a stand mixer fitted with the paddle attachment. Beat the butter until creamy about 1-2 minutes. Add the brown and granulated sugars, then beat until fluffy, about 2 minutes more. Add the eggs, one at a time, thoroughly incorporating one before adding the other. Now add the vanilla and mix to incorporate.

In a separate bowl, whisk together the gluten-free flour, salt, baking soda, cinnamon, ginger, and nutmeg. Set the mixer on low speed, and add the flour into the butter mixture in 2 additions until completely incorporated.

Stir in the soaked raisins, oats, and chopped walnuts until incorporated throughout the batter.

Use a small cookie scoop to measure out the dough onto the prepared baking sheets, leaving at least 2 inches between each cookie.

Bake until the cookies are golden brown around the edges. , about 10-12 minutes. The cookies will still be soft in the center at this point, but they will firm as they cool. Cool completely on a wire rack.

Cookies will be good for 3-4 days and stored in an airtight container at room temperature.
Nutrition
Serving: 1cookieCalories: 162kcalCarbohydrates: 21gProtein: 2gFat: 7gSaturated Fat: 4gPolyunsaturated Fat: 1gMonounsaturated Fat: 2gTrans Fat: 0.2gCholesterol: 24mgSodium: 128mgPotassium: 111mgFiber: 2gSugar: 8gVitamin A: 173IUVitamin C: 0.3mgCalcium: 20mgIron: 1mg