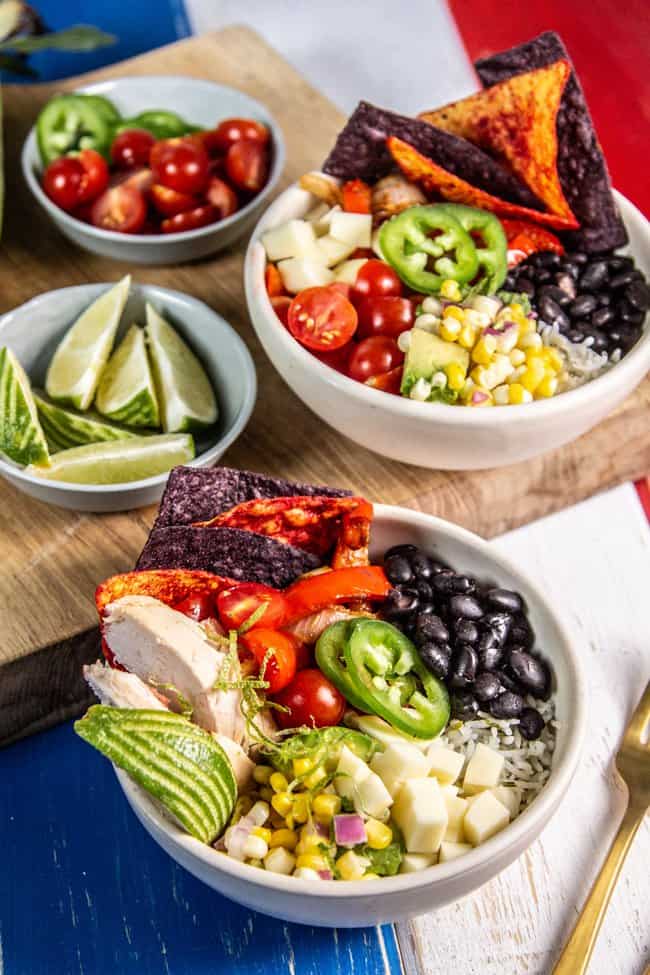 CA GROWN Blog
Discover. Learn. Connect.
The Best 4th Of July Foods & Veggie Packed Burrito Bowls
June 21, 2022
Eat the Season!
Sign Up For Weekly Recipes
« Back to Recipes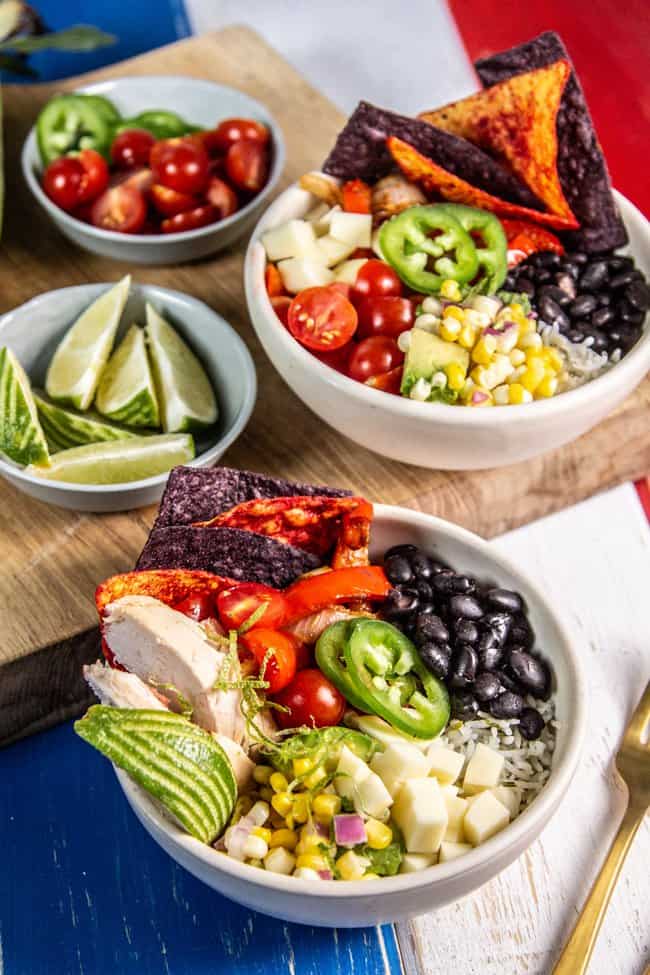 The Best 4th Of July Foods & Veggie Packed Burrito Bowls
Independence Day is right around the corner and if you are anything like us, you are looking for patriotic inspired recipes to celebrate. Whether you are hosting the feast yourself or just bringing dessert, we have the best 4th of July foods for every type of celebration. Plus, we are sharing the recipe for our favorite Veggie Loaded Burrito Bowls – which just happen to be, red, white, blue and delicious!
I don't know about you, but when I am planning a menu for any summer gathering I go for delicious simplicity, like burrito bowls. With only a little planning, a lot of California-grown produce, and a tiny bit of prepping you will earn the award of the summertime "hostess with the mostest".
Tips for planning a veggie-filled, summer burrito bowl feast for the 4th of July.
The entire California Grown team is in agreement that DIY burrito bowls might just be the easiest meal to serve at just about any celebration. However, we particularly love serving them in the summer. Here's why:
Because so many of the ingredients like beans, salsas, and toppings can be prepped days in advance of the gathering, so there is no need to crank up the stove or oven for very long the day of your event – meaning you can reserve your A/C and your sanity.
Summer is when produce is at its peak! The sky is the limit with your toppings, and you should totally reach for it. Think fresh salsas, herbaceous guacamole, and corn salad.
There are almost as many dietary preferences and restrictions these days at a party as there are guests! You can make the dietary equation easier on yourself with a DIY, a la carte burrito bar where guests can help themselves to all that is good for them.
In the recipe card below, we are sharing the recipes for our Easy No Soak Black Beans and Oven Roasted Fajita Veggies. These recipes feed a crowd with minimal effort and can be made well in advance of your gathering.
Now all you have to do is mix and match your DIY burrito bowls with the veggie packed side dishes below to complete your feast.
What sides are good to serve with Veggie Loaded Burrito Bowls?
Sure, you should have ALL the fresh fixin's like fresh cherry tomatoes, California lime wedges, and fresh cilantro, but you should also plan to serve a few different side dishes like the ones in the recipe links below to add variety to the offerings.
Share your patriotic recipe creations with us by snapping a pic and tagging us on social using #CAGROWN.
Craving more CA Grown goodness? Follow us on Pinterest for fresh and fabulous recipe inspo!
Are you looking to take a more traditional route of BBQ and grilling for the 4th of July? We have gathered recipes to inspire you for that type of patriotic menu also!
Keep scrolling and pin your favorite main dish, side dish, and dessert recipes to your Pinterest meal planning board for this 4th of July!
The Best Savory 4th of July Main Dish Recipes to Celebrate
More ideas to help you pick a side dish for 4th of July!
The Best Sweet 4th of July Foods to Celebrate