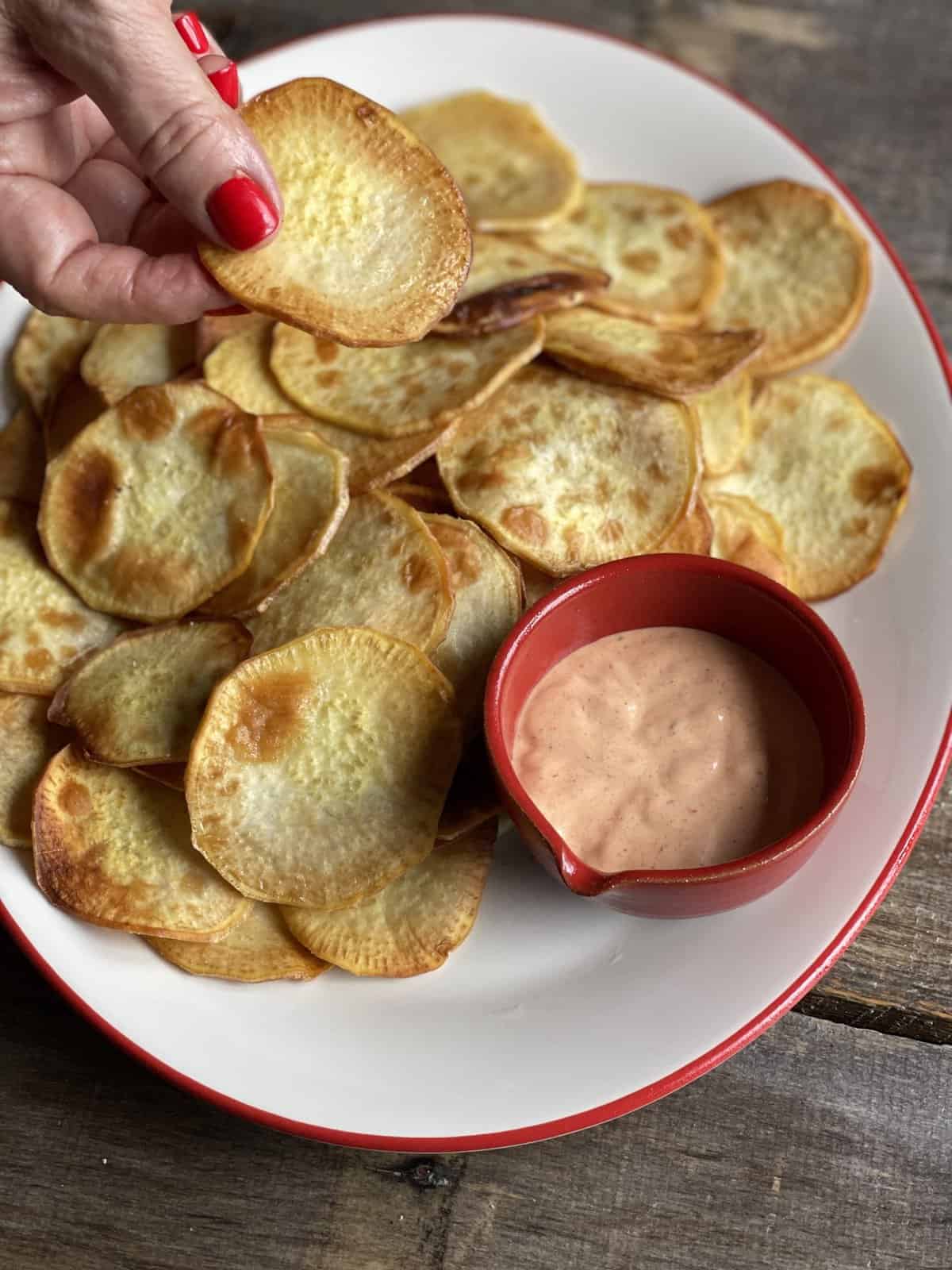 CA GROWN Blog
Discover. Learn. Connect.
Sweet Potato Crisps – Teri Turner of No Crumbs Left
June 7, 2022
Eat the Season!
Sign Up For Weekly Recipes
« Back to Recipes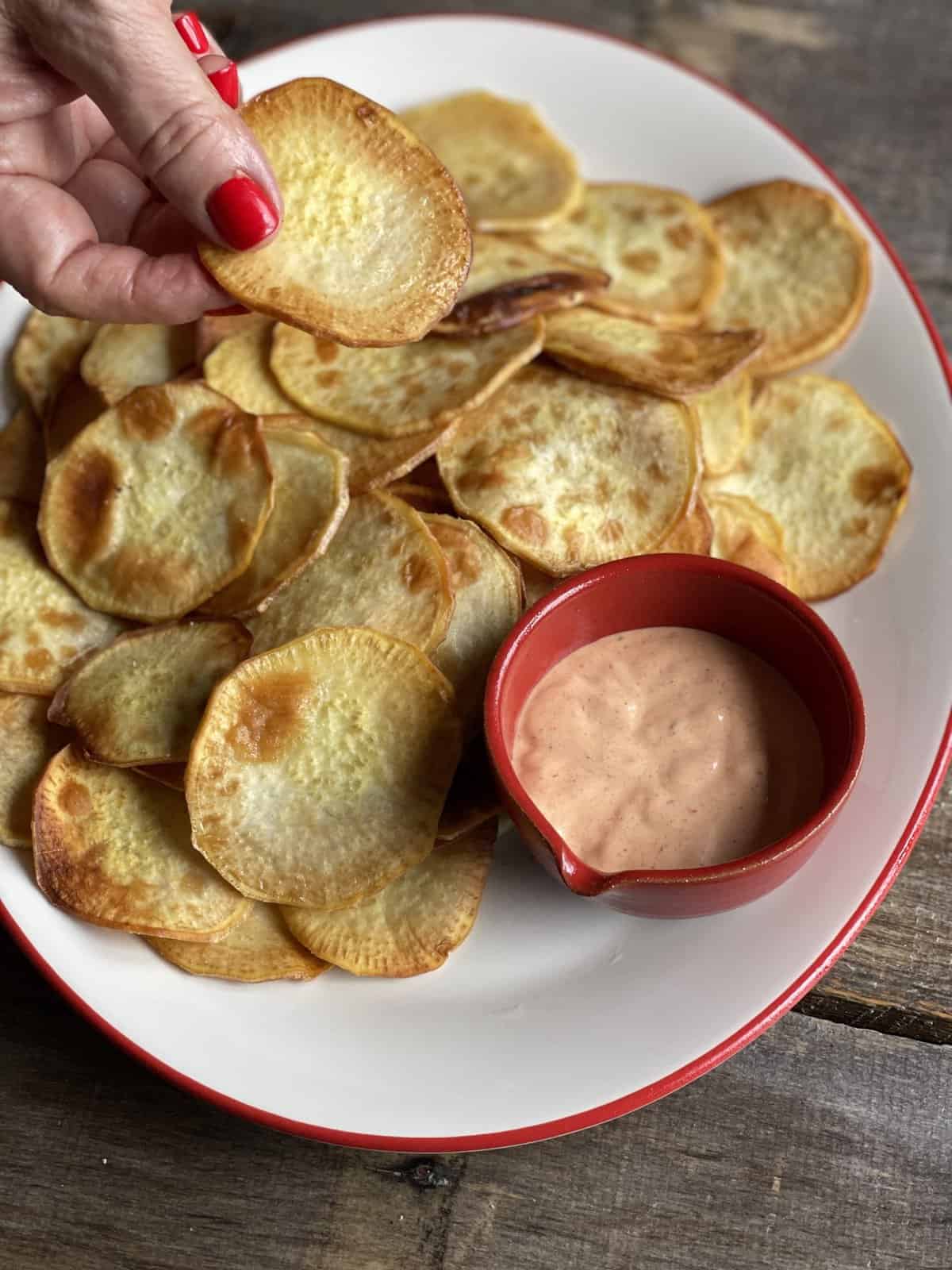 Sweet Potato Crisps – Teri Turner of No Crumbs Left
These sweet + salty Sweet Potato Crisps by Teri Turner of No Crumbs Left are perfect for dipping in her Creamy Tomato Dressing, but they are equally delicious in a hearty salad. You can use either white or orange sweet potatoes for this recipe, both are super tasty and in-season year-round!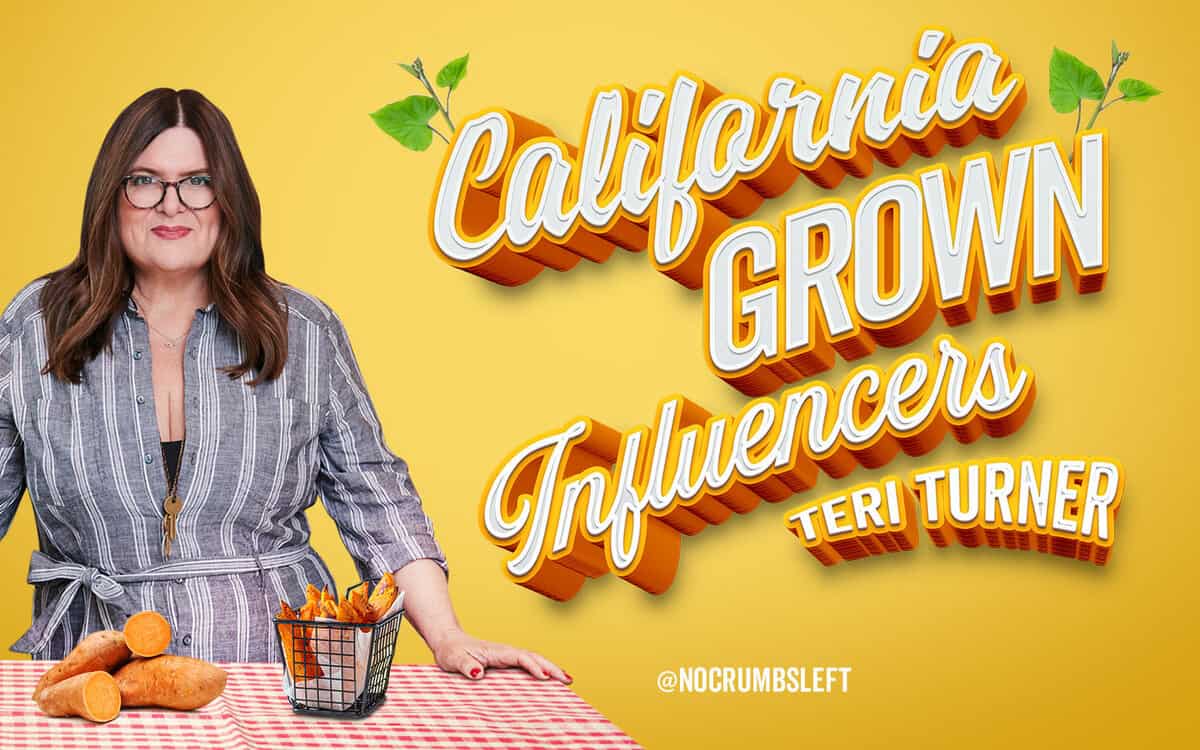 From Teri
California Sweet Potatoes are such an interesting vegetable, because even though they share a name with the regular potato, they are botanically entirely different! In fact, they are so different that "sweetpotato" is actually the correct spelling of this vegetable's name. They aren't just some variant of a potato, but instead a completely independent vegetable.
The sweet potato has its own unique taste, nutrients, and versatility. They are naturally fat and cholesterol free, plus they are a fantastic source of fiber. They are so packed with vitamins and nutrients that they are even a designated superfood!
California is the perfect place for sweet potatoes to thrive and grow! The climate and soil are a fabulous match for the sweet potato, not to mention they are all cared for by hand to make sure they meet California's high standards for their crops.
California has incredible standards from transparency around their soil and water to amazing fair labor laws for farmers and farmworkers. Not only are you buying a delicious product, but you are truly making a difference when you choose sweet potatoes from the Golden State!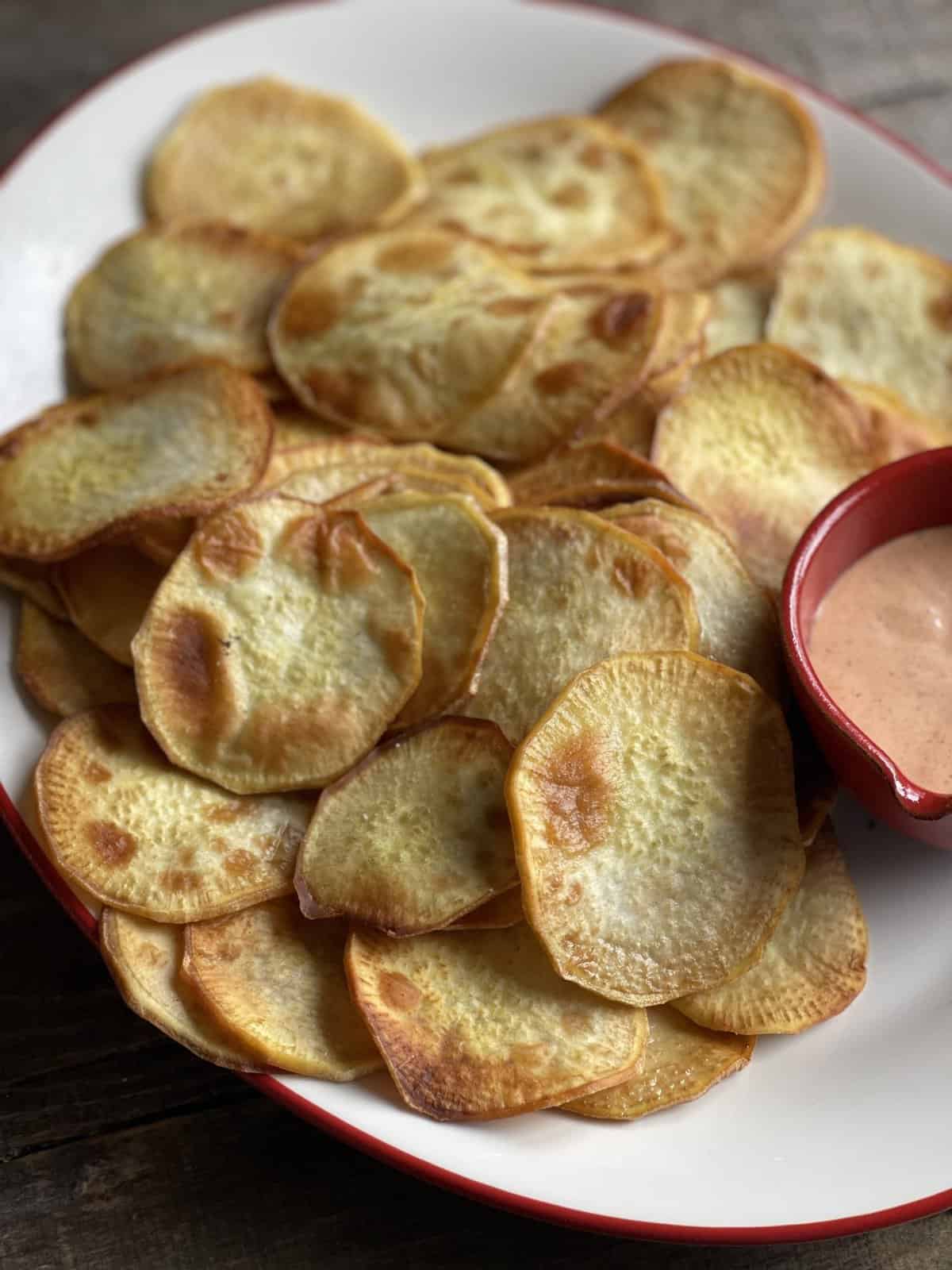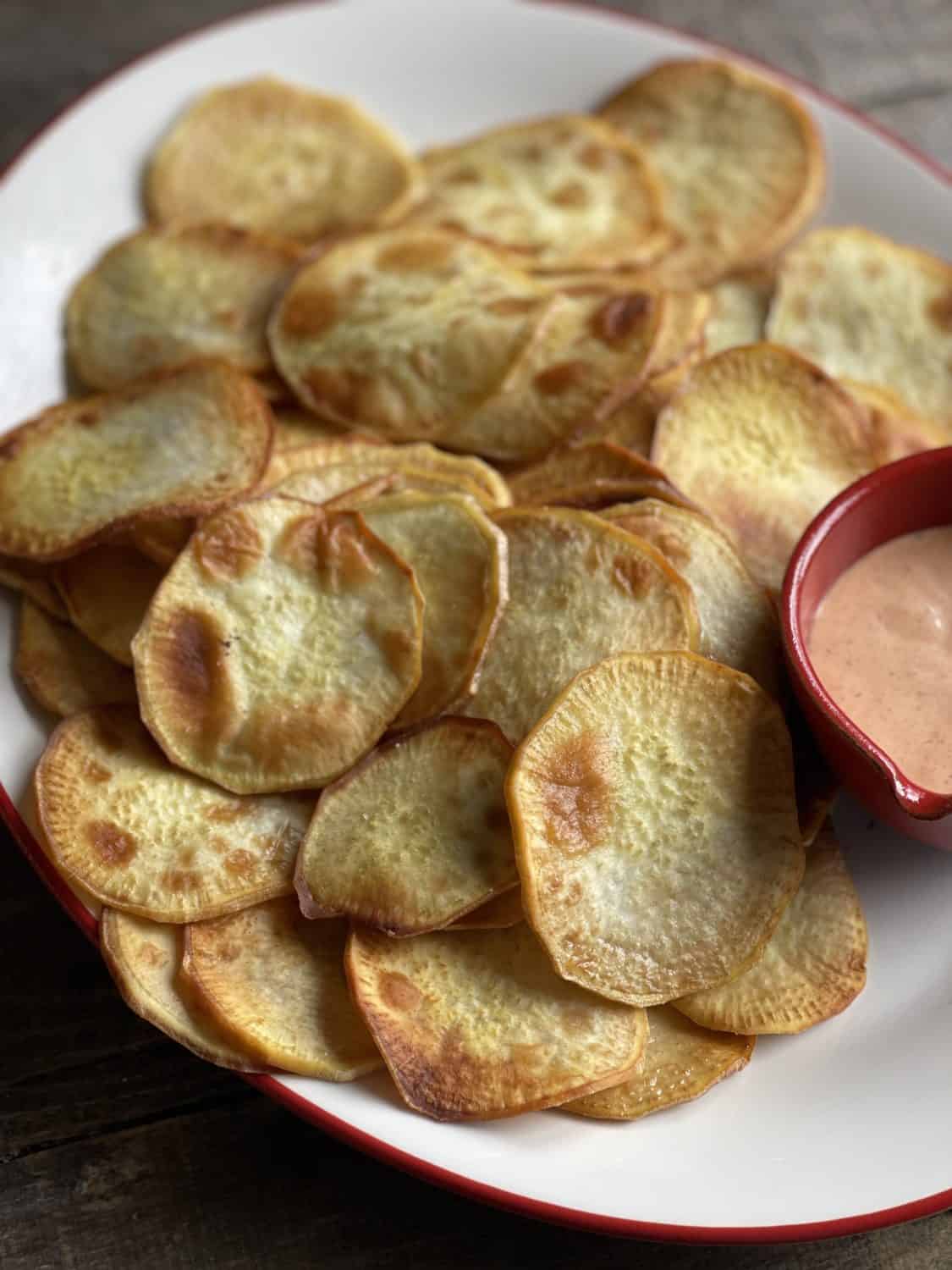 If you loved these Sweet Potato Crisps, you'll love these other California inspired recipes from Teri!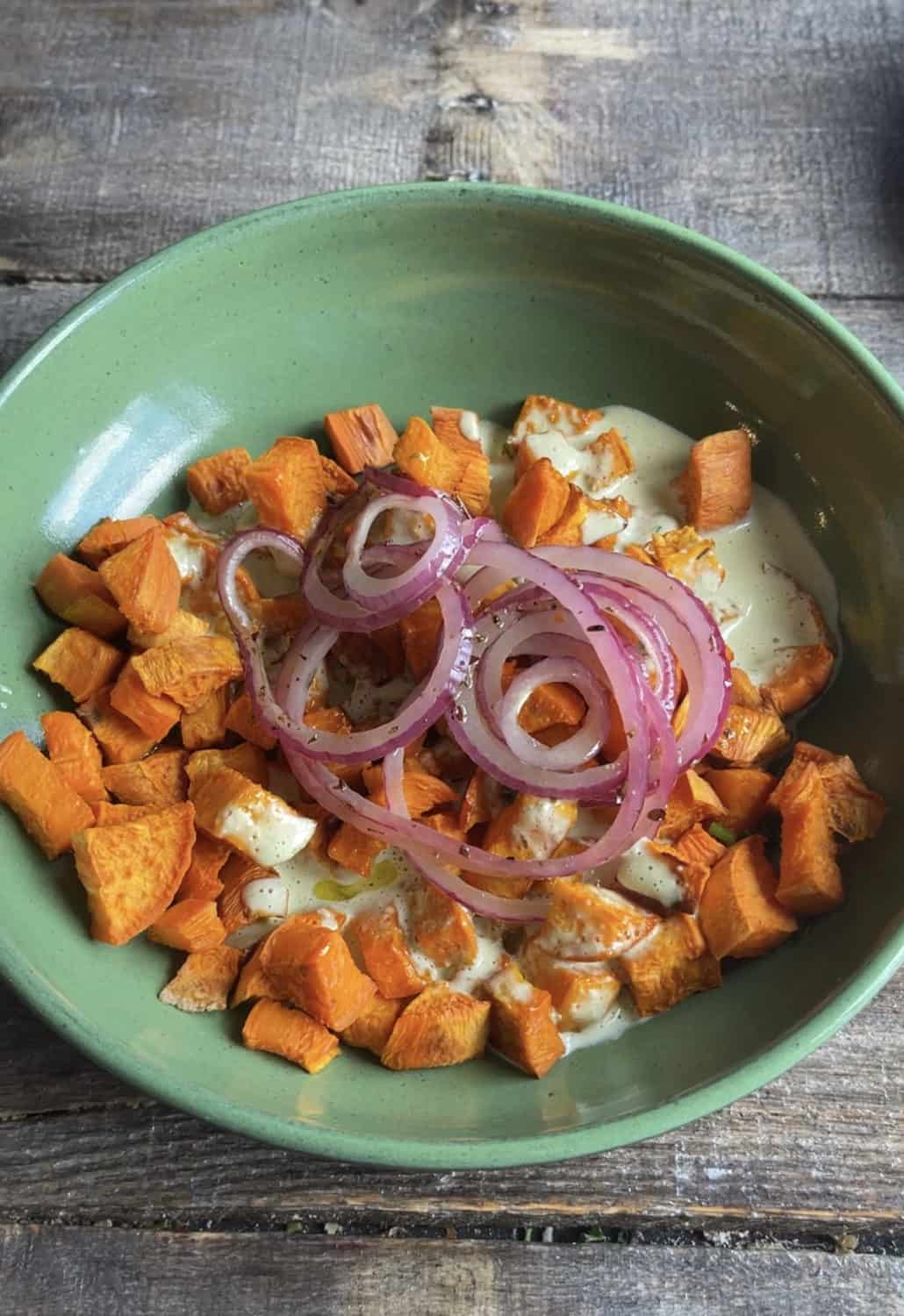 I'm so delighted about our new Roasted Sweet Potatoes with Creamy Chive Dressing! This is one of my favorite simple but delicious side dishes to make! They are fabulous on their own, but I love to take them over the top with Creamy Chive Dressing and Marinated Onions. It's the perfect combination of creamy, crunchy goodness.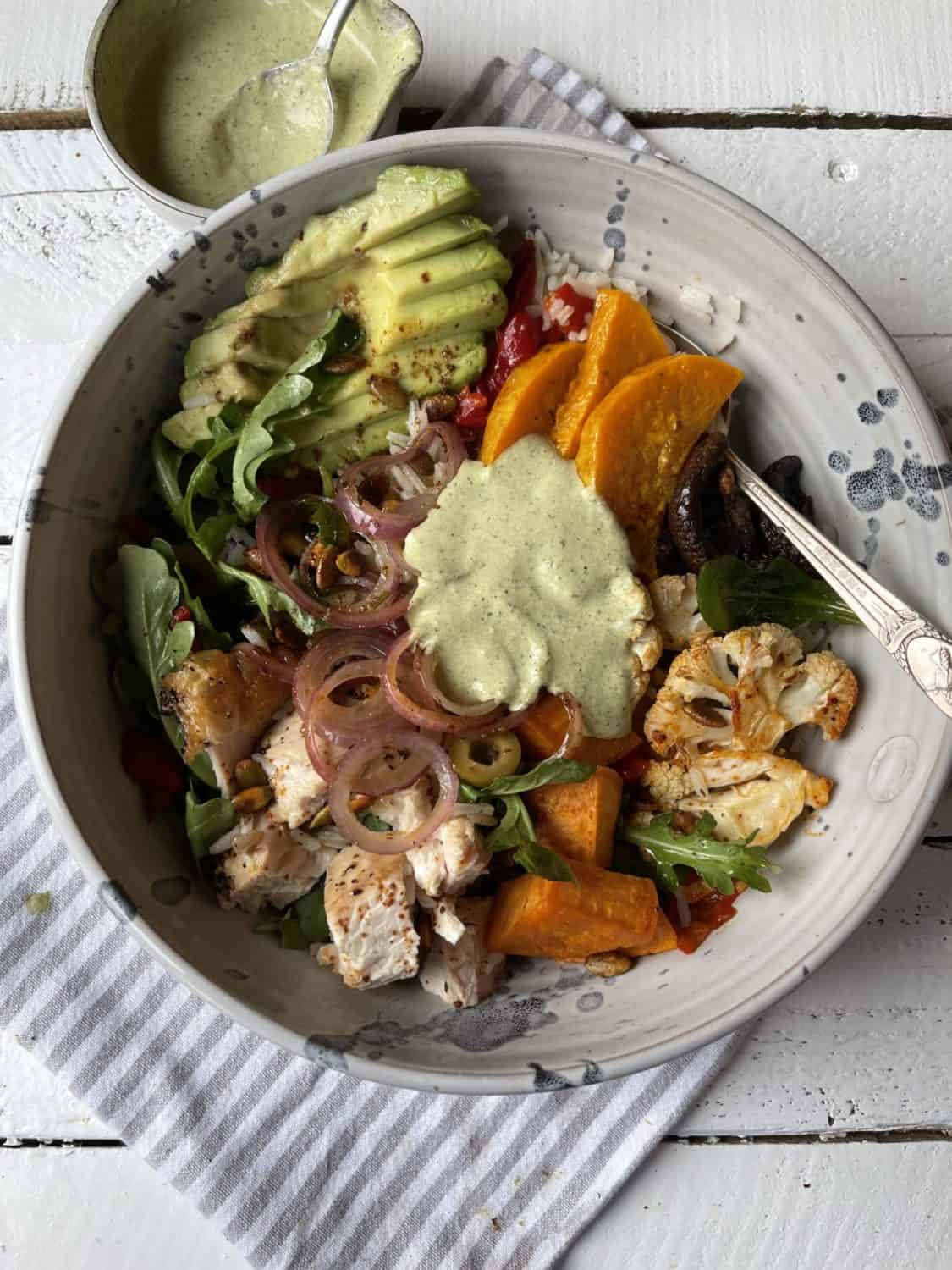 One of my favorite ways to cook in the kitchen is to embrace my produce and get inspired as I'm cooking. This Grain Bowl is a perfect example of inspired cooking. It's an easy and loose recipe that allows for lots of creativity and deliciousness! And of course, every good dinner starts with the best ingredients. That's why this bowl starts with California Grown Produce!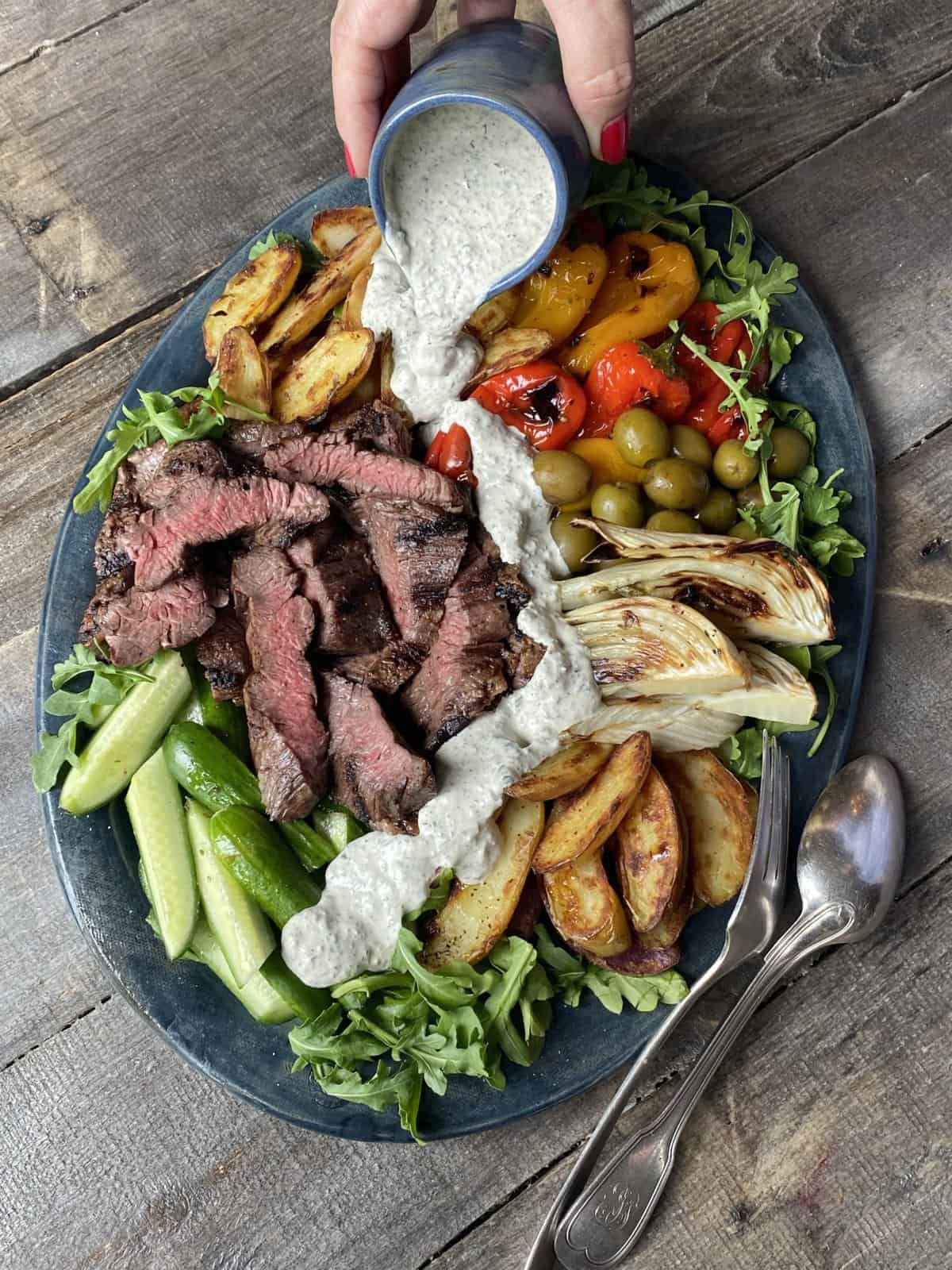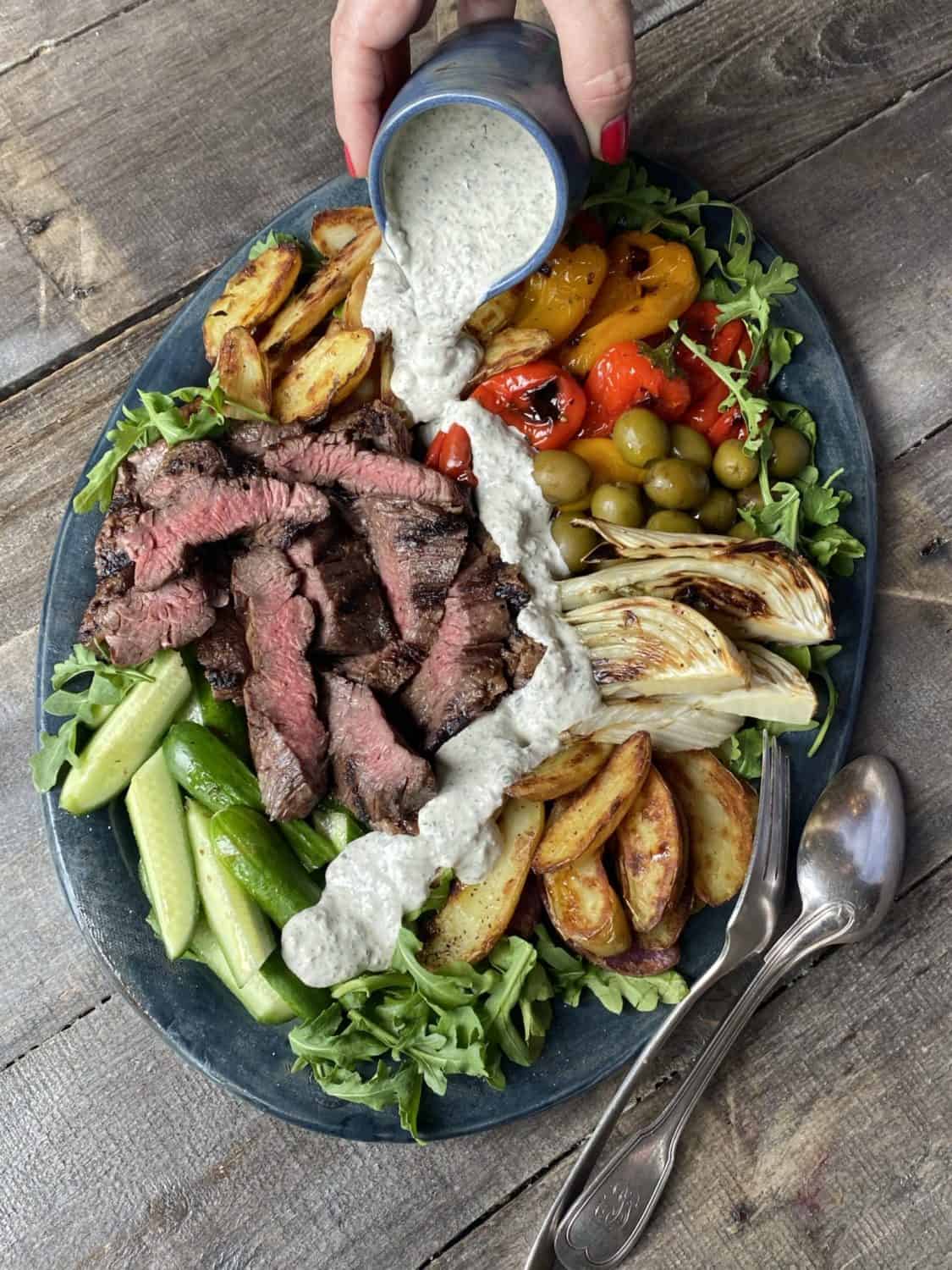 You'll love this amazing Steak Salad with Garlic Dressing, made with CA Grown Olives. It's great with grilled steak in summertime, but you can also cook the steak in a pan so you can enjoy this hearty main-course salad any time!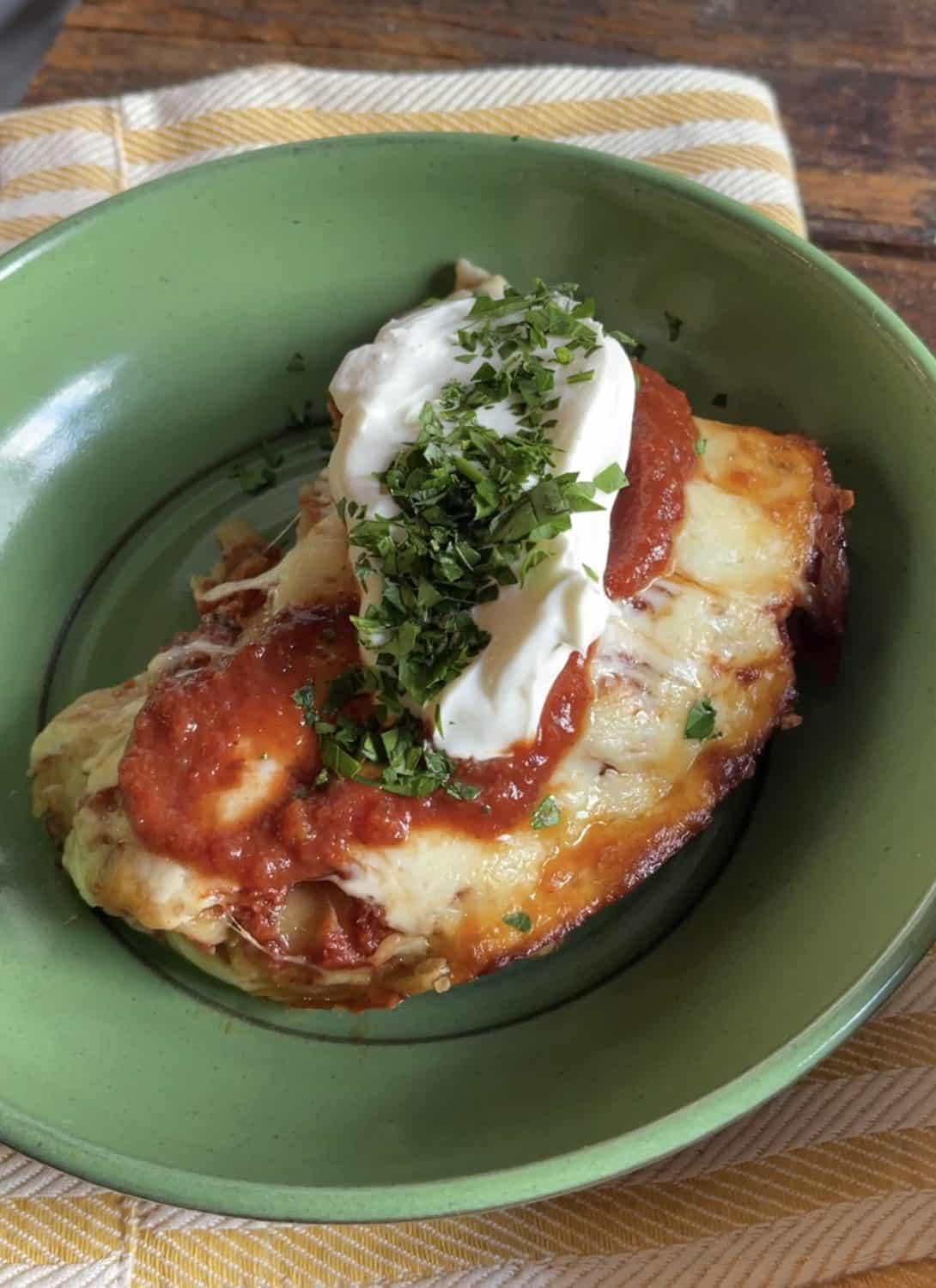 These chicken enchiladas are next level delicious. They take some time to make but they are totally worth it. Ever since we made this recipe, I have been dreaming about them! I cannot wait for you to get cooking.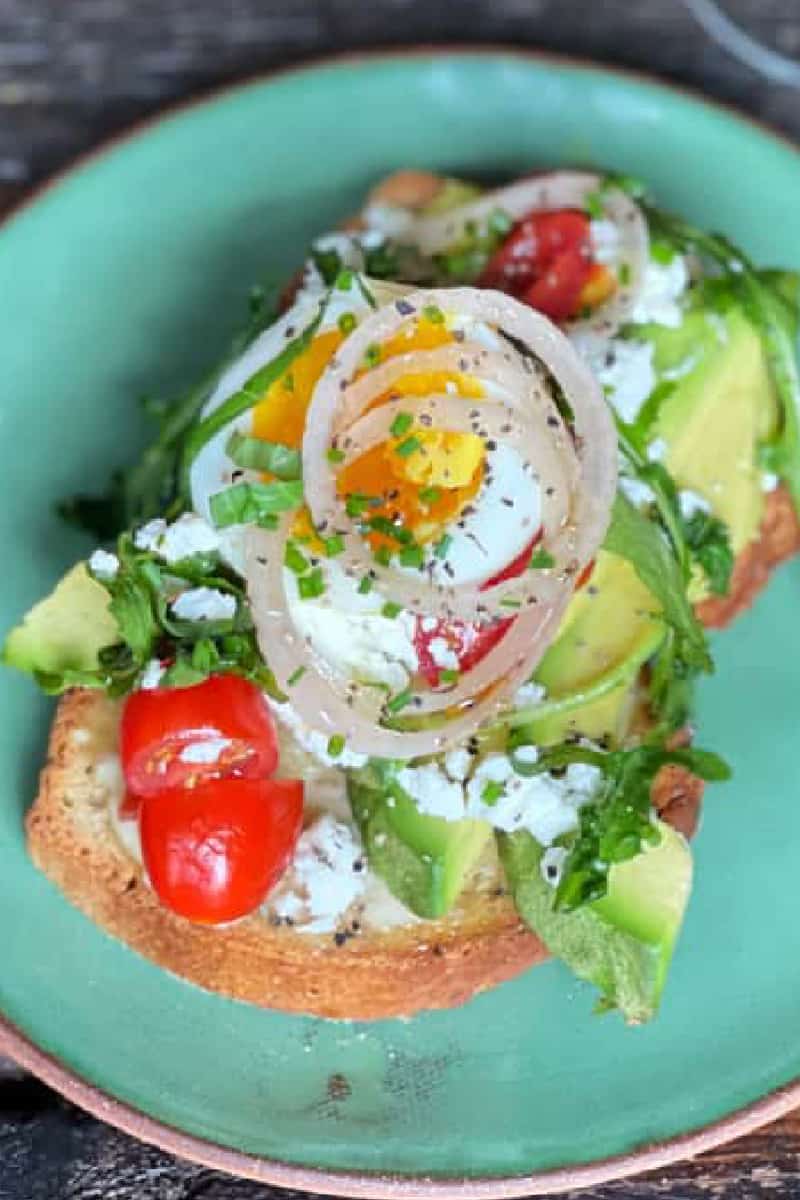 This delicious Avocado Toast recipe is simple, tasty, and loaded with fresh California grown goodness like sliced cherry tomatoes, marinated onions, homemade mayo made with California olive oil, and arugula.
You can pick up Teri Turner's No Crumbs Left: Recipes for Everyday Food Made Marvelous cookbook at your favorite book store. And now you can whip up her delicious Sweet Potato Crisps recipe at home too, complete with her homemade Creamy Tomato Dressing made with California Extra Virgin Olive Oil!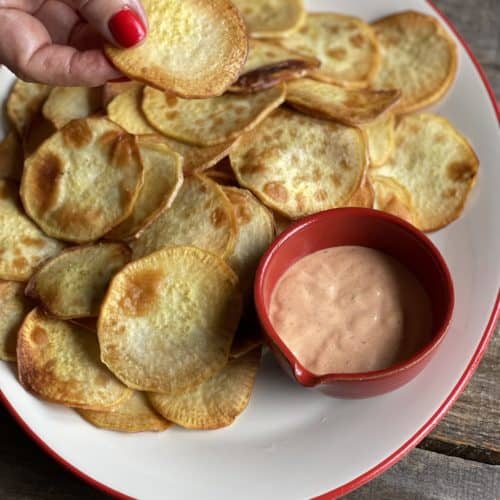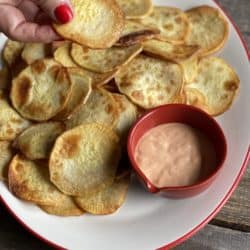 Sweet Potato Crisps by Teri Turner of No Crumbs Left
These easy + delicious Sweet Potato Crisps are a perfect snack, as a side dish, or on a salad. Serve them up with Creamy Tomato Dressing (recipe included) for even more deliciousness.
Ingredients
For the Sweet Potato Crisps
2 California sweet potatoes
1 cup light olive oil or high-smoke point oil of your choosing (such as grapeseed oil)
salt
Creamy Tomato Dressing (recipe below)
1 cup Whole30 Mayo
3 sundried tomatoes, macerated Whole30 compatible
2 tablespoons red wine vinegar
1 teaspoon hot sauce Whole30 compatible
½ teaspoon kosher salt
½ teaspoon garlic finely minced or pressed
Instructions
For the Sweet Potato Crisps:
Wash and peel your sweet potatoes.

Slice into 1/16 of an inch or thinner if possible. Set aside.

In a frying pan, heat the oil over medium-high heat. You do not want your oil to smoke.

Once the potato is done, remove with a slotted spoon and place on a paper towel-lined sheet tray or dish and salt.

Continue to fry the rest of your sweet potato rounds in small batches so that they fit in a single layer in your frying pan – we did about 8 rounds per batch- following the cooking instructions for the test sweet potato. Flip the potatoes as you fry them to cook and brown evenly. Do not overcrowd them or they will not get crispy.

After each batch, allow the oil to return to temperature for approximately 20 seconds before adding the new batch. If your oil gets too low as you are cooking, dispose and restart with a new cup of oil.

Once all of your potato rounds are fried and salted, let cool slightly and enjoy with my Creamy Tomato Dressing!
For the Creamy Tomato Dressing:
In a large, wide mouth mason jar, combine the whole30 mayo, macerated sundried tomatoes, red wine vinegar, hot sauce, salt and pressed garlic. Using a stick blender, blend until smooth, for about 2 minutes. Store in the refrigerator and enjoy.
Notes
Cooking note: The temperature of the oil is going to fluctuate as you add the sweet potatoes. If the oil is getting too hot, lower the heat, and alternatively, if you notice that the oil is not hot enough or the rounds aren't browning, raise to high.
Nutrition
Serving: 1portionCalories: 603kcalCarbohydrates: 24gProtein: 3gFat: 55gSaturated Fat: 8gPolyunsaturated Fat: 26gMonounsaturated Fat: 19gTrans Fat: 1gCholesterol: 24mgSodium: 737mgPotassium: 450mgFiber: 4gSugar: 6gVitamin A: 16082IUVitamin C: 4mgCalcium: 42mgIron: 1mg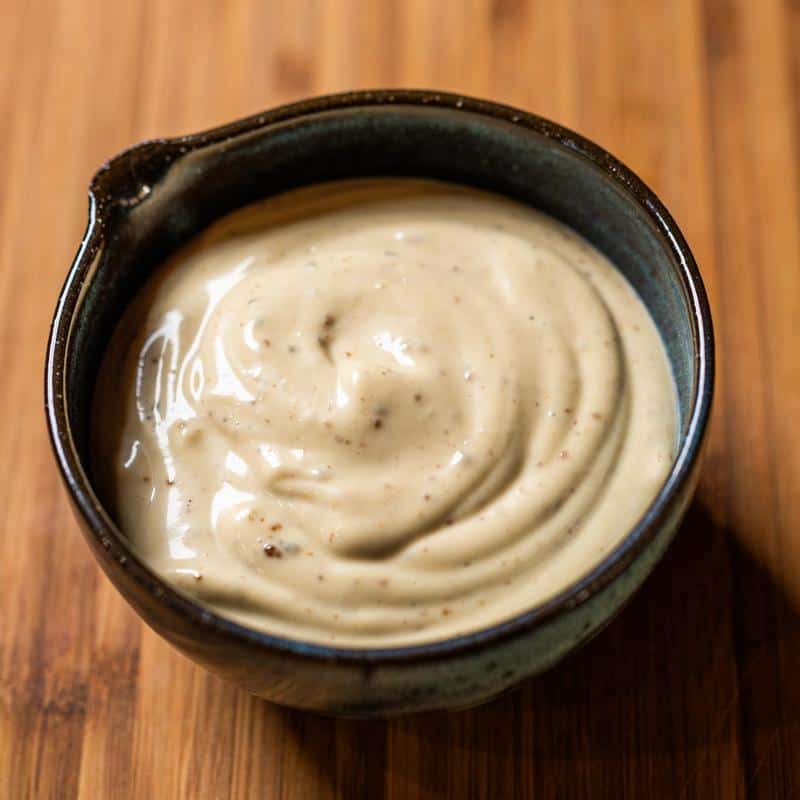 Teri Turner from nocrumbsleft shared her amazingly easy Homemade Mayonnaise recipe with us, so we could share it with you! Use it on avocado toast or in sandwiches, or as the base of dressings or sauces. All you need is a stick blender and a jar!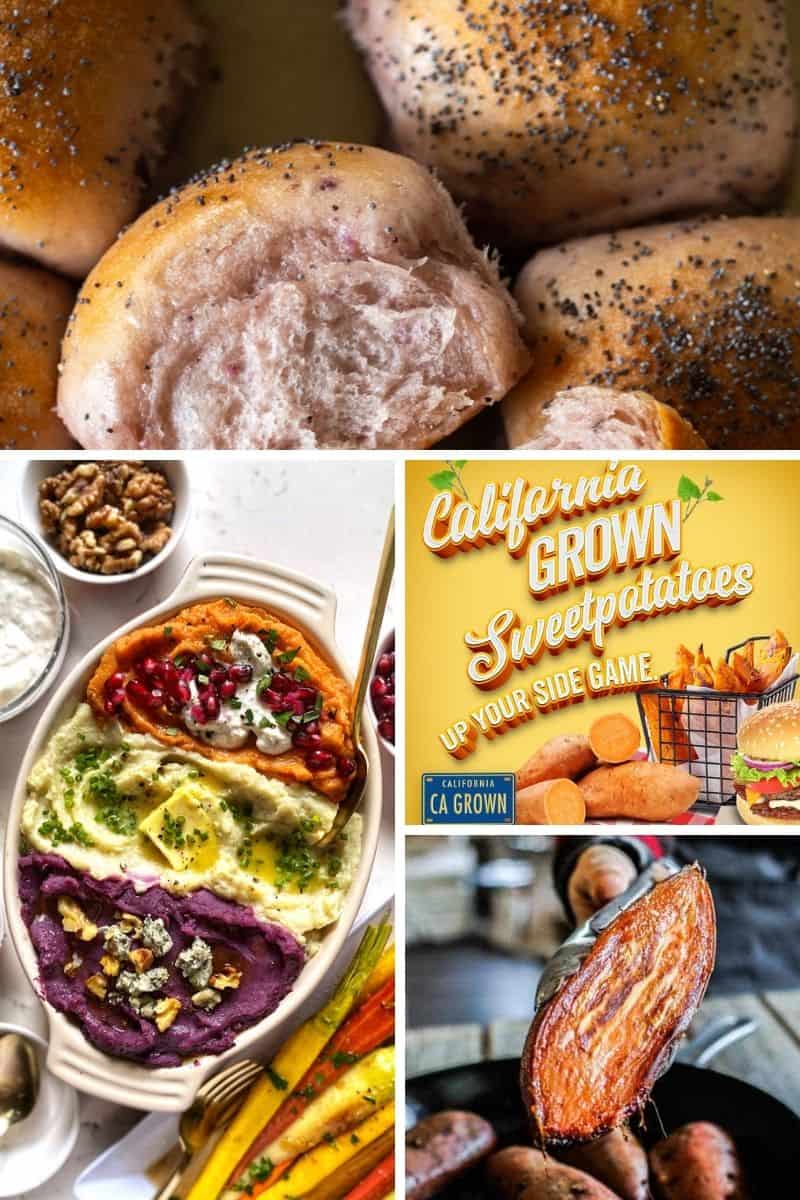 Consider this a course in sweet potatoes. A virtual Sweet Potato 101, if you will. Sweet potatoes are a versatile vegetable that can be used in any number of recipes. With so many ways to enjoy them, it's not hard to see how they have become one of the most popular foods in America!