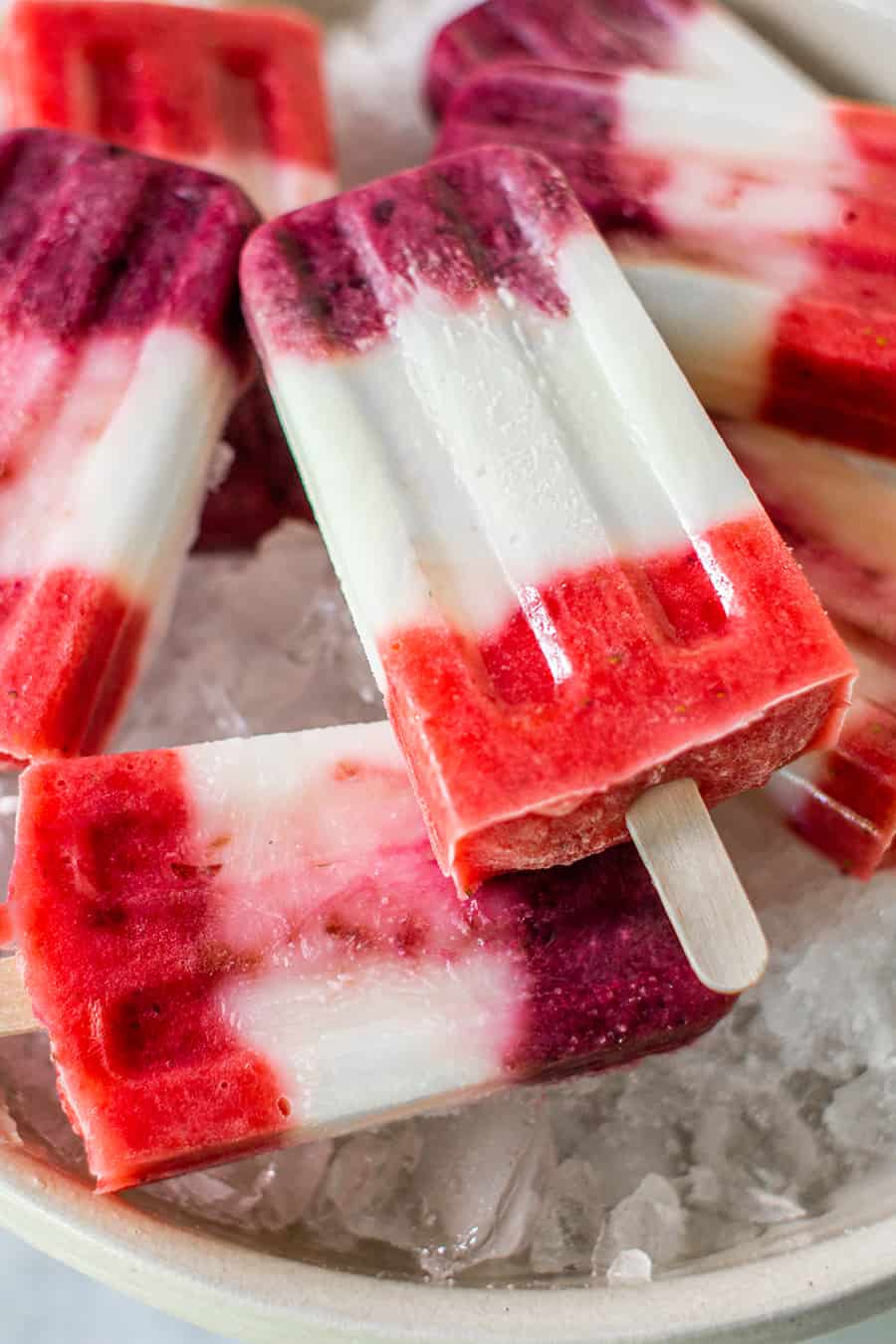 CA GROWN Blog
Discover. Learn. Connect.
A Simple Red, White, and Blue Popsicle Recipe for Summer.
June 22, 2021
Eat the Season!
Sign Up For Weekly Recipes
« Back to Recipes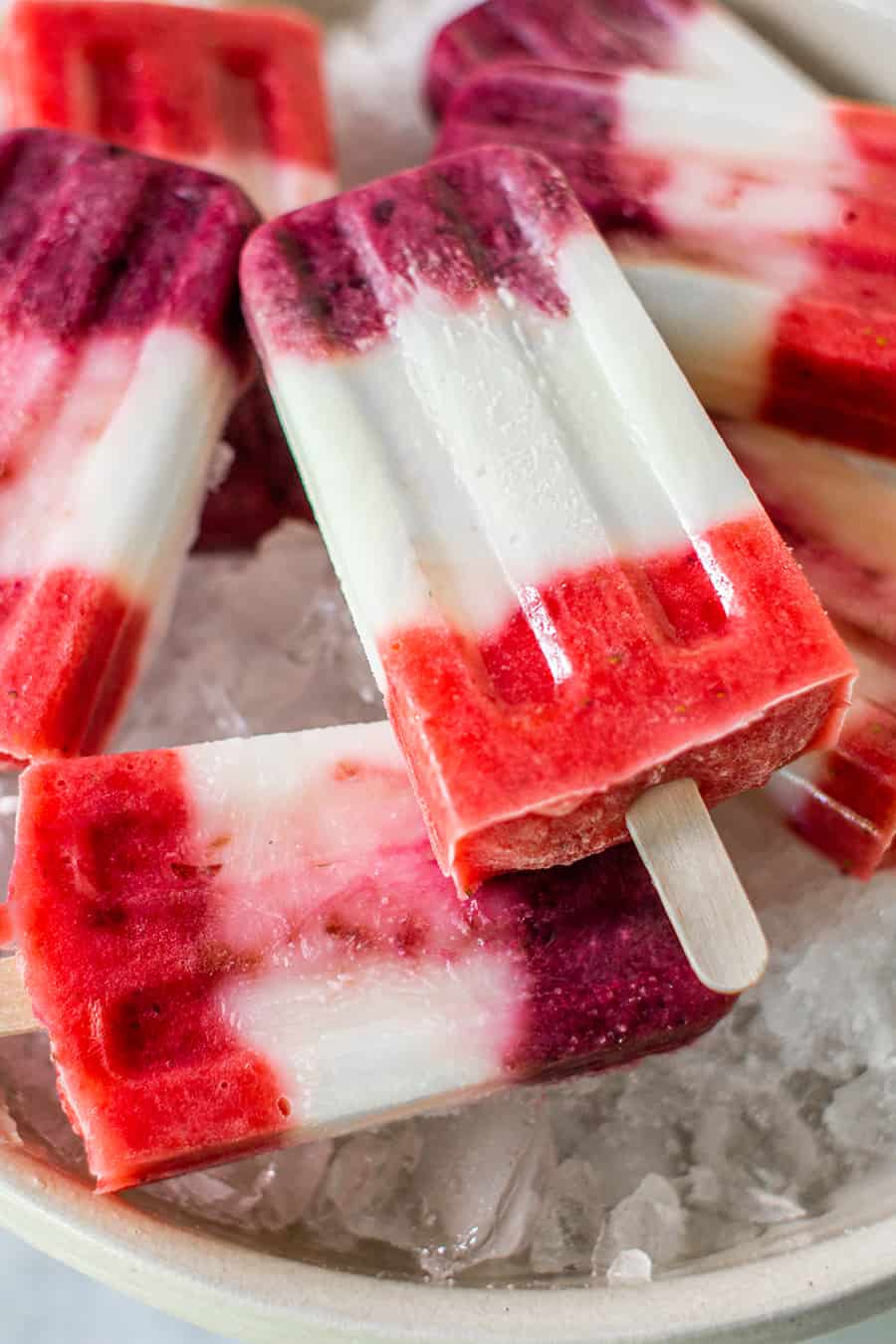 A Simple Red, White, and Blue Popsicle Recipe for Summer.
When the temperature starts to climb, and you find yourself looking for ways to beat the heat, try this patriotic fruit and yogurt-laced popsicle recipe. Fresh summer berries and cherries pair perfectly with creamy vanilla yogurt in these popsicles that are great for breakfast or dessert.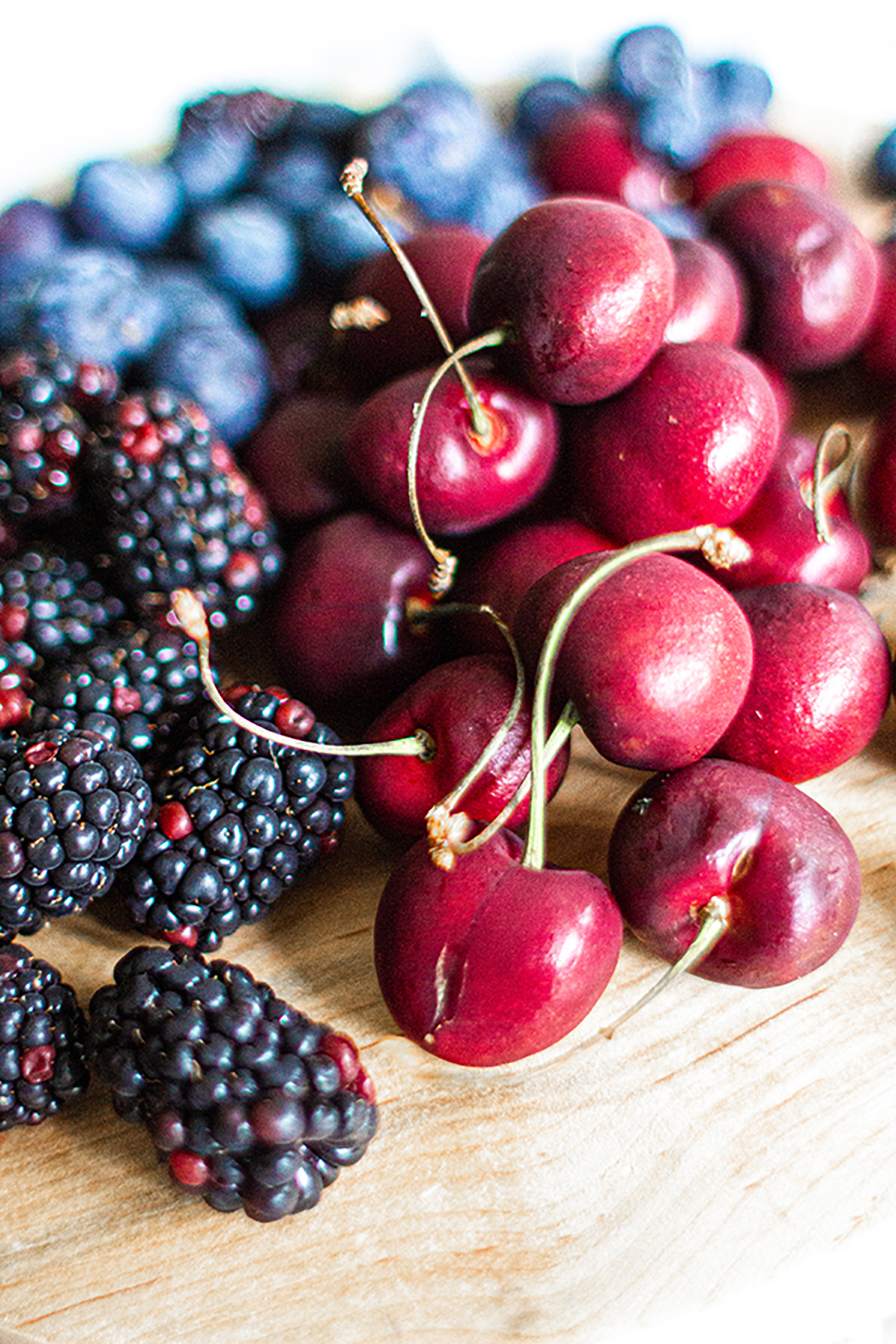 This healthy popsicle recipe is packed with fresh fruit and yogurt!
While you could opt for any fruit for these popsicles, we opted for a patriotic version for the upcoming fourth of July festivities. Let's break down those gorgeous red, white, and blue-hued layers, shall we?!
Red layer
California strawberries are available year-round! During peak season California strawberry plants are harvested every three days. WOW! This means you can indulge in this red, white, and blue popsicle recipe all year long – not only in the summer months. Strawberries lend the perfect red hue to these patriotic pops, don't ya think?
White layer
Vanilla yogurt made with milk from California is mixed into every layer, but this middle layer is where it really shines. Creamy and luscious, this layer doesn't need anything other than the yogurt to shine.
Blue layer
You have a few options for your blue-ish purple-hued layer. We opted for fresh cherries because we had them on hand and boy am I glad we did!
California cherries are the first cherries of the season which is why they are so eagerly anticipated around the world. The short California cherry season begins in mid-April and typically lasts into early June.
If cherries aren't in season when you want to make these popsicles, or you aren't a cherry fan, you can also use blueberries or blackberries in this layer as they all provide blue-ish purple-hue we are going for.
We made this darker-hued version above by using cherries for the top layer, yogurt for the middle layer, and blueberries for the bottom layer. It doesn't have quite as much of a patriotic vibe, but they are still delicious nonetheless.
Looking for more healthy popsicle recipes to make this summer? Keep scrollin'!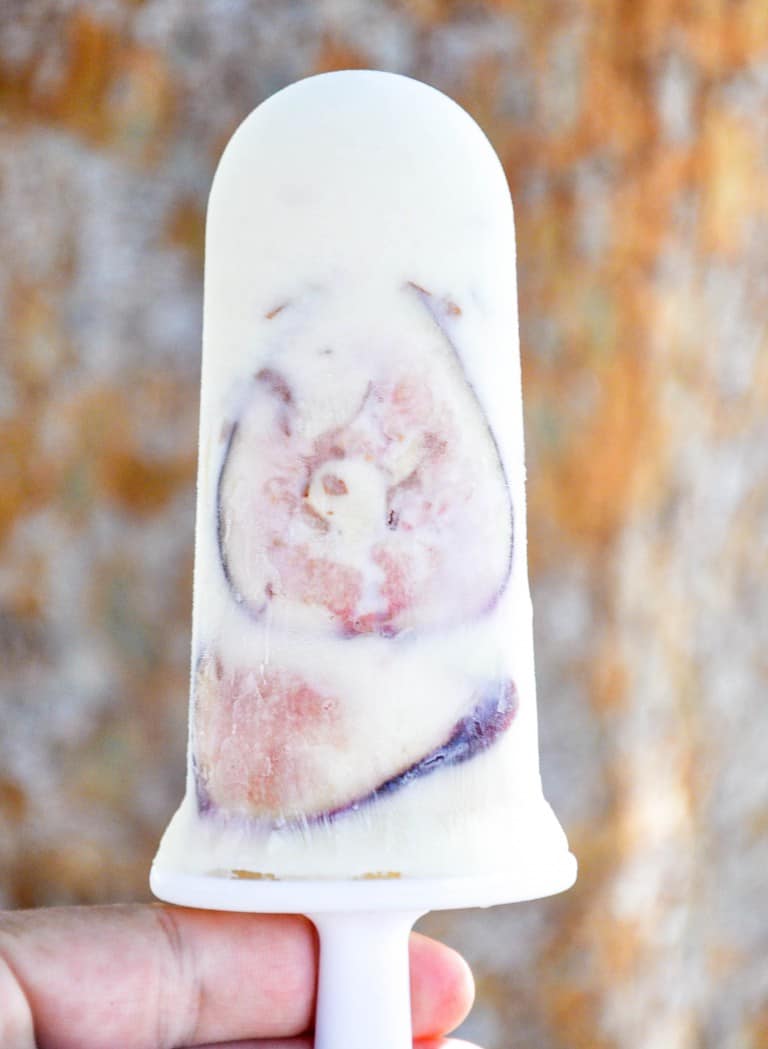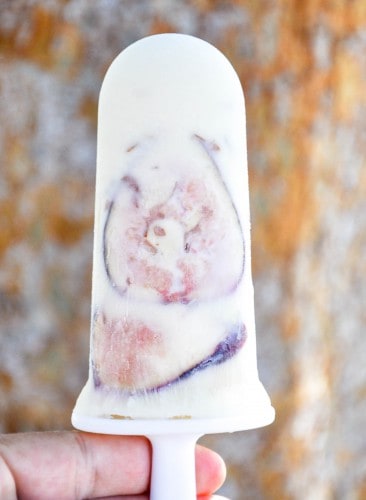 Greek yogurt ( made with Real CA Milk of course!) combined with sliced almonds and fresh fig creates a perfect breakfast popsicle that packs a powerfully nutritious punch.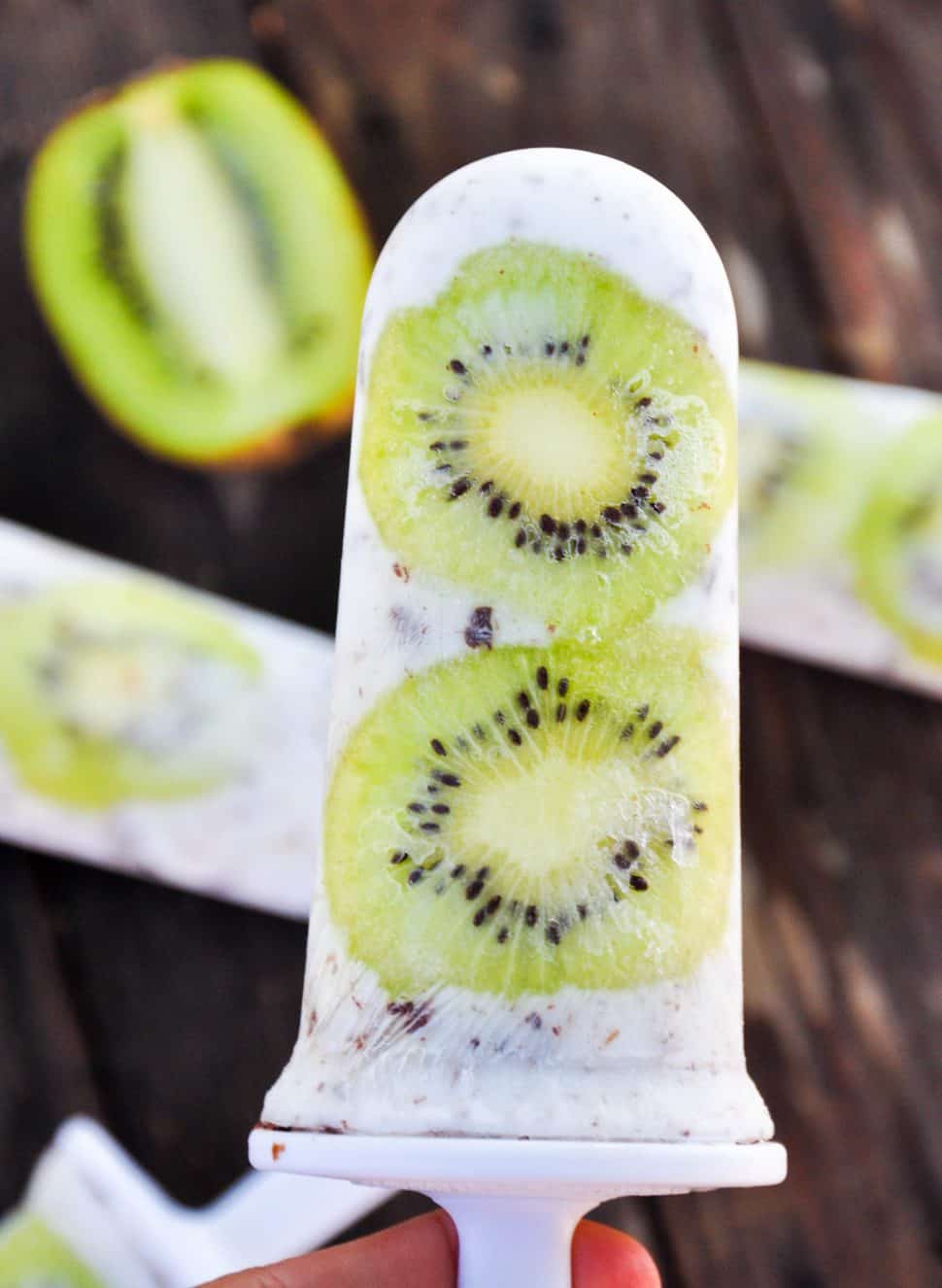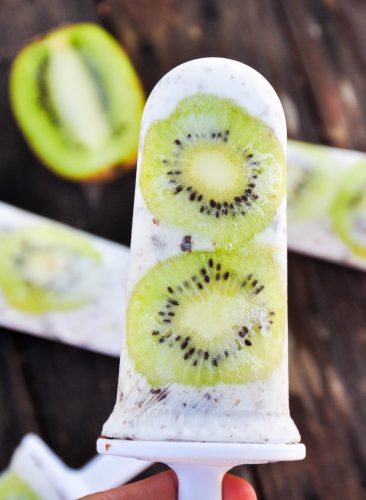 This popsicle recipe starts with fresh California Kiwis and layers in dark chocolate, almond and yogurt.
Did you know kiwis are low in calories, high in energy, and an excellent source of antioxidants? It's like a fuzzy little health bomb.
Looking for more red, white, and blue recipe inspiration?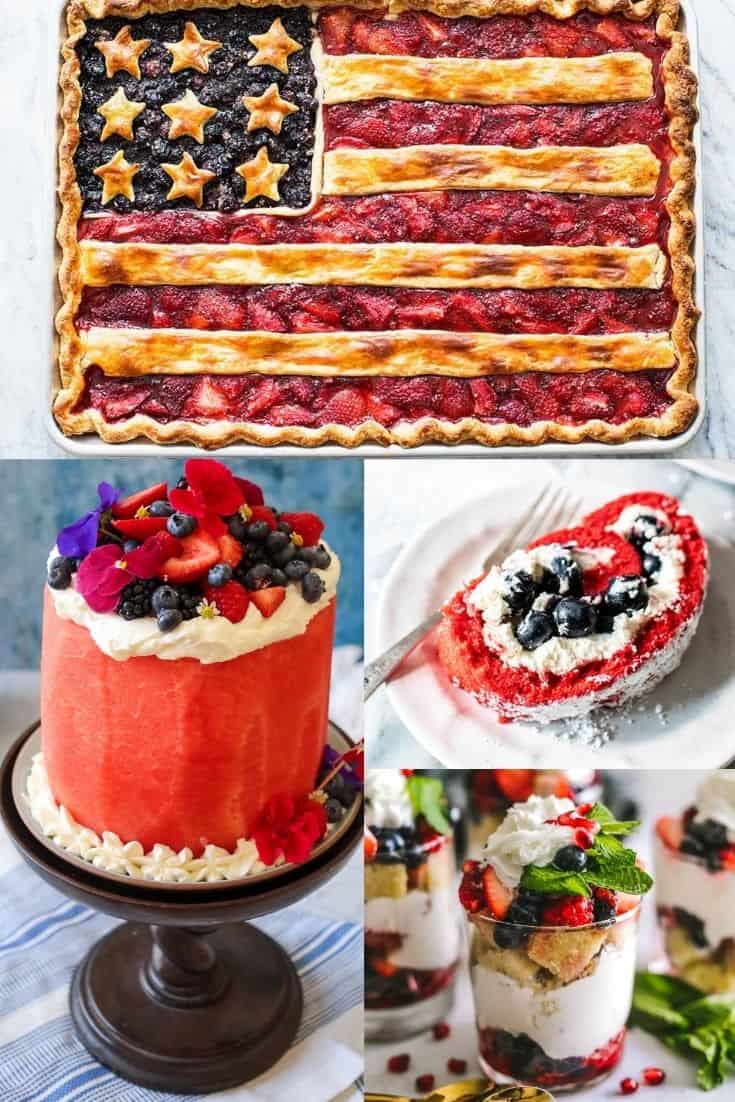 Looking for red, white, and blue desserts for your next summer gathering? We have over 20 of them and the list is growing every single week. Check back often for updates!
Share your popsicle recipe creations with us by snapping a pic and tagging us on social using #CAGROWN.
Craving more CA Grown goodness? Follow us on Pinterest for fresh and fabulous recipe inspo!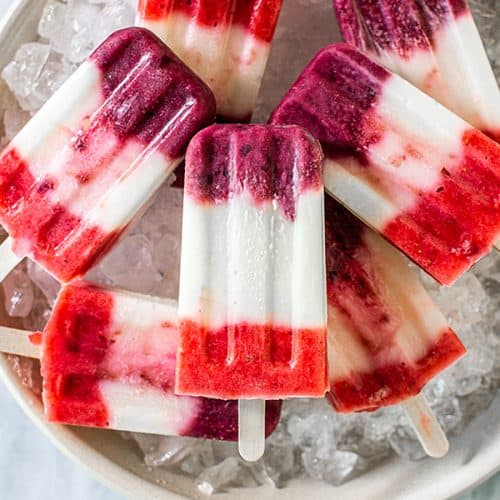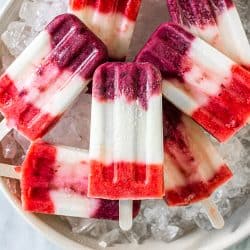 Healthy Patriotic Popsicle recipe
Fresh summer berries and cherries pair perfectly with creamy vanilla yogurt in these popsicles that are great for breakfast or dessert.
Equipment
popsicle molds

food processor or blender
Ingredients
2 cups whole milk vanilla yogurt, divided
1 cup fresh cherries stems and pits removed, halved
1/2 teaspoon lime zest
3 teaspoons simple syrup, divided honey or maple syrup work here too
1 cup sliced, fresh strawberries
Instructions
For the blue layer

Place 4 tablespoons yogurt, 1 teaspoon simple syrup or sweetener of choice, cherries and lime zest in a blender or food processor andprocess until blended. Place 1 heaping tablespoon of the cherry mixture into the bottom of each mold. Freeze the mold for 20 minutes.

For the white layer

Scoop 2 tablespoons vanilla yogurt into each mold. Freeze for another 20 minutes.

For the red layer

Rinse the blender well and combine 4 tablespoons yogurt with 1 heaped cup sliced strawberries and 1 teaspoon simple syrup or sweetener of choice. Blend until completely combined. Add 1 tablespoon if the strawberry mixture to the molds. Add the popsicle sticks and secure.

Freeze for 6-8 hours or until frozen solid.
Notes
To make simple syrup: Combine equal parts sugar and water in a small saucepan over low heat until the sugar is dissolved. Store in an airtight container in the refrigerator for up to 3 weeks.
Nutrition
Calories: 51kcalCarbohydrates: 10gProtein: 2gFat: 1gSaturated Fat: 1gPolyunsaturated Fat: 1gMonounsaturated Fat: 1gCholesterol: 2mgSodium: 28mgPotassium: 135mgFiber: 1gSugar: 9gVitamin A: 26IUVitamin C: 8mgCalcium: 73mgIron: 1mg
Click here to view the Google Web Story for this post.
Frequently Asked Questions about How to Make Popsicles!
How do you make popsicles without a popsicle mold?
Ice cube trays, small disposable cups, and muffin tins lined with foil cupcake wrappers can be used in lieu of a popsicle mold. Simply pour the ingredients into your DIY mold, cover with aluminum foil, and spear a wooden popsicle stick through the foil into the center of the mold.
How to get frozen popsicles out of the mold?
Fill a pan or container that is at least as tall as your mold with warm (not hot) water, and briefly dip the mold in until the pops loosen about 20 to 30 seconds. Remove the mold from the water and place it on a sturdy surface. Gripping the handles, pull gently upward to get nice, clean pops. If it feels like a struggle to unmold, leave the pops in the warm water a little longer