CA GROWN Blog
Discover. Learn. Connect.
Infused Olive Oil – How To Make, Use, And Store Flavored Oils
January 25, 2022
Eat the Season!
Sign Up For Weekly Recipes
« Back to Recipes
Infused Olive Oil – How To Make, Use, And Store Flavored Oils
Have you ever been curious about making your own infused olive oil? Infused oils are full of flavor and a great way to bring your favorite signature flavors into each and every dish.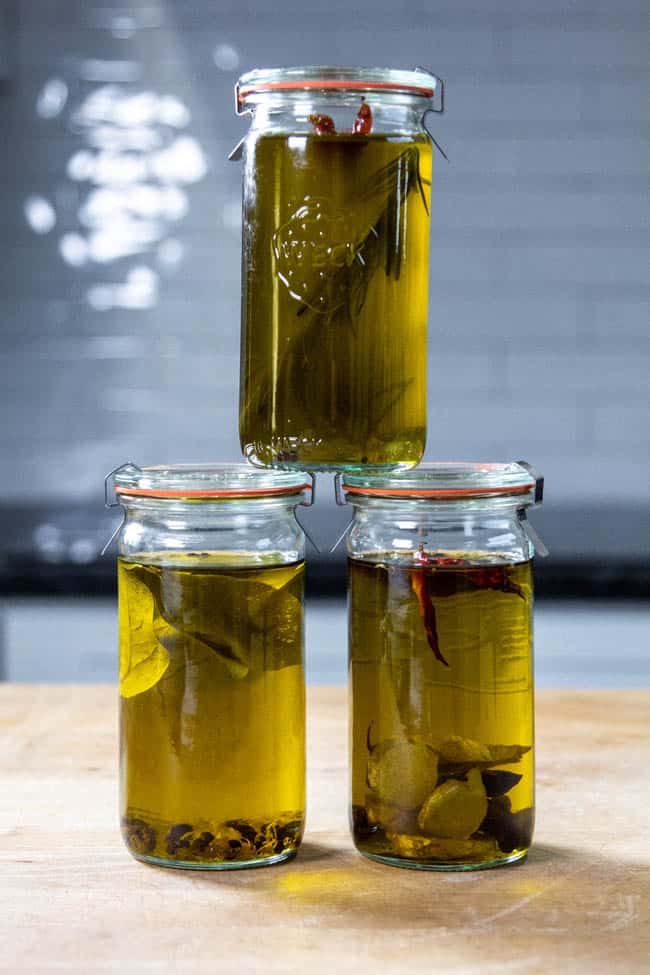 What type of oil is best for making infusions?
The lighter the flavor of the oil, to begin with, the more pronounced the herb and spice flavor will be in your finished infused oil. Extra-virgin olive oil is the favorite in our house, but it does have a very distinct flavor on its own. If you are looking for a spice/herb forward infusion you may want to opt for light olive oil which has a more neutral taste.
What type of spices and herbs work best for making infused olive oil
When making infused olive oil you are only limited by your imagination as far as flavors go. You can use fresh herbs, dried herbs, whole garlic cloves, or spices…you get the picture. Almost anything goes!
Let's take a look at three of our latest California Grown flavor combinations.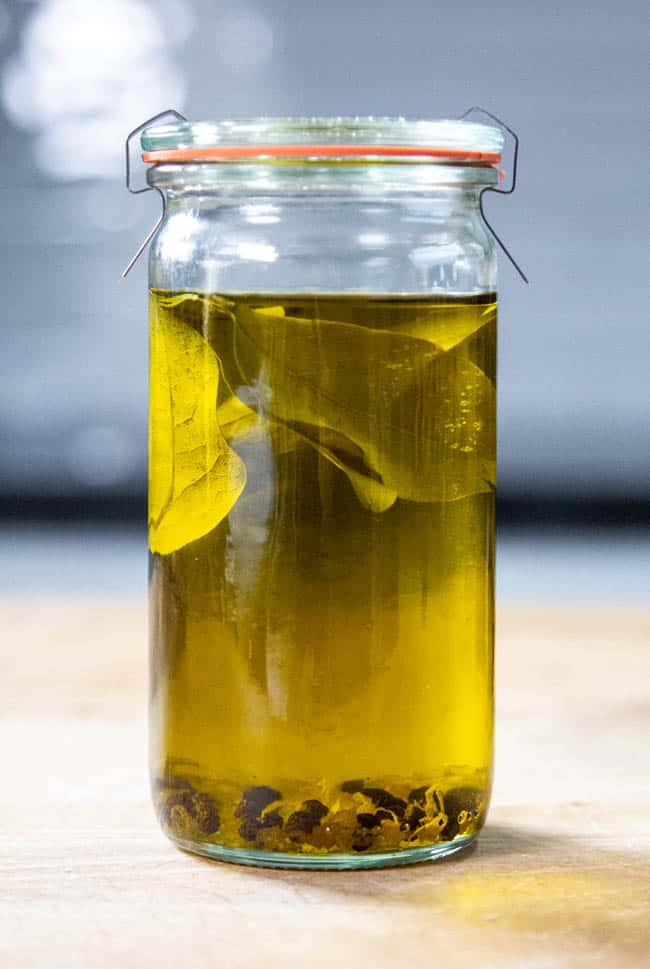 Ginger, Star Anise, and Chile Infused Olive Oil
Like a little Eastern influence in your meals? This pungent flavored olive oil makes a showstopper of a base for salad dressings, but also is great drizzled over rice dishes.
Make no mistake about it, this infused olive oil has some kick thanks to fresh ginger and dried bird's eye chiles.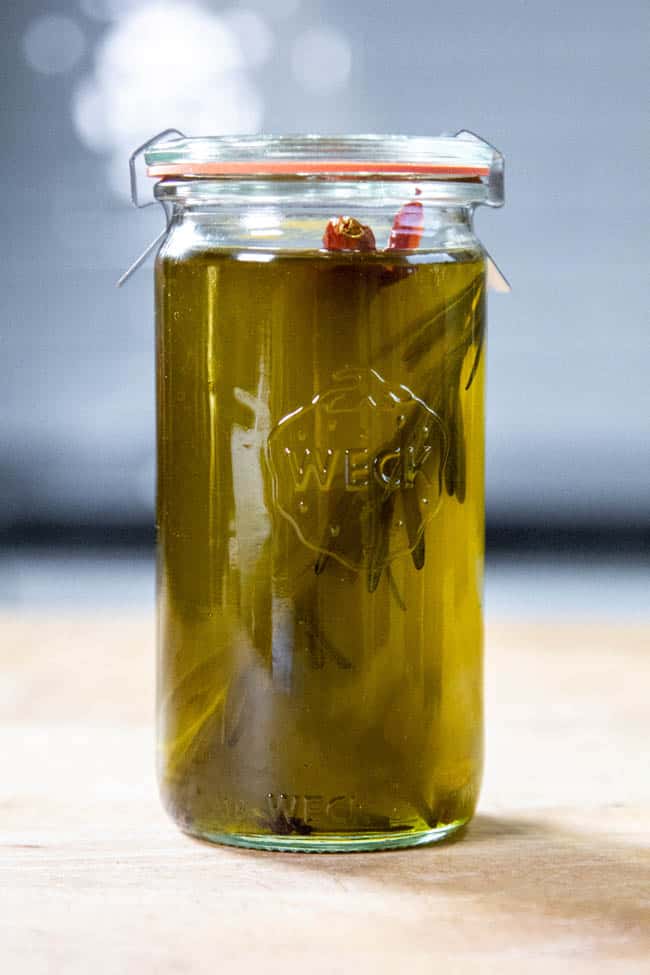 Rosemary, Garlic, and Chile Infused Olive Oil
Rosemary and garlic is a classic flavor combination that is perfect when tossed with roasted potatoes or chicken. We even threw in a few bird's eye chiles for the slightest kick of heat at the finish.
How long do infused olive oils last?
Infused olive oil with removed ingredients will last up to a year or more if you store it properly – that means away from sunlight and in cool temperatures. It can last for 2-4 weeks in airtight glass jars or bottles at room temperature and up to a year in the refrigerator.
What can infused olive oil be used for?
Infused Olive Oil has so many uses! We use it to add flavor to all sorts of dishes like salad dressings, roasted meats, steamed or grilled vegetables, drizzled over soups before serving. It's also delicious to dip a toasted baguette in as an easy appetizer to pair with your favorite glass of wine!
Looking for even more unique ways to use olive oil in your kitchen?
Olive oil is a very versatile ingredient which is why we just can't stop singing its praises! Keep scrolling to see what our CAG creators are whipping up in their kitchens with olive oil from California.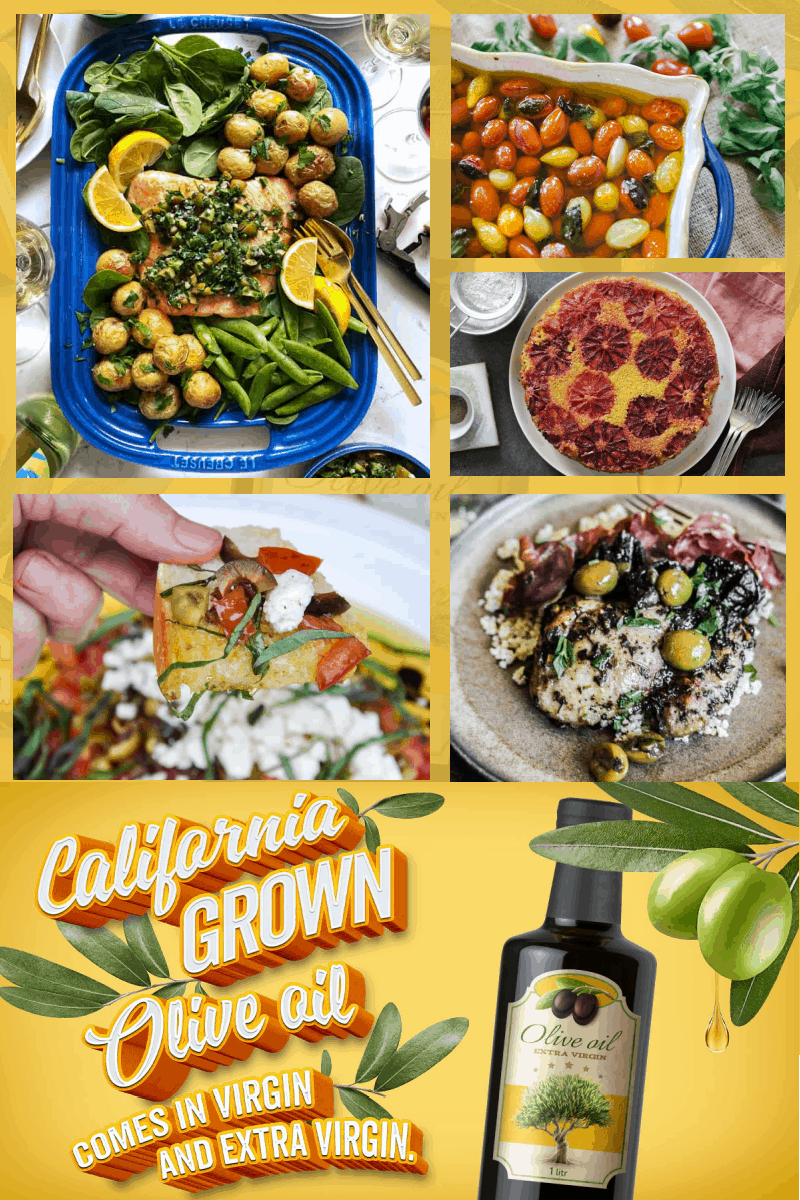 You probably already know all about the incredible health benefits of olive oil (top line: it's anti-inflammatory, rich in mono-unsaturated fats, and loaded with antioxidants). But, do you know how this "liquid gold" is made and, more importantly, the most delicious ways to incorporate it into your diet?
Our in-depth olive oil manifesto will provide you with more olive oil facts than you ever thought possible in one place!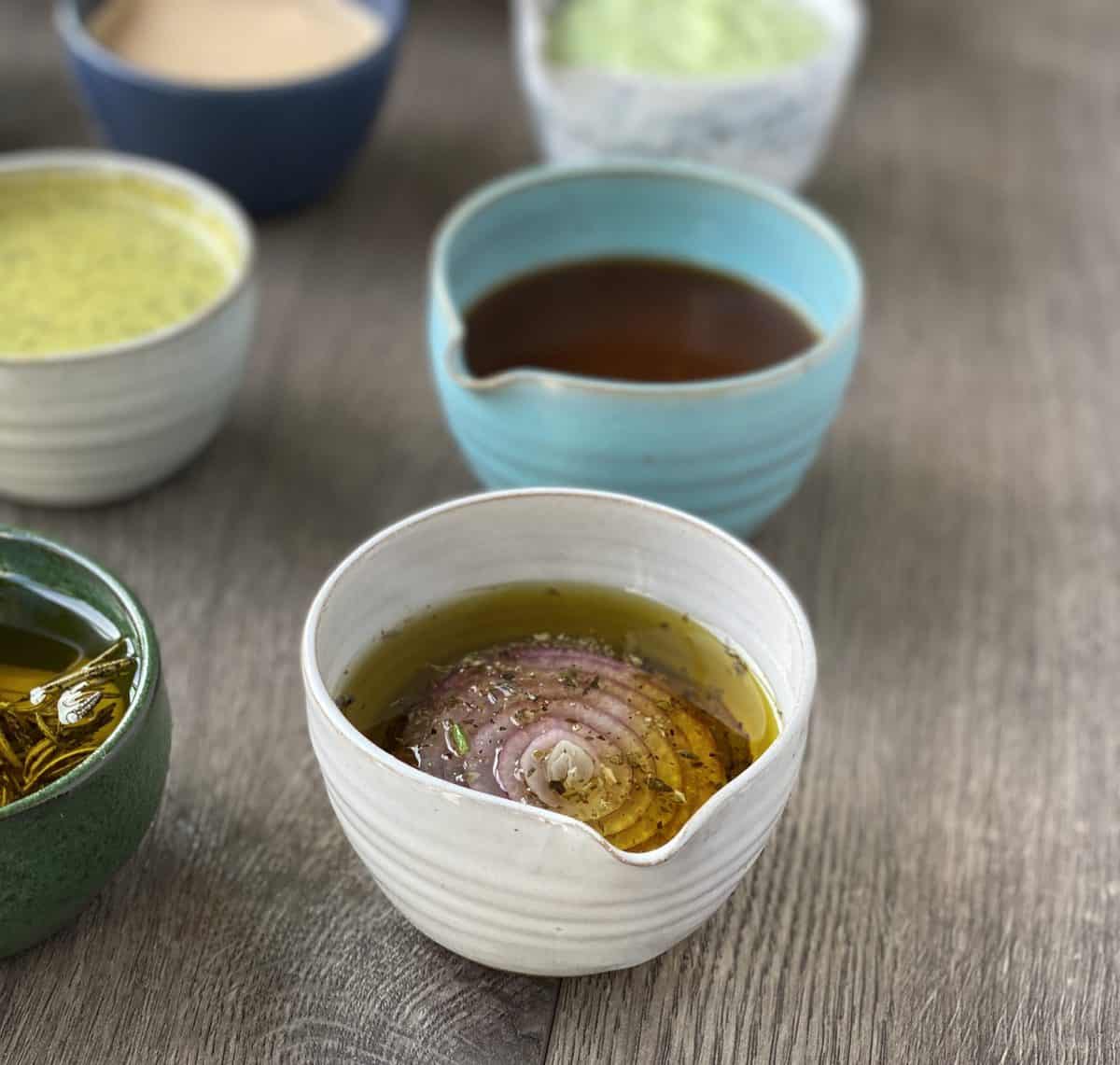 Teri of No Crumb's Left's marinated onions recipe is the stuff that dreams are made of!
Teri starts by marinating thinly sliced red onions in high-quality olive oil, red wine vinegar, and oregano. She leaves them on her kitchen counter uncovered for up to 2 days in a little ceramic dish. She uses them on her eggs, on top of hamburgers, tossed in salads, and even in marinated entrees.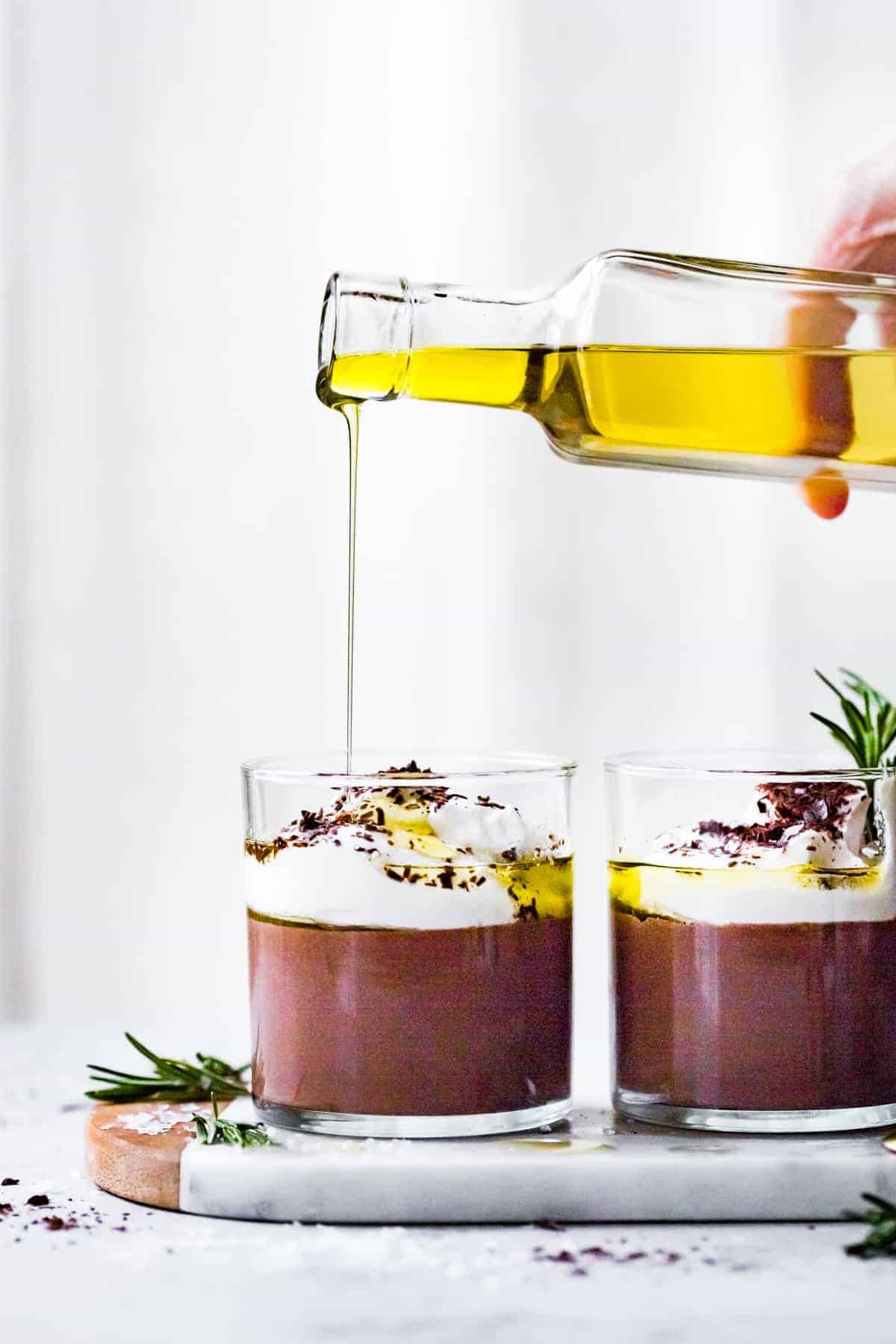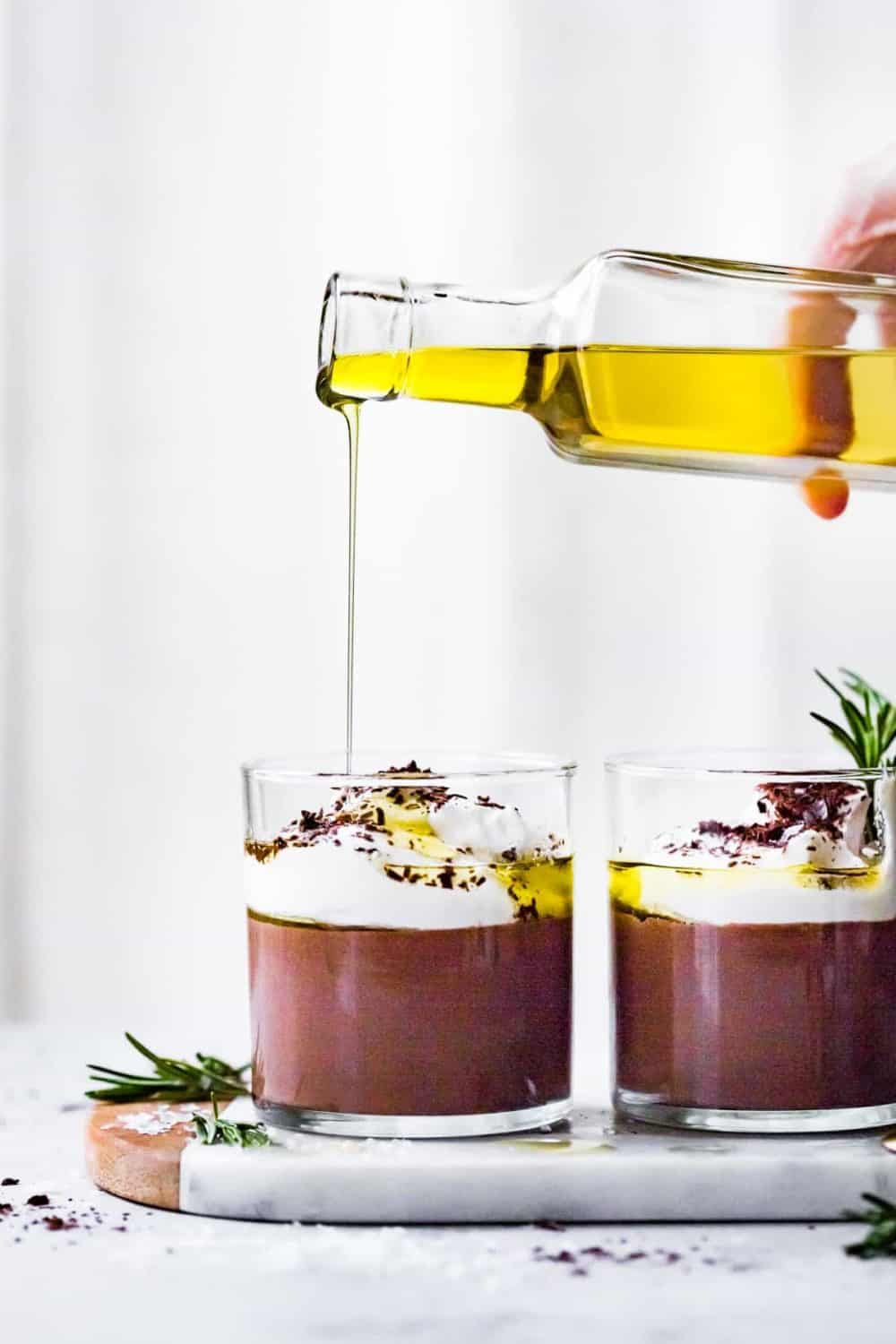 These easy peasy chocolate custards from The Bojon Gourmet are made on the stovetop and smothered in billows of whipped cream, fruity olive oil, and crunchy flakes of sea salt.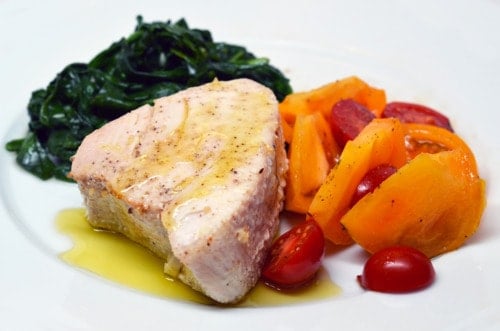 Nom Nom Paleo does it again with this low and slow-cooked, Whole30-friendly seafood dish that is simple, tasty, and if you happen to have leftovers (which are stored in the braising liquid) they will keep for up to a week!
Winning!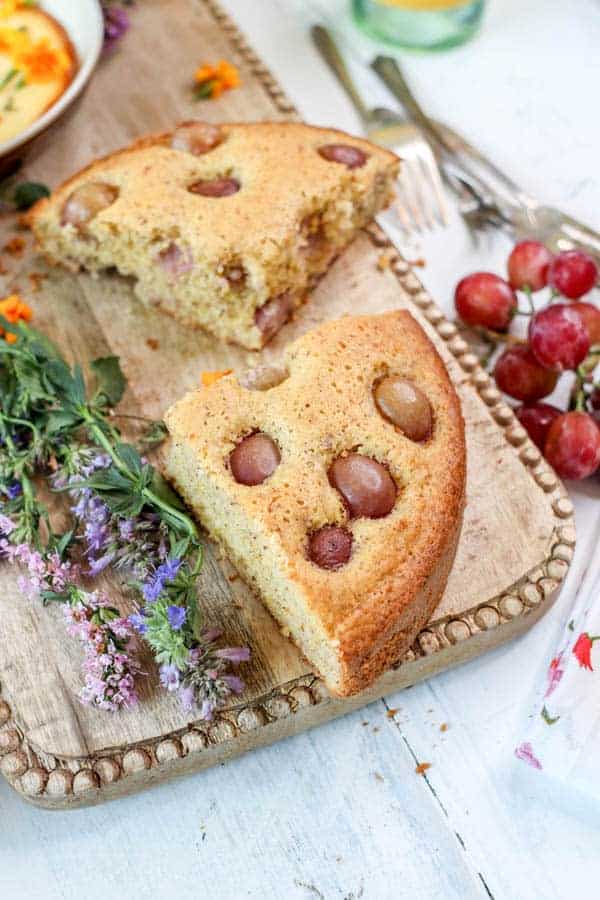 This easy-to-make olive oil cake from This Mess is Ours is moist and very tender, subtly sweet, with a pronounced olive oil flavor and it has the perfect hint of lemon and toasted almond!
Did we mention that it has an irresistible crunch factor folded throughout thanks to the addition of gluten-free polenta.
You have to try this delicious Simple Walnut Pesto recipe from the G Free Foodie! It's easy to make and is loaded with healthy ingredients like olive oil, walnuts, and basil with none of the wonky stabilizers found in store-bought pesto.
Craving more CA Grown goodness? Follow us on Pinterest for fresh and fabulous recipe inspiration!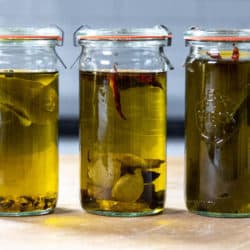 Three Delicious Infused Olive Oil recipes
Infused olive oil is easy to make and packs a flavorful punch when used as the base of salad dressings or drizzled over roasted meat.
Ingredients
Rosemary, Garlic and Chile Infused Olive Oil
1/2 cup rosemary sprigs washed and dried thoroughly
1 tablespoon whole peppercorns
4 cloves garlic peeled and lightly crushed
2 dried bird's eye chiles other small dried chiles or a pinch or two of red pepper flakes will also work.
pinch salt
1 cup extra virgin olive oil
Ginger, Star Anise, and Chile Infused Olive Oil
1/4 cup fresh ginger slices
6 star anise
4 cloves garlic peeled and lightly crushed
3 dried bird's eye chiles other small dried chiles or a pinch or two of red pepper flakes will also work.
pinch salt
1 cup extra virgin olive oil
Bay Leaf, Citrus, and Black Peppercorn Infused Olive Oil
1/4 cup dried bay leaves
zest of 1 orange no pith
1 tablespoon whole black peppercorns
pinch salt
1 cup extra virgin olive oil
Instructions
To make any of the infused olive oil variations above follow these steps.
Combine all of the ingredients in a saucepan over low heat. Warm slowly until the mixture starts to gently bubble, about 5-8 minutes. Continue to heat until the oil is very fragrant, another 1 or 2 minutes.

Cool completely, then use a funnel to pour the oil into a clean bottle to store. Refrigerate and use within a month.
Frequently asked questions about olive oil from California
Which olive oil is best for cooking?
Extra Virgin Olive Oil. Despite the fact that olive oil has a higher smoke point, EVOO has been proven to be the safest, most stable option for home chefs. As a result, the antioxidants in EVOO are believed to contribute to its high stability when heated. And no, they don't burn off. Studies have shown that Extra Virgin Olive Oil retained most of its nutritional benefits after 36 hours at a temperature of 365 degrees!
When is olive oil in season?
Olive oil is always in season in California! Other year-round crops in the Golden State include wine, nuts, tomatoes, honey, strawberries, and dried fruit! Hungry yet? Check out our "Always in Season" recipe round-up! 
How long is olive oil good for?
For peak freshness, open bottles of olive oil within two years of the harvest date. Once the bottle is opened, the product will retain peak freshness for three to six months.