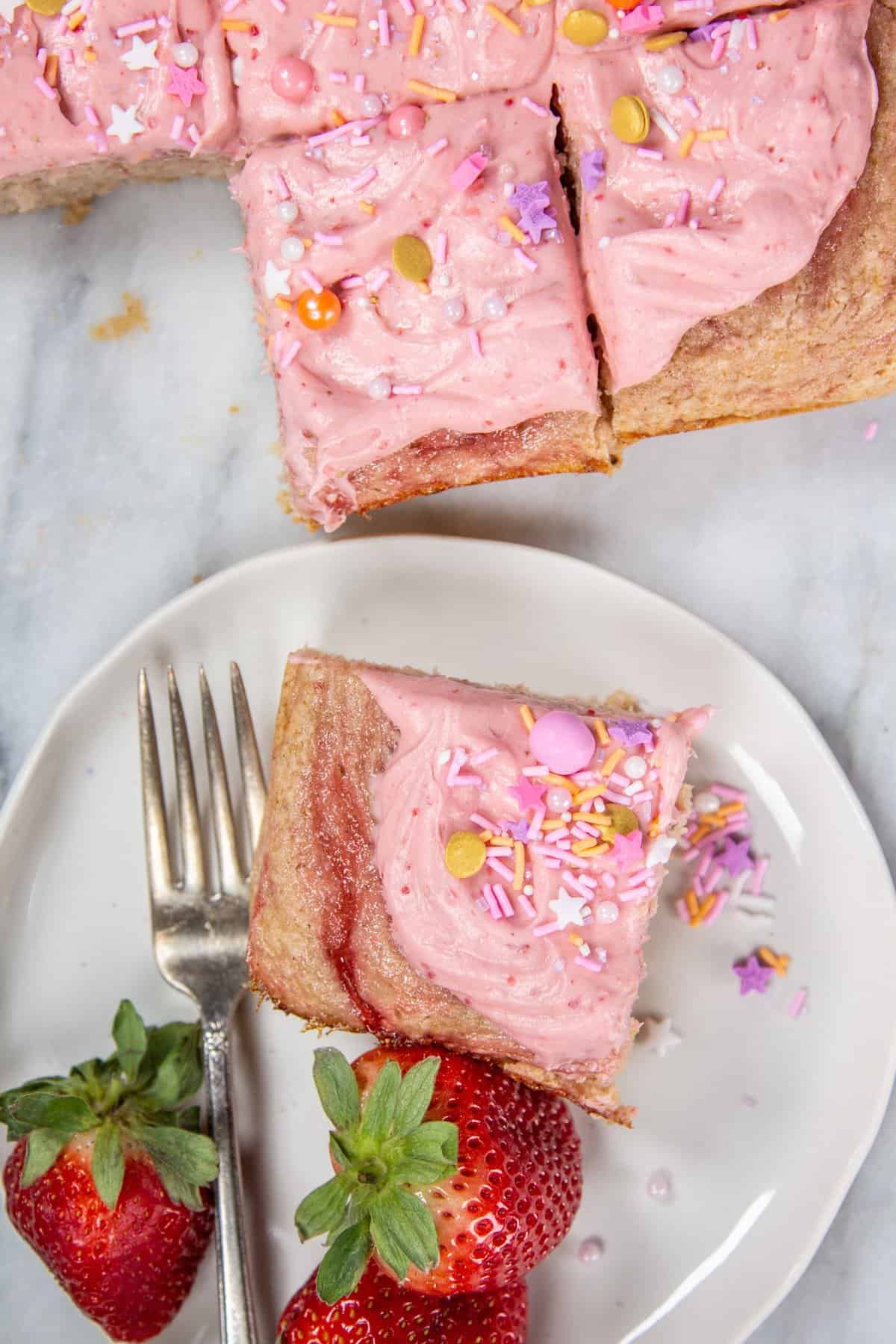 CA GROWN Blog
Discover. Learn. Connect.
Strawberry Rosé Snack Cake, The Easiest Cake Recipe For Valentine's
February 1, 2022
Eat the Season!
Sign Up For Weekly Recipes
« Back to Recipes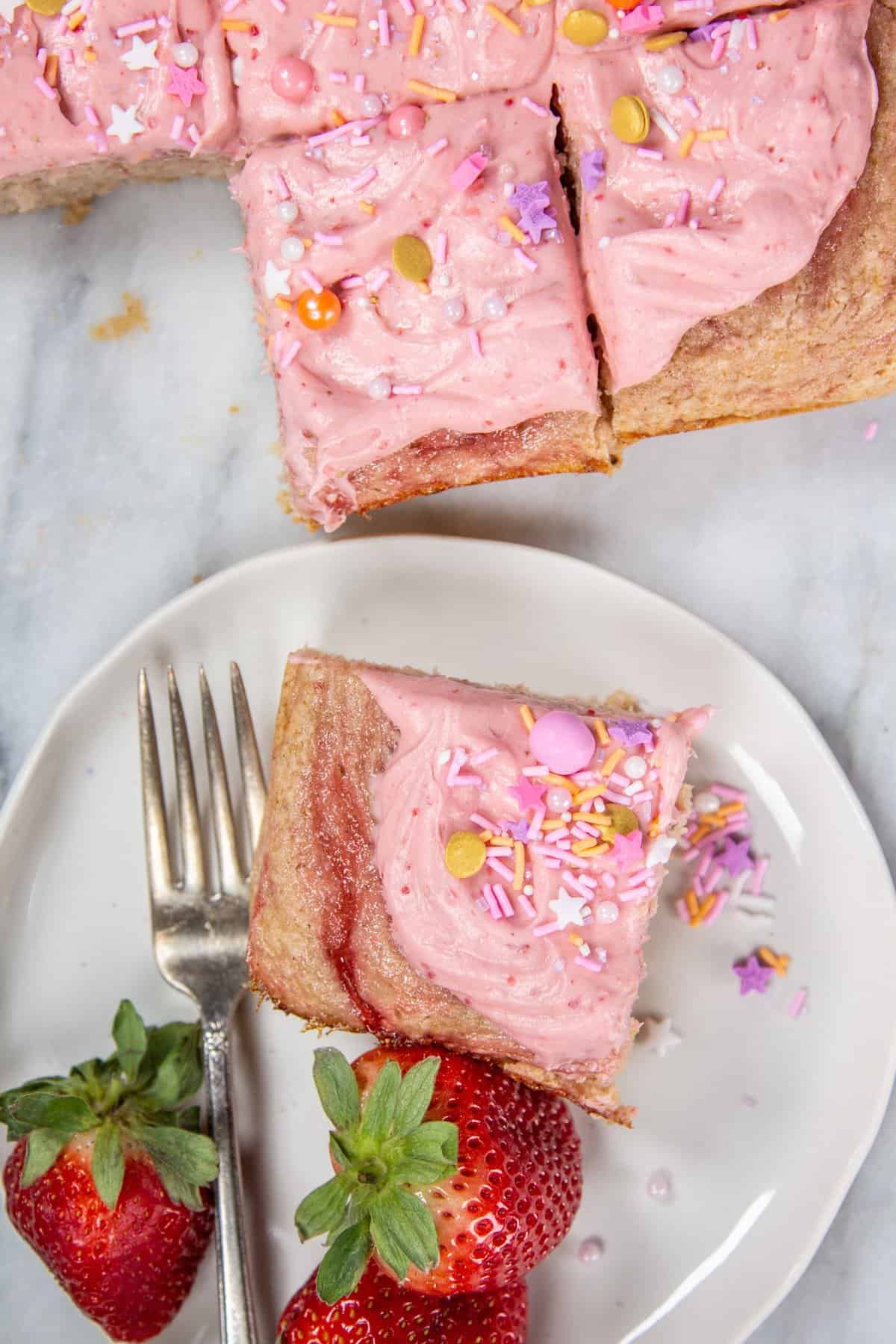 Strawberry Rosé Snack Cake, The Easiest Cake Recipe For Valentine's
Valentine's Day is right around the corner and that means you are probably looking for something extra delicious to spoil your sweetheart. This California Strawberry Rosé Snack Cake really fits the bill! It's basically the easiest cake to bake ever and showcases strawberries and rosé, two of our favorite ingredients when we are in the mood for love!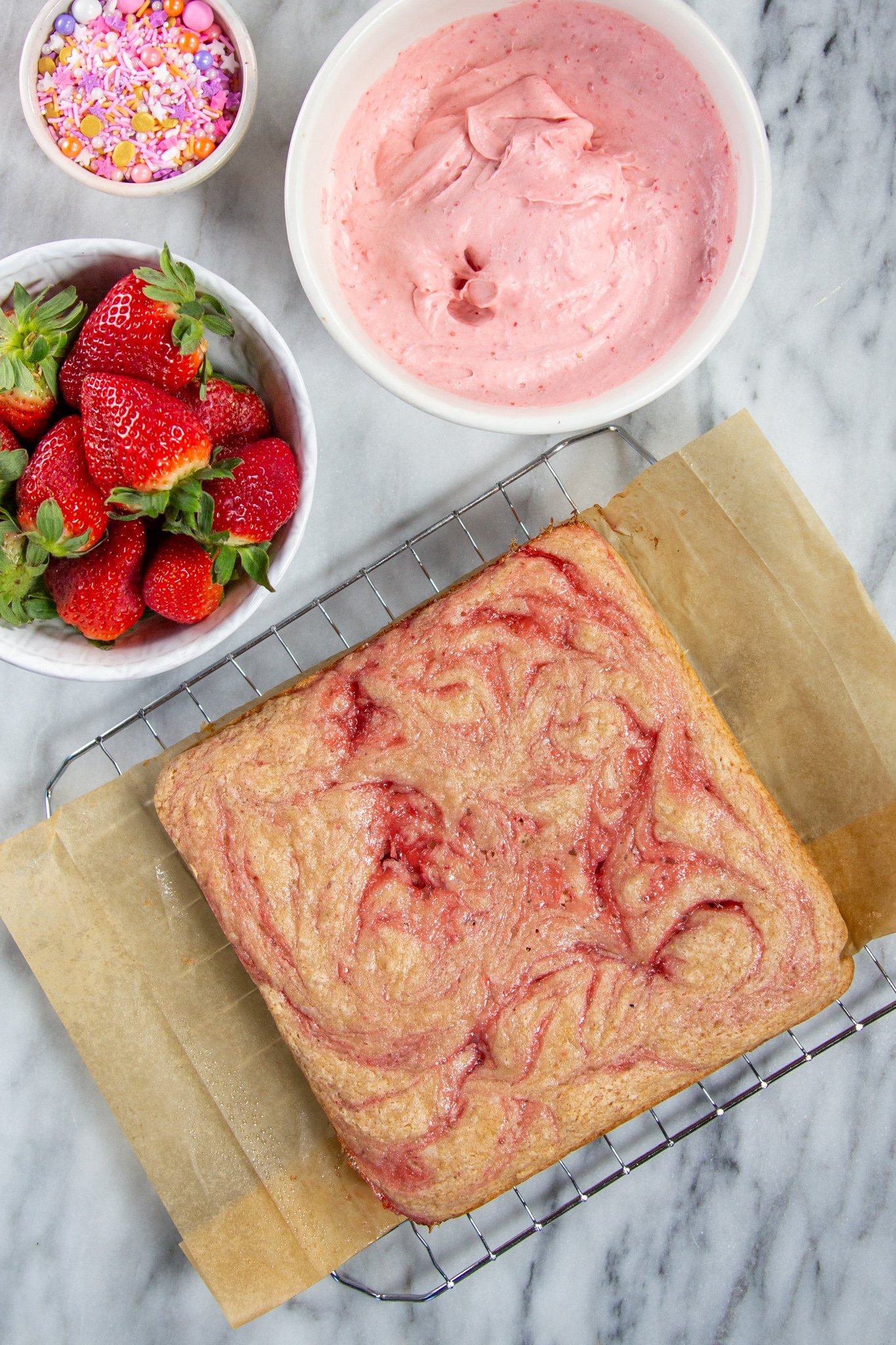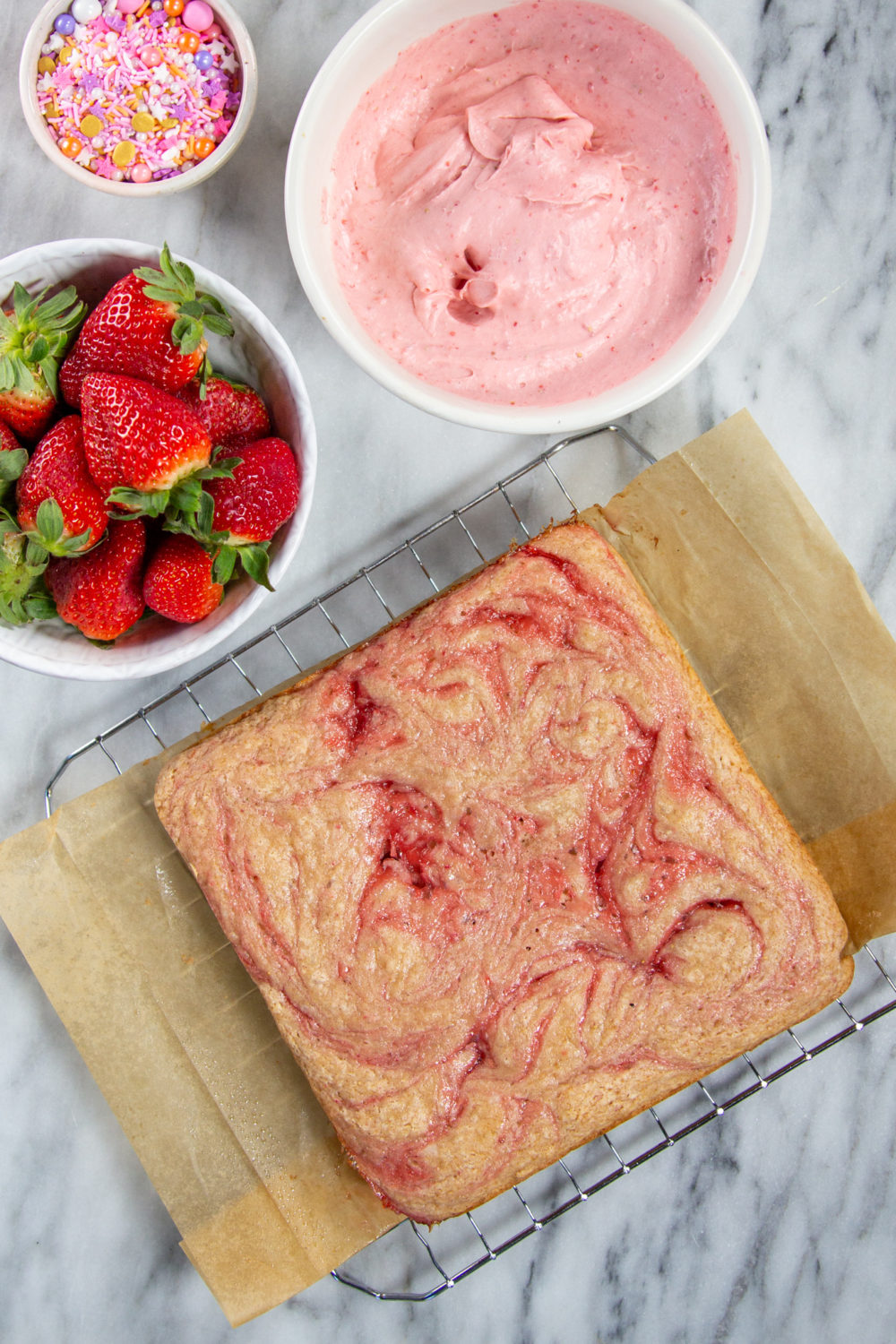 What makes this Strawberry Rosé Snack Cake recipe the easiest cake to bake?
This is a recipe for a single-layer snack cake not a recipe for a layer cake. The two are very different in lots of ways. A layer cake takes a considerable amount of time and planning. Often requiring 3 or more layers to be baked and cooled then filled, iced, and finally decorated. Sometimes elaborately, yikes! Honestly, I'm exhausted just thinking about it.
Single-layered snack cakes like this one are much simpler to pull together, taste incredible, and don't cause mass panic to set in when reading the recipe. They usually only require one bowl (rarely even a hand mixer is required), and they often utilize ingredients that you likely already have sitting in your cupboard. They call for basic baking pans which you probably already own, and they truly shine with even the most modest of decorations. Heck, you don't even really need a fork and plate – snack cakes are known for being perfect for eating with only your hands.
Have we sold you on the world's easiest cake yet?!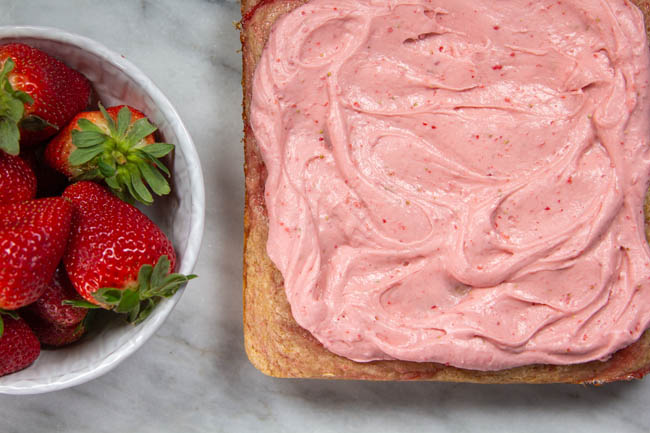 What are the ingredients needed to bake a Strawberry Rosé Snack Cake?
The ingredients for making this simple dessert and the components that go with it are super straightforward. Nothing too fussy; just strawberries, a glug of rosé, a few swirls of cream cheese icing, and a pinch of passion. Oh and a few sprinkles if you are into that sort of thing!
This irresistible dessert has 3 components: cake, glaze and icing. Let's break them down, shall we?!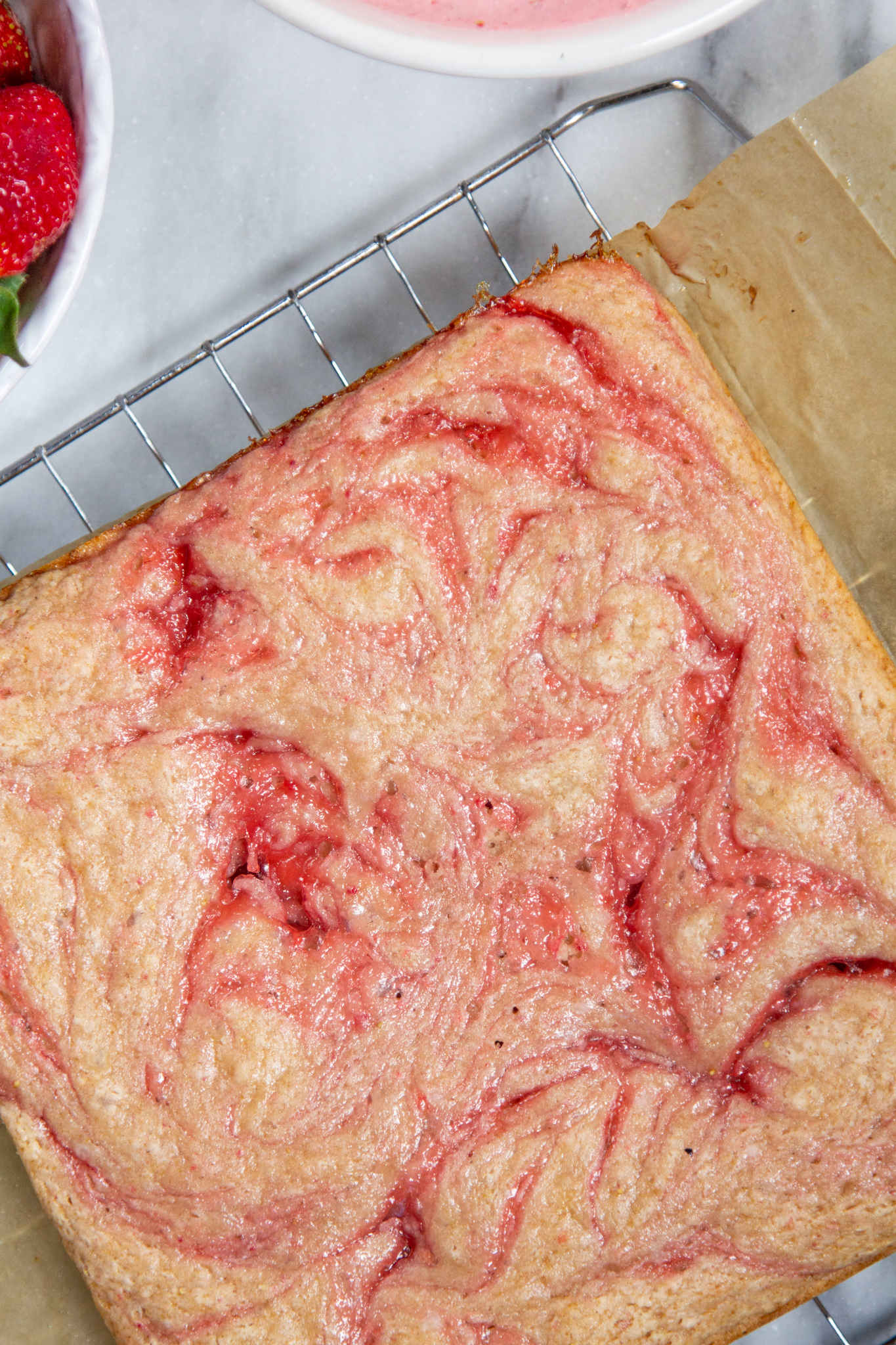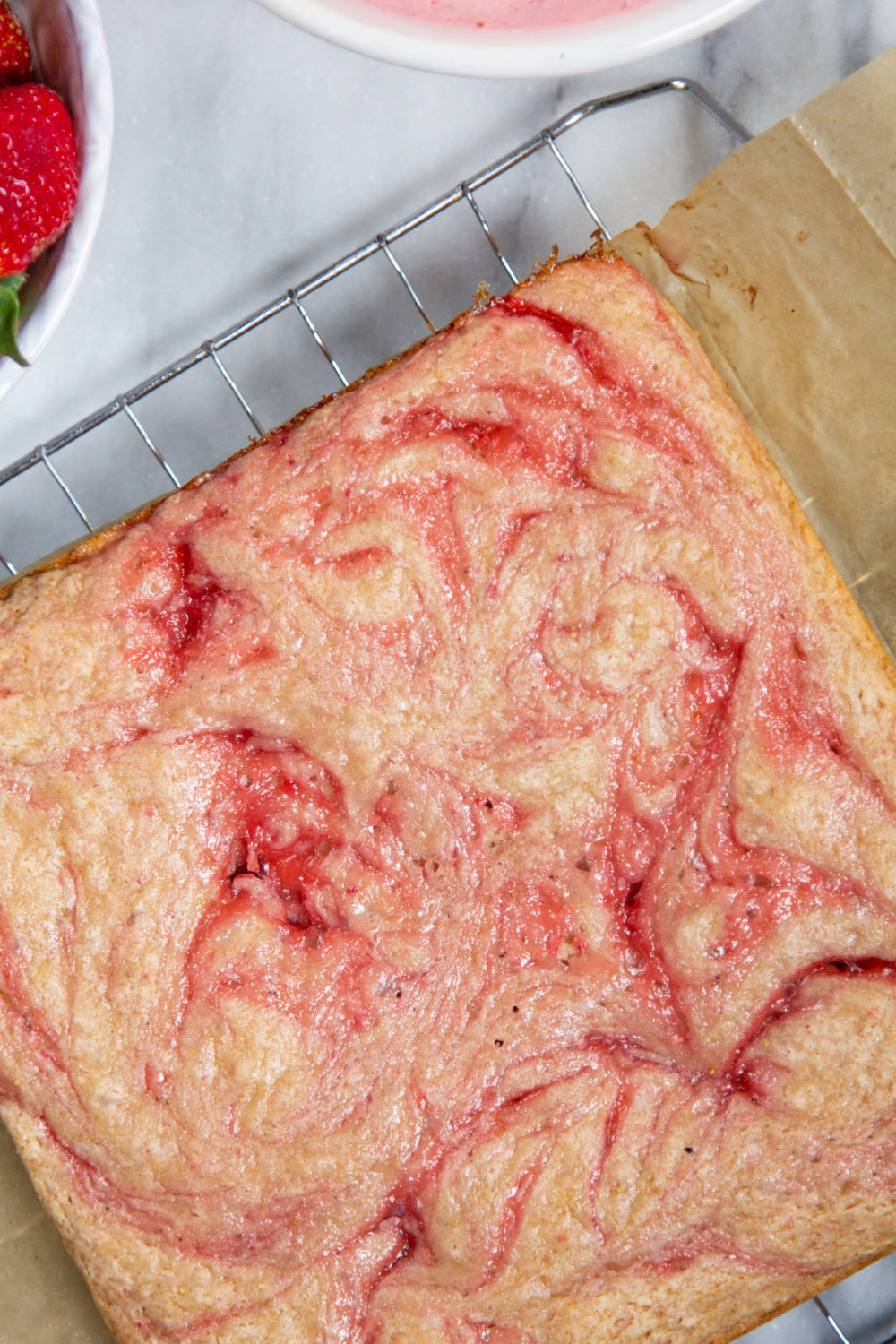 Strawberry Rosé Snack Cake
Honestly, I only make the icing for this on special occasions because the cake itself is so beautifully swirled and delicious!
The sponge layer is laced with ground freeze-dried strawberries and a hearty dose of rosé. Then it is swirled with a rosé strawberry glaze right before baking which really adds a beautiful effect!
Each and every bite is moist and tender, never dry. And if you are lucky enough to have some leftover for the next day you can bank on the fact that the flavors develop and deepen in this cake as it sits so that each bite becomes even more dynamic and flavorful than the ones before.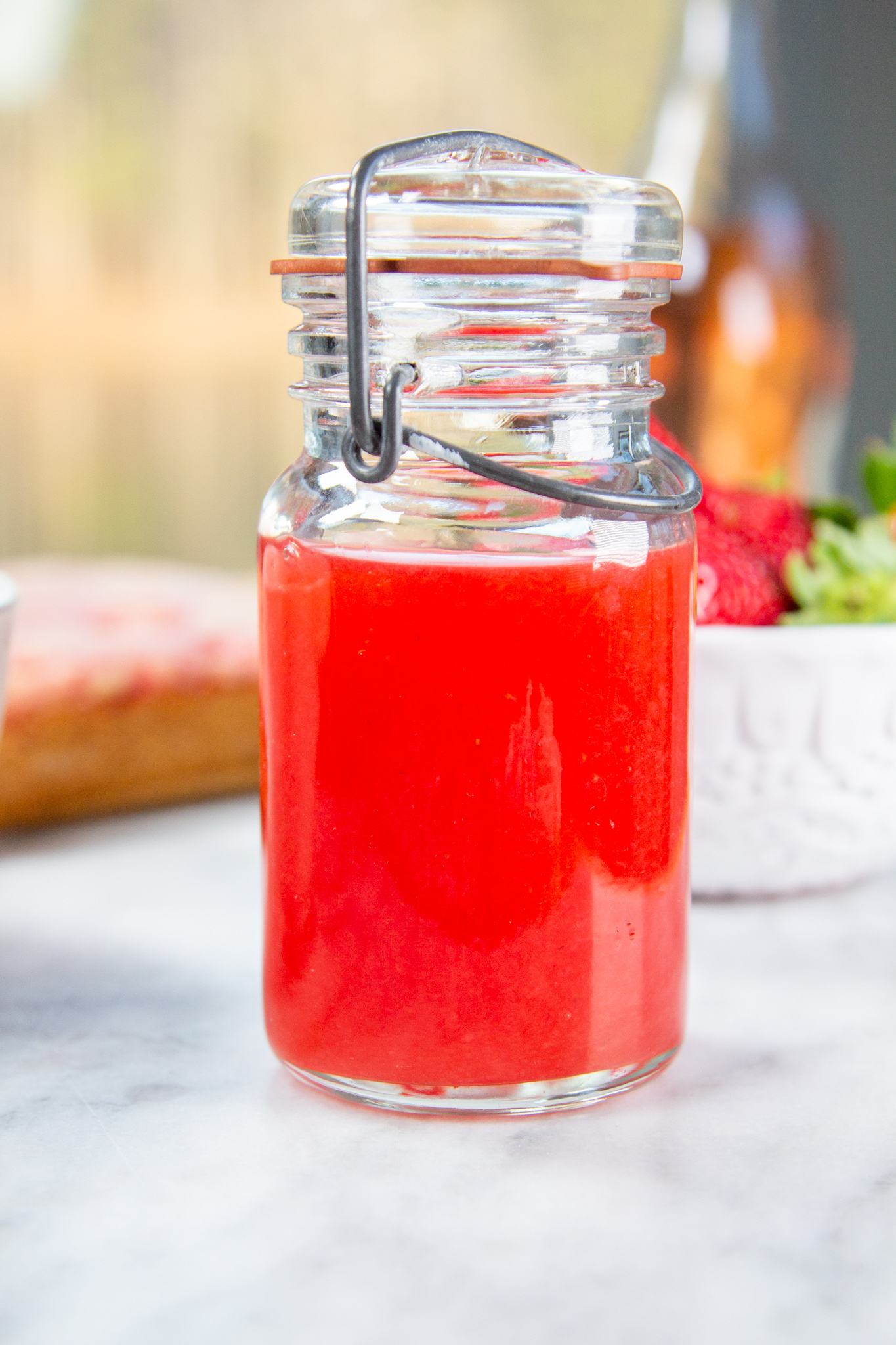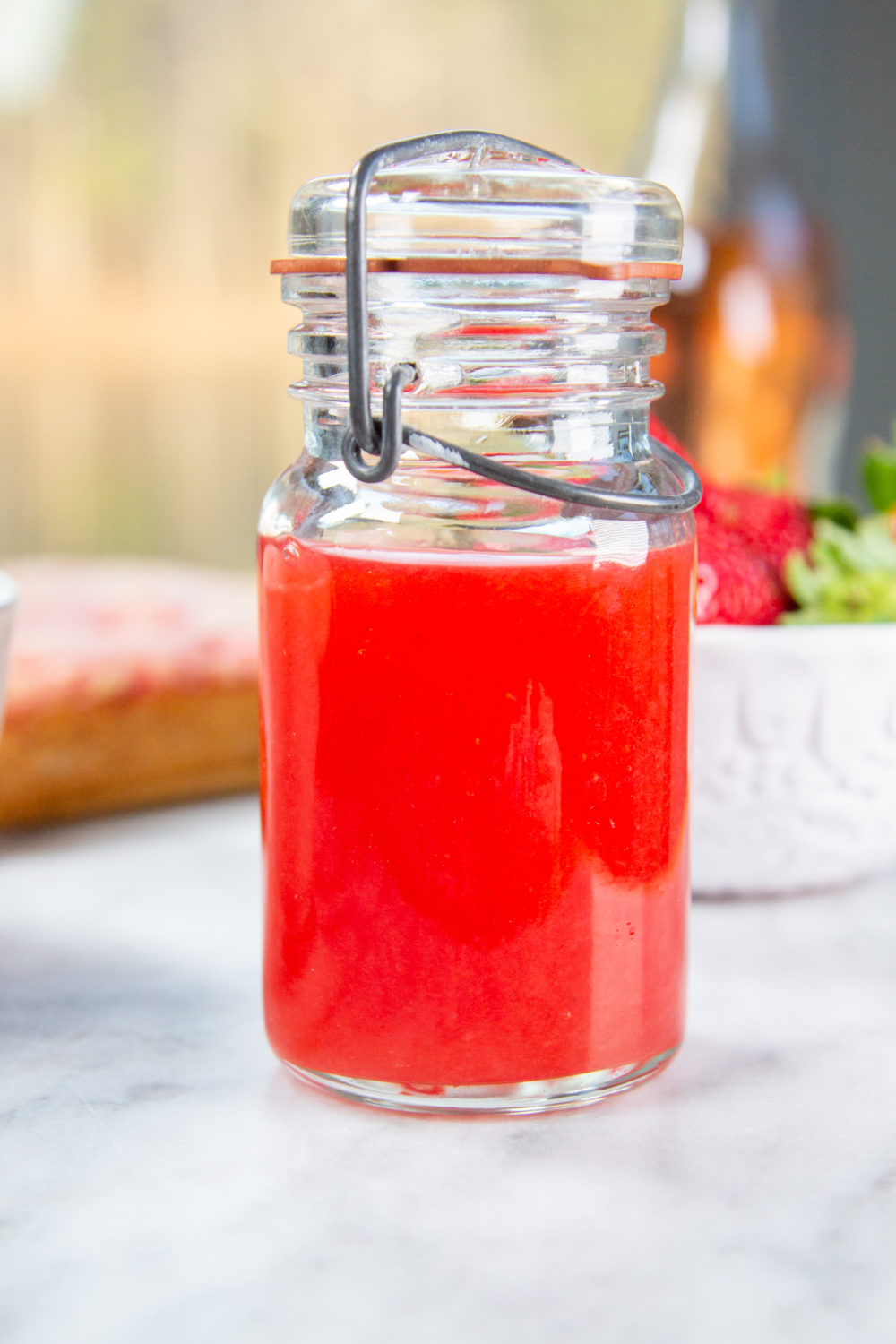 Rosé Strawberry Glaze
Our Rosé Strawberry Glaze recipe is simple to make, tastes great, and the color is to die for!
This glaze sets up like a gel and is wonderful just tossed with fresh berries, used as a filling in any pie or cake, or mixes up nicely with a bit of rosé for an incredible wine-based cocktail!
I mean…what's not to love?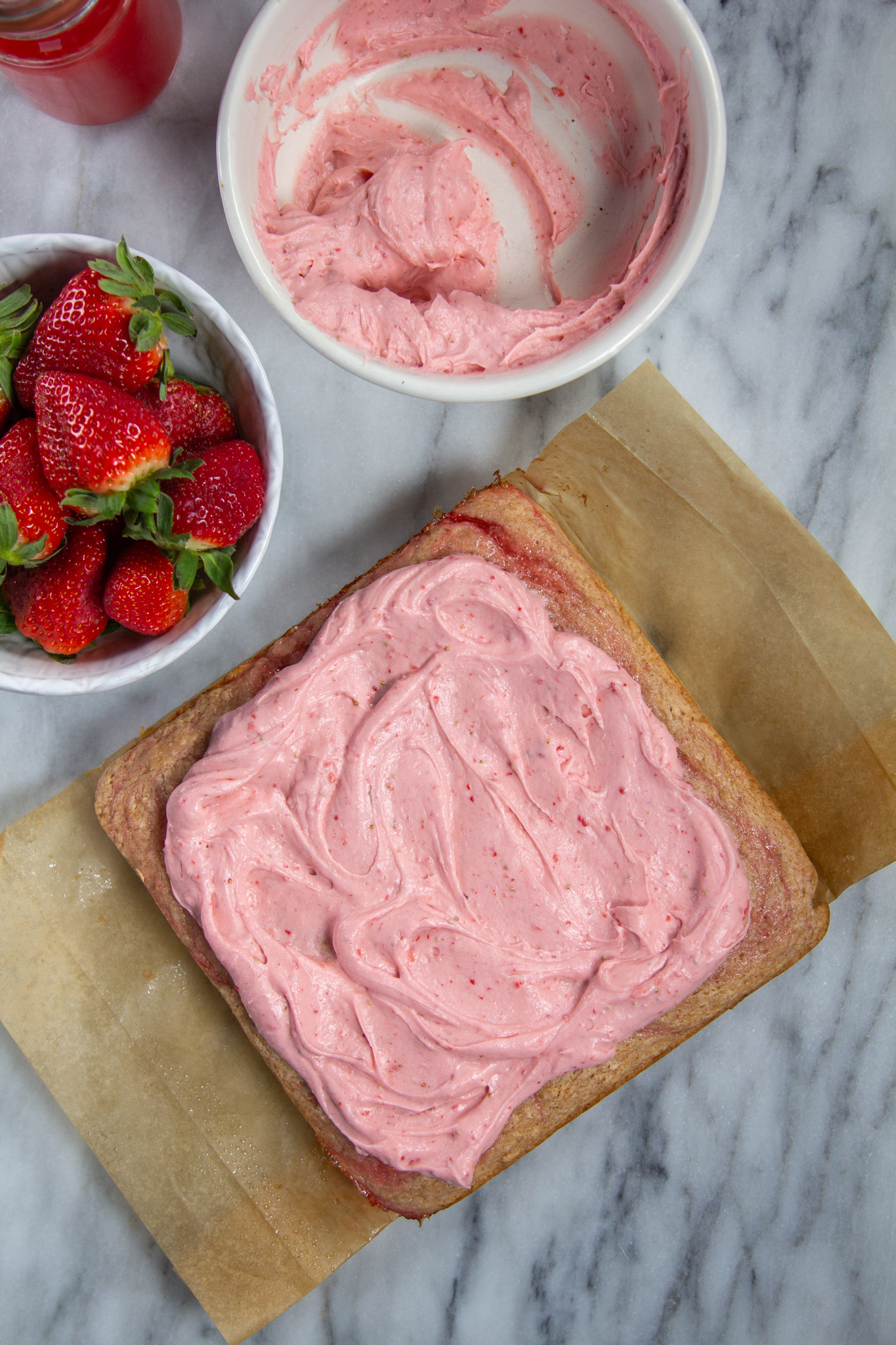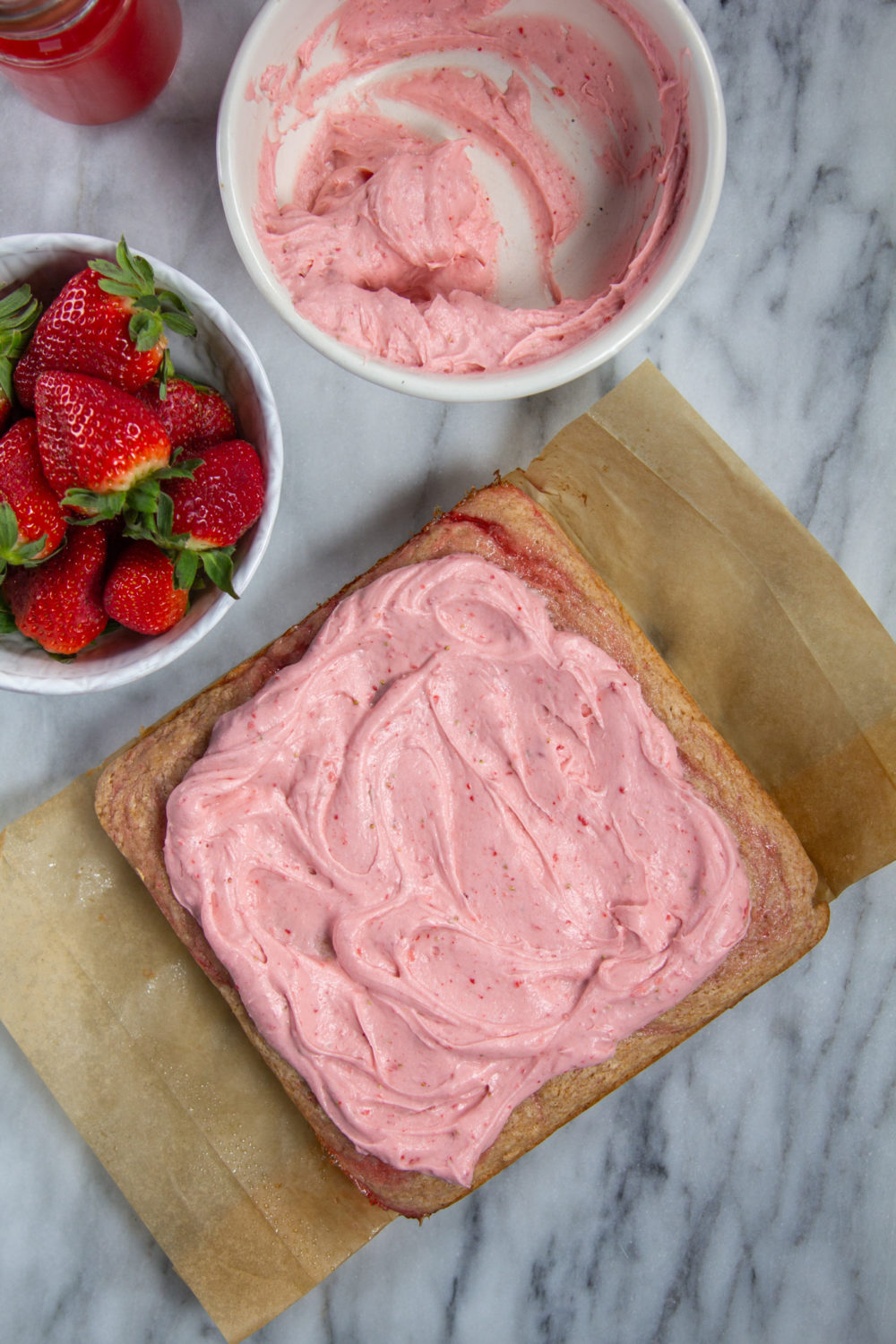 Strawberry Rosé Cream Cheese Icing
I only break out the icing on special occasions in our house, and Valentine's Day is definitely one of those!
This cream cheese icing is loaded with ground freeze-dried strawberries for their gorgeous color and intense flavor as well as some of the Rosé Strawberry Glaze that we swirled through the cake batter.
Honestly, this icing is so good that I reserved every last drop that I didn't use on the cake for an afternoon snack with fresh strawberries.
Three components, all easy to make, and all have the ability to be made ahead for a super easy Valentine's Day celebration.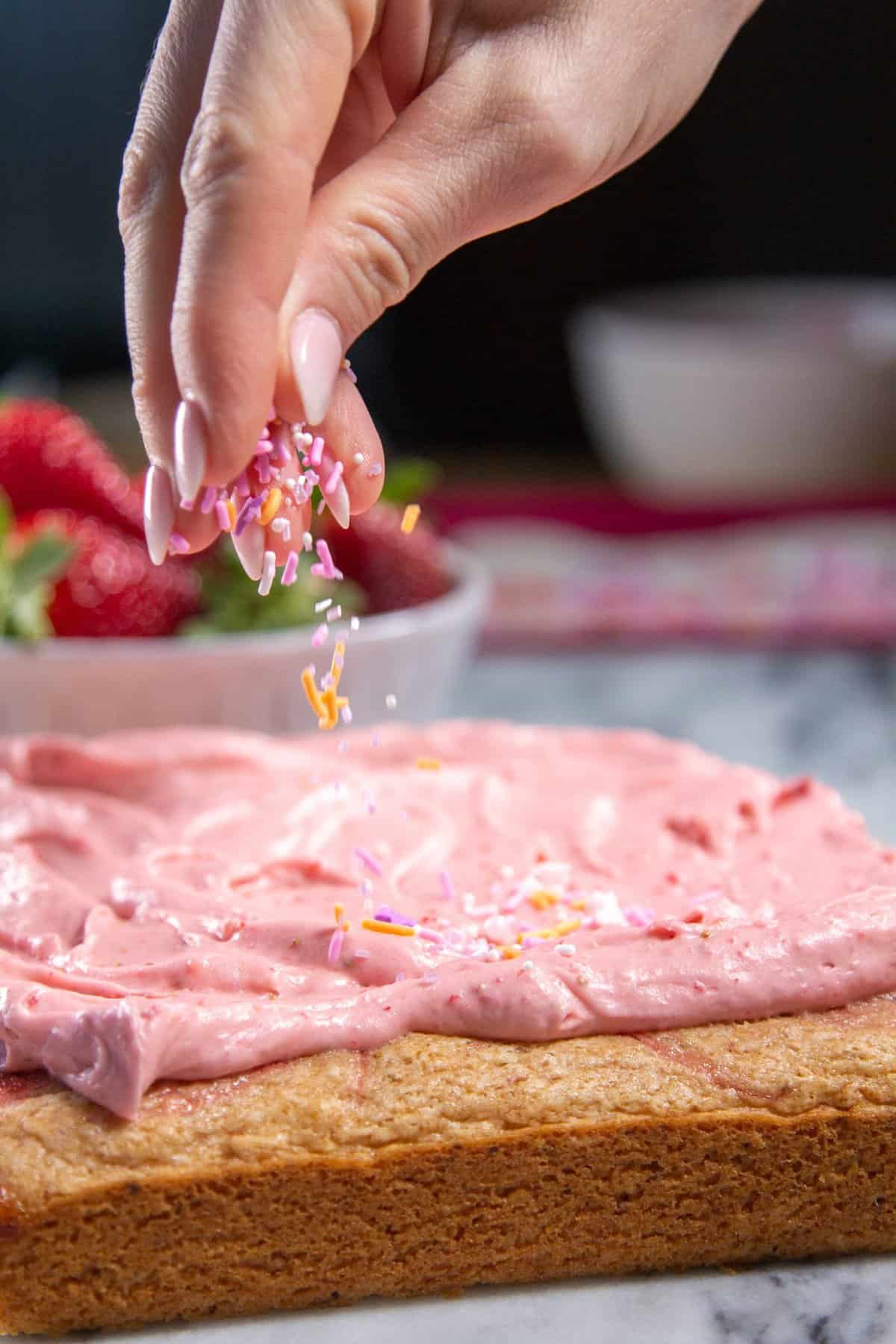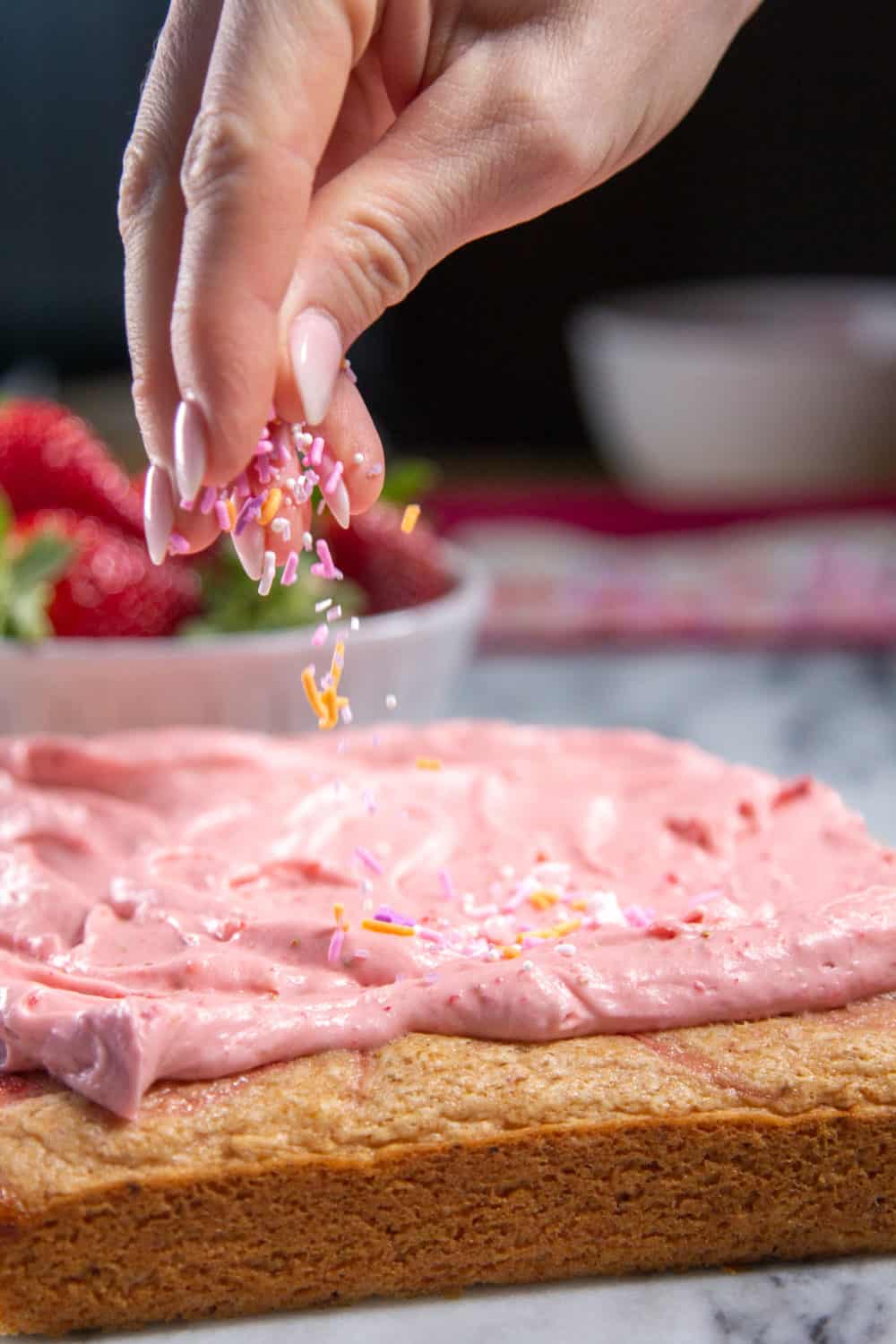 Looking for more easy-to-bake snack cake recipes?
Once you make this easy recipe it will be nearly impossible to go back to the more laborious layered and decorated cakes you once knew and loved yet hated to actually bake. Never fear, we have lots of easy snack cake inspo for whenever the craving strikes!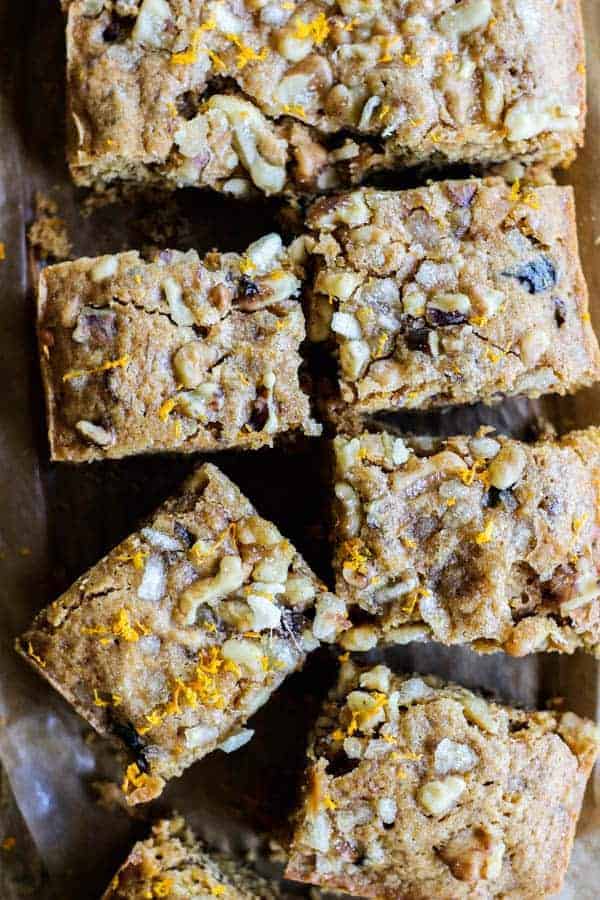 This easy recipe from This Mess is Ours calls for basic pantry ingredients, only needs one bowl to mix, and uses less sugar than traditional snack cake recipes thanks to the help of a top-secret ingredient!
Oh, and did I mention that it also bakes in about half the time of other recipes because it is made in a loaf pan? WINNING!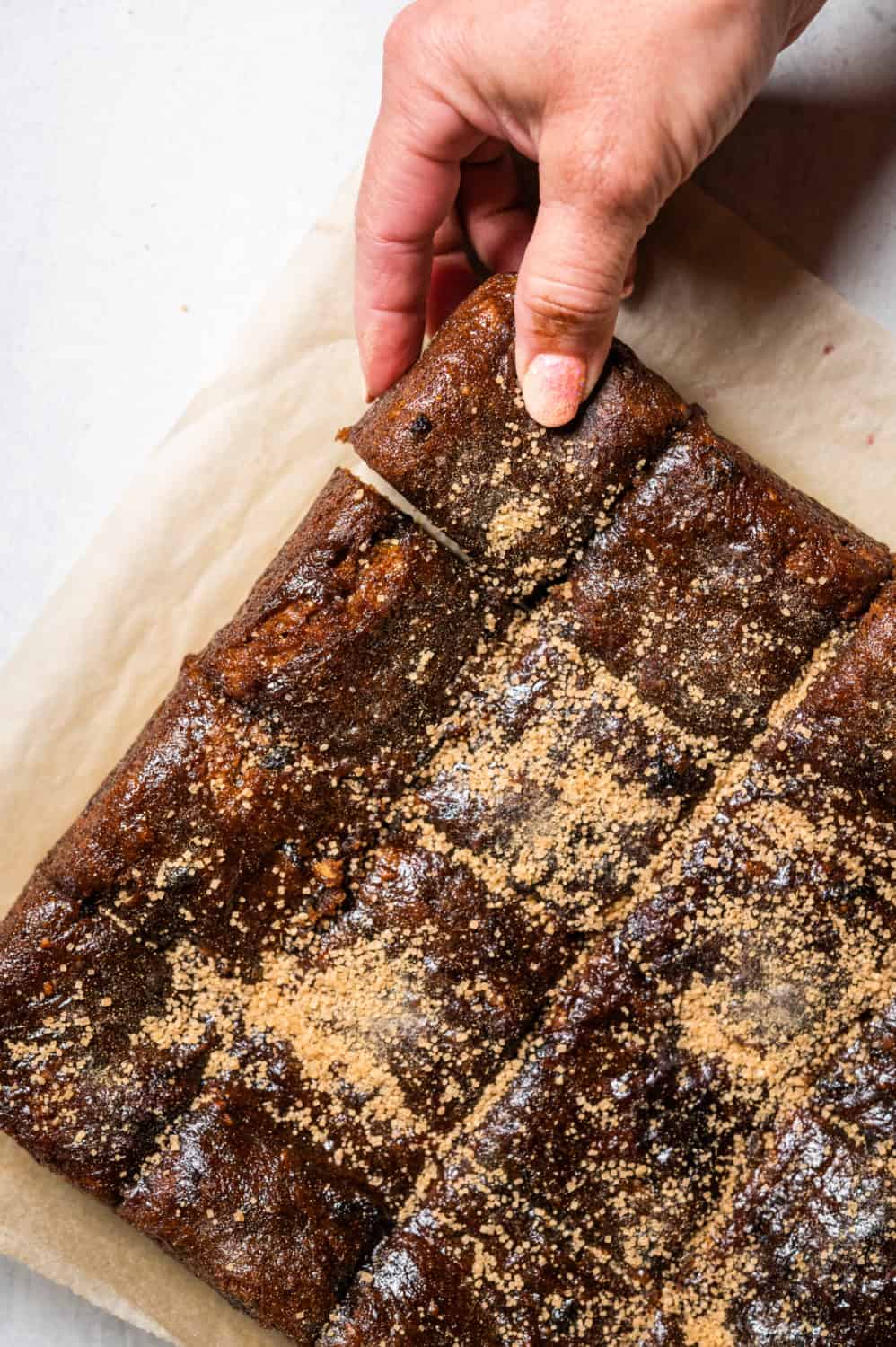 This Sticky Gingerbread Cake from Rachel Makes It is a riff on Nigella Lawson's famous recipe and we are hopelessly hooked on it!
It's a delicious treat during the cooler months of the year with its warm spices and tender crumb.
Bonus: it has less refined sugar, is lower in fat, and is egg-free thanks to the addition of Prune Puree.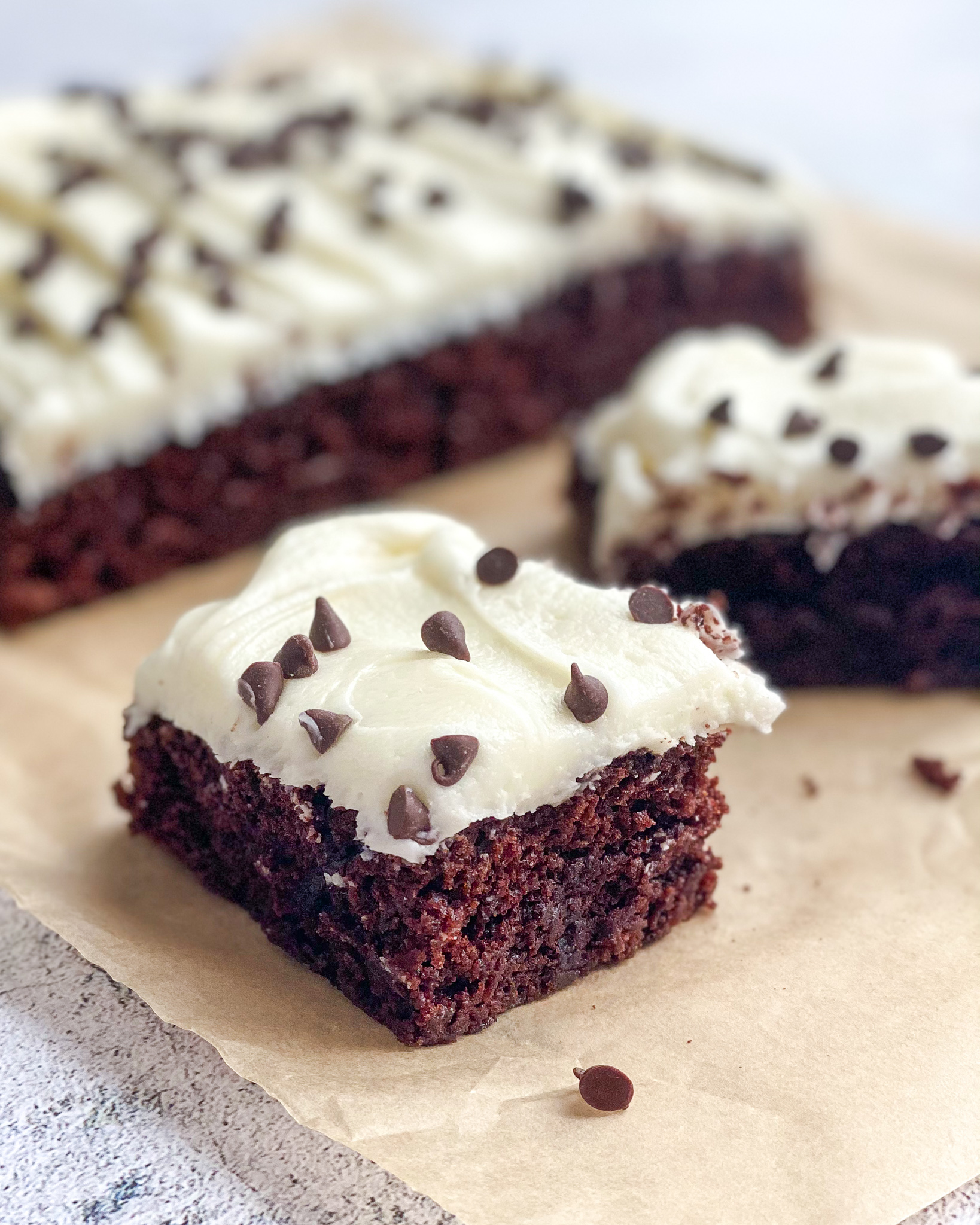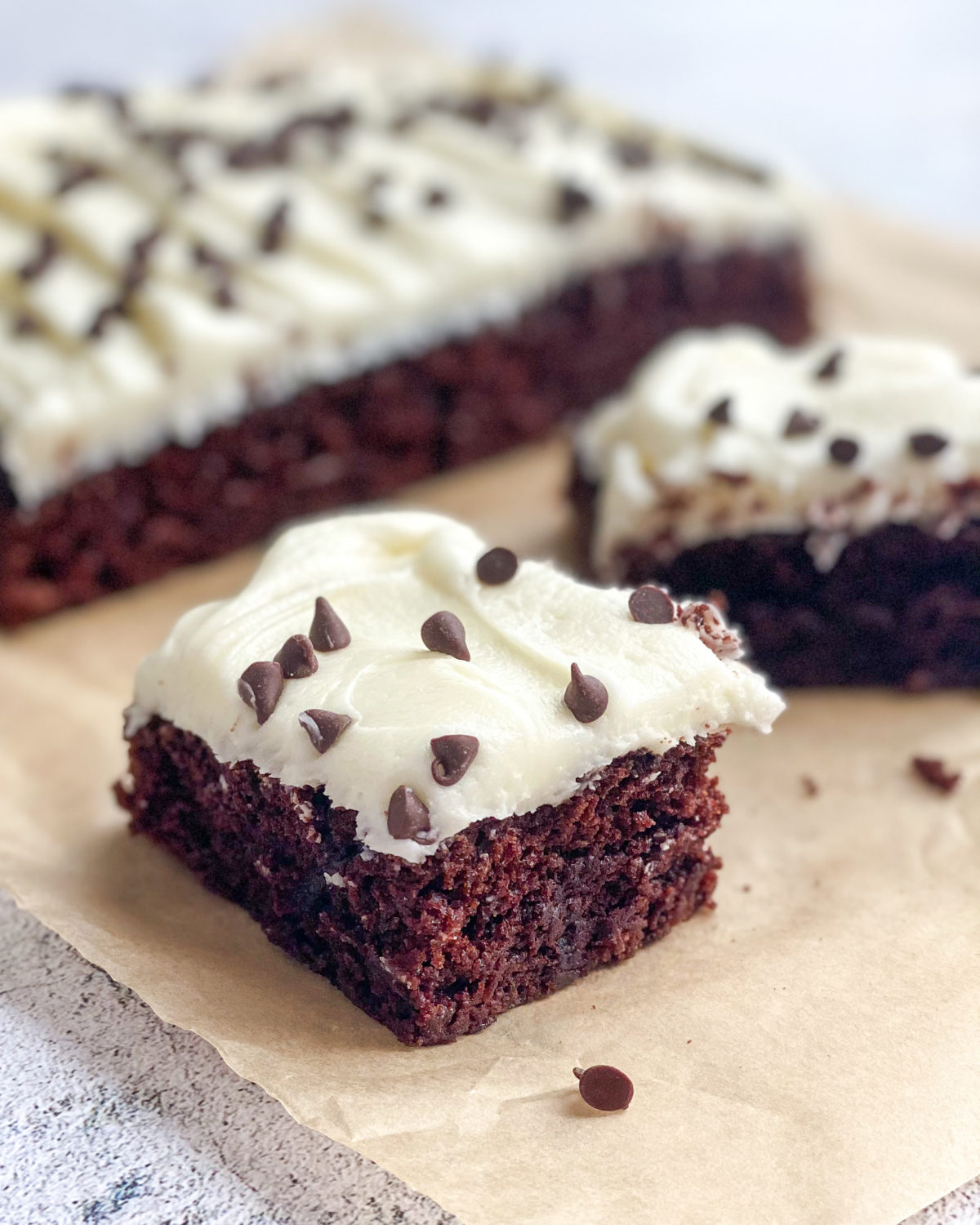 You should absolutely add this recipe for Gluten-Free Chocolate Chip Snack Cake from A Girl Defloured to your snack arsenal.
It is so easy, delicious, and moist! Topped with vanilla buttercream and a sprinkle of mini-chocolate chips, this is a fun, simple dessert that everyone will love!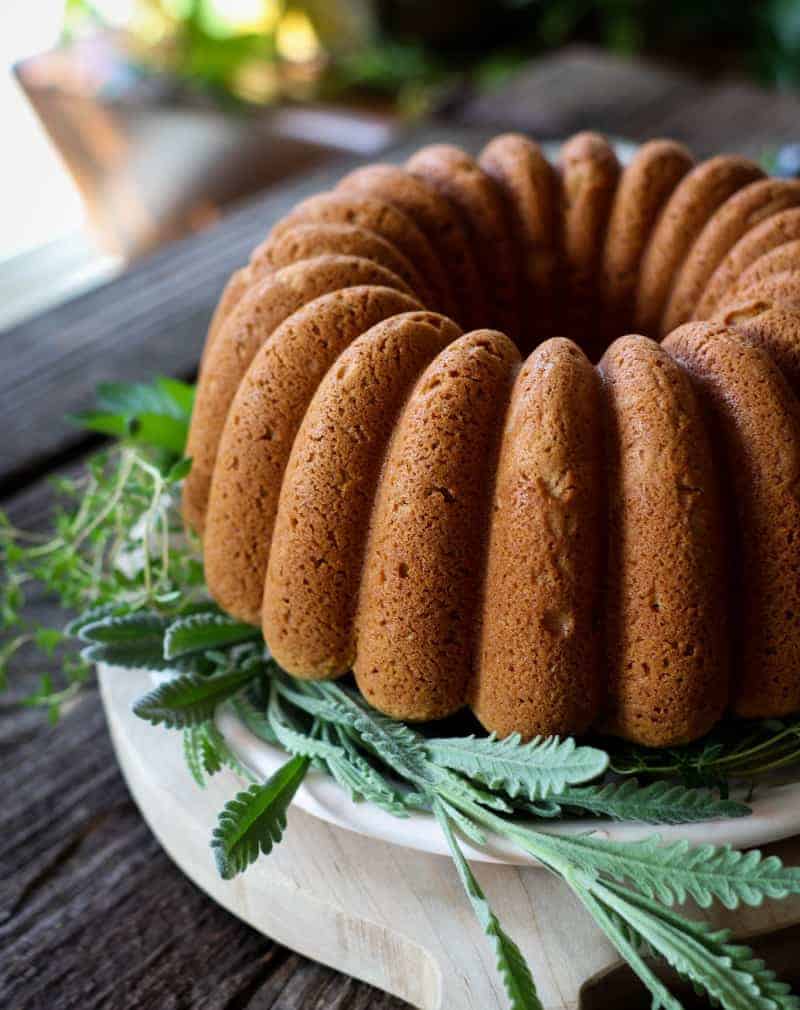 I know what you're thinking….this cake from the G Free Foodie looks different from the others.
I assure you it is just as easy to make and every bit as delicious.
This easy dessert recipe comes together with the help of a store-bought mix, vanilla pudding, and a few glugs of sherry wine which you can find at most grocery stores.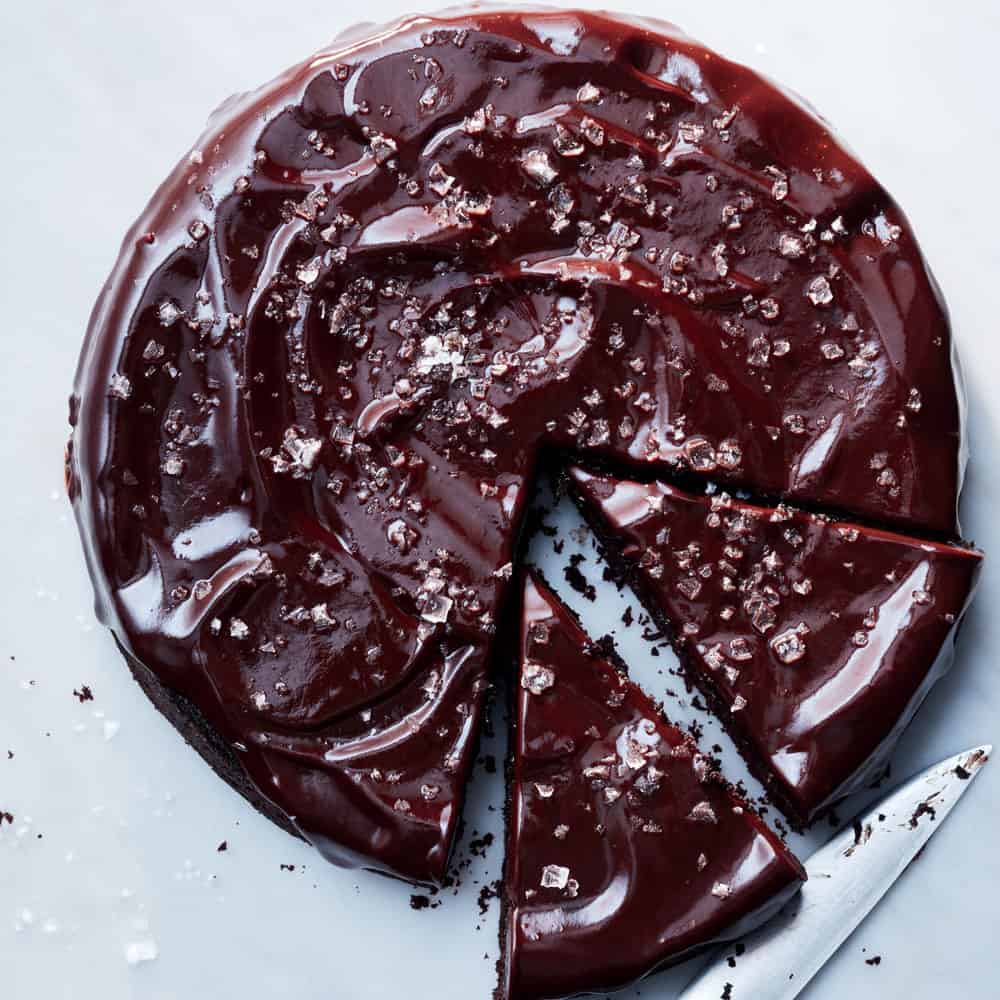 This decadent recipe from Justin Chapple of Food & Wine also calls for wine in the batter!
Cabernet Sauvignon adds fruity notes that brighten this chocolate cake, which is equally great for a midday snack or a casual dessert.
Wondering what to serve with this Strawberry Rosé Snack Cake?
Now that we have talked about all things dessert, can we talk about one of our favorite ways to use the Rosé Strawberry Glaze besides the actual snack cake recipe?!
Try spooning a few tablespoons of the prepared Rosé Strawberry Glaze into the bottom of a wine glass and then top it with either regular or sparkling rosé -stir to combine and drink as-is. You can also add it to ice and your favorite sparkling water to turn it into a fruit-filled wine spritz! Who knows, after one sip of this wine-based cocktail, you may find yourself making the glaze to keep on hand for near-effortless cocktails all the time!
The red berry flavors of rosé from California are especially complementary to this cake and perfection in this winetail!
Pro tip: When the glaze is chilled in the fridge it will set up and become more of a thick gel. To thin it for swirling on top of the batter or for making this wine-based cocktail, just add a tad of hot water and stir well to thin it out.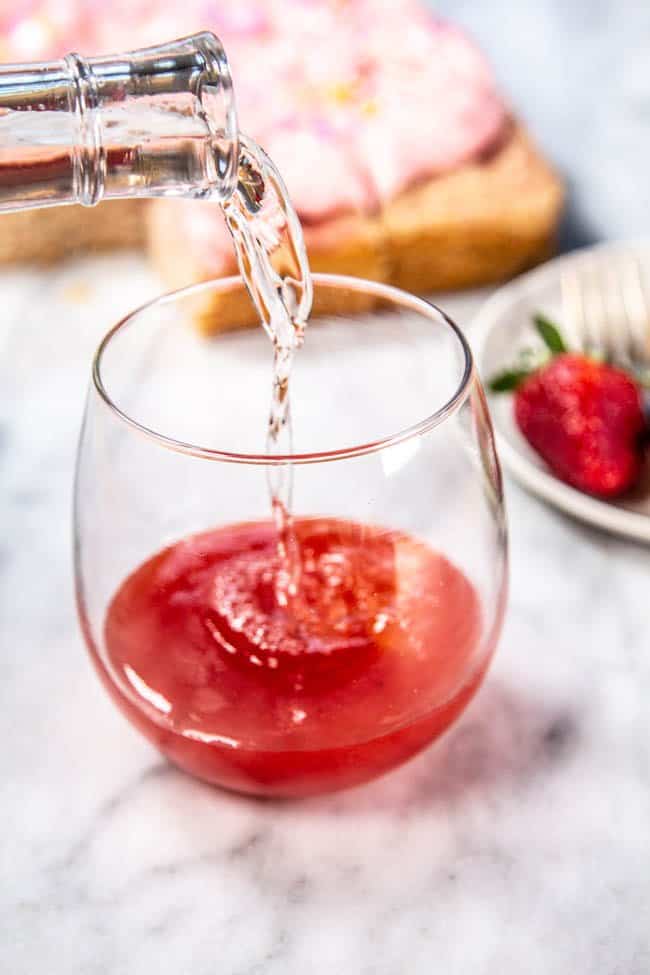 Craving more CA Grown goodness? Follow us on Pinterest for fresh and fabulous recipe inspiration!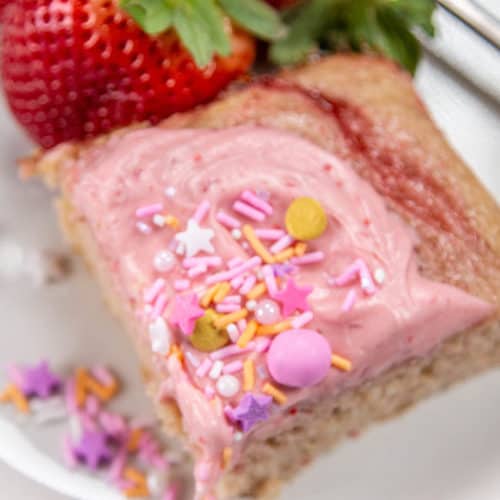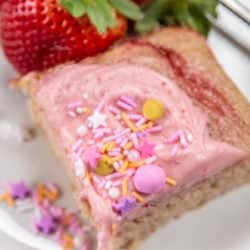 Strawberry Rosé Snack Cake
This snack cake is basically the easiest cake to bake ever and showcases strawberries and rosé, two of our favorite ingredients when we are in the mood for love!
Equipment
food processor

8 x 8 pan

hand mixer for icing, can use a wooden spoon and arm strength instead.
Ingredients
For the Rosé Strawberry Glaze
1 pound California strawberries hulled and chopped
1/2 cup granulated sugar
1/2 cup regular or sparkling rosé
1 tablespoon lemon juice
2 tablespoons corn starch can be substituted with arrowroot powder, potato starch, or tapioca starch if needed.
1/2 cup water
For the Strawberry Rosé Snack Cake
1 1/2 cups freeze-dried strawberries
1 1/2 cups gluten-free all-purpose flour or regular all-purpose flour
1 cup granulated sugar
2 teaspoons baking powder
1/2 teaspoon coarse kosher salt
2/3 cup regular or sparkling rosé
1/4 cup vegetable oil
1 teaspoon vanilla extract
1 tablespoon Rosé Strawberry Glaze
1 egg
1/4 cup Rosé Strawberry Glaze for the swirls
For the Strawberry Rosé Cream Cheese Icing
1/4 cup salted butter softened, see note
4 ounces cream cheese
1/4 teaspoon coarse kosher salt
1 cup powdered sugar
1-2 tablespoons Rosé Strawberry Glaze
Instructions
To make the Rosé Strawberry Glaze
Combine the prepared strawberries, sugar, rosé, and lemon juice in a saucepan over medium heat.

Stir occasionally until the sugar melts, the mixture should be runny. About 3 minutes.

Use a potato masher to mash the strawberries until all of the pieces are broken up. Cook for 1 more minute.

In a small bowl whisk together the water and the cornstarch until completely combined. Then pour into the strawberry mixture, stirring to incorporate.

Continue to cook over medium until the mixture returns to a boil and the liquid turns from opaque to a transparent glossy sheen and coats the back of the spoon, about 3-4 more minutes. Remove from the heat.

Strain the mixture by pouring through a fine-mesh sieve set over a bowl. Gently press the solids in the sieve to release all of their juices. Discard the solids and allow the glaze to cool completely. See note if making and storing the glaze ahead of time. You may need to thin the glaze a bit after it has chilled.
To make the Strawberry Rosé Snack Cake
Preheat the oven to 350°F. Line an 8-inch square baking pan with parchment paper, creating a bit of overhang on the sides to use as handles later. Spray the pan and the paper with baking spray.

In a food processor, process the freeze-dried strawberries until powdered. Measure 3 tablespoons of the powdered strawberries into a large mixing bowl and set the rest aside for later.

To the bowl with the 3 tablespoons of powdered strawberries add the flour, sugar, baking powder, and salt. Whisk to combine.

Add the rosé, oil, vanilla, 1 tablespoon Rosé Strawberry Glaze, and egg to the flour mixture. Lightly beat the ingredients together with a whisk to form a smooth batter.

Spread all but 1/2 cup of the prepared batter evenly into the prepared pan. Use a tablespoon measure to add dollops of the 1/4 cup Rosé Strawberry Glaze across the top of the batter then use a skewer or the tip of a knife to gently swirl the glaze into the batter. Dollop the remaining batter on top sporadically and swirl it in as well.

Bake for 30-35 minutes until a wooden pick inserted into the center of the cake comes out clean.

Remove from the oven to a wire rack and cool in the pan for 5-10 minutes before using the parchment handles to gently lift the cake from the pan. Allow the cake to cool to room temperature before icing.
To make the Strawberry Rosé Cream Cheese Icing
Wash and dry the same bowl that you prepared the cake batter in. Then place the softened butter, cream cheese, and salt into the bowl.

Beat with a hand mixer for about 1 minute, or with some serious elbow grease, by hand until smooth and creamy.

Add the reserved powdered strawberries and Rosé Strawberry Glaze, then beat on medium speed until mostly incorporated. Add the powdered sugar in 3 additions, mixing at low speed to combine after each one.

Spread the frosting over the cooled cake and serve. Decorate with sprinkles if desired.
Notes
A note about butter….
This recipe calls for salted butter because that is what I prefer to bake with. If you only have unsalted that will also work. Simply add an extra pinch of salt into the icing before mixing.
A note about the Rosé Strawberry Glaze…
This glaze can be made ahead of time and stored in the fridge for up to a week and in the freezer for up to 3 months.
The cornstarch will continue to thicken the glaze as it cools, especially once refrigerated. If it becomes too thick to work with for the cake simply add a few tablespoons of hot water to adjust the consistency.