Coachella isn't just famous for it's live music scene. It's also famous for dates. Though they are native to the Middle East, California grows a whole bunch of them, 95% of the domestic crop, in fact. Scroll down for some of our favorite date recipes from our California Grown Creators.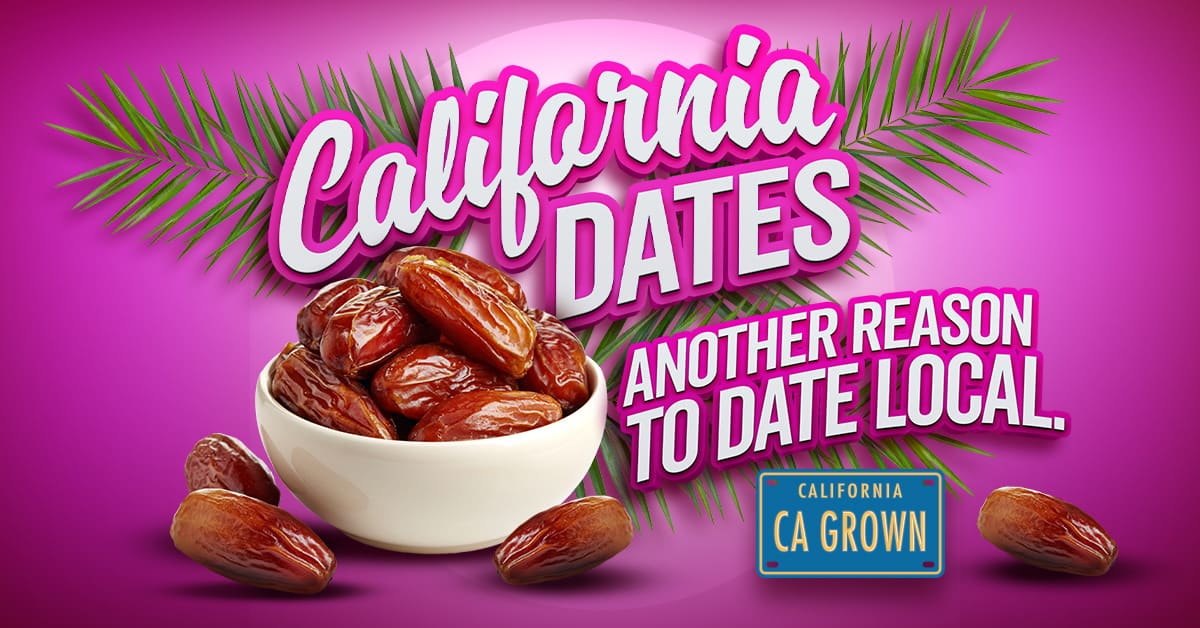 Why Do Dates Taste So Good?
Though some are meant to be enjoyed fresh, most are dried and available year round. Dried dates have a very high sugar content. They have an intense caramel-like flavor with notes of cinnamon, butterscotch and toffee. Dates are, in a word, delicious. The Coachella Valley is famous for its Date Shakes, and they are also used to make date sugar which can be used as an alternative to other sugars. Dates can also be baked into cookies, bars and breads. Because dates are sticky, they are ideal as a binder for energy balls and snack bars.
Are Dried Dates Good for You?
Dried dates are a nutrient-dense food. They have lots of fiber which aids in digestion and are rich in polyphenols which may help prevent vascular diseases. They also have high amounts of phenolic compounds which act as antioxidants and may prevent cell damage from free radicals.
What Are the Different Types of Dates in California
Date farms in the Coachella Valley grow for primary varieties of dates; the Deglet-Noor, the Medjool, the Barhi and the Zahidi. The two most prominent of those are the Deglet Noor and the Medjool. Deglet Noor dates are slender, oblong and mildly sweet. They are firmer and can be stored well in moisture-proof packaging. They work well in braises or added to salads. Medjool dates are bigger, have softer flesh and a high moisture content and are more perishable. They need careful handling and must be stored in the refrigerator.
Our Best California Date Recipes from our California Grown Creators
From sweet to savory there are so many different kinds of date recipes to try!
SAVORY RECIPES MADE WITH DATES
HEALTHY SNACKS MADE WITH DATES
HEALTHY-ISH DESSERTS WITH DATES