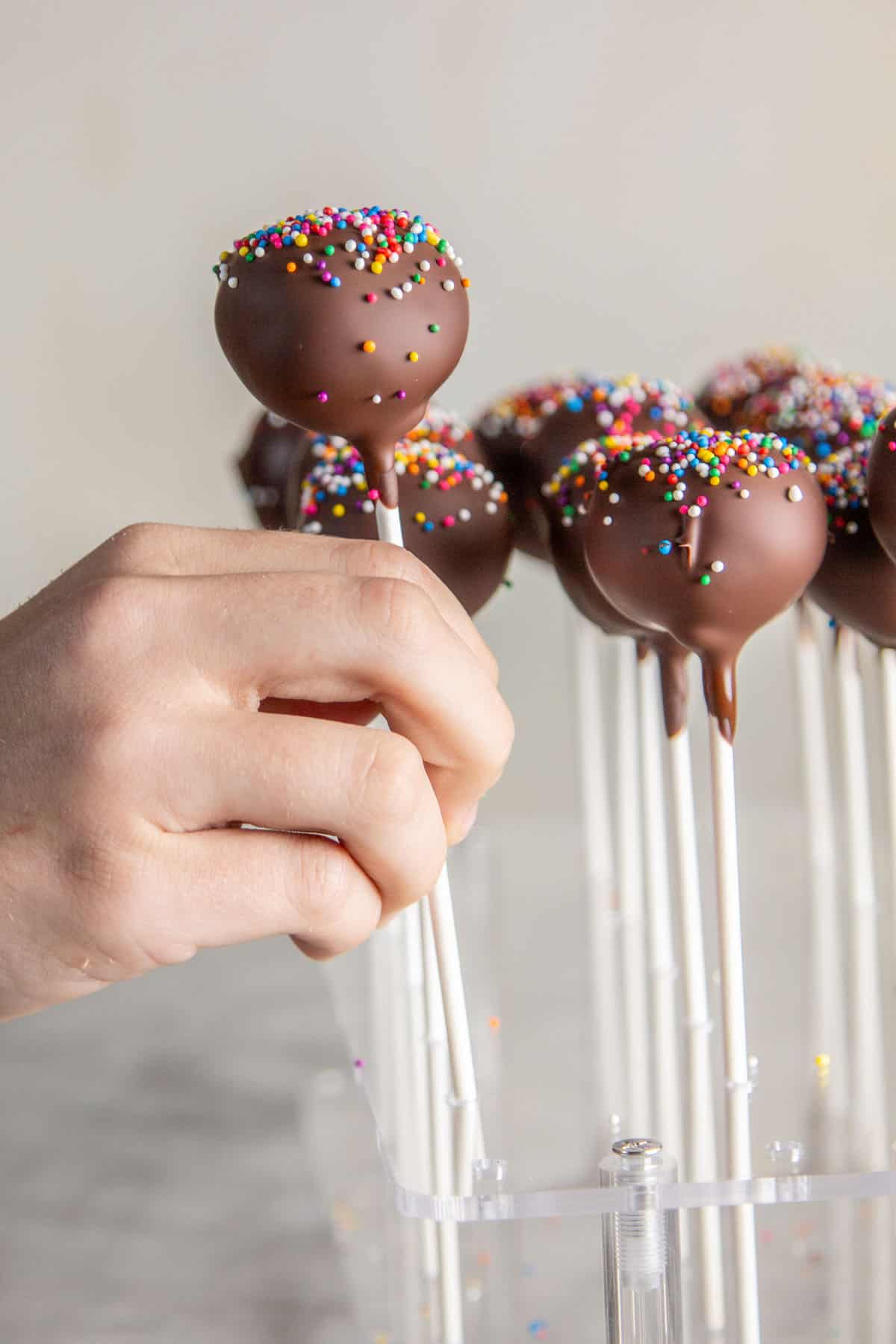 CA GROWN Blog
Discover. Learn. Connect.
A Delicious Cake Pop Recipe That Is Easy To Make And Good For You Too
August 15, 2023
Eat the Season!
Sign Up For Weekly Recipes
« Back to Recipes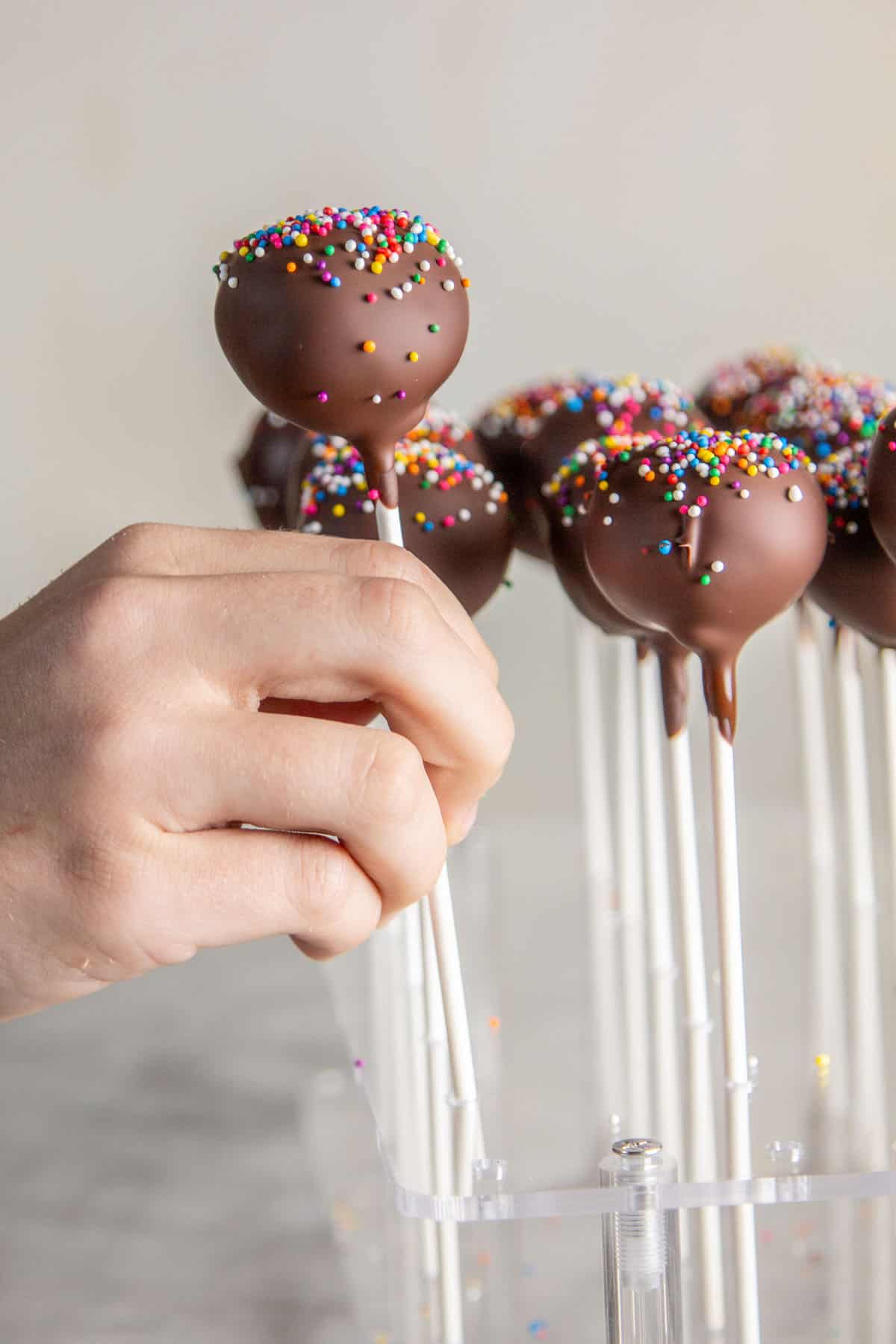 A Delicious Cake Pop Recipe That Is Easy To Make And Good For You Too
Imagine savoring a decadent fudgy cake pop that is infused with dark chocolatey flavors, toasted nuts, and a delicious sweetness from California prunes. The best part? This delightful treat is both indulgent and full of good-for-you ingredients too. Any time you feel like baking something for a special occasion look no further than this Golden State-inspired Cake Pop recipe. They're easy to make, always please a crowd, and are full of healthy ingredients from California that are available year-round.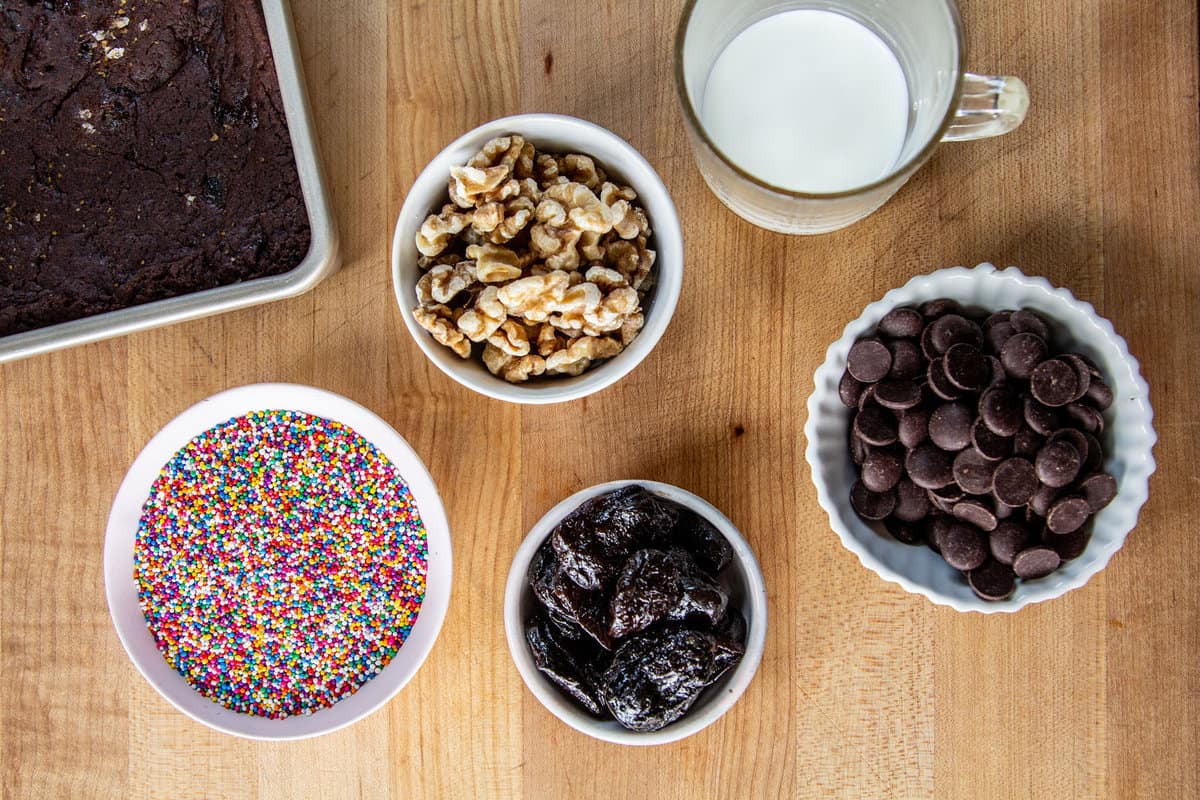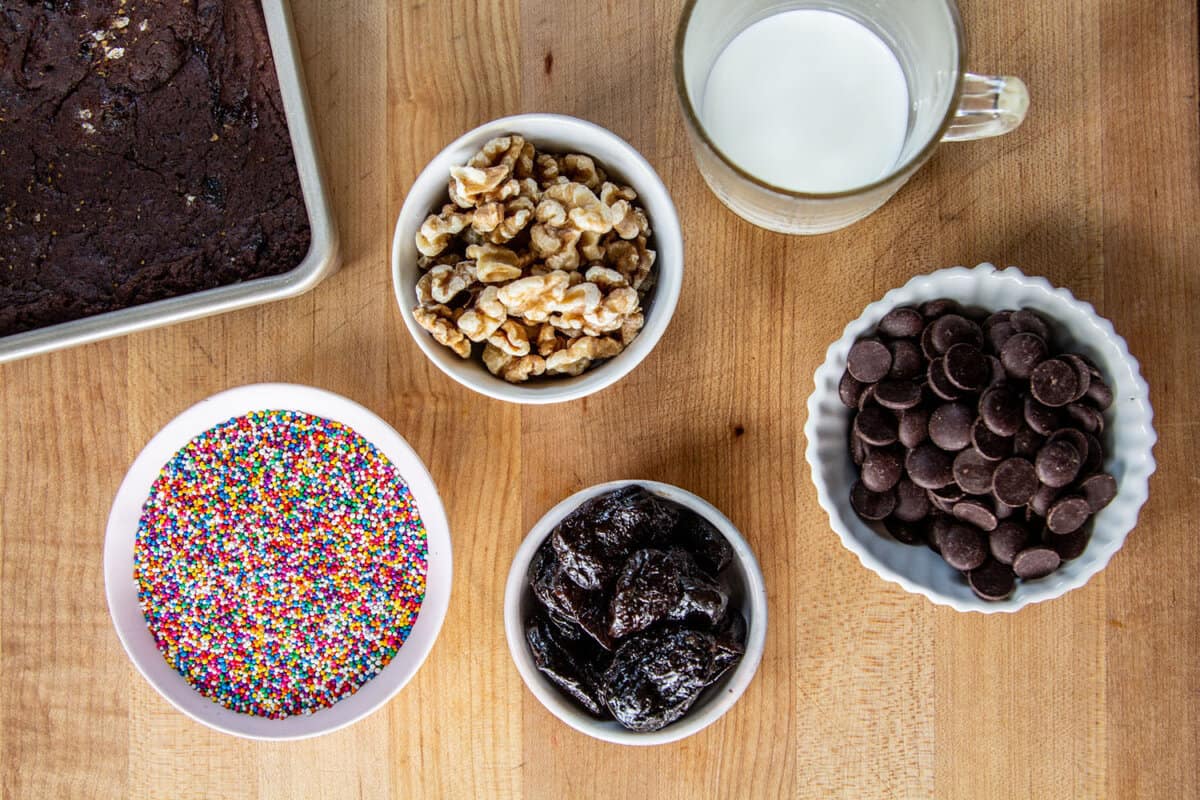 Welcome to the Golden State of Cake Pops!
You might be thinking, "Prunes? Really?" But you have to trust us; when it comes to the natural sweetness and flavor-packed punch, nothing can quite match a California prune. But we're not stopping there! We're diving deep into California's treasure trove with crunchy walnuts, creamy almond milk, and the most decadent Guittard dark chocolate.
Dive deep into the sweet world of California prunes:
Isn't it lovely when something delicious is also fantastic for your health? This recipe calls for Prune Purée which is a multi-talented baking substitute. You can use it to replace sugar, eggs, or fat and your recipe will undoubtedly receive rave reviews.
The irresistible duo: walnuts and almonds:
Toasted walnuts bring a delightful crunch to this cake pop recipe while almond milk further moistens the crumbled fudgy brownies and brings the cake pop dough together.
Yet another Golden State Superstar brings seals the deal: From the gold rush to the great quake, Guittard chocolate has called California home for over 150 years.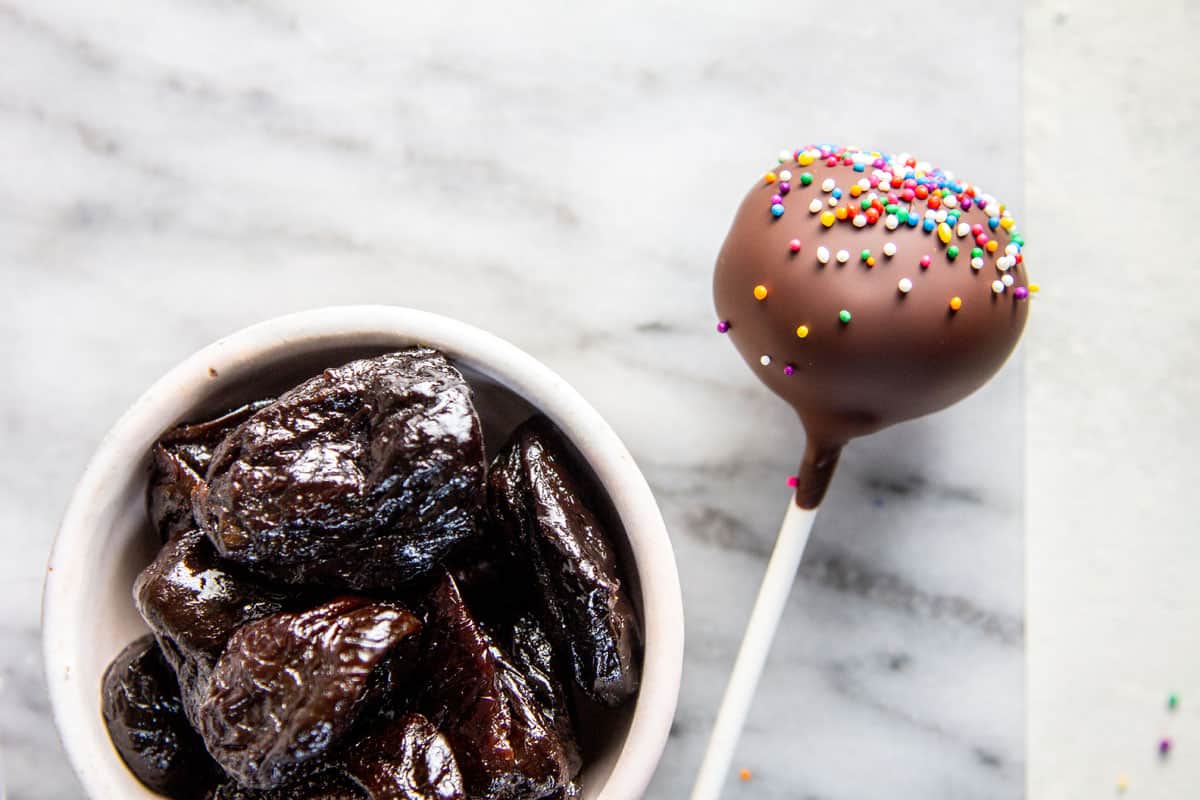 Ready, Set, Bake: Your Next Go-to Cake Pop Recipe Is Made With Prunes!
Prunes and prune puree appear in this recipe in a few different ways. First, prunes sweeten the vegan brownies that act as the base for this recipe. Second, prune puree acts as a binder for the crumbled brownies and other ingredients. And lastly, we use diced prunes to naturally sweeten our homemade almond milk.


Have you tried prune puree?
You might have heard that baking with prune purée allows you to replace some of the fat and sugar in your favorite recipes, but did you know that you can also use prune purée in place of eggs?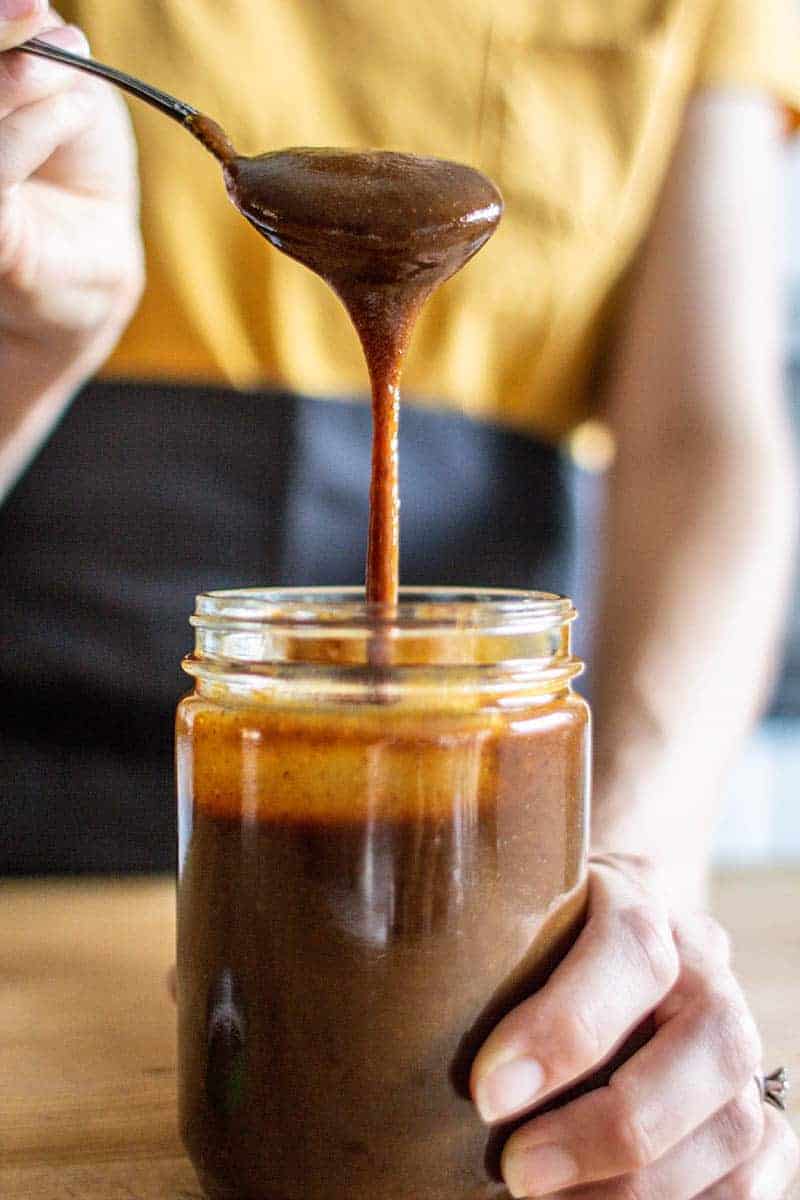 A Culinary Journey: Crafting the Perfect Californian Cake Pop
Once you bake the brownies, they have cooled completely, and your excitement levels are (hopefully) through the roof. It's time to make cake pops!
A step-by-step picture tutorial: How to make Golden State-inspired Cake Pops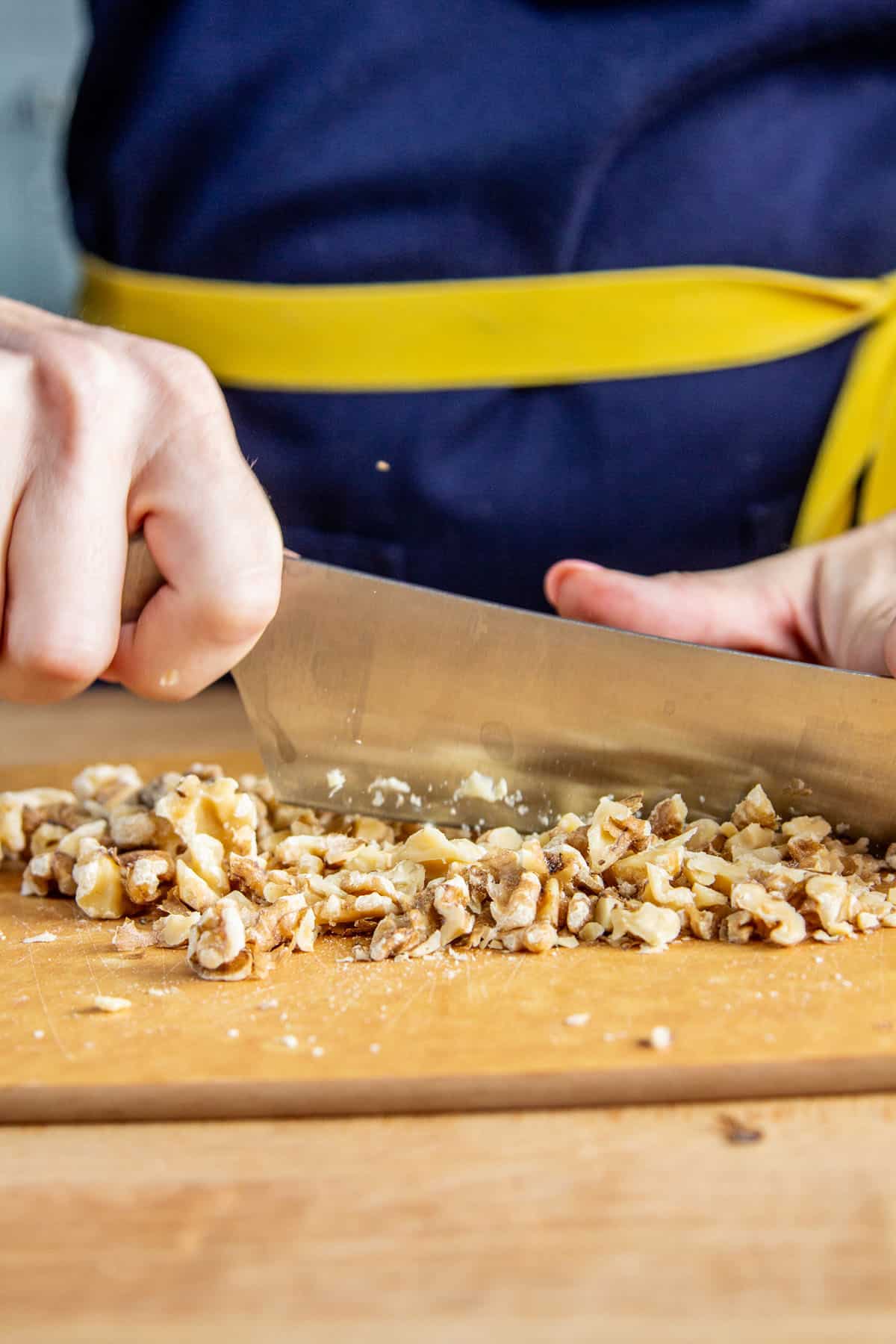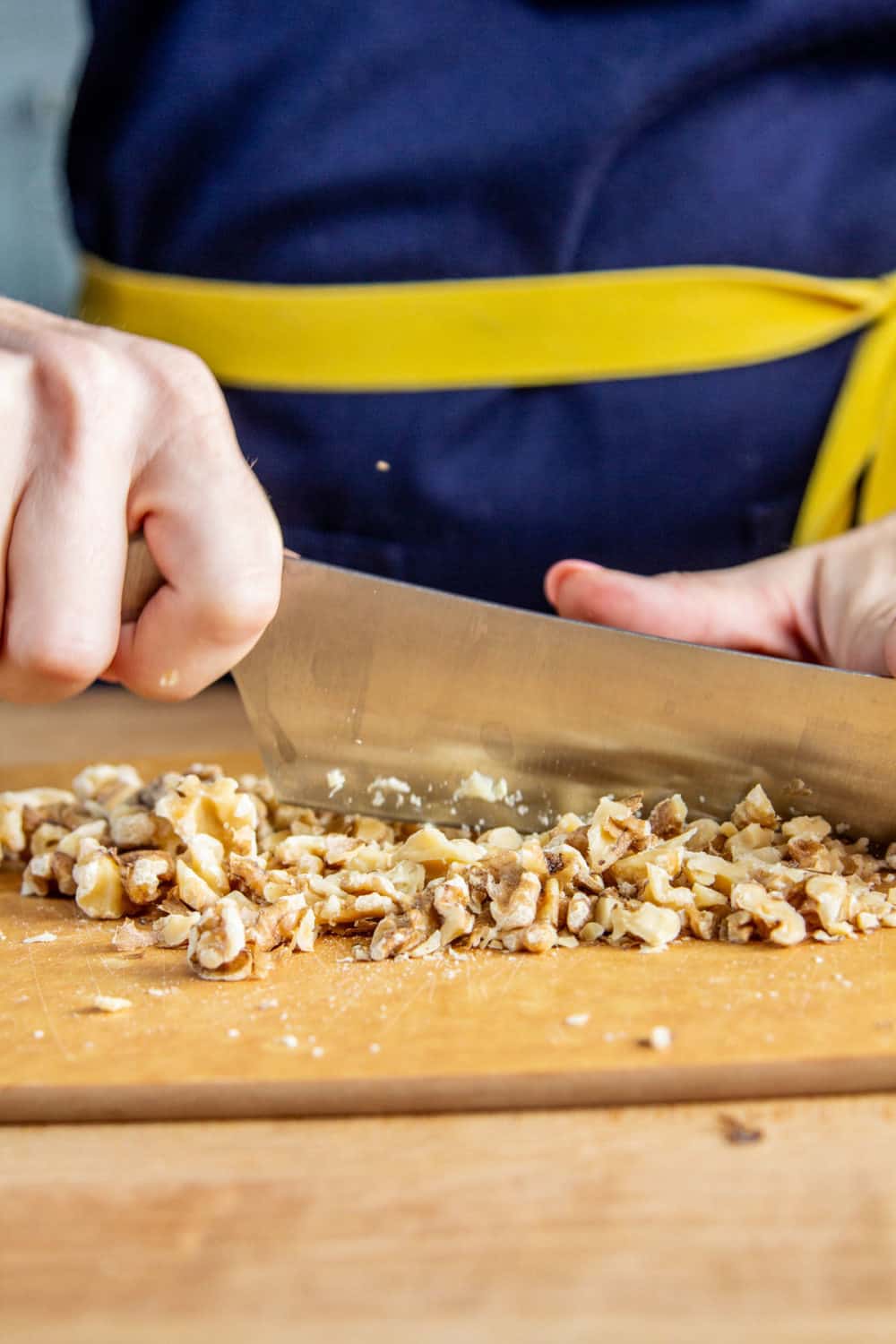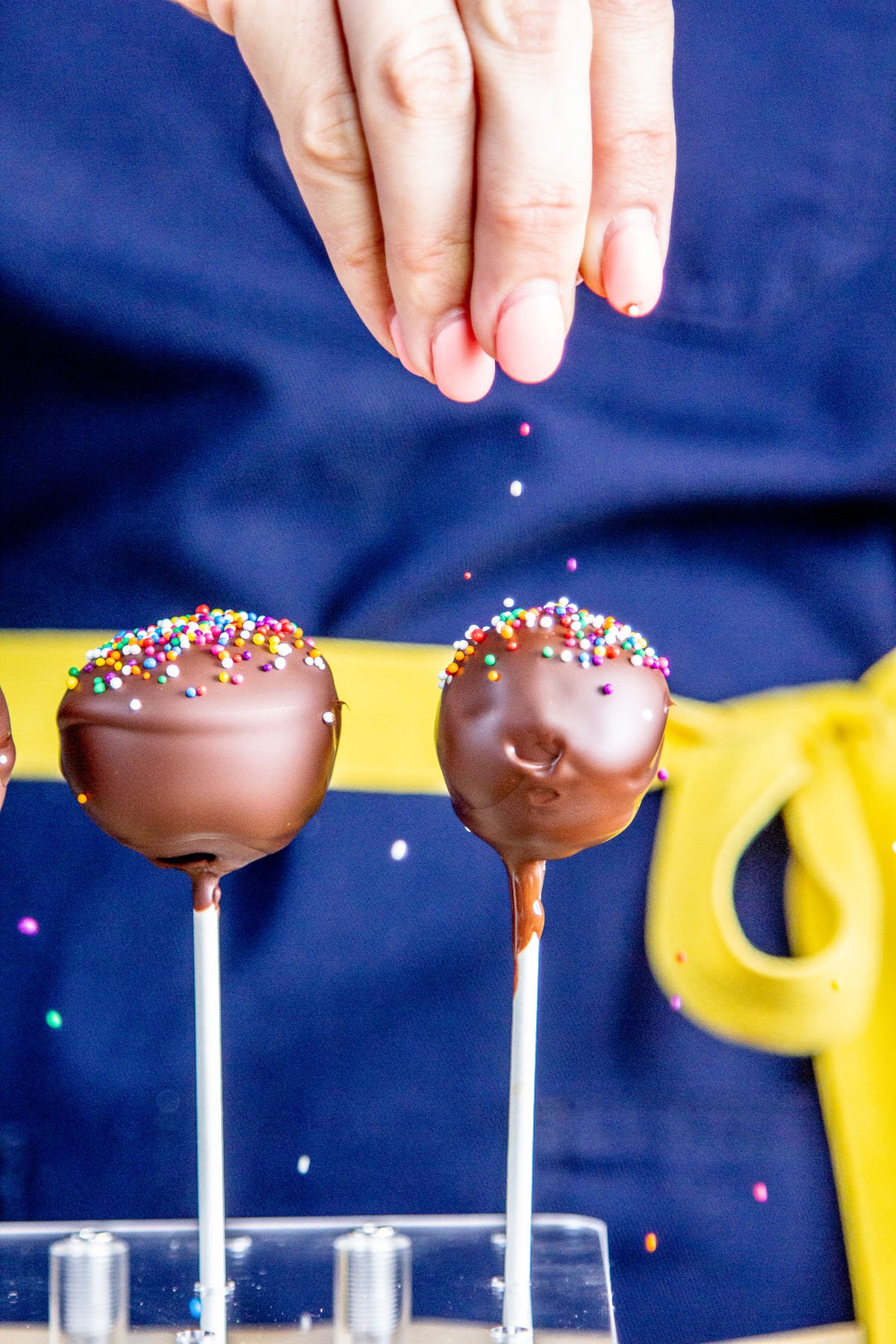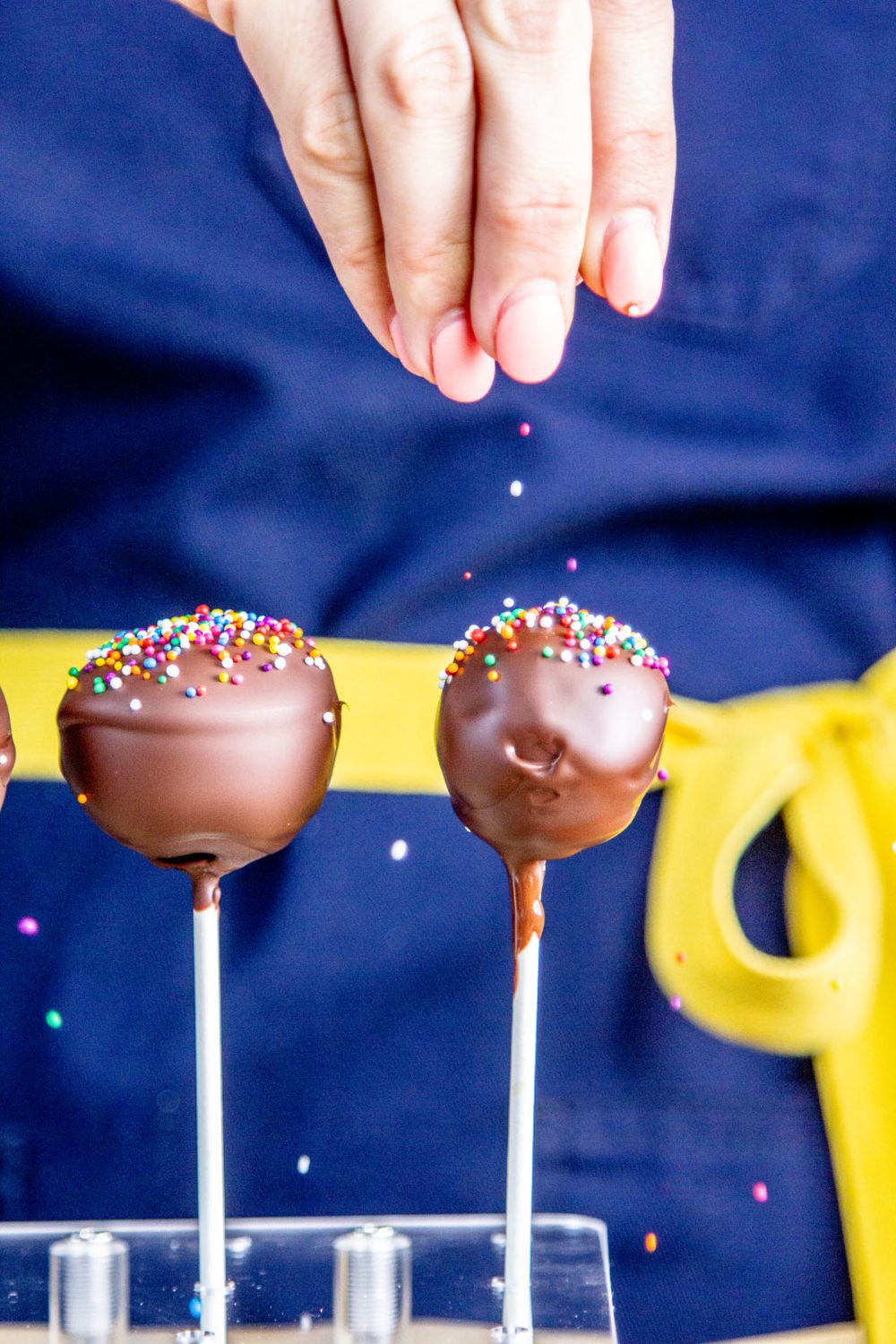 Crumble those brownies into a bowl – therapeutic and fun!
Slide in a generous dollop of prune puree. Sweetness and moisture? Check.
Toss in those crispy toasted California walnuts – trust me, you won't regret it.
A splash of California almond milk makes everything play nicely together.
Shape them into small balls with the palms of your hand and give them a quick chill in the freezer to firm up before adding a lollipop stick into each one.
Once completely assembled, place all of the undressed cake pops on a sheet pan in the freezer for 2 hours (at a minimum or) up to overnight.
Now, the moment we've been waiting for a decadent dip into molten Guittard dark chocolate and add a little flare with the addition of sprinkles. Bliss, right?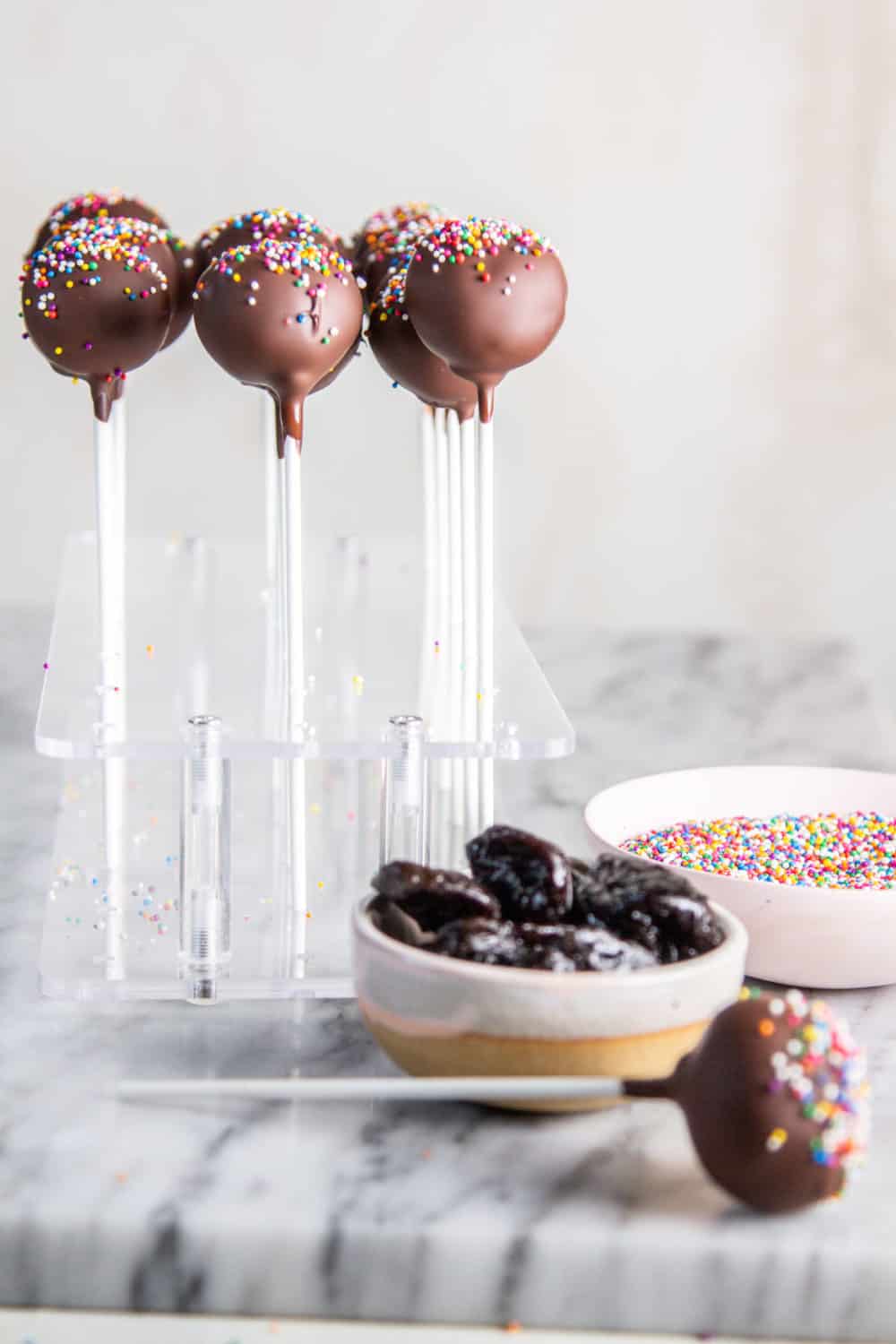 Bite into California: The Cake Pop Dream Realized!
Consider this cake pop recipe a bite-sized journey to the sunny shores of California for your taste buds. Delicious, Californian, and yes, even a little health-friendly!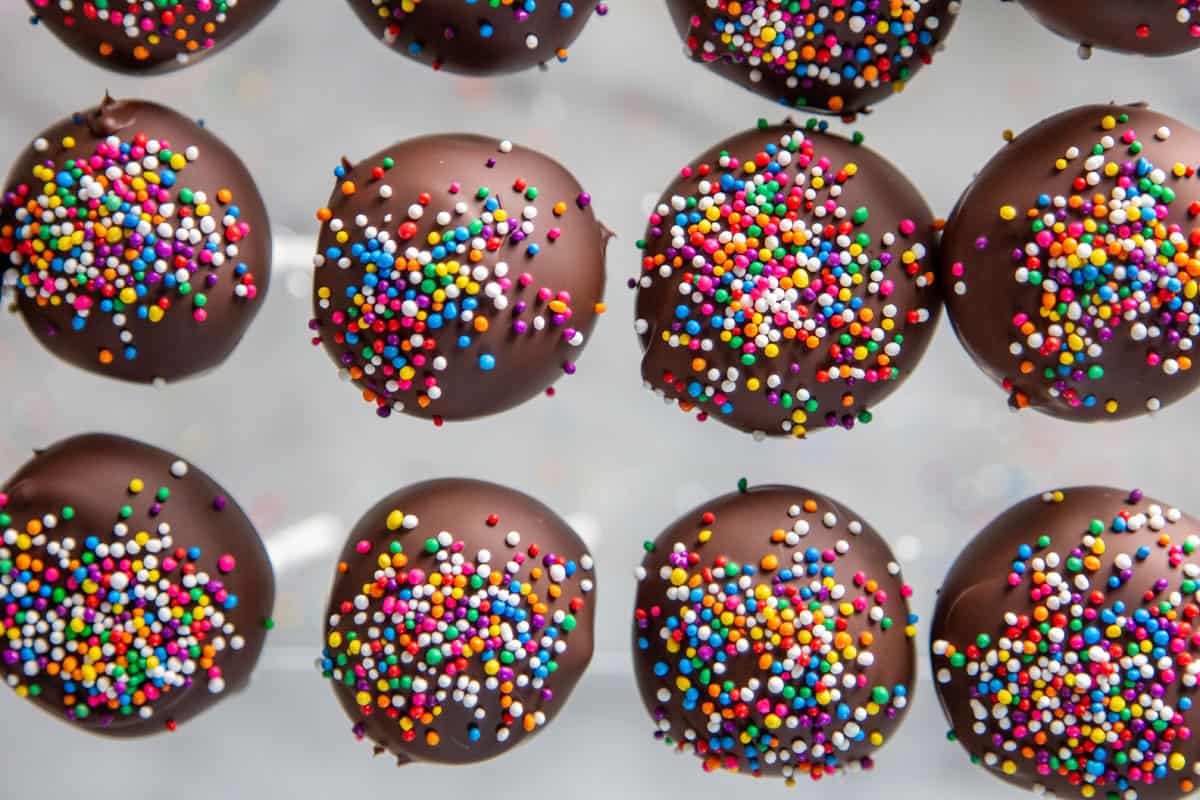 BE SURE TO SHARE YOUR CAKE POP CREATIONS WITH US BY SNAPPING A PIC AND TAGGING US ON SOCIAL USING #CAGROWN.
Craving more CA Grown goodness? Follow us on Pinterest for fresh and fabulous recipe inspiration!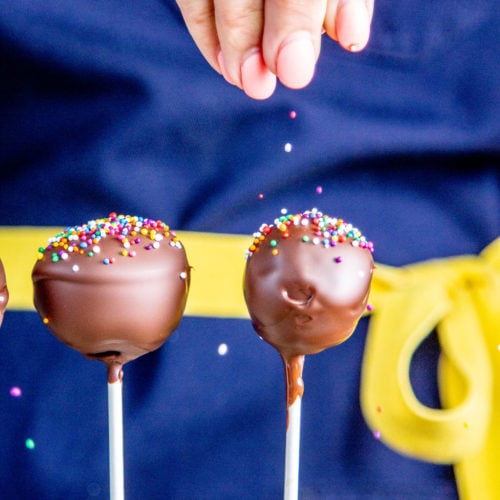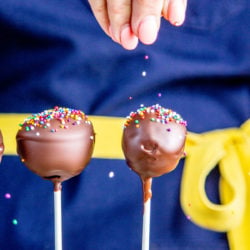 Golden State-Inspired Cake Pop Recipe
A decadent fudgy cake pop recipe infused with dark chocolatey flavors, toasted nuts, & a uniquely delicious sweetness from California prunes.
Ingredients
1 batch California Prunes Fudgy Vegan Brownies Cooled completely, cut into cubes
1/2 cup California walnuts Toasted and chopped small
2 tablespoons prune puree
2 cups dark chocolate morsels Divided. We use Guittard.
1 teaspoon coconut oil
2 tablespoons sprinkles of choice optional
Instructions
In the bowl of a stand mixer, fitted with the paddle attachment, combine the brownie squares, chopped walnuts, almond milk, and prune puree. Beat on medium-low speed until broken into fine, evenly moistened crumbs and a dough begins to form.

Line a baking sheet with parchment paper. Working with one packed tablespoon of the brownie mixture at a time, roll into balls and place in a single layer on the prepared baking sheet. Cover with plastic wrap and freeze until firm but still pliable, 45 minutes to 1 hour.

Microwave 1/4 cup of the dark chocolate morsels in 30-second intervals on 50% power until melted. Dip the lollipop sticks into the chocolate and then insert them into the brownie ball. Repeat with all of the cake pops. Freeze for 2 hours or overnight.

Once the cake pops are frozen, melt the remaining dark chocolate morsels and coconut oil together in a 2-cup liquid measuring cup in the microwave. Heat the chocolate in 30-second intervals on 50% power until melted, stirring frequently.

Working with one cake ball at a time, dip the entire cake ball into the melted chocolate and turn completely coated, tipping the measuring cup as needed. Lift the cake pop from the chocolate and allow the excess to run off.

Turn the cake pop upright, and twist back and forth to even out the chocolate allowing any excess to drop back into the measuring cup. Insert the cake pop into a foam block or cake pop holder and then decorate with sprinkles if using.

Allow the cake pops to sit at room temperature until the chocolate has set, about 30 minutes. Serve. Cake pops can be kept at room temp for up to 4 hours or refrigerated for up to 3 days,
Nutrition
Calories: 51kcalCarbohydrates: 5gProtein: 1gFat: 3gSaturated Fat: 2gPolyunsaturated Fat: 1gMonounsaturated Fat: 0.2gCholesterol: 0.1mgSodium: 10mgPotassium: 57mgFiber: 0.4gSugar: 3gVitamin A: 6IUVitamin C: 0.1mgCalcium: 26mgIron: 0.1mg