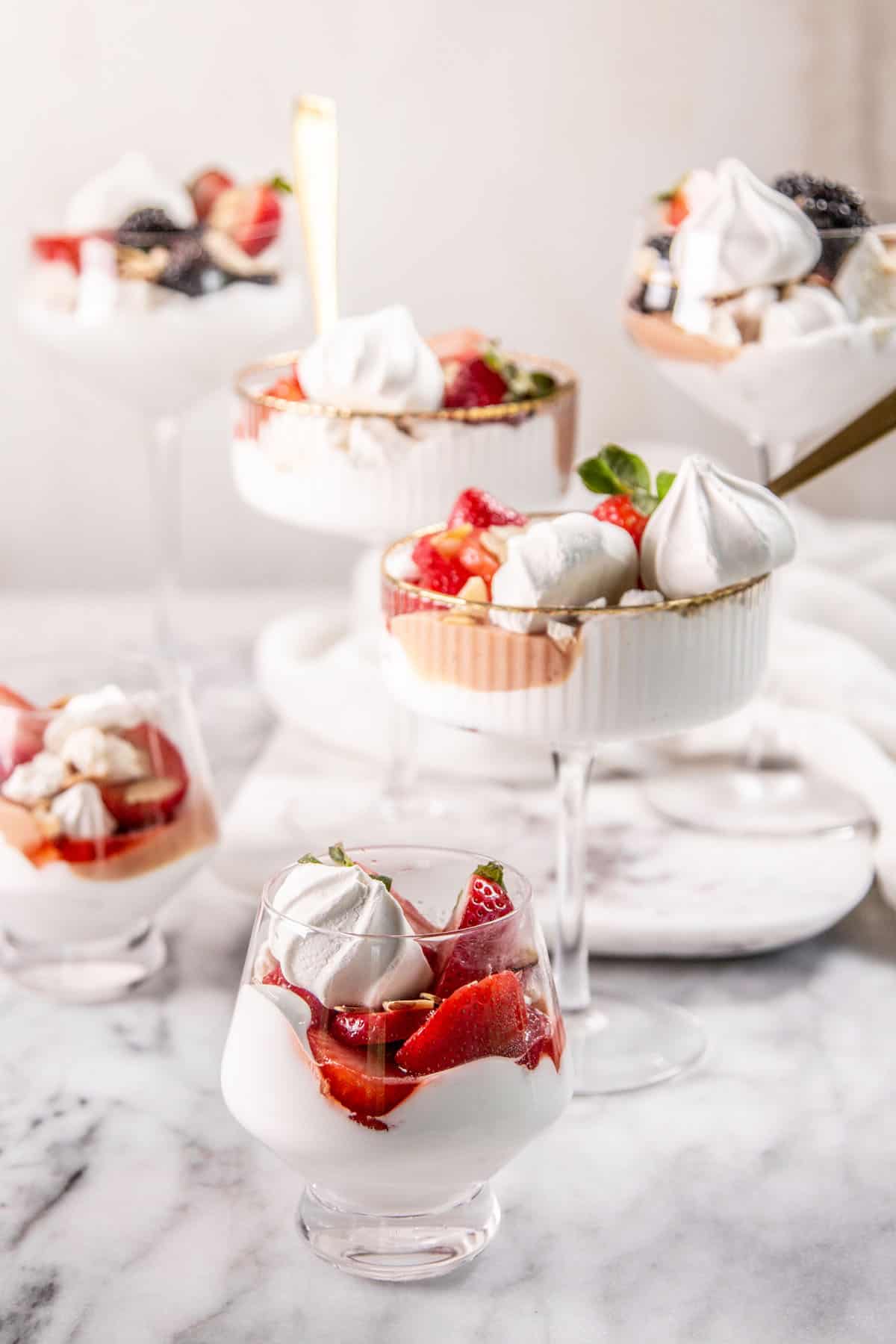 CA GROWN Blog
Discover. Learn. Connect.
A Beautiful California-Grown Strawberry Eton Mess Recipe
April 25, 2023
Eat the Season!
Sign Up For Weekly Recipes
« Back to Recipes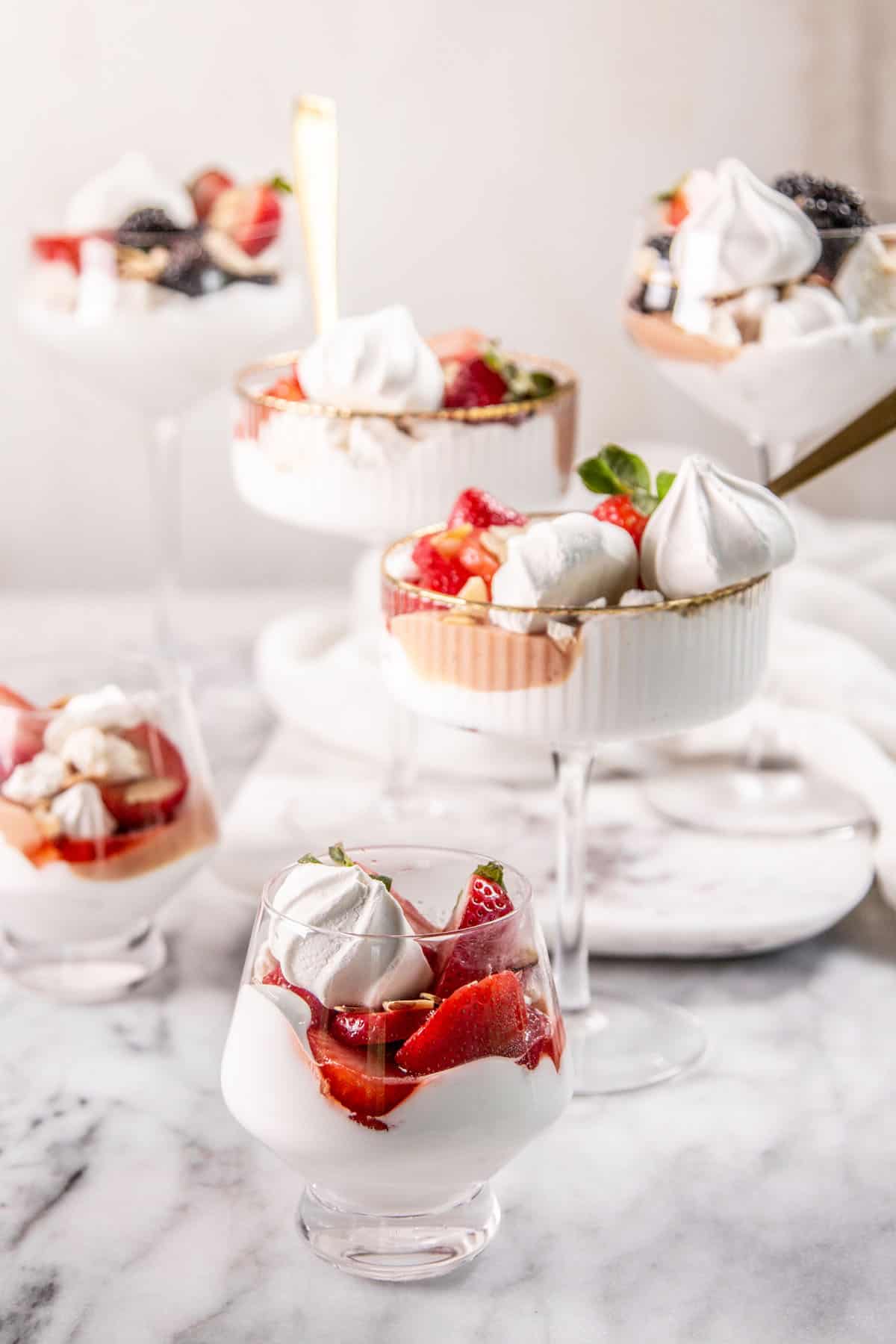 A Beautiful California-Grown Strawberry Eton Mess Recipe
Introducing a truly delectable dessert, where the classic British Eton Mess meets the sun-kissed California strawberry! Creating a mouthwatering California-grown Strawberry Eton Mess at home is easier than you might think and will definitely impress your taste buds, all while looking absolutely stunning.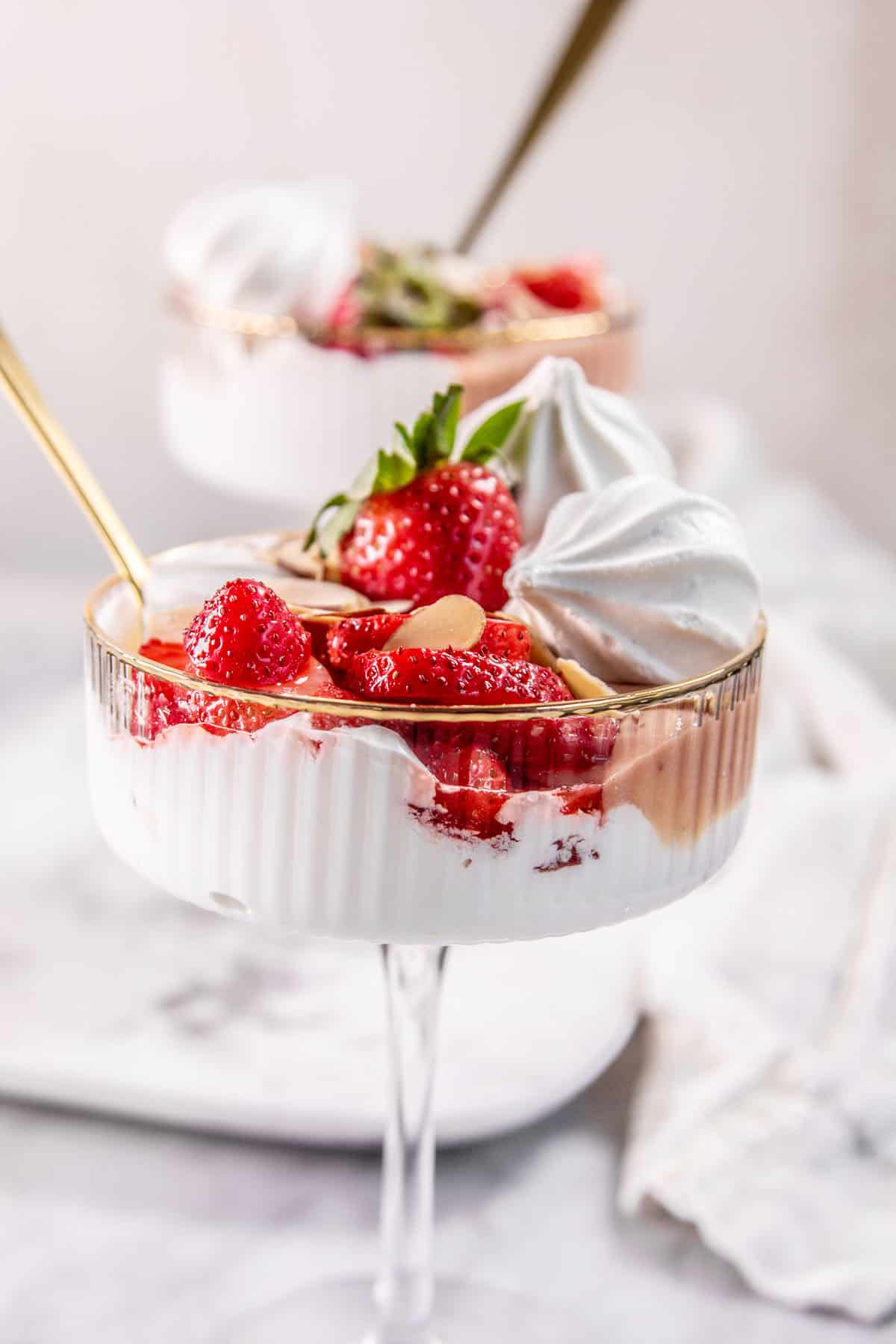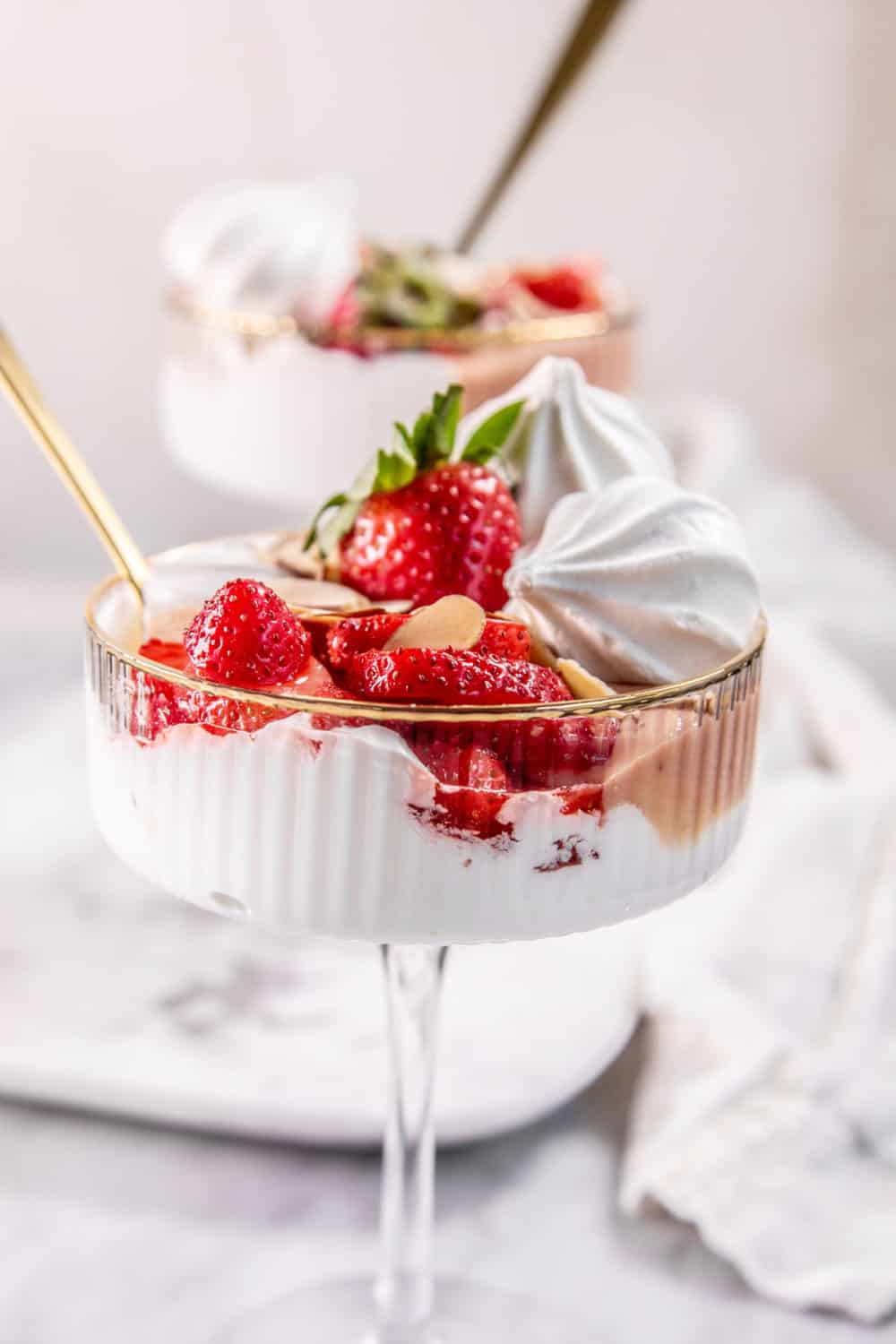 Gather Your Ingredients: The Eton Mess Essentials.
This recipe celebrates the exceptional quality of California-grown strawberries. Get ready to indulge in a delightful classic dessert, where crunchy meringue, fluffy whipped cream, sensational strawberry curd, and juicy strawberries come together in perfect harmony.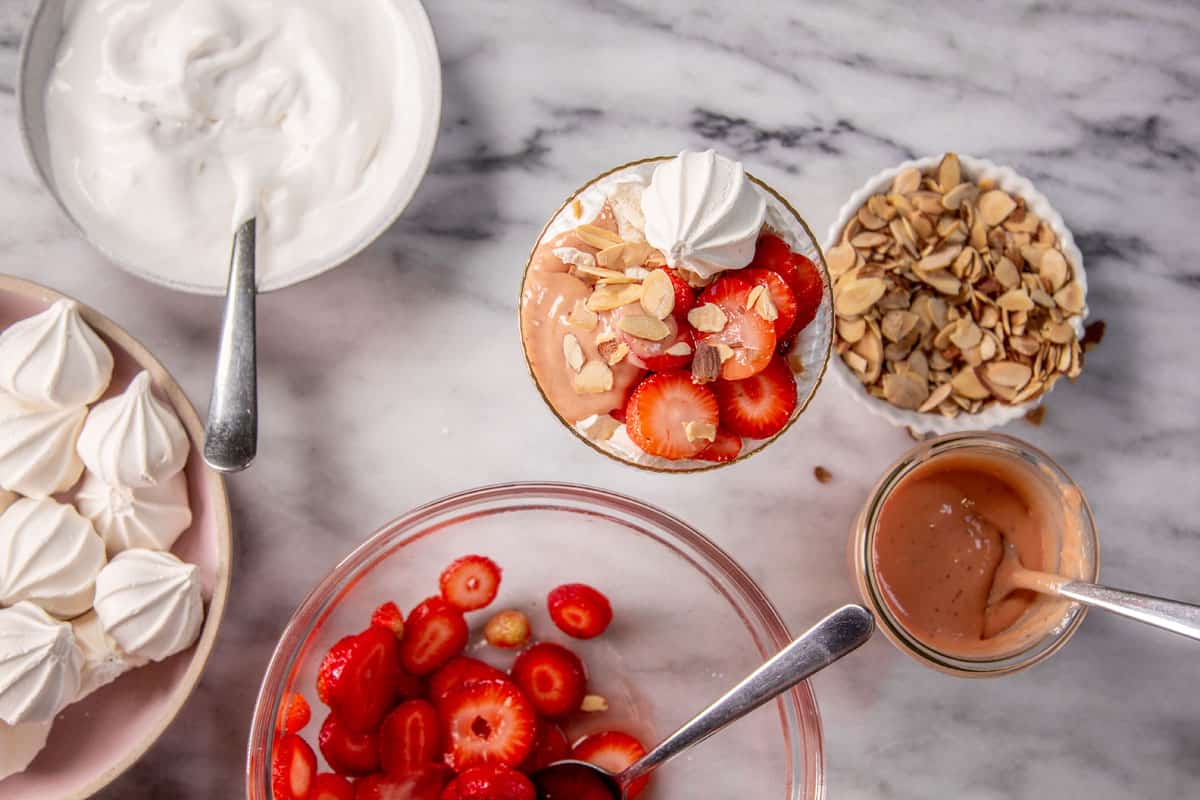 To create the perfect Strawberry Eton Mess, you'll need the following ingredients: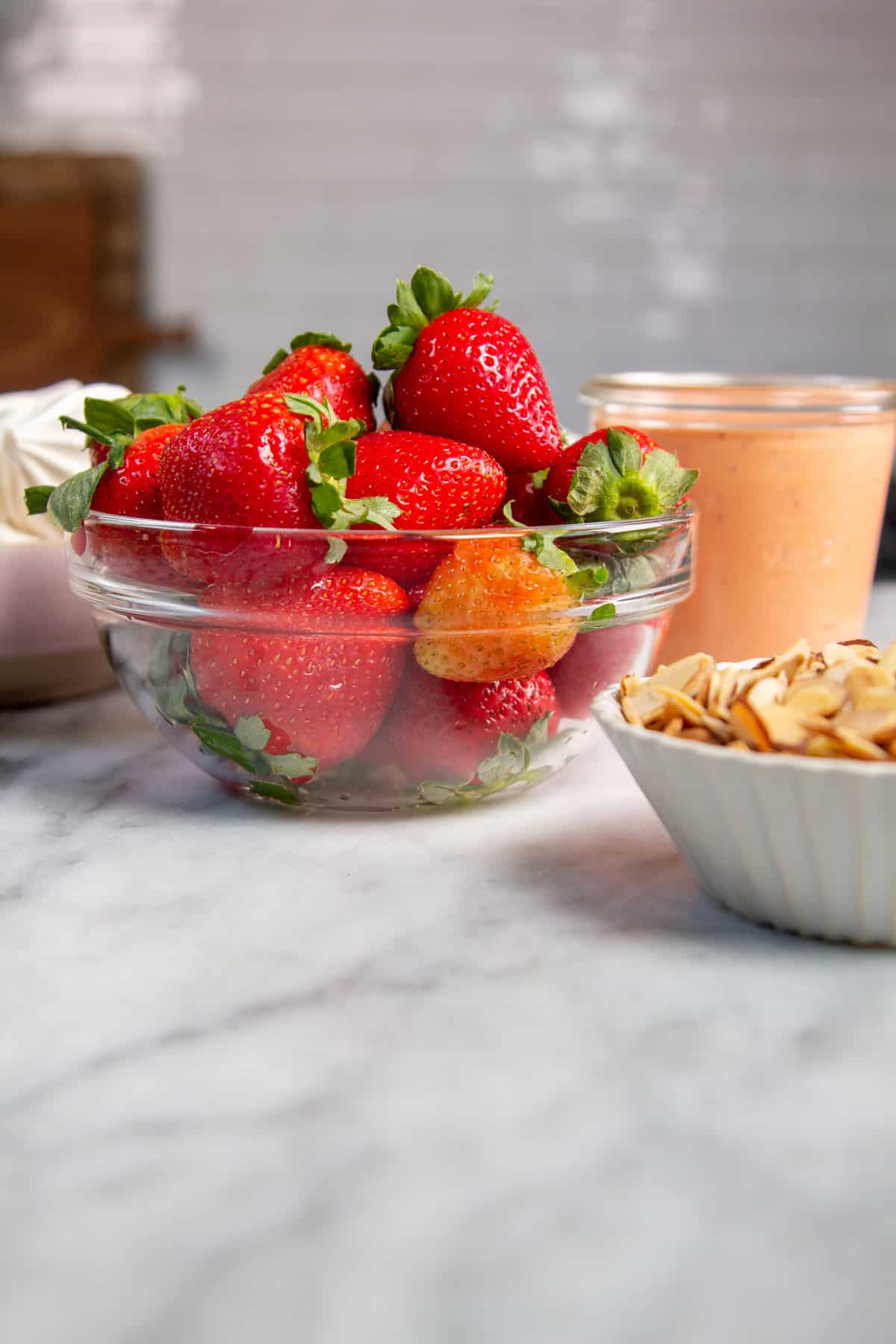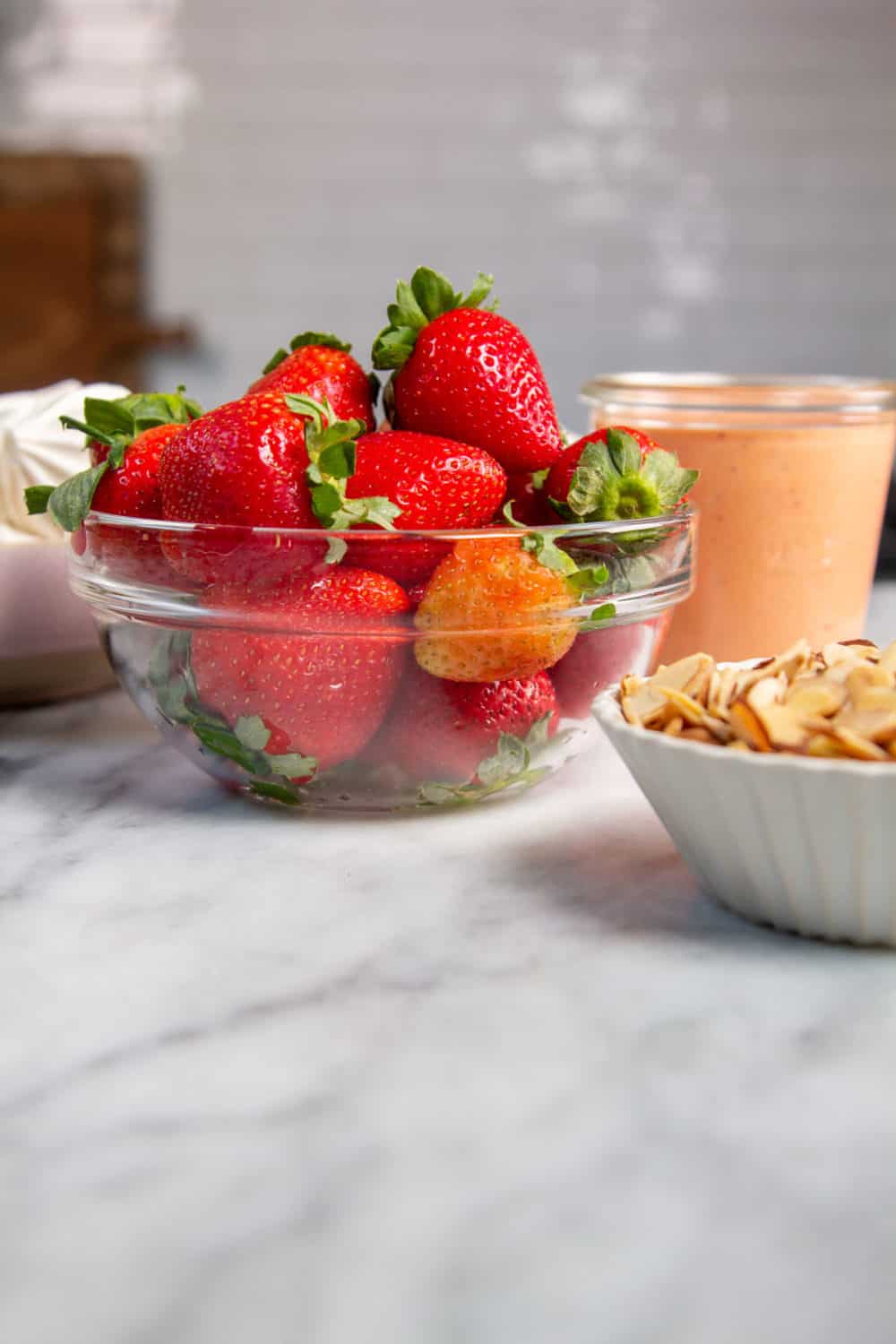 Juicy California strawberries.
California is known for producing some of the best strawberries in the world, thanks to its ideal climate and fertile soil. Most are grown along the central coast, from Ventura County to Santa Cruz County, with peak season running from April to October. When selecting strawberries, look for plump, bright red berries with fresh green leaves.
Heavenly whipped cream.
Did you know that 99% of California dairies are family owned?
When you see the Real California Milk seal, you'll feel good knowing that the product is certified as having been made with 100% Real California Milk from California dairy farm families.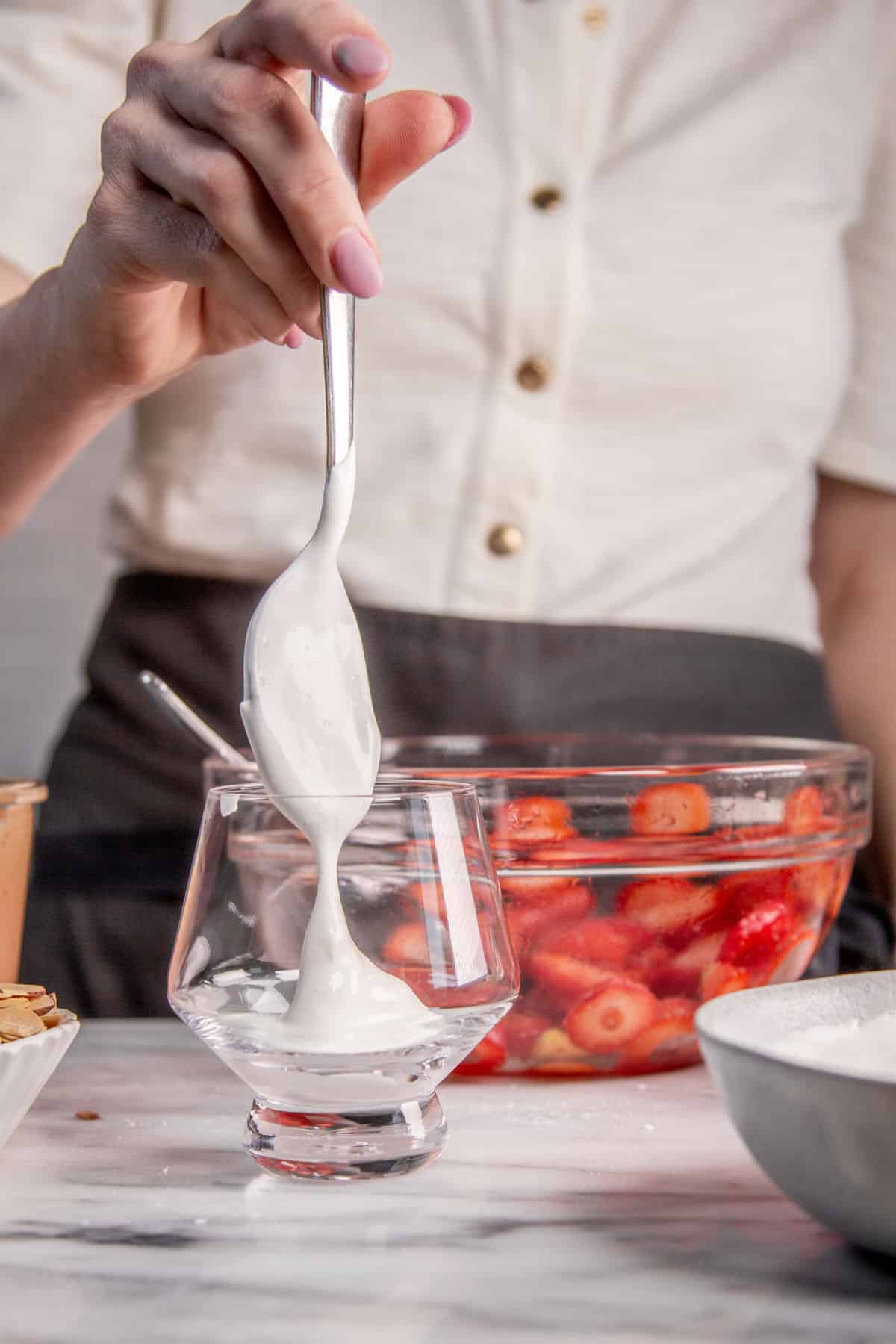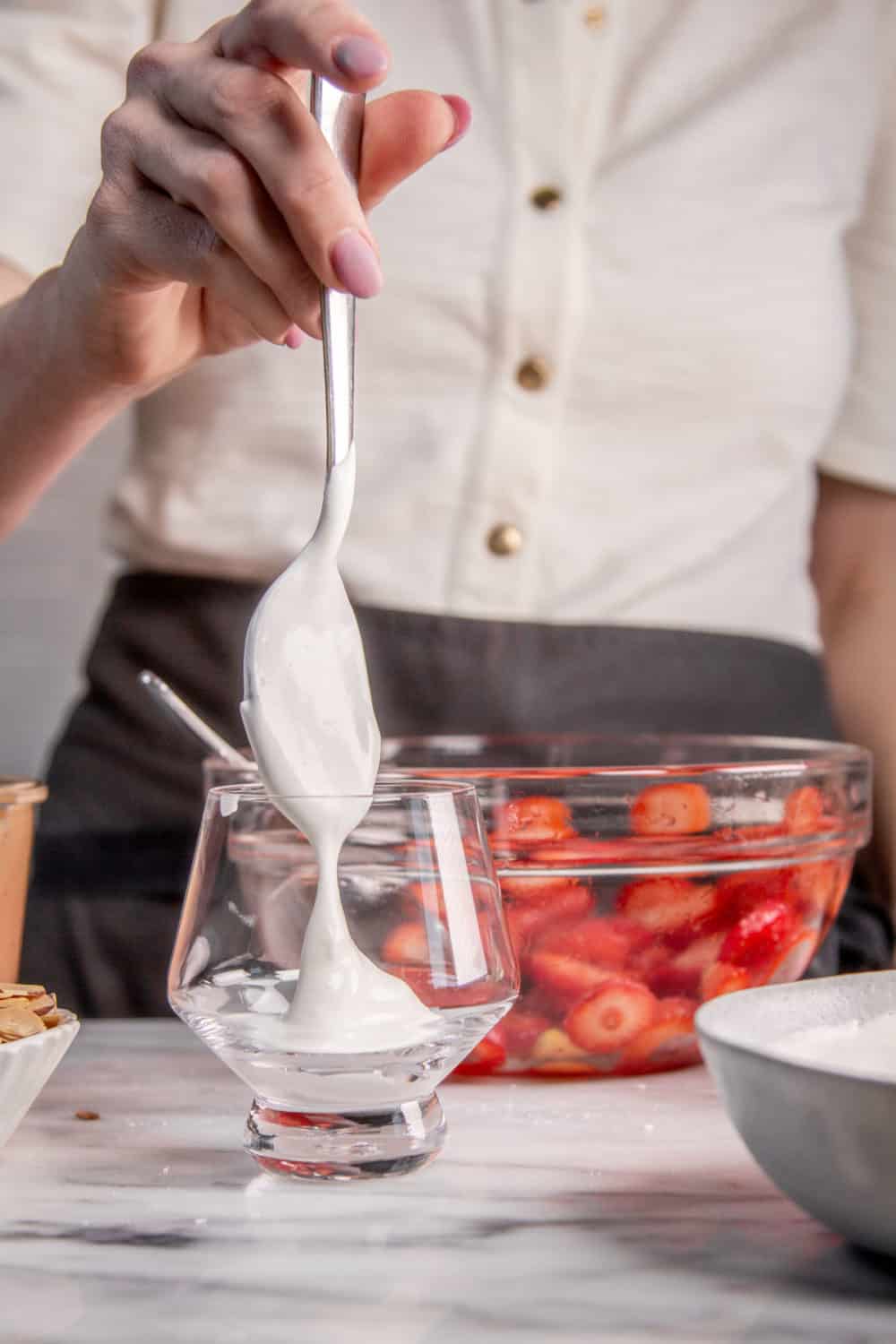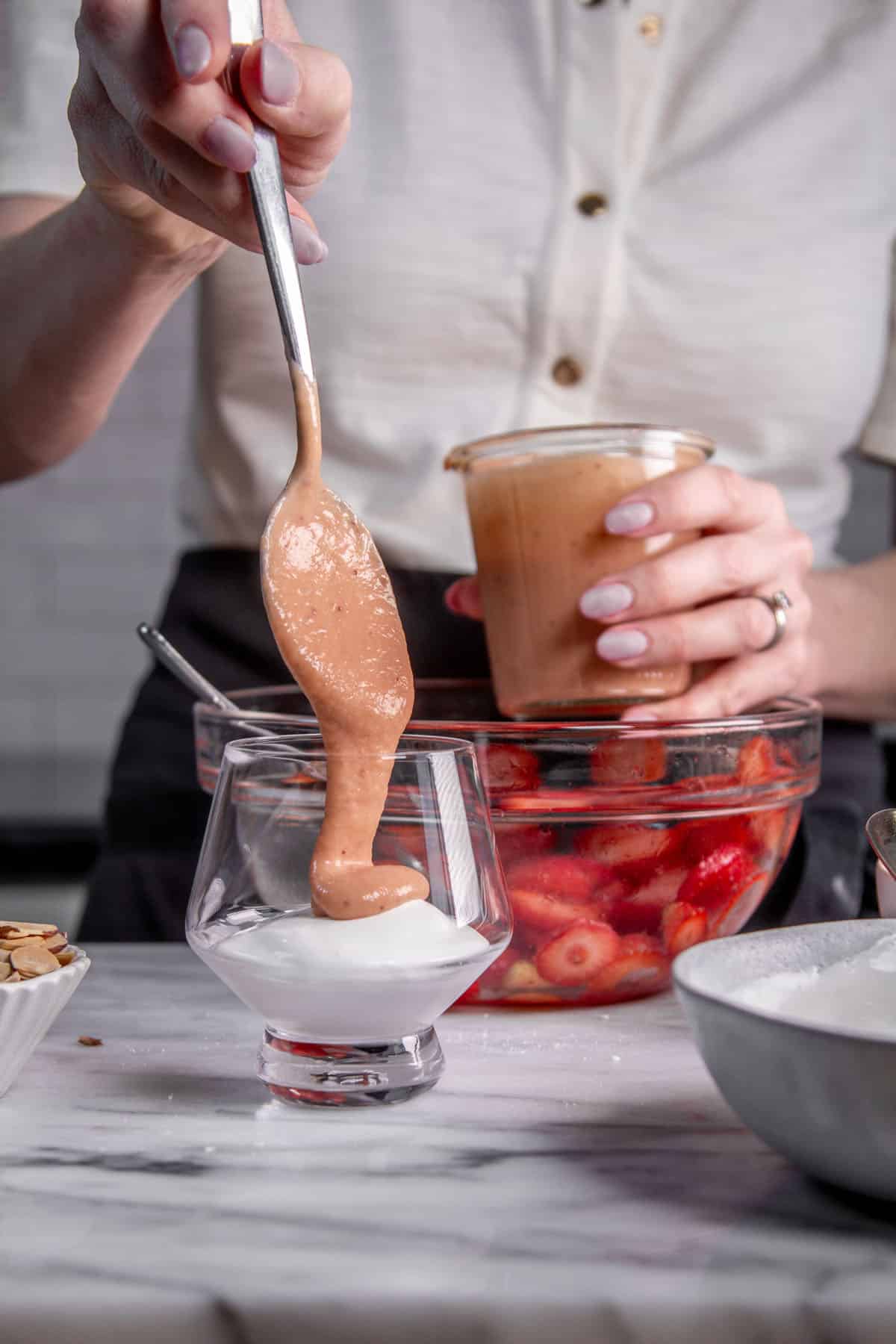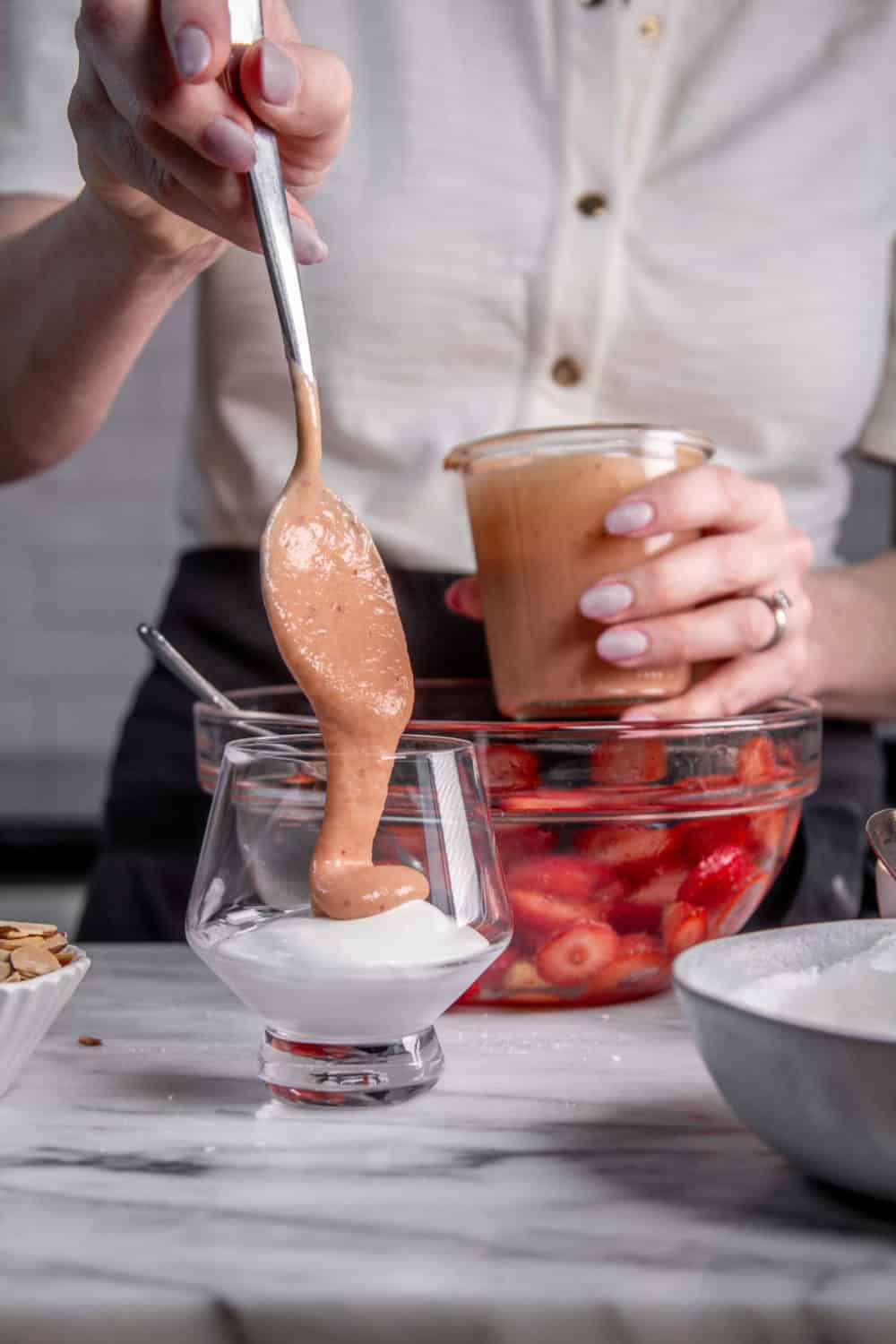 This delicious Strawberry Curd recipe from Bakes by Brown Sugar has an intense strawberry flavor.
It's creamy, delicious, and perfect for adding to Eton Mess, as a filling for your next cake, or just on its own with a bowl of whipped cream and fresh strawberries for dipping.
Alternatively, you could also use lemon curd to create a pop of contrasting color and flavor.
Crisp meringue, the crunch factor.
You can either purchase ready-made meringues or make your own by following our recipe for Mini Pistachio Pavlovas.
You can opt for a classic vanilla meringue or experiment with flavored meringues, like almond or chocolate.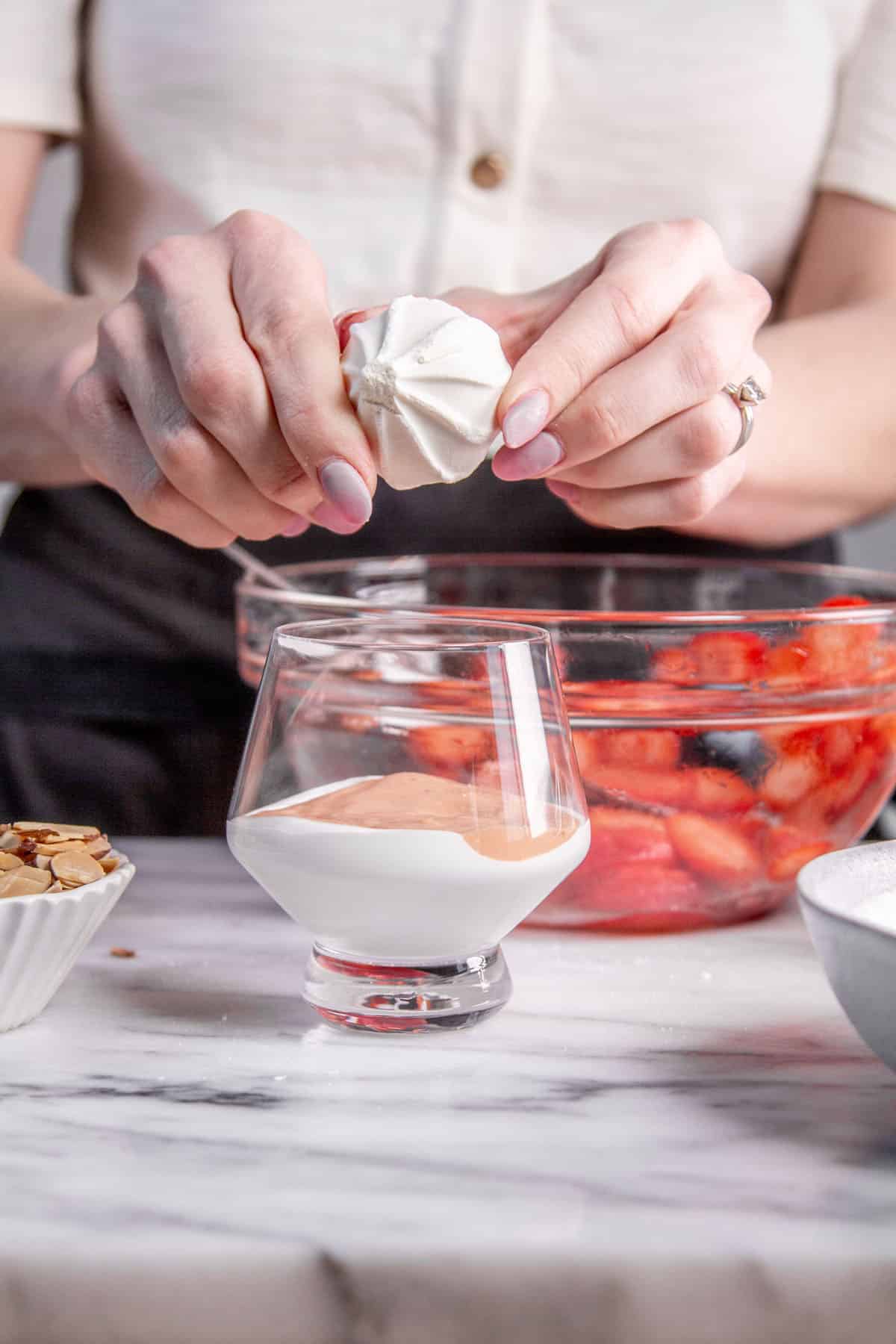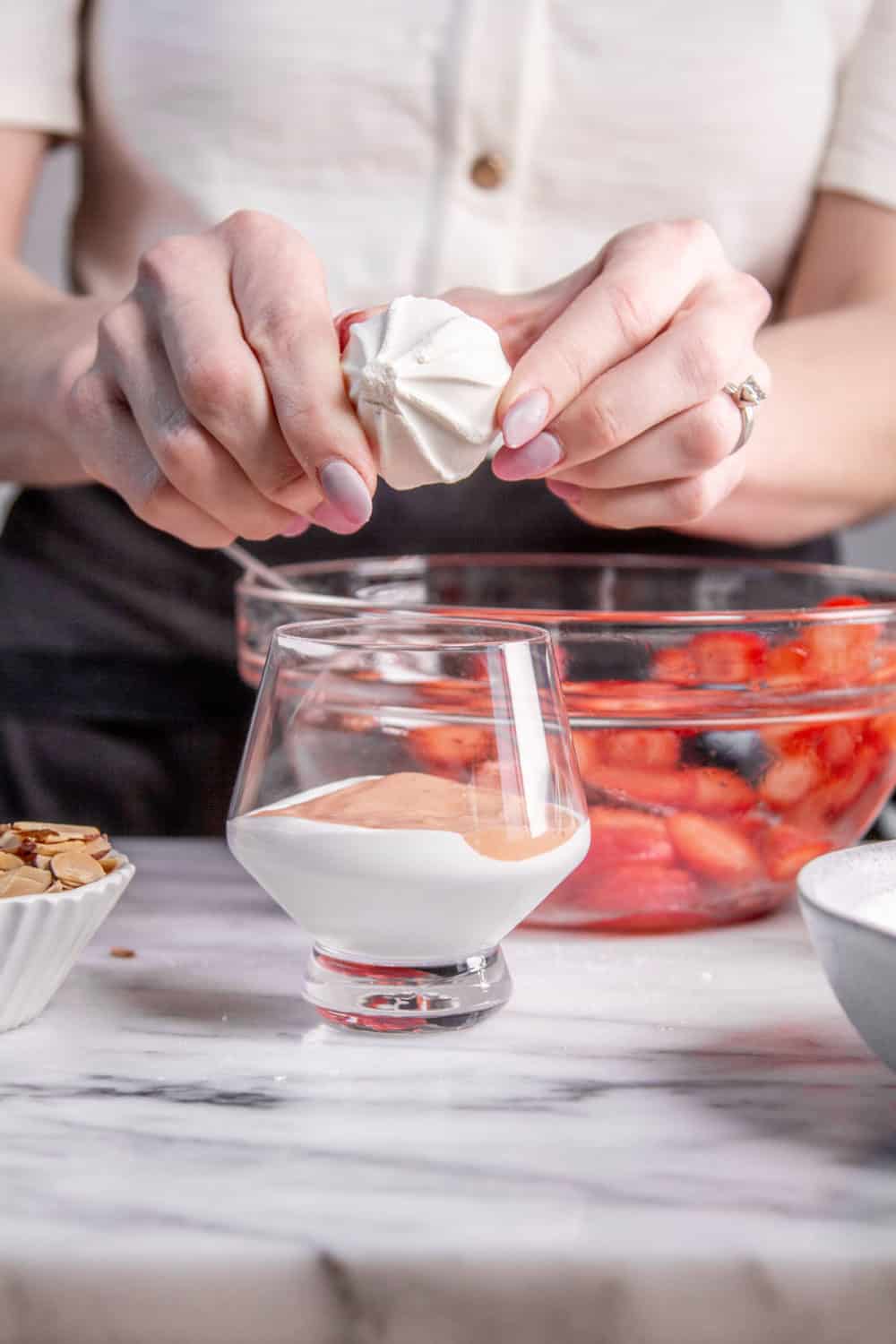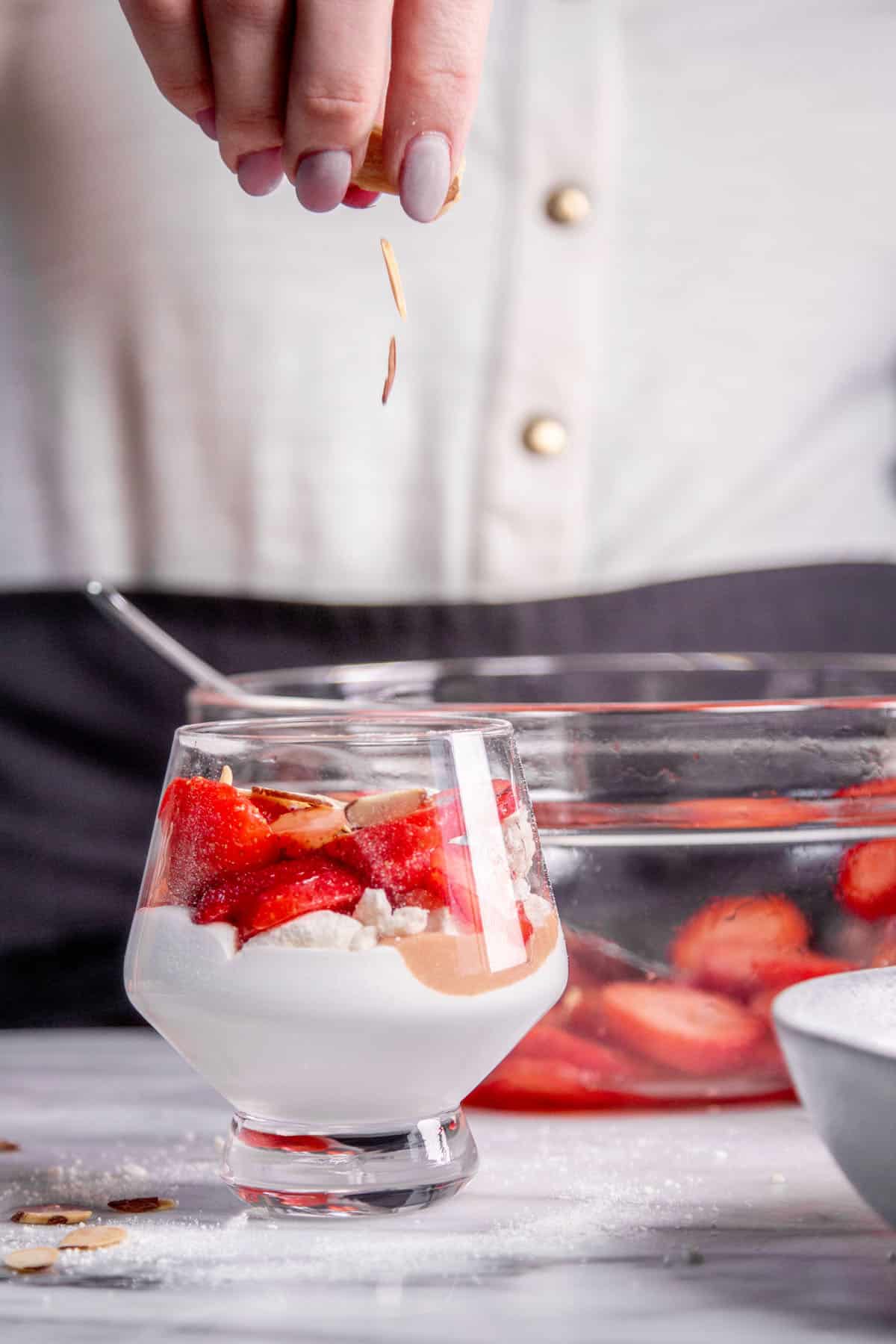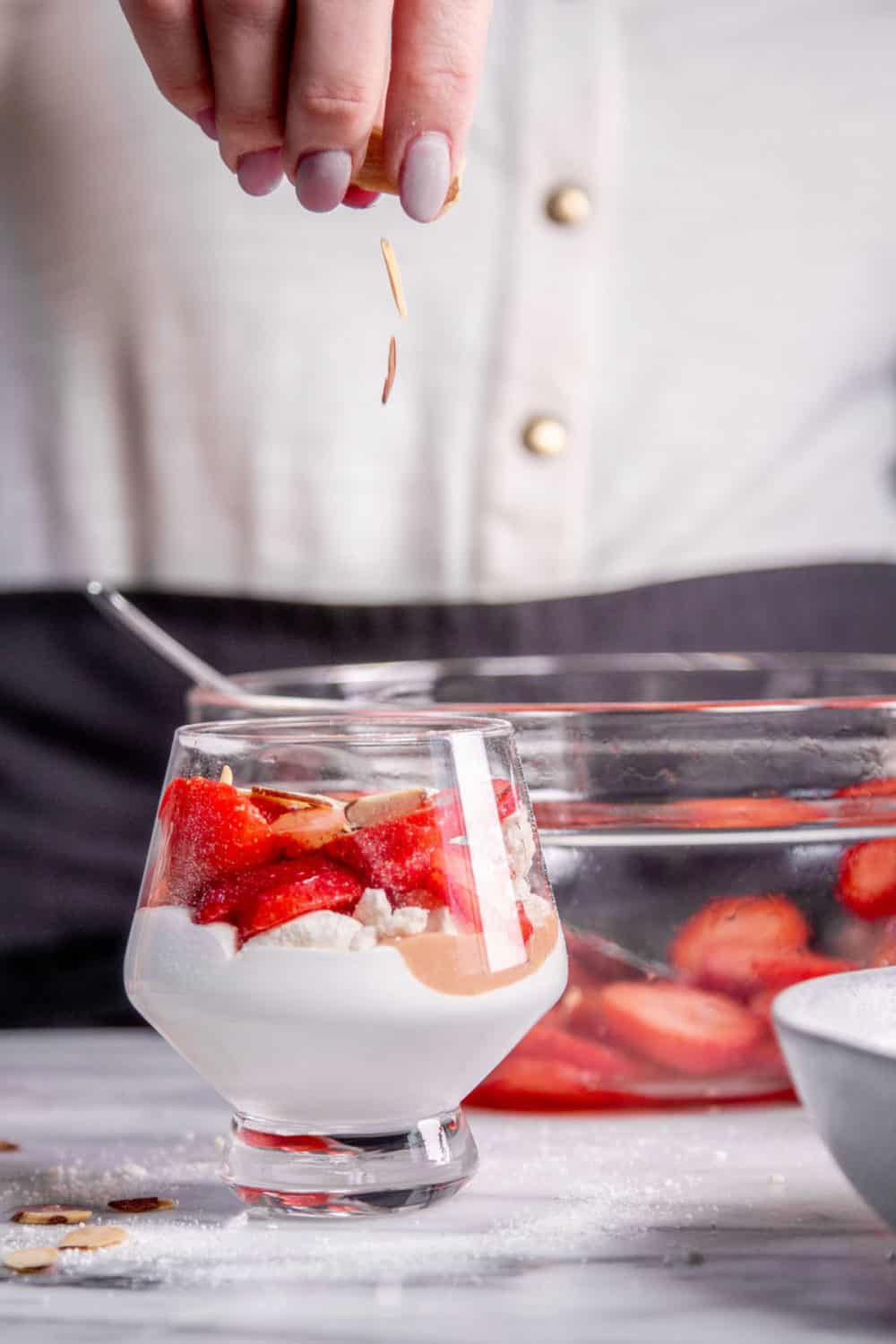 Make it personal.
Personalize your Eton Mess by adding your favorite toppings or mix-ins, such as toasted nuts like California almonds, chocolate chips, or even beautiful edible flowers for a pop of color.
Are you curious about how strawberries are grown and harvested or how they get to market? Keep scrolling!
California grows about 88 percent of the US-grown strawberries on approximately 34,000 acres along the California coast. Fresh strawberry production averages 50,000 pounds per acre each season. In fact, last year, 206,037,844 trays of fresh strawberries were harvested – that's more than 1.8 billion pounds of strawberries!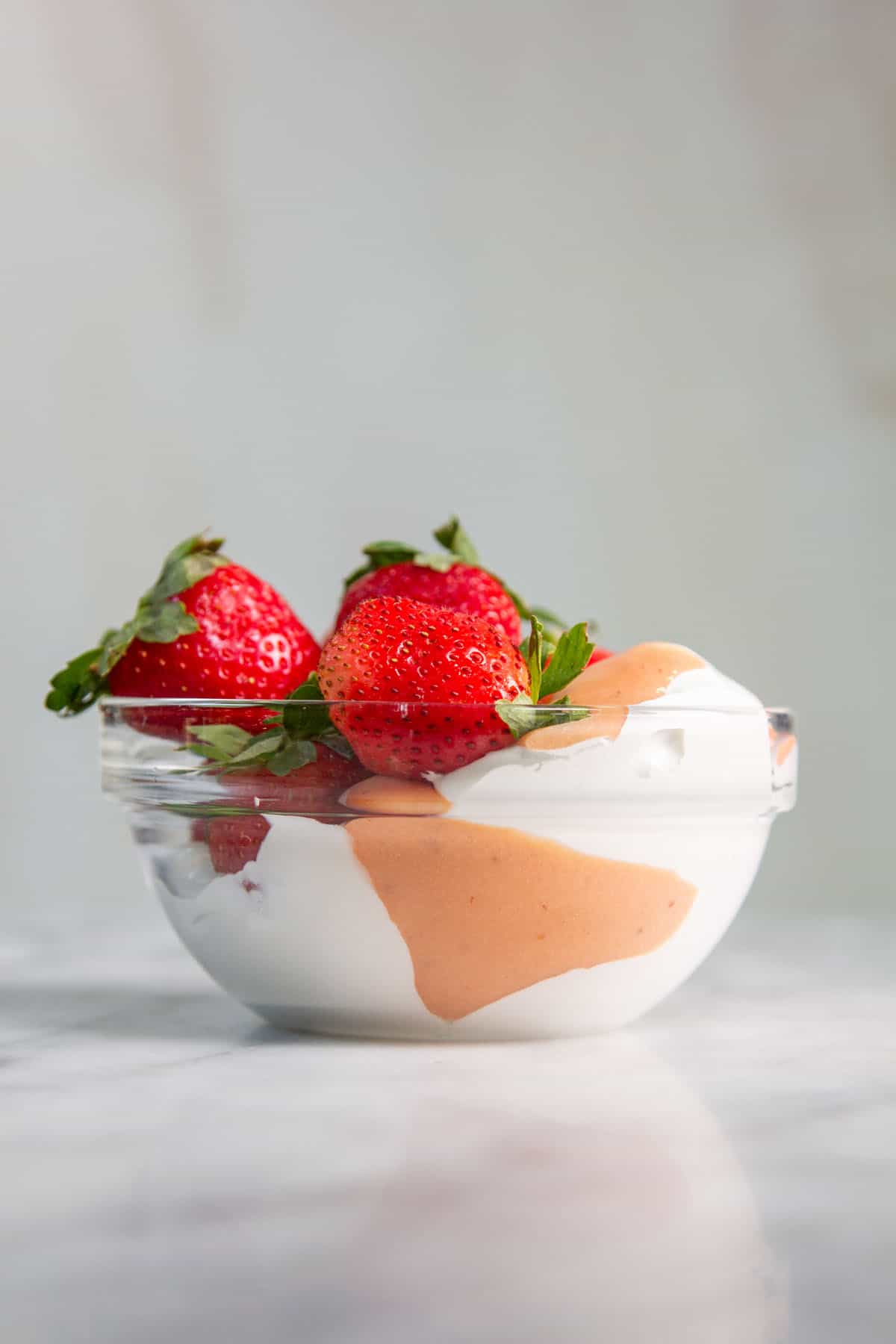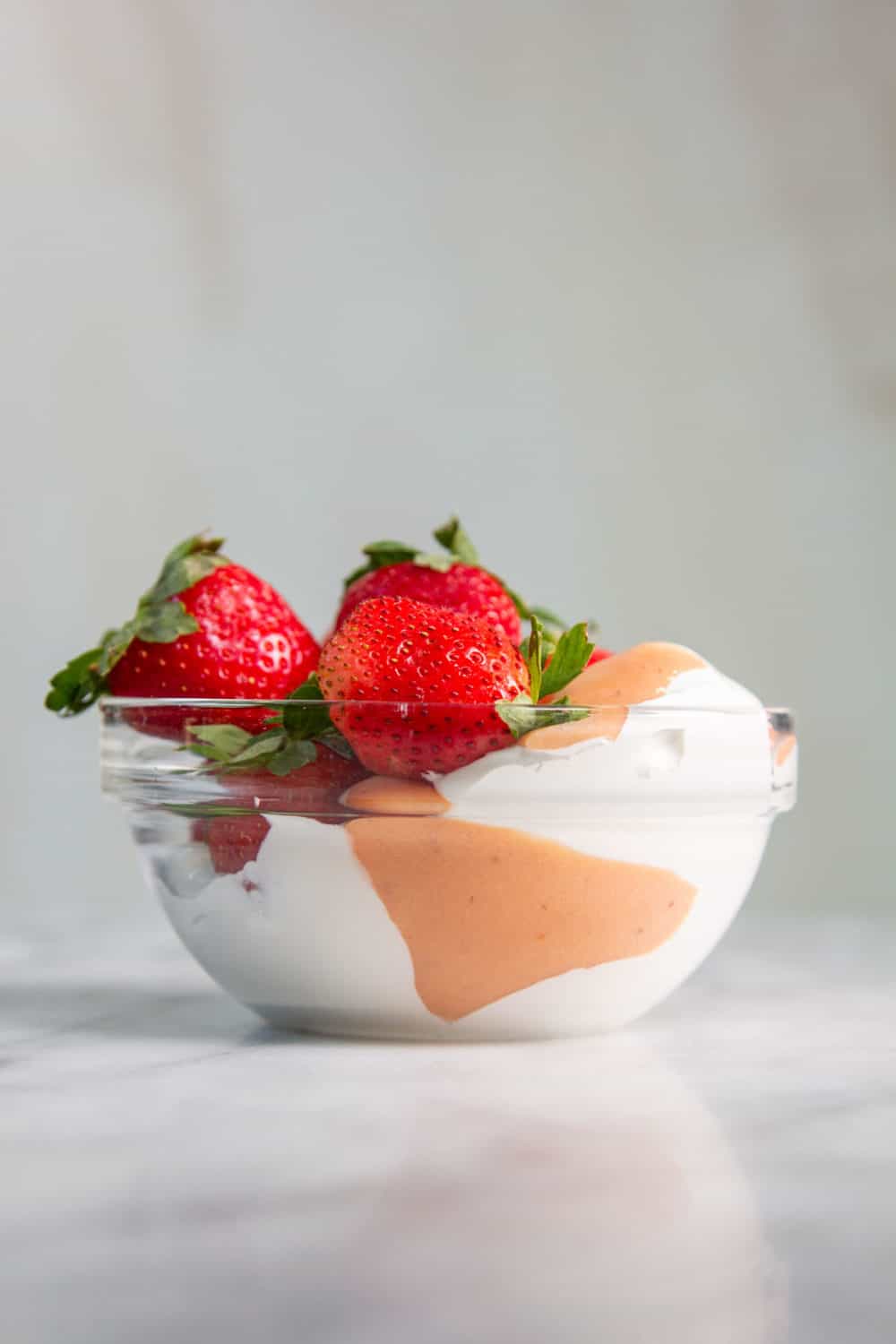 Have you ever wondered how strawberries are grown? Joe Schirmer, of Dirty Girl Produce in Watsonville, California (Santa Cruz County), toured us through his rows of organic strawberries to talk about life and sustainability on the farm. We also learned a few things about how he grows those luscious strawberries!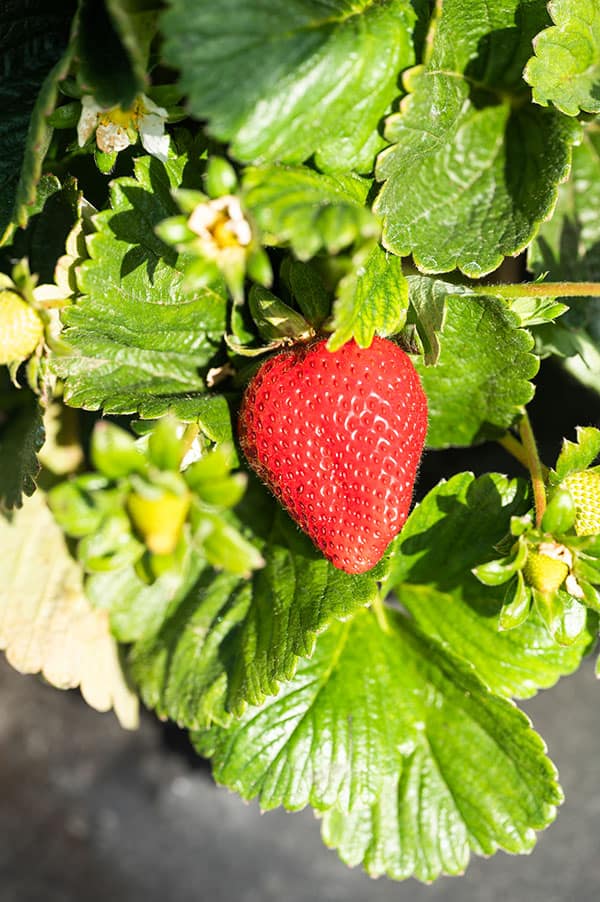 For a few short weeks in the spring, when Dirty Girl Produce has an abundance of green strawberries, you can taste their delicious intense strawberry flavor in a scoop (or a cone) at Penny Ice Creamery.
Just look for Green Strawberry Sorbet in the ice cream case! Do your taste buds a flavor when you are there, and be sure to get your sorbet fluffed and torched with their homemade marshmallow fluff. It is the ultimate ice cream experience!
California strawberries are available year-round. In winter, strawberries ship from Southern California; production moves north with the warming spring temperatures.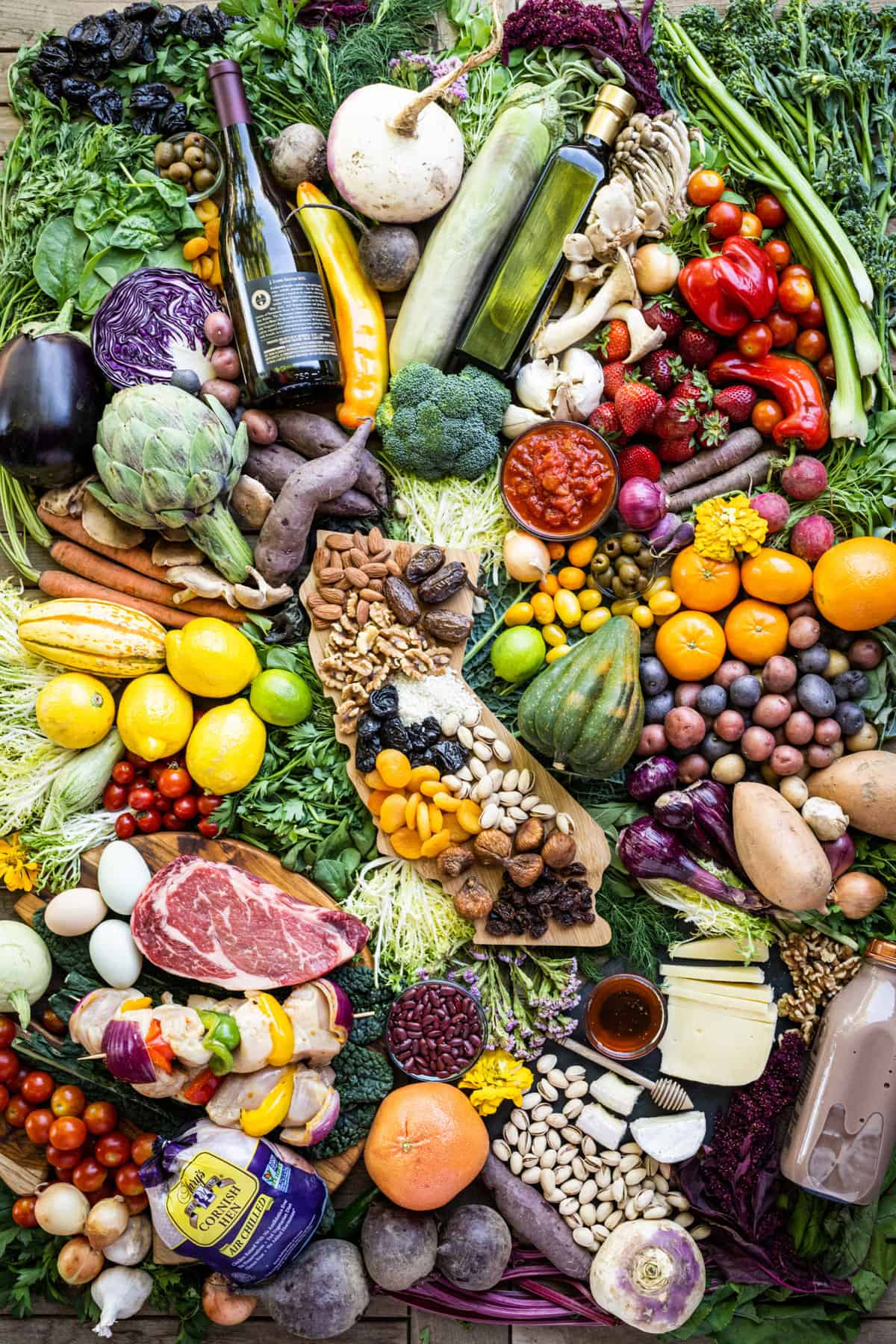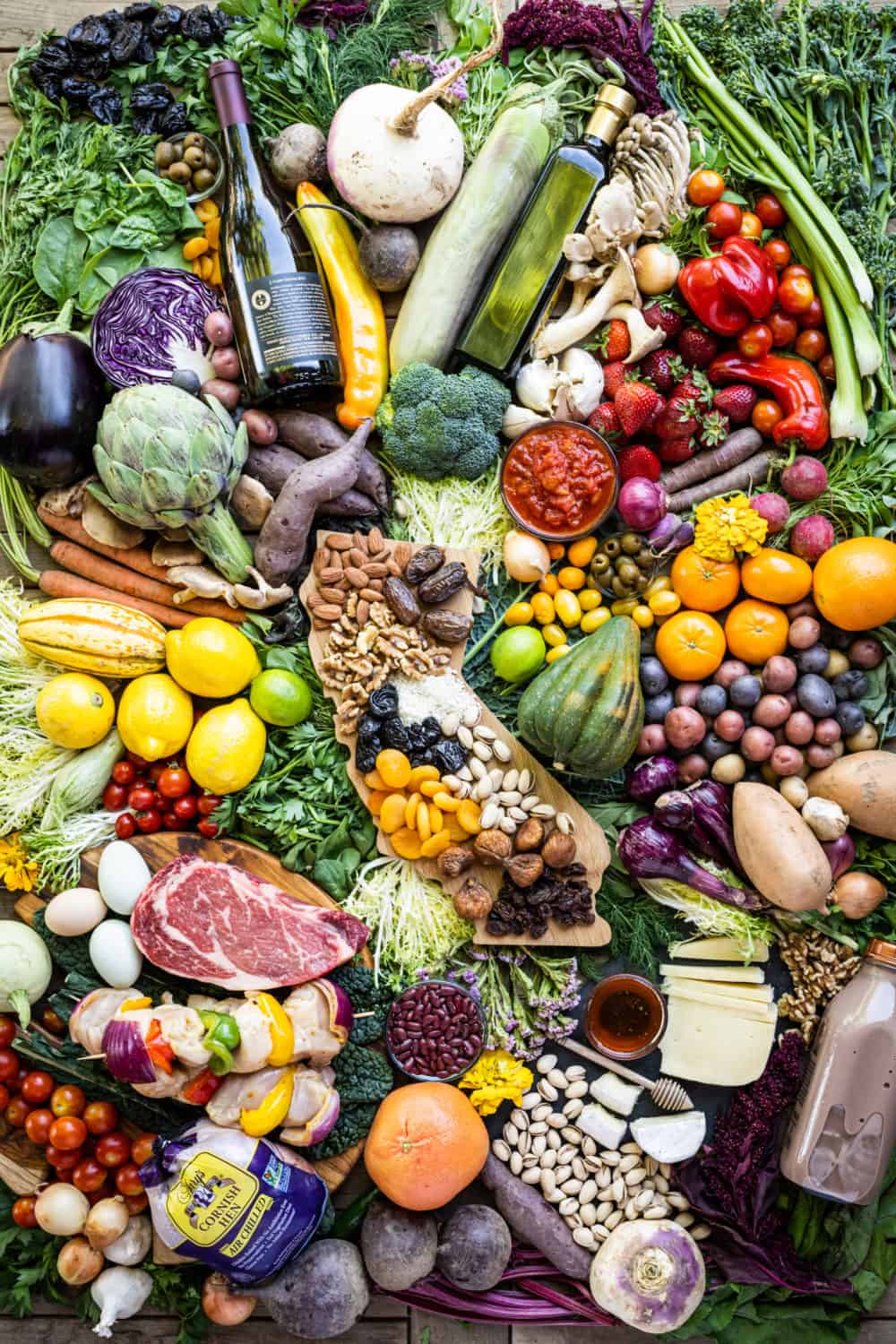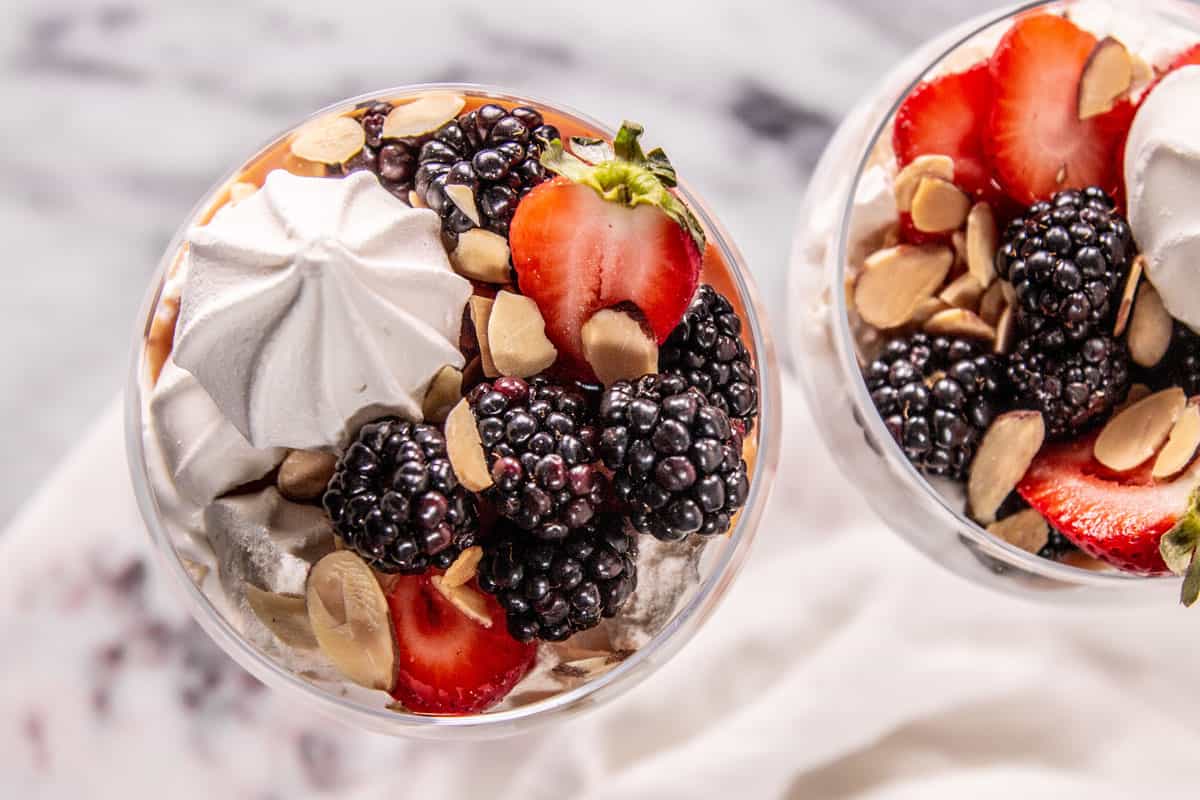 Get creative with your Eton Mess creations!
Probably our favorite part about an Eton Mess, besides how delicious they are, is how completely customizable they are.
Looking for a red, white, and blue dessert? Add blueberries or blackberries to the mix.
Don't have time to make a batch of homemade Strawberry Curd? No problem, buy store-bought lemon curd.
Not a fan of almonds? Try chopped toasted pistachios, walnuts, or pecans.
Trust us, no matter how you serve this spectacular dessert, you can't go wrong.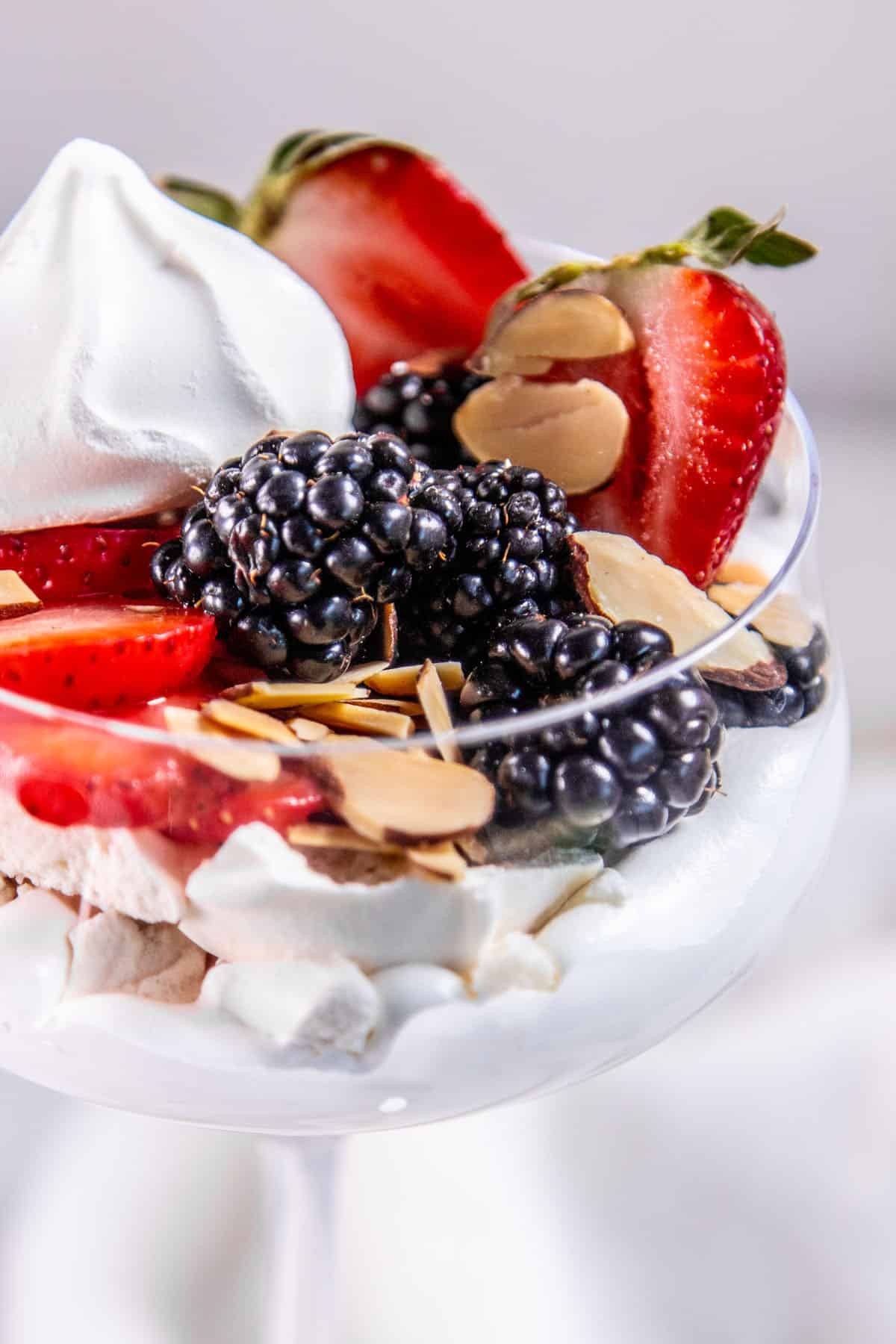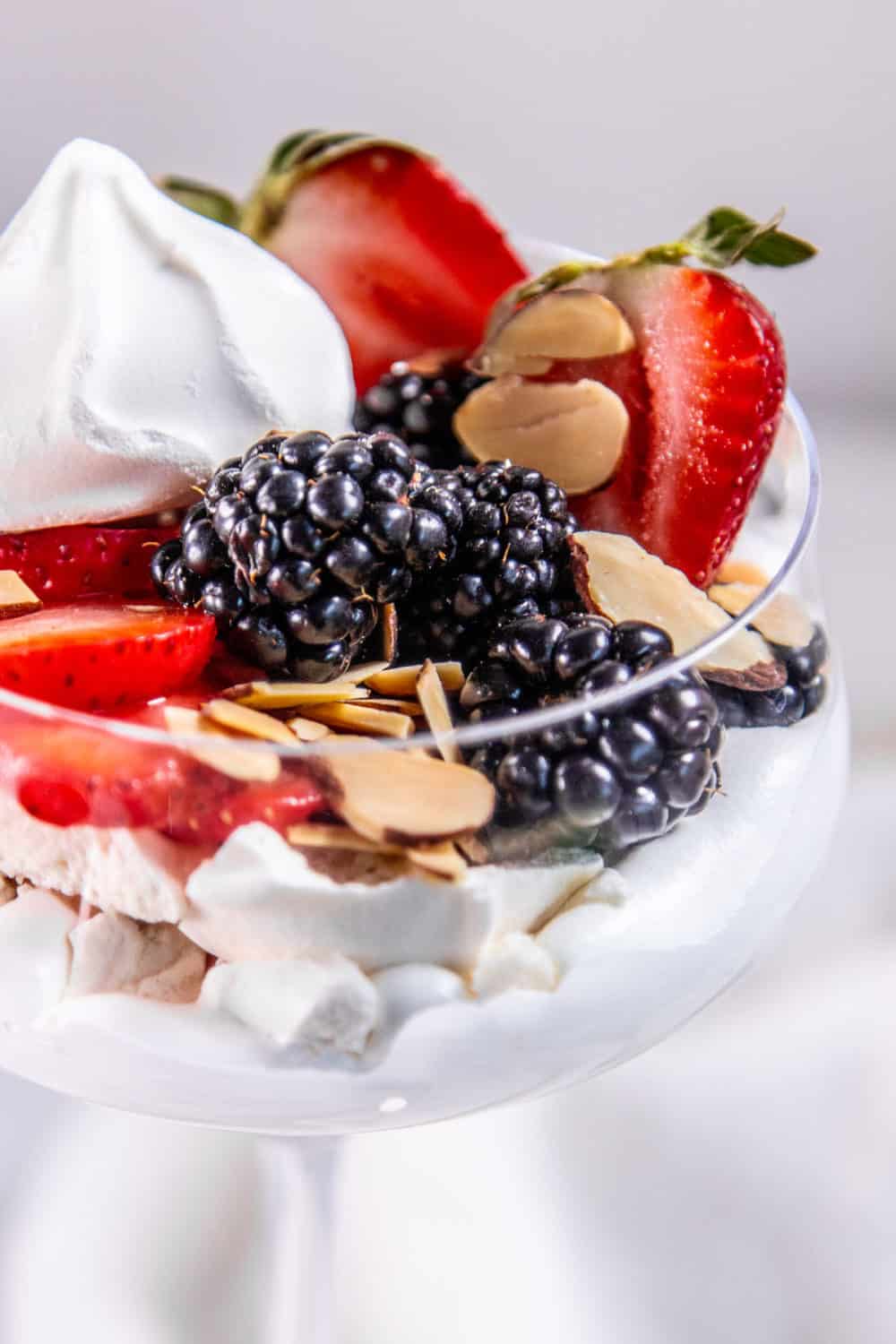 BE SURE TO SHARE YOUR ETON MESS-INSPIRED CREATIONS WITH US BY SNAPPING A PIC AND TAGGING US ON SOCIAL USING #CAGROWN.
Craving more CA Grown goodness? Follow us on Pinterest for fresh and fabulous recipe inspiration!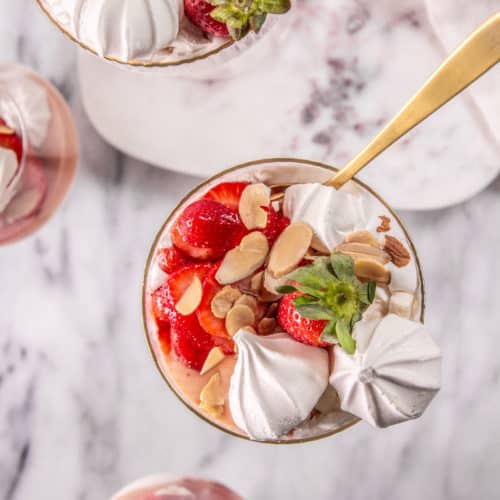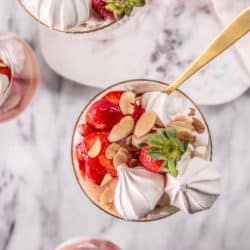 California Grown Strawberry Eton Mess
Eton Mess is a classic dessert where meringue, whipped cream, strawberry curd, & strawberries come together in perfect harmony.
Ingredients
1 lb strawberries tops removed, sliced
1 tablespoon sugar
1 cup whipped cream
1 cup prepared strawberry curd
8 small meringue cookies or homemade pavlova
1/4 cup toasted sliced almonds
Optional garnishes
whole meringue cookies, macerated berries, lemon zest, toasted nuts, whole strawberries with tops.
Instructions
First, toss the sliced strawberries with the granulated sugar. Stir to combine and set aside.

To build the Strawberry Eton Mess divide the whipped cream and strawberry curd between 4 serving dishes of your choice.

Layer in a generous amount of the macerated berries.

Break up 1 or 2 of the meringues or pavlovas, depending on what you are using and sprinkle them on top of the berries in each dish.

Layer in another spoonfull of macerated berries then sprinkle with toasted sliced almonds.

Garnish with elements of your choice: Whole meringue cookies, whole strawberries with tops, more strawberry curd, or whipped cream.
Video
Notes
You can substitute the strawberries in this recipe for raspberries, blueberries, or blackberries, or a mixture of all three.
You can sub in store-bought prepared lemon curd for the homemade strawberry curd called for in this recipe.
To make whipped cream at home:
1 cup heavy whipping cream
2 Tablespoons confectioners' sugar
1/2 teaspoon pure vanilla extract
Using a hand mixer or a stand mixer fitted with a whisk attachment, whip the heavy cream, sugar, and vanilla extract on medium-high speed until medium peaks form, about 3–4 minutes.
If you accidentally over-whip the cream, and it looks curdled and heavy, pour in a little bit more cold heavy cream, and fold it in gently by hand with a spatula until it smooths out.
Use immediately or cover tightly and chill in the refrigerator for up to 24 hours.
Nutrition
Calories: 309kcalCarbohydrates: 49gProtein: 4gFat: 12gSaturated Fat: 6gPolyunsaturated Fat: 1gMonounsaturated Fat: 3gTrans Fat: 0.1gCholesterol: 11mgSodium: 172mgPotassium: 238mgFiber: 3gSugar: 44gVitamin A: 116IUVitamin C: 67mgCalcium: 49mgIron: 1mg