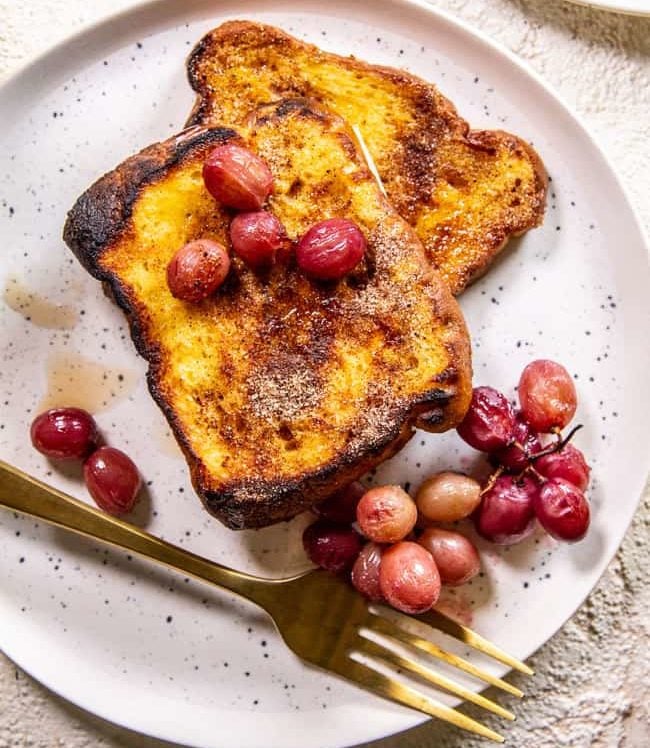 CA GROWN Blog
Discover. Learn. Connect.
Easy Breakfast Recipes & A Modern Twist on French Toast with Roasted Grapes
December 14, 2021
Eat the Season!
Sign Up For Weekly Recipes
« Back to Recipes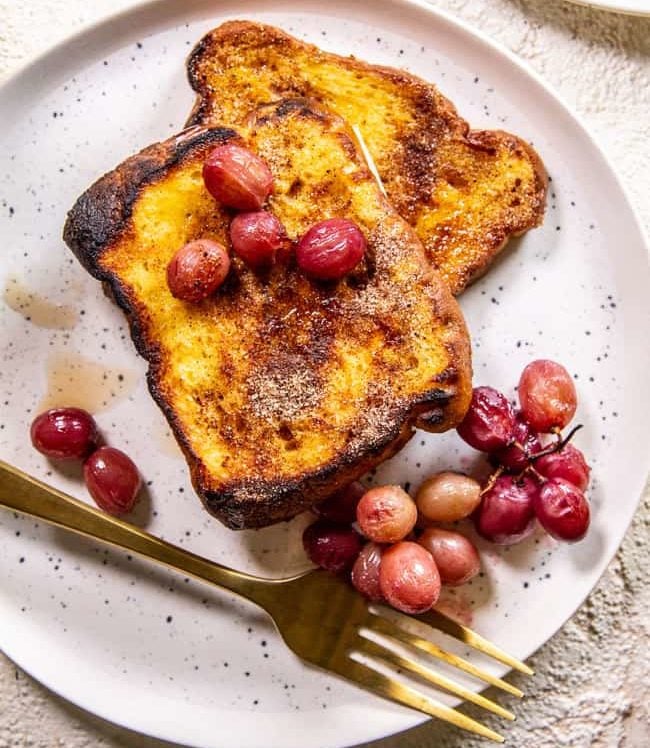 Easy Breakfast Recipes & A Modern Twist on French Toast with Roasted Grapes
We know how important it is to have a few easy breakfast recipes to keep in your back pocket. Whether you are running late or you just don't want to cook breakfast but have to, our simple Sheet Pan French Toast with Roasted Grapes takes under 20 minutes. Plus, it tastes like decadent toast and jam.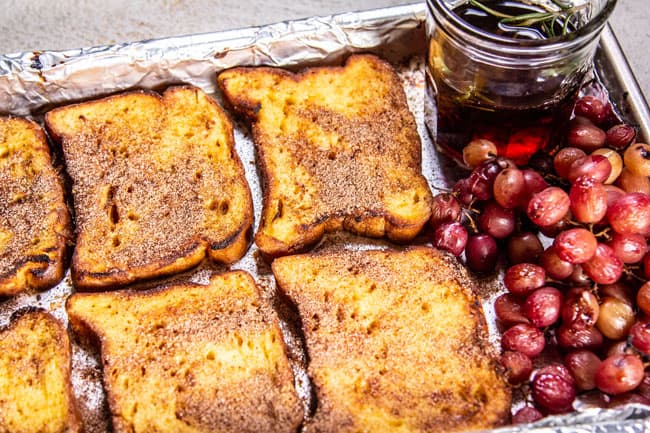 Ingredients needed to make Sheet Pan French Toast with Roasted Grapes.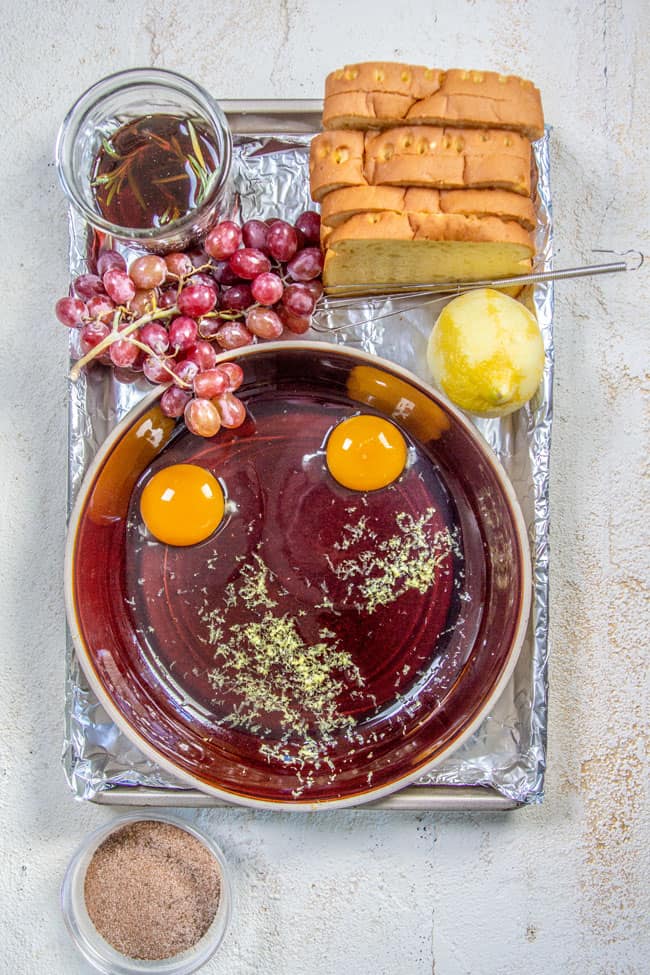 This recipe cooks fast, so gather ingredients first.
lemon zest
brioche bread slices
eggs
vanilla
milk & butter
sugar
chai tea bag
rosemary
honey or maple syrup
The ingredient list is so basic, you probably have everything you need on hand already. However, this recipe can serve as a road map if you happen to have different types of bread, spices, milk, or fruit on hand.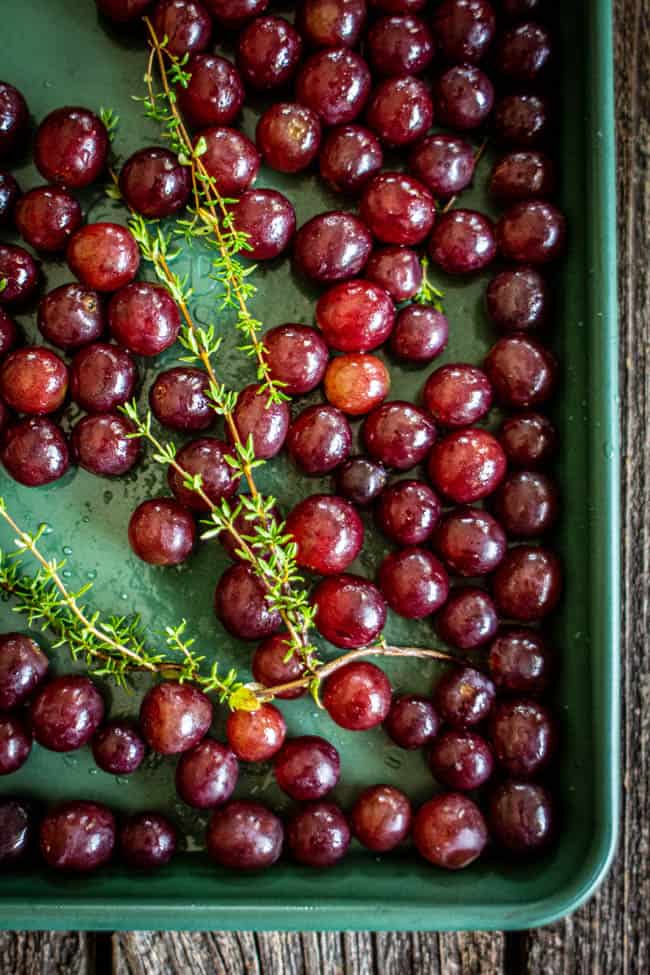 What does this easy breakfast recipe for Sheet Pan French Toast taste like?
No kidding, this French toast is my kid's favorite version of French toast ever! They aren't fans of a custardy baked French toast in which the bread has a sort of an intended sogginess.
My kids (and I) like the crunch factor that this Sheet Pan French Toast recipe brings to the breakfast table. Think more along the lines of crispy French toast sticks for flavor when you are envisioning this recipe. Lots of texture and crunch to hold up to those juicy roasted grapes.
Plus, if you have any leftover slices you can store them in the fridge and reheat them in the toaster the next day. Seriously, what's easier than that?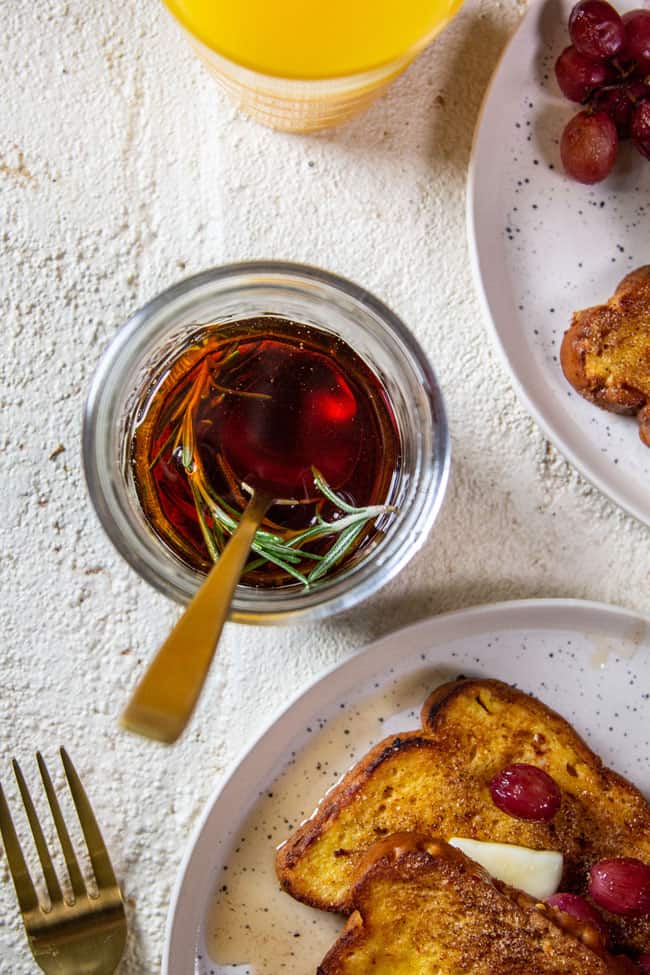 If you love this roasted table grape-inspired recipe, you will really be excited about these two recipes that inspired it!
Roasting grapes in the oven is one of our favorite ways to bring a whole new vibe to a classic crisper drawer staple! Sure fresh grapes are great, we LOVE a big scoop of frozen Grape Nice Cream too, but warm, jammy roasted grapes are really where it's at for us.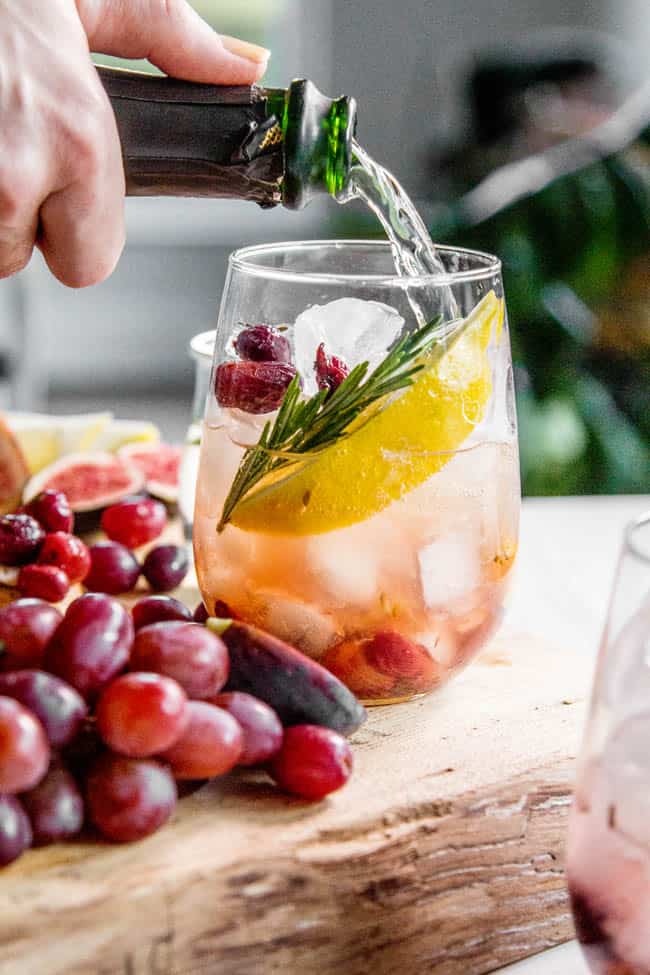 In this wine cocktail recipe, we paired the flavors of jammy roasted grapes, woodsy rosemary, and bright fresh lemon with the effervescent bubbles of sparkling wine.
It's quite honestly pure magic for the tastebuds.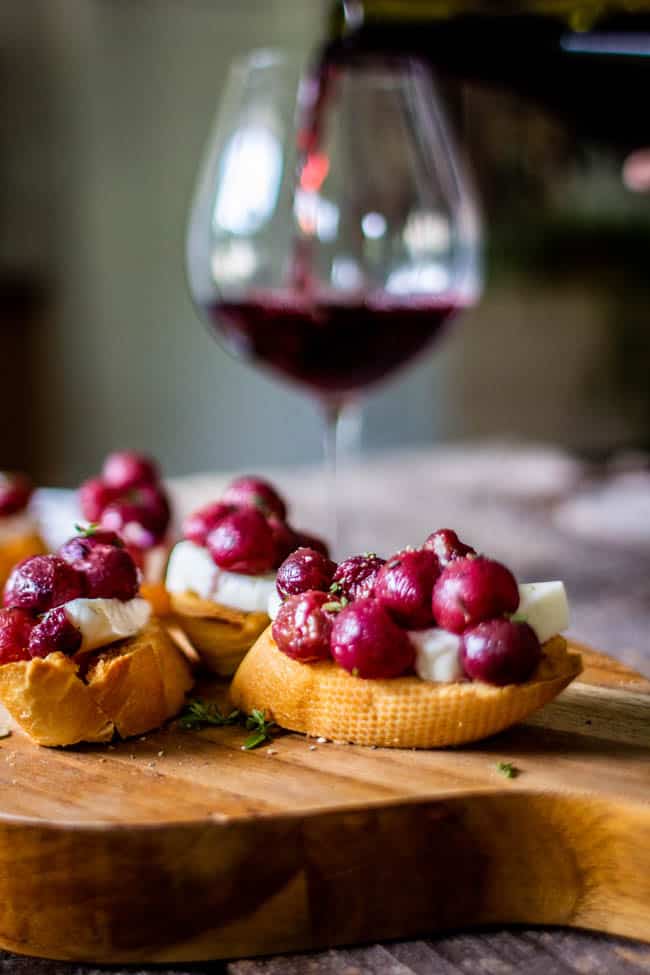 We know what you're thinking, "Isn't pairing wine with grapes overkill?"
Most definitely not! Roasted grapes take on an intensely sweet flavor and a gorgeous jammy consistency that compliments your favorite California Pinot Noir perfectly.
Check out this recipe on the Discover California Wines Instagram page!
So now you may be thinking that you better buy two big packs of California table grapes next time you are at the store huh?!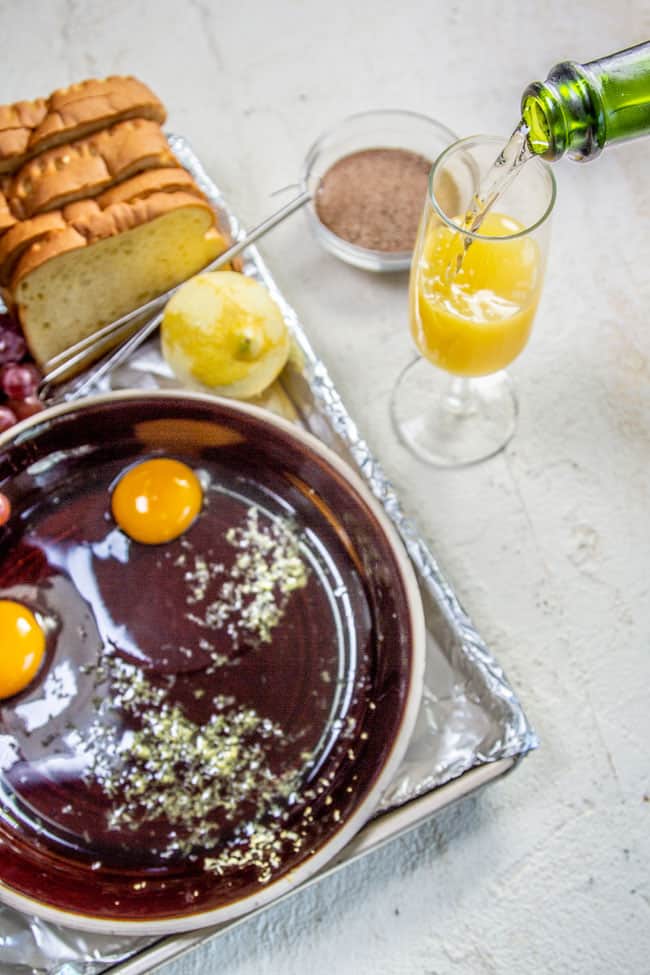 Ok, back to easy breakfast recipes! My last recipe note is more of a suggestion than anything else.
While I sometimes like to go all out with a traditional French Toast Bake and all the fixings for weekend breakfast, I sometimes pour myself a mimosa, whip up this simple sheet pan-inspired version of French toast with roasted grapes and call it a day.
A nice, relaxing weekend day that is.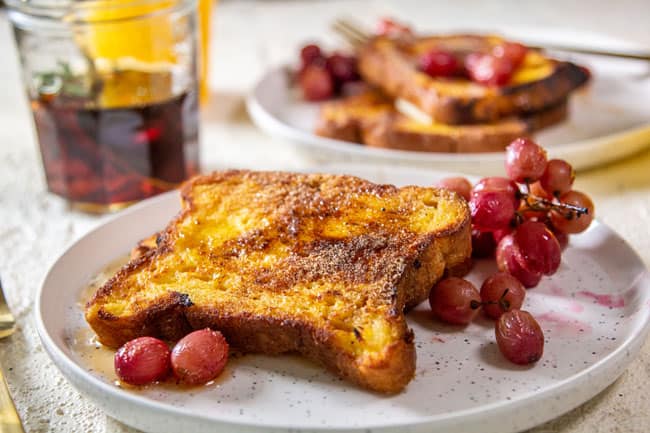 More easy breakfast recipes and delicious ideas for busy weekday mornings.
We all could use a little help in the easy breakfast recipes category of life. From hectic weekday mornings when you are running late to those days you just darn near forget to make yourself breakfast because you spent too much time scrolling TikTok, we've got an easy breakfast recipe for every type of morning!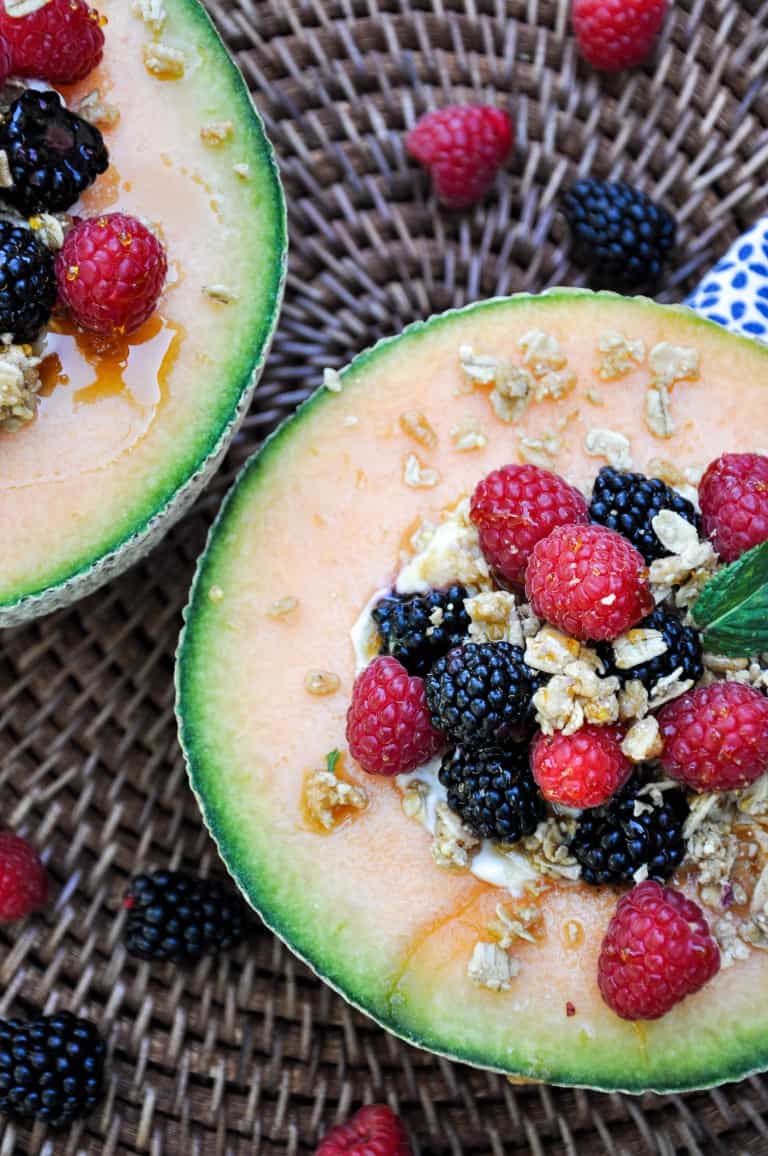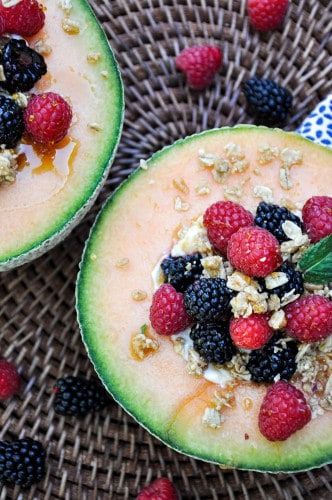 Think you can't make a healthy, easy breakfast recipe in less than 5 minutes? Think again!
Our cantaloupe breakfast bowls are protein-packed thanks to Greek yogurt, and full of fruity flavors like cantaloupe and fresh berries. Plus, these edible breakfast bowls have a sprinkling of granola to keep you satisfied and keep hunger at bay until lunch.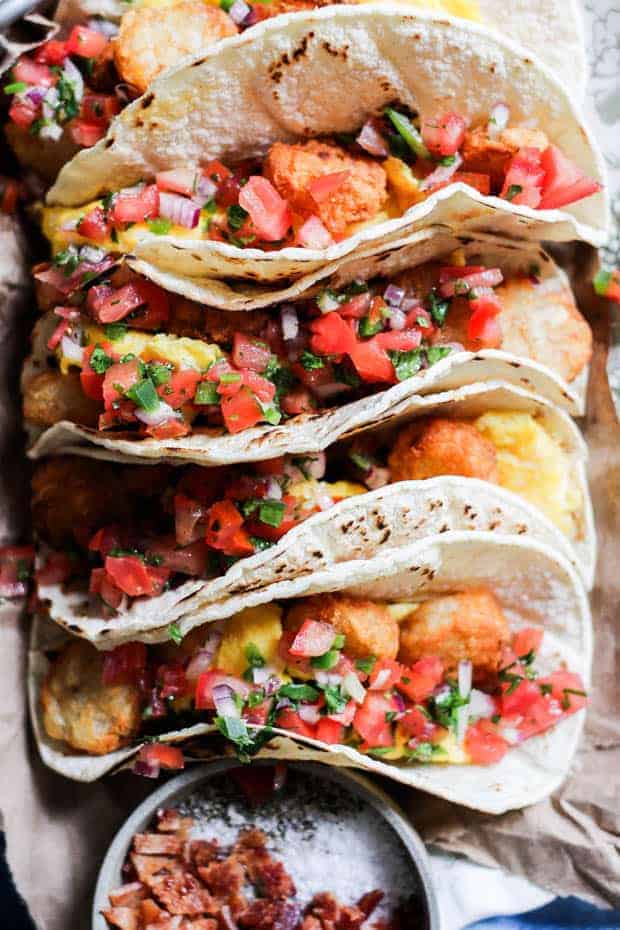 If you keep pico de gallo on hand like This Mess is Ours does, you are never more than a few minutes away from an incredible, easy breakfast.
Corn tortillas, scrambled eggs, crispy tater tots, and pico de Gallo are all you need to make this epic breakfast with minimal hands-on time.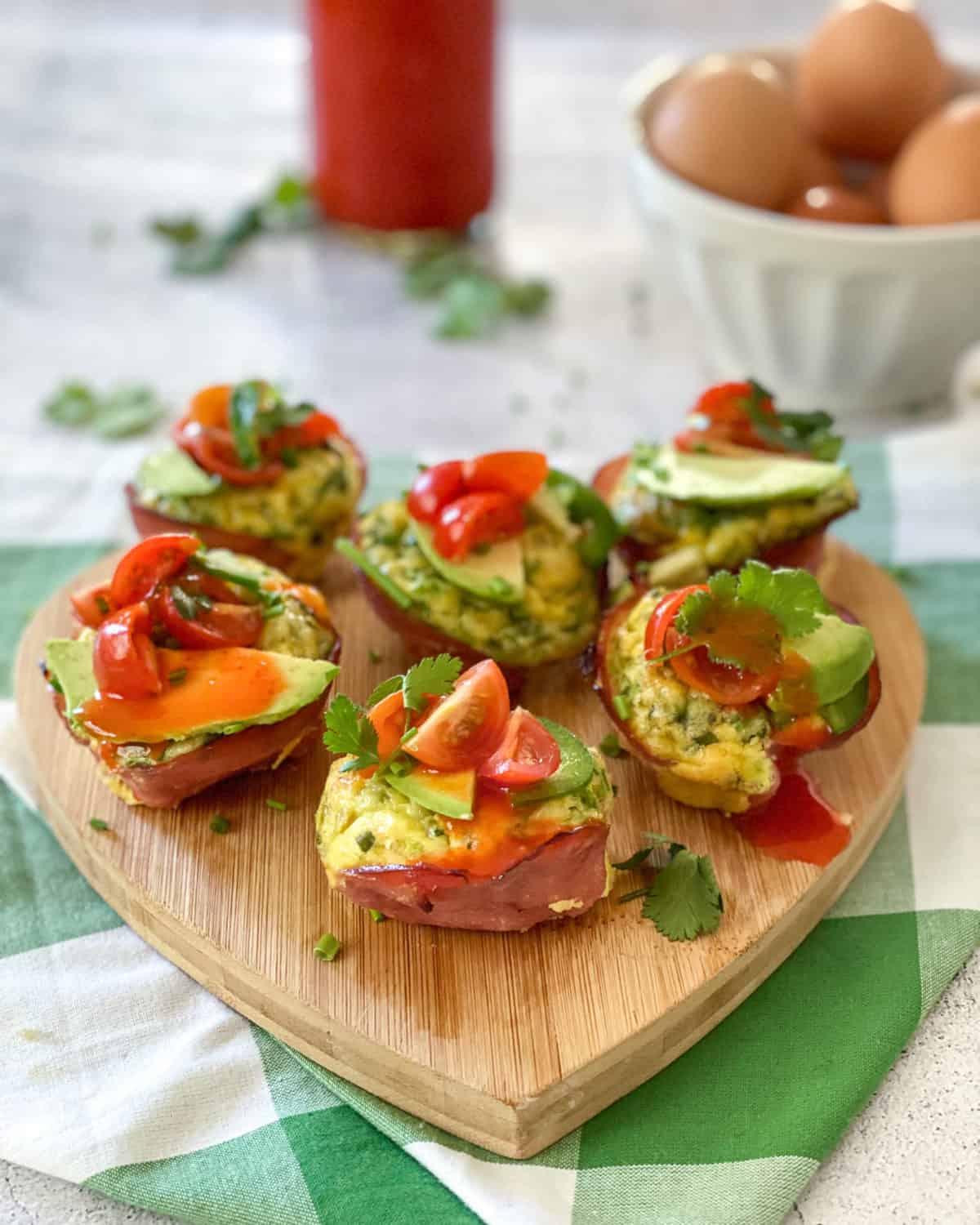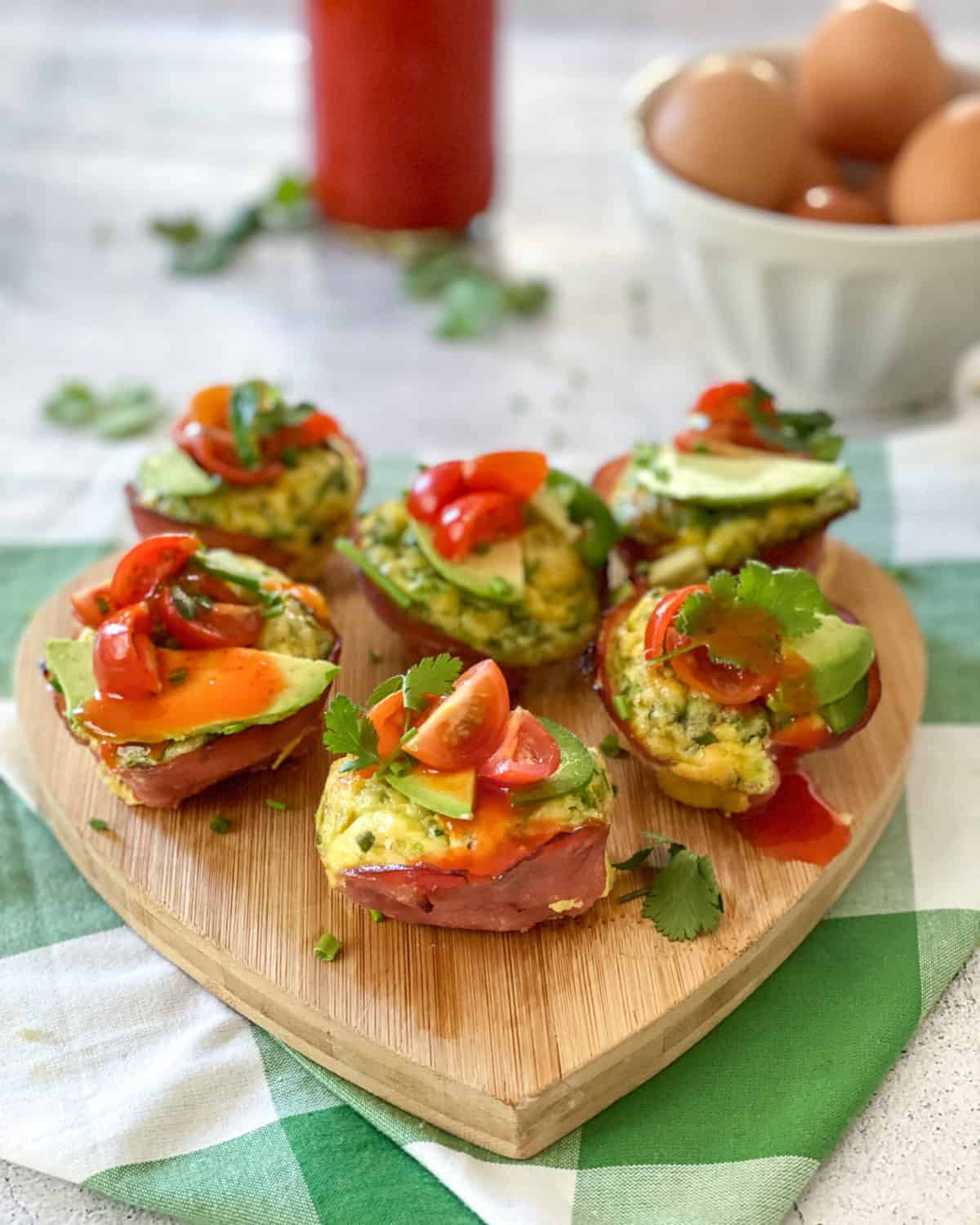 We all have those mornings when we absolutely don't have time for breakfast. For days like those, a quick meal is absolutely necessary to get you through.
These Green Chile Ham & Egg Cups from A Girl Defloured, are the perfect grab-and-go, low-carb breakfast recipe that the whole family will love.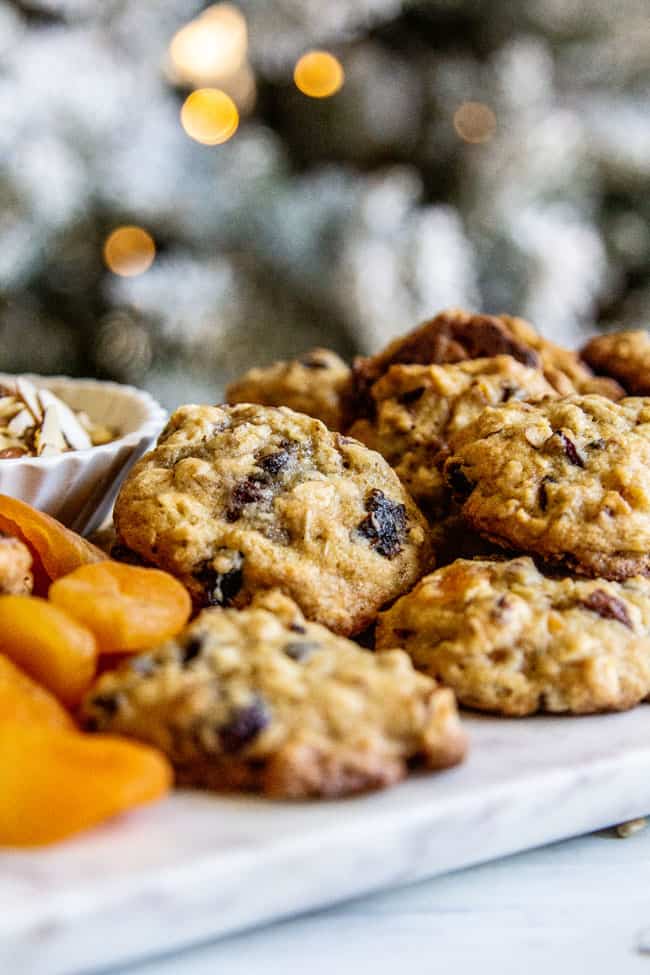 If you are asking yourself, "Should I have an Oatmeal Breakfast Cookie for breakfast?" The answer is a resounding yes!
With whole grain oatmeal, four types of dried fruit including California prunes, two types of nuts, and one hearty seed rounding out the ingredient list, these cookies are actually a better breakfast choice than your sugar-laced bowl of cereal!
Plus, you can bake once and have grab-and-go breakfast cookies ALL WEEK LONG!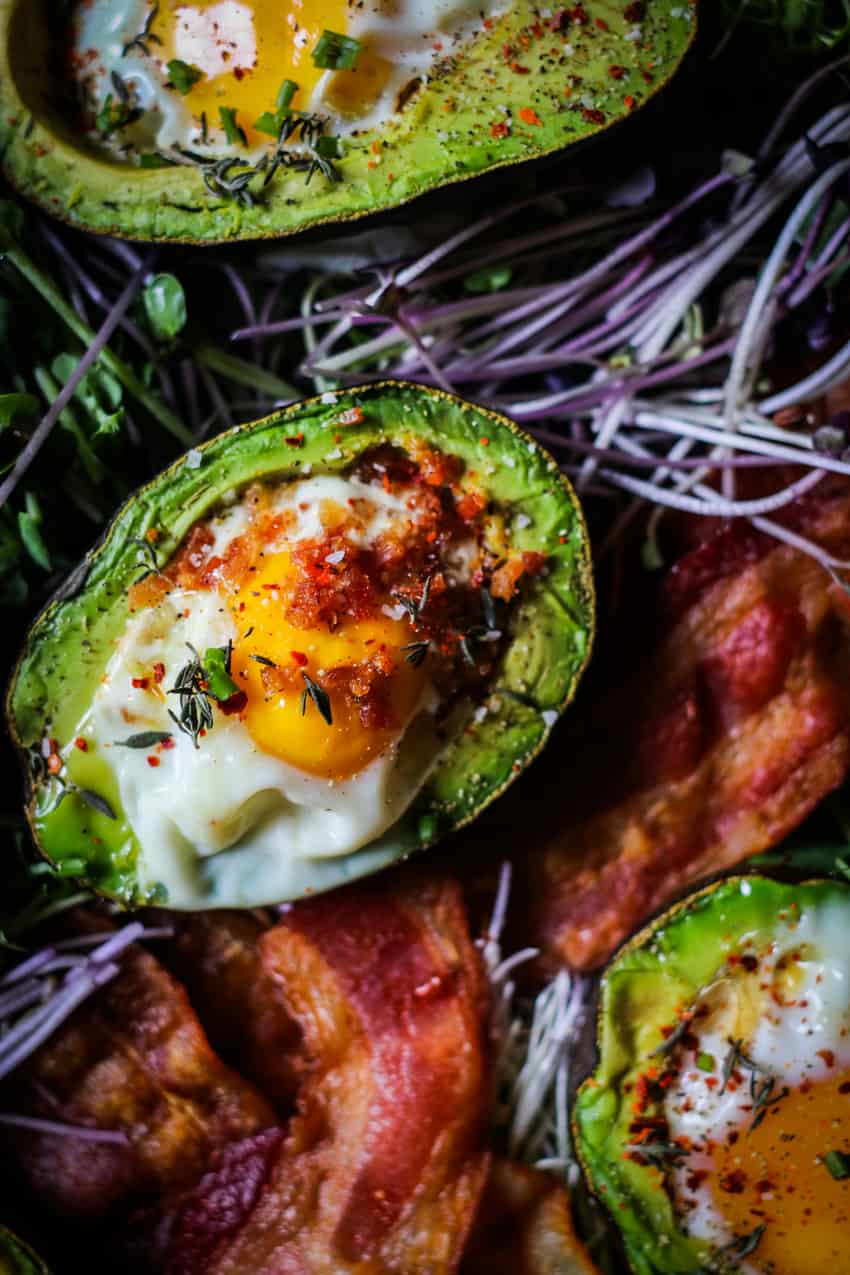 The fabulous part of this recipe from the G Free Foodie is that you can set the oven timer and walk away – to finish getting ready, get another cup of coffee, or check your Instagram for lunch ideas.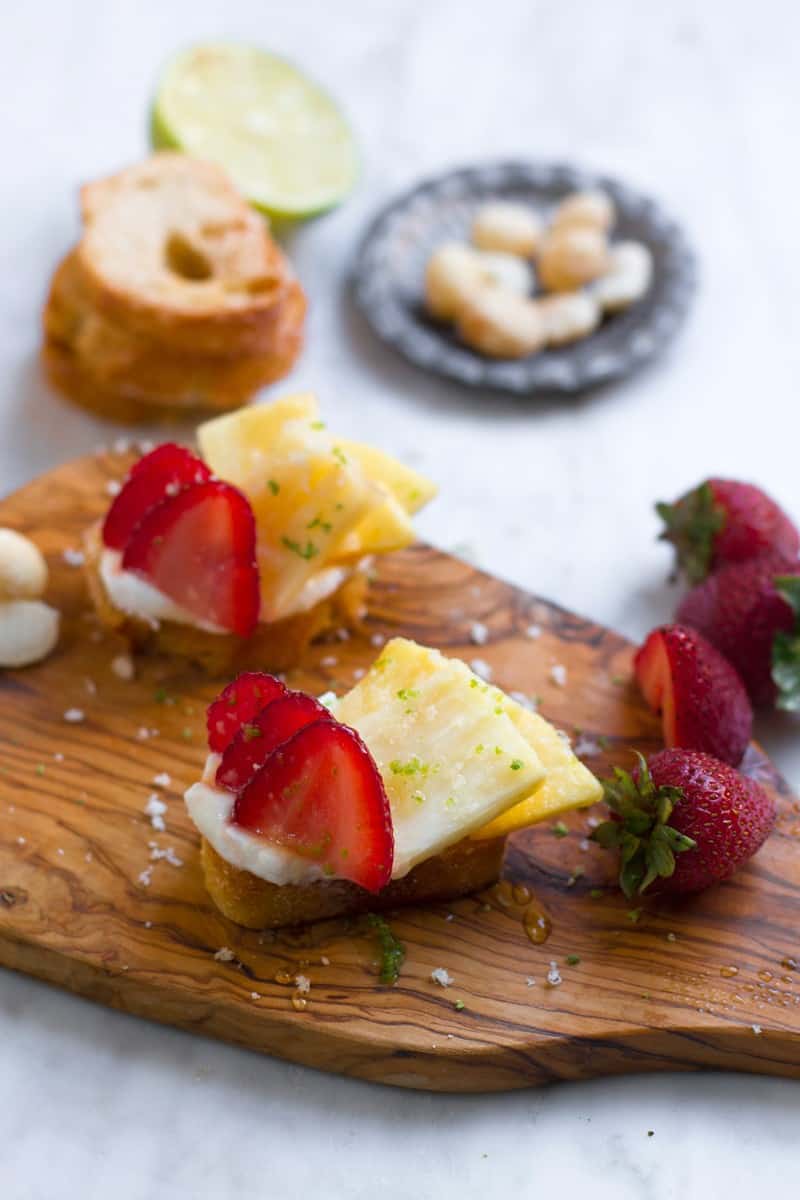 We love that this simple play on breakfast bruschetta from Salt & Wind that combines the fruit and flavors of Oahu, Hawaii, like pineapple and macadamia nuts.
This recipe can be riffed hundreds of different ways based on what you already have on hand for an easy breakfast recipe any day of the week!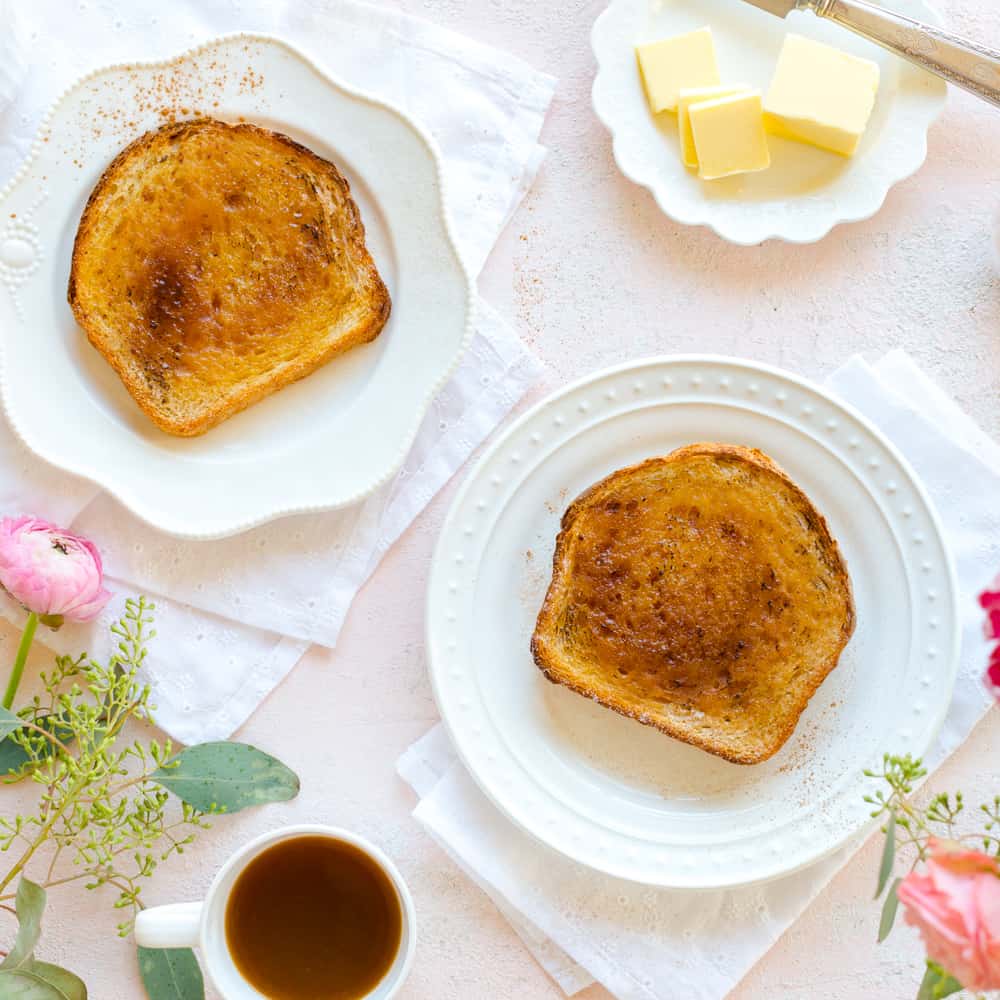 This Cinnamon Toast Brûlée recipe from Baking the Goods takes that classic, simple as can be hectic morning breakfast classic, cinnamon toast, to new heights with nothing more than the magic of heat. 
Be sure to share your easy breakfast recipes with us by snapping a pic and tagging us on social using #CAGROWN.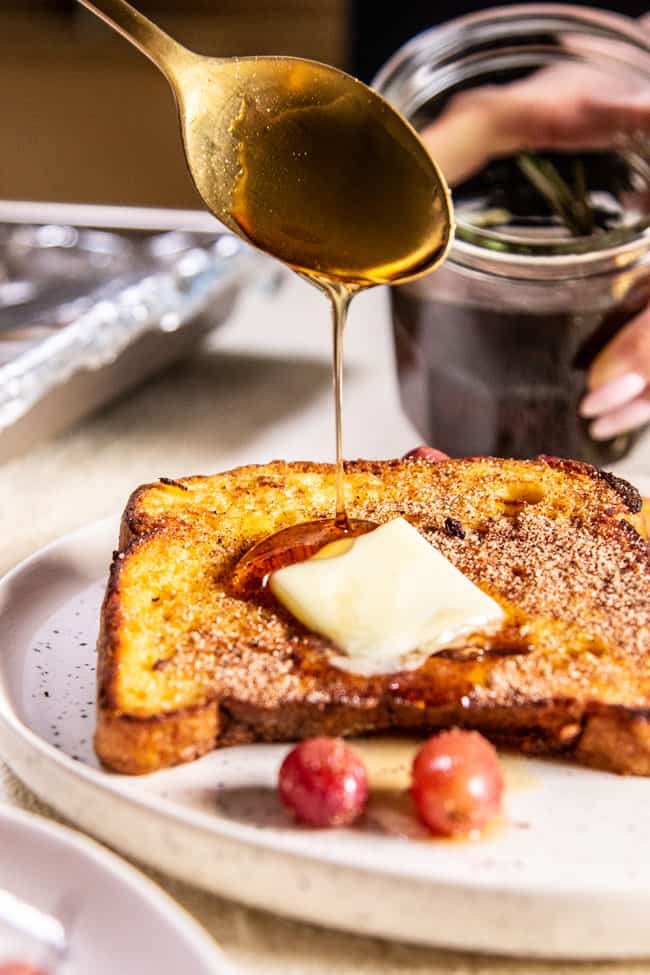 Craving more CA Grown goodness? Follow us on Pinterest for fresh and fabulous recipe inspiration!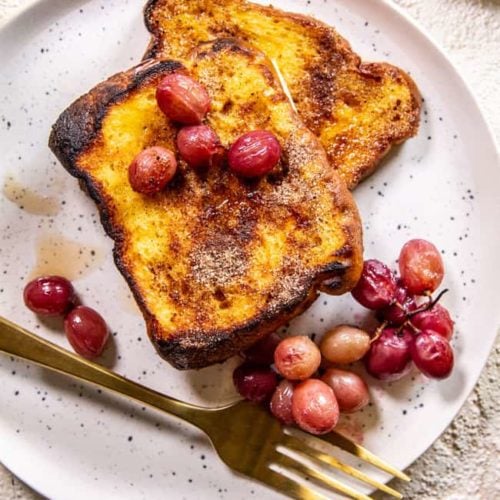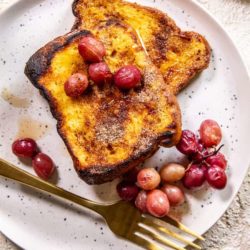 Sheet Pan French Toast with Roasted Grapes
A simple, deconstructed version of French toast that is perfect for those days you need an easy breakfast recipe, fast.
Ingredients
For the Sheet Pan French Toast
1 1/2 tablespoons melted butter
2 eggs
3/4 cup milk
zest of 1 lemon
1 1/2 teaspoons vanilla extract
6 slices Brioche bread gluten-free if necessary, see note.
1 large bunch small to medium-sized purple or red seedless California table grapes clipped into 4-5 smaller bunches. See note.
For the Chai Cinnamon Sugar Topping
1/4 cup granulated sugar
1 tablespoon ground cinnamon
1 chai tea bag
For the optional Rosemary-Infused Syrup
1/2 cup maple syrup or honey
1 sprig fresh rosemary
Instructions
To make the Sheet Pan French Toast
Heat the broiler to high with the oven rack 6-inches from the heating element. Wrap a sheet pan or large jelly roll pan in aluminum foil for easy clean-up, if desired.

Use a pastry brush to "paint" the melted butter across the pan covering all of the surface areas of the pan.

Beat the eggs, milk, lemon zest, and vanilla together in a shallow dish. One by one, dip the bread slices into the egg mixture until the centers of the bread slices are soaked through. Allow any excess egg mixture to drip off each slice before placing the slice on the prepared pan.

Repeat the process with all of the slices of bread, nestling the slices close to each other. Add the bunches of grapes to the pan next to the soaked bricohe.

Broil until the bread is toasted and starting to turn golden brown, about 4 minutes. Flip the bread slices and place them back in the oven for another 3-4 minutes until completely toasted and the grapes are starting to burst.
To make the Chai Cinnamon Sugar Topping
While the French toast is cooking combine the cinnamon, sugar, and the contents of 1 chai tea bag. Stir together and set aside. This will make more than needed for 1 batch of sheet pan French toast, see notes for more uses.
To make the optional Rosemary-Infused Syrup
Combine the honey or maple and rosemary in a small saucepan over medium-low heat. Bring to a slow simmer and cook for 1-2 minutes. Remove from the heat and allow the rosemary to steep while cooling. Once cooled, discard the rosemary. This will make more syrup than you will need for 1 batch of Sheet Pan French Toast, store extra syrup in the fridge for up to 2 weeks.
To serve:
While still hot from the oven, sprinkle the tops of the French toast with the desired amount of Chai Cinnamon Sugar. Place on plates with bunches of roasted grapes and a drizzle of rosemary infused syrup.
Notes
A note about types of bread:
You can use any type of bread you like for this recipe, just note that the cooking time may vary.
A note about roasted grapes:
California table grapes come in all sorts of sizes, if your grapes are large they may require more cooking time.
In this case, simply remove the French toast slices to serving plates when they are adequately toasted and return the grapes to the oven for a few more minutes until roasted through.
More uses for Chai Cinnamon Sugar Topping:
The topping for this French toast is always in my spice cabinet! I developed this chai cinnamon sugar for a Roasted Banana Sheet Pan Pancakes recipe that you can print here. , but it is delicious sprinkled over oatmeal, on top of lattes or coffee, sugar cookies, or even sprinkled on vanilla ice cream! You can use this topping anywhere you would use a mix of cinnamon sugar.
This recipe was inspired by Real Simple.