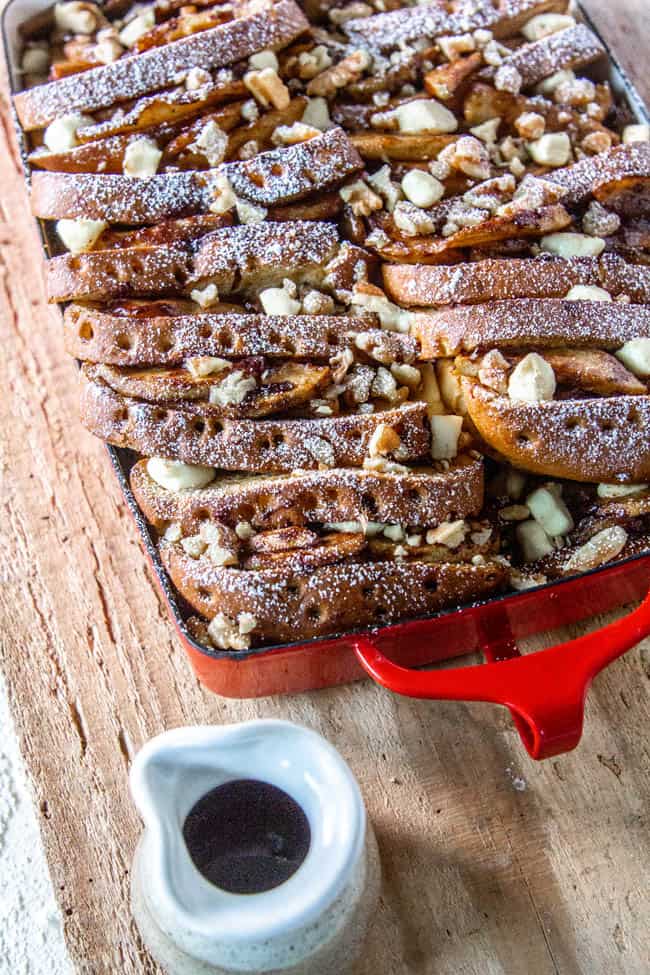 CA GROWN Blog
Discover. Learn. Connect.
An Easy Recipe for Baked French Toast with Apples
October 26, 2021
Eat the Season!
Sign Up For Weekly Recipes
« Back to Recipes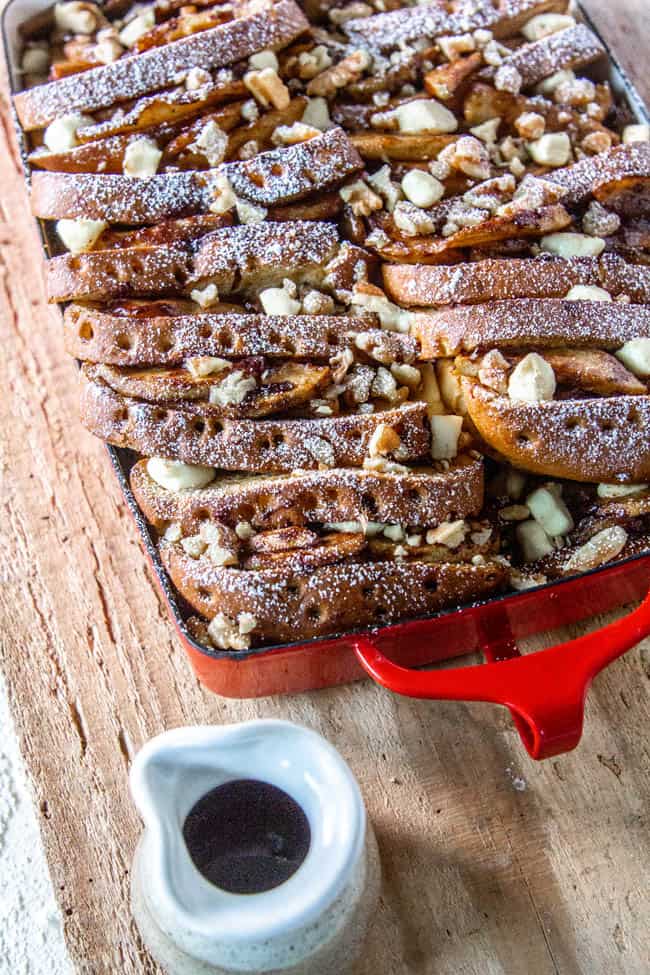 An Easy Recipe for Baked French Toast with Apples
We admit, this isn't a traditional French toast recipe, it's better! This recipe for baked French toast pairs buttery Brioche bread with cinnamon-laced Granny Smith apples, cream cheese, and toasted walnuts.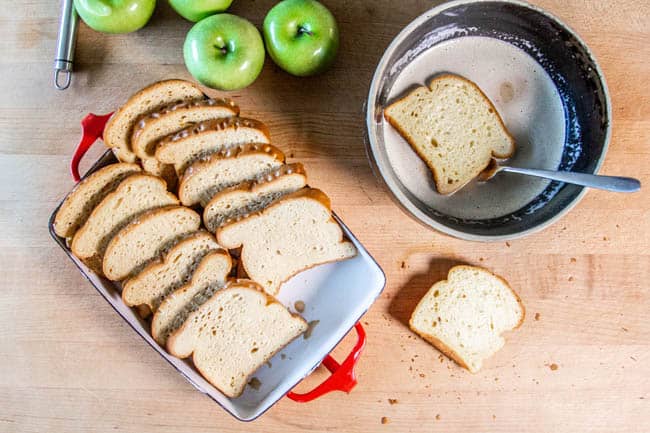 What ingredients are in this recipe for baked French toast?
There aren't a lot of ingredients required to make our baked French toast. In fact, you probably have most of them on hand right now.
Granny Smith Apples
Did you know that California is the fifth largest producer of apples in the U.S.?! It's true!!
Apples are one of the most popular, flavorful, and healthful fruits grown in the world. Three-fourths of America's population, both young and old, named apples as one of their favorite fruits for snacking. Since apples are pre-packaged in nature's own wrapper, they are the perfect food to take with you when you are on the go.
We eliminated the need for refined sugar in this recipe by substituting it with Prune Purée. Whether you are trying to reduce refined sugar, cut unhealthy fats, or simply make healthier recipes, Prune Purée can enhance cakes, cookies, muffins, savory sauces, and more.
Brioche Bread
We opted for a gluten-free Brioche bread, but you can honestly use whatever bread you like best for this recipe for baked French toast. Love challah? Go for it! Have a loaf of cinnamon raisin bread you need to use? Substitute it in there!
We find that French toast is the perfect way to utilize stale, day-old bread also. You know what they say, waste not want not!
Whole Milk and Eggs
These ingredients make up the base of the custard. You could absolutely use half and half for a richer version of this recipe for baked French toast, but we enjoy it with whole milk since that is typically what we have on hand – making it super convenient.
Maple Syrup
French toast and maple syrup go hand in hand, so we added a bit into the custard base and the cooked apples along with the Prune Purée to add more flavor and a touch more natural sweetness.
Vanilla Extract and Cinnamon
There are lots of flavors at play here in this recipe for baked French toast, with apple being the most dominant flavor of them all. But, cinnamon and vanilla are key players in the flavor department that we wouldn't want to leave out.
Walnuts
More than 99% of the walnuts in the U.S. are grown in the fertile soils of California's Central Valley. We love the toasty flavor and added crunch that they lend to the baked French toast.
Cream Cheese
Not too much here – just a little goes a long way, but those little cream cheese sprinkles add the perfect dose of creaminess into each bite without overpowering the other flavors.
There's no place like California when it comes to dairy! When purchasing dairy products, look for foods made with 100% real California dairy that feature the Real California Milk seal. You can feel good knowing that the product is certified as having been made with 100% Real California Milk from California dairy farm families.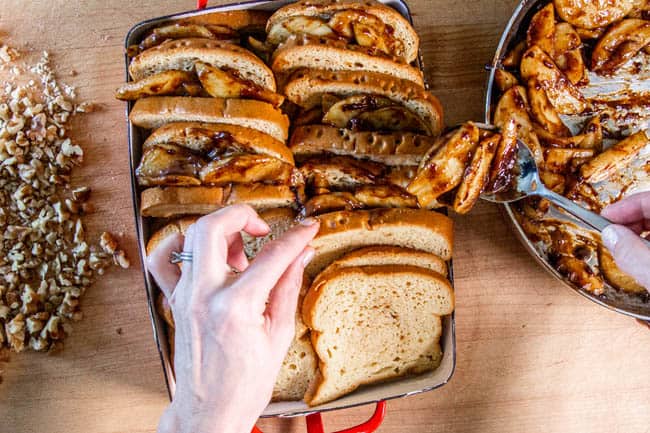 Now that we have discussed the ingredients in a bit more detail, let's talk about the elephant in the room here with this recipe…the fact that there is ZERO white or brown sugar in sight. Not even a grain!
This recipe calls for my all-time favorite kitchen hack, prune purée! Trust me, it's delicious – let's talk about it!
How to make Prune Purée
This recipe for Prune Purée will make more than you will need. Store the leftovers and put them to use in other recipes like Homemade Teriyaki Sauce or a decadent Chocolate Mug Cake.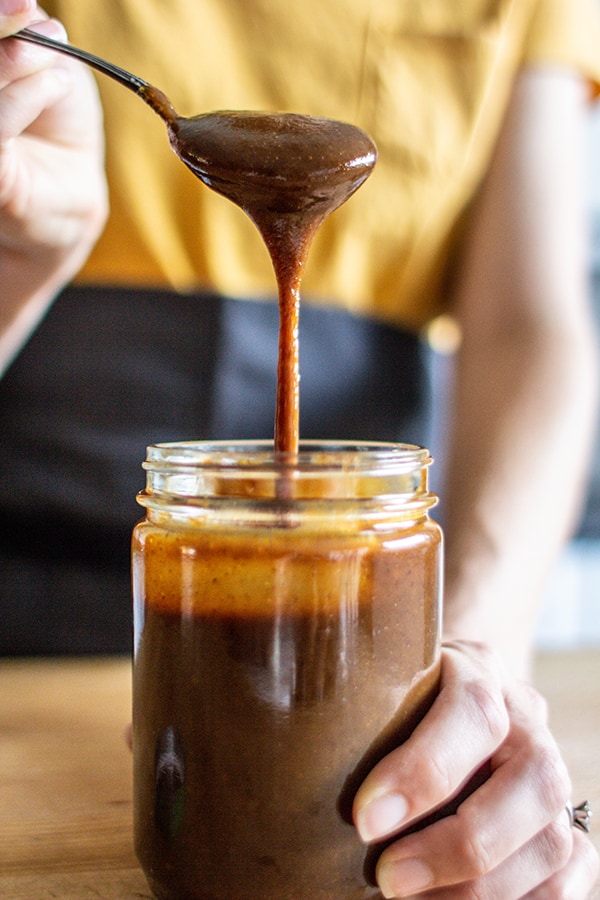 16 ounces pitted California prunes
1/2 cup hot water
Combine the prunes and water in a blender. Pulse to combine, then blend until a smooth, pourable consistency forms, scraping the sides if necessary.
Store the purée in an airtight container in the fridge for up to 4 weeks.
Prune purée can be used in a variety of ways when baking. Use it to replace sugar, eggs, or fat and no one will be the wiser! Here's what you need to know to update your favorite recipes:
Swap for sugar: Use prune purée to replace anywhere from one-third to half of the sugar in a recipe.
Swap out eggs: To replace 1 large egg, use ¼ cup prune purée. Keep in mind that this works best in recipes that call for no more than 3 large eggs.
Lose the fat: To cut down on fat, replace up to half of the butter or oil with an equal amount of prune purée.
Be sure to share your French toast creations with us by snapping a pic and tagging us on social using #CAGROWN.
Craving more CA Grown goodness? Follow us on Pinterest for fresh and fabulous recipe inspiration!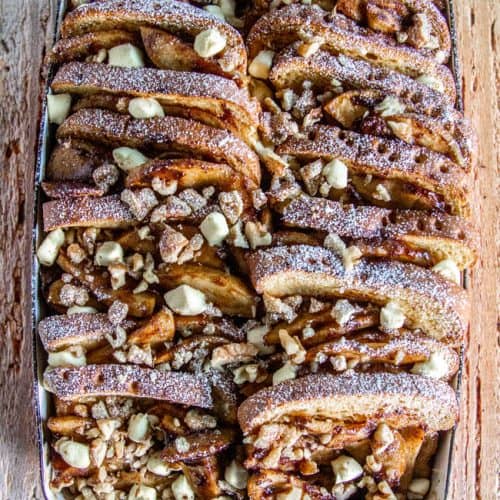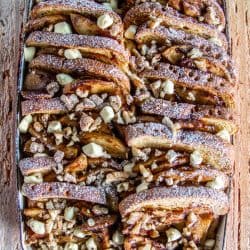 Baked French Toast with Apples
This naturally sweetened recipe for baked French toast pairs buttery Brioche bread with cinnamon-laced Granny Smith apples, cream cheese, and toasted walnuts.
Ingredients
For the prune puree
16 ounces prunes
1/2 cup hot water
For the apple filling
4 tablespoons butter
1/4 cup prune puree
1 teaspoon ground cinnamon
1/4 cup maple syrup
juice of half a small lemon
4 large Granny Smith apples peeled, cores removed, and thinly sliced
For the baked French toast
5 large eggs
3 tablespoons prune puree
2 tablespoons maple syrup
1 teaspoon vanilla extract
1/4 teaspoon coarse kosher salt heaped
1 1/2 cups whole milk
One pound sliced Brioche bread
1/3 cup chopped walnuts
2 ounces cream cheese cubed into small pieces
To serve
Confectioner's sugar and/or maple syrup optional
Instructions
To make prune puree
Combine the prunes and water in a blender. Pulse to combine, then blend until a smooth, pourable consistency forms, scraping the sides if necessary. 
To make the apple filling
In a large saute pan, melt the butter over medium-high heat. Add the prune puree, maple, cinnamon, and lemon juice to the pan and whisk until combined and bubbling.

Add the apple slices and cook, stirring frequently, until the apples are softened and any syrup that has formed is very thick. About 7-8 minutes. Once cooked through, set aside to cool slightly.
To assemble the Baked French Toast
Preheat the oven to 350°F and generously butter a 9 x 13-inch or 3-quart baking dish. Set aside.

In a large bowl, vigorously whisk together the eggs, prune puree, maple, vanilla extract, and salt. Once completely combined add the milk and whisk until all ingredients are incorporated.

Dip each slice of bread into the custard mixture for about 5 seconds, then arrange in an overlapping pattern in the prepared baking dish. Once all of the slices have been soaked in custard, pour any remaining custard over the slices of bread in the baking dish.

Fill in between the slices of bread with the cooked apples then sprinkle with chopped walnuts and cream cheese.

Wrap in aluminum foil and bake for 25 minutes. Remove the foil and bake for an additional 25 minutes. Remove from the oven and allow to cool for 5 minutes.

Dust with confectioner's sugar right before serving if desired. Serve with maple syrup.
Notes
To prep this recipe for Baked French Toast with Apples in advance: Follow the instructions all the way through assembling the French toast in the pan with the cooked apples, walnuts, and cream cheese. Wrap tightly with aluminum foil and store in the refrigerator overnight. Before baking the next morning, let it sit at room temperature for 30 minutes before placing it in the oven. Follow cooking instructions as written.
Frequently asked questions about California Grown apples.
What apple varieties does California produce? 
California specializes in four varieties, which include: Gala, Fuji, Granny Smith, and Cripps Pink.
In what California counties are apples produced? 
California apples are produced in almost every county of the state. 
How many pounds of fresh apples does California represent? 
California represents a total of 120 million pounds of fresh apples.