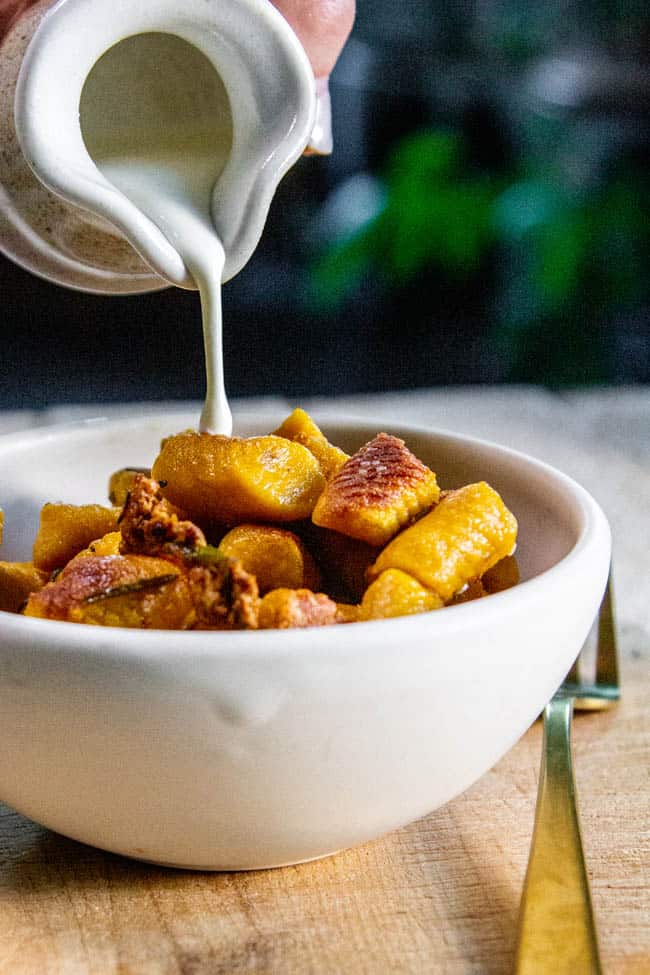 CA GROWN Blog
Discover. Learn. Connect.
A Pumpkin and Roasted Sweet Potato Gnocchi Recipe for Fall
October 12, 2021
Eat the Season!
Sign Up For Weekly Recipes
« Back to Recipes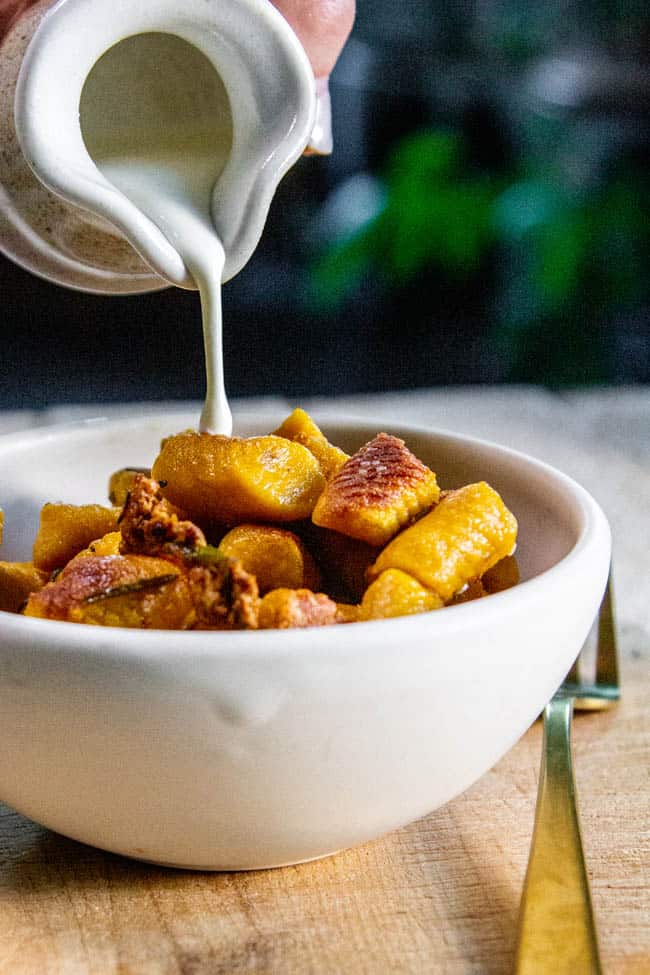 A Pumpkin and Roasted Sweet Potato Gnocchi Recipe for Fall
This homemade Pumpkin and Roasted Sweet Potato Gnocchi recipe is perfect for those chilly nights when you're looking for something hearty and warm. It combines roasted sweet potatoes and pumpkin puree with egg and flour to create delicious pillowy gnocchi that will satisfy all your fall cravings.
October stands out for a lot of reasons, first and foremost it's pumpkin season, duh. It is also the time of year when the days are shorter and we begin to look for more robust kitchen projects to occupy the darker hours of the day.
Gnocchi is the perfect project when you have a bit of time on your hands and want to spend it creating something truly delicious! Let's make gnocchi shall we?!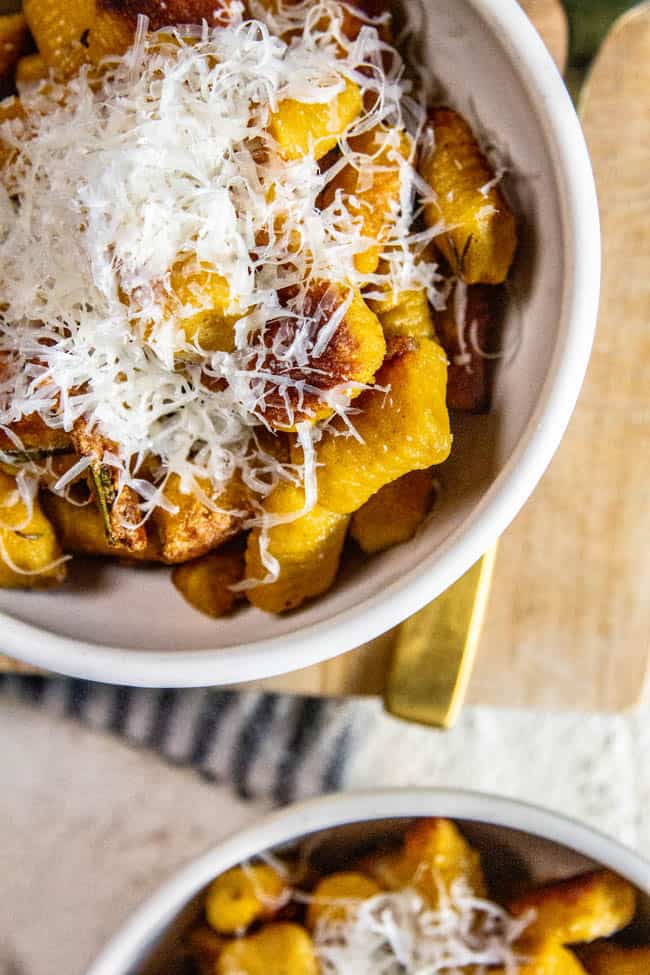 Ingredients needed to make Pumpkin and Roasted Sweet Potato Gnocchi
You only need five ingredients to make perfect, pillowy gnocchi. The 3 basic ingredients are flour – I used gluten-free all-purpose flour but you do you, salt, and one egg. See what I mean? Basic ingredients.
Now, here is where all the flavor and texture comes in, pumpkin and sweet potato!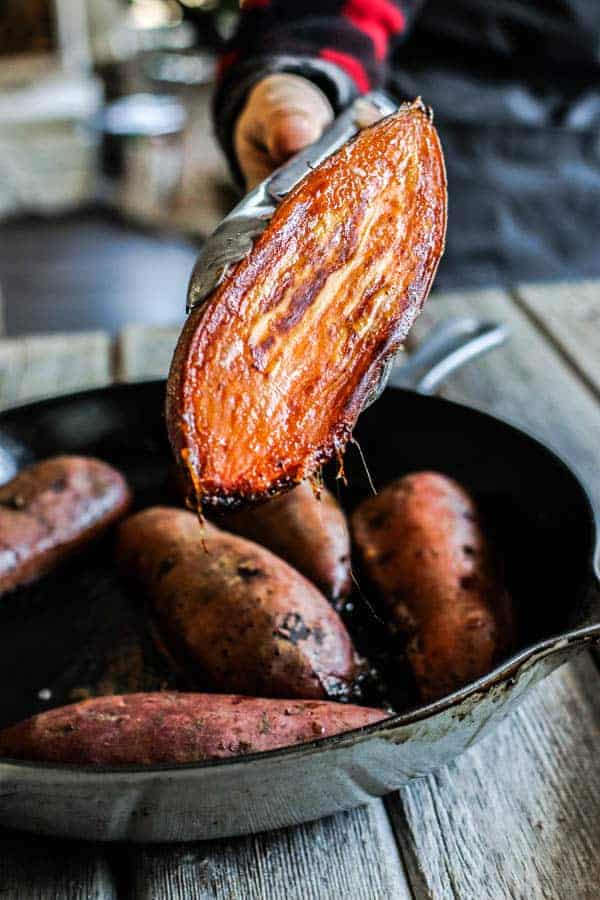 Tender oven-roasted sweet potatoes are the perfect canvas for all sorts of toppings and now they are the perfect filling for homemade gnocchi too!
But did you know there's a secret to making the perfect roasted sweet potato? This Mess is Ours dishes up all of the answers to the question, how do you roast a sweet potato?
Now that you have all of the gnocchi know-how about ingredients, let's walk our way through the process of how to make gnocchi.
How to make Pumpkin and Roasted Sweet Potato Gnocchi Step-By-Step
Honestly, making gnocchi is super simple. In fact, it may be one of the easiest most rewarding projects you can create in the kitchen. In just a few simple steps you will have a delicious gnocchi dough all mixed together and ready for forming.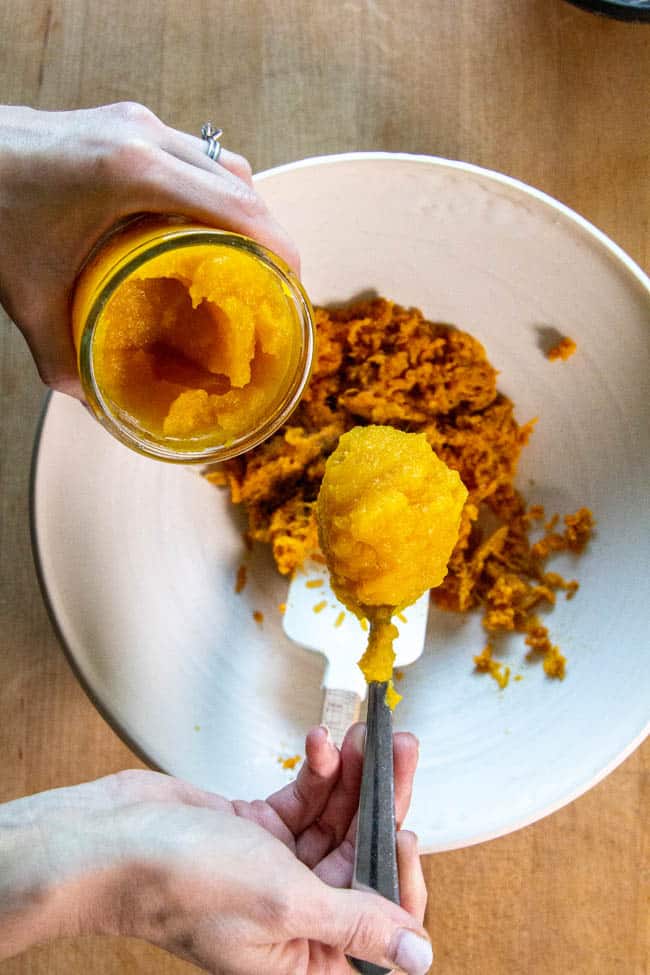 Step 1: Assemble the wet ingredients.
Measure both of the purees into a large mixing bowl. Use a potato ricer to rice the sweet potato if necessary so that it is smooth.
Alternatively, you can also give it a whirl in the food processor to create a smooth puree.
Step 2: Add the binder.
Adding an egg into the wet mix will help to bring everything together.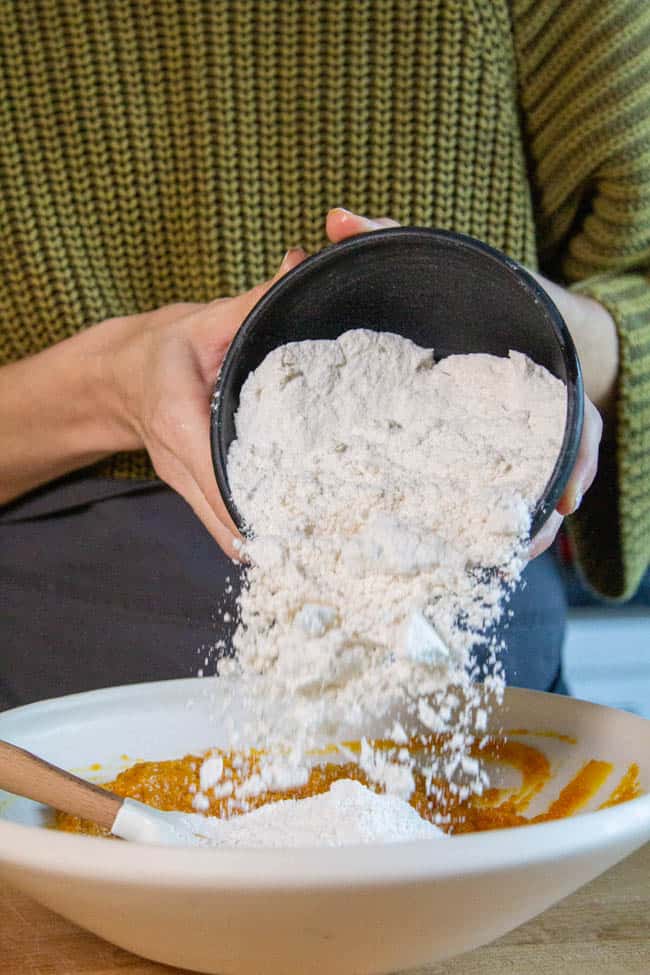 Step 3: Incorporate the dry ingredients.
Whisk the flour and salt together before adding them to the wet ingredients. This will help to make sure that the salt is dispersed evenly throughout the dough.
Now fold, don't stir! This can take a bit of time and patience. Your initial instinct will be to stir or to add more liquid, but trust in the process. More liquid will cause a gummy goopy batter and stirring vigorously will overwork the dough.
Keep folding, and in just the right amount of time, with just the right amount of turns, your dough will come together and look like the one below.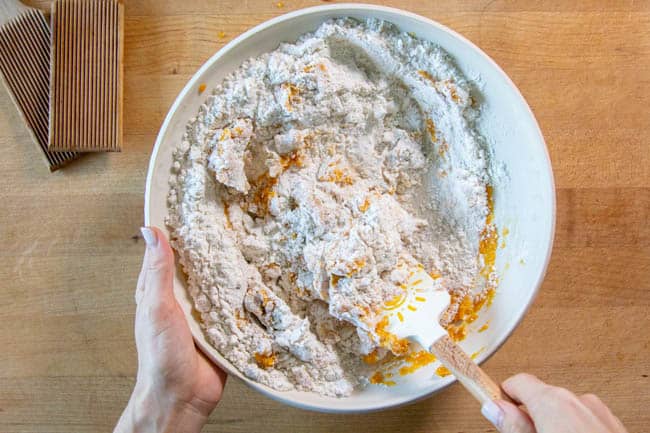 How to Shape Pumpkin and Roasted Sweet Potato Gnocchi Step-By-Step
Forming gnocchi isn't hard, and actually, it feels more like a Zen experience than a laborious one if you ask me. Find your rhythm, feel the dough, and just well, roll with it…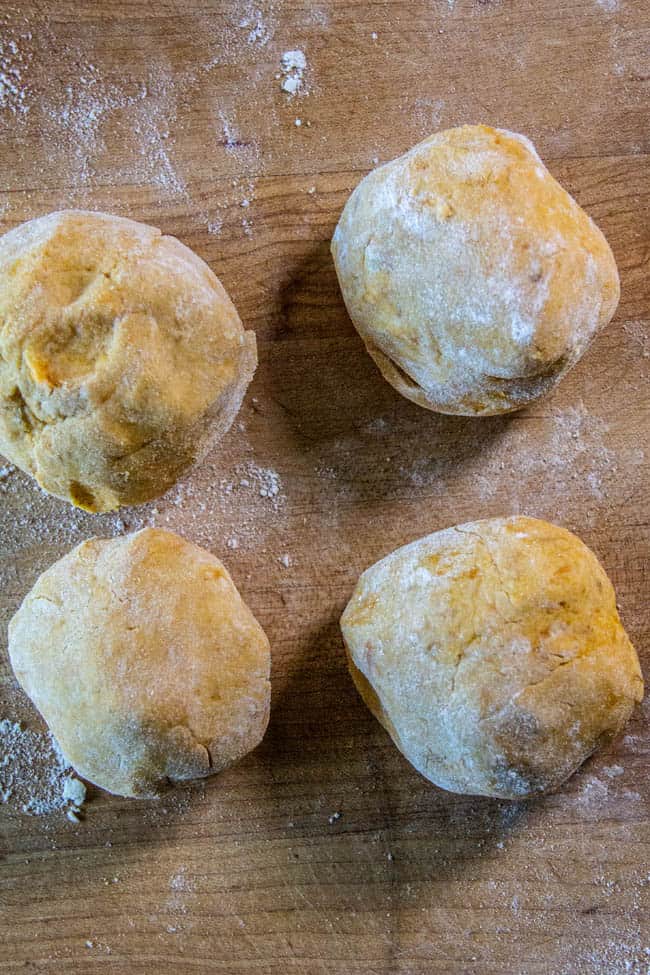 Portion the dough.
Break that huge mountain of dough into 4 manageable softball-sized chunks and roll each one of those into a rough ball.
Dampen a paper towel and ring out the excess water. Place over the dough you aren't working with at the moment so that it doesn't dry out.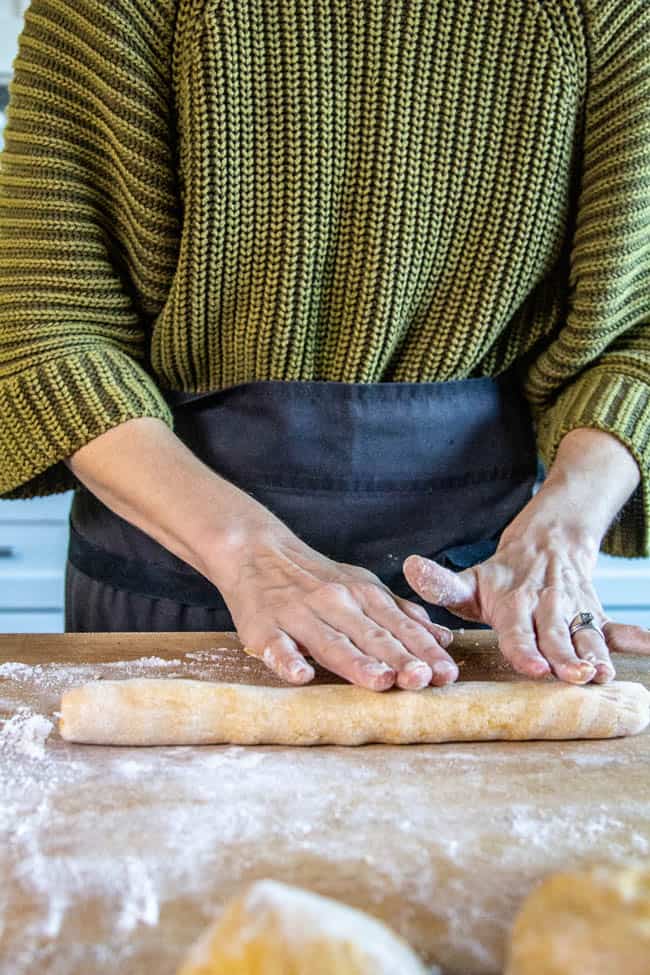 Roll the balls into ropes.
See, no rocket science here! No fancy-schmancy kitchen equipment either. Just our hands, some dough, and a cutting board. It's a beautiful thing!
Roll each portion of dough into a rope that is approximately 1-inch thick from end to end. Repeat this process with all 4 portions of dough.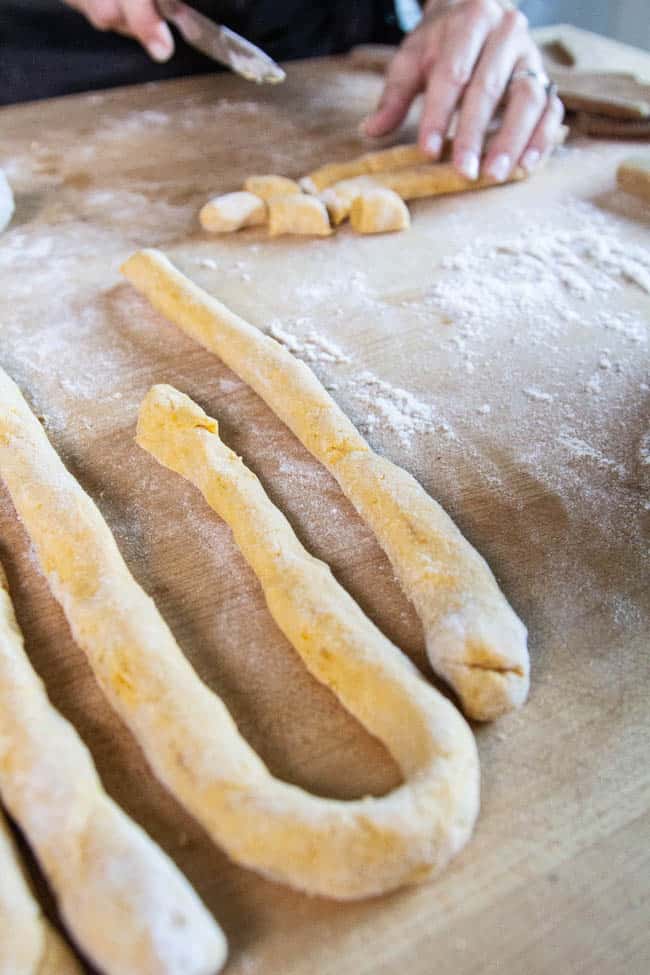 Cut the ropes into gnocchi.
I mean…hello, can you even believe we are already shaping gnocchi?
Use a small knife and a measuring device of some sort to cut the ropes down into 1-inch wide pieces. I just eyeballed it.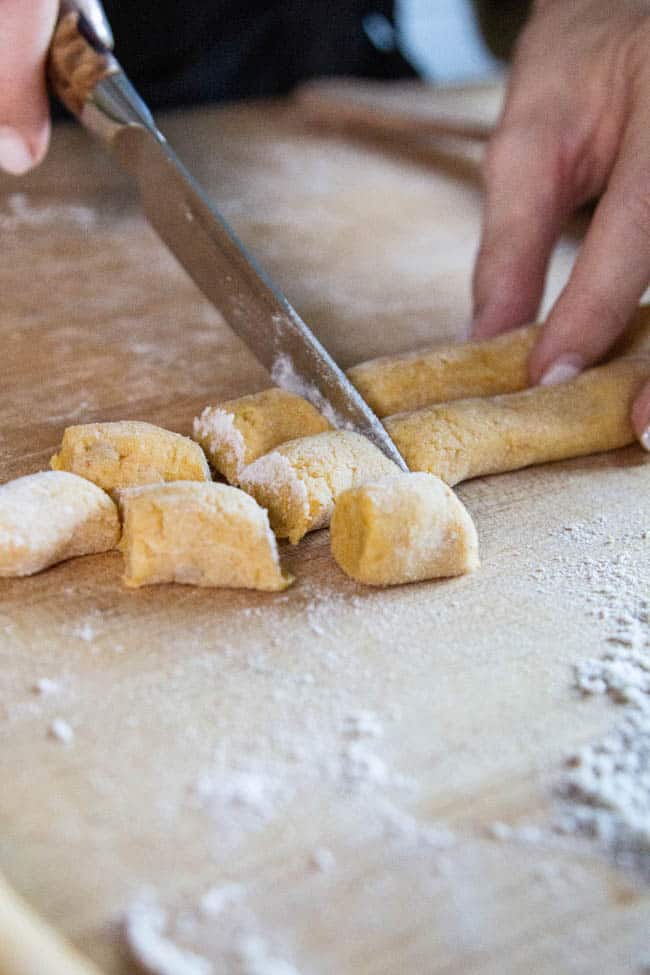 Finito!
That's Italian for "finished" – what you have here is basic gnocchi that can be tossed into a vat of boiling water and cooked to perfection as-is.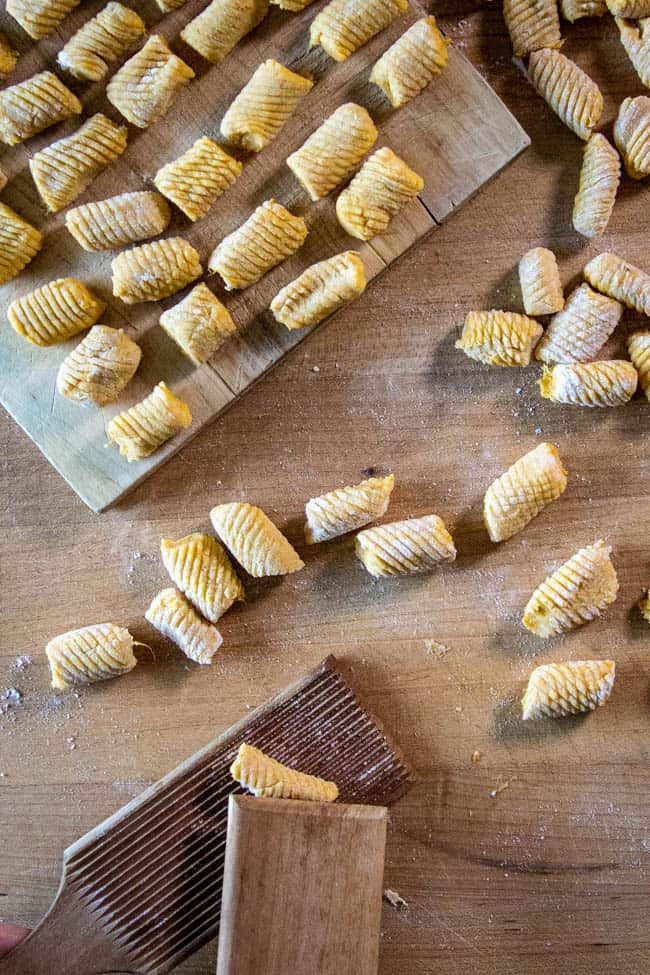 How to create grooves in gnocchi and why you should.
Sure those little grooves in the gnocchi look really cute, but they have a very real purpose. They grab onto and act as little tunnels for sauces, both thick and thin, to flavor the gnocchi. While I have a Cavatelli paddle, you can also use the tines of a fork to create ridges in the gnocchi.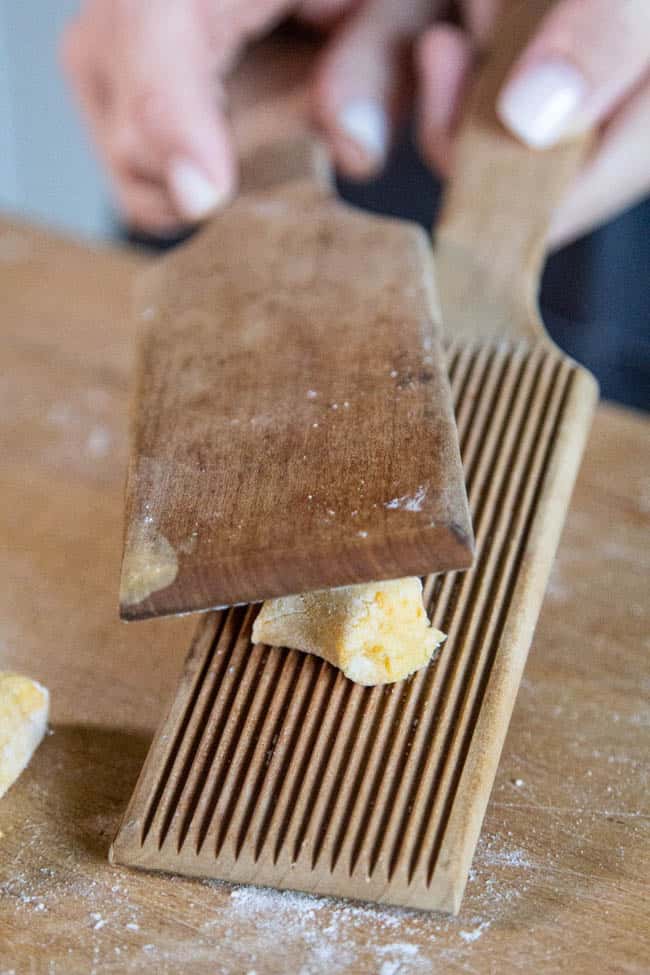 Now that you know how to create, make, and form the gnocchi, let's talk about how you cook it! Ya know… so we can EAT it!
How to Cook Pumpkin and Roasted Sweet Potato Gnocchi
While I am a fan of the traditional brown butter sage sauce when it comes to topping this gnocchi I have a few tricks up my sleeve with other topping ideas too!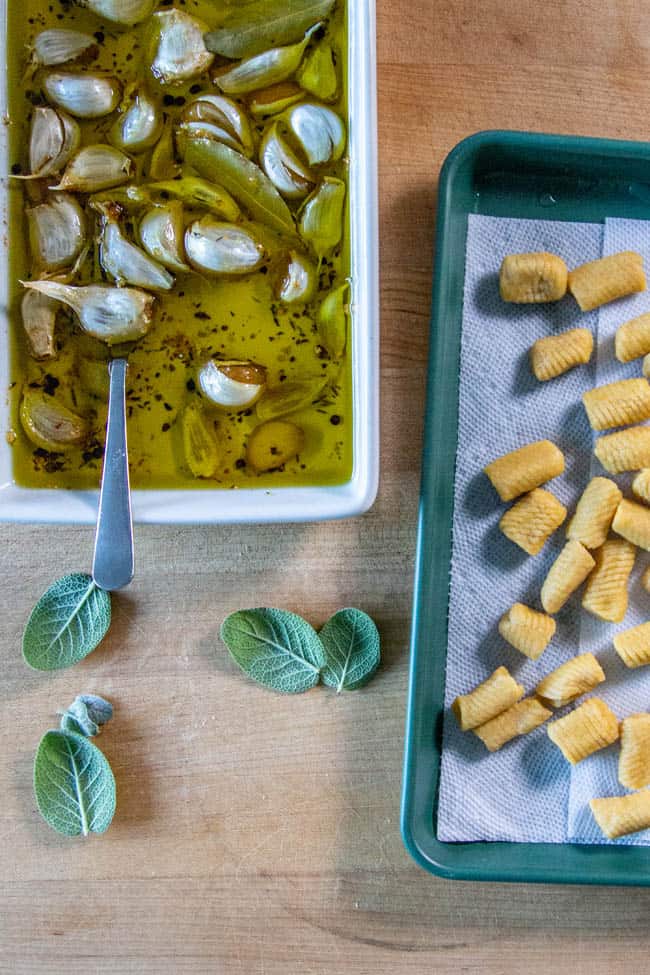 First, how to cook gnocchi
Cooking gnocchi happens in 2 parts. First, the gnocchi needs to boil in a vat of water for 3-4 minutes until it floats. Then it should be drained on paper towels to remove excess moisture so that we can fry the gnocchi to create a crispy exterior.
I prefer to fry my gnocchi in garlic confit infused oil – it just has incredible flavor without needing any help at all.
To pan-fry I simply heat the oil over medium-high heat until shimmering and then I add the gnocchi, fresh herbs, and smashed confit garlic cloves to the pan.
I like to cook ours until it is golden brown with a crisp outer layer, however you can pan fry these for less time if desired. The gnocchi is totally cooked through – it simply is taking on texture.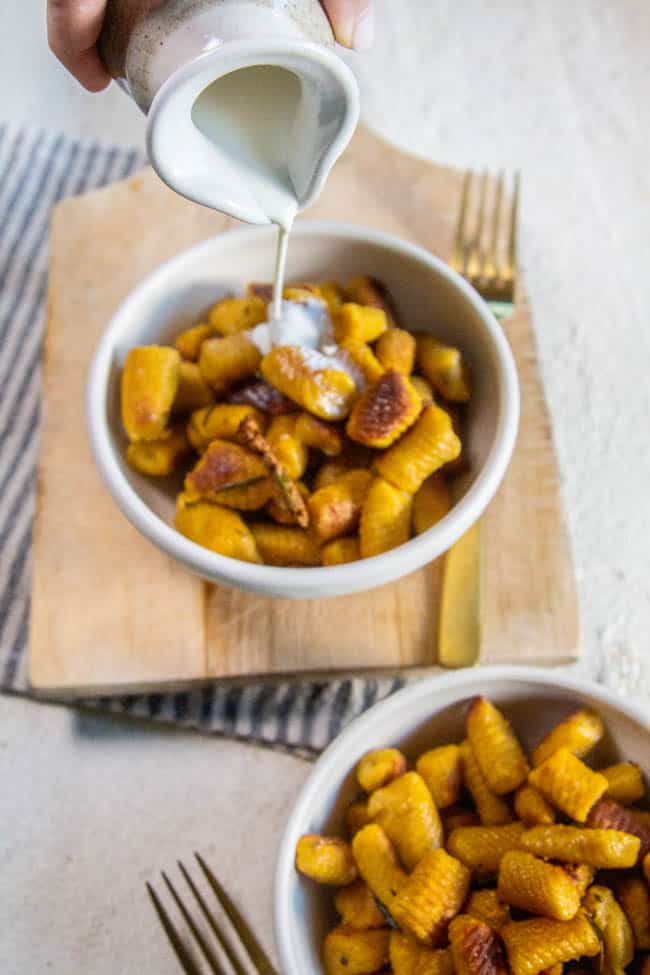 The simplest way to serve gnocchi.
All of the work to prepare gnocchi and my favorite way to serve it is obscenely simple.
Drizzled with a touch of cream while warm, sprinkled with flaky sea salt and pepper.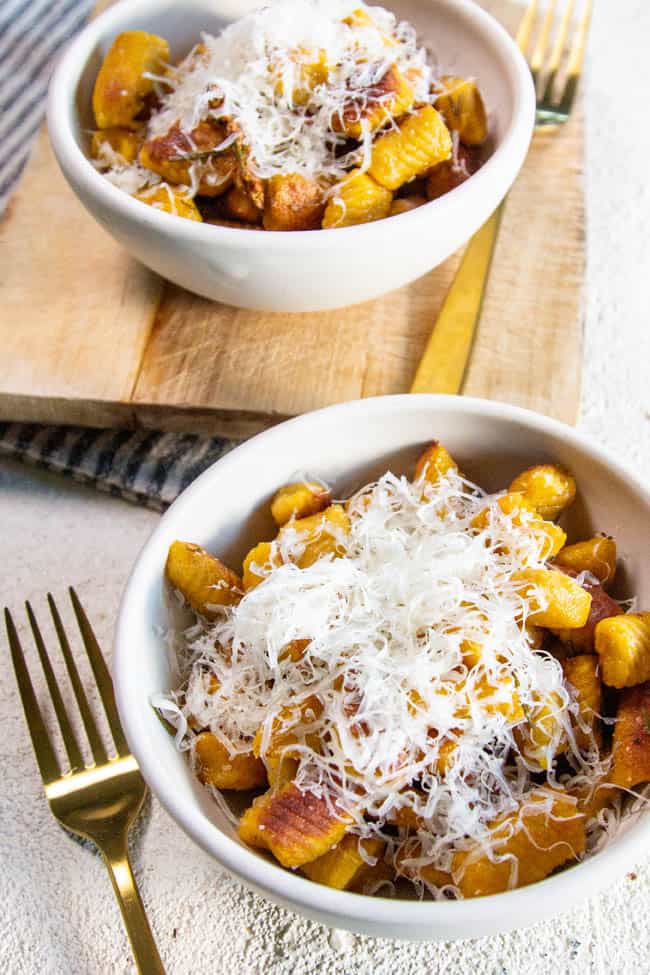 Then cheesed…
You can go crazy on the cheese here and use whatever you like – literally! I like a finely grated Parmesan or Romano myself, but use whatever cheese you like.
Hungry for more gnocchi recipes? Scroll down for a gnocchi recipe round up!
Now that you know how to make gnocchi you can branch out in all sorts of different directions with the flavors and textures. Here are a few tried and true gnocchi recipes that we recommend trying.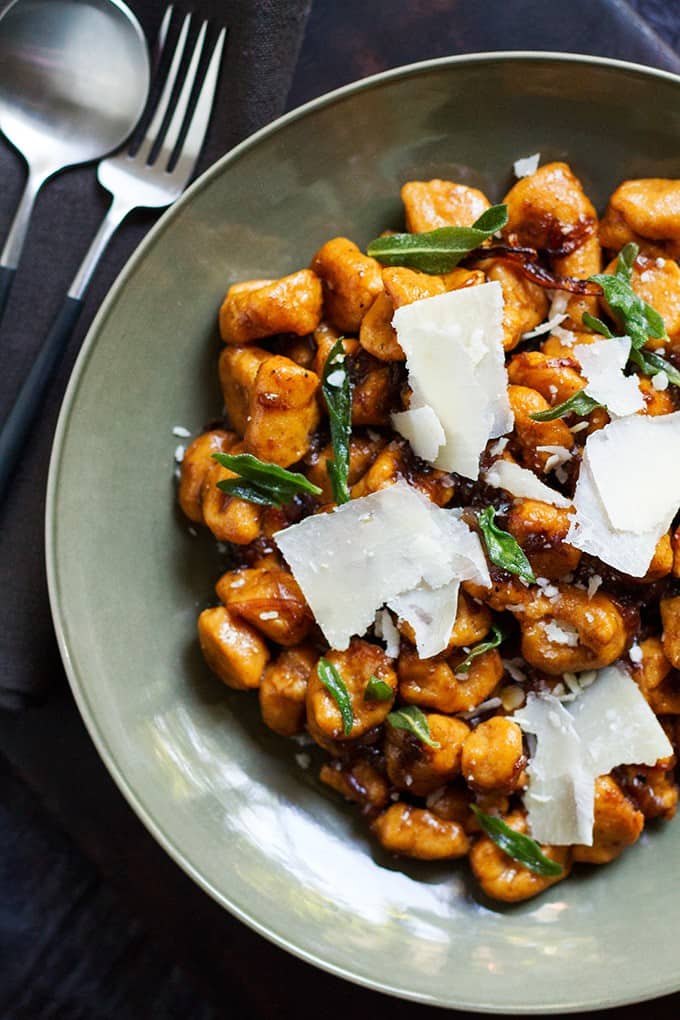 This twist on Sweet Potato Gnocchi from Salt & Wind consists of a pretty traditional vegetarian gnocchi recipe but is made with a mix of sweet potatoes and Russet potatoes.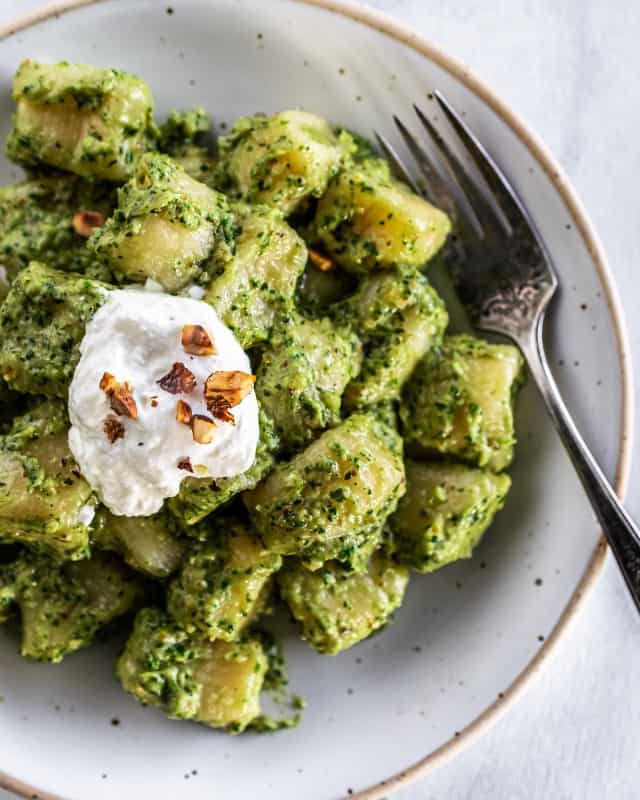 In this gnocchi recipe from Husbands that Cook they omit the potatoes and opt for homemade ricotta gnocchi instead, prepare to devour!!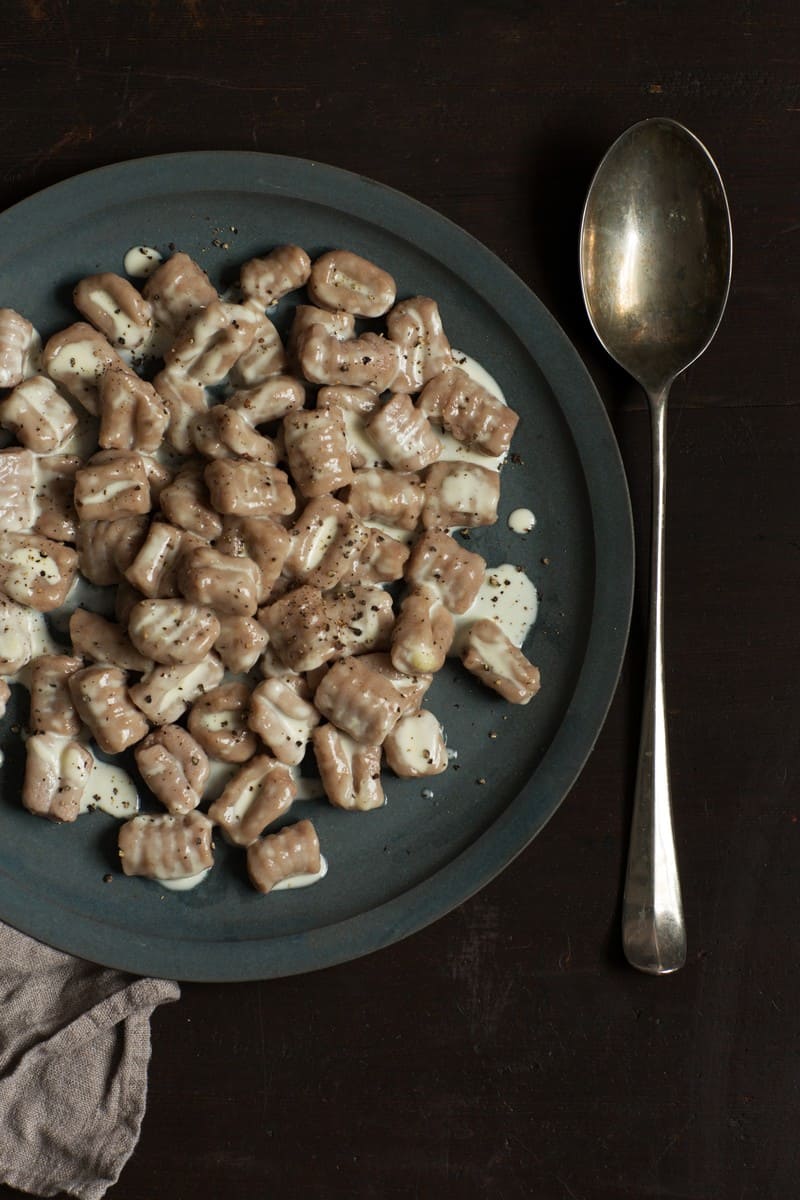 Aida of Salt & Wind takes our taste buds on a tour of Turin, Italy with this gnocchi recipe. The hazelnut-y flavor of the gnocchi with the buttery, mushroomy flavor of the cheese sauce is both totally indulgent and surprisingly light.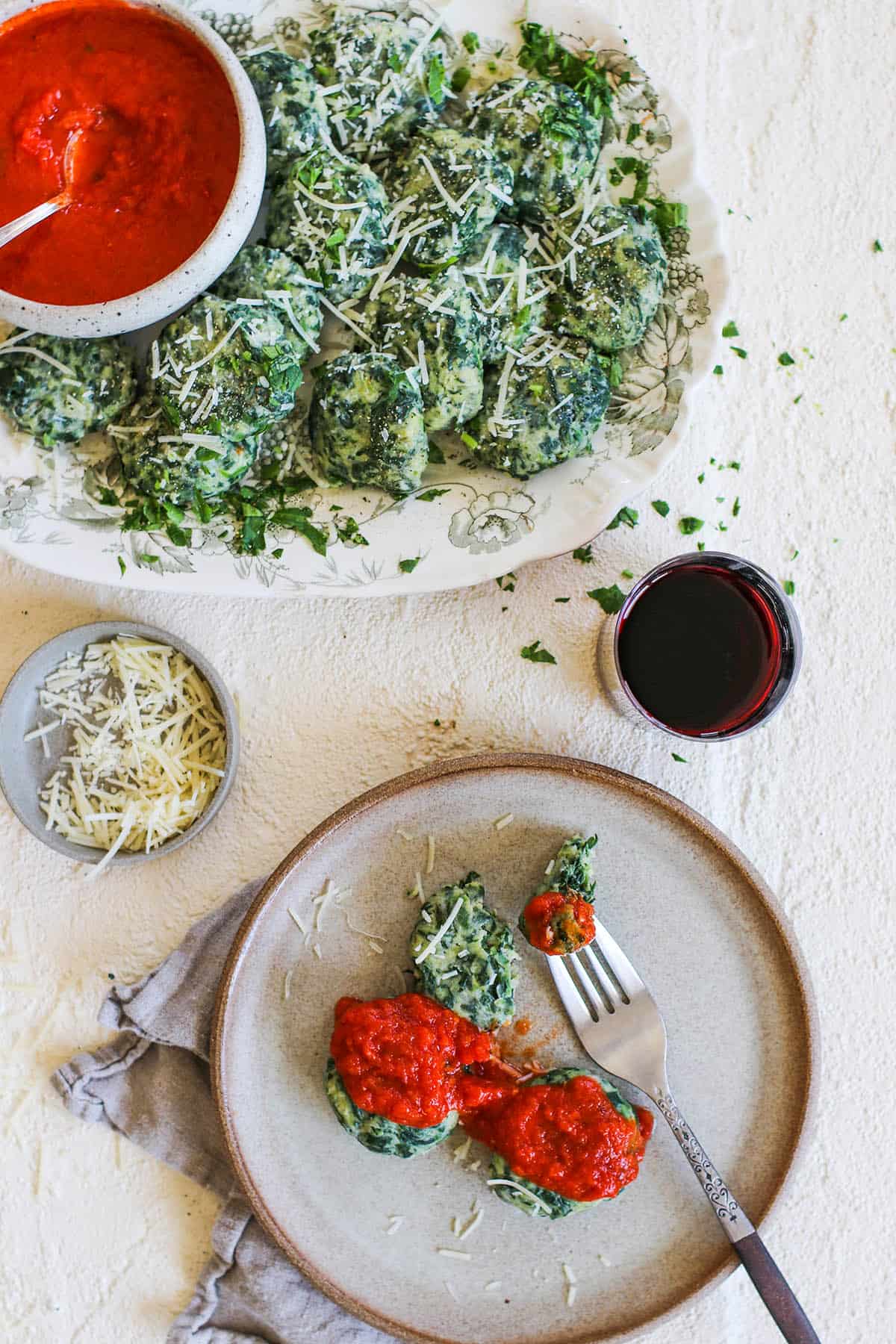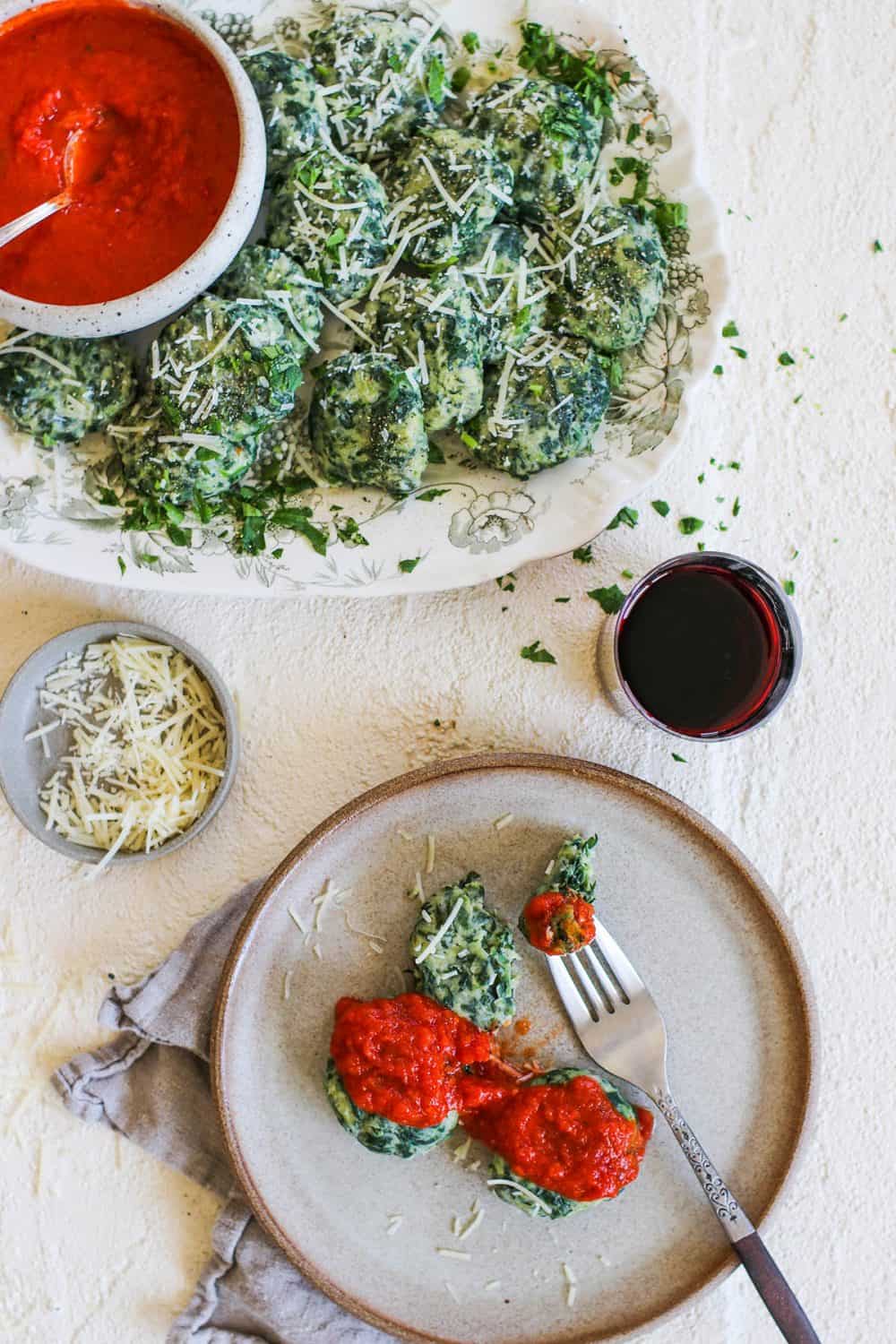 G Free Foodie's Gnudi is made with ricotta cheese and spinach, and tastes like the center of a ravioli, but the process is way simpler.
The name is a take on "nudi" or "nudo" in Italian, which means naked. Naked ravioli FTW!!
Be sure to share your California Grown Pumpkin and Roasted Sweet Potato Gnocchi creations with us by snapping a pic and tagging us on social using #CAGROWN.
Craving more CA Grown goodness? Follow us on Pinterest for fresh and fabulous recipe inspiration!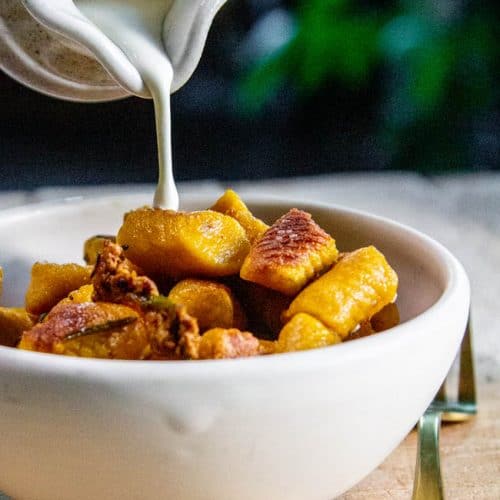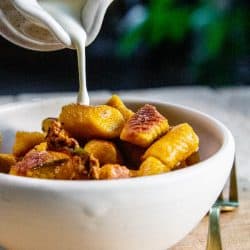 Pumpkin and Roasted Sweet Potato Gnocchi
This Pumpkin & Roasted Sweet Potato Gnocchi combines roasted sweet potatoes & pumpkin puree to create delicious pillowy gnocchi.
Ingredients
Pumpkin and Roasted Sweet Potato Gnocchi
2 1/2 cups roasted sweet potato puree
1/2 cup pumpkin puree
1 egg whisked
1 teaspoon coarse kosher salt
1 1/2 cups gluten-free all-purpose flour or regular all-purpose flour, plus more for working with dough
To serve
2 tablespoons garlic confit oil or plain olive oil
batch cooked Pumpkin and Roasted Sweet Potato Gnocchi
1/2 tablespoon sliced sage leaves
1/2 tablespoon fresh rosemary chopped small
2 cloves garlic confit smashed
1/4 cup heavy cream
freshly grated Romano or Parmesan cheese to taste
Instructions
To make and form the gnocchi
In a large mixing bowl combine the pumpkin, sweet potato, and egg. Stir to combine.

In another bowl whisk the salt and the flour together. Pour this mixture over the egg mixture and fold the ingredients together until completley combined. Do not stir! You do not want to overwork the dough. Just keep folding and the dough will come together, work with your hands if desired.

Once the dough has come together transfer to a well-floured surface and divide into 4 equal portions about the size of a softball. Cover with damp paper towel until used.

Working quickly, roll each ball of dough into a long thin rope about 1-inch thick. Use a damp paper towel placed over the ropes of dough to keep them from drying out while you work through the remaining pieces of dough.

Cut down the length of each rope, dividing it into 1-inch pieces.

To create the classic gnocchi shape, slide the gnocchi over the tines of a fork creating indentations, or use a Cavapatti paddle or something similar – see our blog post.
To cook the gnocchi
Line a sheet pan with paper towels and set it aside. Bring a large pot of water to a boil. Working in batches, drop the gnocchi into the boiling water. When it floats it has cooked all the way through, about 2-3 minutes. Once floating, remove the gnocchi with a slotted spoon to the prepared sheet pan.

Working in batches if necessary, crisp the gnocchi. Heat the garlic confit infused oil in a large nonstick skillet. Once shimmering, add the gnocchi, herbs, and mashed garlic confit to the pan. Cook, stirring frequently until the gnocchi is golden brown, about 6 minutes.

Serve immediately in bowls with a drizzle of heavy cream and a sprinkling of cheese if desired.