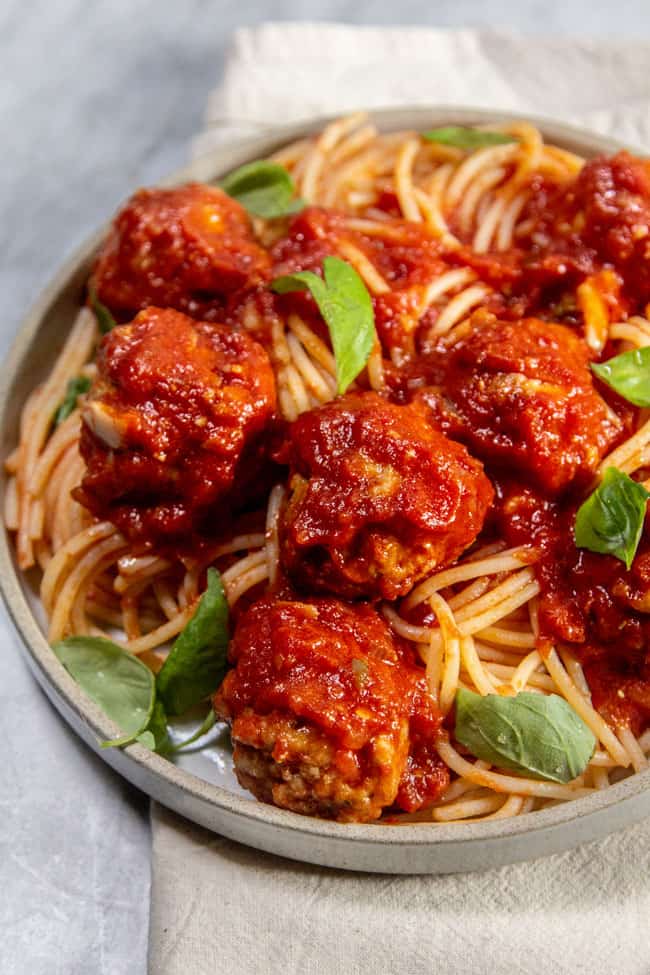 CA GROWN Blog
Discover. Learn. Connect.
One Pan Baked Chicken Meatballs & Tomato Sauce recipe
December 21, 2021
Eat the Season!
Sign Up For Weekly Recipes
« Back to Recipes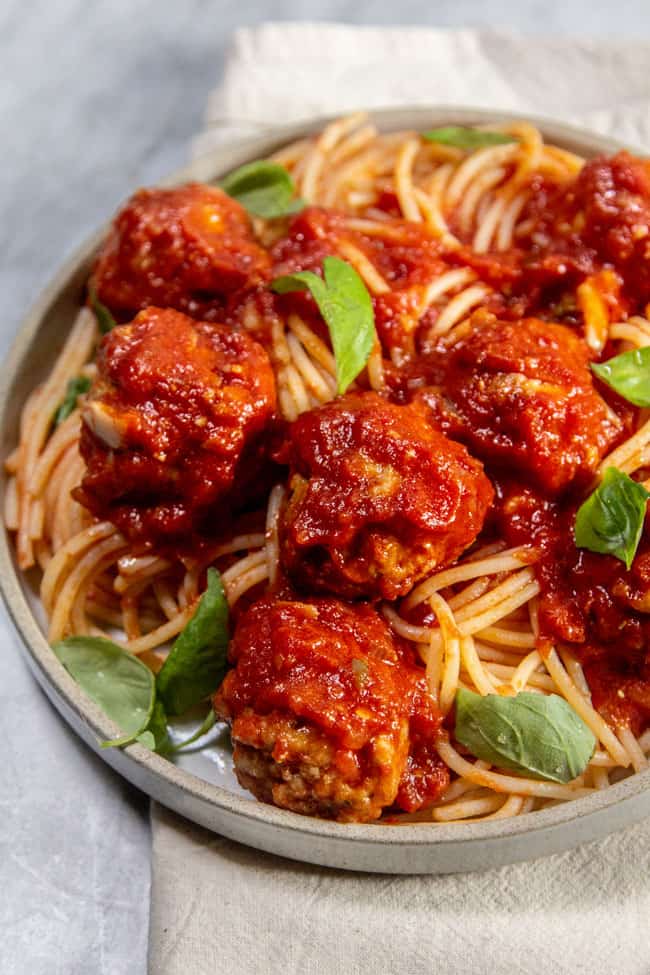 One Pan Baked Chicken Meatballs & Tomato Sauce recipe
Tired of the same old recipe rotation for dinner? Try our One Pan Baked Chicken Meatballs and Tomato Sauce! This new recipe is loaded with over a dozen succulent basil and garlic-laced meatballs that are baked in a sultry butter and caper-laced tomato sauce. This is a recipe that requires minimal hands-on time, is made with simple ingredients, and is as big of a hit with the adults as it is with the kids. Winner, winner, weeknight chicken dinner!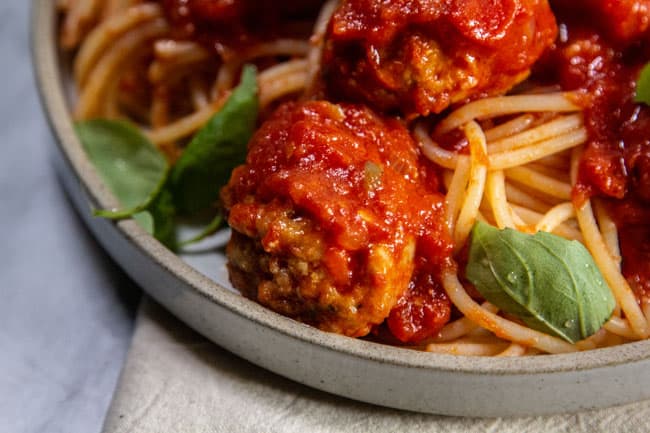 Ingredients needed to make Baked Chicken Meatballs and Tomato Sauce
olive oil
(1) 28-ounce can of whole, peeled tomatoes
garlic
shallots
capers
crushed red pepper flakes
ground chicken or turkey
eggs
almond flour or breadcrumbs
Parmesan cheese, grated
basil
spices: Italian seasoning, onion powder, garlic powder
green olives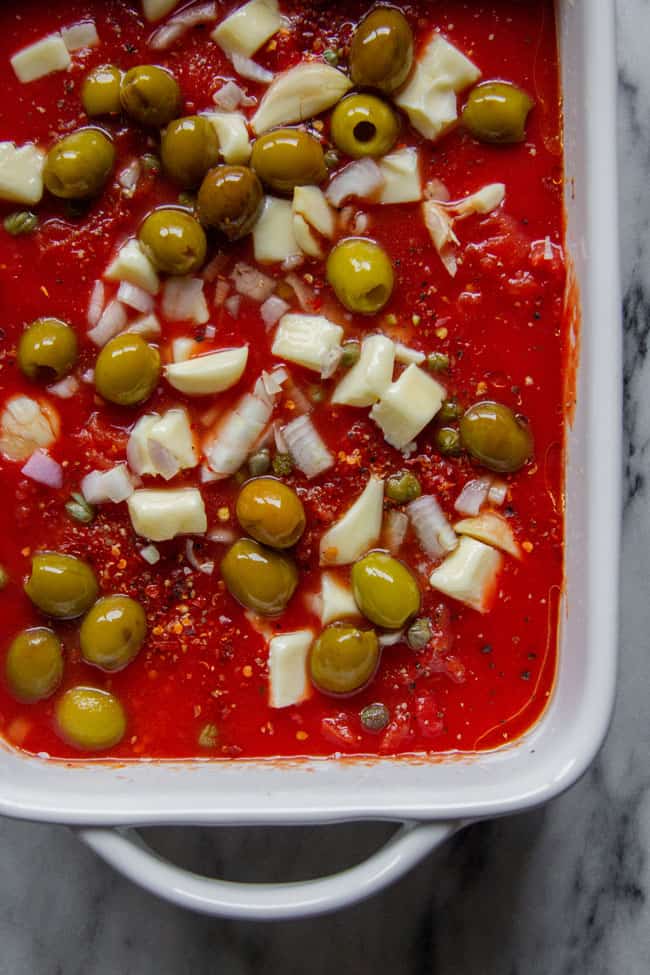 Can I make a vegetarian version of the oven-baked tomato sauce?
Yes, you can make a vegetarian version of this oven-baked tomato sauce and you totally should!
Because this veggie-packed spaghetti and meatballs-inspired recipe is an entirely different flavor experience than its meaty counterpart.
To make this recipe vegetarian, simply add 1 cup of green (or black) California olives to the baking dish with the other tomato sauce ingredients and omit the meatballs. Bake for the same amount of time as the original meatball studded version of the recipe.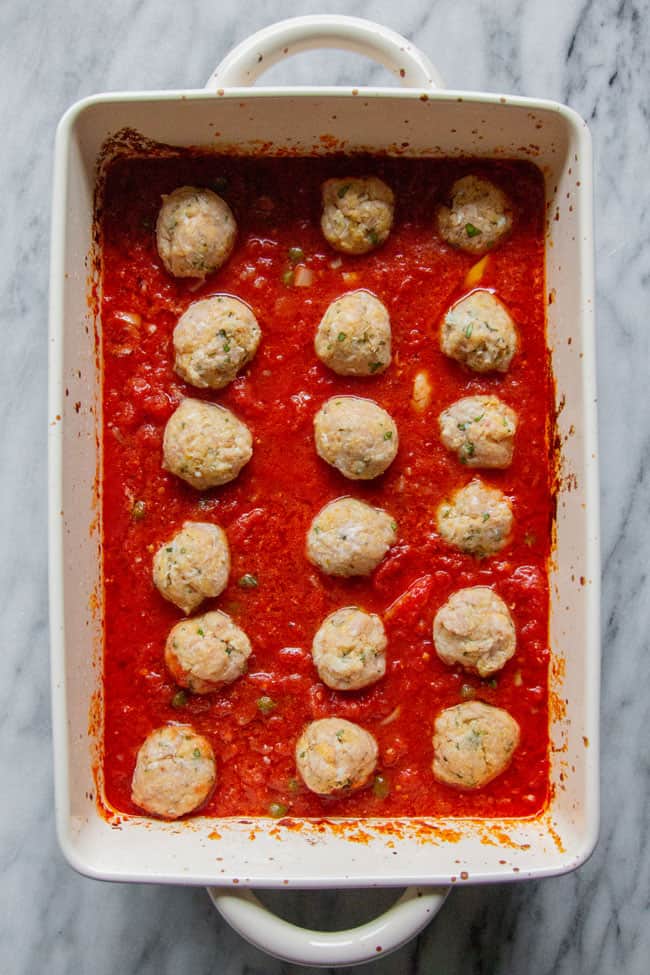 What side dish should I serve with Baked Chicken Meatballs and Tomato Sauce?
Honestly, this recipe is hearty enough to serve on its own, with pasta, or piled on a hoagie bun to make a meatball sub sandwich, but with all of the hands-off baking time, you might want to create a colorful veggie-packed side dish.
You can present this colorful salad from The Delicious Life composed in a large, shallow bowl, then drizzle with vinaigrette and gently toss at the table right before serving, or you can dress and toss all the ingredients first and serve in any large bowl. The options are endless!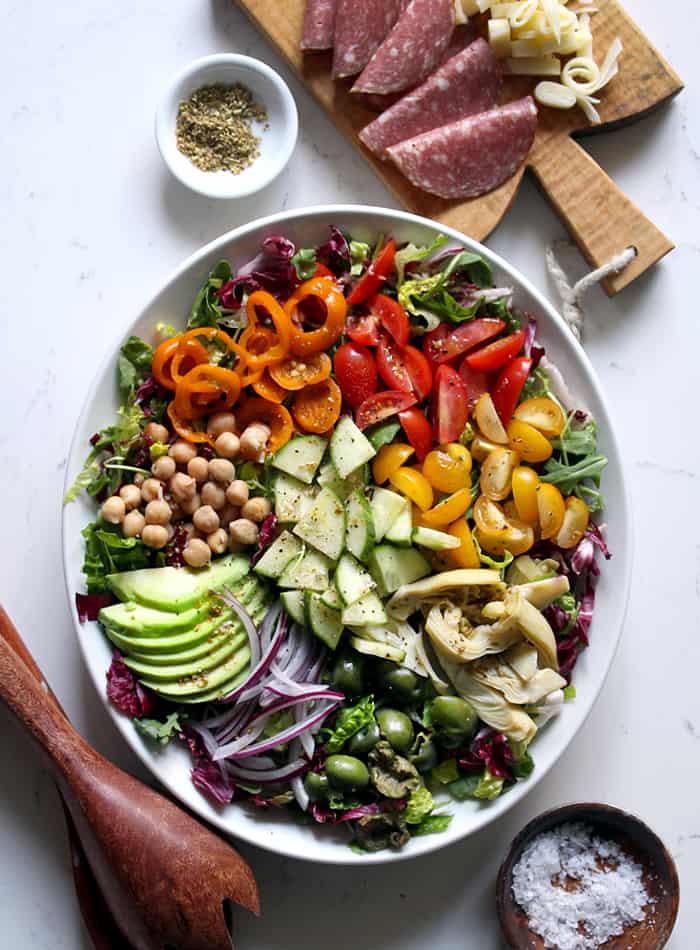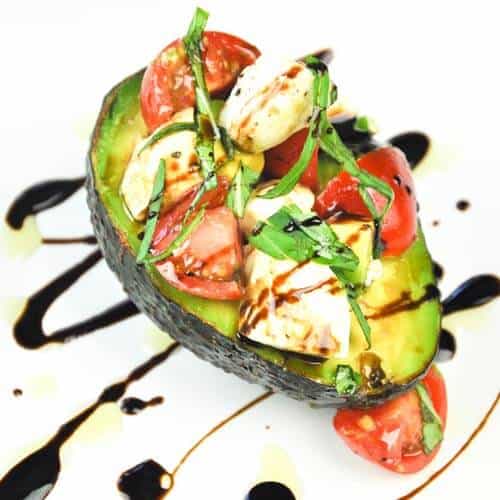 This no-cook Caprese-inspired side dish is the perfect salad-inspired accompaniment to our Baked Chicken Meatballs and Tomato Sauce!
Be sure to share your One Pan Baked Chicken Meatballs and Tomato Sauce recreations with us by snapping a pic and tagging us on social using #CAGROWN.
Craving more CA Grown goodness? Follow us on Pinterest for fresh and fabulous recipe inspiration!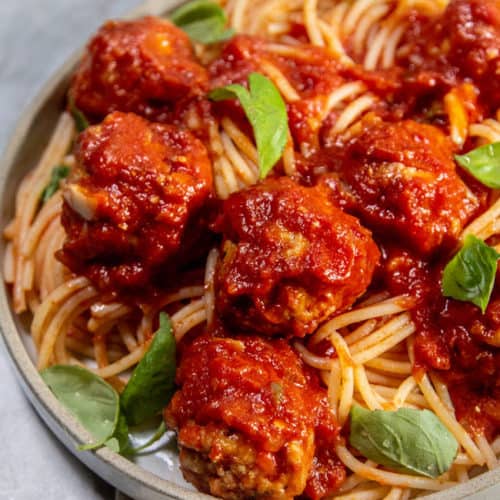 One Pan Baked Chicken Meatballs and Tomato Sauce recipe
An easy dinner recipe for succulent basil and garlic-laced chicken meatballs that are baked in a sultry butter and caper-laced tomato sauce.Be sure to save some of the starchy pasta water from cooking your pasta – we will use it as an ingredient in the sauce.
Equipment
13×9 baking dish (23 x 33 cm)
Ingredients
For the oven-baked tomato sauce
2 tablespoons olive oil for greasing baking dish
1 (28-ounce) can whole peeled tomatoes from California
1/4 cup butter cut into small cubes (1/2 stick)
8 large cloves of garlic peeled and crushed with the flat side of a chef's knife.
1 shallot minced
1 1/2 teaspoons capers brined in water, drained
1/2 teaspoon crushed red pepper flakes
1/2 cup green olives optional
1/2 cup starchy pasta cooking liquid reserved before draining cooked pasta. **See note for substitutions.***
For the baked chicken meatballs
Instructions
Assemble the Oven Baked Pasta Sauce
Preheat the oven to 425°F (220°C) and generously grease a 13×9 inch (23 x 33 cm) baking dish with 2 tablespoons olive oil.

Empty the can of tomatoes into the prepared baking dish and crush the tomatoes lightly with your hands. **Watch out for squirting tomato juice!**

Scatter the butter pieces, crushed garlic, minced shallots, capers, crushed red pepper flakes, and olives, if using, across the top of the tomatoes. Season generously with salt and pepper and transfer to the oven to roast for 20 minutes.
Assemble the Baked Chicken Meatballs
Combine all of the meatball ingredients into a mixing bowl and mix well until combined thoroughly.

Roll the mixture into approximately 2 dozen tablespoon-sized meatballs. **See Note**

Once the tomato sauce has been roasting for 20 minutes, remove the baking dish from the oven and give the sauce a good stir.

Nestle the desired amount of prepared meatballs down into the sauce and return the baking dish to the oven to roast for another 20-25 minutes, or until the meatballs are cooked through.

Once cooked through, remove the pan from the oven and slide the meatballs to one side. Use a fork or a potato masher to gently mash the roasted tomatoes, capers, garlic, and olives (if using) together until the mixture resembles coarse applesauce in texture.

Add 1/4 cup of the pasta cooking liquid ( or chicken broth, see note) to the pan with the mashed sauce and stir to combine, adding more if necessary to loosen the sauce until it is your desired consistency.

Coat the meatballs in the sauce and serve immediately with pasta, more red pepper flakes, and Parmesan cheese.
Notes
A note about starchy pasta water
If you are serving the meatballs and sauce over pasta, you should have no problem reserving the pasta water that is called for in the recipe. However, if you plan on serving the meatballs and sauce without pasta, substitute vegetable or chicken broth for the pasta water.
A note about how to store and cook any extra baked chicken meatballs
This recipe makes 2 dozen tablespoon-sized baked chicken meatballs. If that is more than you need for one meal you can freeze any additional meatballs precooked for another meal.
The meatballs are great on their own or if you want to make this One Pan Baked Chicken Meatballs and Tomato Sauce recipe with the extra again, simply add the frozen meatballs after the sauce has cooked for 10 minutes so that the meatballs get a full 30 minutes in the oven to defrost and bake.
Nutrition
Calories: 1083kcalCarbohydrates: 128gProtein: 52gFat: 53gSaturated Fat: 15gPolyunsaturated Fat: 6gMonounsaturated Fat: 21gTrans Fat: 1gCholesterol: 180mgSodium: 5236mgPotassium: 6302mgFiber: 32gSugar: 72gVitamin A: 4182IUVitamin C: 280mgCalcium: 1107mgIron: 31mg
Hungry for more meatball recipes? Keep scrolling!
Meatballs are one of the easiest recipes on the planet to make, they are infinitely customizable, and they even pack well in lunches for a protein-packed desk lunch sans pasta.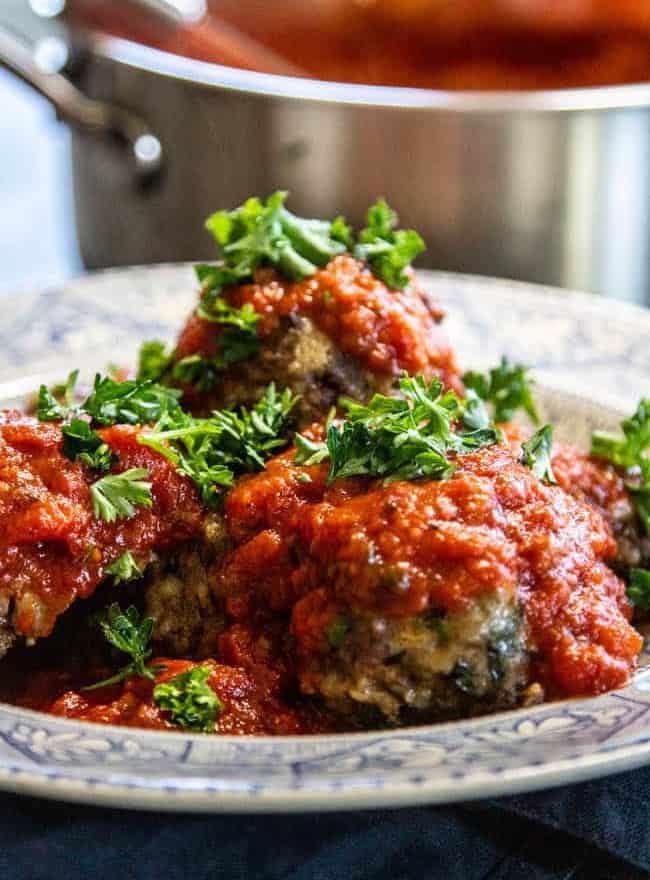 These stuffed meatballs from G-Free Foodie are so much more than just a pasta topper – they're delicious on their own, in a sandwich, or even on top of salad. There's really no wrong way to eat them!
This Gluten-Free Tortellini Soup recipe from This Mess is Ours is loaded with tender pork meatballs, vegetables, and cheese-filled tortellini, all simmered in a rich tomato broth – an easy dinner option that's perfect for a busy weeknight!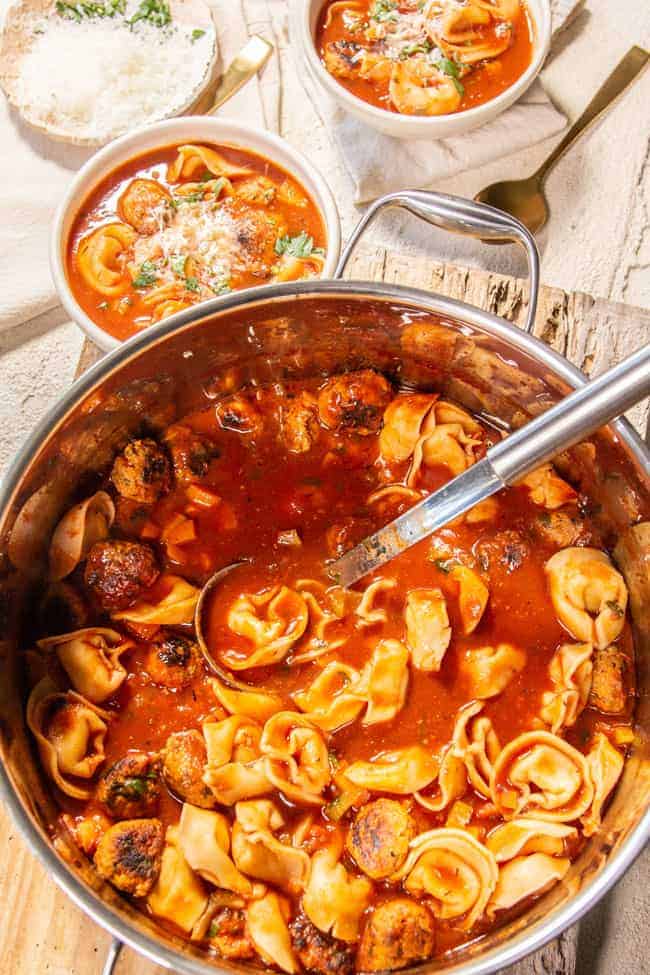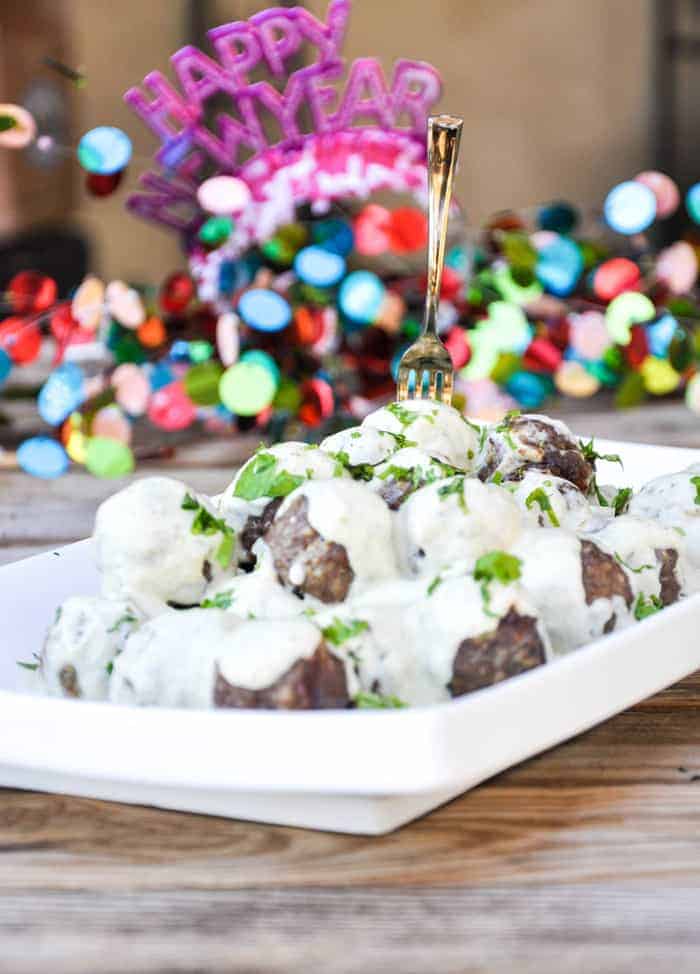 Drenched in a Thai curry sauce with hints of lime and ginger, this meatball appetizer is an unexpected, but always welcome addition at any gathering!
This meatless spaghetti and "meatballs" dish from Salt & Wind is made with spaghetti squash and quinoa for a hearty vegetarian spin on a classic meatball recipe.