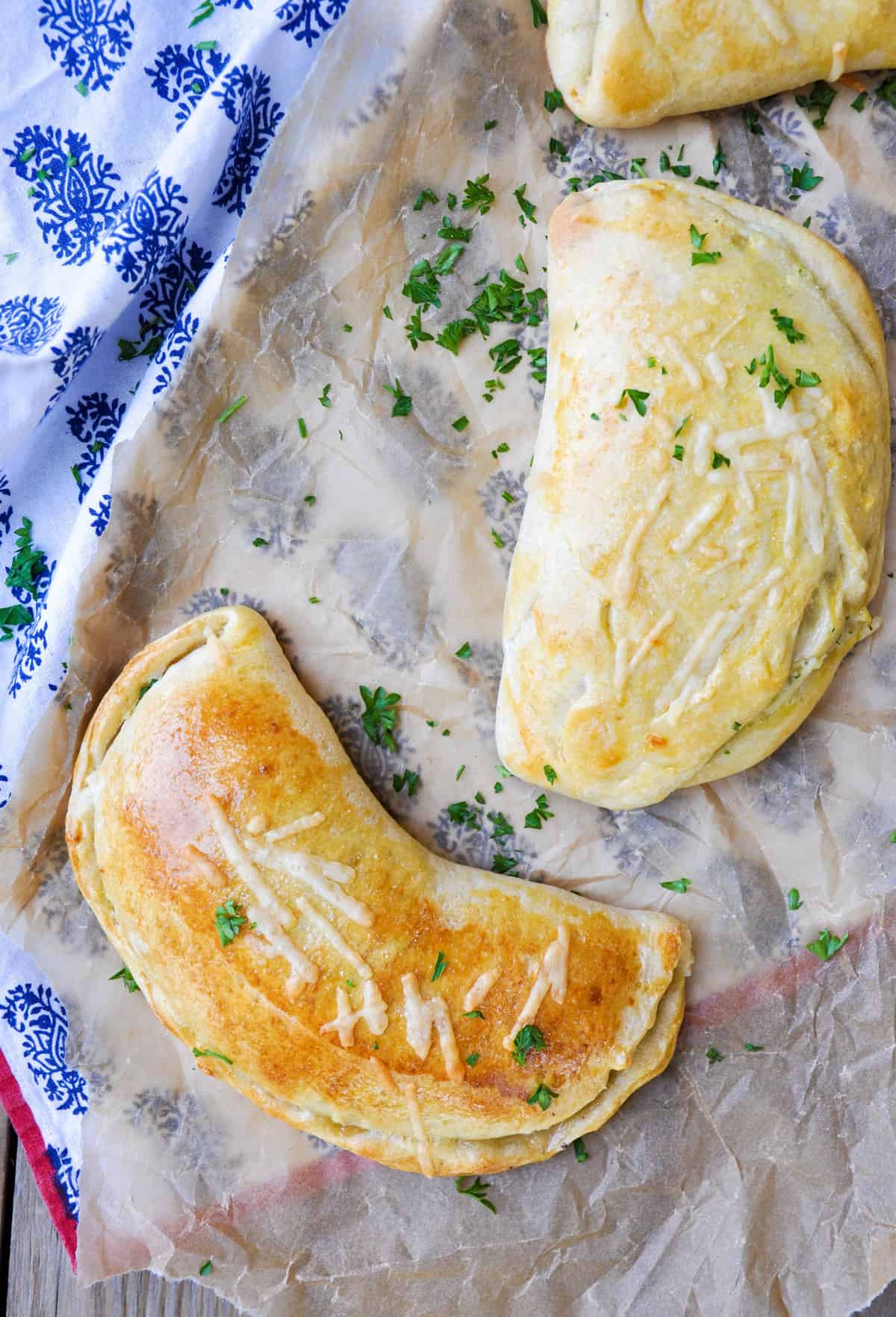 CA GROWN Blog
Discover. Learn. Connect.
Beef & Mushroom Calzone
September 6, 2017
Eat the Season!
Sign Up For Weekly Recipes
« Back to Recipes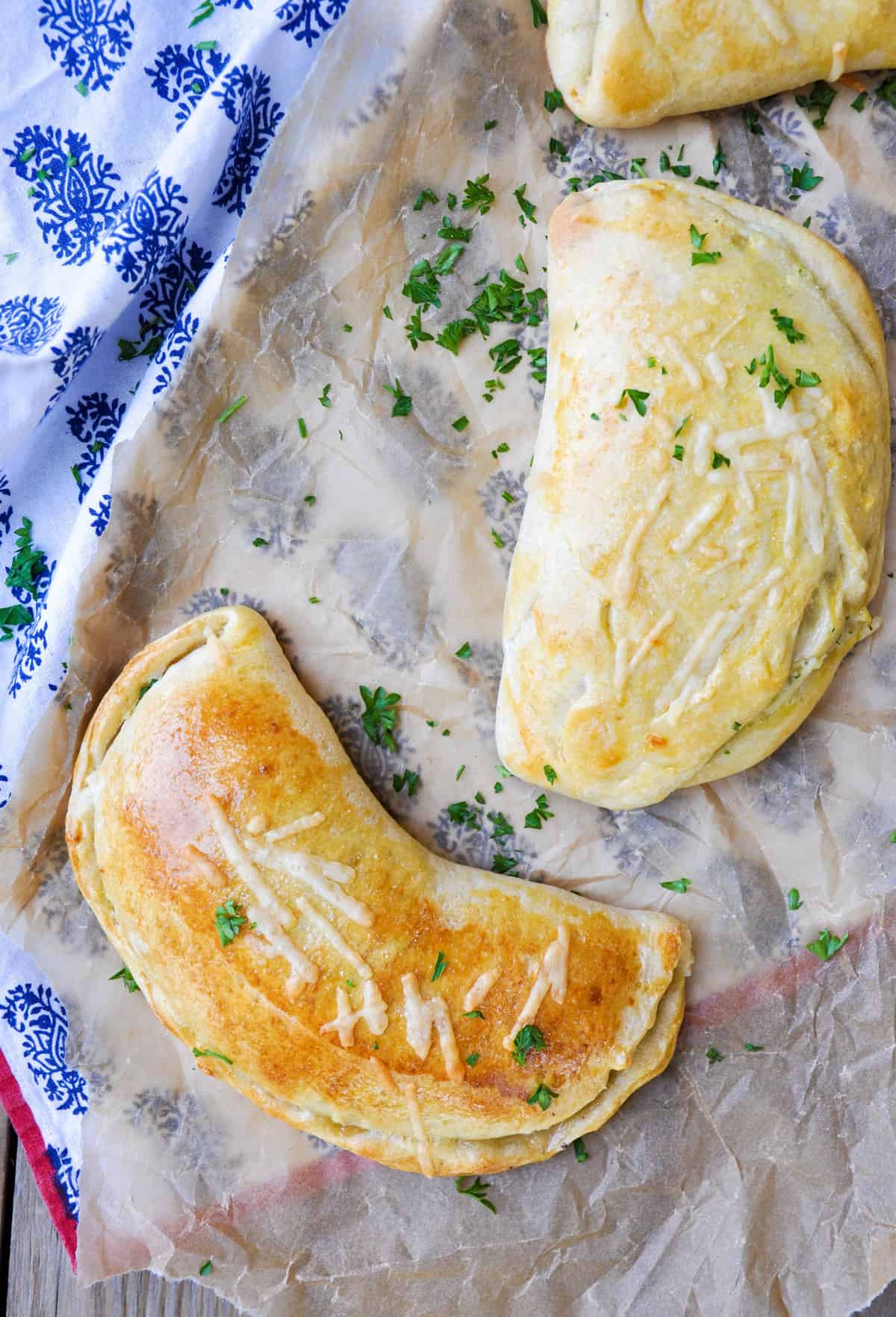 Beef & Mushroom Calzone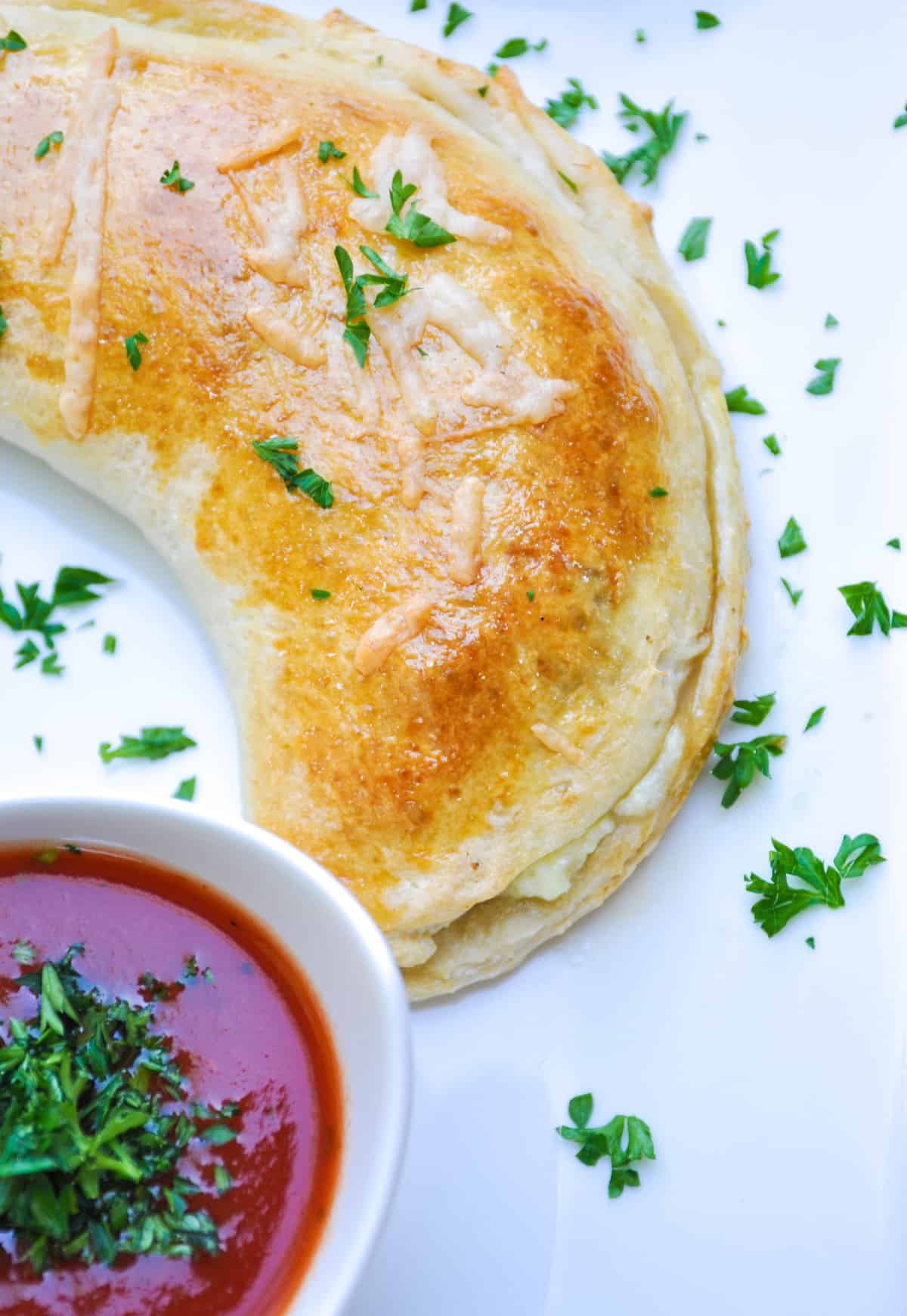 My kids are all gaga over anything Italian.
Of course pizza, but they love spaghetti and any noodle for that matter. I figured it was high time they experienced a fabulous calzone!
Calzones are the ultimate comfort food. Hot, crusty dough stuffed with seasoned meat and gooey cheese… all slathered with a tangy tomato sauce.
Yum!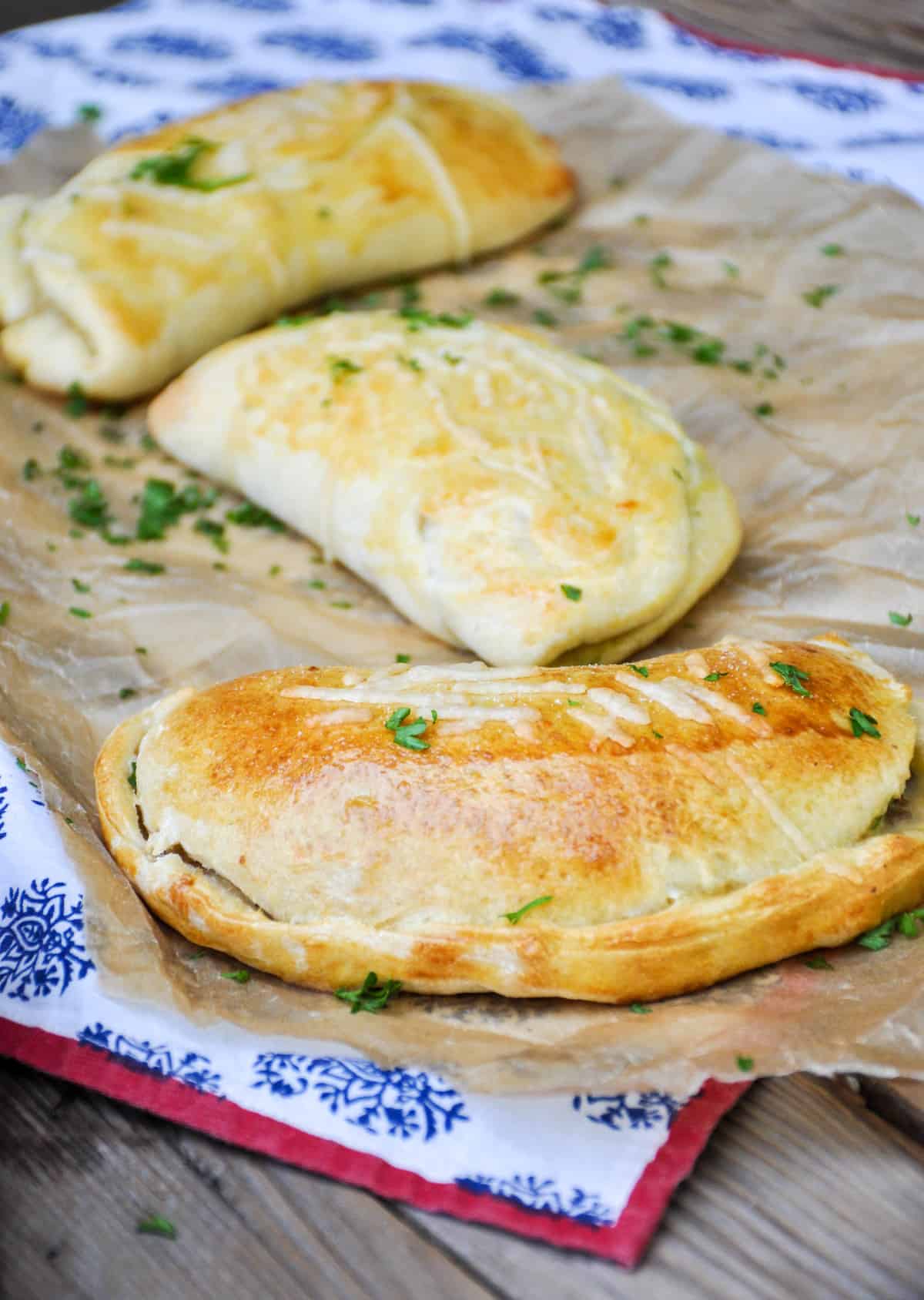 I saved some time and used refrigerated pizza dough for these, but you could always make your own dough, or use leftovers from a previous dough batch that you put in the freezer. Another time saver was using jarred spaghetti sauce. Ain't no shame in that! I have found a favorite that the entire family loves, so we don't stray too far from it when needed.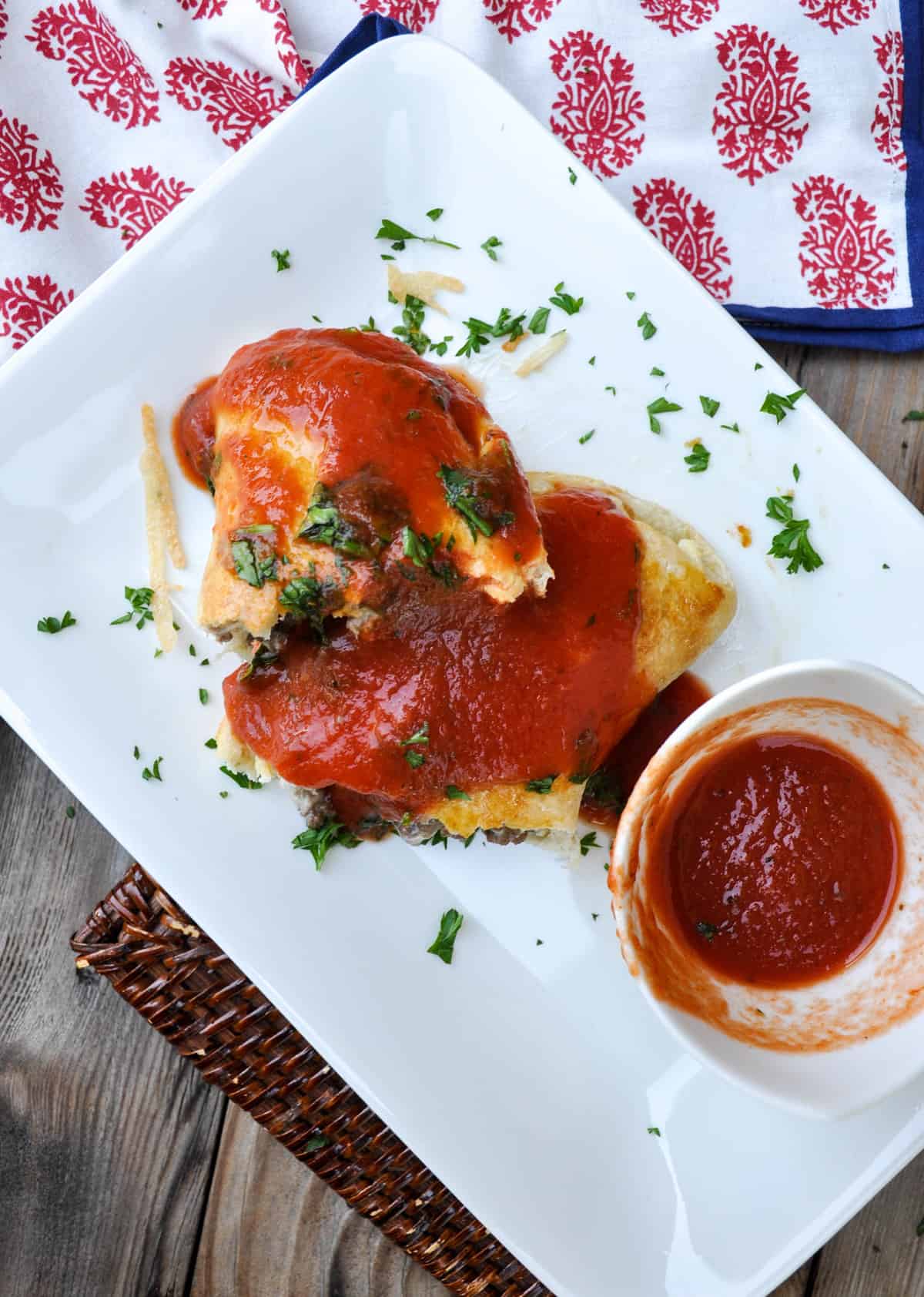 The secret to perfect calzones is to not overfill them! You want them stuffed, of course, but you have to achieve the perfect balance of dough and filling in order for the ingredients to not spill out while baking. But trust me, it's not difficult and a little common sense goes a long way.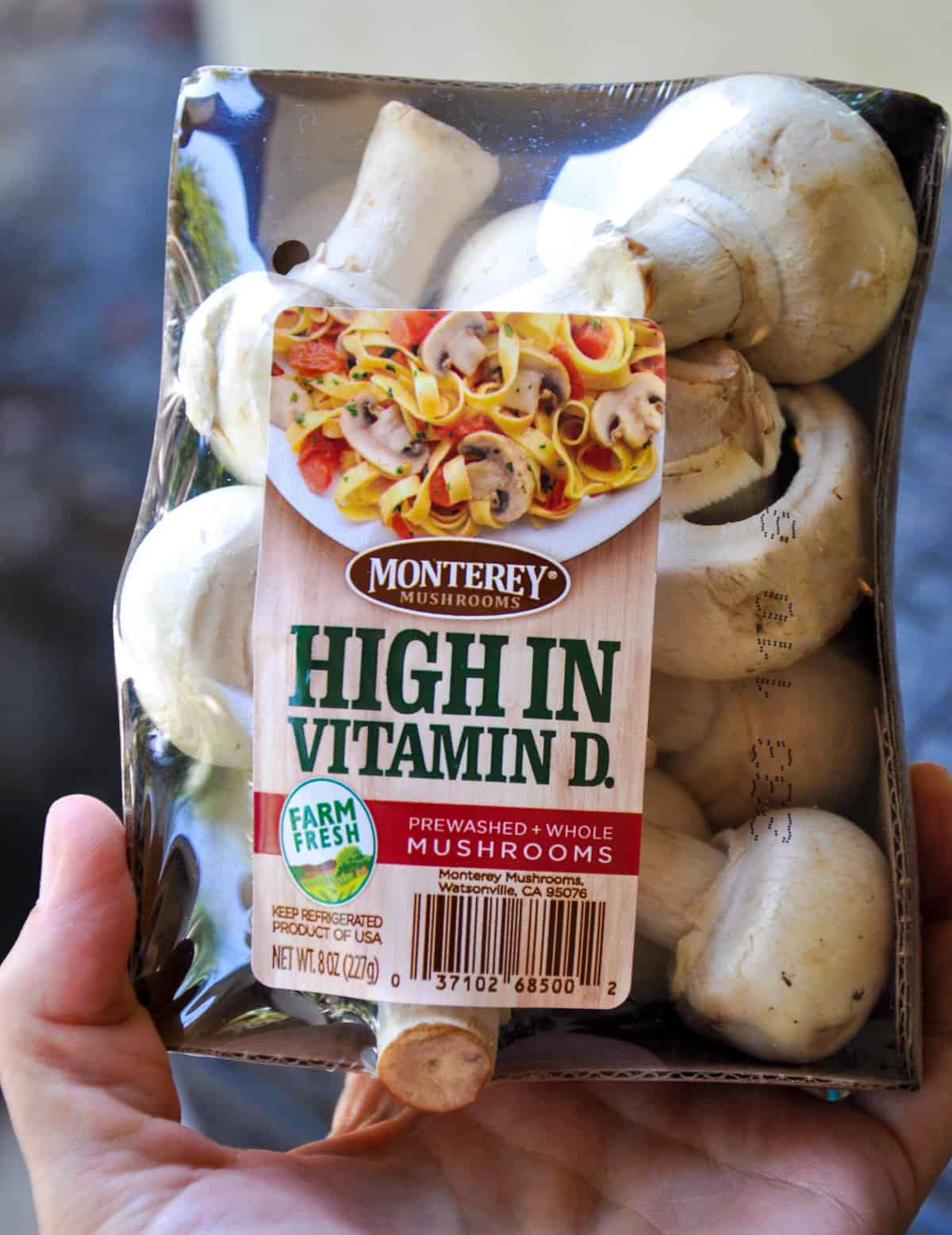 Mushrooms are a key ingredient in these calzones. They are chock full of flavor and texture!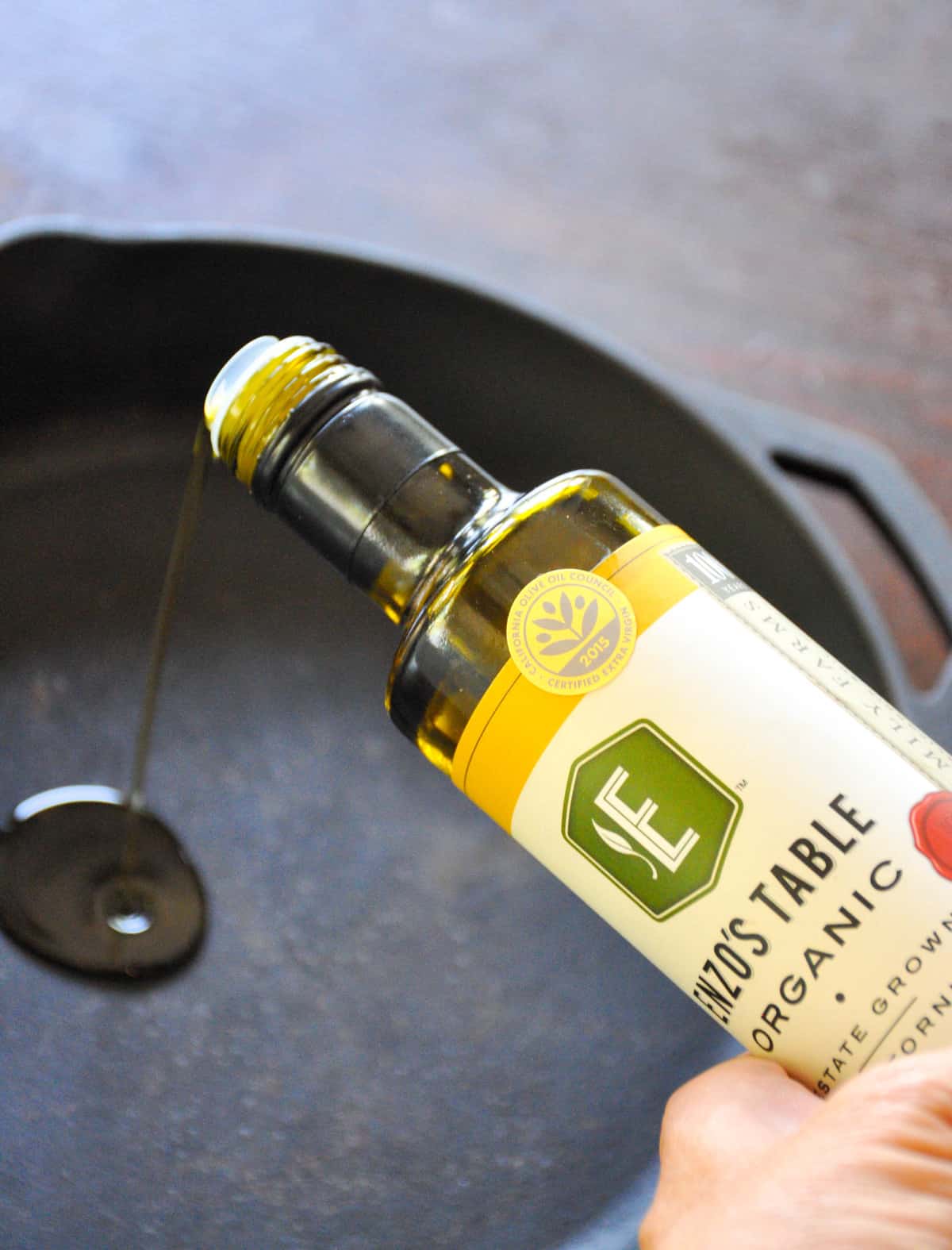 Start by adding olive oil to a pan (I love using my cast iron pan for sautéing up ground beef).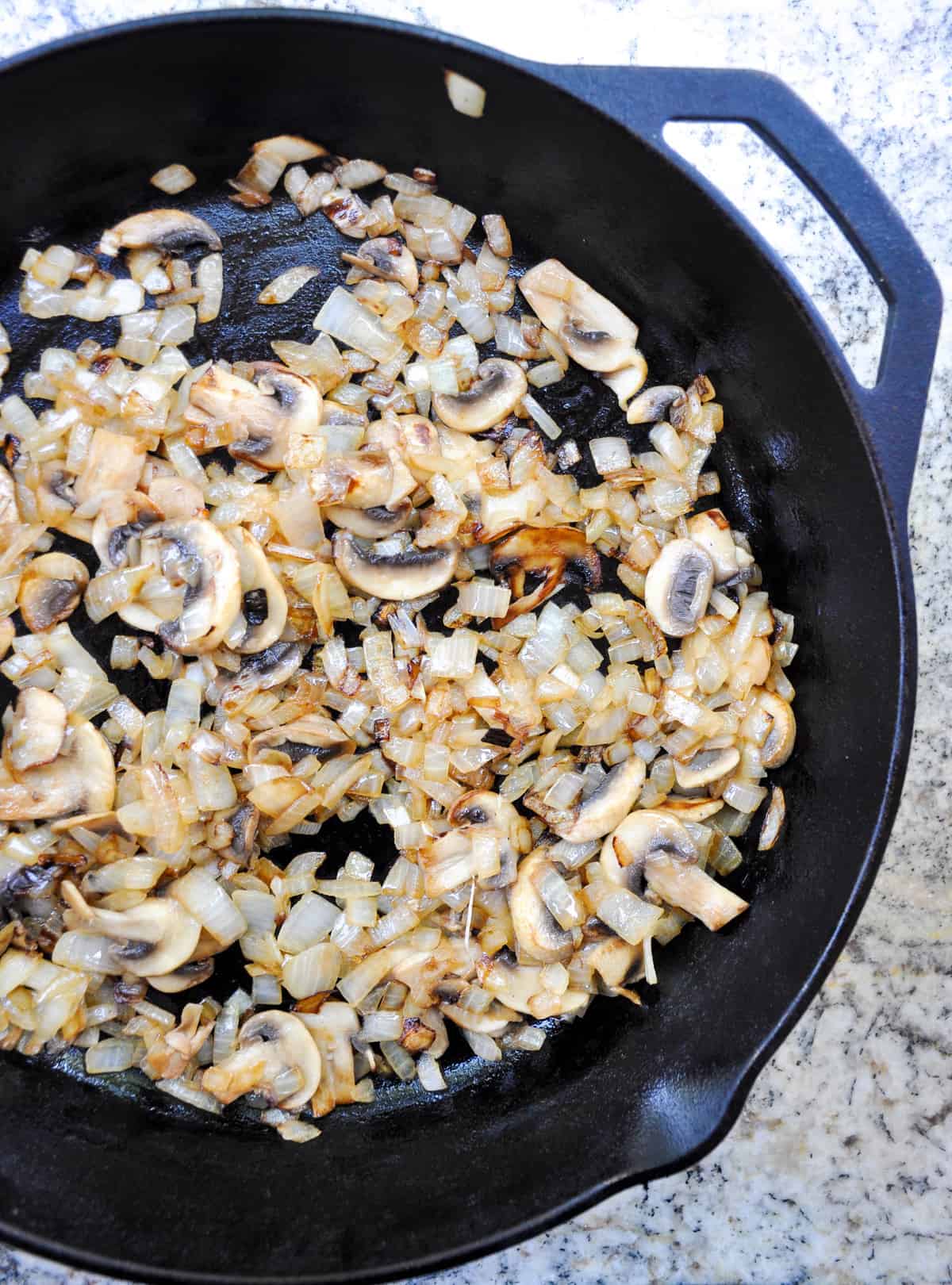 Cook the onion until opaque and then add the sliced mushrooms.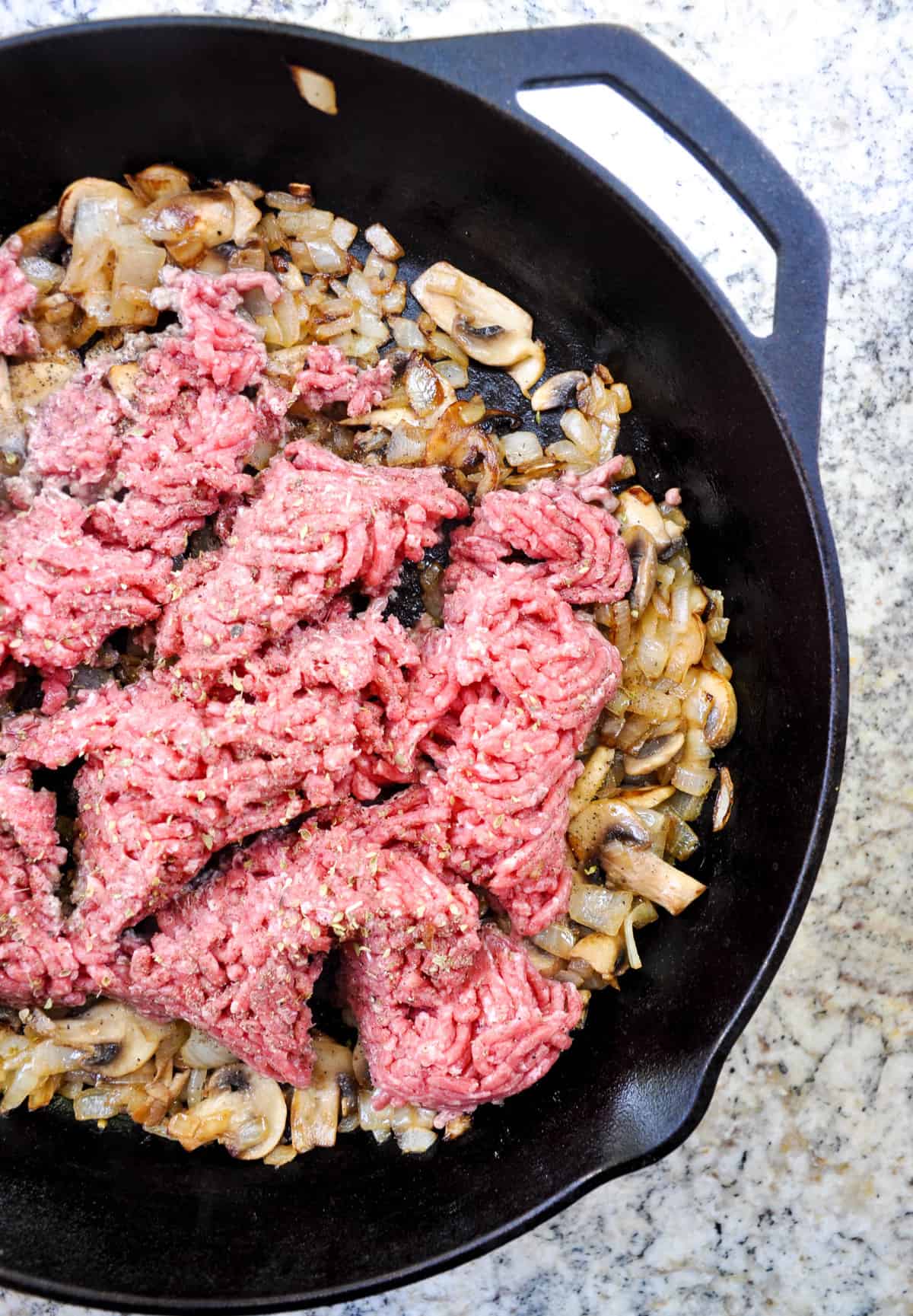 Add in the ground beef (I always use Harris Ranch) and seasonings and cook down until no longer pink.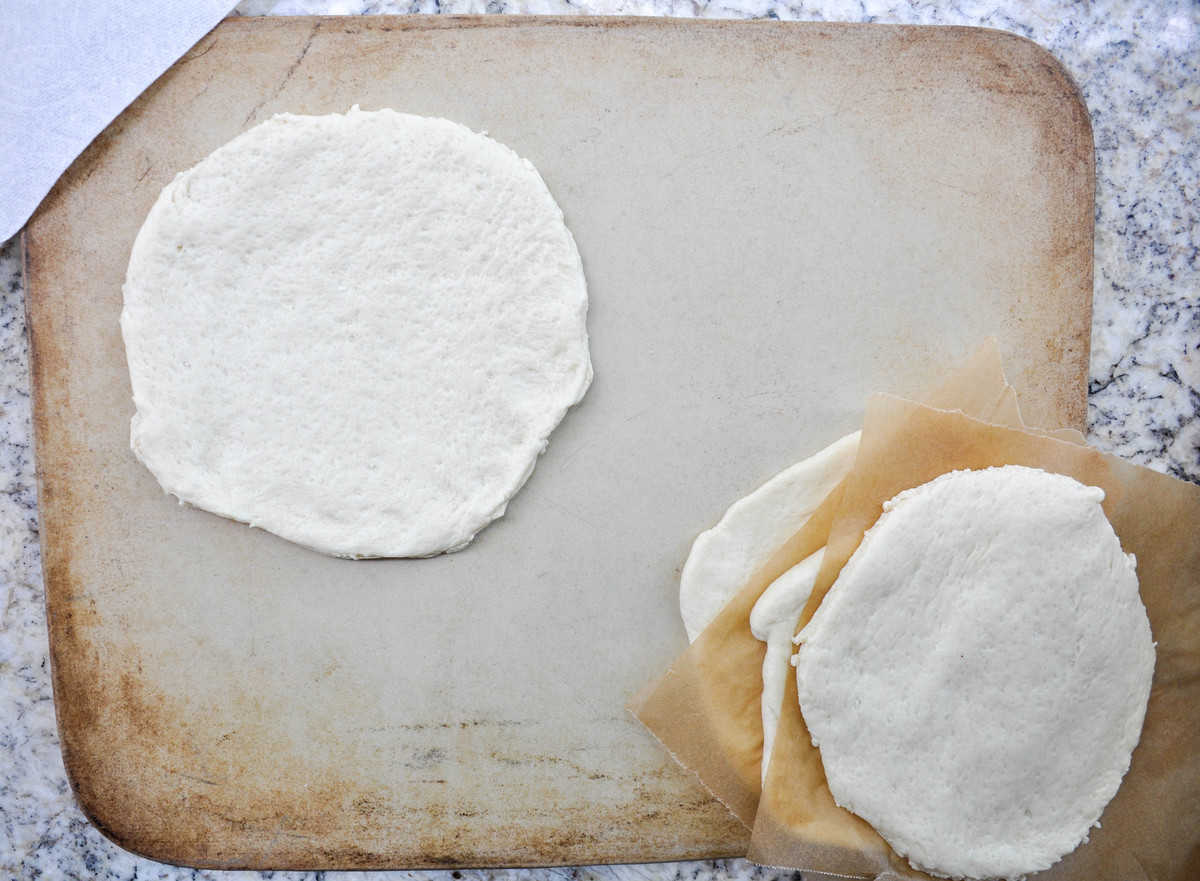 I cut my pre-made pizza dough into 4 5″ rounds.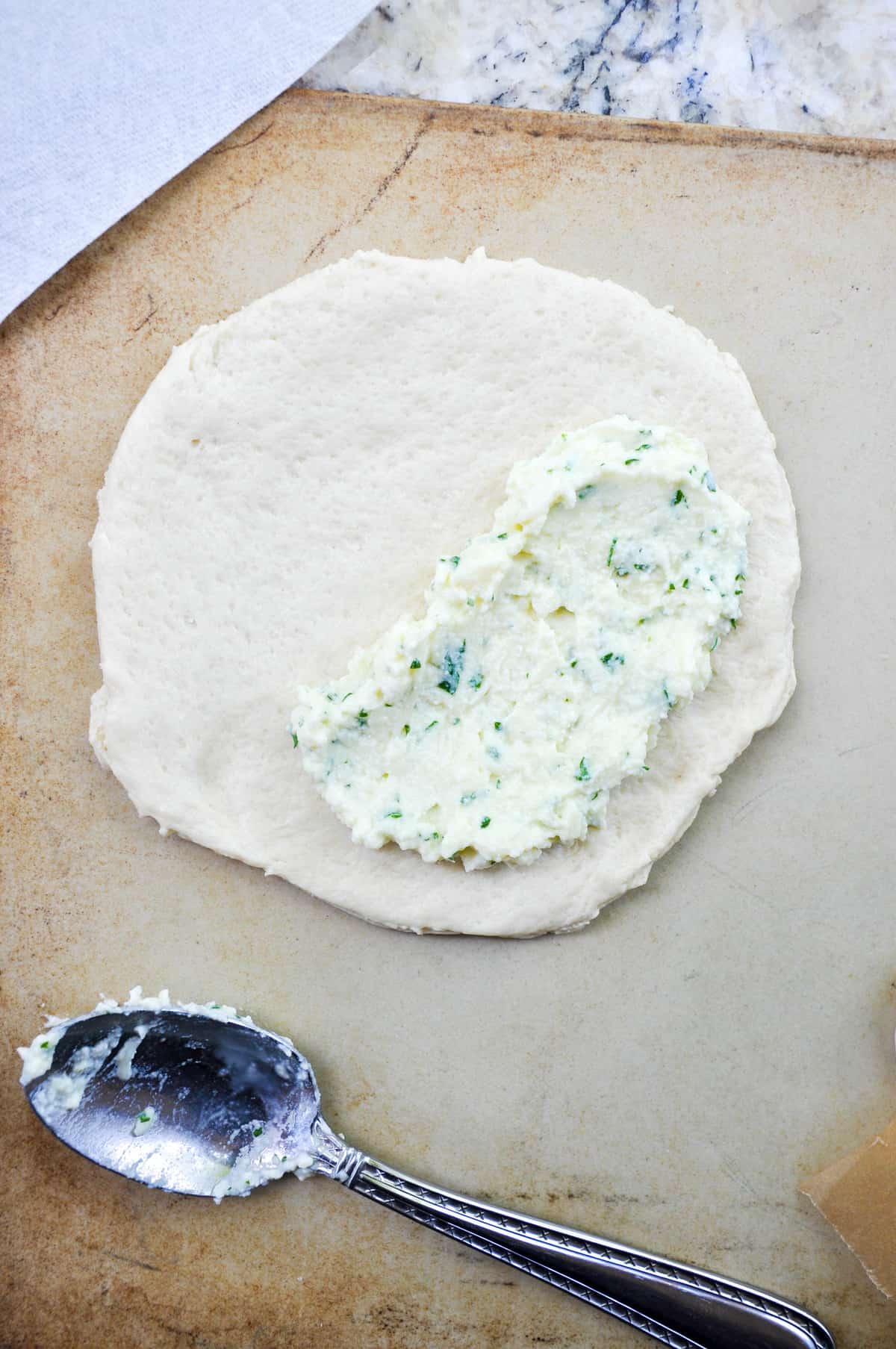 Add a heaping spoonful of the ricotta cheese mixture to half of the dough, making sure to keep a small portion of the dough clear of any ingredients. This will help with sealing later.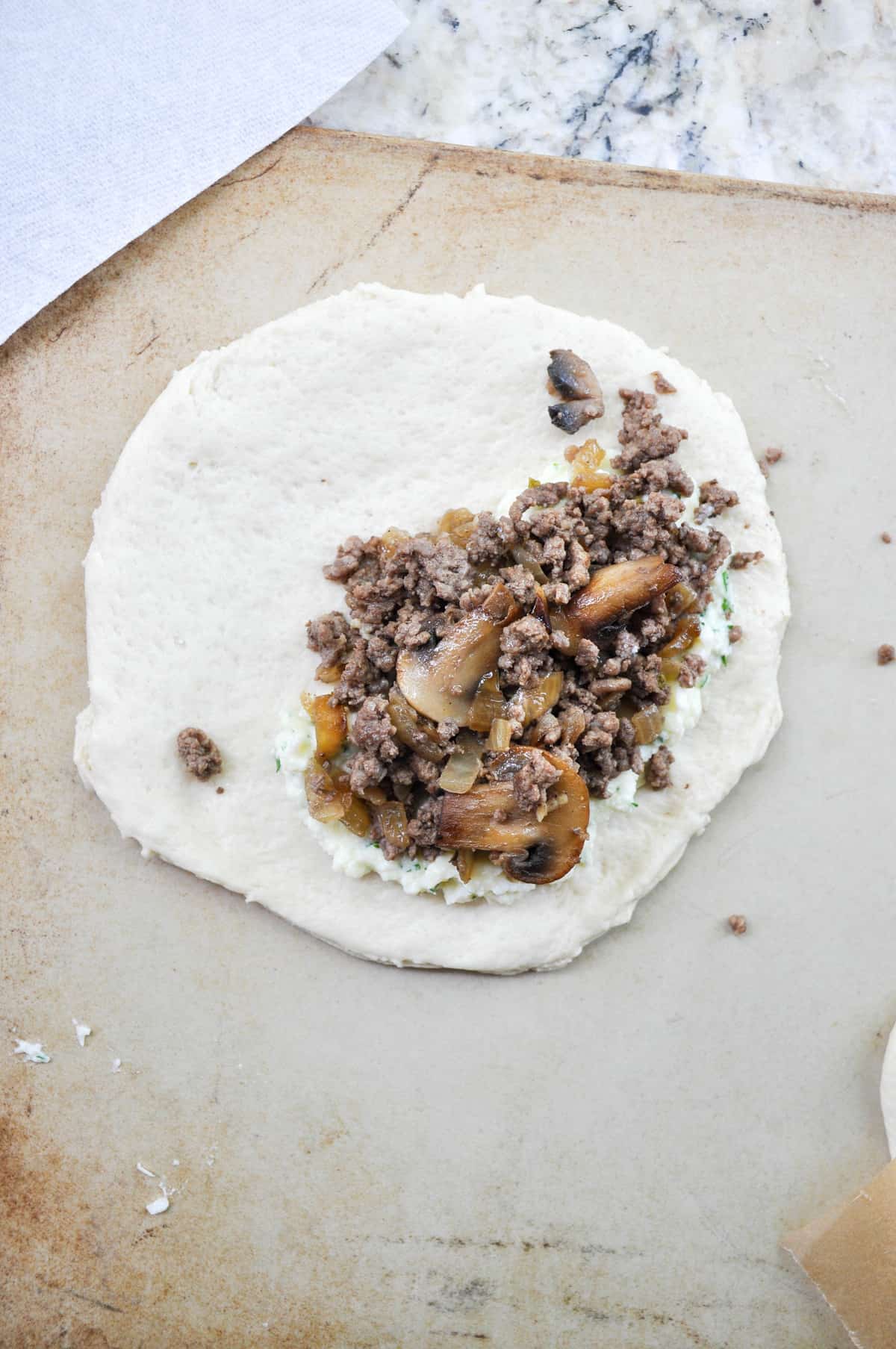 Top with the ground beef mixture.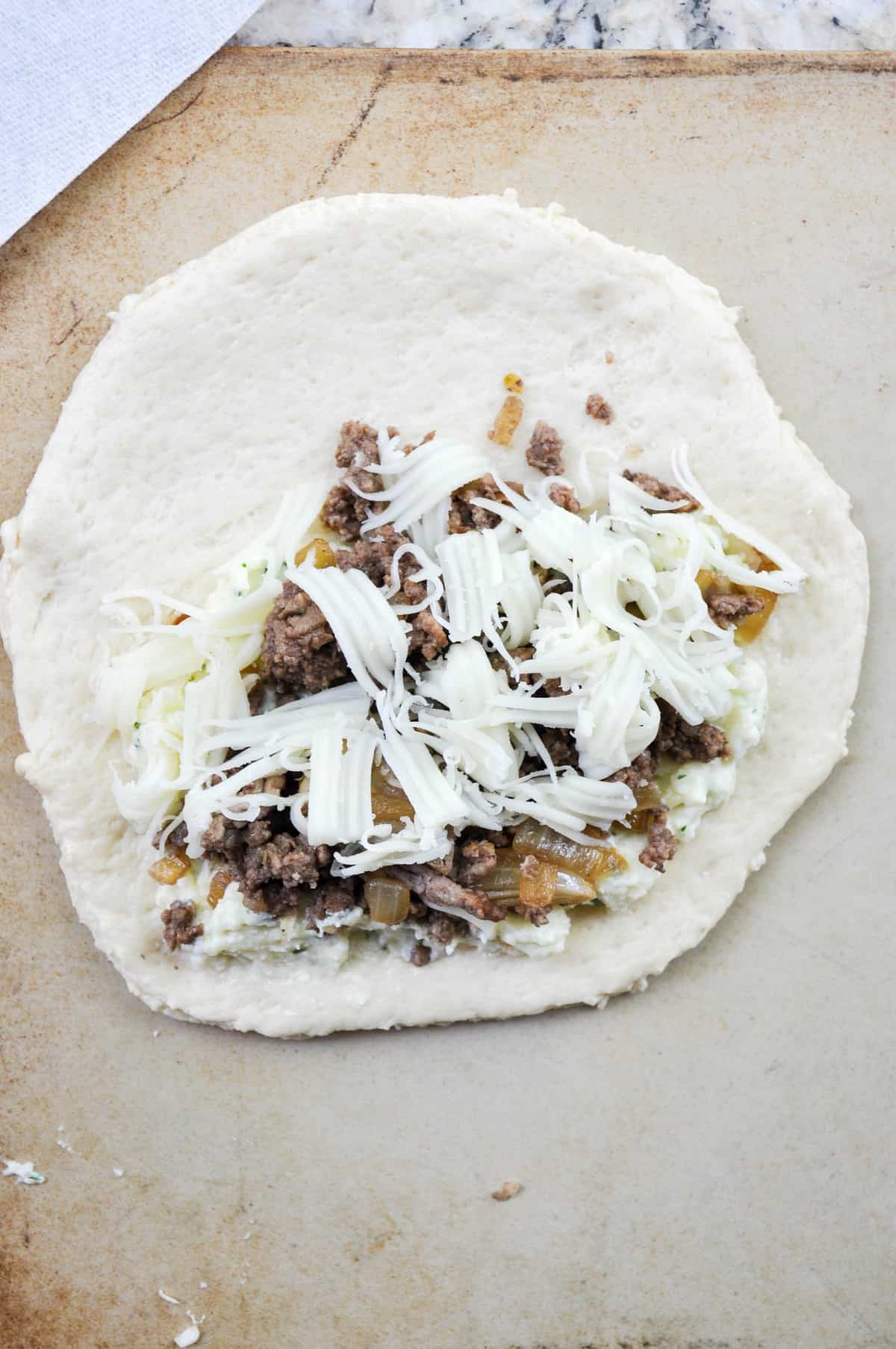 Add a bit of shredded mozzarella.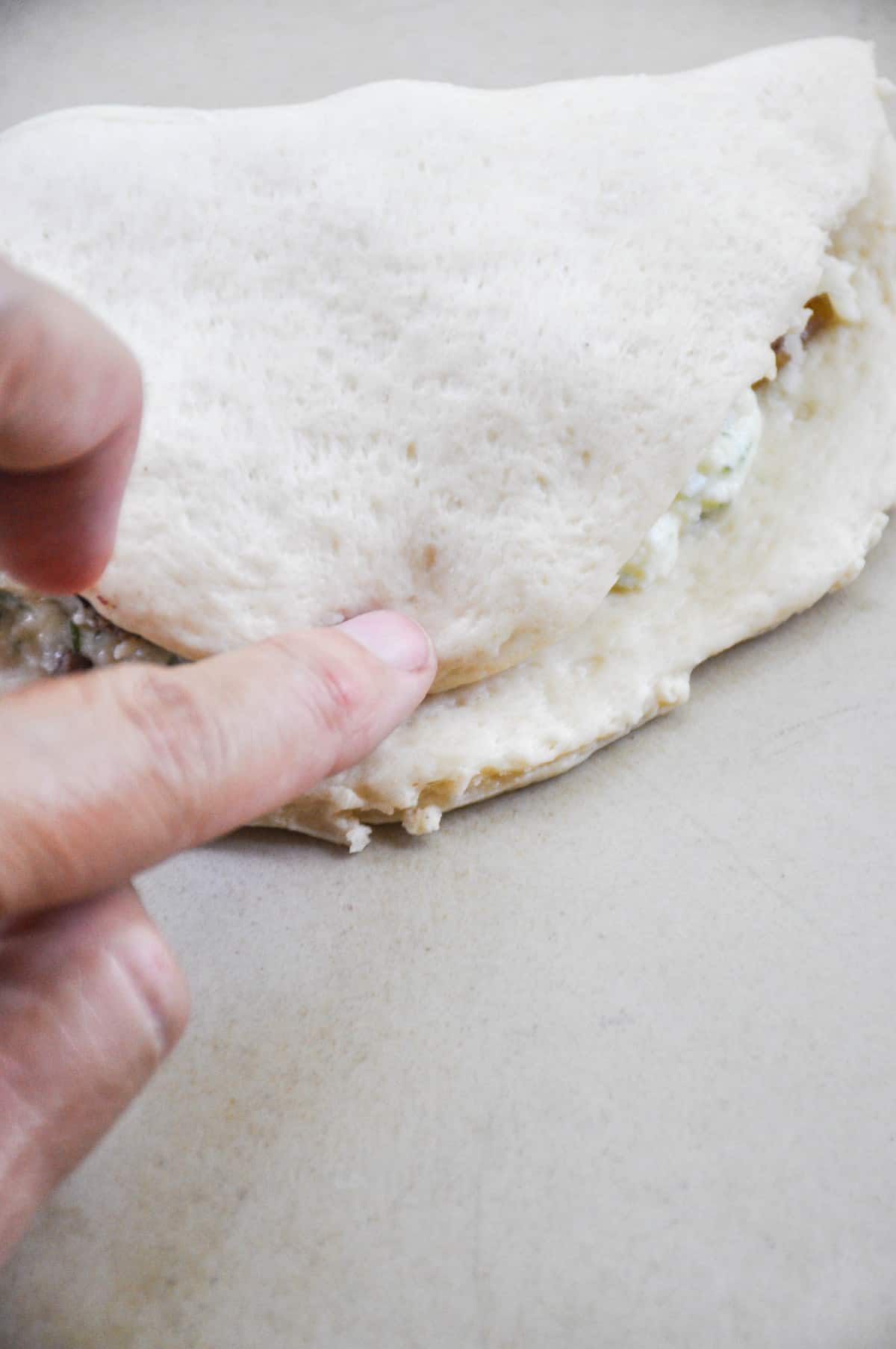 Now, take the other half of the dough and wrap it around the filling. The dough on the bottom that you kept clear of filling, that is where you want to bring the top dough over to.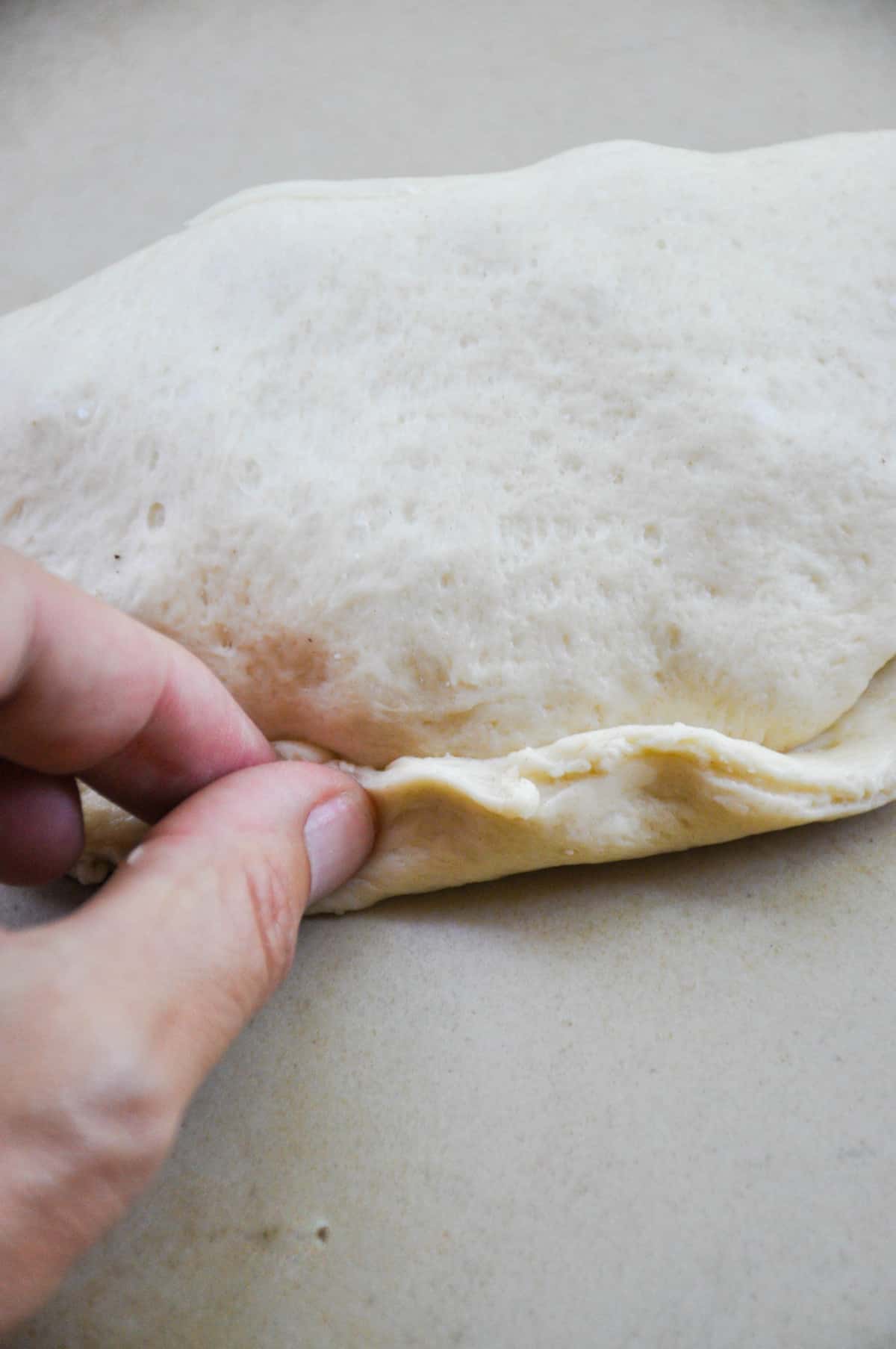 Now wrap the bottom dough UP to the top dough, pressing and forming a seal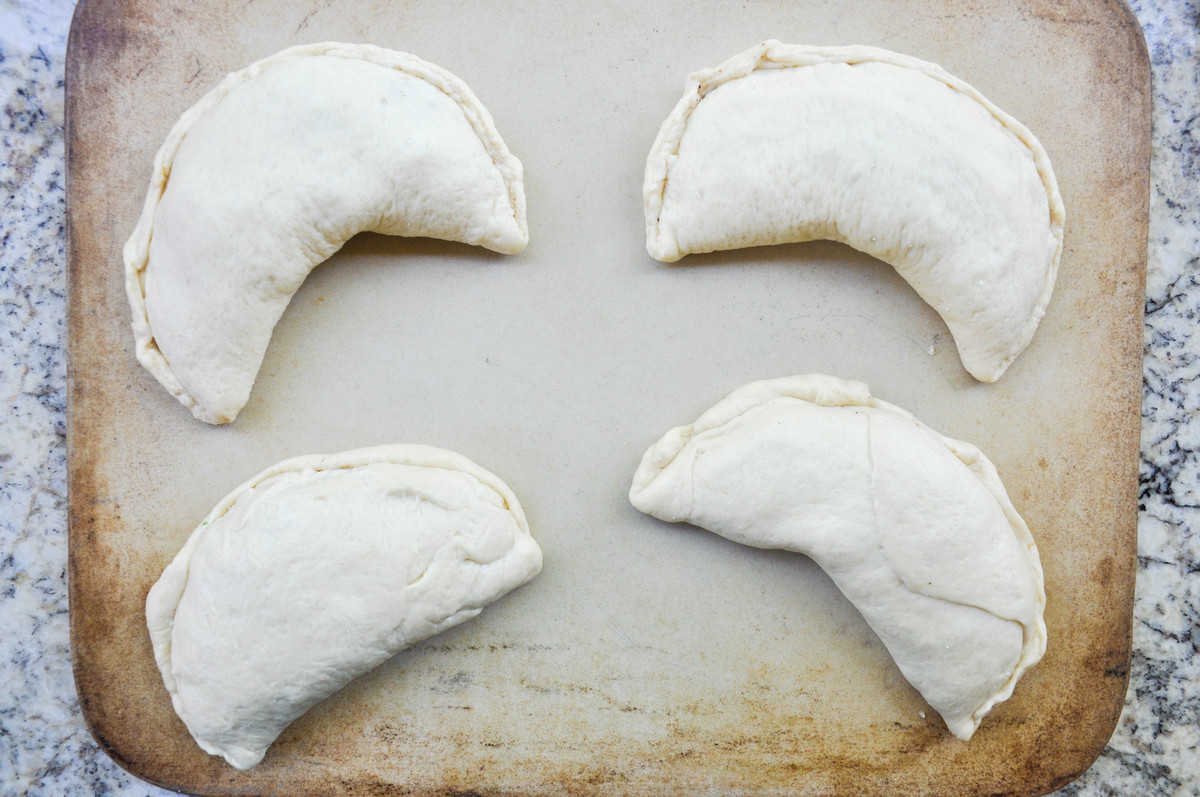 Shape the dough into a crescent form and brush with egg.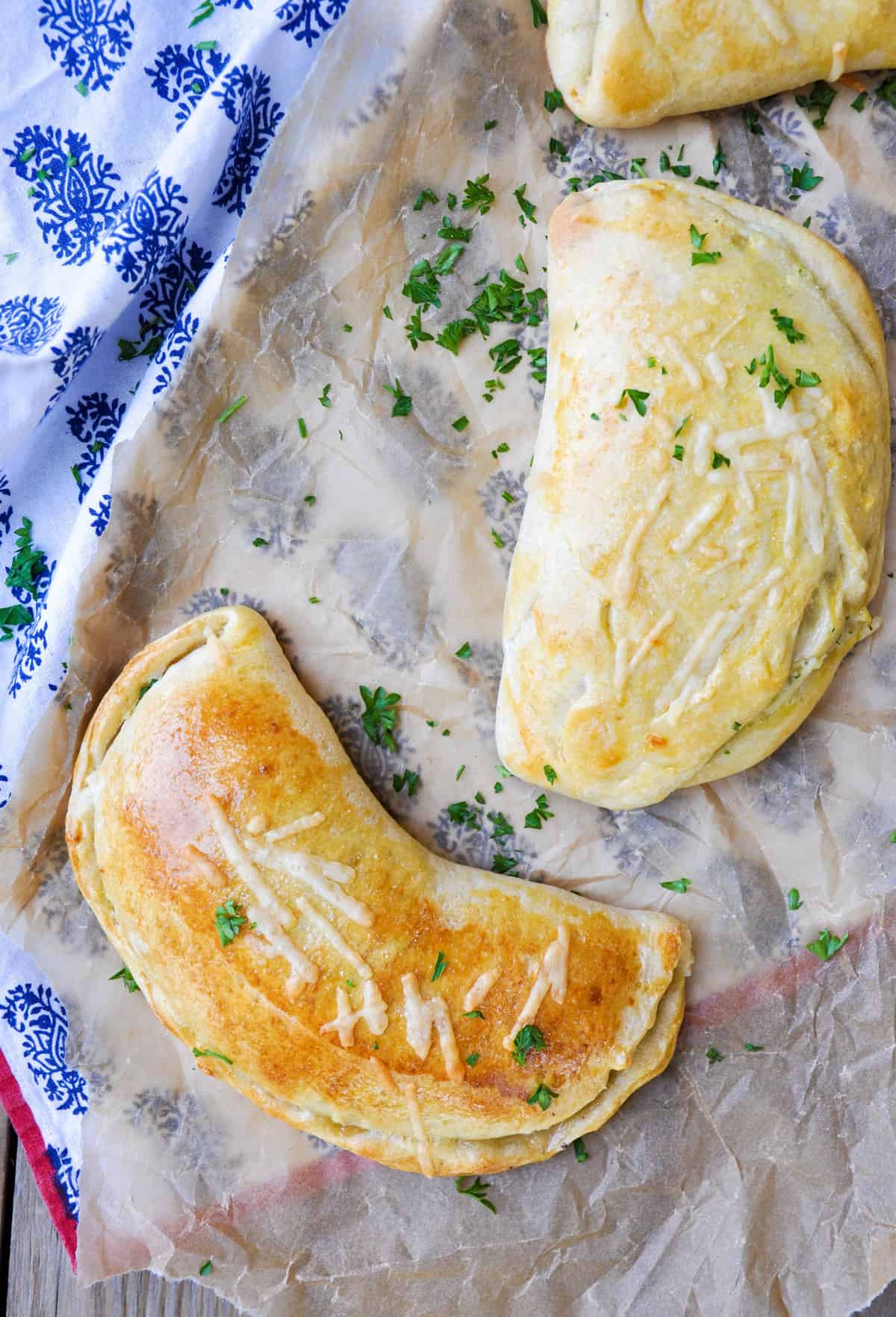 Bake for about 18 minutes! I sprinkled mine with a bit of parmesan before they were completely done cooking.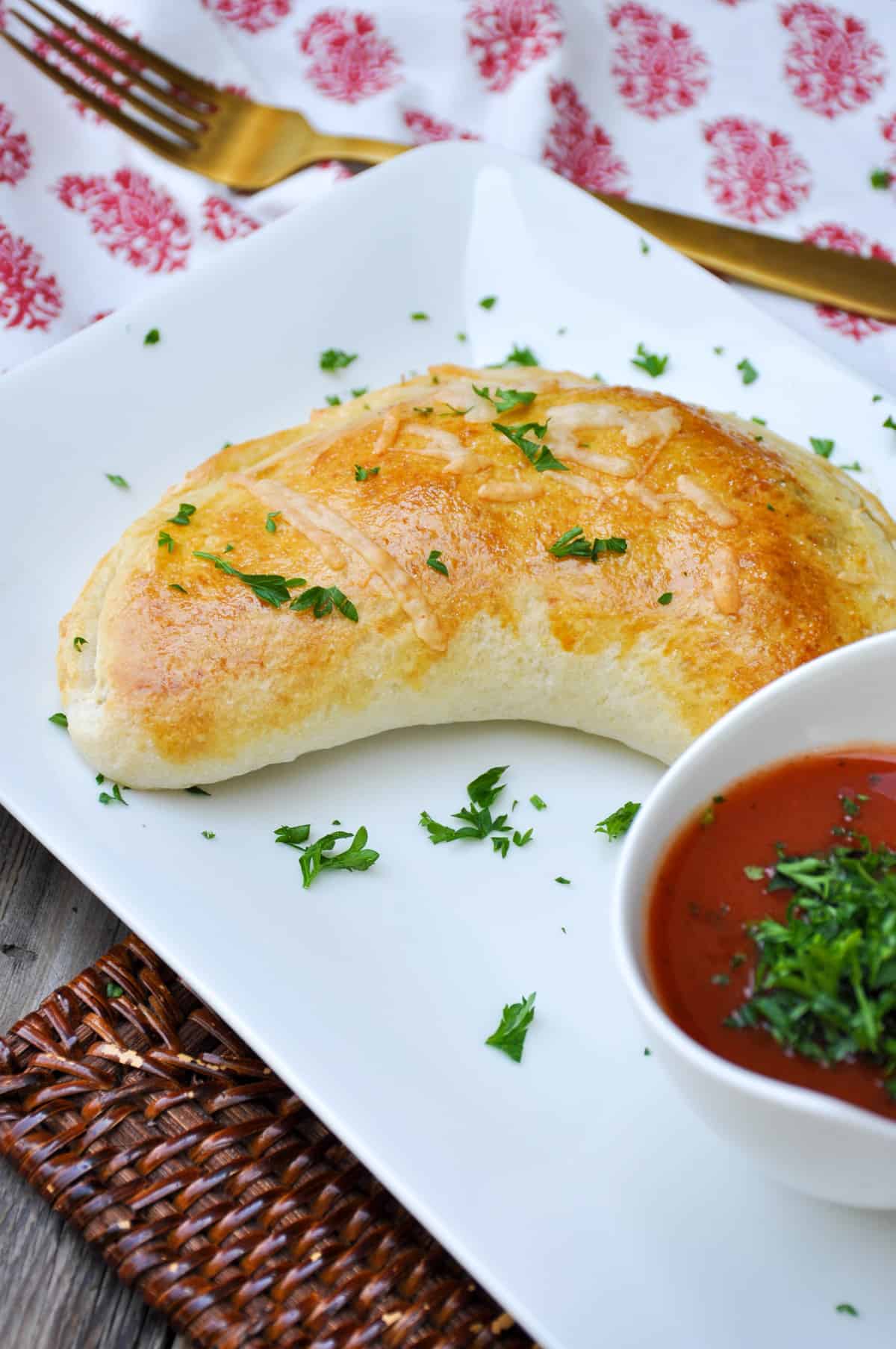 Serve them up and marvel at how quickly they are devoured.
You can either cut and dunk them….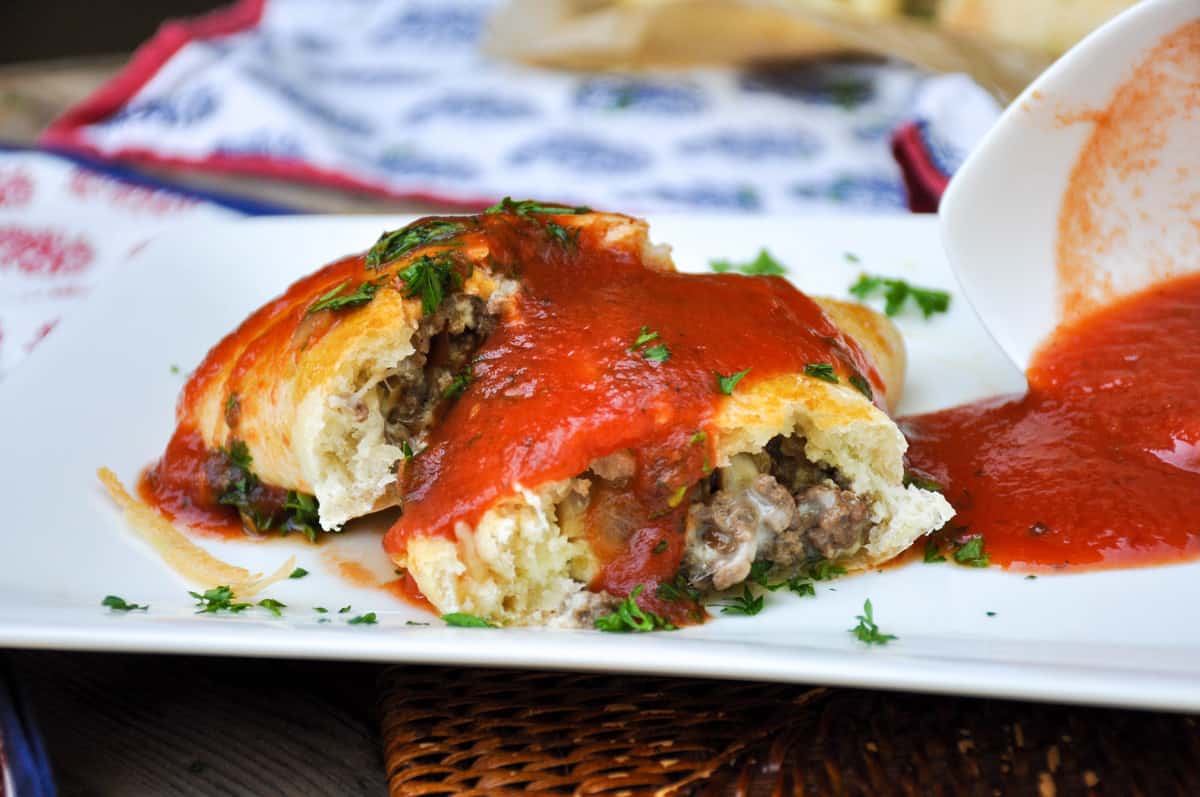 Or slather them in the sauce right on the plate. This is my favorite way. It allows all the sauce to seep into the nooks and crannies of the dough.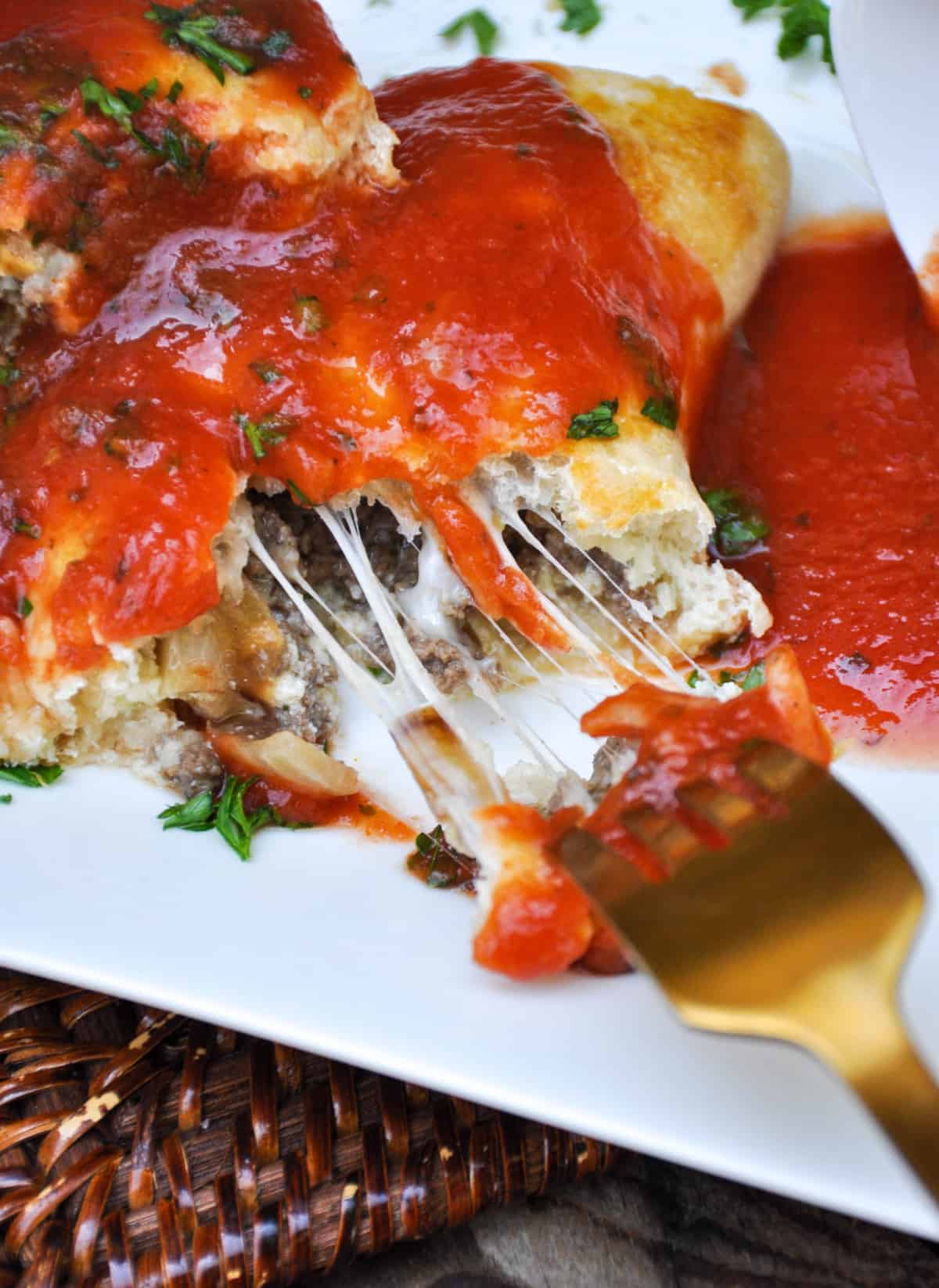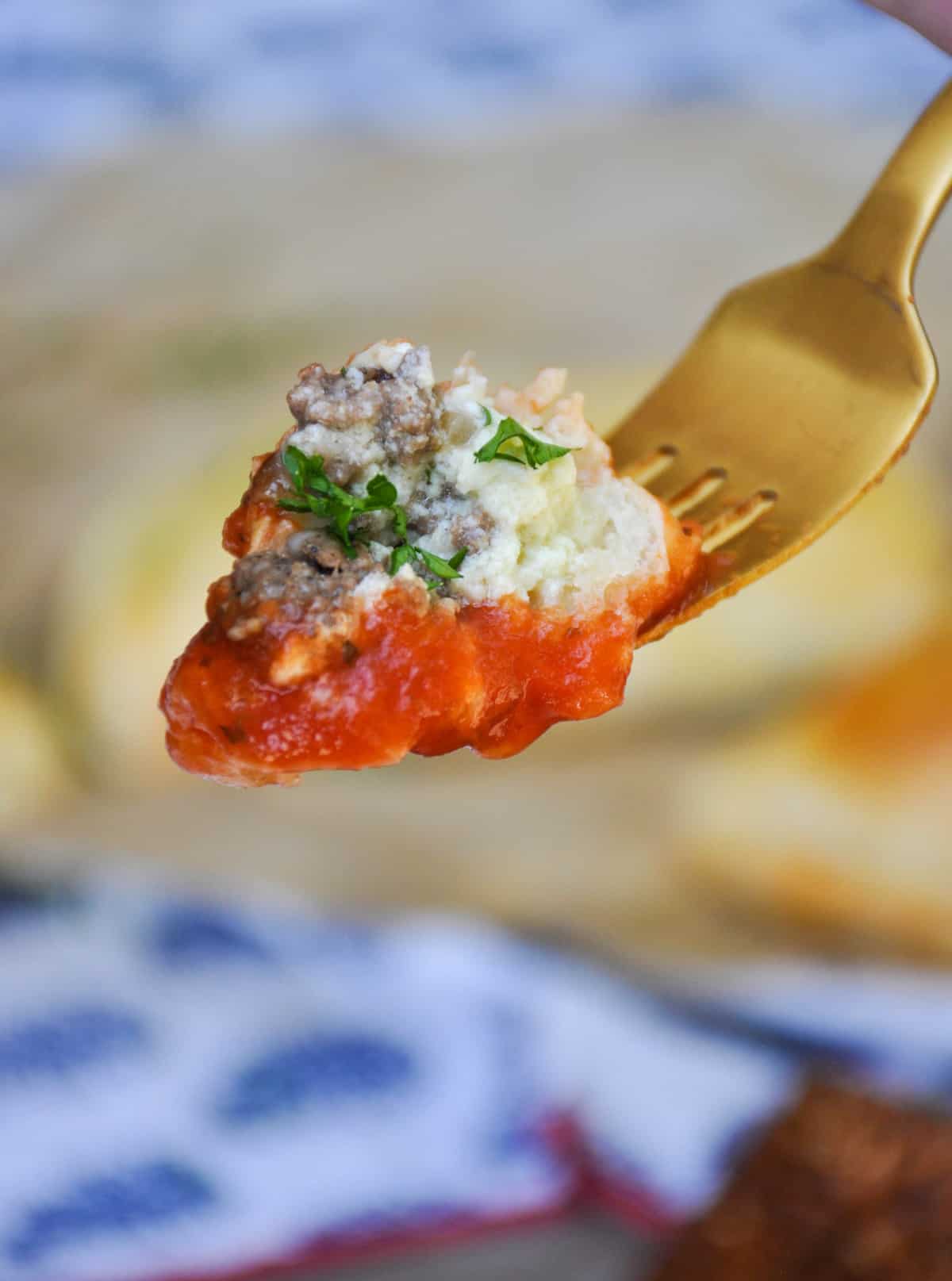 Either way, things are looking up when you've got this beauty on your fork!
Here is the recipe for ya…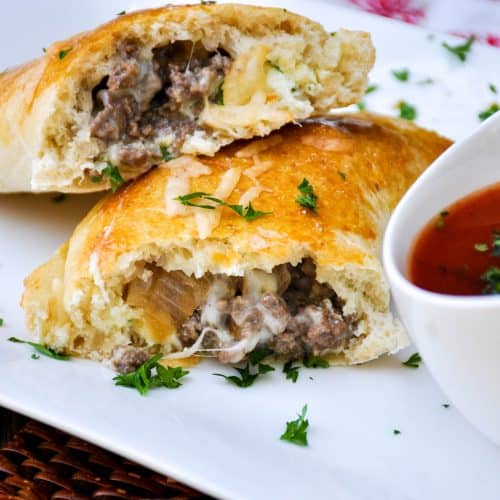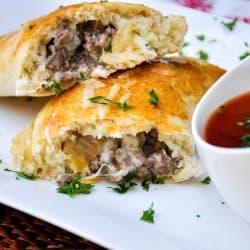 Beef & Mushroom Calzone
Ingredients
1 T olive oil
1 yellow onion, diced
4 oz. button mushrooms, sliced
1.25 lb. ground beef
2 cloves garlic
1 tsp. dried oregano
8 oz. ricotta cheese
salt and pepper to taste
1.5 cup shredded mozzarella cheese, divided
2 eggs
2 T. fresh parsley
2 cans refrigerated pizza dough
Instructions
Pour olive oil into a sauté pan. Add the onion and cook until translucent. Add the mushrooms and cook until browned and liquid has evaporated. Add the ground beef and seasonings and crumble up and until no longer pink.

Combine the ricotta, 1 cup of the mozzarella, 1 egg, and parsley in a bowl and mix well.

Preheat oven to 400 degrees.

Create eight 5-6″ rounds with the pizza dough.

Add a dollop of cheese mixture, followed by the beef mixture and topped with a bit of shredded cheese onto one-half of the round. Close up the calzone by folding the top dough over filling and press to seal. Continue with the other 7 calzones. Brush with a whisked egg and bake for 15-18 minutes.

Serve with your favorite spaghetti sauce and enjoy!