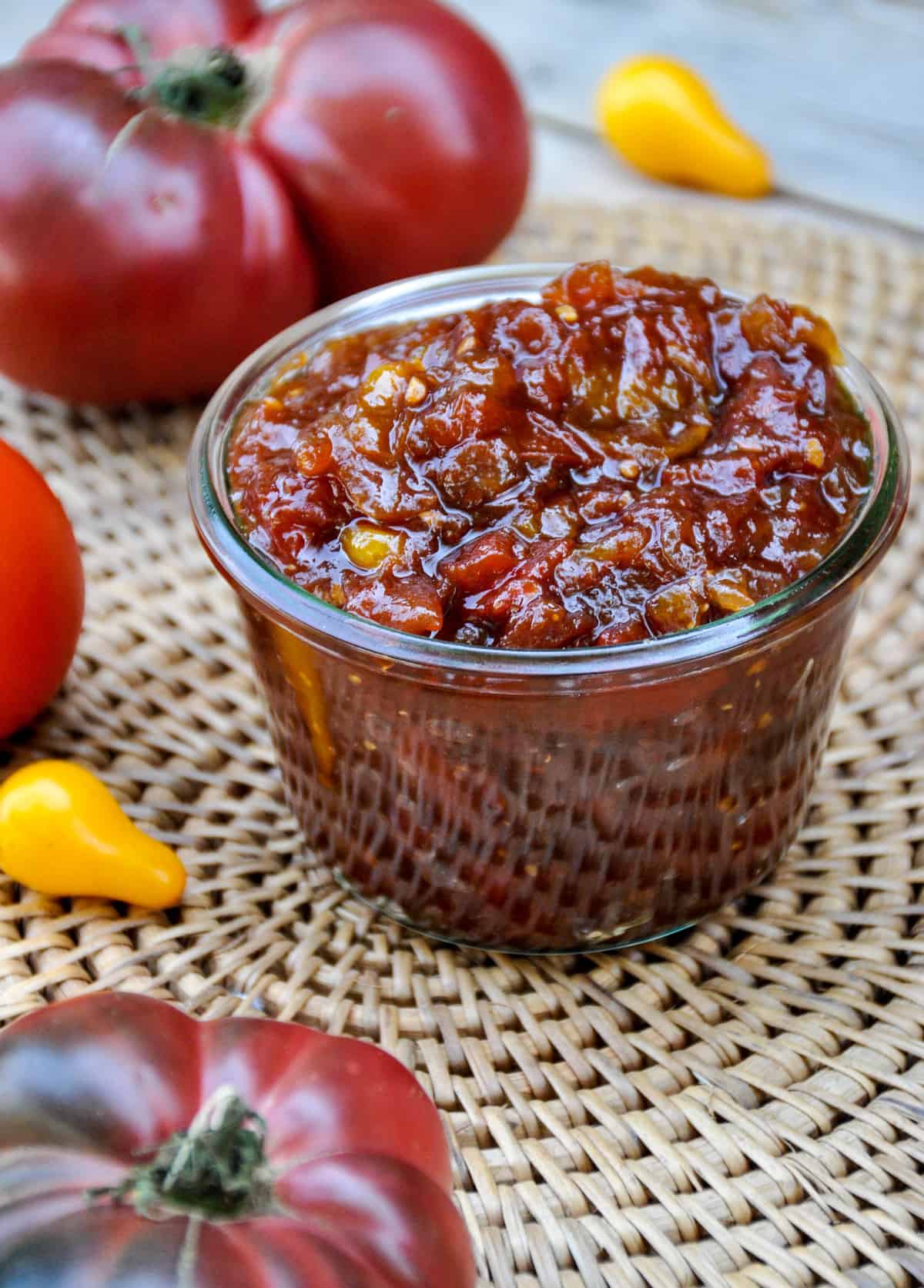 CA GROWN Blog
Discover. Learn. Connect.
A Simple Recipe for Tomato Jam
August 30, 2017
Eat the Season!
Sign Up For Weekly Recipes
« Back to Recipes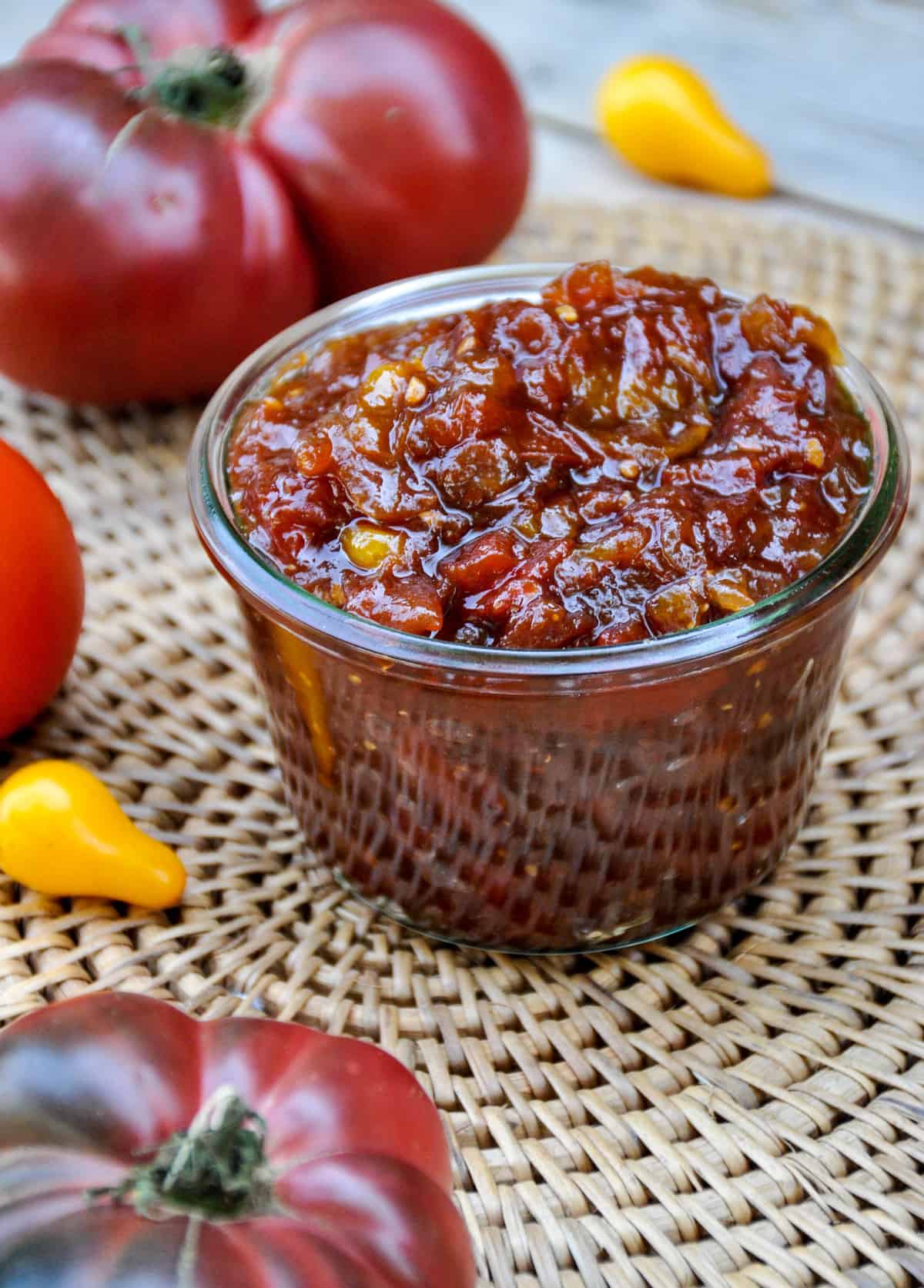 A Simple Recipe for Tomato Jam
Preserve summer's bounty well into fall with this simple recipe for tomato jam. You can slather this irresistibly sweet and savory jam on everything from toast to pizza!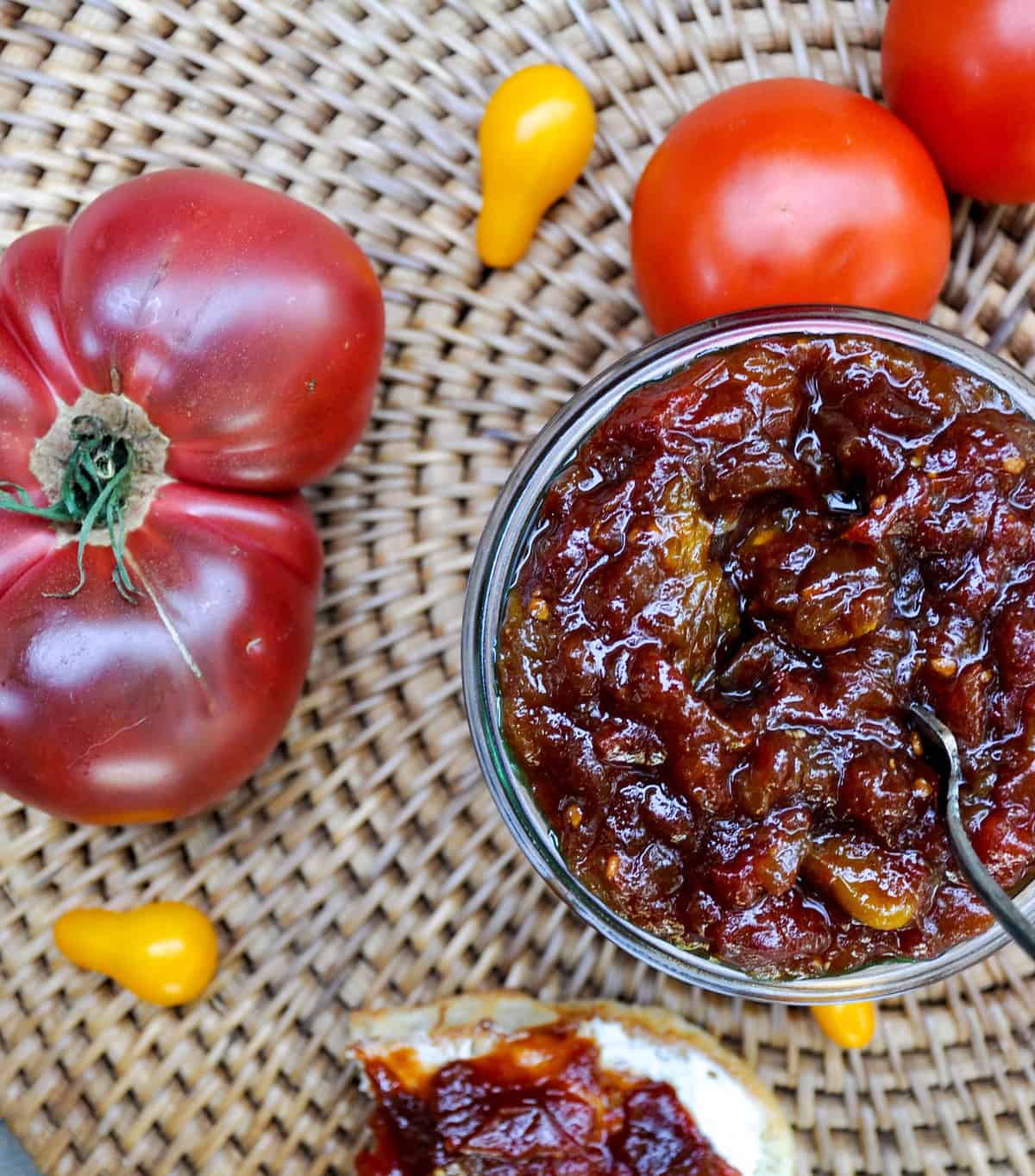 Tomatoes are a summer favorite and for good reason
Tomatoes are my favorite! This might sound heavy on the nostalgic side, but the smell of the stem and leaves sends me back to when I was 8 years old, running in my dad's tomato fields behind our house. Acres and acres and rows and rows of ripe red tomatoes. My cousin and I would pick them right off the vine and eat them like apples. We may have even snuck a salt shaker out of the house and kept is stashed by the fence. It is a memory that is burned into my brain like it was yesterday.
I grow tomatoes in my own home garden now and will sometimes just go out there and rub my fingers through the leaves. The care-free days of summer all resurrected by the smell of a tomato… man I need a life!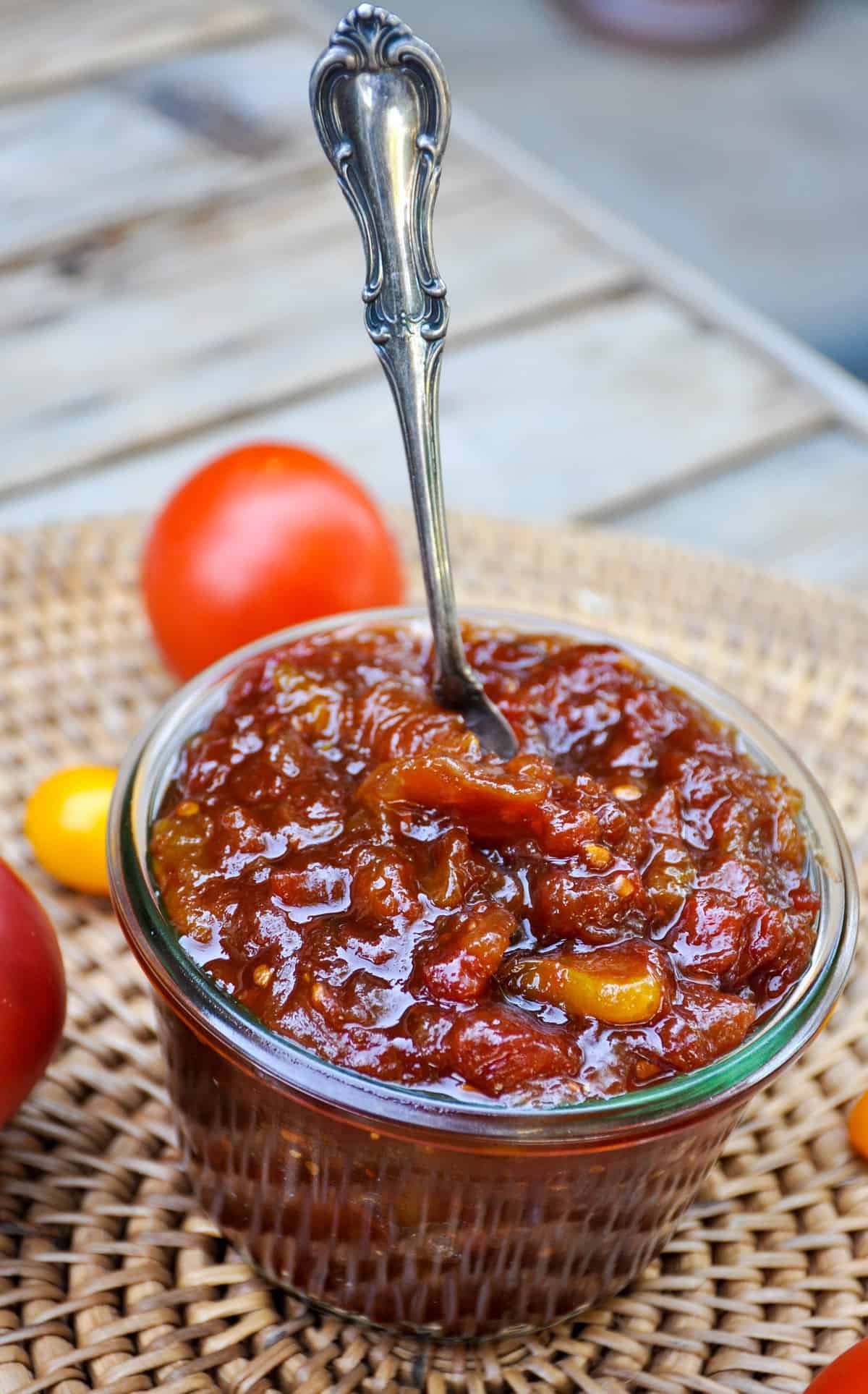 I'm so excited to preserve the last bit of the laid back summer vibes and the late season harvest of fresh California grown tomatoes with this delightfully sweet and surprisingly smoky Tomato Jam.
I seriously can't stop putting it on everything!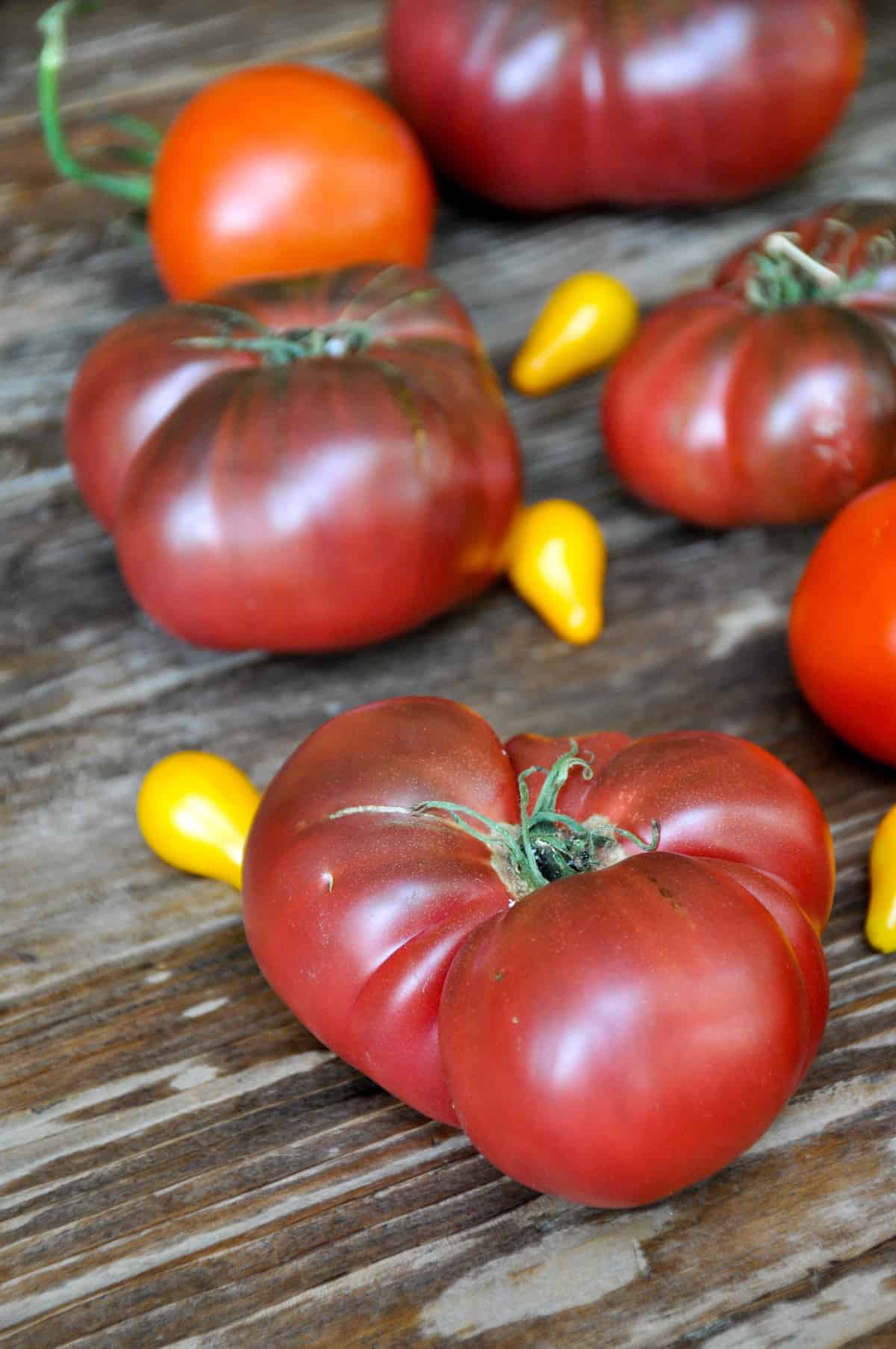 Let's make this recipe for Tomato Jam shall we?!
I started with an assortment of tomatoes. These heirlooms were so dense and meaty that I could not pass them up. I think they added a tremendous depth of flavor to the jam too. If you are able to find some at your farmer's market or grocery store, I highly recommend. I also used some yellow pear tomatoes that I picked up for super cheap, and also some traditional red tomatoes.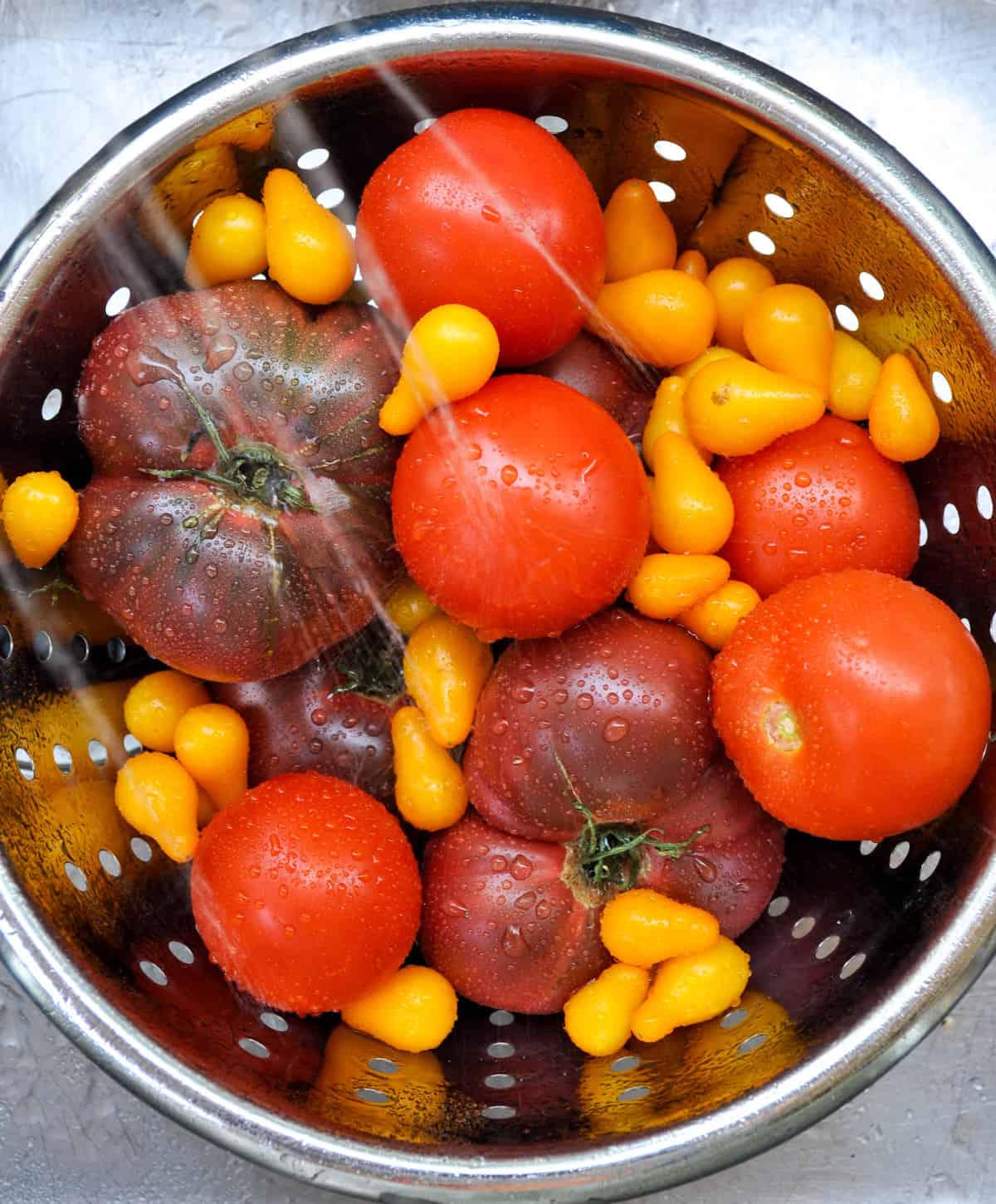 Unlike my adventures in the fields, I did give these tomatoes a thorough cleaning before starting the process.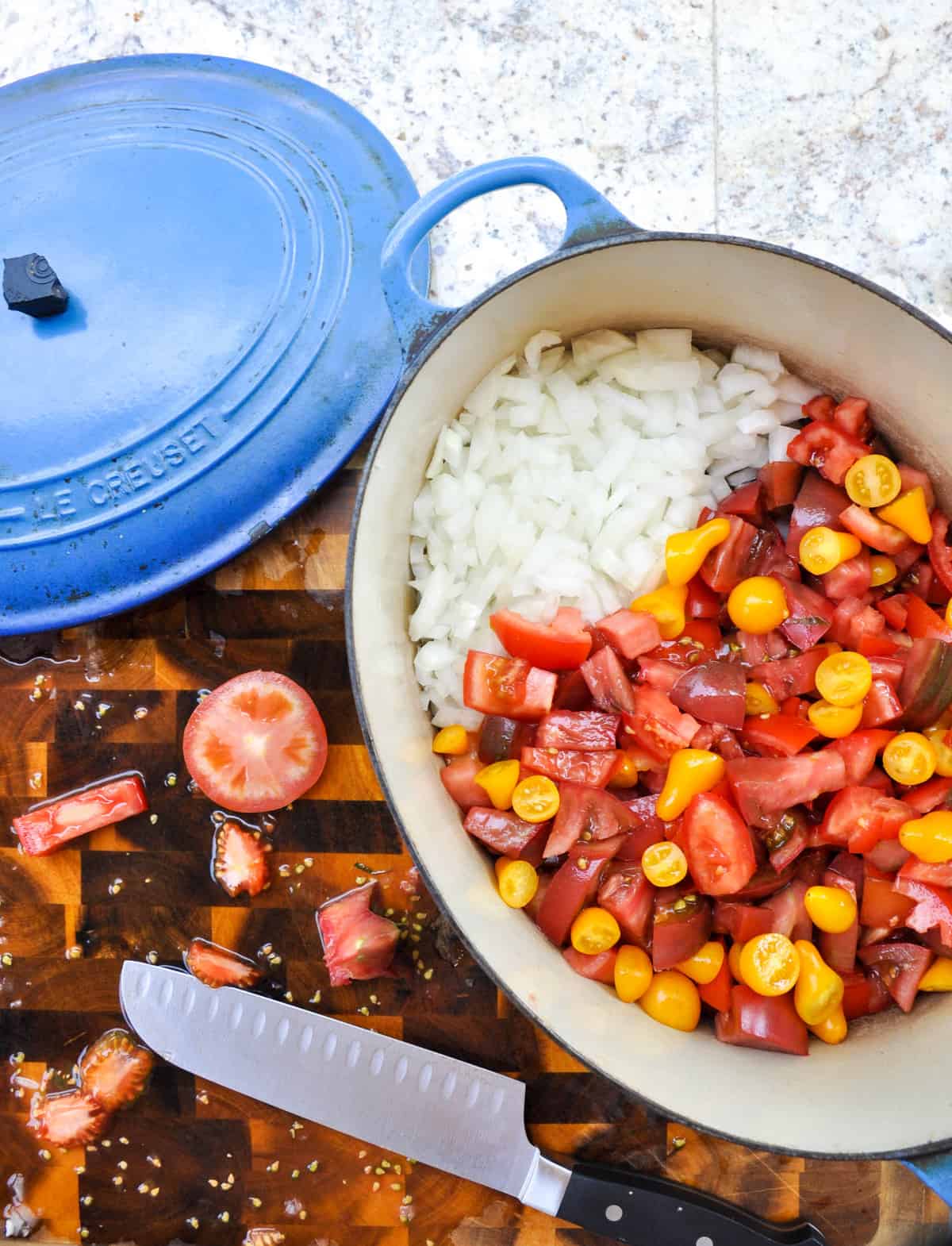 Roughly chop the tomatoes (about 4 lbs.) along with one onion and place in a stock pot.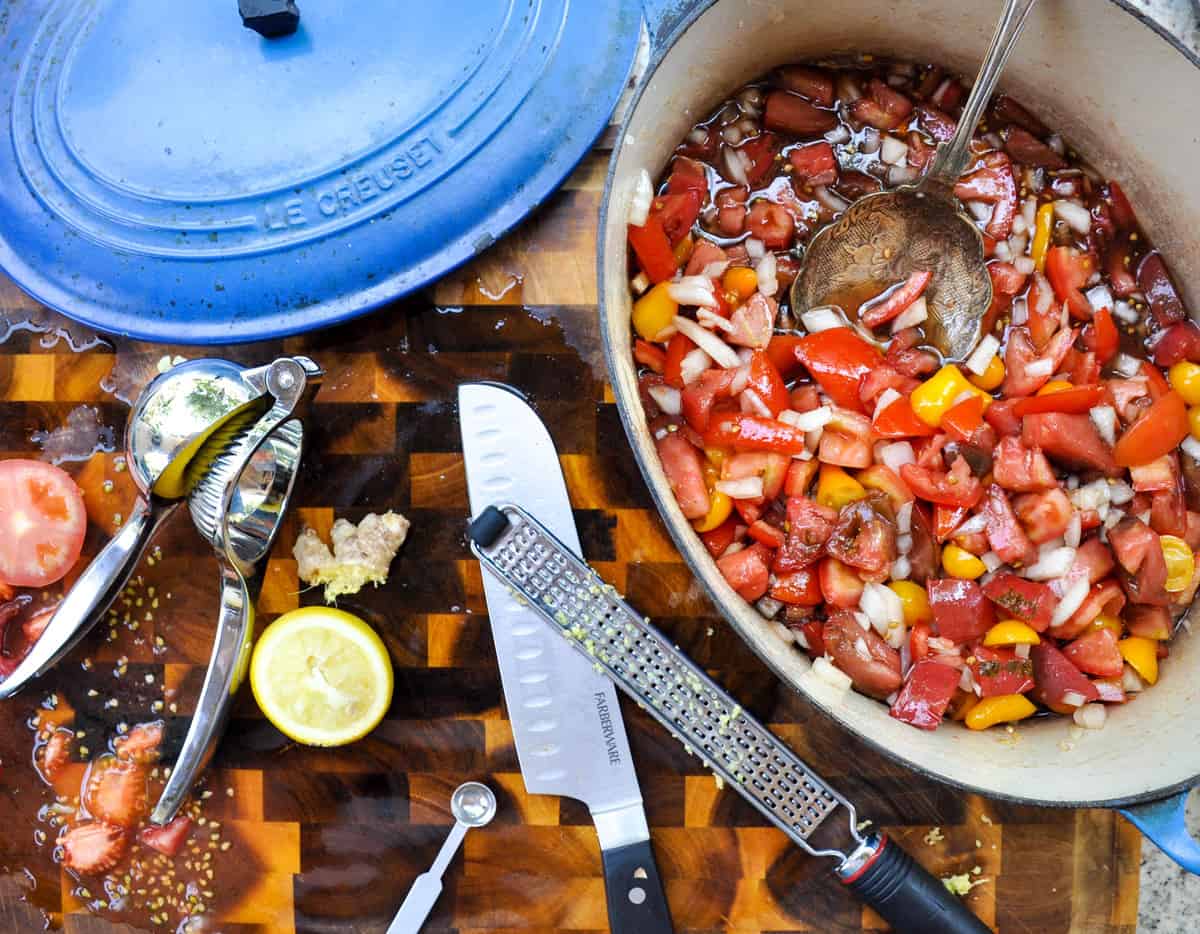 Mix in the rest of the ingredients (sugars, vinegars, spices, and lemon) and simmer for about 3 hours. That's it. Your culinary feat is complete!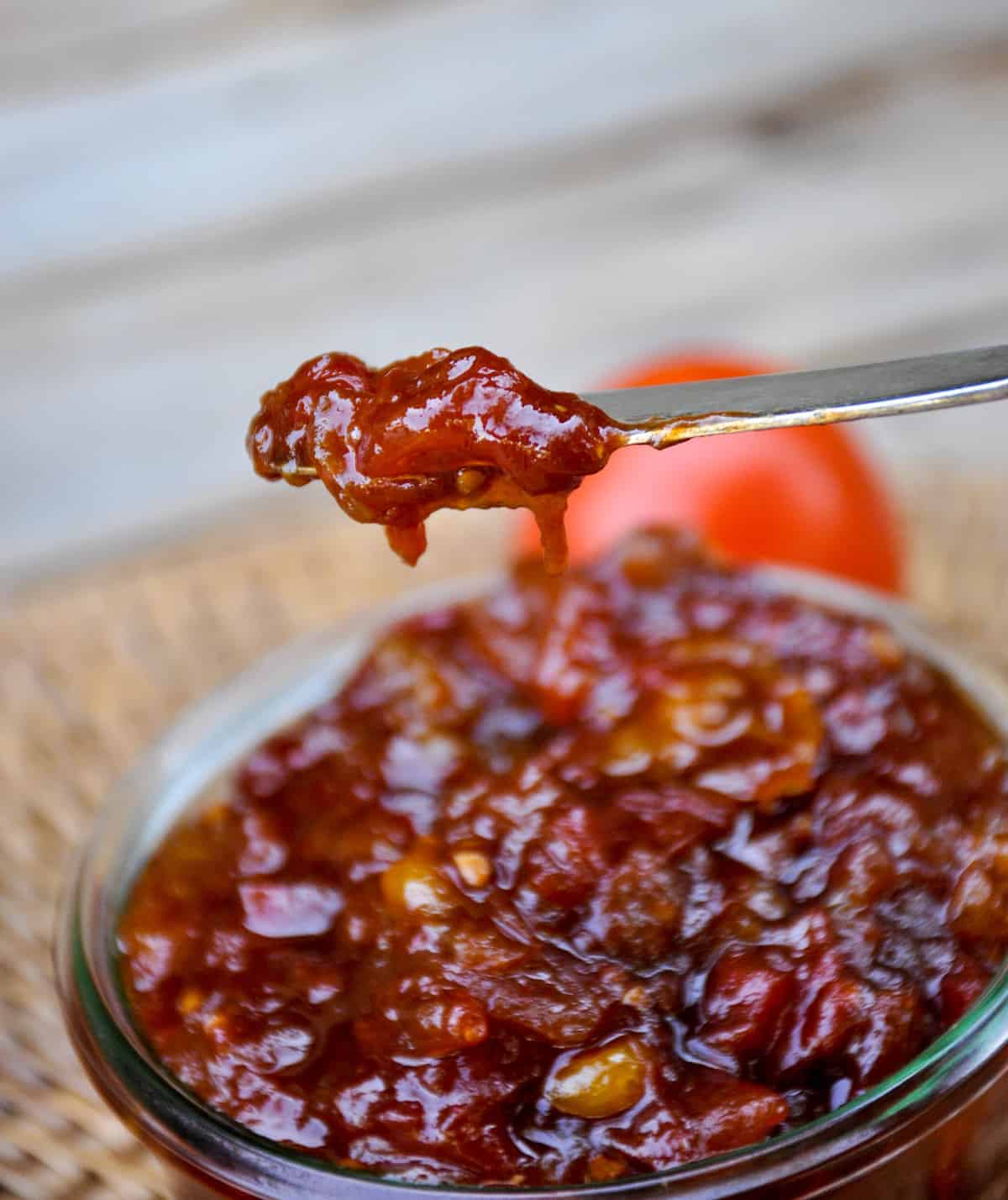 As you can see, the consistency is very similar to a traditional fruit jam so you can slather it on almost anything you can think of…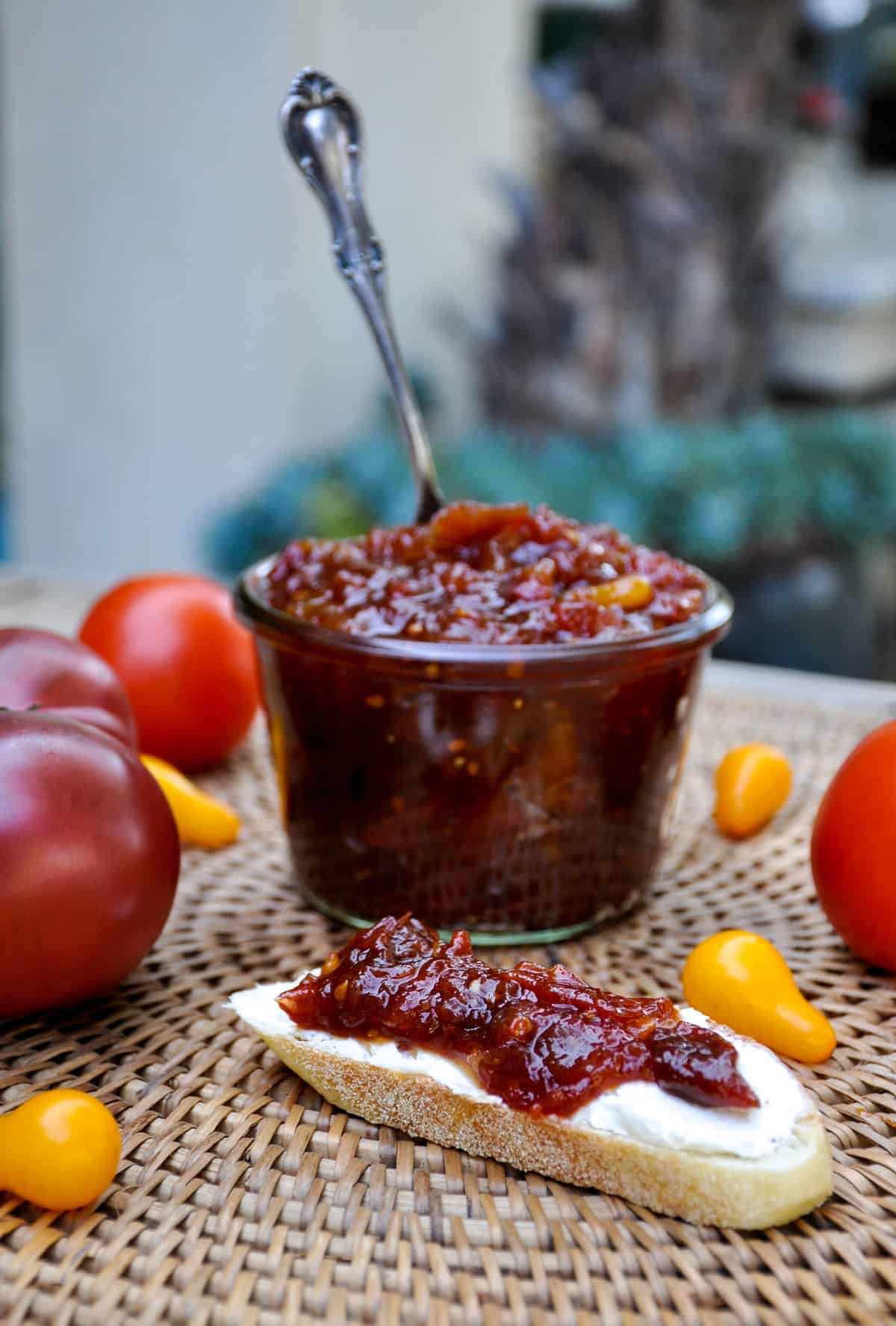 I think my favorite was covering my cream cheese topped toast with it. The flavors do a happy dance in your mouth.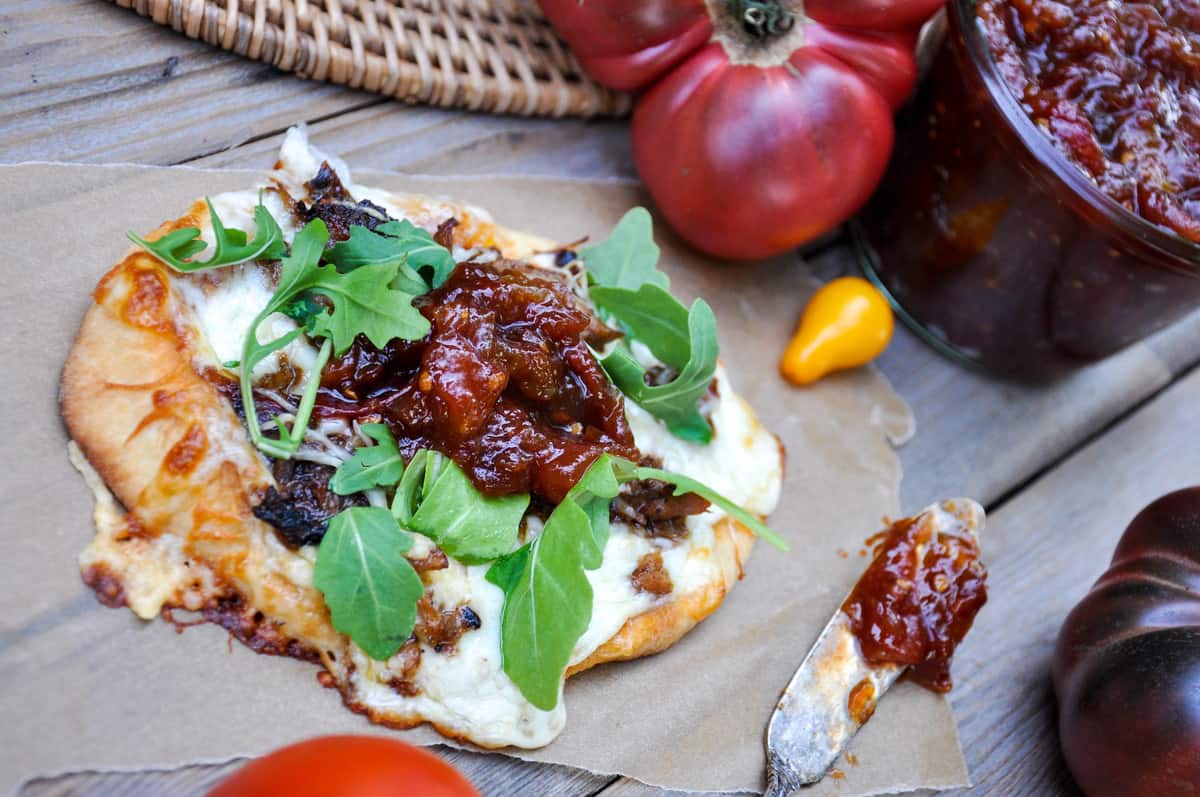 I also made individual pizzas last week for dinner and I topped mine with a big heaping helping of tomato jam. So yum!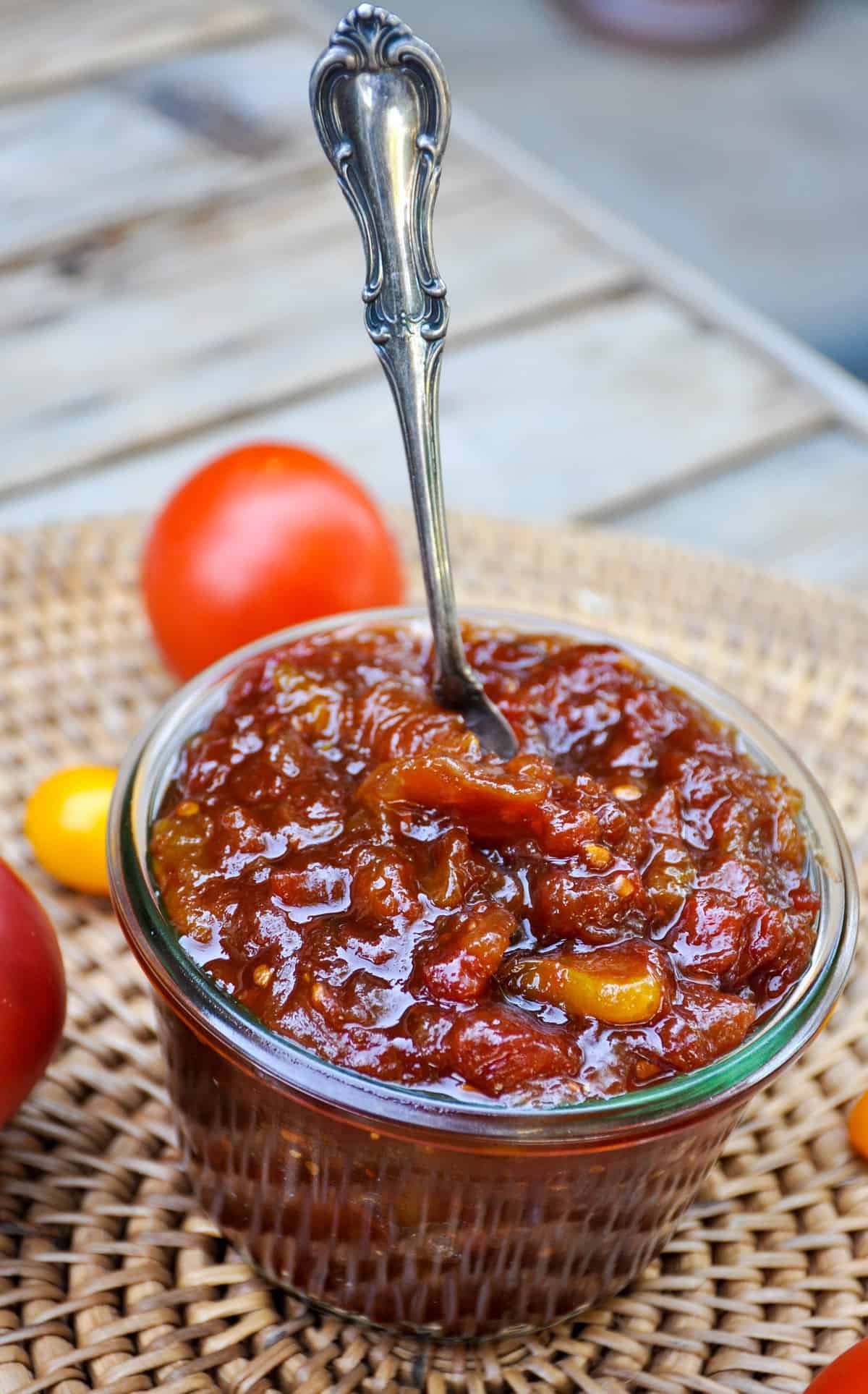 You can use it on your morning eggs, as a topping on your favorite steak, or even mix it into your next batch of guacamole!
Smoky, sweet and savory all packaged into one dense and delicious condiment, this simple tomato jam recipe really has it all!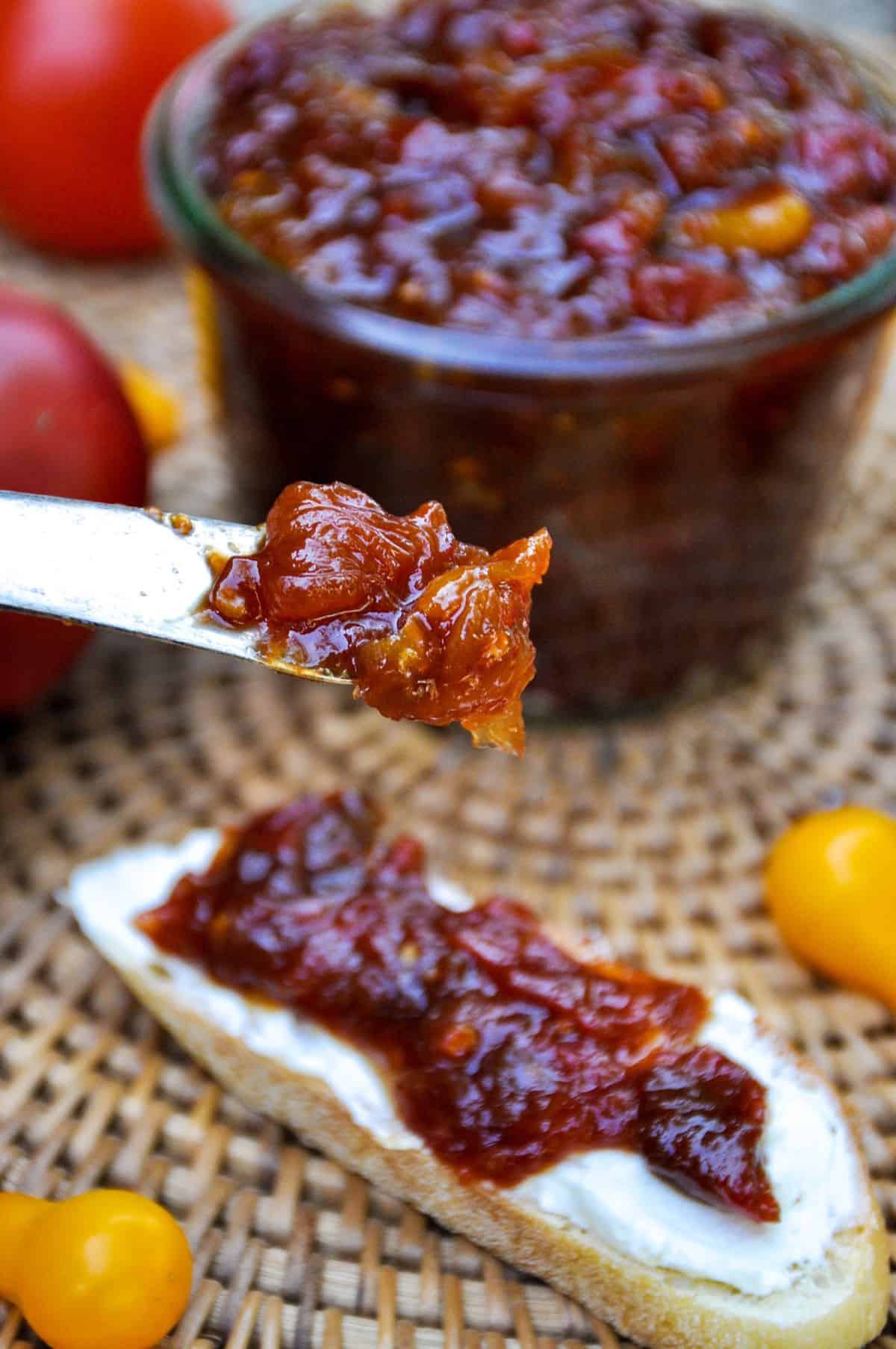 Need more recipe inspiration for all of those summer tomatoes? We have you covered!
When tomato season is booming get on board with really showcasing nature's beautiful bounty!!!
Share your creation with us by snapping a pic and tagging us on social using #CAGROWN.
Craving more CA Grown goodness? Follow us on Pinterest for fresh and fabulous recipe inspo!