What Do Fossils and Farms Have in Common? Visit the Fossil Discovery Center
Why are fossils so often found on farms? Let's visit the Fossil Discovery Center to learn more!
The San Joaquin Valley is some of the most fertile, productive farmland in the world. It also happens to be the home of one of the most significant fossil finds in North America. Coincidence? We think not. Let's take a look at why fossils are often found in and around agricultural areas.
What do fossils and farmland have in common?
The San Joaquin Valley is surrounded by the Sierra Nevada Mountains to the east and the Coastal Range to the west.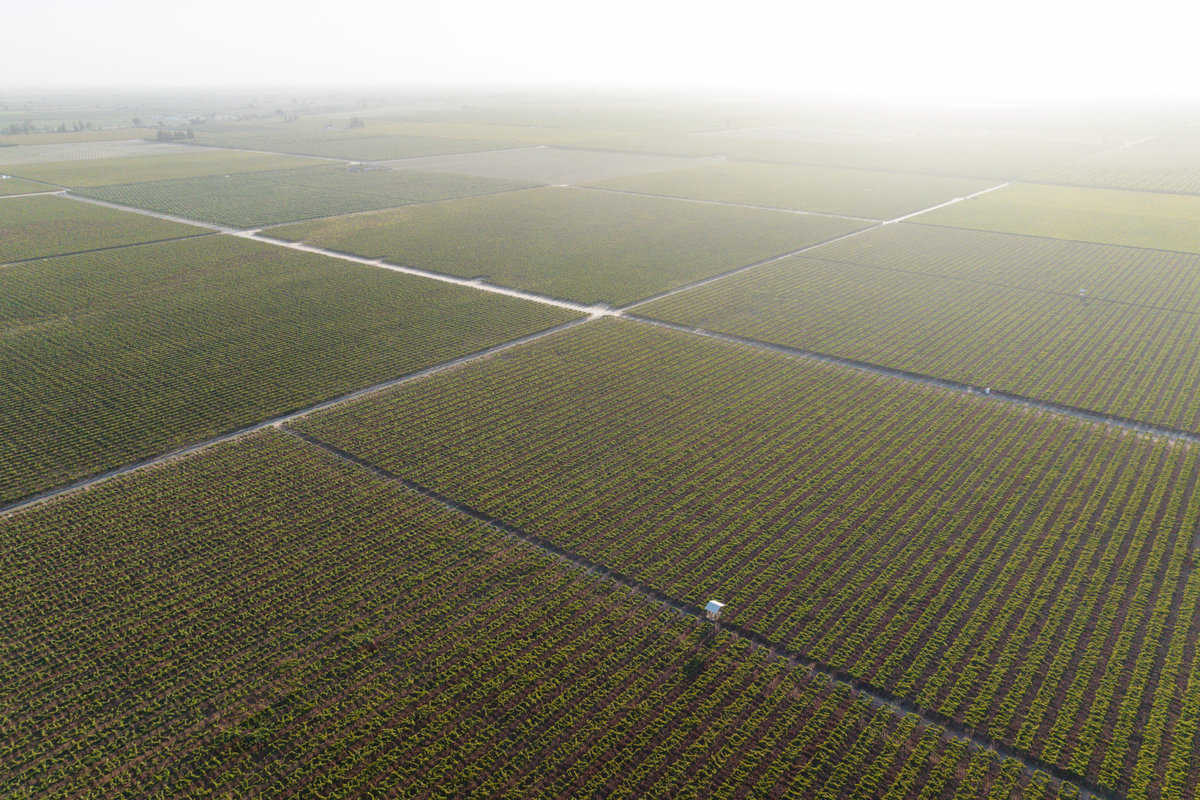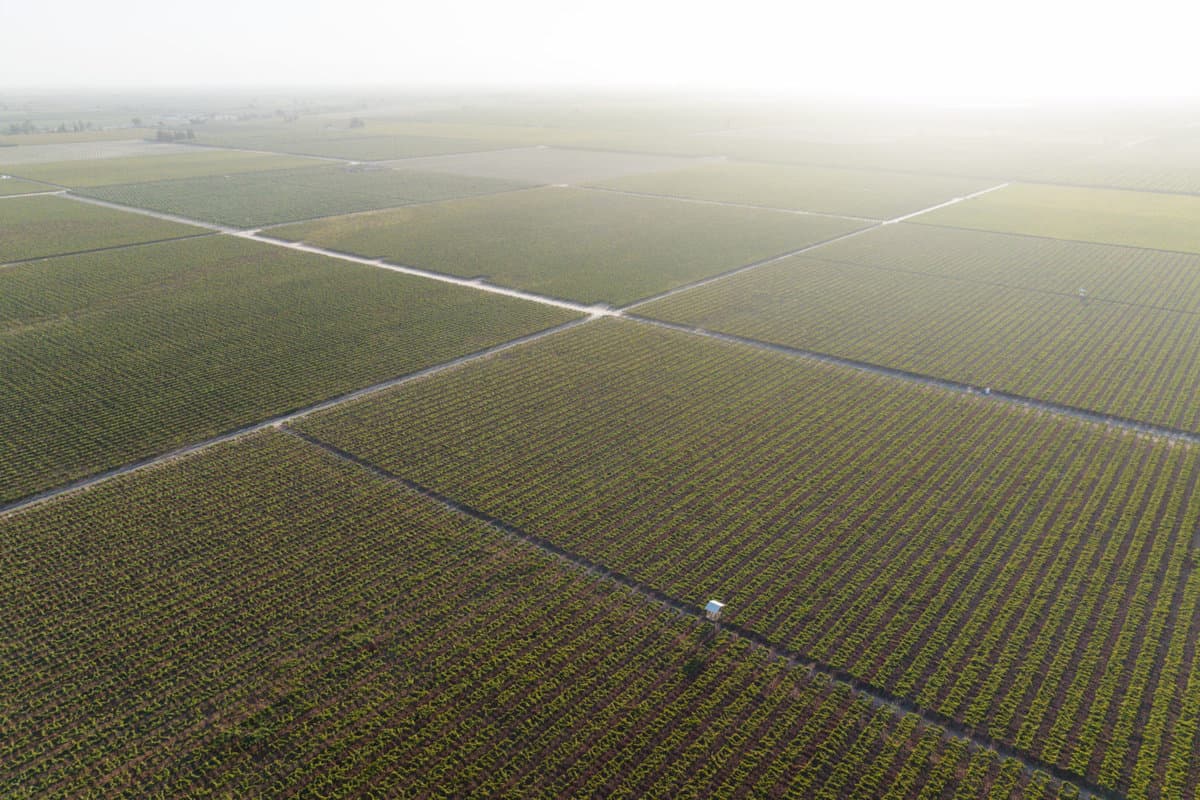 Over millions of years, runoff from the adjacent mountains deposited rich sediment which flattened the Valley floor and created a layer of fertile topsoil called alluvial soil. The same runoff (or snow melt) would have formed Prehistoric rivers that washed the bones down to where they now lie.
Alluvial soils are some of the richest, most fertile soils on earth. This makes them great for growing a variety of different crops….and not a bad place to hunt for fossils, either.
How were fossils discovered in Madera?
The Fossil Discovery Center is located in Fairmead, just outside of Madera, California. In 1993, an employee at a neighboring landfill noticed some unusual discoloration in the soil. That "discoloration" turned out to be an eight foot mammoth tusk! Experts were called in who discovered that this particular landfill was home to an incredible amount of fossils. In fact, enough to keep paleontologists busy for over twenty years!
What is the Fossil Discovery Center?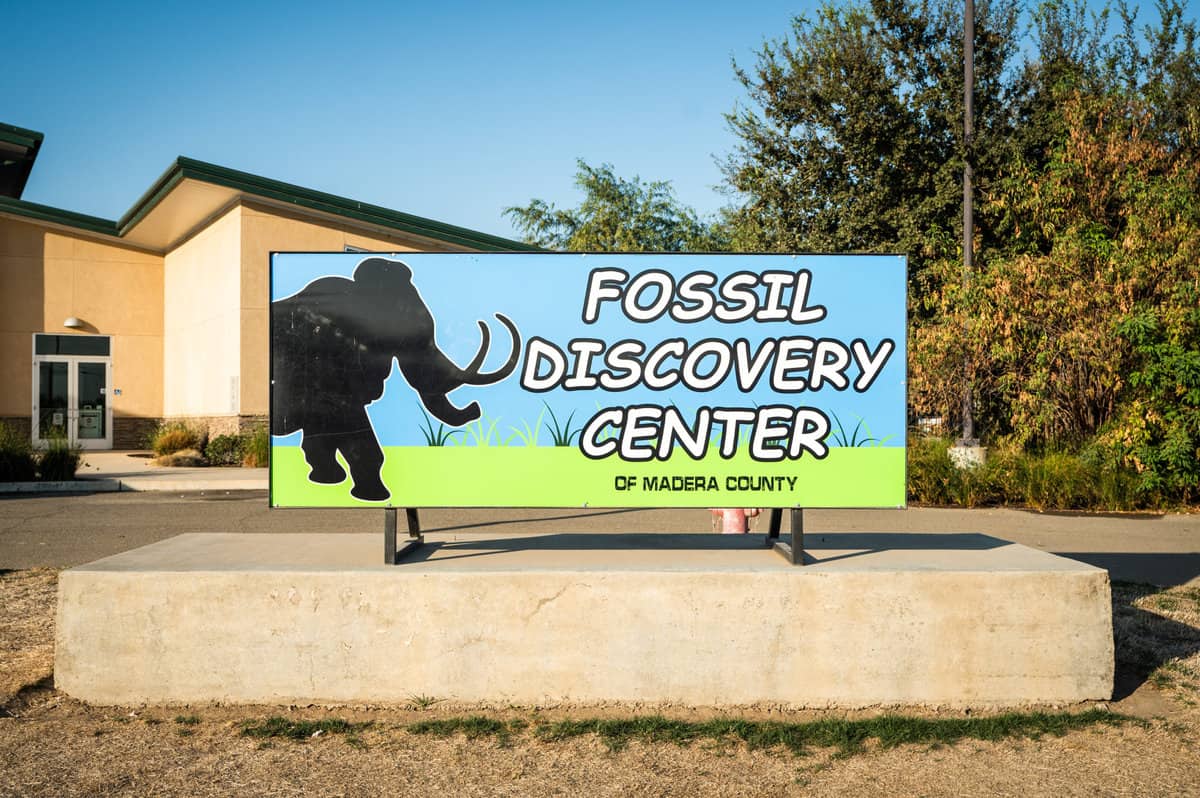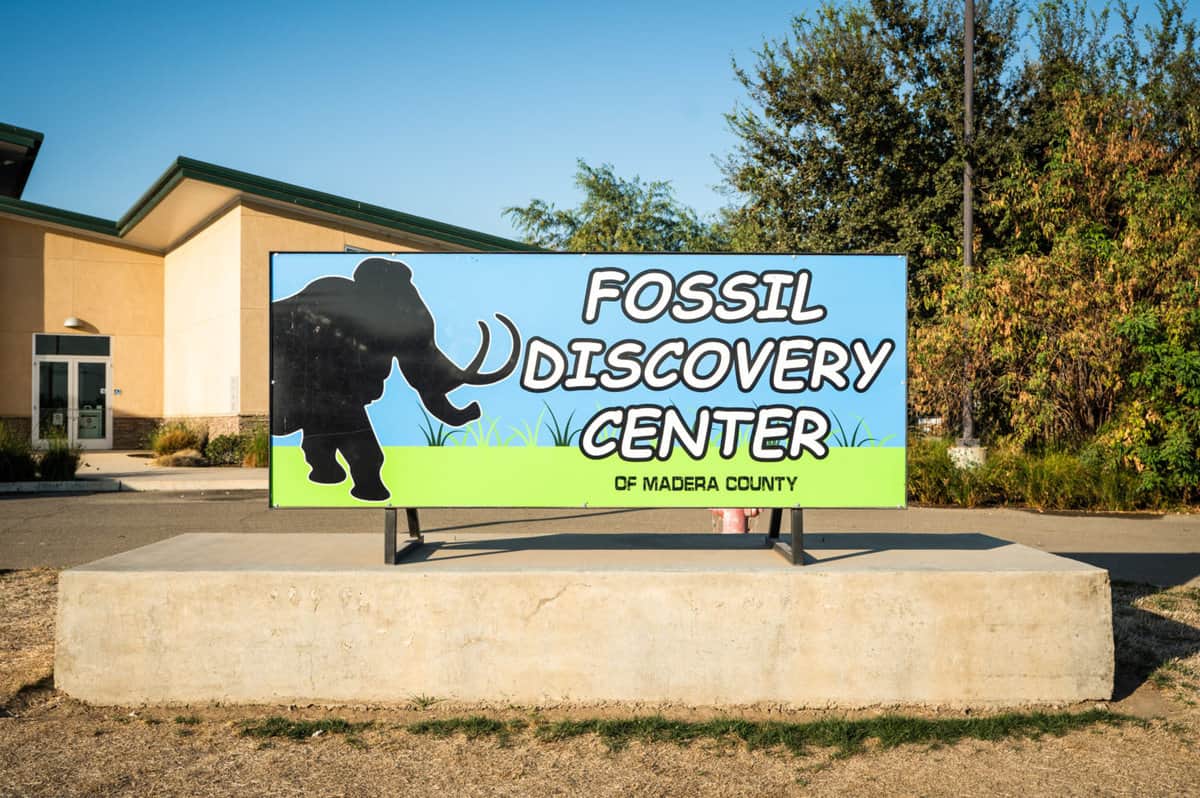 The Fossil Discovery Center was built to showcase this incredible collection of fossils as they are unearthed. It also serves as an educational tool for local school children, and a tourist attraction for visitors passing through on their way to Yosemite.
What will I find at the Fossil Discovery Center?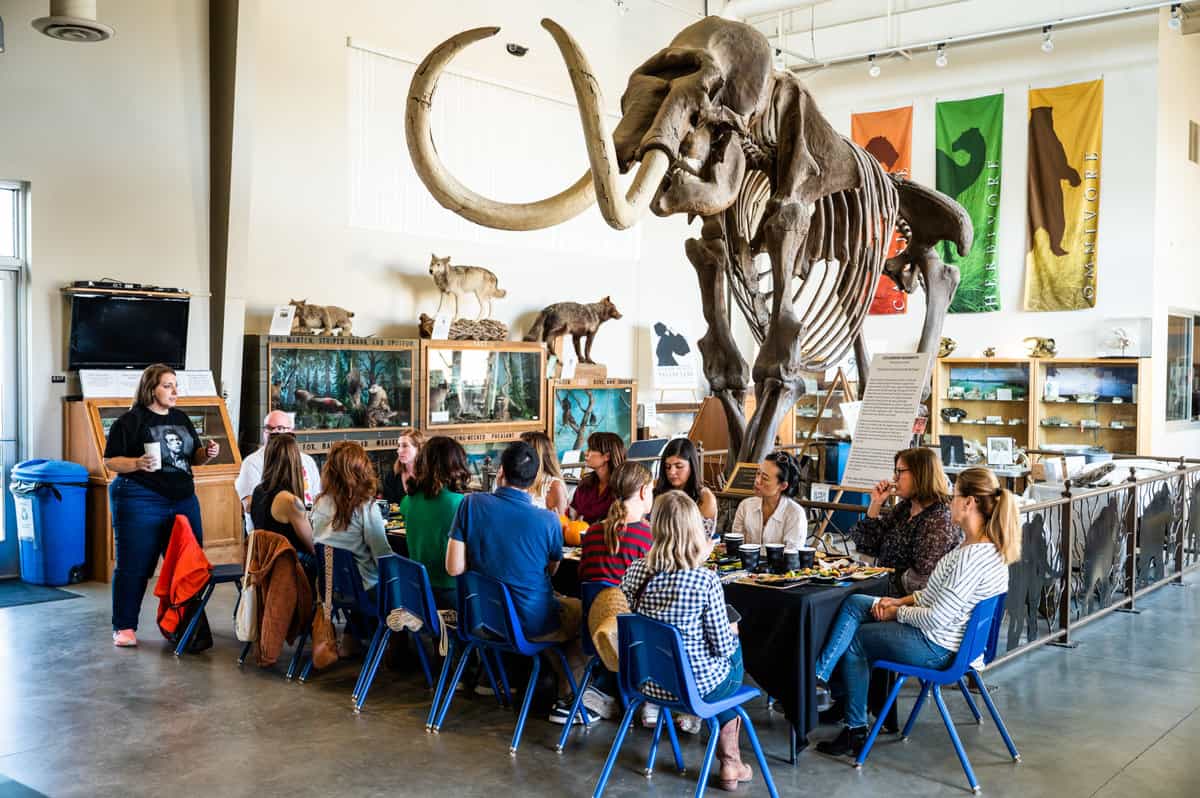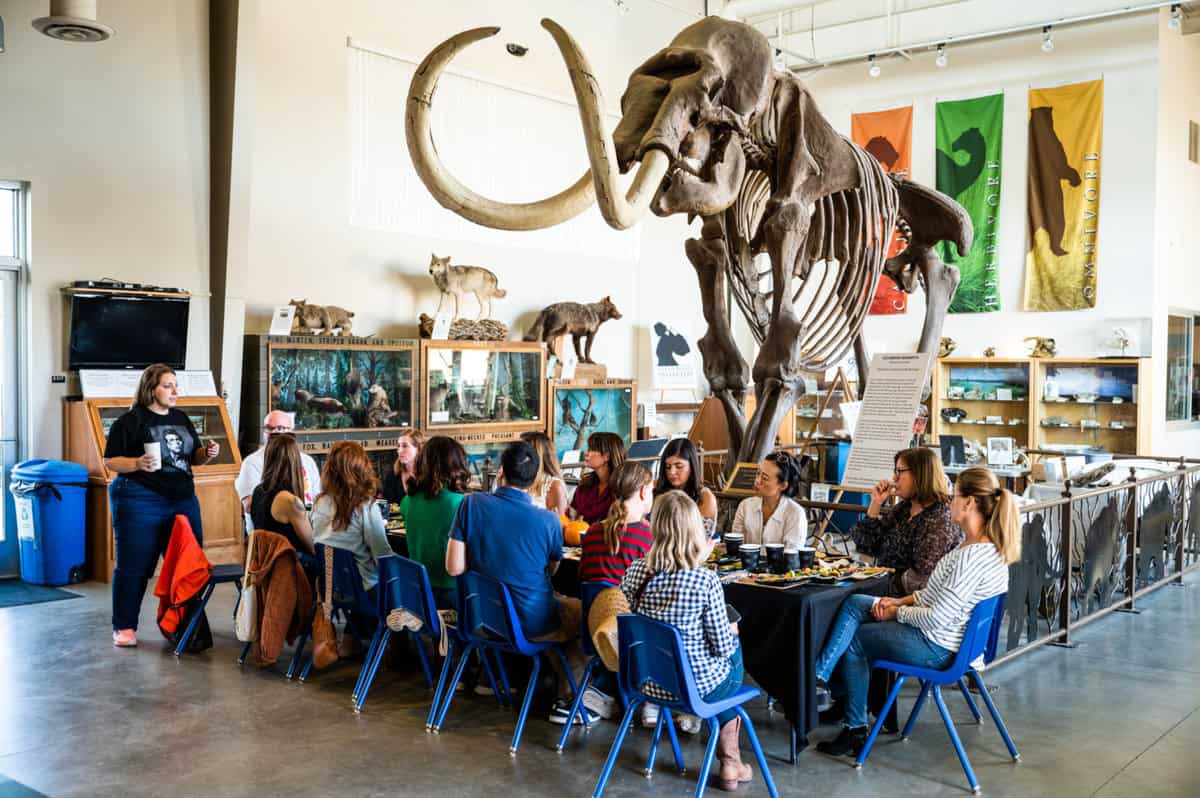 Fossils
When you walk into the Fossil Discovery Center, you'll be greeted by a replica of a 13 foot tall mammoth! As you make your way around the exhibits, you'll find information about the different fossils that have been unearthed at the landfill including direwolves, giant sloths, and sabertooth cats.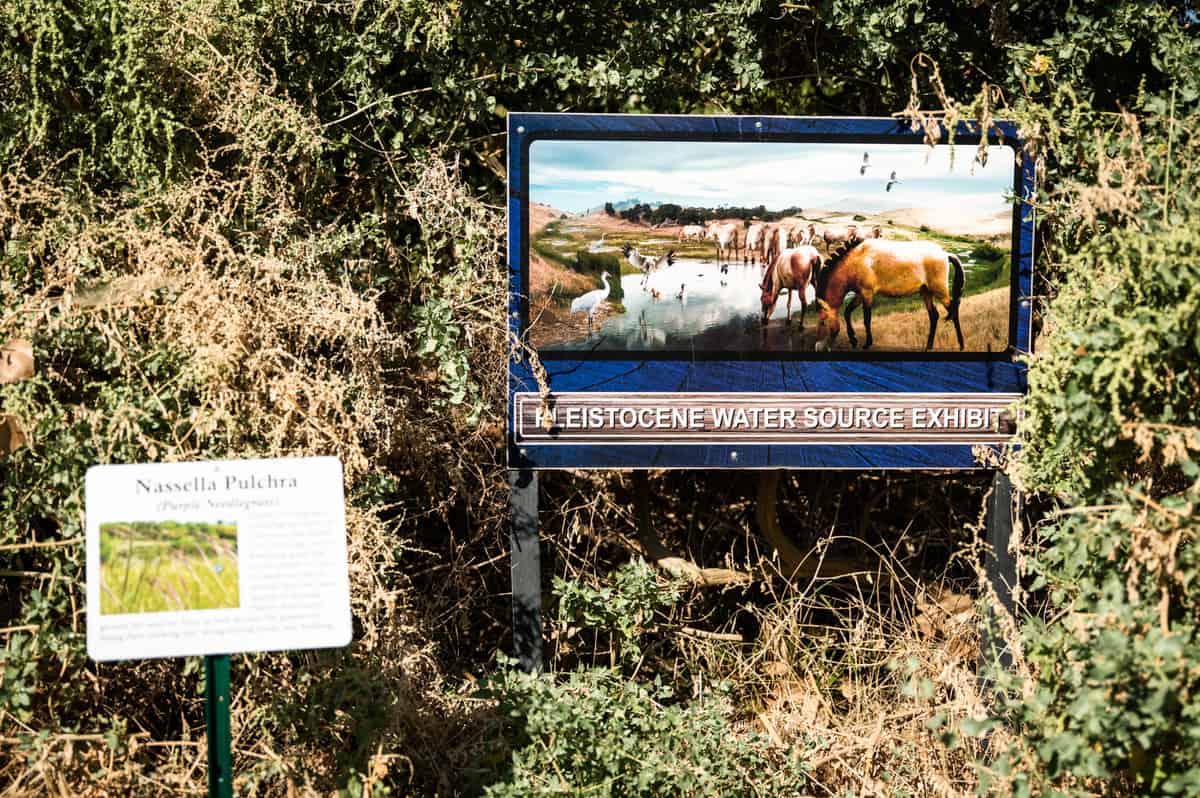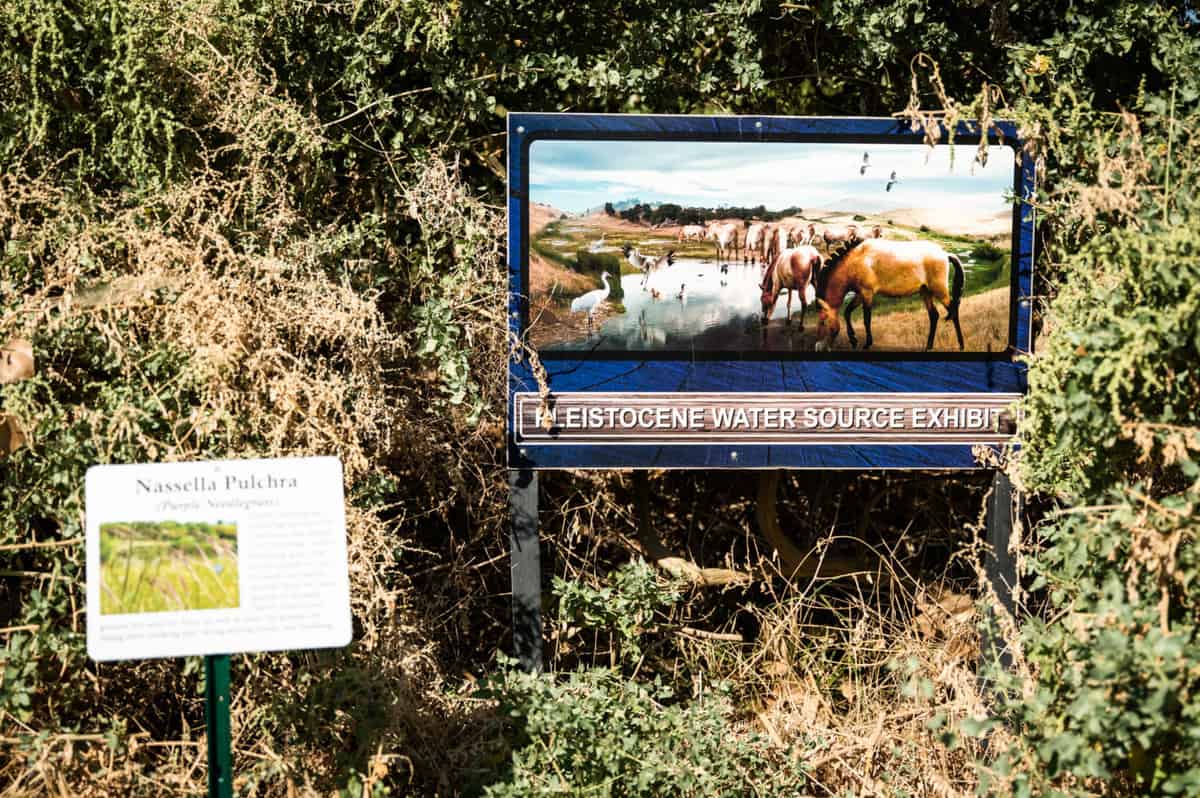 Pleistocene Pond
When you step outside, you can explore the "Pleistocene Pond". This exhibit was painstakingly landscaped with native plants to give visitors an idea of what the Central Valley would have looked like a million years ago.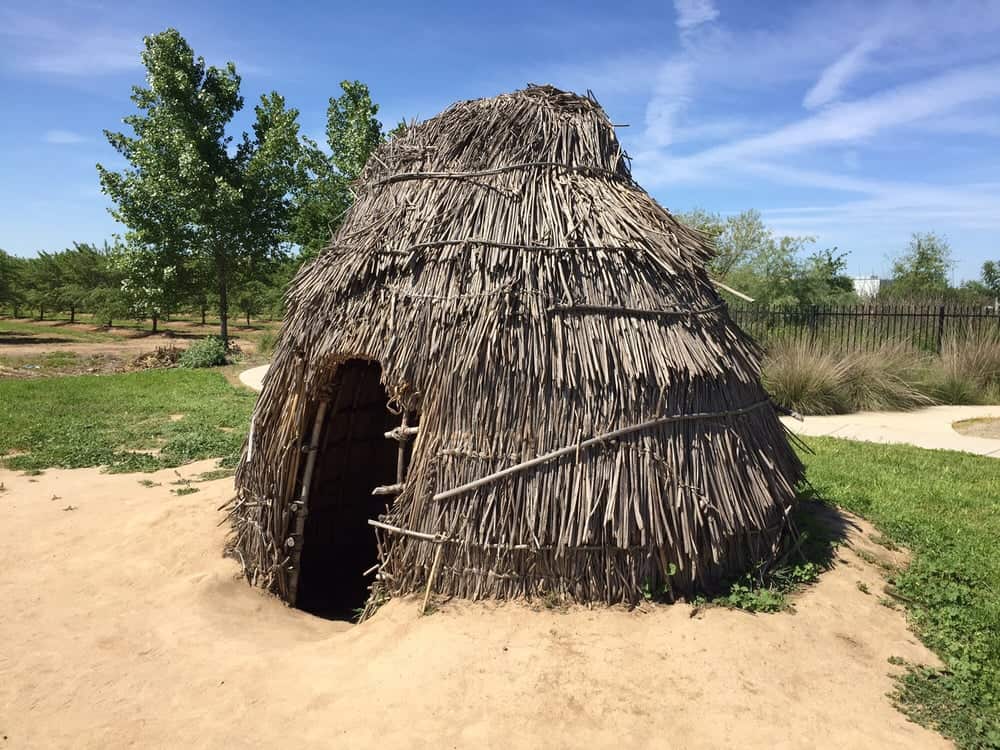 Indian Artifacts
In addition to fossils, you'll also find artifacts from the Yokut Indian tribe. The Yokut, or Mariposan Indians, historically inhabited the San Joaquin Valley. The Fossil Discovery Center displays examples of beadwork, basket weaving, and even a replica of a traditional Yokut house!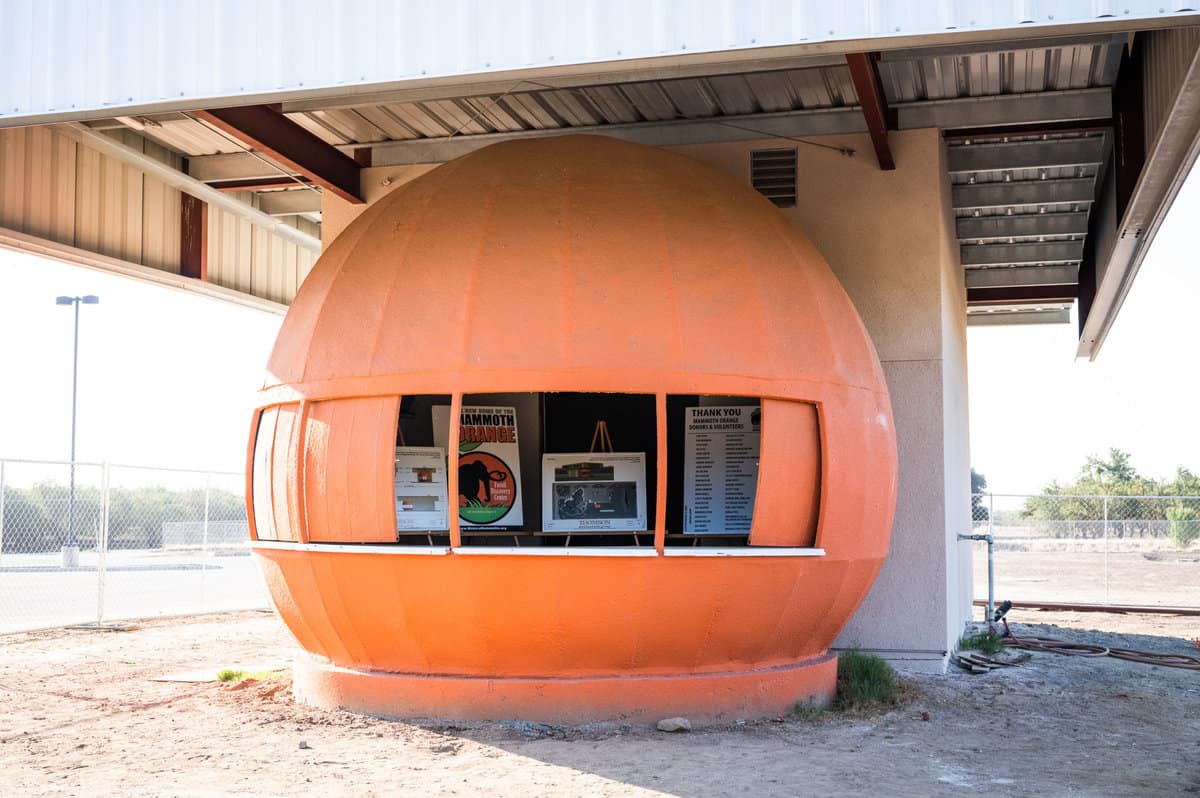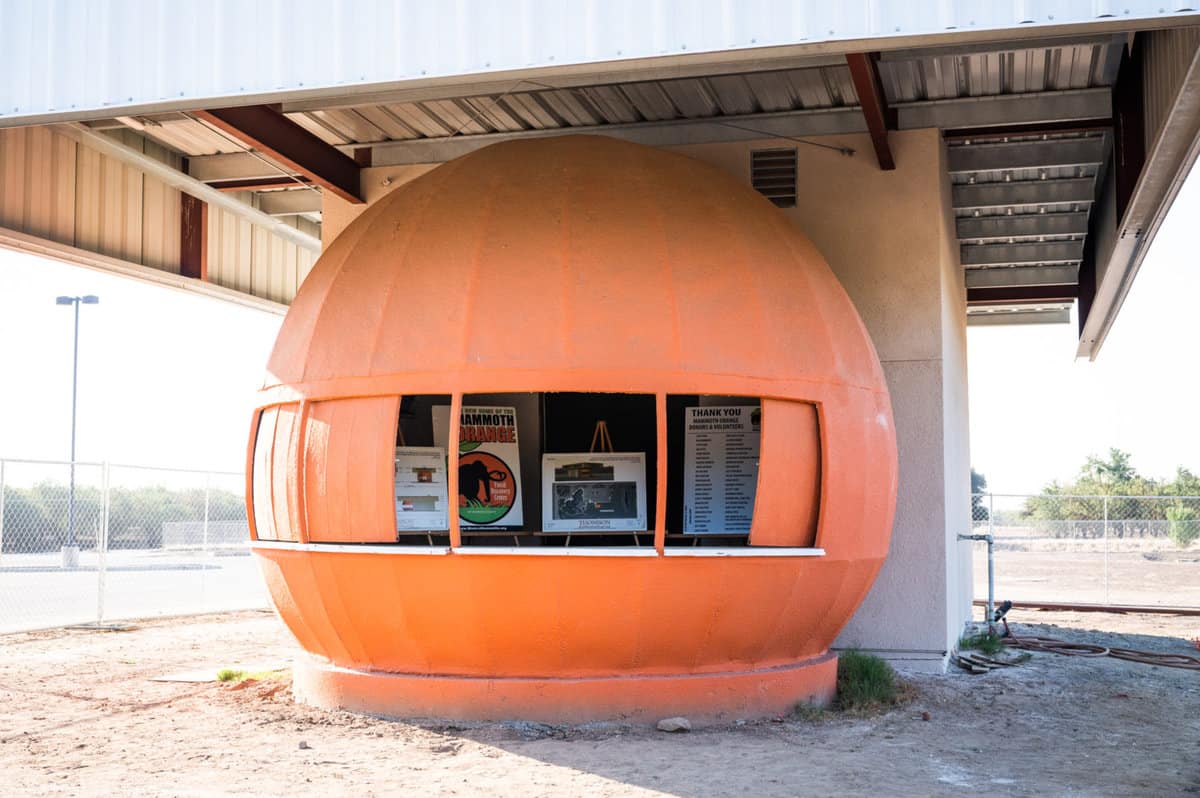 Mammoth Orange
One of the most recent "artifacts" you'll find at the Fossil Discovery Center is The Mammoth Orange. Interestingly enough, it's called the Mammoth Orange because of its size, but we now know that there's a good chance that it was built on top of actual mammoth fossils!
From the 1940's to the early 2000's, these orange-shaped roadside stands were scattered along the length of the 99. They sold hamburgers, lemonade, orange freezes and other treats to hungry travelers. The Mammoth Orange in Fairmead, CA was one of the last left standing, but was closed in 2008 due to highway expansion projects. A piece of history itself, the Mammoth Orange has since been moved to the Fossil Discovery Center where it has been restored and will soon be used as a concession stand.
Whether you're a local, or just passing through, the Fossil Discovery Center is an adventure that the whole family can enjoy!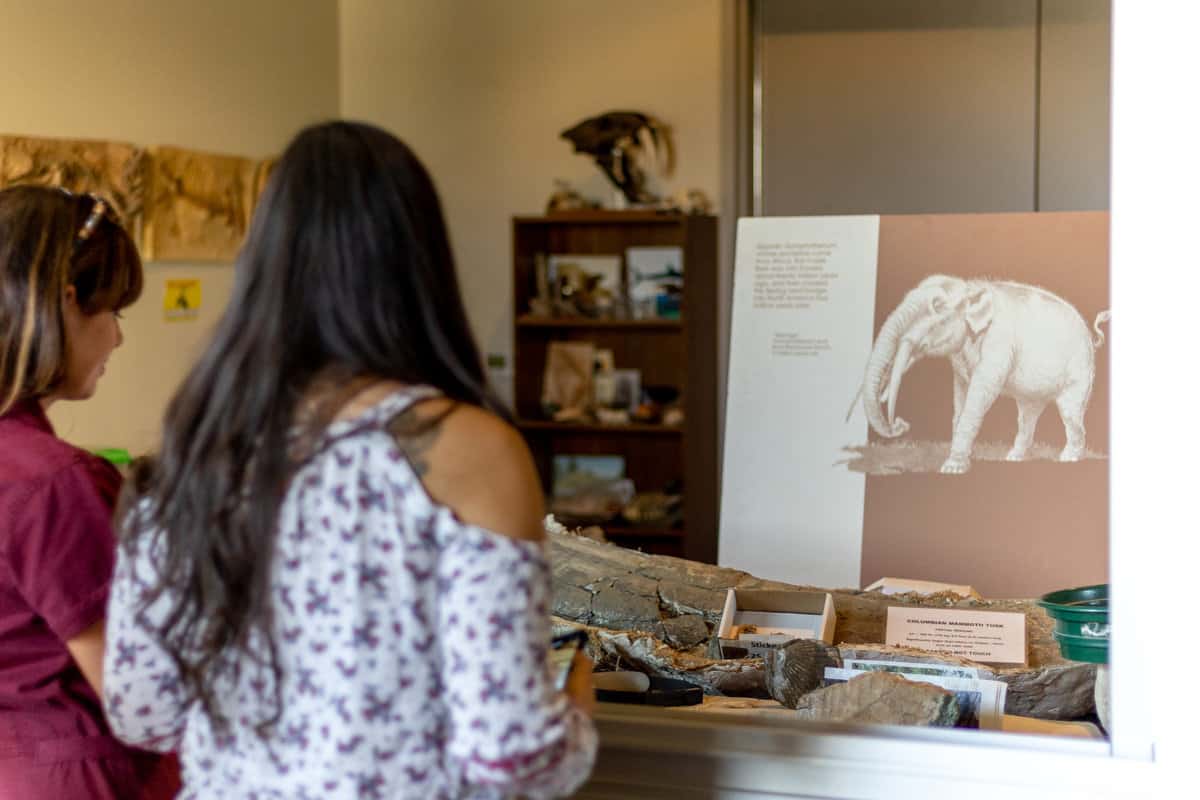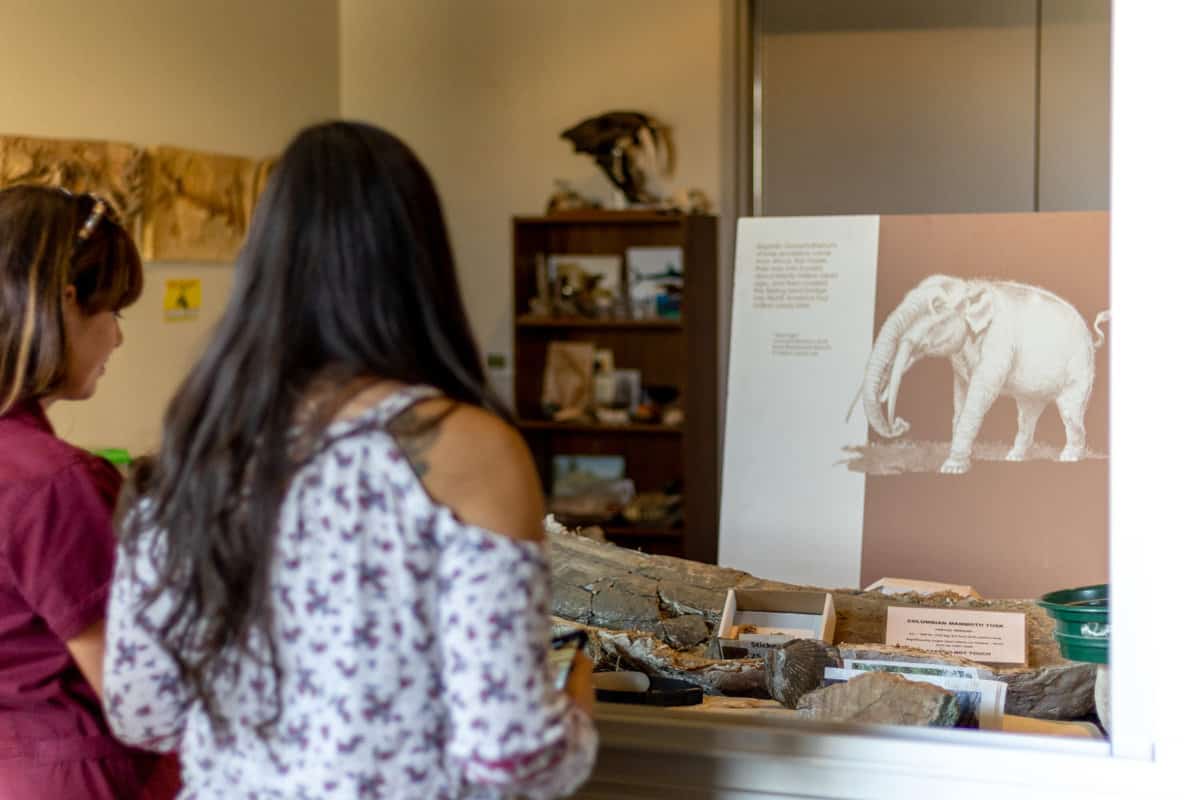 Got questions? Maybe these FAQs will help….
If not, hit us up in the comments section of this article and we'll do our best to get you answers!
What is the Pleistocene?
The fossils you'll find at the Fossil Discovery Center are from the Pleistocene – a period of time spanning from 2.5 million to 11,700 years ago.
Why is the Central Valley so flat?
Until about 1.5 million years ago, the Central Valley was an inland sea. Over millions of years, it was filled in by sediment from the surrounding mountains. This is why the Central Valley is so flat – and so fertile!
Are there dinosaur bones at the Fossil Discovery Center?
To date, no dinosaur bones have been found at the Fairmead landfill. Many dinosaur bones have been found in California, but the Central Valley was underwater when dinosaurs roamed the earth (about 66 million years ago). For this reason, dinosaur fossils are rarely found in the Central Valley.
More "can't miss" Central Valley spots….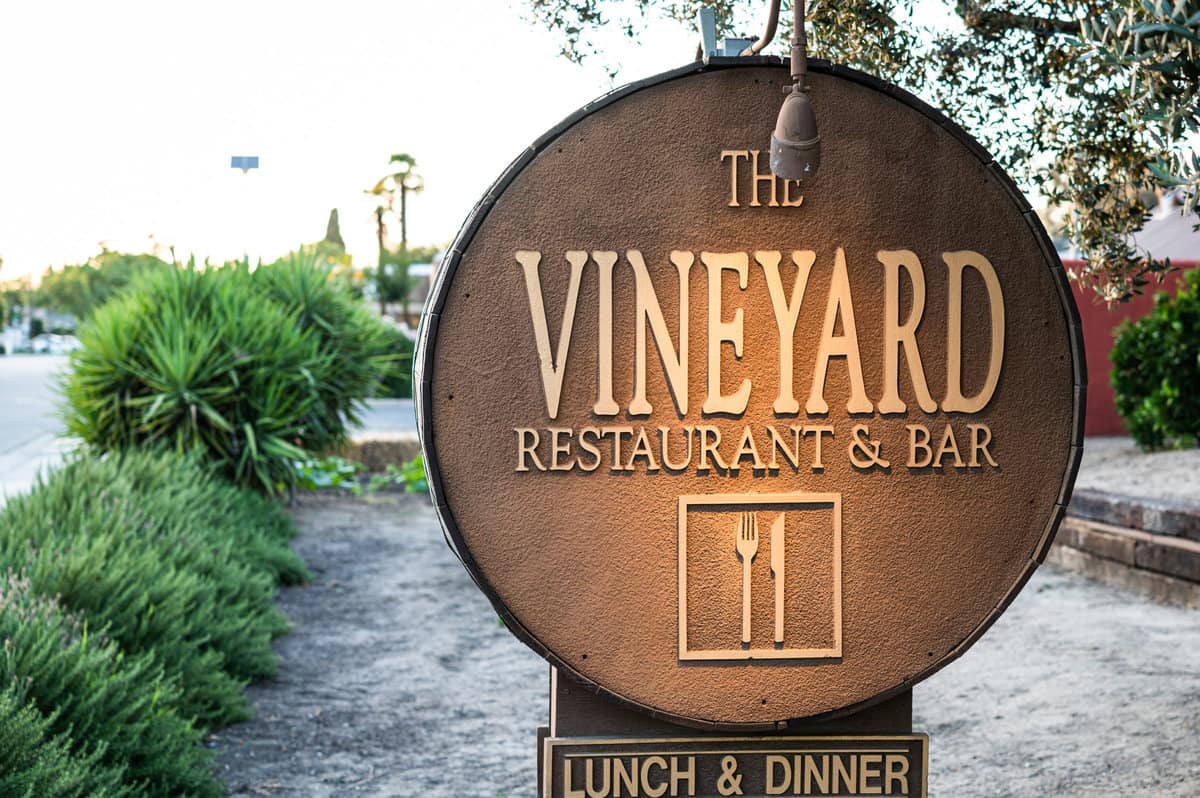 While you're here, check out our friend Meg's write up on the best places to visit in the Central Valley!
Article by Hilary Rance. Photography by James Collier and Hilary Rance. Yokut house imagery courtesy of Fossil Discovery Center.