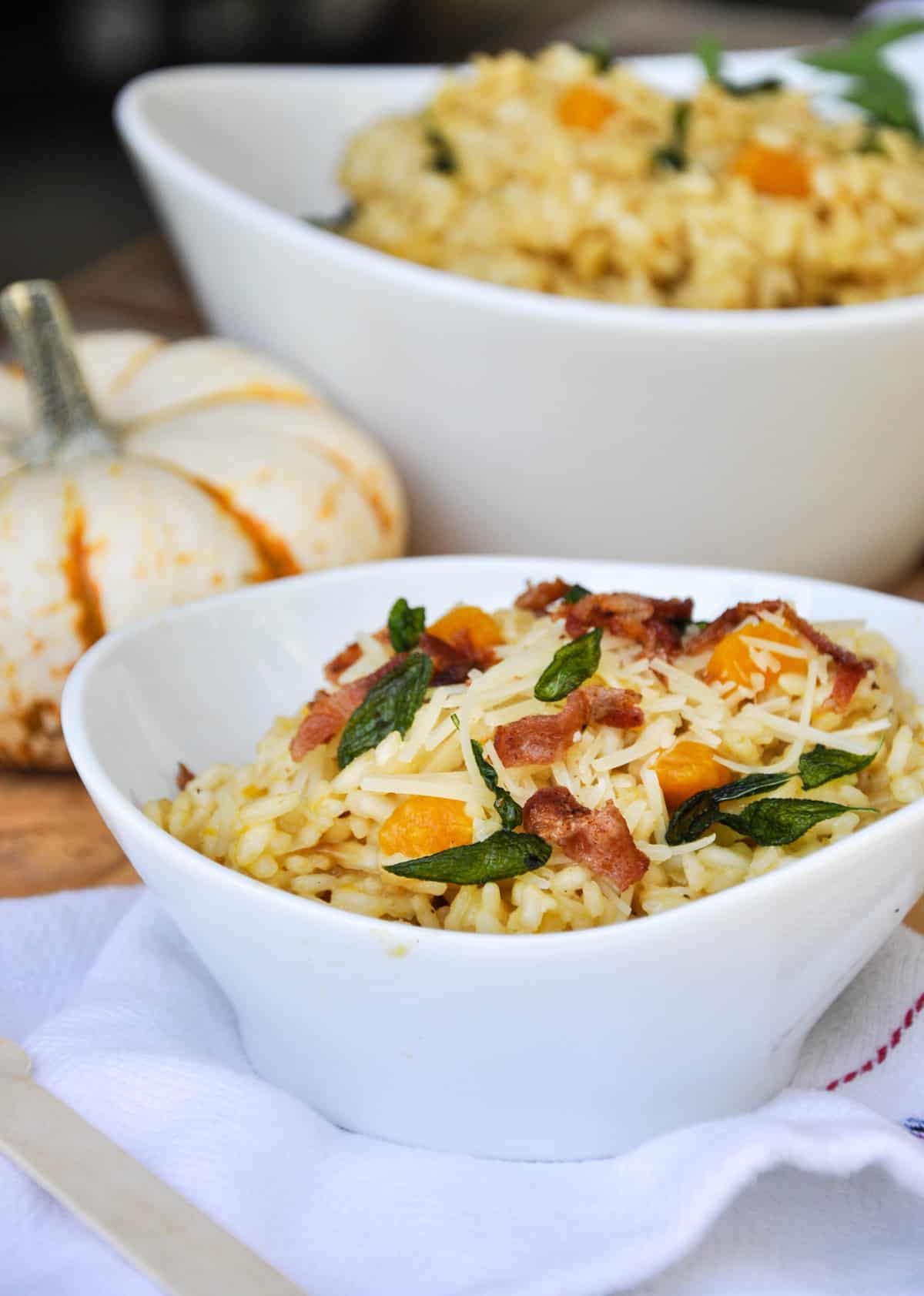 CA GROWN Blog
Discover. Learn. Connect.
Pumpkin Sage Risotto
October 5, 2016
Eat the Season!
Sign Up For Weekly Recipes
« Back to Recipes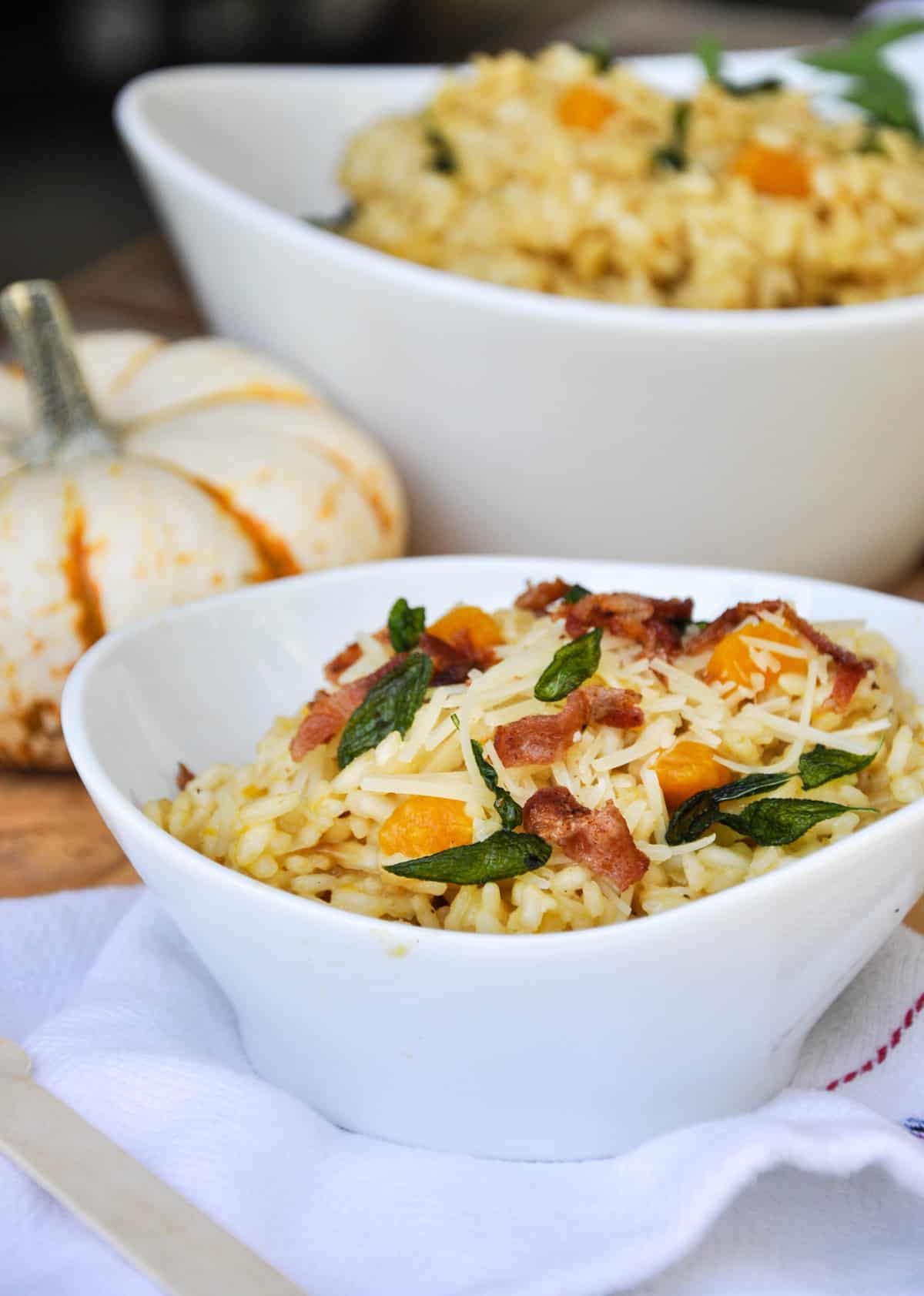 Pumpkin Sage Risotto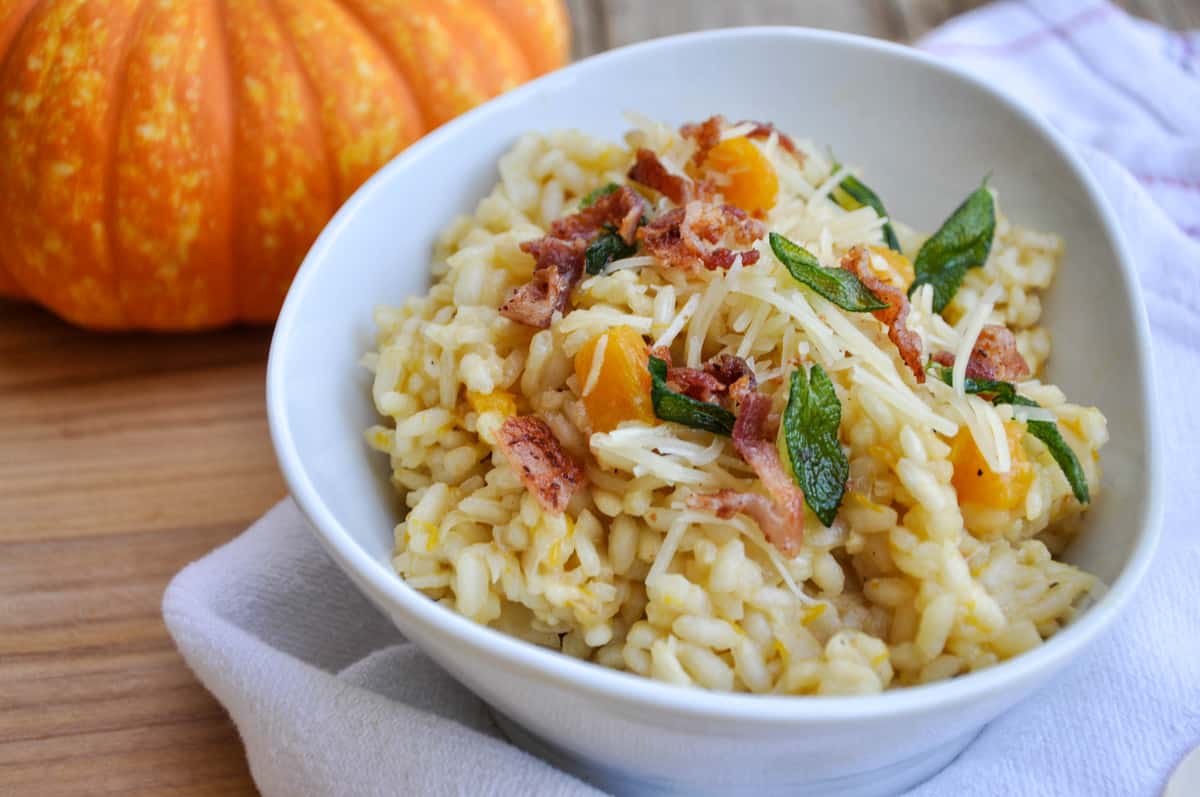 Pumpkin, Pumpkin Everywhere!
I'm sure you are enjoying the ever-popular Pumpkin Spice Lattes and fresh pumpkin pies popping up in stores and restaurants by now, so why don't we get in on the mix?
Many people don't realize fresh, California pumpkins are great for cooking and baking, and not just for jack-o-lanterns and fall décor. They are simple to prepare and the benefits are huge. One pumpkin can supply you with enough flesh for several different dishes. I used one rather smallish sugar pie pumpkin and made this dish along with enough puree for several loaves of bread.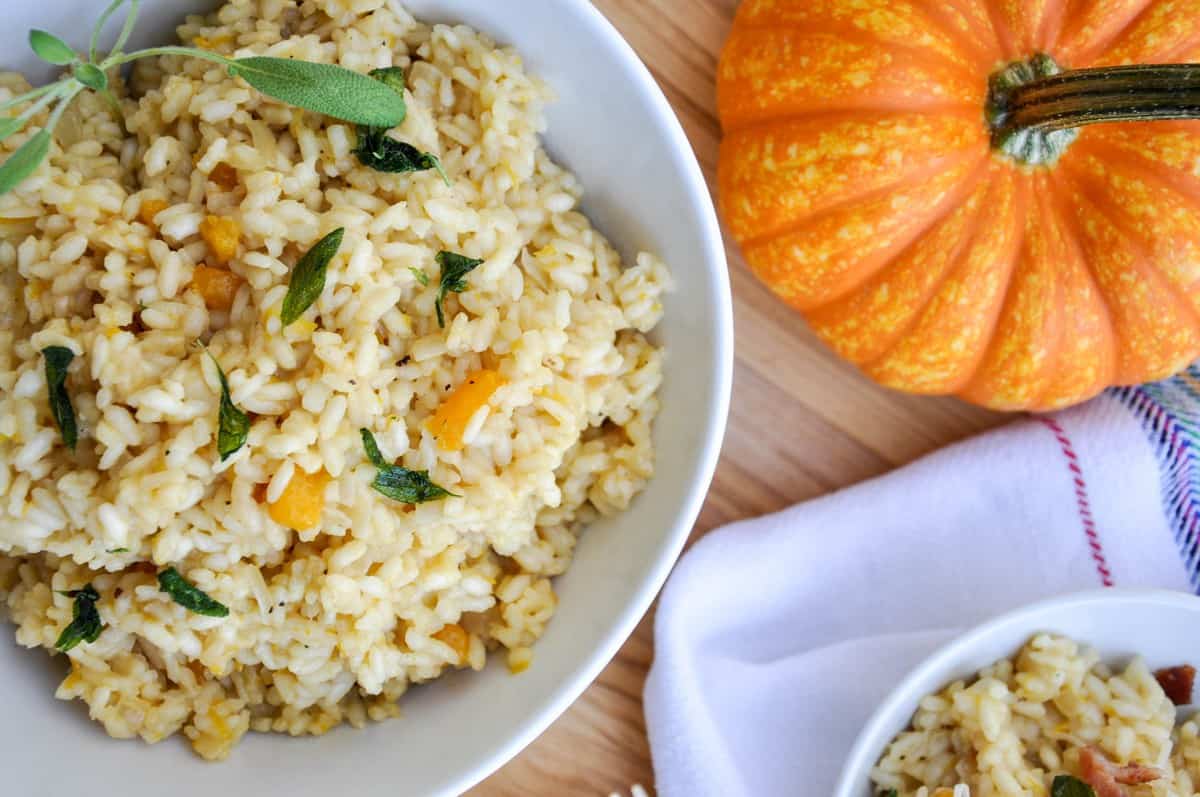 This Pumpkin Sage Risotto is Super Creamy.
It's hearty enough to be served as a main dish or use as a side dish for roasted chicken or pork chops. The addition of fresh, crispy sage, and crunchy bacon bring a beautifully balanced flavor to the rice.
Speaking of rice, make sure you use arborio rice!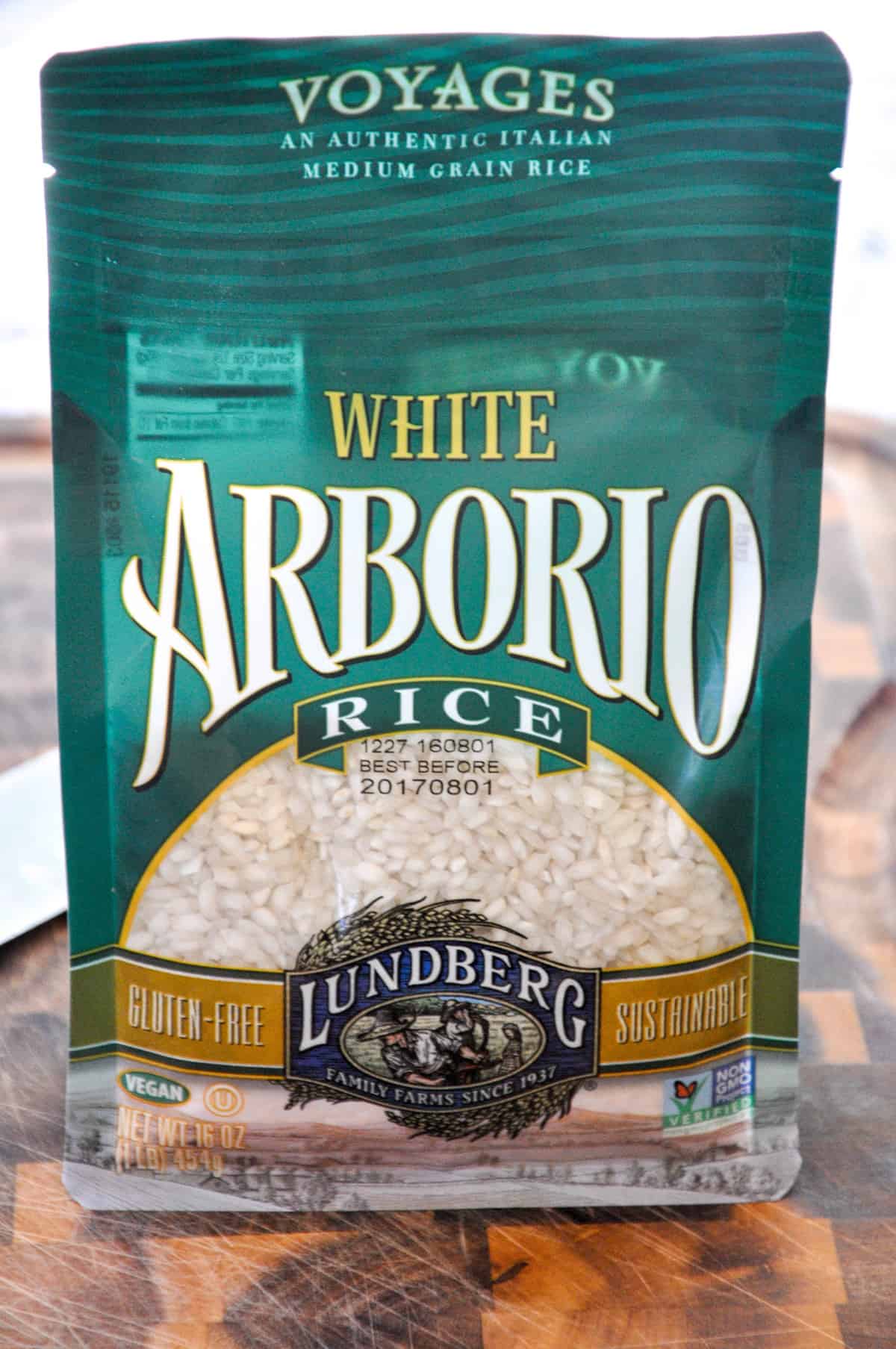 I used this California brand from the Sacramento area, Lundberg Farms.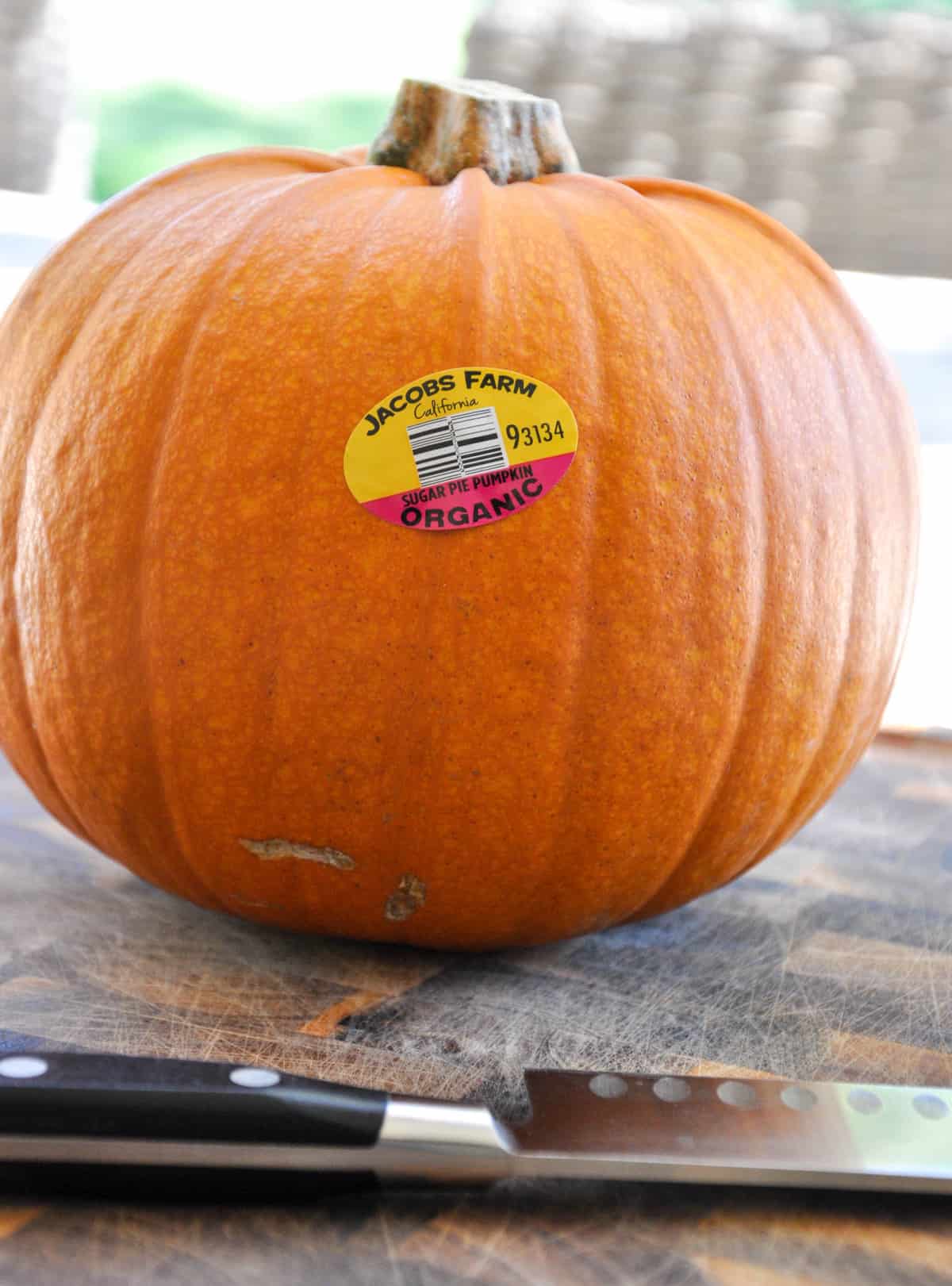 Of course the other main ingredient is fresh pumpkin. There are plenty to choose from at stores and farmer's markets, just make sure you are using a cooking pumpkin, and not a decorative variety. This beauty is from Jacobs Farm, which I think is so cute!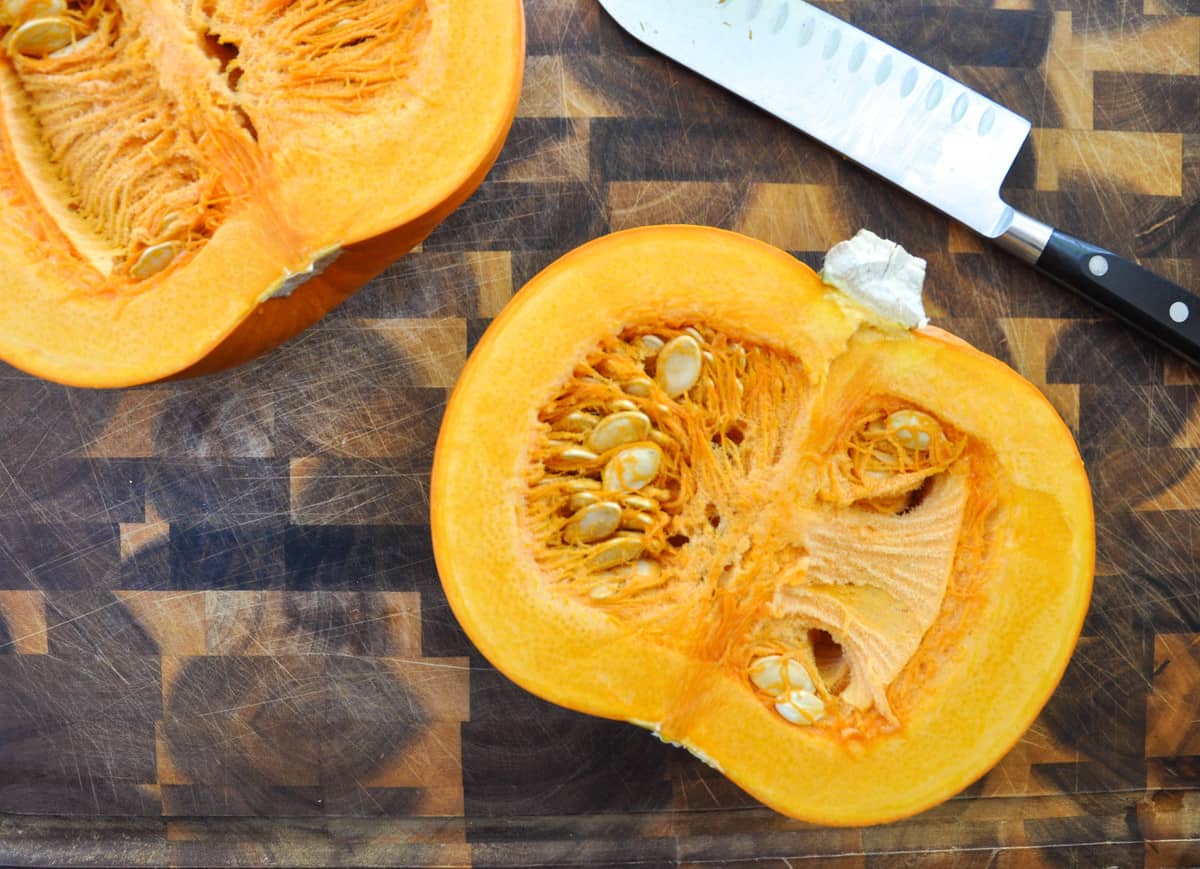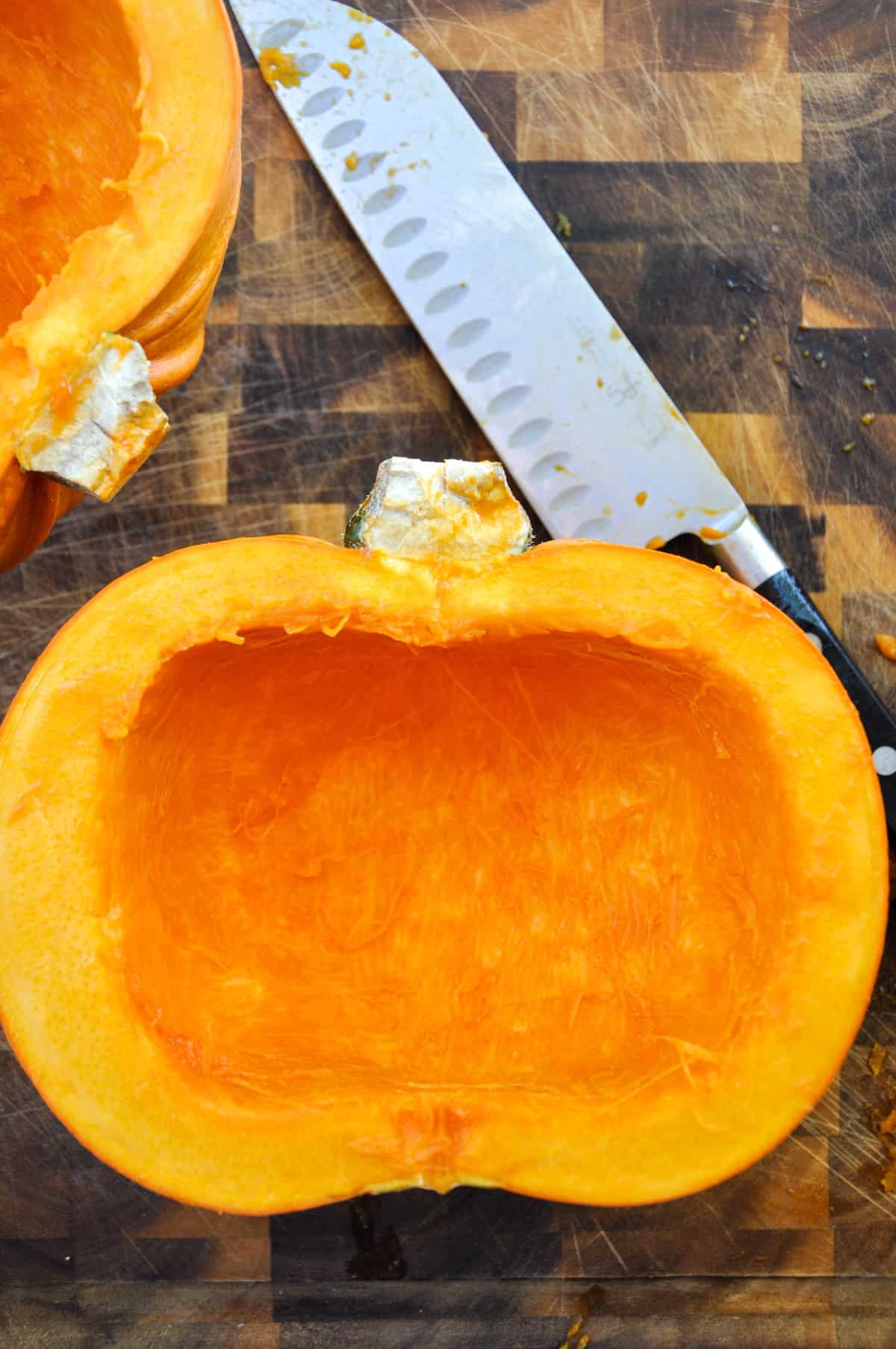 Halve the pumpkin and scoop out the seeds and pulp. Click HERE to see how you can use the seeds to make a yummy snack that your kids will love!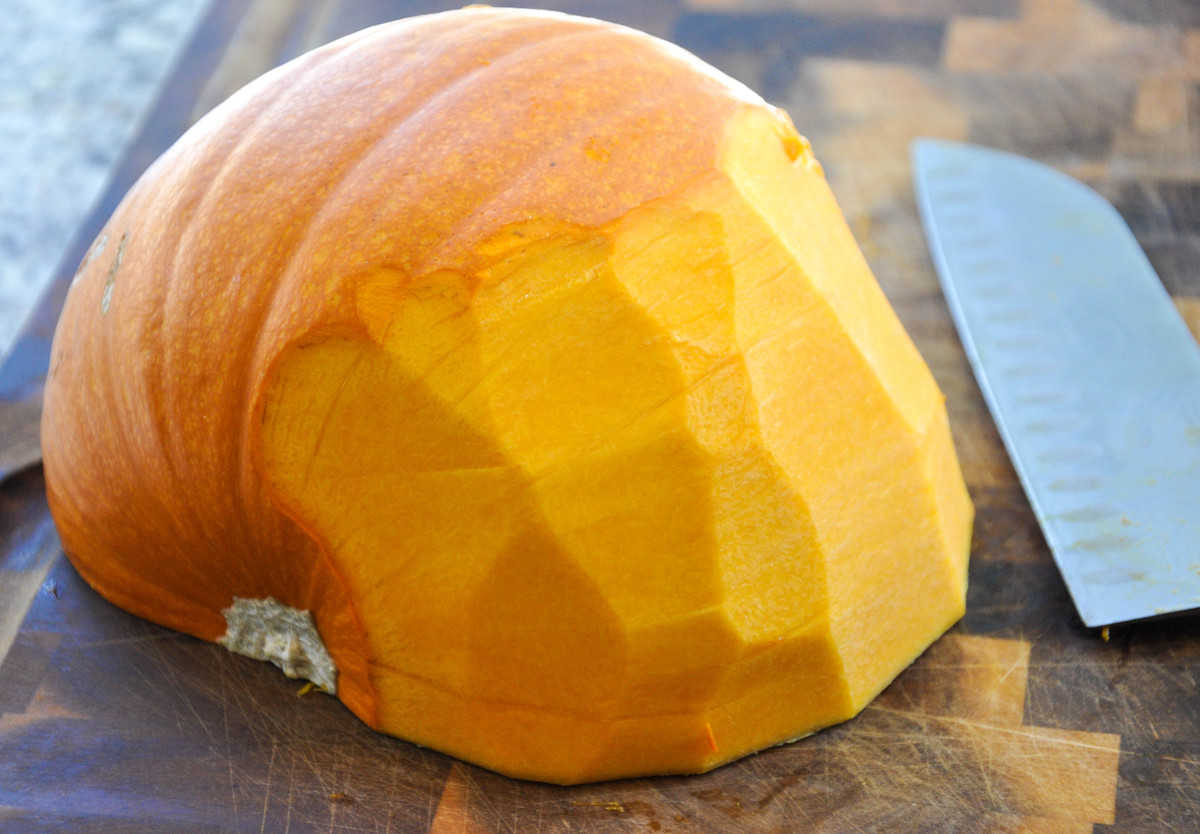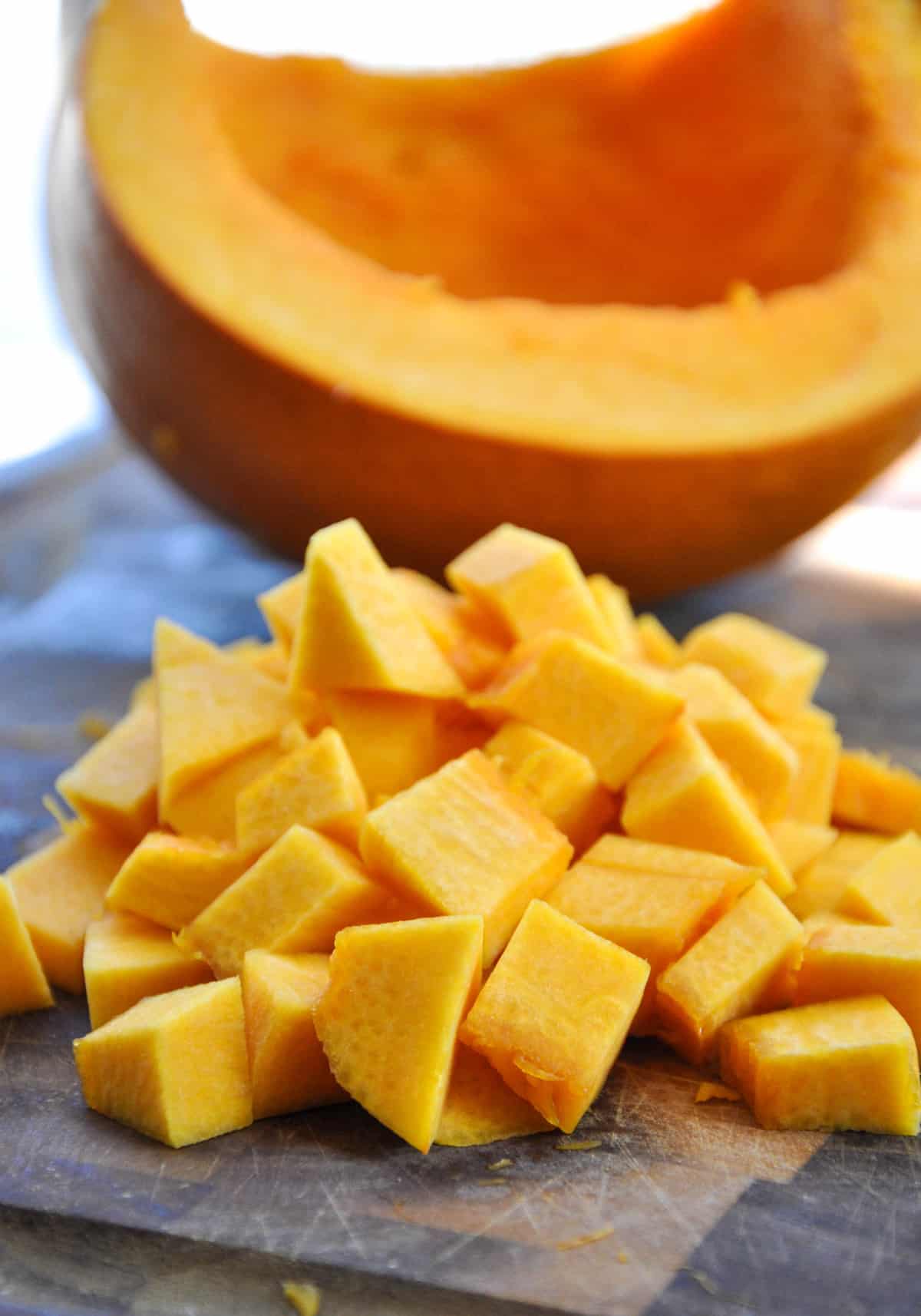 Remove the outer skin of half of the the pumpkin and chop into 1/2 inch pieces; there should be about 2 cups. Follow the directions in the recipe below and you will end up with a fabulous meal for you and your family.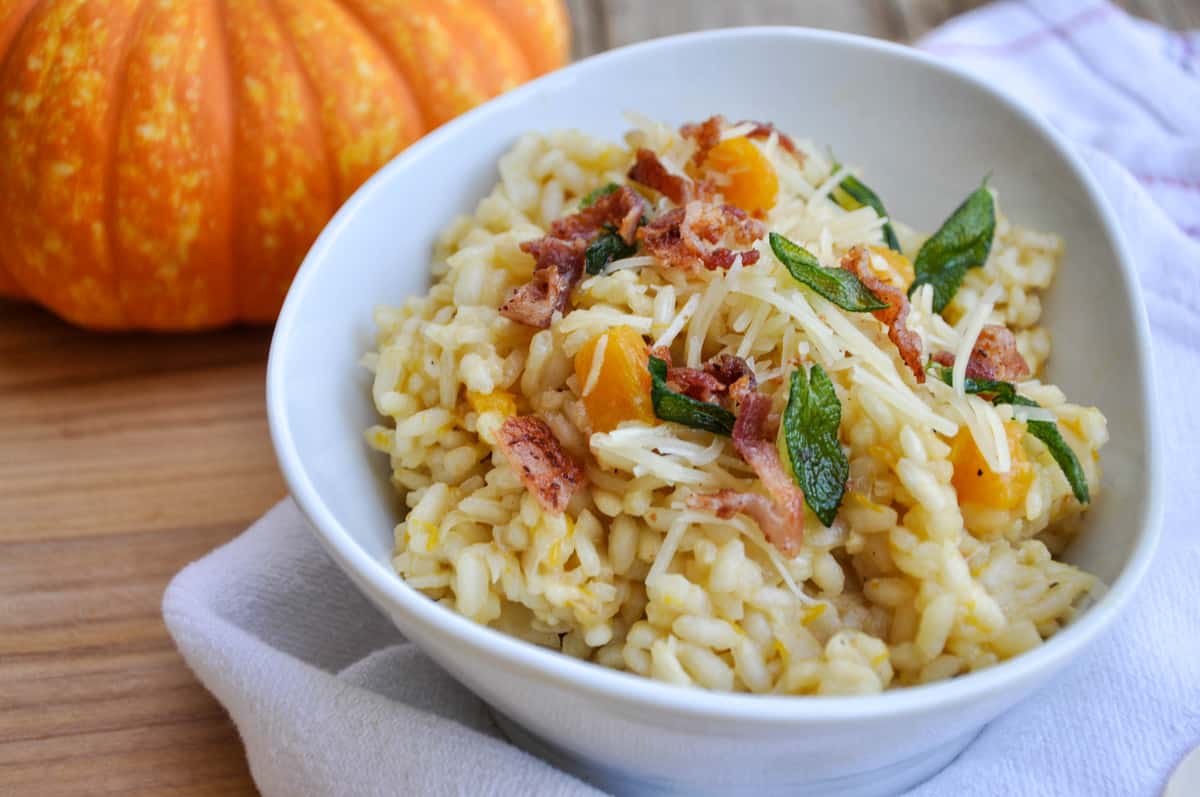 Top the rice with shredded parmesan and the crispy bacon and sage leaves.
This recipe feeds 6 as a main dish and 8-10 as a side. Any leftovers will keep great in the fridge for a few days!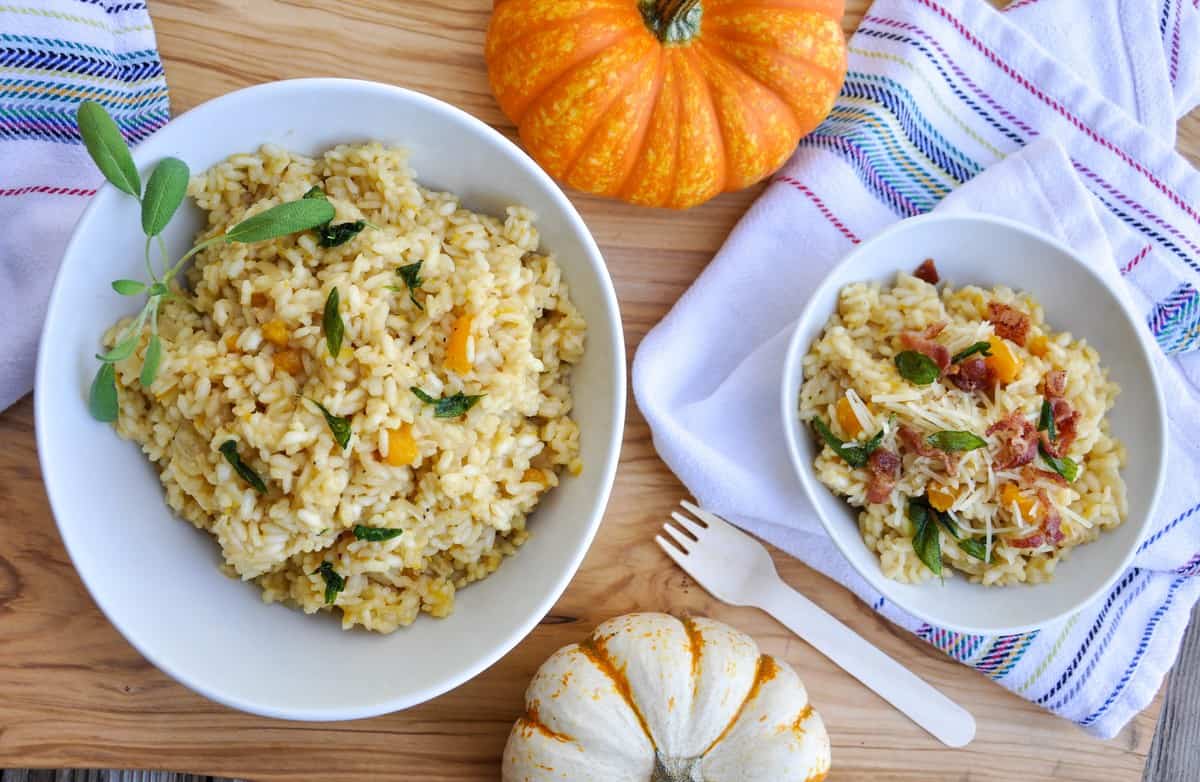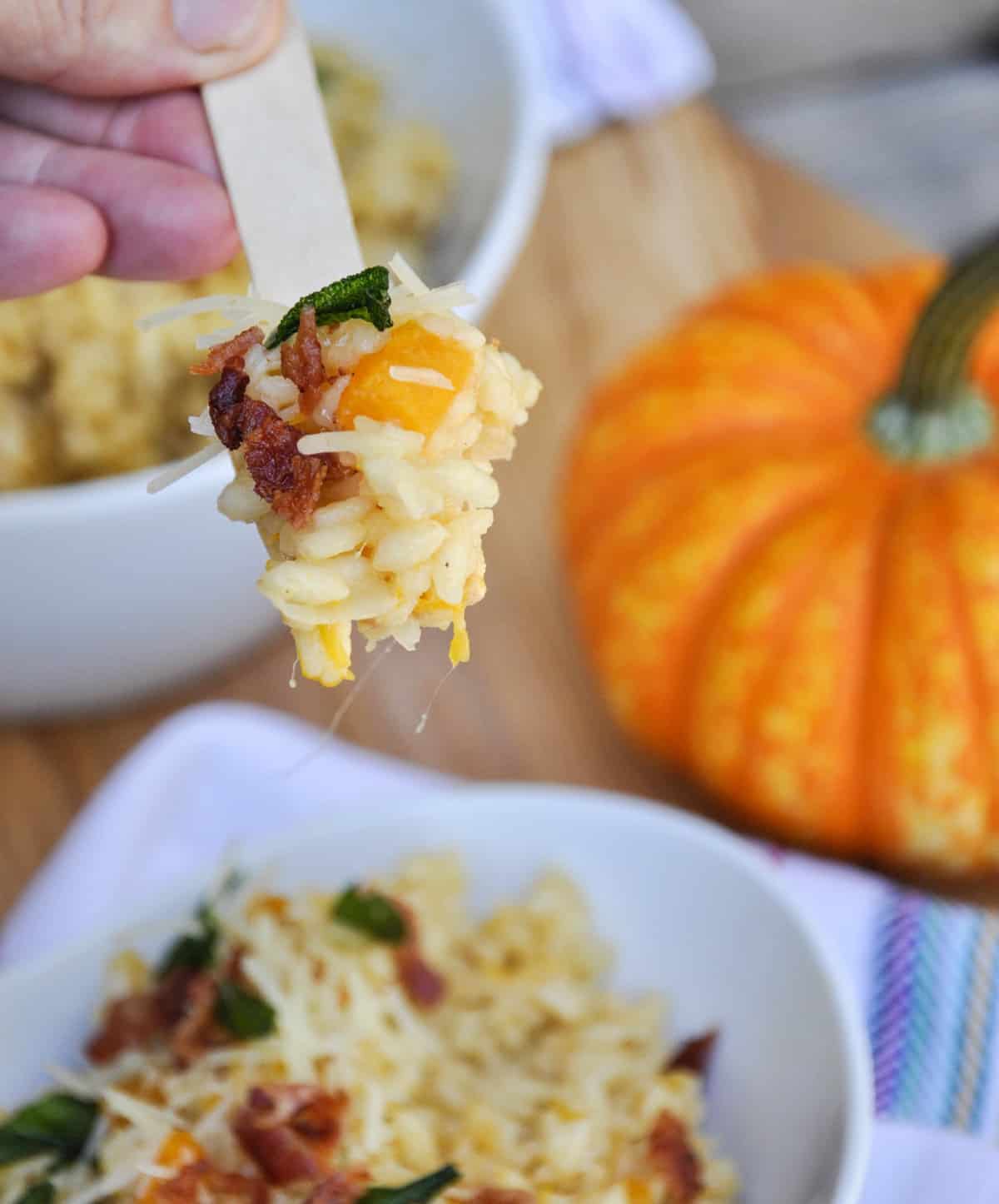 Dig in to the creamy, cheesy goodness!
Here is the recipe for ya…
Pumpkin Sage Risotto
2016-10-04 14:24:42
Ingredients
1 Sugar Pie pumpkin, halved, peeled and chopped
1 yellow onion, chopped
2 cloves garlic, minced
2 T. Olive oil
2 cups arborio rice
1/2 cup white wine
6 cups chicken broth
Salt and pepper
1/2 cup shredded parmesan
20 fresh sage leaves
5 pieces bacon
additional parmesan cheese
Instructions
Place chicken stock on a saucepan and heat to a low simmer
Heat olive oil in a skillet and add onion. Cook for about 5 minutes. Add pumpkin and garlic for an additional 3 minutes.
Add rice and toast for a few minutes.
Deglaze pan with wine until liquid is absorbed.
Take heated chicken stock, about 1 cup at a timed add to rice mixture. Stir over medium low heat and allow for liquid to almost absorb, then add more stock. This process should take about 20 minutes.
While the rice is cooking, fry the bacon and then the sage leaves in the bacon grease. Set aside.
Once rice is done, stir in the 1/2 cup parmesan cheese and add salt and pepper to taste.
Spoon into a serving dish and top with more part, sage leaves and bacon
Adapted from Inspiration
California Grown https://californiagrown.org/