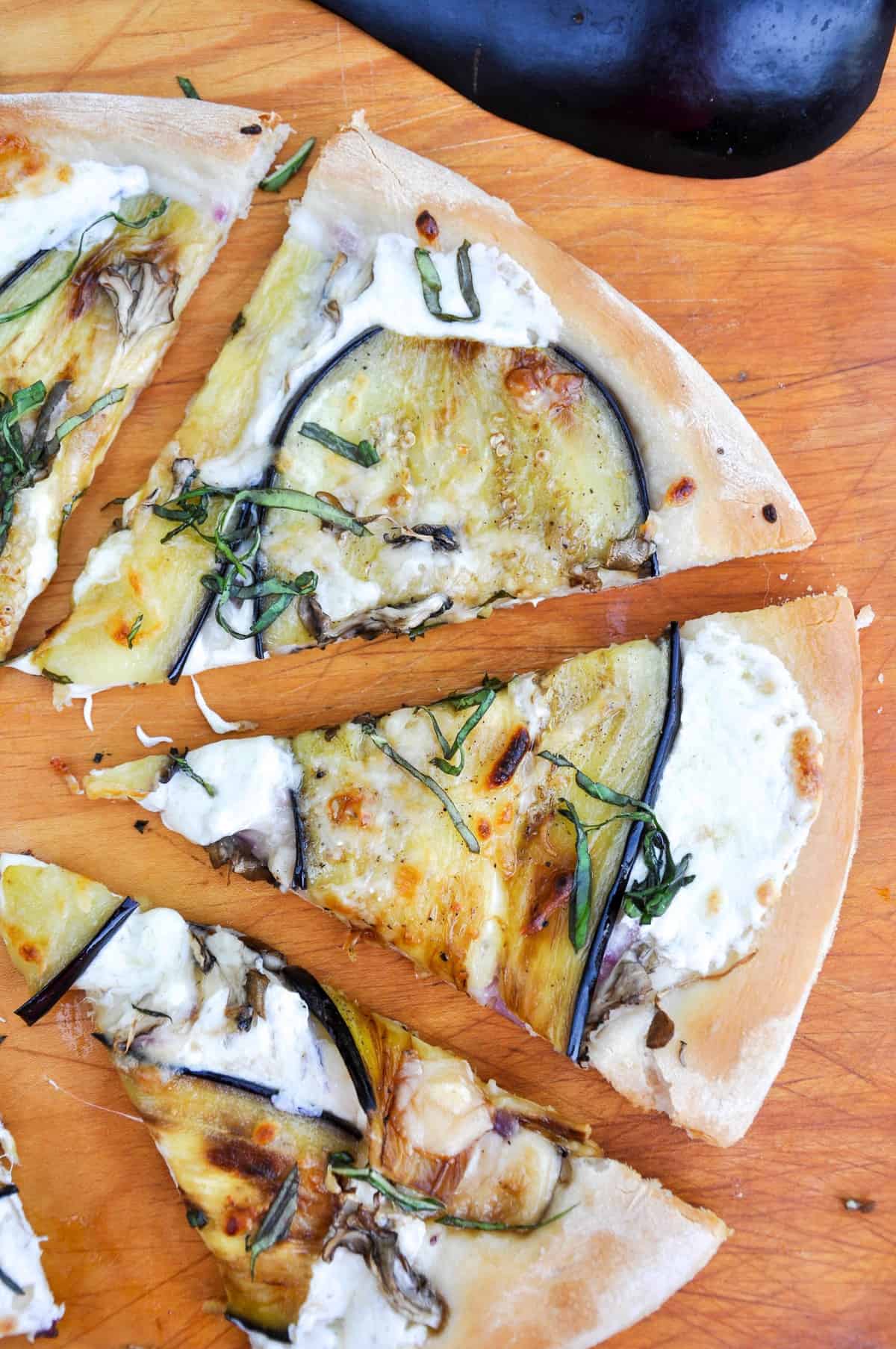 CA GROWN Blog
Discover. Learn. Connect.
A Pizza With Eggplant You Should Make Soon!
September 21, 2016
Eat the Season!
Sign Up For Weekly Recipes
« Back to Recipes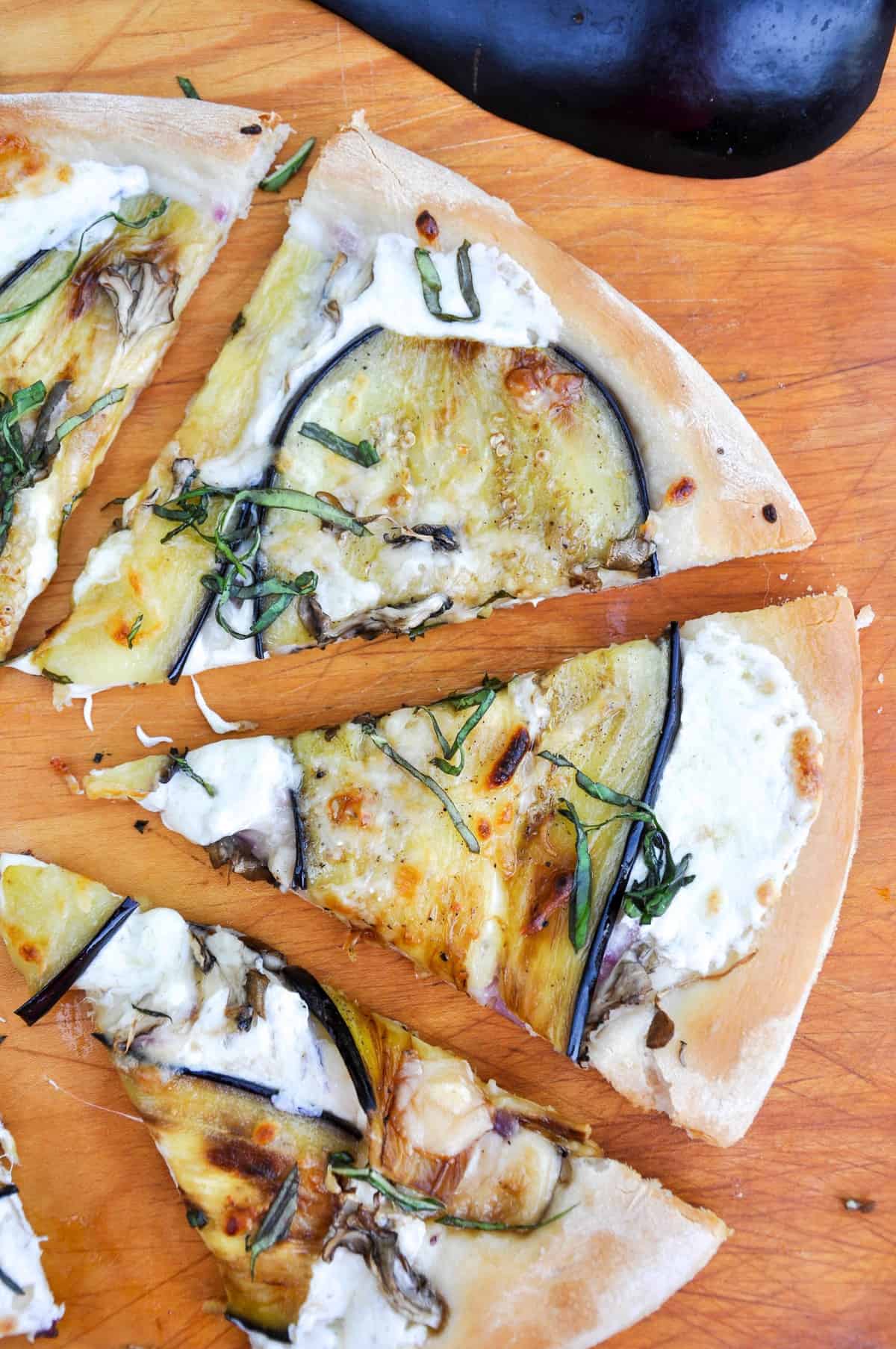 A Pizza With Eggplant You Should Make Soon!
Making pizza at home can be a fun and satisfying experience, especially when you use fresh ingredients like California-grown eggplant and mixed mushrooms. Whether you're a seasoned home cook or just starting out, this Pizza with Eggplant and Mushrooms is a great way to serve fresh seasonal produce with a new spin.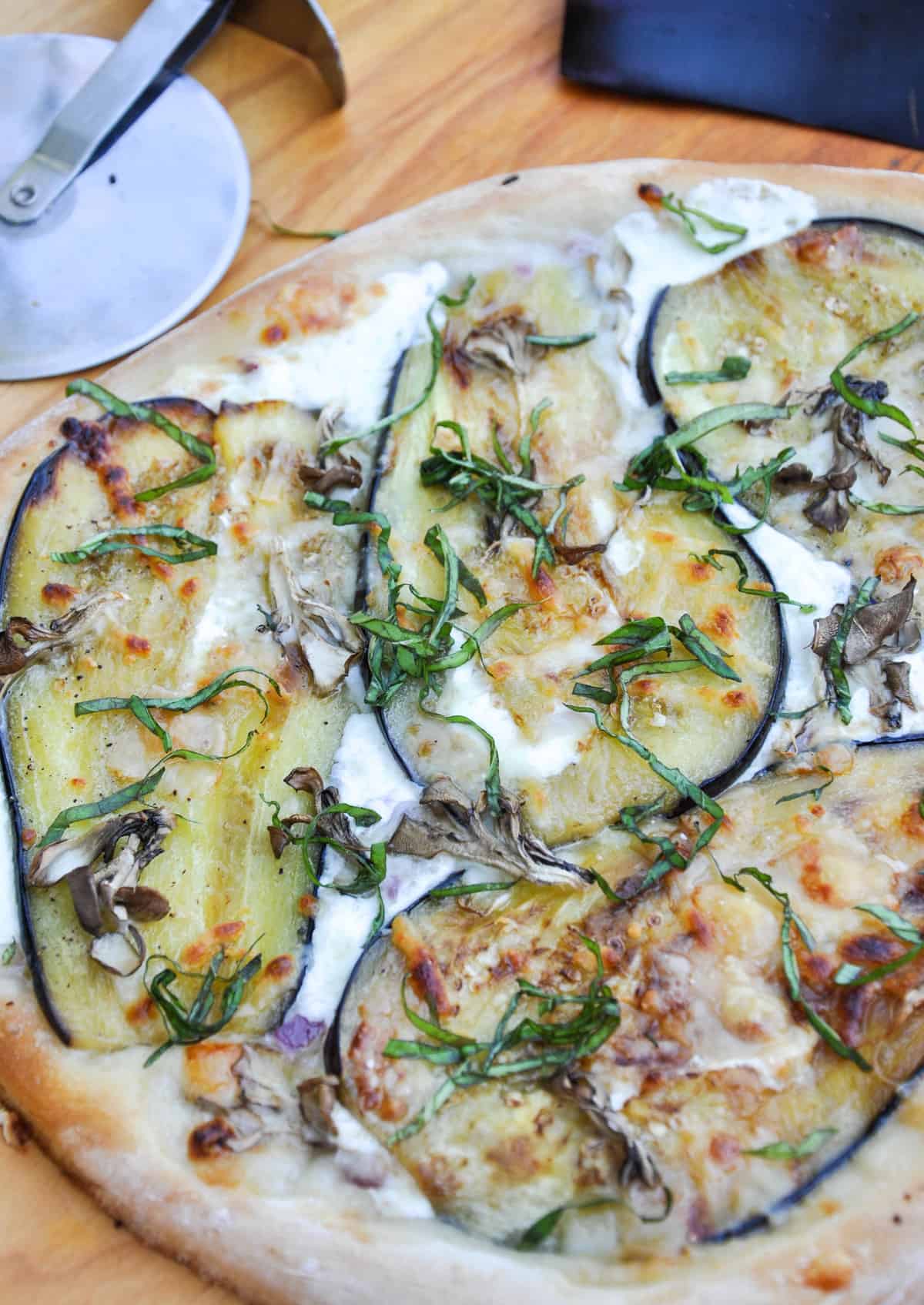 I especially love the dough; it's so easy to make and makes all the difference in the world!
I loved being able to walk out into my garden, pick this fresh eggplant, and serve it to my family all within an hour. It makes one feel so accomplished. You grow it, you nurture it, and even more, you use it to nourish your peeps. Talk about satisfaction!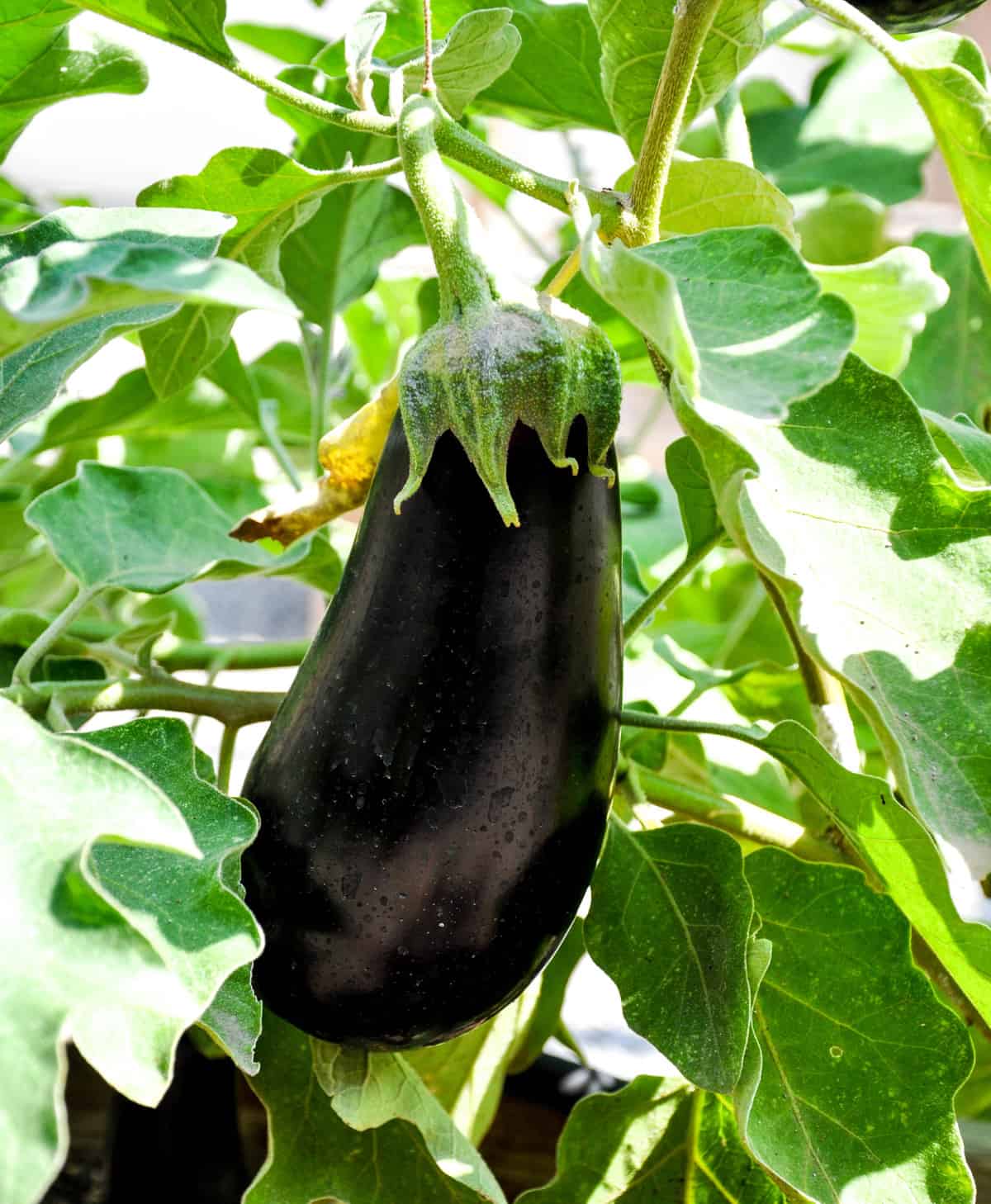 Thankfully for you, eggplant is in season right now in California, so even if you don't grow your own eggplant, you can easily waltz right into the store and buy yourself one of these purple beauties and create this pizza in a snap.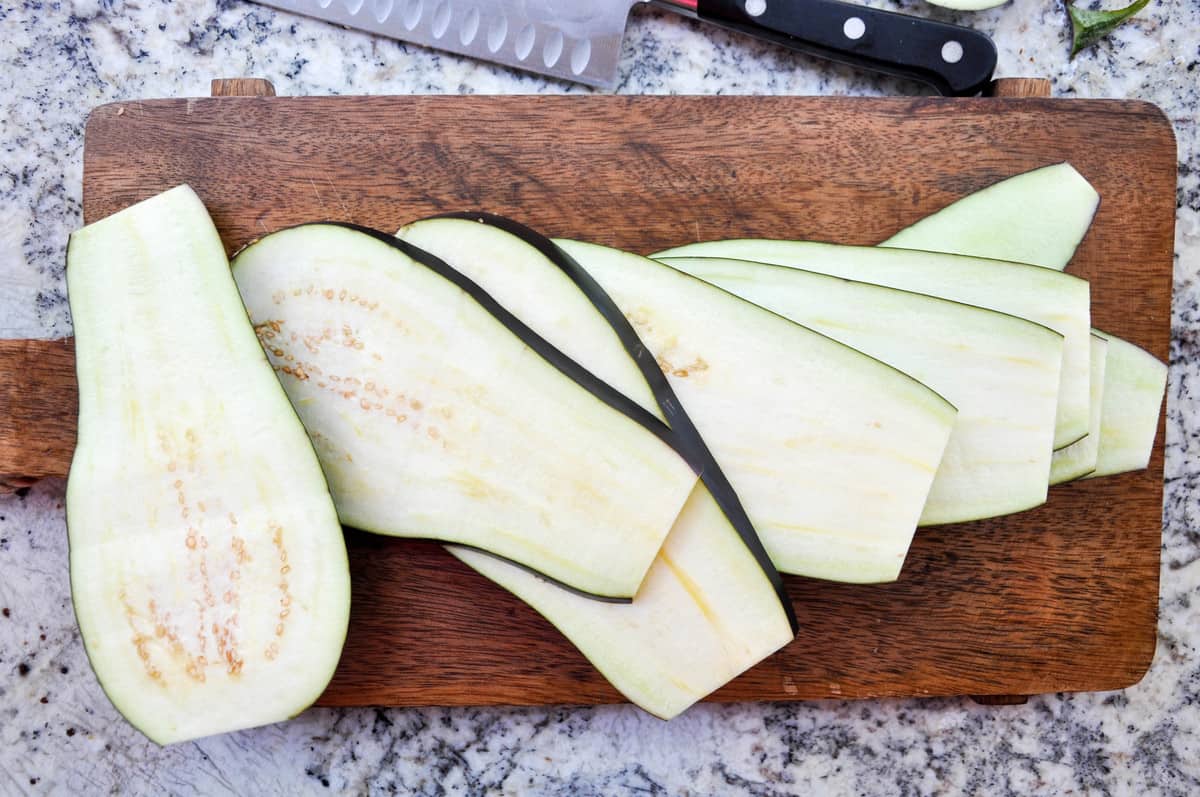 Firstly, slice the eggplant into thin(ish) slices. You can cut them lengthwise or crosswise, totally up to you. I like the shape of the eggplant, so I went lengthwise!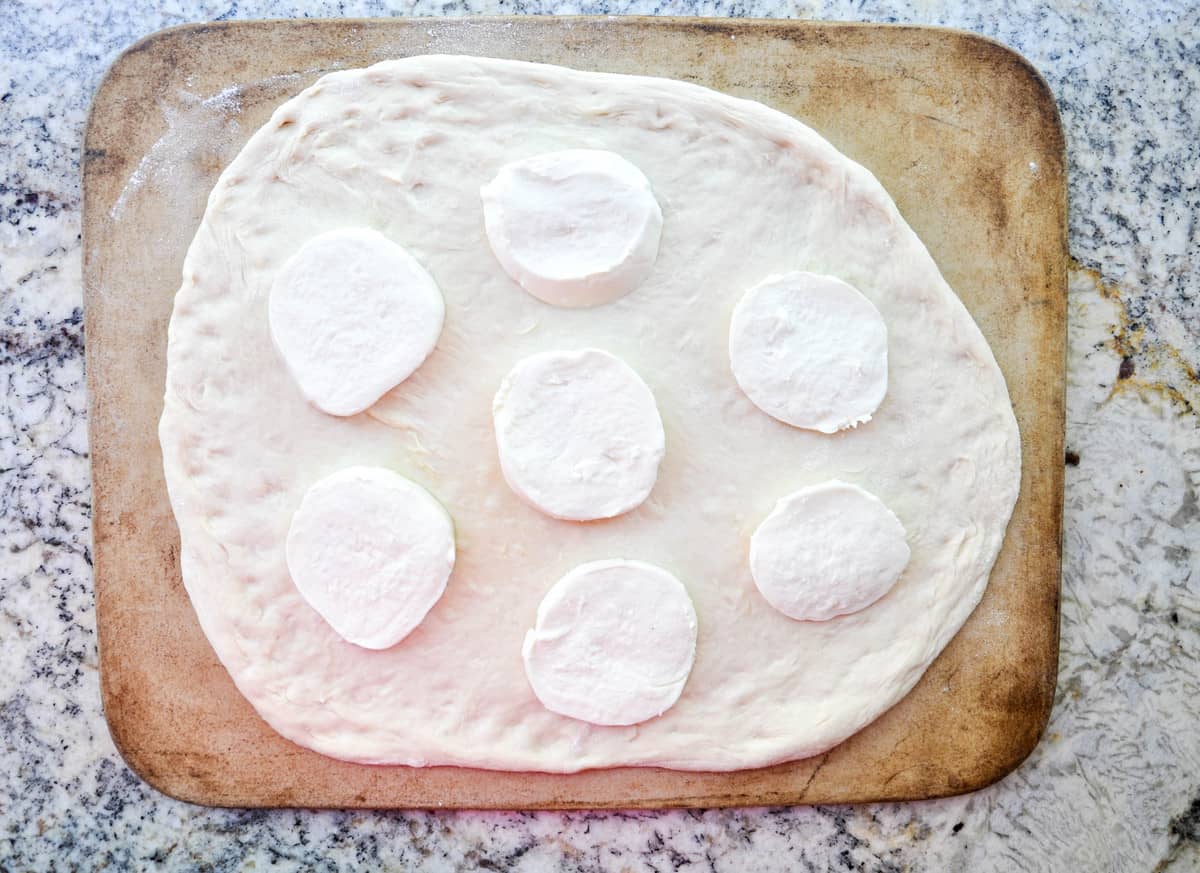 Using our dough recipe included, add fresh mozzarella discs to the prepared dough.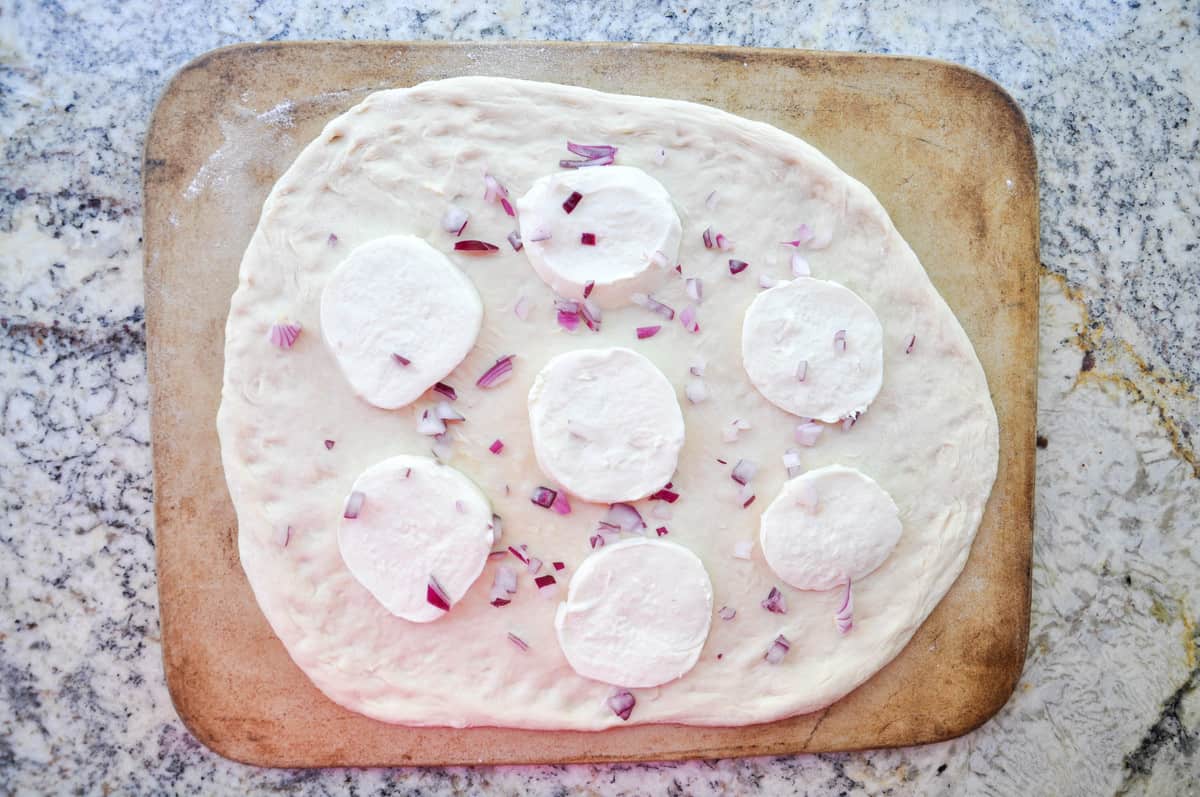 Sprinkle with a bit of chopped red onion.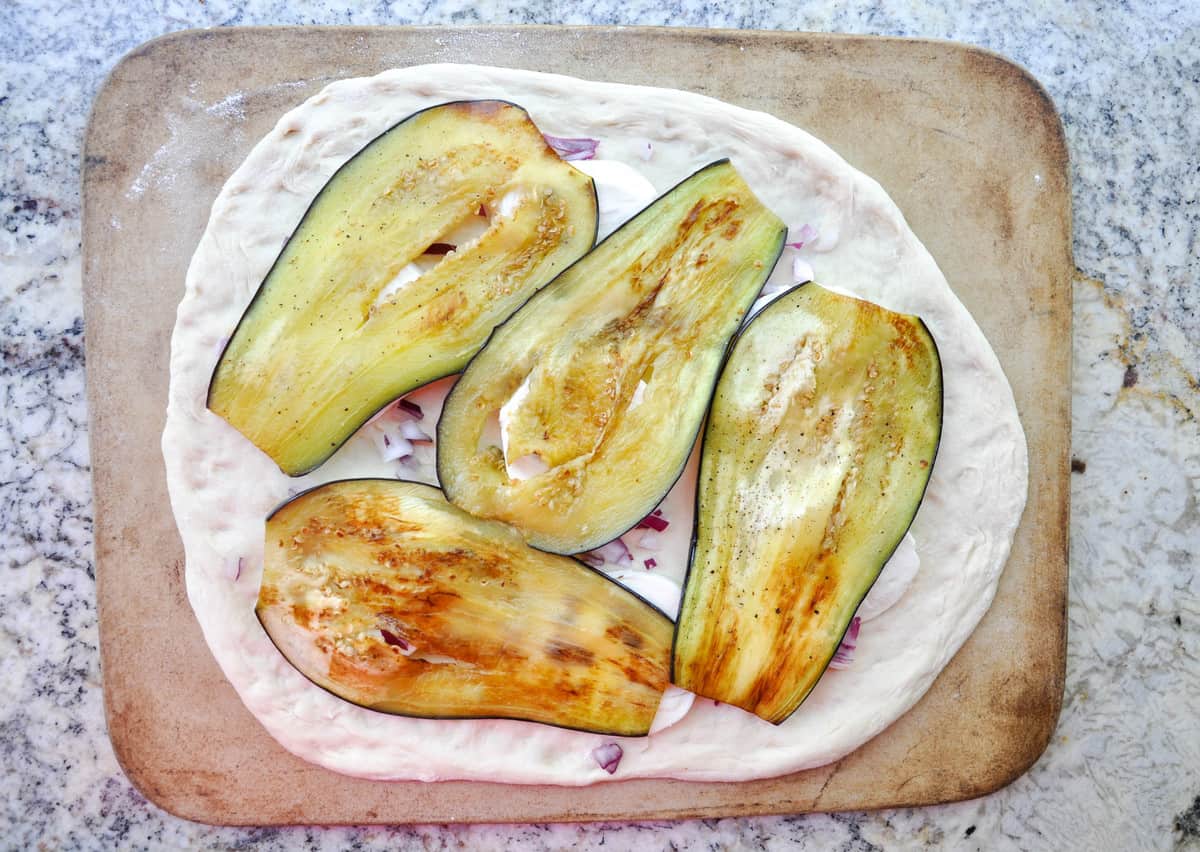 Cover with the sliced eggplant (I sautéed mine in olive oil for a few minutes before).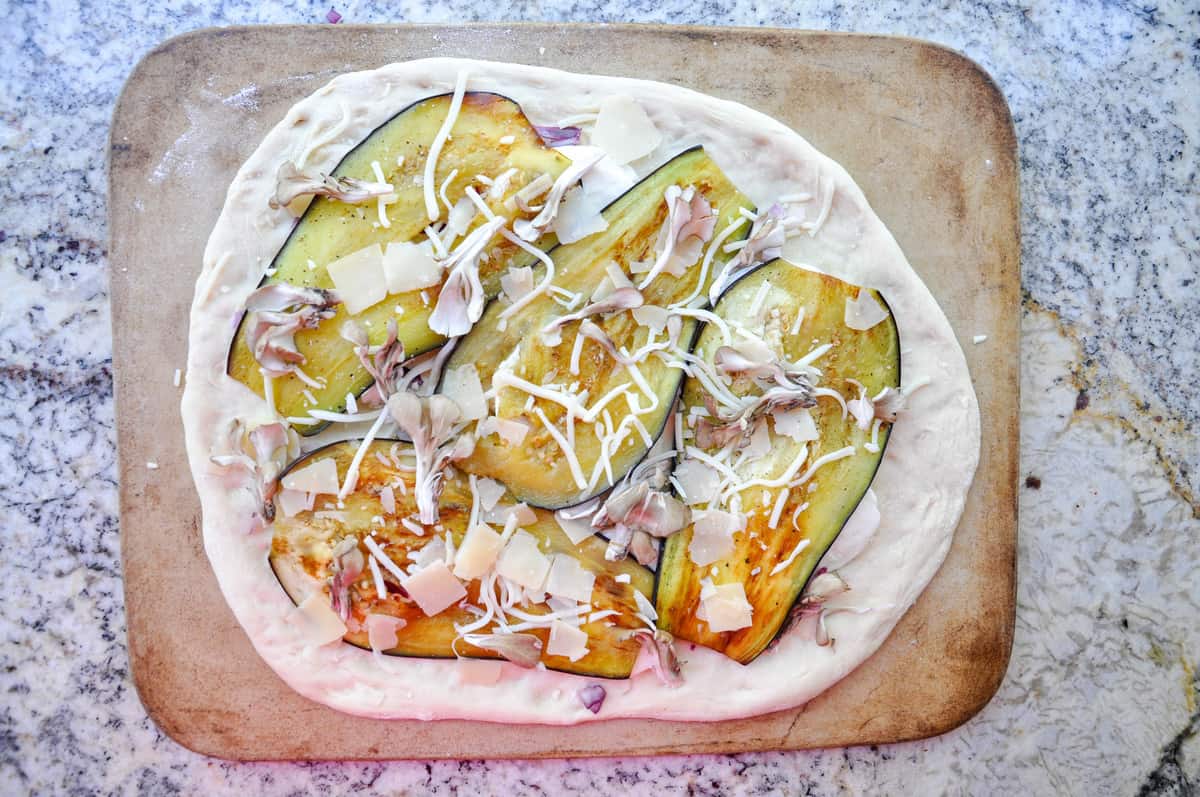 Top with a bit of shredded mozzarella, parmesan and maitake mushrooms. Now don't let the mushroom type scare you. They are grown right here in California!
What type of mushrooms are best for Pizza with Eggplant and Mushrooms?
I found this Culinary Mix of Mushrooms from Gourmet Mushrooms at my local Vons! I always have one of these packages in my refrigerator to use throughout the week. It just happens to have Maitake mushrooms in it. However, you can use any mushroom you like and have access to on this pizza and it will still be delicious.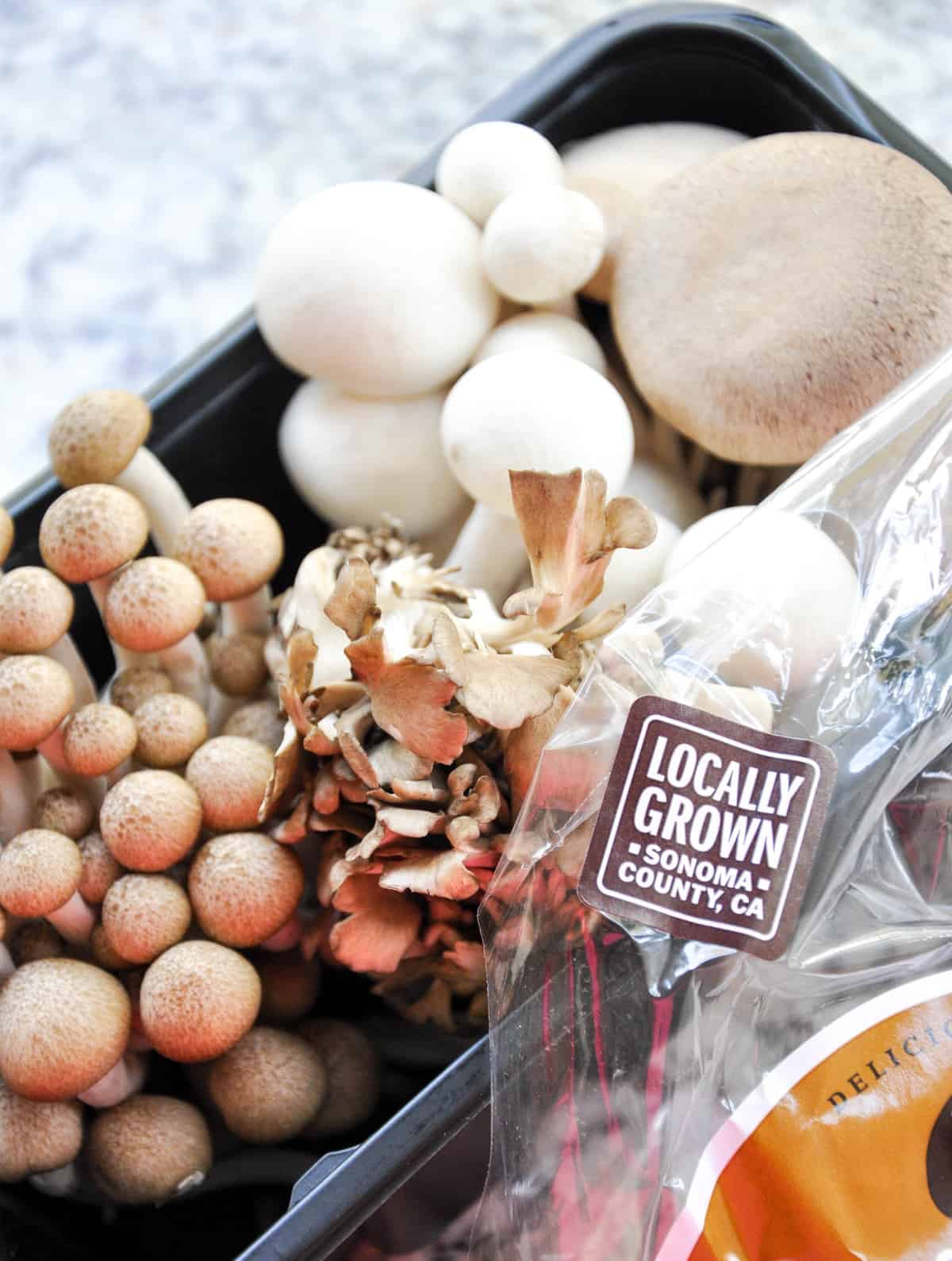 Do you want to learn how mushrooms are grown? The Garrone family of Far West Fungi has always been passionate about mushrooms; they've been growing and distributing edible fungi for the past 35 years!
Far West Fungi's largest production is shiitake and oyster mushrooms. They also grow king trumpet, lion's mane, maitake, reishi, and pink and yellow oyster mushrooms.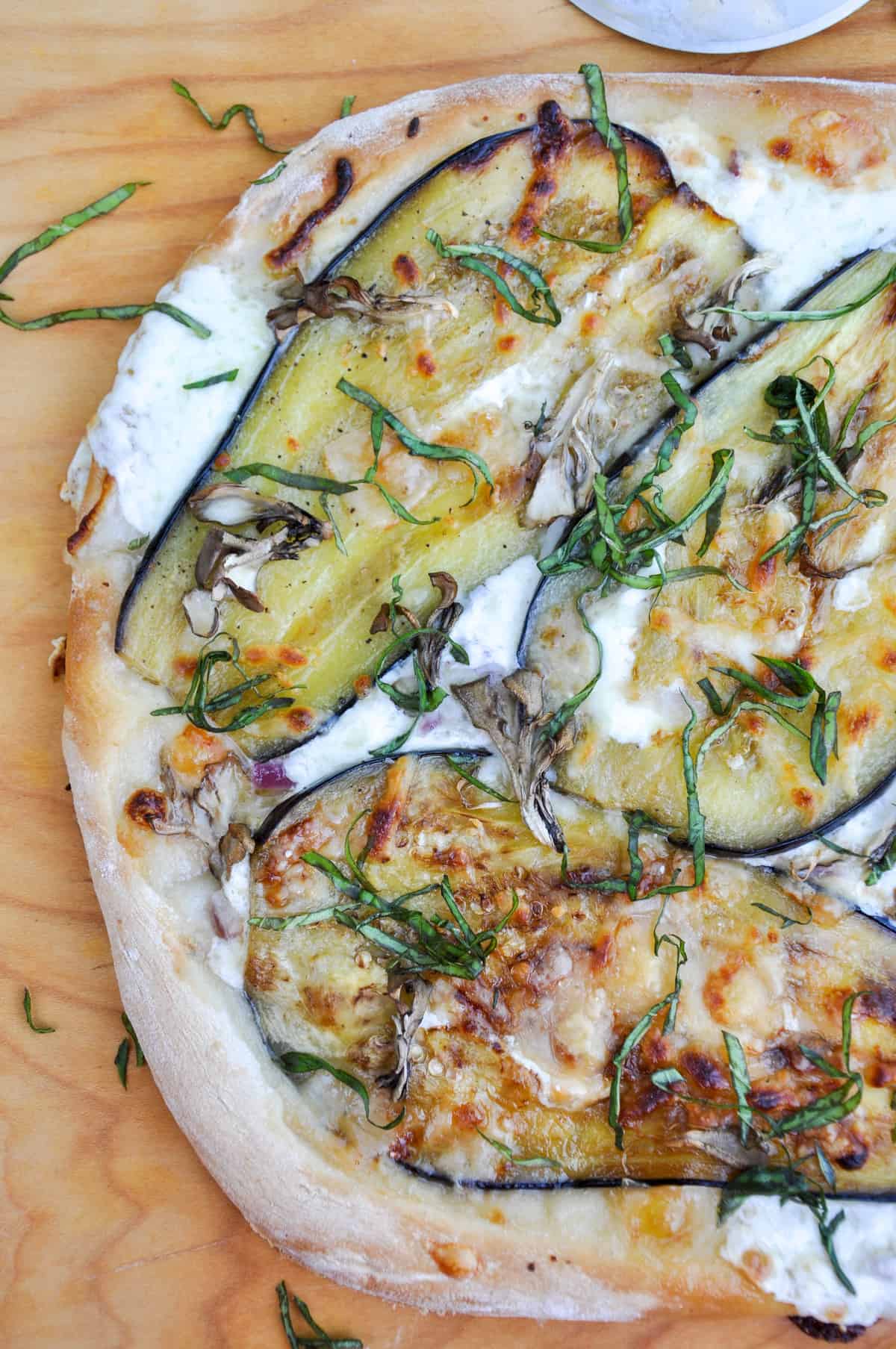 Crisp, Tasty Perfection!
The eggplant is very mild, so no need to worry about overpowering flavors. The cheese and the sautéed eggplant just seem to melt into each other and create a beautiful dish for you and your family to enjoy.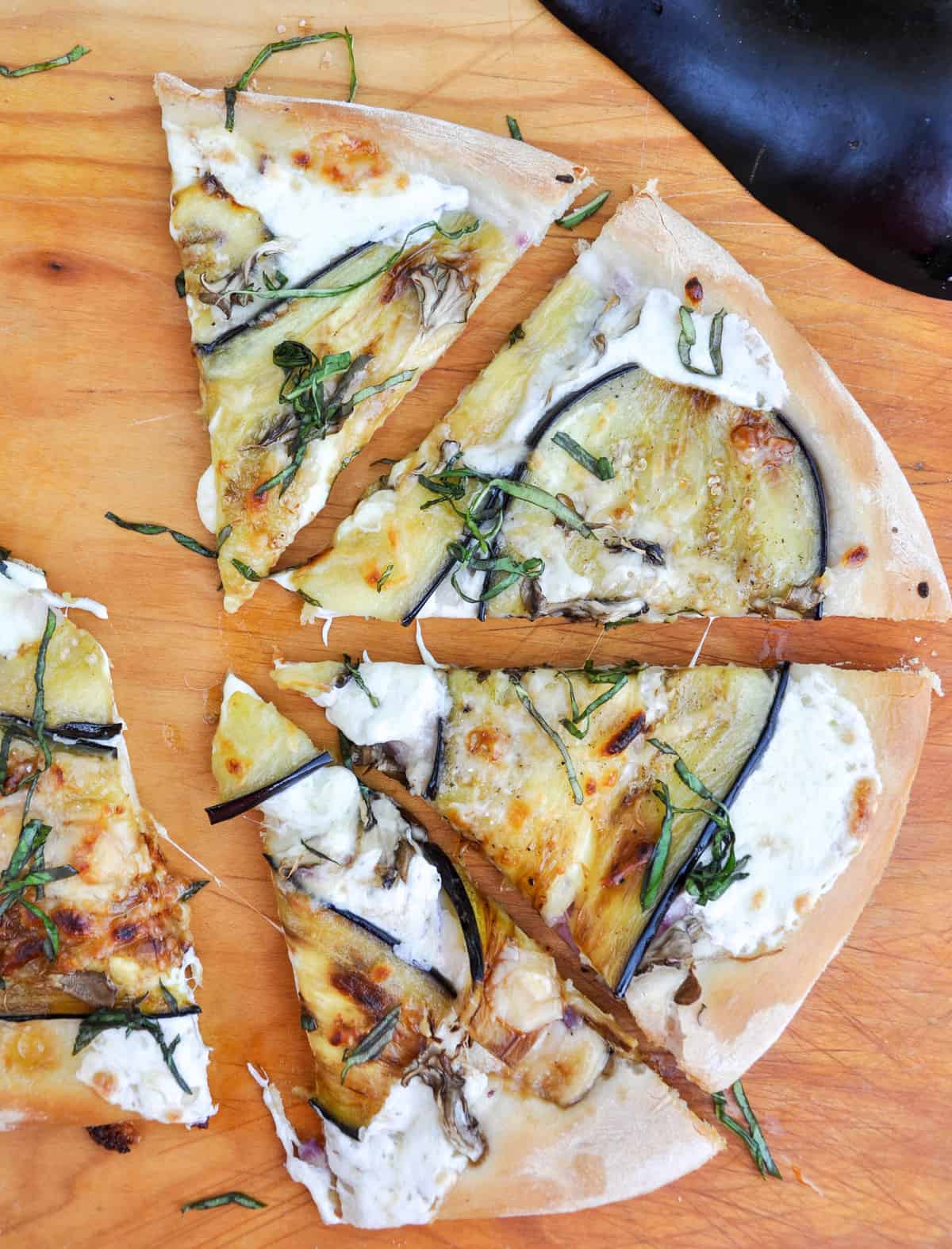 Did you make this recipe for pizza with eggplant and mushrooms? Be sure to share your perfect slice with us by snapping a pic and tagging us on social using #CAGROWN. 
Craving more CA Grown goodness? Follow us on Pinterest for fresh and fabulous recipe inspiration!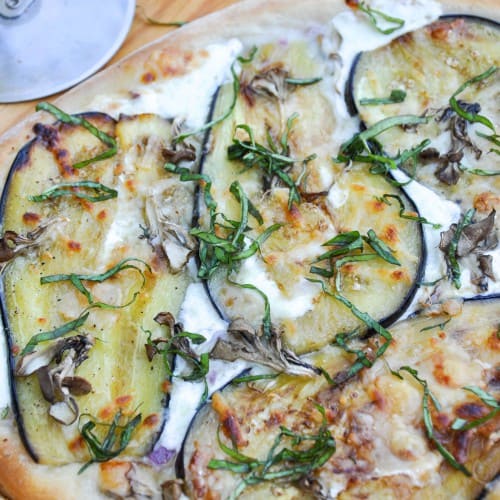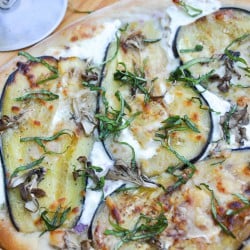 Pizza with Eggplant and Mushrooms
Whether you're a seasoned home cook or just starting out, this Pizza with Eggplant and Mushrooms is a great way to serve fresh seasonal produce with a new spin.
Ingredients
For dough
3 3/4 cup all purpose flour
2 teaspoons kosher salt
1 2/3 cups lukewarm water
2 teaspoons sugar
2 teaspoons active-dry yeast
2 teaspoons olive oil
For Pizza
1 eggplant sliced 1/4″ thin
1/8 red onion chopped
1 ball fresh mozzarella sliced
1/4 cup shredded parmesan
1/4 cup shredded mozzarella
6 ounces maitake mushrooms or any other variety
fresh basil leaves chopped
Instructions
To make the dough, place the flours and salt in a stand mixer fitted with a dough hook. Combine the water, sugar and yeast in a small bowl and let sit for five minutes until the mixture bubbles slightly. Add the olive oil and stir. With the mixer on low, gradually add the oil-water mixture into the bowl. Knead until the dough is firm and smooth, about 10 minutes.

Divide the dough into three equal balls. Line a cookie sheet with parchment paper. (Be sure to oil the parchment paper.) Place the balls on a sheet. Lightly rub the balls with olive oil, then cover loosely with plastic wrap. Let the balls rise in a warm spot until they have doubled in bulk, about one to two hours

Preheat oven to 550 degrees

Sauté the sliced eggplant in a bit of olive oil on both sides in a pan (I used cast iron)

To roll out the dough, dab your fingers in flour and then place one ball on a generously floured work surface. Press down in the center with the tips of your fingers, spreading the dough with your hand. When the dough has doubled in width, use a floured rolling pin and roll out until it is very thin, like flatbread. The outer portion should be a little thicker than the inner portion

Top the pizza dough with sliced fresh mozzarella.

Sprinkle with red onion and then add the sautéed eggplant.

Sprinkle with additional shredded mozzarella and Parmesan.

Dot the top with mushrooms.

Bake for 10-14 minutes or until browned and dough is cooked.

Slice and sprinkle top with chopped fresh basil.
Notes
You will have one ball of dough leftover, you can make an additional pizza, or wrap in plastic wrap and put in the freezer until ready to use.
Nutrition
Serving: 1sliceCalories: 281kcalCarbohydrates: 52gProtein: 10gFat: 4gSaturated Fat: 1gPolyunsaturated Fat: 0.4gMonounsaturated Fat: 1gCholesterol: 5mgSodium: 660mgPotassium: 295mgFiber: 5gSugar: 4gVitamin A: 62IUVitamin C: 1mgCalcium: 71mgIron: 3mg