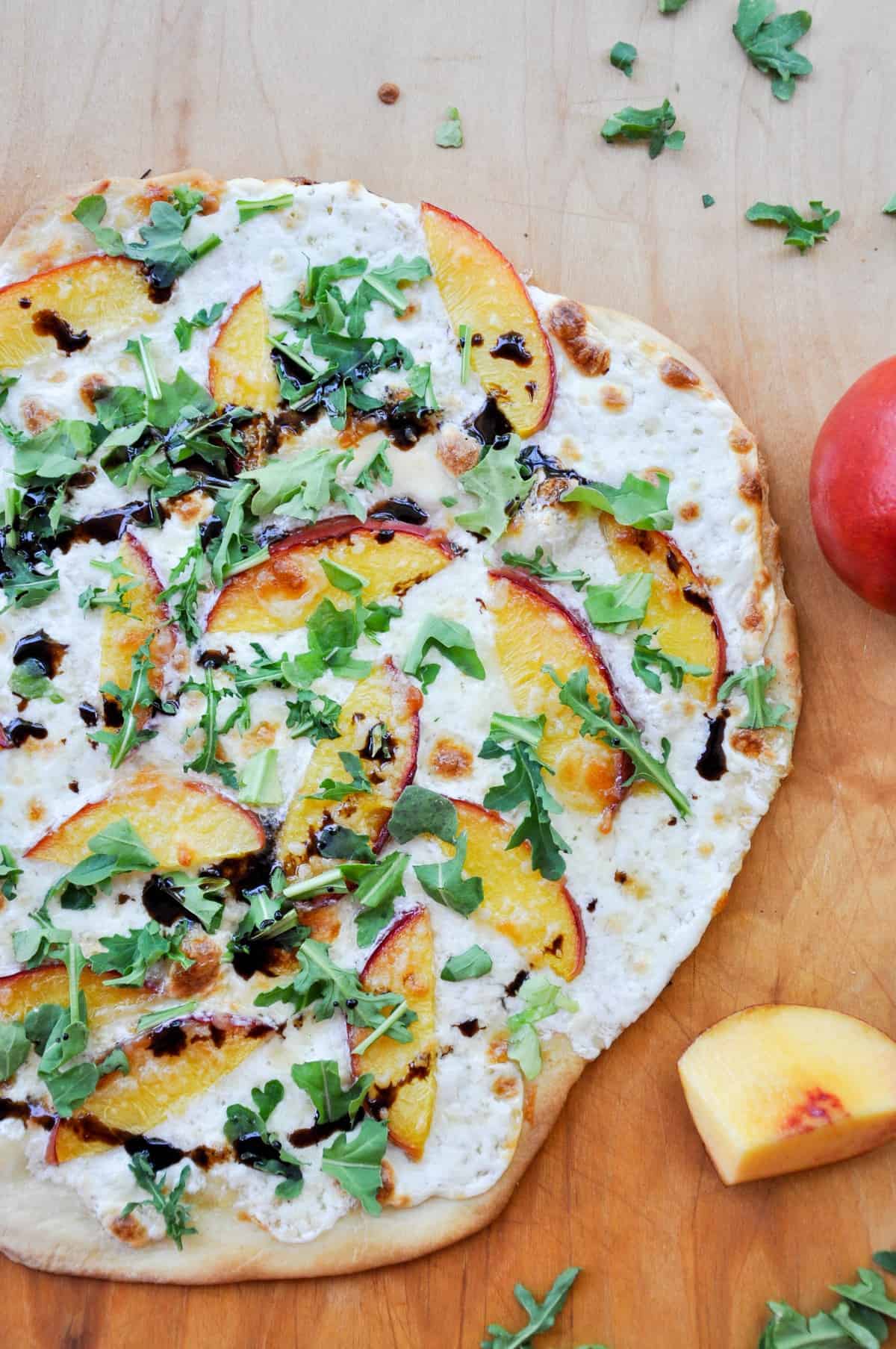 CA GROWN Blog
Discover. Learn. Connect.
Nectarine Arugula Pizza
July 6, 2016
Eat the Season!
Sign Up For Weekly Recipes
« Back to Recipes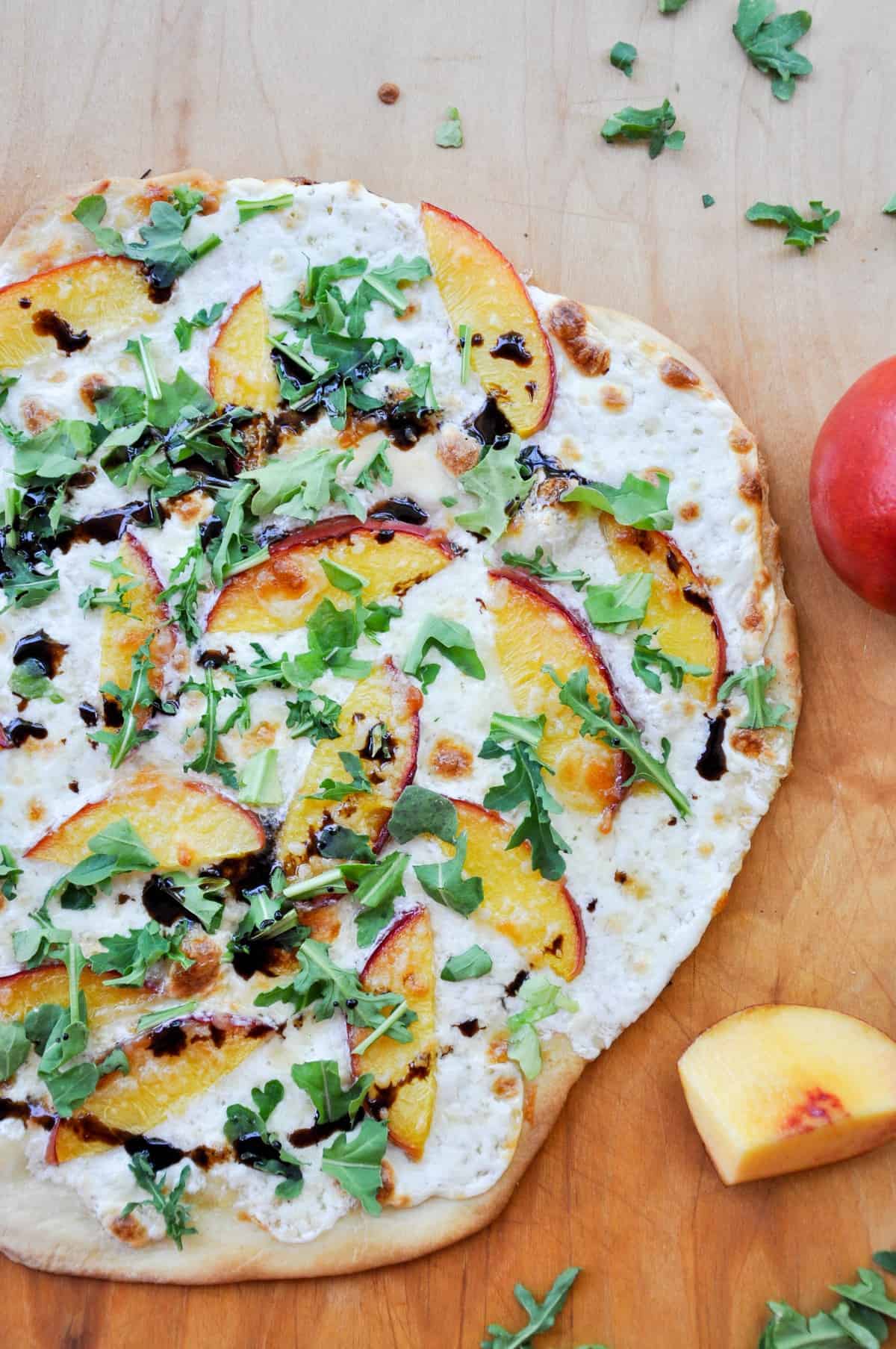 Nectarine Arugula Pizza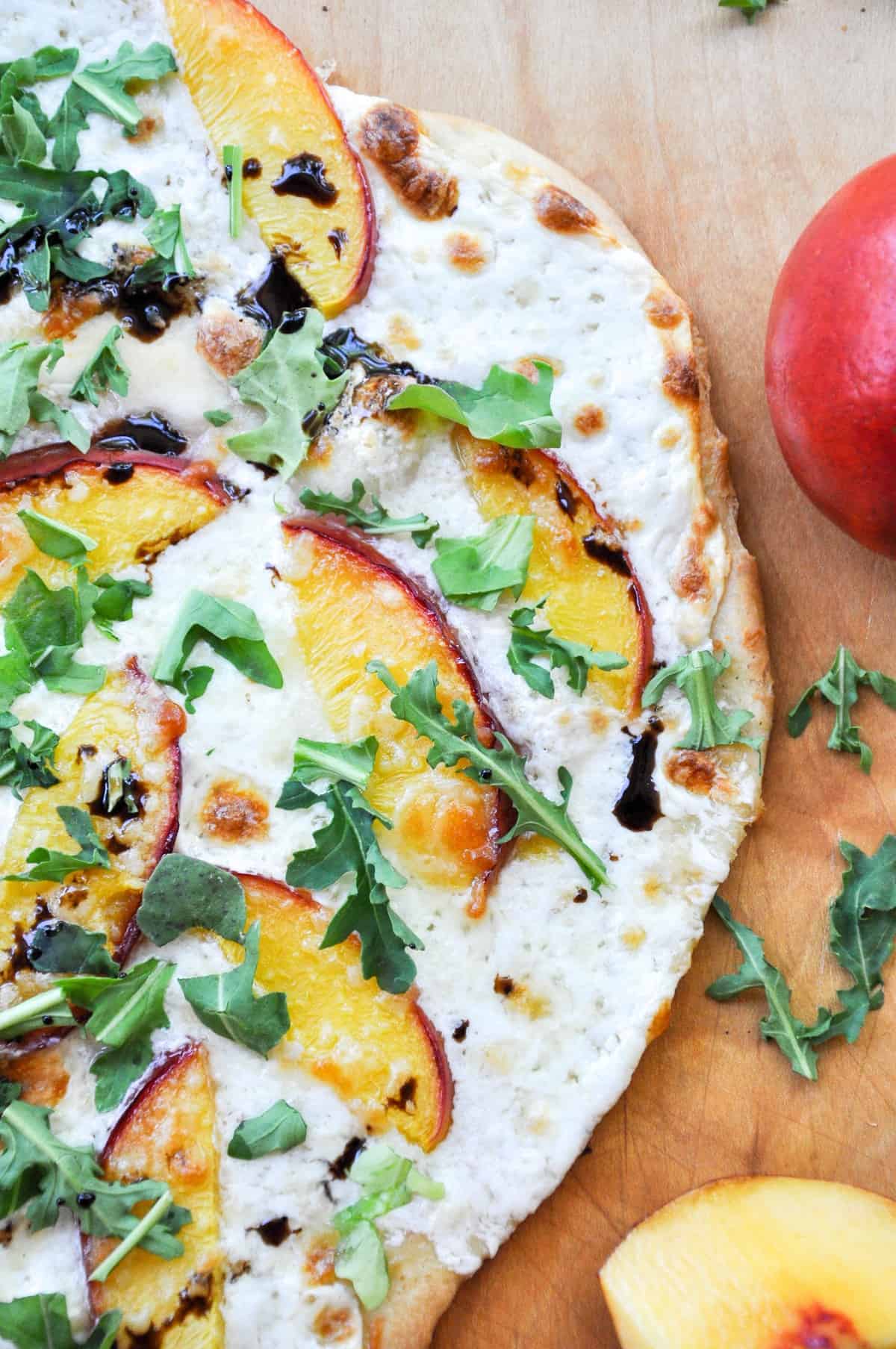 You'll have to forgive me and my love of nectarines. I just can't stop!
Ever since I was a little girl, my favorite summertime fruit has been the bright, sweet, juicy harvest that is so prominent in our state. I love walking into my local grocery stores to see overflowing bins and baskets full of these and other stone fruit. Plus knowing they probably only made about a 50 mile radius trek to get there is even better!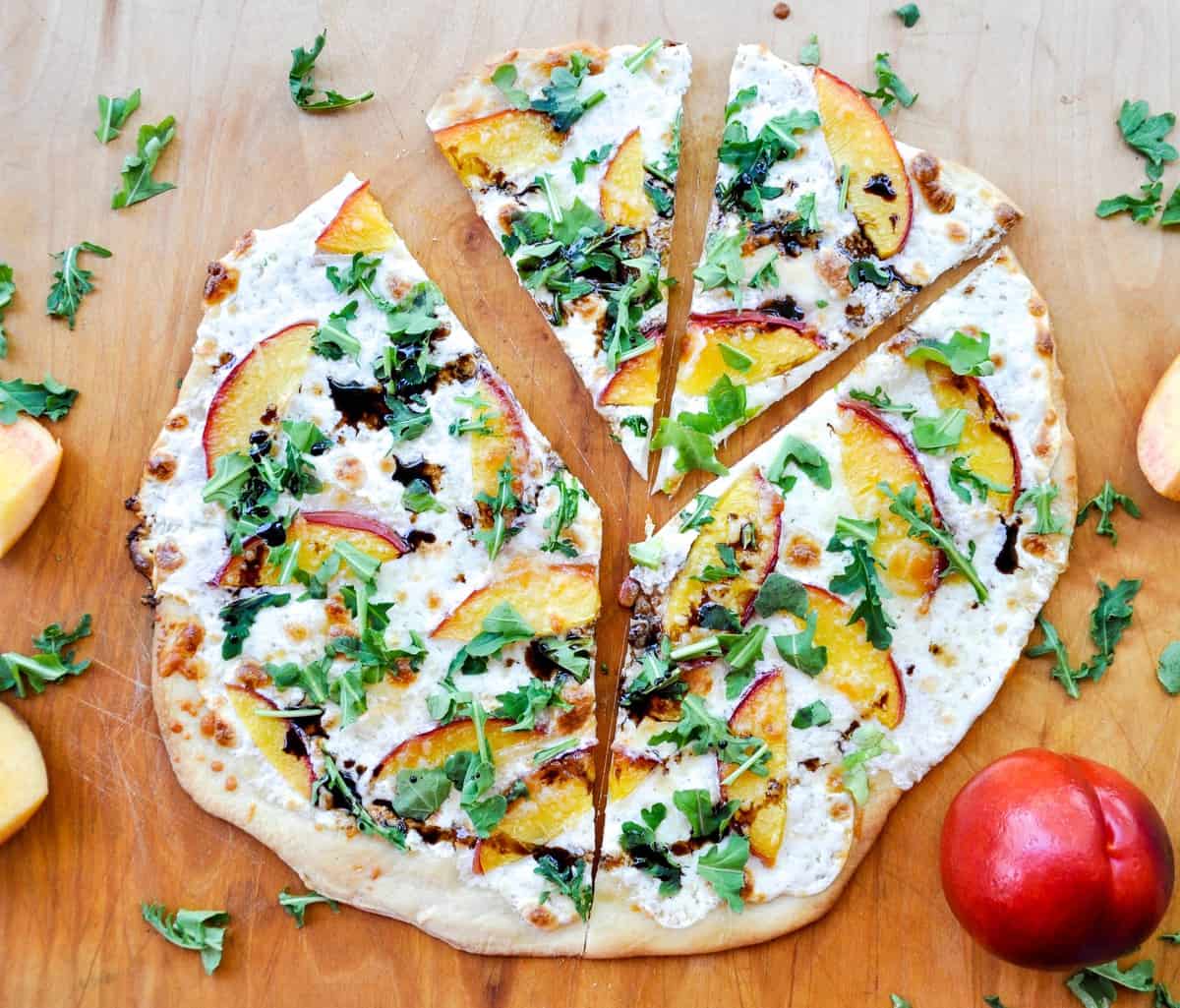 At first glance, you'd think this was a "dessert" type pizza but don't let the optics fool you. The addition of the arugula and the salty components of the cheeses create a wonderfully rustic masterpiece with the perfect twist of sweet and savory.
If you are more of a peach fan, I'm sure you could substitute the nectarines. I just prefer the smoothness of a nectarine as opposed to the fuzzy exterior of a peach.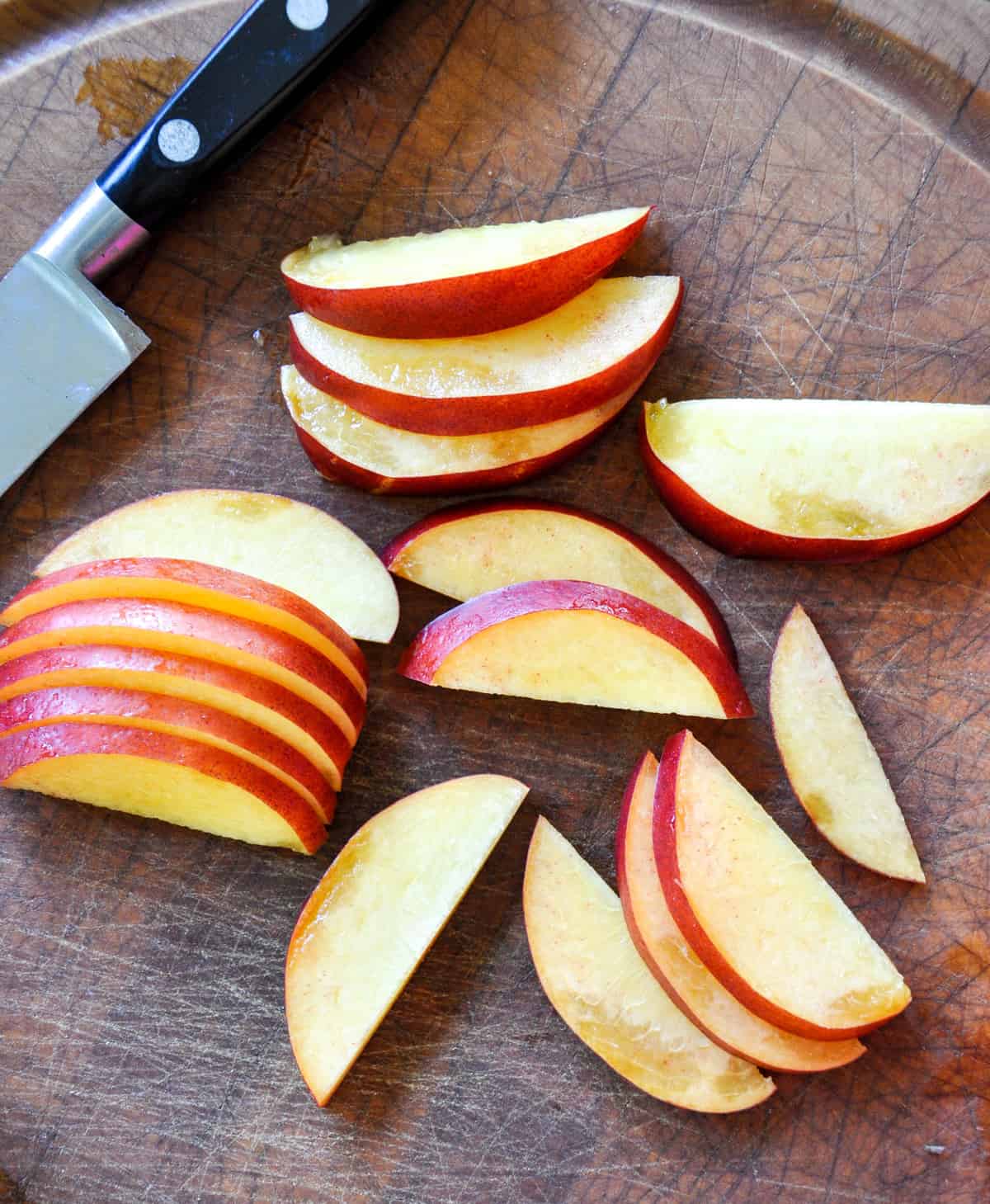 I made sure my nectarines were fairly firm when I purchased them. I wanted a nice, sturdy fruit profile so the heat of the oven (500 degrees!) didn't break down the slices too much.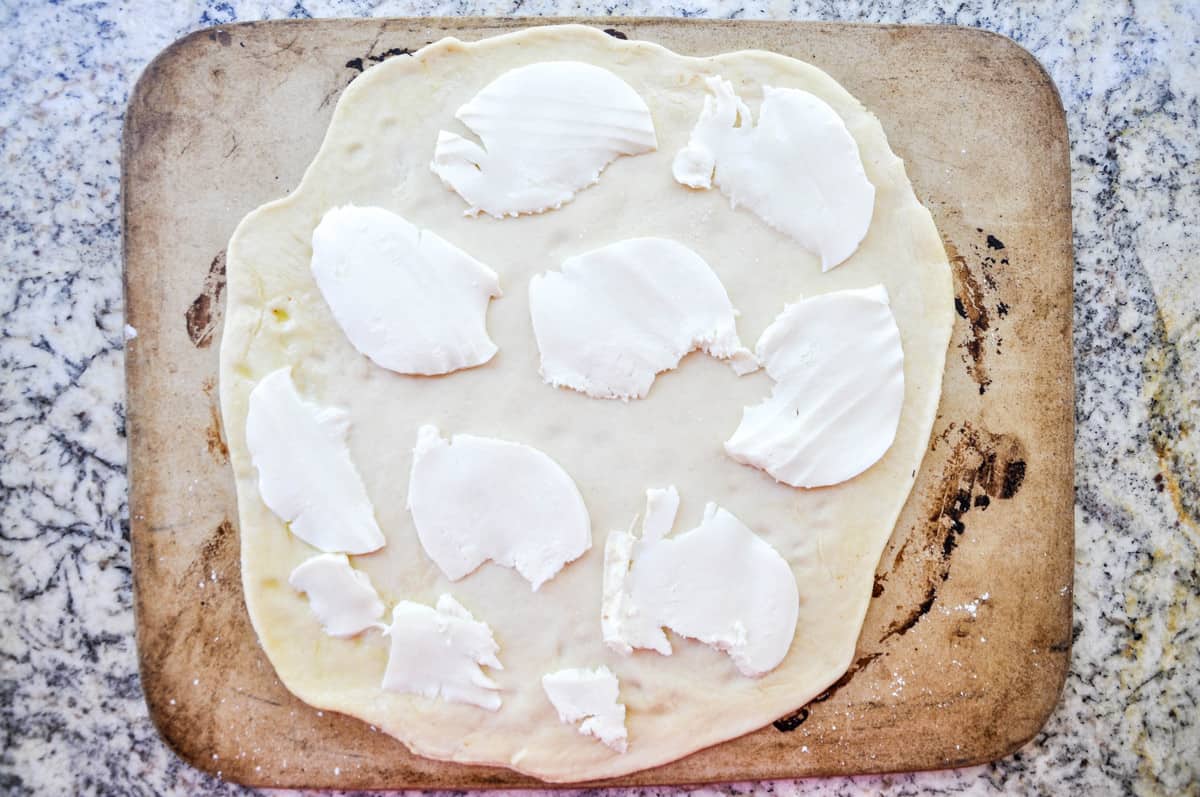 I made my own pizza crust (recipe below) but feel free to use a store-bought dough if you are pressed for time or just not into that sort of thing. This particular dough recipe is reasonably easy to prepare and can sometimes make a big difference.
Fresh mozzarella is the base of this fruity pie!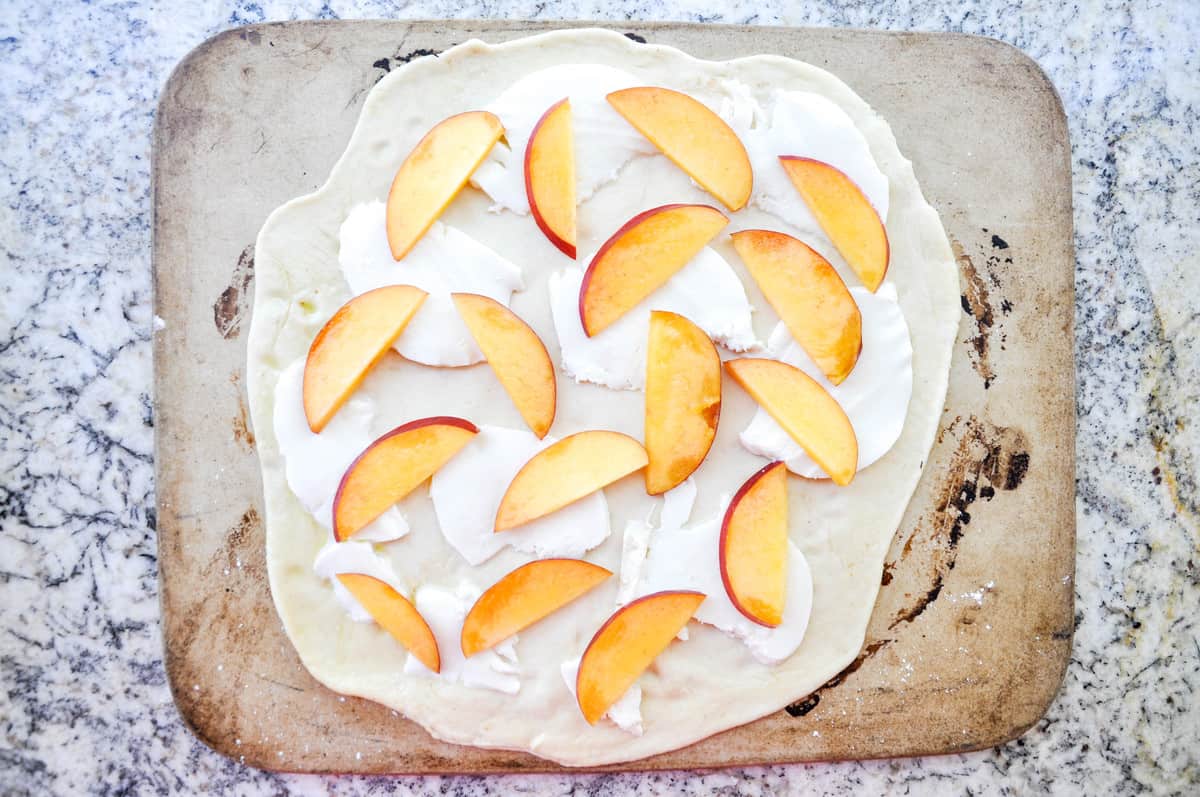 Followed by thin slices of all those beautiful nectarines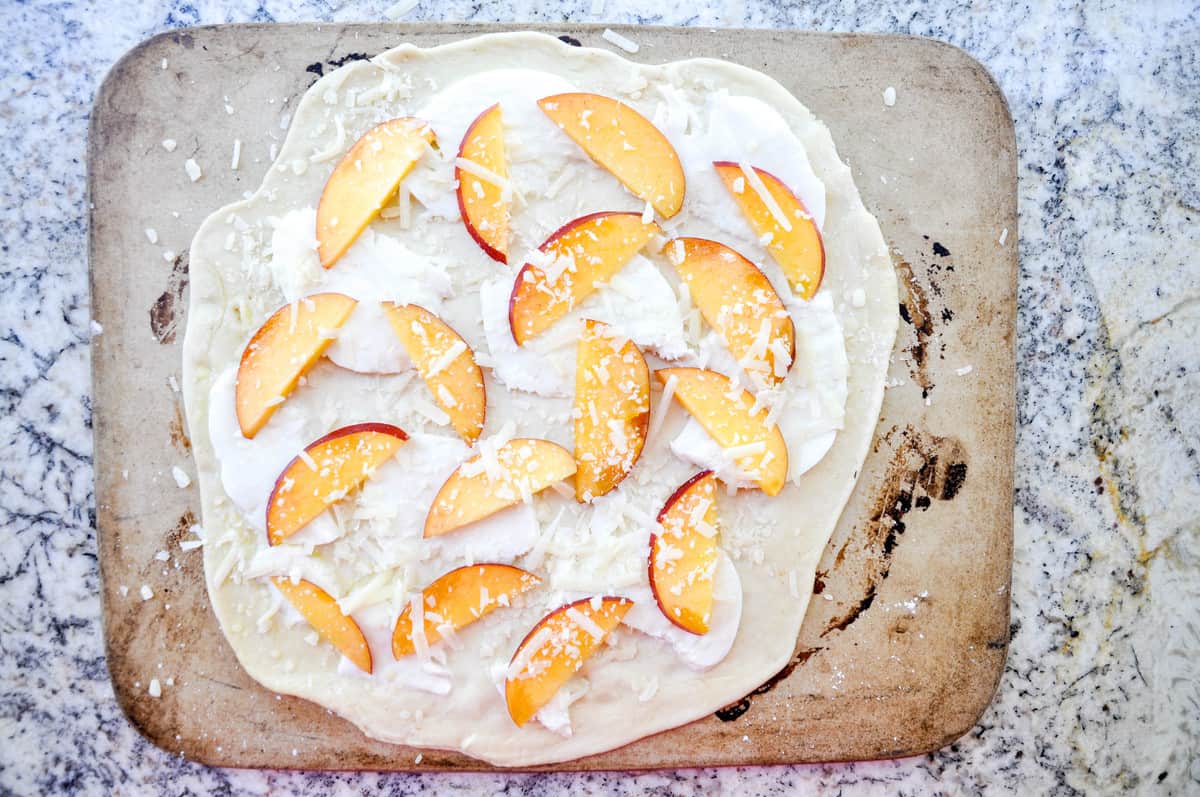 Topped with a light dusting of shredded parmesan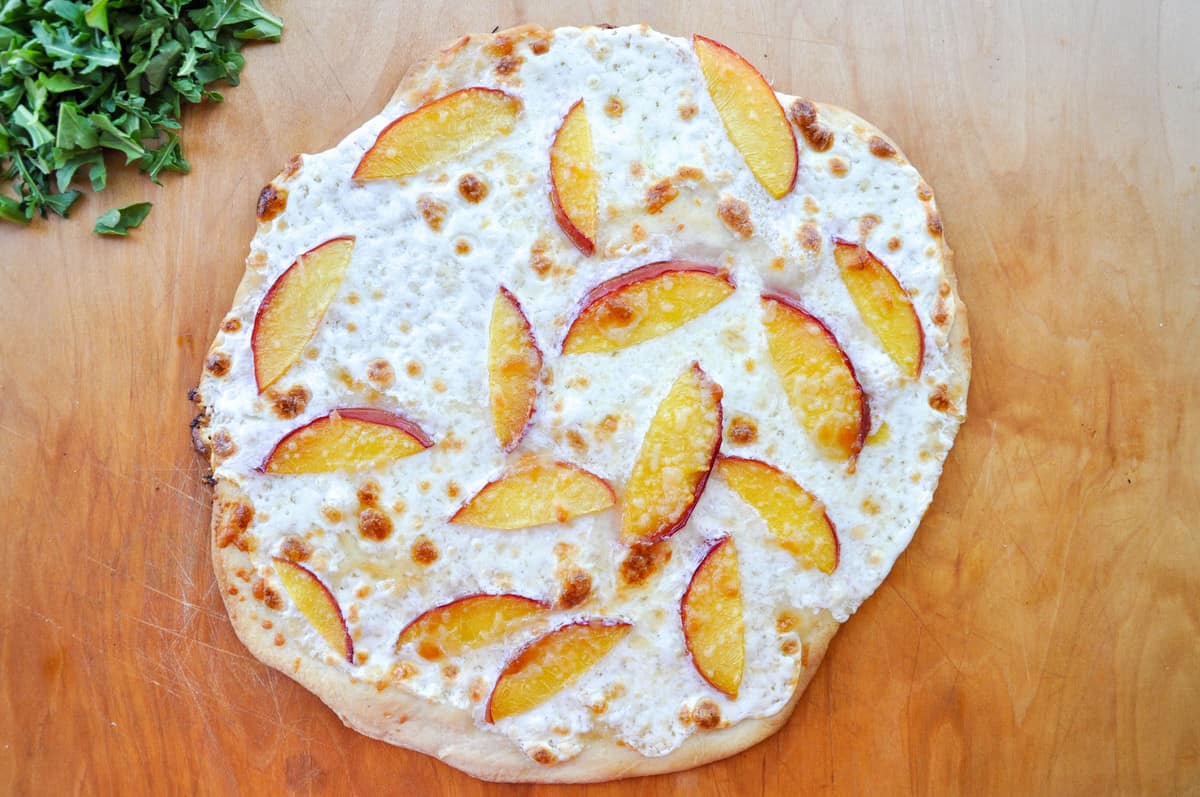 Toss in the oven and bake at 500 for 12-15 minutes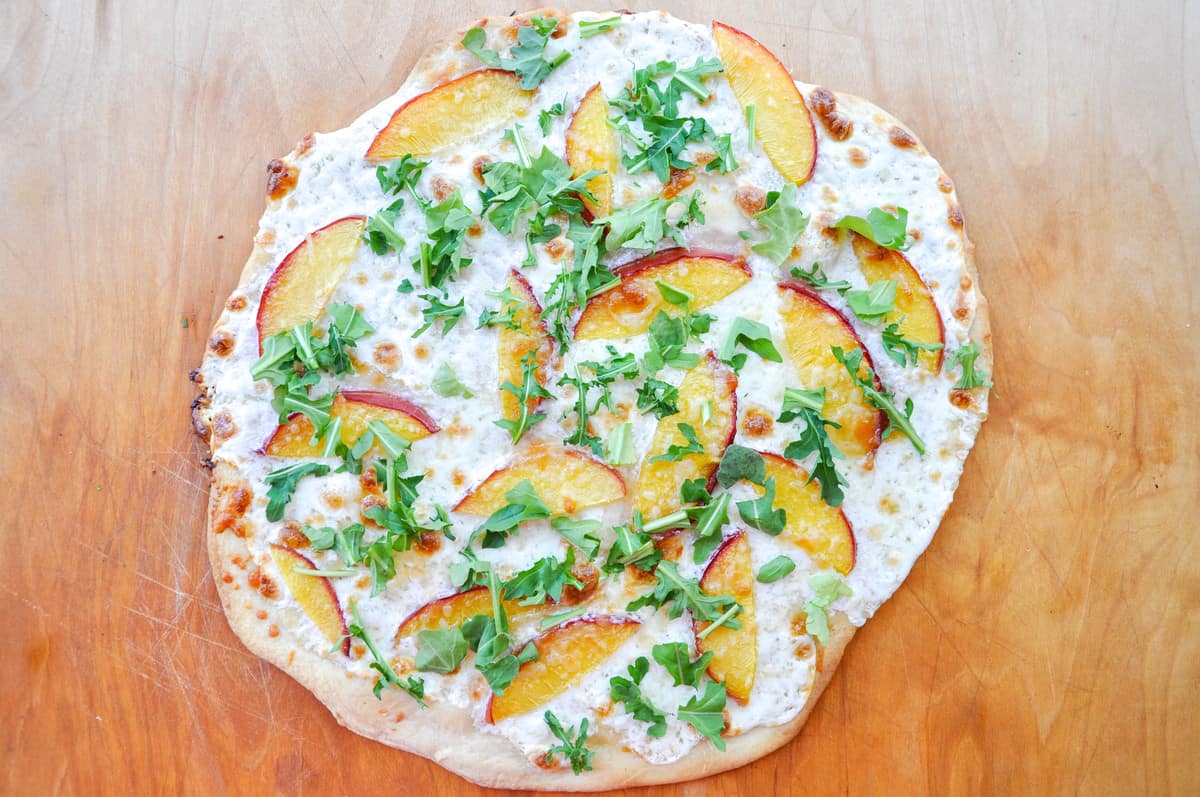 Top with chopped arugula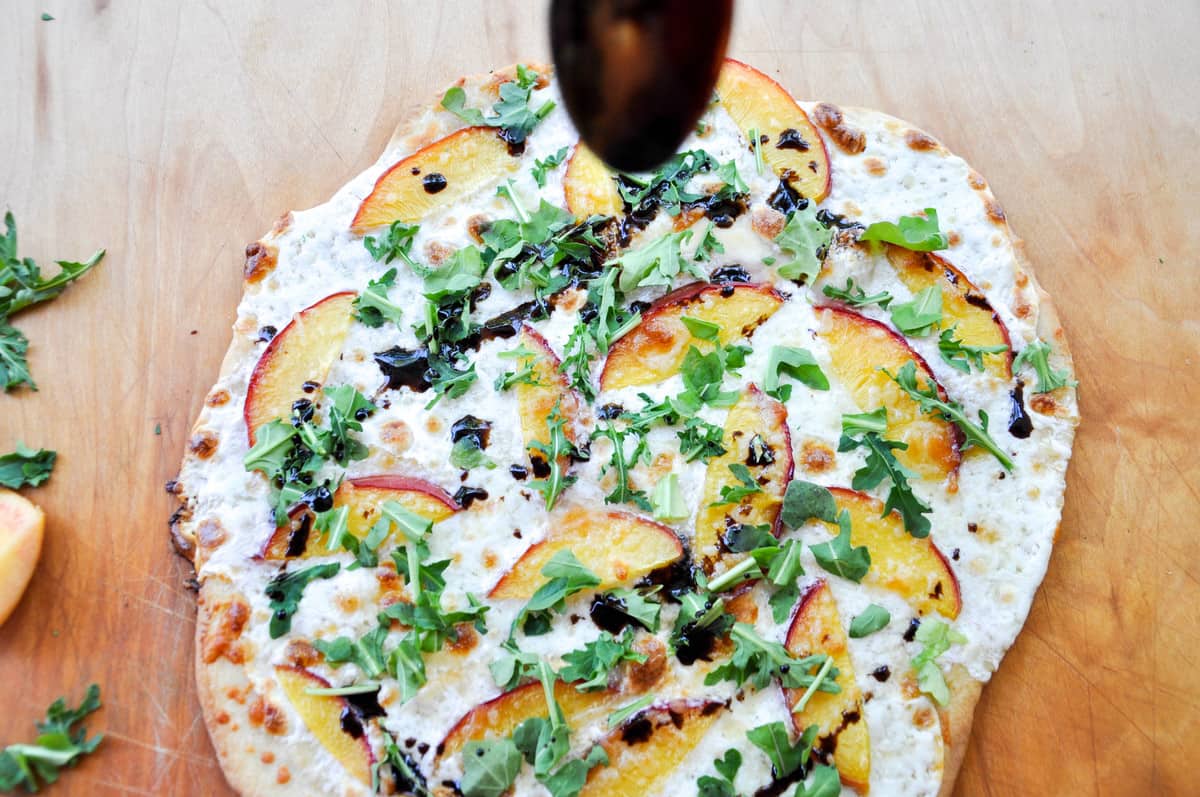 And drizzle with a balsamic reduction glaze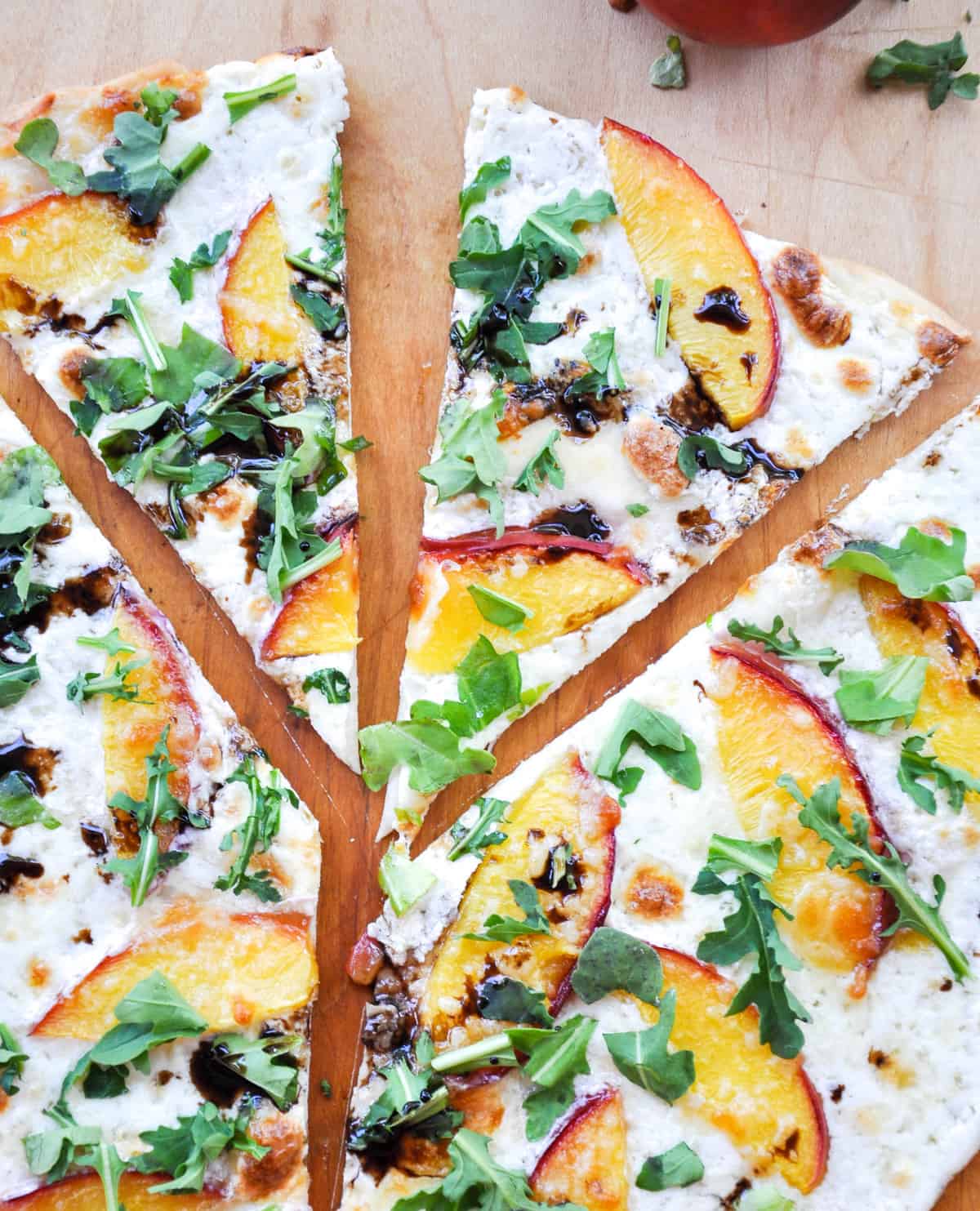 Holy yum! I could eat the whole thing…..
*ahem* I may have….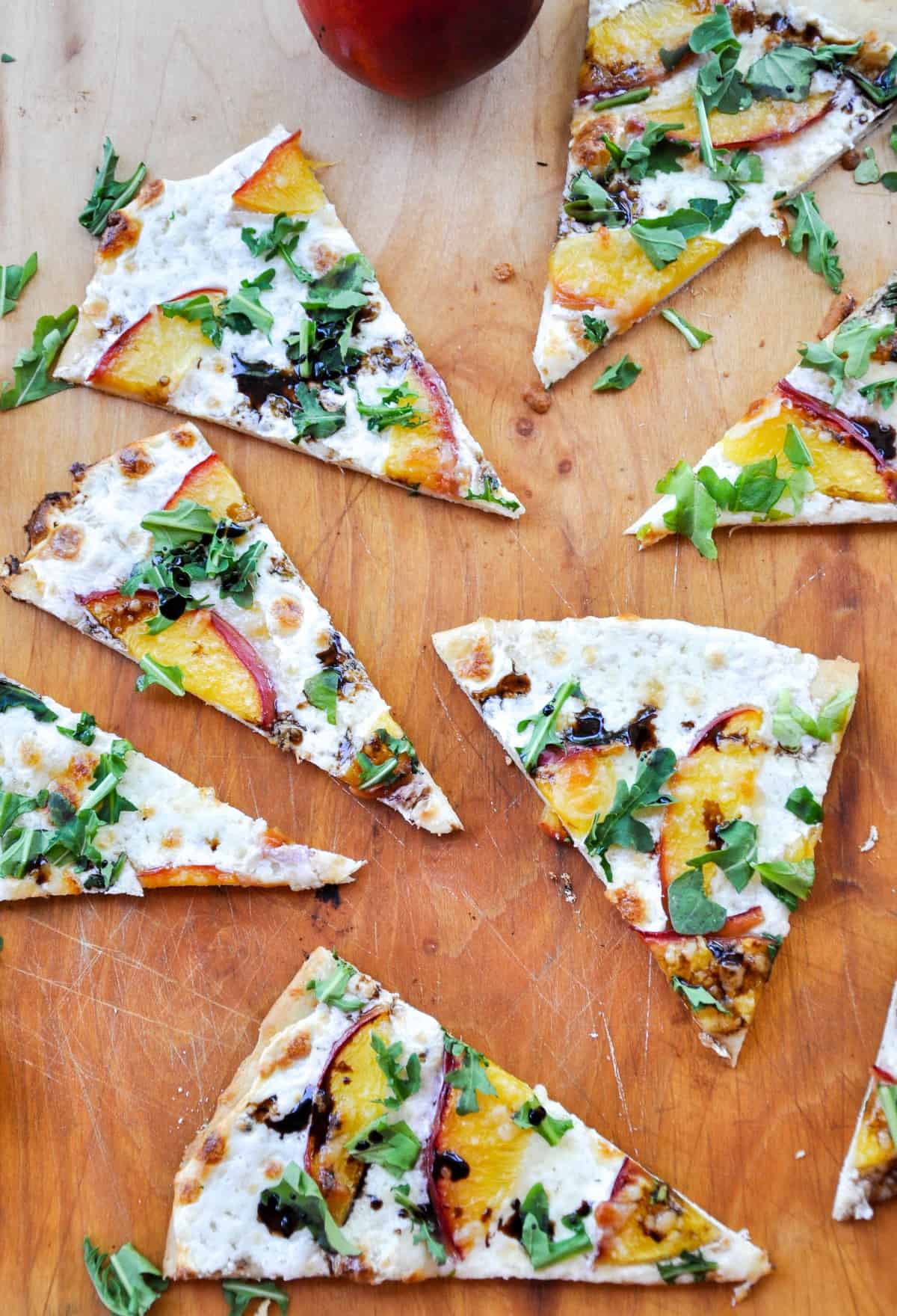 Why don't you make one before you can't! Nectarines and other stone fruit are only available for a few months this summer.
Don't miss out!
Nectarine Arugula Pizza
2016-07-04 14:43:46
For Pizza
1 ball fresh mozzarella
1 nectarine
1/4 cup shredded parmesan
Handful of arugula
1/4 cup balsamic vinegar
For dough
3 3/4 cup all purpose flour
2 teaspoons kosher salt
1 2/3 cups lukewarm water
2 teaspoons sugar
2 teaspoons active-dry yeast
2 teaspoons olive oil
Instructions
Preheat oven to 500 degrees
To make the dough, place the flours and salt in a stand mixer fitted with a dough hook. Combine the water, sugar and yeast in a small bowl and let sit for five minutes until the mixture bubbles slightly. Add the olive oil and stir. With the mixer on low, gradually add the oil-water mixture into the bowl. Knead until the dough is firm and smooth, about 10 minutes.
Divide the dough into four equal balls. Line a cookie sheet with parchment paper. (Be sure to oil the parchment paper.) Place the balls on a sheet. Lightly rub the balls with olive oil, then cover loosely with plastic wrap. Let the balls rise in a warm spot until they have doubled in bulk, about two hours.
To roll out the dough, dab your fingers in flour and then place one ball on a generously floured work surface. Press down in the center with the tips of your fingers, spreading the dough with your hand. When the dough has doubled in width, use a floured rolling pin and roll out until it is very thin, like flatbread. The outer portion should be a little thicker than the inner portion.
Top the pizza dough with sliced fresh mozzarella
Slice the nectarine and top the cheese
Dust with shredded parmesan
Bake at 500 for 12-15 minutes or until edges have browned and cheese is bubbly
While pizza is baking prepare the balsamic reduction. Pour the balsamic into a small saucepan and bring to a bubble. Let simmer for about 10 minutes. Allow to slightly cool
Remove the pizza from the oven and transfer to a wood board. Top with chopped arugula
Drizzle with the balsamic reduction
Adapted from Inspiration
California Grown https://californiagrown.org/