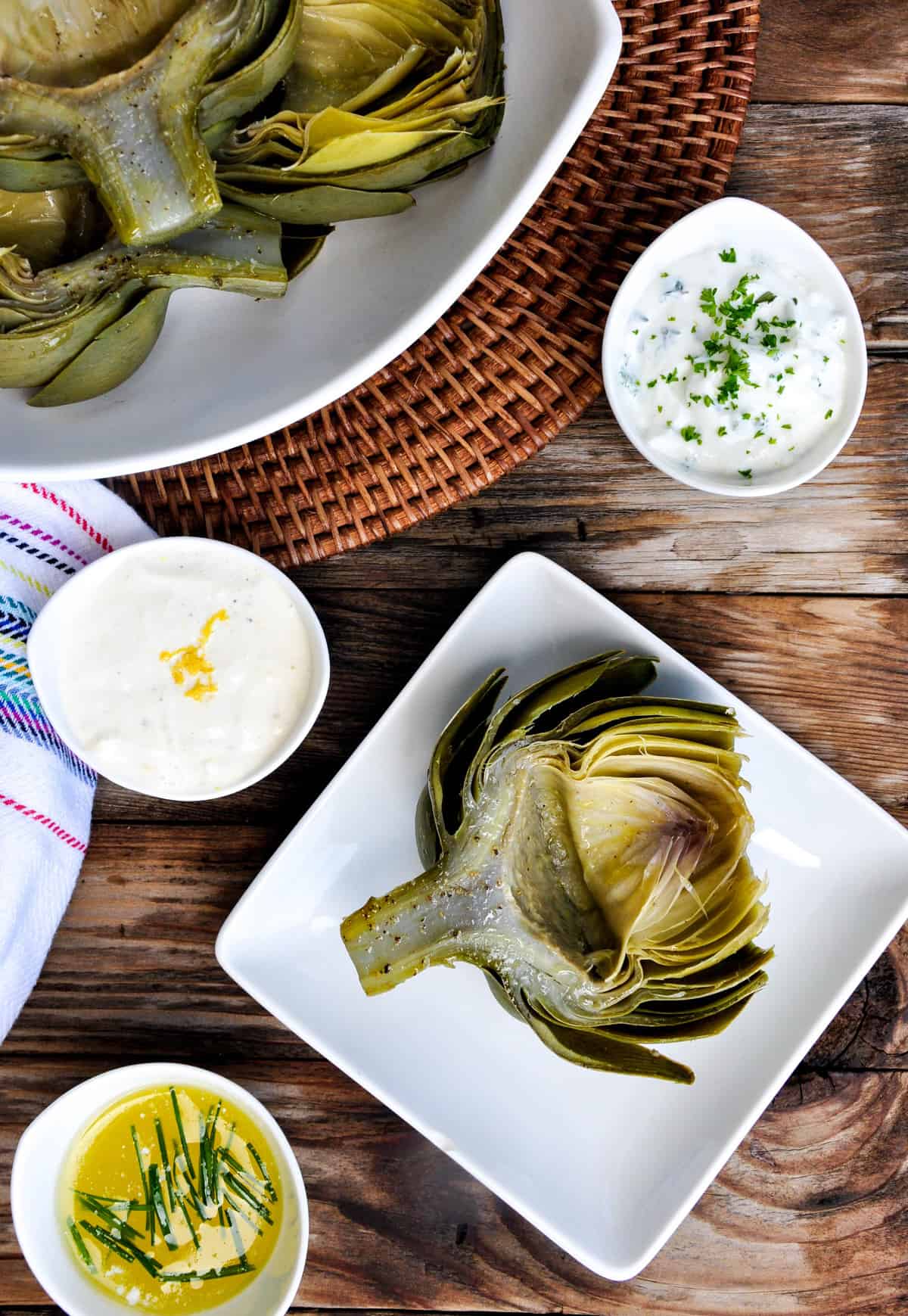 CA GROWN Blog
Discover. Learn. Connect.
Fool-Proof Artichoke with Three Dipping Sauces
March 8, 2017
Eat the Season!
Sign Up For Weekly Recipes
« Back to Recipes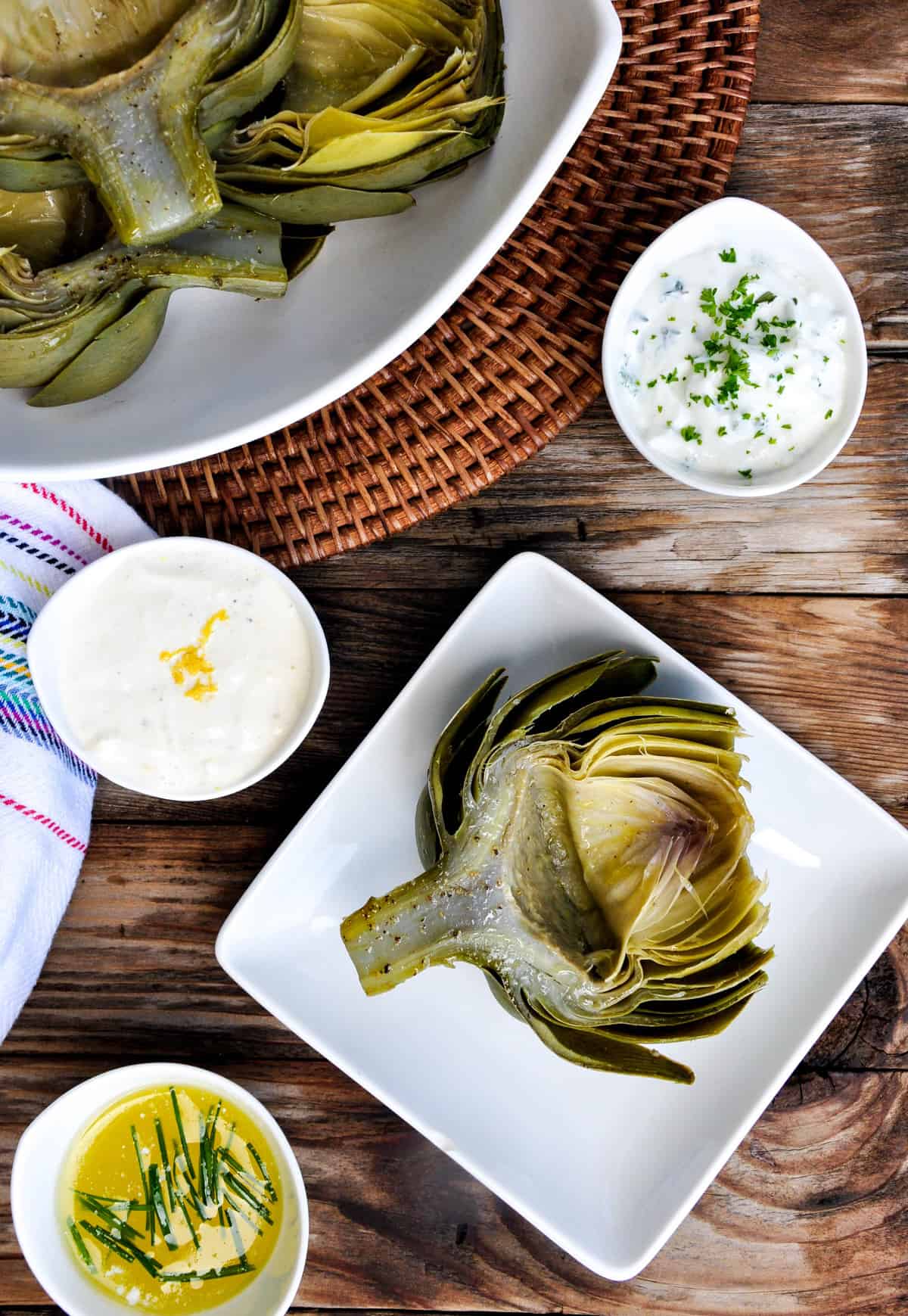 Fool-Proof Artichoke with Three Dipping Sauces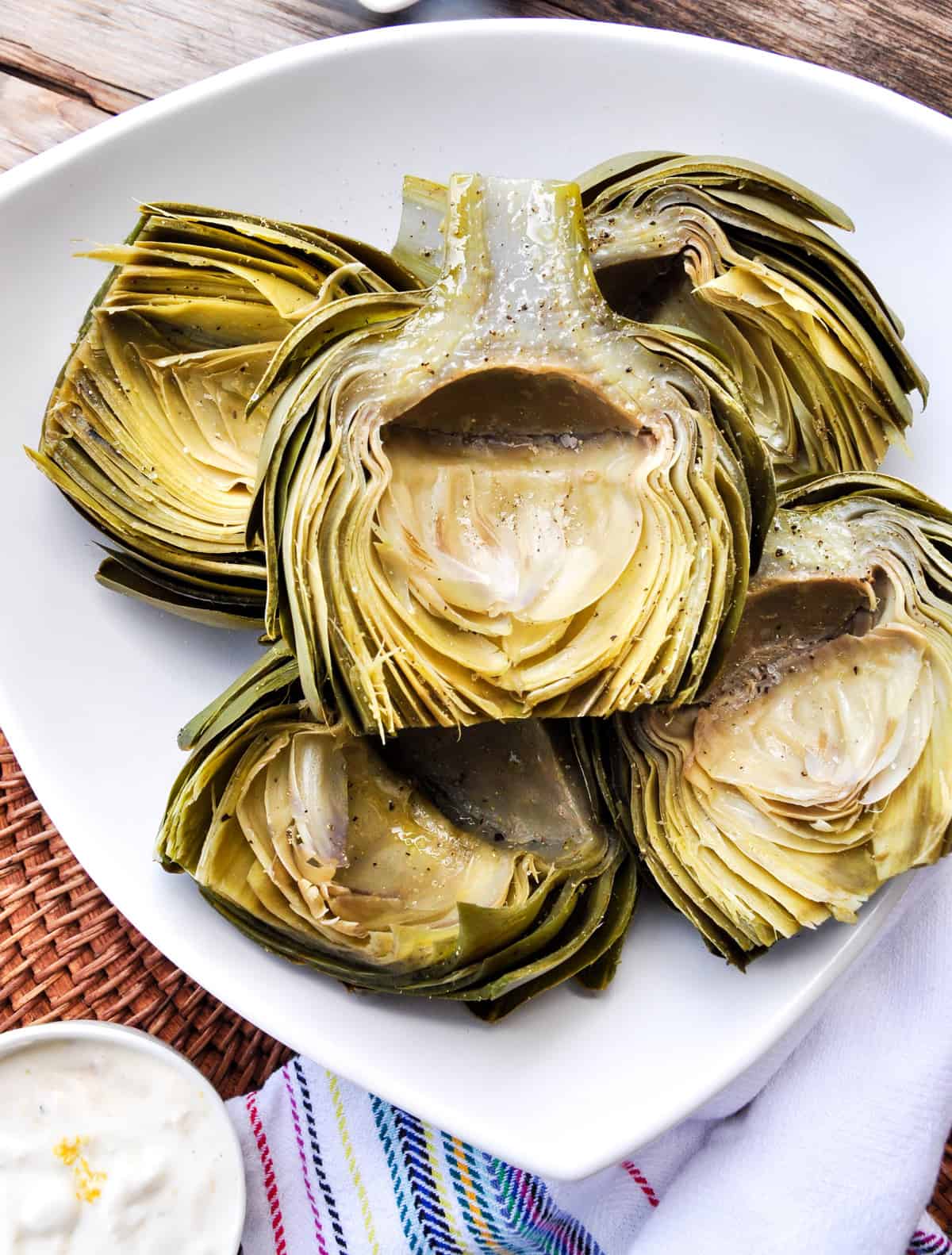 Are you Intimidated by Artichokes?
I sure hope not! They are so good and chock full of healthy nutrients that I would hate for even ONE person to shy away from them just because they were unsure of the best way to cook them. So, here's a fool proof artichoke recipe!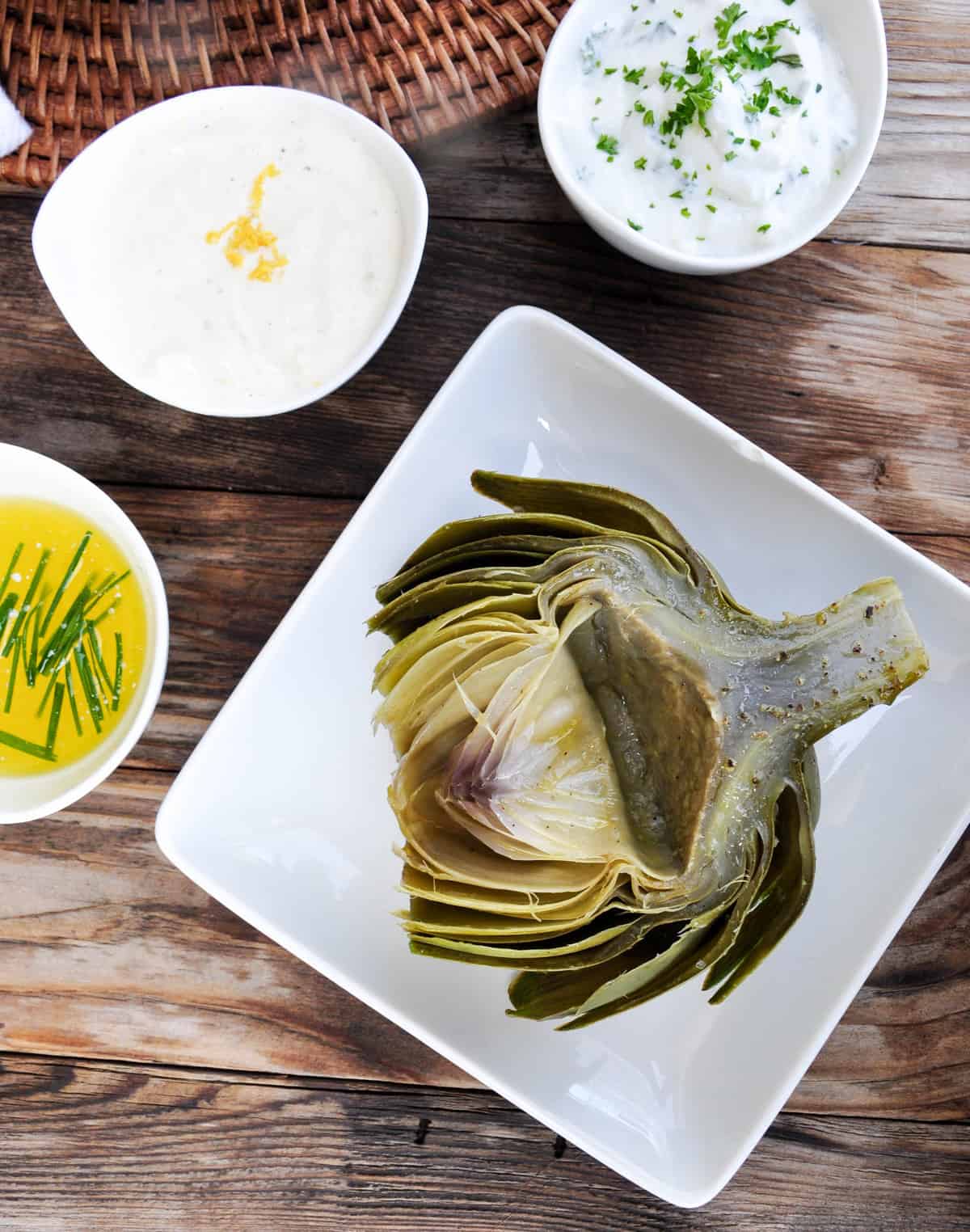 Not only is this method super easy, but it's quick and doesn't create a huge mess in the kitchen. It's hearty enough to be a main course for a vegetarian dinner, and versatile enough to serve as a satisfying appetizer before family supper.
The tasty trio of dipping sauces are each made with a different base; mayo, yogurt and butter, to keep your options wide open…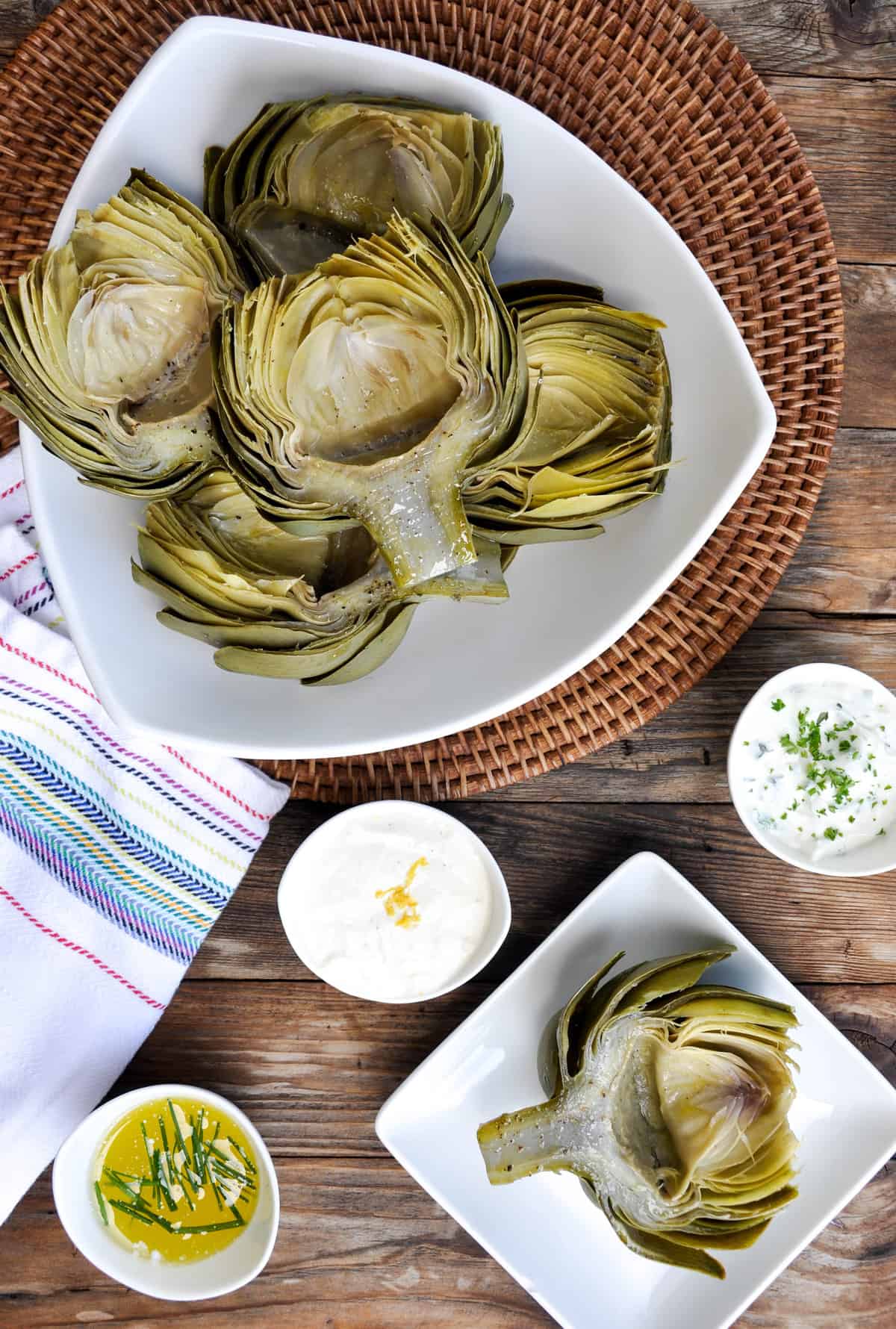 Let's get this party started!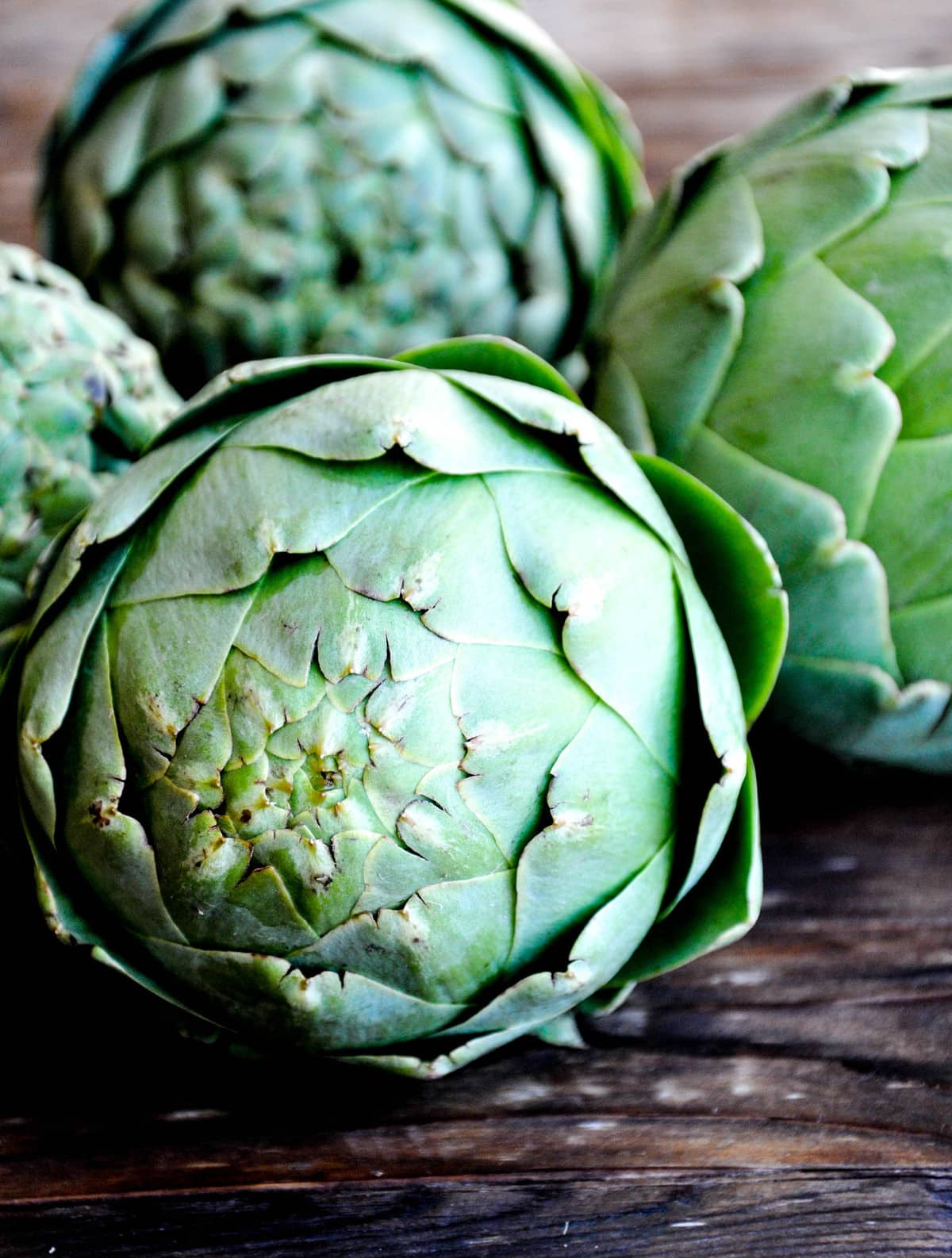 Of course, the first plan of action is to start with huge, California globe artichokes. No brainer, right?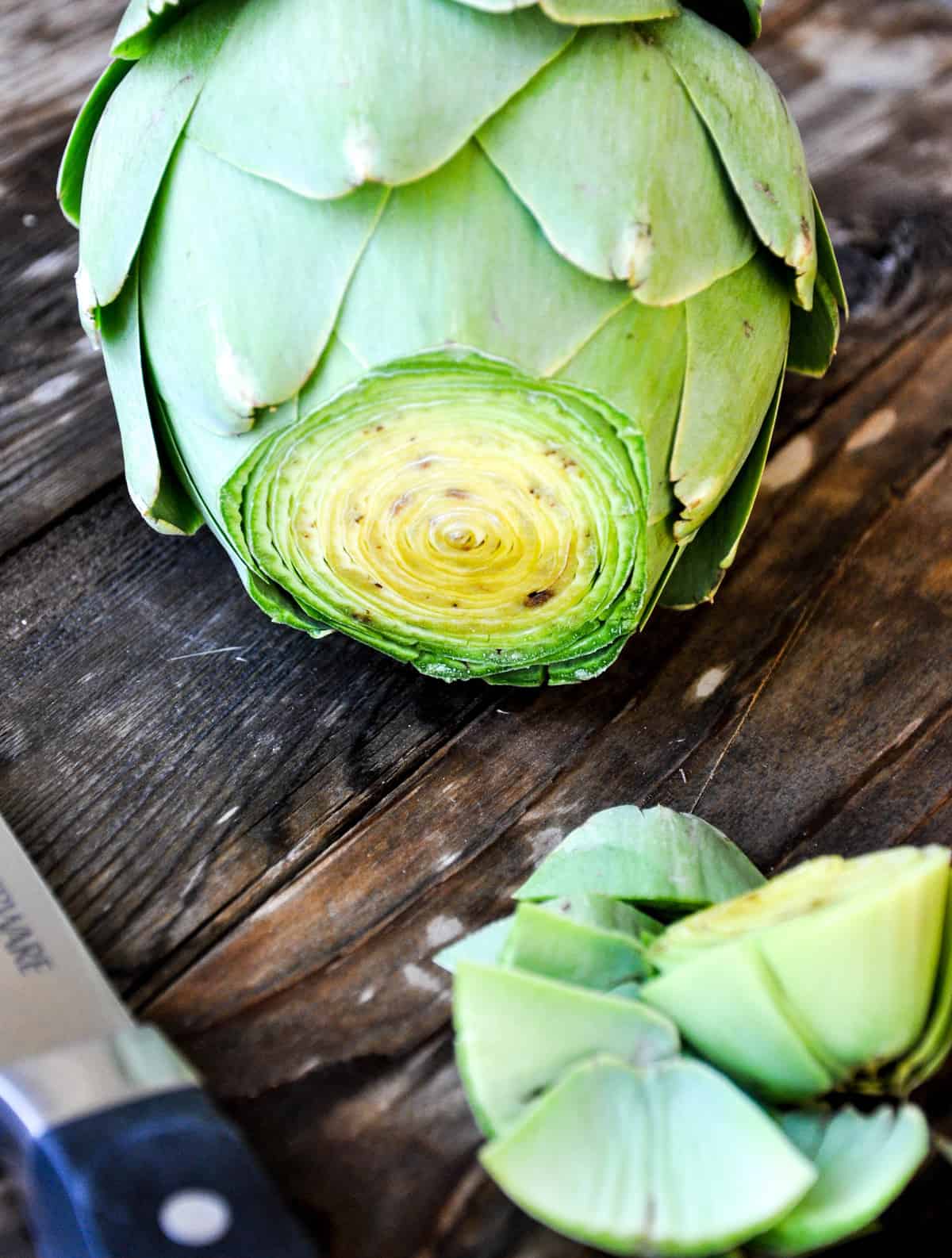 First, cut off about about an inch off the top. This helps to open up the tightly wrapped leaves and allows the artichoke to cook more evenly.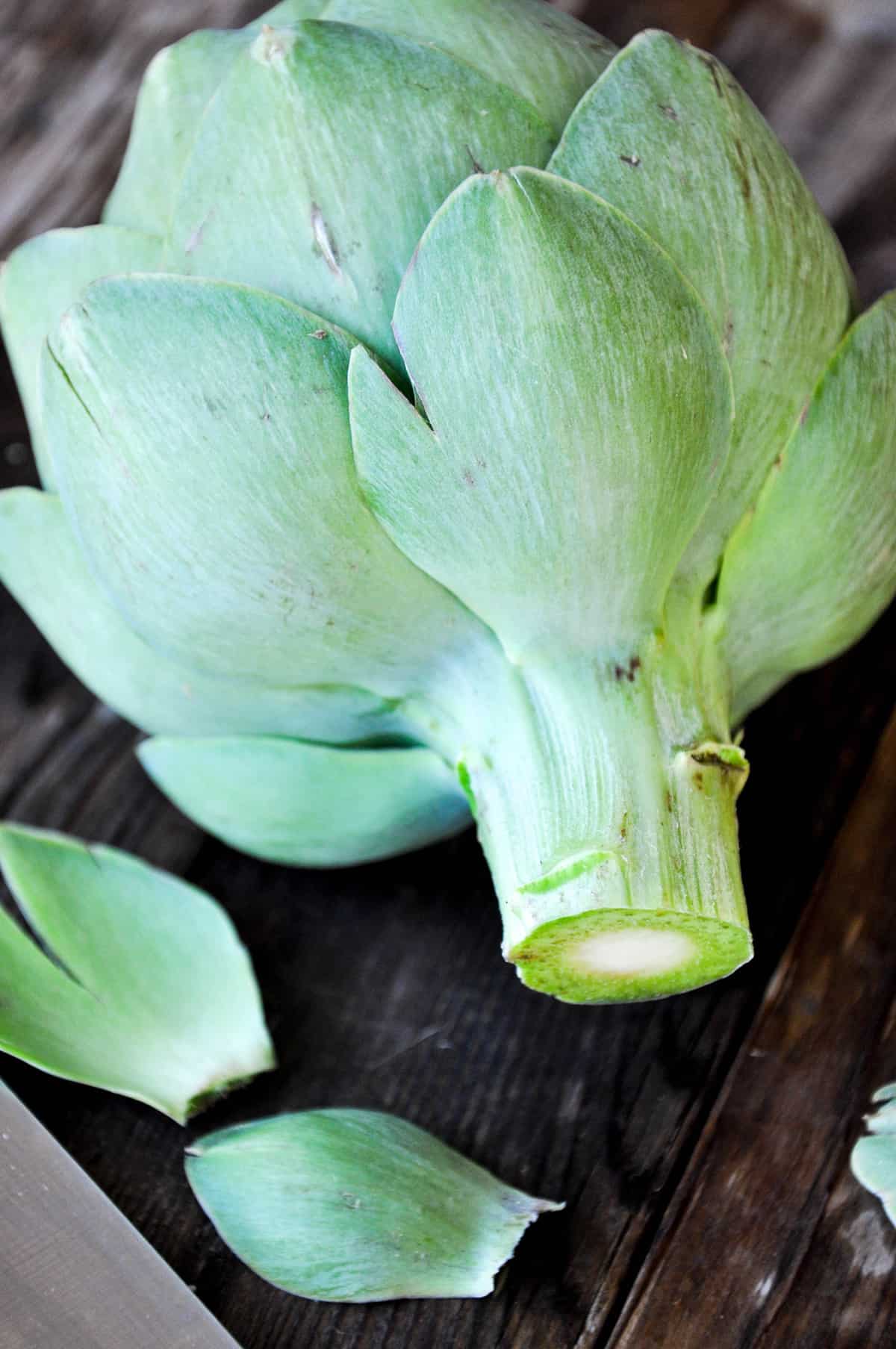 Trim the stem to a desirable length and remove any rogue leaves from the stem.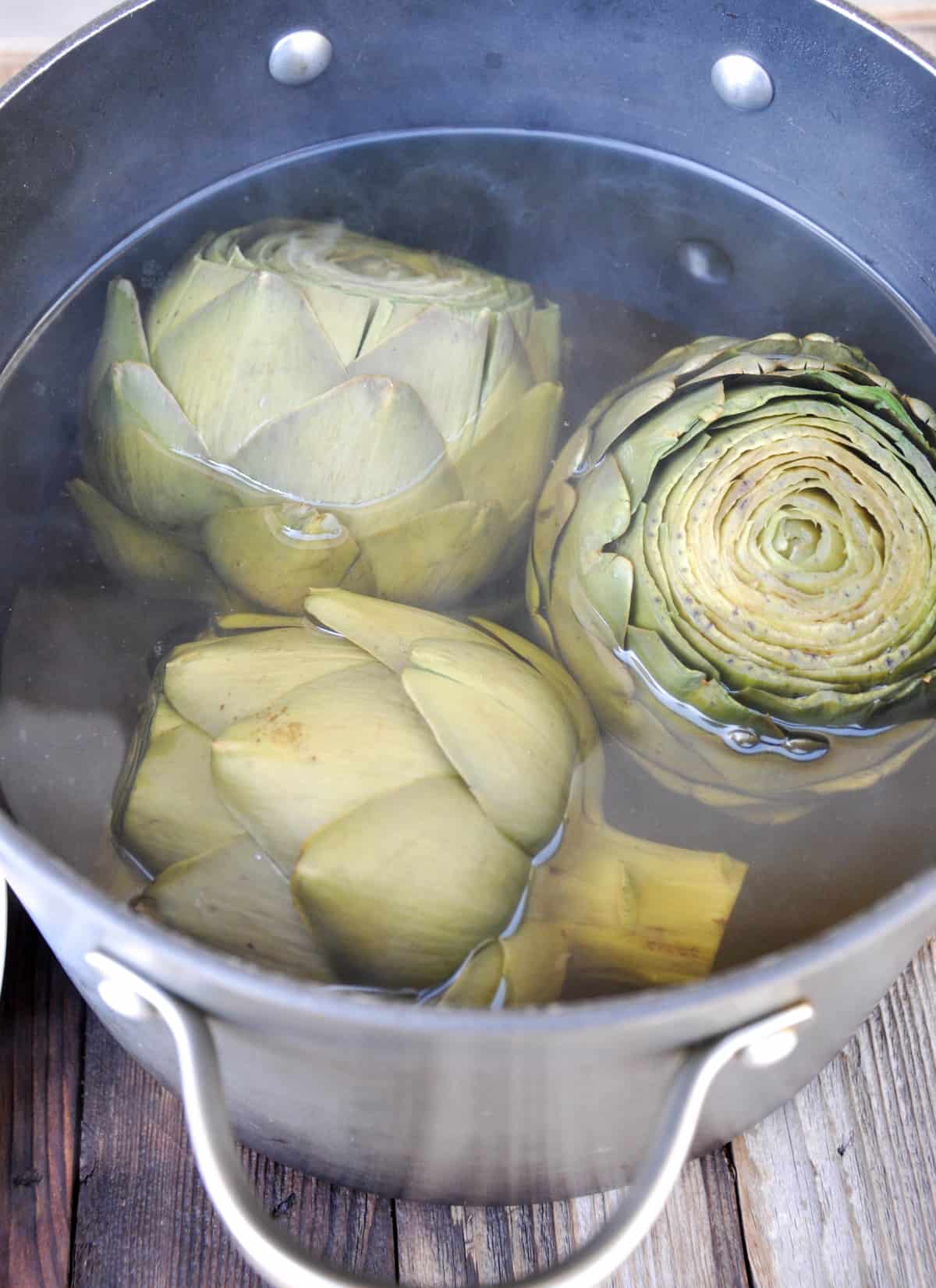 Add the artichokes to a pot of hot water. Salt the water and boil with the lid on for 30 minutes.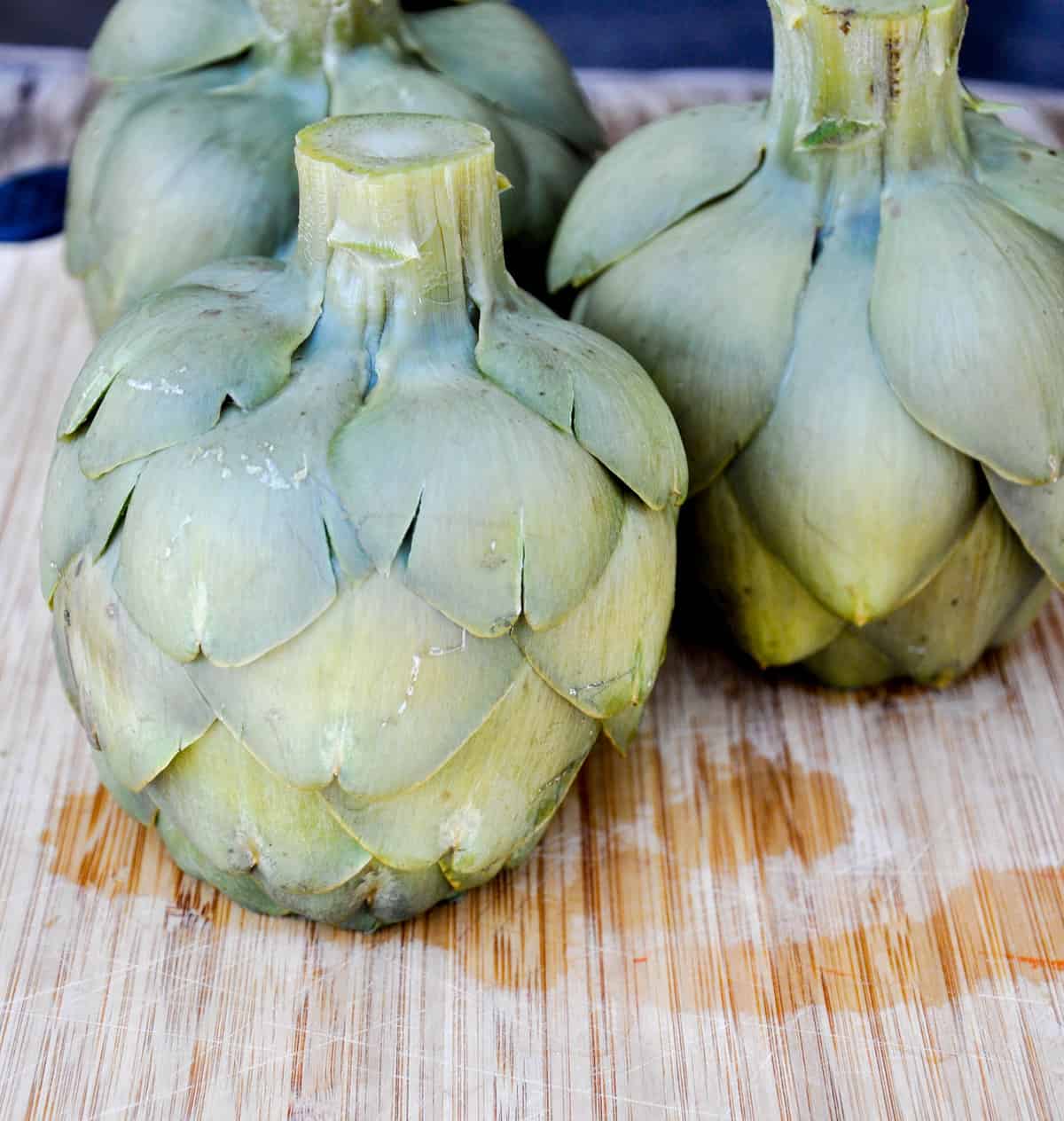 Remove the cooked artichokes from the water, allowing them to drain over the pot. Place them cut side down on a cutting board to allow to drain completely. Cool for about 8 minutes.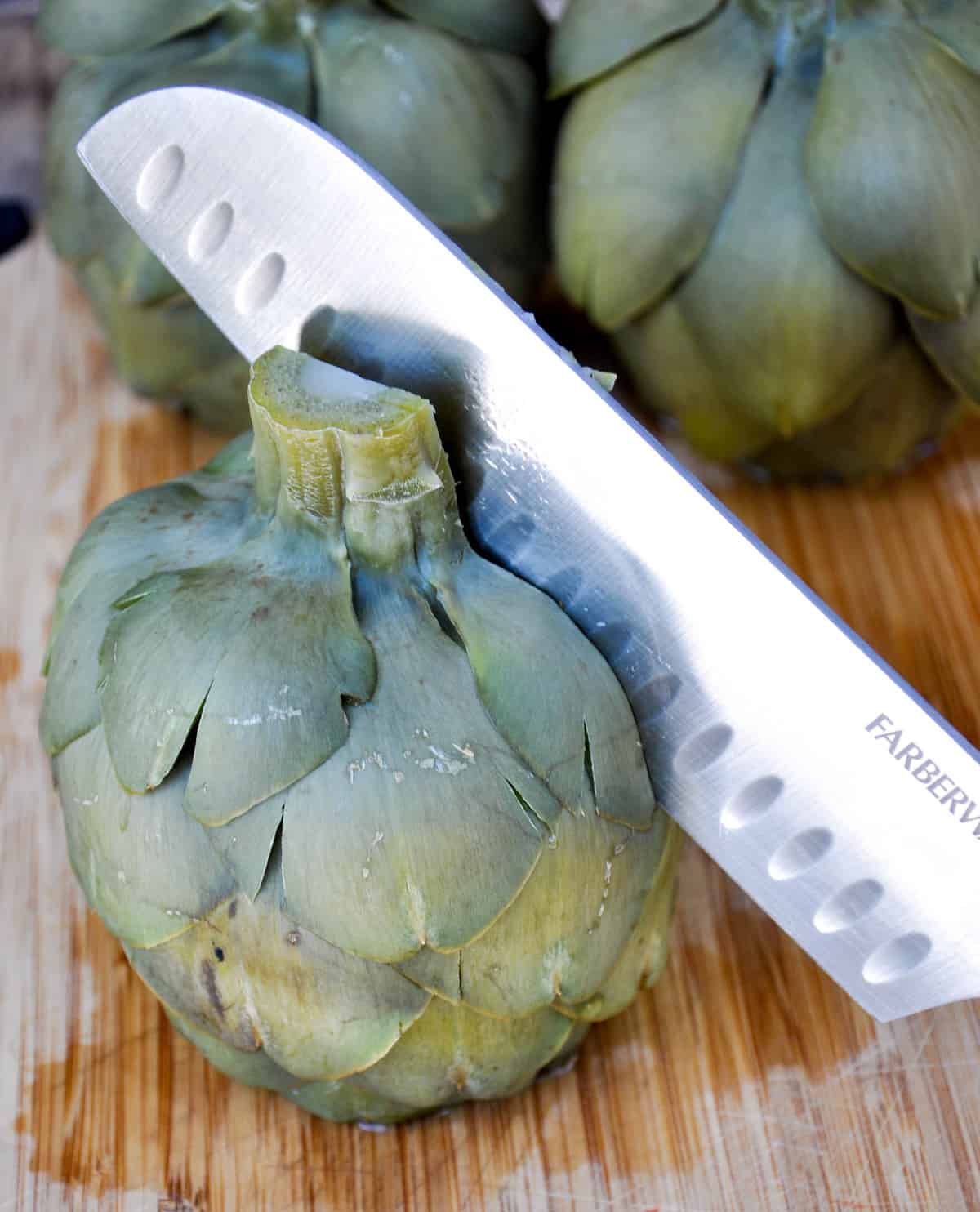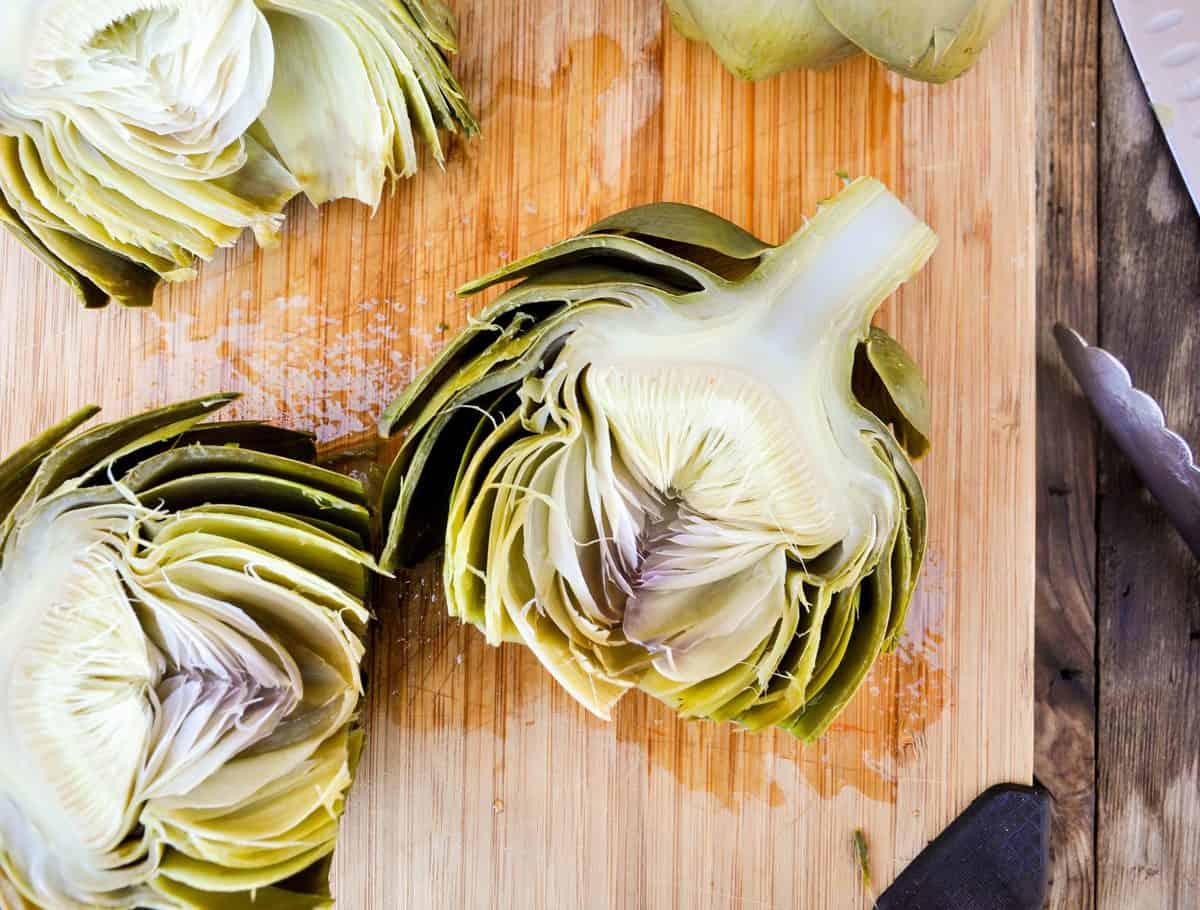 Slice the artichoke right down the middle to expose the fuzzy middle. Now we're going to dig it out…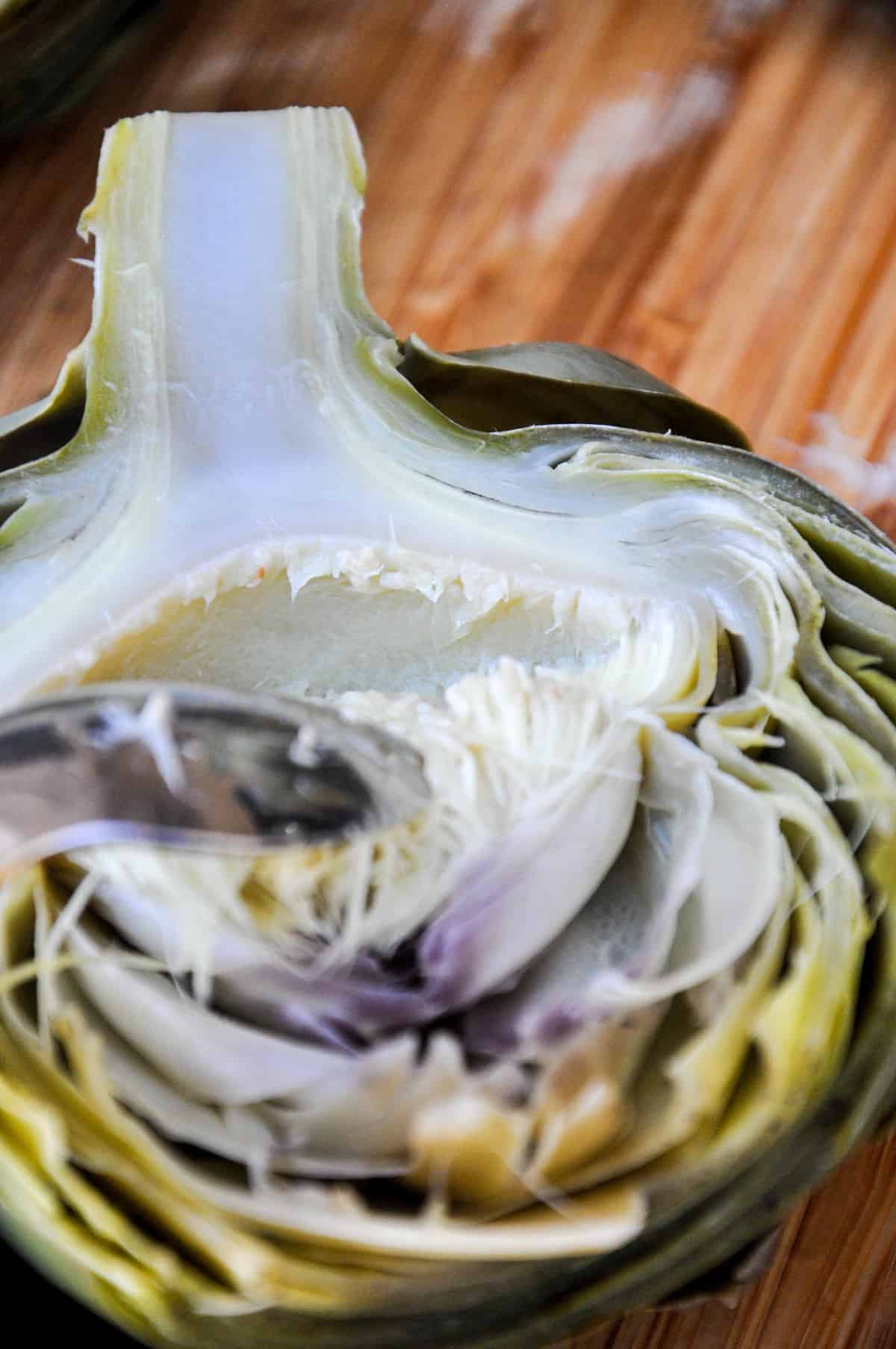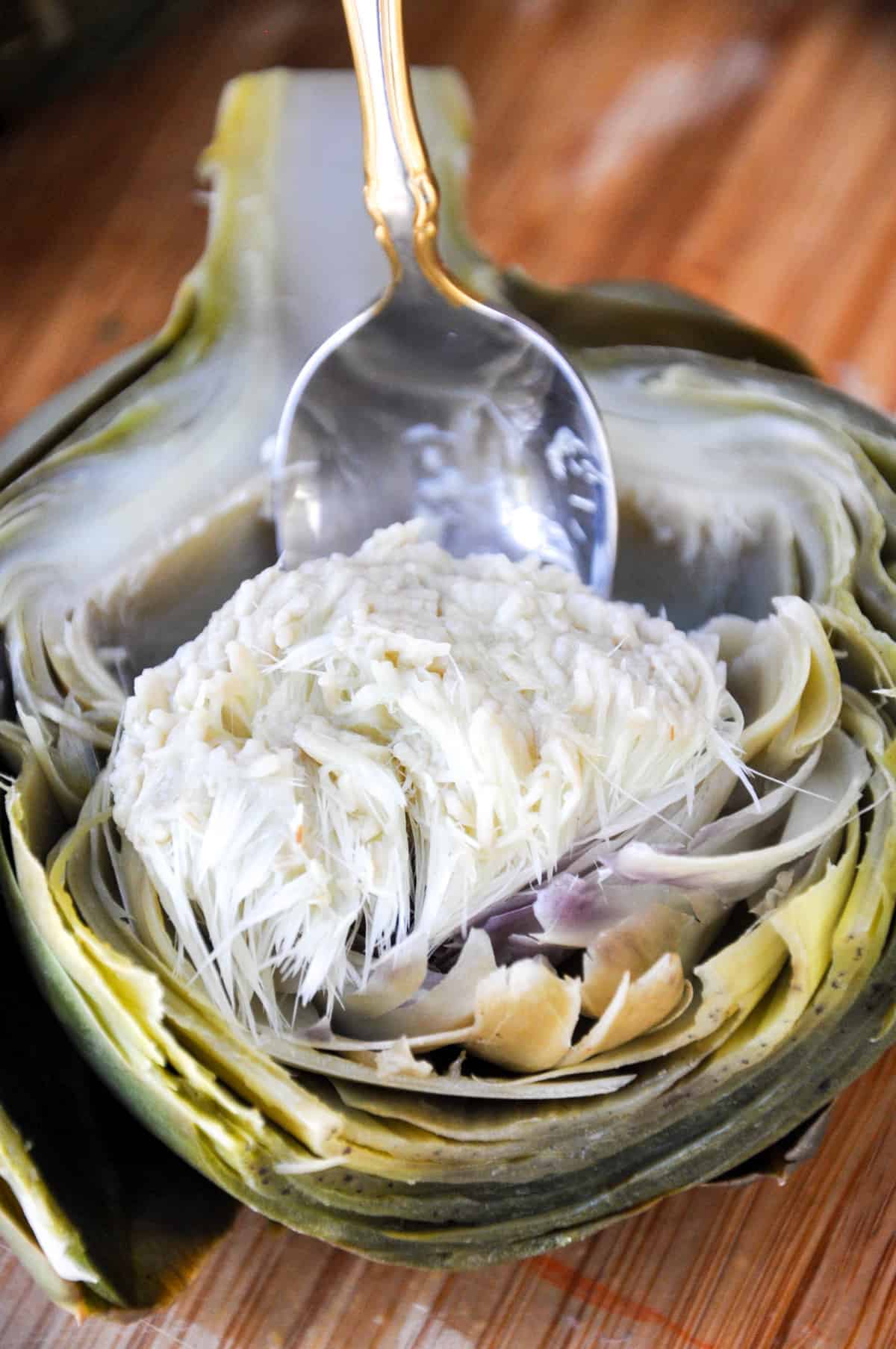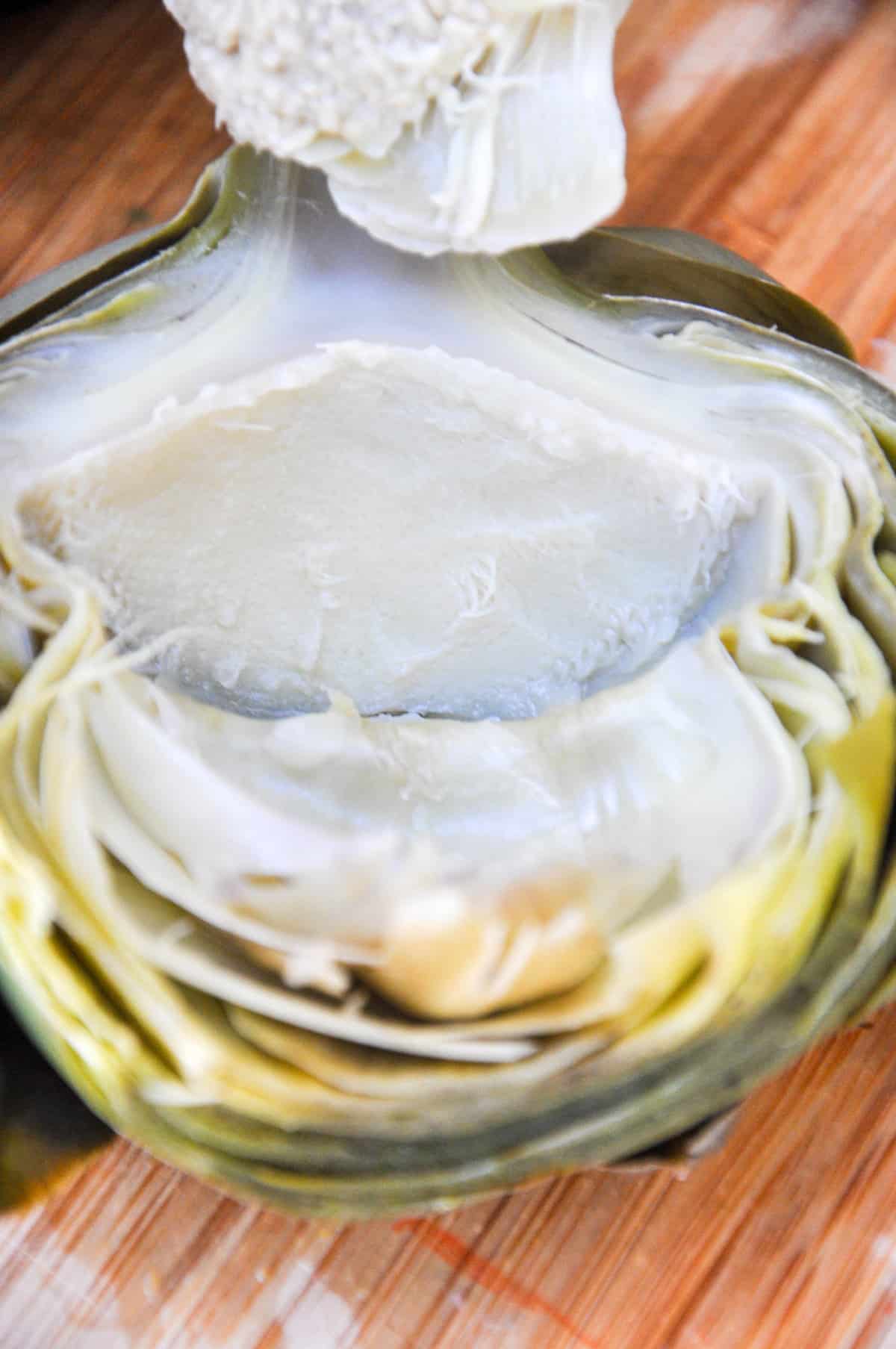 Starting at the base, gently scrape the choke (fuzzy center) from the flesh with a spoon.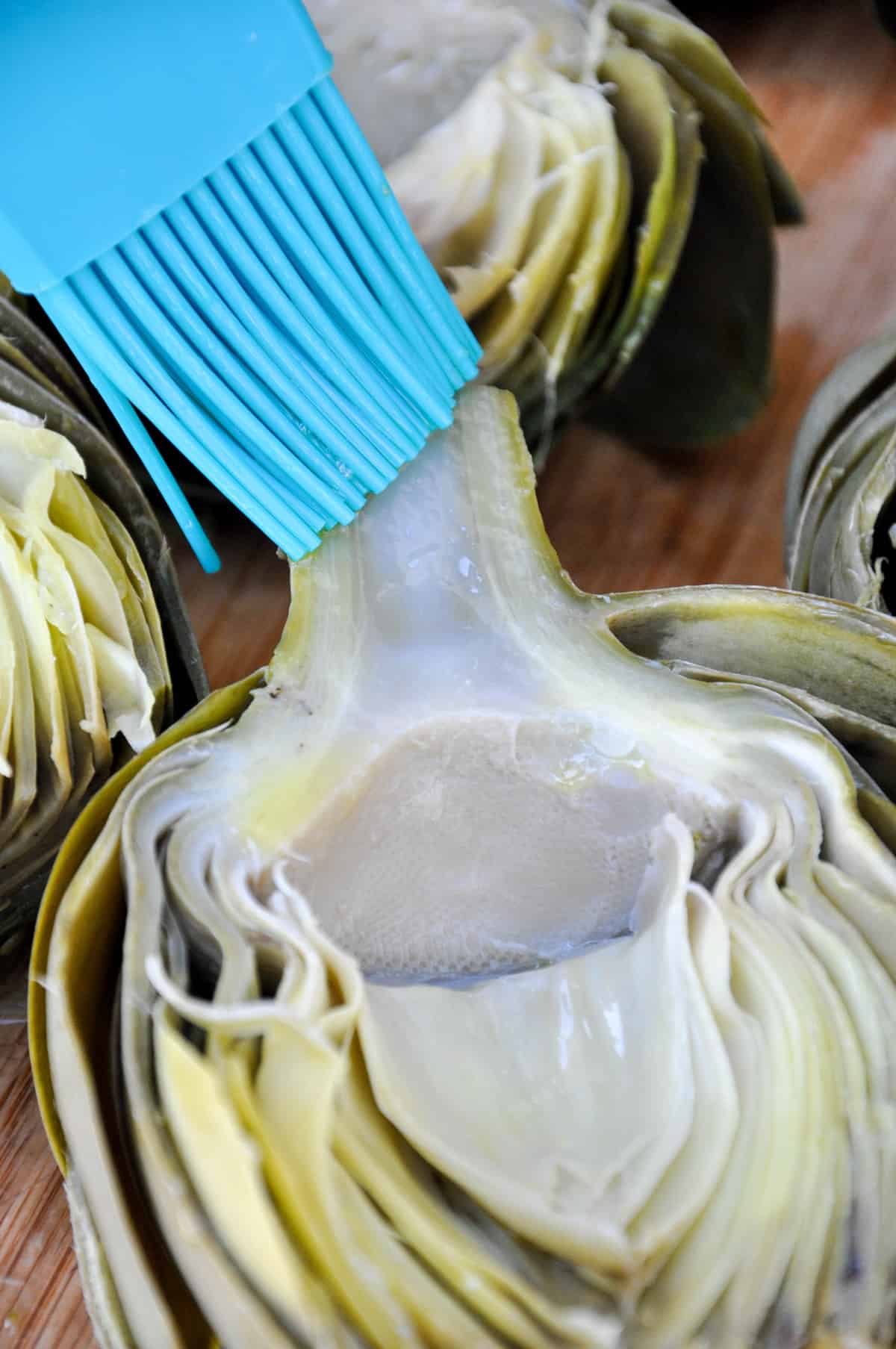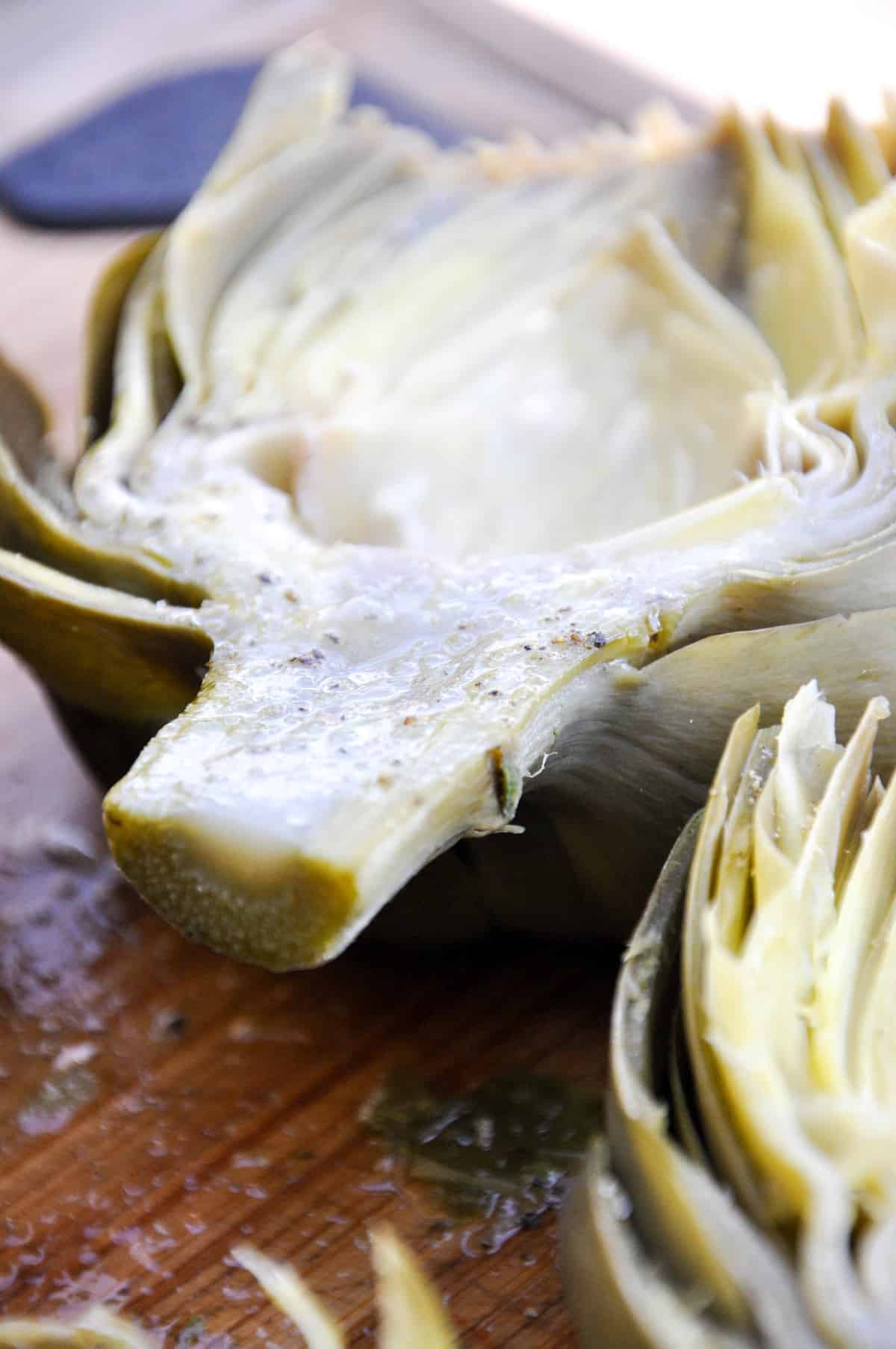 Brush the stem and leaves with a bit of olive oil and season with sea salt and cracked pepper.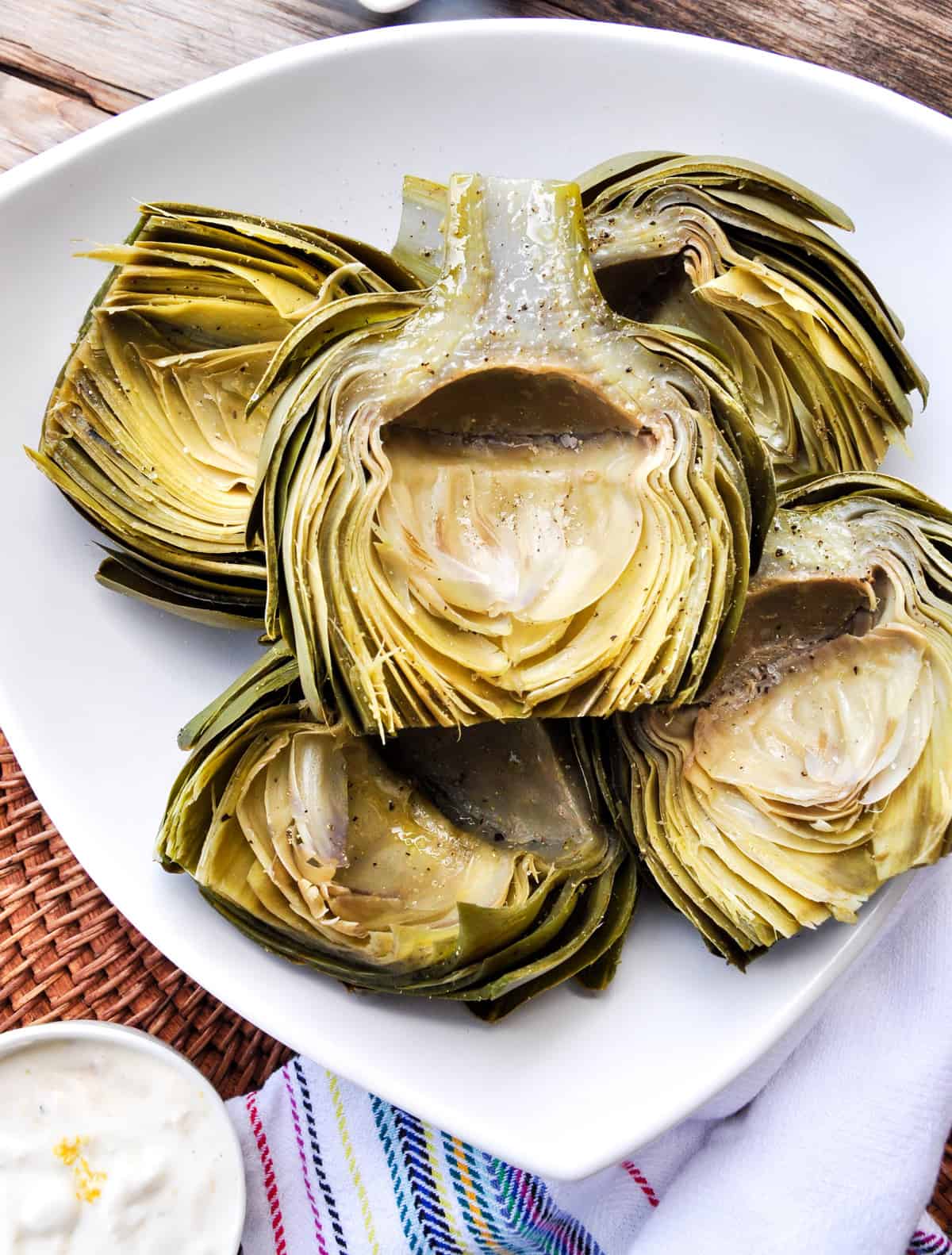 Pile them all into a serving dish and let your guests dig in!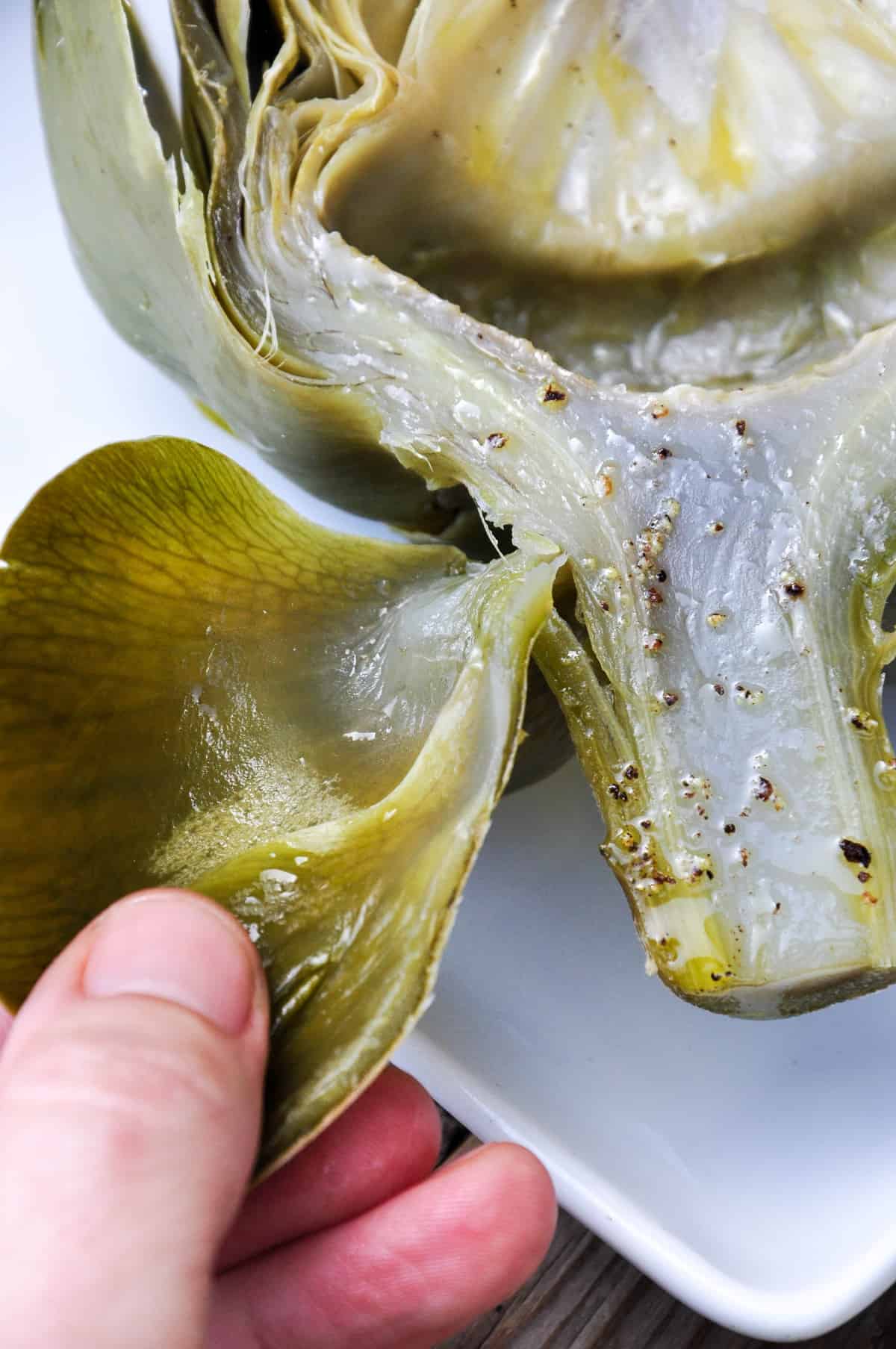 The easiest way to eat them is to just start peeling the leaves off by starting at the base and working your way in. Mmmmmmm, so tender!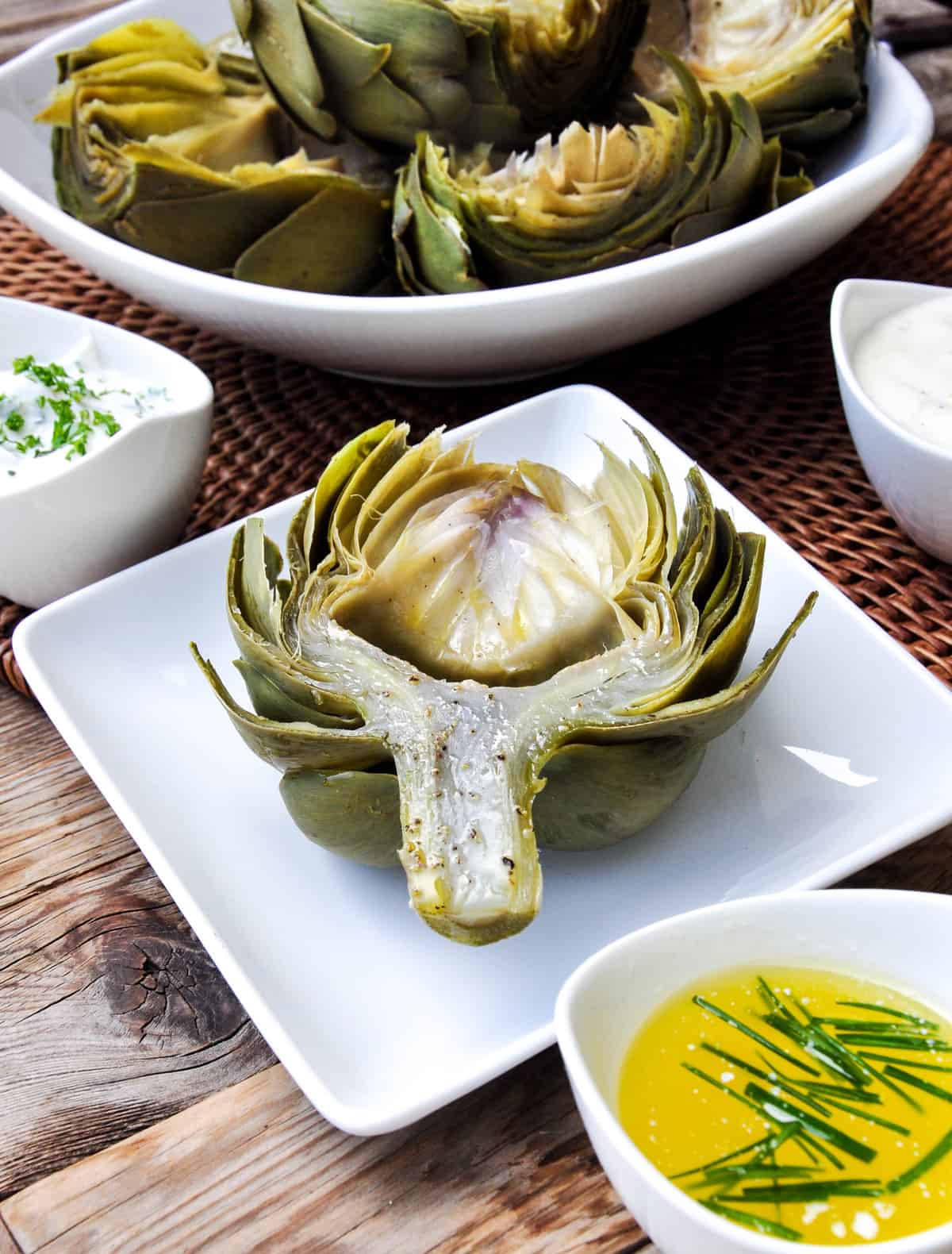 Let's not forget about the tasty trio of dipping sauces we have for you to dip those artichoke leaves into…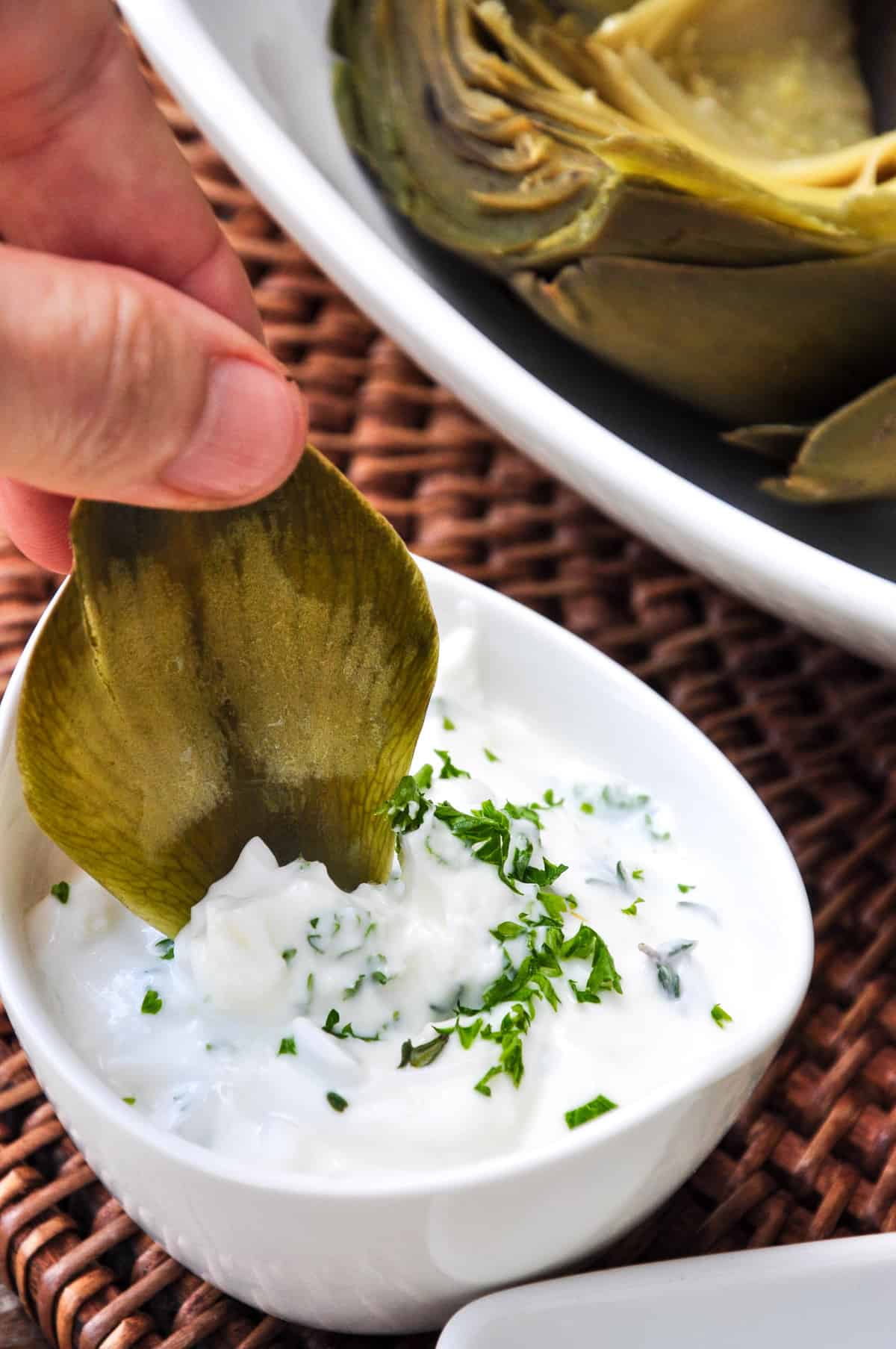 We have a spicy Greek yogurt-based dip with fresh herbs and garlic!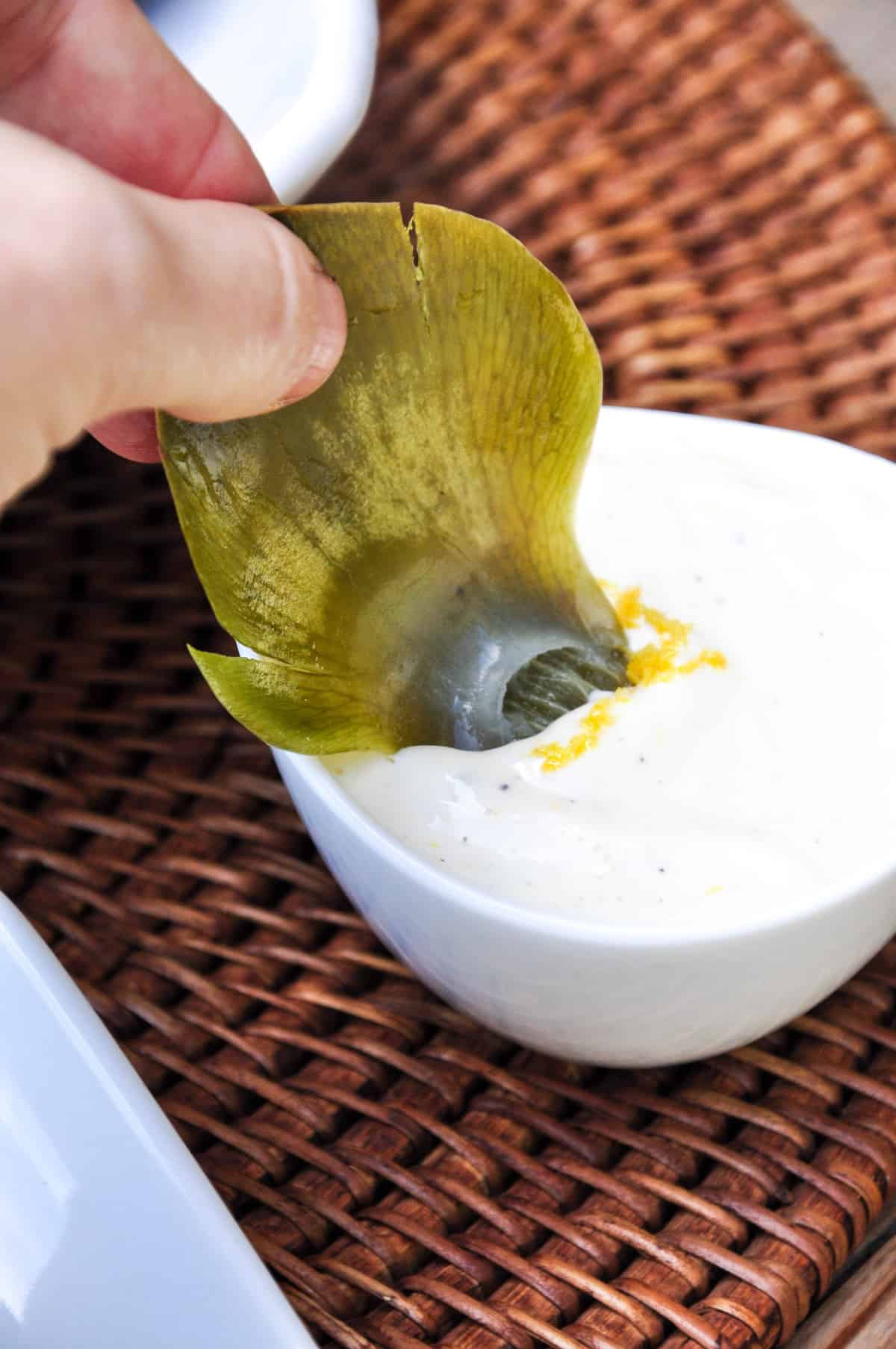 A zesty mayo-based dip that has plenty of citrus and garlic!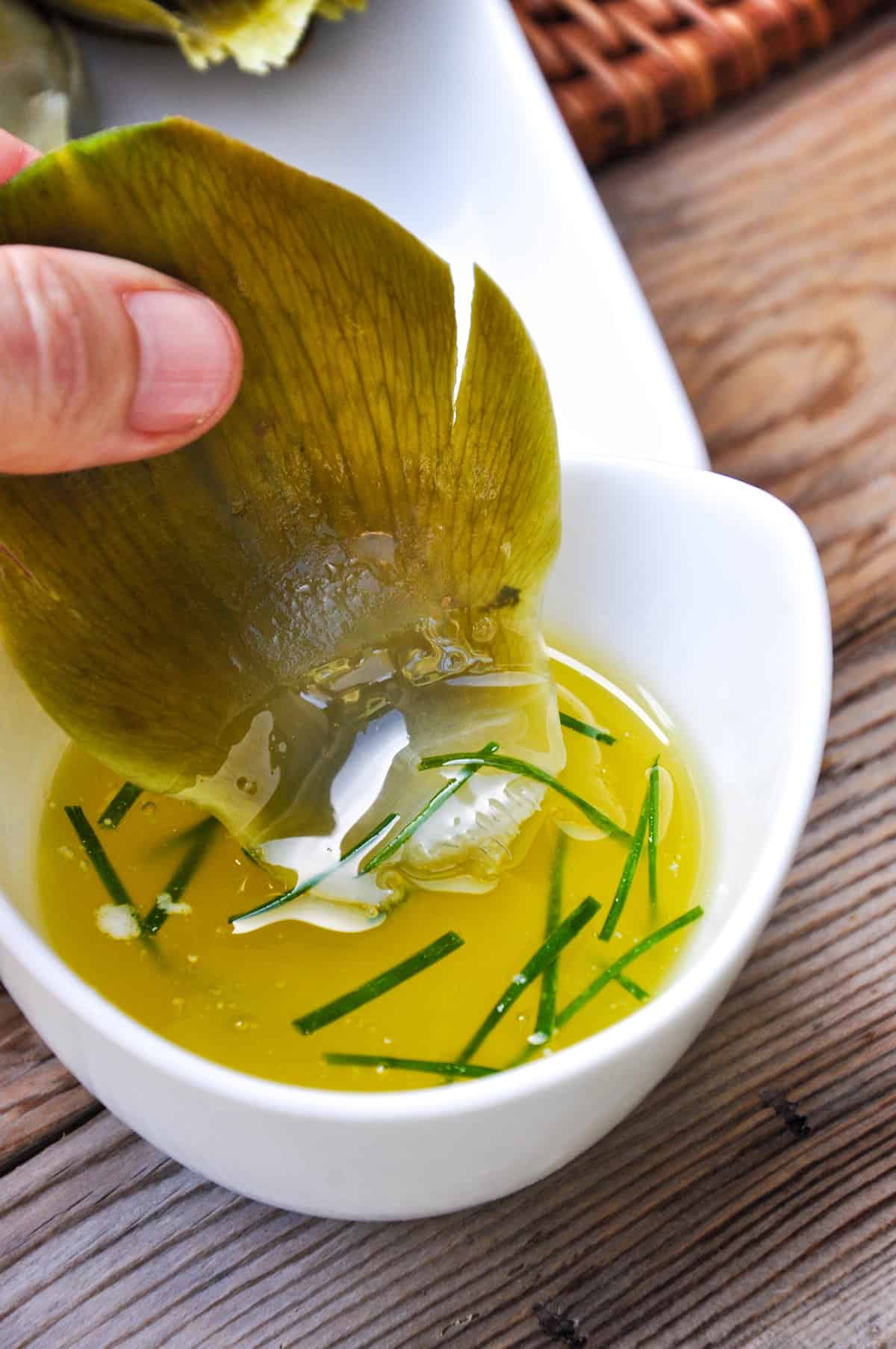 And you can't go wrong with clarified butter and fresh chives!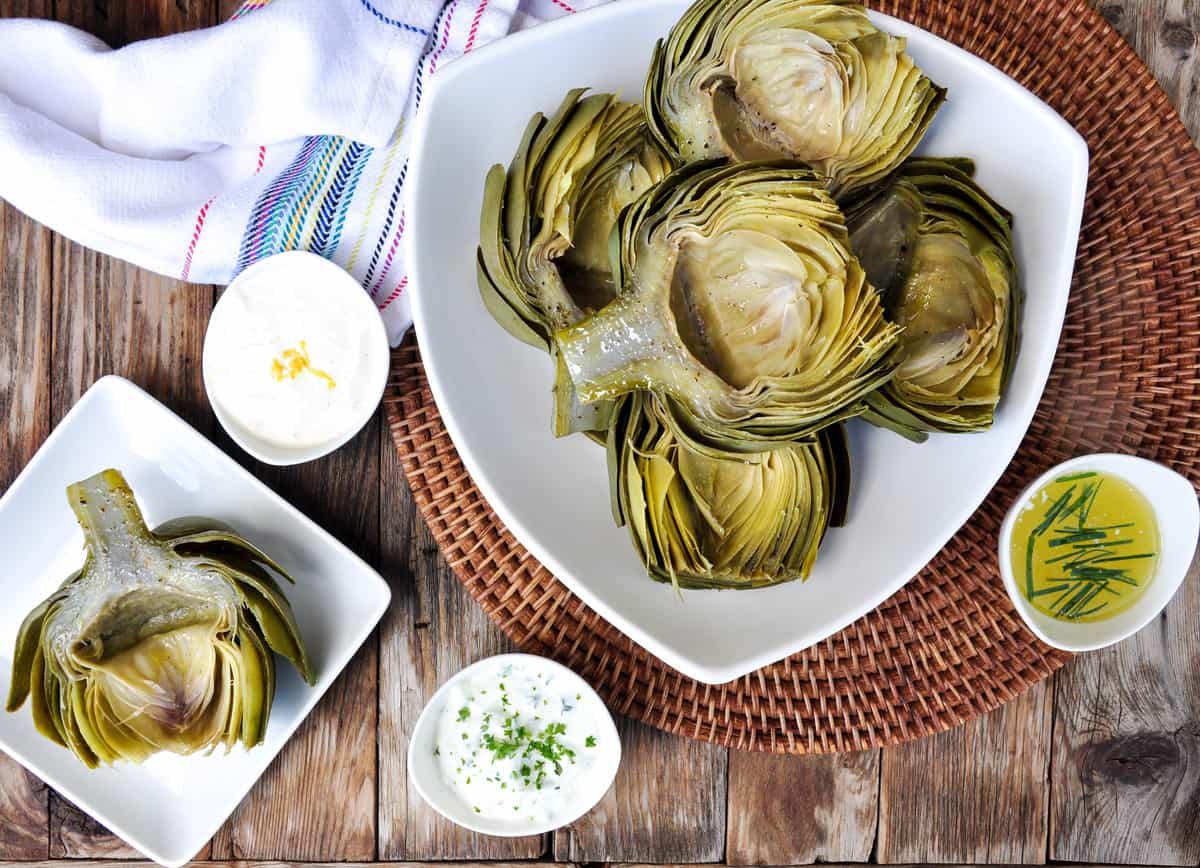 Which one do you think will be your favorite? It's hard for me to choose!
Fool-Proof Artichoke with Three Dipping Sauces
Ingredients
Artichoke
3 Globe artichokes
Salt and pepper
Lemon Garlic Sauce
1 lemon
3 cloves garlic, minced
1/2 cup mayo
Salt and pepper
Yogurt Herb Sauce
1 cup plain Greek Yogurt
3 cloves garlic, minced
1 tsp fresh thyme leaves, minced
1 tsp fresh parsley, minced
1 tsp fresh basil, minced
Salt to taste
Butter Chive Sauce
1/2 cup butter, melted
Fresh chives, rough chopped
Instructions
Cut tops off of artichokes and trim the stem.

Add to a pot of hot water and bring to a boil. Cover and boil for 30 minutes. While the artichokes are cooking, make your sauces

Add all the ingredients of each sauce in a small bowl and stir well to combine. Refrigerate until ready to use, except for the butter sauce.  

Once the artichokes are cooked, drain and cool cut-side down on a cutting board. Cut in half and remove the fuzzy choke portion of the stem and discard. Crush with a bit of olive oil and dust with salt and pepper.

Serve immediately!