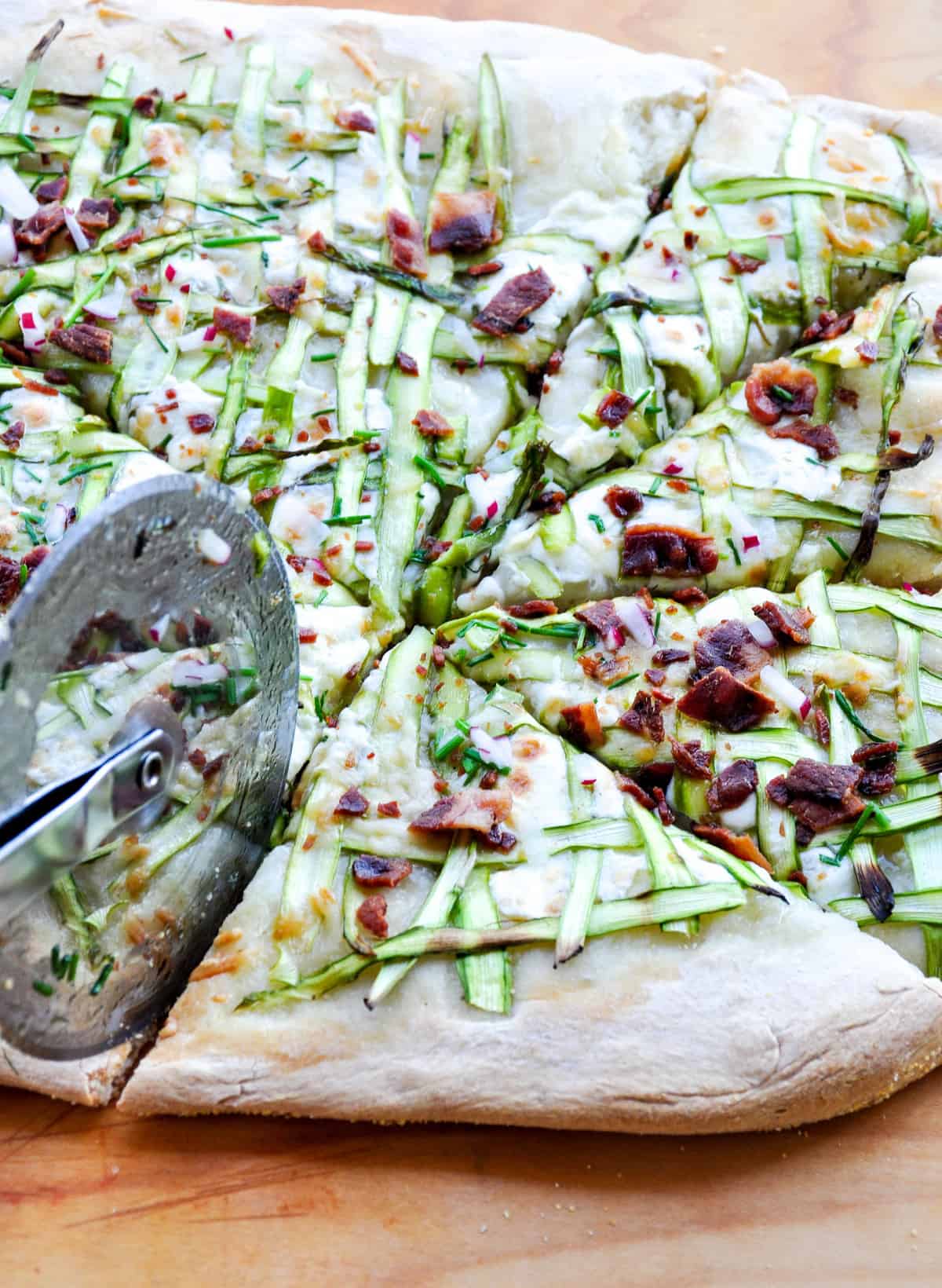 CA GROWN Blog
Discover. Learn. Connect.
Asparagus Ribbon Pizza
March 15, 2017
Eat the Season!
Sign Up For Weekly Recipes
« Back to Recipes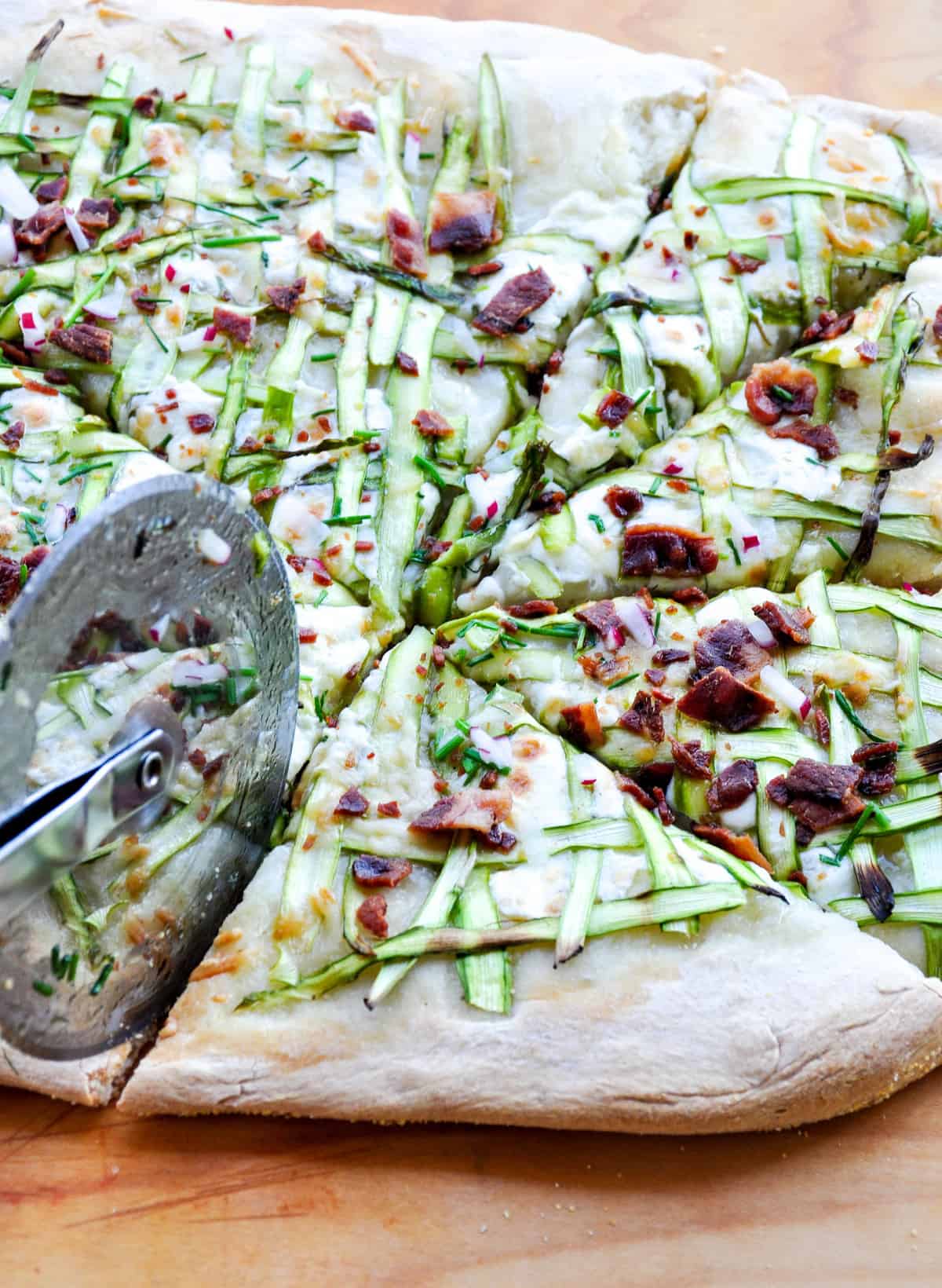 Asparagus Ribbon Pizza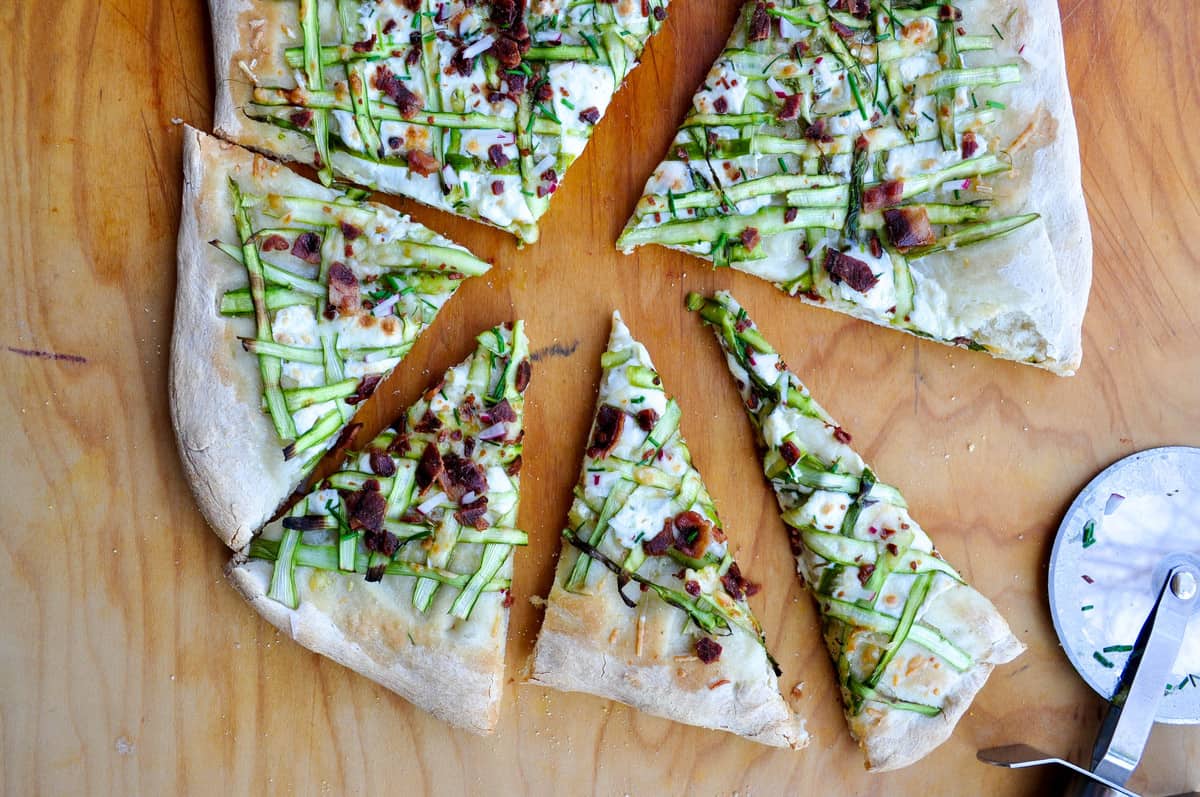 Can we just talk about this time of year?
The time when California asparagus is in so much abundance that you could literally eat it every day of the week and not get sick of it?
Our family loves it grilled, roasted, steamed, you name it! But I thought since I've been on a pizza kick, we'd try it nestled in between some fabulous dough and gooey cheese…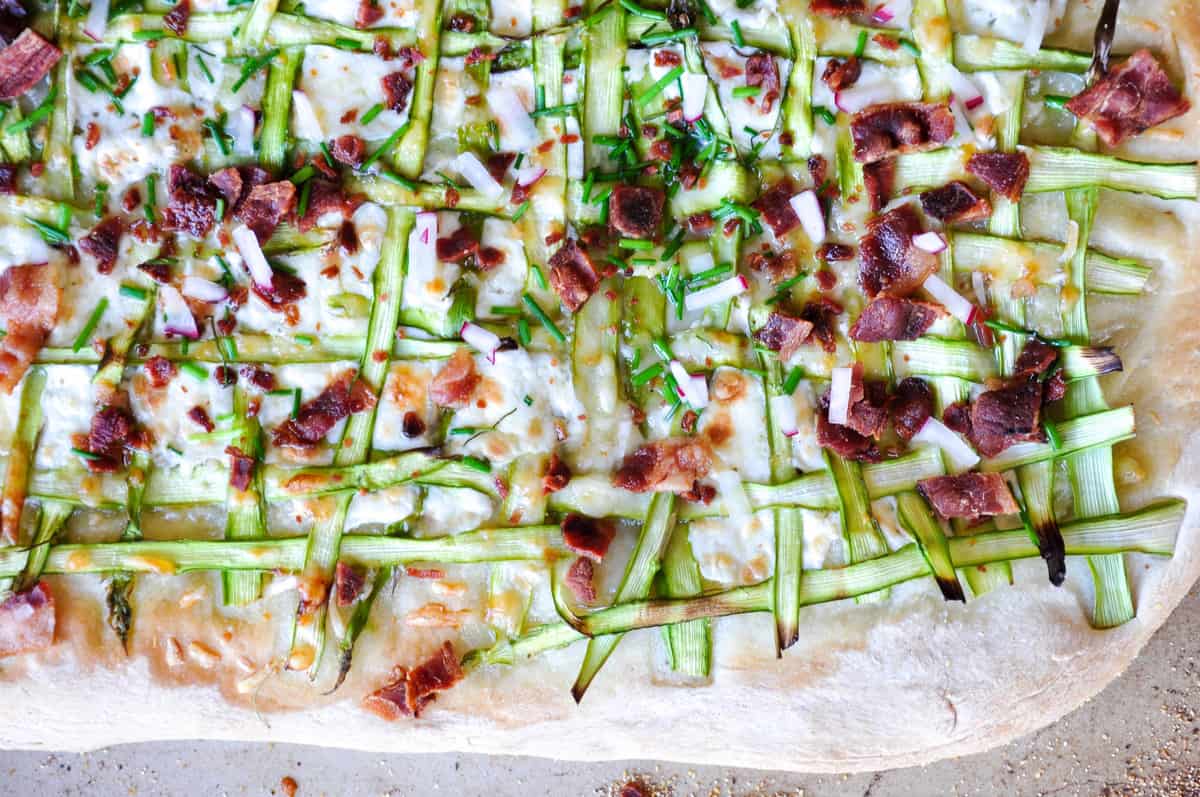 Then we topped it with crispy bacon, fresh chives and crunchy radish.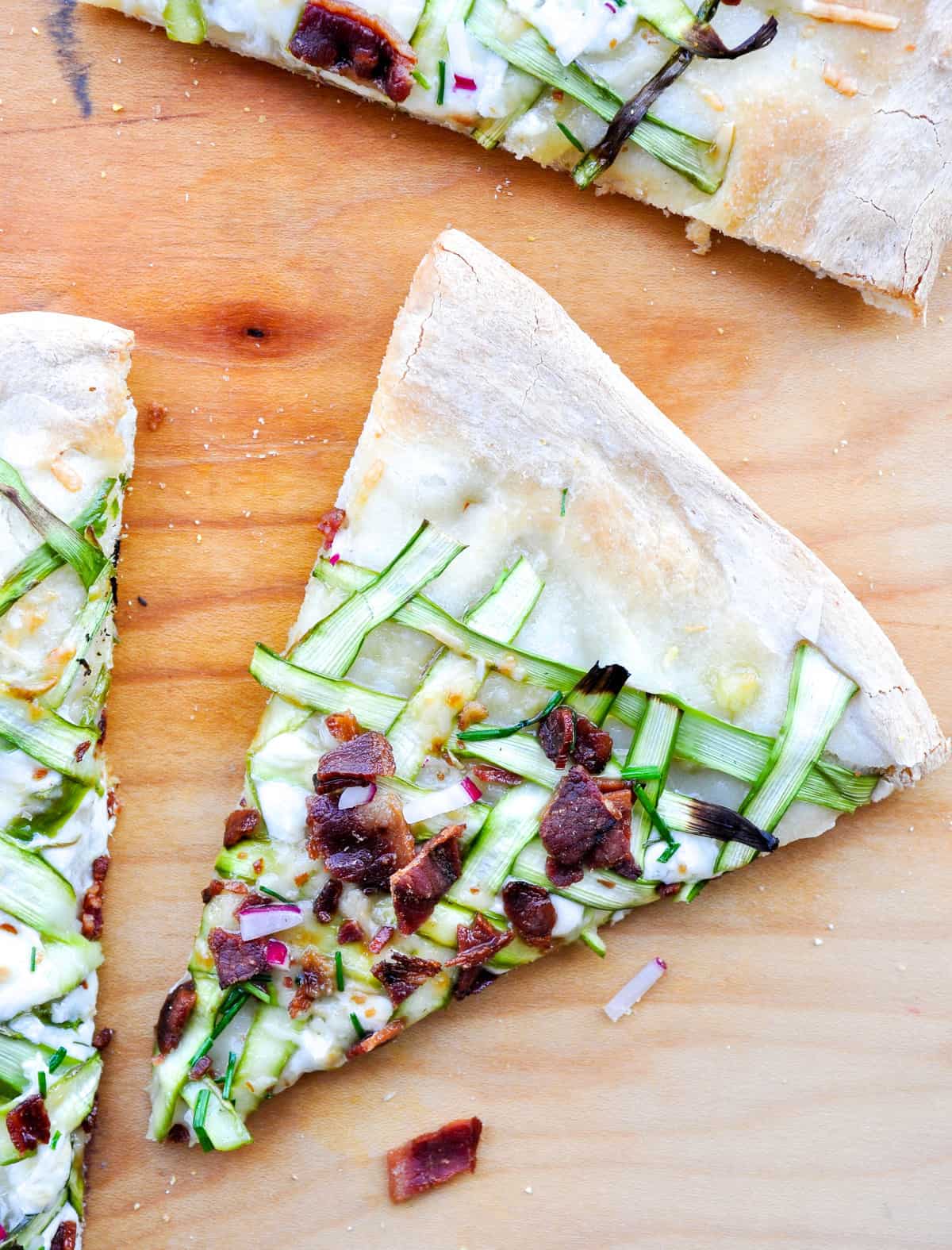 Makes me weak in the knees!
It's pretty darn easy to make the "ribbons" from the asparagus…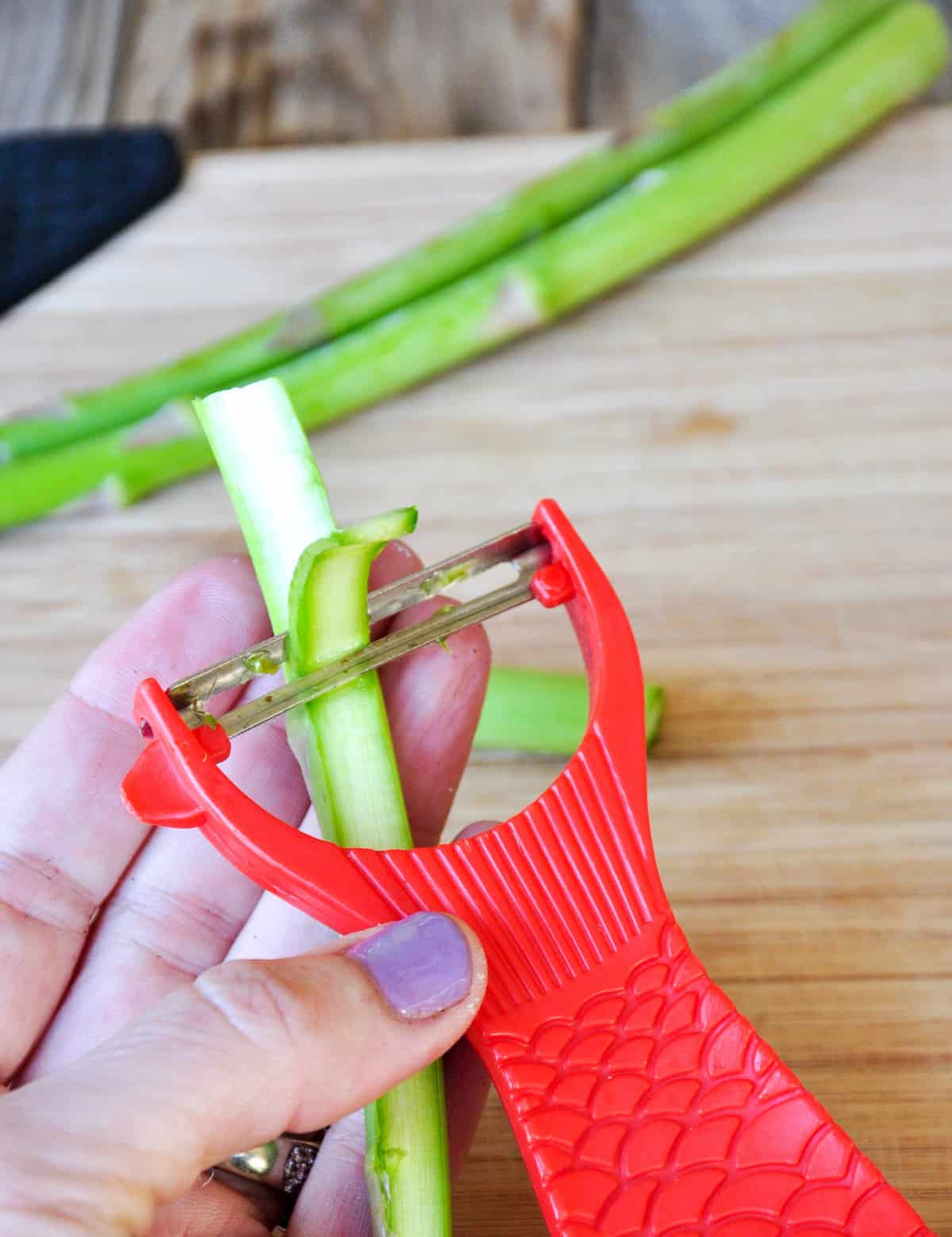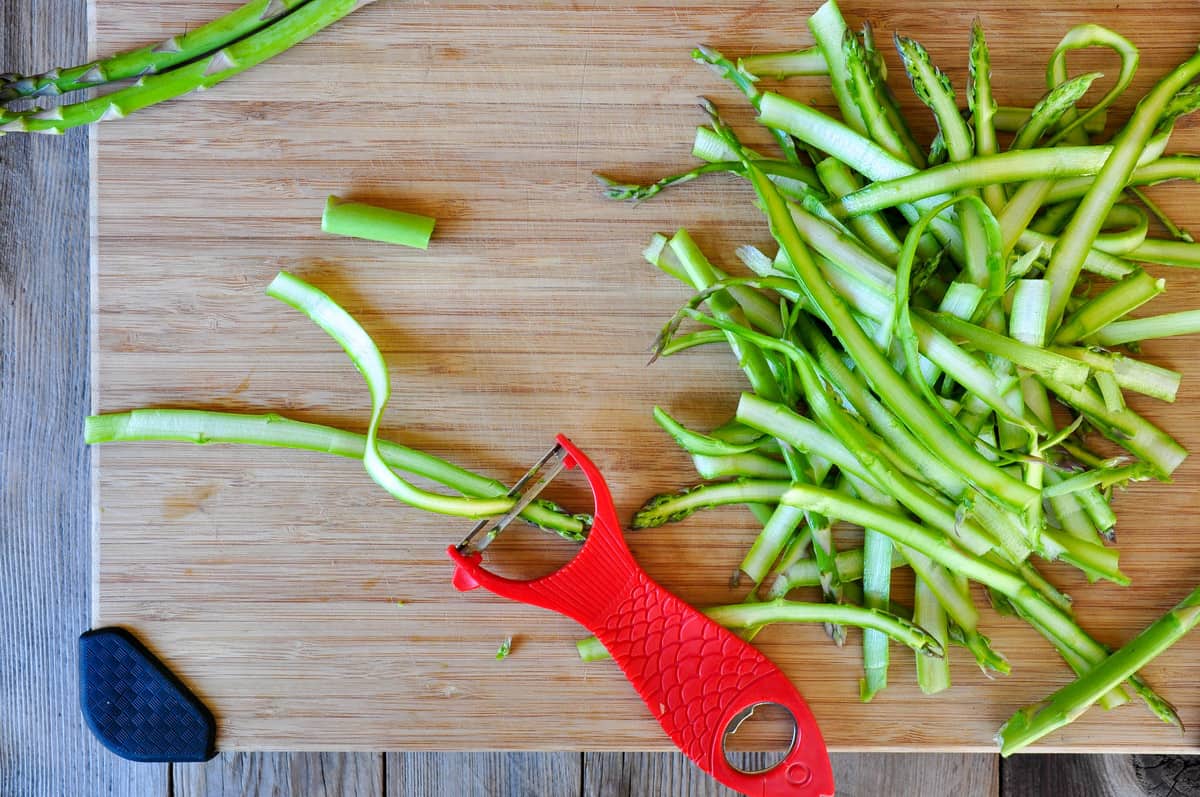 I used a vegetable peeler for better leverage. Just snap the bottom of the stalk off and run the peeler down the side of the asparagus stalk. I found that once I got about halfway through the stalk, it was easier to keep the peeler still and pull the asparagus up. Just use whatever method that works best for you!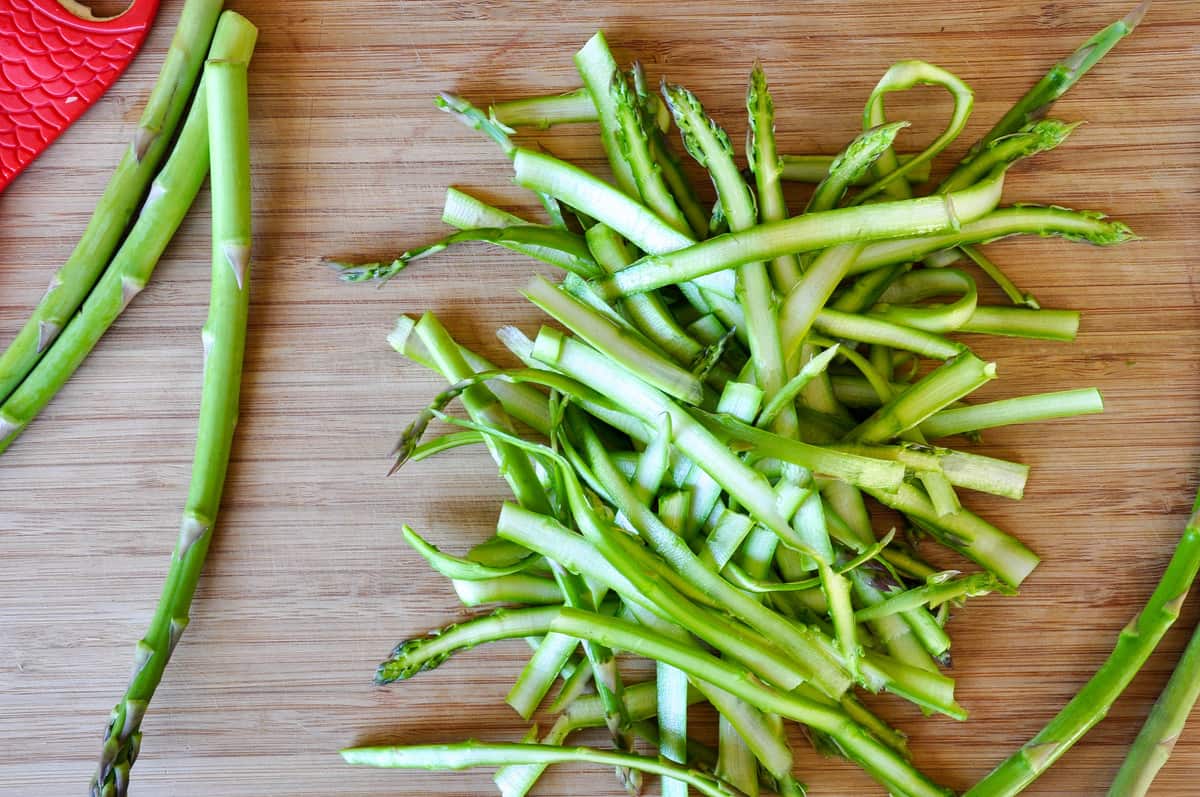 It only took about 10 minutes for me to peel about 20 stalks worth of ribbons.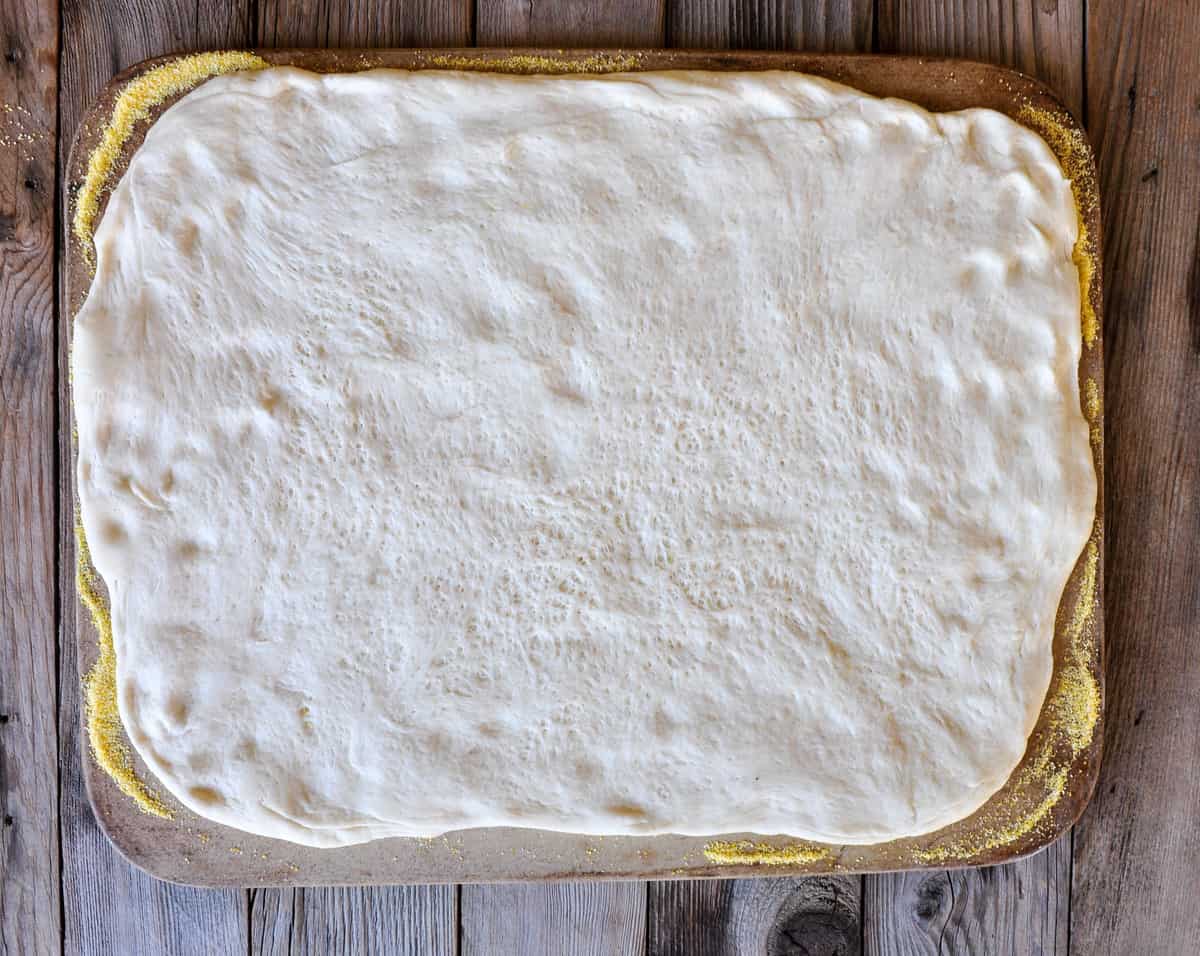 Using the pizza dough recipe included (or you can use store-bought pizza dough to keep things more simple), stretch the dough onto the pizza stone.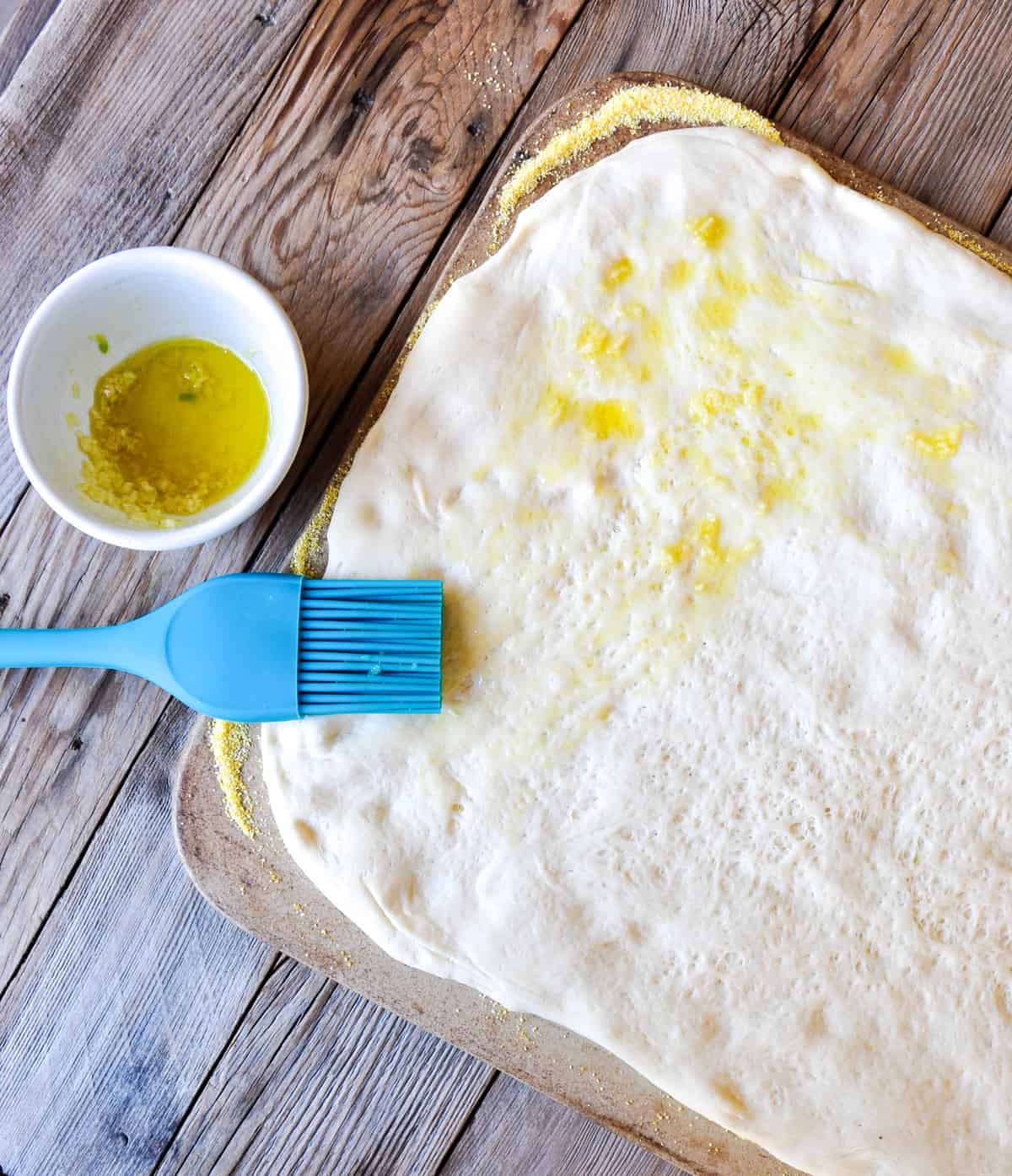 Brush the dough with a garlic-olive oil mixture.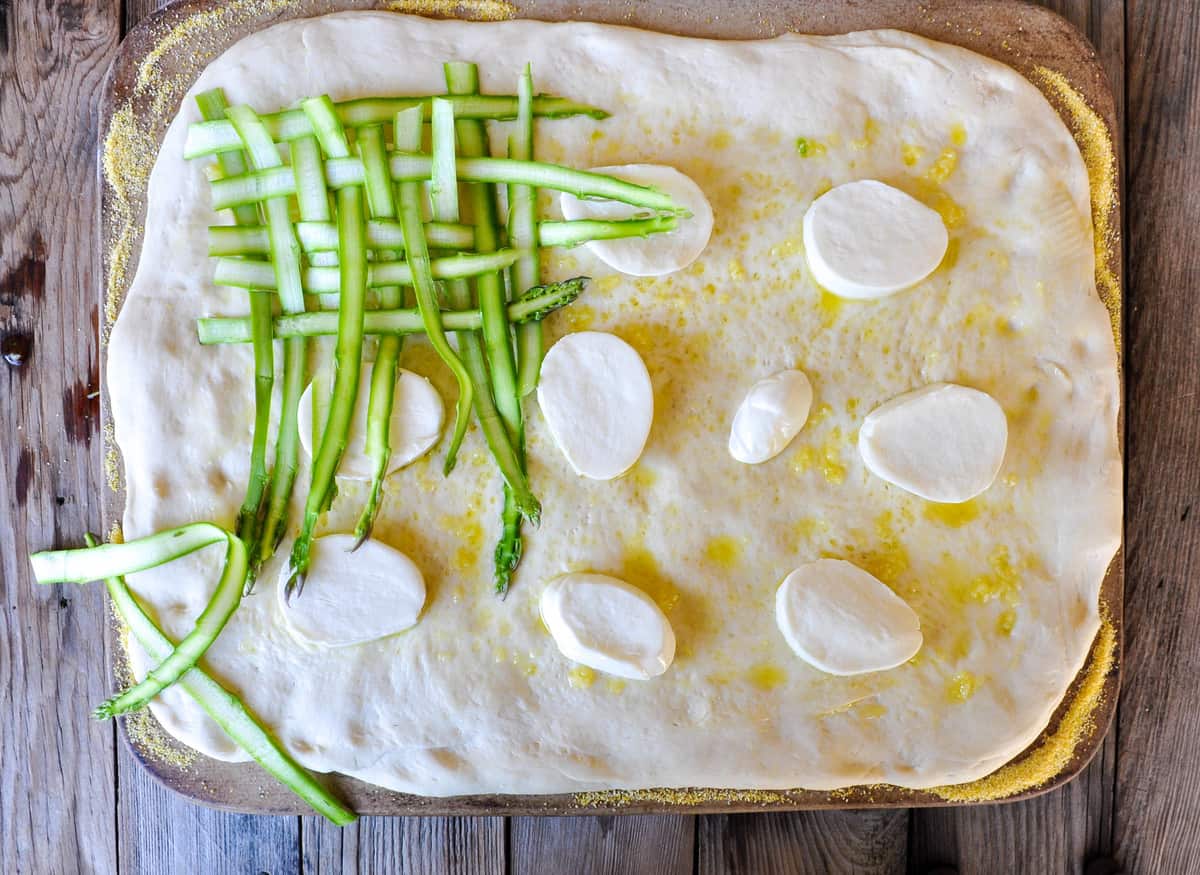 Dot with fresh mozzarella (you can use basic shredded mozz too). Top with the asparagus ribbons. I got fancy and used a basket-weave pattern, but feel free to just randomly toss the ribbons on top of the cheese.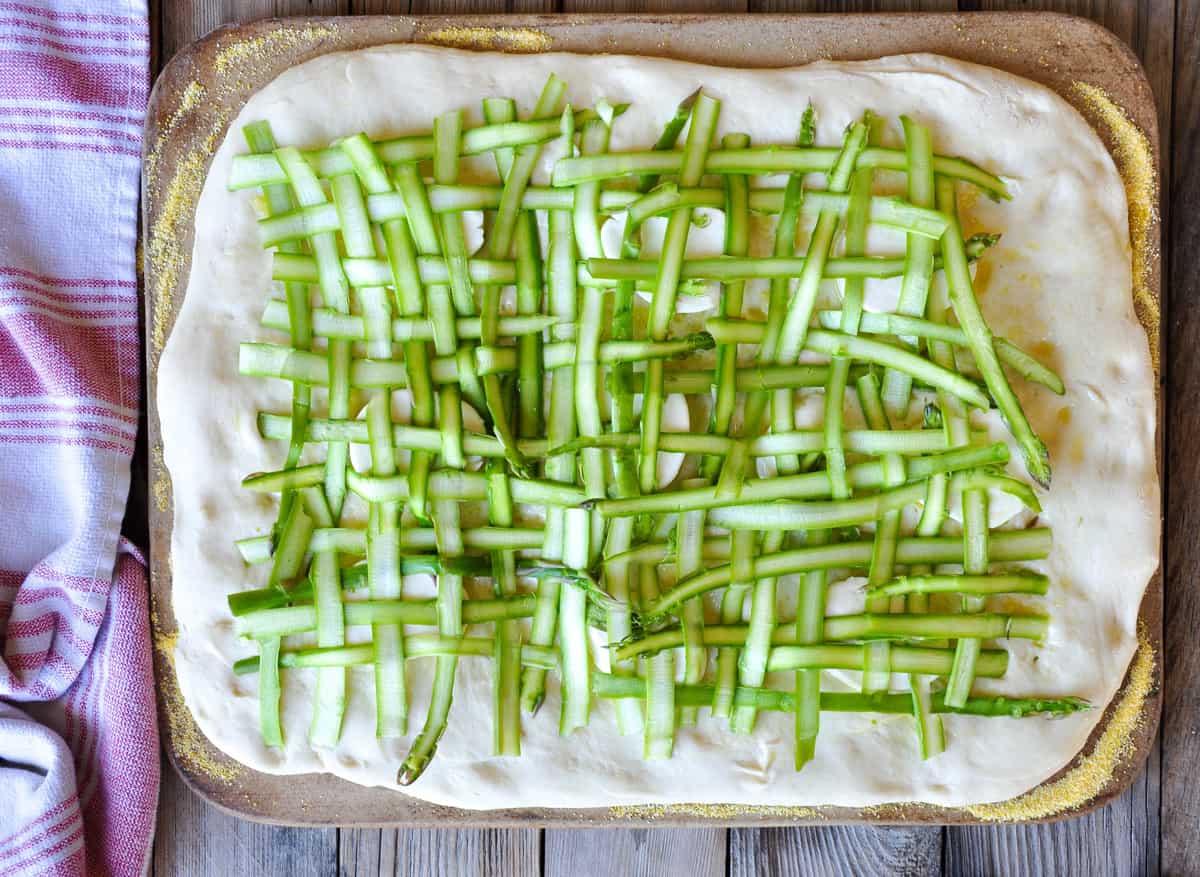 Add a thin layer of shredded parmesan to the top and bake at 500 degrees for about 15 minutes.
Once out of the oven, top with crispy bacon…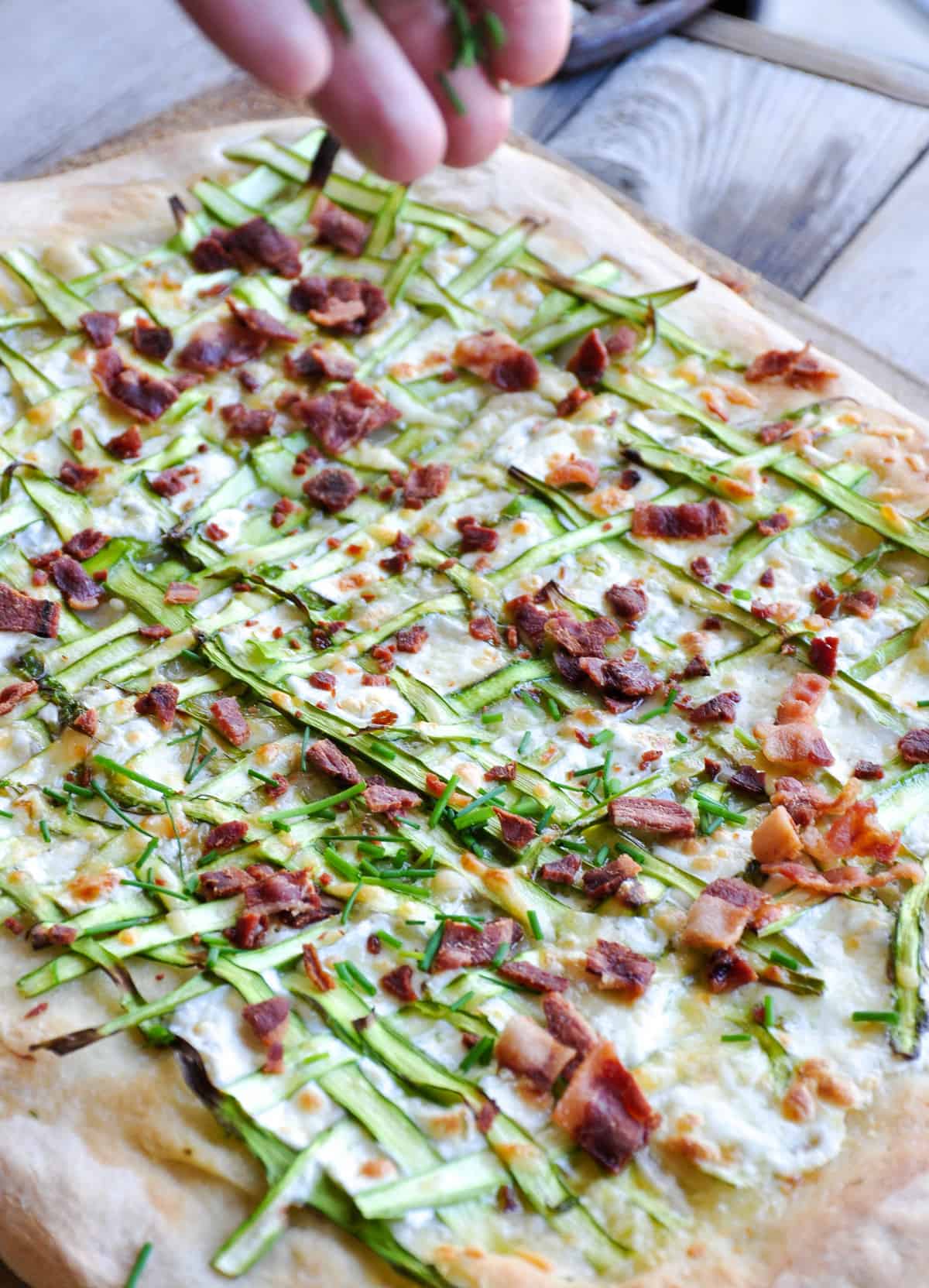 Add chives…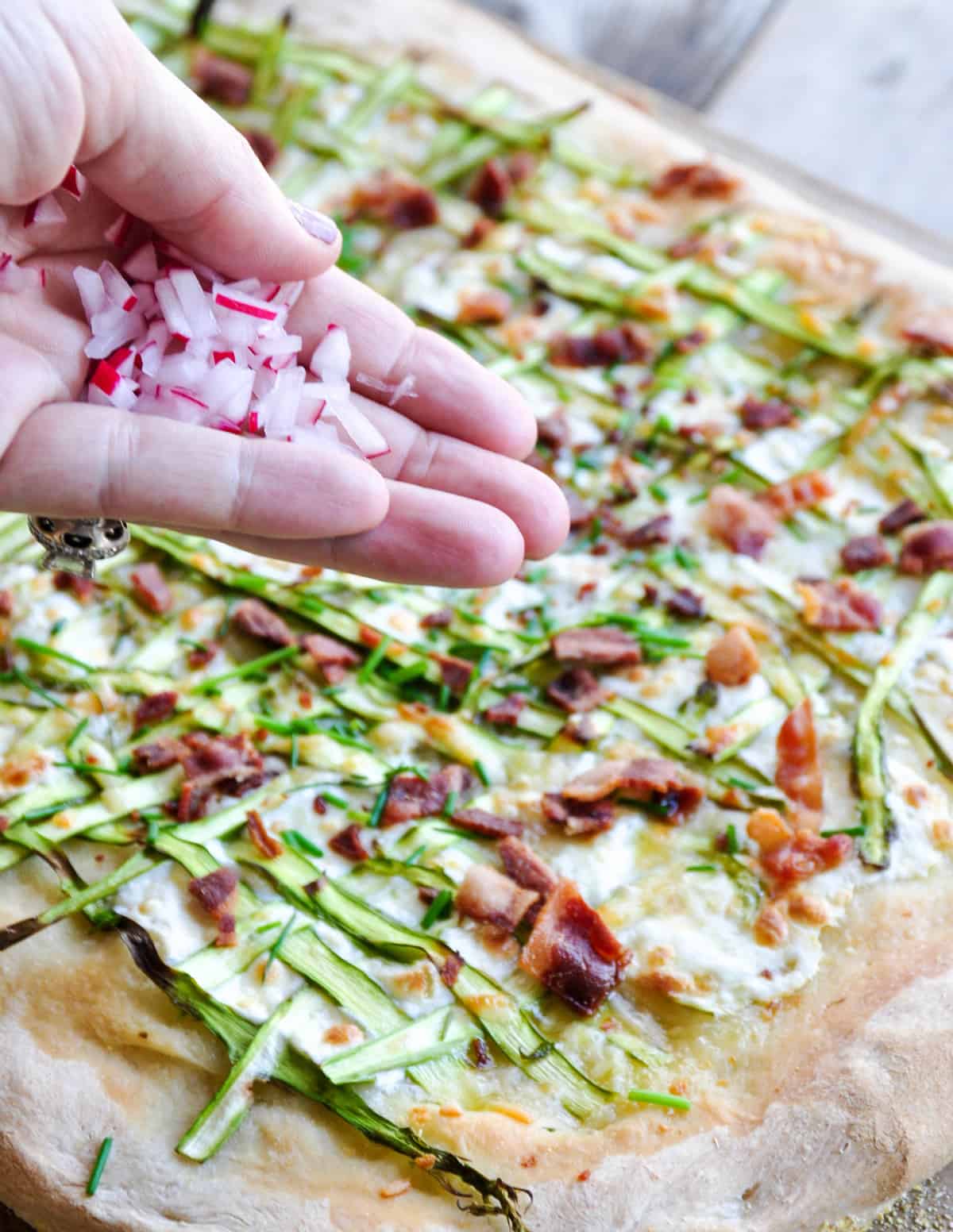 And crunchy radish!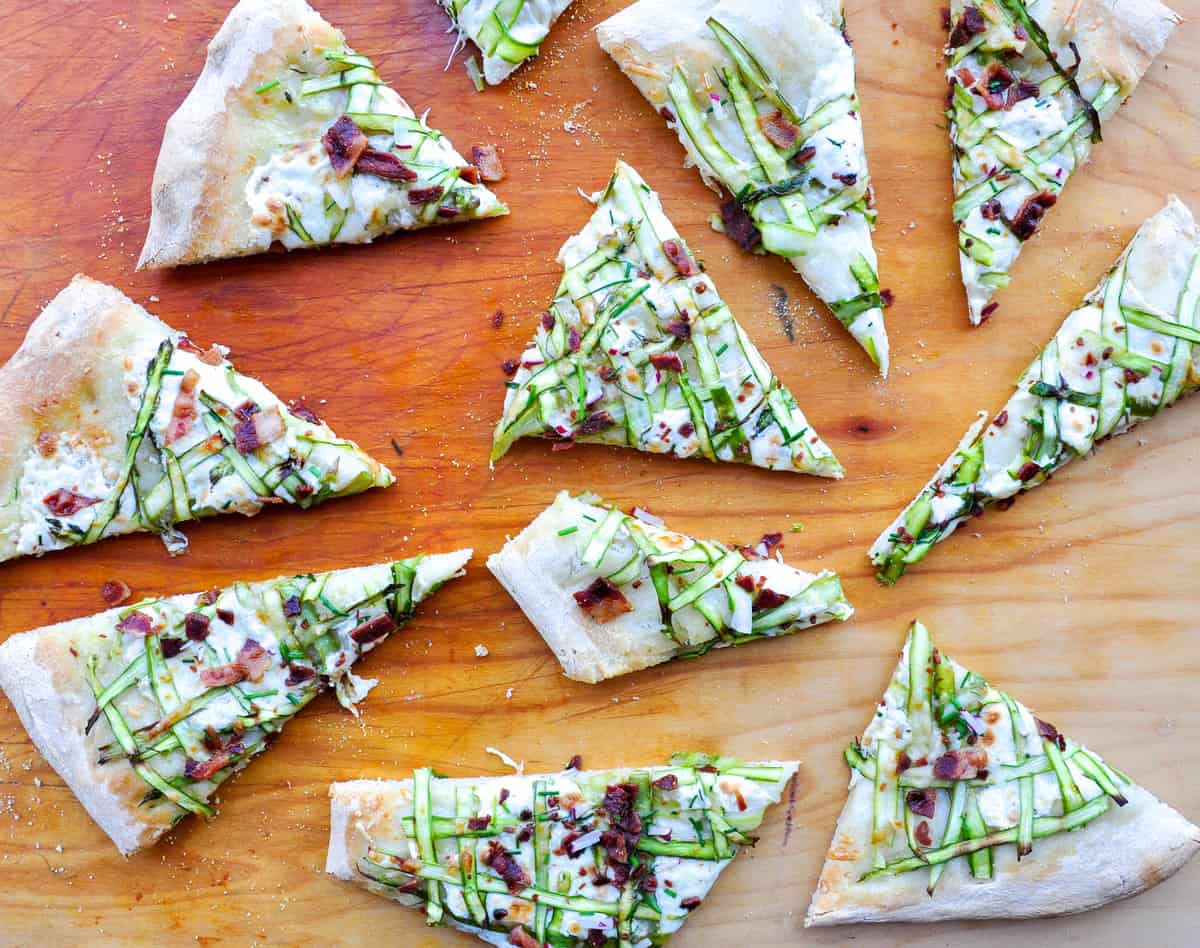 Slice up and enjoy!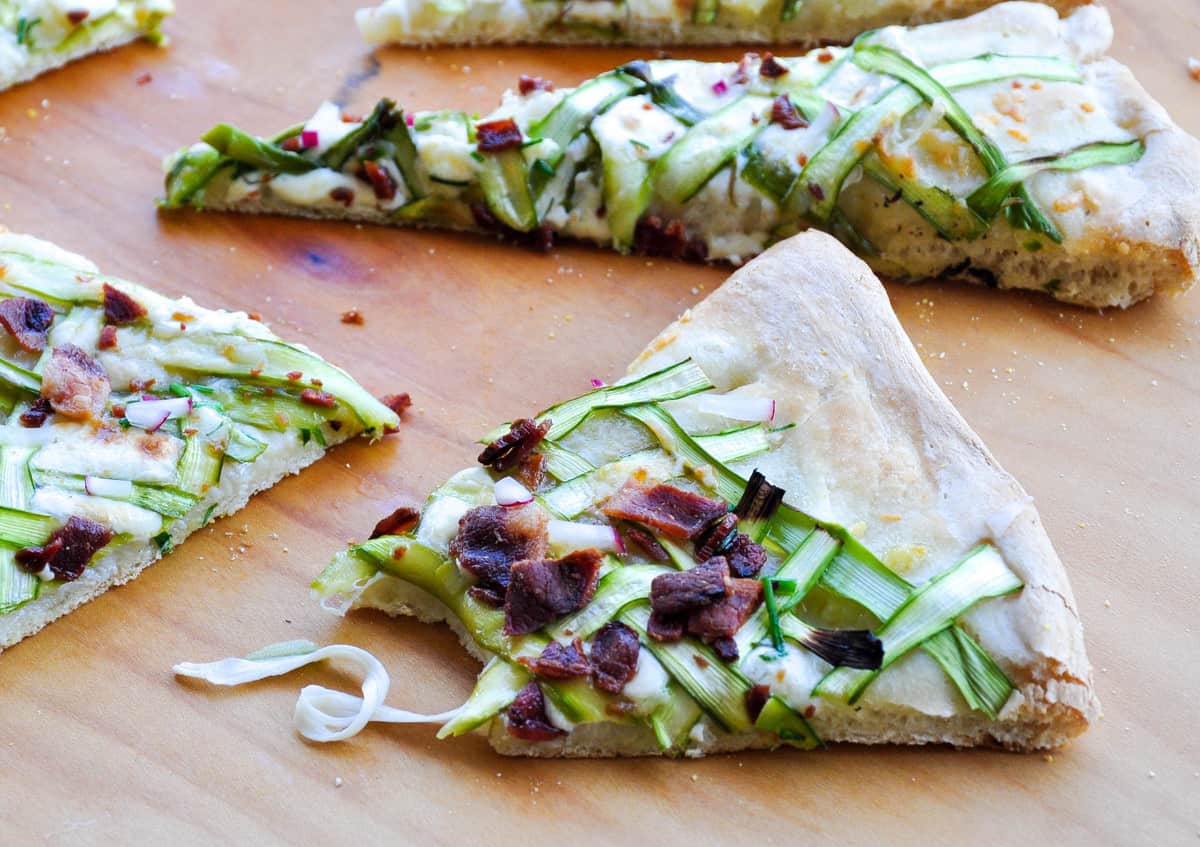 So good!
Here is the recipe for ya…
Asparagus Ribbon Pizza
Ingredients
Toppings
15-20 spears of asparagus
1 T olive oil
2 cloves garlic, minced
8 oz. mozzarella
1/2 cup parmesan cheese, shredded
3 pieces bacon, cooked and crumbled
Sprig of chives, chopped
2 radish bulbs, rough chopped
Instructions
Prepare dough according to directions, or use store-bought pizza dough.

Preheat oven to 500 degrees.

Using a vegetable peeler, create ribbons with the asparagus spears (I got about 4-5 ribbons from each spear).

Stretch dough onto a pizza stone dusted with cornmeal (optional).

Combine olive oil and garlic in a small bowl and brush onto dough and top with mozzarella cheese.

Add the asparagus ribbons and dust with parmesan cheese and bake for about 12-15 minutes or until done.

Immediately after pizza is removed, top with crumbled bacon, chives, and chopped radish.
If you like pizza as much as we do, check out these other California favorites!