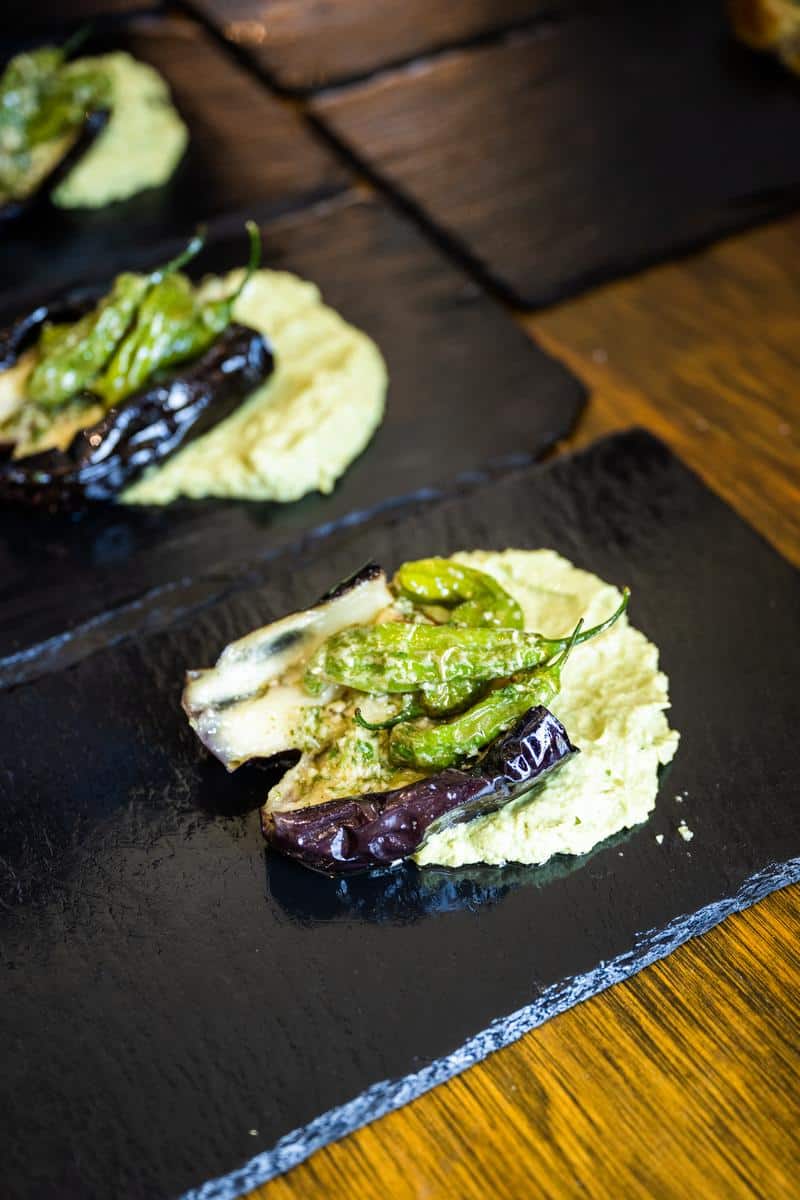 CA GROWN Blog
Discover. Learn. Connect.
Chef Hany Ali's Fire Roasted Eggplant & Blistered Shishito Peppers
August 11, 2023
Eat the Season!
Sign Up For Weekly Recipes
« Back to Recipes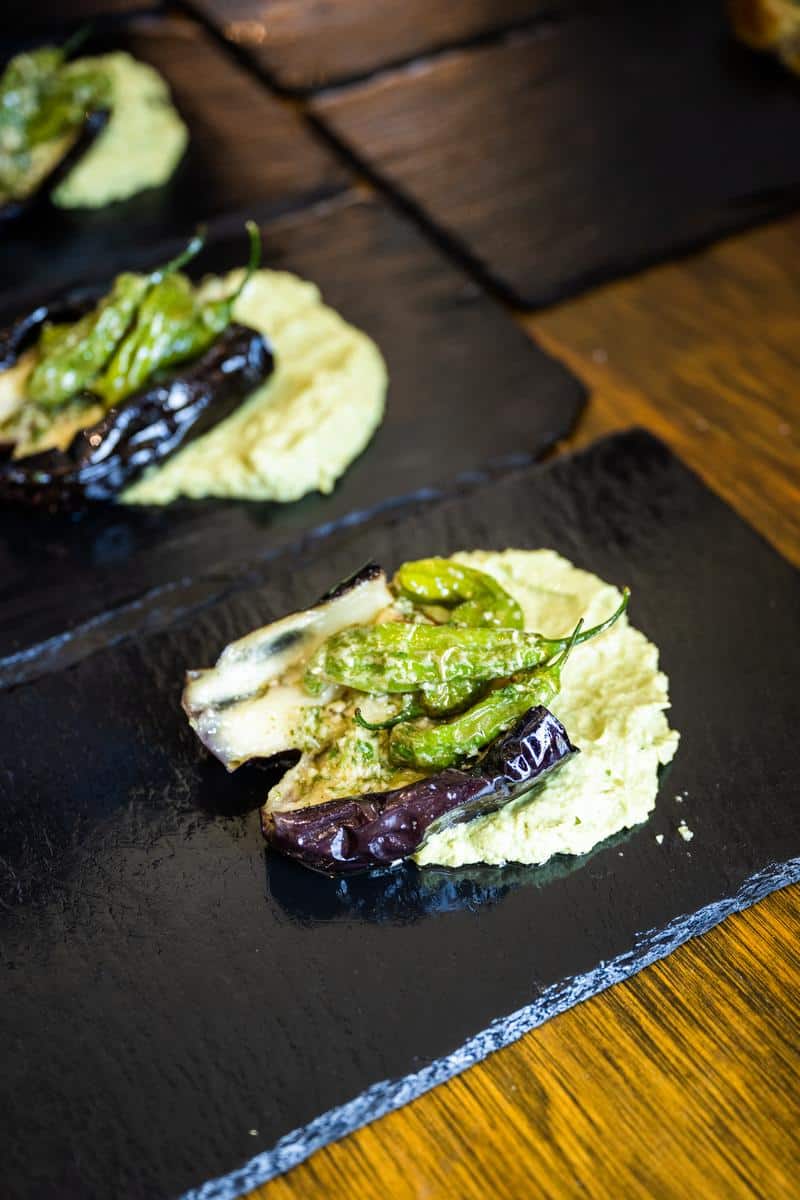 Chef Hany Ali's Fire Roasted Eggplant & Blistered Shishito Peppers
If we learned anything during our visit to Europa Village Winery & Resort in Temecula, Ca., it's that Executive Chef Hani Ali loved and respected his momma. Though his culinary training focused on French cuisine, he still makes it a point to incorporate some of his late mother's traditional Egyptian cooking into both the restaurant menus, and also the cooking classes he teaches at the resort. During our visit he showed a group of California Grown Creators how to make her famous fire-roasted eggplant recipe which topped a luscious bed of hummus made from fresh garbanzo beans. It's a recipe he's been making since he was a child.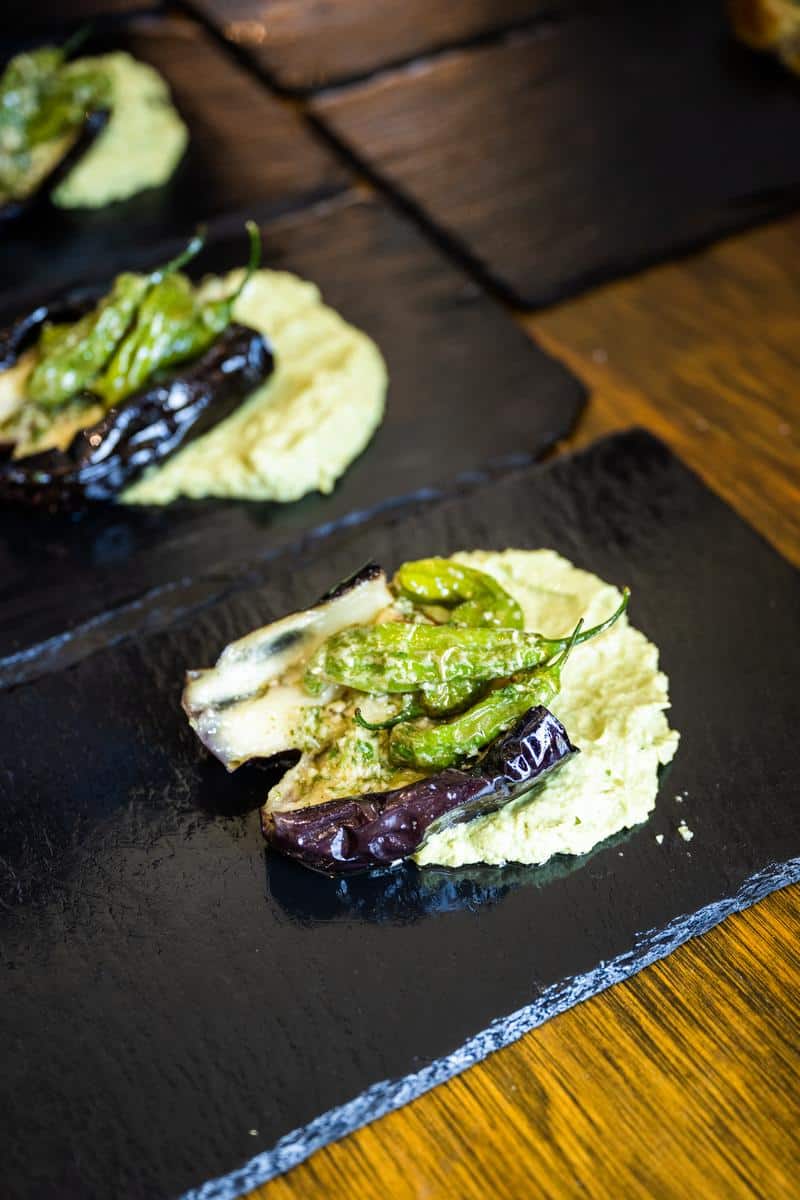 Cooking Was A Family Affair
"Growing up, my father used discipline us and your consequence will be counting the garbanzo. So we got to count the garbanzo," Hany laughs. "Mother would make me cut the eggplant and clean the eggplant and for her to use. Then we squeezed the lemons and all that kind of stuff."
It was these moments in the kitchen that inspired Hany to become a chef. "She used to say, don't play with the food. If she asked you to count the garbanzo, you count the garbanzo. If she asked you to cut the eggplant, you cut the eggplant," he remarks. "And I watched that [fire-roasted eggplant] dish and I remember the first time I made it on my own and I hand it to her and I said, here, try this."
Hany's mother was encouraging, but also wasn't afraid to critique his efforts. "She said, you're almost there. I am proud of you that you're paying attention," he remembers. "Those are the moments that make you continue to impress your parents. Cooking was in my heart from the young age," he says.
"I am the only chef in the family," Hany says proudly. "But everyone was against it when I wanted to become a chef because they said there is no future." Hany wasn't deterred. He would stay up late at night and watch Emeril Lagasse, Anthony Bourdain, and Thomas Keller. "I was inspired by all these amazing chefs that devote their heart and soul into cooking," he says. Despite his parents' reservations, Hany went on to become a chef anyway, getting his formal training in Egypt and in Europe.
Of course his parents and entire family are impressed with his accomplishments, not the least of which is helming the restaurant program at Europa Village in Temecula. Hany still cooks many of his mother's recipes, usually updating them with readily available California Grown ingredients. In this recipe for Fire-Roasted Eggplant, for example, he adds shishito peppers he sources from the farmers market.
Chef Hany's Fire Roasted Eggplants with Shishito Peppers
"Fire roasated eggplant with shishitos tops garbanzo puree made with fresh garbanzo, tahini, garlic, and cumin. The cumin vinaigrette is used on the eggplant which has garlic, salt, pepper, olive oil, lemon and lime juice and cumin," says Hany. "We serve it with baby carrots to add a little crunch. And in the restaurant we always serve it with homemade potato chips or papusas."
Chef Hany was more than happy to share his delicious recipe for Fire Roasted Eggplant with us. Of course you should definitely pair it with a glass of wine from Temecula Valley.
Here are a Few More Eggplant Recipes to Try
Share your eggplant creations with us by snapping a pic and tagging us on social using #CAGROWN.
Craving more CA Grown goodness? Follow us on Pinterest for fresh and fabulous recipe inspo!