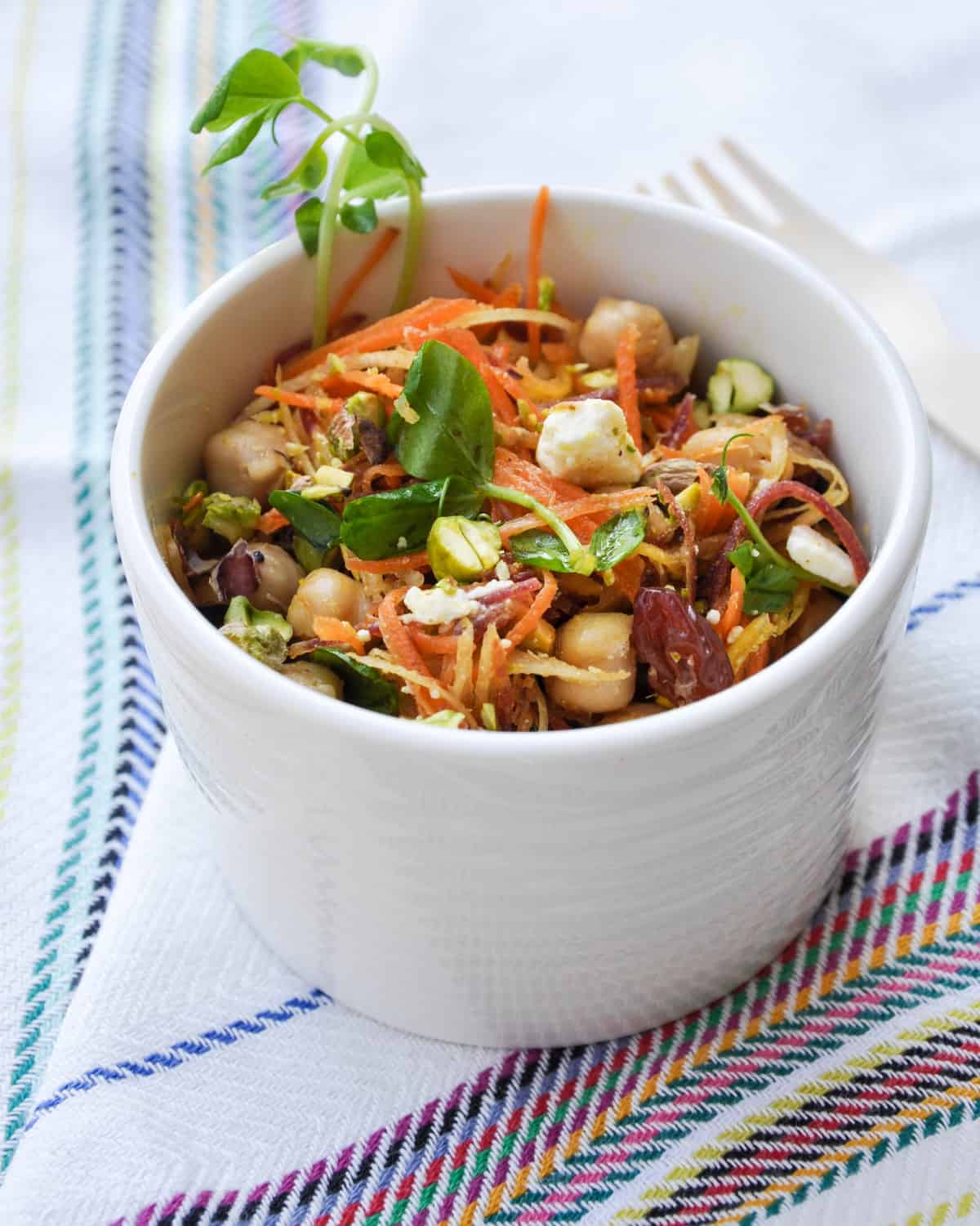 CA GROWN Blog
Discover. Learn. Connect.
California Sunshine Salad
February 24, 2016
Eat the Season!
Sign Up For Weekly Recipes
« Back to Recipes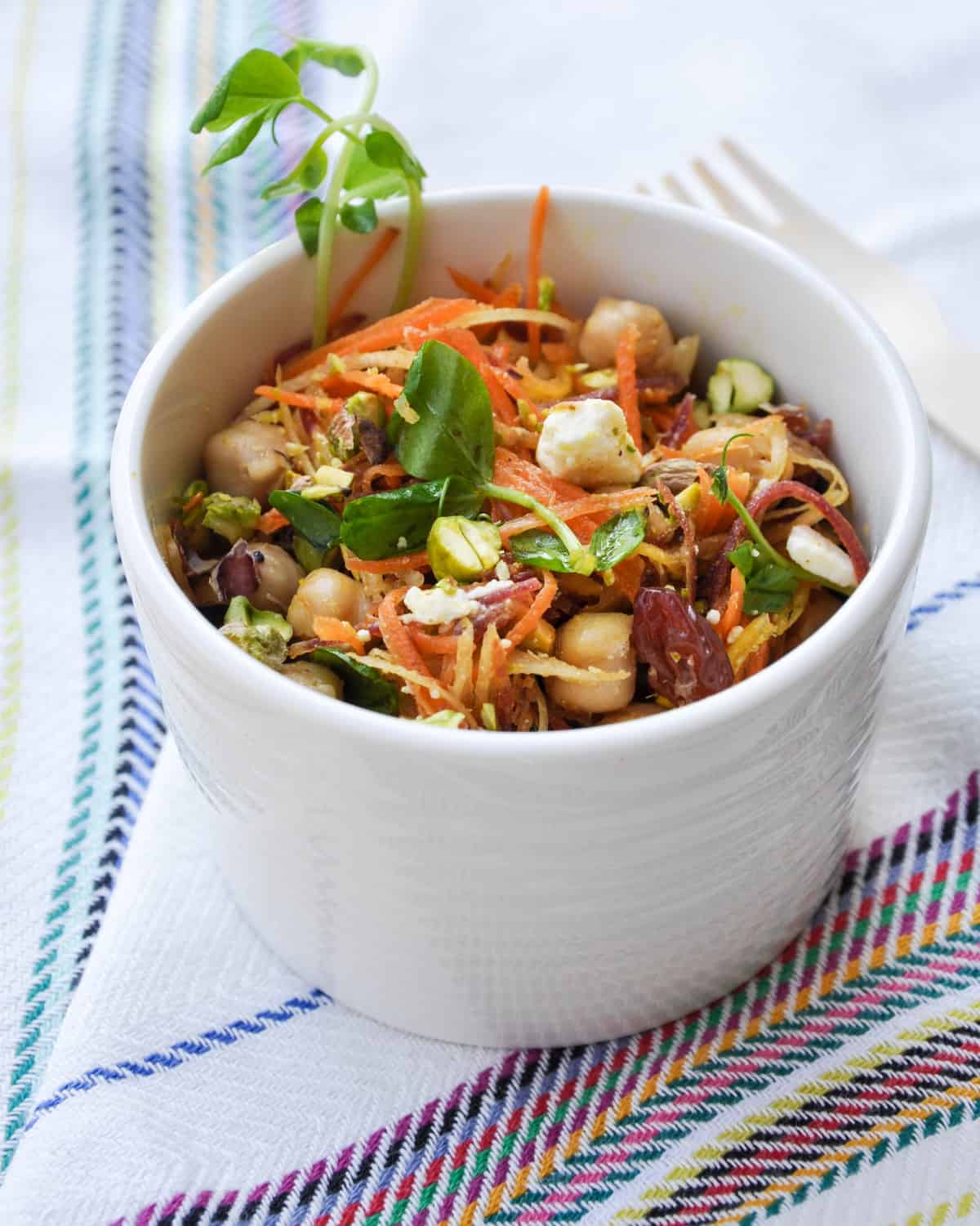 California Sunshine Salad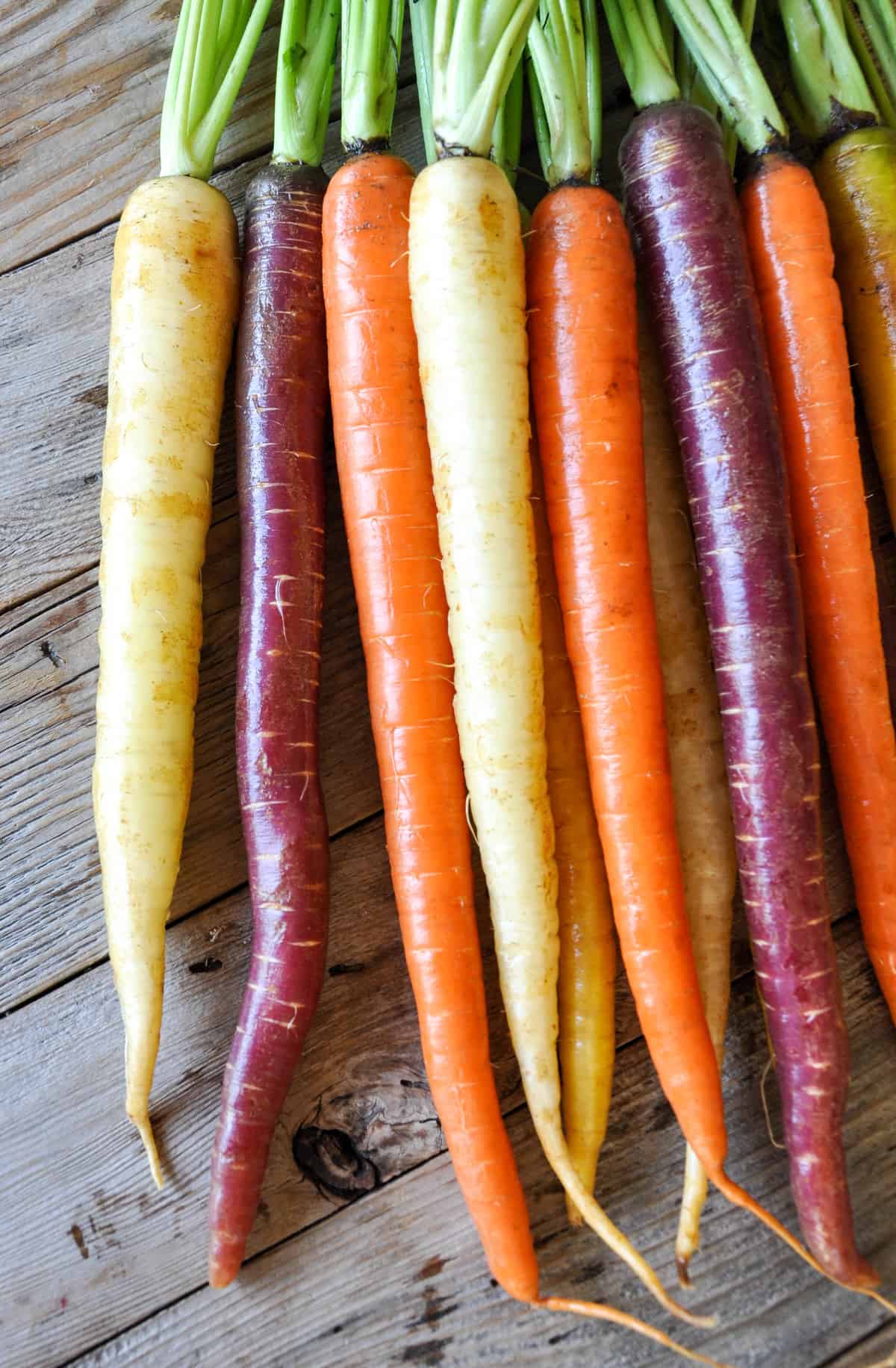 You know what makes me surprisingly happy?
Veggies that aren't so boring.
It makes them so much more fun to prepare and eat! In that case, maybe we can convince the kids of that!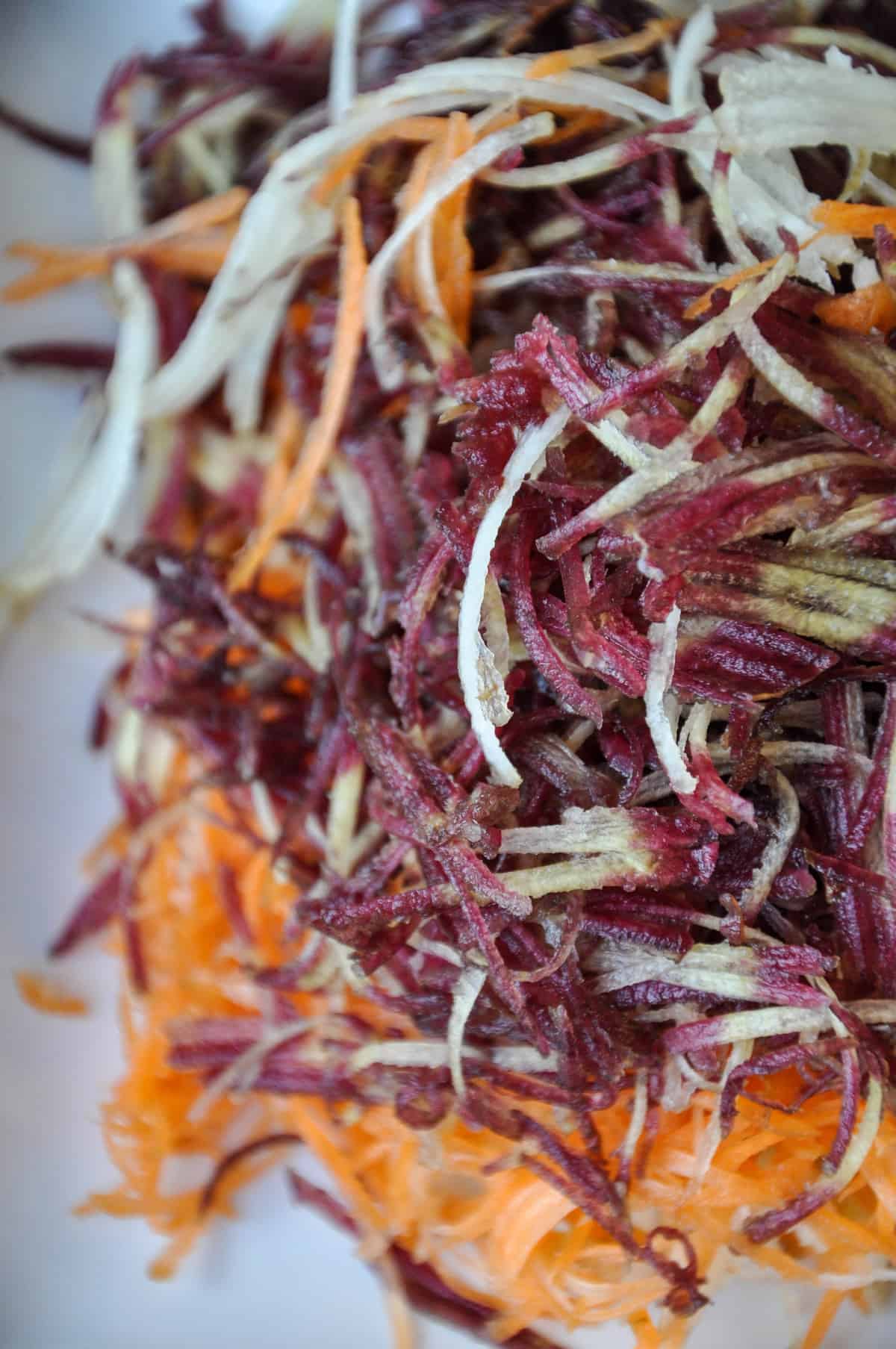 These particular beauties are from Grimmway Farm's Cal-Organic. They were fresh and crisp from the grocery store and even more were the prefect base for this salad.
Additionally, the other major players in this tasty, textural patchwork of flavors are…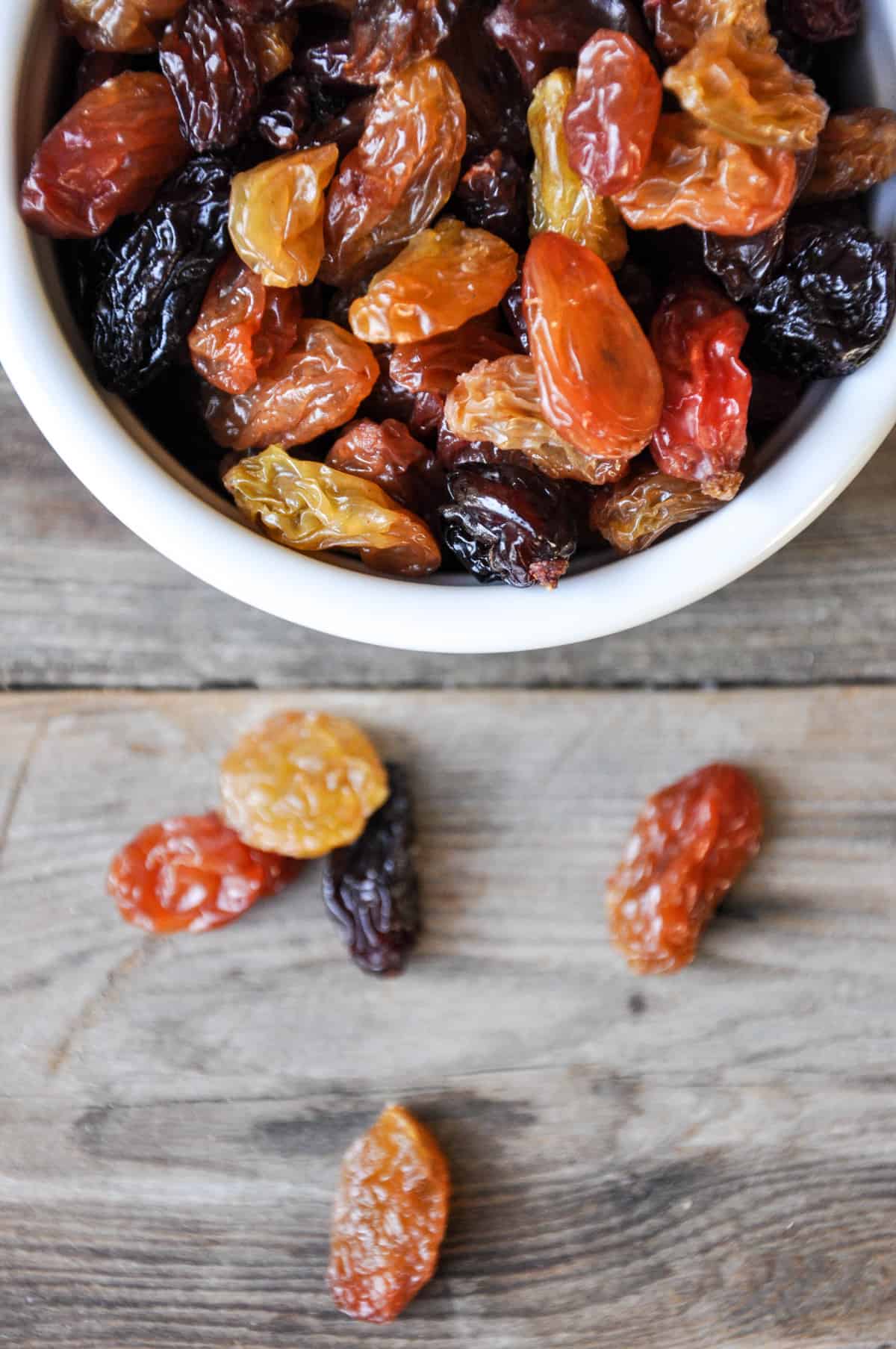 Crimson Raisins!
I didn't have to go far for these since I live near the Raisin Capital of the World! Now that you know there's a raisin capitol, did you know that 90% of all raisins are from there?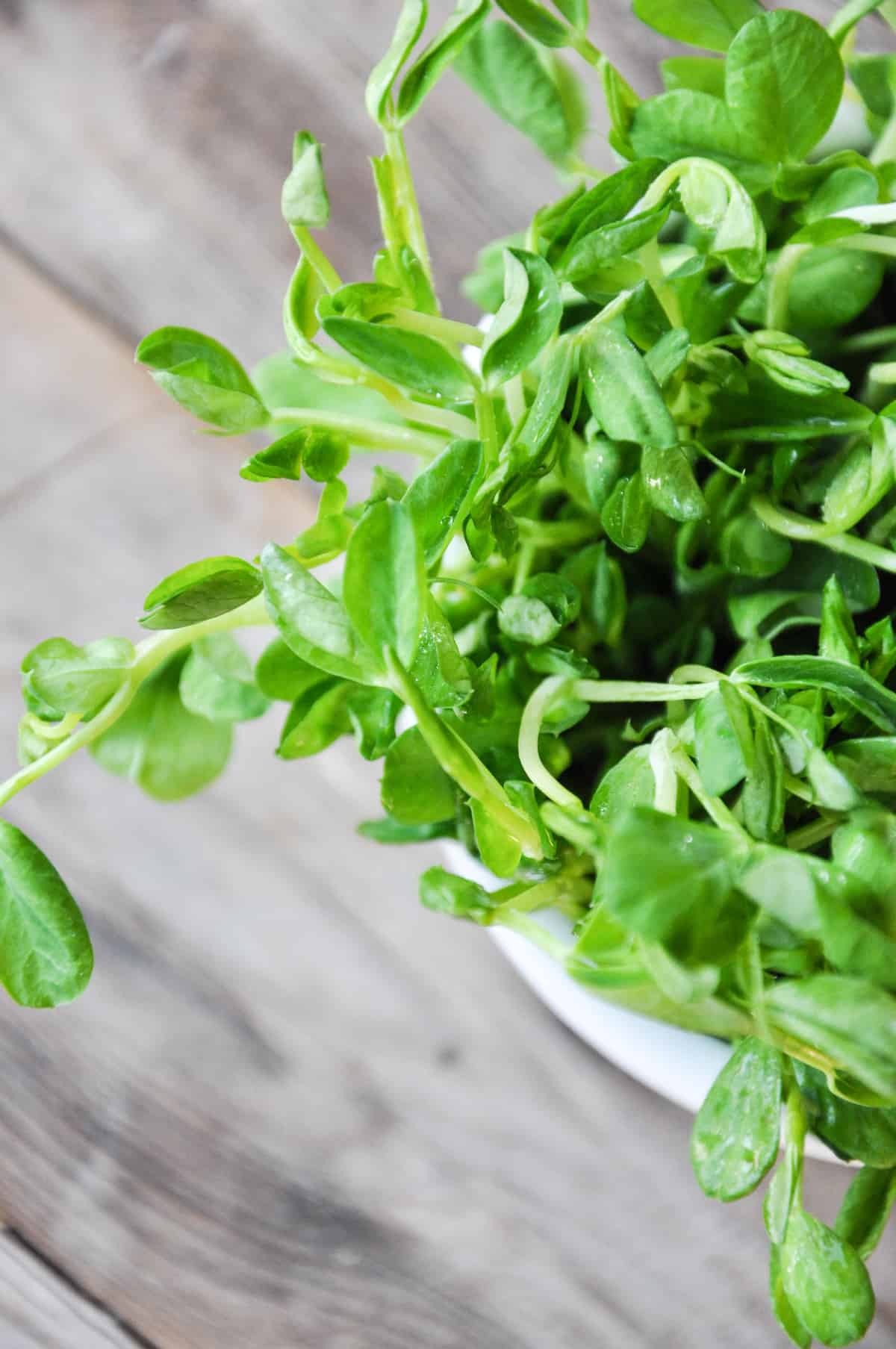 Additionally, we'll add the generally fun and popular pea shoots from Sun Grown Organics.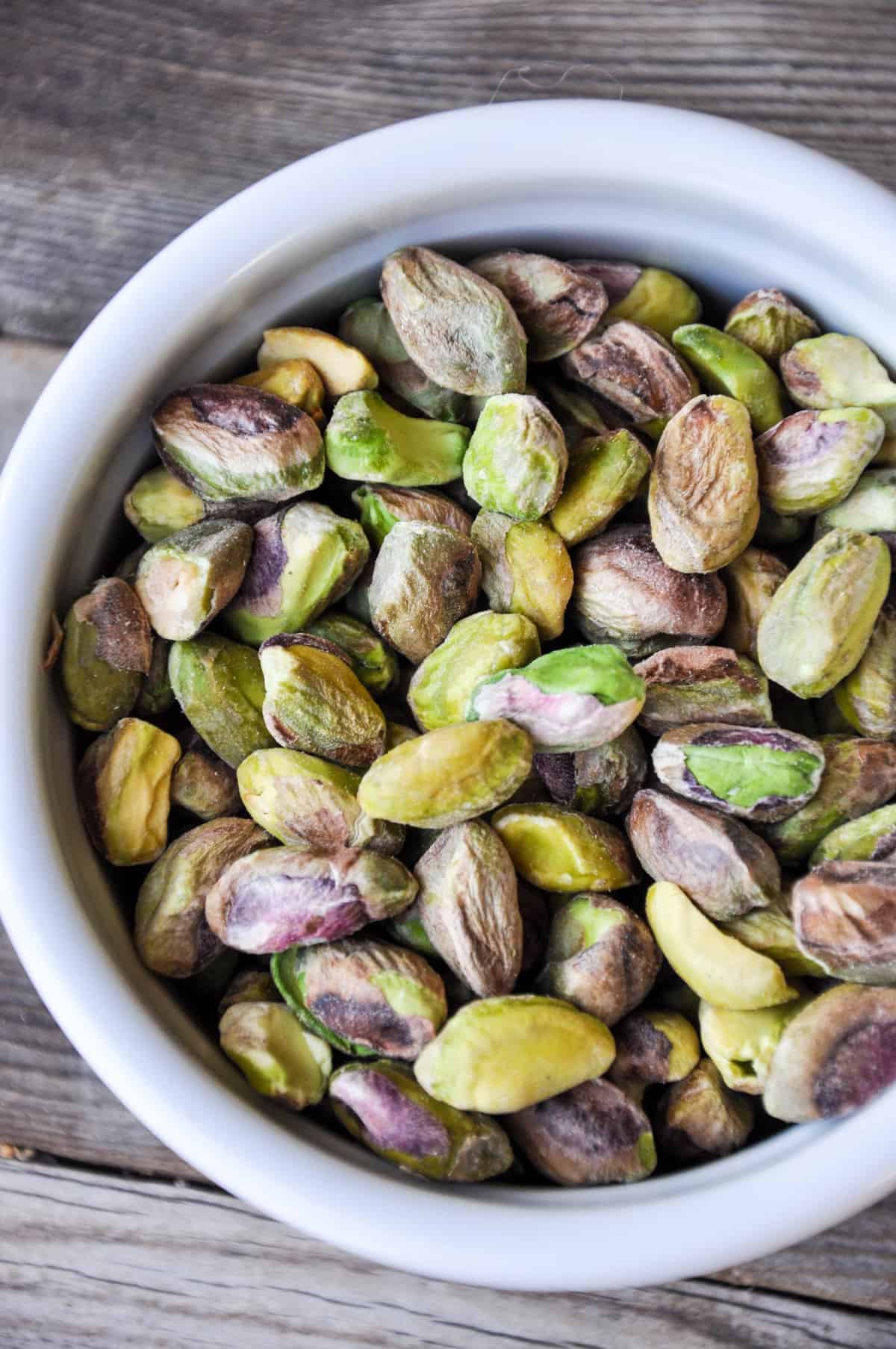 And of course, crisp and crunchy pistachios to round out the dish.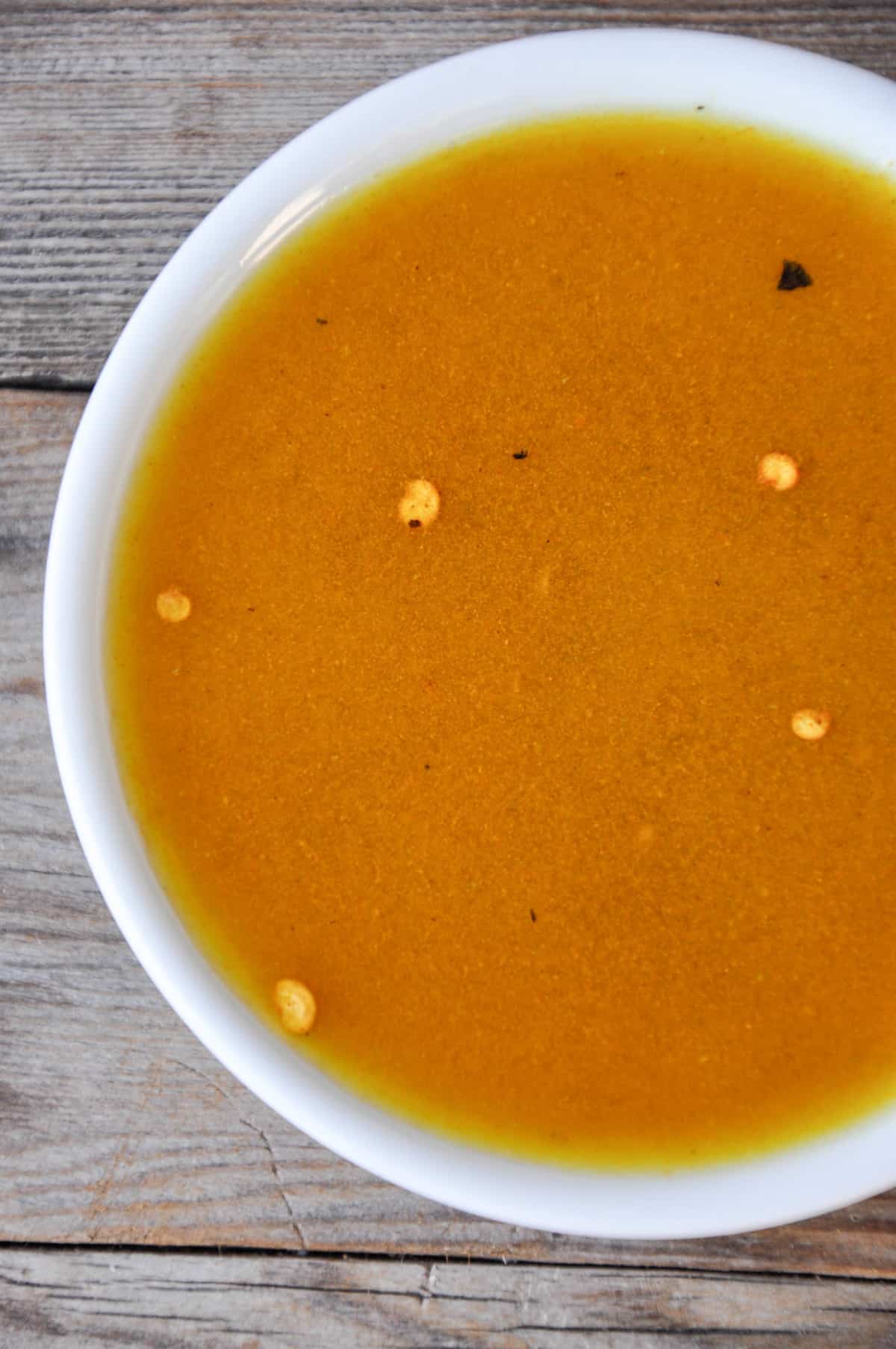 Lastly, we can't forget the tangy dressing which all ingredients will be tossed in.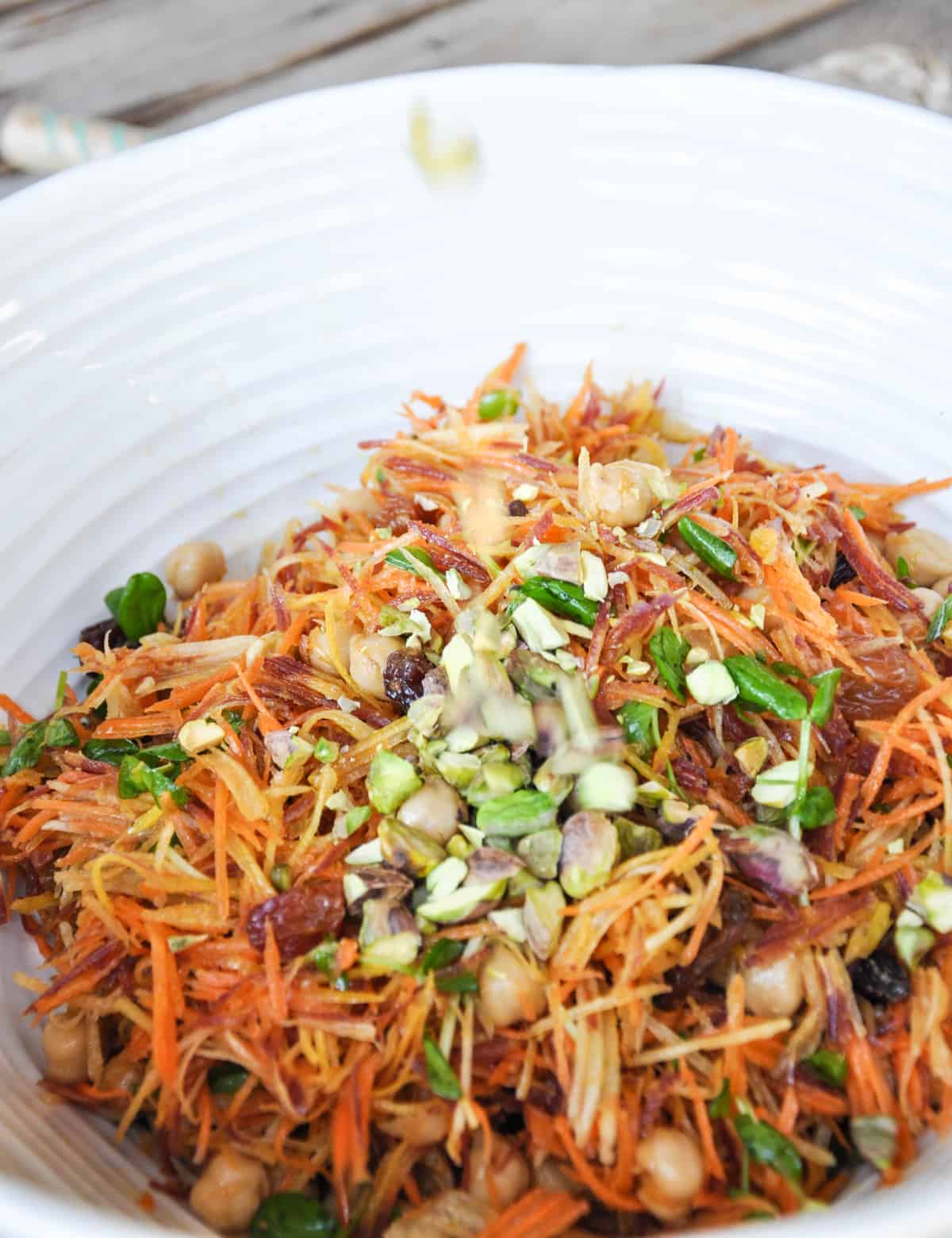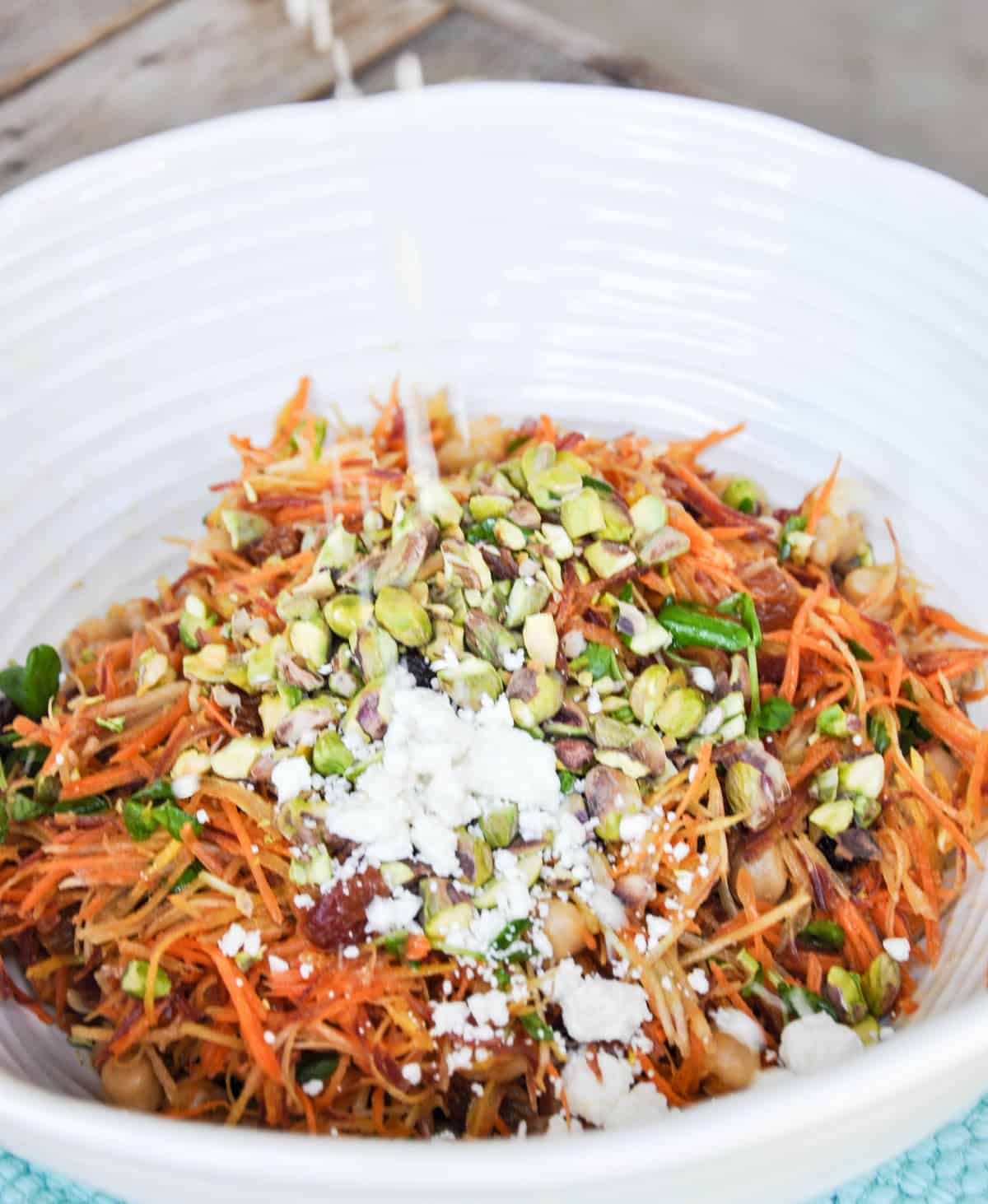 After all the ingredients are prepared and tossed in the dressing, we top the salad with pistachios and feta cheese.
All those flavors are unlike any other. Even though this entire salad is incredible, I think my favorite part is the crunch of the pistachios balanced with the softness of the raisins. But even that was a hard decision to make!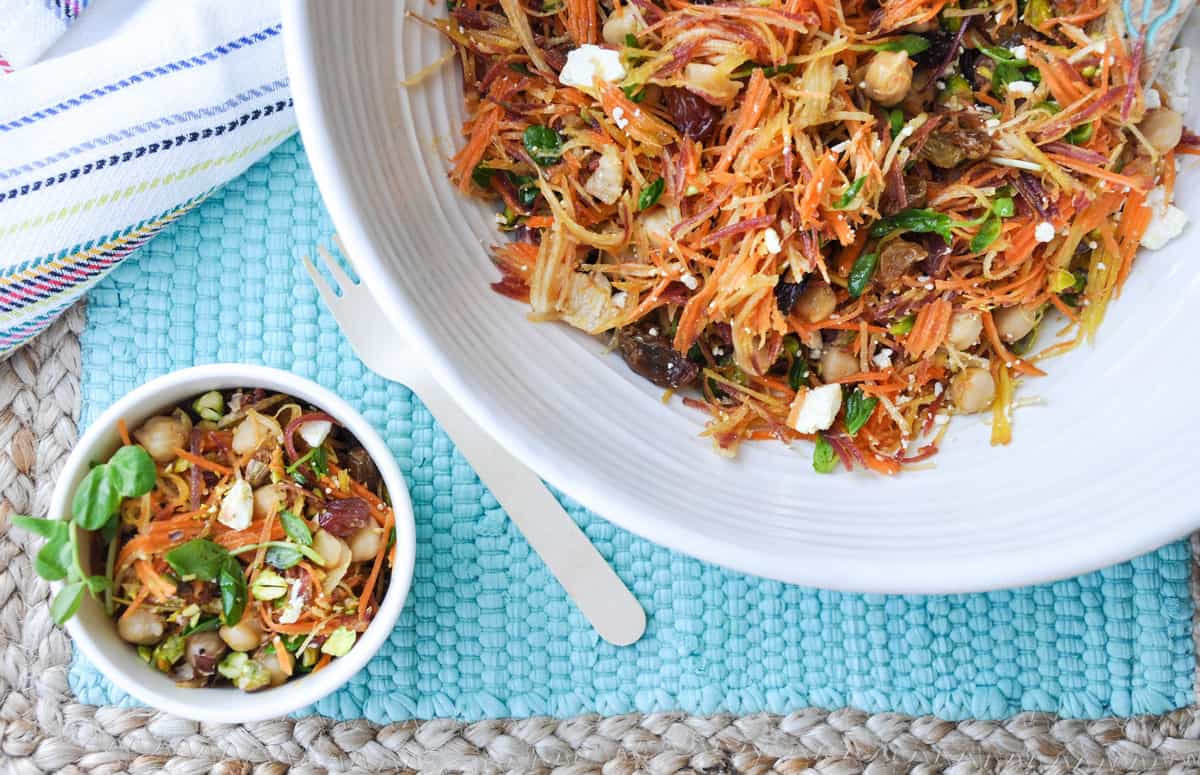 We know how tasty this looks, so we'd understand if you were starting to get hungry. After all, every ingredient taste great by itself, let alone altogether!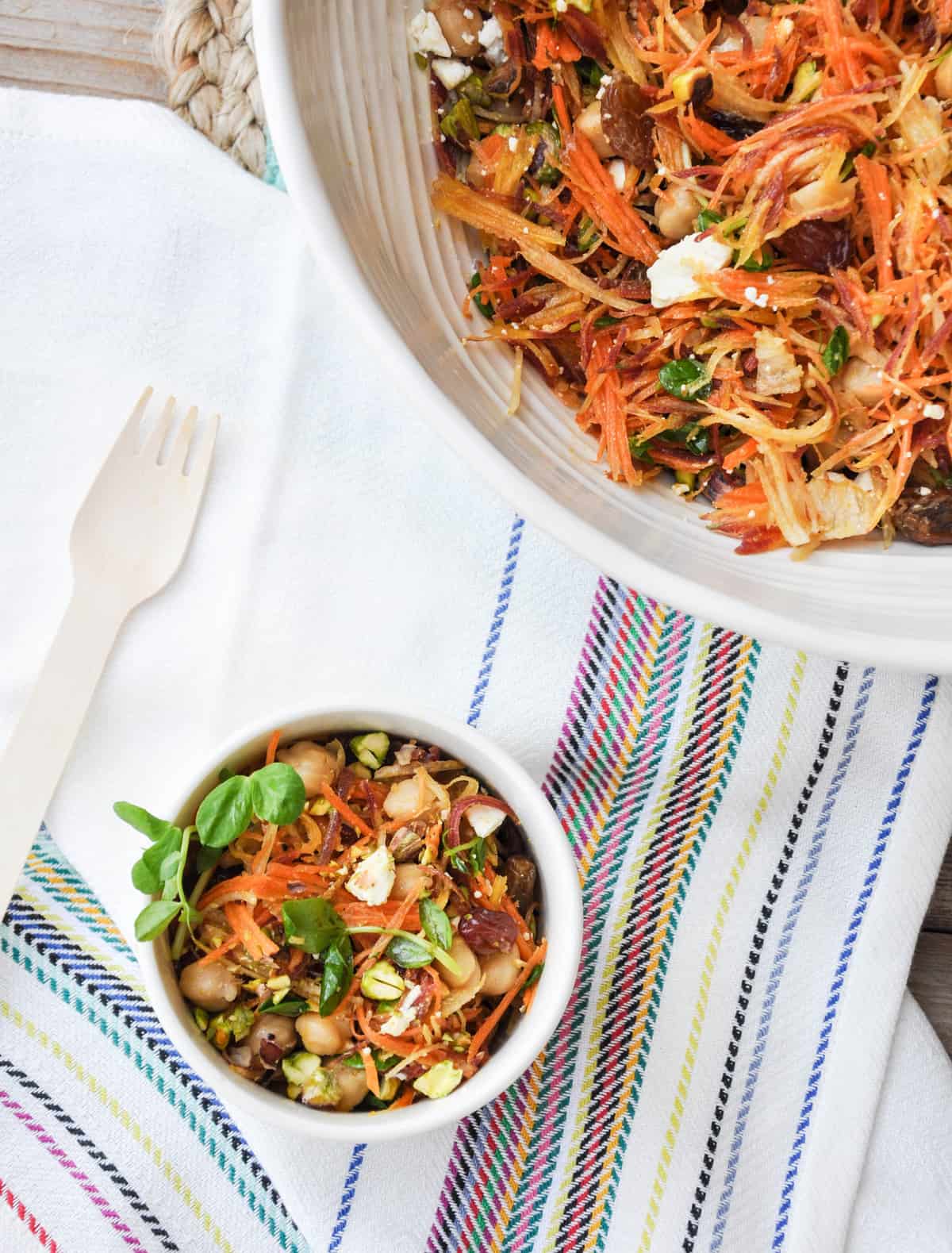 The seasoned dressing blends the tastes and textures altogether beautifully.
Different from other dishes, serve it at your next family get-together to wow your family!
Make it soon and you'll see!
Sunshine Salad
2016-02-23 13:06:27
Serves 12
Ingredients
4 cups shredded carrots
1/2 cup crimson raisins
1 can garbanzo beans, rinsed and drained
1/2 cup pea shoots, stems removed
1/2 cup chopped pistachios
1/2 cup crumbled feta
FOR DRESSING
3 T. Olive Oil
1 Lemon, juiced
1/2 t. cumin
1/4 t. tumeric
Pinch of ground cloves
Salt and Pepper
Instructions
Add the carrots, garbanzo beans and pea shoots to a large mixing bowl. Set aside
Combine all the dressing ingredients and whisk to combine
Toss the dressing with the ingredients in the bowl
Add the pistachios and feta and toss lightly
Serve immediately
Notes
Will keep in refrigerator for a few hours.
Adapted from Inspiration
California Grown https://californiagrown.org/