Sans Liege Wines; Unforgettable Wines From A Unique Winemaker
We recently spent a day at Tin City in Paso Robles where we visited the Sans Liege tasting room. Sans Liege wines from winemaker Curt Schalchlin offer a unique wine-tasting experience! This winemaker uses the native yeasts from each varietal's vineyard in the winemaking process creating truly one-of-a-kind wines.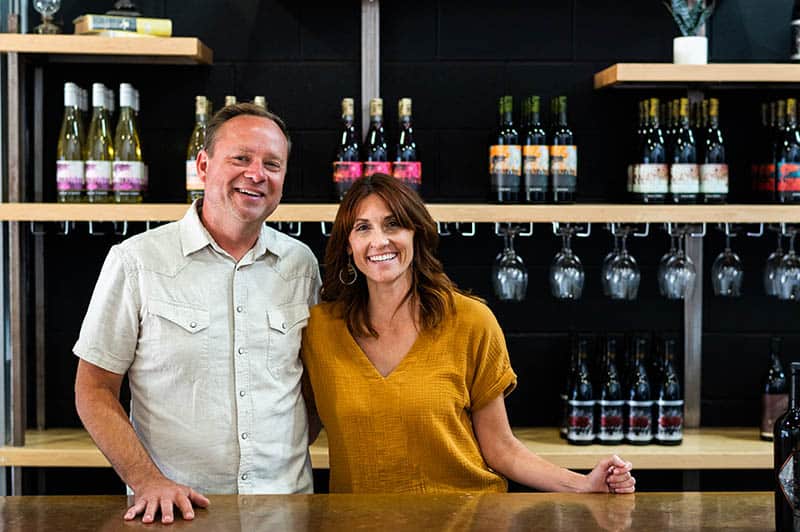 "Sans Liege is my relentless search for independence. Equally aligned with the freedoms of the New World and the heritage of the Rhône Valley, I am careful not to hold too closely to either.

Tending fruit to vineyards that have captured my heart from Paso Robles down to Solvang, these sites speak for me and I for them; the only partners now on this path I tread."

– Curt Schalchlin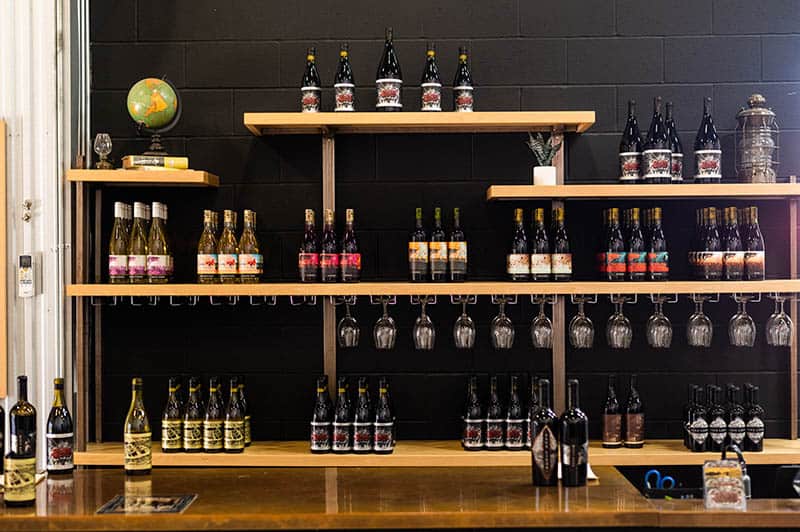 Team tasting notes: Sans Liege Wines Paso Robles, California.
Some of our California Grown Creators recently visited the Sans Liege tasting room and wrote about their experience. They all had different takeaways but agreed their time with Curt tasting Sans Liege wines was unique and inspirational. Each also unanimously agreed that the offerings at this tasting were not only delicious but eye-opening as well.
Overall, our creators left the tasting room with an intimate knowledge of the magic that can happen when a winemaker is allowed to follow the beat of his own drum -both in the vineyard and in the winemaking process.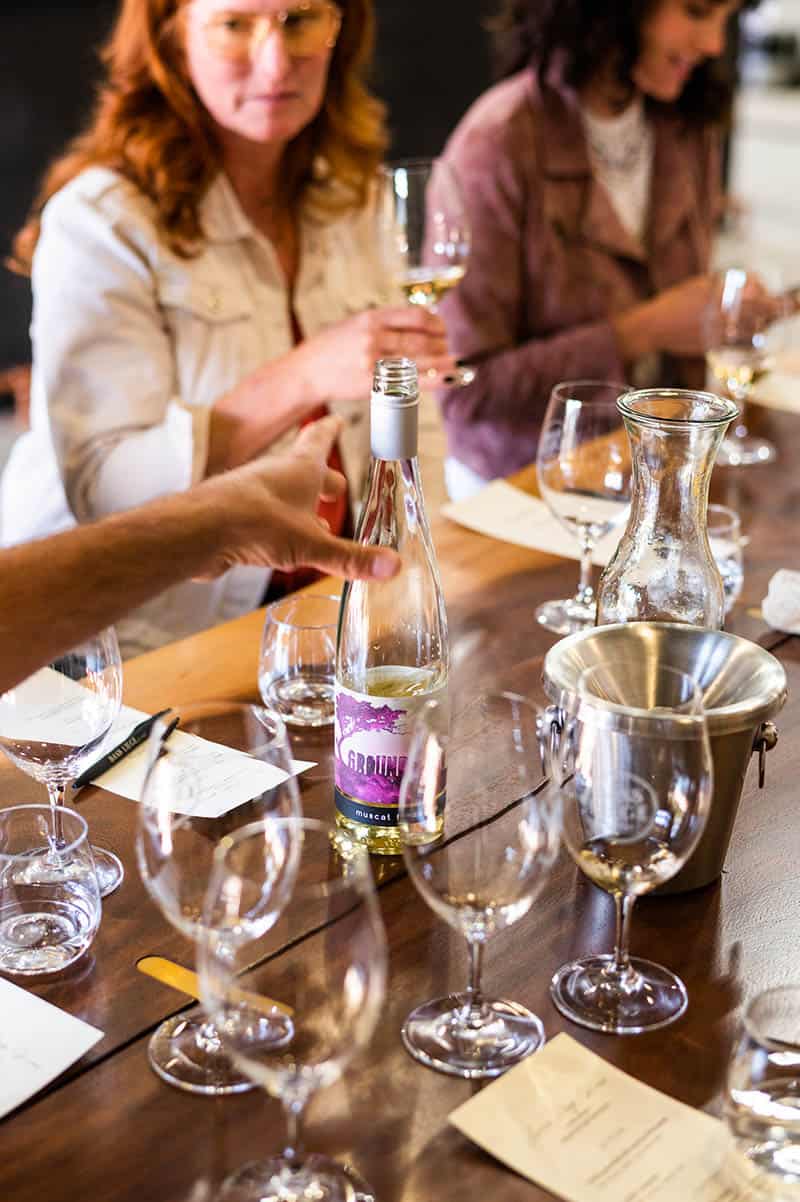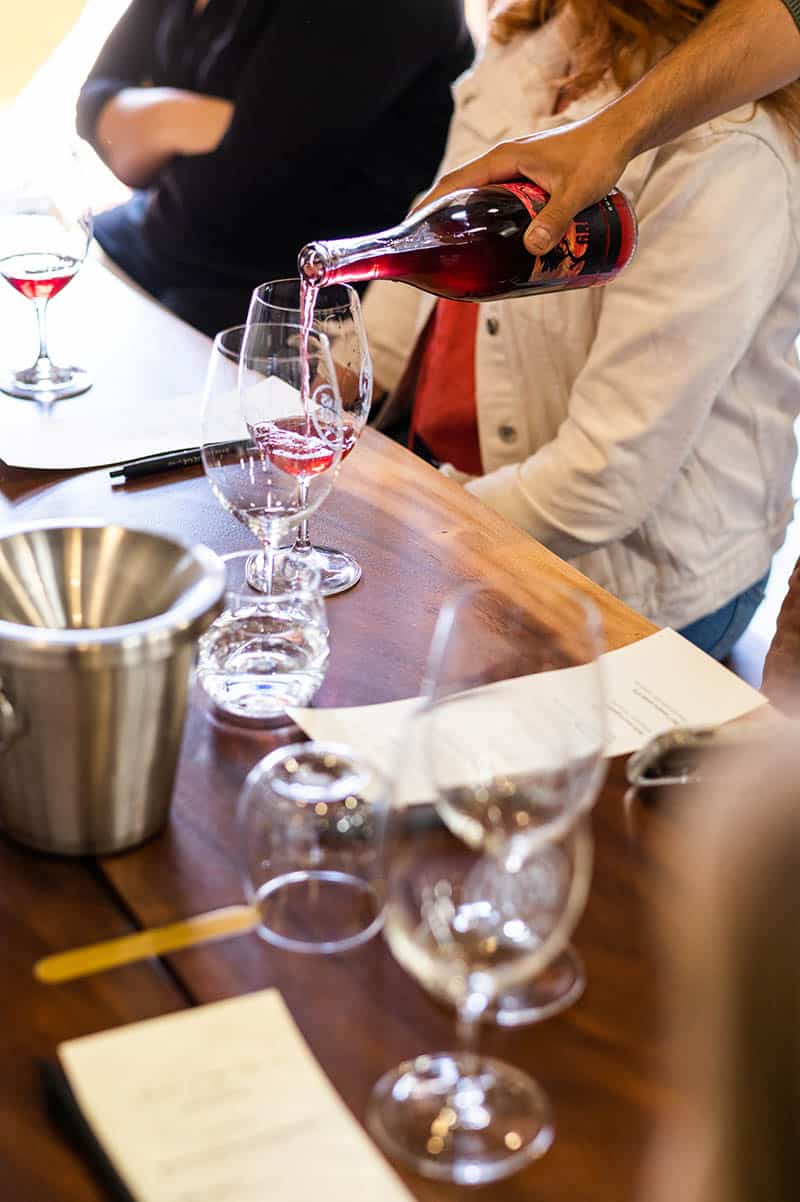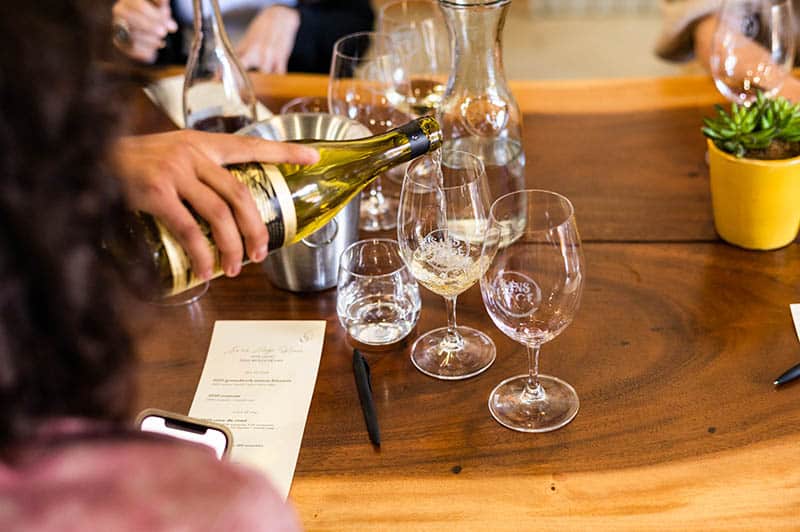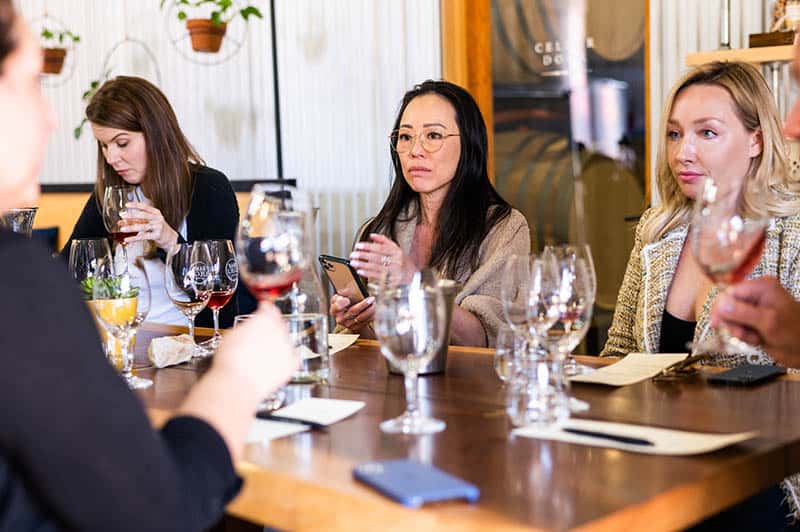 "From how grapes for Curt's wines are harvested, to how they capture native yeast from the specific varietals vineyards themselves instead of using commercial yeast in the winemaking process – every step this winemaker takes to make Sans Liege wines is unique, fascinating, and inspiring!"

Click here to learn more about Meg's trip to Paso Robles, Ca.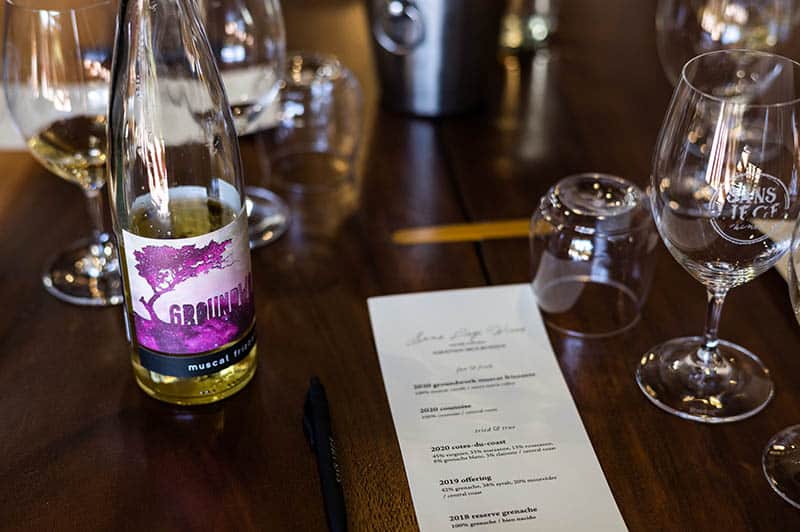 "Curt is serious about expressing the true essence of a wine by going as far as capturing native yeasts in the vineyards for fermentation rather than relying on commercial yeasts, but also has fun with different techniques like old-school carbonic maceration and force carbonation to create a playful fizz."

Click here to learn more about Sarah's trip to Paso Robles, Ca.
Curt also creates wines and cider under other labels that are worth exploring too!
Groundwork: These wines focus on one grape and have less winemaker influence than the Sans Liege brand (i.e. minimal oak influence, shorter aging cycles, and less concentration). These wines are the foundation of the winery, providing more understanding of each varietal in its most pure form and providing building blocks to begin the creation of Sans Liege Wines.
The Fabelist: This wine is a collaboration between winemakers Curt Schalchlin and Andrew Jones. Curt, owner and vintner of the heralded Sans Liege winery, is known for his critically acclaimed Rhone varietal wines. Andrew, the winemaker of Field Recordings, spends his days planning and planting vineyards and has stood foot in just about every vineyard on the Central Coast. Together, they produce The Fableist, a collaboration that gives special attention to the craft and story behind each wine.
Tin City Cider: Curt and Andrew also teamed up to create Tin City Cider which produces carefully crafted cider made in Tin City, Paso Robles, California with the best California apples. They offer cider by the flight, glass, or pitcher. It is a spacious family-friendly taproom and patio with outdoor games and this location is dog friendly too!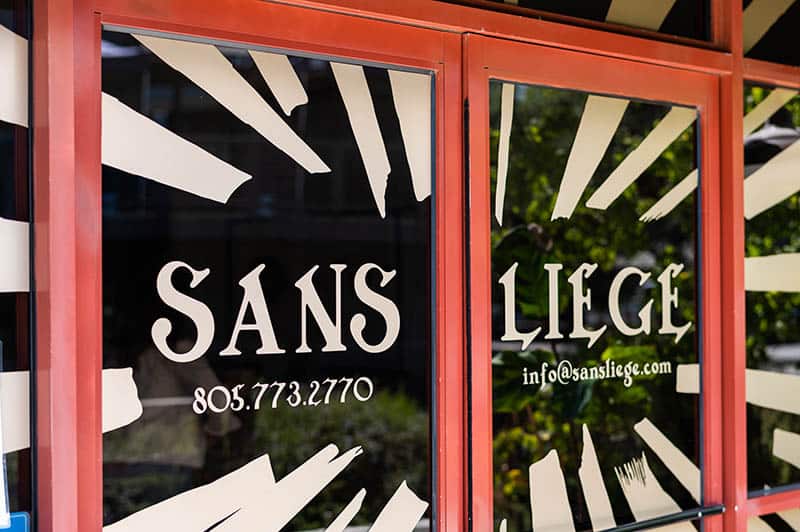 How to plan a tasting at the Sans Liege tasting room in Paso Robles.
The Sans Liege Winery and tasting room are located in Tin City, Paso Robles conveniently off Highway 101. Planning a trip to the tasting room is super easy with appointments available 7 days a week.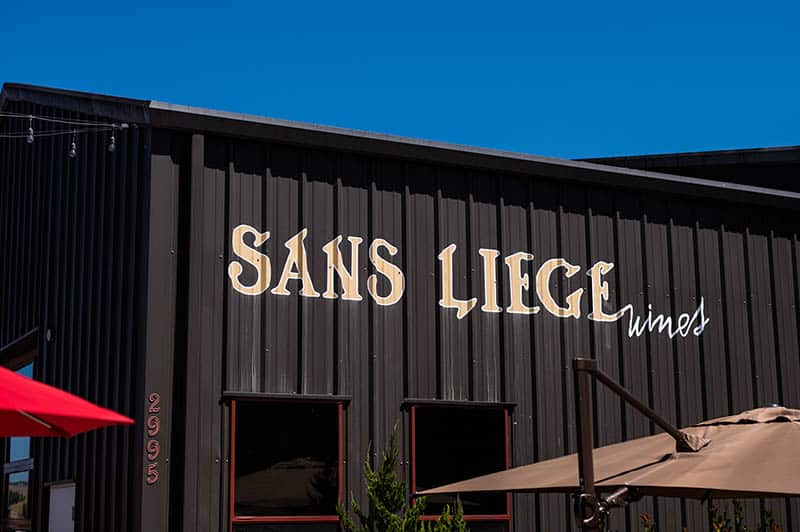 Where is the Sans Liege tasting room located?
2995 Limestone Way
Paso Robles, CA 93446
Call: 805-773-2770 (ext 2) or email at info@sansliege.com
Max 8 per reservation.
Monday – Sunday 11 am-5 pm
Do you need an appointment to taste wines at Sans Liege?
We highly suggest an appointment to set up a tasting at Sans Liege wines.
How much are the tastings at Sans Liege?
Tastings cost $20 and that fee is waived with a 2-bottle purchase.
Planning a trip to Paso Robles, California? let us be your guide!
Tin City, where Sans Liege winery and tasting room is located, is home to over 20 establishments within walking distance which include many wineries, Tin City Cider, a brewery, a distillery, and a restaurant.
You can literally plan a whole day just tasting all of Curt's phenomenal creations around Tin City! Start early afternoon at Sans Liege, head to Tin City Cider for a cider flight and a few games, grab a bite of lunch, then end your day at Fabelist.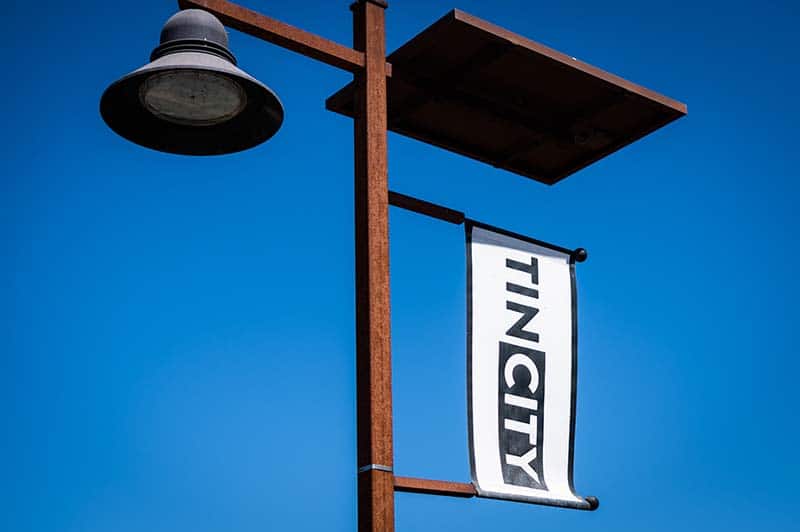 What is Tin City in Paso Robles?
You could spend more than a few days strolling around tasting everything that Tin City has to offer.
Tin City is an evolving industrial market where the community comes together to partake in craft wine, beer, and spirits from over 30 small-production wineries, craft breweries, distilleries, and artisan food makers.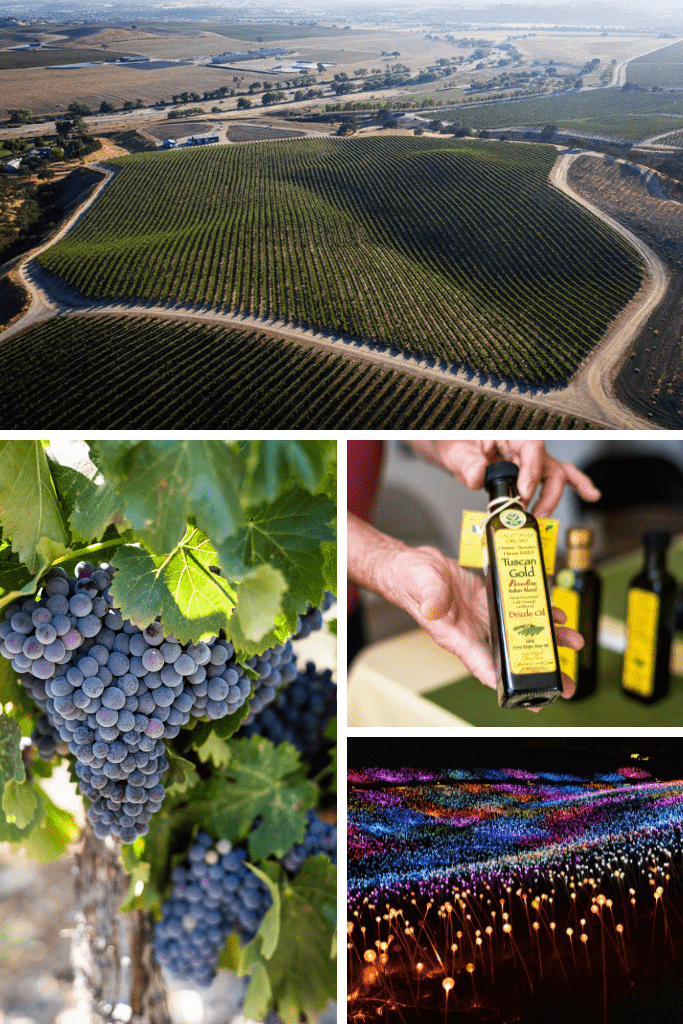 Nestled between the bountiful farmland of the Central Valley and the picturesque coastline, lies wine country in the heart of California which surrounds the City of Paso Robles.
Paso is best known for the many award-winning wineries and vineyards that blanket the nearby oak-studded hills.
Paso is a wine lover's destination that is not to be missed, with over 40-thousand acres of wine grapes grown in the area and more than 275 wineries!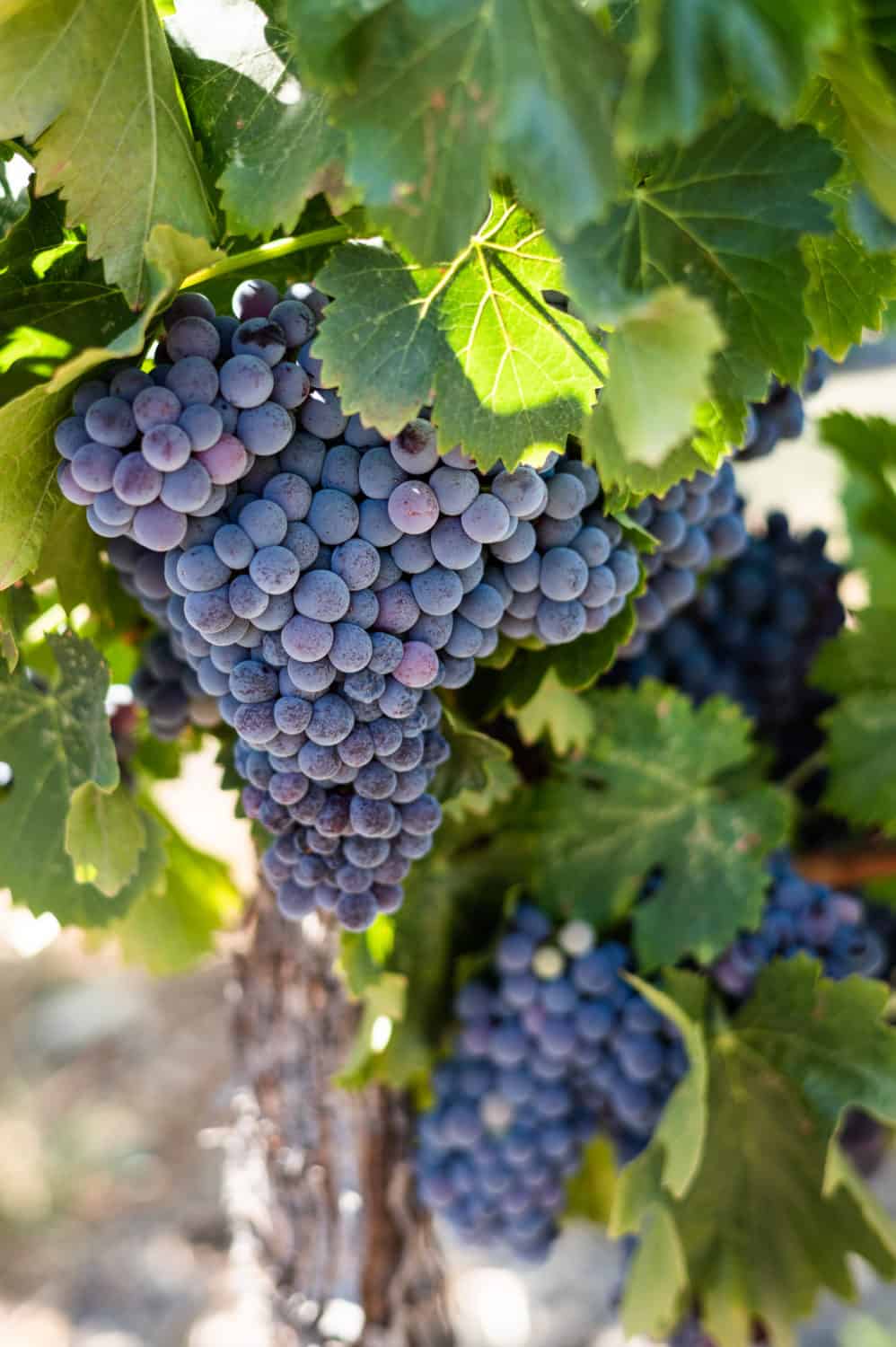 For centuries, travelers flocked to Paso Robles to experience rolling hills, coastal beauty, and mineral hot springs.
The romantic backdrop remains, but today, the city's biggest draw is undeniably the wine.
This article was written by Meg van der Kruik. Photo credit James Collier for California Grown.