Heringer Estates Winery: Why Sustainability Matters
Heringer Estates is a sustainable family-owned winery that's been part of the Sacramento community for six generations.
The Heringer family has been farming in Clarksburg, a small town outside of Sacramento, since 1868. Having lived off the land for six generations, they truly understand the importance of sustainable farming and winemaking.
The journey from farming to winemaking
Mike Heringer, owner and winemaker at Heringer Estates, proudly shares how the family transitioned from diversified agriculture to focusing primarily on winemaking.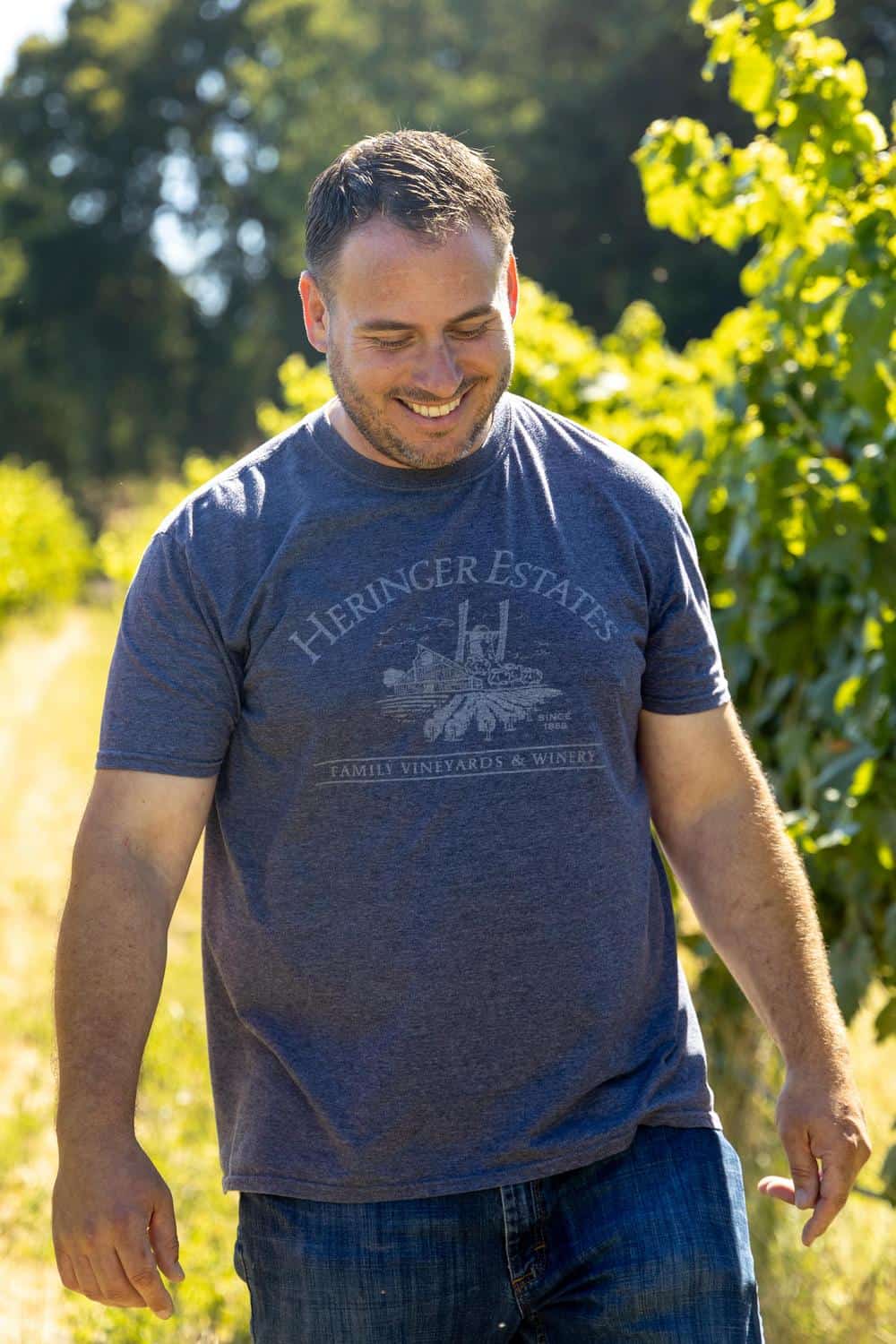 Explaining how his father's side of the family immigrated from Holland to farm, he notes they grew a wide variety of crops for the first few generations – crops like sugar beets, tomatoes, corn, pear, and alfalfa. In 1970, Mike's grandfather planted the family's first vineyard. The next decade was challenging for the family. Of the 11 brothers and cousins previously involved in the operation, only Mike's father, Steve Heringer, and his uncle survived through a series of bad crop years. "As the economy and crop transitions have changed in California, permanent crops, such as wine grapes, were one of the ways that we could sustain the farm for future generations. We started as grape growers, selling our grapes to wineries throughout Northern California."
In 2002, Heringer Estates made its first foray into winemaking. While studying viticulture and enology at Fresno State, Mike wanted to try his hand at winemaking using the grapes from his family vineyard. His father, Steve, was excited about the potential opportunity to take the family business in a new direction. Together, they crafted Heringer's very first wine, a Petit Sirah. After graduating the next year, Mike assumed the reins at the family's fledgling winery.
Fun fact: That same Petit Sirah, Embrace, has a special significance to the Heringer family. Not only was it the family's first vintage, but it was also served at Mike's wedding to his wife Estela in 2004.
What is Estate-Grown?
Heringer Estates wines are estate grown, which means that the wine is made exclusively with grapes grown in a vineyard owned by that particular winery. "One of the unique things about growing estate wines is that we're not only responsible for the production in the vineyard, but we're also responsible for the winery. We're growing the grapes, we're making the wine, and then we're selling the wine out of our tasting room. So, we've gotta be good at a lot of things. There's a lot of opportunity for members of the family to be involved if they choose to take that career path."
Despite the winery's popularity and success, Heringer Estates is still very much a family-run operation. Mike's brother, Stephen, oversees the farming operation, while his sister, Stacy, runs the wine club. Even the youngest generation is involved in day-to-day chores like pulling leaves and planting vines. Mike recounts, "I grew up on the farm, and I've had the opportunity to share that with my kids. Having that continuity and experience has been a blessing for our family."
From diversified agriculture to a diverse portfolio
Because of Clarksburg's unique climate, Heringer is able to grow over 26 different varieties of winegrapes. "Clarksburg is, in my opinion, one of the best places to grow wine grapes. One of the beautiful things about our region is its diverse climate. We're 50 miles as the crow flies from Napa and the Bay Area. The breezes come through the marina straight, straight off the bay, and land right here in Clarksburg, which moderates our temperature, and allows us to grow a diverse portfolio of really great wines," Mike explains. "We started with just two varieties, Petite Sirah and Chardonnay, and we've slowly expanded to explore and showcase the diversity of the region's ability to grow premium wine grapes. We've got whites such as Chardonnay to Chenin Blanc, Pinot Grigio, Sauvignon Blanc, Muscat, and lighter reds such as Pinot Noir and Grenache to heavy reds like Petite Sirah. So we've got a little bit of everything for everybody."
Sustainability: aka the courage to do what is right
The story of Heringer Estates is truly one of sustainability. A multi-generational farm family tied closely to the land, the Heringer family truly understands the importance of protecting and preserving it for the next generations. Mike laughs, "My dad has always said, 'You can't have farmed for six generations and not have been sustainable'. I think the easiest way to define sustainability for us is having the wisdom to know what is right and the courage to do what is right, even when it's hard. So that relates to sustainability in how we relate to our environment and our vines, how we relate to our employees, our community and our customers, and making sure that is economically feasible as we implement and execute it."
Environmental Sustainability
Although the Heringer family has farmed sustainably for generations, in 2009 the vineyard and winery were certified sustainable through Lodi Rules. In addition to standard practices like water conservation, installing solar panels and planting cover crops, Heringer Estates uses owls to help control unwanted pests and rodents in the vineyard.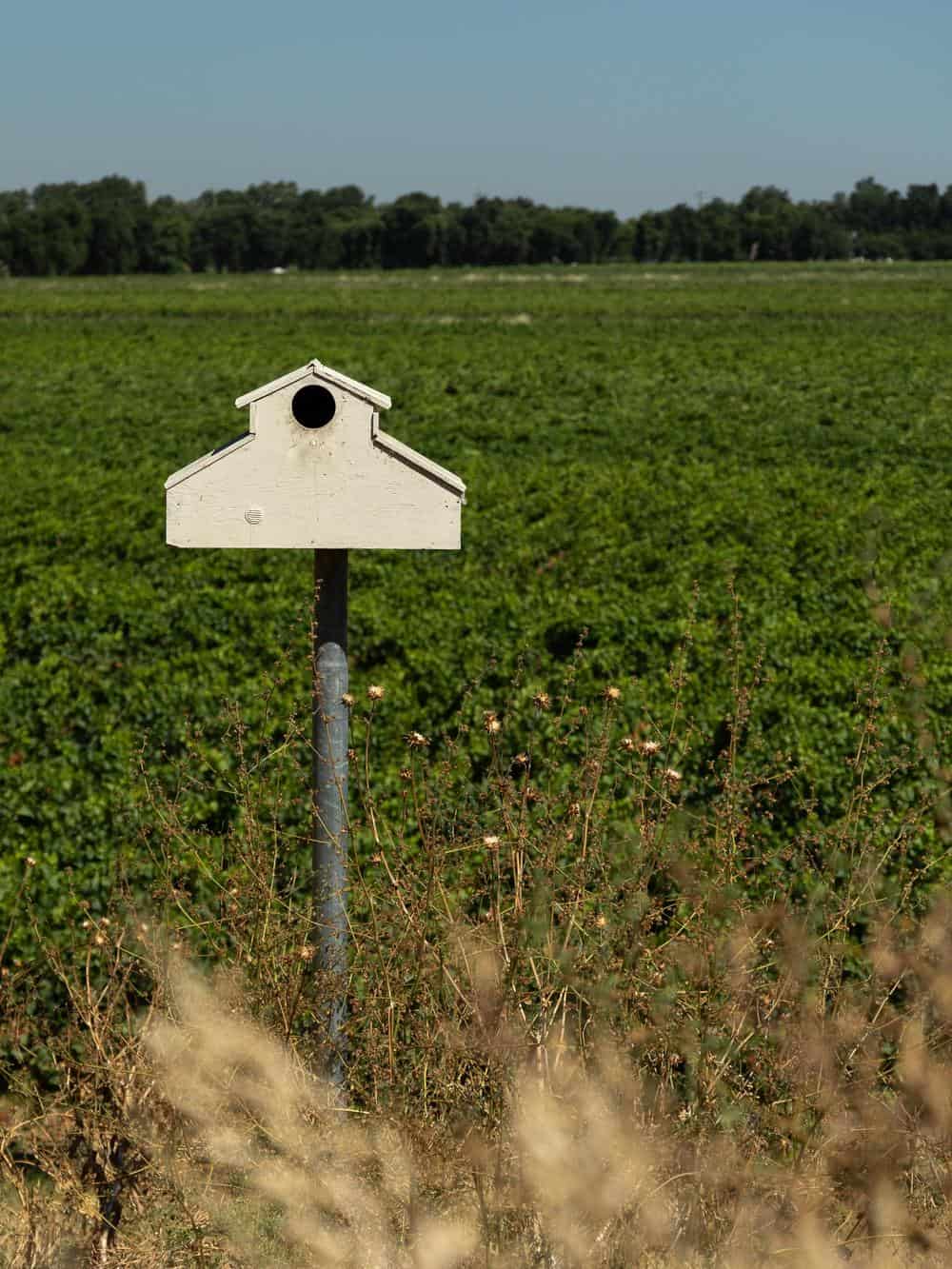 In fact, they've turned their annual owl release into a community celebration. "Probably the best example of our environmental sustainability that everybody can relate to is our Owl Release Party. We release owls on the property annually in partnership with a nonprofit, Wildlife Care Association. They're a wildlife rehabilitation in, uh, the heart of Sacramento. So, every year we host our annual Owl Release release. We host guests, they enjoy wines by the glass and picnic in the beautiful yard under the oak trees. At the end of the evening, we release an owl at dusk."
Community Involvement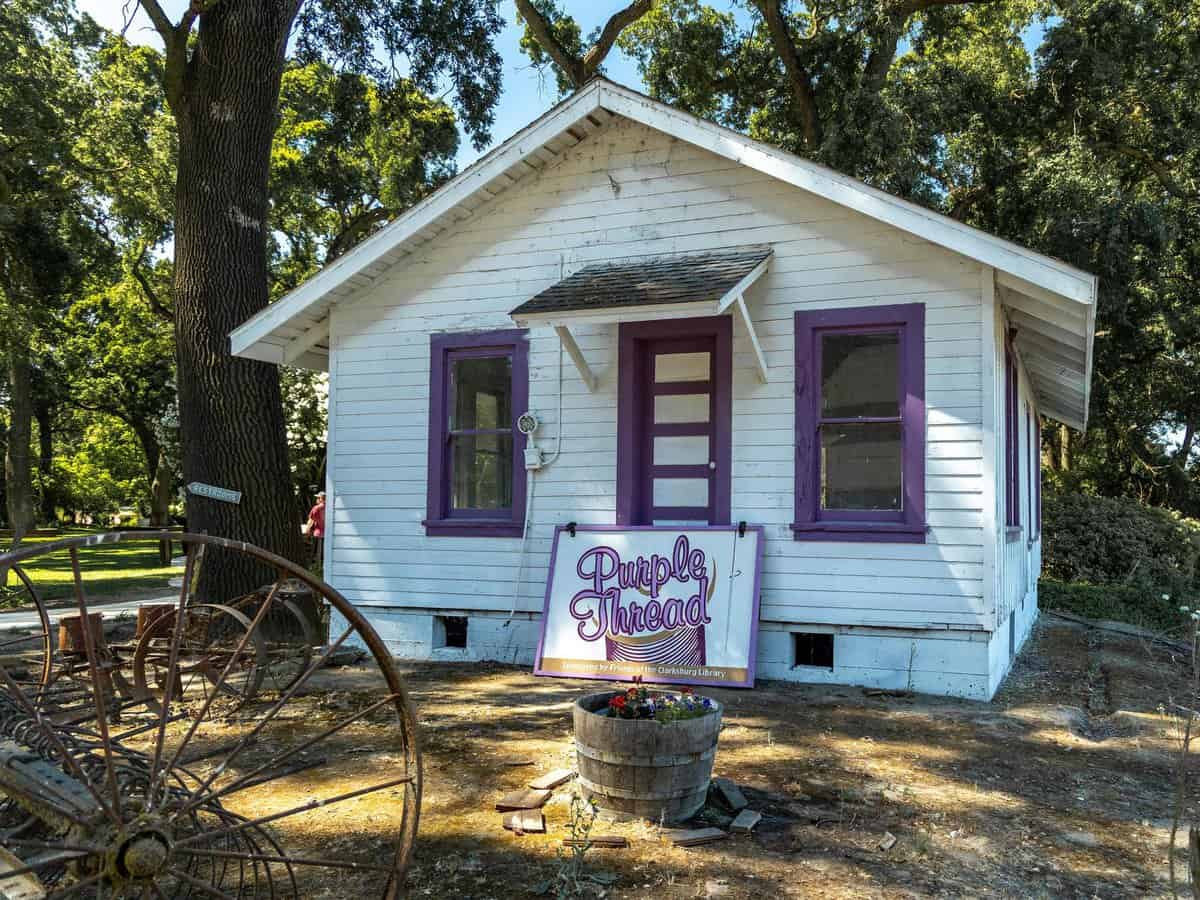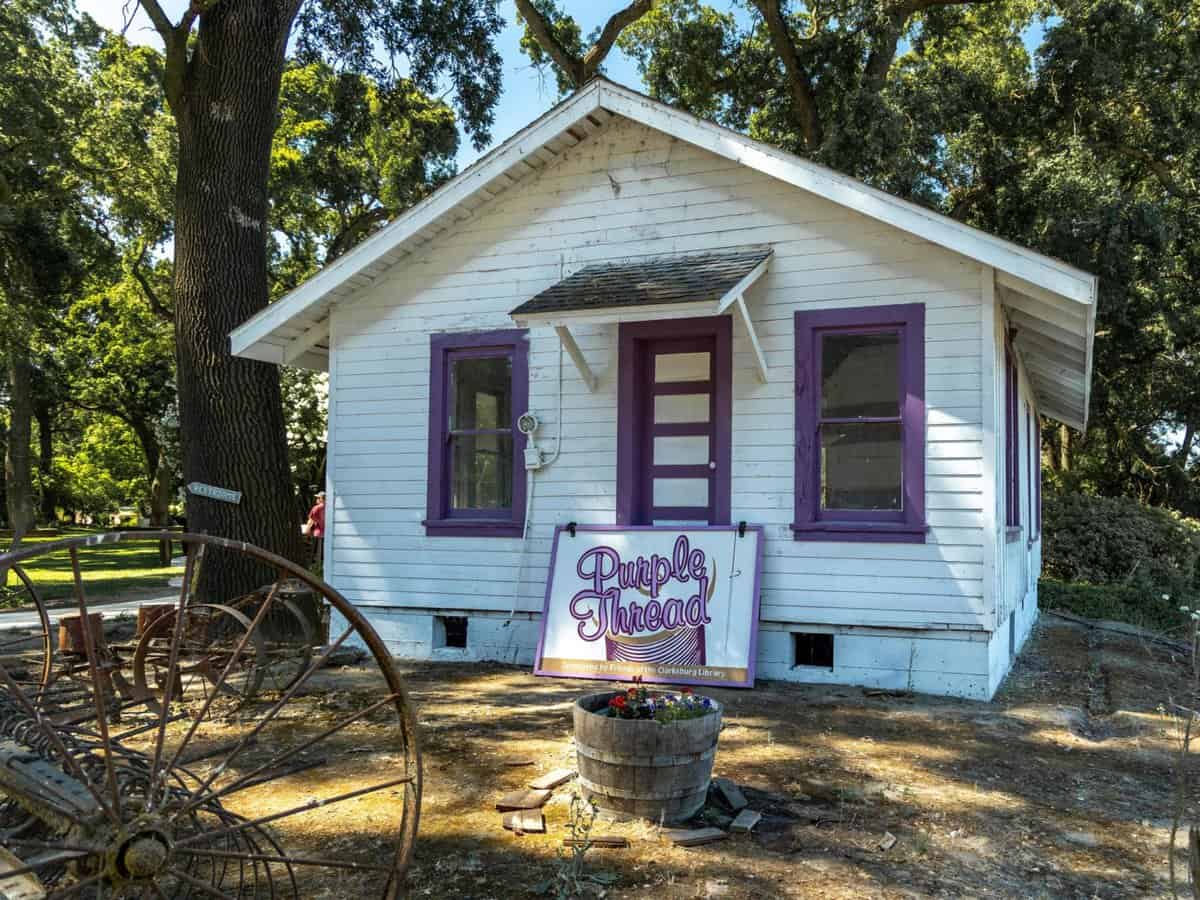 At Heringer Estates, another essential aspect of sustainable farming is community involvement. One of their most notable endeavors is the Purple Thread label. The Purple Thread storefront was a historic building originally used as a saddle room. In the 1960s, it was relocated to downtown Clarksburg and repurposed as a second-hand shop.
For almost 45 years, locals donated goods and sales were used to fund the local library. When the Purple Thread closed its doors in 2004, the Heringer family was granted permission to move the storefront to their estate. Soon after and with the library's blessing, Heringer Estates debuted their Purple Thread label. Donating 10% of the proceeds from the sale of each bottle of the Purple Thread label to the local library allows guests to enjoy these "library" wines while benefiting the local community.
Vineyard Work is skilled labor
Ask any grower and they'll tell you, vineyard work is skilled labor. For this reason, Heringer Estates offers team member incentives like year round employment and flexible schedules that encourage long-term work relationships. "I always say we make our wines in the vineyard. It takes a lot of hands. From the time we prune, we're shoot thinning, we're leaf pulling, we're fruit thinning multiple times. And then that culminates in the harvest. The time, attention to detail, and the skill that it takes to do all those things are very high. We're blessed to have great folks that help us achieve all those goals to help produce our Estate-Grown wines."
Heringer Estates offers team members competitive play, retirement plans and free quarterly wine club shipments – so they can experience the fruits of their labors. All-women vineyard crews are tasked with "meticulously manicuring" the vineyards. These crews are offered flexible hours, allowing them to pick children up from school or daycare. Such details might seem small, but they can make a huge difference in an employee's quality of life. "We're a small family vineyard and winery, but we really work hard to provide them the livelihoods that they need to have a great life."
Bringing people together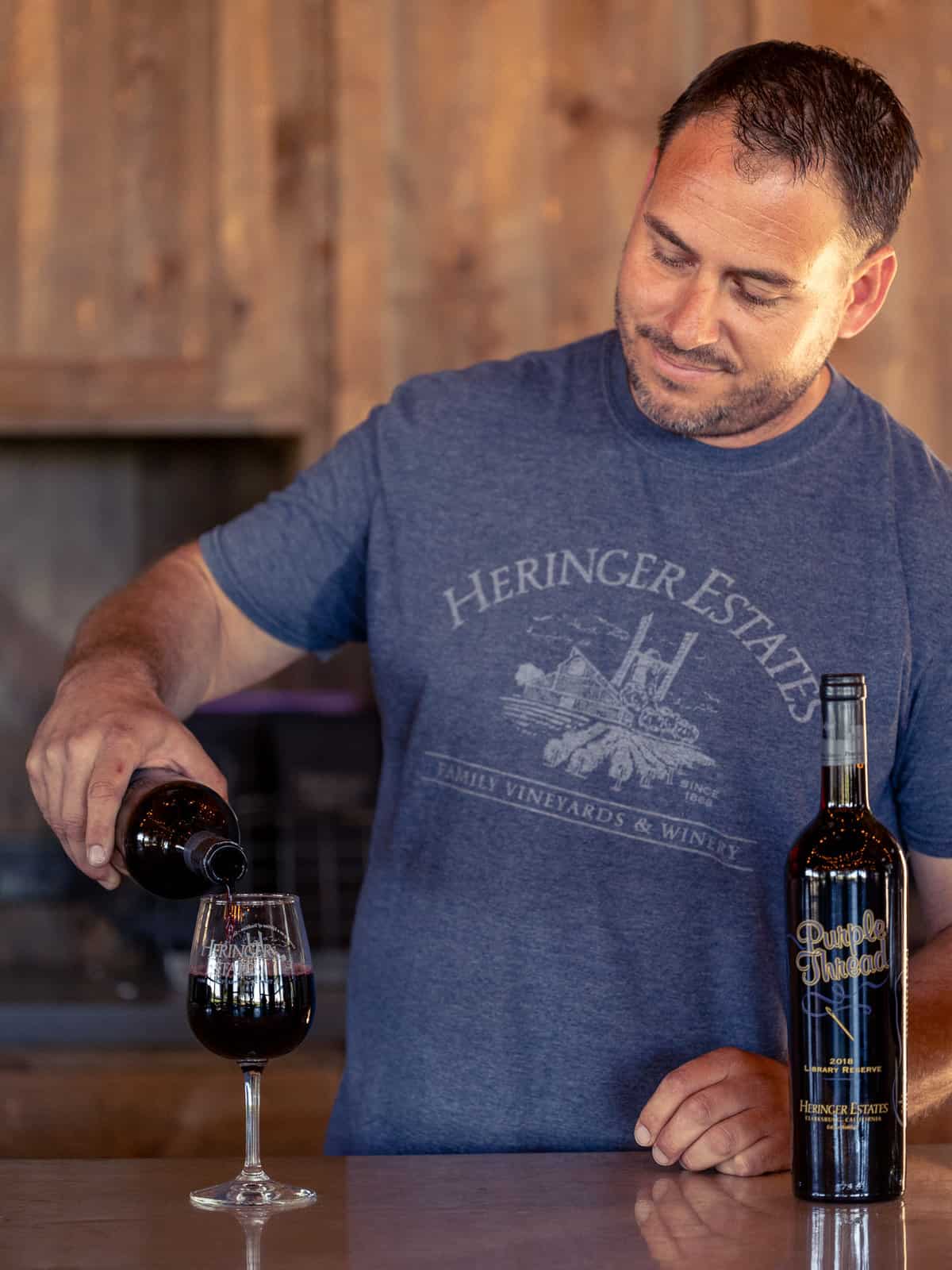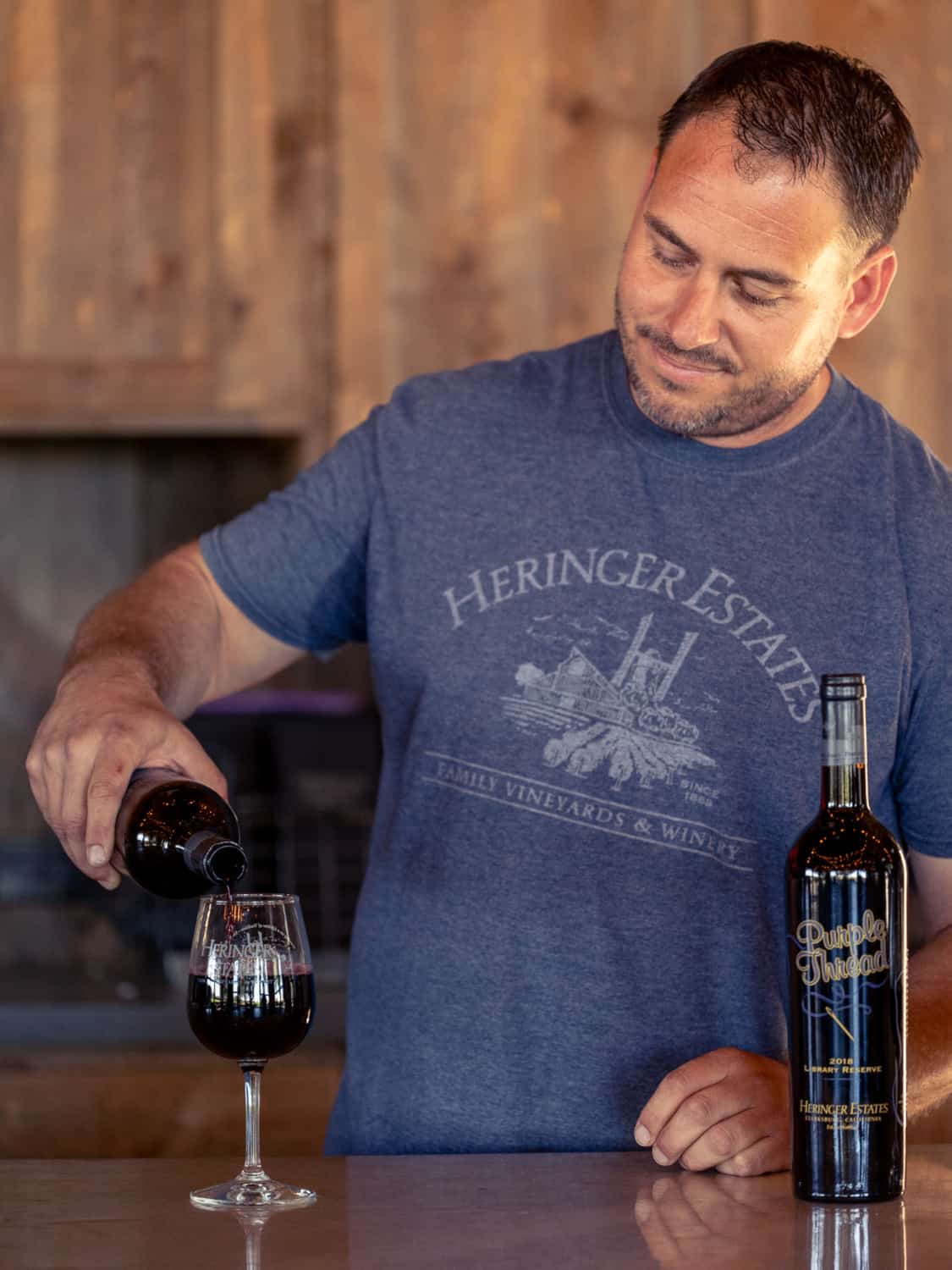 One of the things Mike loves most about winemaking is how wine brings people together. He elaborates, "I was born and raised here, and having the opportunity to sustain our farm through wine, grapes and wine is a tremendous honor and a blessing for the family. We have grown everything from sugar beets to tomatoes, corn, pears, alfalfa. Wine grapes are the one thing that we can sit down with our family and friends and share. Everybody loves it. It's not like tomato paste or ketchup, right? Those things are great and necessary, but wine is something that really brings people together. To be able to share what this region can offer in something as social as wine – that's one of the things I love most about what we do here."
Heading to Sacramento? Take a day trip to Clarksburg.
If you'll be in or around the Sacramento area, Mike encourages you to visit Heringer Estates to taste their Estate Grown wines and learn more about the winemaking process. "We're only about 15 minutes away from downtown Sacramento in the Northern Sacramento River Delta. It's one of the few estuaries of the world," Mike states. "You cross over the Sacramento River on the Freeport Bridge, and it's like you're in another world. Obviously, the best thing to do out here is to drink wine and enjoy wine and explore the small businesses and the farms that are here."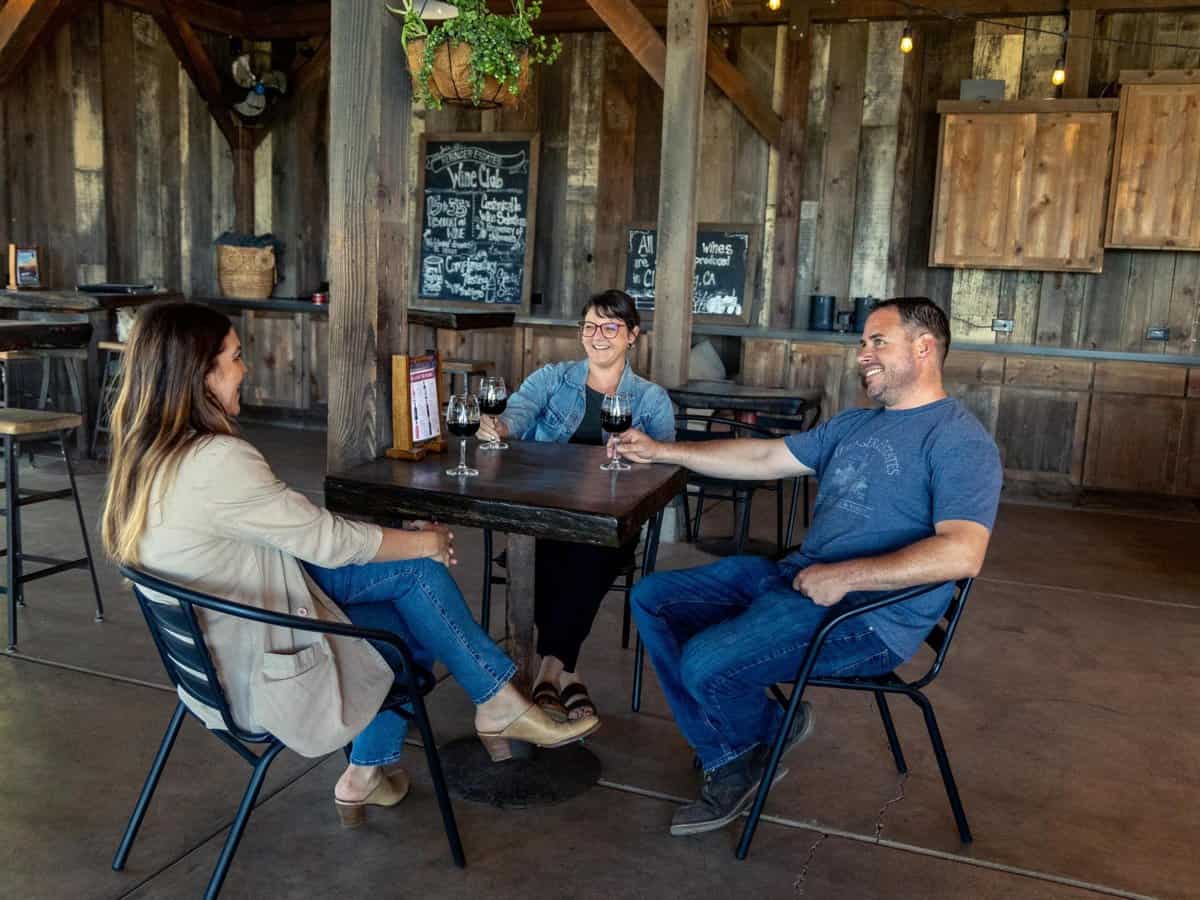 Mike enjoys interacting with Heringer's guests, often using the opportunity to explain the realities of winemaking. "One of the things that I'd love for our guests to know about agriculture and wine production is how hard it is. People think that as a winemaker, we're sitting around blending and, and tasting and drinking all day. And that's not even close to the reality," Mike laughs.
"We spend a year prepping those grapes in the vineyard. And then we get those grapes into the winery and that process takes anywhere from one year to three years. To do that in California agriculture, where we're also dealing with Mother Nature on an annual basis -floods and fire and frost – that is the blessing and the curse. It's extremely dynamic and we work with Mother Nature and work with our vines to produce the highest quality wines. That's one thing that we work hard to explore with our guests."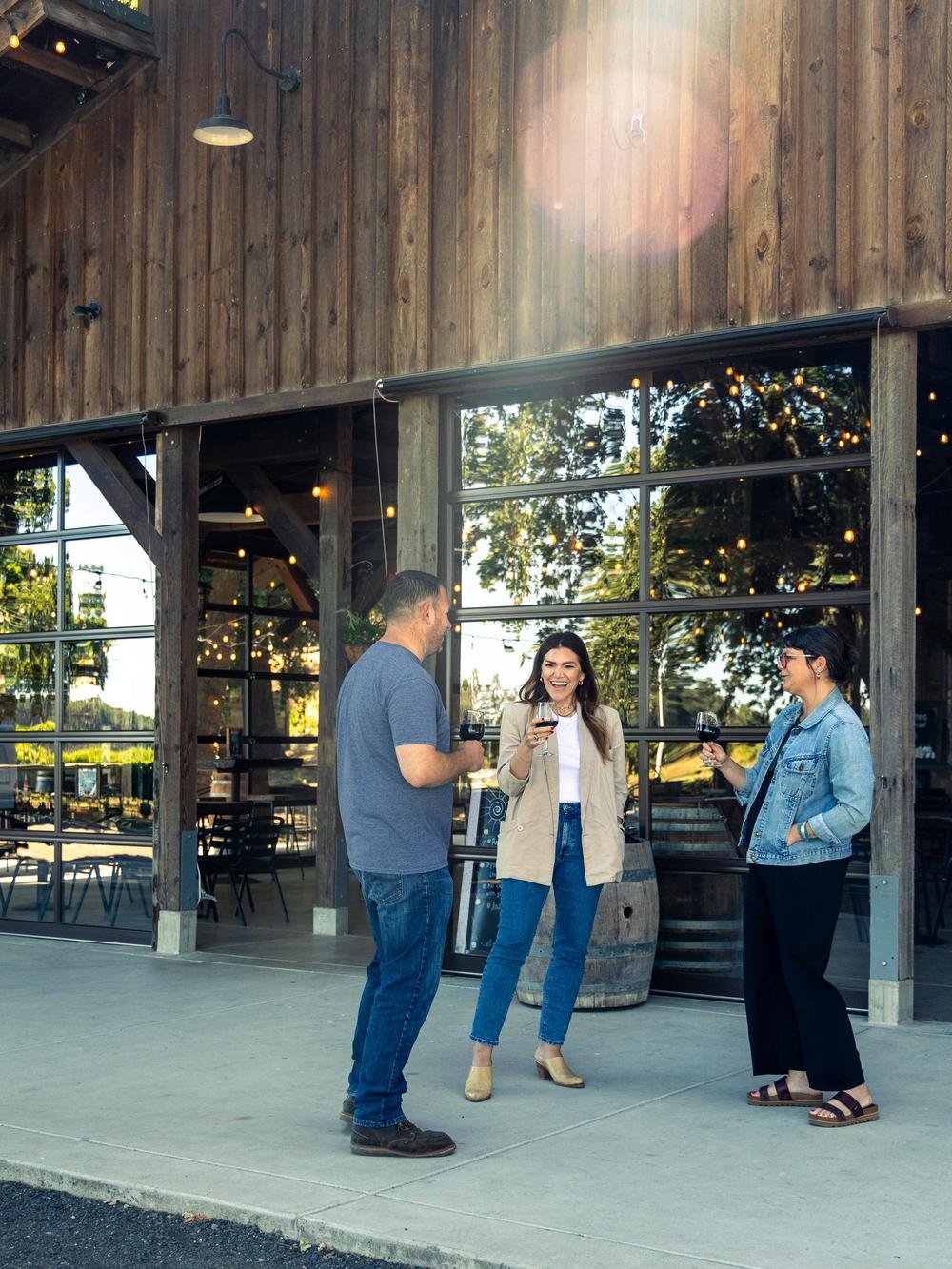 Visit the Heringer Estates Heritage Barn Tasting Room
Reservations are recommended, but walk-ins are welcome
Monday-Friday 11-5
Saturday-Sunday 10-5
Planning an event? The beautifully renovated 150 year old barn and surrounding estate are the perfect setting for private events and weddings.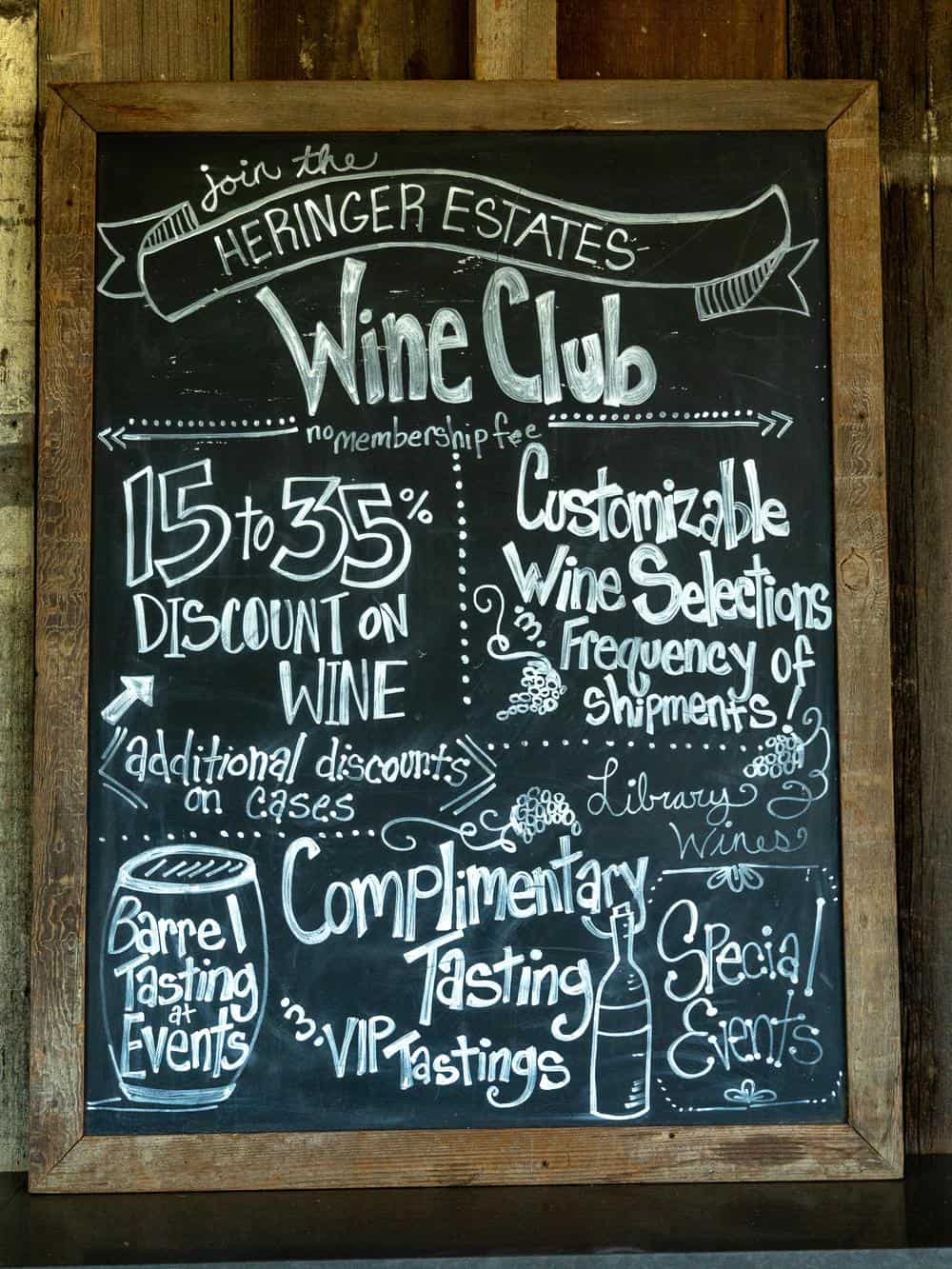 Can't make it in person?
Order online or join the Heringer Estates Wine Club! Wine club members enjoy discounts on wine, customizable wine club selections, access to specialty wines, and exclusive events!
If you enjoy agritourism, be sure to check out Séka Hills Olive Mills and Tasting Room. Want to get your hands dirty? Visit Three Sisters Gardens, a collection of volunteer-based urban farms in West Sacramento's food desert.
Article and photography by Hilary Rance.