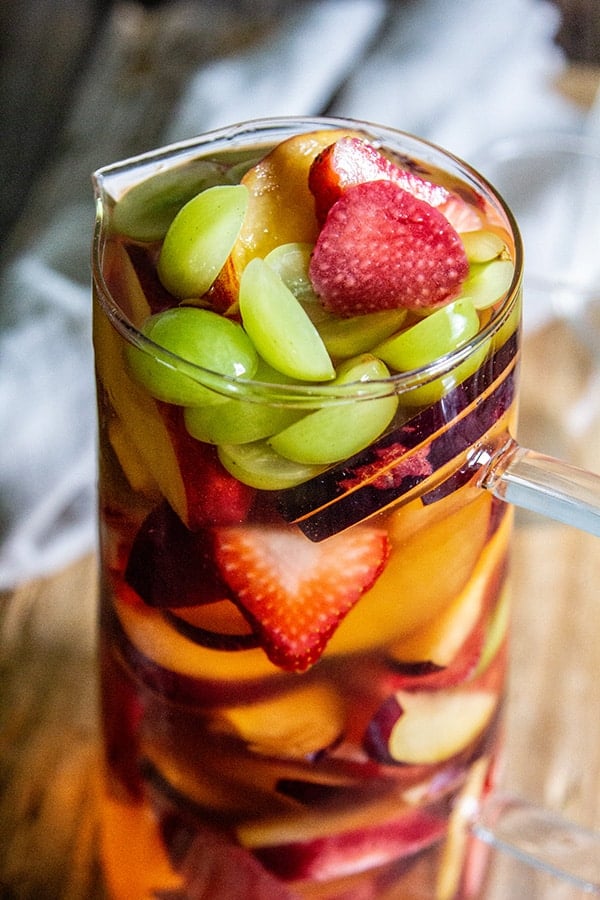 CA GROWN Blog
Discover. Learn. Connect.
An Easy White Wine Sangria Recipe with Fresh Fruit
September 2, 2020
Eat the Season!
Sign Up For Weekly Recipes
« Back to Recipes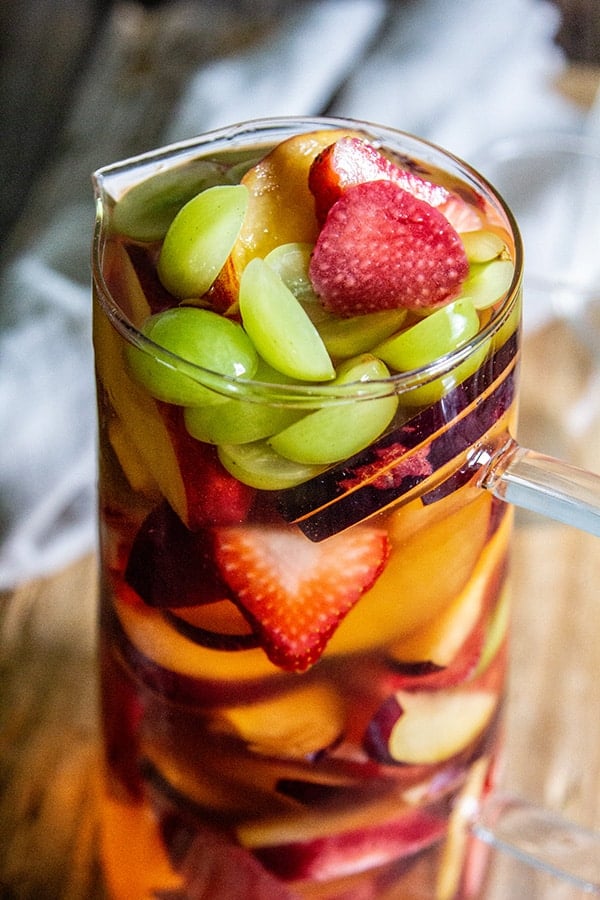 An Easy White Wine Sangria Recipe with Fresh Fruit
This White Wine Sangria recipe is going to be your new favorite summer refresher! Loaded with fresh California fruit like peaches, plums, grapes and strawberries, it's like a summer farmer's market in a glass. 
This blog post updated 6/2022 with new images by This Mess is Ours, as well as updated text and new recipe links.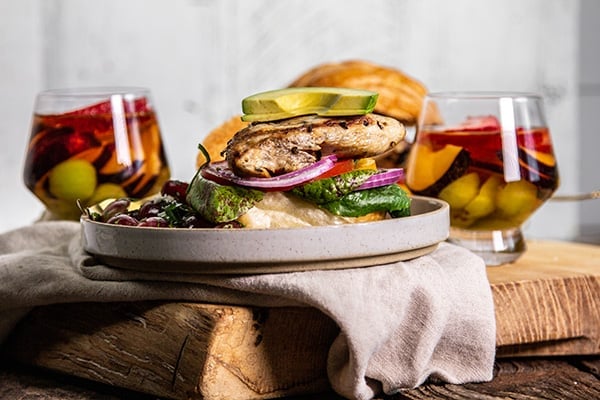 Not only is it super easy to create a batch for your next summer dinner party, you can make it in bulk and store it in the fridge, ready to go when you feel like having a fruity beverage poolside.
Let's make this simple white wine sangria recipe!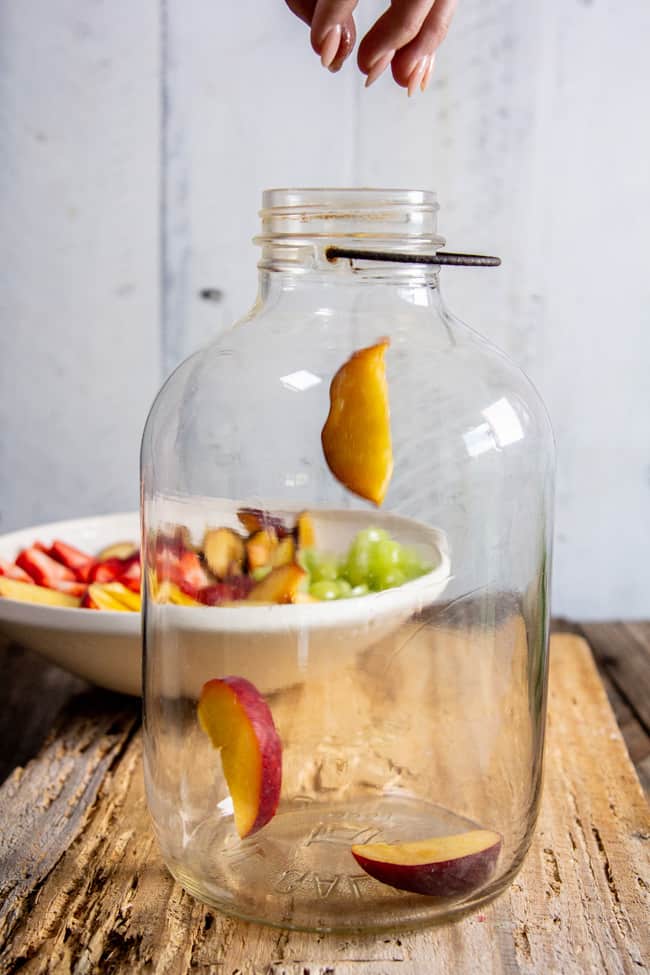 First, slice the fruit.
Cut the larger stone fruit into segments, hull then halve the strawberries, and slice the grapes right down the center! You basically want pieces that are all as close to the same size as possible.
Preparing fruit for sangria has never been easier!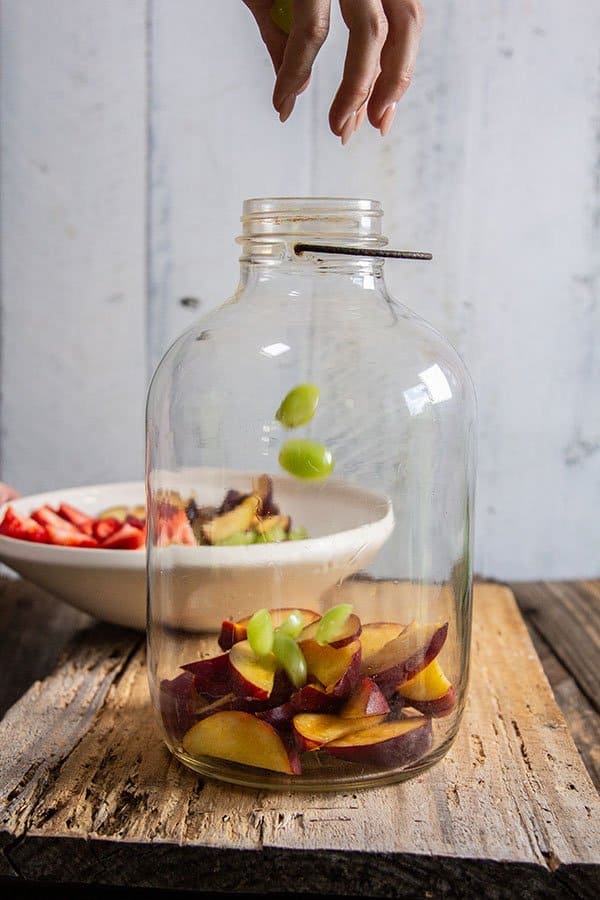 Layer, layer, layer.
Next, add all that delicious California fruit into a container. For my container, I used a large beverage dispenser because I was hosting a get together in the backyard for some friends. Feel free to make a smaller batch and add to a classic glass pitcher!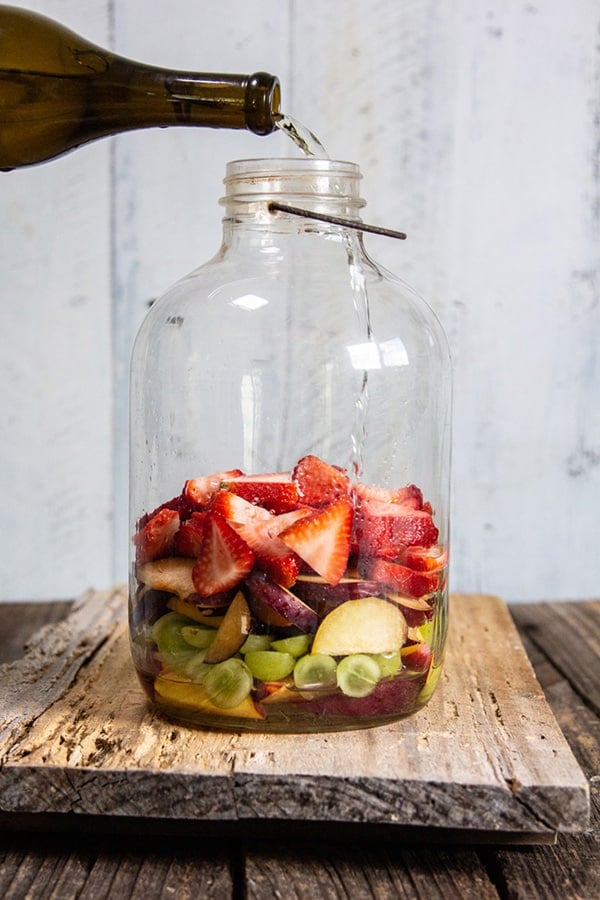 What type of white wine is best for white wine sangria?
Any white wine from California will work wonders in this sangria recipe. Just choose one you love and get to pouring!
We used Sauvignon Blanc in ours.
Just make sure to use a wine that you would drink by itself, because any sangria is only as good as the wine you use!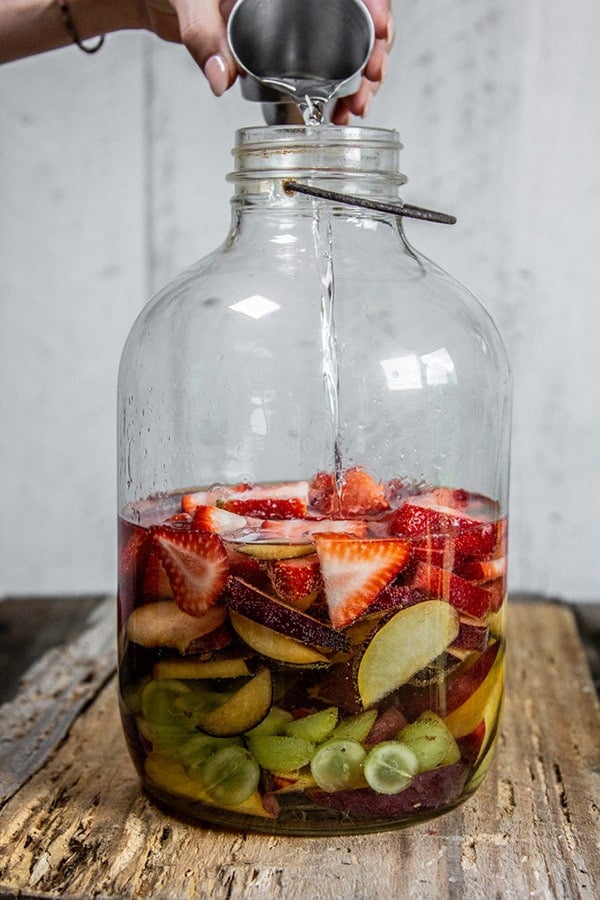 Give the sangria an extra kick! (Or not!)
This step is totally optional, but we highly suggest adding a bit of peach or passion fruit liqueur to the mix in this white wine sangria recipe.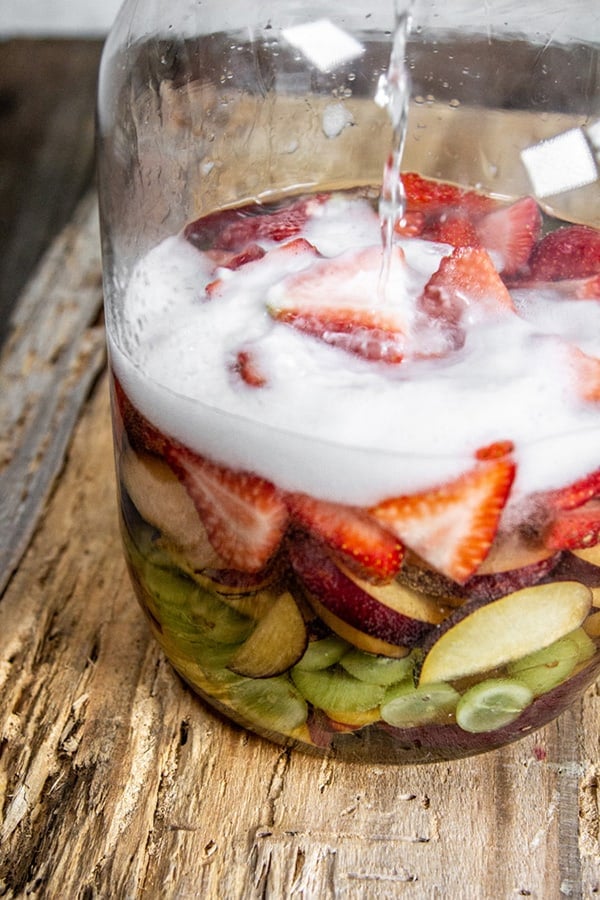 Give it the fizz!
Grab a can of lemon-lime soda and pour it into the mix. This will add both flavor and a bit of subtle effervescence.
Now, stir to combine and chill in the fridge for a few hours before serving.
After the white wine sangria has had time to sit and develop its flavor in the fridge you are ready to serve. Simply, add a scoop or two of the fruit from your pitcher before filling your glass. You can even add a sprig of mint to the mix as a garnish if you are feeling fancy.
Looking to make more wine-based cocktails? We have recipes for you!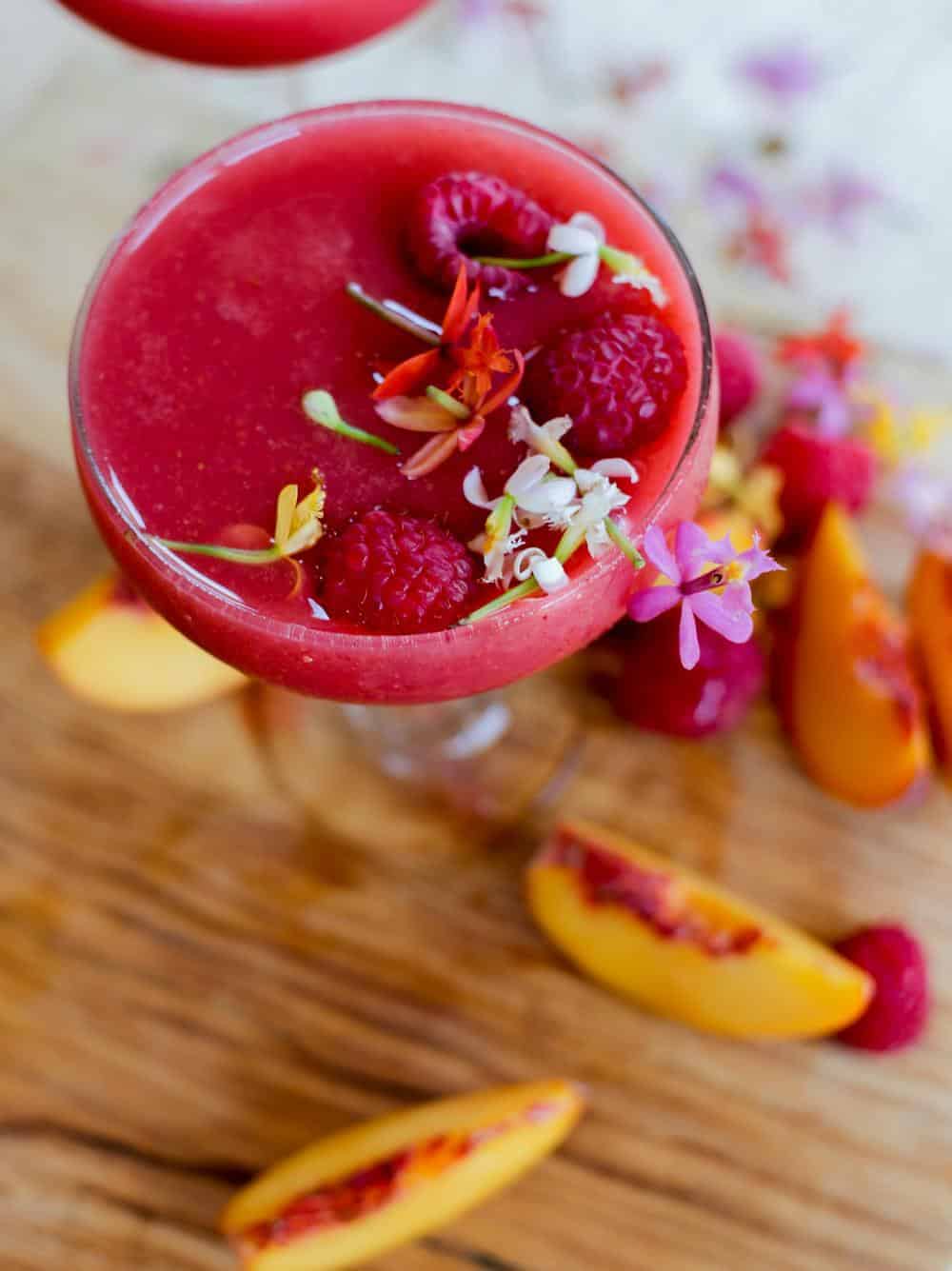 This refreshing wine slush cocktail from the G Free Foodie is made with raspberries, peach and rosé wine.
You can make it two ways: in a blender or an ice cream machine!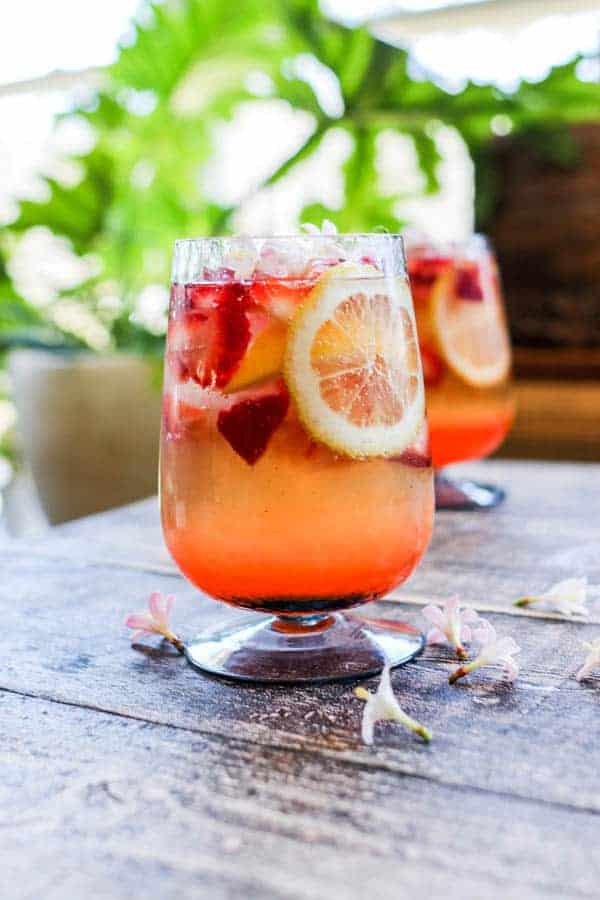 This summer sipper from This Mess is Ours is the perfect ratio of tart and sweet with freshly squeezed lemon juice and luscious berries all topped off with California sparkling wine to give it that irresistible fizz factor!
The jasmine blossoms garnishing this drink are totally optional, but we highly recommend them because the fragrance of the flowers really brings out the flavors in the cocktail.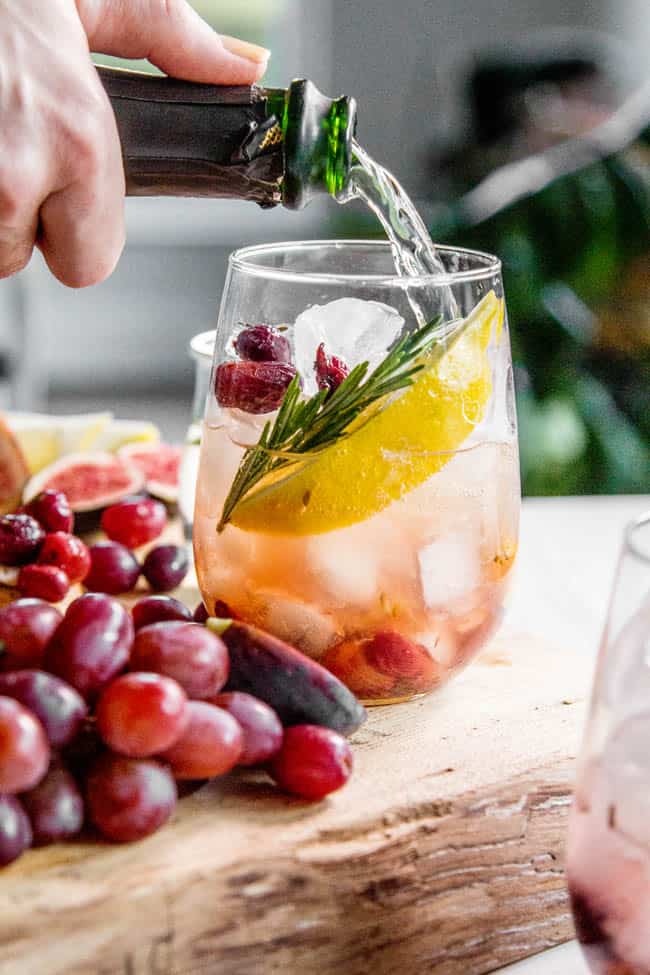 Wine cocktails are a new trend in the alcoholic beverage market and we are here for it! In our latest wine cocktail creation, we paired the flavors of jammy roasted grapes, woodsy rosemary, and bright fresh lemon with the effervescent bubbles of sparkling wine. It's quite honestly pure magic for the tastebuds.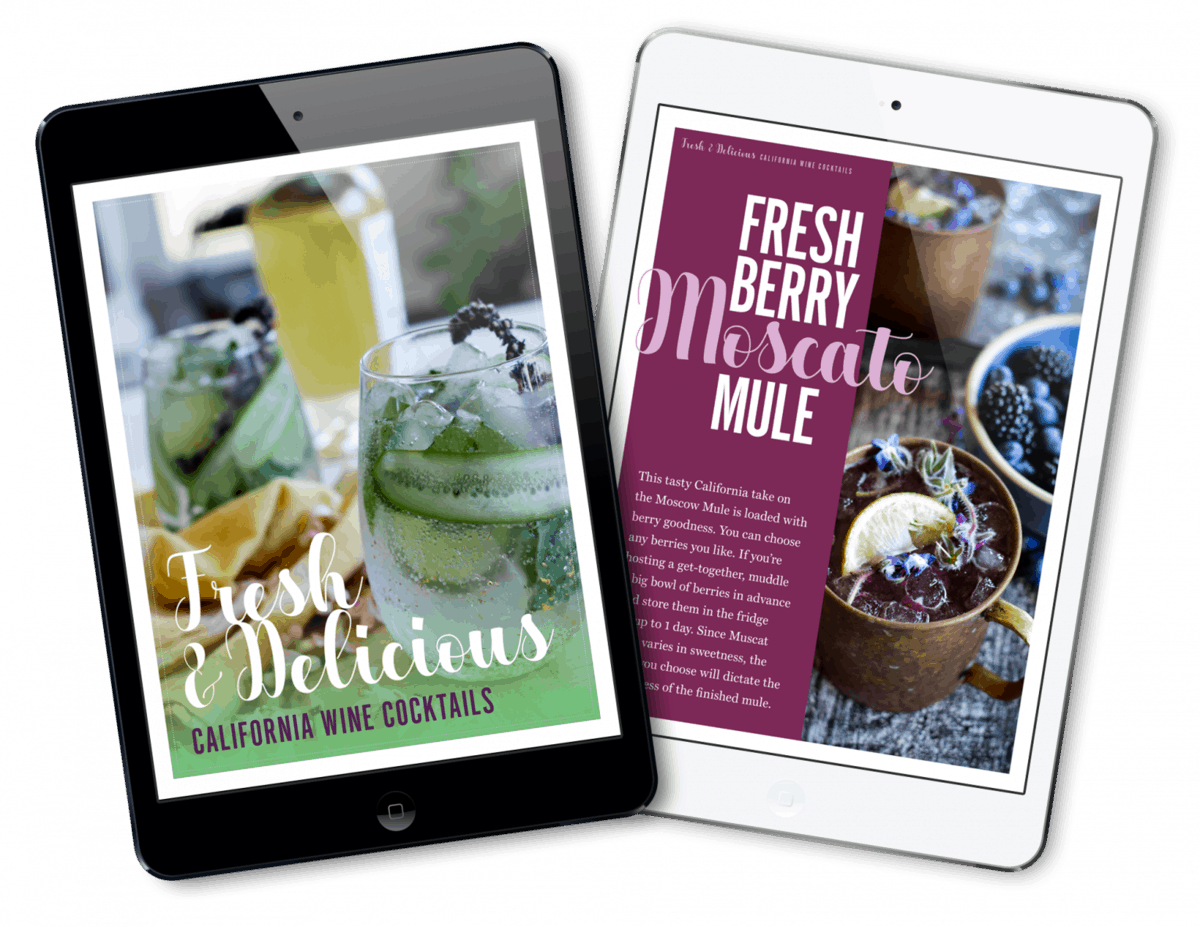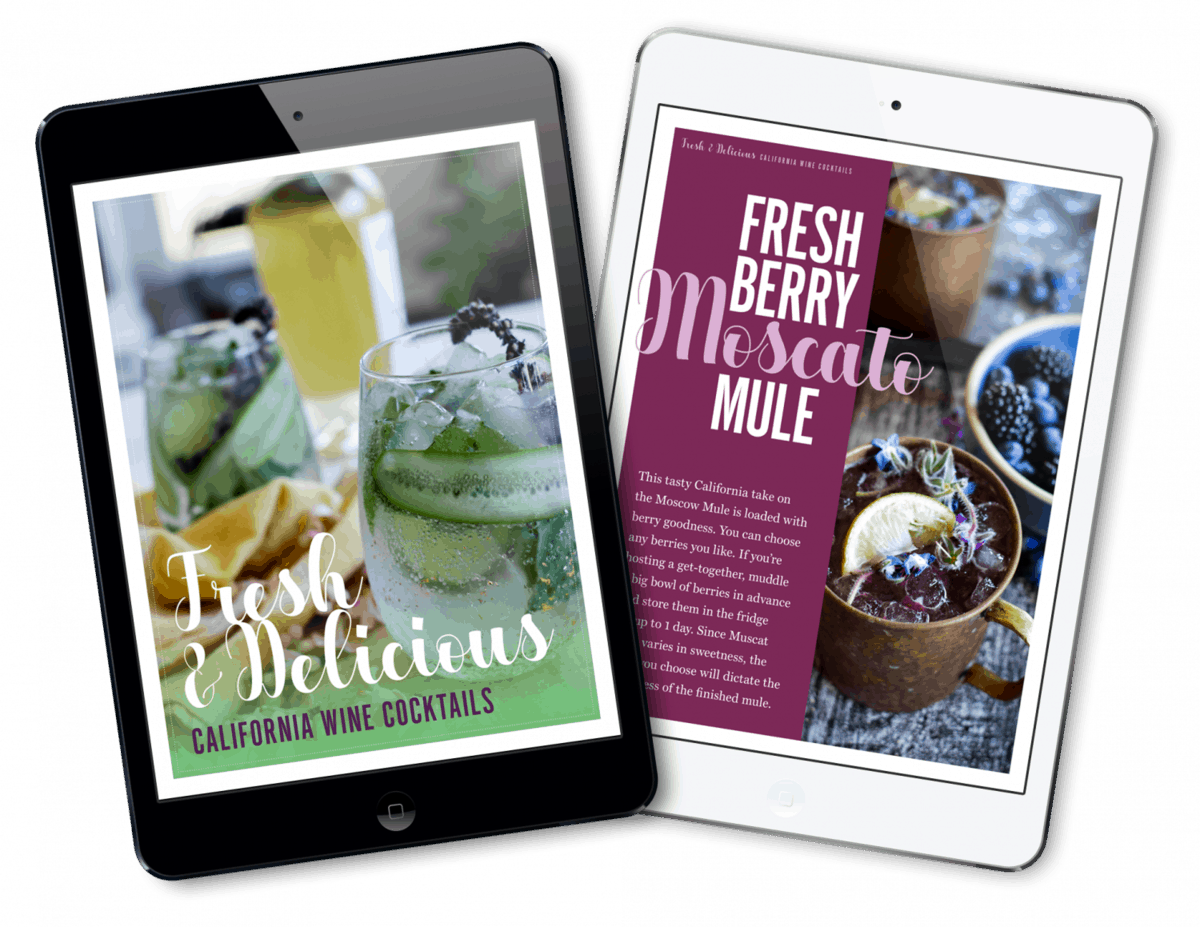 Mark your calendar, September is California Wine Month!
In advance of the celebration, we are linking you to a FREE EBOOK from California Wines! Enjoy!
Craving more CA Grown goodness? Follow us on Pinterest for fresh and fabulous recipe inspiration!
BE SURE TO SHARE YOUR WHIE WHITE SANGRIA RECIPE PICTURES WITH US BY SNAPPING A PIC AND TAGGING US ON SOCIAL USING #CAGROWN.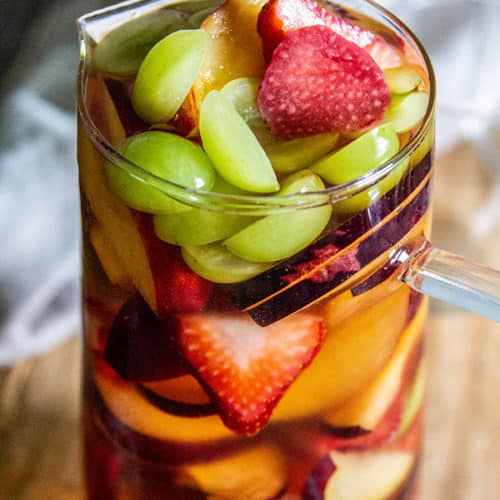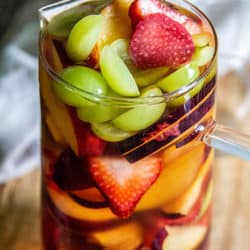 Easy White Wine Sangria
Loaded with fresh California fruit, this easy white wine sangria recipe is like a farmer's market in a glass, with a kick!
Ingredients
2 whole peaches sliced
2 whole plums sliced
1 cup green grapes halved
2 cups strawberries hulled and sliced
1 750ml bottle California Sauvignon Blanc or similar dry wine wine
4 oz. peach or passion fruit liqueur *optional
8 oz lemon lime soda or lime sparkling water
Instructions
Add all the sliced fruit into a large pitcher. Pour in the wine and other liquid ingredients, stir to combine. Refrigerate for at least two hours before serving.
Notes
Garnish with mint leaves, serve over ice.
Nutrition
Serving: 12ozCalories: 123kcalCarbohydrates: 19gProtein: 1gFat: 1gSaturated Fat: 1gSodium: 13mgPotassium: 185mgFiber: 2gSugar: 16gVitamin A: 37IUVitamin C: 44mgCalcium: 18mgIron: 1mg