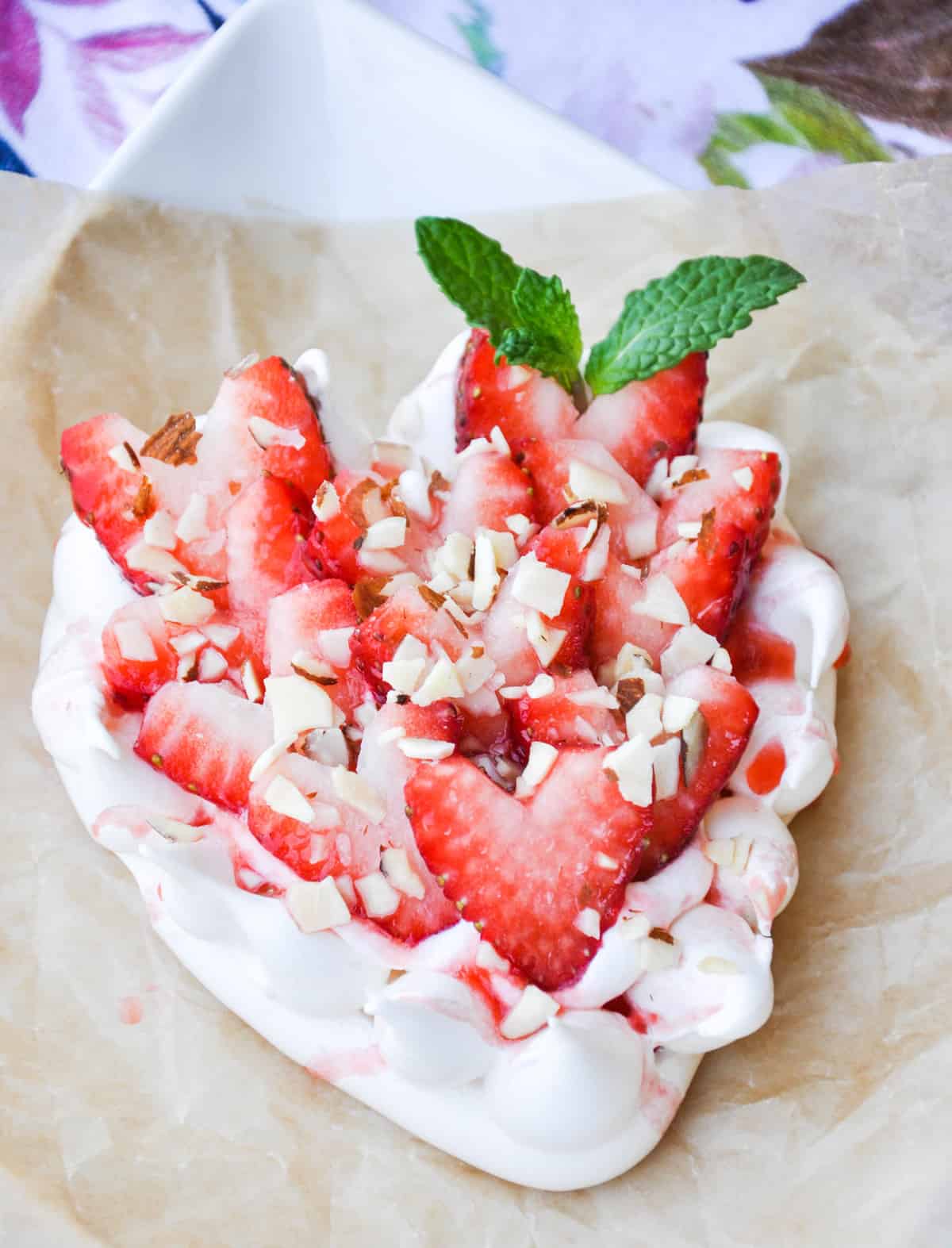 CA GROWN Blog
Discover. Learn. Connect.
Strawberry Almond Pavlova Heart
February 10, 2016
Eat the Season!
Sign Up For Weekly Recipes
« Back to Recipes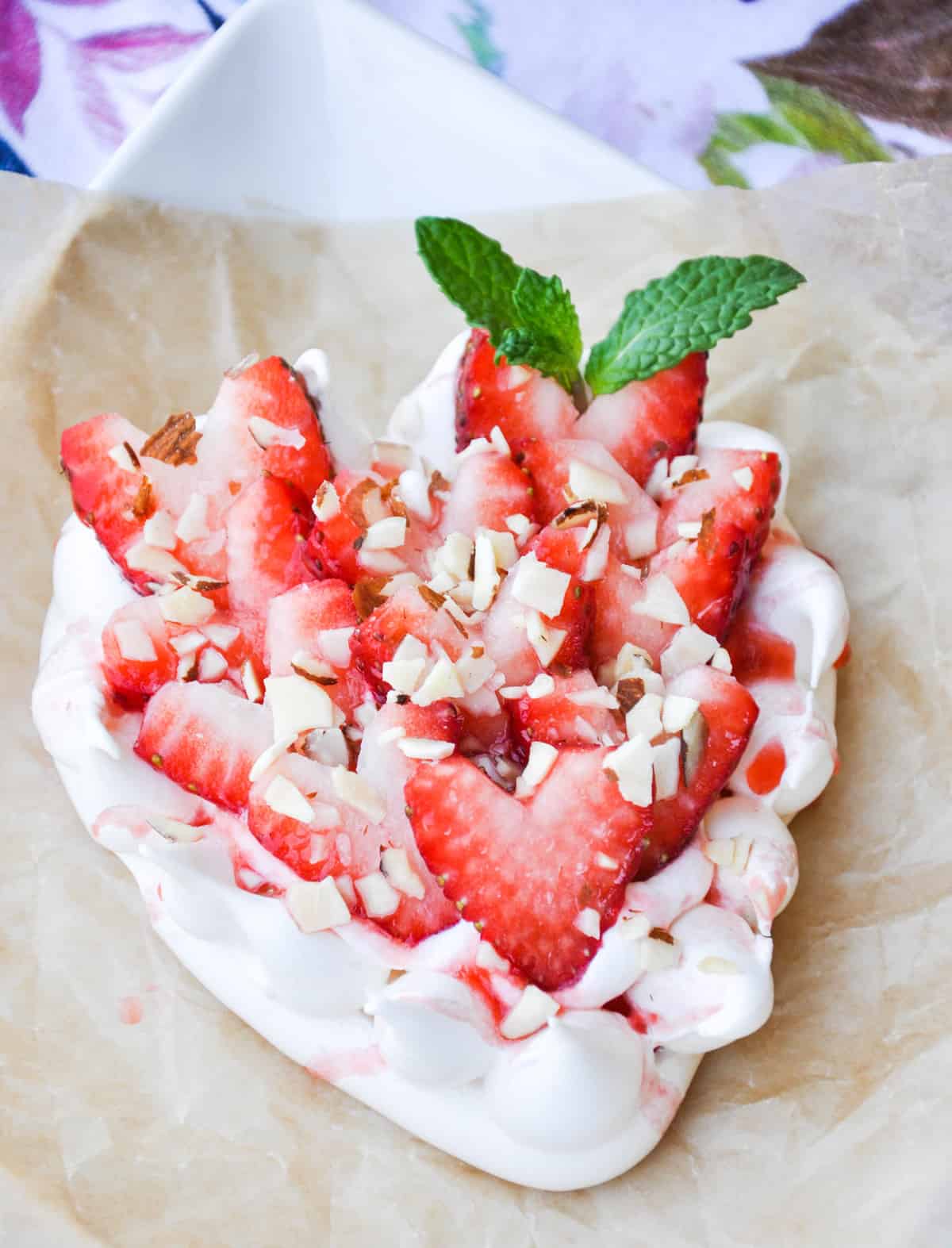 Strawberry Almond Pavlova Heart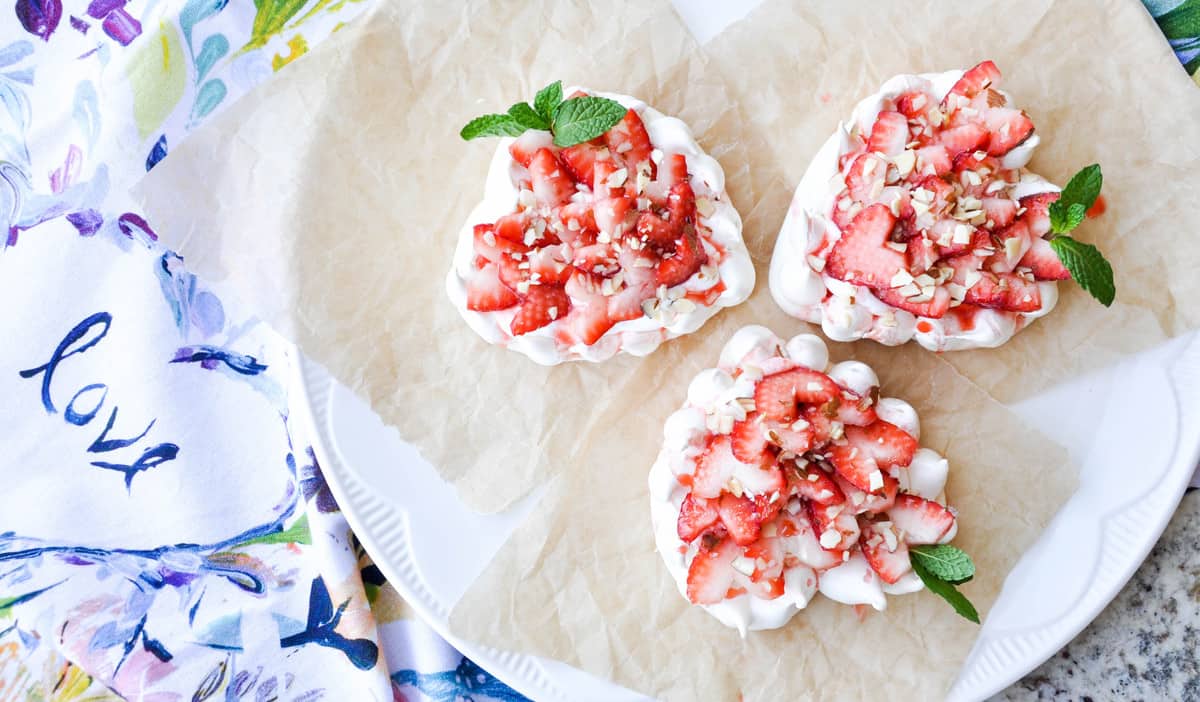 These Strawberry Almond Pavlova Hearts are absolutely irresistible. Talk about love at first sight!
Pavlova. It's a fancy, Russian term for meringue.
And it forms up into some pretty awesome hearts! Just in time for Valentine's Day. (hint hint)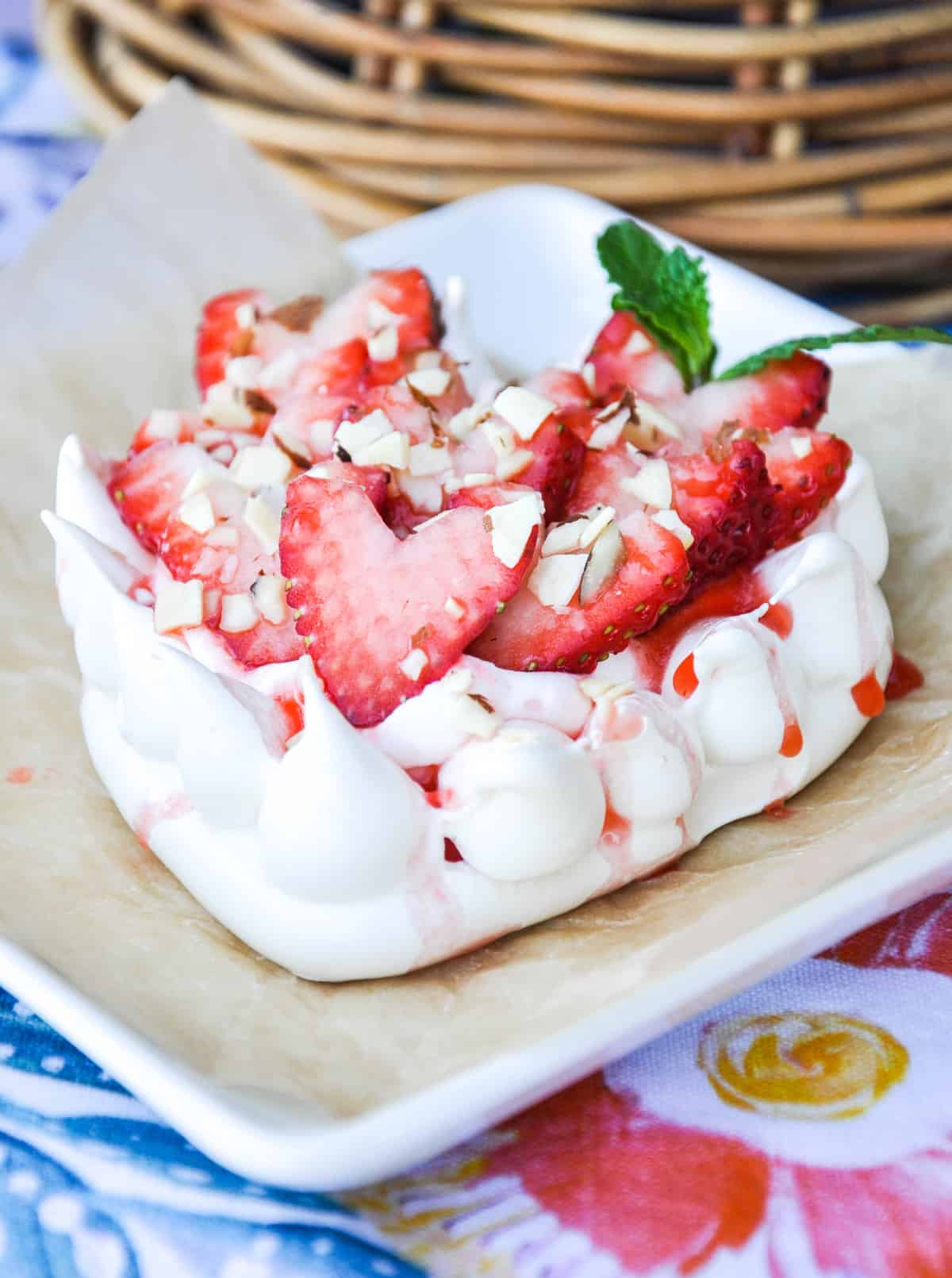 These treats bake low and slow, so you can take your time preparing the other ingredients while they are baking in the oven. I used fresh California strawberries from Driscoll's. (See my post HERE where I show you how you can see exactly which field your strawberries are coming from).
Even though it's only February, California strawberries are bright red and juicy, and the perfect topper for these special treats.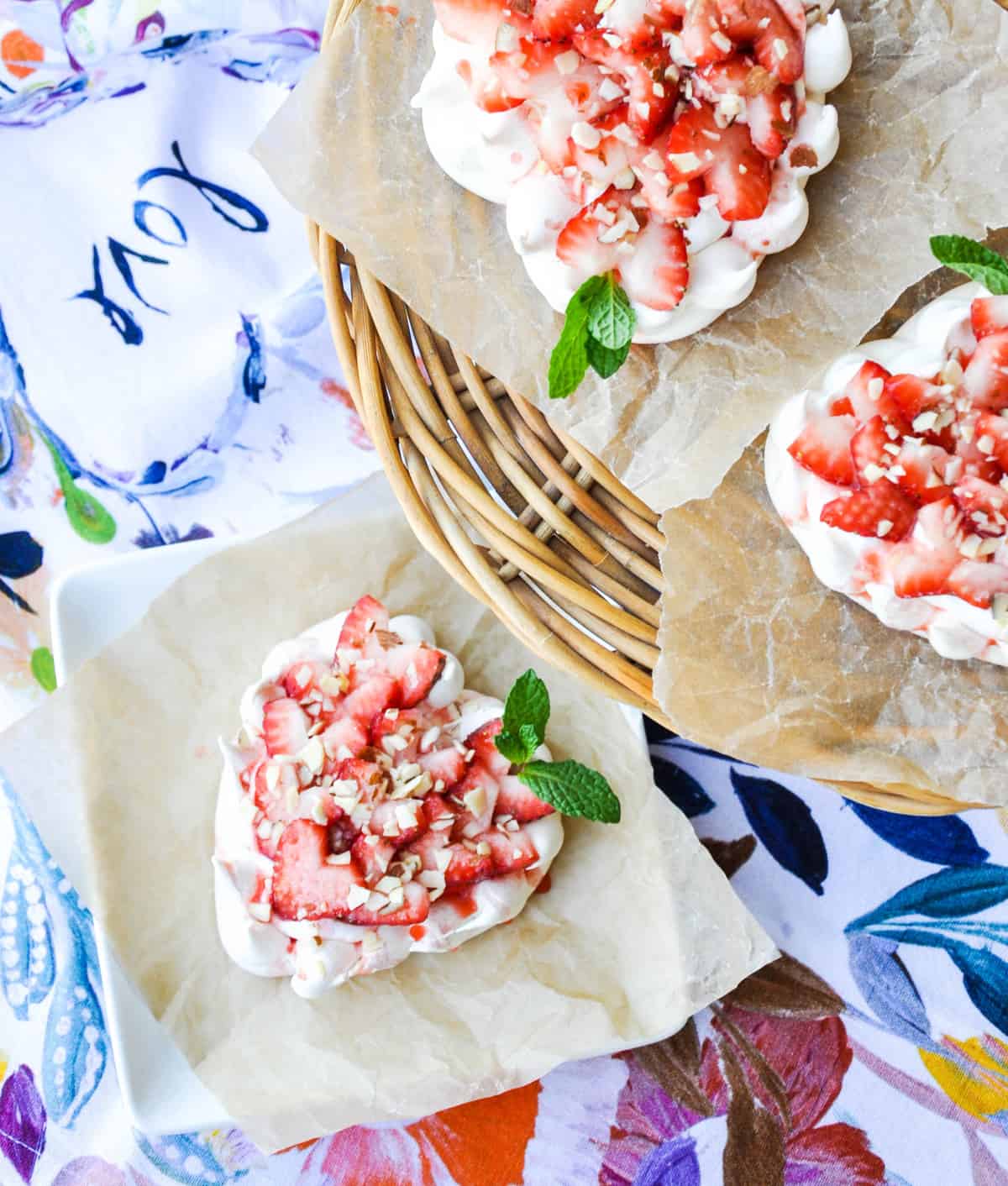 If you've never had Pavlova before, you are in for a major surprise. They are light and airy, but have a wonderful, luxurious texture. These particular meringues are the perfect base for the decadent cream and fruit you'll be using.
Ready to make Strawberry Almond Pavlova Hearts?
As I've said before, I always start with fresh, California ingredients: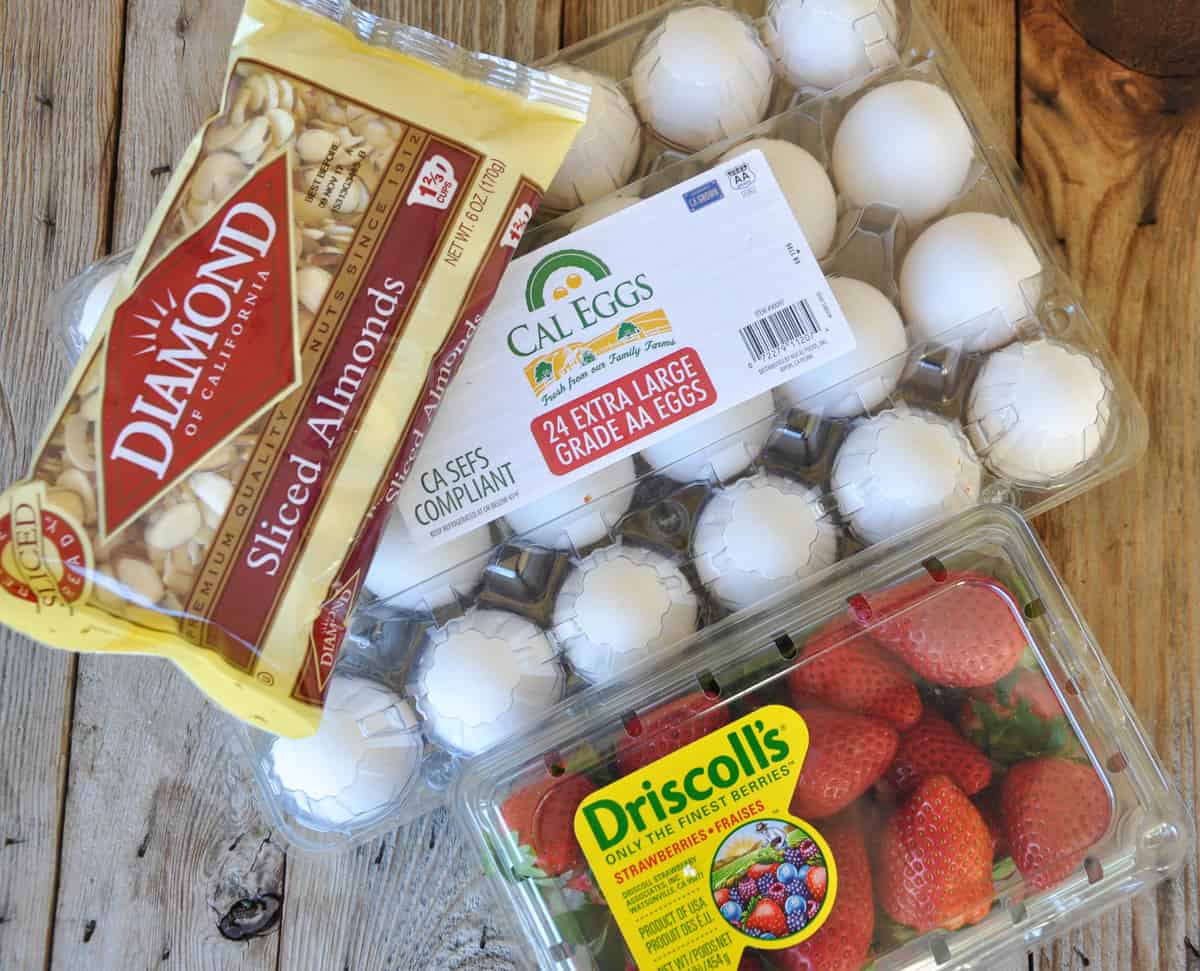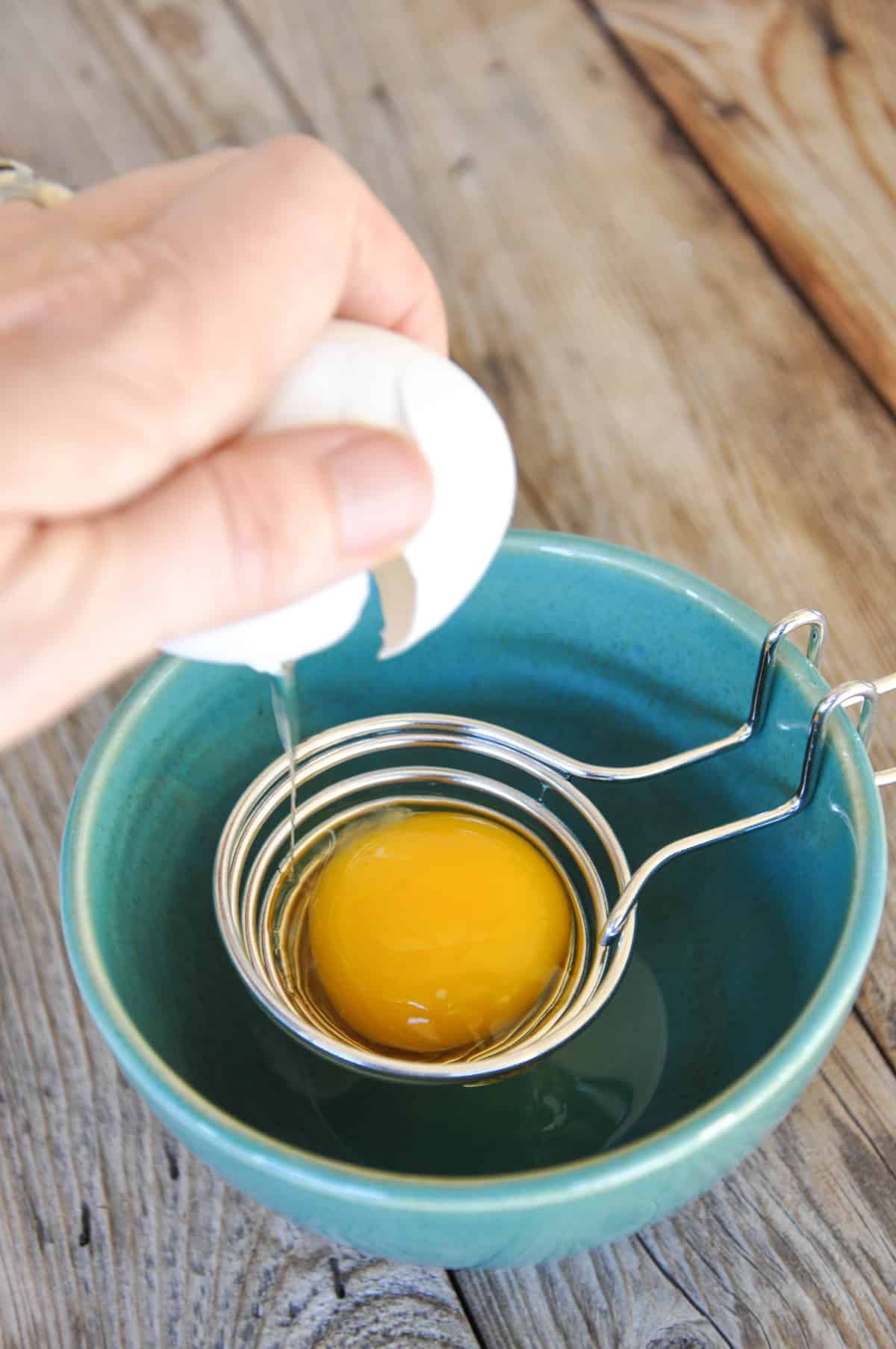 The main ingredient of a meringue is egg whites. I have this handy dandy egg separator that makes life easier in ensuring the yolk does not mix with the whites.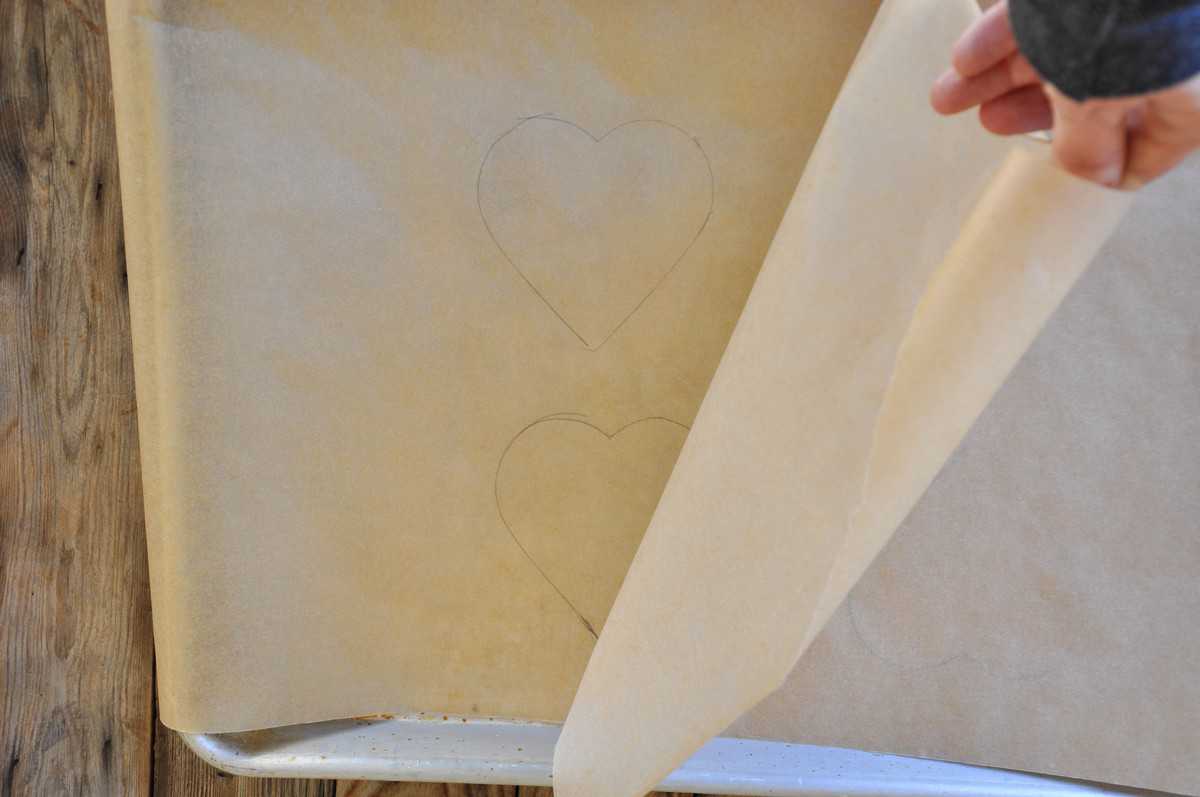 You can always make these into round pavlovas, but if you'd like to make the hearts and don't trust your freehand, you can trace a heart cookie cutter onto parchment paper to create a guide for the meringue.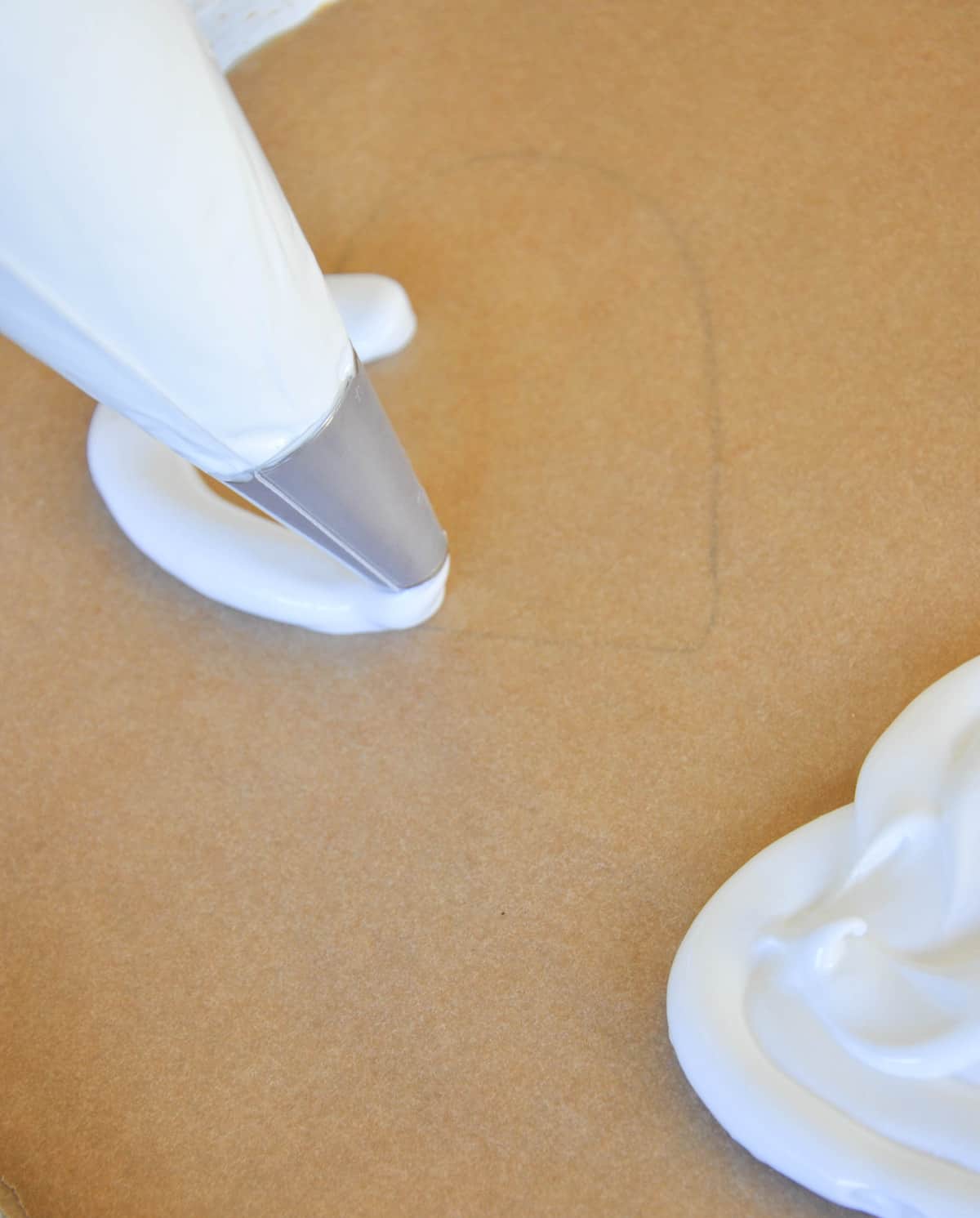 Use a piping bag fitted with a large open tip; pipe the meringue onto the parchment paper, covering the entire heart shape.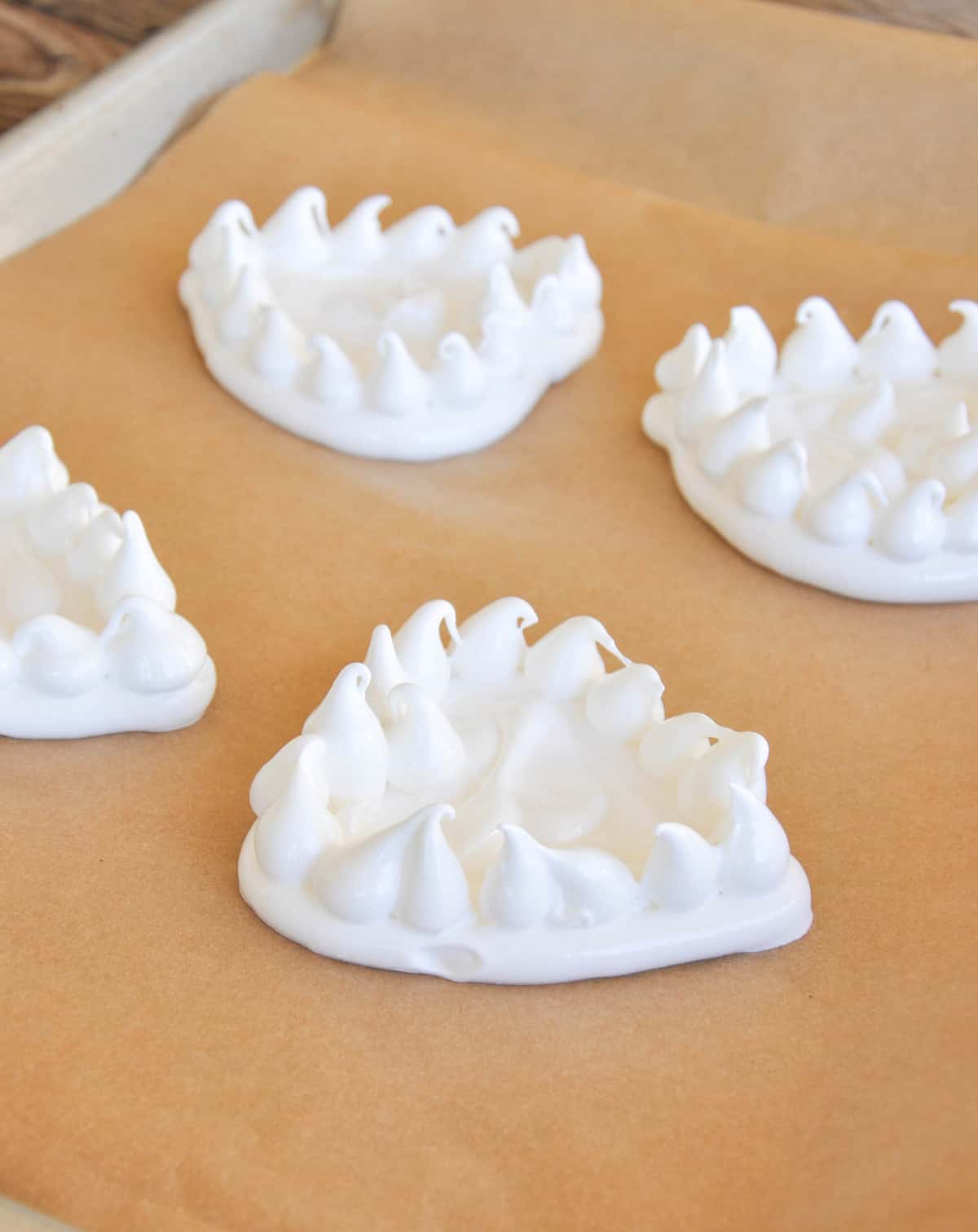 On the outer edges, pipe small dollops to create a raised edge and bake for two hours at 250 degrees.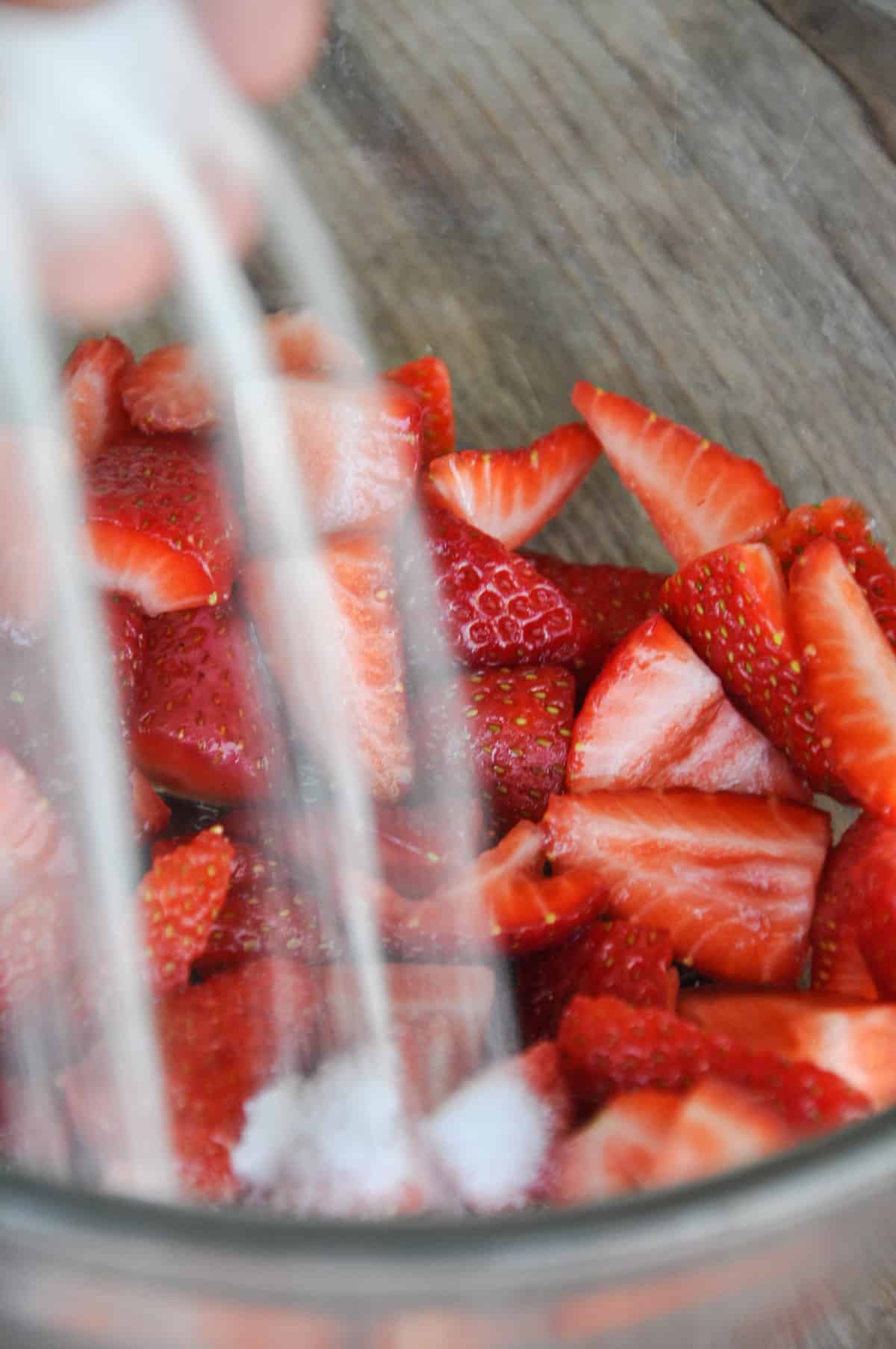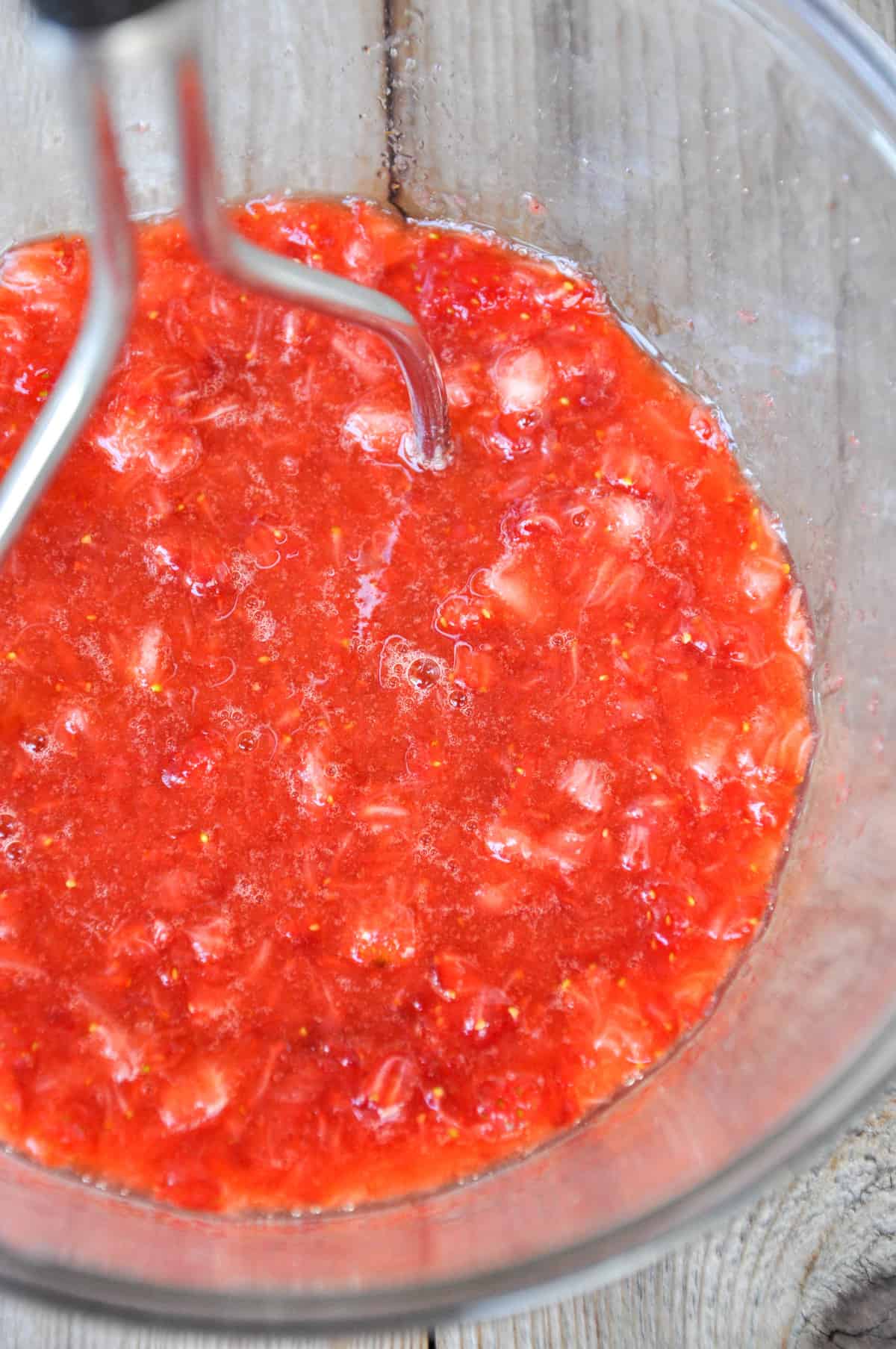 While they are cooking, place 1/2 lb. sliced strawberries into a bowl and add 1 tablespoon of sugar. Mash until pulverized and set aside.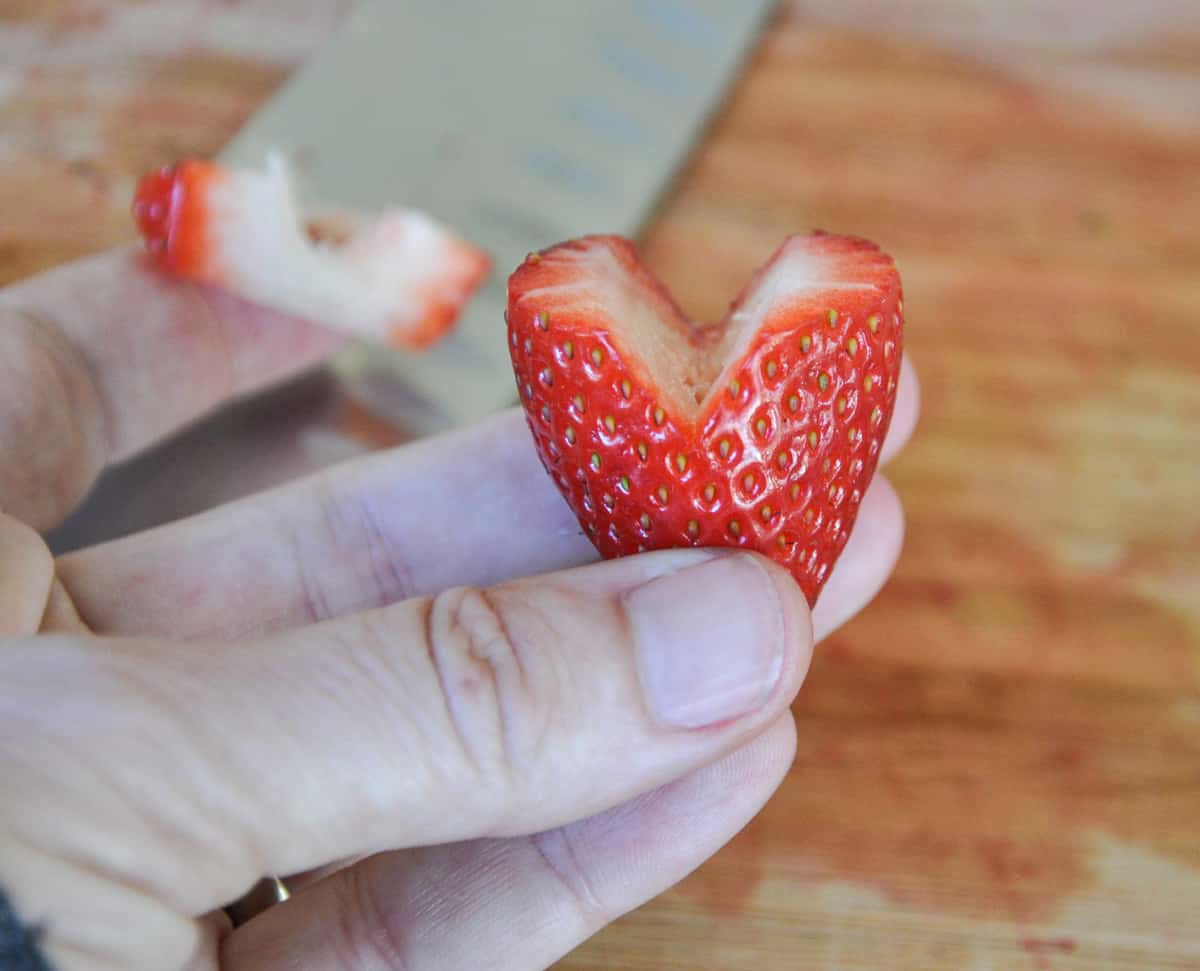 Slice the remaining strawberries for the tops. I added a groove cut to the strawberry before I started slicing to achieve an adorable heart shape to the finished product.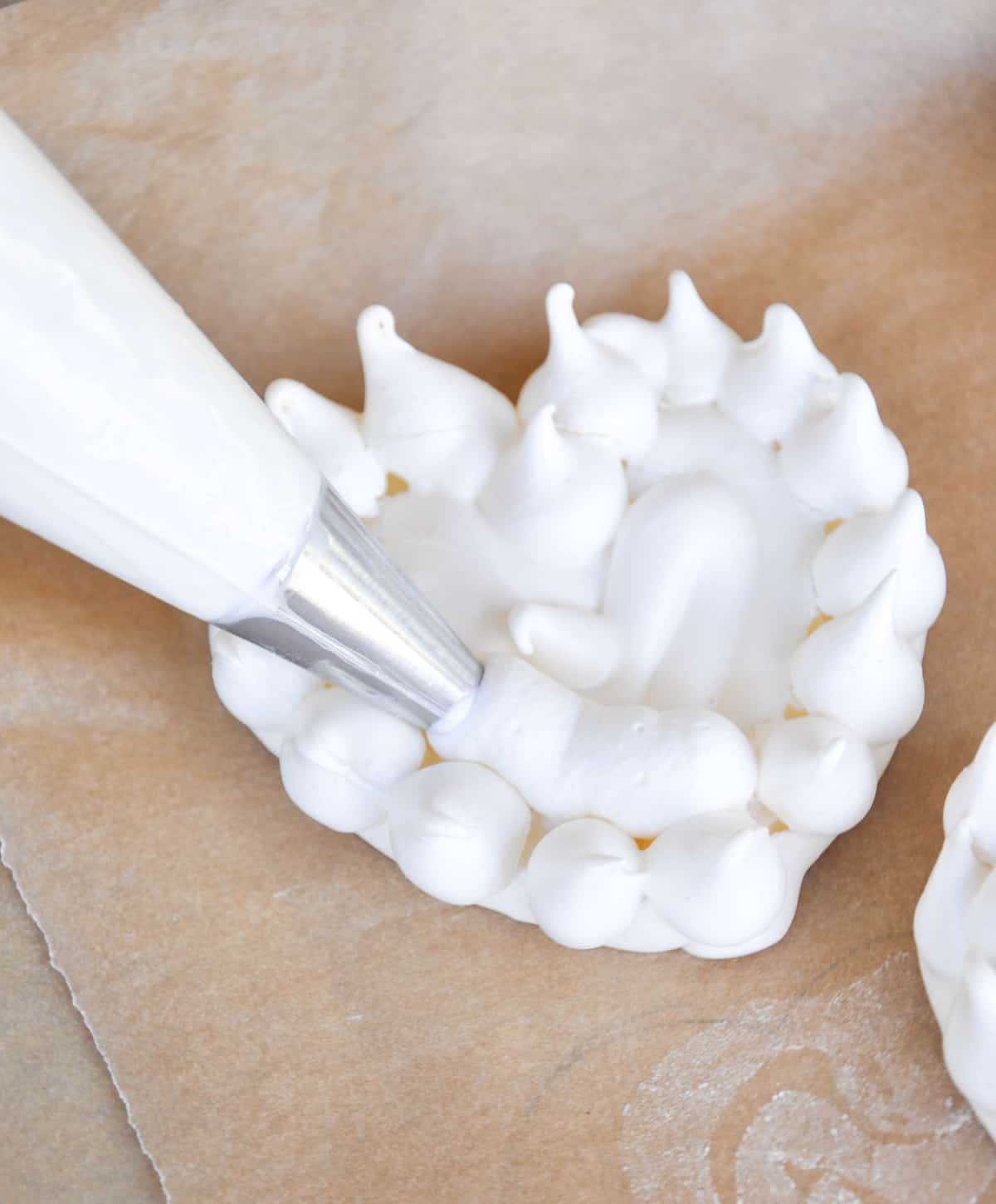 Once the meringues are finished baking, add the fresh whipped cream to the center cavity.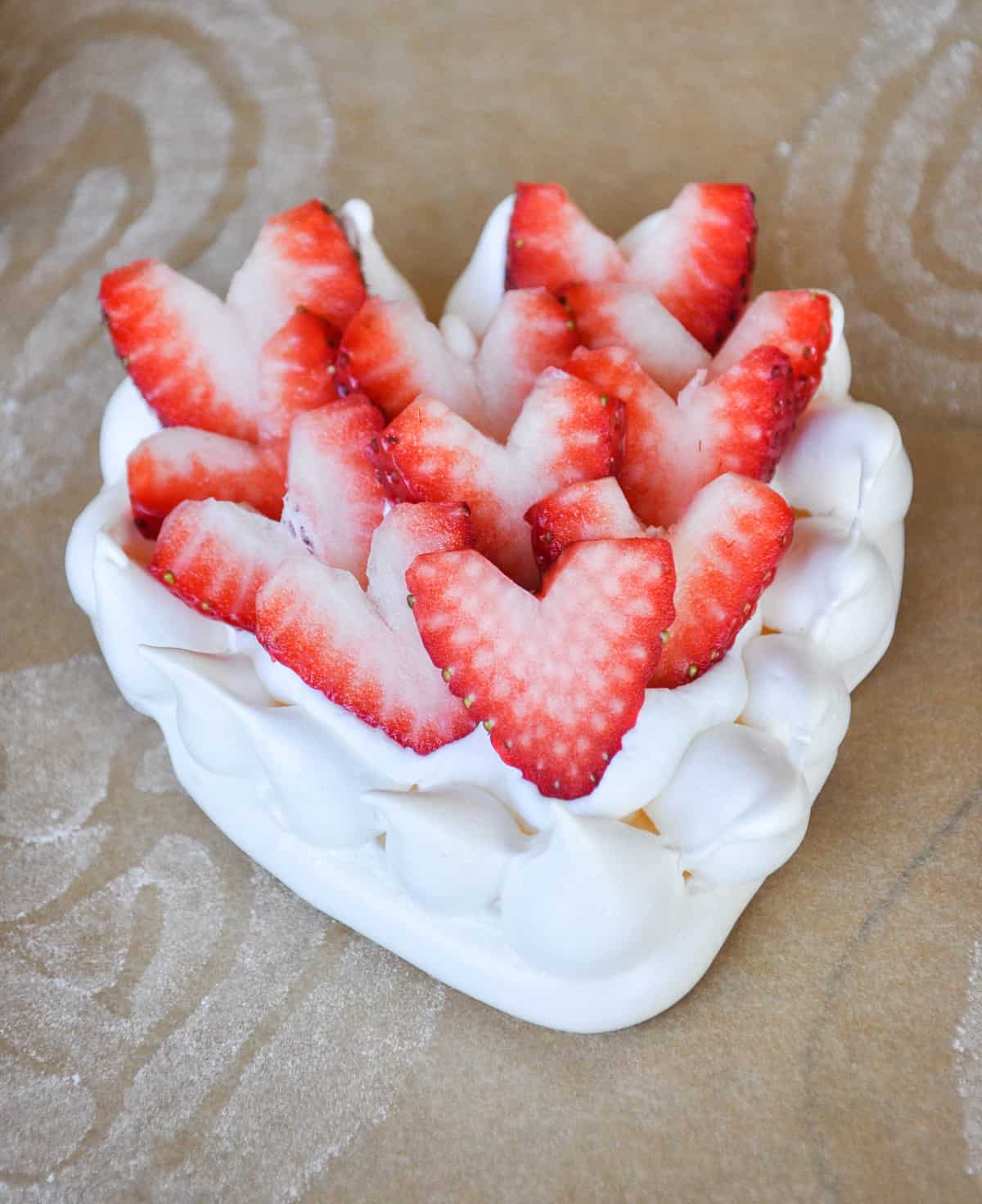 Top with the sliced strawberries.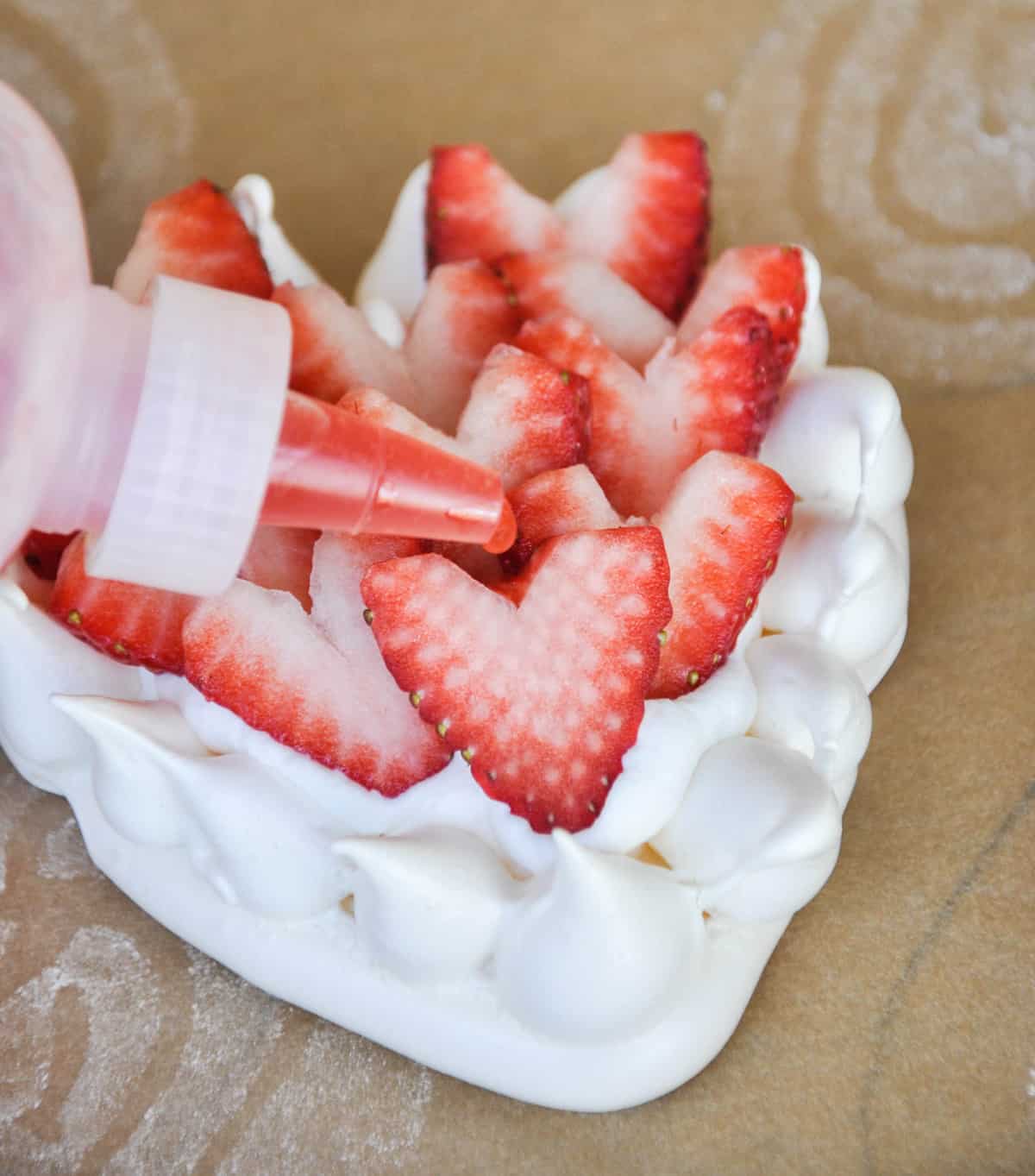 Douse in the reserved strawberry juice.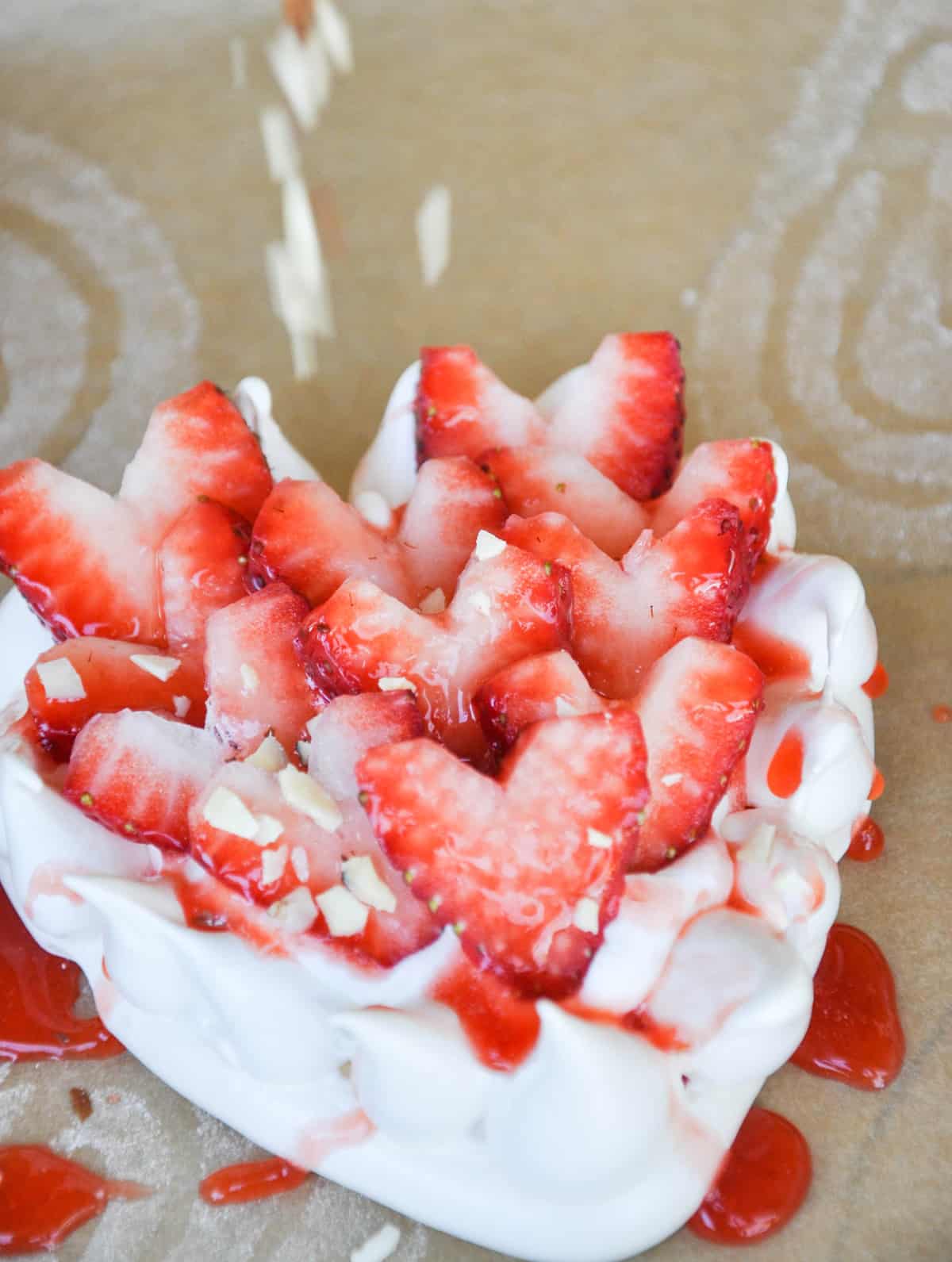 Sprinkle with crushed, slivered almonds.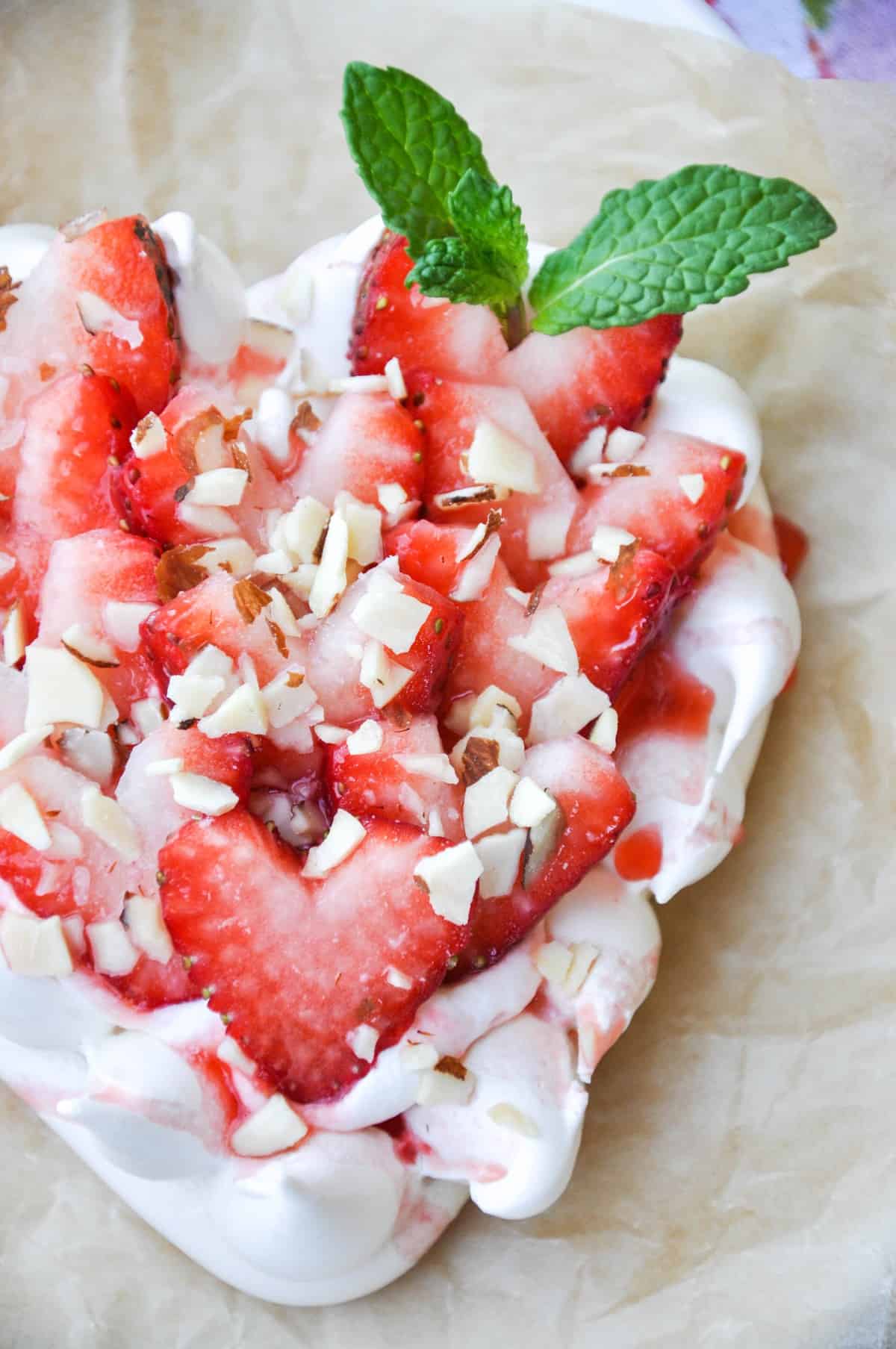 And enjoy to your 'hearts' content!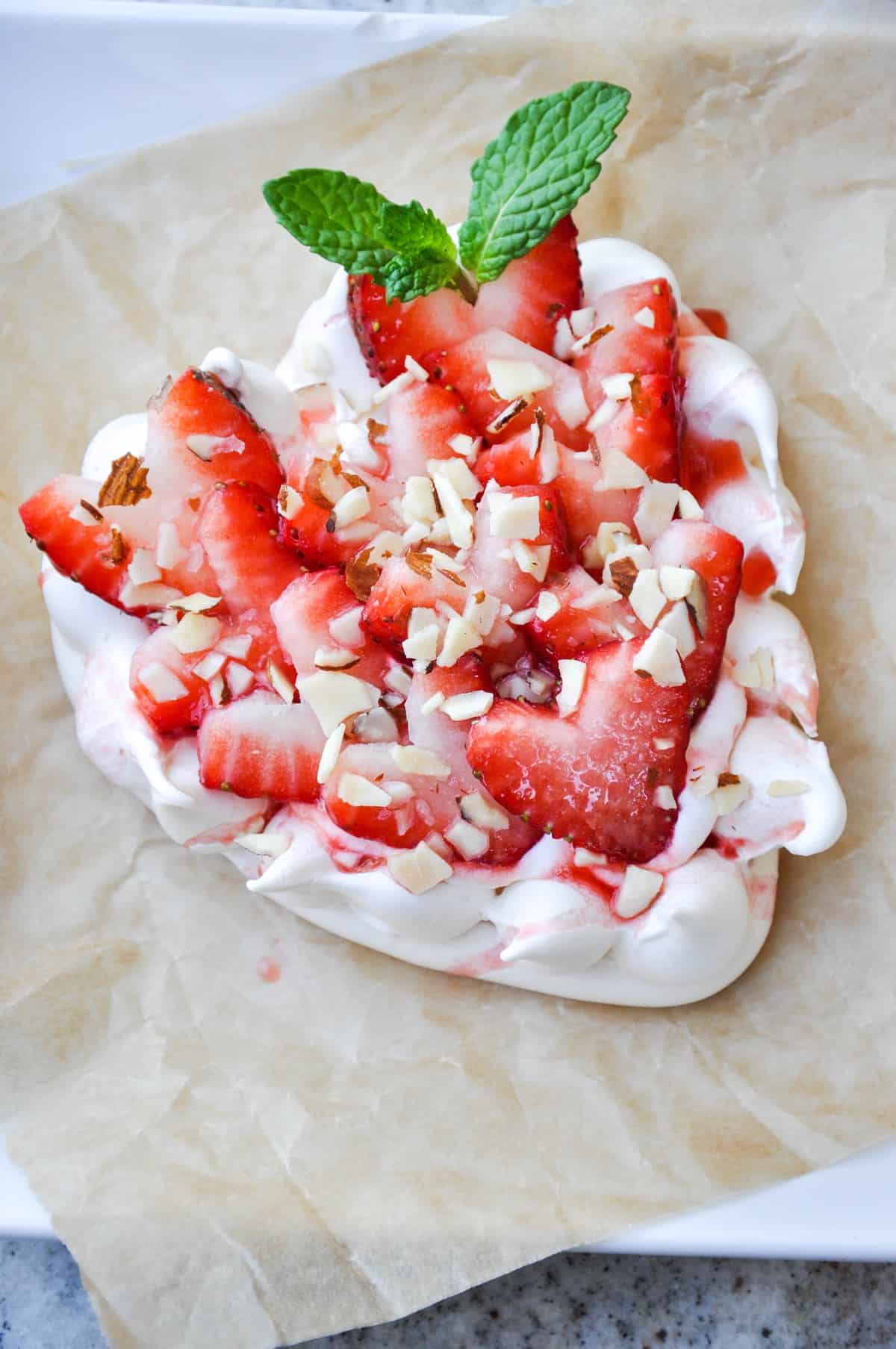 Can't get enough CA Grown strawberries? Try a Strawberry Spritzer or a Strawberry Chicken Salad!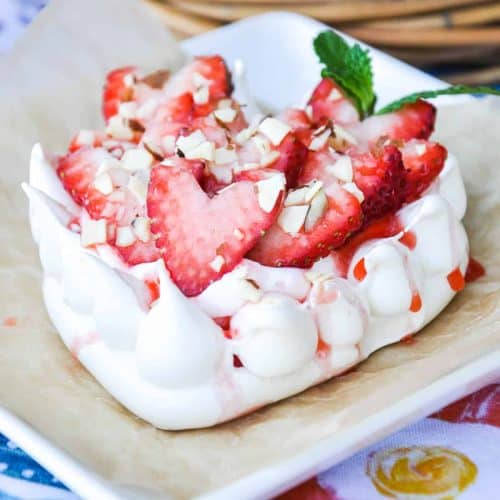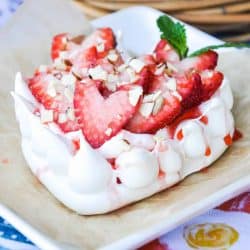 Strawberry Almond Pavlova
Heart shaped meringue shells are filled with sweet whipped cream and topped with juicy, California Grown strawberries. Talk about love at first sight!
Ingredients
3 eggs room temperature*
1 cup + 1 tablespoon baker's sugar divided
1/4 teaspoon cream of tartar
2 pounds California strawberries*
1 cup heavy cream*
1 teaspoon vanilla
1/4 cup sliced almonds crushed*
Instructions
Preheat oven to 250.

Separate the egg whites from the yolks. Reserve the yolks for another use and beat the egg whites until frothy in a stand mixer fitted with a whisk attachment, or using a hand mixer.

Add the cream of tartar and 3/4 cup of the sugar, 1 tablespoon at time, while the mixer is on med/high. Beat until stiff peaks are formed and sugar is dissolved, about 7-8 minutes. The meringue will be glossy, white and smooth.

Trace six 4-inch hearts onto parchment paper using a cookie cutter or by freehand. Pipe meringue mixture onto the parchment in a single layer, filling in the heart shapes.

Around the edges, pipe small dollops to form a raised edge.

Bake at 250 degrees for one hour. After an hour, turn the oven off and allow the meringues to sit in the oven for another hour while it cools.

Slice all the strawberries.

To make the strawberry juice, add 1 tablespoon of sugar to about 1/2 pound of the sliced strawberries with 1 tablespoon and mash until pulverized.

To make the whipped cream, add 1 cup heavy cream with 1/4 cup sugar and 1 teaspoon vanilla. Whip until desired consistency.

Remove the meringues from the oven and pipe in the whipped cream to the centers.

Top with sliced strawberries and reserved strawberry juice.

Sprinkle crushed almonds over all and serve.
Notes
*this comes from California
Nutrition
Calories: 347kcalCarbohydrates: 47gProtein: 4gFat: 17gSaturated Fat: 10gPolyunsaturated Fat: 1gMonounsaturated Fat: 5gTrans Fat: 0.003gCholesterol: 72mgSodium: 23mgPotassium: 330mgFiber: 4gSugar: 42gVitamin A: 641IUVitamin C: 89mgCalcium: 65mgIron: 1mg
Looking for more California Grown goodness? Check out our Pinterest page!
Maybe you have a favorite recipe that you think we'll love? Snap a pic and post on social using #CAGROWN.