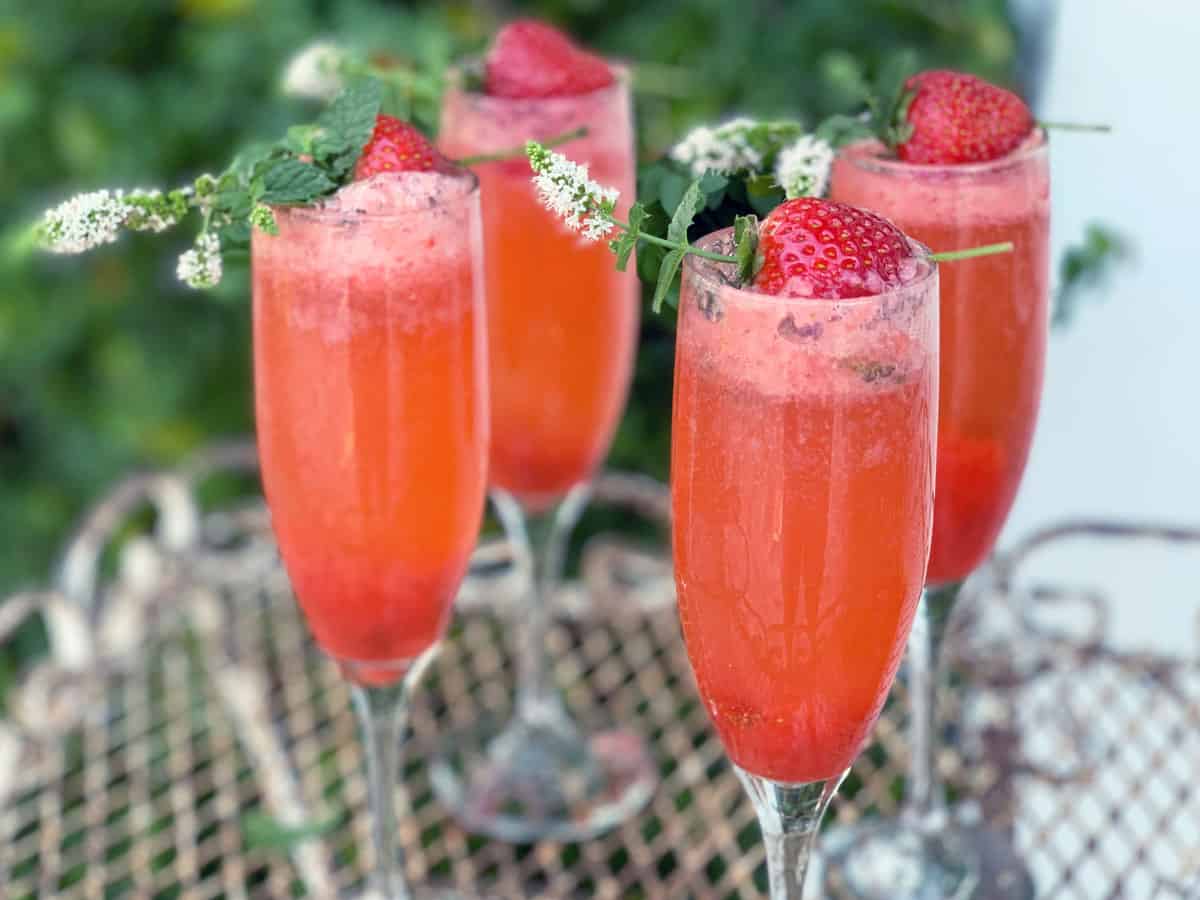 CA GROWN Blog
Discover. Learn. Connect.
Strawberry Spritzer with California Sparkling Wine
September 12, 2019
Eat the Season!
Sign Up For Weekly Recipes
« Back to Recipes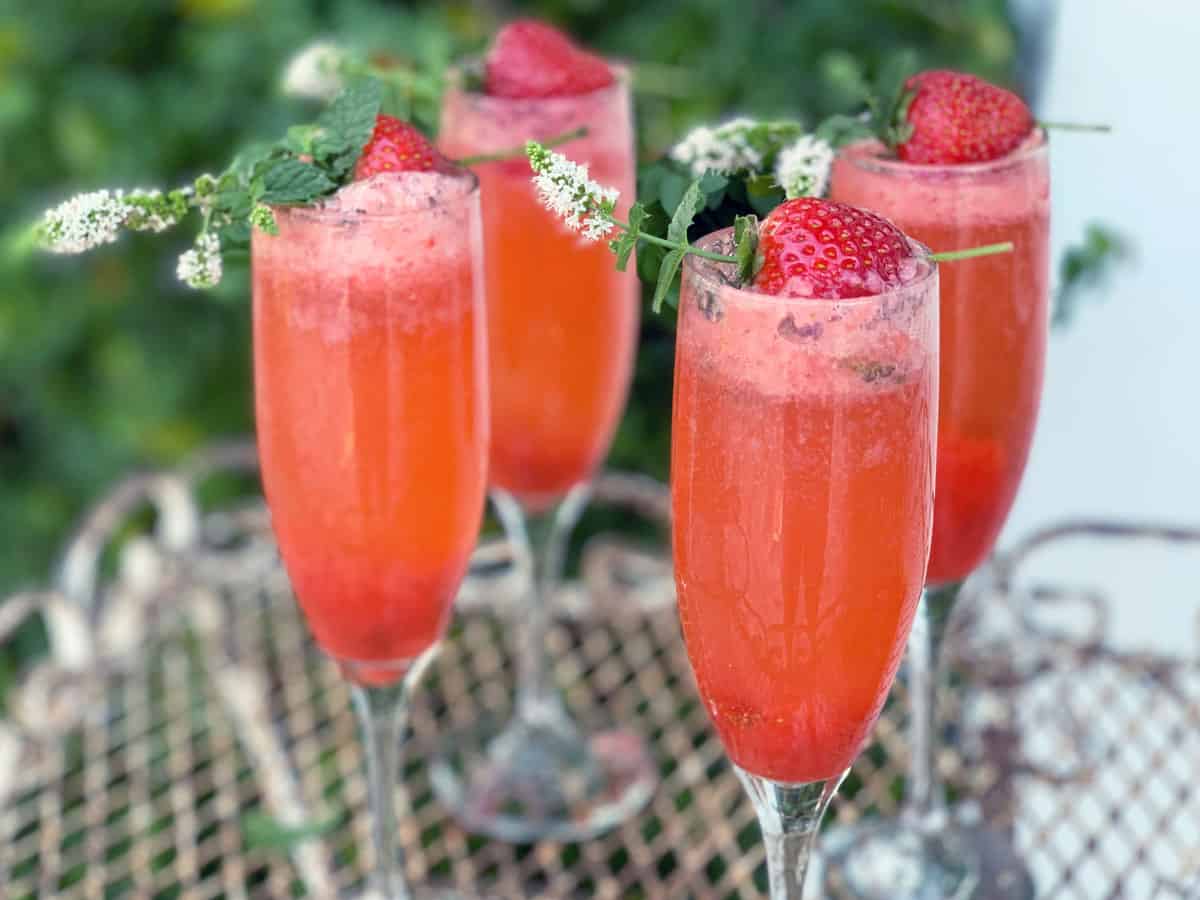 Strawberry Spritzer with California Sparkling Wine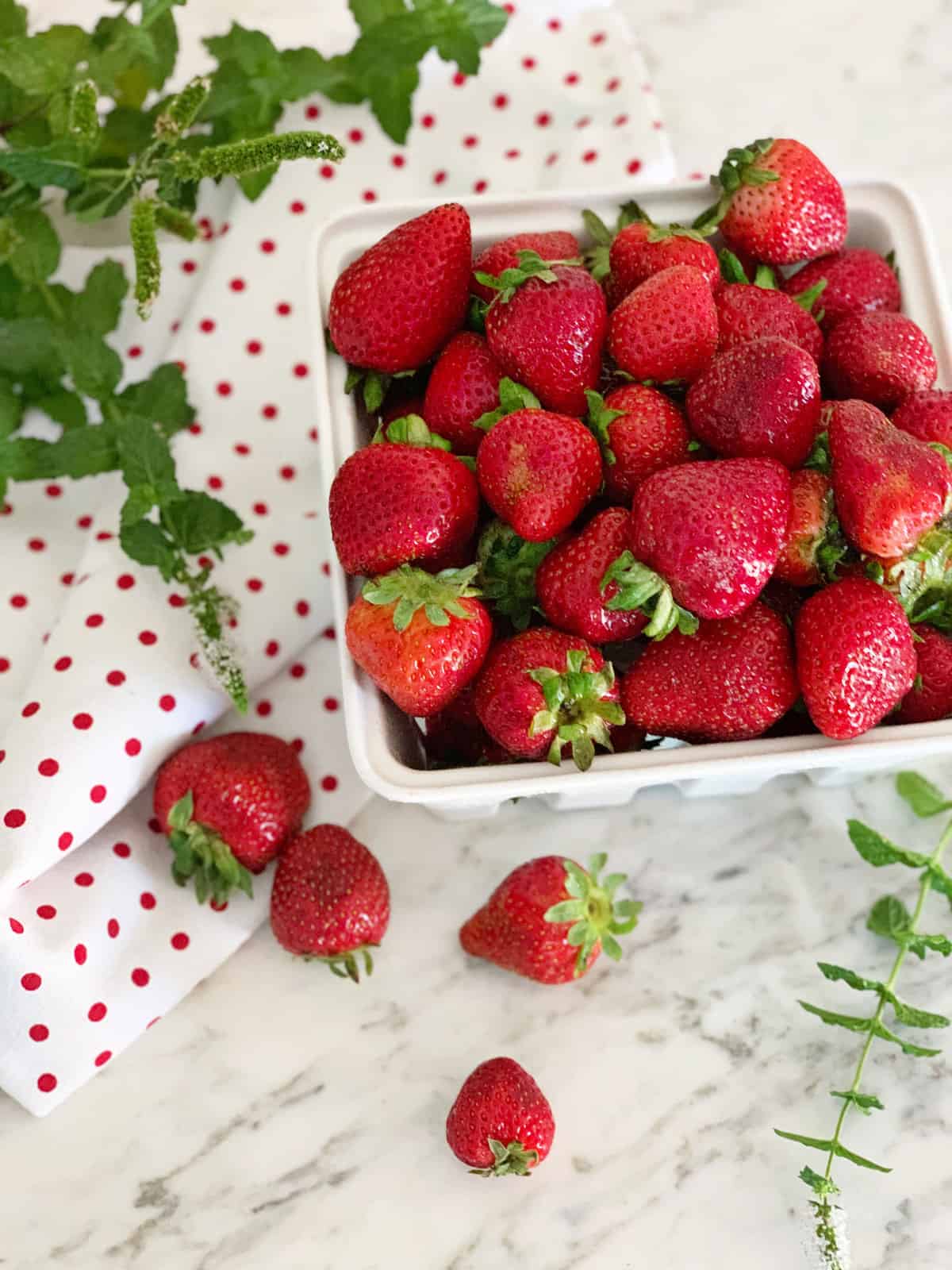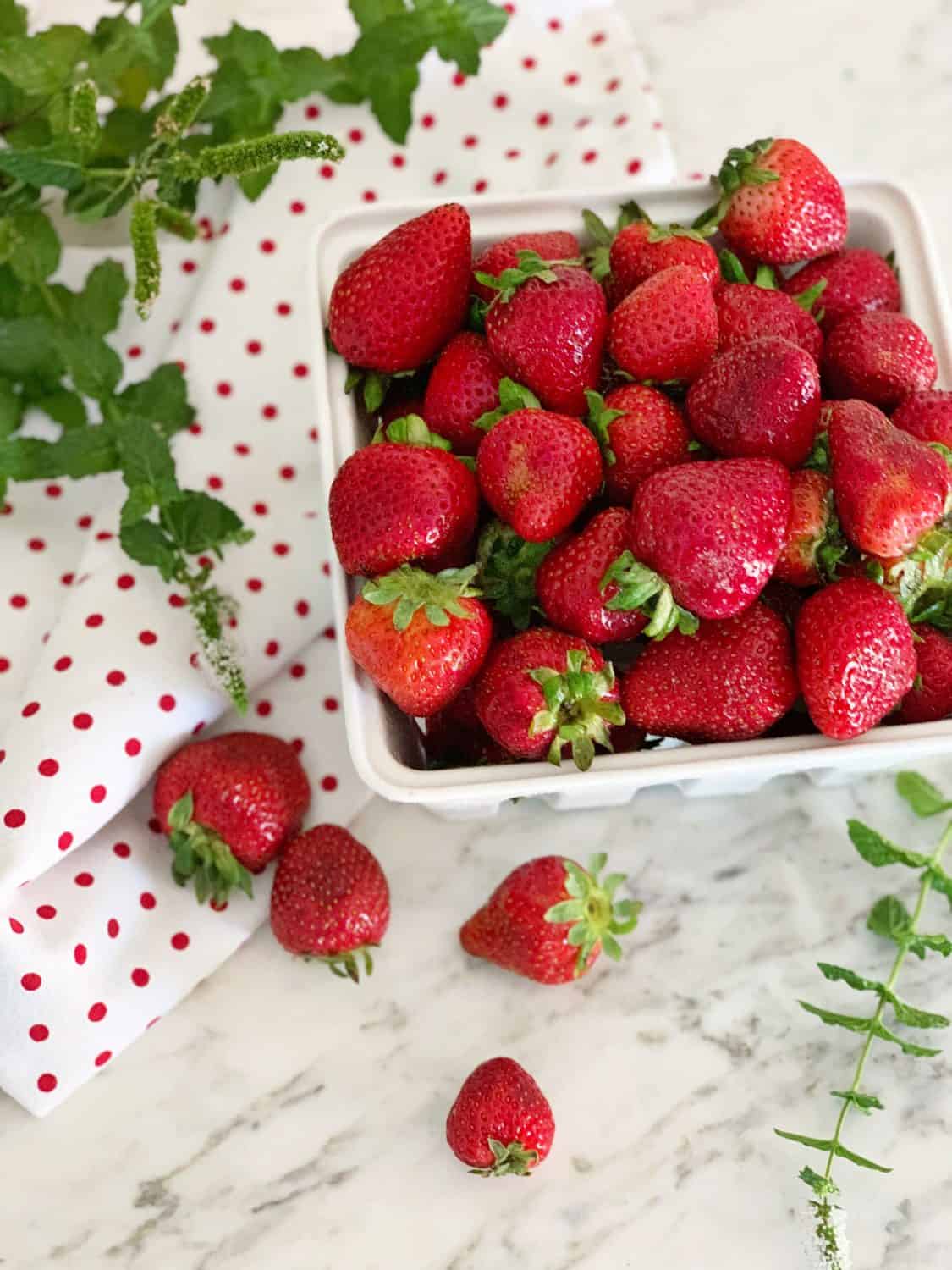 Let's relish in the season of beautiful bounty as long as we can! We don't need a special occasion to pop some bubbly and toast to the day, although today's Sparkling Strawberry Spritzer recipe would be absolutely lovely for a brunch, baby shower, or any other special event! The sweetness of strawberries muddled with fresh mint and a dash of lime are the perfect base for this fruity concoction of gin and California sparkling wine!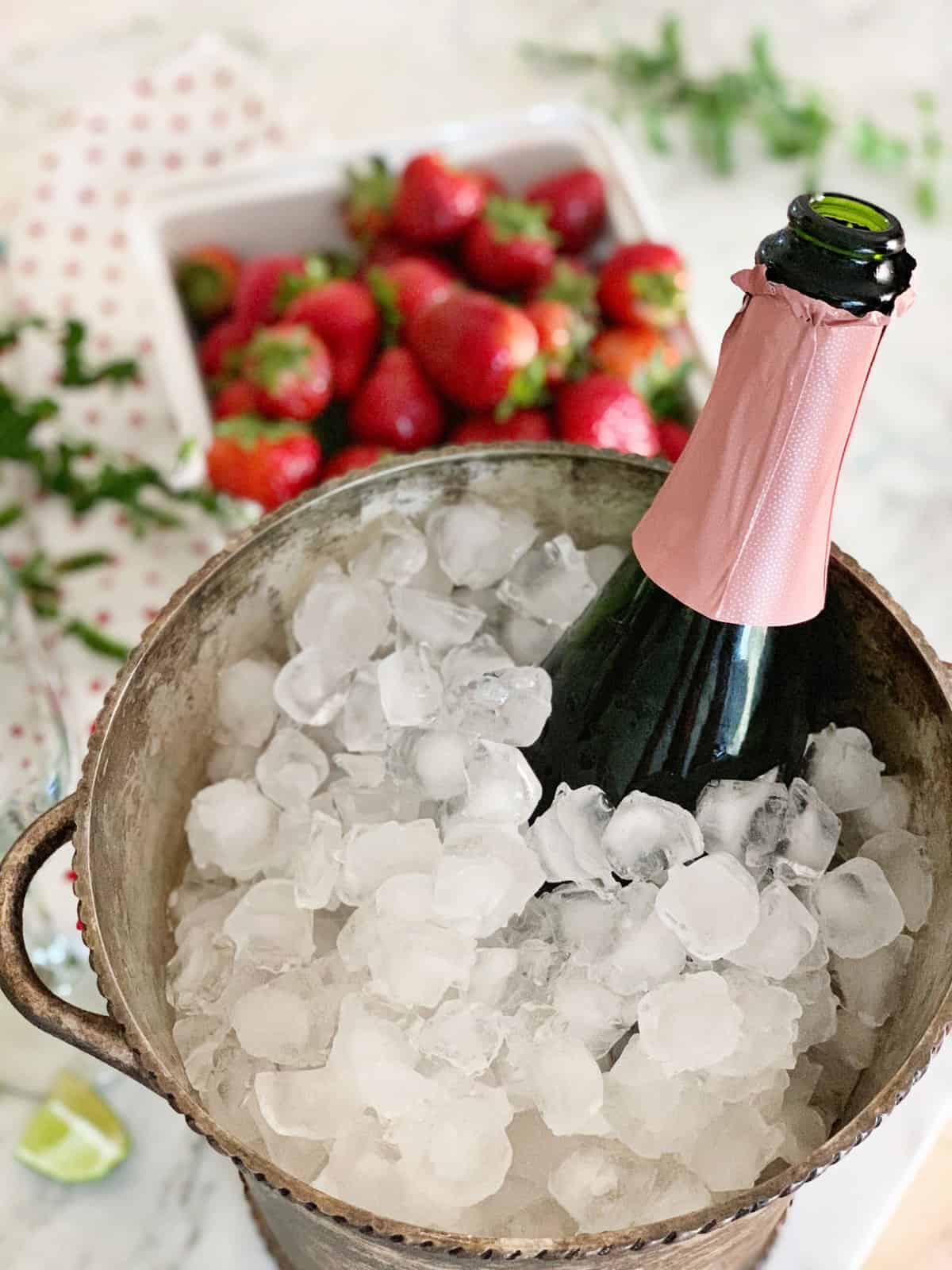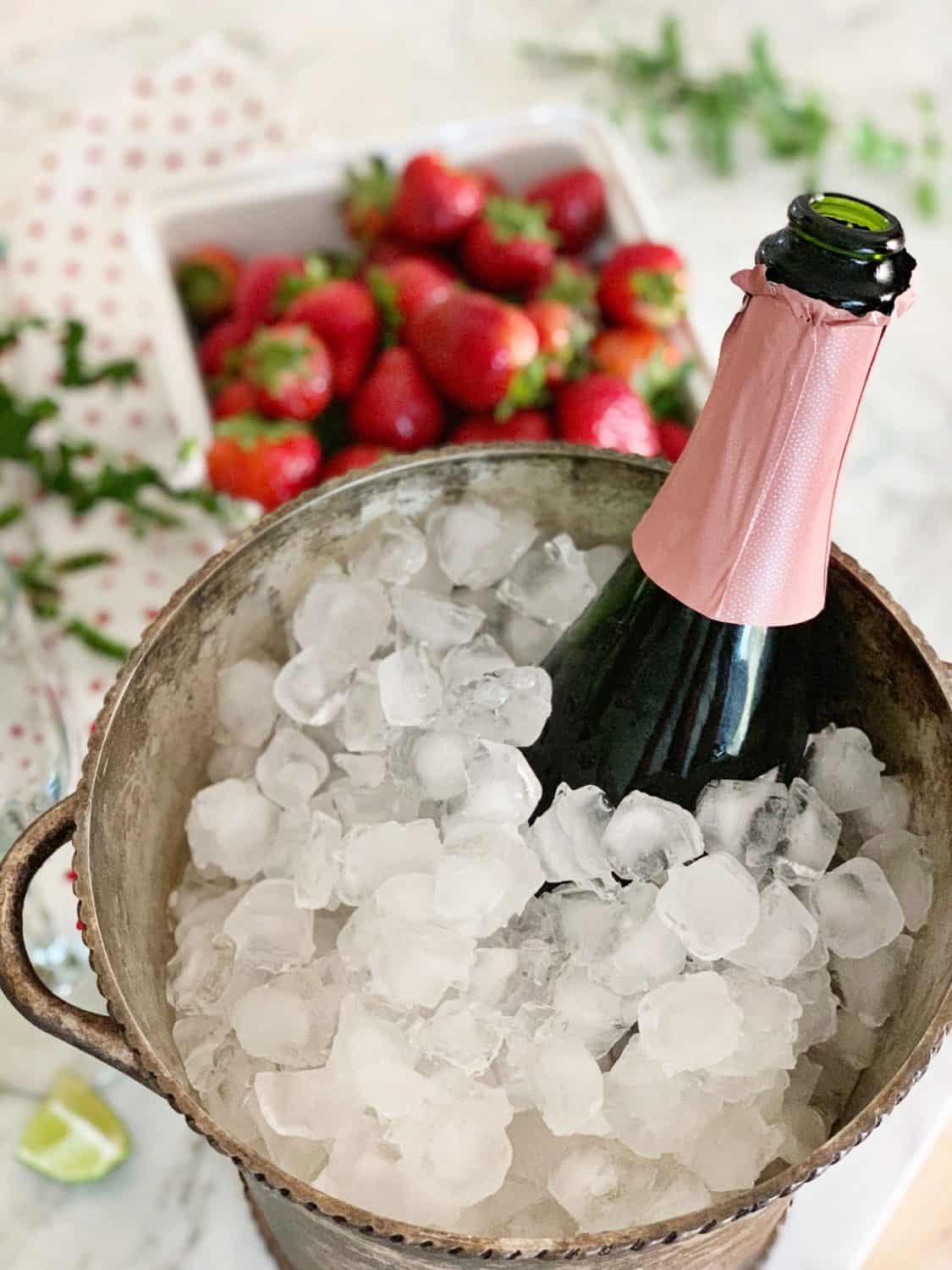 Grab a bottle of sparkling wine, get it chilled really well, and let's get making this delicious drink!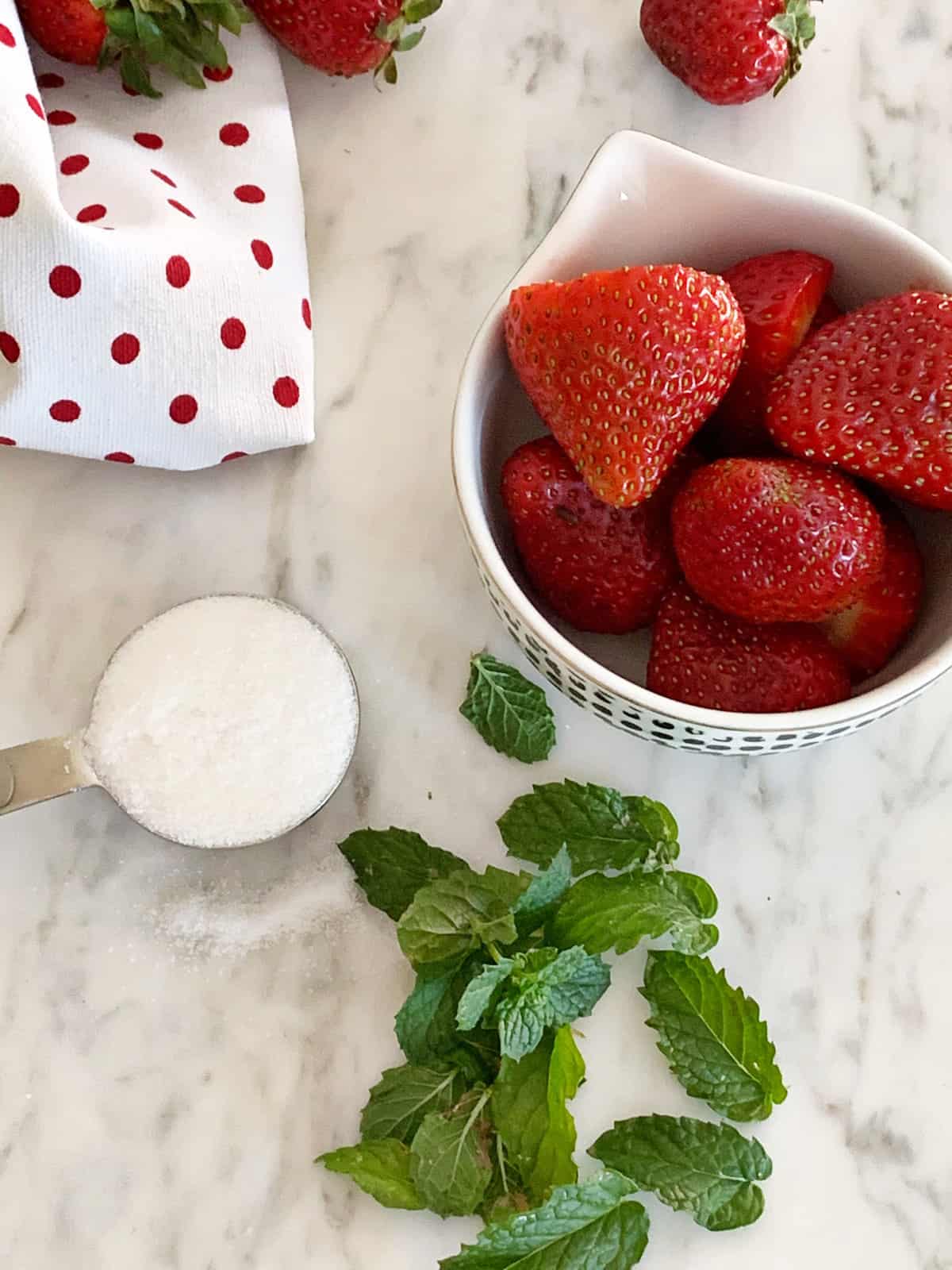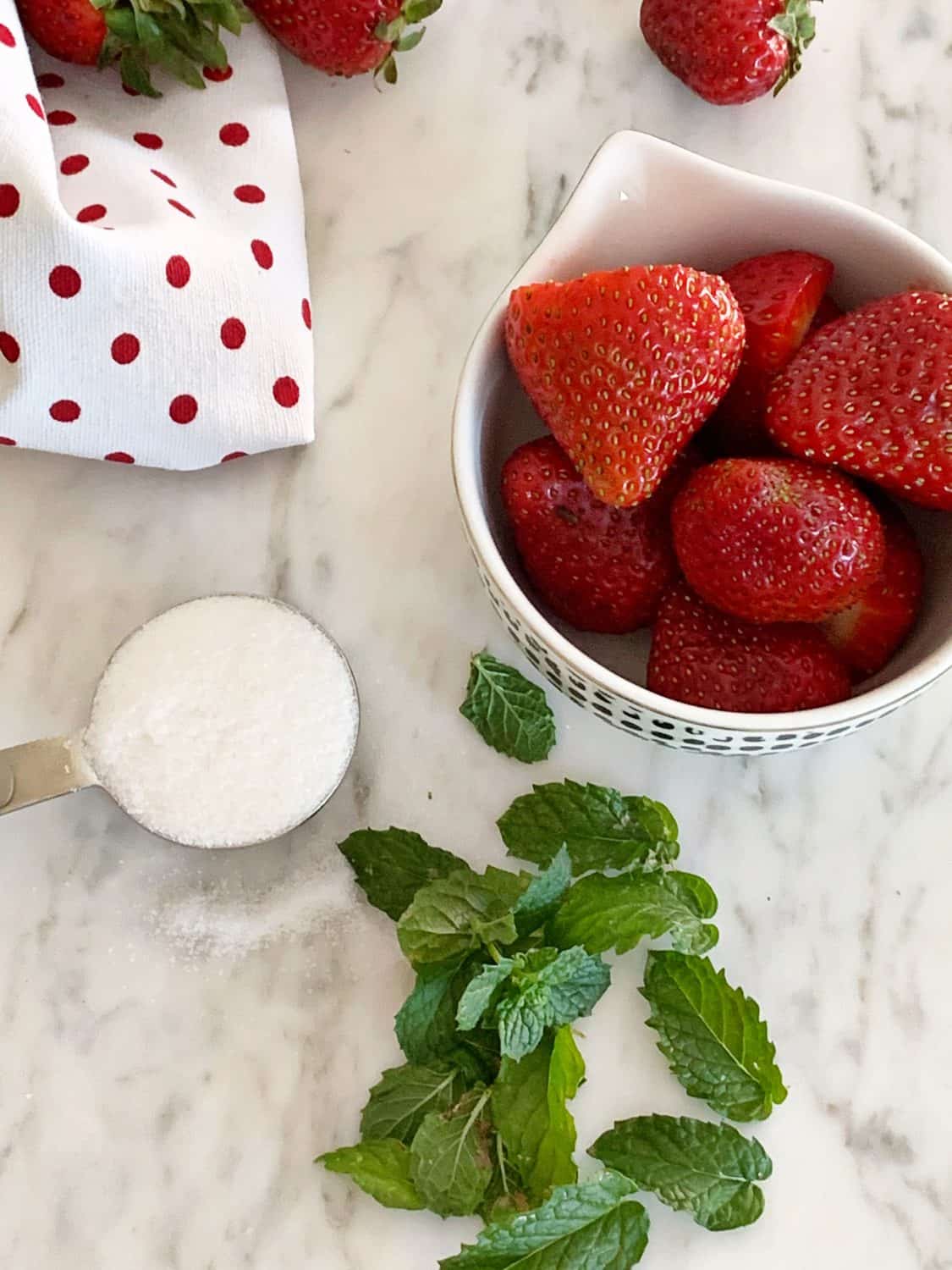 We'll begin with our base puree. You will need granulated sugar, fresh strawberries – rinse and remove stems, a lime, and a handful of mint.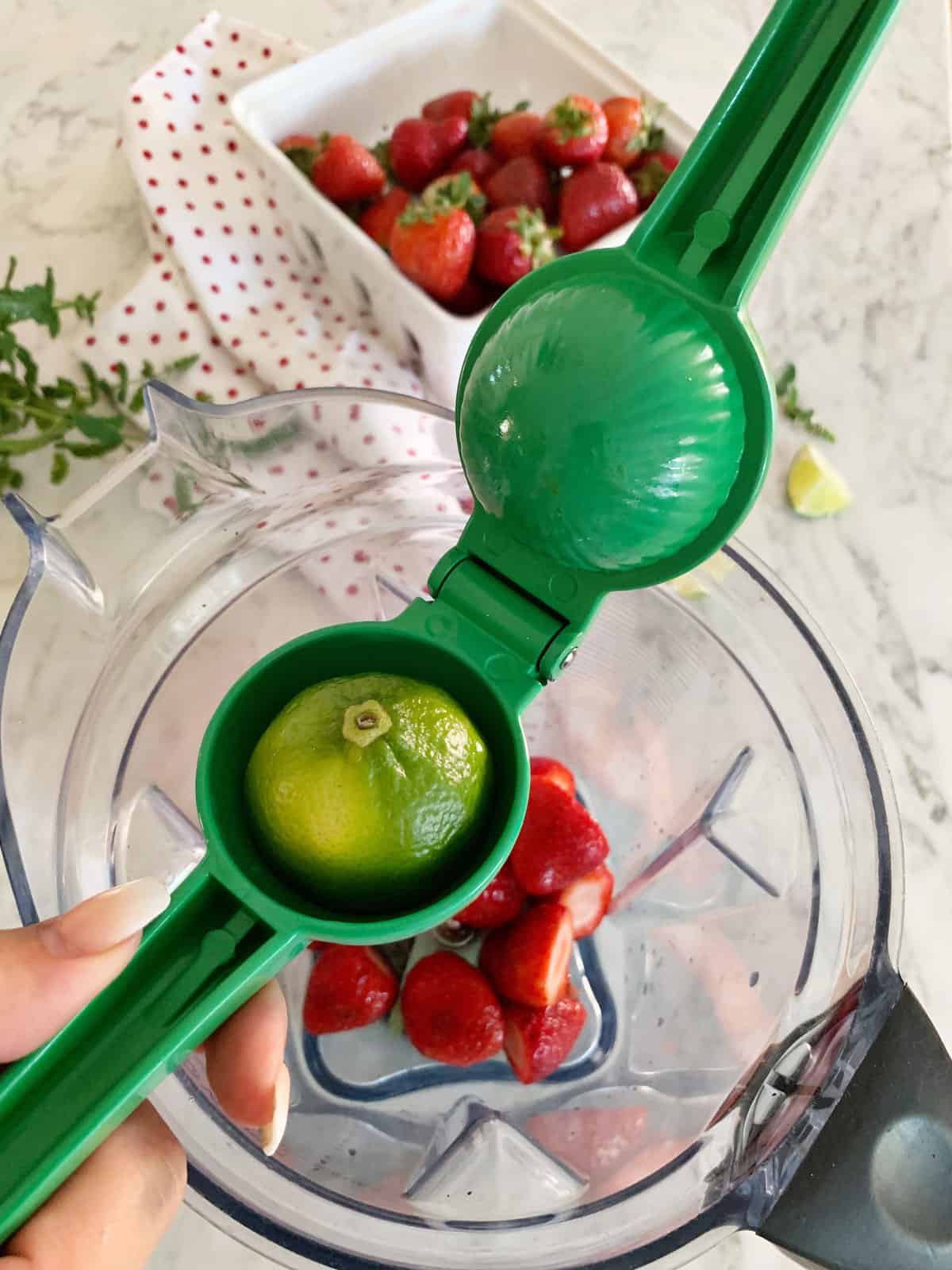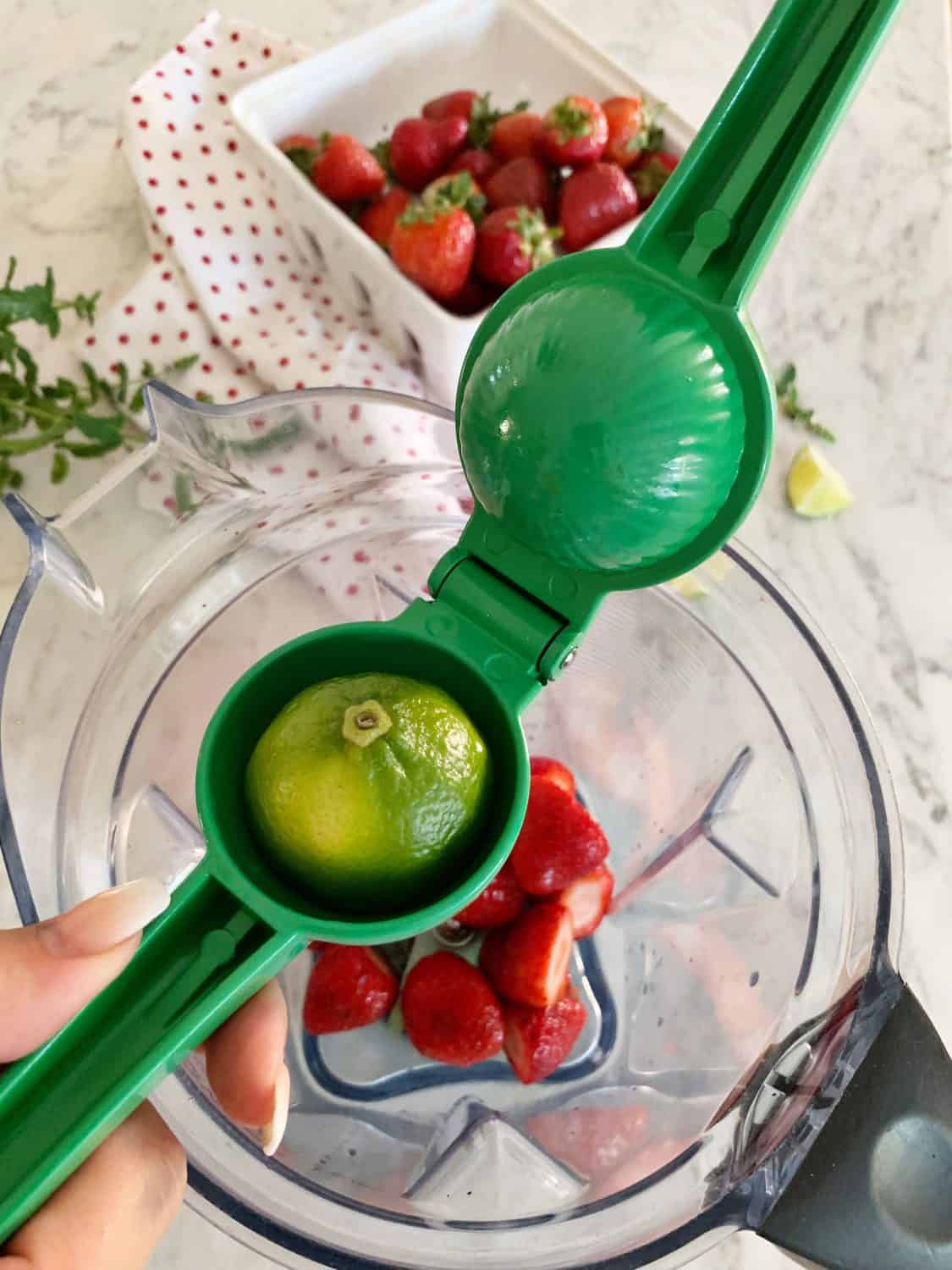 Place the fresh strawberries into a blender (or a food processor). Add the juice of one lime.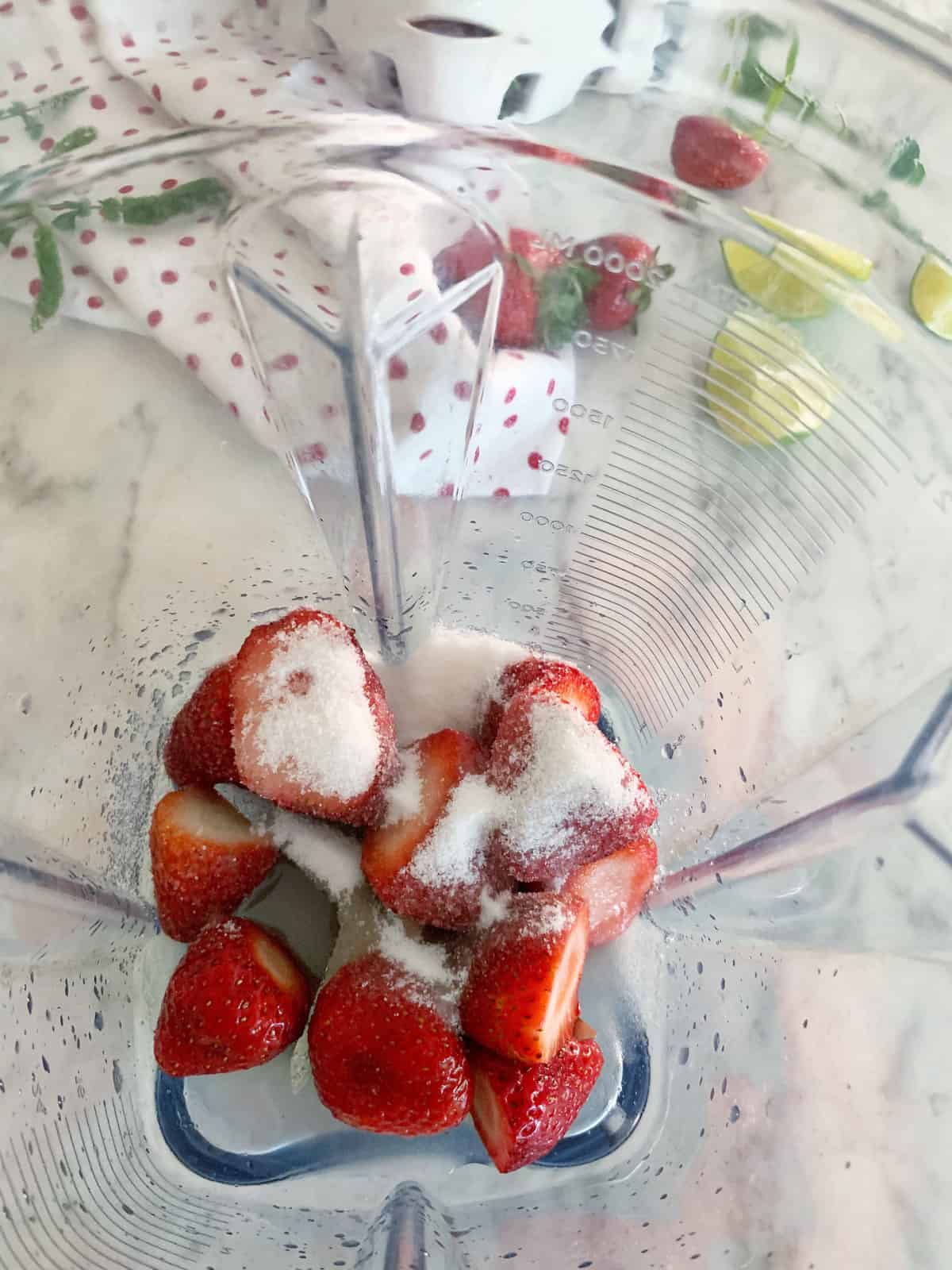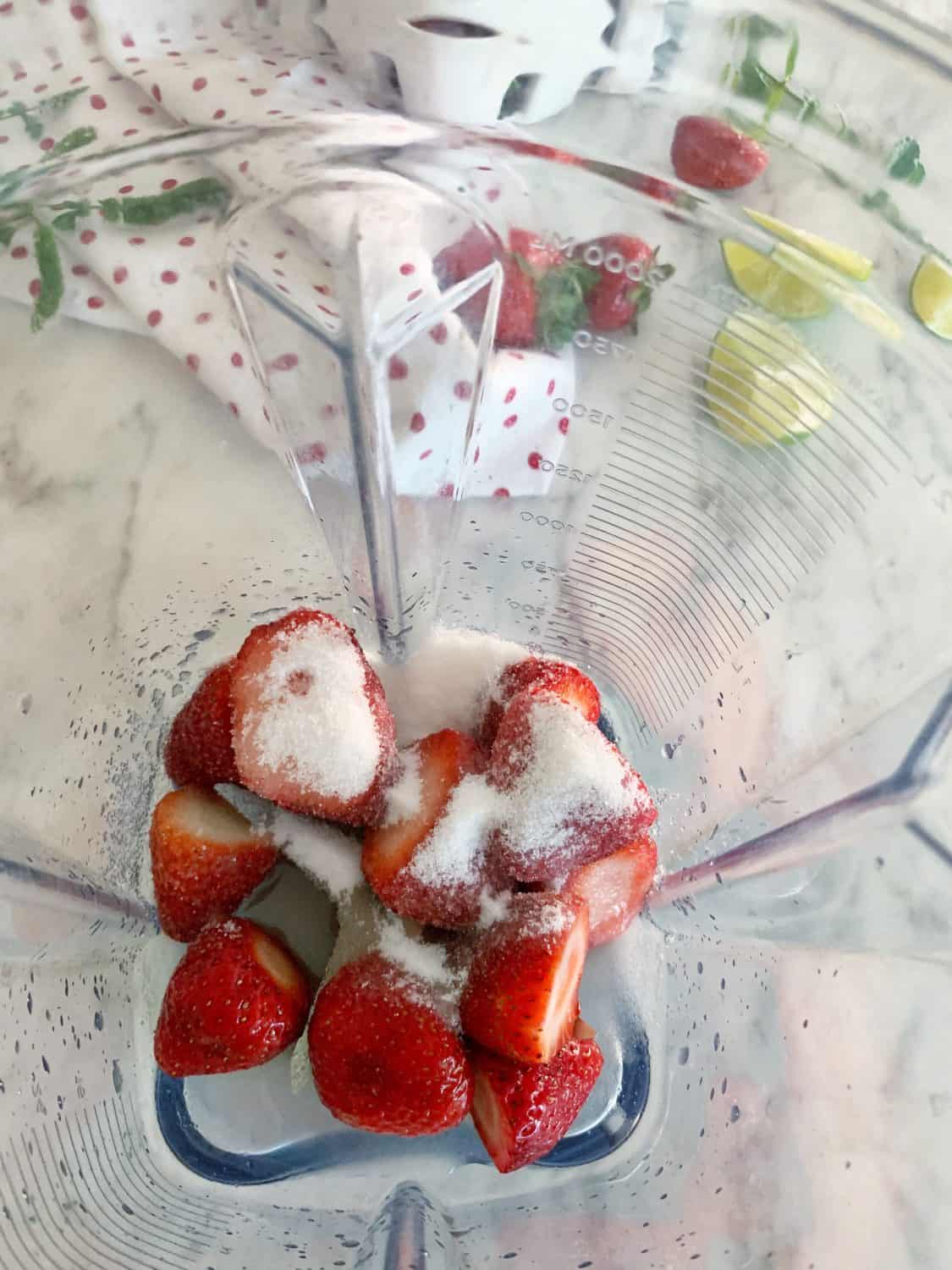 Add the granulated sugar. Puree well.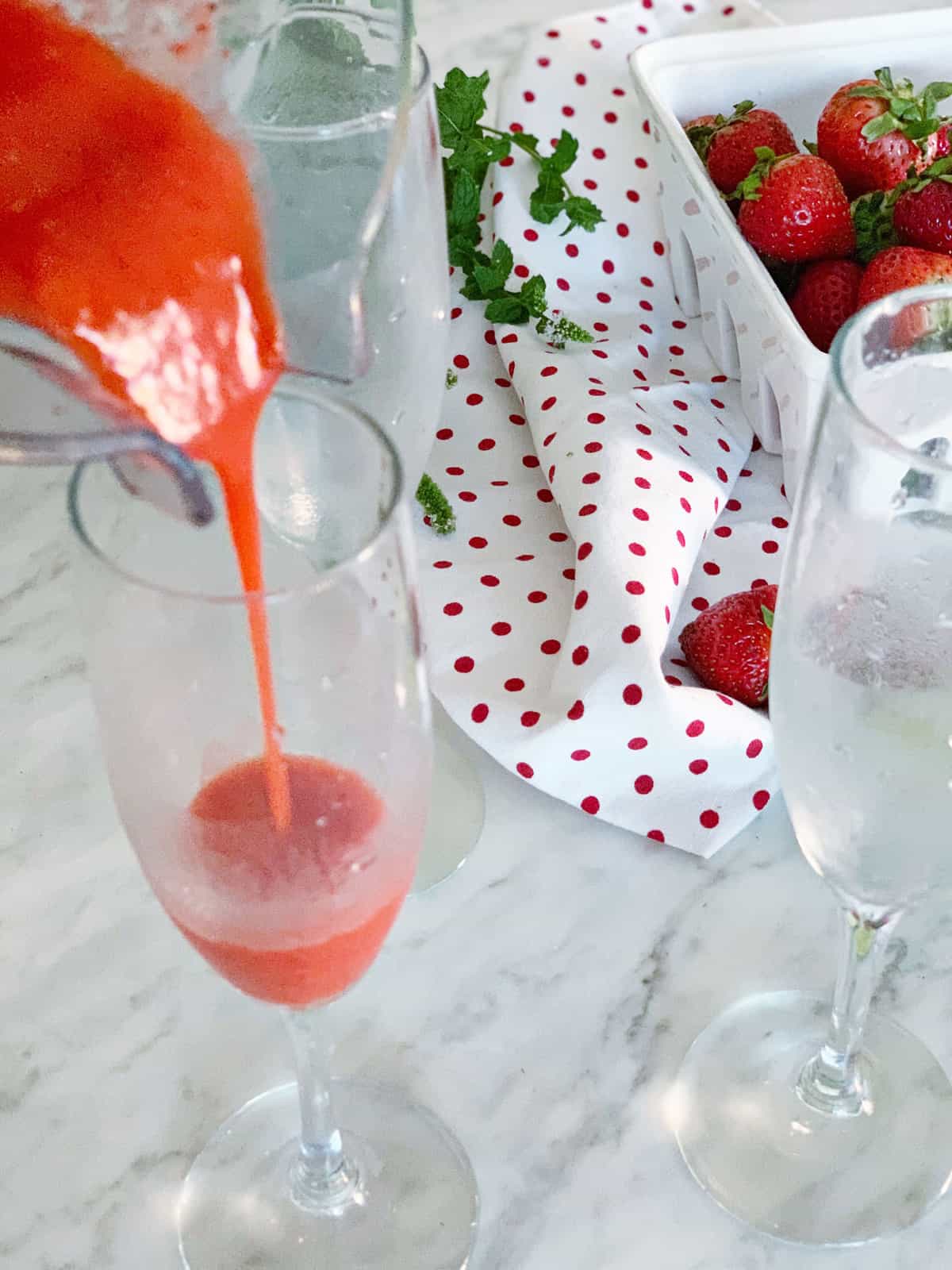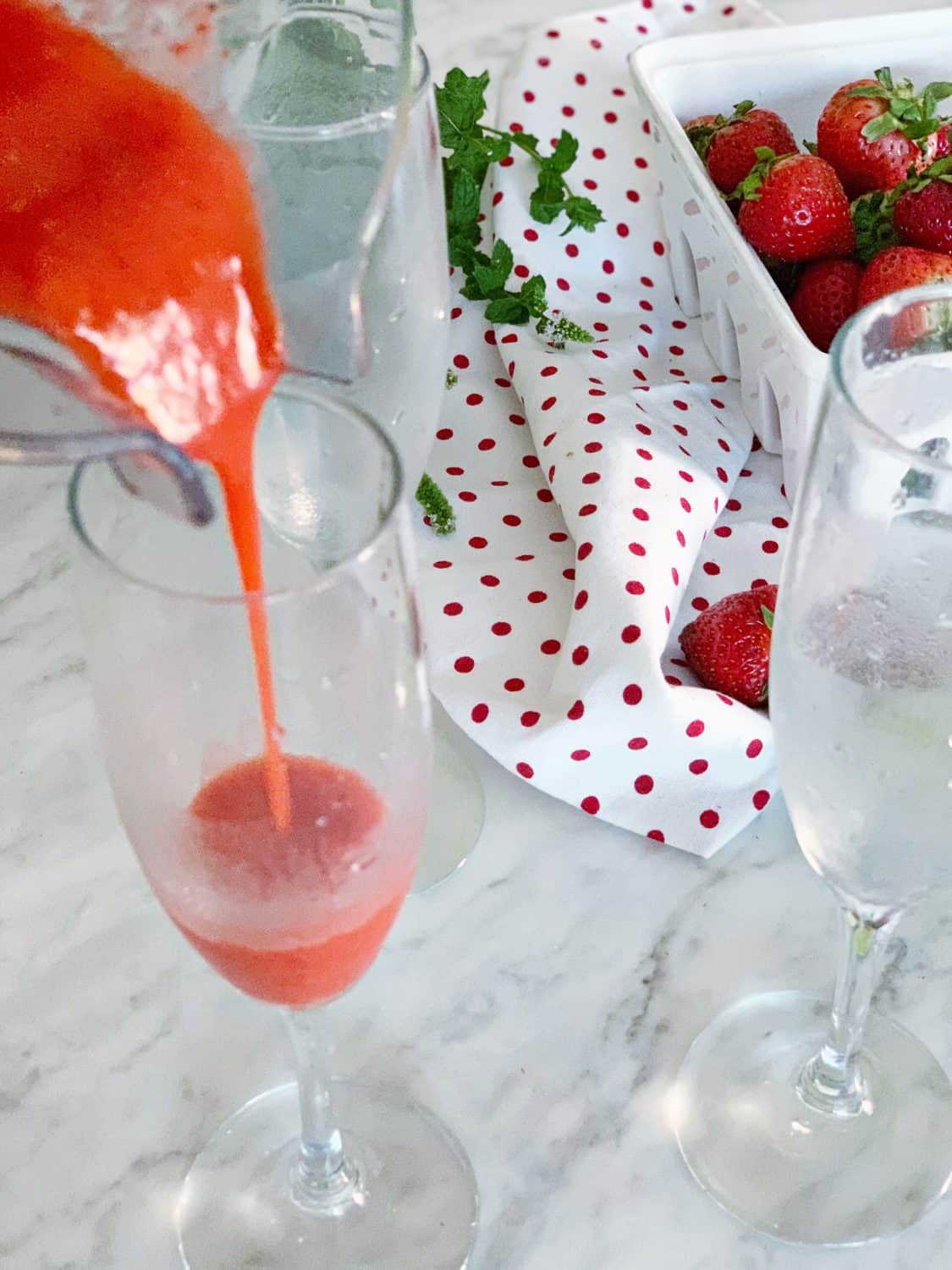 Divide the pureed mixture between four champagne flutes (or fill about 1/4 full).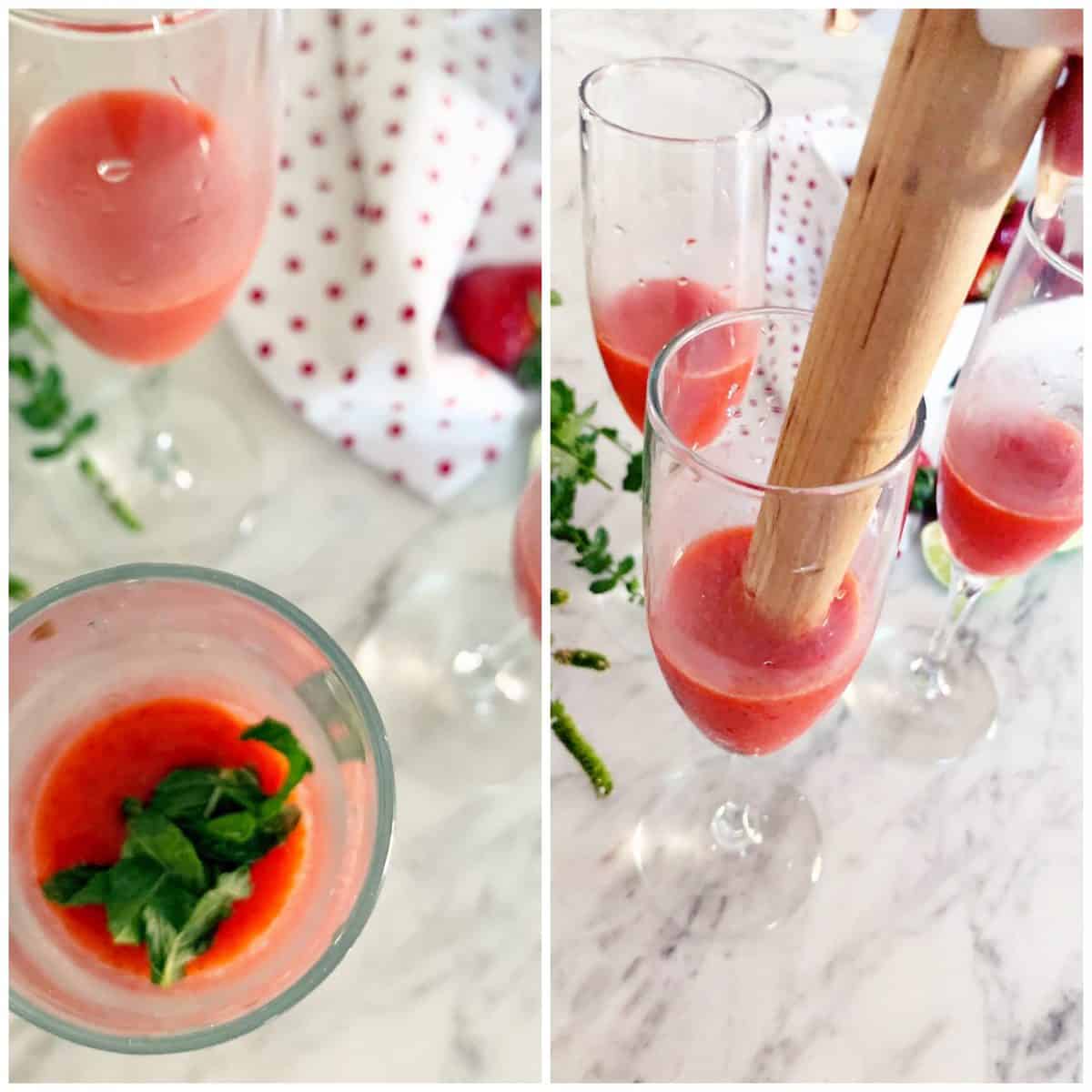 Add a few sprigs of mint to each glass. Muddle well to get some of that minty flavor mixed in.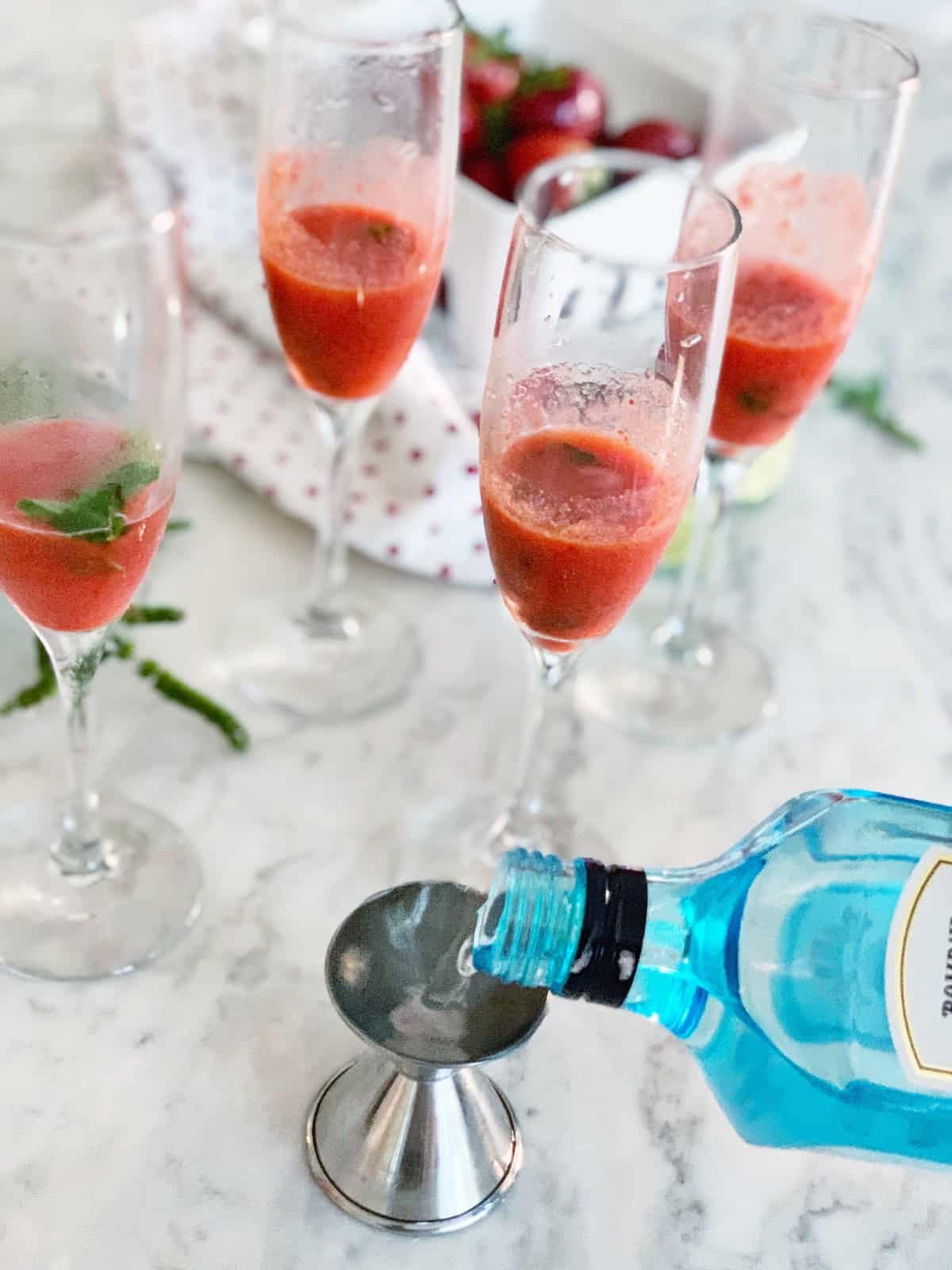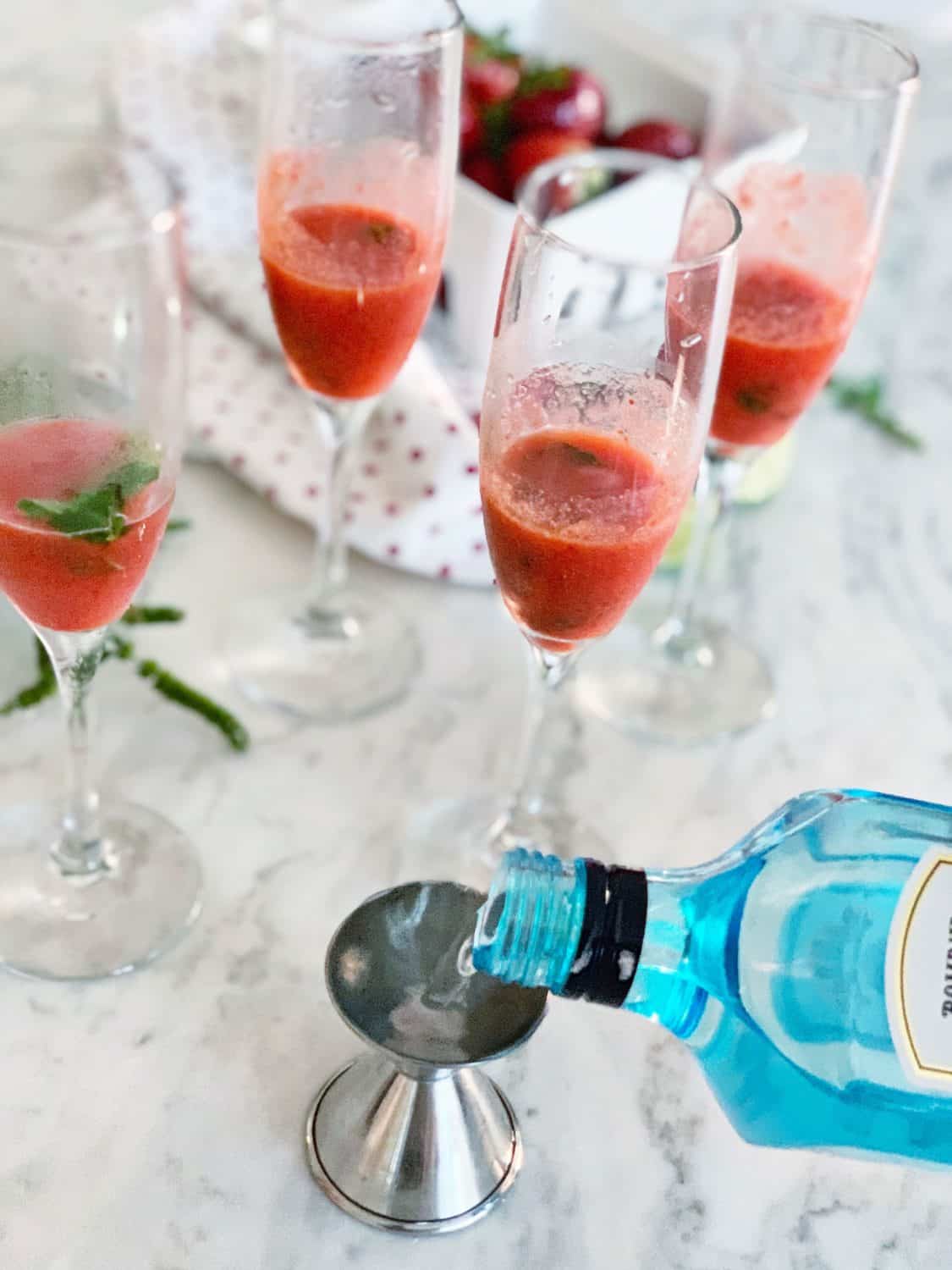 Next, add 1 ounce of gin to each glass.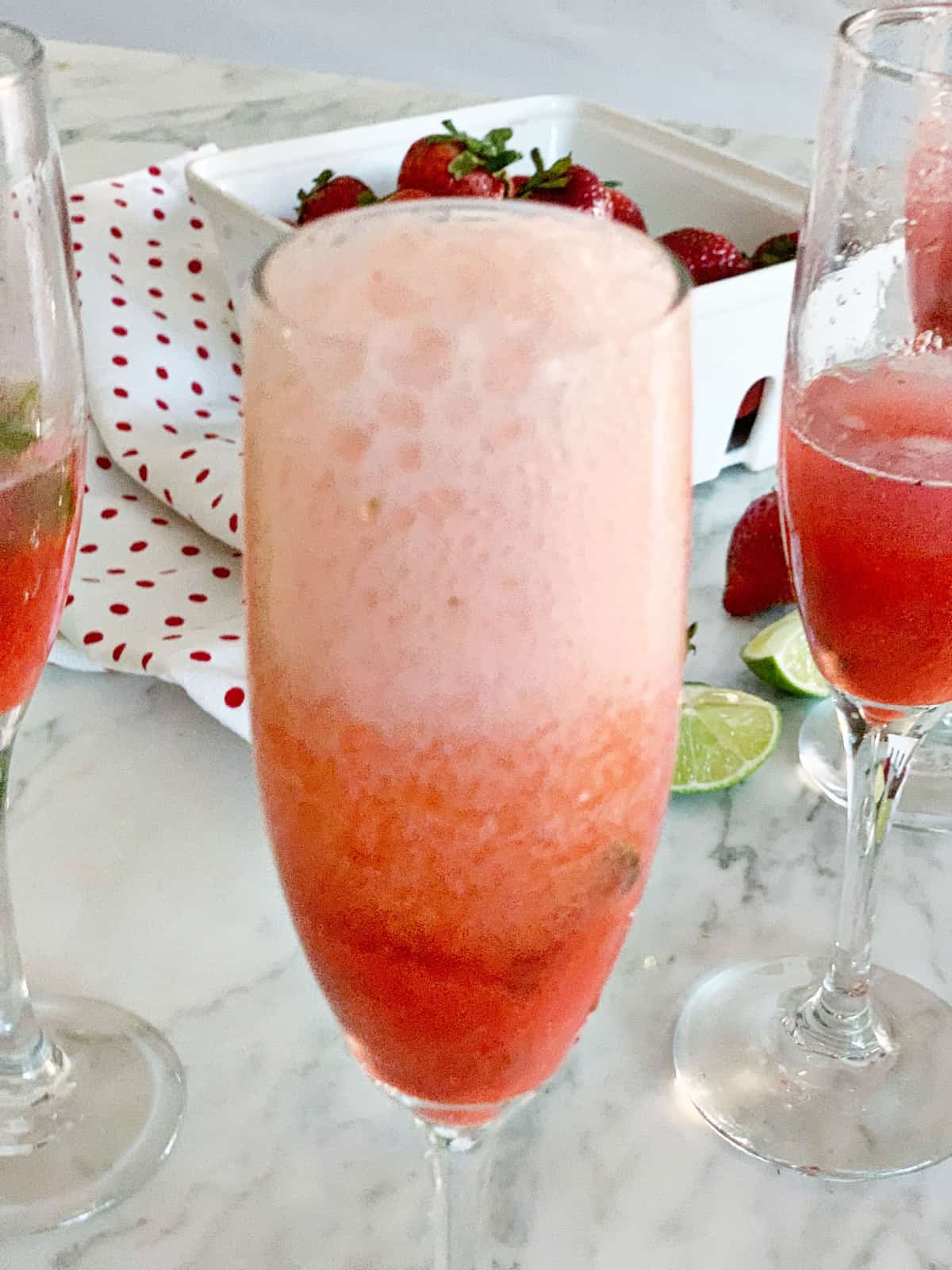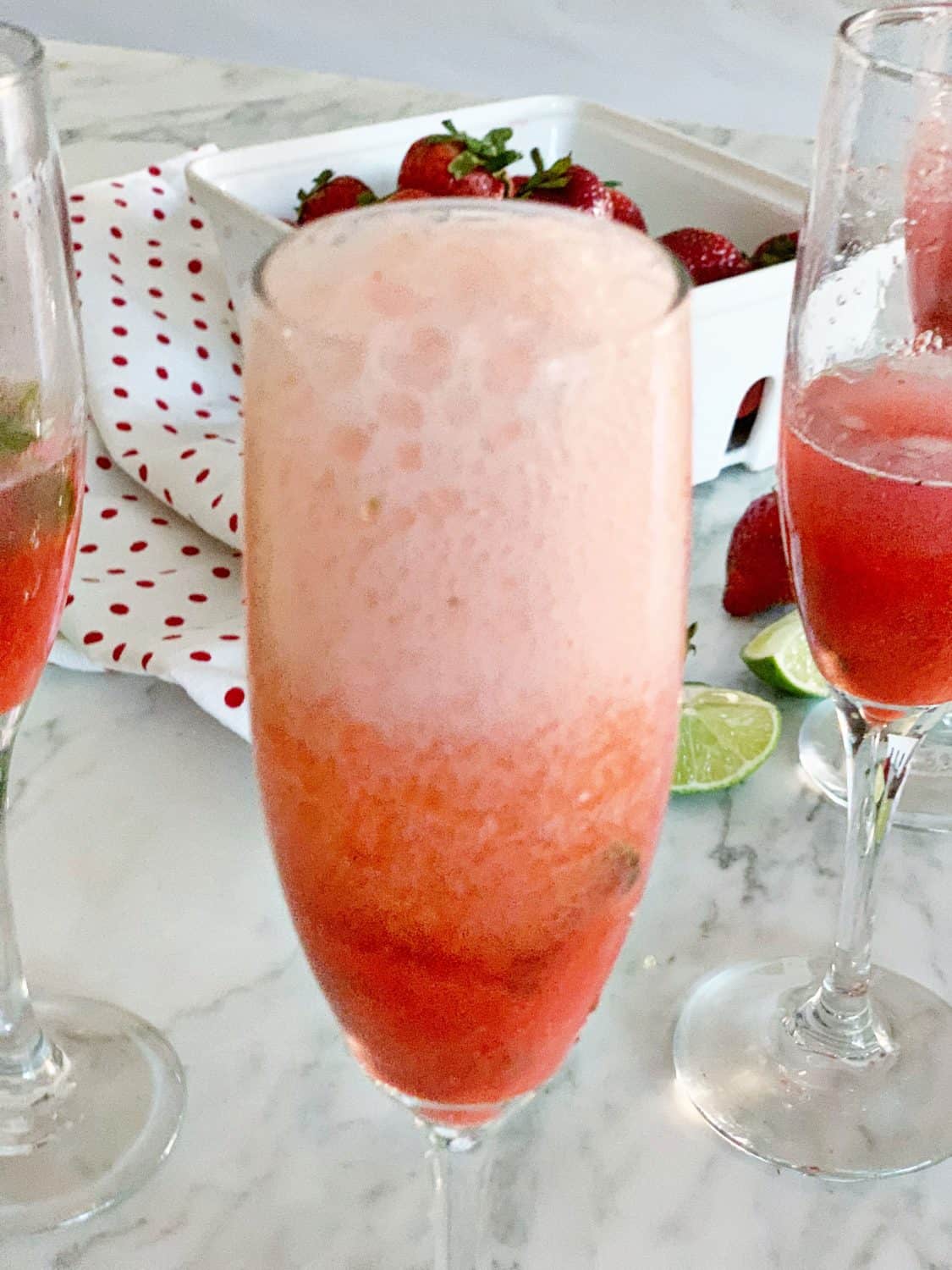 Time to fill with chilled sparkling wine – I used a rose sparkling wine for added pink coloring and a bit of extra berry undertones. Wait for the bubbles to recede a bit and continue filling with sparkling wine, leaving just a bit of room at the top of the glass to add a light splash of sparkling water (not pictured). Top off your creation with sparkling water. Now your drink is made and can be served as is. But – I like to kick it up a notch with a really simple, but beautiful garnish!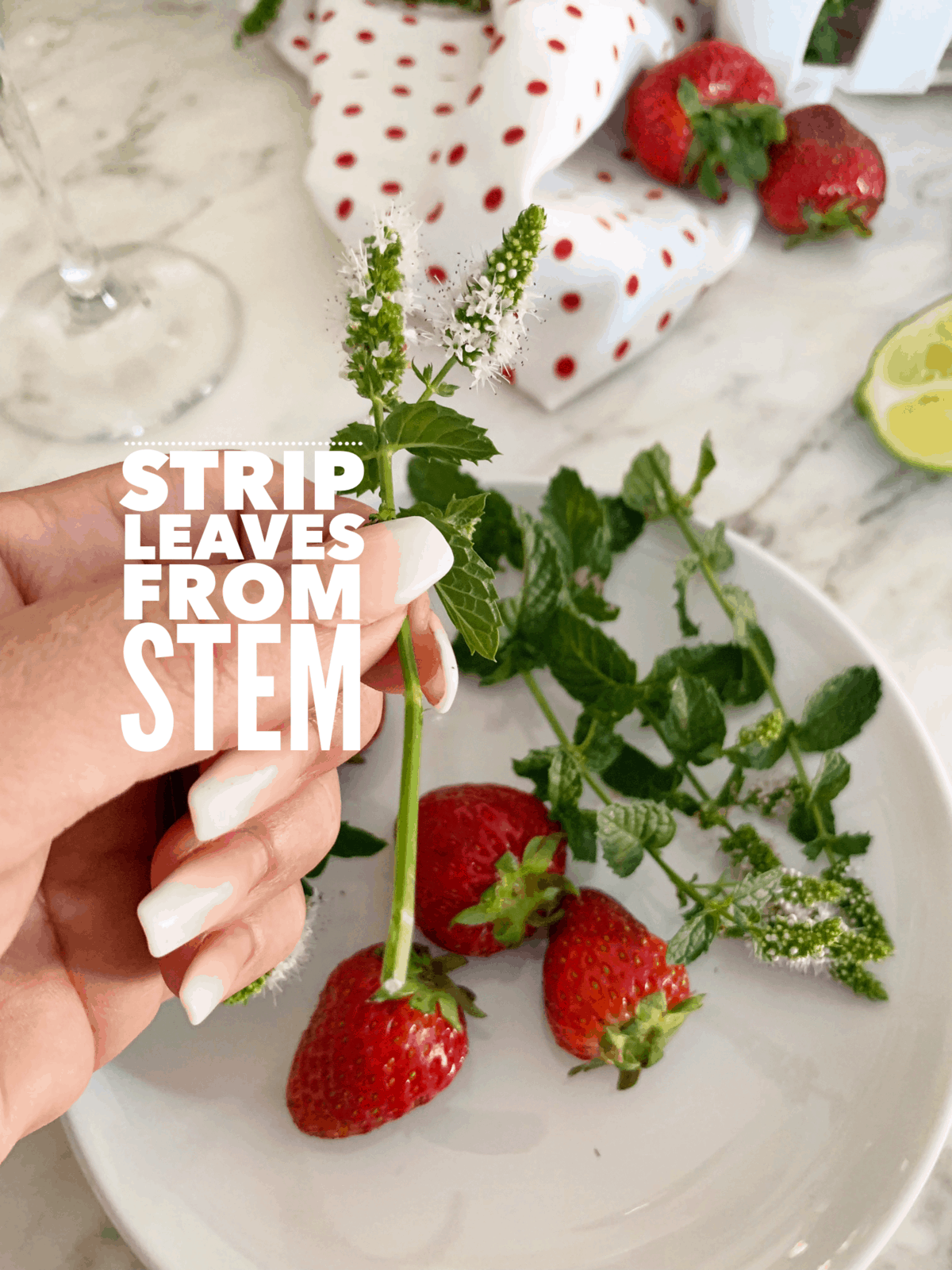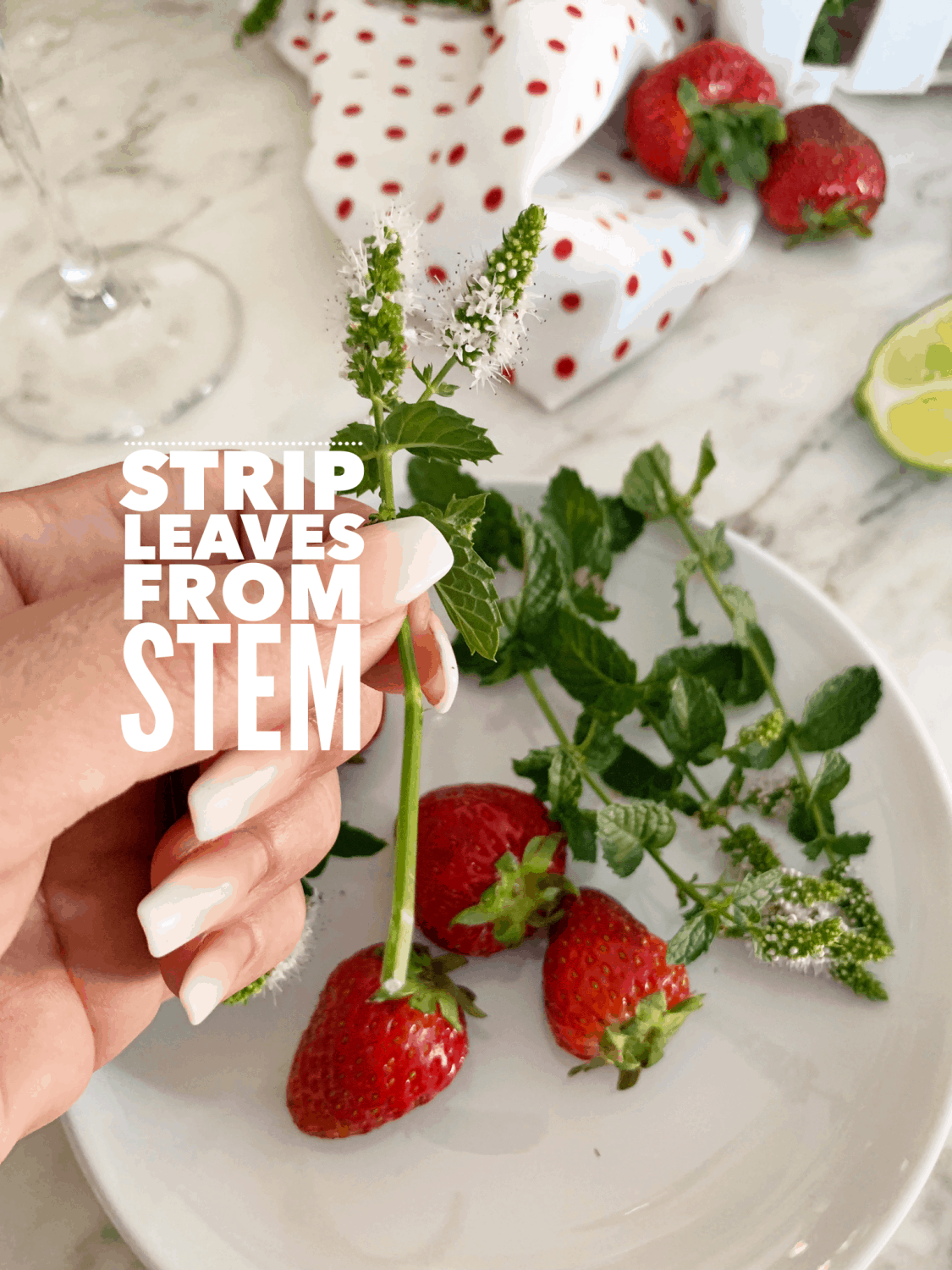 To prepare our garnishes, you will need a small strawberry and a sprig of mint for each cocktail. Since I grew this mint in my backyard, some of it had overgrown and developed the prettiest little white flower heads. No worries if you don't have blossoms on the end of your mint, just use a lush green sprig and your garnish will be perfect! Pinch each sprig toward the top, and drag your fingers down the rest of the stem to remove the rest of the leaves, leaving about 1 inch of foliage at the top and a bare stem below that is about 3-4 inches in length.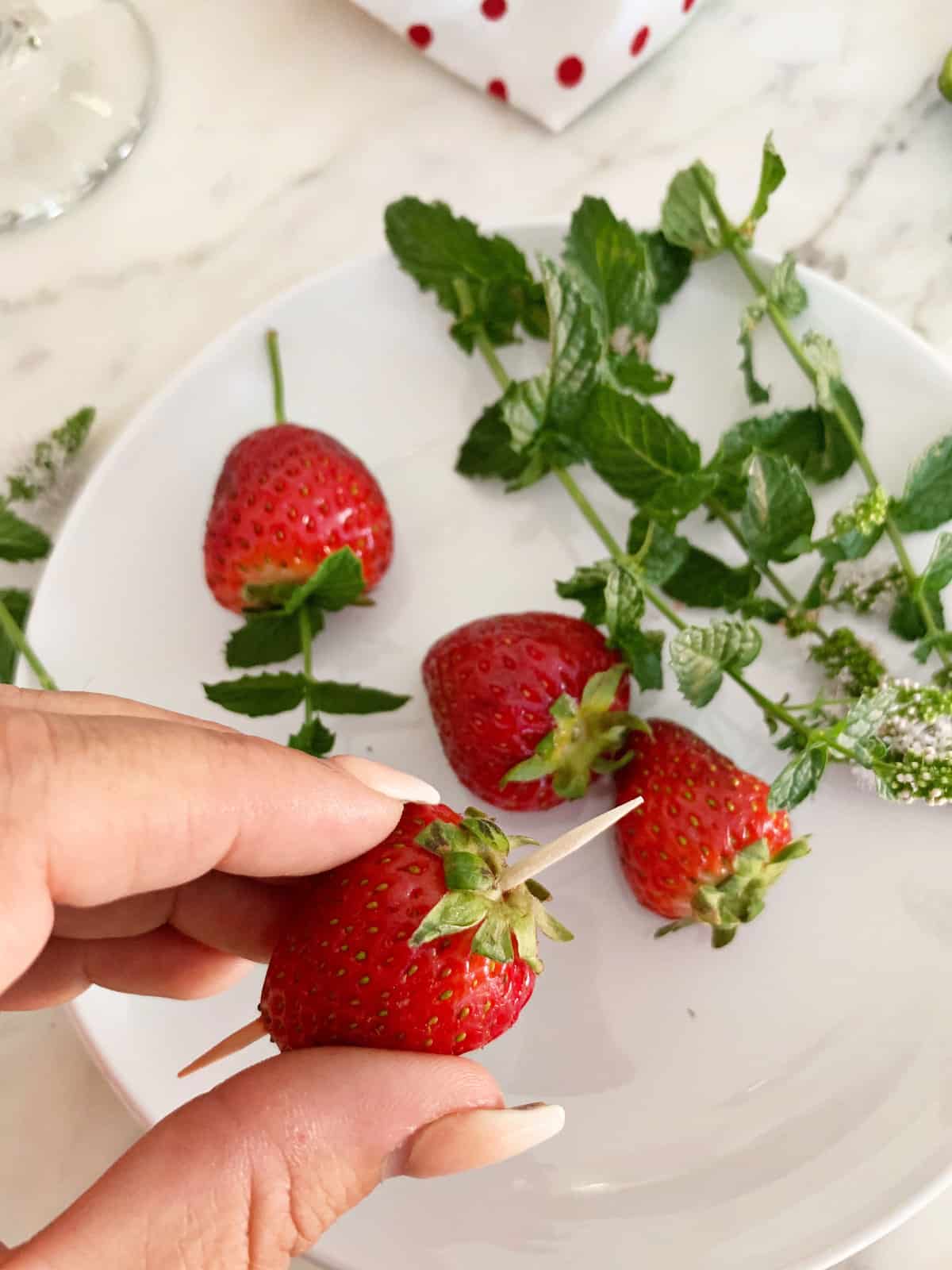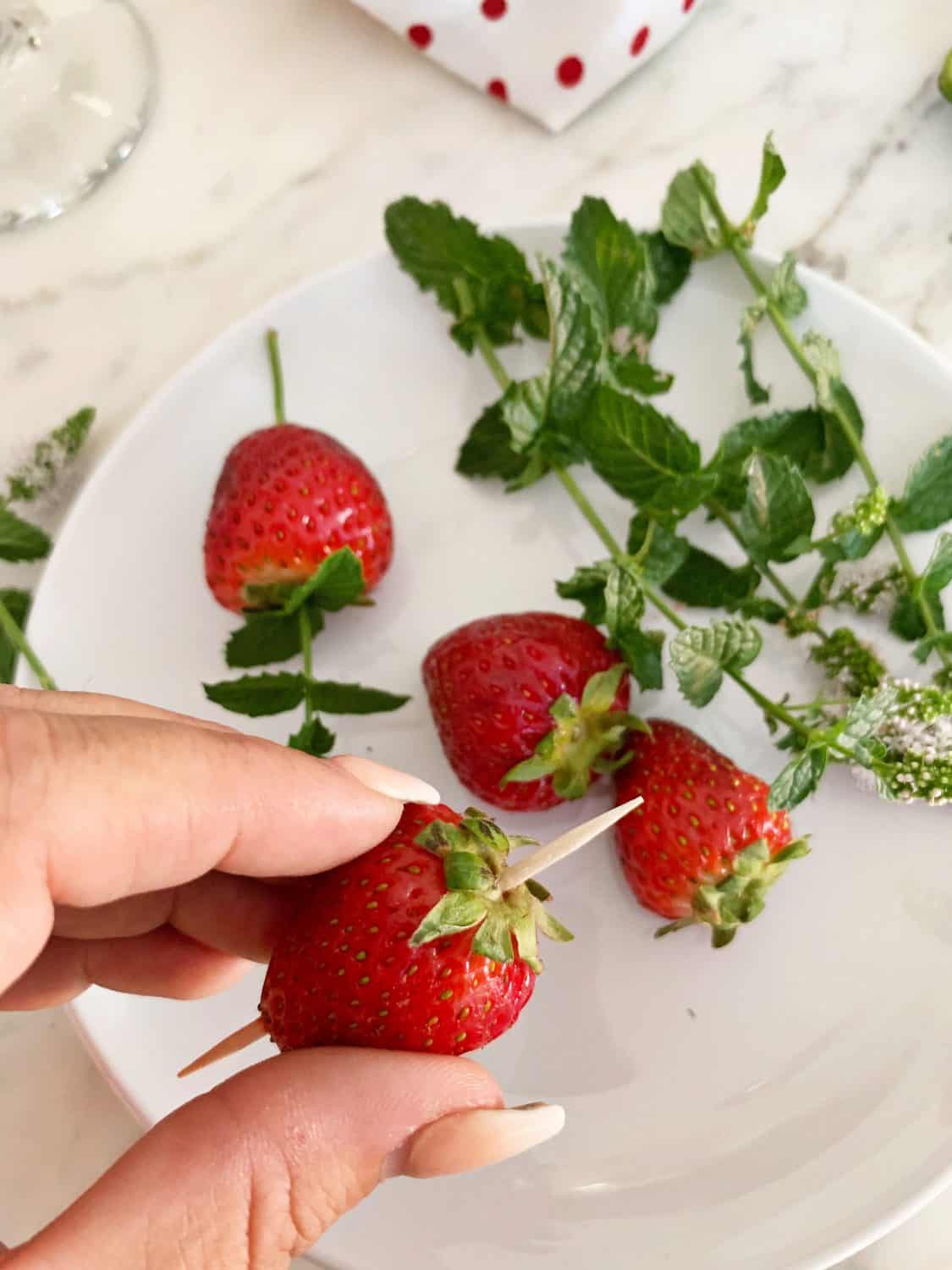 With a toothpick, pierce a hole all the way through the strawberry stem and out the bottom. Remove the toothpick.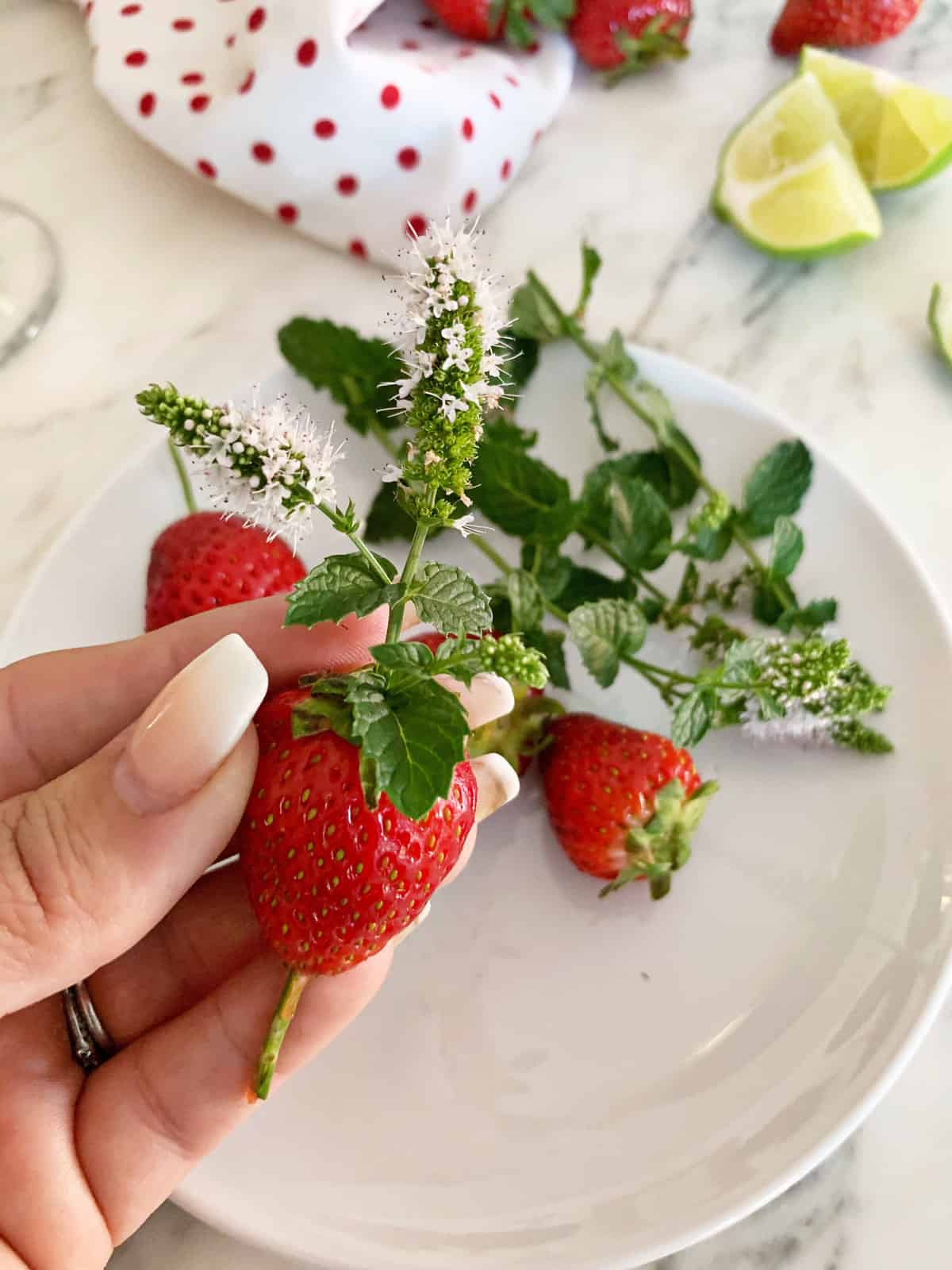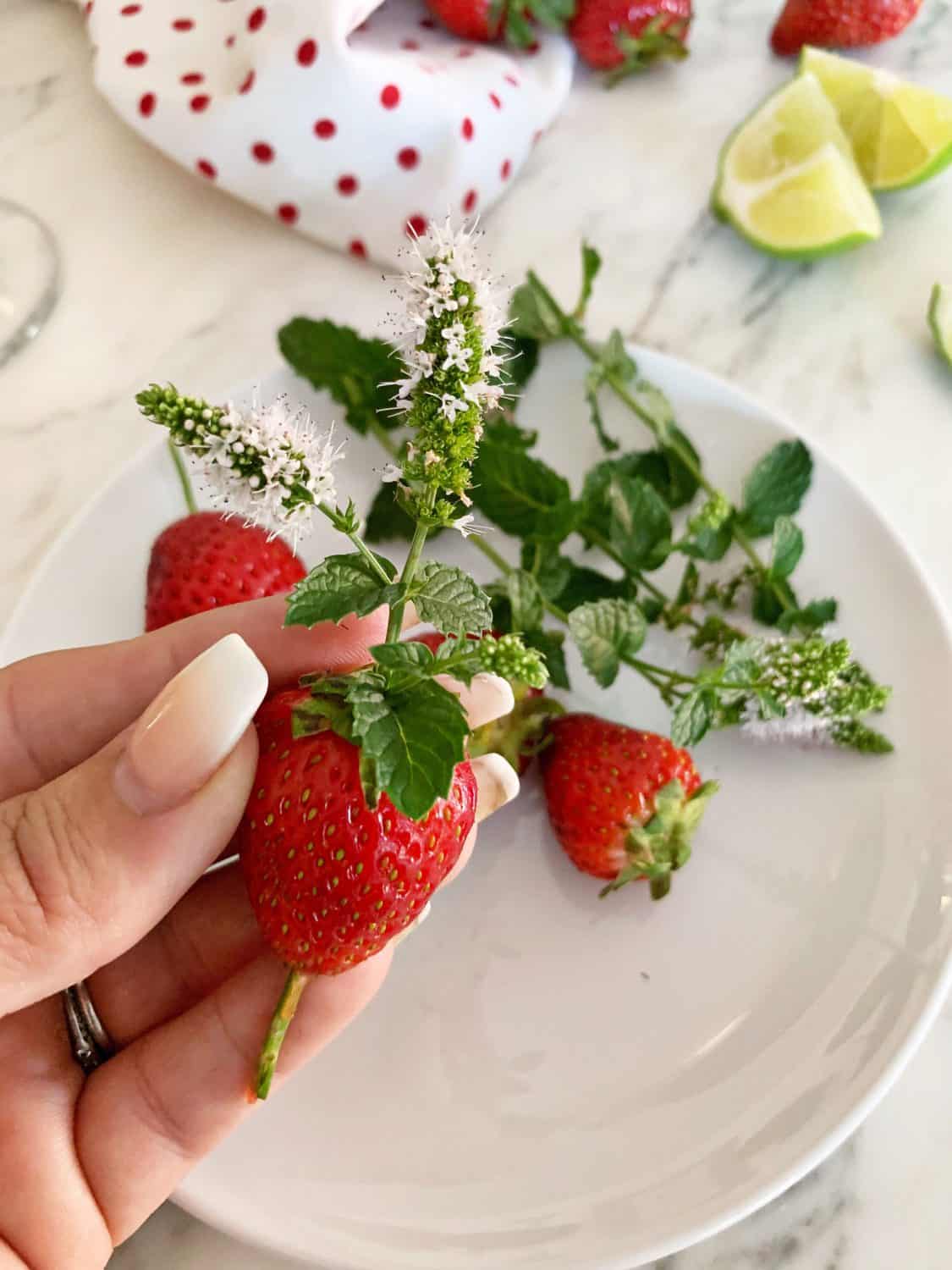 Thread the mint sprig through the hole that you pierced in the strawberry and your garnish is done!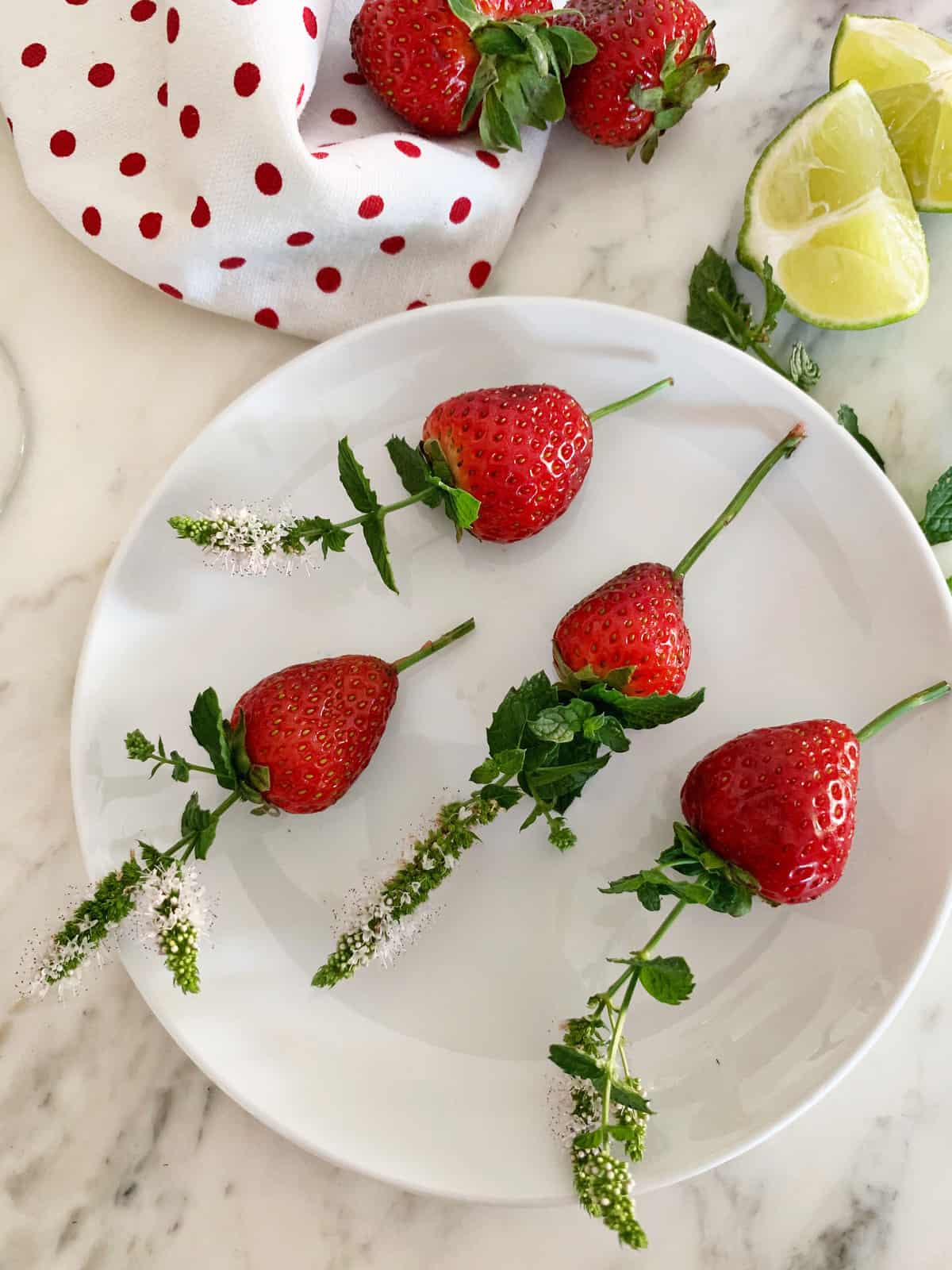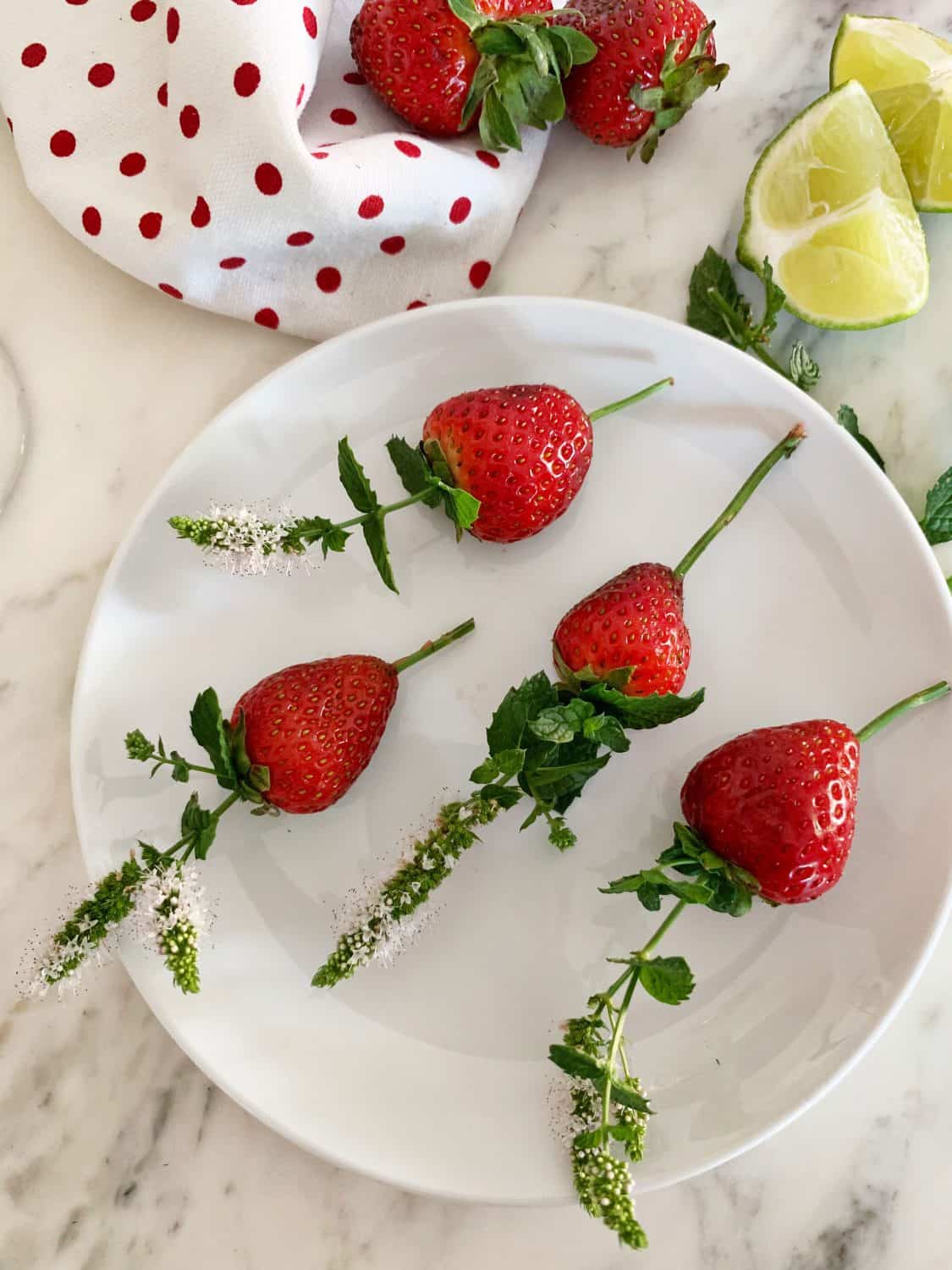 That's all there is to it and aren't these strawberry and mint garnishes beautiful?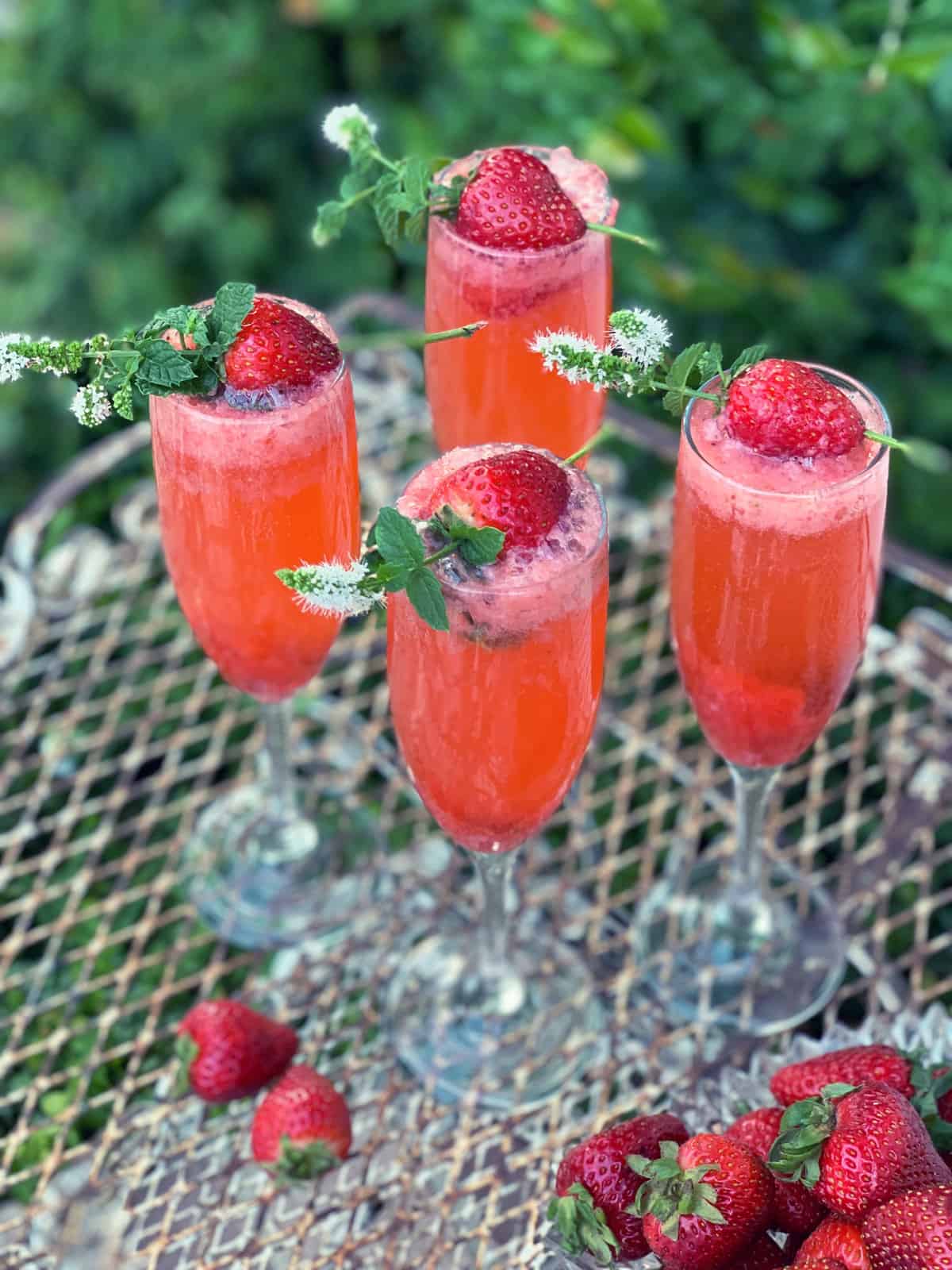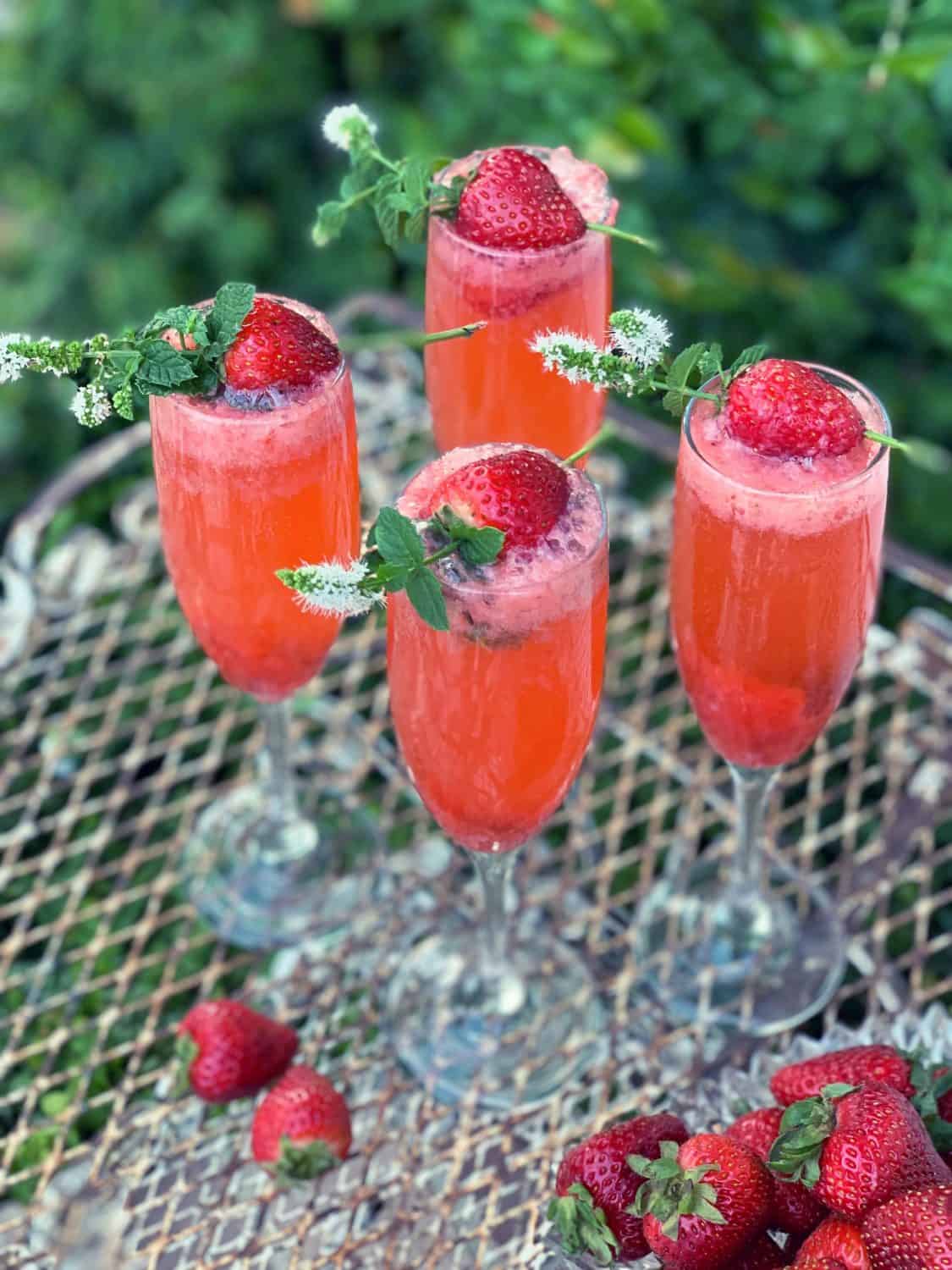 Now, place each garnish across the rim of the glass and serve!!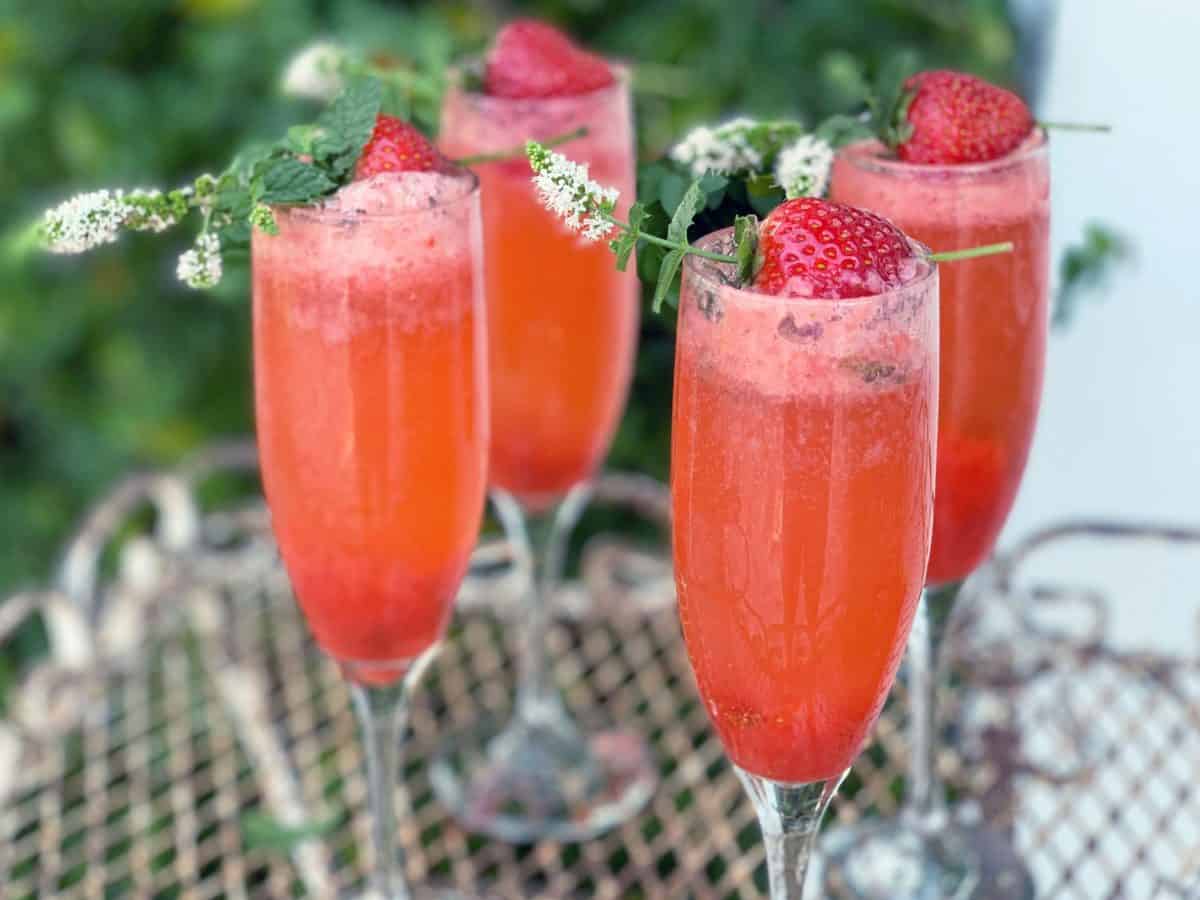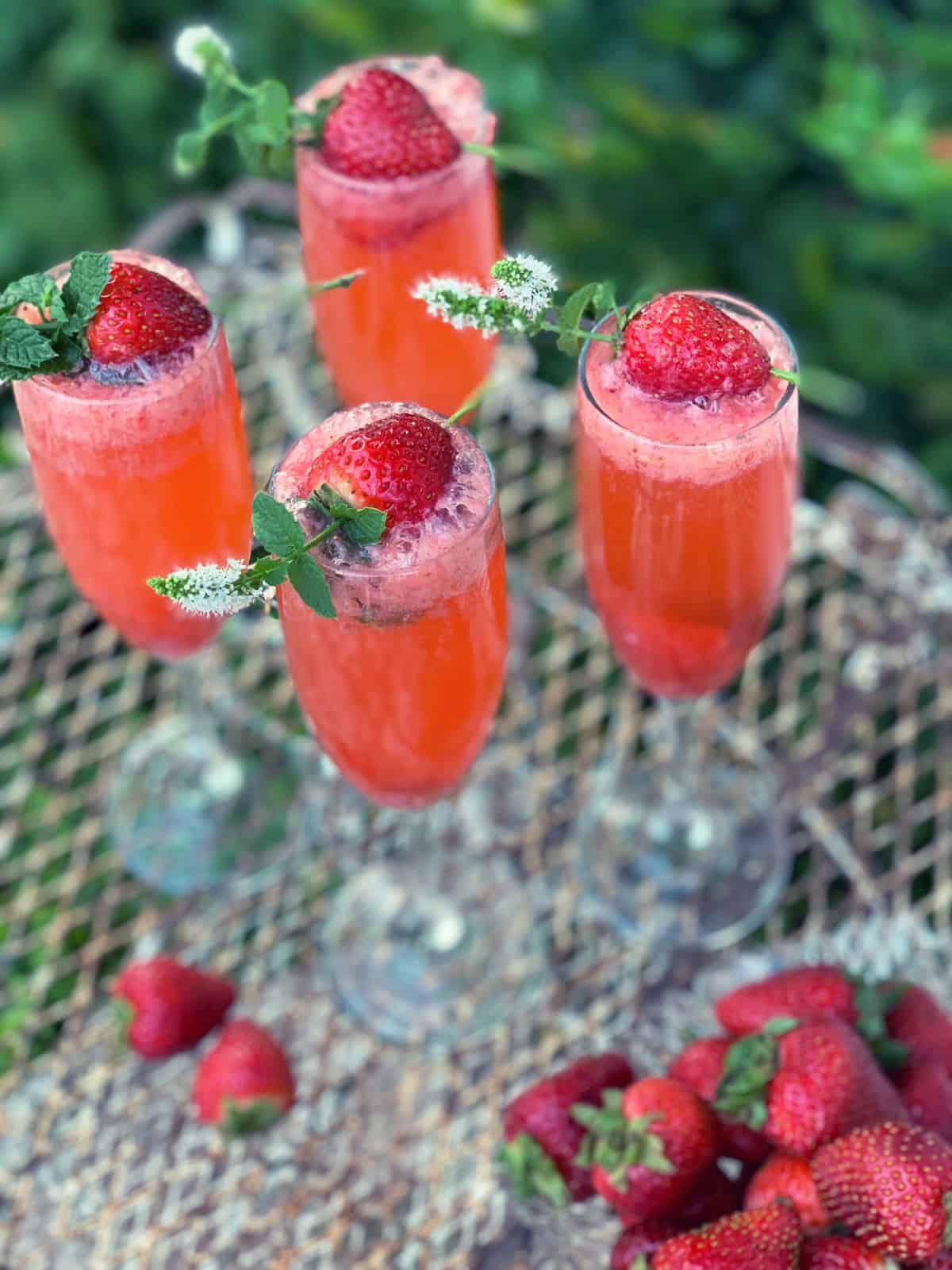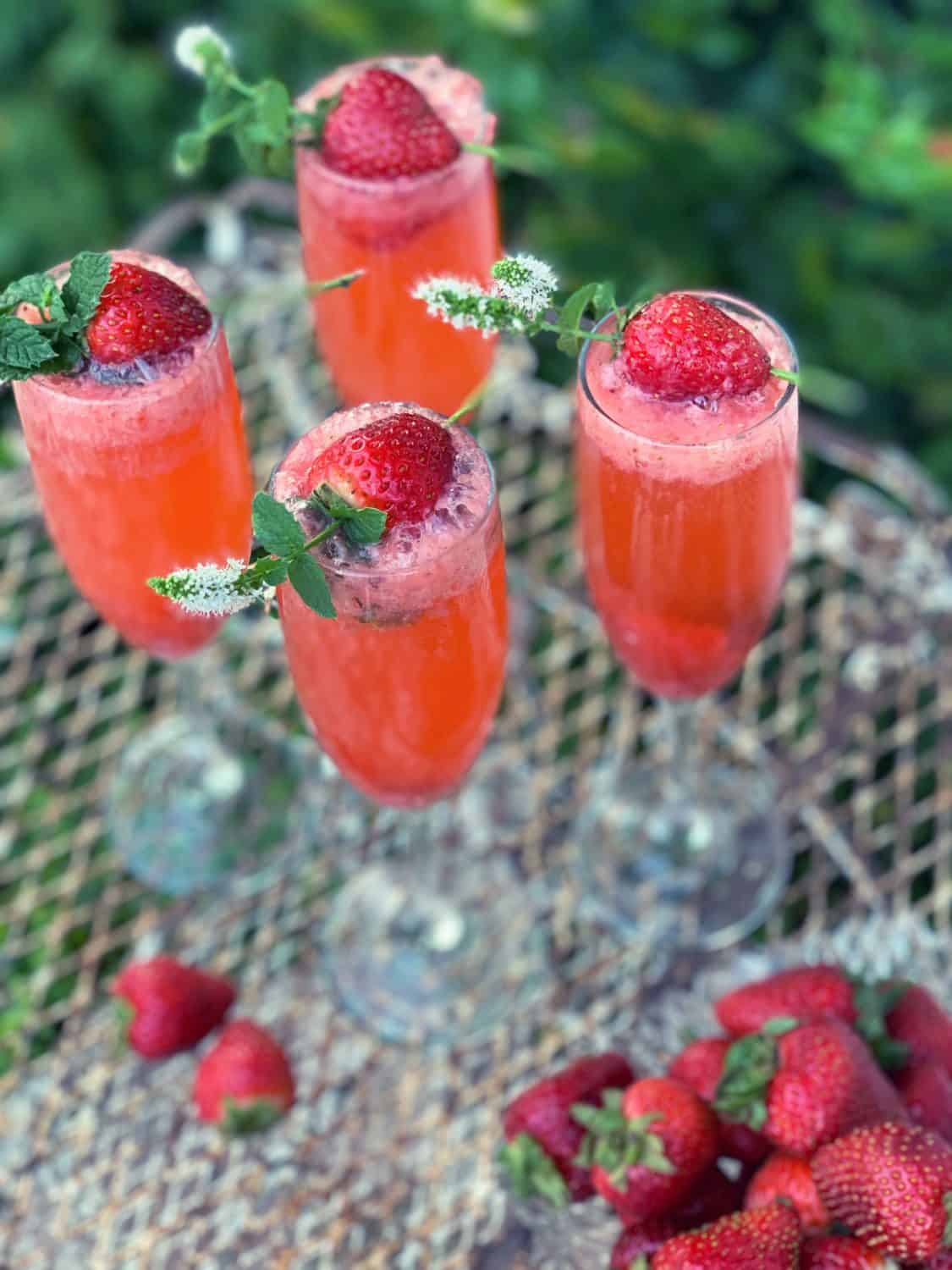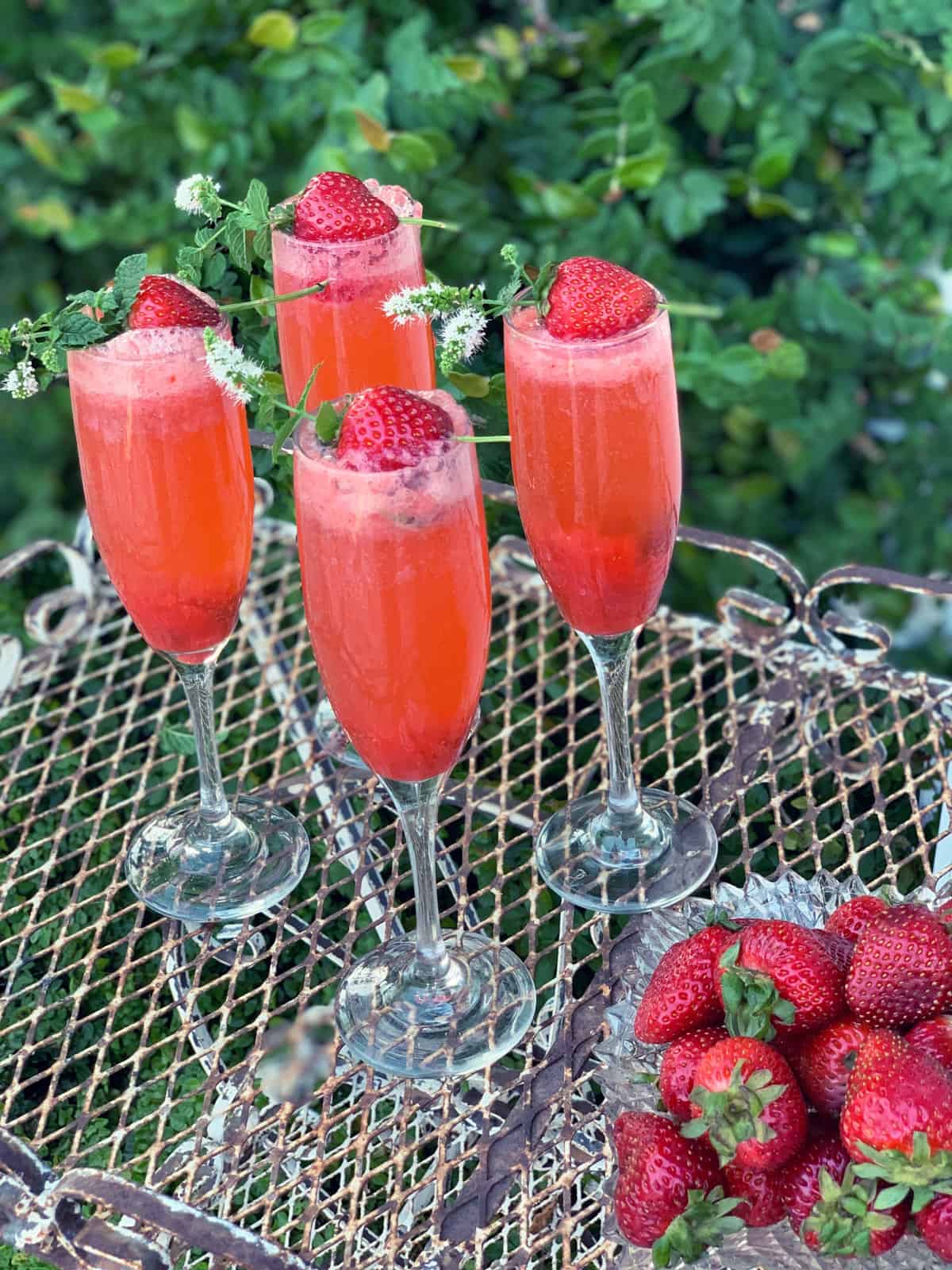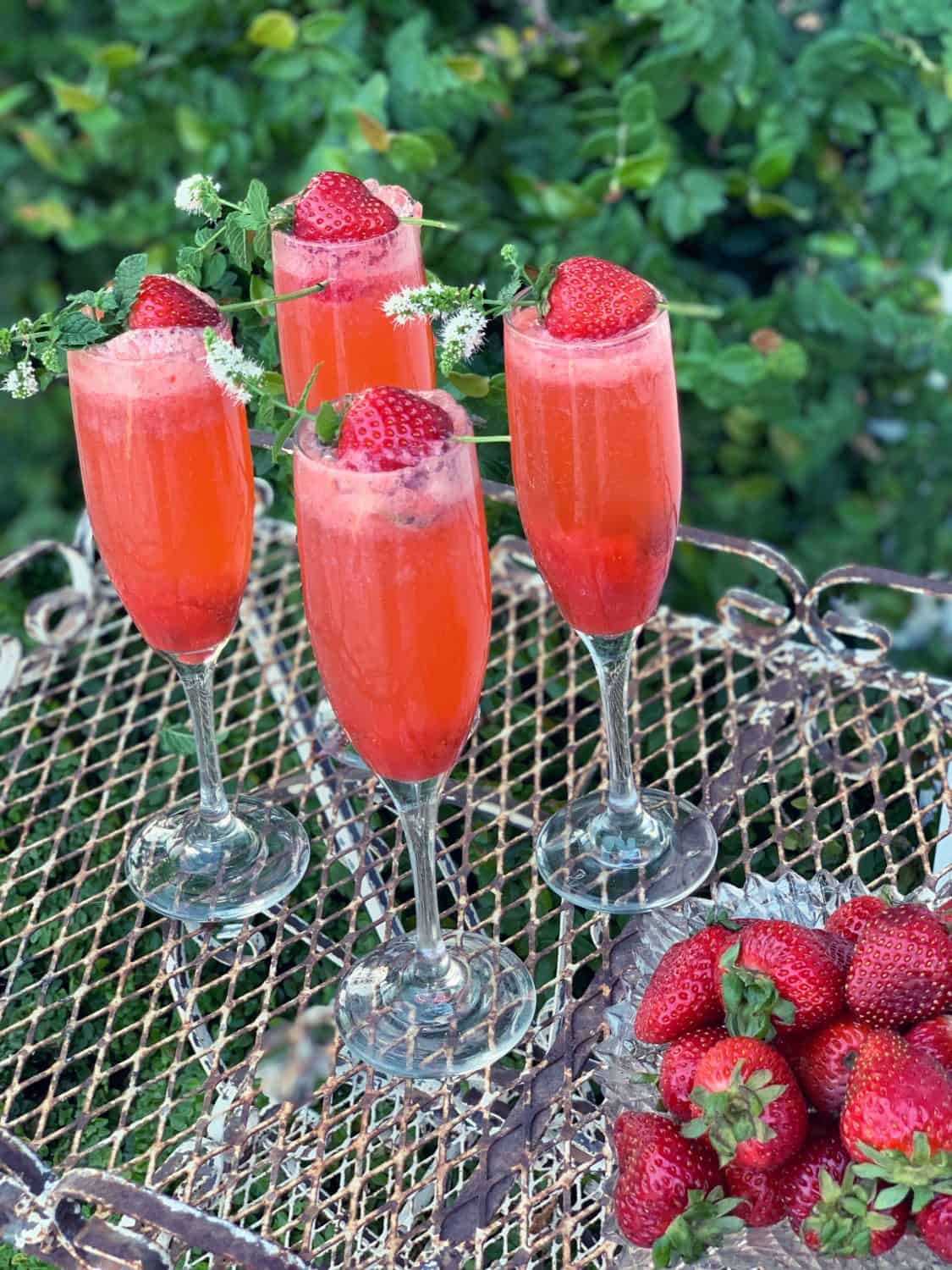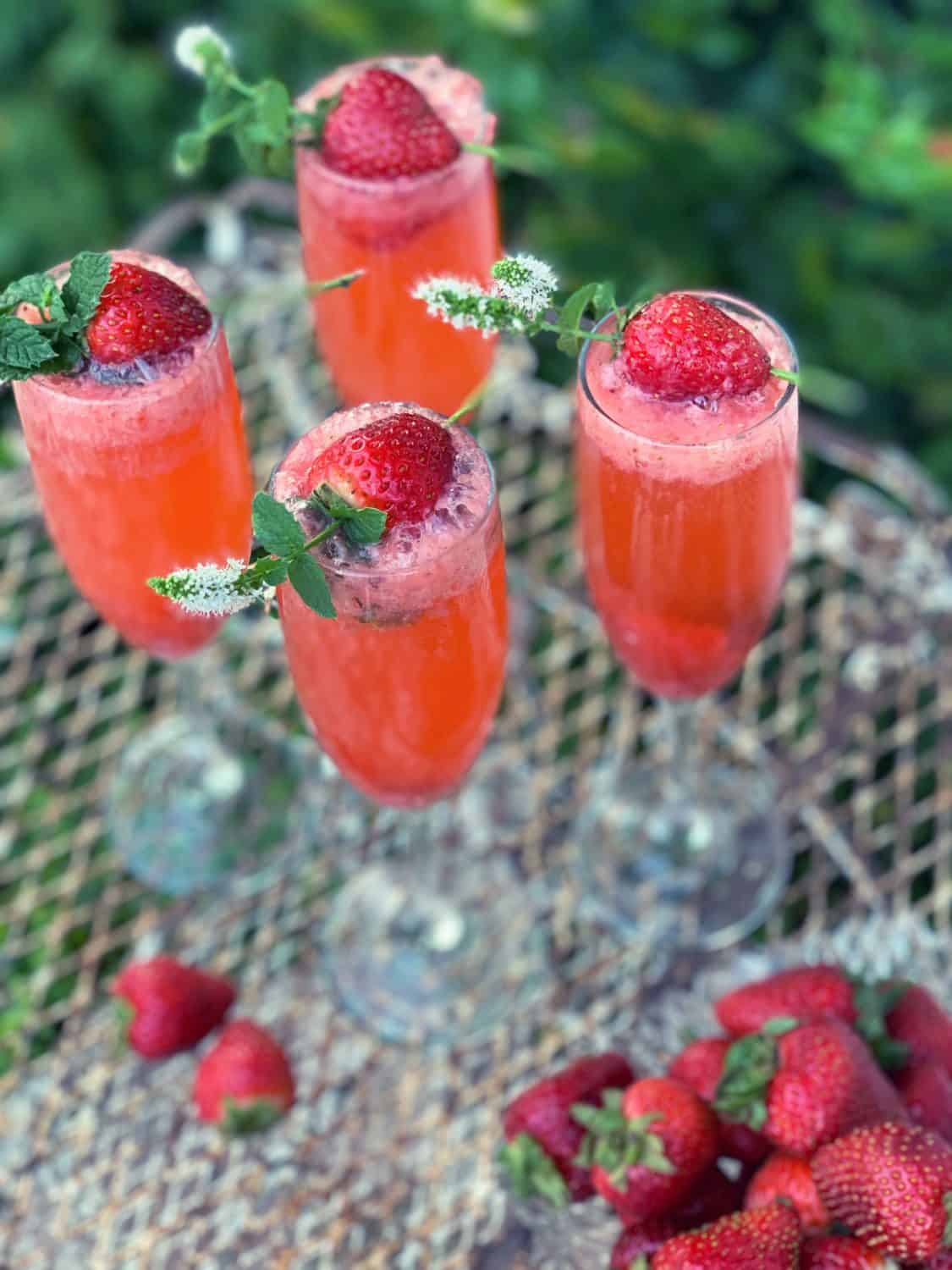 Sparkling Strawberry Spritzer
2019-09-11 23:57:13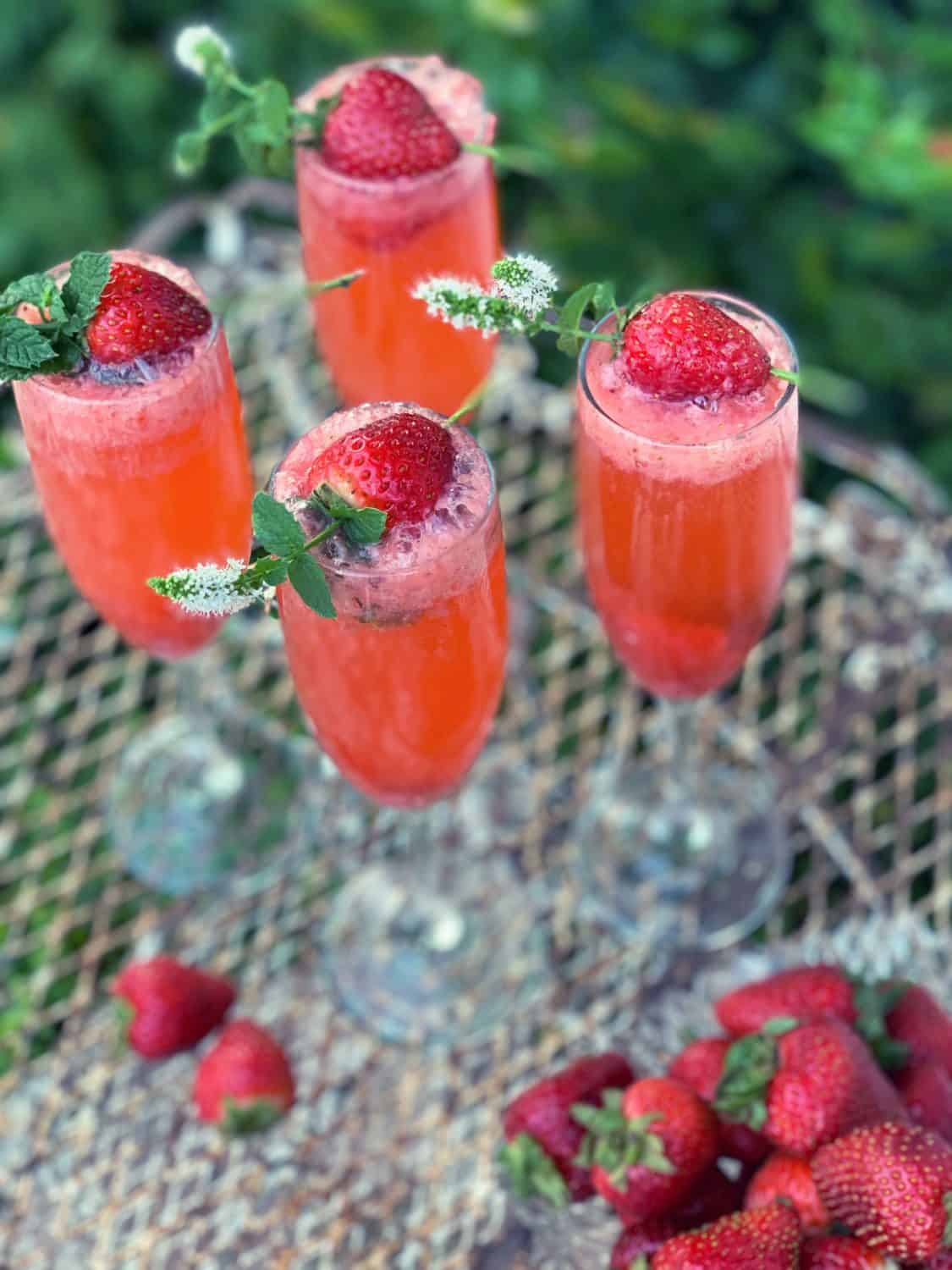 Yields 4
Sparkling wine, gin, and strawberries come together in this spritzer that blends sweet berries with a touch of zest from lime.
Ingredients
1 bottle sparkling wine
4 ounces of gin
1 cup fresh strawberries, plus more for garnish
4 Tbs. fresh mint, plus more full stems for garnish
1 lime
1/4 cup granulated sugar
1 8 oz. can of sparkling water
Instructions
Chill sparkling wine and gin for several hours.
In a blender, puree strawberries, granulated sugar, and the juice of one lime.
Divide puree mixture between four champagne flutes.
Add 1 Tb. of mint leaves to each glass and muddle well.
Add 1 ounce of gin to each glass.
Top with sparkling wine and a small splash of sparkling water.
Serve immediately.
Notes
To make the optional garnishes, pierce a hole through each strawberry with a toothpick. Strip leaves from mint sprig, leaving some foliage at the top of each stem. Place bare stem through the pierced strawberry. Rest across the rim of each glass.
Posted by Stefanie Knaus, Girl. Inspired.
California Grown https://californiagrown.org/
Posted by Stefanie Knaus,
Girl. Inspired.