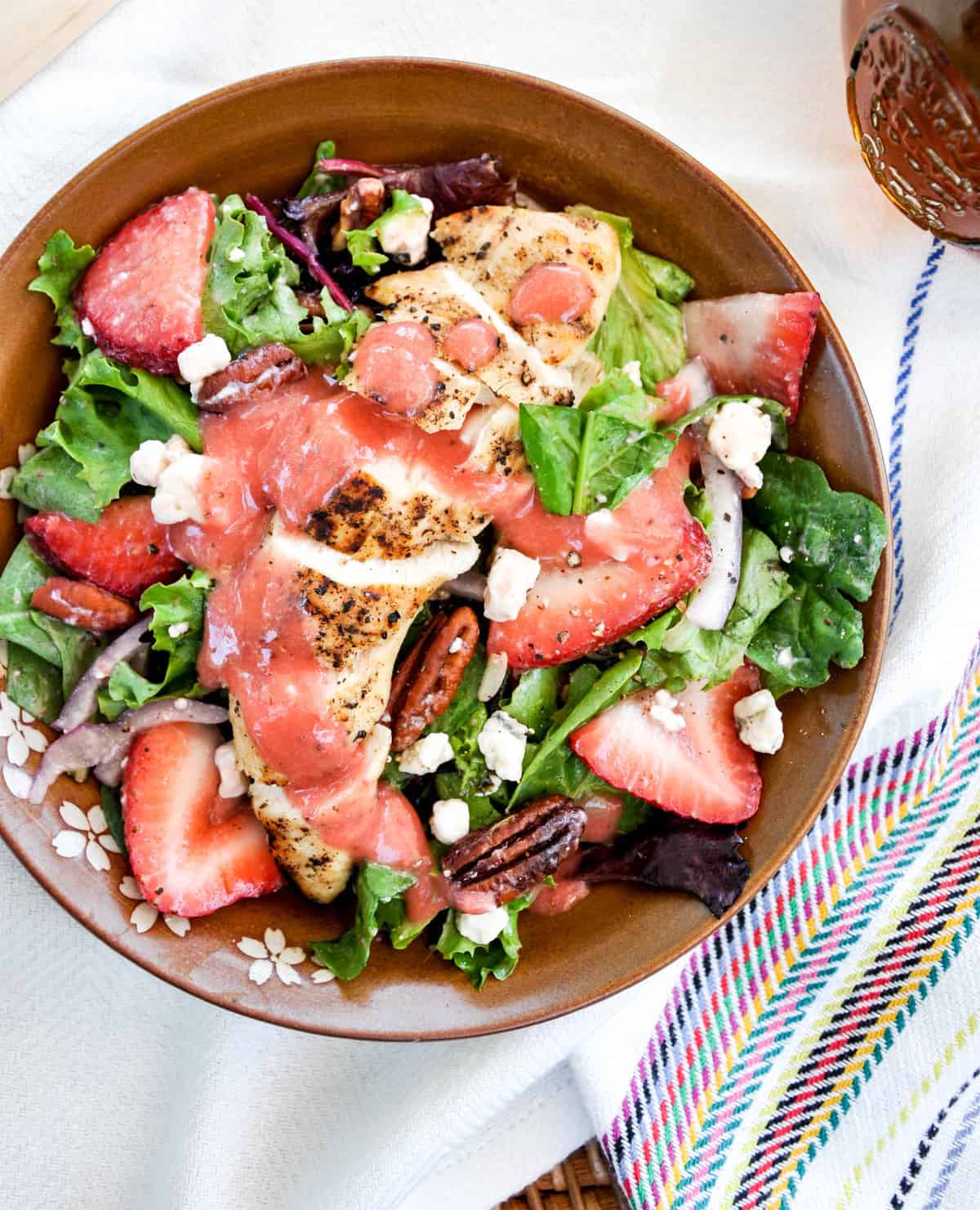 CA GROWN Blog
Discover. Learn. Connect.
Strawberry Chicken Salad
May 11, 2016
Eat the Season!
Sign Up For Weekly Recipes
« Back to Recipes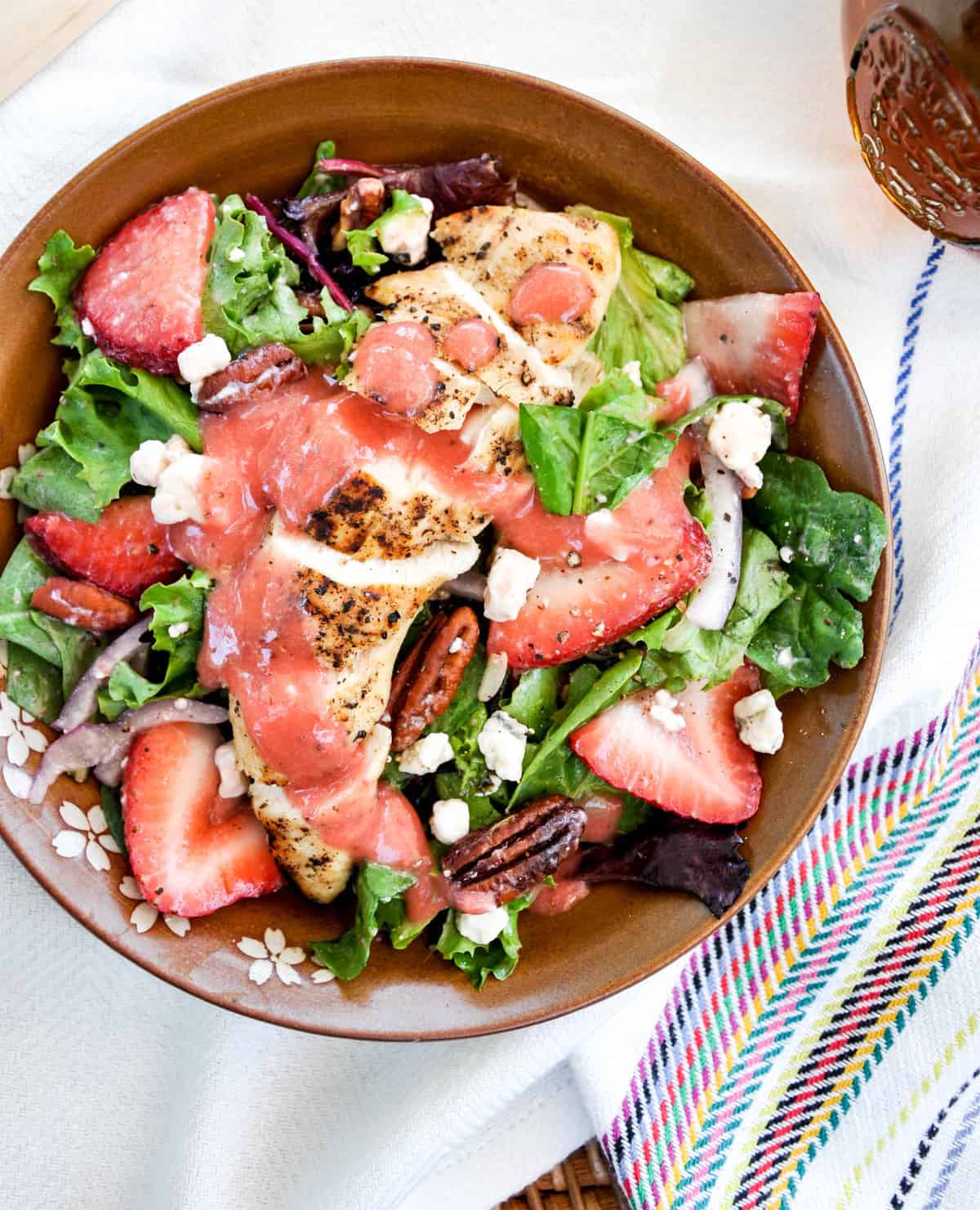 Strawberry Chicken Salad
This fresh and easy Strawberry Chicken Salad recipe is sure to please the whole family! It's loaded with leafy greens, strawberries, buts and chicken from the Golden State – providing tons of flavor and protein too.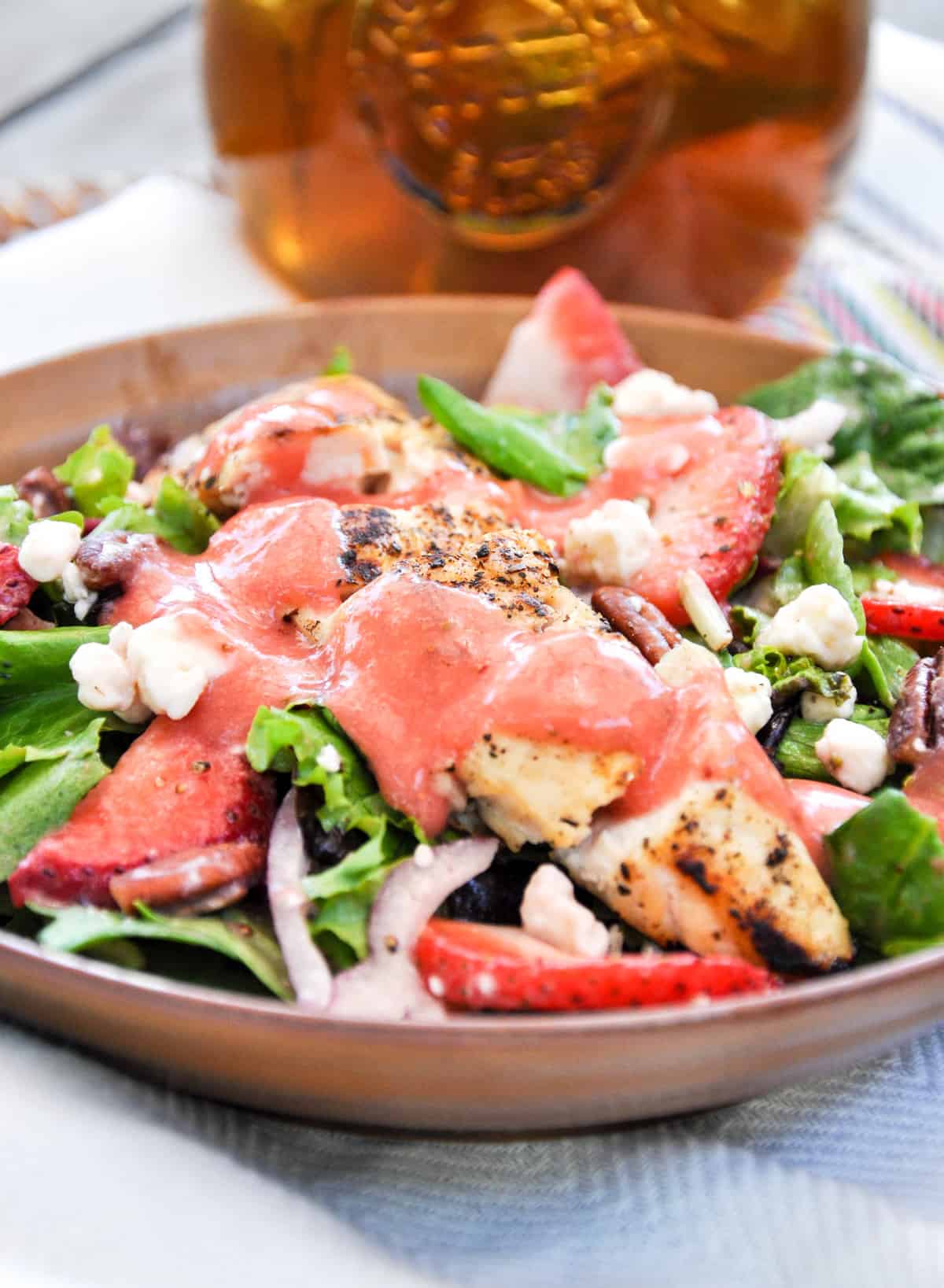 Man, I've been on a salad kick!
I hope you're not getting bored 😉
But my motto is: You can never have too many salads!
And with all these fresh, California fruits and veggies in season for such a large part of the year, it really makes my job easy.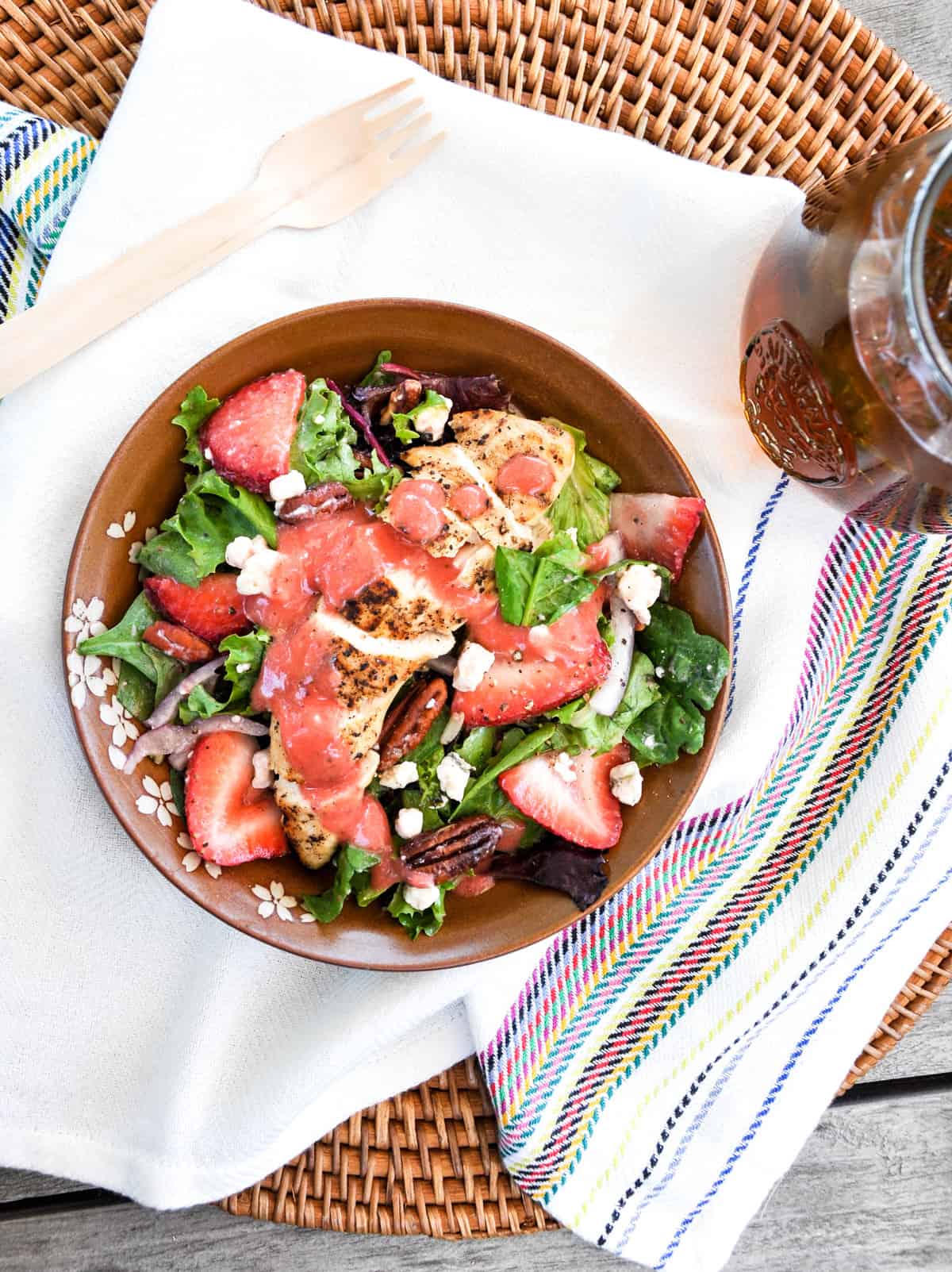 Strawberries hold a special spot in my heart. I remember going to my grandparent's home in the Ventura area, walking right outside their backdoor and wandering through the strawberry fields. I would pick up plump, juicy strawberries right off the vine and pop them in my mouth. There's just something about seeing those endless rows bursting with fruit that gives you an appreciation of what it takes to get food to the grocery store, and into our bellies.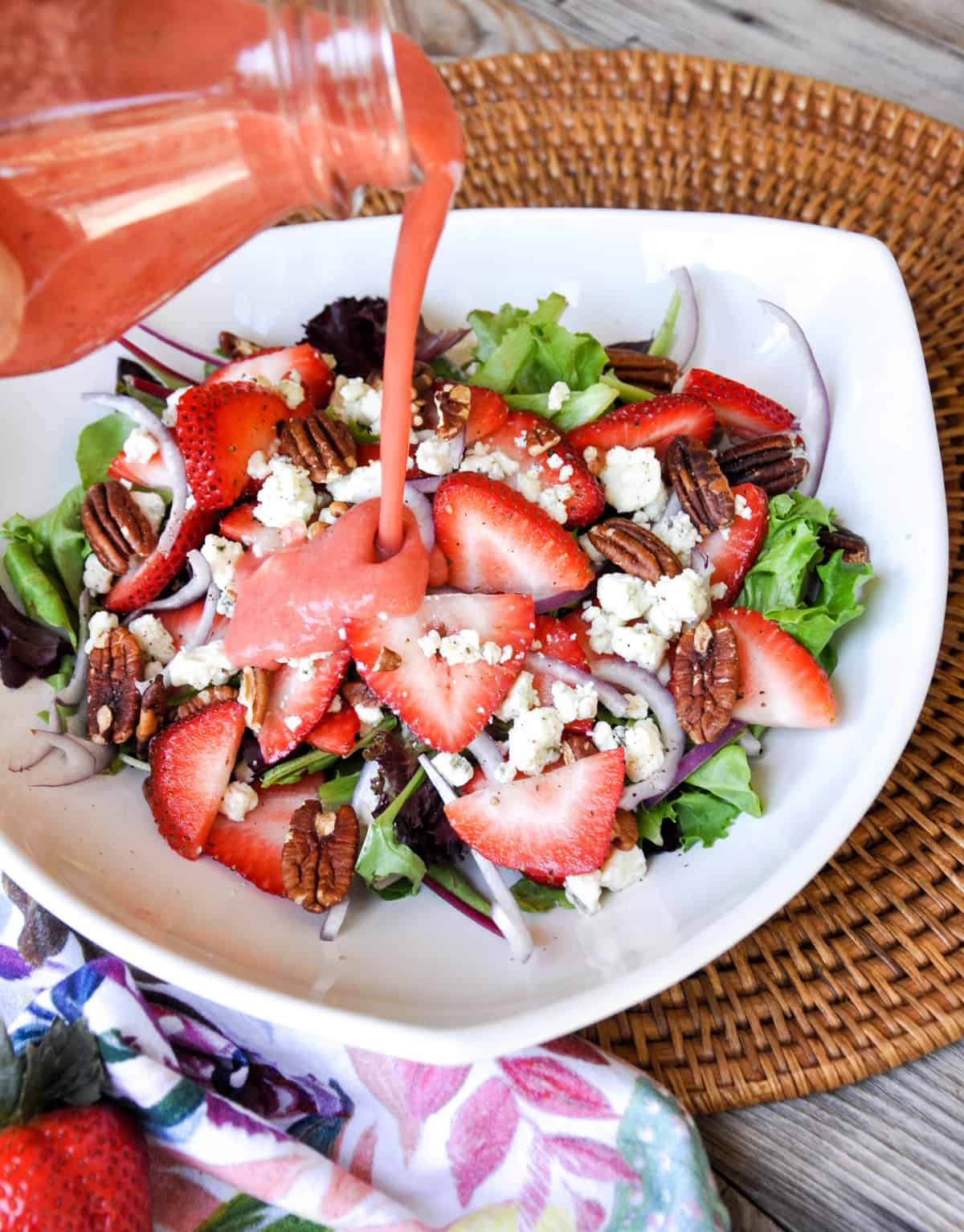 Keeping with the strawberry theme, I dressed this gorgeous salad with a fabulous Strawberry Vinaigrette.
Divine!
Toasted pecans, tangy gorgonzola, and crisp red onions keeps the base of this salad interesting and tasty. I love all the colors and contrasting flavors!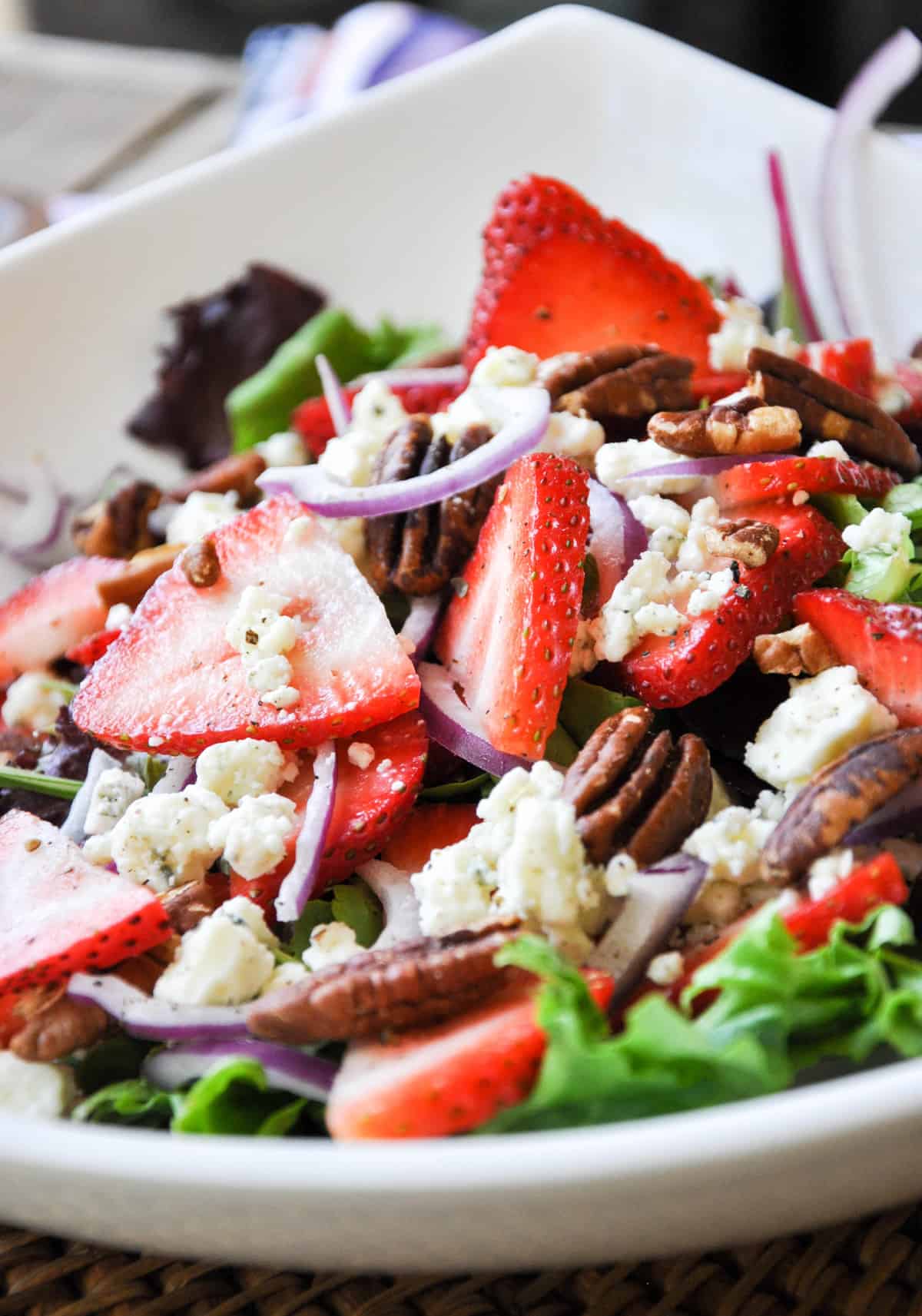 You can enjoy this salad vegetarian style by simply keeping the chicken off…
but you'd seriously be missing out…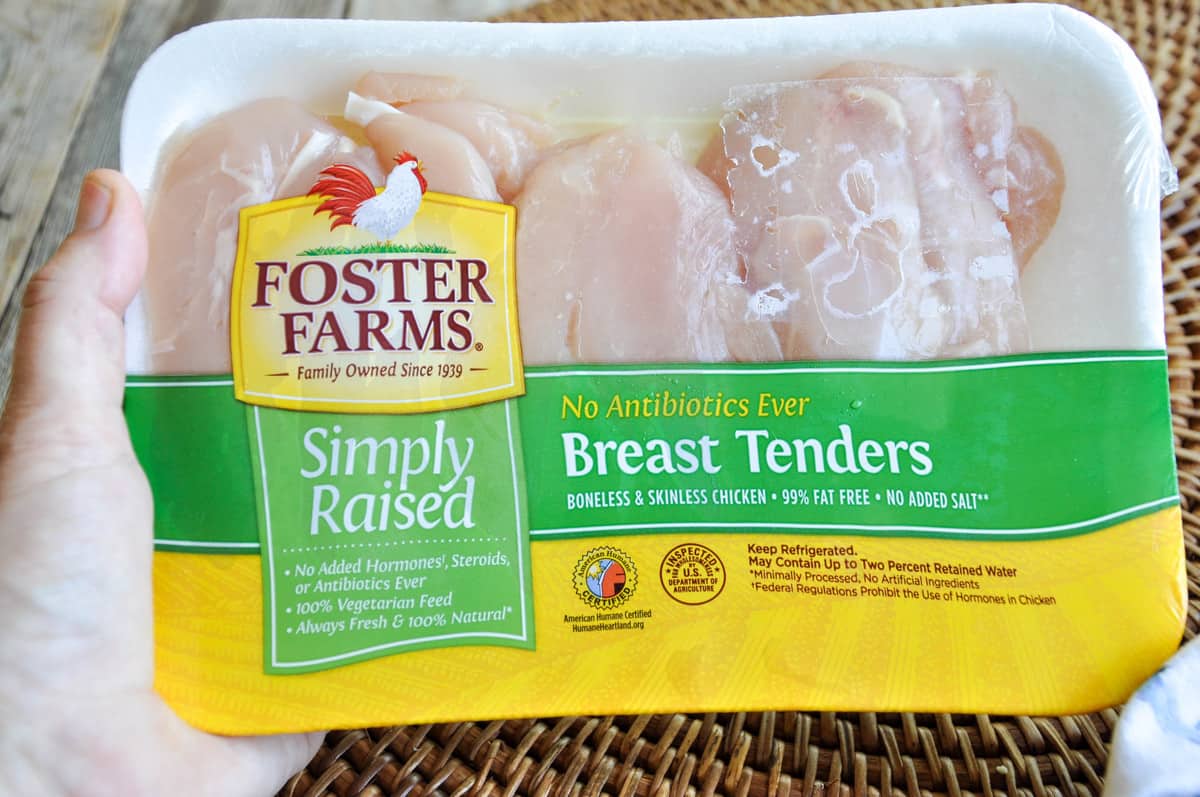 Side note: Have you seen how many different cuts of chicken and turkey Foster Farms is now offering? I love the Simply Raised ready-to-cook options, because let's face it, the less time I need to handle raw meat, the better.
I dusted the breast tenders with salt and pepper and then quickly seared them on the grill and sliced them on the diagonal. Such an easy, light weeknight meal!
I promise, it will be a new summer favorite this year.
Here's the recipe!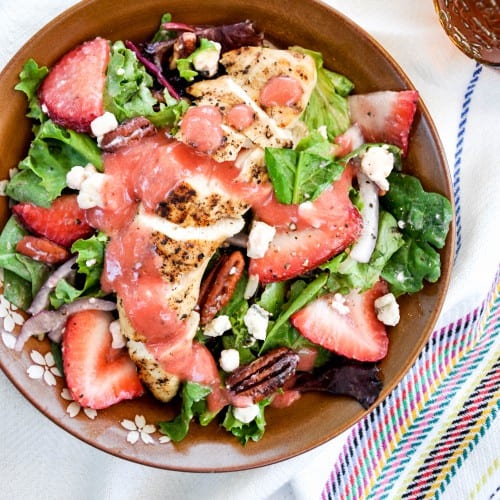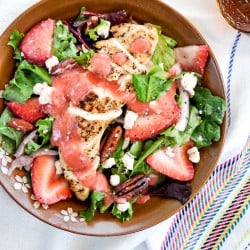 Strawberry Chicken Salad
This fresh and easy Strawberry Chicken Salad recipe is sure to please the whole family! Loaded with berry goodness from the Golden State.
Ingredients
1 pound chicken breast tenders or chicken breasts cut into tenders
Salad greens of your choice
1 lb. strawberries washed and sliced
6 oz. crumbled gorgonzola cheese
8 oz. toasted pecans
1/8 red onion sliced thin
salt and pepper to taste
Instructions
Dust the chicken tenders with salt and pepper and sear on a hot grill until cooked through. Allow to rest and slice diagonally.

Place the salad greens at the bottom of a large bowl.

Add the sliced strawberries, cheese, pecans and onion.

Top with the chicken, add the Strawberry Vinaigrette and toss, then serve and enjoy!
Notes
Make your own Strawberry Vinaigrette or use a dressing of your choice.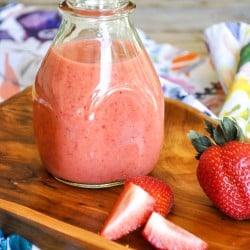 Try this recipe with our Strawberry Spritzer wine cocktail or a refreshing California Strawberry Agua Fresca!