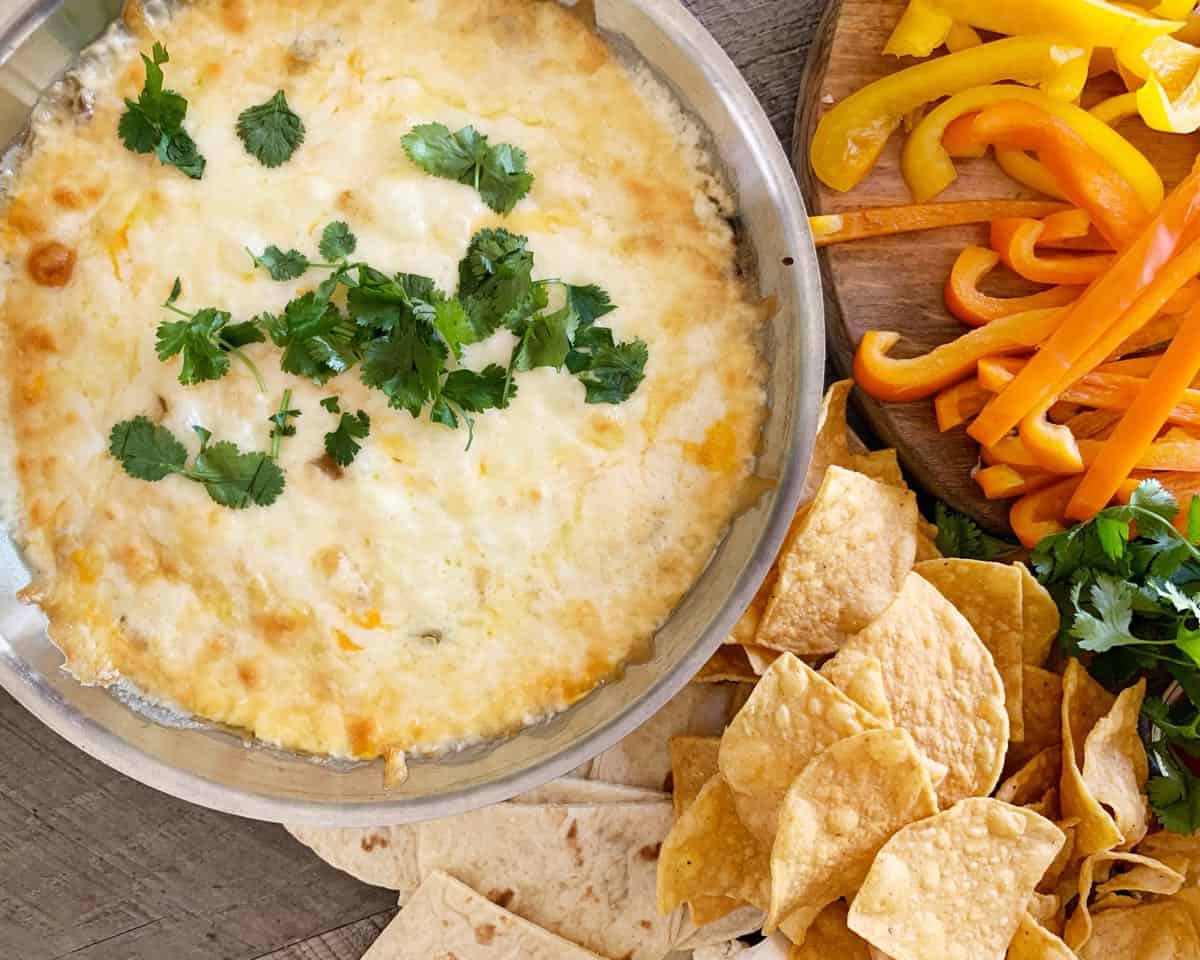 CA GROWN Blog
Discover. Learn. Connect.
Queso Fundido with Shiitake Mushrooms and Anaheim Chiles
June 19, 2019
Eat the Season!
Sign Up For Weekly Recipes
« Back to Recipes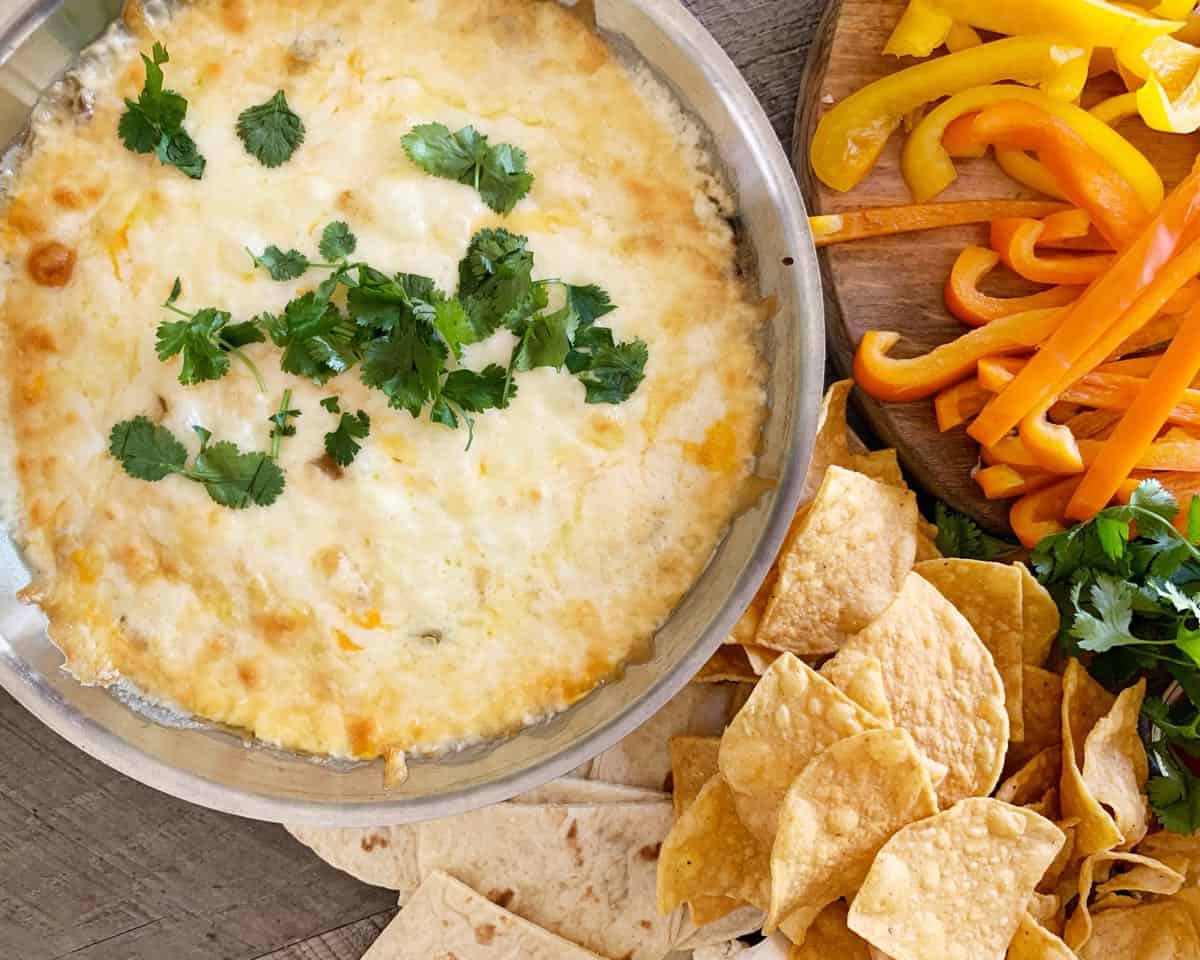 Queso Fundido with Shiitake Mushrooms and Anaheim Chiles
Queso Fundido: delicious melted cheese with aromatic mushrooms and chilies makes the perfect dip for chips, tortillas, and fresh vegetables.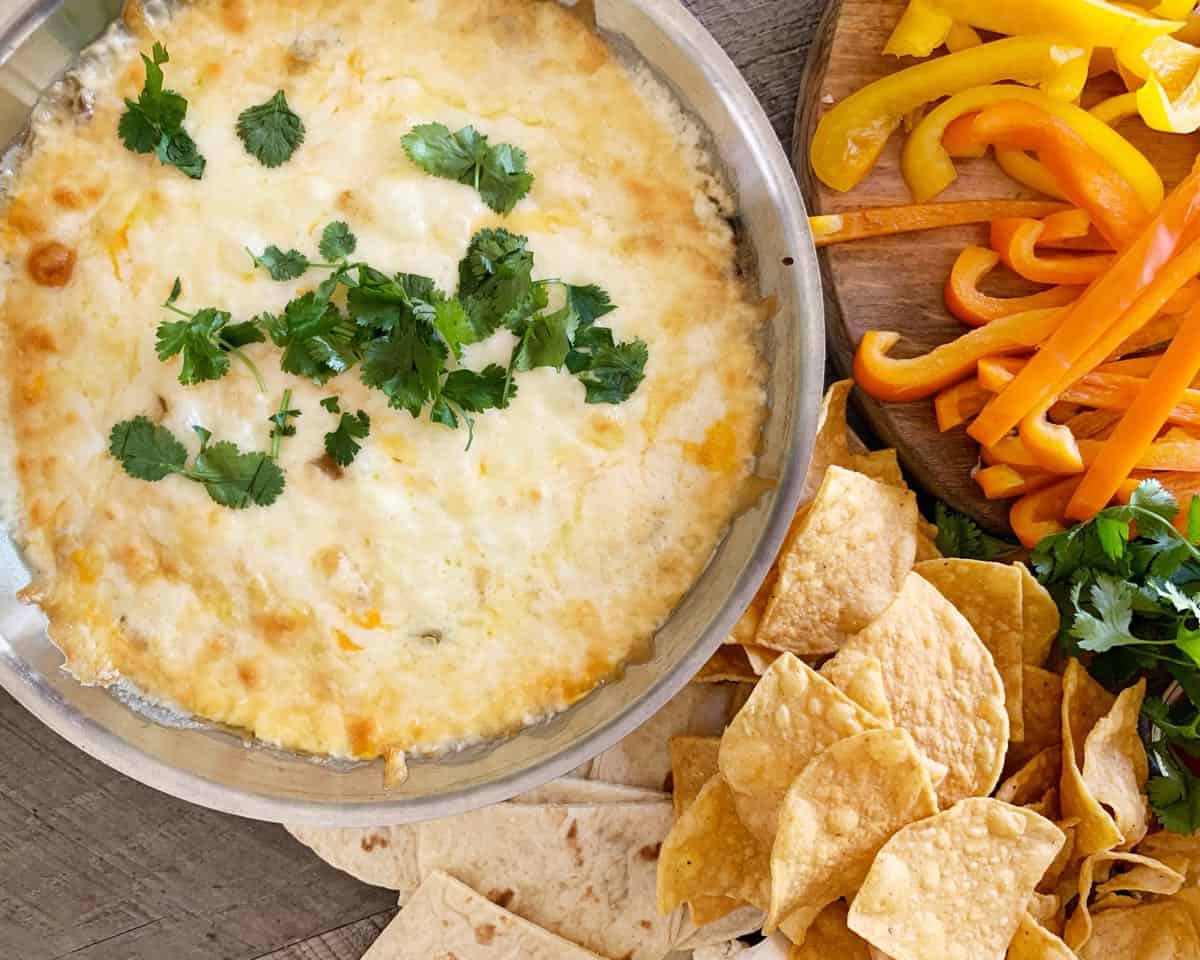 Oh. My. Queso. I didn't know I could love cheese more, but after this masterpiece, it's official – I do. This Queso Fundido is laden with the buttery richness of shiitake mushrooms and the bold flavor of roasted chili peppers, all combined into an irresistible skillet of golden, bubbly cheese. I grow chili peppers in my garden every year and I am SO excited to have another AH-mazing recipe to use them in. Wouldn't this be the perfect appetizer for a dinner party? A quick dinner that the whole family can dig into? This queso requires just a few simple ingredients and will leave your whole house smelling of aromatic roasted peppers and flavorful mushrooms!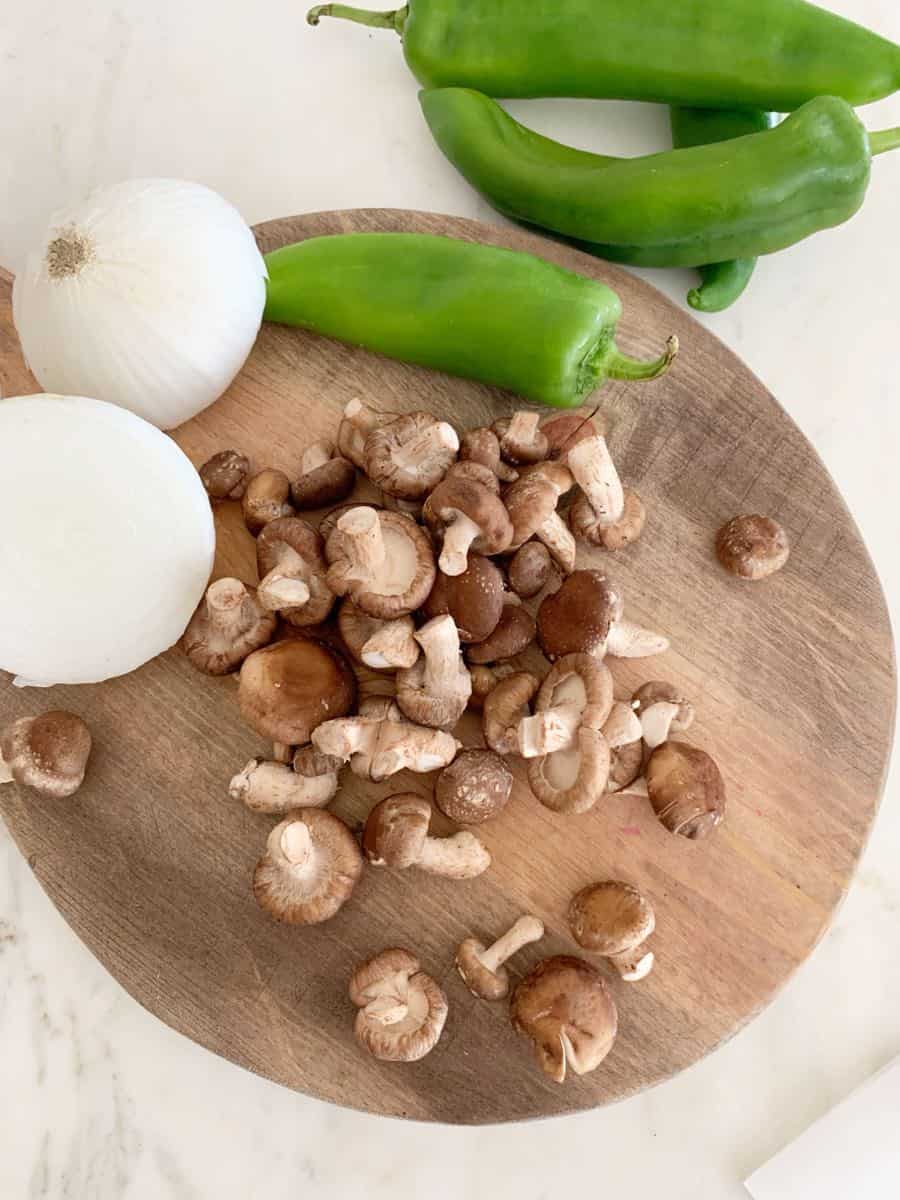 See these ingredients here? White onions, shiitake mushrooms, and Anaheim chiles – these are the foundation of your queso. We're basically going to just cook these up and then melt a mountain of cheese over the top – that's all there is to it!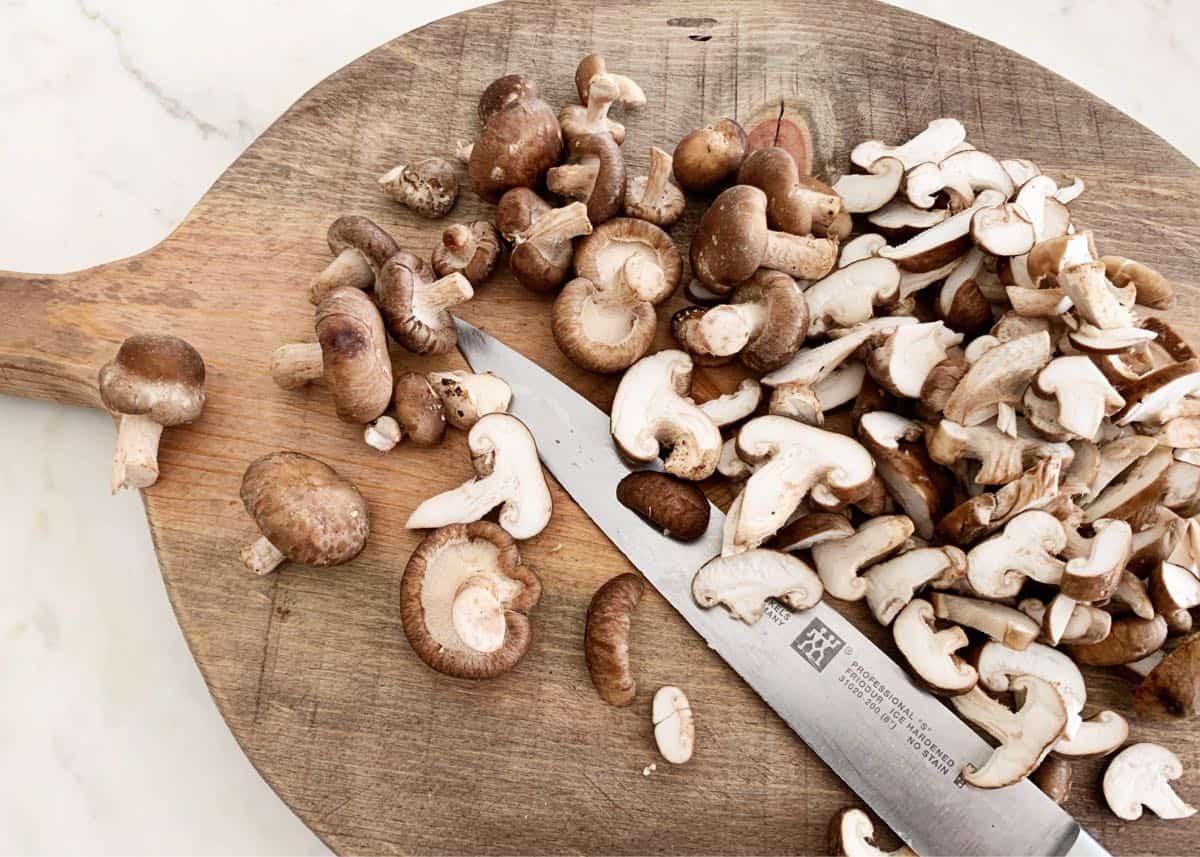 Slice up your shiitake mushrooms. There is no need to wash or peel these – check them over to make sure they are fresh and firm. I did some reading up on shiitake mushrooms – did you know these cute little fungi are packed full of nutrients and health benefits? Work them in, friends, your body and health will thank you! Slice your onions into really thin slices also. Set aside.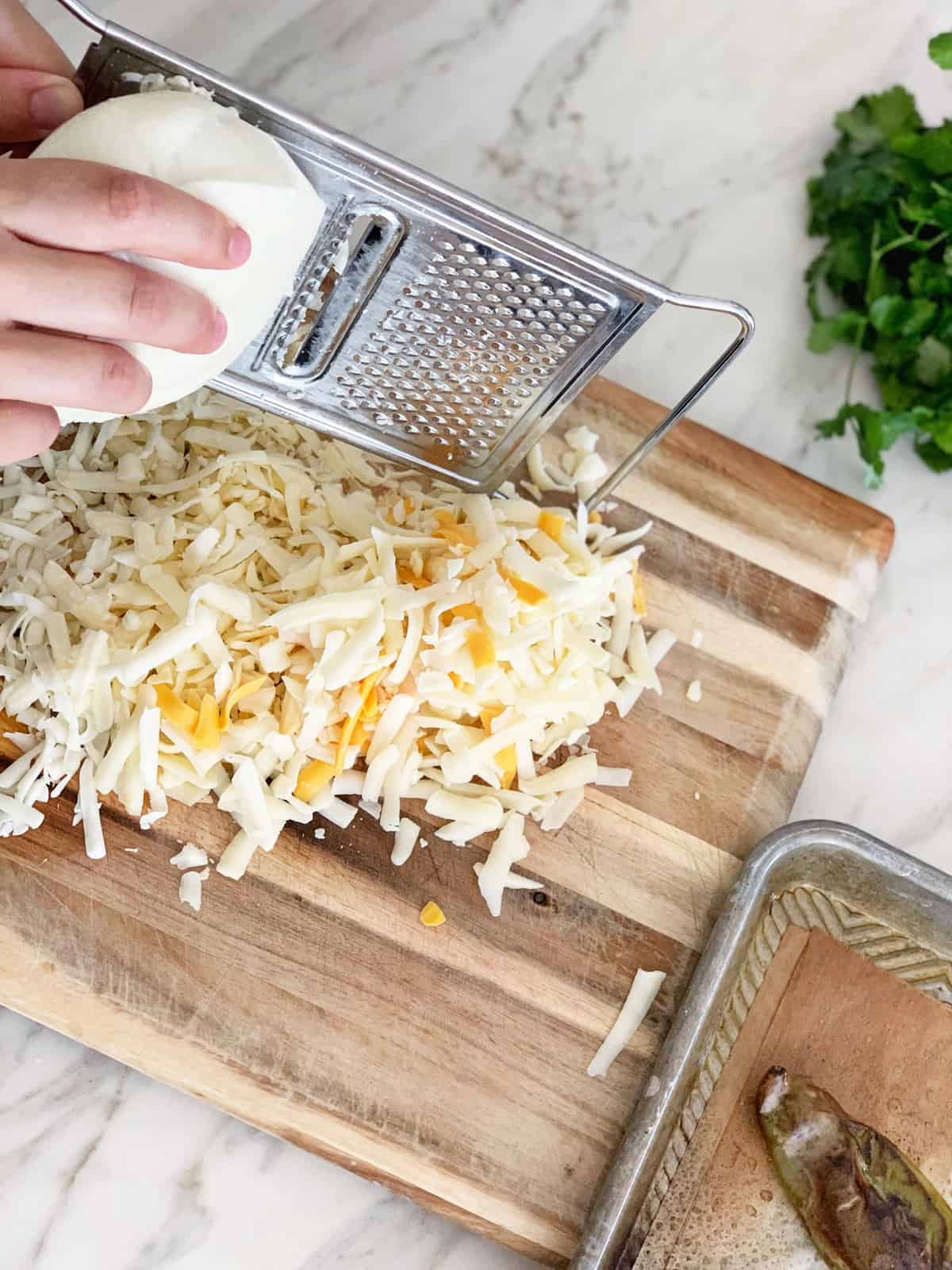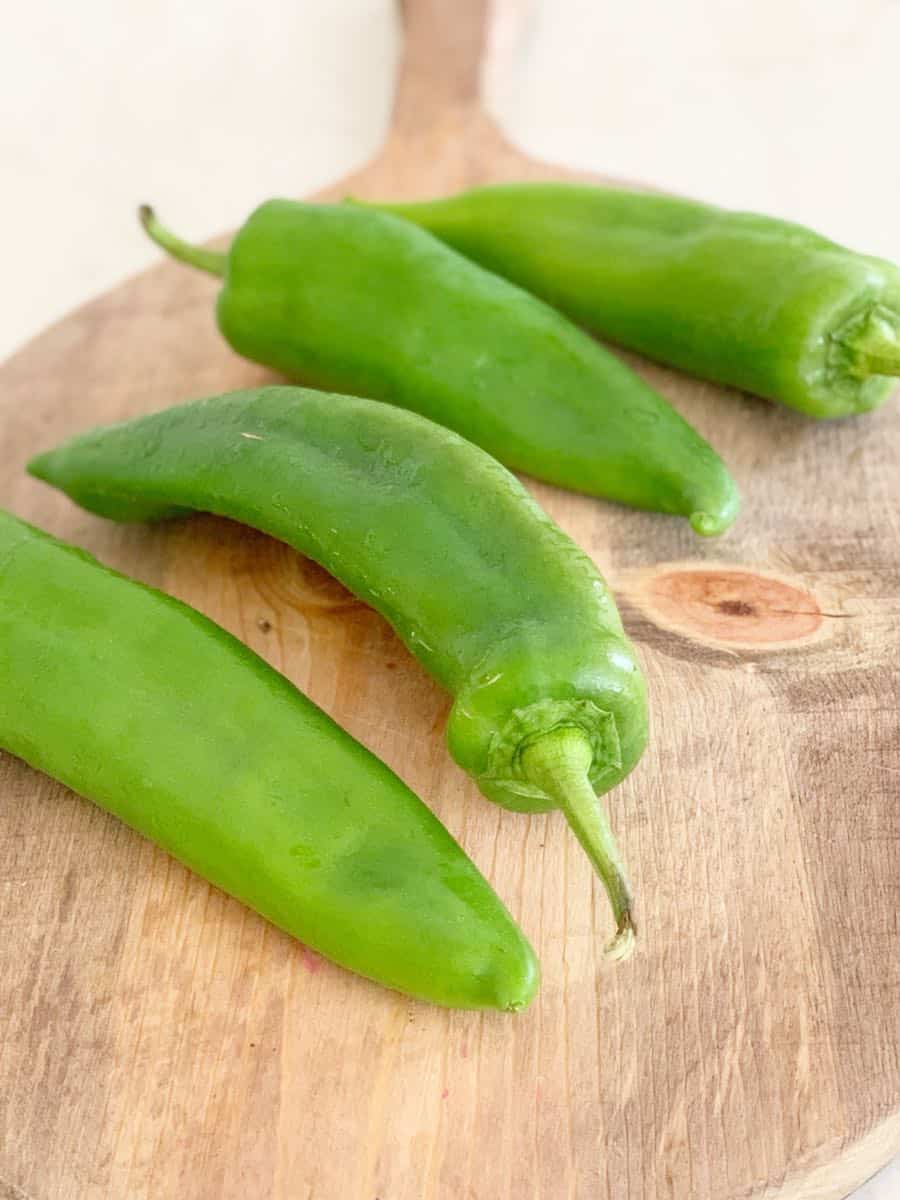 Now – grate that cheese!! I used a package of already grated Mexican cheese blend and a block of fresh queso Oaxaca. Yum!! Try not to eat too much while you're grating!

So let's talk chili peppers. My pepper plants have already taken off this year – I like to grow just a few varieties – from mild to a bit spicy. These Anaheim Chile peppers have just a bit of heat and once roasted, add an amazing layer of flavor to our queso fundido.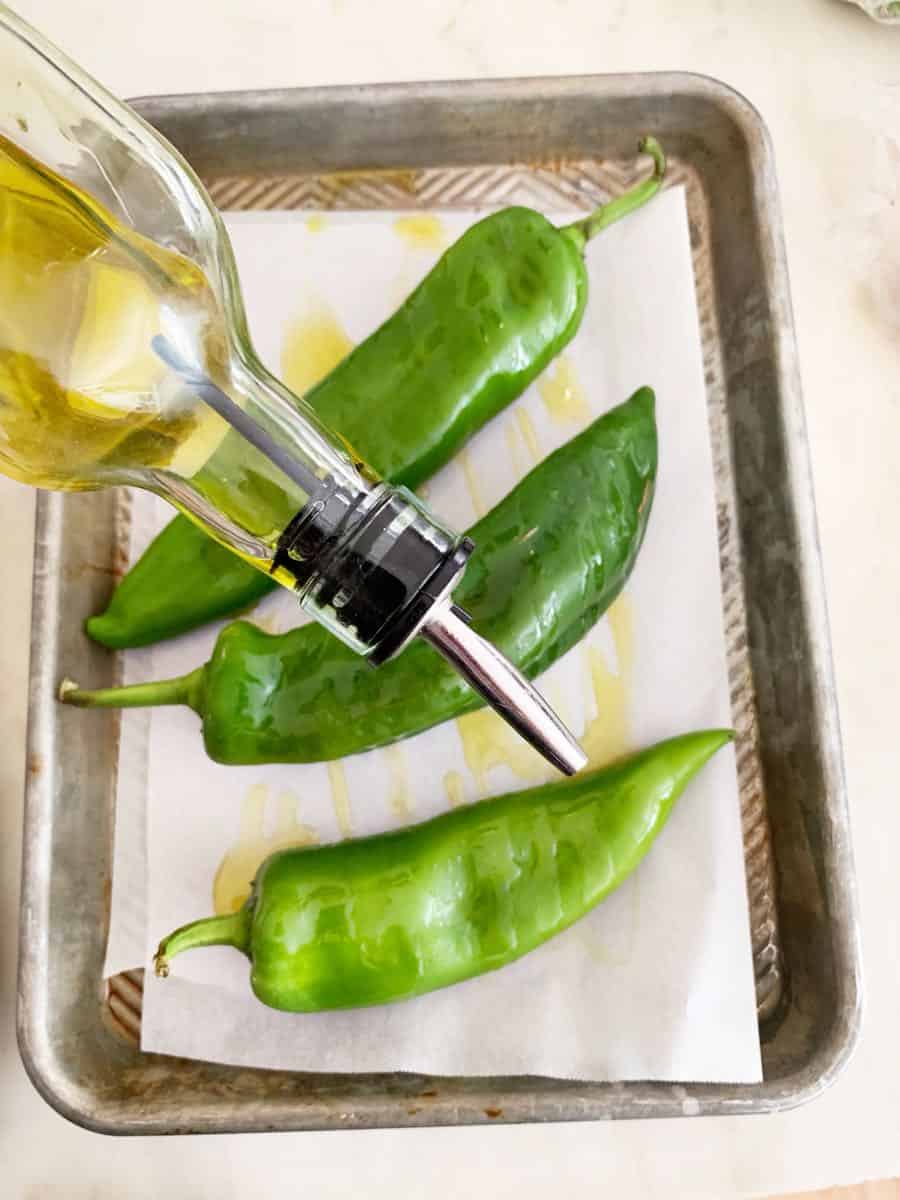 Have you roasted peppers before? It's quite simple. Toss them on a baking sheet lined with parchment paper, drizzle some olive oil over the top, and pop them in a 450 degree oven for 20-25 minutes – until the skins are blistered and the peppers feel soft and cooked.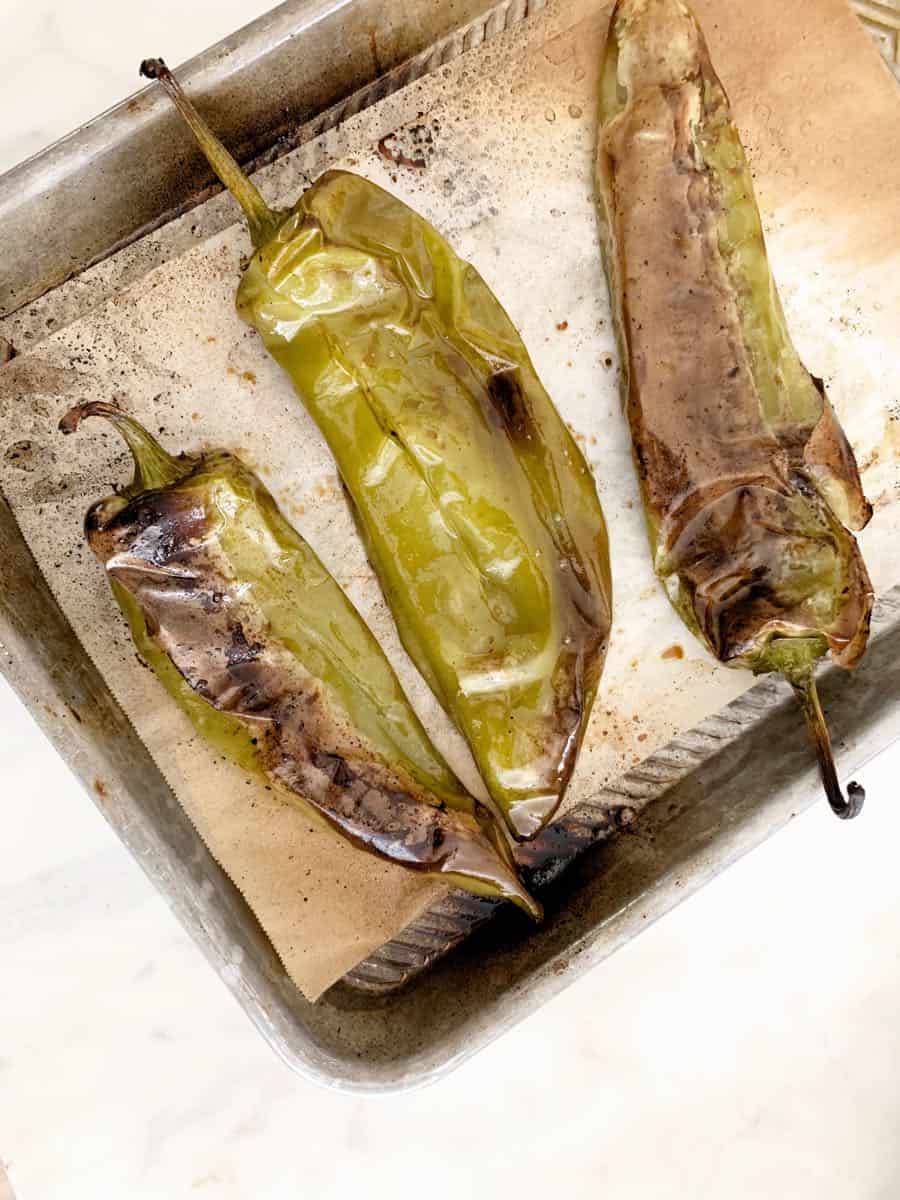 Let those peppers cool down a bit.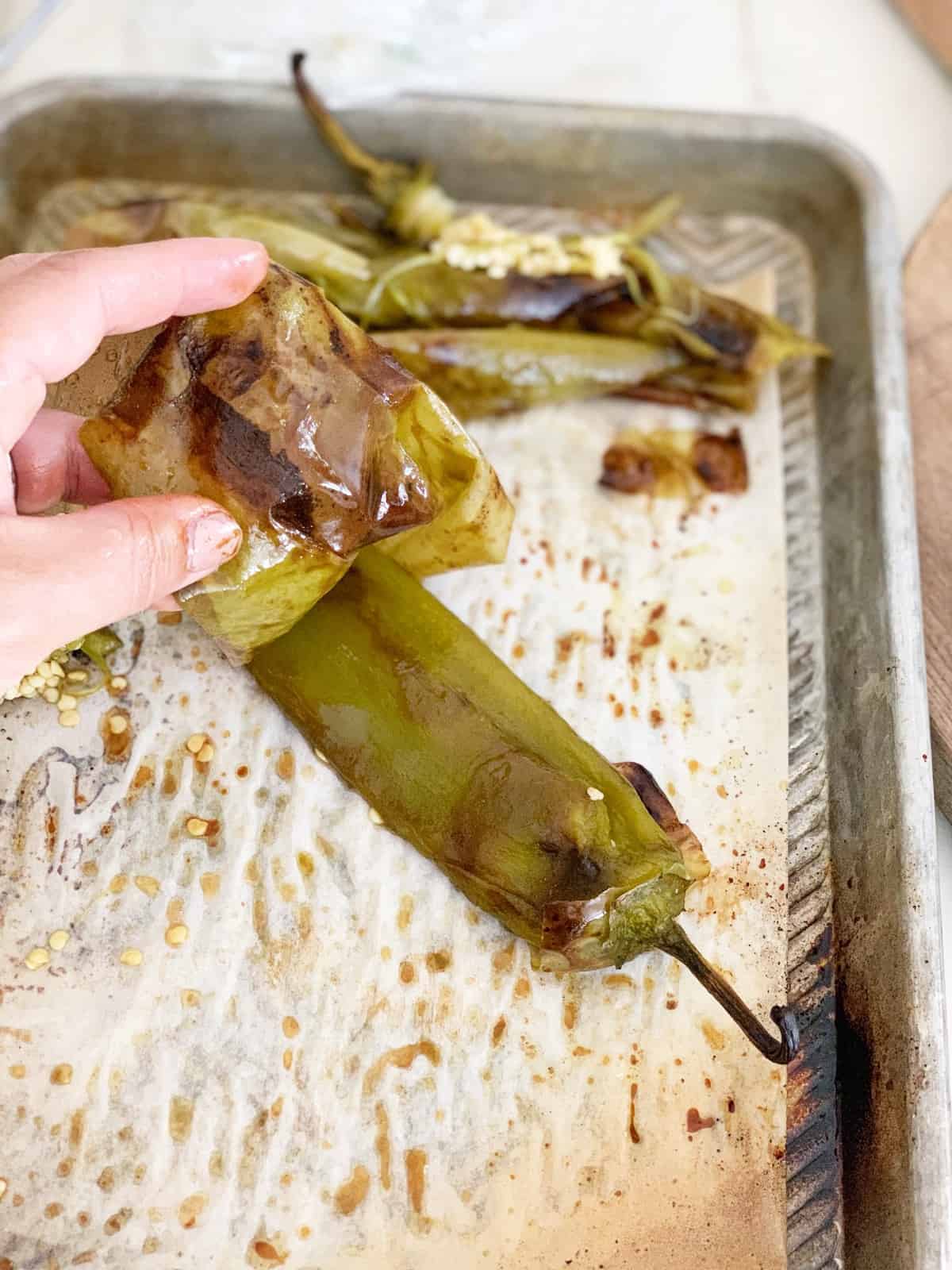 Once cool, the skin will just slip right off the roasted pepper!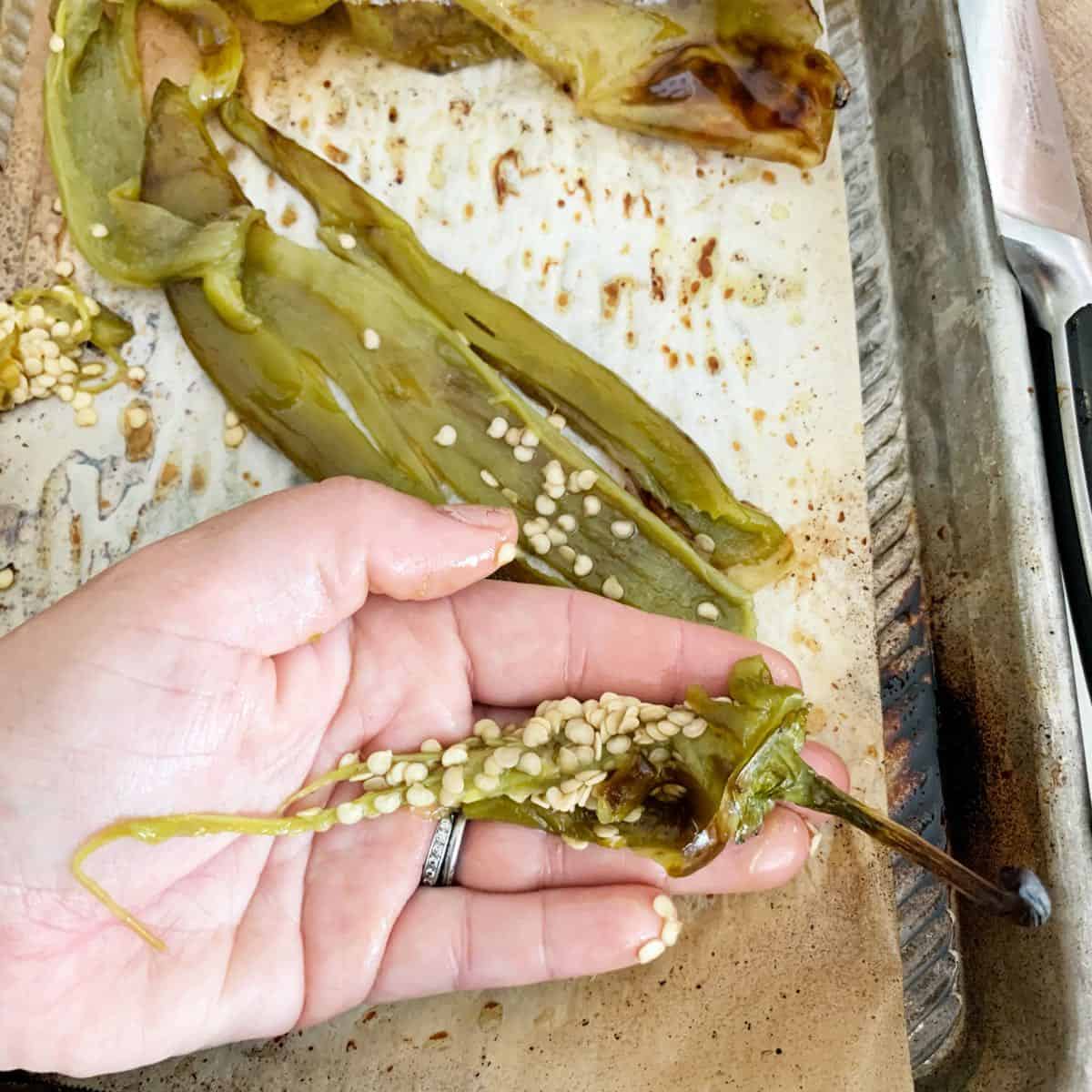 Go ahead and remove the stem and seeds also!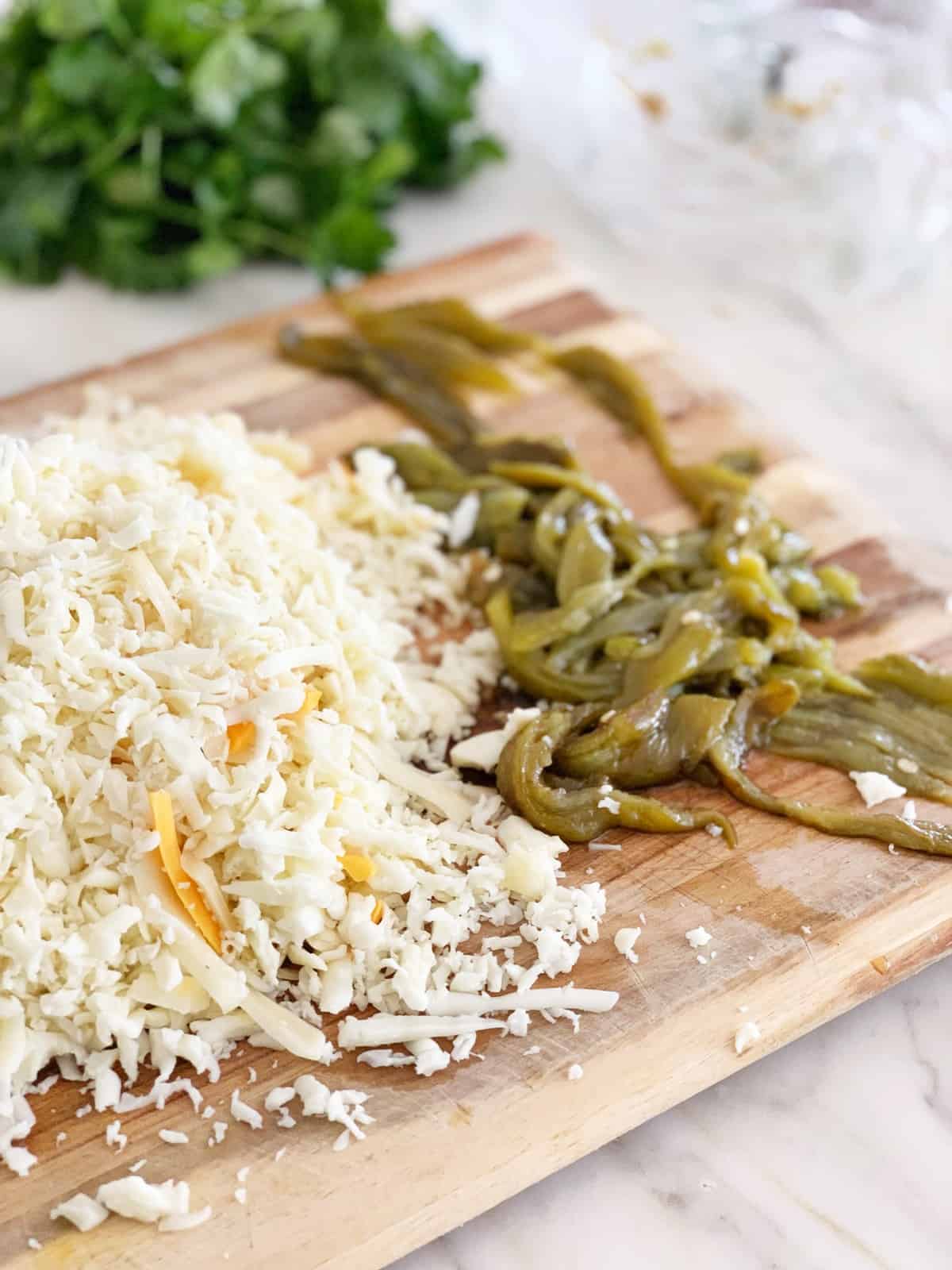 Cut the roasted peppers into small, 1/4-inch wide by 2-inch long strips and set aside with your grated cheese.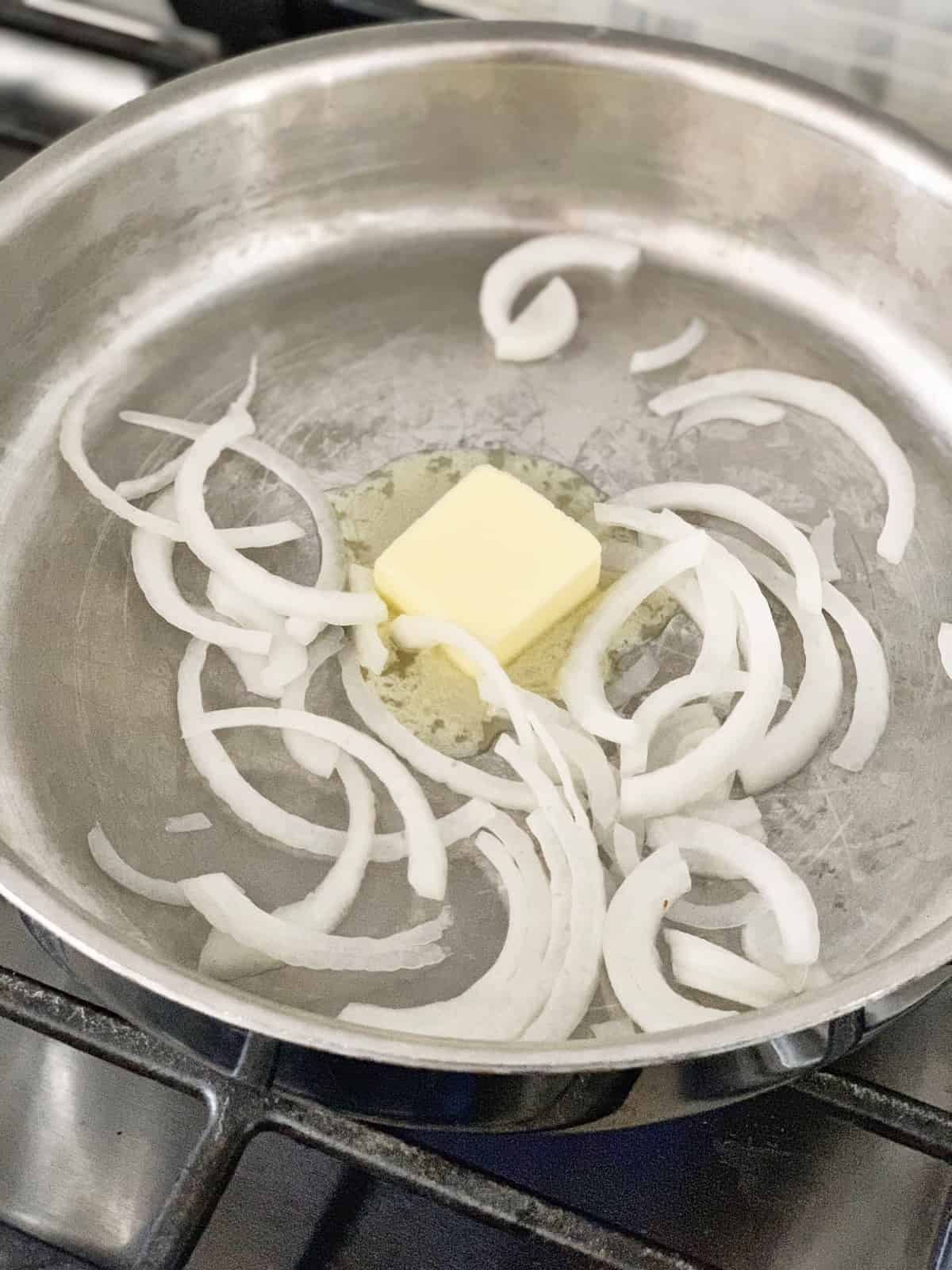 Time to start cooking! In an oven-friendly skillet, sauté the onion in 3 Tablespoons of butter over medium heat.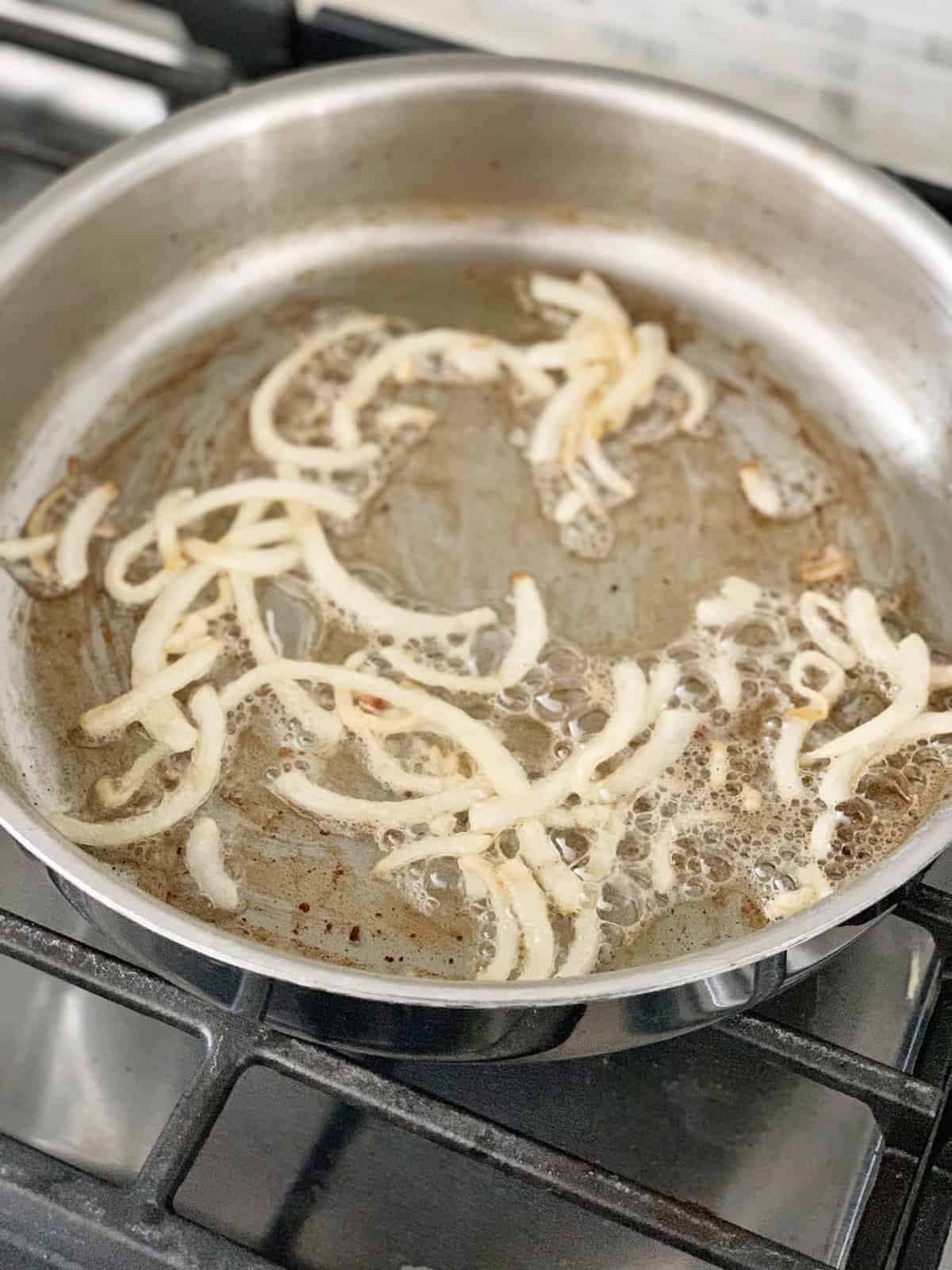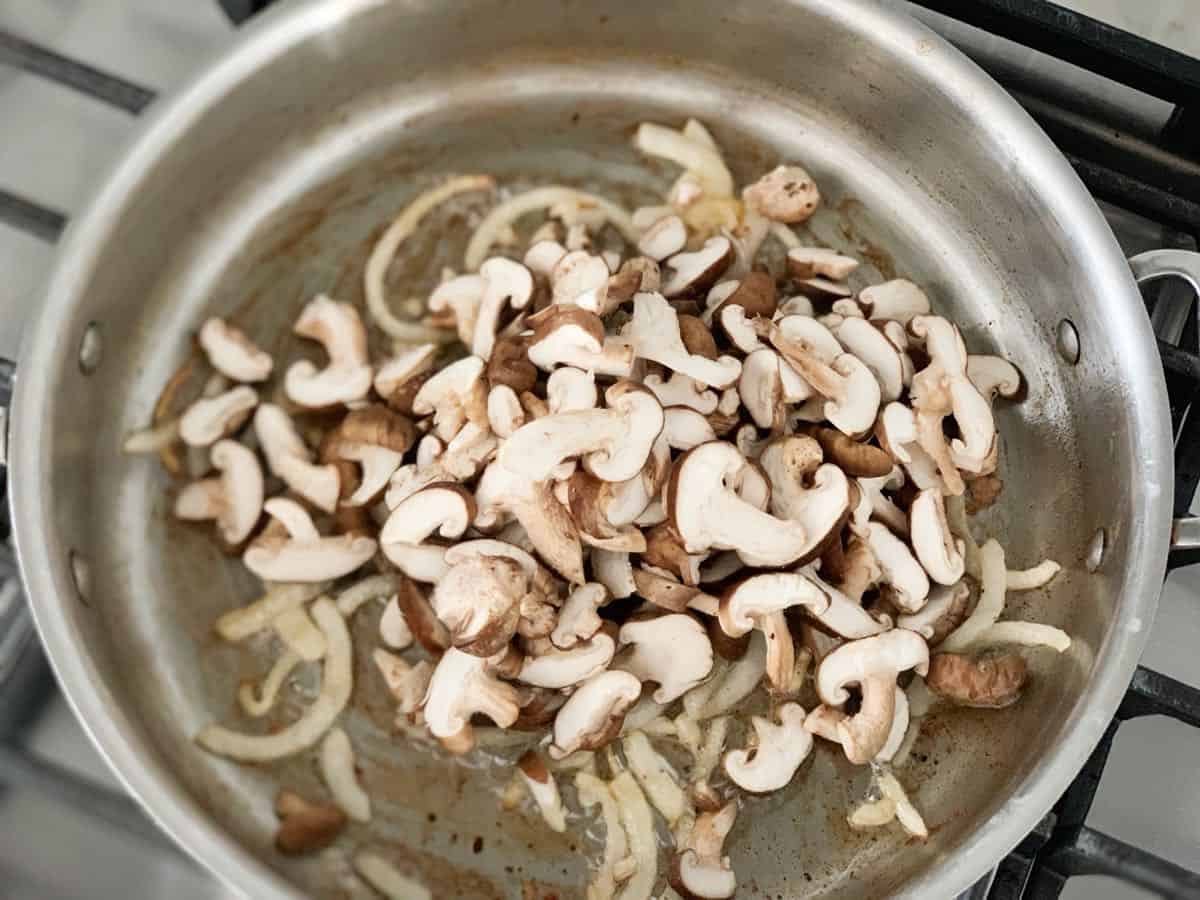 Toss gently while cooking until the onion softens are begins to turn translucent and light golden brown.
Add the sliced mushrooms and continue to sauté until the mushrooms are cooked and golden brown. Remove from heat.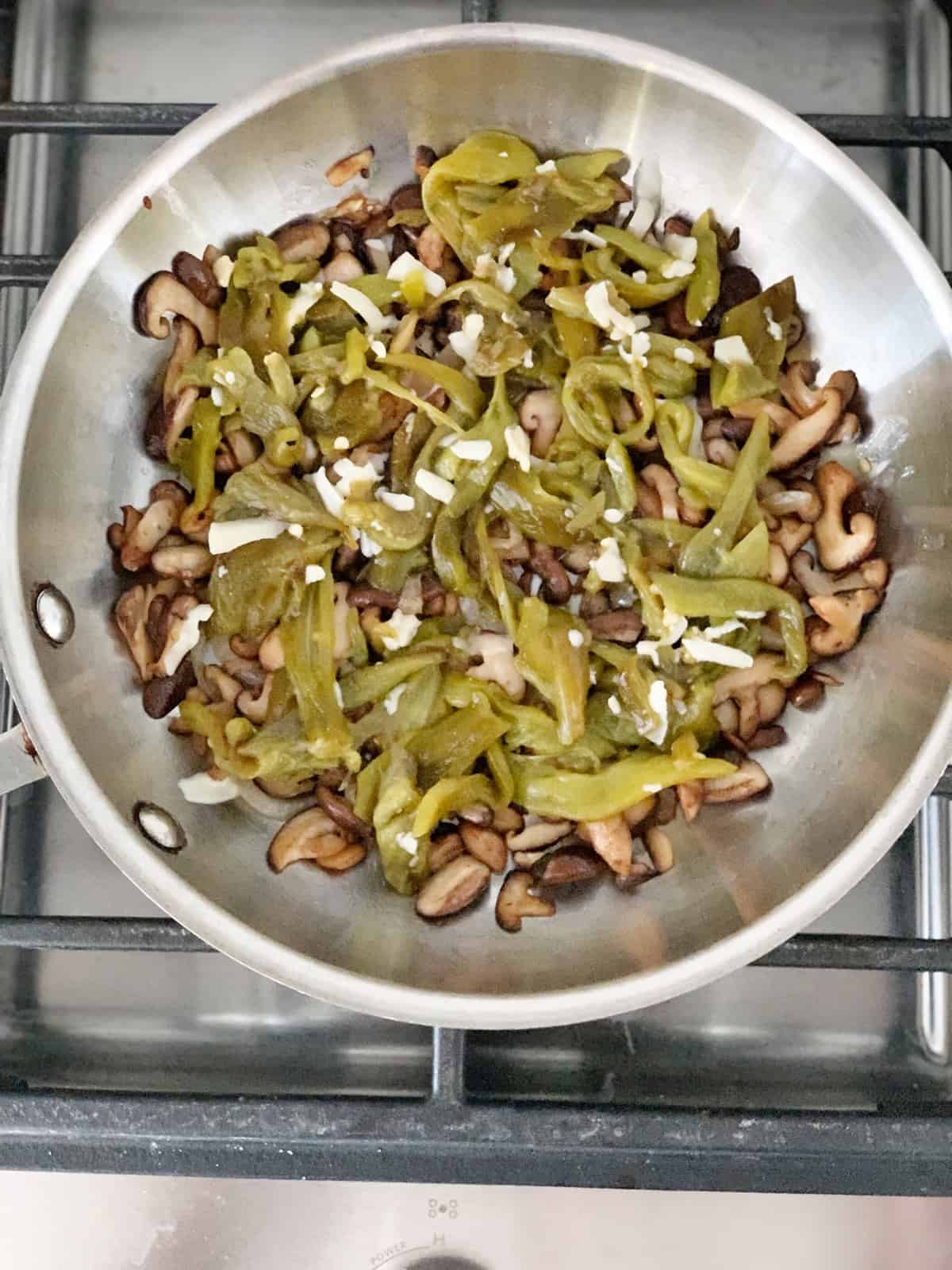 Layer the strips of prepared chili peppers evenly over the mushroom/onion mixture. Then top evenly with all of the grated cheese.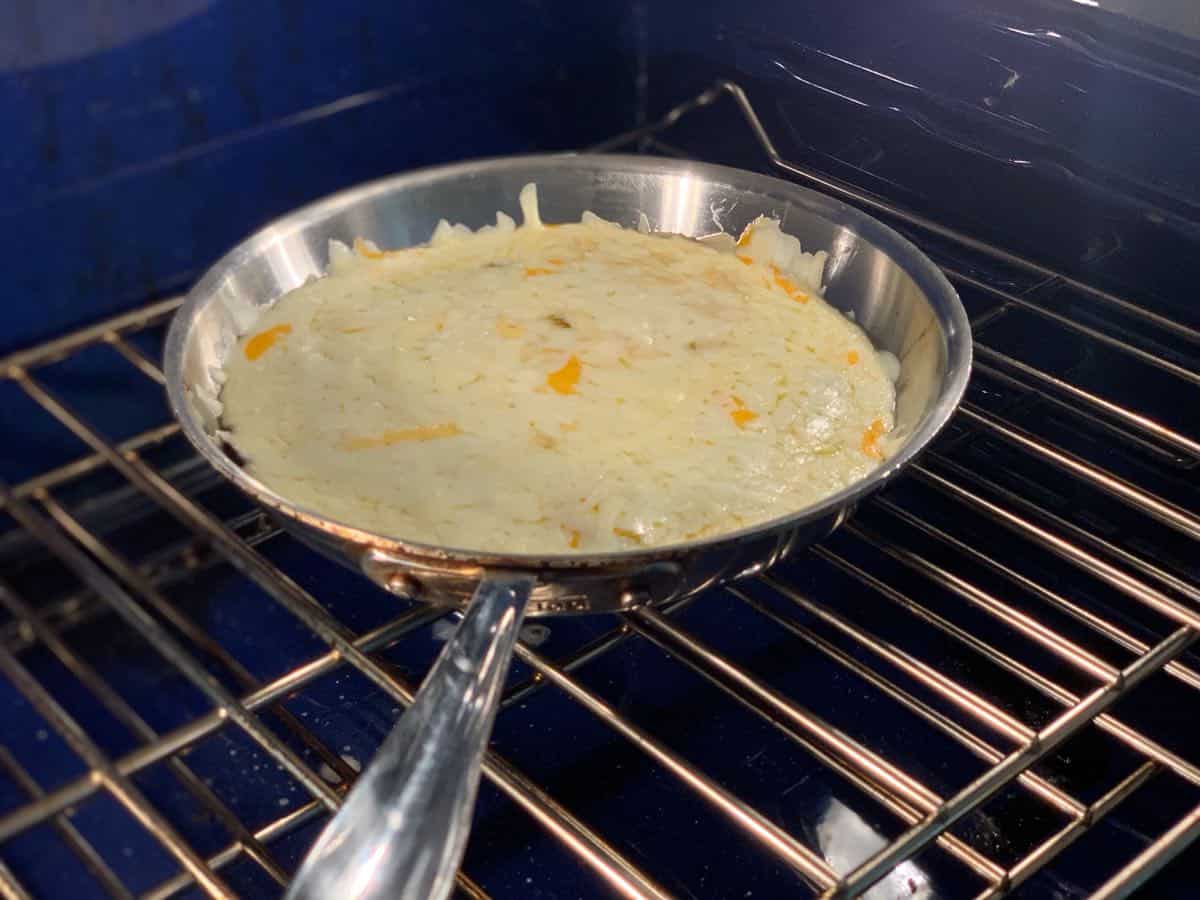 Place the skillet into the oven at 350 degrees and bake for 10-15 minutes or until that scrumptious cheese becomes nice and bubbly brown.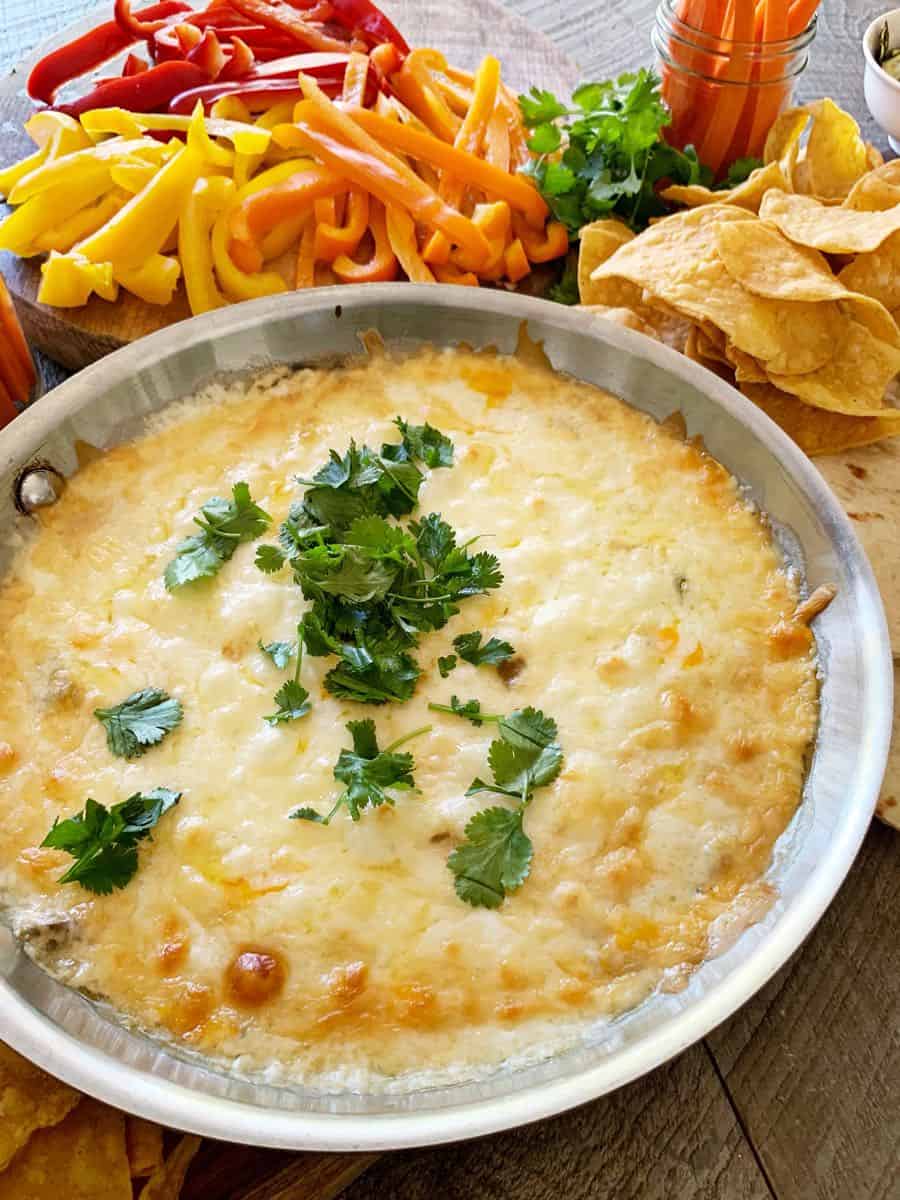 Remove from heat and top with freshly chopped cilantro. Serve immediately!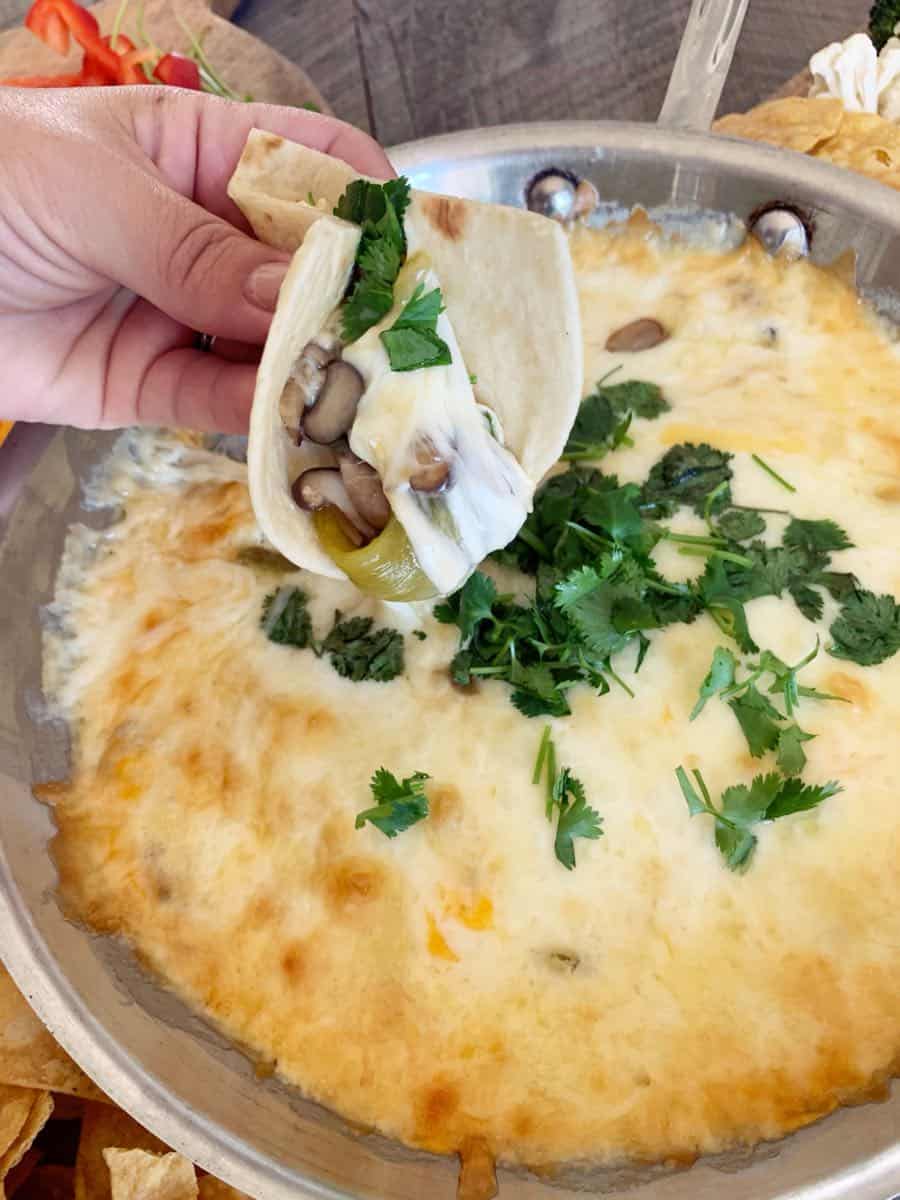 This Queso Fundido is incredible with warm flour tortillas or crunchy corn chips (of course!), but it is also delicious with a variety of fresh vegetables. Try broccoli, zucchini, cauliflower, bell pepper, and carrot sticks!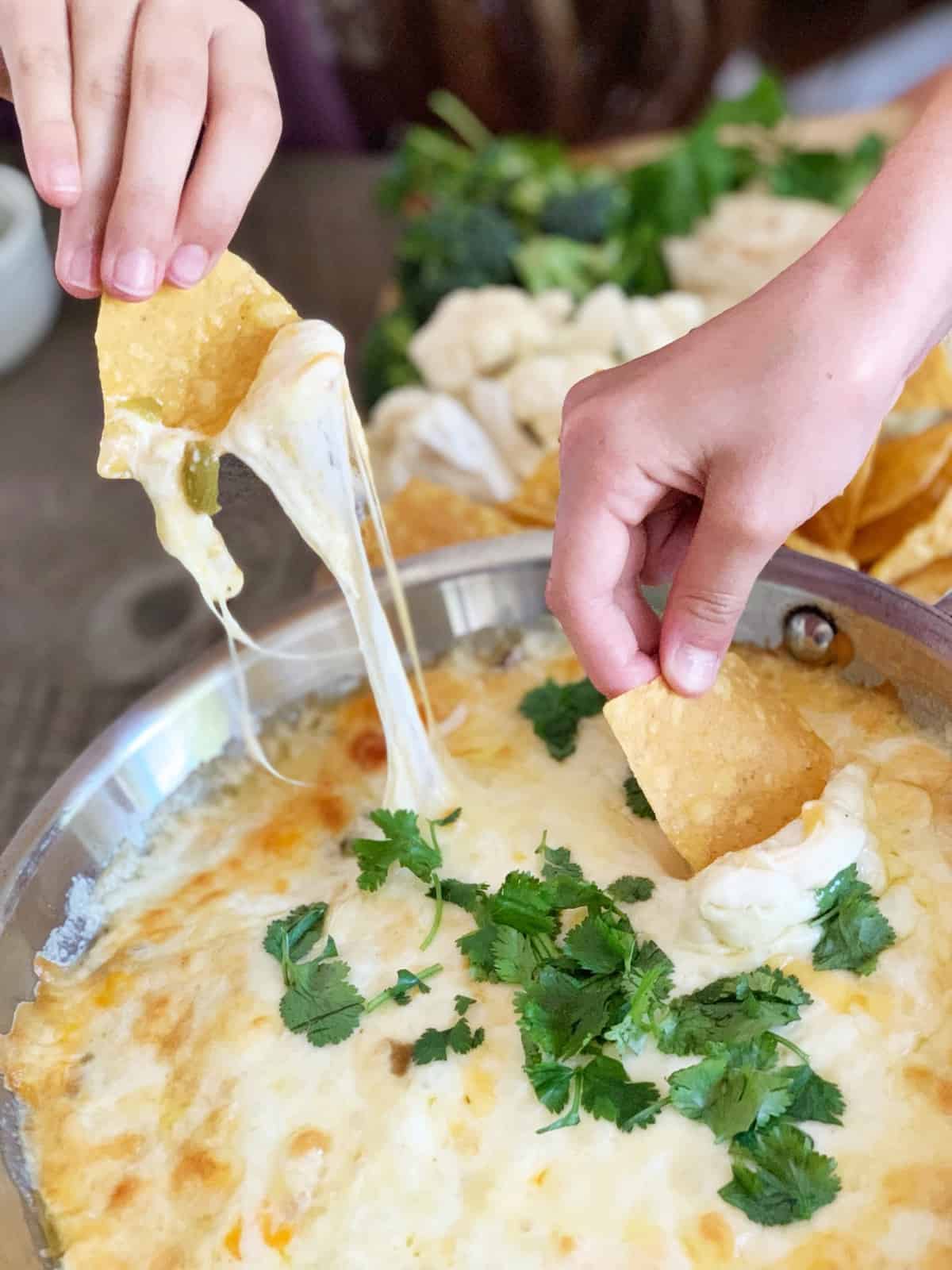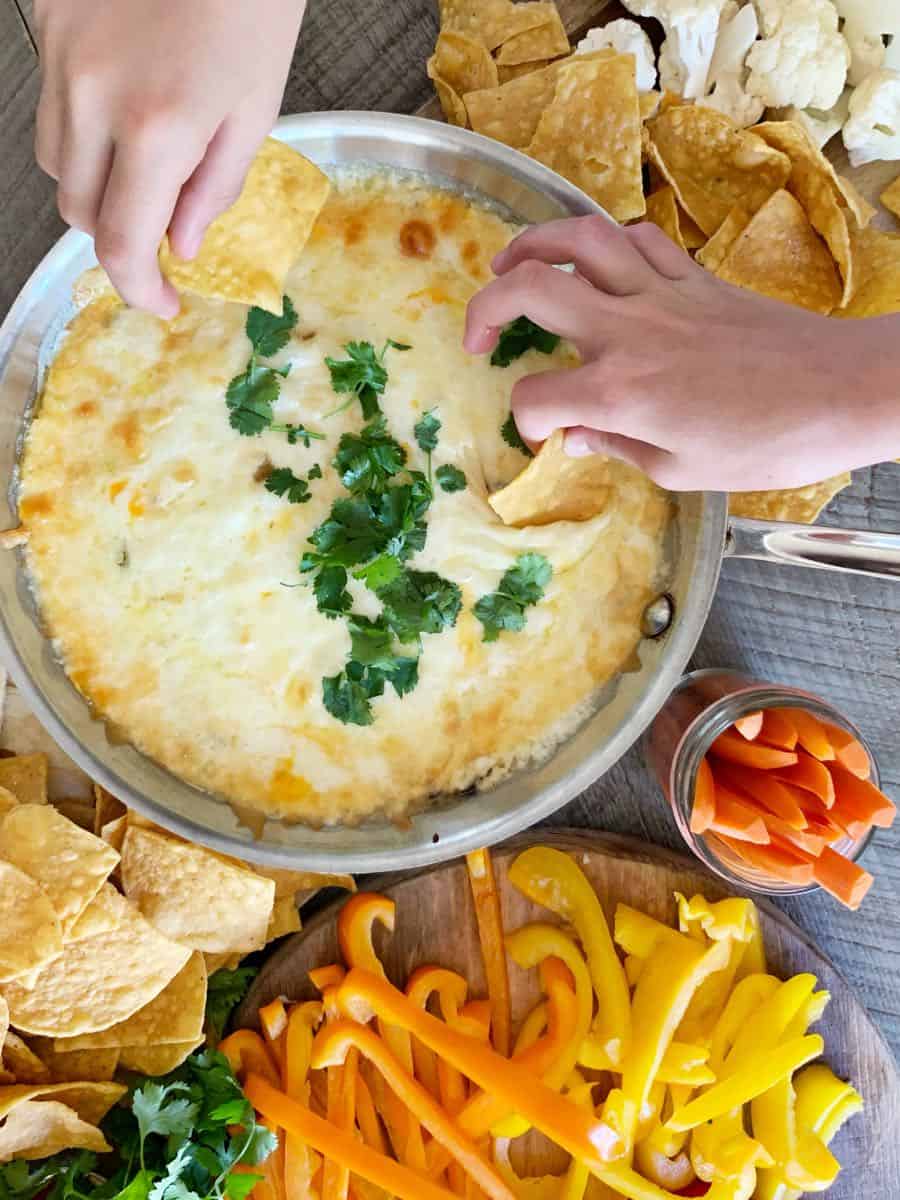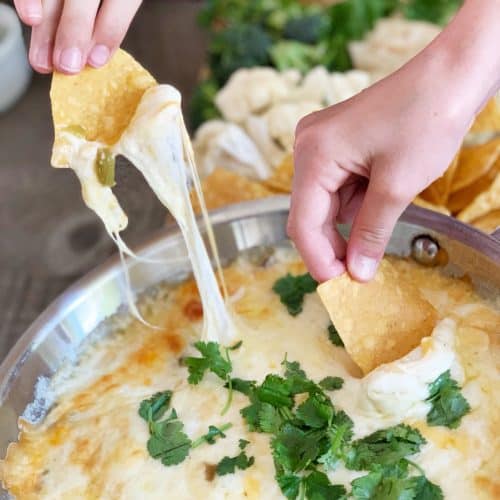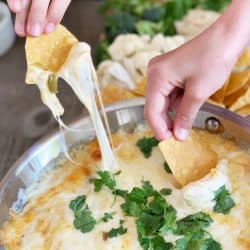 Queso Fundido with Shiitake Mushrooms and Anaheim Chiles
Delicious melted cheese with aromatic mushrooms and chiles makes the perfect dip for chips, tortillas, and fresh vegetables.
Ingredients
6 ounces Shiitake mushrooms sliced
3 Tablespoons butter
3 Anaheim Chiles roasted with skins and seeds removed.
1/4 cup thinly sliced white onion
8 ounces grated Mexican cheese blend
8 ounces Oaxaca grated
cilantro for garnish
Instructions
Melt butter in a skillet over medium heat.

Add onions and sauté until translucent and softened.

Add mushrooms to skillet and sauté until cooked (5-7 minutes).

Remove skillet from heat and layer sliced chilies evenly over the mushrooms.

Top with grated cheese.

Place skillet in 350 degree oven for 15 minutes or until cheese is melted, bubbly, and beginning to brown.

Remove from oven and serve immediately with warmed tortillas and fresh veggies.
Notes
Serve right away & enjoy!
Nutrition
Calories: 200kcalCarbohydrates: 6gProtein: 14gFat: 14gSaturated Fat: 9gPolyunsaturated Fat: 0.2gMonounsaturated Fat: 1gCholesterol: 28mgSodium: 551mgPotassium: 106mgFiber: 1gSugar: 2gVitamin A: 181IUVitamin C: 3mgCalcium: 349mgIron: 0.1mg
Want more cheesy goodness? Of course you do!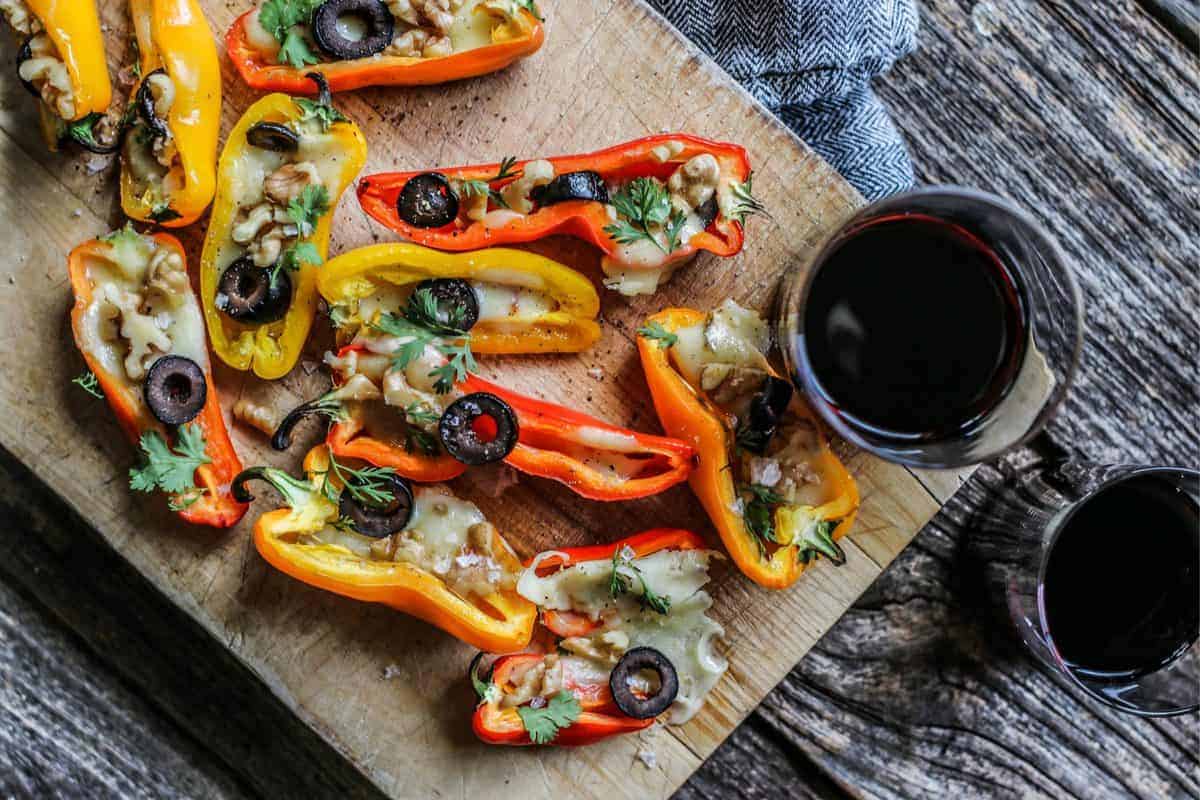 This easy appetizer is perfect for your next party. Be sure to bring along a bottle of California Zinfandel – it pairs beautifully with our Mini Stuffed Peppers!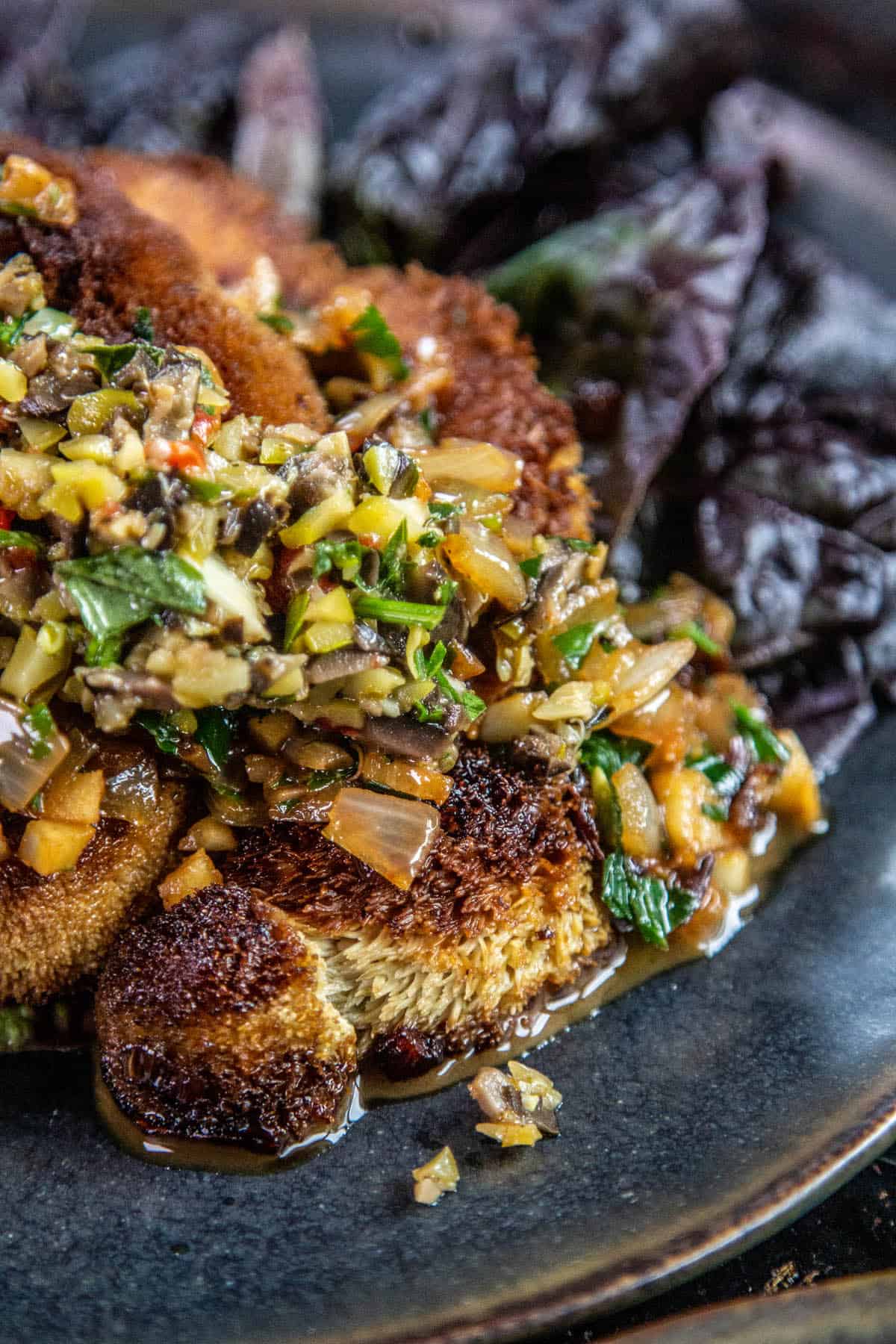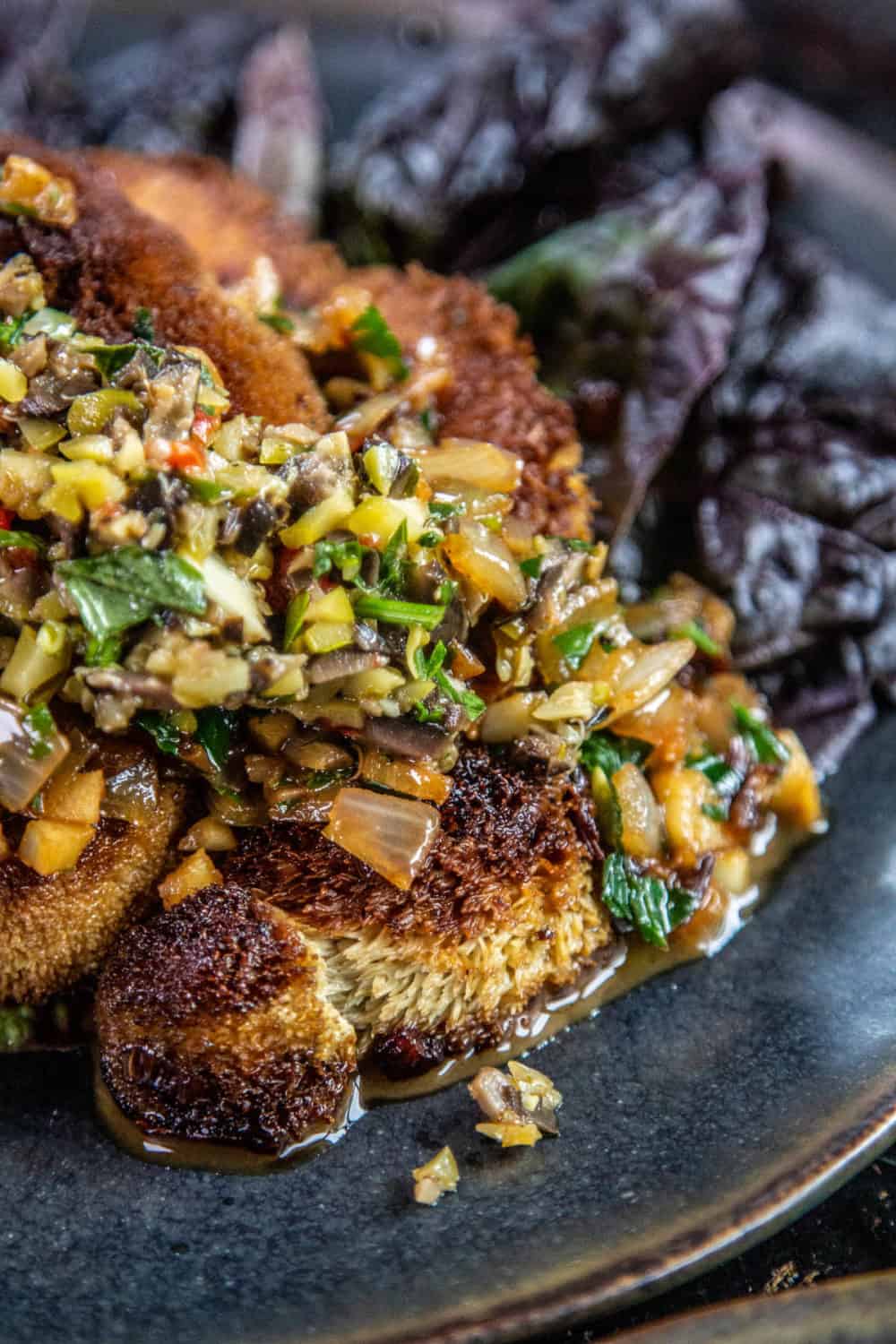 This Lion's Mane Mushroom Steak is the vegetarian equivalent of a juicy Filet Mignon. Meticulously seasoned and cooked to perfection, this recipe for mushroom steak requires a steak knife and a hearty appetite. Consider yourself hungry!