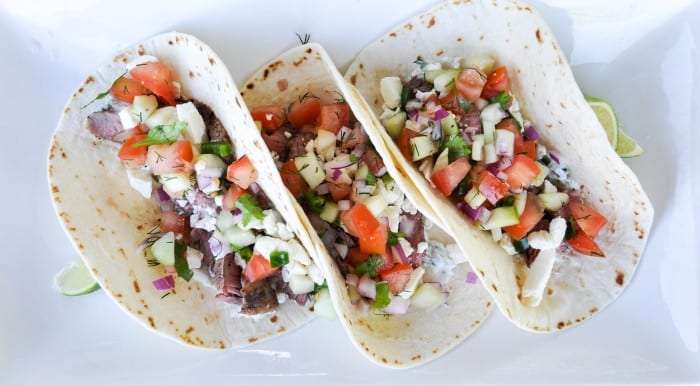 CA GROWN Blog
Discover. Learn. Connect.
Asada-Style Lamb Tacos with Cucumber Salsa
June 24, 2015
Eat the Season!
Sign Up For Weekly Recipes
« Back to Recipes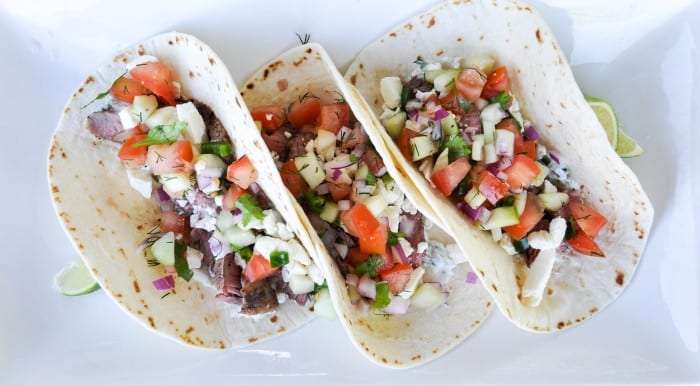 Asada-Style Lamb Tacos with Cucumber Salsa
These insanely delicious grilled Lamb Tacos with Fresh Cucumber Salsa are sure to be a hit with family & guests. Plus, they are so easy to pull together!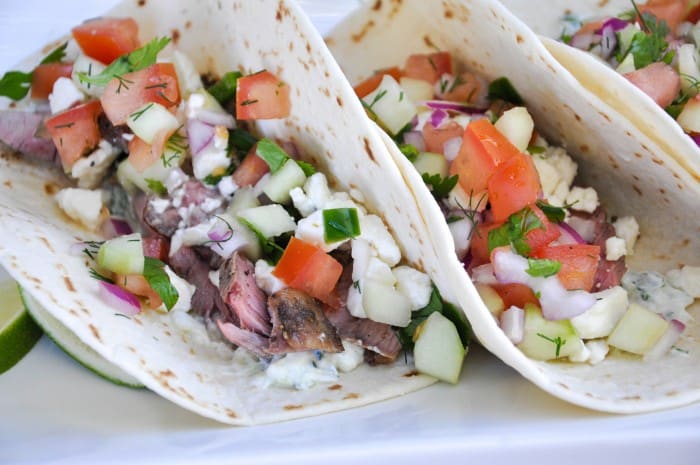 Grilled lamb tacos? Say no more.
Lamb tacos are going to be your favorite meal to grill this summer. I gave the classic asada taco a unique and delicious twist using grilled lamb and a cucumber dill salsa. Makes the mouth water just saying those words together, doesn't it?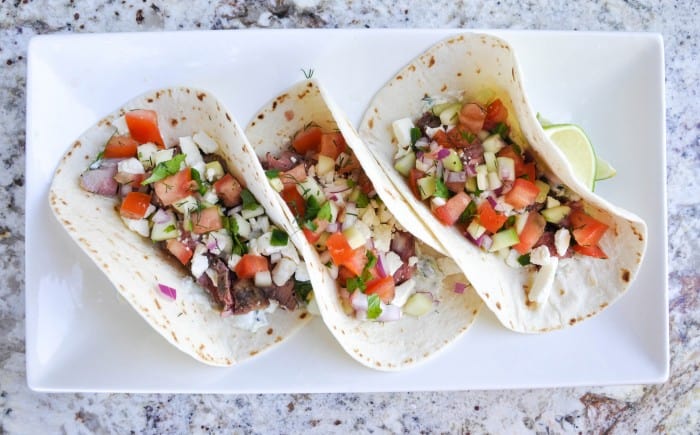 Look here to find where to buy lamb in California.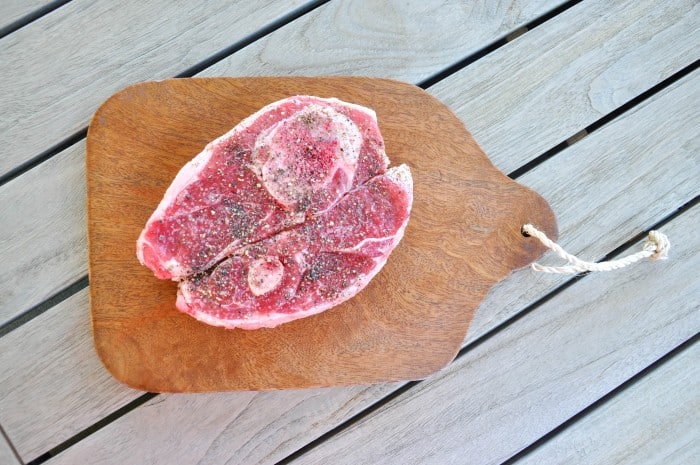 I used a lamb shoulder chop from Superior Farms found at my local grocery store; it worked beautifully to achieve the 'asada' cut for the tacos.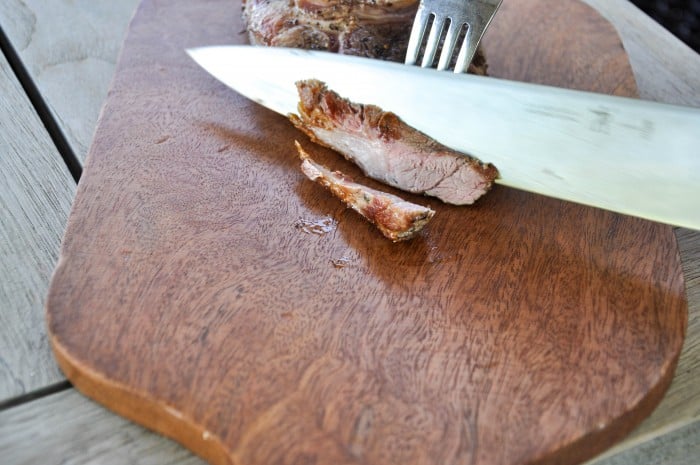 Grilling only takes a few minutes per side over super-hot coals or a gas grill.
Cutting the shoulder against the grain is easy and makes for perfectly sized, tender strips for tacos.
Let's build one of the lamb tacos…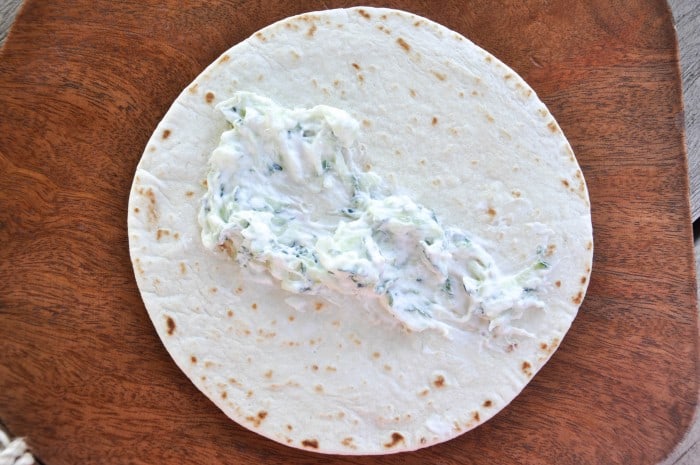 To start, use a warmed flour tortilla, or a pita if you'd prefer, and spread on the cucumber spread.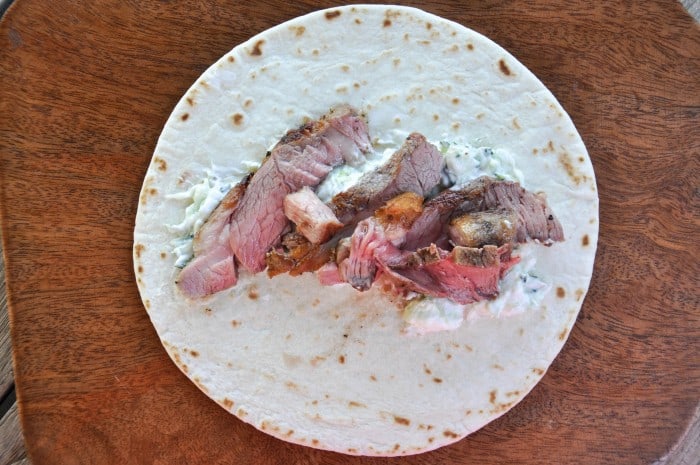 Top the spread with the tasty grilled lamb.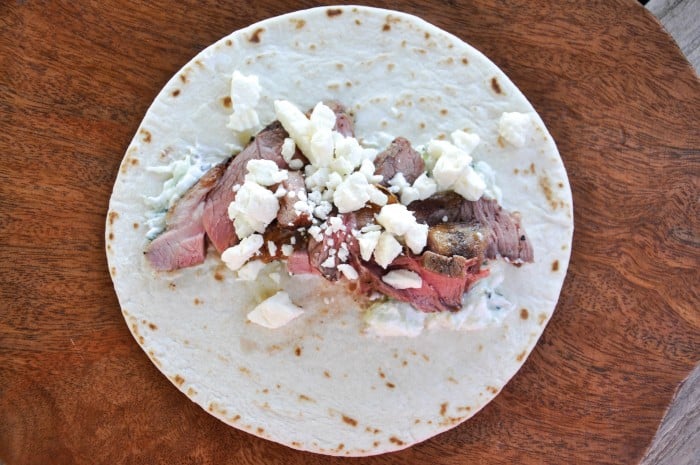 After that, follow with crumbled feta. Monterrey Jack cheese pairs great in this recipe, too.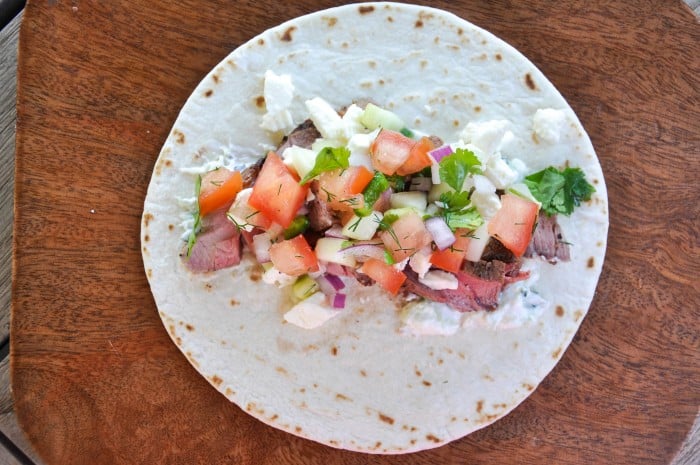 Finally, finish with the fresh cucumber dill salsa.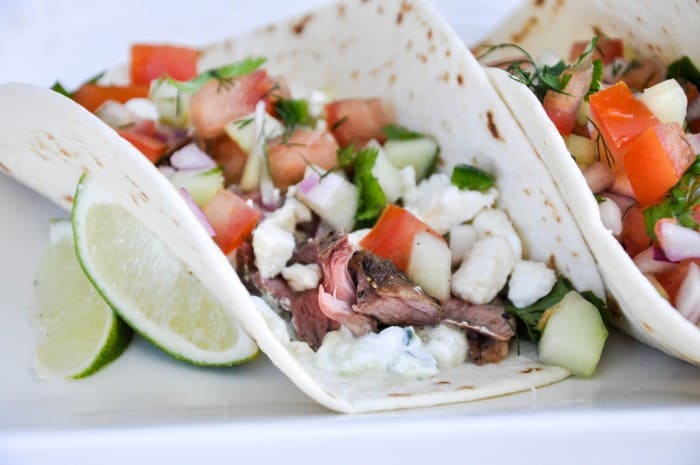 Serve the lamb tacos with lime wedges on the side and enjoy!
What does asada mean?
Carne asada in Spanish translates to roasted or grilled meat in English. So, in Mexico, "carne asada" refers to how the beef is cooked rather than a specific recipe. That's how we get the "asada-style" for these lamb tacos.
What kind of lamb should I use for these lamb tacos?
Lamb shoulder chops are also known as blade chops. Should chops require a shorter amount of cooking time than other cuts, making them an economical and flavorful choice for quick and easy meals.
You can substitute lamb leg chops or sirloin chops in place of shoulder chops, but both have a little less fat than shoulder chops.
Happy grilling!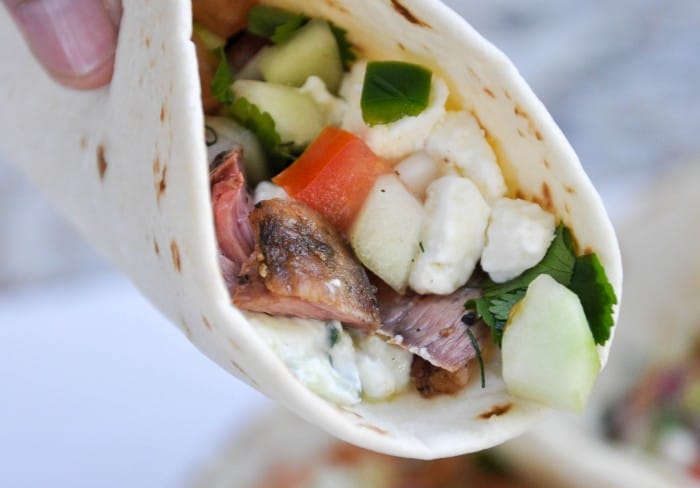 Let us know if you make these delicious lamb tacos; we'd love to hear how you liked them!
Here's the recipe…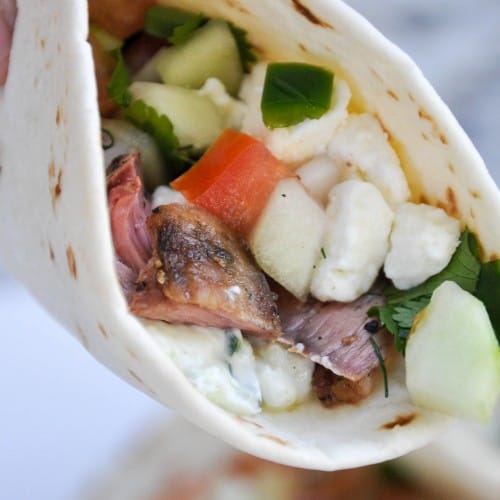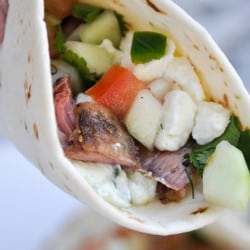 Asada-Style Lamb Tacos with Fresh Cucumber Salsa
These insanely delicious grilled Lamb Tacos with Fresh Cucumber Salsa are sure to be a hit with family & guests. So easy to pull together!
Ingredients
For the Lamb Tacos:
1.25 lbs Lamb Shoulder Chops
6 Flour Tortillas
3 oz Crumbled Feta
Salt & Pepper
Cucumber Spread recipe below
Cucumber Salsa recipe below
Lime wedges for serving
For the Cucumber Spread:
1 cucumber
1/2 teaspoon salt
1 cup plain Greek yogurt
2 garlic cloves minced
1 Tablespoon fresh mint 6-8 large leaves or parsley, chopped
For the Cucumber Salsa:
1 cucumber deseeded
1 large tomato
1/2 red onion
1 lemon
1 Tablespoon fresh dill chopped
1 Tablespoon fresh cilantro chopped
Salt and pepper
Instructions
Make the spread and salsa before moving to the lamb. Both can be made a few hours in advance, and benefit from allowing flavors to meld.
For the Cucumber Spread:
Grate the cucumber with a coarse cheese grater.

Place the grated cucumber in a colander and sprinkle with the salt, then toss and allow to sit for 5 minutes. Use a paper towel to push gently, to remove much of the moisture.

Place the yogurt in a bowl and add the garlic and mint or parsley. Stir to combine.

Add the drained cucumber and stir to combine.

Refrigerate until ready to use.
For the Cucumber Salsa:
Chop the cucumber, tomato and onion into uniform sizes. Stir to combine in a bowl.

Squeeze the lemon over the salsa mix.

Add the dill, cilantro and pinch each of salt and pepper, and stir to combine.

Refrigerate until ready to use.
For the Lamb Tacos:
Preheat your grill so the grate is very hot

Season the shoulder with freshly ground pepper and salt on both sides

Grill the lamb for 3-4 minutes on each side

Cut against the grain into thin strips

Warm the flour tortillas and layer as follows:

Place a tablespoon of cucumber spread in the middle of the tortilla

Top with grilled lamb strips

Sprinkle with Feta

Finish with cucumber salsa

Serve with lime wedges
Notes
Recipe can be doubled or even tripled! Any remaining spread or salsa can be stored in the refrigerator for up to 3 days.
Nutrition
Calories: 609kcalCarbohydrates: 46gProtein: 60gFat: 20gSaturated Fat: 8gPolyunsaturated Fat: 2gMonounsaturated Fat: 6gTrans Fat: 0.003gCholesterol: 143mgSodium: 1243mgPotassium: 1156mgFiber: 5gSugar: 11gVitamin A: 587IUVitamin C: 34mgCalcium: 238mgIron: 7mg
Love this lamb taco recipe? Here are a few more grilled lamb recipes to try: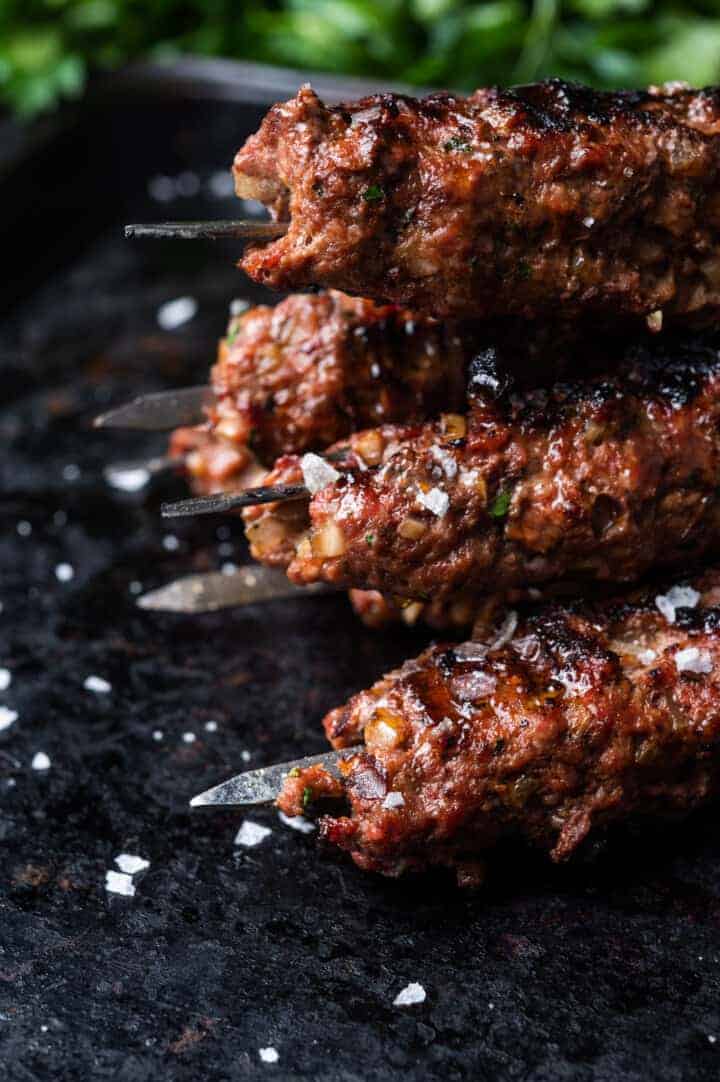 Ready for a ground lamb kebab recipe you're sure to love? Try making Lula Kebab next!
Lula Kebab is a blend of ground beef and lamb (or all lamb in some cases), onion, seasonings and fresh herbs. It is cooked on skewers and served alongside pilaf and salad, and also used to stuff peppers + vegetables and fill meat dolma.
This flavorful Asparagus and Lamb Kebabs recipe is served with a fresh Pistachio Mint Pesto – loaded with California grown goodness. This is a spring recipe you'll want to make year round.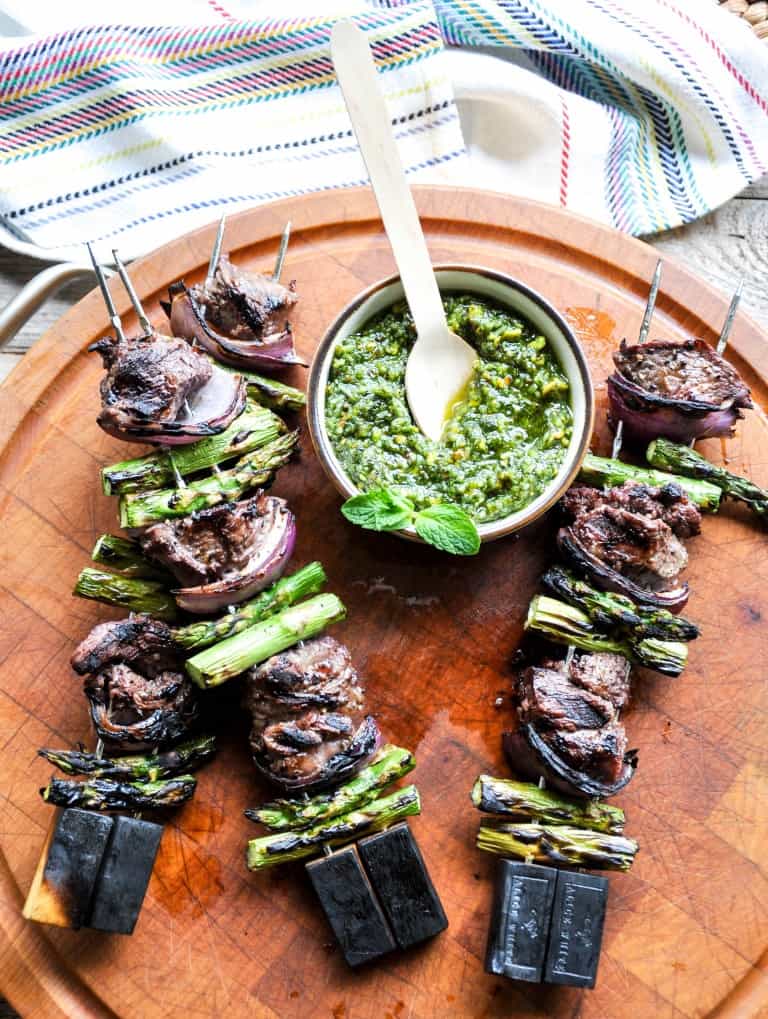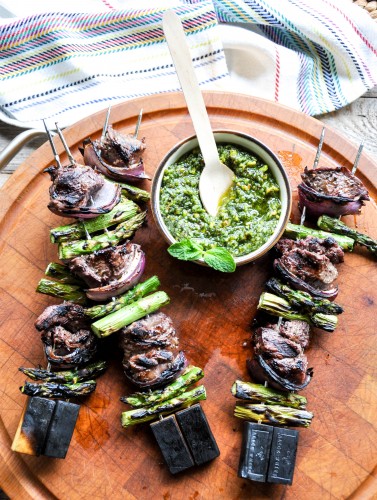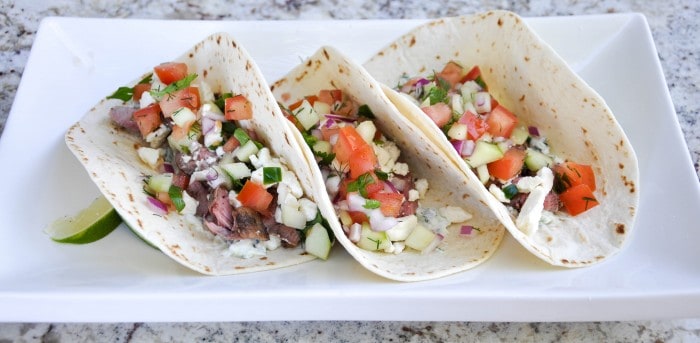 This delicious Creamy Cucumber Salsa is fabulous on chips, wonderful on tacos or salads, and a great addition to any weekend celebration.
It's a fabulous option if you'd like a little more flavor than the fresh cucumber salsa in this lamb taco recipe provides.